These knitting patterns for legwarmers and leggings are a fast way to dress up your fall and winter wardrobe. They also make quick gifts!. Most patterns for free.
To get the knitting patterns, scroll down the page to the individual pattern you want and click on the link to that pattern.
These patterns are not my designs but links to other designers who have generously shared their patterns. If you have questions about how to knit a specific pattern, please contact the designer directly.
All links on this site are for informational purposes, but please note that some links are to affiliate sellers that pay me a small commission on purchases.
Free Patterns

Fridley Leg Warmers
With a flared bottom cuff, these cabled legwarmers transition effortlessly from bare legs to over your favorite pair of short boots. Designed by Melissa Schaschwary. Super Bulky weight yarn. Excerpted from Plum Dandi Knits.

Hawthorne Leg Warmers
Featuring Chevron cable on the front and broken stockinette on the back, these leg warmers use use roughly a skein and a half of worsted weight yarn. Designed by Crista Tappan. Worsted weight yarn.

Waterlily Leg Warmers
Legwarmers knitted with an 8 row repeat cable and ribbing. Designed by Andi Clark for Classic Elite Yarns. Aran weight yarn. Pictured projects by the designer and skrapyram.

Let's dance! Legwarmers
Legwarmers knitted with rib stitch and with a heart cable in back. Designed by Inma Gijón, Available in English and Spanish

Prima Legwarmers
Lace legwarmers designed by Sarah Wilson. Pictured project by wondrlanding

Traveling Stitch Legwarmers
These legwarmers more closely resemble close-fitting leggings that hug the leg from the cuff to the thigh in an elaborate traveling-stitch pattern inspired by traditional Austrian knee socks. Pictured project by sidecarJo

Grey-Grey Legwarmers
Katya Gorbacheva's legwarmers feature a cable motif and ribbing.

Salander Legwarmers
Nadia Crétin-Léchenne designed these easy leg warmers that feature a simple, easy-to-memorize lace stitch.

Some Cloudy Day Legwarmers
Lace leg warmers byTiny Owl Knits provide warmth and style. Pictured project by thejasperpatch
More Free Patterns

Devant la cheminée
Mona NicLeoid's legwarmers feature a simple faux cable pattern and cute ruffles. FYI, the name of the pattern means "In front of the chimney" in French though the pattern is in English.

Yoga Wrap and Legwarmers
Easy knitting pattern by Lisa Gentry for Red Heart Yarn for a wrap cardigan and ribbed leggings.

Lacy Baby Legwarmers
Laura Bain's cute and cozy cable leg warmers feature a lace cuff. Sizes 12 months and 24 months

Rejoice Legwarmers
These buttoned legwarmers feature a lace pattern and decorative picot bind-off. Designed by Veronika Jobe

Hot Gams Legwarmers
Jenni Pea designed these cabled legwarmers with ribbing for easy fit. Pictured project by Kinski

Pointe Work Legwarmers
These legwarmers were designed by the mother of a ballet dancer. Emese Fromm, so they wouldn't slip down when worn over tights.

Mosey Legwarmers
Susan Power's leg warmers feature slightly flared (boot bottomed) to fit over shoes, an all-over cable pattern, ribbed cuffs, and pompom ties. Pictured project by margrietaasman who added a ribbed cuff at the bottom.

Spiral Rib Legwarmers
Easy modern leg warmers by Purl Soho. Pictured project by stacyurban

Legendary Leggings
Lizabeth Towers designed these easy legwarmers knit in stockinette and topped with lace.

Nozky Legwarmers
Monika Sirna's full length legwarmers come in sizes from baby to adult and feature twisted rib cuffs and beautiful Lace Twist up the side.

Spick and Spats
Madelaine Pippa Bartlett's version of spats features baby cables and a picot edge. Can also be worn with the top folded down in a cuff.

Ballerina Bloom Leg Warmers
Jodi Lewanda's easy leg warmers feature a knit flower. Child's size 4 – 12
Patterns for Purchase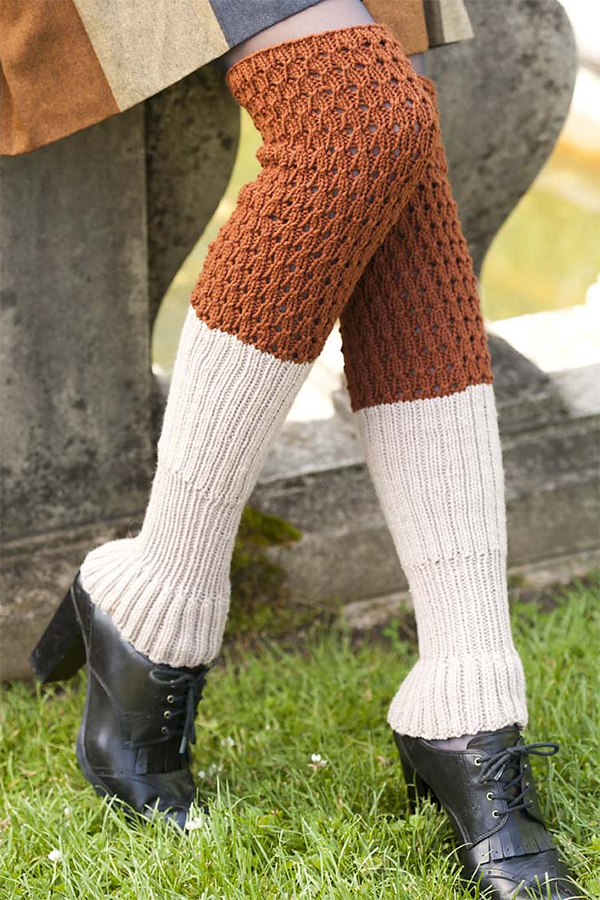 With Bells On Legwarmers
Colorblock legwarmers in textured stitches with bell cuffs that drape over the feet. Designed by Cathy Carron. Sizes Medium/Large (Woman's shoe sizes 7–10). Worsted weight yarn.One of the 40 patterns in Happy Feet: Unique Knits to Knock Your Socks Off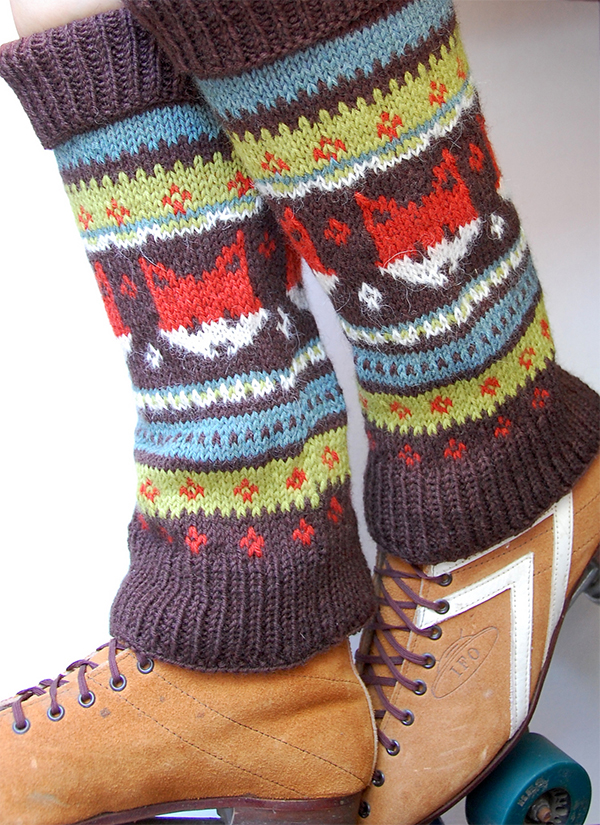 Foxy Legs Legwarmers
Stranded leg warmers with fox faces in stranded colorowork. Sizes: 10 (13¼, 16.5) in/25 (33.5, 42) cm circumference; 13in/33cm long (with folded top cuff). Designed by bunnymuff, Mona Zillah. Sport weight yarn.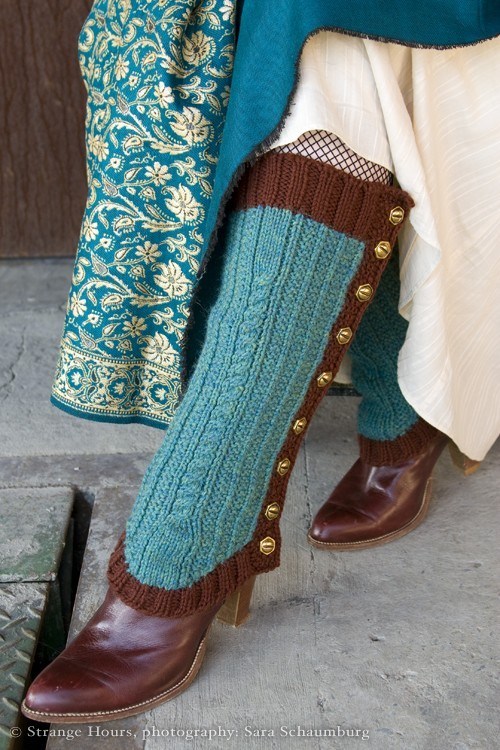 Well-Heeled Spatterdashes
Spatterdashes with calf and instep shaping, and detachable stirrups features farrow ribbing and cables for a snug fit.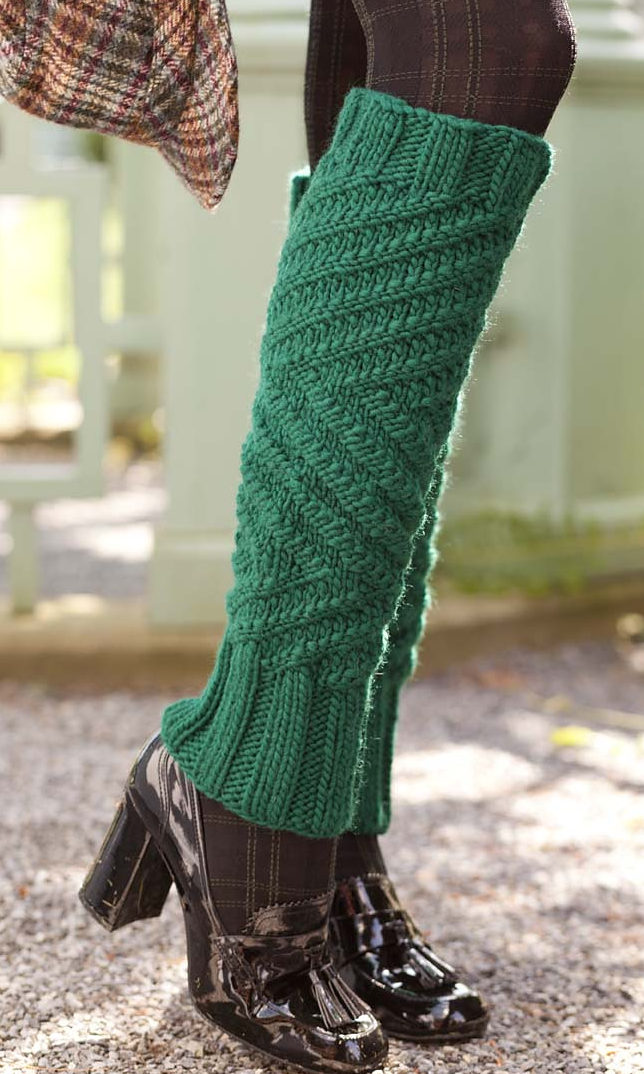 Zigzag Legwarmers
These Ribs with Sauce legwarmers come in 2 sizes and are knit in bulky yarn. Designed by Cathy Carron. One of the 40 patterns in Happy Feet: Unique Knits to Knock Your Socks Off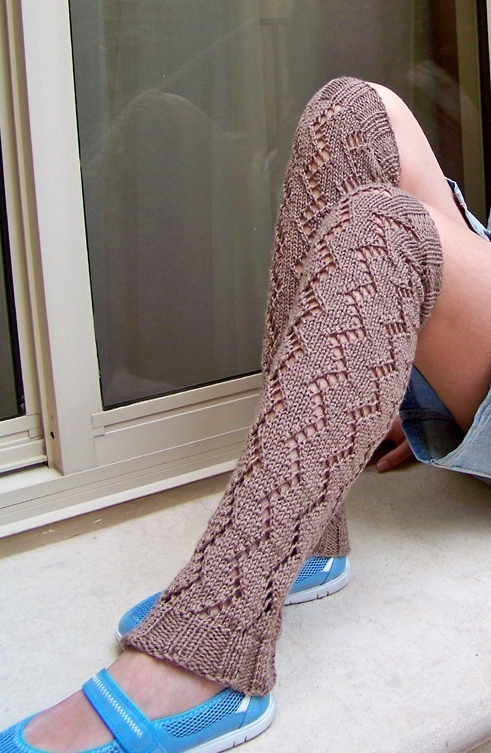 Lacy Zigzag Leg Warmers
Easy knitting pattern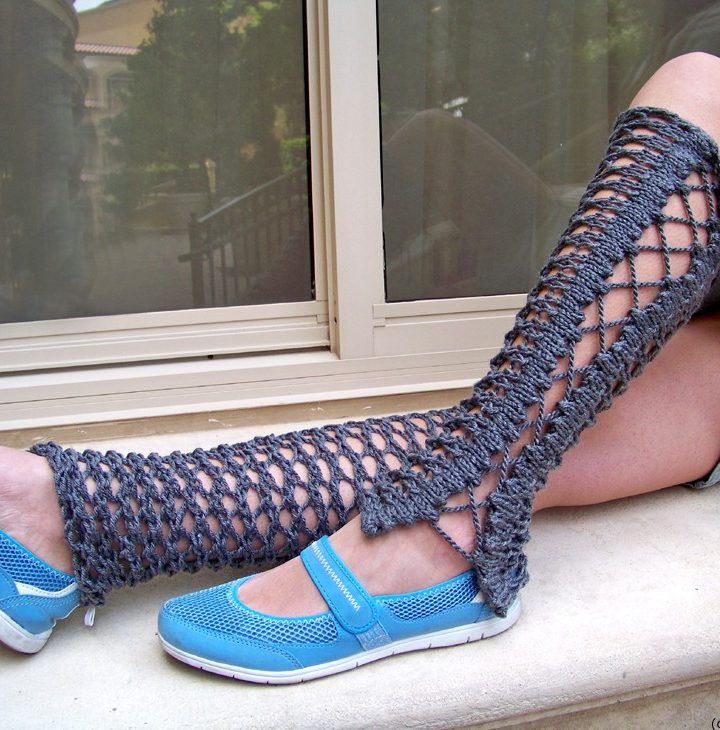 Corset Lace Leg Warmers
Designer says these fashionable legwarmers are easy to knit.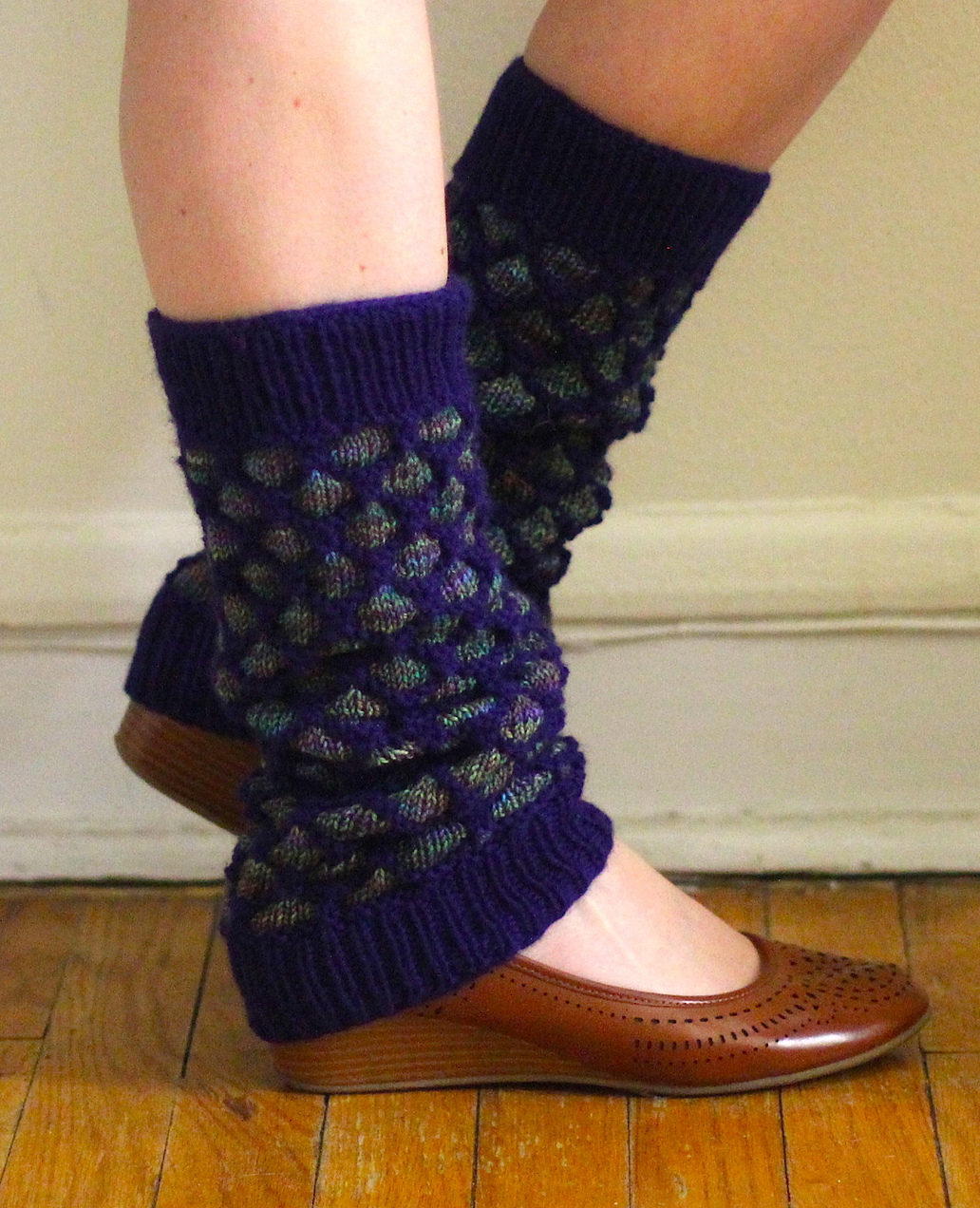 Hyde Park Leg Warmers
Allyson Dykhuizen's legwarmers feature a surprisingly simple stained glass stitch in mosaic knitting. Pattern includes boot cuffs.