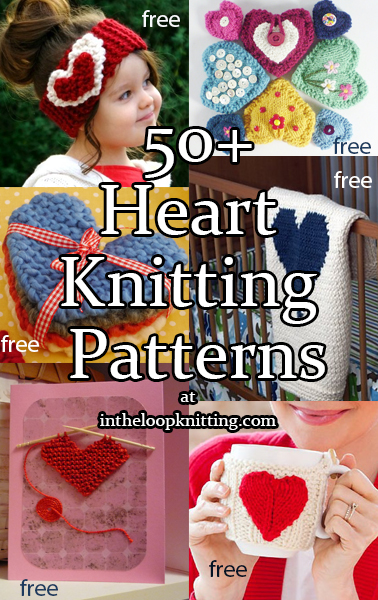 Knitting patterns for clothing, accessories, blankets, and decor with heart motifs in colorwork, stitch patterns, lace, and cables. Most patterns are free.
To get the knitting patterns, scroll down the page to the individual pattern you want and click on the link to that pattern.
These patterns are not my designs but links to other designers who have generously shared their patterns. If you have questions about how to knit a specific pattern, please contact the designer directly.
All links on this site are for informational purposes, but please note that some links are to affiliate sellers that pay me a small commission on purchases.
Free Patterns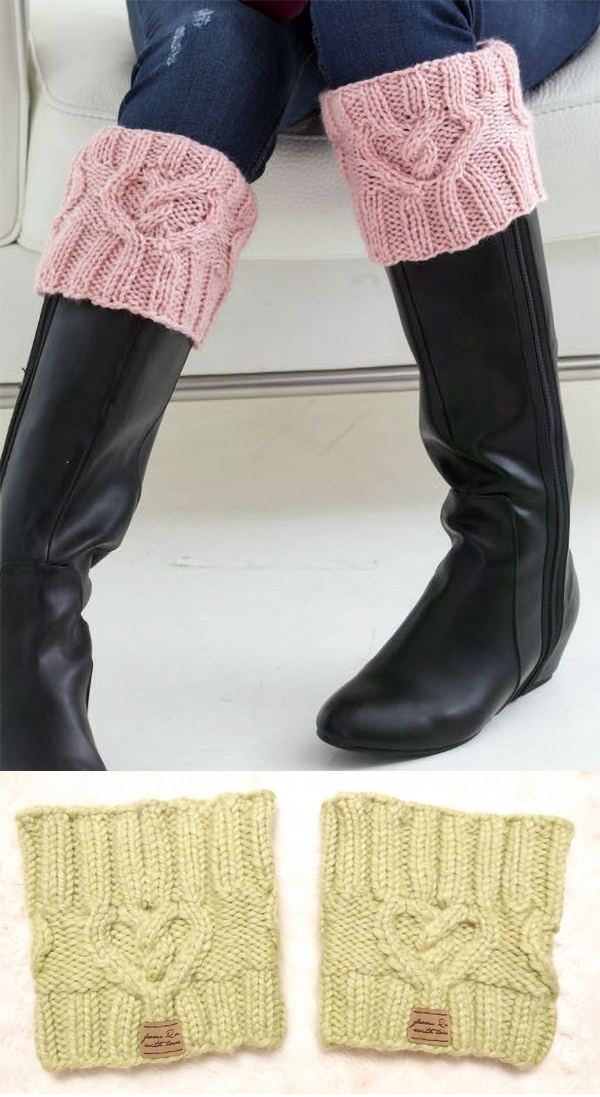 Cabled Heart Boot Cuff
Finished Circumference About 10 in. (25.5 cm), will stretch to fit a range of sizes. Aran yarn. Designed by Maryellen Ferguson for Lion Brand. Pictured project by the designer and Ru7965.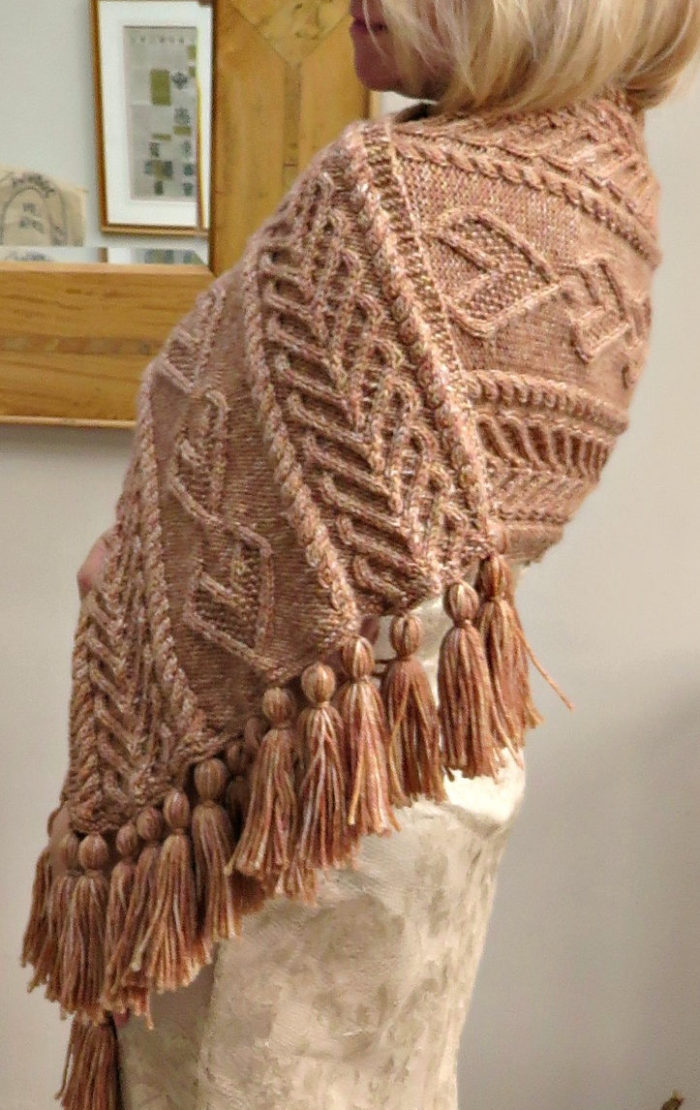 Queen of Hearts Stole
Rectangular shawl with cable hearts and cable panels. DK yarn.Designed by Bonny Bonafilla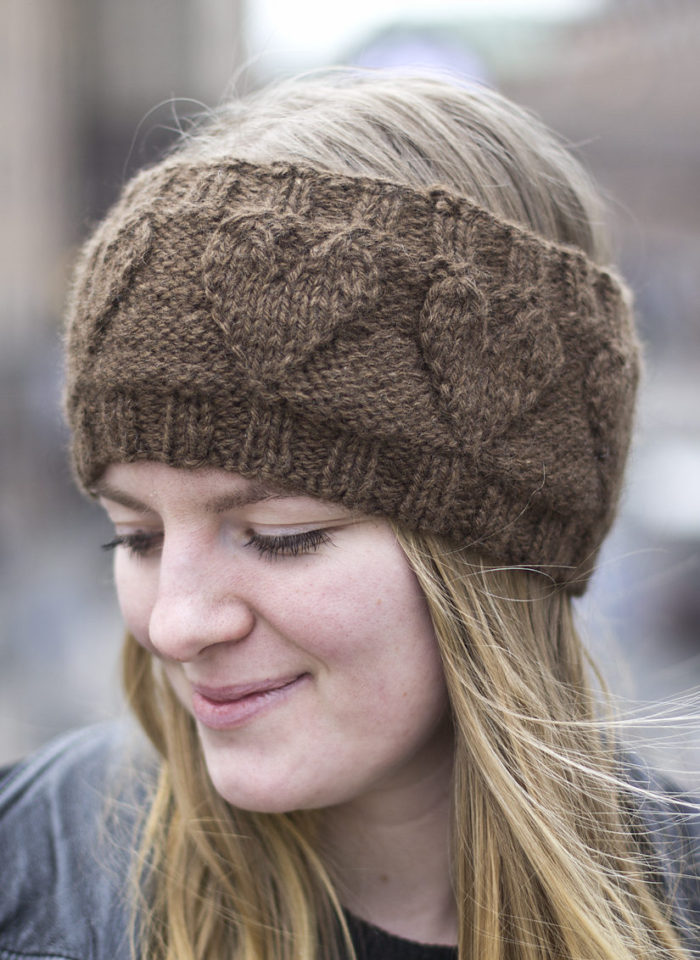 Heartsome Headband
Simple earwarmer with embossed hearts. 2 sizes. Available in English and Swedish. Designed by Linnea Ornstein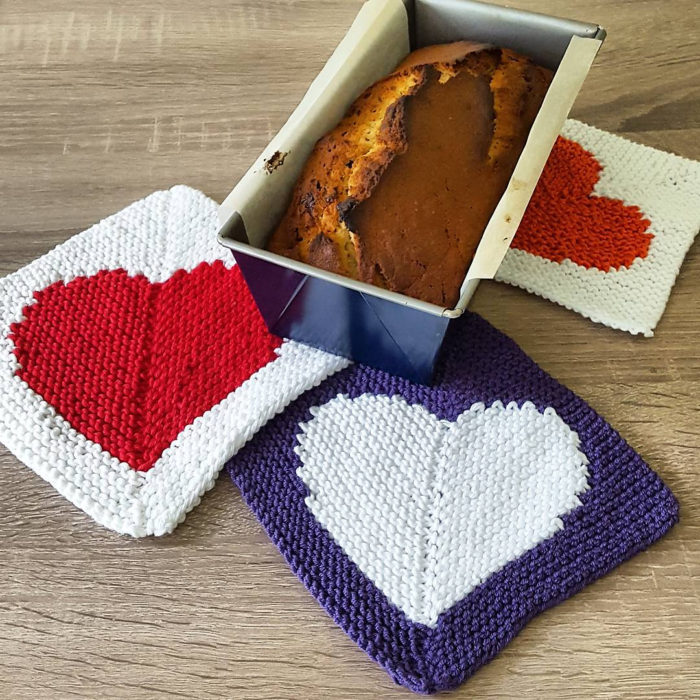 Heart Cloths
I ♥ Intarsia heart wash or dish cloths are knit with intarsia and short rows. Designed by Sybil R of Knitting and so on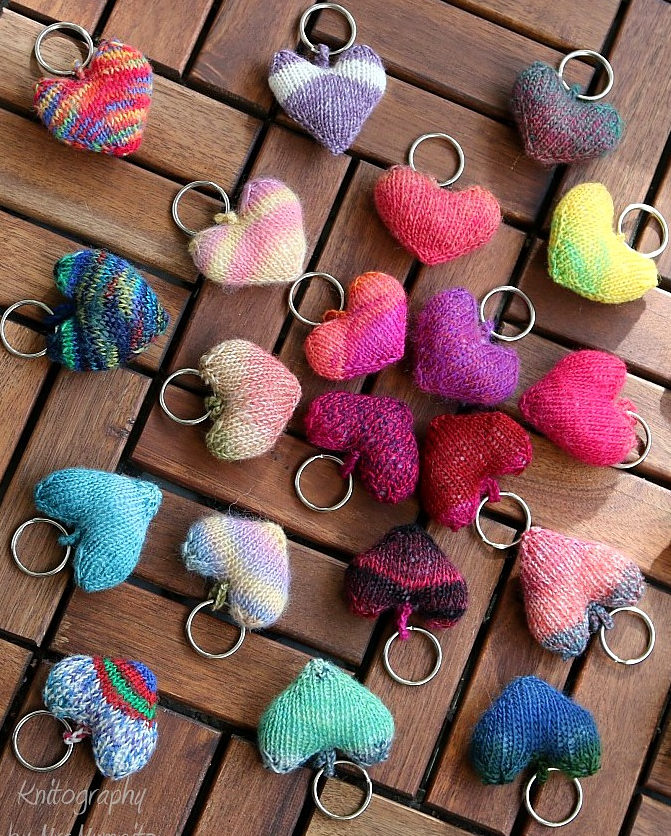 Little Hearts
These little hearts make cute keychains, tags, decorations, party favors and more, and are a great use for scrap yarn. Designed by Doreen Blask for Knitography.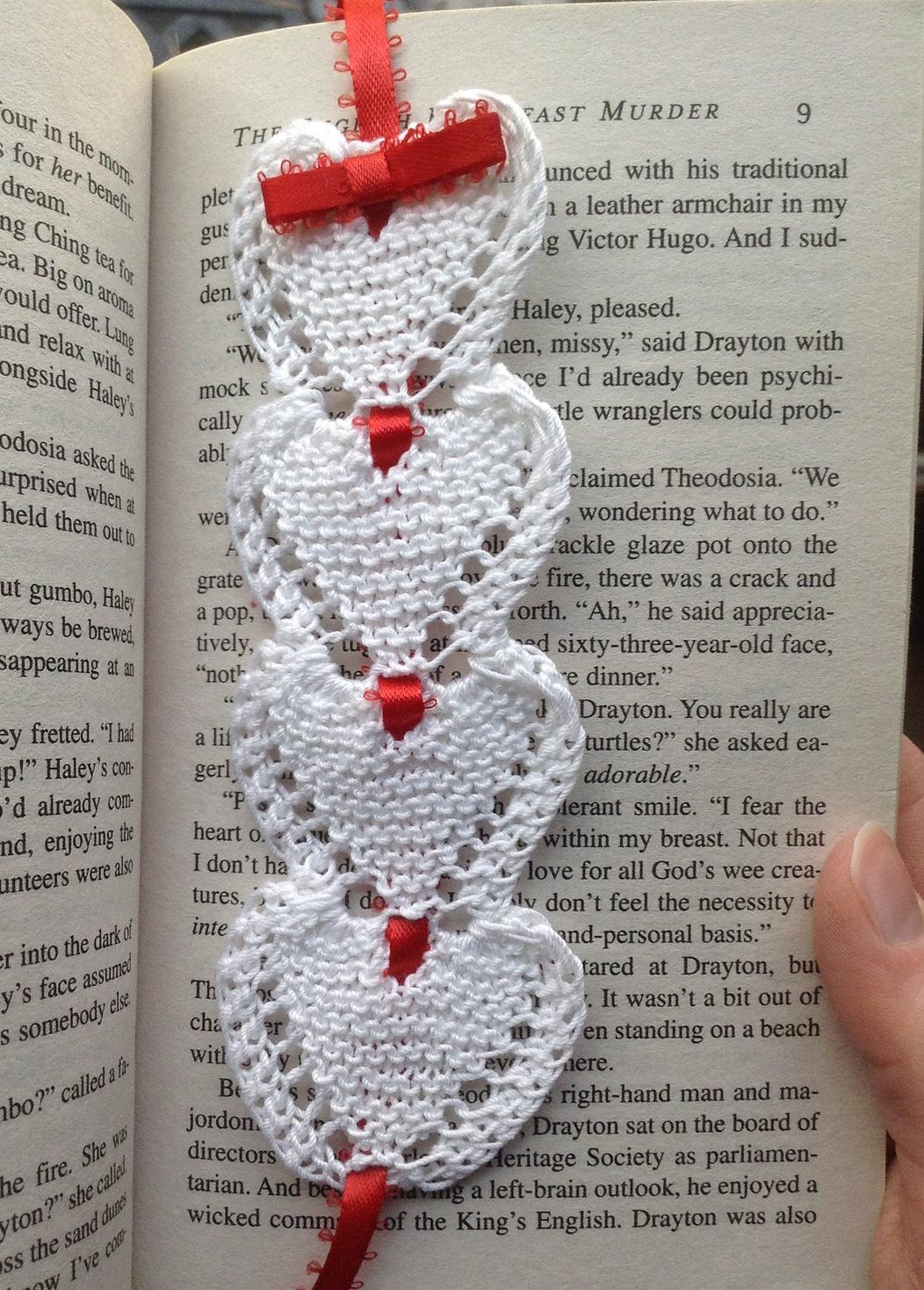 String of Hearts Bookmark
Lace hearts with pretty ribbon woven through eyelets can be used as decoration as well as bookmark. Designed by Judy Gibson. Pictured project by espomull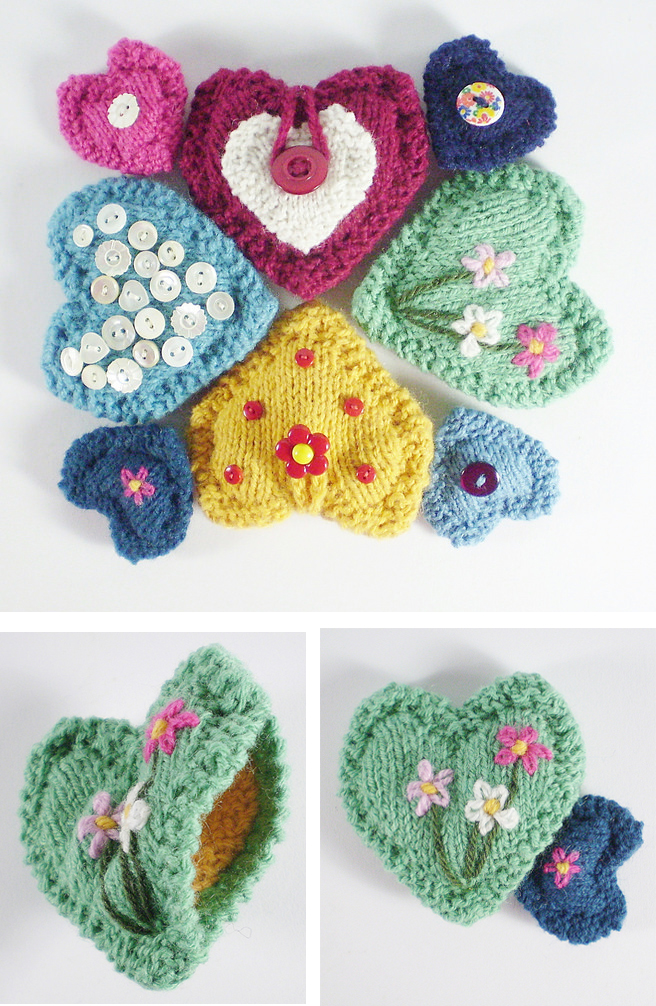 Pocket Hearts
These knitted hearts are big enough to hold a small gift, a Valentine message, a chocolate … or even a tiny knitted heart. DK weight yarn will make 8 cm tall hearts while using 4 ply gives you a 6 cm heart. Instructions are also included for the tiny stuffed hearts (about 5 cm tall) . Designed by Frankie-Brown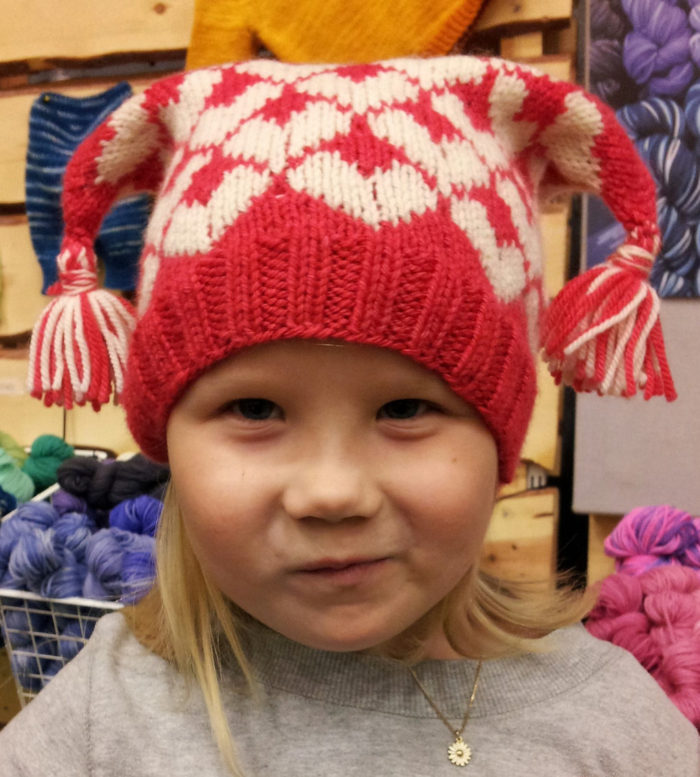 "I heart you" hat
This hat features hearts in stranded colorwork and is sized 1-16 years. Designed by Nina Figenschau. Available in English and Norwegian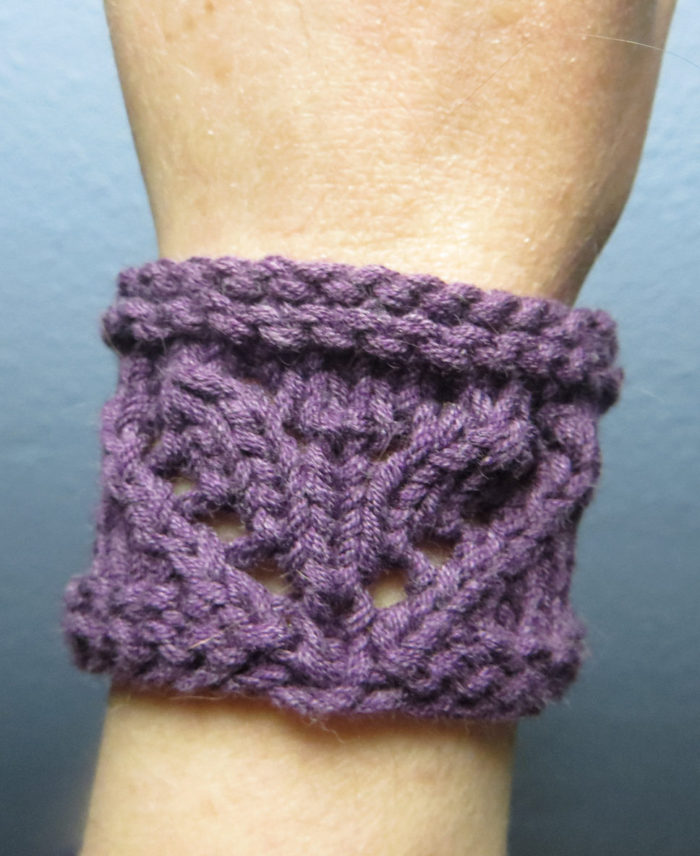 Heart Cuff
Bracelet with heart lace pattern. Uses just 25 – 50 yards (23 – 46 m) of yarn so it's a great use for scrap yarn. Designed by Jennifer L Ackerman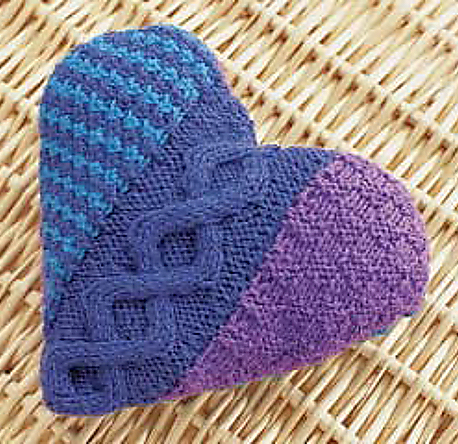 Cables and Checks Heart Pillow
Heart-shaped cushion with a cable framed by basketweave and easy colorwork panels. Comes with matching afghan pattern. Designed by Patons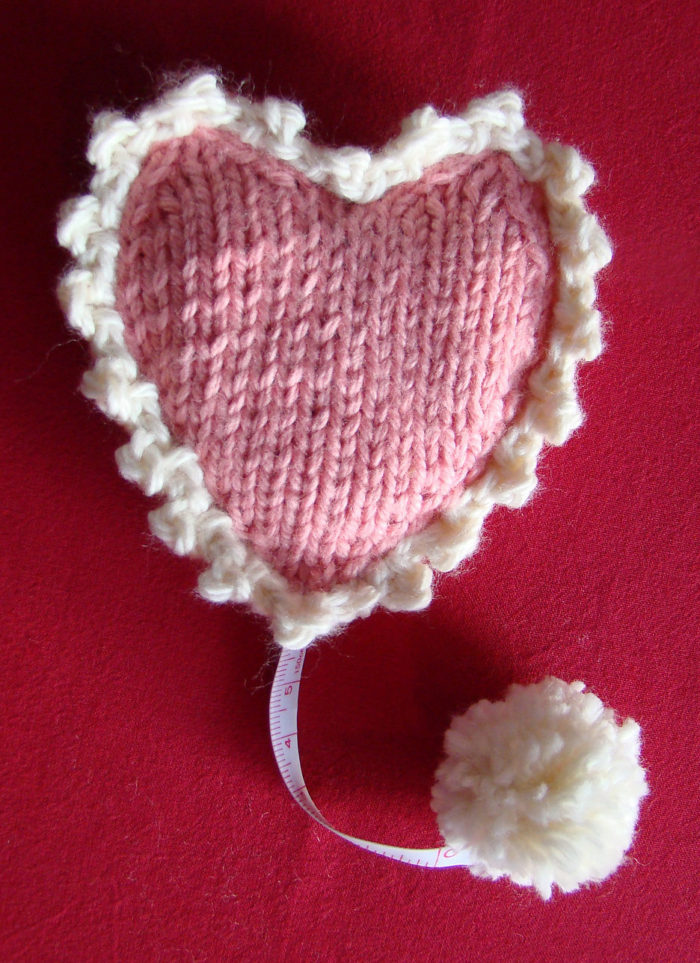 Heart Tape Measure
Tape measure cover about 3-inches both horizontally and vertically w/o the trim knit in worsted yarn. Fits tape Measure 2″ in diameter and ½" high. Designed by Susan B. Anderson. Rated very easy by Ravelrers.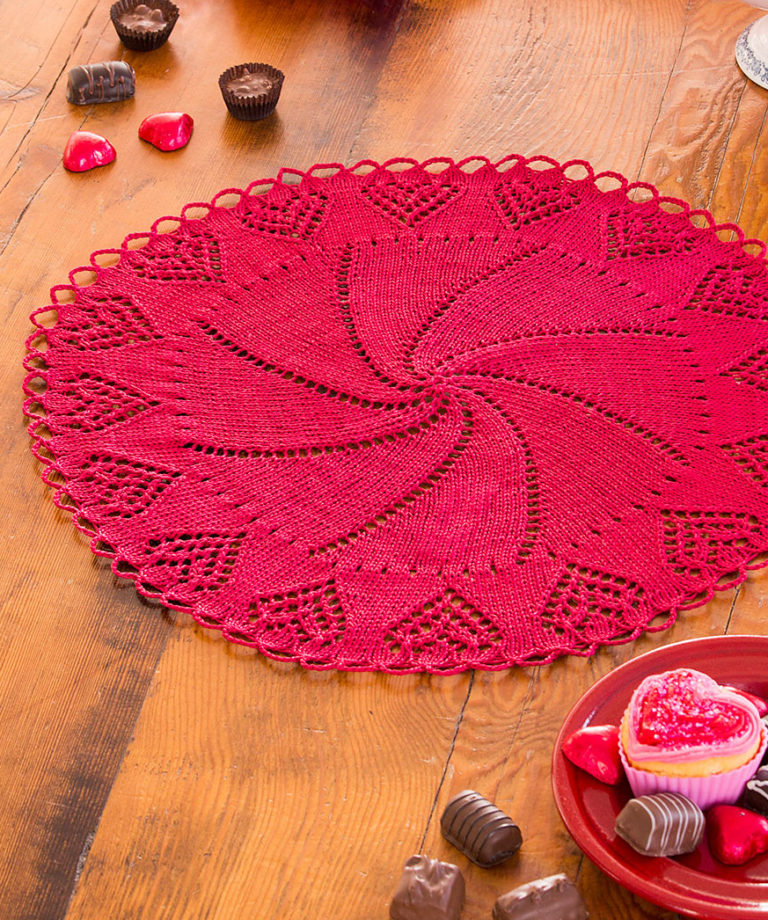 Valentine Heart Doily
The elegant spiral center of this doily is surrounded by a border of lacy eyelet hearts and finished with delicate chain scallops at the edge. Designed by Nazanin S. Fard for Red Heart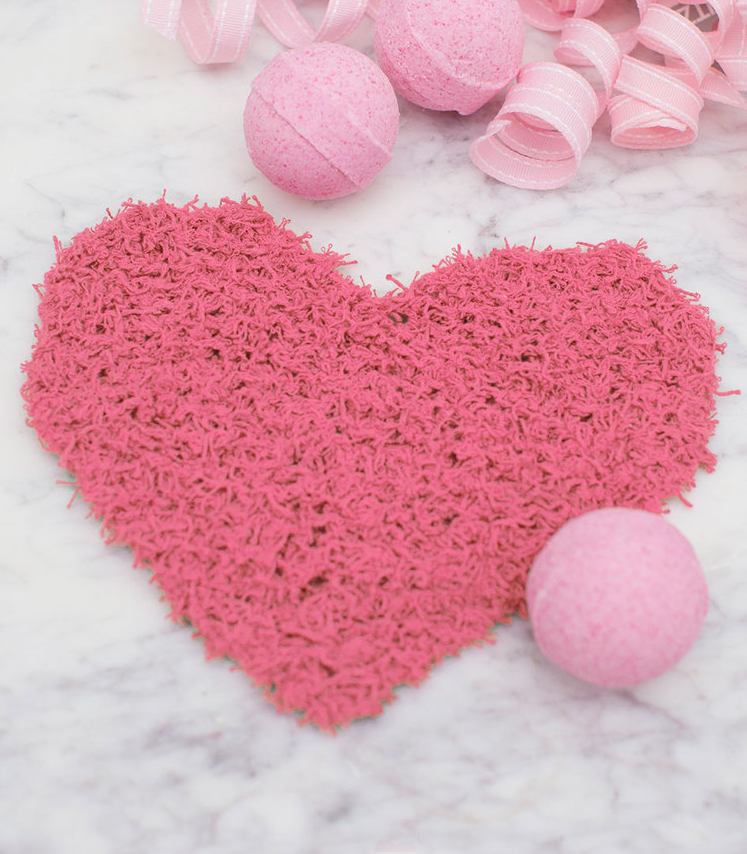 Loving Heart Scrubby
Heart-shaped wash cloth makes a great gift or part of a bath gift basket. Designed by Peggy Greig for Red Heart Scrubby Cotton Yarn which is gentle and soft on skin.

Arm Knit Heart Blanket or Rug
Stacy King's creative heart afghan design would make a great gift or decoration for babies, weddings, Valentine's Day, or anyone who needs a little more love!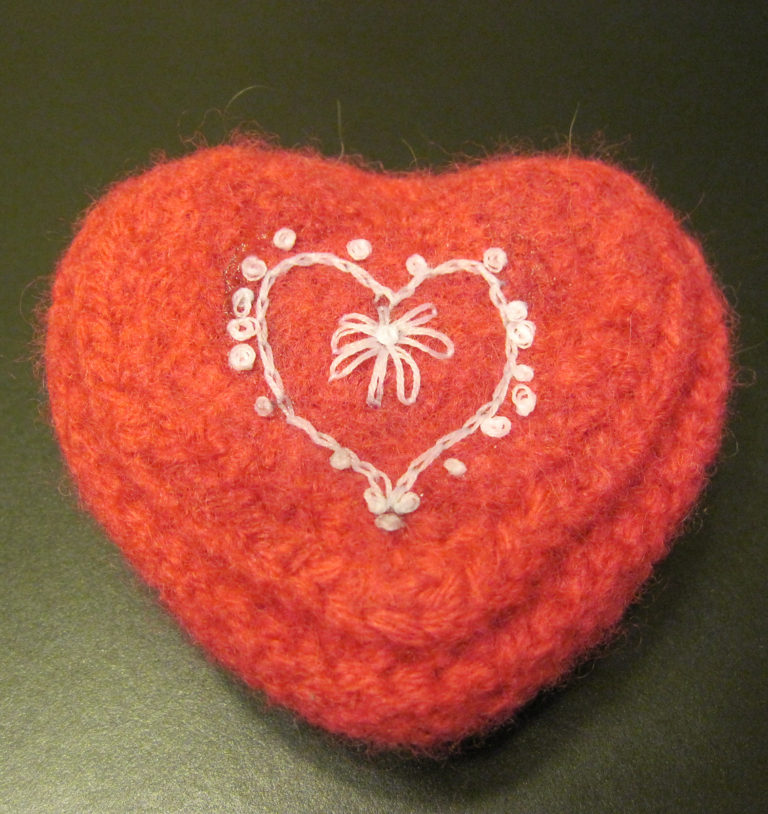 Heart Box
Easy to knit and felt box is approximately 4-1/2 inches wide by 2 inches tall. Use heart cookie cutters to help shape the box. Designed by Anita M. Wheeless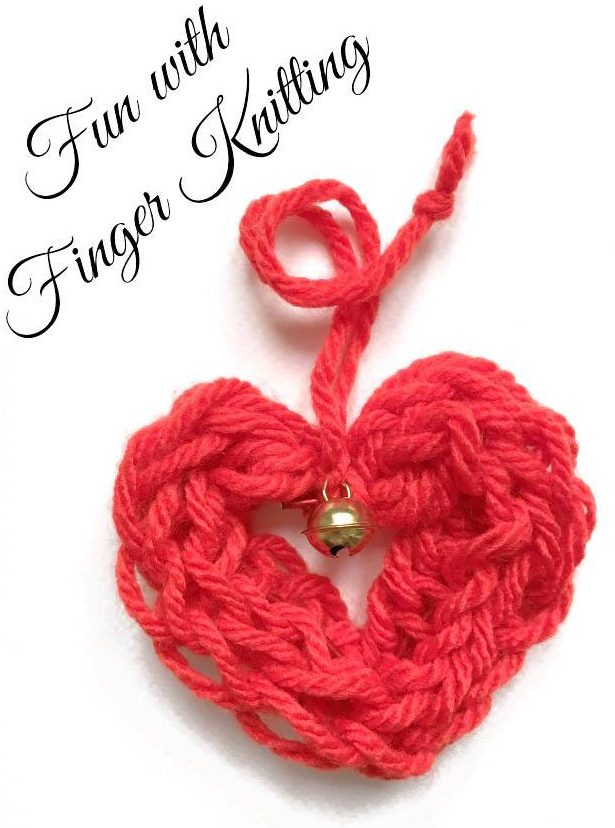 Finger Knit Heart Ornament
Red Ted Art provides instructions and videos to knit a heart ornament. Great project for kids!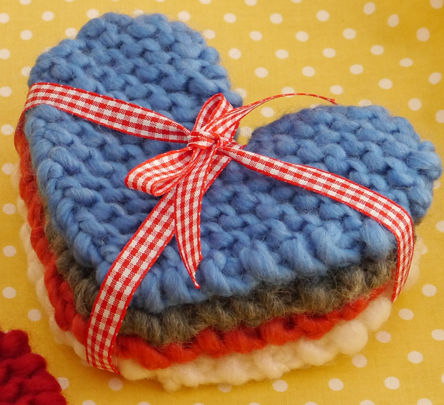 Heart Coasters
Photo tutorial for heart-shaped coasters by Julie & The Knits at Mollie Makes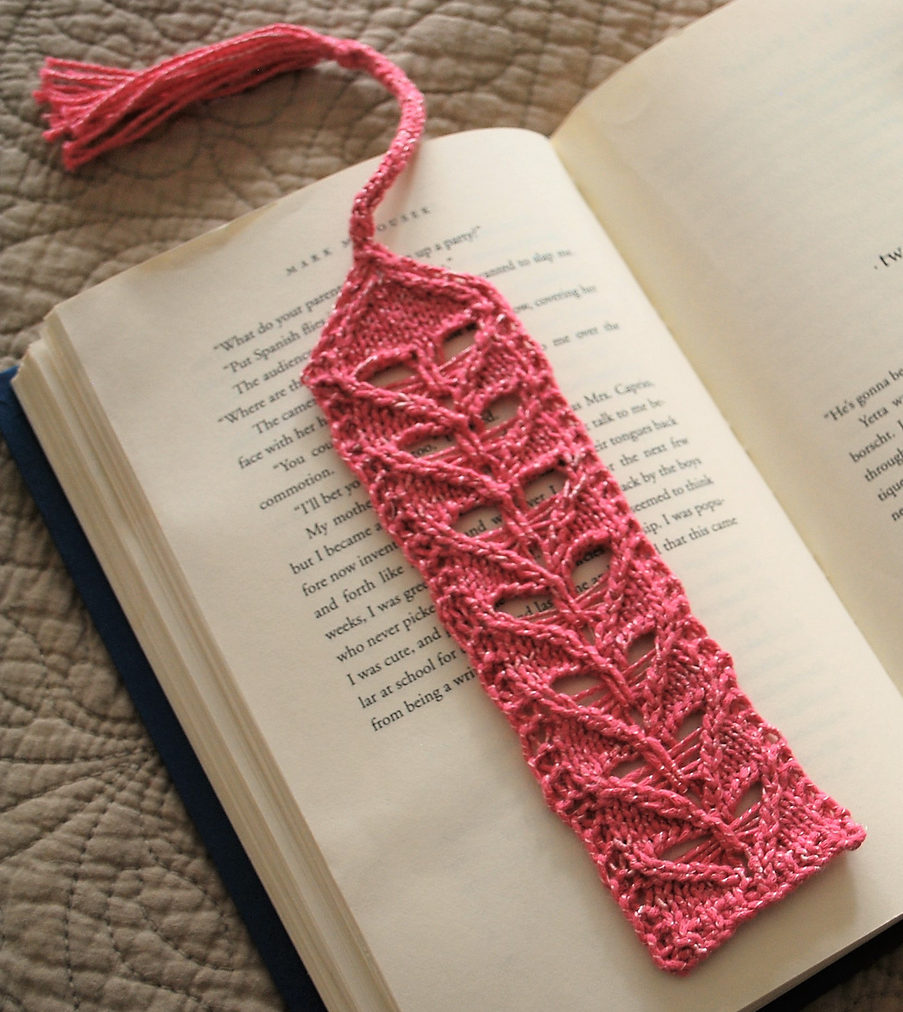 7 of Hearts Bookmark
Lace bookmark with interlocking hearts designed by Eric Haas. Pictured project by GeorgiaRain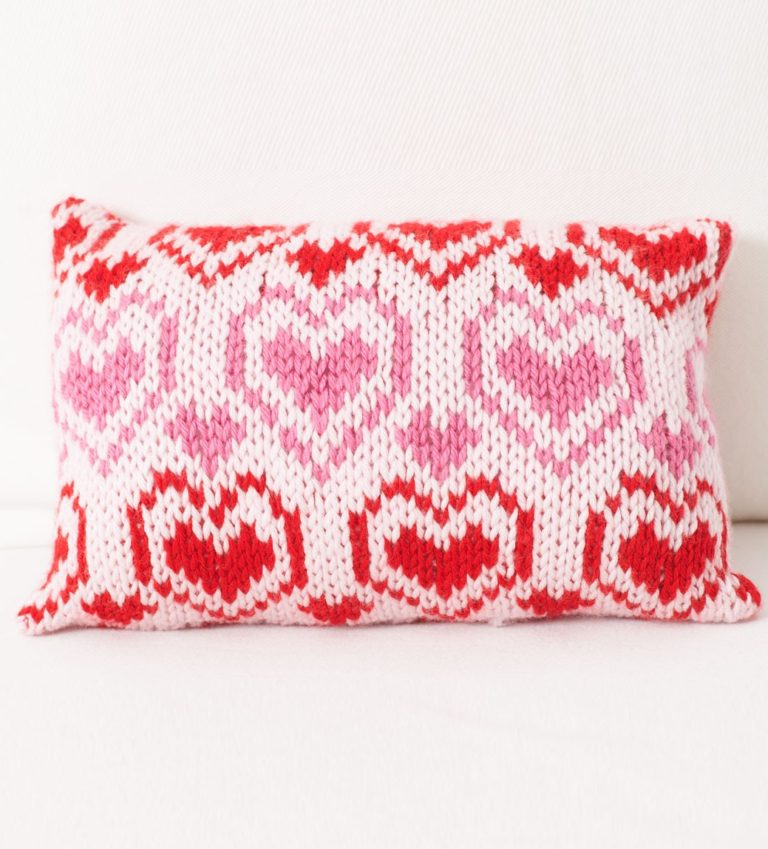 Bernat Comfort Pillow
Small colorwork heart motifs decorate this pillow by Bernat. Approx 10¼ x 8 ins [26 x 20.5 cm].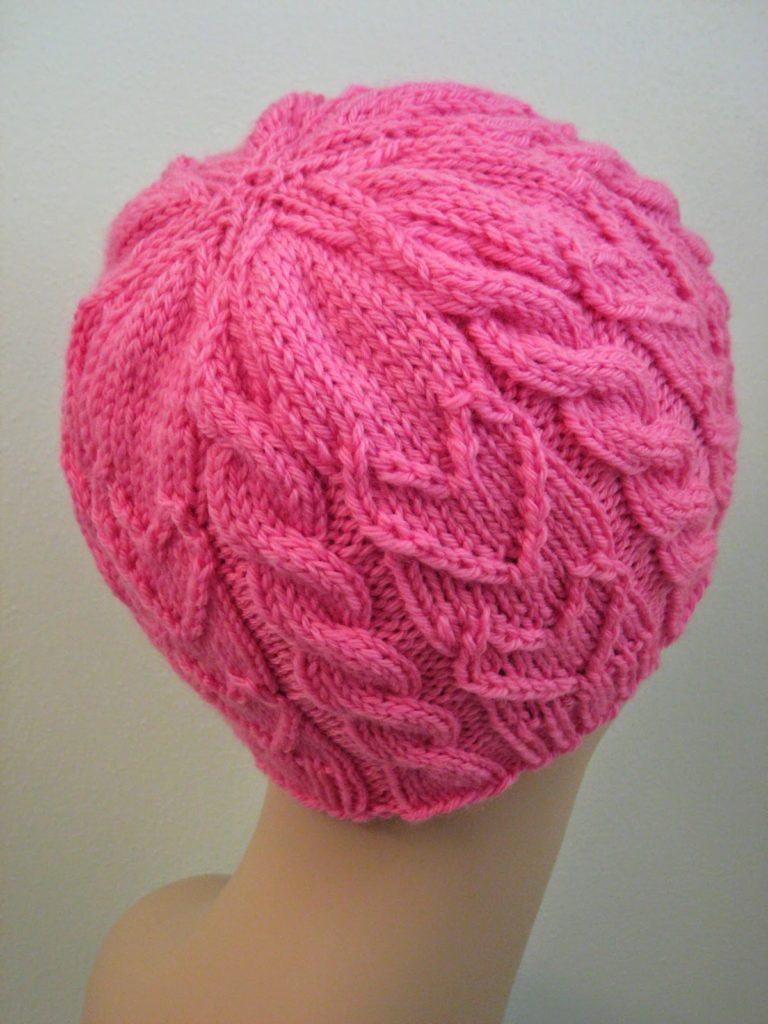 Sweetheart Beanie
Cable and heart motif hat from Balls to Walls Knits comes in adult and child sizes.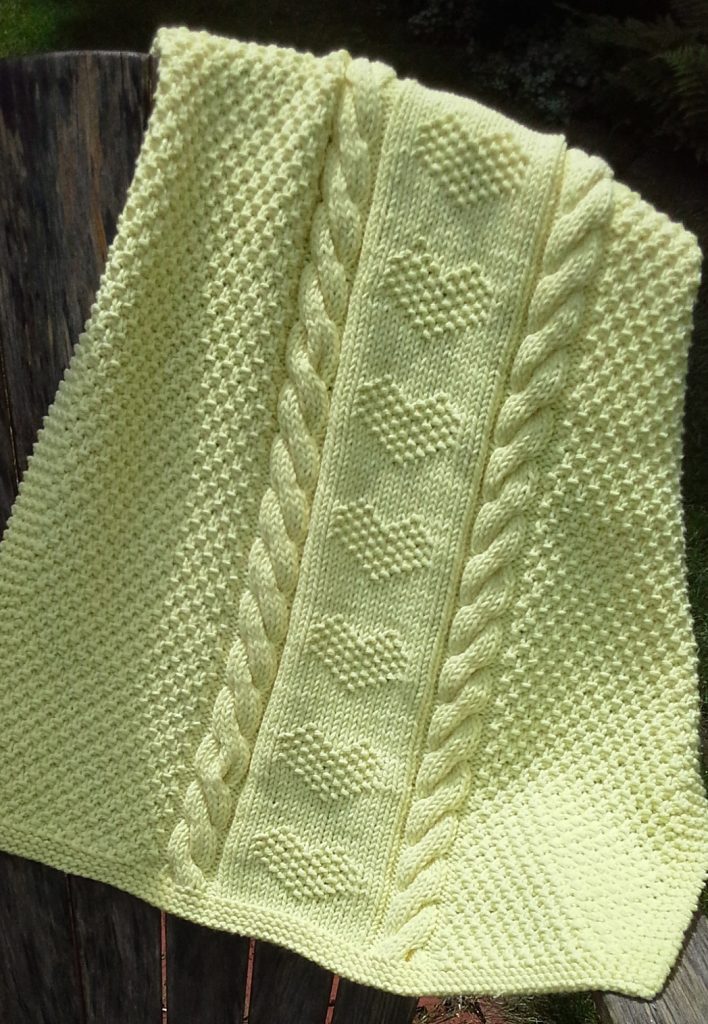 Love Is a Blanket
Marji LaFreniere's baby blanket features cables, textured stitches with a column of hearts in the center knit in bulky yarn. I've knit this pattern myself and it's very easy and fun.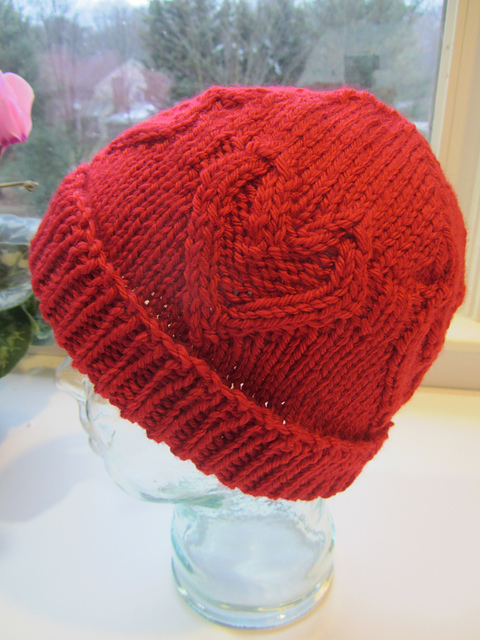 Cabled Heart Hat
Rebecca J. Venton's hat features hearts cleverly made of cables. Pictured project by Lili52.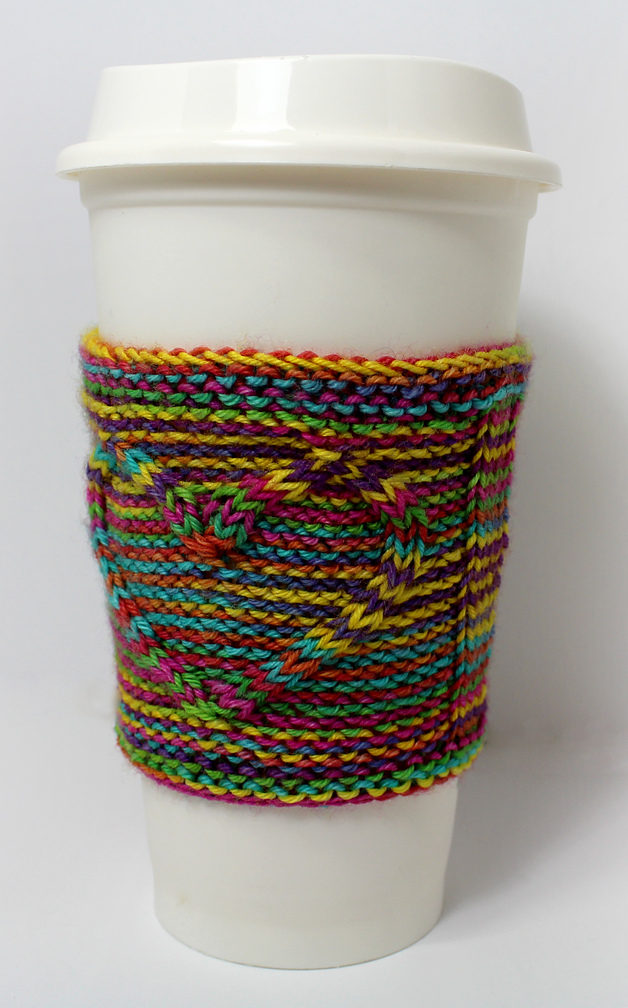 Heart Cup Cozy
Easy pattern "I'd Love Some Coffee" by Thaddeus Nelson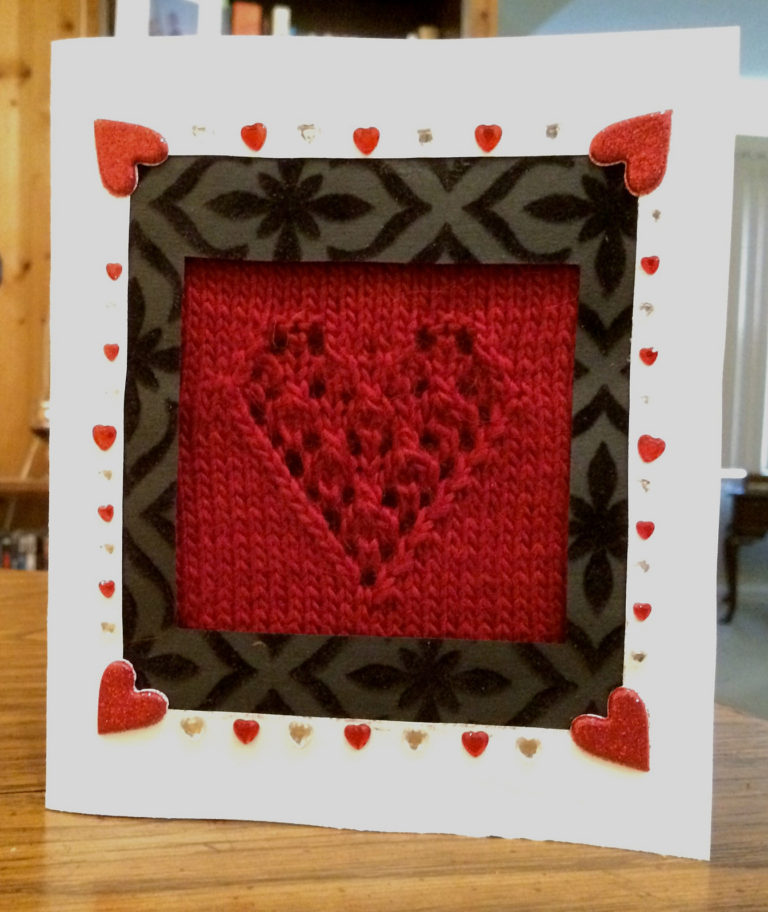 Valentine's Day Card
Elanor King provides a knitting pattern for the heart motif and detailed instructions with photos on how to assemble your own card. Of course you can also use the pattern as a motif for blankets, wash cloths, etc. Pictured project by BlackHorizonsBlue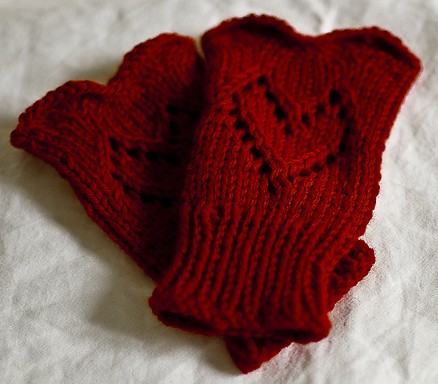 Heart Mitts
Steven Frieson's fingerless gloves features a heart pattern made from eyelets.

Valentine Mug Hug
Easy cup cozy pattern with heart motif by Michele Wilcox. Great pattern for stash yarn!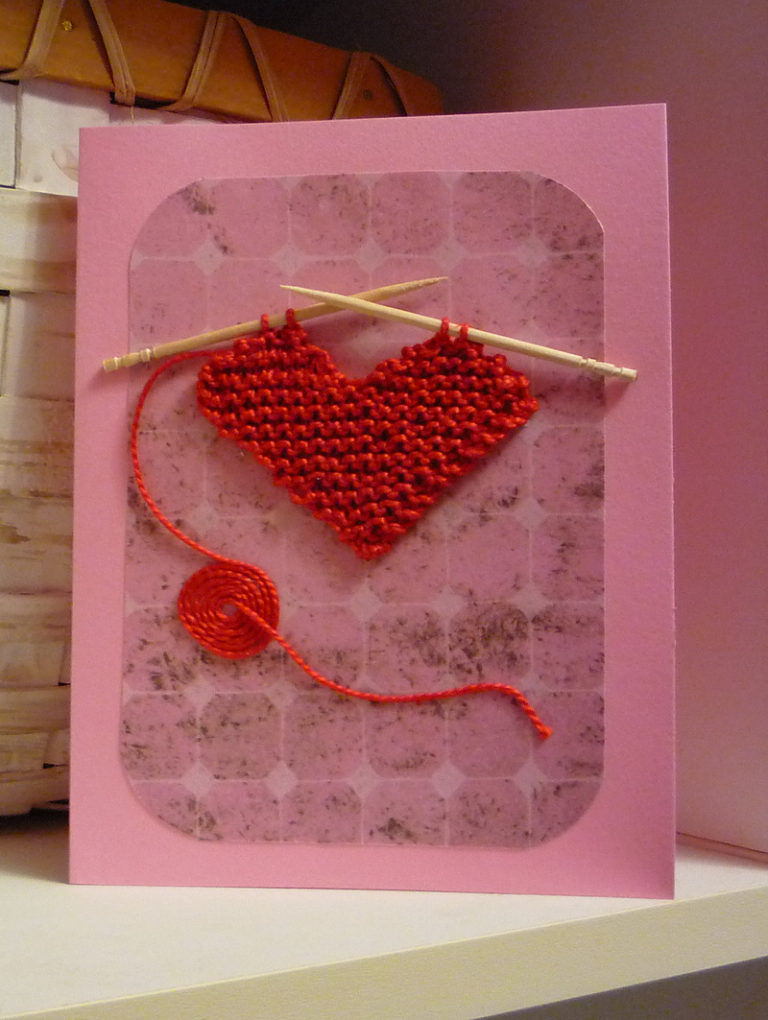 Loving Thoughts Heart Card
Show you care with a personalized card with a knitted heart by Kelly Jo Sweeney. Pictured project by fluffernutters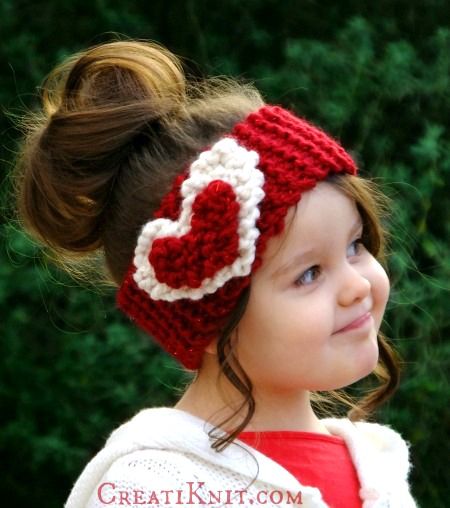 Heart Head Warmer
Creatiknit's headwarmer has sizes from baby to adult. It's a quick knit in super bulky yarn. Crochet version also available.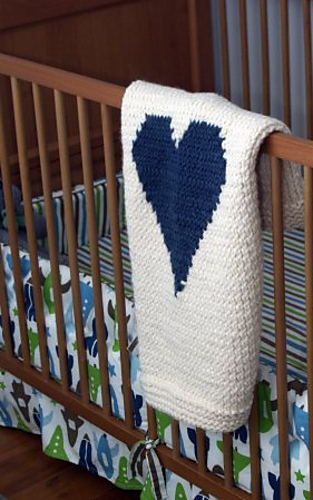 Heart Baby Blanket
Sarah Patterson's baby blanket is quick knit in super bulky yarn.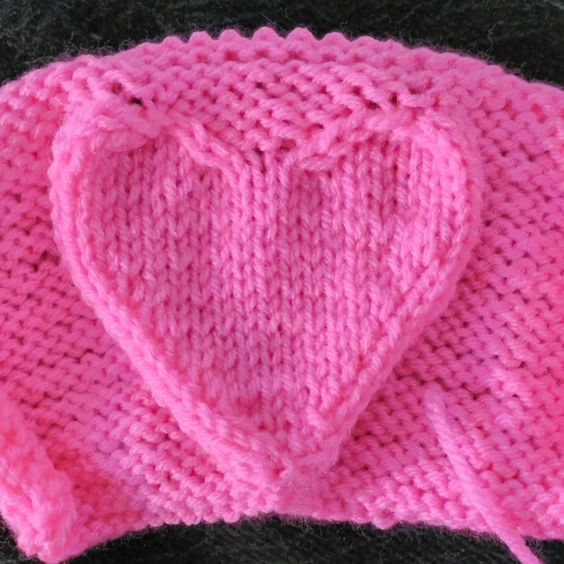 Raised Heart
Snugglebugknits designed this heart motif that can be used in blankets, sweaters, and other knitting projects.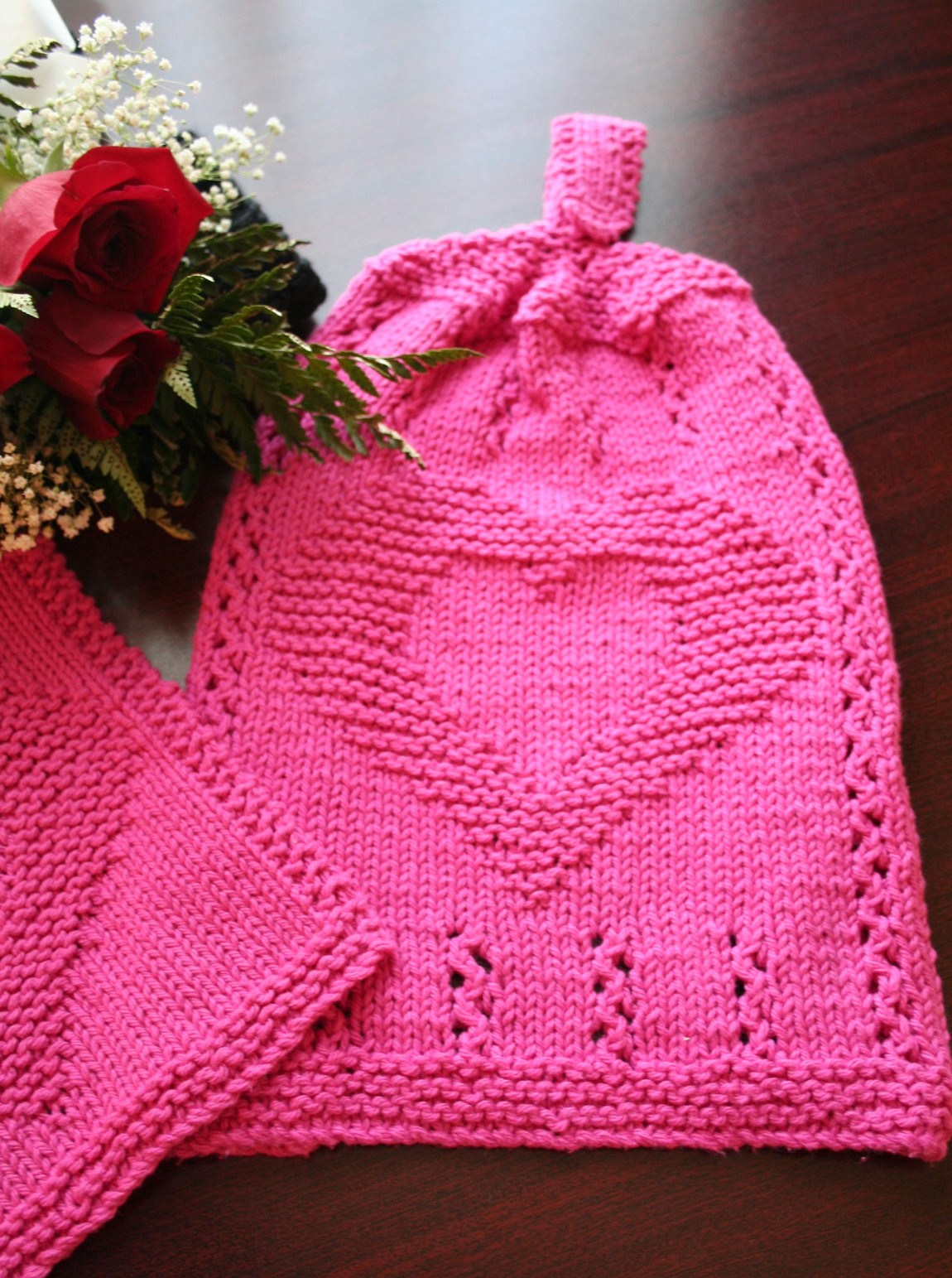 Two Hearts as One Kitchen Hanging Hand Towel
Cathy Waldie's design features a loop at the top for hanging and lace details.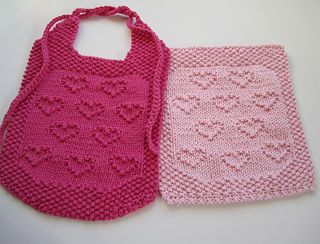 Hearts for Ruthie Free Baby Bib
Knitted by Elaine Fitzpatrick, there is also a washcloth version. The link below goes to the blog post. The link to download the pattern is in the list of links on the right side of the post.

Lace Heart Bookmark
Easy bookmark pattern by Darilyn Page. Pictured project by share32006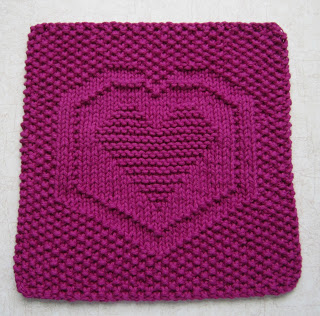 Heartbeat Cloth
Down Cloverlaine's heart motif can be used for dishcloths, blanket squares, sweaters, and other knitting projects.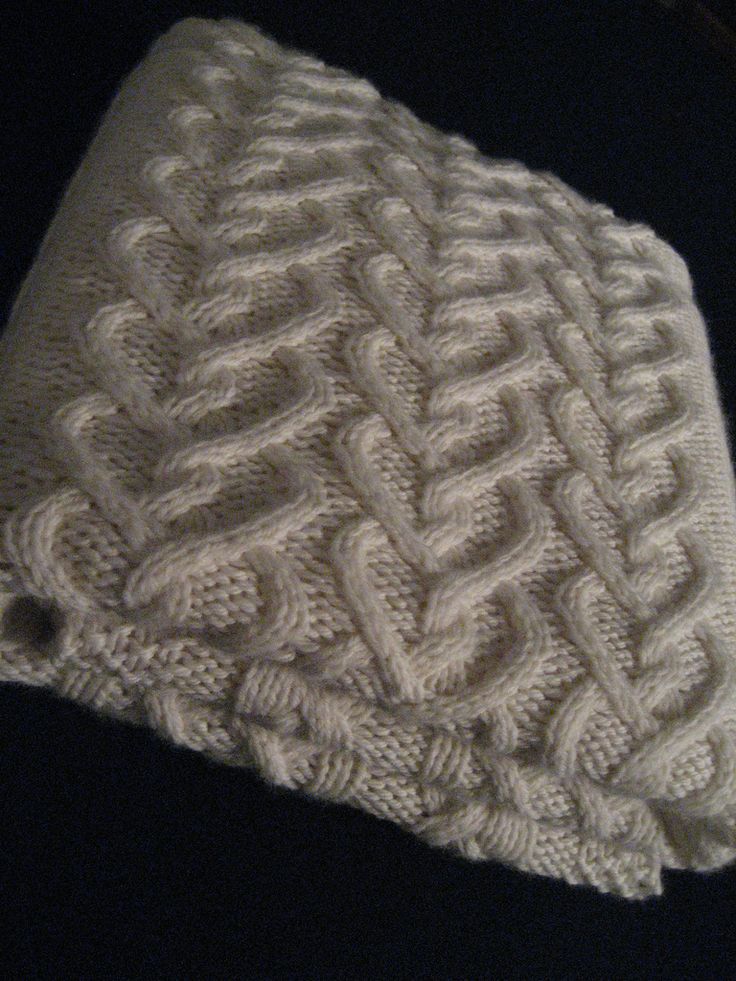 Levi's Baby Blanket
This is a variation on the Levi's blanket pattern by Lindsay Humphrey that just uses the heart cable motif. The original pattern has three different cable patterns. Pictured project by MzPoodle2U.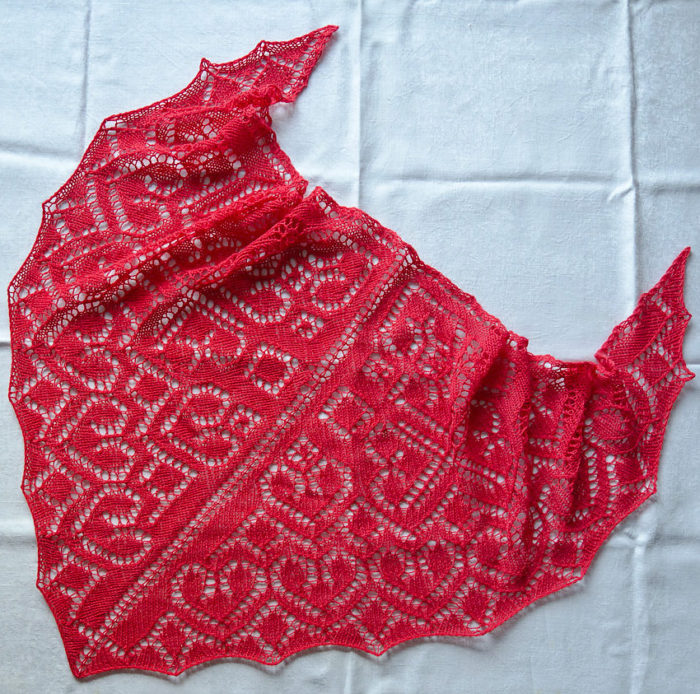 Little Valentine Shawl
Wrap yourself in lace with this beautiful shawl designed by Sylvie Beez. Pictured project by inkuz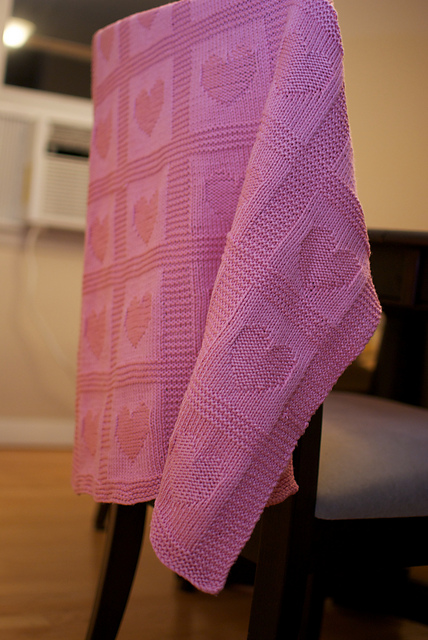 Heart Baby Blanket
Ann Saglimbene's blanket is designed with easy knit and purl stitches. 30″ x 40″ Pictured project by booties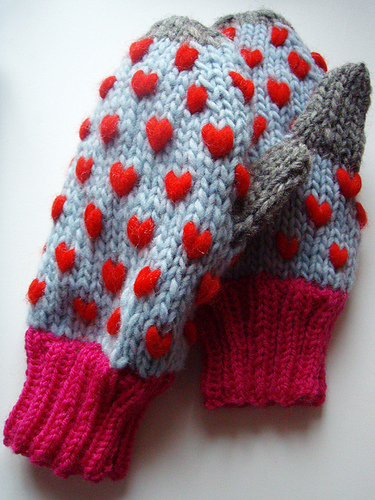 Thrummed Mittens
Adrian Bizilia's tutorial provides instructions on how to thrum – knitting wool or fleece into your work for design detail and warmth. Thrumming in the project above with red looks like little hearts. Pictured project by barehege.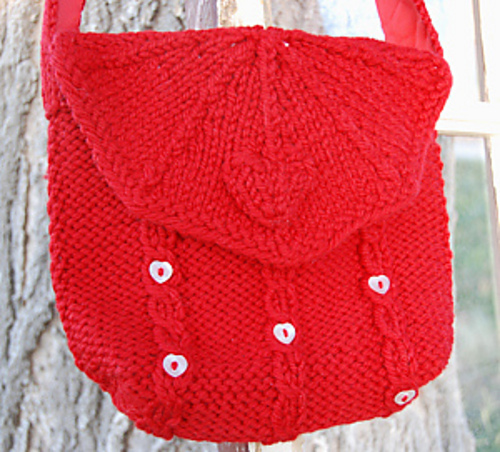 Hearts & Cables Purse
Lorna Miser's purse is made with one skein of bulky yarn. 10″ wide by 10″ tall. Decorate with 1/2" buttons of your choice.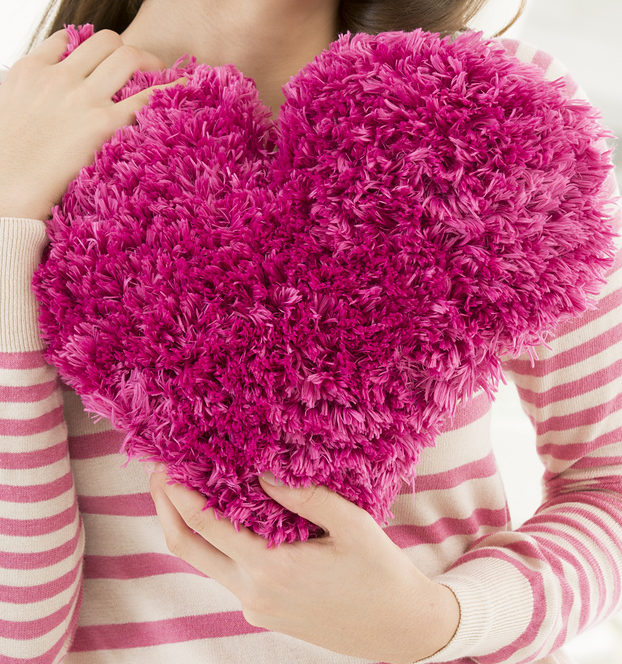 Fun Fur Heart Pillow
Huggable Be Still My Heart Pillow features a faux fur front and regular yarn back. Designed by Heather Lodinsky. 12" x 12" [30 cm x 30 cm].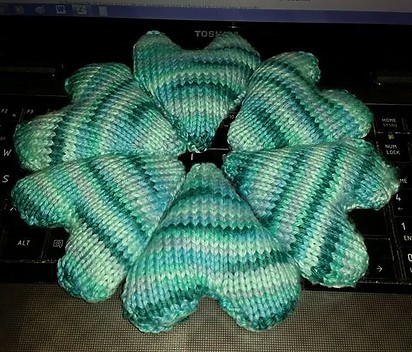 Heart Warmers Microwaveable Heat Packs
Stacey Lynn's knit heat packs make perfect quick gifts and stash busters. Stuff with beans or flax seed and add optional drops of essential oils for a natural heating pad. Pictured project by RuinosaAncilla.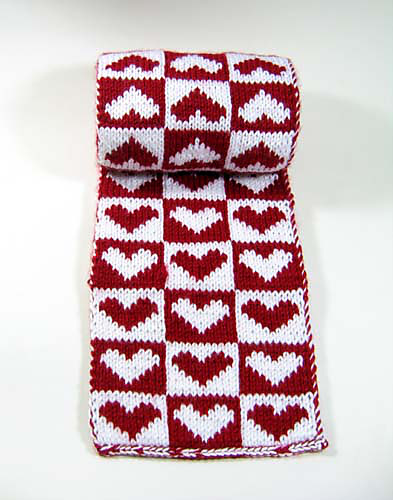 From My Heart Scarf
Designed by Karen S. Lauger, this scarf is double-knit with rows of contrasting hearts. Pictured project by MorganaQ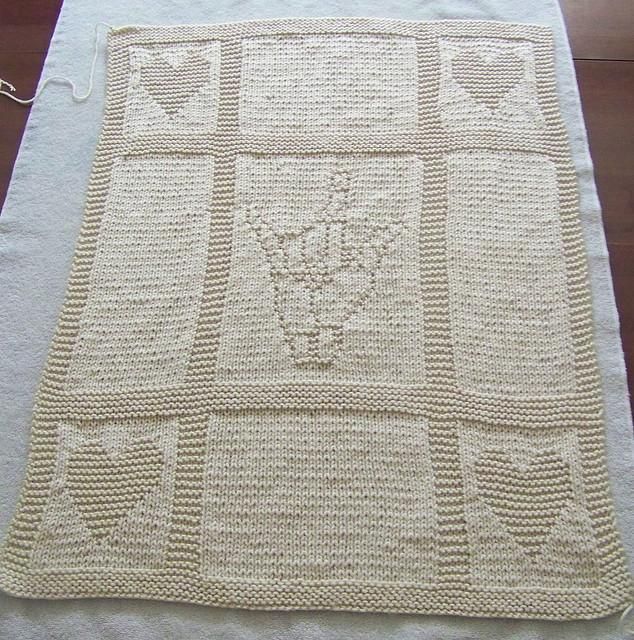 Savannah's Blankie
Amy-lynne Mitchell's baby blanket features I Love You in sign language and hearts.

Heart Sachet
A garter stitch heart turns this tiny sachet designed by Pat Higgins into a gift of love.
Get the free knitting pattern at Ravelry

I Love U Pillow With Pocket
This soft cuddly pillow has a pocket for a romantic note, card, or small gift to show your love.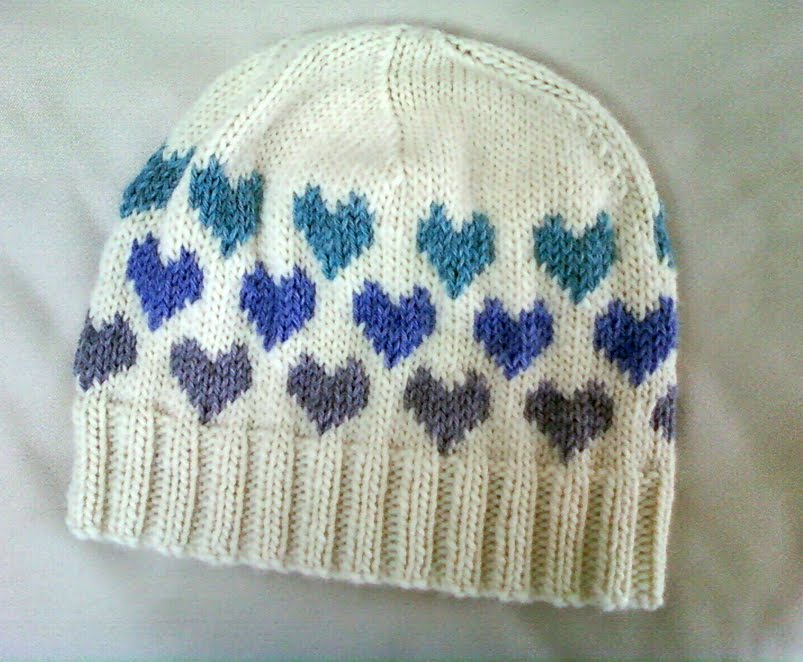 I Heart Knitting Hat
LuluKnits designed this beanie hat with fair isle hearts.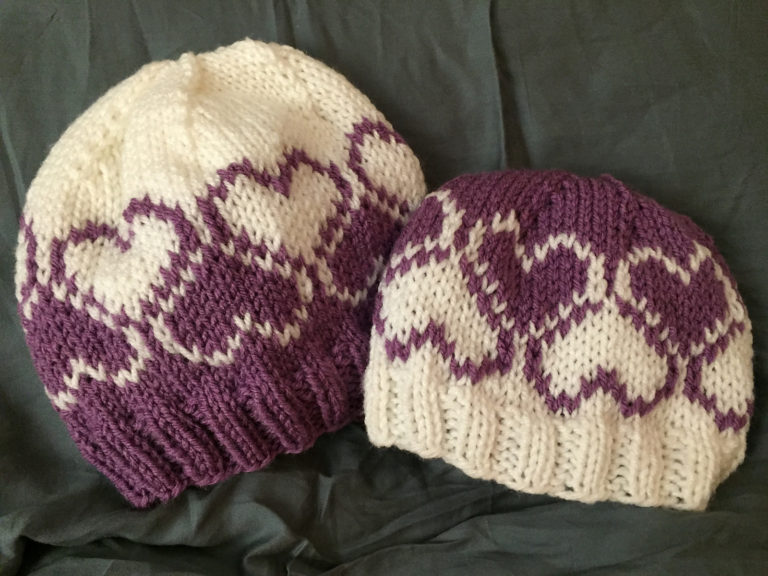 Love the Winter Hat
Emily Dormier's beanie features a heart motif in stranded colorwork. Four sizes: baby, child, adult small, and adult large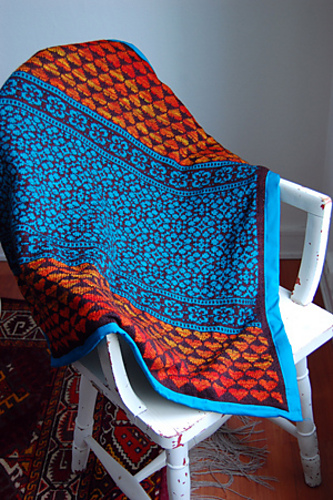 Latvian Garden Baby Blanket
Colorful motifs of hearts, flowers, and animals decorate this cozy blanket designed by Pinneguri.
Patterns for Purchase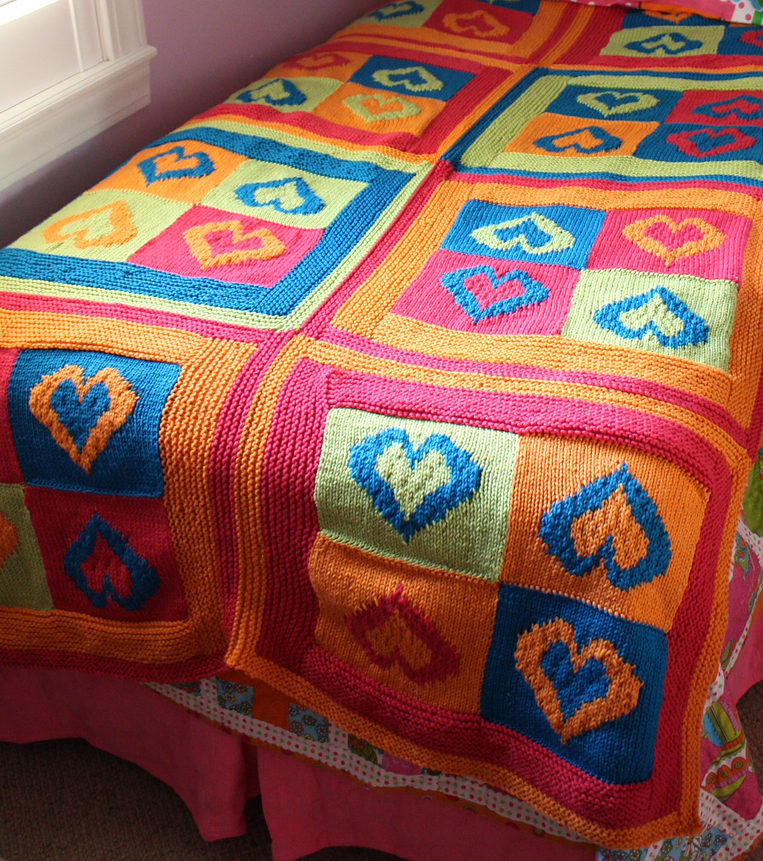 Many Hearts Baby Blanket
One of 20+ knitting patterns in Color by Kristin by Kristin Nicholas. Pictured project by snapdragoncrafts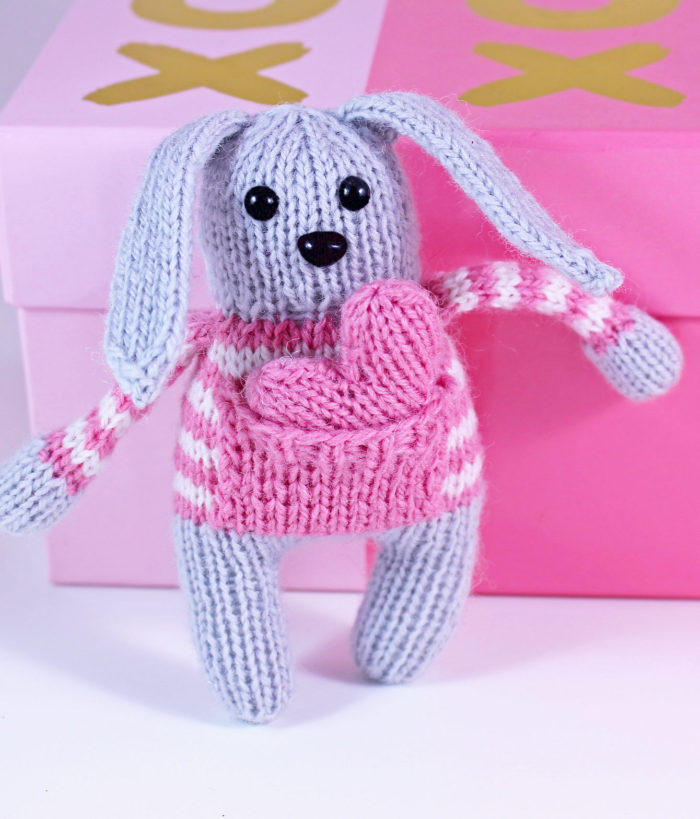 Bunny With Heart
This bunny, and her companion pug and monkey toys, have arms to hug candy or a pocket that's perfect for candy, jewelry, or a knit heart (included in pattern). Pattern includes instructions for all 3 toys. Finished size varies depending on the yarn you use. Sample shown in sock yarn about 4″ tall. Designed by Wicked Chicken Yarns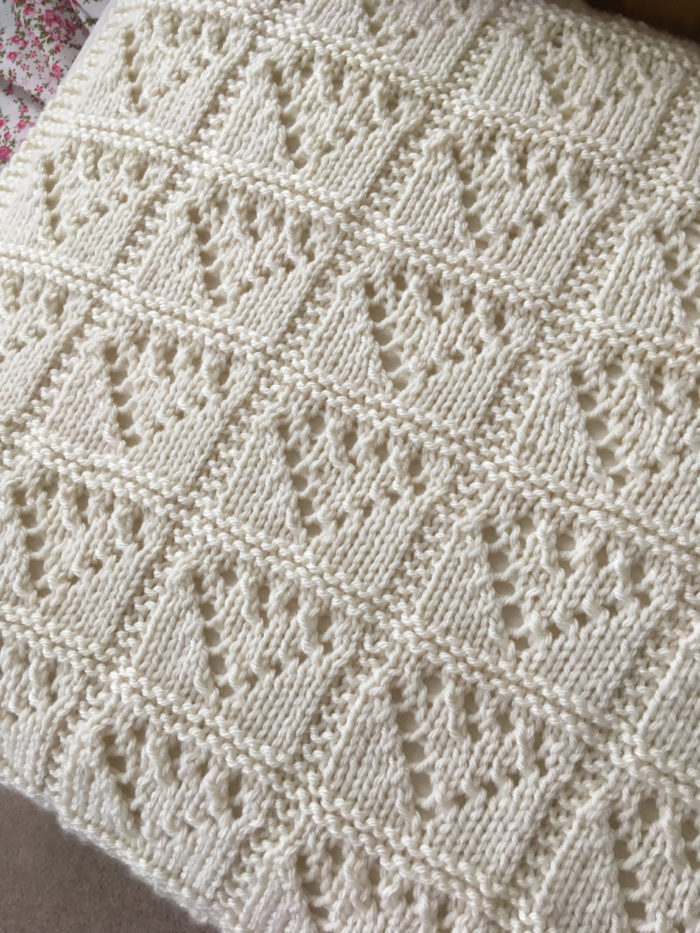 Lace Hearts Baby Blanket
The finished measurements are 73cm x 60cm. Worsted weight yarn. Designed by KnitSewMake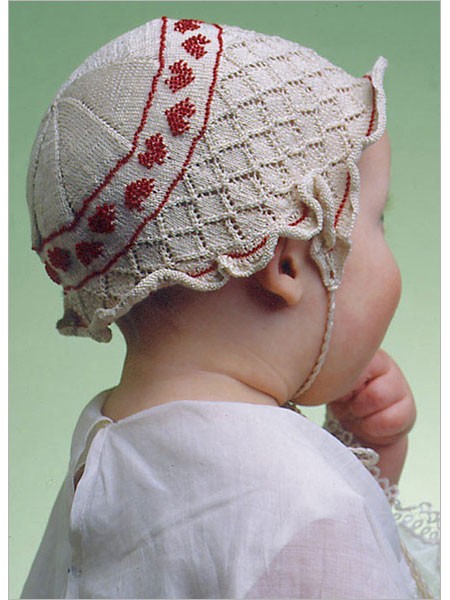 Diamonds and Hearts Baby Bonnet
This Victorian-style lace and beaded baby bonnet is worked in one piece from the top of the crown downward to the ruffled edging. Designed by Judith Durant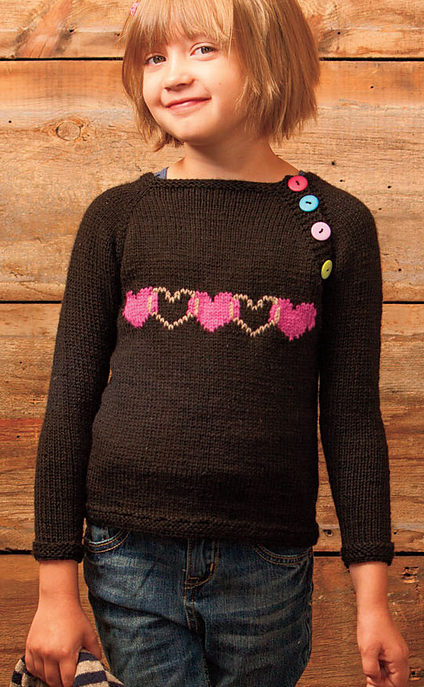 Heartgyle Pullover
Long-sleeved children's sweater with argyle-like heart pattern at chest, with buttons along front yoke for easy dressinig. Sizes 24 (25 1/2, 27 3/4)" chest circumference. DK yarn. Designed by Mari Chiba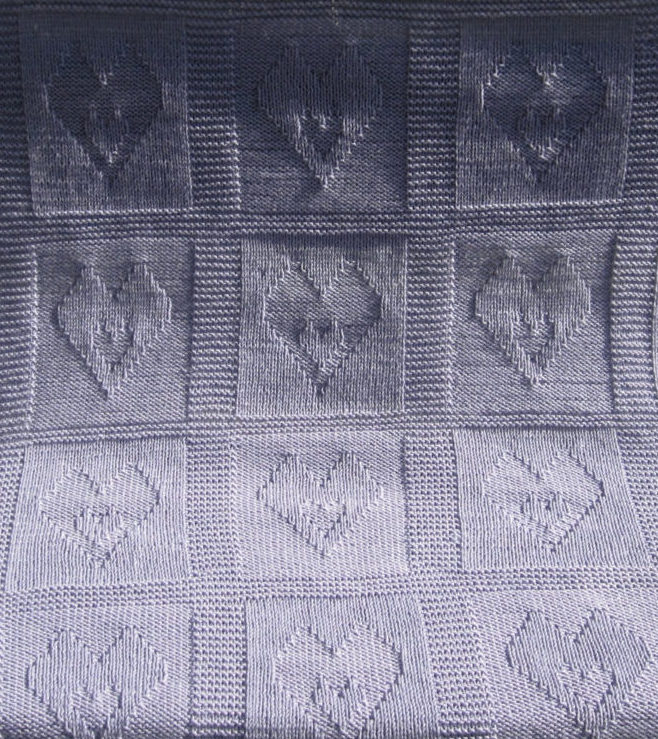 Heart in Heart Baby Blanket
Designer says that this is suitable for a beginner with detailed instructions. Size 41 x 29 in. but easily customizable to other sizes.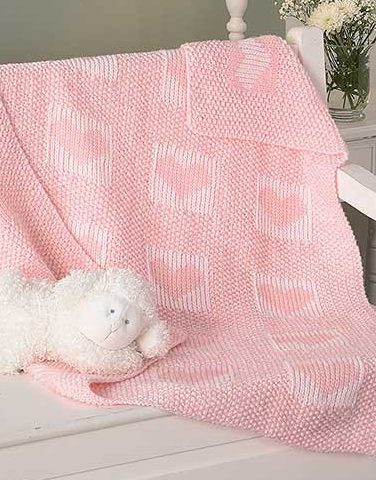 Double Hearts Baby Blanket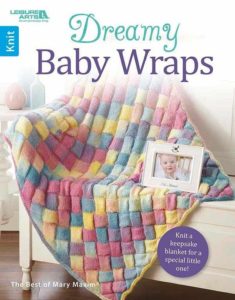 Reversible blanket with heart motifs is one of 9 blanket designs in the Dreamy Baby Wraps ebook.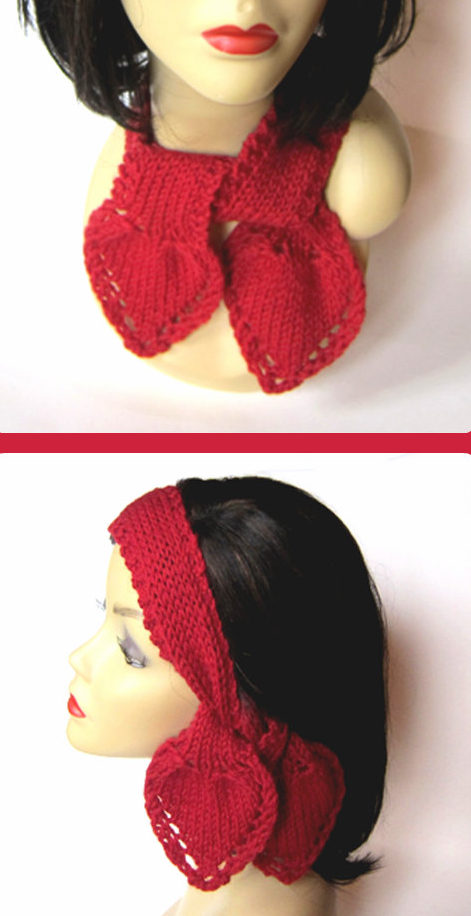 Heart Headband / Scarf
Quick knit uses less than 2 ounces of worsted weight yarn so it's a great stash buster and can be worn several different ways.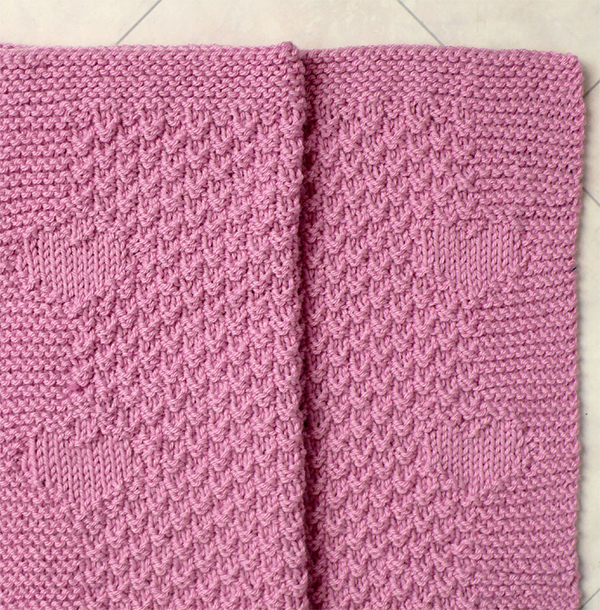 Baby Heart Blanket
This adorable baby blanket pattern is easy to knit with simple, basic stitches in worsted weight yarn. The finished size is 30 by 35 inches. Included for free with your purchase, is the full size Seaside Blanket pattern add on.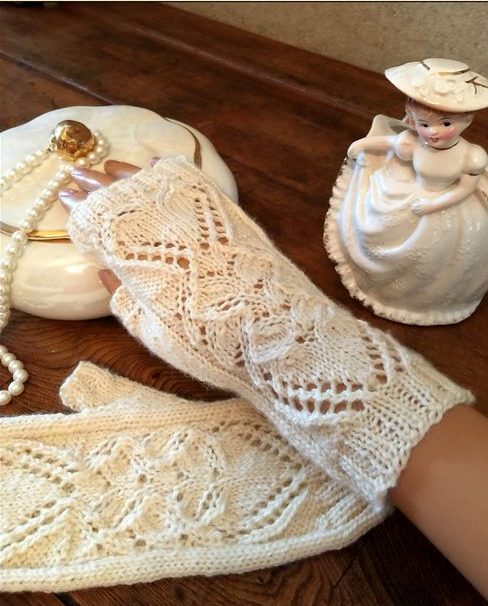 Heart of Mine Fingerless Mitts
Stunning lace mitts with heart motif. Instructions are included to knit in the round or flat.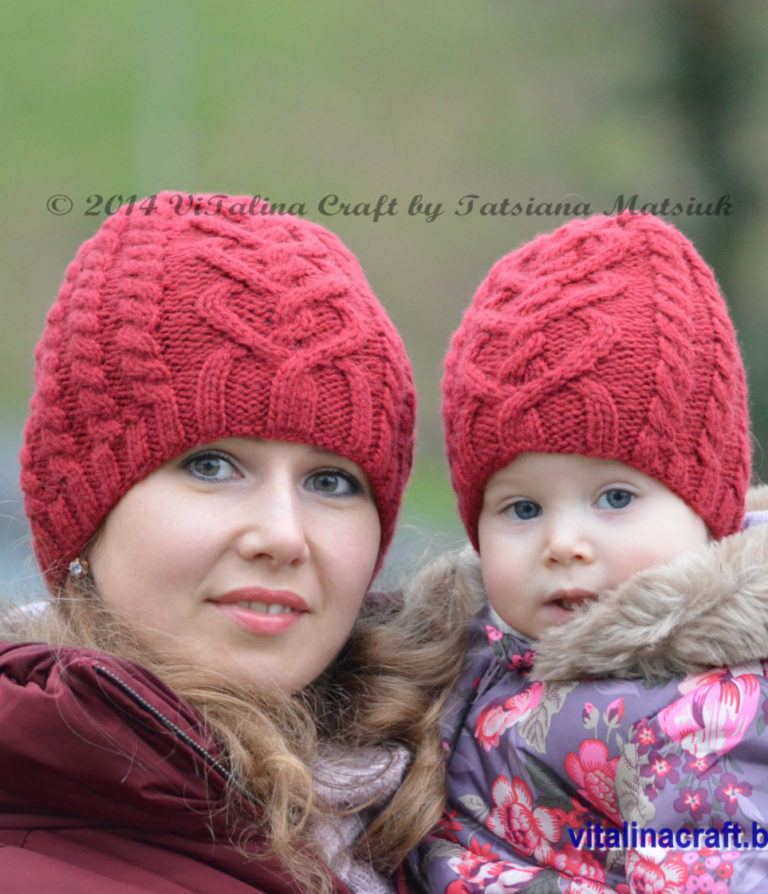 Valentine Cable Hats
This beanie pattern features entwined heart cables and includes all sizes from toddler to adult: 1–3 years, 4-10 years, adult.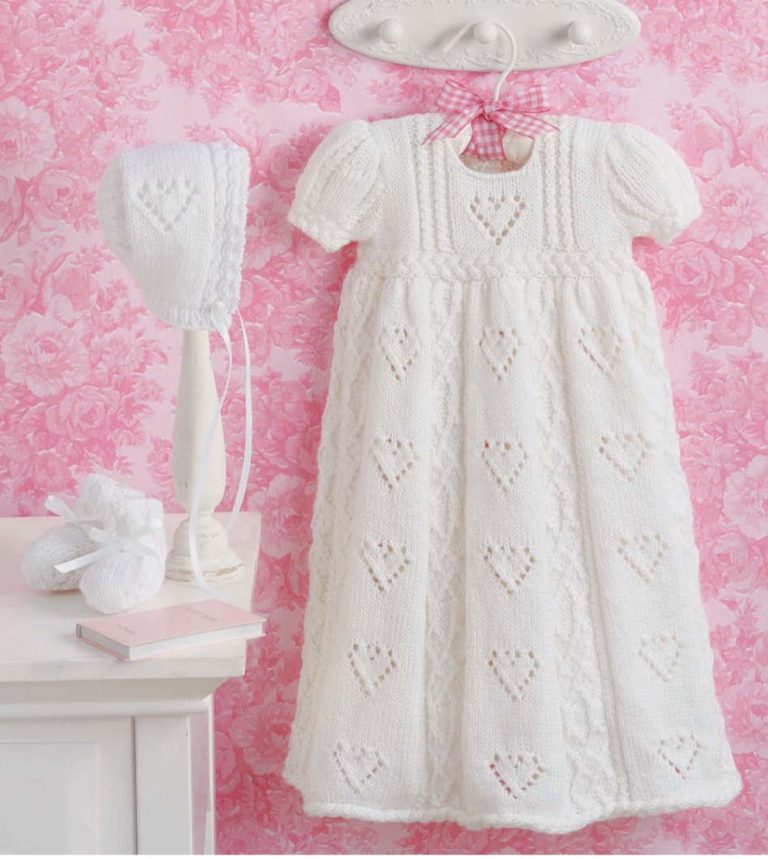 Love and Kisses Layette Set
A heart lace motif and x kiss cables decorate this christening gown, bonnet, and booties set. One of 4 sets in the Elegant Ensembles to Knit 2 ebook.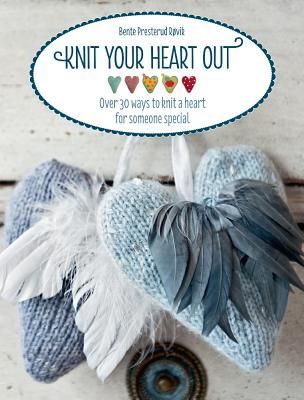 Knit Your Heart Out: Over 30 Ways to Knit a Heart for Someone Special
Features over 30 knitted designs, with something for everyone! Start by mastering the basic heart pattern in three different sizes. Then learn to embellish and adapt it to create a range of gifts, toys and home accessories, including cushions, hanging decorations, potholders, hairbands and brooches. The projects are split into 5 chapters with distinct styles or themes, varying from classic chic to fun and colourful.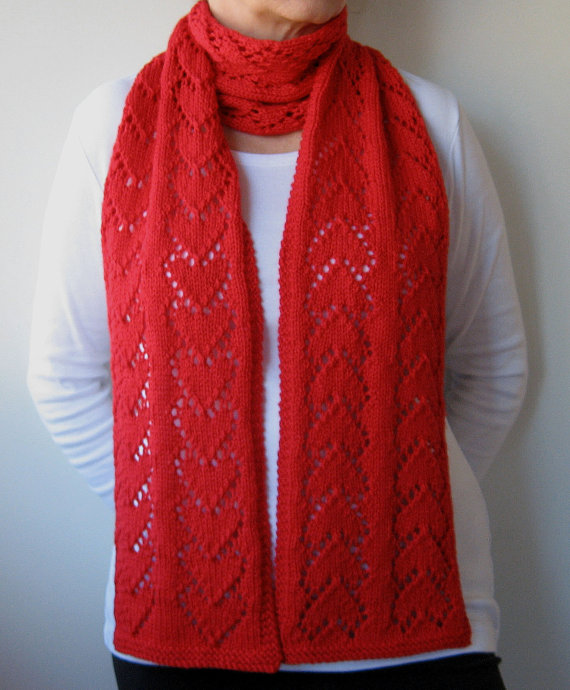 Forever Hearts Lace Scarf
The interlocking lace hearts that form the basis of the scarf are knit from the top down and are completed at the end.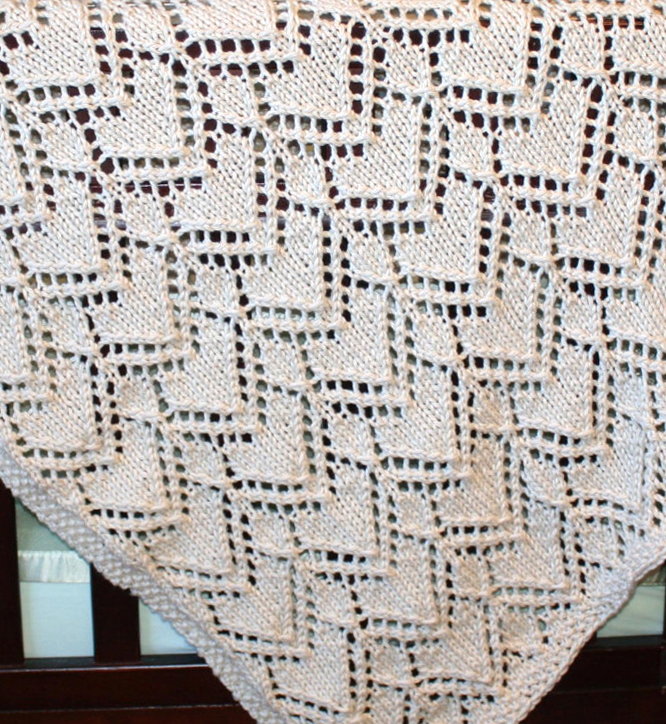 Heart Lace Baby Blanket
The Helen Joyce blanket by Taiga Hilliard is fast and simple to knit and comes in two sizes.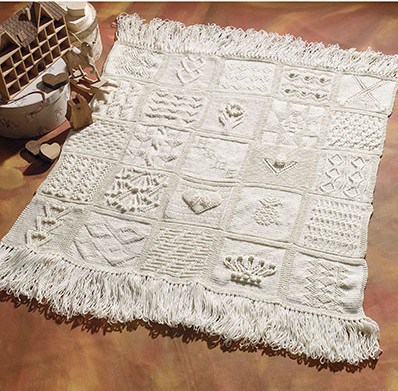 Sampler Afghan
25 creative block patterns including Imperial Twist, Cable Twist, Triplet Cable, Raised Heart, Sunflowers and more. Finished size 48″ x 48″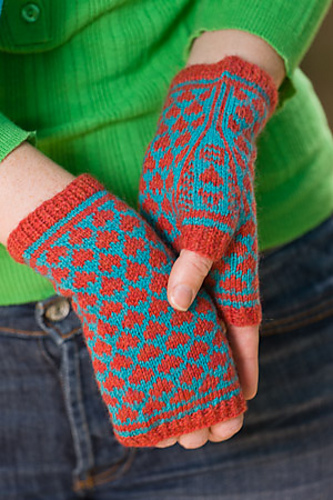 Chivalry Mitts
These fingerless gloves have a heart pattern that's easy to memorize and (eye) heart U on the thumb gusset.

Heart Cable Scarf
FINISHED DIMENSIONS Length = 138 cm (54 inches). Width = 18 cm (7 inches).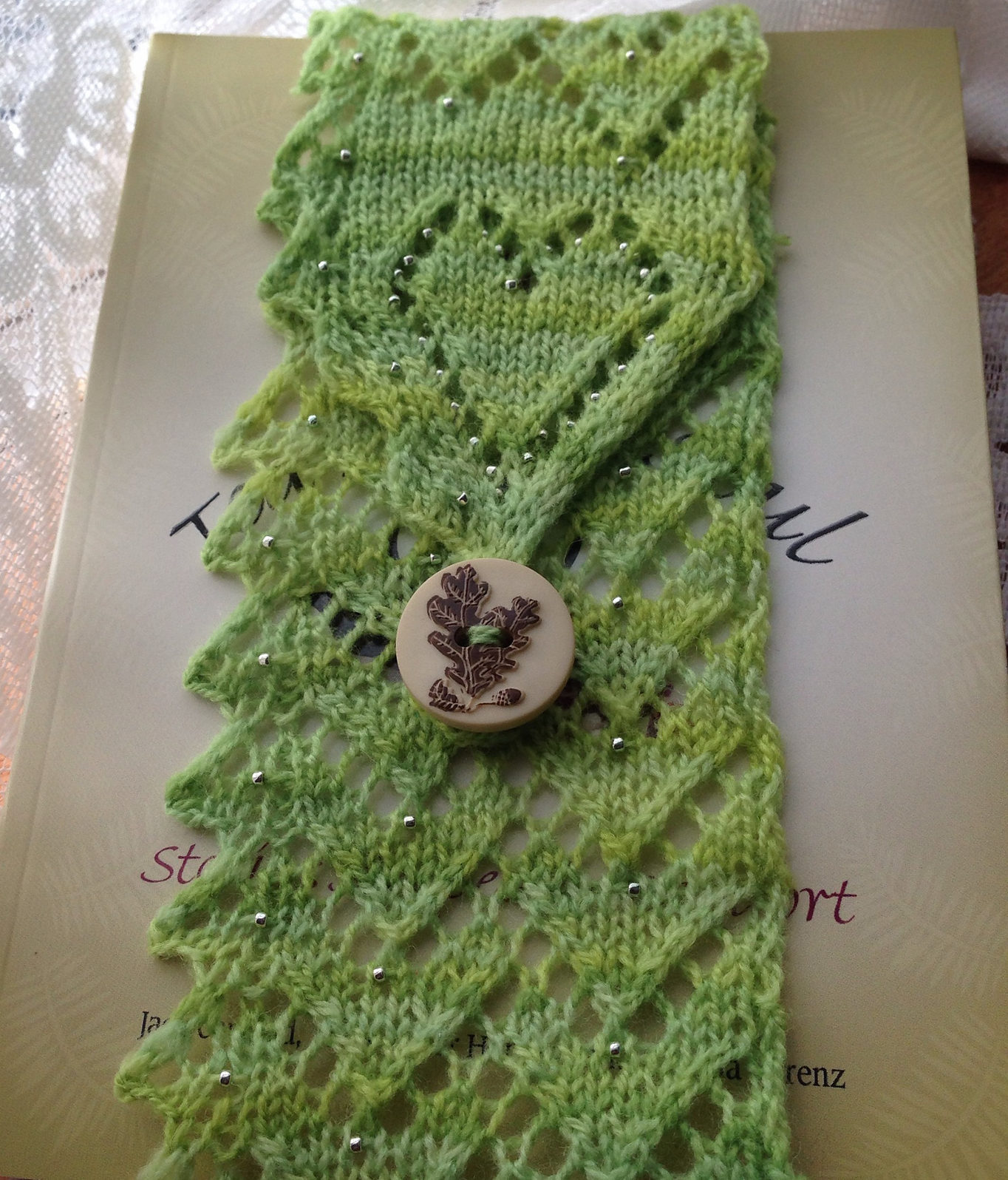 Jane Austen Bookmark
Marianne's Romantic Bookmark is a lace band that wraps around the pages and buttons at the heart. The designer Carolyn Mills was inspired by Marianne Dashwood and John Willoughby reciting Sonnet 116 to each other in the 1995 film version of Sense and Sensibility. The edging is meant to look like the waves of the tempest, yet the arrows point in one direction as in "never shaken," love is "an ever-fixed mark." Pictured project by Strickliese