Animal Hat Knitting Patterns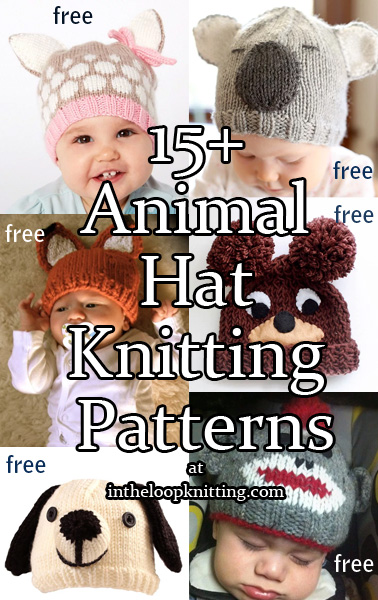 What makes a baby even cuter? A cute animal hat! These hats are great for newborn photo props, shower gifts, or first Halloween costumes. Don't have a baby to knit for? Many of these hats have larger sizes for older children and adults.
To get the knitting patterns, scroll down the page to the individual pattern you want and click on the link to that pattern.
These patterns are not my designs but links to other designers who have generously shared their patterns. If you have questions about how to knit a specific pattern, please contact the designer directly.
All links on this site are for informational purposes, but please note that some links are to affiliate sellers that pay me a small commission on purchases.
Evan Hat With Cowl
This balaclava hat includes instruction for pointed ears to make a fox, cat or wolf hat, as well as an optional cowl. Sizes baby/1-2 year-old/3-5-year-old/6-10-year-old. Designed by Muki Crafts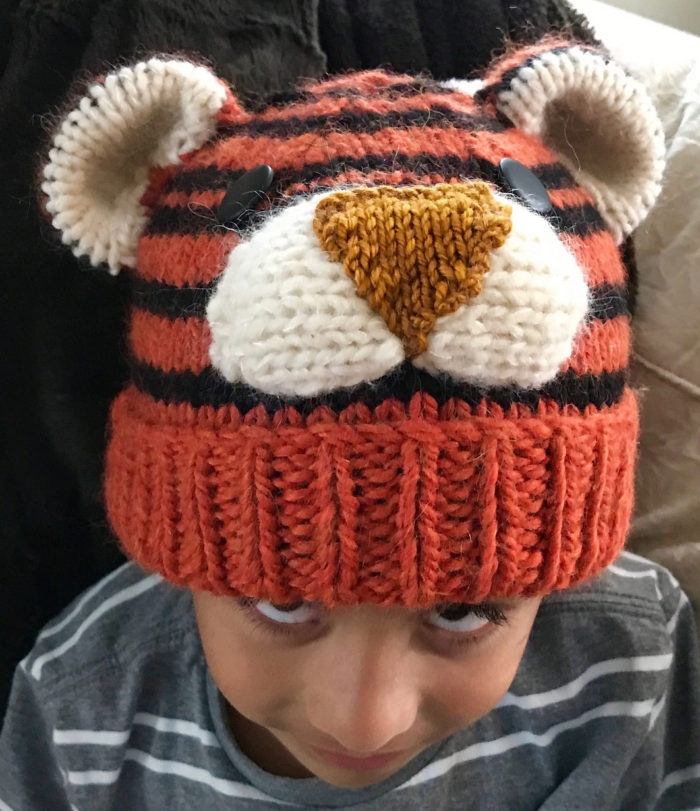 Tiger Hat
Hat in sizes from baby to adult, knit in the round with some sewing to attach face features. Sizes 6 to 24 months, 2 to 6, 7 to 11, Adult. Designed by Barb Padwicki. Pictured project by maigret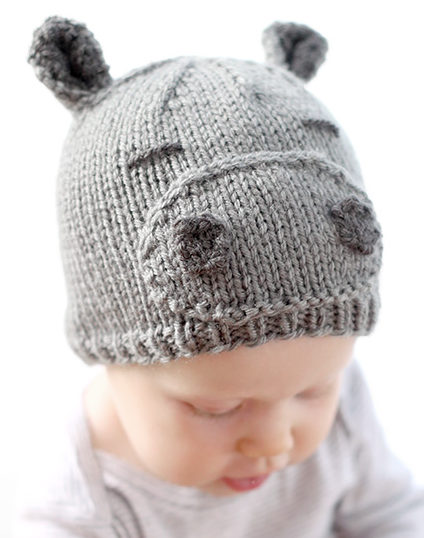 Happy Hippo Hat
Cassandra May at Little Red Window designed this knit baby hat that gets its personality from a some easy pieces. The 12 month size pattern is free at her website. Printable pdf version and other sizes from newborn to 2T are available on Etsy.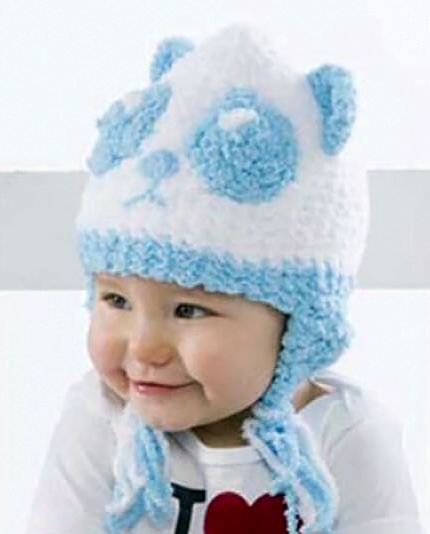 Panda Hat
Adorable earflap hat in baby, child, and adult sizes. Designed by Premier Yarns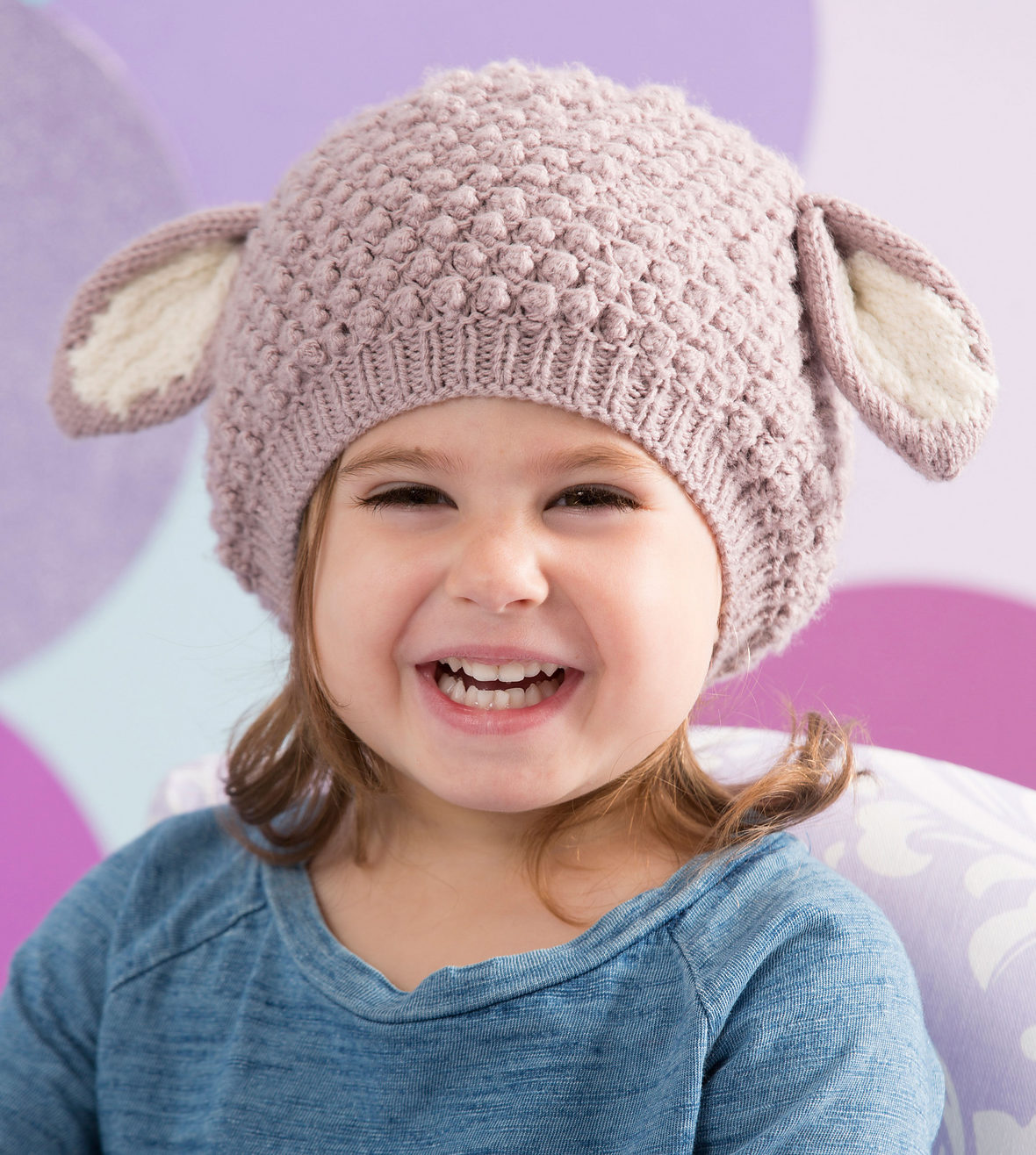 Cozy Lamb Hat
Adorable hat for babies and children features an all-over bobble stitch to look like lamb's wool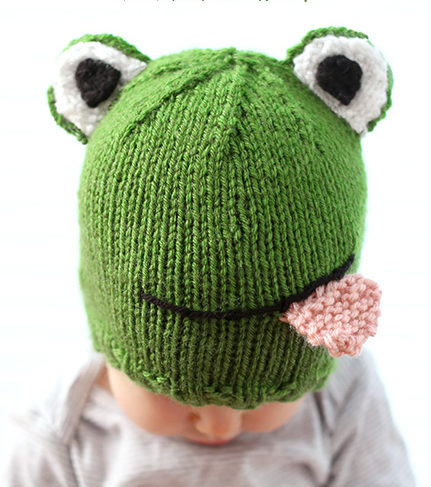 Funny Frog Baby Hat
Cassandra May at Little Red Window designed this easy knit baby hat that gets its personality from a few additional pieces and a little embroidery. The 6 month size pattern is free at her website. Printable pdf version and other sizes are available on Etsy.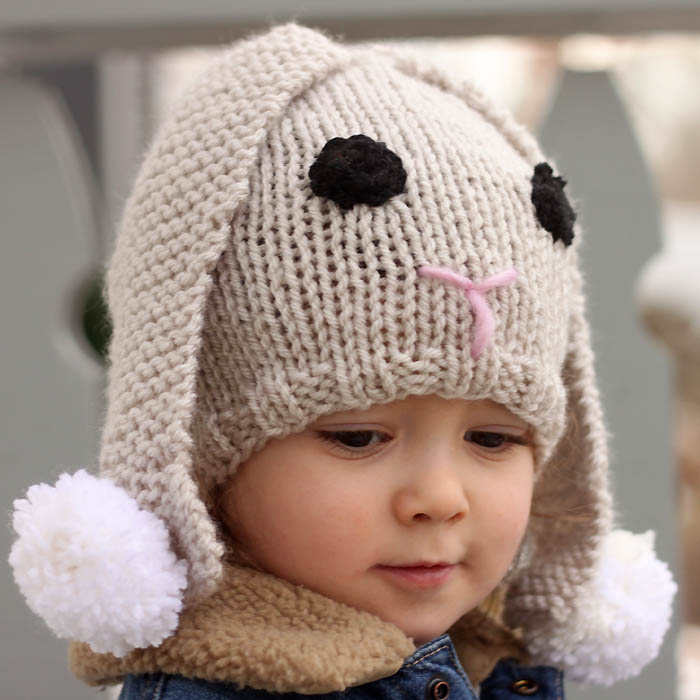 Baby Bunny Hat
Floppy-eared rabbit hat by Gina Michele for babies 1-2 years.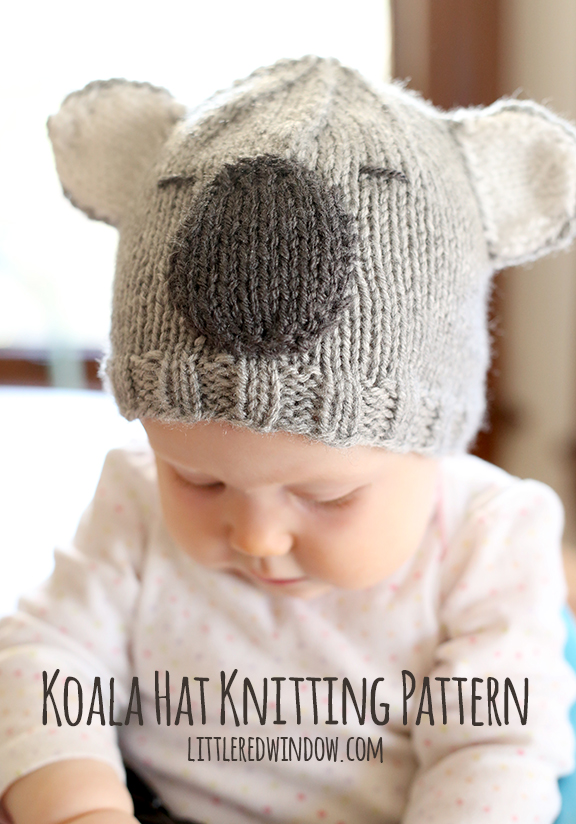 Koala Hat
Cassandra May at Little Red Window designed this hat for 6 months with instructions for customizing the size. The pattern is free at her website. Printable pdf version is available on Etsy.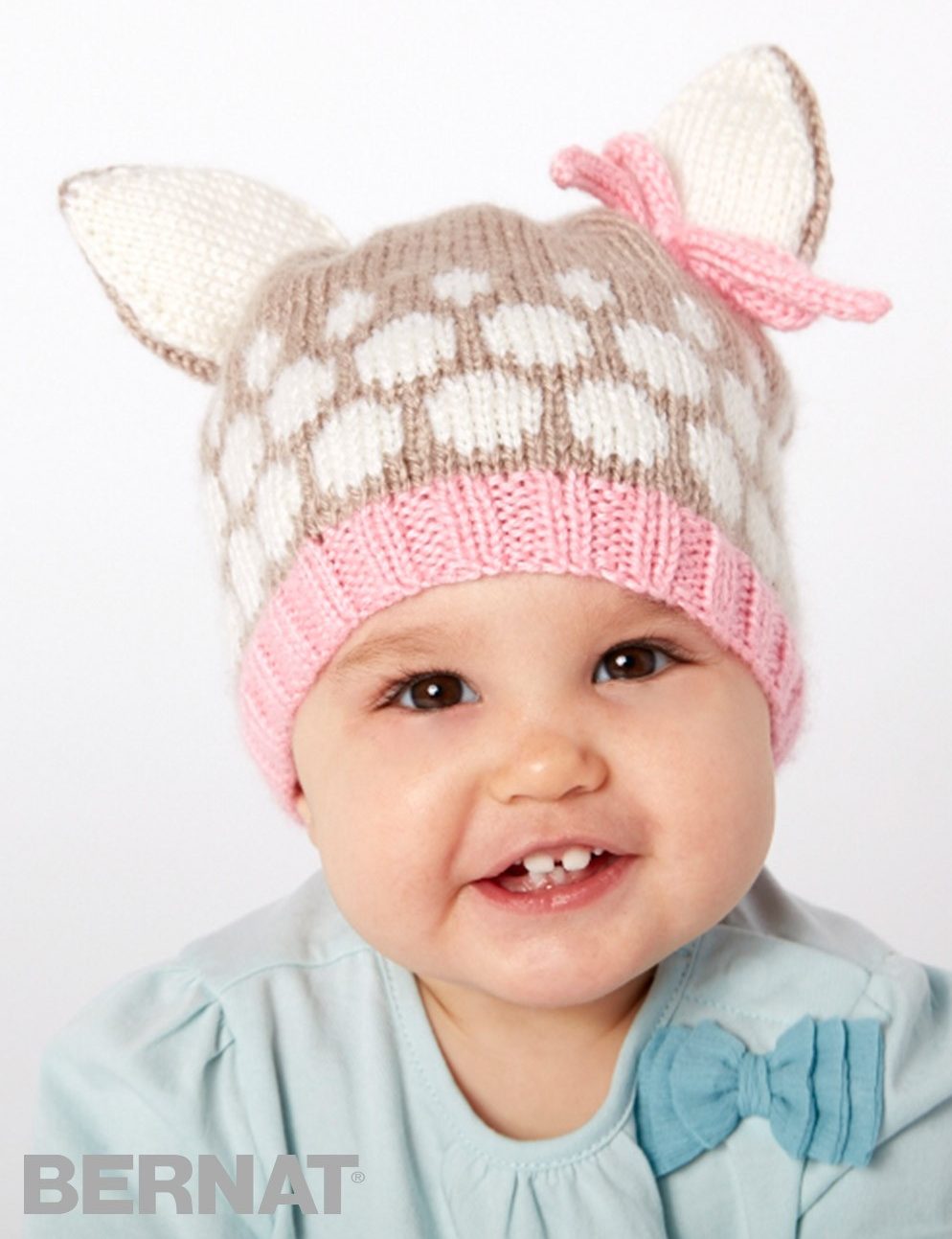 Speckled Fawn Hat
Bernat's hat is sized for 6/12 mos 17″ [43 cm], 18/24 mos 18″ [45.5 cm], and 4 yrs 19″ [48 cm]
Dragon or Dinosaur Baby Hat
Hat for babies and toddlers featuring a scale stitch pattern and spiky ridge in sizes 0-3 months, 6 months, 12 months, 2T+. Designed by Cassandra May of Little Red Window.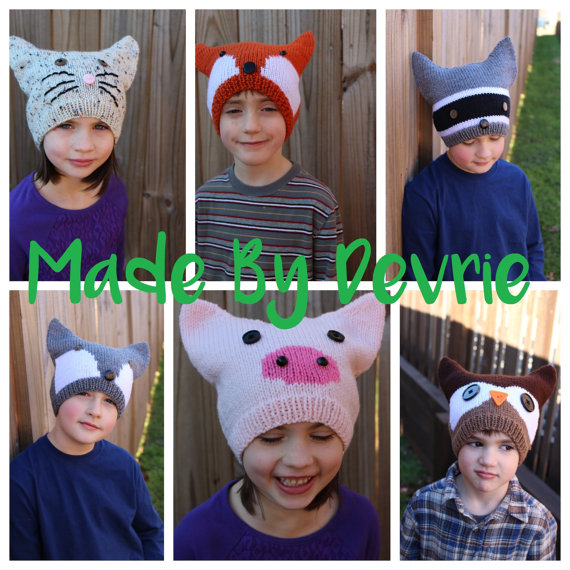 Animal Hat Set
You get 6 patterns in this set – cat, fox, racoon, wolf, pig, and owl. Each hat takes no more than 125 Yards of worsted weight yarn and are quick to knit.
Giraffe Hat
3 sizes, Baby (13"-15" circm.),Toddler (16"-18" circm.), Adult (20"-22" circm.)
Get the knitting pattern for $10.00
Other adorable, funny animal hats available by the same designer include a frog hat, squirrel hat, monkey hat, and penguin had with wing earflaps. See all the hats.
Waddles Penguin Toque
Worked seamlessly, from the top down, in stockinette stitch, this little hat can be knit up rather quickly!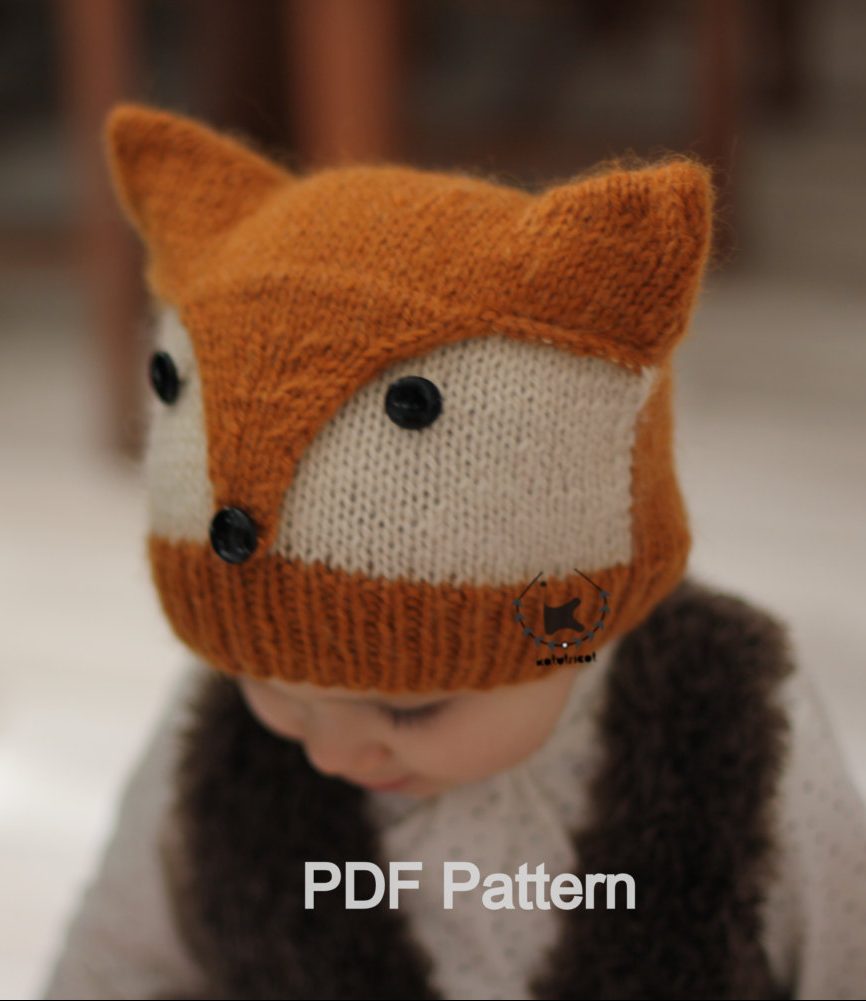 Foxie and Wolfie Hat
This adorable forx hat is completely seamless and can be adapted to a wolf hat by changing the color. Baby, child, and adult sizes.
Owl Hat Kit
Only $9.99 for the complete kit with yarn, embellishments and pattern! Need a quick gift? Simply knit or crochet the main body of the hat using the ball of yarn provided, and sew onto it the ready-made embellishments including face, eyebrows and braided earflap ties. Available in four colors.
Sizes included: 6-12 months, 12-24 months, 2-3 years
Inspired by the beloved children's story about Clifford, this hat is seamless and knit in the round except for the earflaps and ears. Sized for 1 through 4 years old.
My ne
phew Tom and his wife Jean make an
extraordinary cleansing oil.
I just started using it. I have very sensitive skin and I've found this oil to be very soothing. It moisturizes as well as cleans and has a very light natural scent from the ingredients. If you have time take a look and read the reviews and see if this might work for you.
Learn more about IFS Natural Cleansing Oil
Terry Matz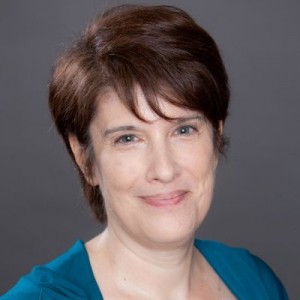 Terry is a knitting late-bloomer, learning to knit as an adult from Internet tutorials, because she wanted a craft that was useful, fun, and portable. Knitting hats for cancer patients inspired her to design her own patterns—available for free at her blog, intheloopknitting.com. Terry met her husband Ken at a science fiction convention and moved to the Kansas City area to be with him more than 30 years ago. Terry supports her yarn stash by creating websites and other digital media. Terry firmly believes in Knitting in Public—it's a great conversation starter!