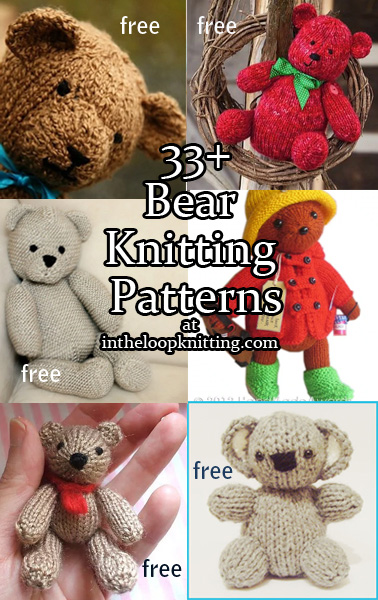 Everyone's favorite bears are included in this knitting pattern collection: Teddy bears, Paddington bear, Koala bear, polar bear, panda, and more.
To get the patterns, scroll down the page and click on the link for the individual pattern you want.
Note: If you are looking for Oliver the Teddy or Teddy Bear in Knit Jacket, unfortunately I have had to remove the patterns from the site at the request of the designers. If you want to know how to contact the designers about getting the patterns, contact me. Sorry for the inconvenience.
Free Knitting Patterns
Patterns for Purchase
New!
Twin Bear by Craftbits
This bear by Craftbits comes in two sizes depending on the yarn used. 6.5 inch x 3.5 inch if Wool 8 ply or Double worsted yarn is used; or 7x 4.5inch if "Strand" wool yarn is used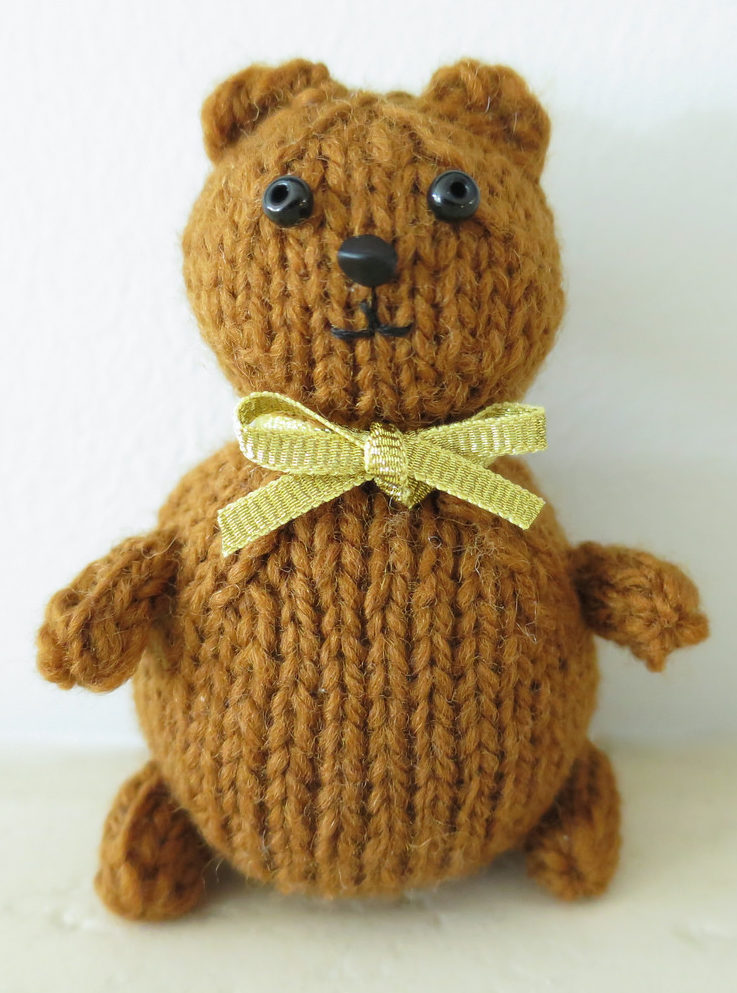 Mini Teddy Bear
This little bear is just 3" tall and a quick knit. Great stash buster or holiday ornament. Designed by Kathy Lewinski
New!
Ruby Bear
Michele Wilcox's cuddly bear for Premier Yarns measures approximately 16" from top of head to bottom of foot.
New!
Pattoz, a Bear
Designed by Annalisa Dione, who requests you consider donating to Bear With Us a sanctuary for ex circus bears and a rehabilitation center for orphaned or injured bears. Pattern available in English and Italian.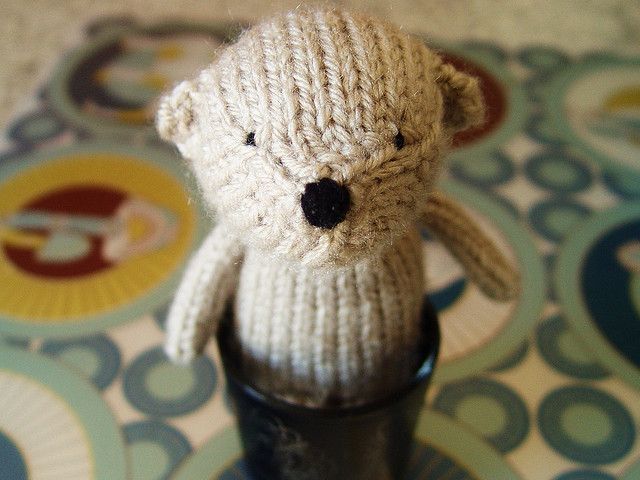 Henri the Knitted Bear
Designed by Rachel Borello Carroll, this small bear is a quick knit. You can't see in this photo but Henri has legs too. Great use for leftover yarn!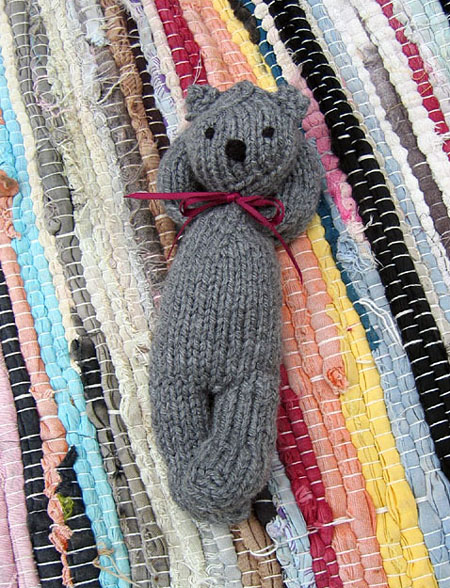 Bubby the Bear
Designed by Vanessa Carter, this relaxed teddy is 7 inches high. His body, legs and head are knit in one piece in the round.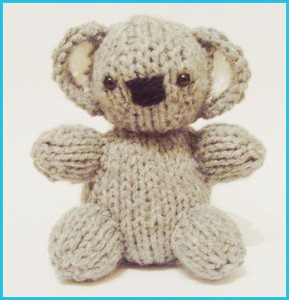 Koala Baby Bear
Designed by knitted toy box, this koala baby is 4 inches tall.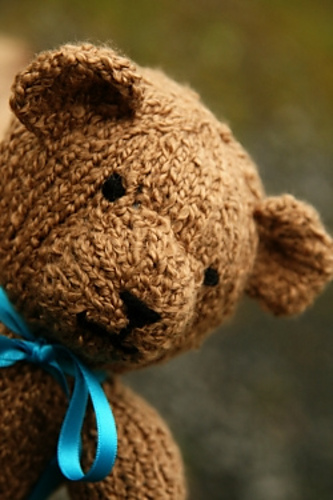 Teddy by Cassidy Clark
The size of the finished bear is not listed, as the gauge doesn't matter. As long as the gauge is tight enough so that the stuffing won't show through, the needle size and yarn choice is up to you.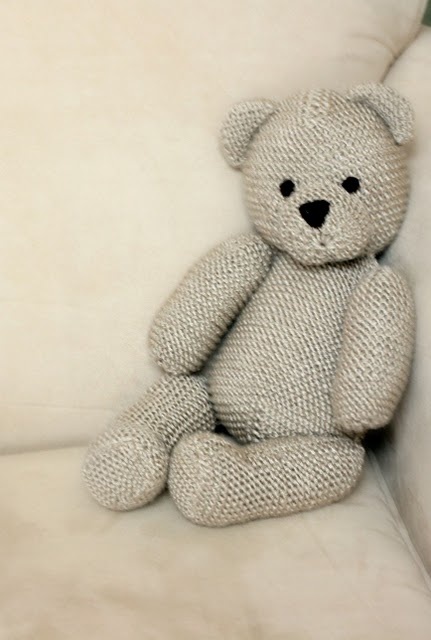 Teddy Bear by Debbie Bliss
30 cm (12 inches) tall. Each piece of this bear is knit flat and seamed.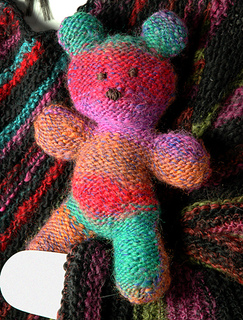 Foliage Bear
Approximately 10" tall. Great for multi-colored yarn.
New!
Harry Bear
Created by the Berroco Design Team, this bear is designed to be used with novelty yarn like fun fur, comes with a scarf pattern,  and is 12" tall. Pictured project is by gammie3 for Primary Children's Hospital in Salt Lake City.
New!
Baby Bear Hat
Gina Michele cleverly uses pompoms for bear ears in her adorable design.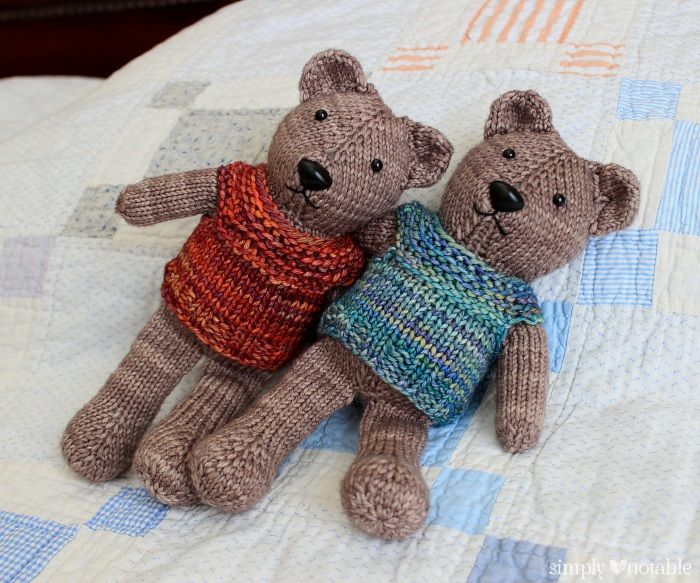 Magic Loop Teddy Bear
Not only are these teddy bears designed by Simply Notable simply adorable but they each have a little heart underneath their sweaters that make them irresistible! 9 – 10″ bears knit in the round with the magic loop.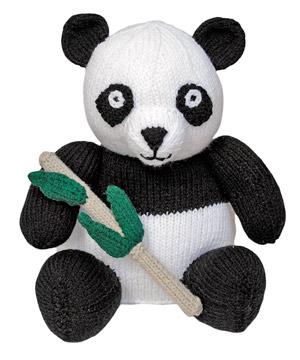 Panda
From Sarah Keen's book 'Knitted Wild Animals', this panda measures 91⁄2in (24cm) in height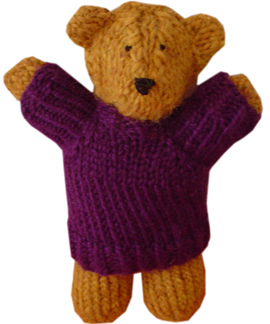 Two-Hour Teddy Bear
Knit this 11 inch tall bear designed by The Knit Cafe Toronto in two hours!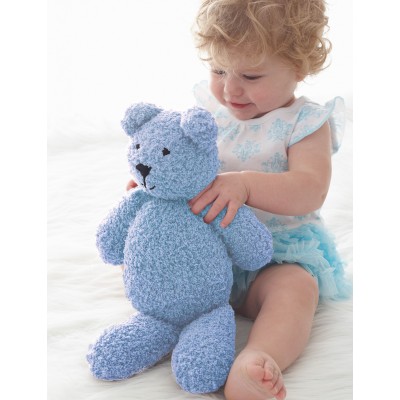 Pippy Bear
Designed by Yarnspirations. Approx 14" [35.5 cm] long.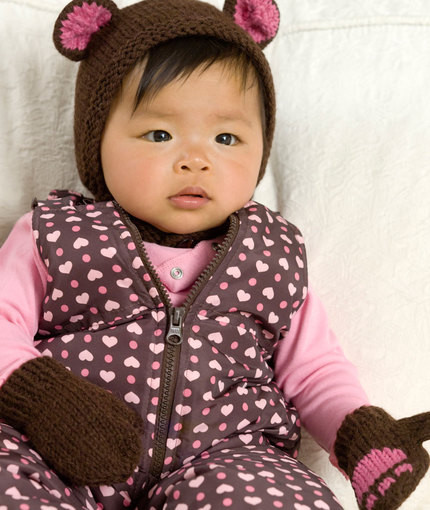 Bear Cub Hat and Mitts
Designed by Lynda Cyr for Red Heart. Sized for newborn and 12 months
Teddy Bear Blanket
32.5″ wide x 28″ long. Designed for Crystal Palace Yarns.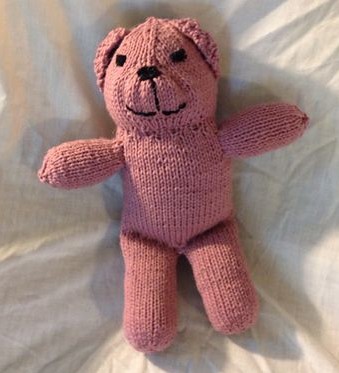 Yet Another Teddy Bear by Susan Dennis
Susan Dennis designed this simply adorable bear and it was reprinted to help people knit bears for Grace Health Care.This is a great pattern for beginning knitters and requires little sewing.
Baby Bear Hoodie
Designed by Lynda Cyr for Red Heart. Sizes from 6 months to 24 months.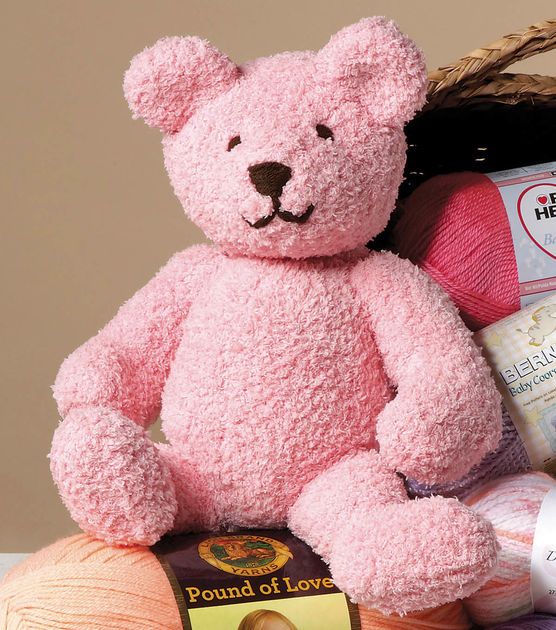 Oso Cute Bear
This cuddly bear by Bernat is approx 11″ tall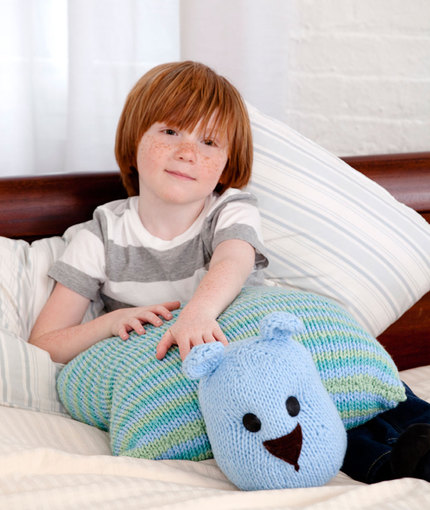 Teddy Bear Pillow Pal
Designed by Nancy Anderson for Red Heart. Pillow measures 23″ high x 19″ wide.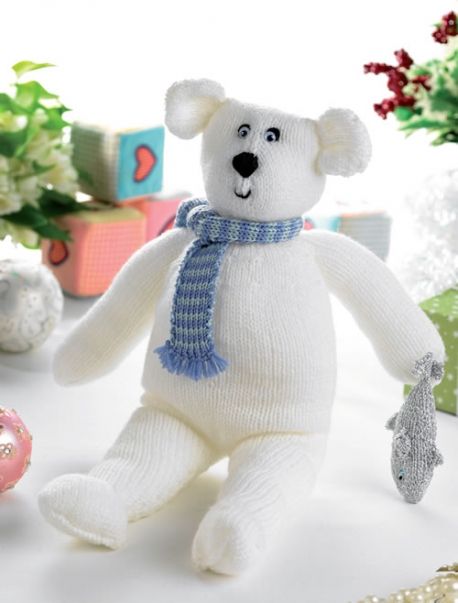 Polar Bear with scarf and fish

Dressed Up Teddy Bear
This teddy bear toy with sweater is pne of more than 30 patterns in 1, 2 & 3 Skein Solutions, available in digital and print form.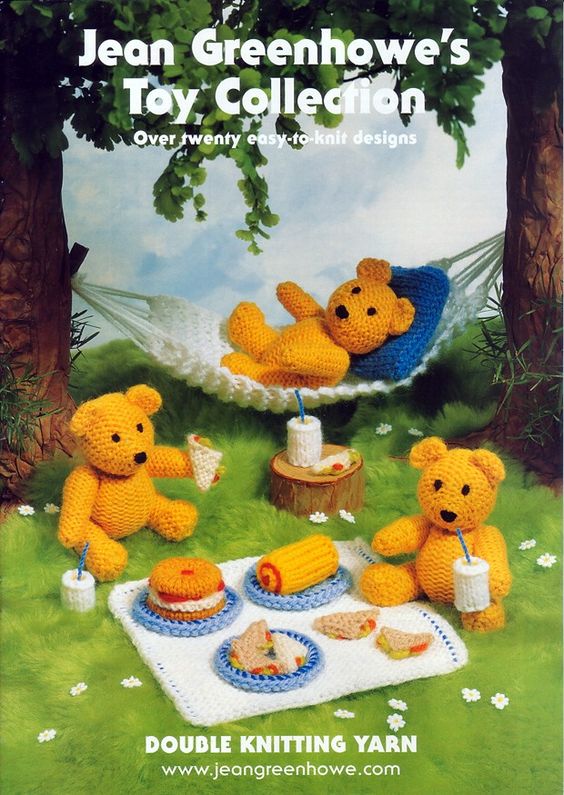 Teddy Bear Picnic: Jean Greenhowe's Toy Collection
The knitted Teddy Bear Picnic is just one of the many adorable knitting pattern sets in this book that also includes a family of bunnies, dinosaurs, and holiday stocking stuffers. This is available from a variety of sources. Last time I checked the best price seemed to be from Deramore's.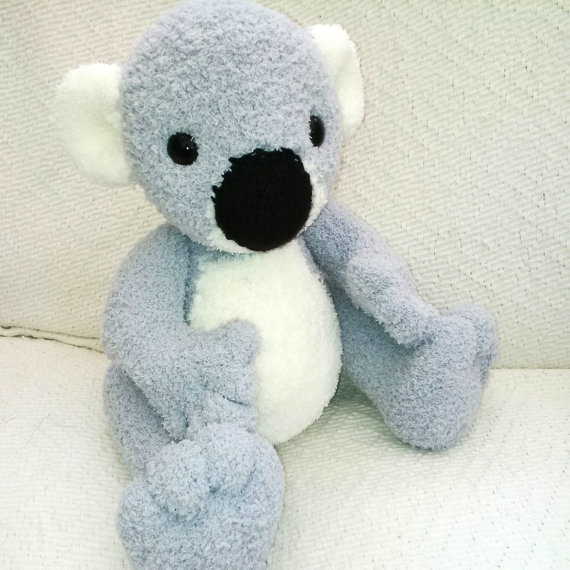 Kimmy the Koala
Kimmy is a tubby koala, sewn in the sitting position; he measures 15 inches/39 cms approximately.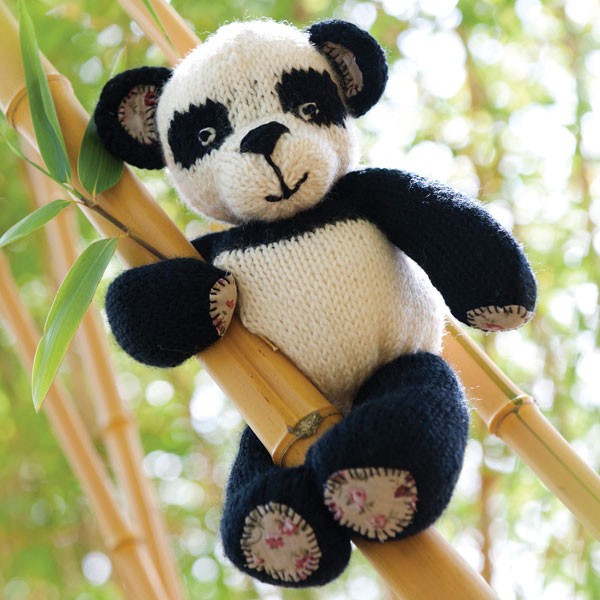 Penny the Panda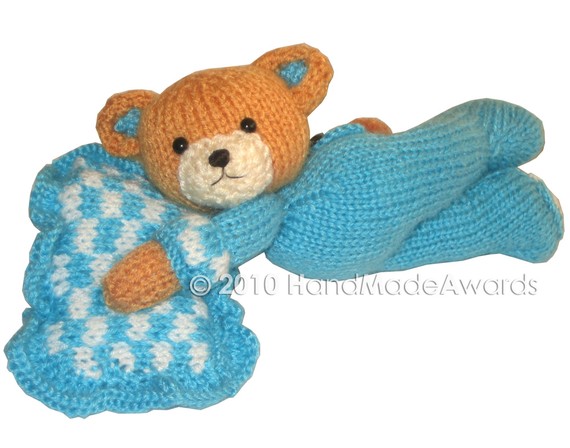 Happy Dreams Teddy Bear
This sweet sleepy time bear is 6.69 inches tall.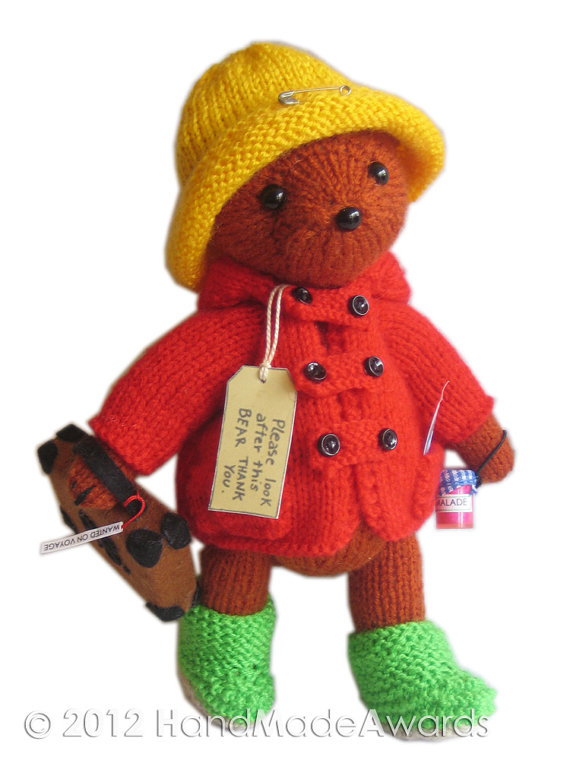 Paddington Bear
Paddington is 7.48 inches tall.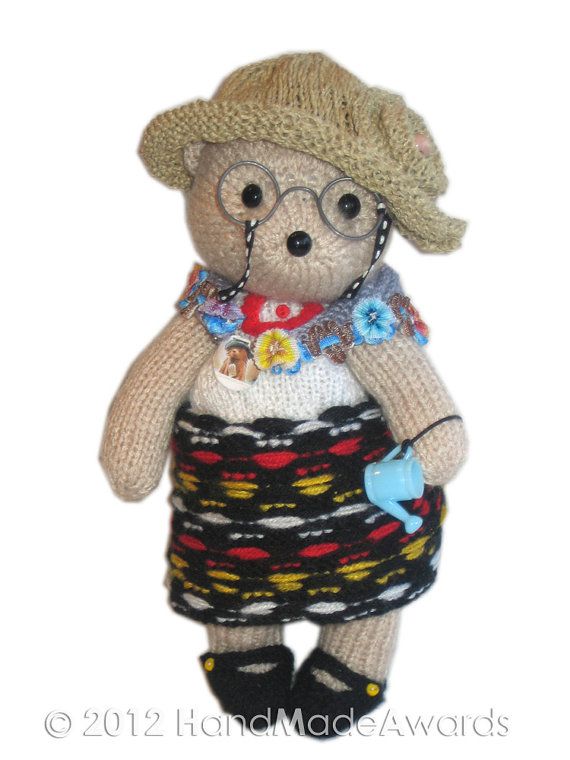 Aunt Lucy Bear
Paddington's Aunt Lucy is 7.48 inches tall.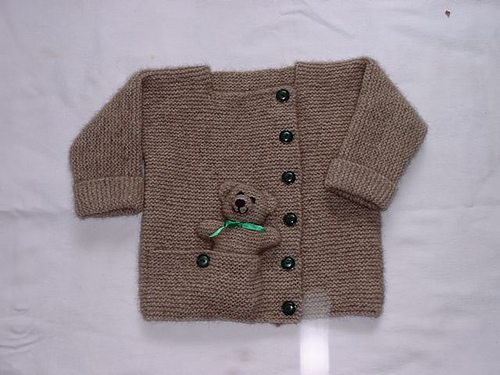 Child's Cardigan with Teddy Bear
This sweater has a special pocket just the right size for a child's new best friend! Sizes range from 1-6 years.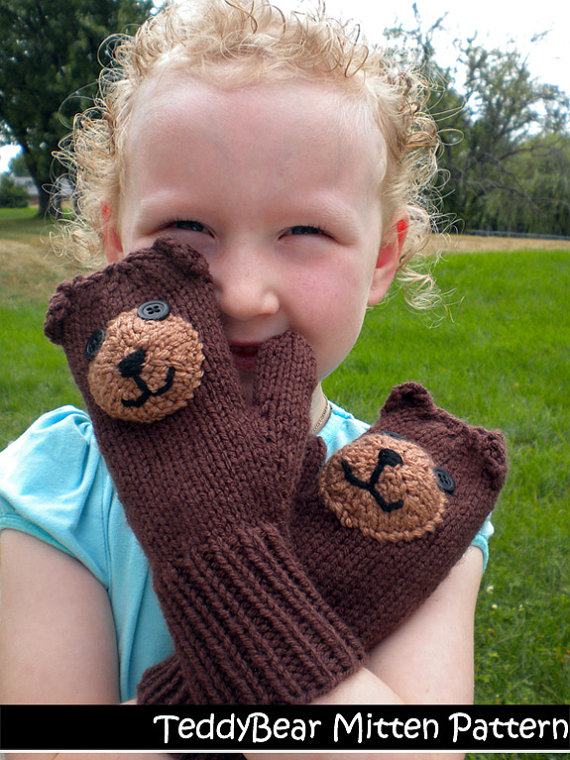 Teddy Bear Mittens
Includes instructions for the following sizes: 12 months, 2, 4, 6.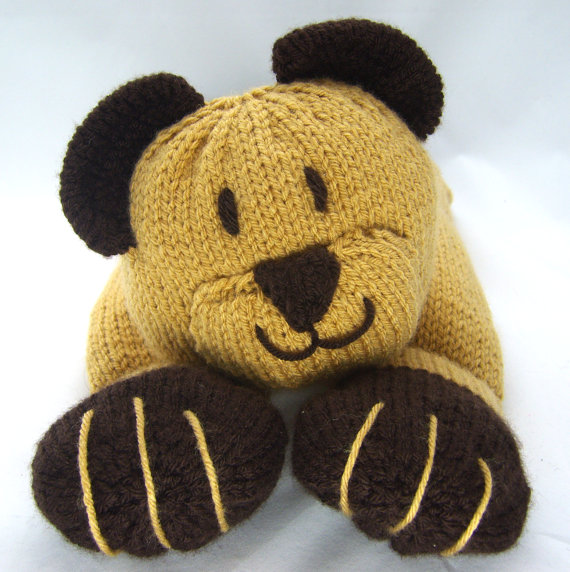 Bearly Bed Time Pajama Case
Toy Dimensions : 50cm front to back paws, 23cm wide. Opening 25cm long.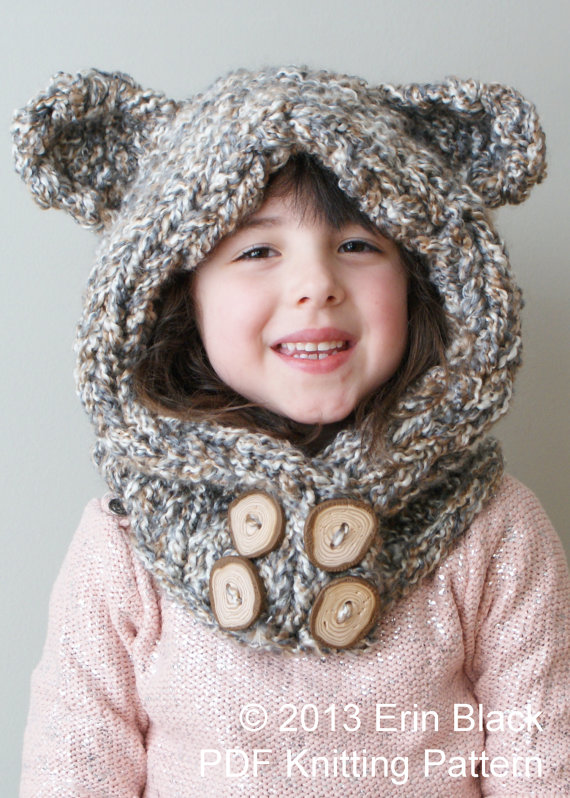 Teddy Bear Hood
Includes instructions to make Toddler size (approx. 11" deep x 15" high); Child size (approx. 12.5" deep x 17" high); and Adult size (approx. 14" deep x 19.5" high) hoods.