These shawl patterns were labeled by designers or knitters as easy to work. Many are stockinette or garter with decorative borders or simple colorwork.
To get the knitting patterns, scroll down the page to the individual pattern you want and click on the link to that pattern.
These patterns are not my designs but links to other designers who have generously shared their patterns. If you have questions about how to knit a specific pattern, please contact the designer directly.
All links on this site are for informational purposes, but please note that some links are to affiliate sellers that pay me a small commission on purchases.
Free Patterns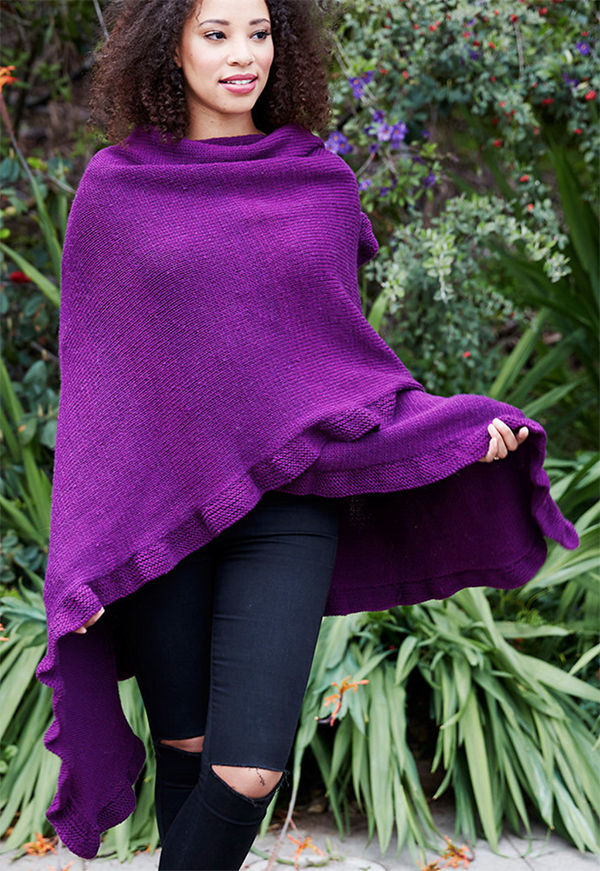 Effortlessly Chic Ruana
This wrap is knit with a divided front in stockinette with a garter stitch ruffle. Rated easy by the designer. The only challenge is that stitches are picked up for the ruffle. Designed by Marly Bird for Red Heart. Aran weight yarn.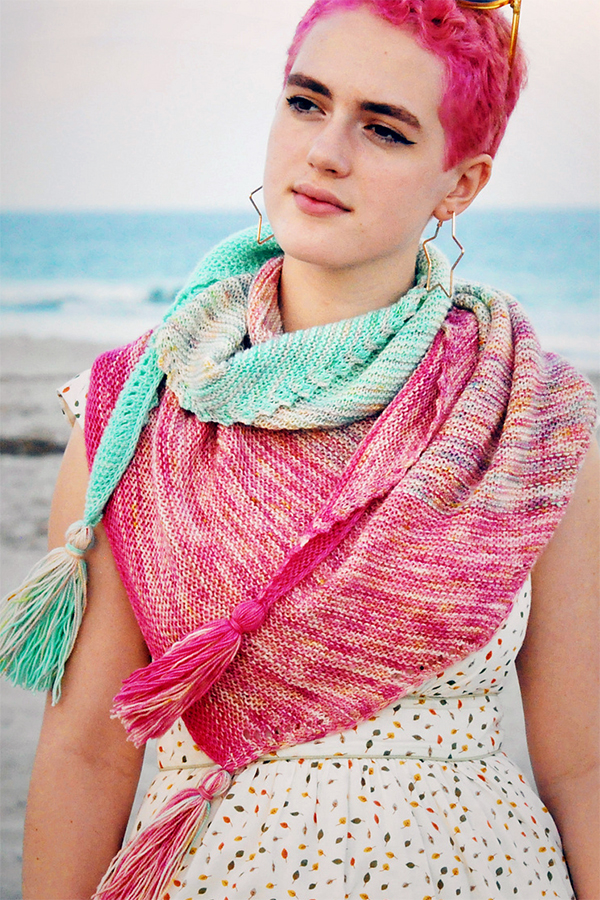 Summer Fling Shawl
Garter stitch, asymmetrical triangle shawl with a decorative crenulated edge. The shawl is knitted from point to point in one piece. Designed by The Noble Thread. Rated easy by Ravelrers and the designer. Fingering weight yarn. A kit is also available.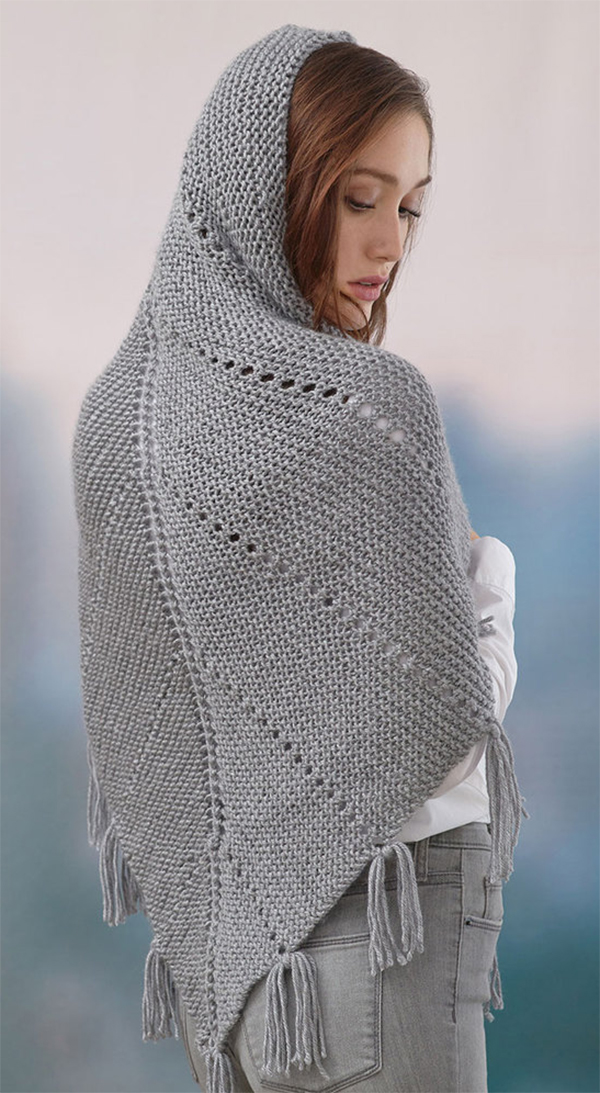 Hoodie Shawl
This easy shawl is knit in garter stitch with rows of eyelets. Wear it as a regular wrap or with hood up. Designed by Erin Kate Archer for Red Heart. Rated easy by the designer. Worsted weight yarn.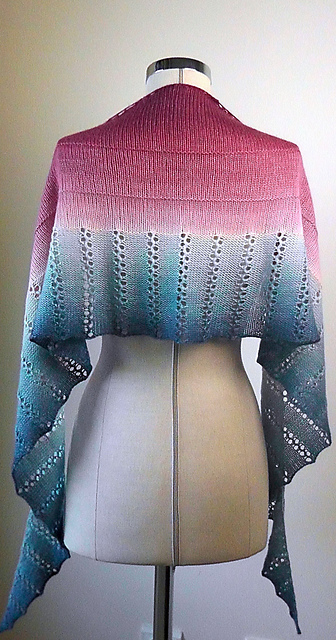 Spearmint Tea Shawl
Kateryna Golovanova's shawl is designed for color changing yarn. The shawl starts with stockinette sections separated by purl rows and finishes up with a simple lace border. Pictured project by mariajosesilva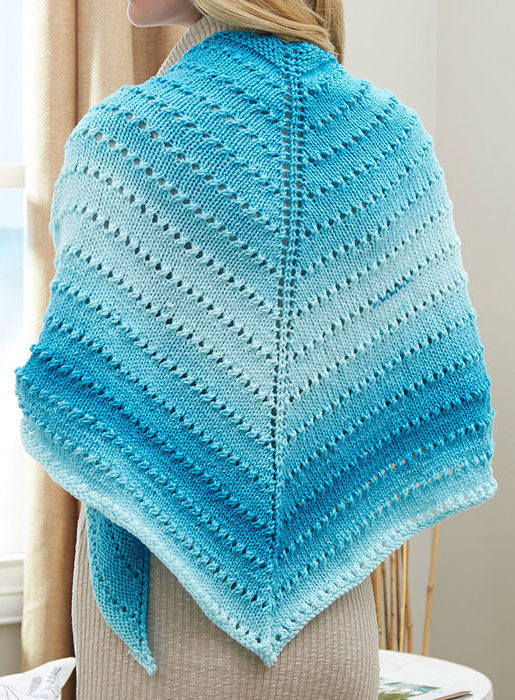 Simple Lace Triangle Shawl
This easy shawl features rows of eyelets in stockinette that showcases ombre or multi-color yarn. Designed by Cathy Payson.

Zilver Shawl
Lisa Mutch's shawl is simple, stockinette, triangle with the addition of ridges for textural contrast.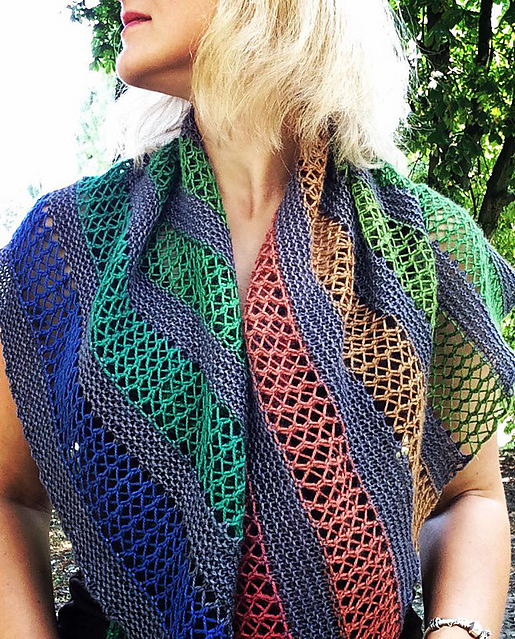 Playground Shawl
Justyna Lorkowska designed this shawl to be easy enough to knit while watching her children at the playground. Garter stitch stripes alternate with easy lace stripes to create a colorful shawl.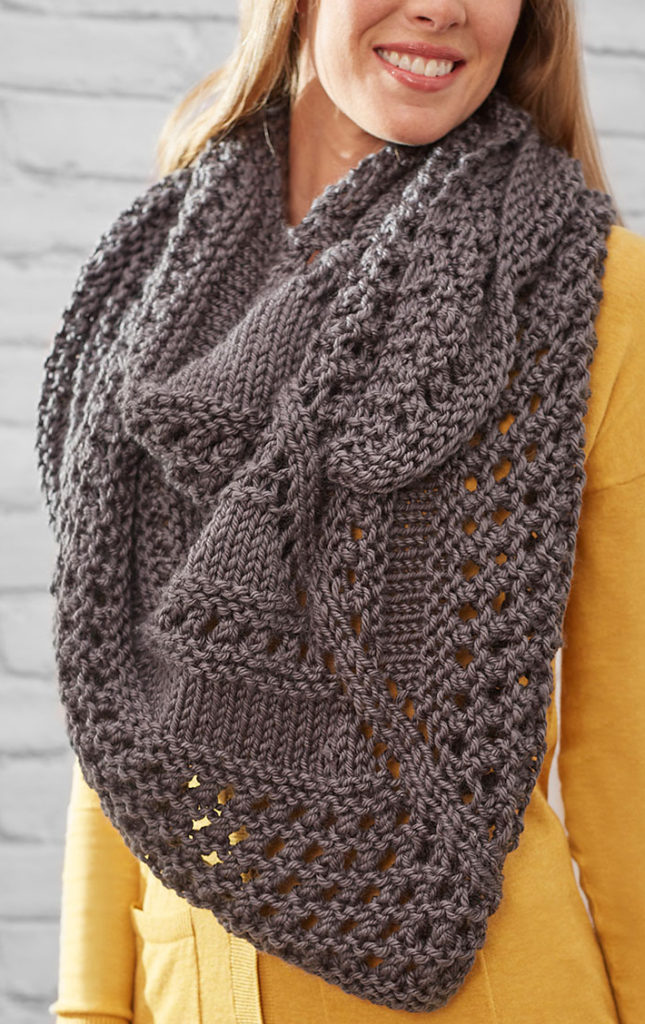 Textured Triangle Shawl
This oversized shawl is a quick knit in bulky yarn. Rated easy by Ravelrers and by Red Heart. Designed by Diane Moyer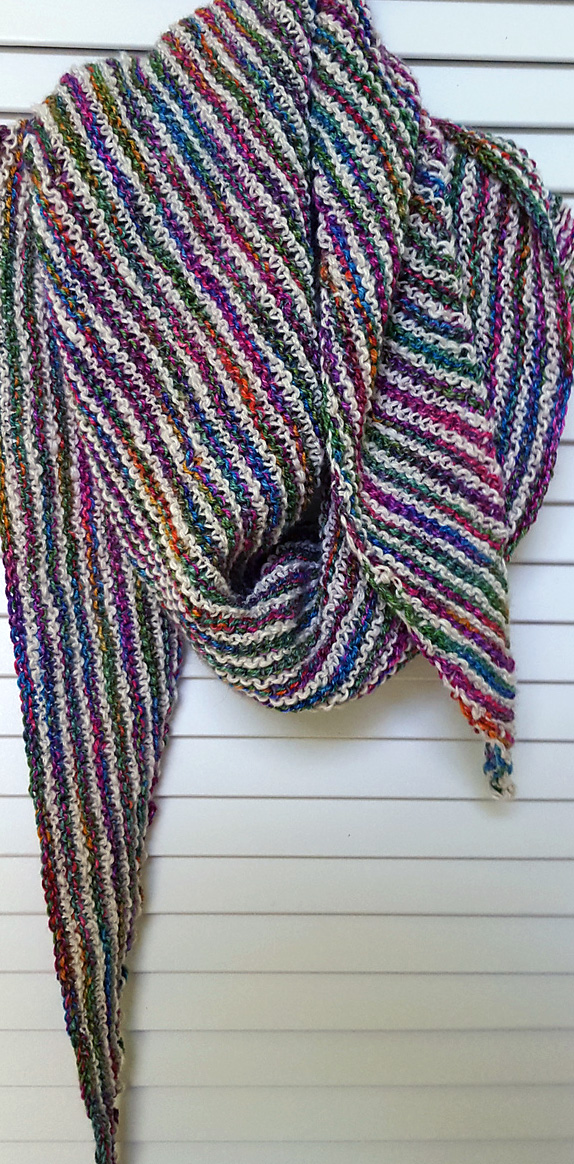 Handspun Boomerang Shawl
Natasha Sills' shawl couldn't be easier. Use any yarn, any gauge (though she recommends handspun yarn in loose gauge.) You start with 4 stitches then repeat 2 rows until you reach the size you want or run out of yarn. For striping, switch yarns with each 2 row repeat. Cast on 4 sts. Row 1: Knit to last stitch, yarn over, knit into the front and back of the last stitch Row 2: Yarn over, knit to last 2 sts, knit 2 together. Pictured project by barmel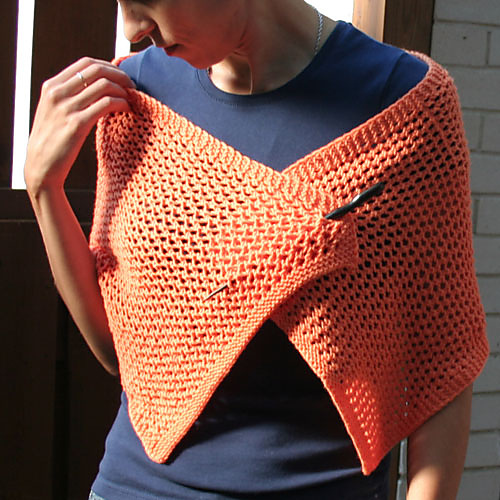 Sweet Stole
Knitca's easy wrap is reversible and can be worn many different ways. 110 x 30cm (43.5 x 12 in)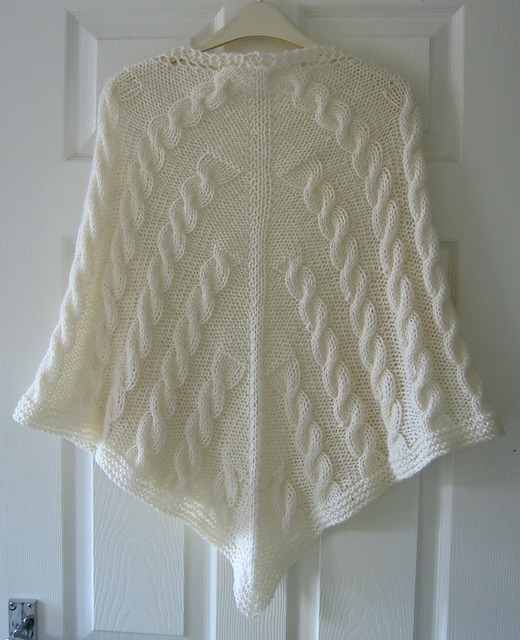 Full Cable Shawl
Earth and Sky's triangle shaped shawl is worked from the top down, with a garter stitch edging and border. The simple all over cable design is a great project for learning cables.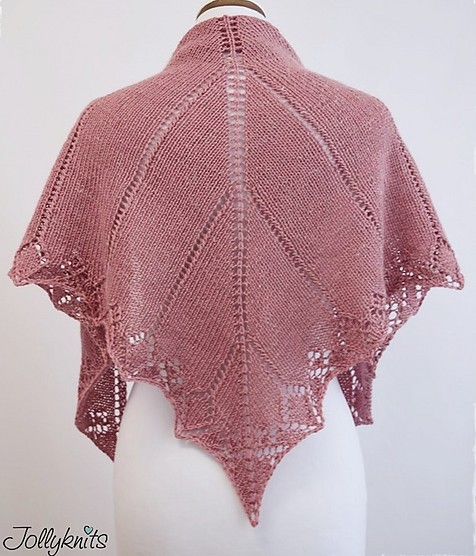 My First Lace Shawl
Jolanda Schneider provides 29 pages of instructions and photo tutorials to help you knit your first lace shawl (or next lace shawl!)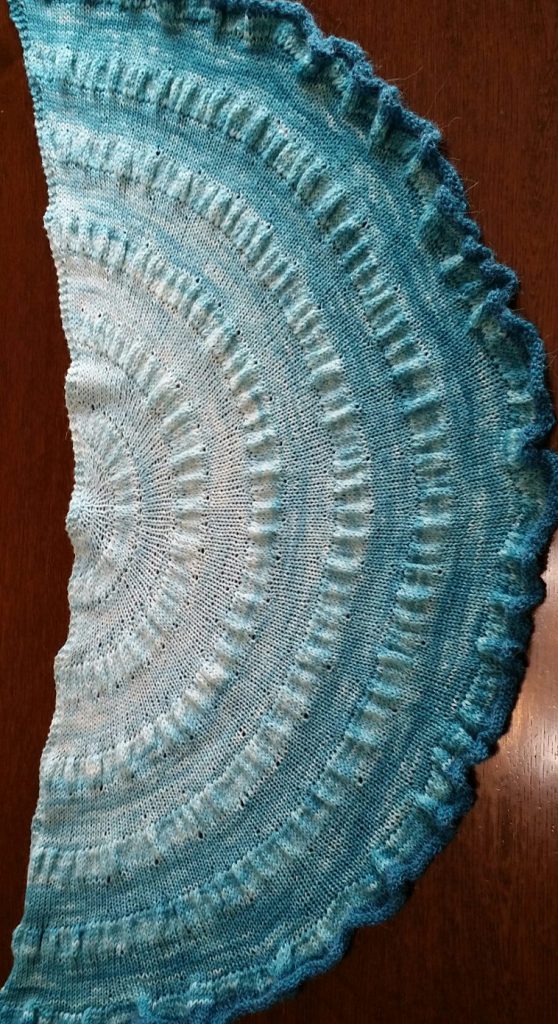 Citron Shawl
Hilary Smith Callis's easy shawlette features ruffles and ruching to add dressy details. Pictured project by haruchika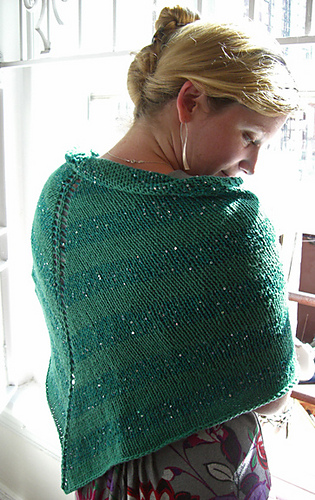 Janie & Susan Shawl
Tanis Gray's super easy shawl knits up quick with only takes 2 hanks of each yarn. The sparkly yarn adds extra glitz to the contrasting stripes. An ideal first shawl project.

Hooded Adak Wrap
This shawl with hood is knit as a rectangle with an easy stitch pattern. Then stitches are picked up for a garter stitch hood. Rated easy by the designer. Quick knit in super bulky yarn. Designed by Jessica in a Stich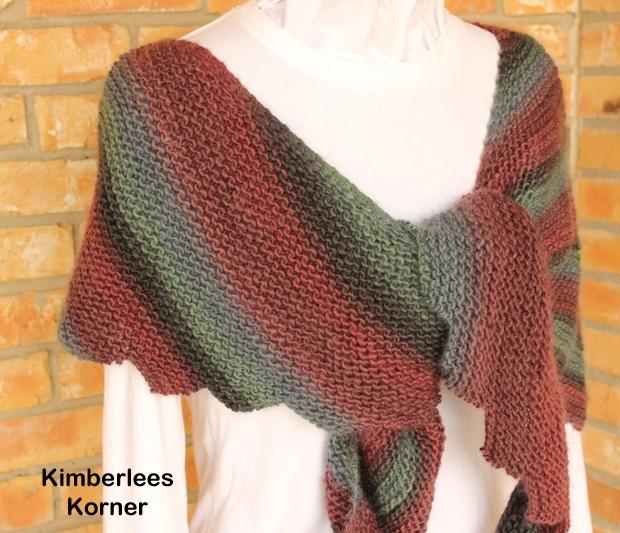 Asymmetrical Wrap
Kimberlees Korner's easy shawl is knit in garter stitch. The pattern is an easy to remember 10 row repeat that increases the shawl size and creates the scalloped edges.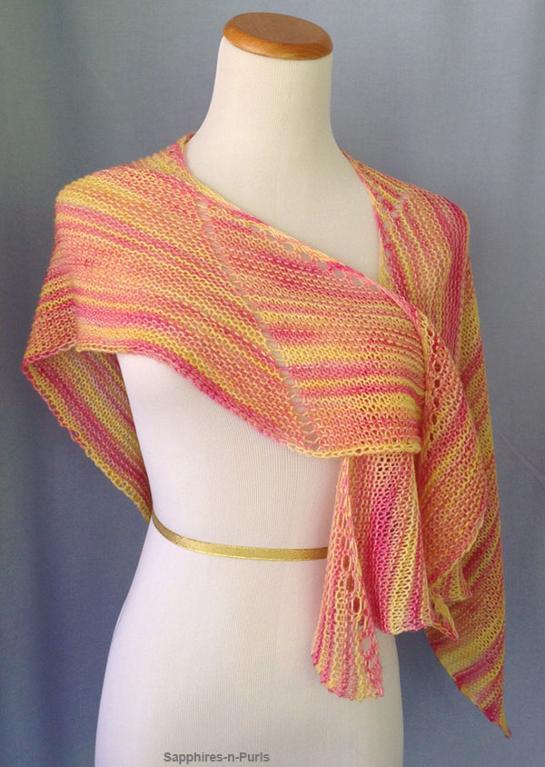 Calypso Shawl
Beth Richardson's simple garter stitch shawl is easy enough for beginners and a great use for multi color yarn.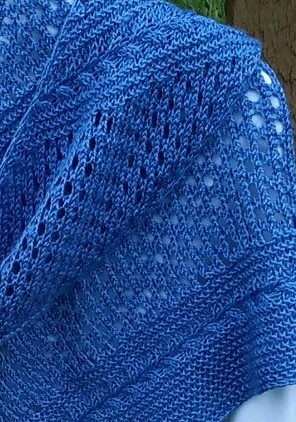 Braid and Eyelet Shawl
Susan Gressman's asymmetrical shawl features a garter stitch and cable braid which alternates with sections of simple eyelet.

Easy Knit Shawl
This easy shawl is knit garter stitch with a lace border. Designed with self-striping or multi-colored yarn in mind.

Dunes Shawl
Gena Wich's design is a two row repeat interspersed with garter stitch with no shaping.

Serena Shadow Shawl
Antonia Shankland's shawl is is knit in 2-row stripes with the colors not in use carried up side of work.

Criss Cross Shawl
Dirk Gerngross's design features a rib structure knitted in right-left ribs and semi-brioche.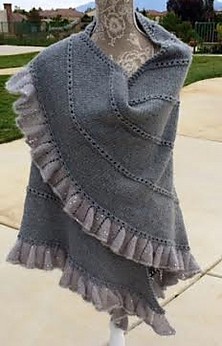 Champagne Run Shawl
Molly Conroy's design is knit from the top down. The ruffle in the pictured project is knit with sequined mohair yarn to give it light bubbly look.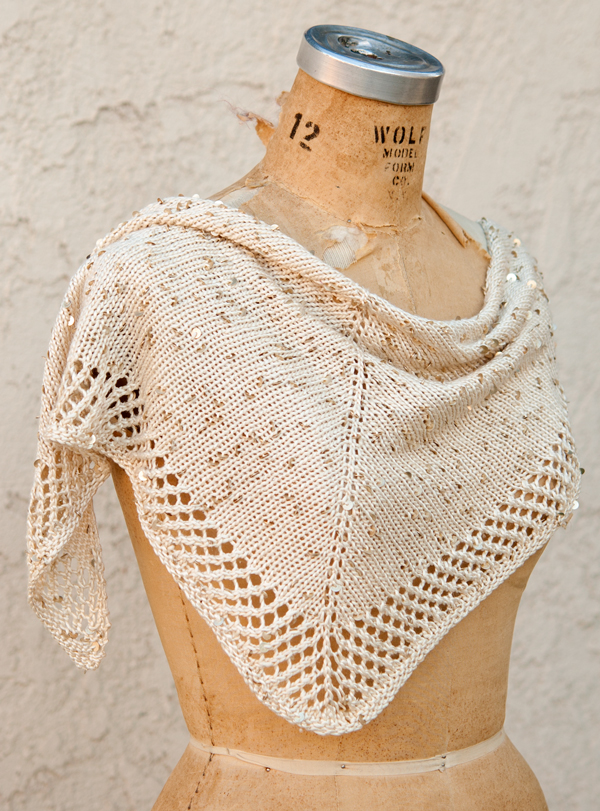 Stargazing Shawlette
This shawlette is knit in stockinette with a mesh border.
Patterns for Purchase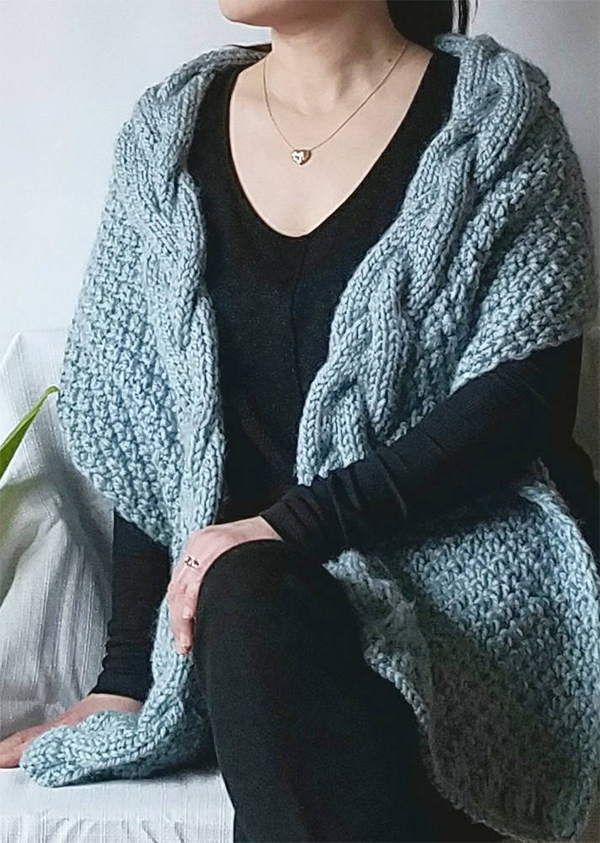 Helena Shawl
Rectangular wrap in moss stitch with luxurious cable edge. A scarf pattern is also included. Rated easy by the designer SusanKnitsDesign. Super bulky weight yarn.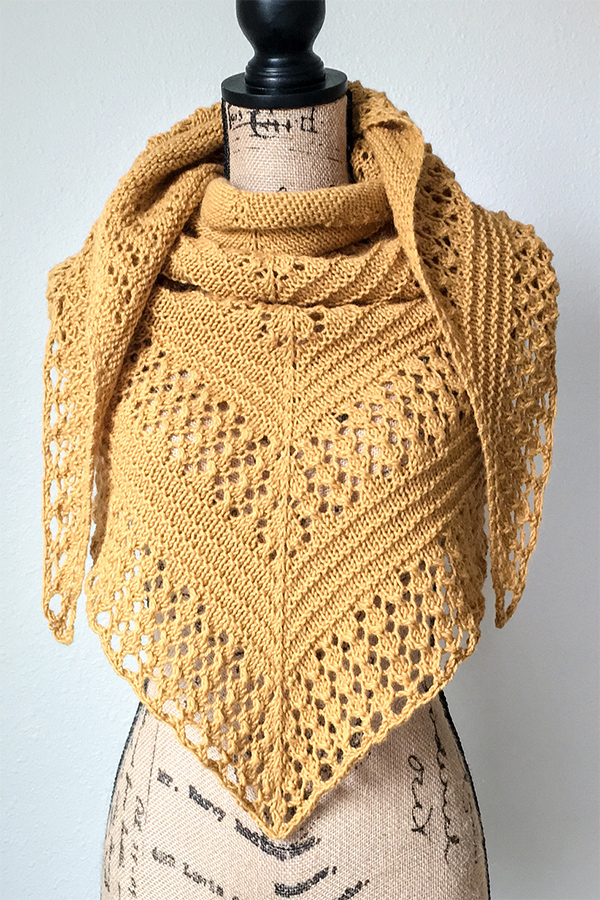 Pumpkin Spice Shawl
Pumpkin Spice is an oversized shawl that's knit in worsted weight yarn. The designer says that this pattern is a great option for those who are fairly new to shawl construction and/or to lace. It is written only (no charts), easily memorized and works up quickly. Designed by Kaylyn Bugay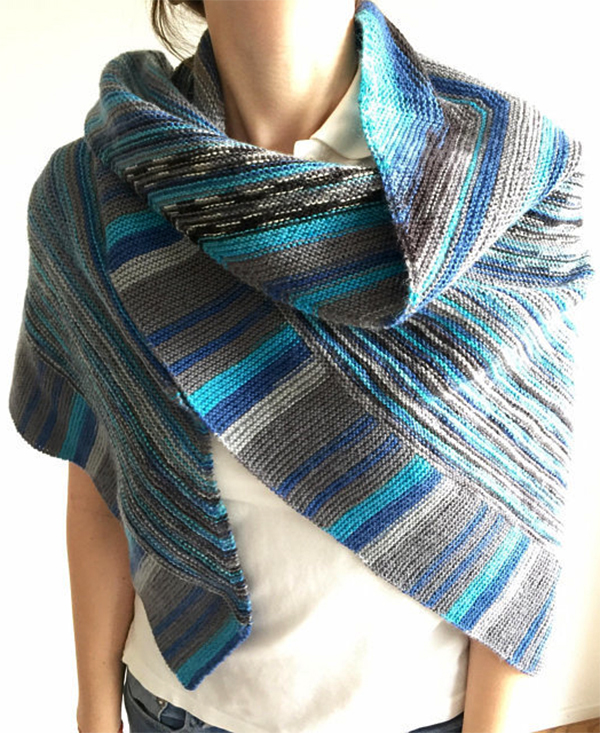 Easy Striped Shawl
The designer says that this triangle shawl pattern is suitable for beginners with a step by step PDF guide with easy to follow pictures and tips. Also making different sizes from small for children to XXL for adults. Looks like it would be good for stash or scrap yarn.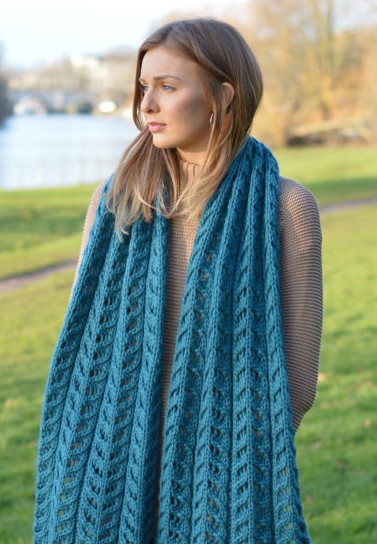 Kinvara Shawl
The pattern is only 4 rows of basic knitting stitches repeated until you reach the required length. This makes it a very enjoyable knitting experience and VERY satisfying as it's quick and easy but with beautiful results.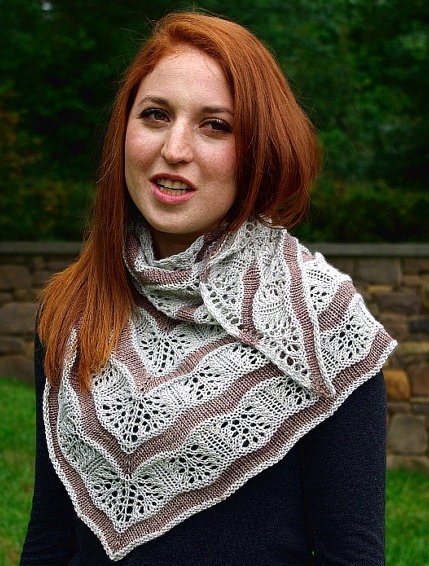 Yarden Shawl
Yarden is a lace and stockinette stitch shawl that gets its wavy lines from increases and decreases in the lace sections.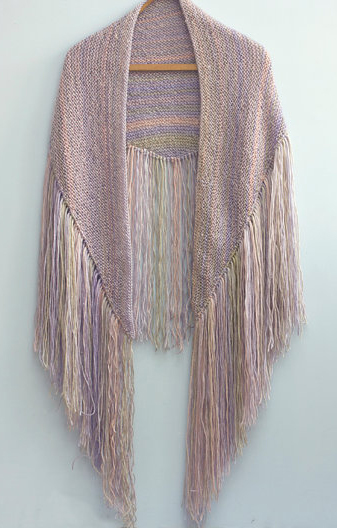 Fringe Shawl
A very easy pattern for a triangular shawl designed by Judy Stalus. Knit from the tip of the triangle it is easy to make a small scarf or a large shawl. Pattern is appropriate for a beginner.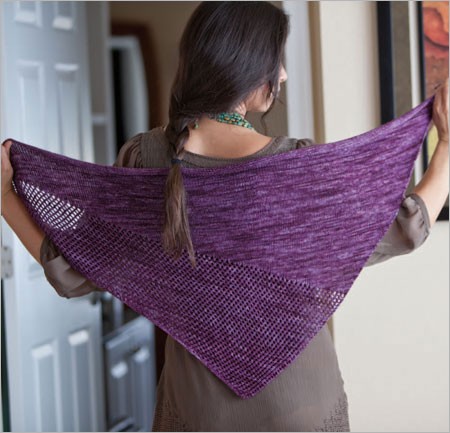 Pinkerton Shawl
Constructed of two contrasting triangles, this bright and airy shawl is knit in one piece. It is shaped using short rows over stockinette and a simple knit-two-together, yarn-over lace pattern.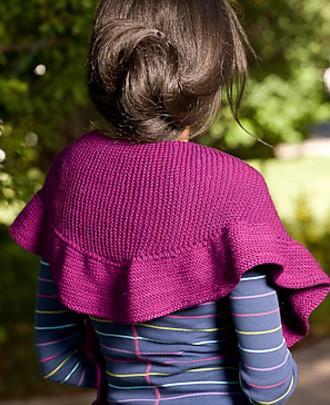 Flamboyant Shawl
The Flamboyant Shawl is a small crescent in plush garter stitch with a rippled edge.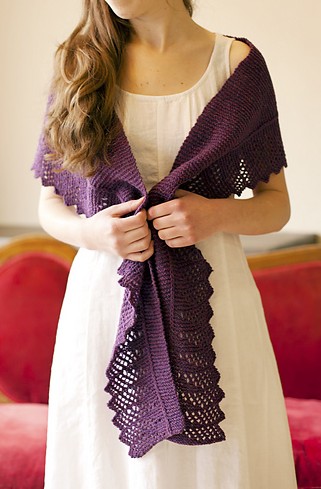 Margaret Dashwood Shawl
This shawl inspired by Jane Austen's character is knit from side to side in garter stitch and lace edging. It is one of the patterns in the book Jane Austen Knits Summer 2012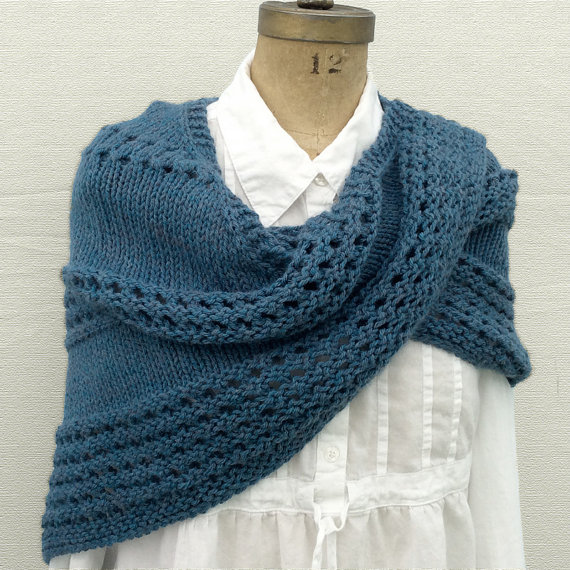 Cozy Triangular Shawl
Knit on size U.S. 10.5 needles in a washable worsted weight wool blend yarn, it is quick and fun to knit. This piece does not require constant focus in order to knit it well and the stitch patterns involved are very easy to understand and work.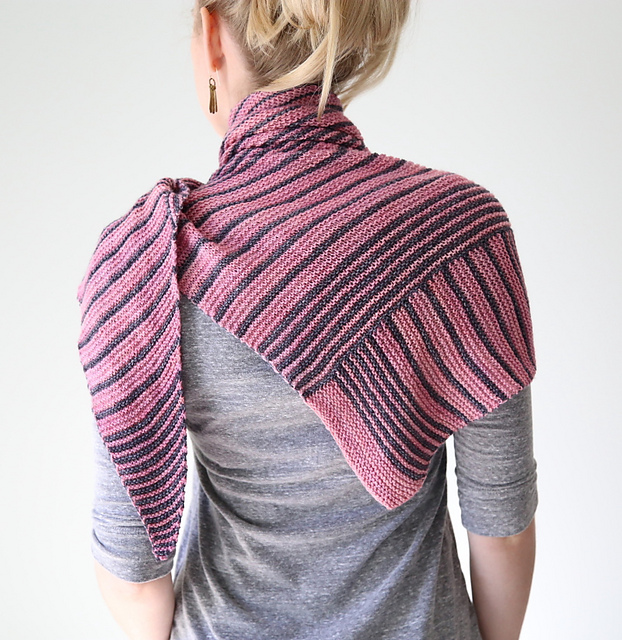 Itineris Shawl
This design by Hilary Smith Callis is a modern triangular wrap knit all in Garter Stitch with patterns and shaping that are easy to memorize, Because of the graphic intersection of the stripes, this will give you a different look each you wrap it.