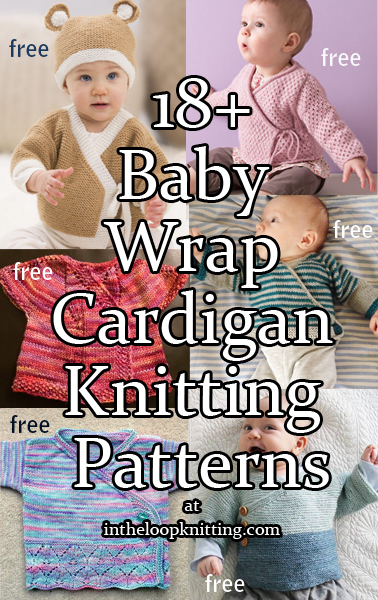 Baby Wrap Sweater Knitting Patterns. Wrap, crossover, and kimono style baby cardigans can be easier for dressing and can often adjust to growing baby's size if they fasten with ribbons or ties. Most patterns are free.
To get the knitting patterns, scroll down the page to the individual pattern you want and click on the link to that pattern.
These patterns are not my designs but links to other designers who have generously shared their patterns. If you have questions about how to knit a specific pattern, please contact the designer directly.
All links on this site are for informational purposes, but please note that some links are to affiliate sellers that pay me a small commission on purchases.
Free Patterns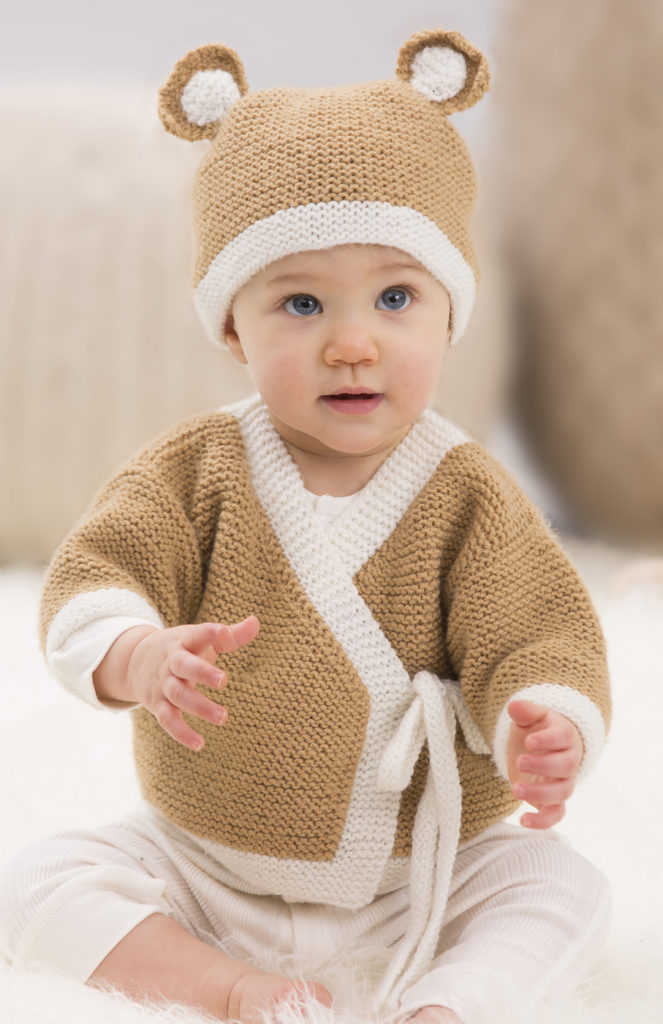 Teddy Sweater and Hat
Jodi Lewanda designed this versatile, wrap baby sweater and teddy bear hat knit in garter stitch for Red Heart. Sized for 0-3 months, 6-9 months, and 12 months.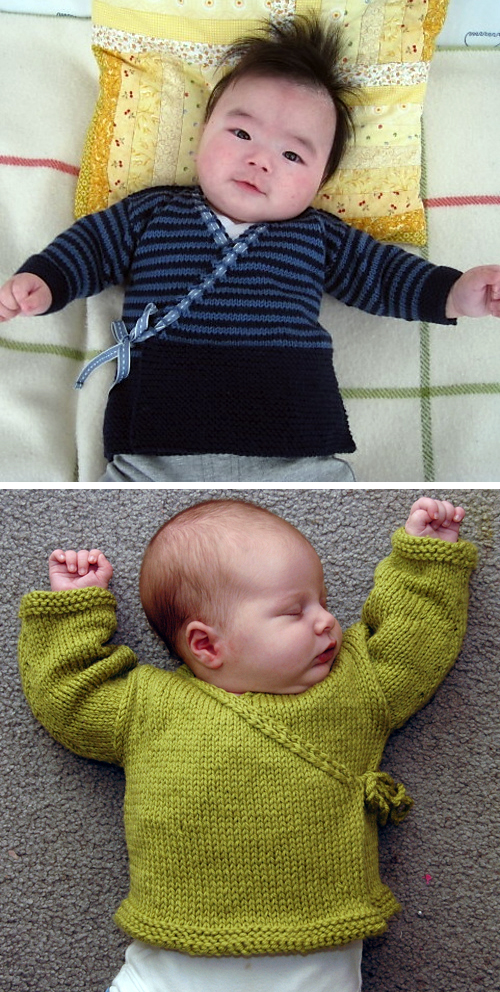 Baby Sachiko Kimono Sweater
This easy fit wrap baby cardigan is designed to minimize finishing with an the eyelet-garter band worked on the fronts, a three-needle bind-off at the shoulder seams and back neck, and the sleeves picked up and worked from the top down. Sizes 6 mos (12 mos, 18 mos). Designed by Erika Flory. Aran weight yarn. Pictured project by patterntastic who added a 9cm garter stitch hem and threaded ribbon through they eyelet for the ties, and Kessed.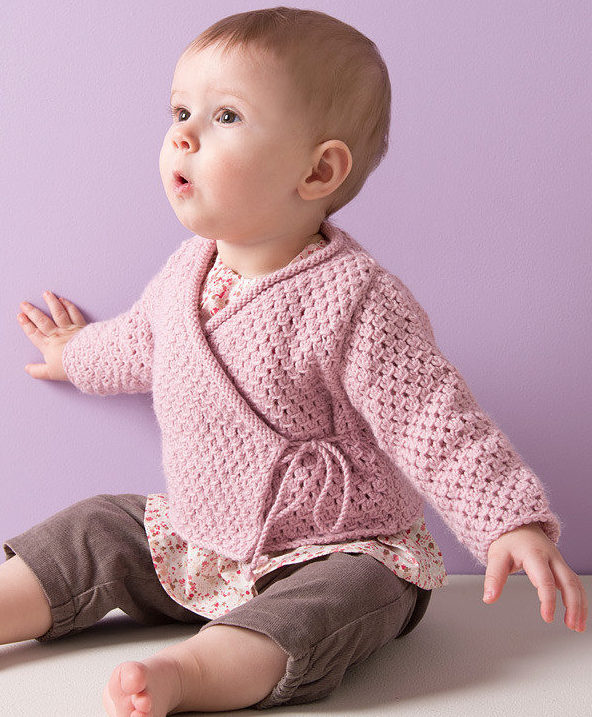 Baby Wrap Jacket
This crossover wrap cardigan features a 4 row repeat lace stitch. for newborns in stockinette stripes. Sizes Newborn, 3 months, 6 months, 12 months, 18-24 months. Designed by Phildar Design Team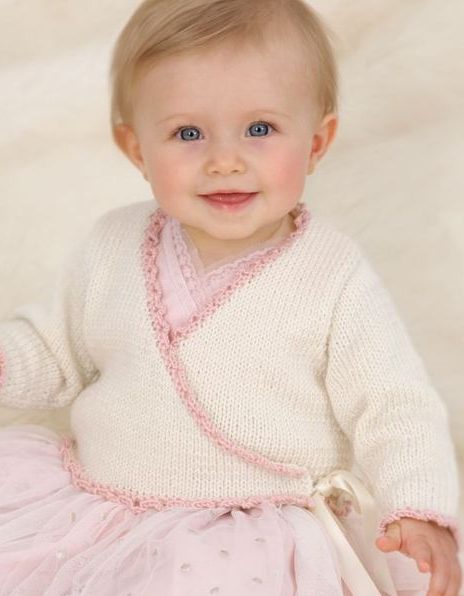 Baby Ballerina Wrap
Sizes: 0-3 Months, 3-6 Months, 6-12 Months, 1-2 Years. From Sublime Yarn. Also available as a kit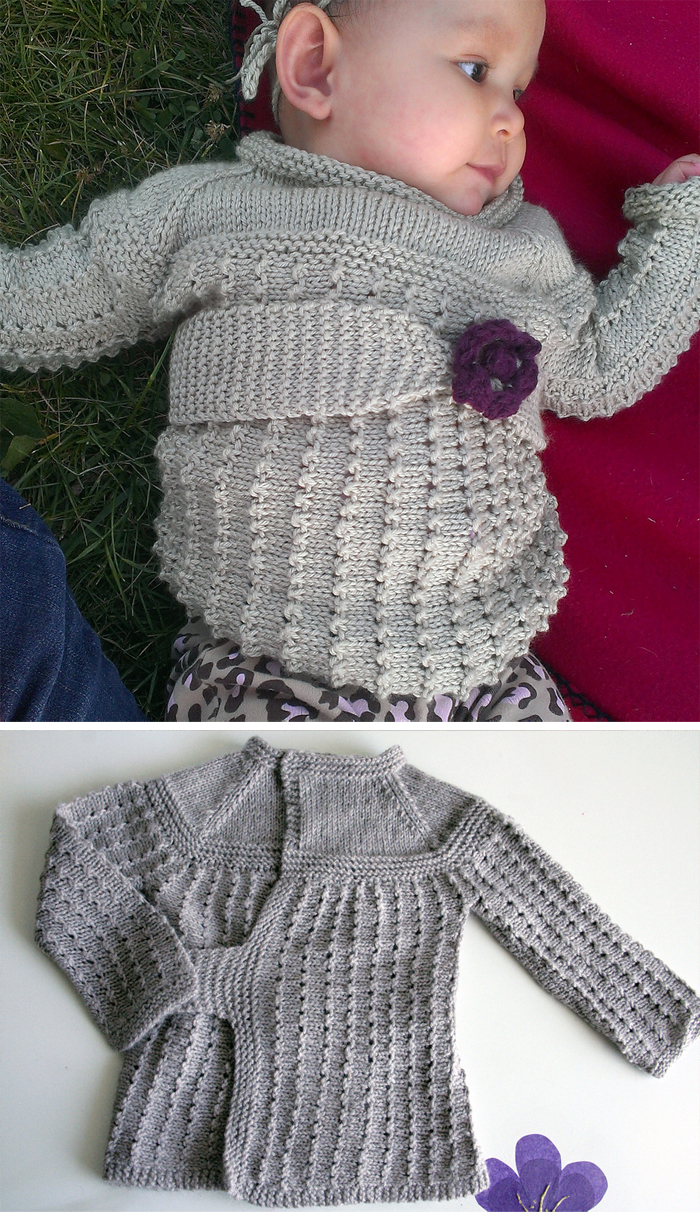 Nana Agnes Baby Cardigan
This wrap sweater, inspired by a vintage pattern, has an attached belt and the wrap opening can be worn on the front or back. Sizes newborn, 3/ 6 months, 12 months. Designed by Urbane La fée moi-même. Pictured project by lilacia who added a flower. Available in English and French.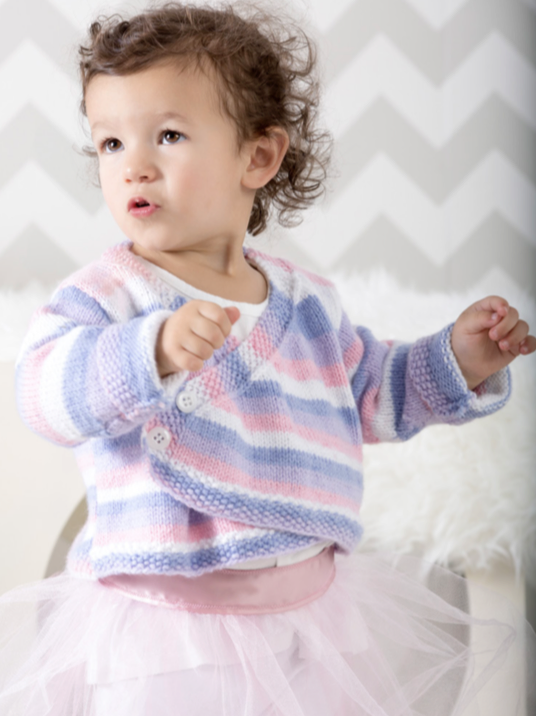 Ballerina Wrap
Long-sleeved wrap cardigan with buttons knit in stockinette with seed stitch. Child's 2 (4, 6, 8). Perfect for self-striping yarn. Designed by Premier Yarns.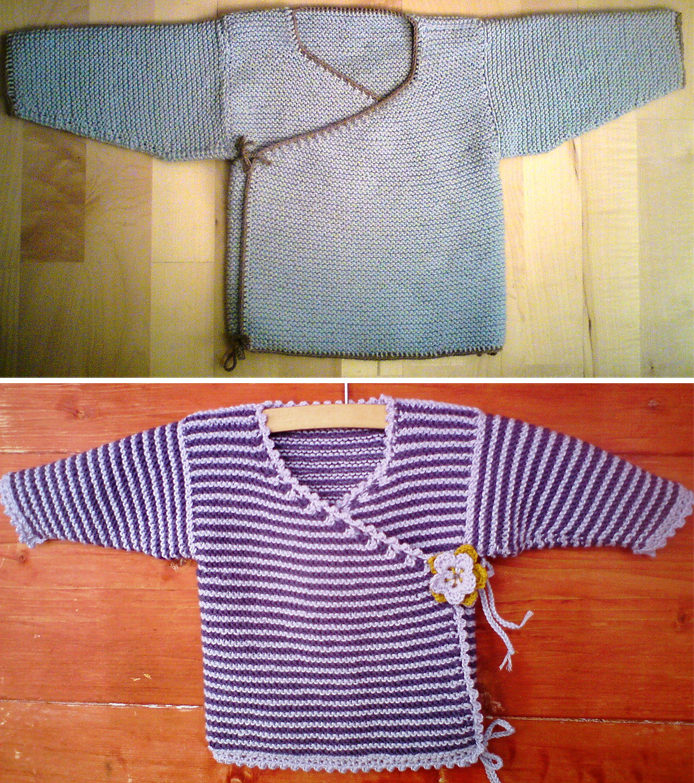 Origami Baby Kimono
Easy baby wrap cardigan in garter stitch. One of free patterns the free 9-pattern baby ebook from Interweave. Sizes 22-28 in/ 51-71 cm. Designed by Bonnie Franz. Pictured projects by Hespel who added a crochet edging and flower to second project, and MaggieAndersen who added decorative buttons.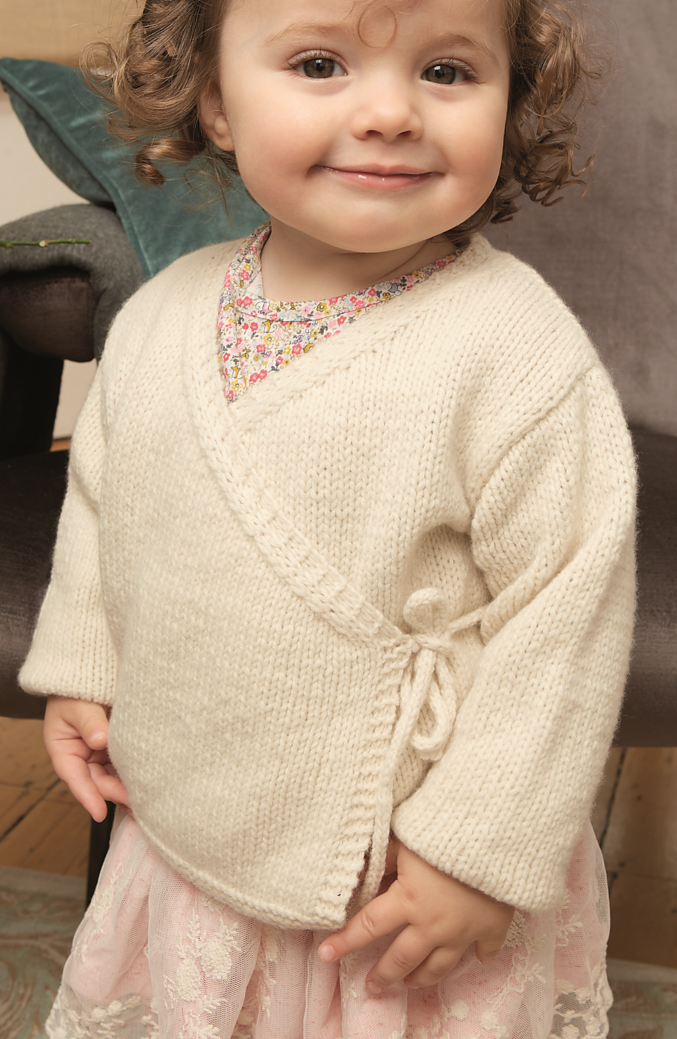 Snowbird Baby Cardigan
Designed by Martin Storey, this wrap sweater is knit in stockinette with side tie fastening. Sizes 0-3, 3-6, 6-9, 9-12, 12-18 months.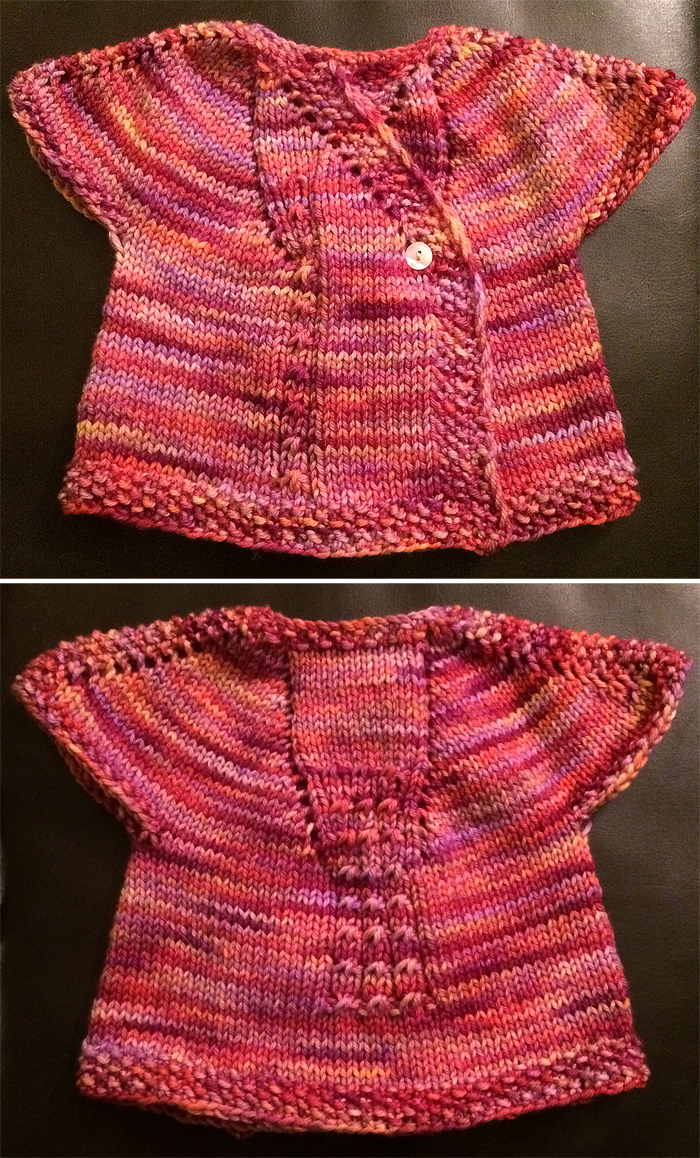 Cuddly Baby Wrap Sweater
Baby crossover cardigan with seed stitch trim and cable details in front and back. Size 6-12 months. Designed by Naama Zahavi-Ely. Pictured project by hellahelen who used less than a skein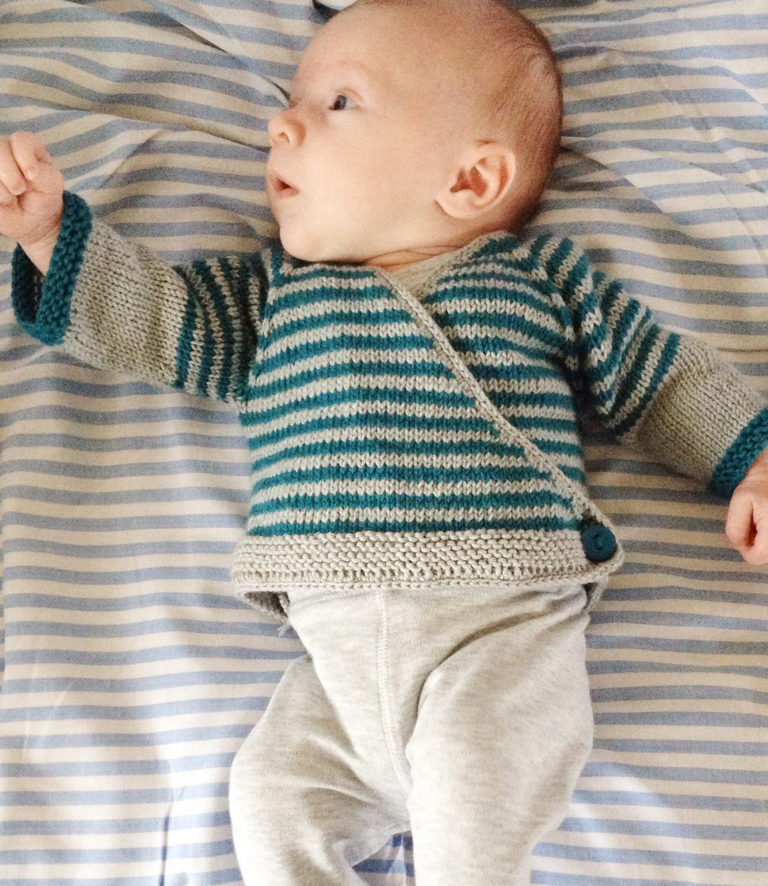 Striped Baby Cardigan
Easy wrap cardigan for newborns in stockinette stripes. Most Ravelrers rated this easy or very easy. Designed by schneckenstrick Pictured project by blowfish15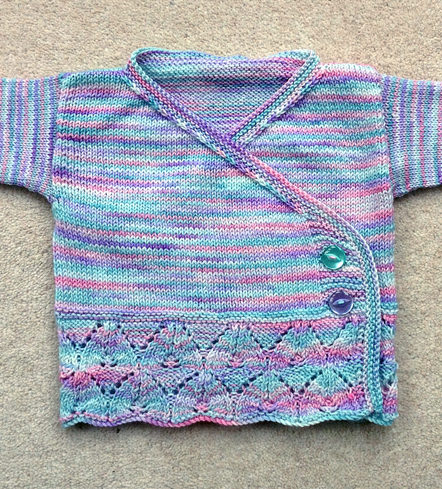 Little Princess Kimono
This crossover wrap cardigan features an Oriel Lace Pattern at the hem. Size 0-6 months. Designed by Jan Henley. Pictured project by Scullybunbun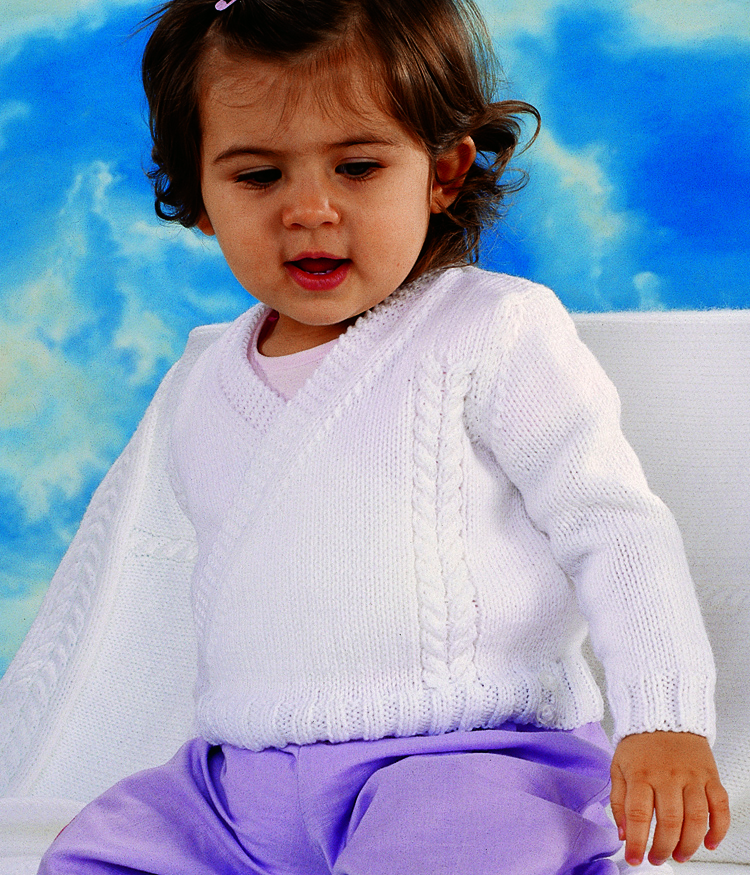 Crossover Baby Cardigan and Shawl
Cable columns give a touch of elegance to this wrap baby sweater. Comes with a matching shawl pattern, seen in the background. Sizes 0-6 mos, 6-12 mos, 1-2 yrs, 2-3 yrs, 4-5 yrs, 6-7 yrs. Designed by Thomas B. Ramsden & Co Ltd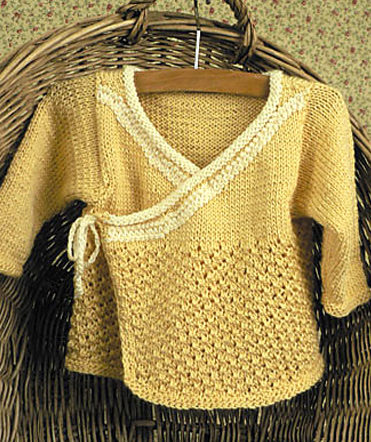 Kalari Baby Jacket
This crossover wrap cardigan features a diagonal eyelet lace pattern in the lower half. Sizes 6 (12, 8, 24) months. Designed by Kim Guzman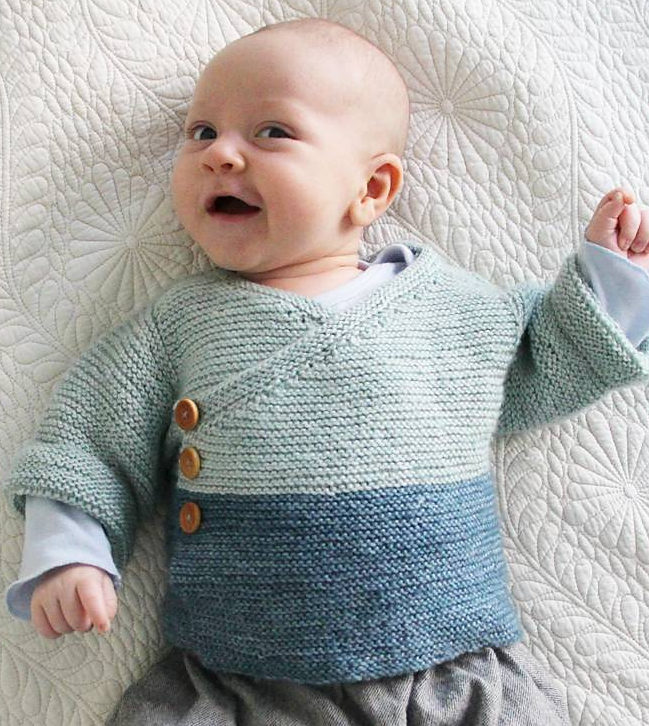 Garter Stitch Baby Kimono
Easy garter stitch wrap cardigan in kimono style is sized for babies newborn, 1-3 months, 3-6 months. Most Ravelrers rated this easy or very easy. Designed by Joji Locatelli Pictured project by jleigh718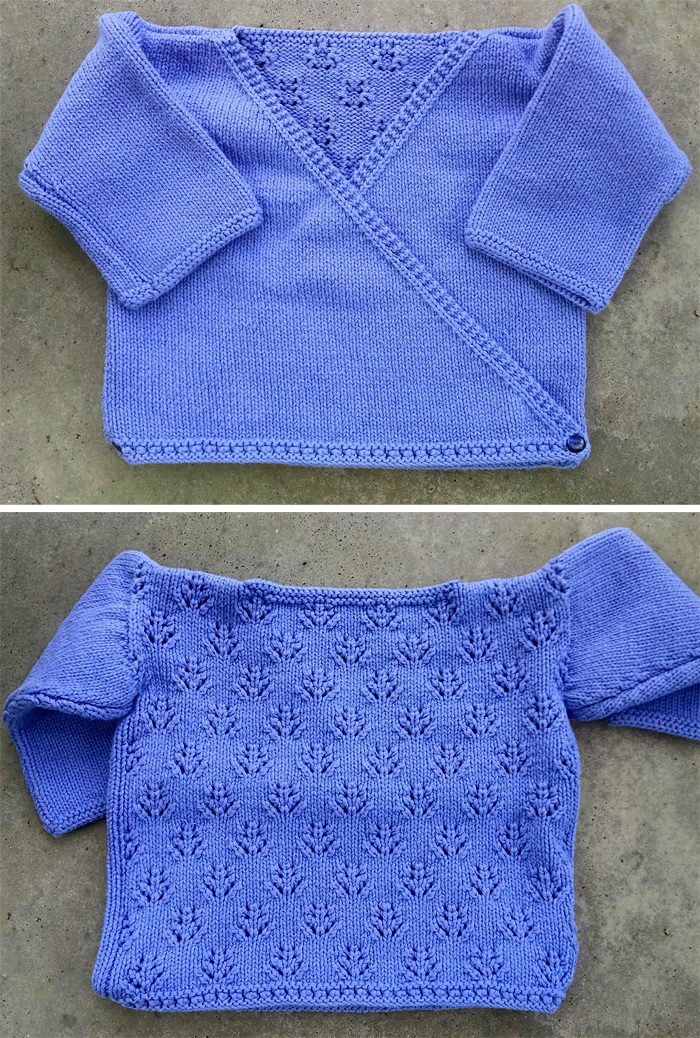 Tilias Kofta Baby Sweater
Wrap cardigan with lace back for babies and toddlers. Sizes Finished chest 51/59/68cm (20/23/26.7") . Designed by Anne B Hanssen. Pictured project by WordLily
Patterns for Purchase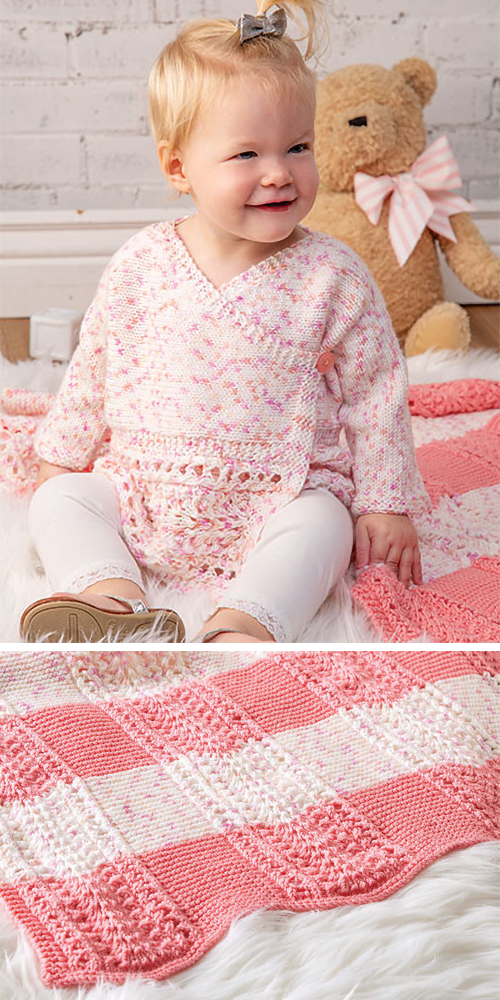 Bristol Baby Cardigan and Blanket
Kimono style baby sweater with lace and eyelet hem and striped lace blanket. Designed by Meghan Jones. DK weight yarn. One of the patterns in Creative Knitting, Spring 2019.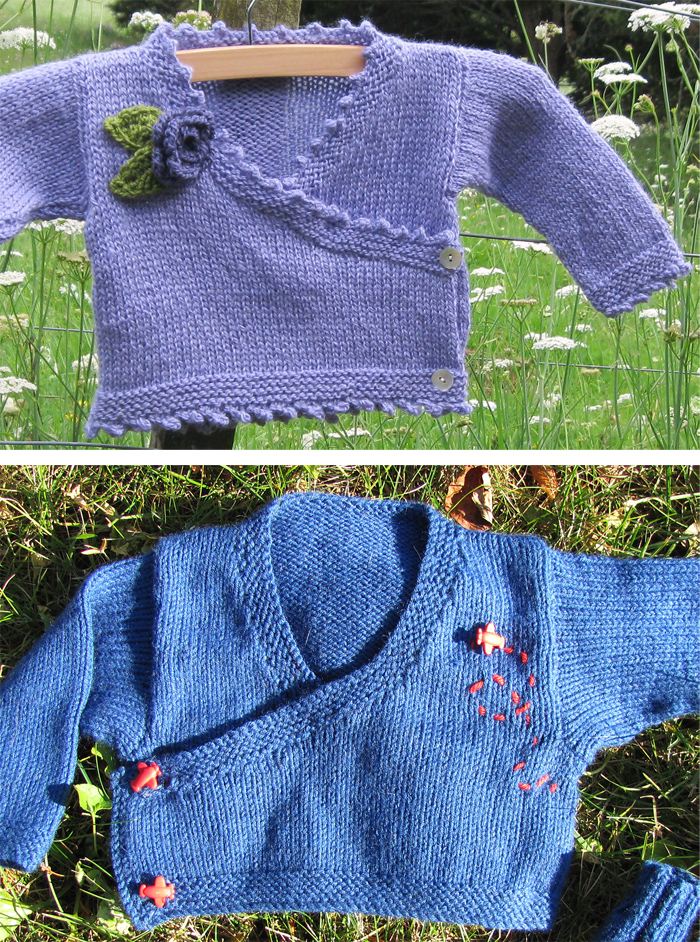 Harvey Baby Kimono
This baby wrap cardigan features a side button closure and includes an option for picot edging. To fit sizes 0 – 3 mo (15.5″), 3 – 6 (17.5″), 6 – 12 (19″). Designed by Louisa Harding. Pictured projects bycrochetwthraymond who added a flower and Sketcher who added airplane buttons and a stitched flight path.
Kyoto Crossover Baby Cardigan
This baby wrap kimono sweater features a lattice stitch. SIZES: 3mo (6mo, 12mo, 18mo, 24mo // 3yo, 4yo, 5yo, 6yo) Available in English and French.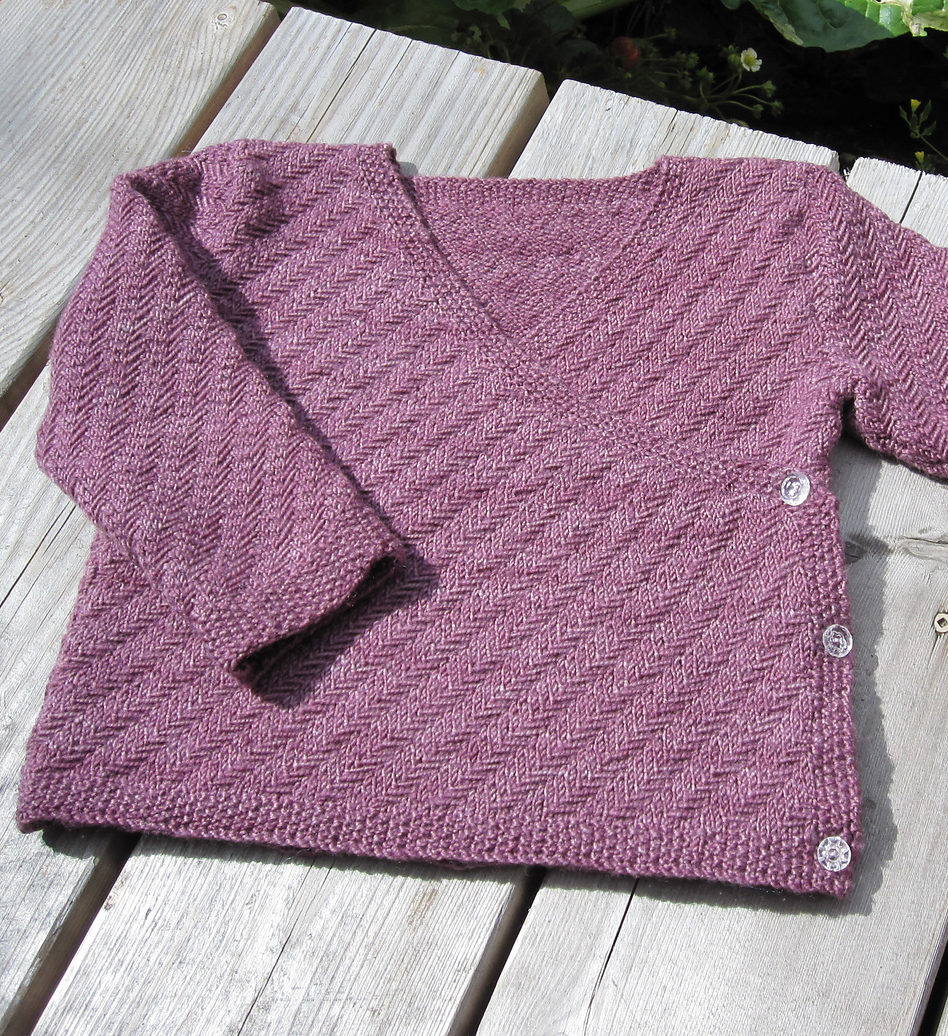 Herringbone Baby Kimono
This baby wrap sweater features allover herringbone patterns. To fit sizes 6–9 (9–12, 12–18) months. Designed by Kristen Rengren. Pictured project by justonelastrow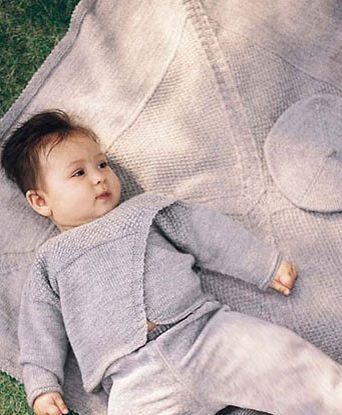 Gansey Baby Layette
This pattern set includes a baby cardigan with crossover closure, baby blanket, and tam with Gansy inspired textures. To fit sizes 6 (12, 18) months. Designed by Veronik Avery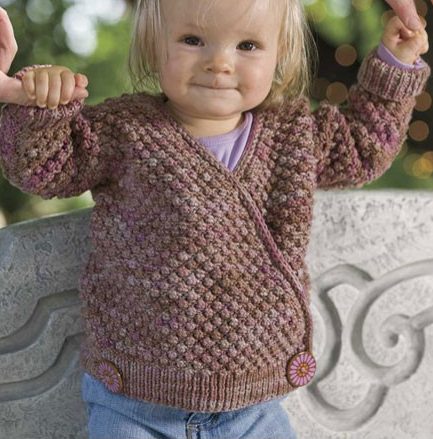 Blackberry Wrap Cardigan
Designer Nancy Shroyer created this cozy wrap sweater that wraps and fastens with big buttons that makes it easy to put on and take off.

Baby Hooded Wrap Cardigan
Quick and easy hoodie in garter stitch in 3 sizes to fit chest: 41(46:51)cm, 16(18:20)in. Ages:0-3m(3-6m:6-12m). Designed by Audrey Wilson. Pictured project by parksidepurler