Quick Baby Shower Gift Knitting Patterns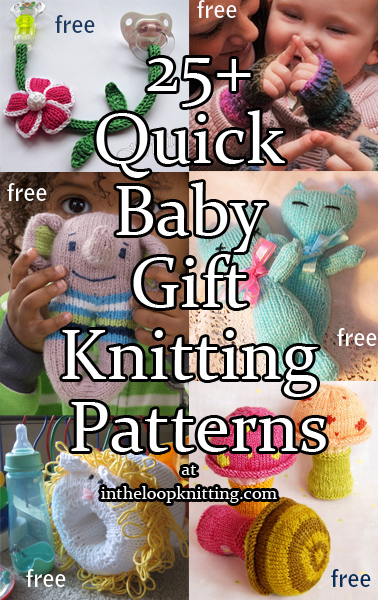 Got a baby shower coming up fast? Or planning a visit to new baby? Here are some gift ideas that you can knit in a few hours or a couple of days and still get lots of "Awwww"s.
To get the knitting patterns, scroll down the page to the individual pattern you want and click on the link to that pattern.
These patterns are not my designs but links to other designers who have generously shared their patterns. If you have questions about how to knit a specific pattern, please contact the designer directly.
All links on this site are for informational purposes, but please note that some links are to affiliate sellers that pay me a small commission on purchases.

Travel Changing Pad
The Changeling travel changing pad folds up and closes with a bright button for easy carrying, and is large enough to carry a pack of baby wipes inside. Folded up, Changeling measures approximately 11" x 7" x 2", and opened up, it measures 26" x28". Designed by Erika Flory. Pictured project by tmkr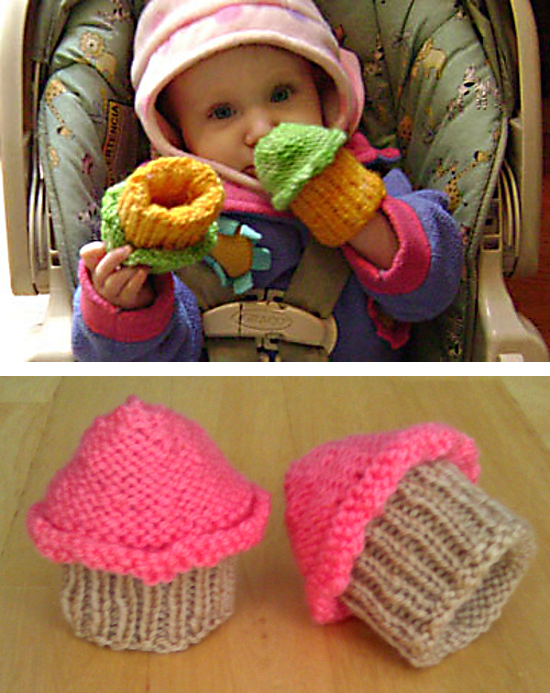 Baby Cupcake Hands
Baby mittens to keep tiny hands warm. For babies 3-6 months. And when baby outgrows the mittens, they can be used as toys.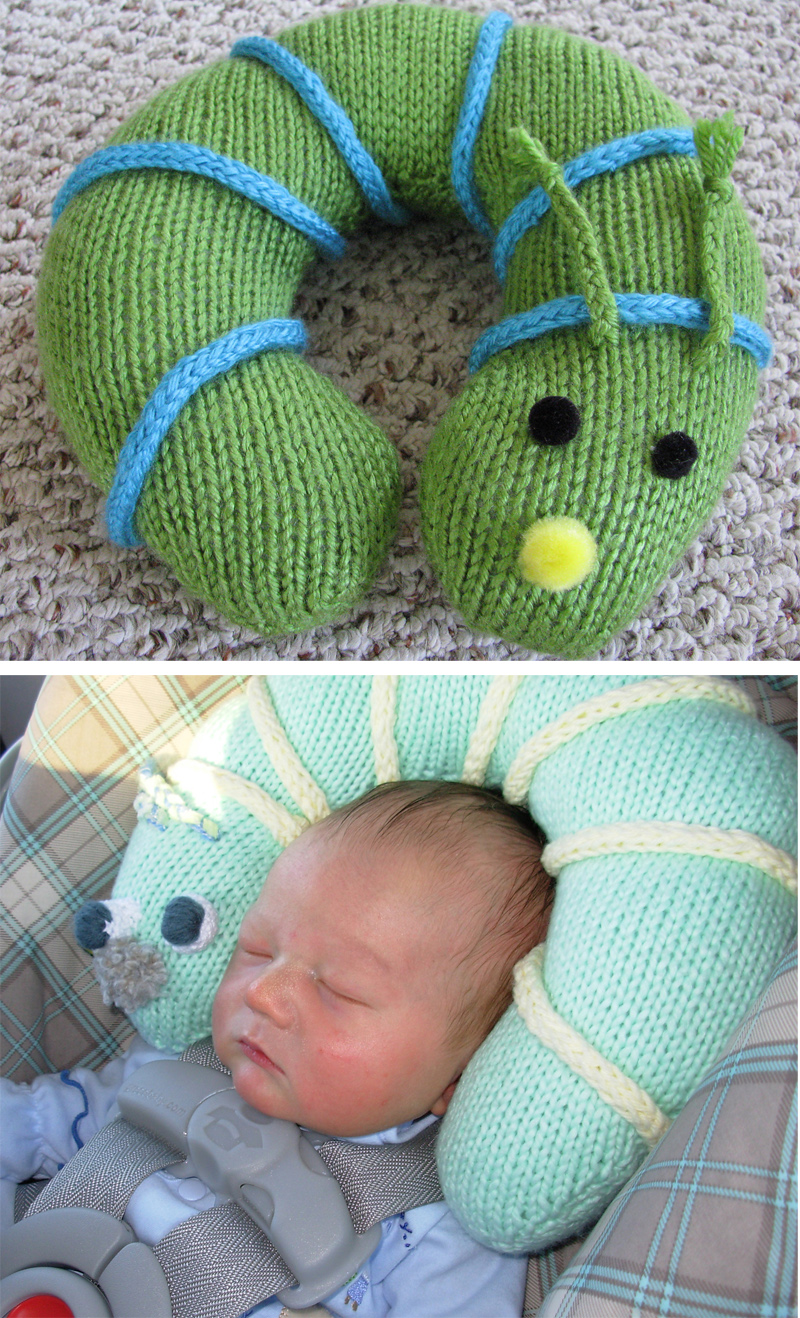 Baby's Buddy Inchworm Pillow
Soft cuddly cushion cradles baby's head and doubles as toy or neck pillow for older child. Worked flat and shaped with short rows. Length after stuffing: about 29 inches / 73.5 cm. Ravelrers said they completed this in a day. Designed by Helen Ralph. Pictured projects by jennyr and jmaines.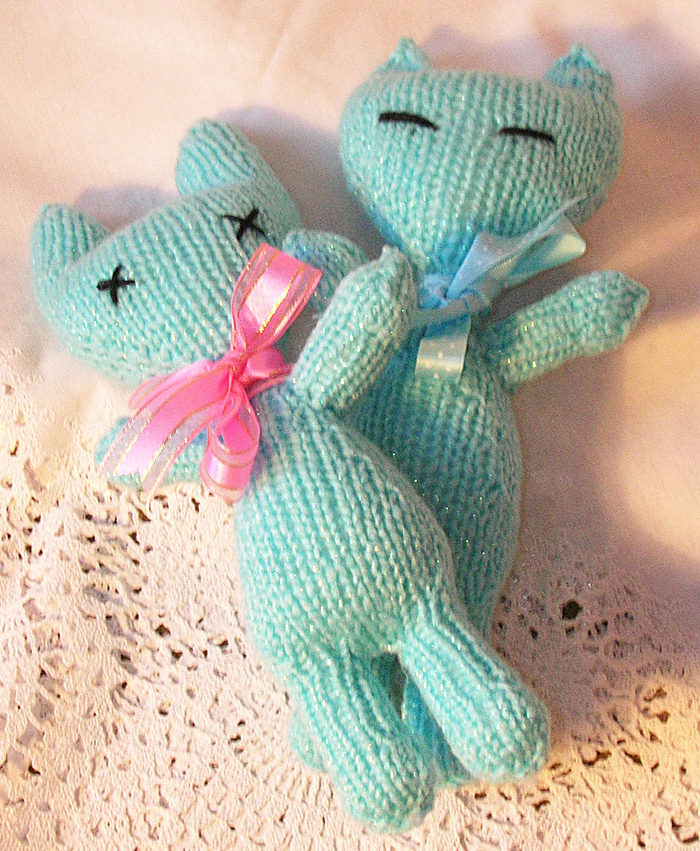 Stuffies
Quick squeezable toy bunny or cat softie. Ravelrers said they were able to finish in a weekend and often took less than a skein. Easily customizable by changing facial expression, adding stripes, and more. Designed by Ysolda Teague. Pictured project by fortunka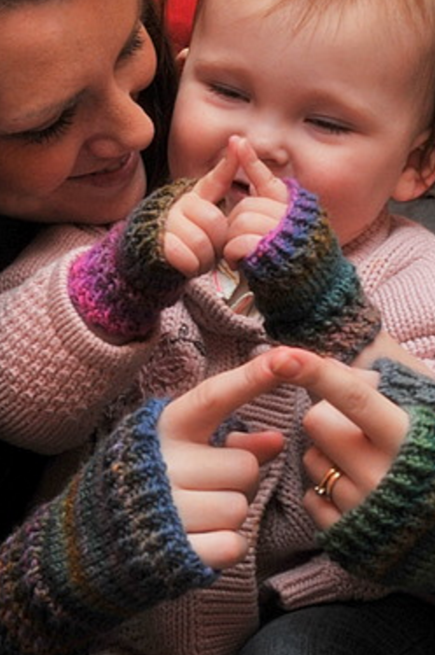 Sucky Thumb Mitts
Easy baby sized fingerless mitts are perfect for keeping baby's hands warm while leaving fingers free to explore. Designed by Marianne Cant who says they only take 3 hours to knit. Make two sets in case one mitt gets lost! Great use for scrap yarn. For larger sizes just use a heavier weight of yarn.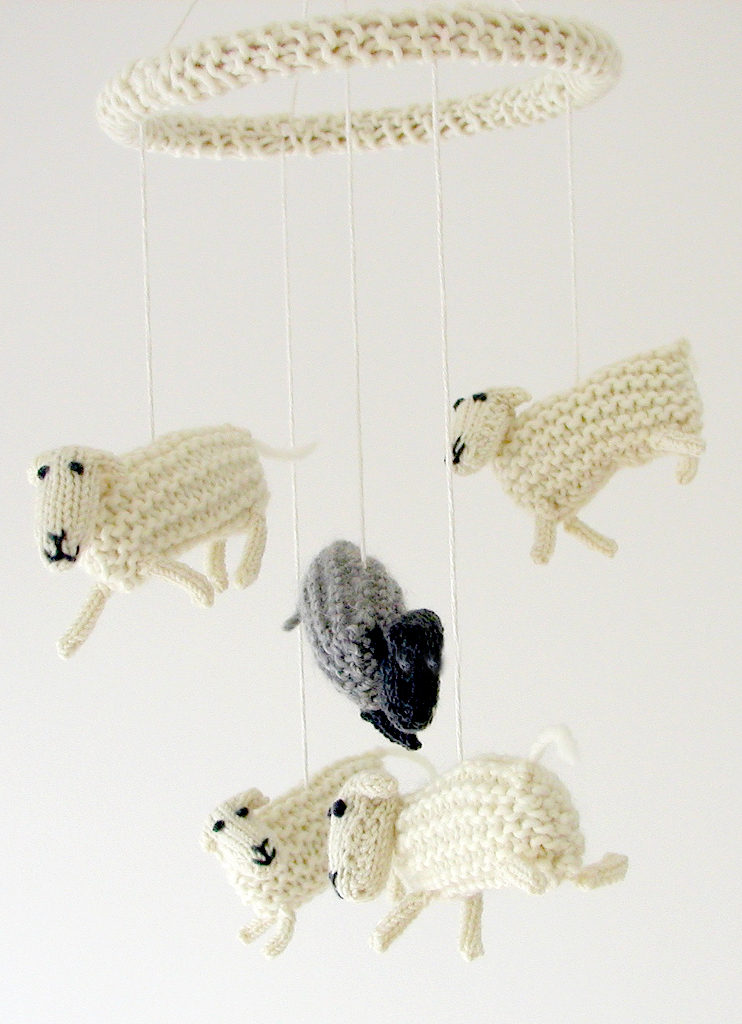 Counting Sheep Mobile
Five toy sheep suspended from a covered wooden embroidery hoop make an adorable mobile for baby. The sheep are approximately 10cm long and 8cm tall. Mobile as shown is approximately 48cm in length by 18cm across. Designed by Jessica Gutoski. I think it would be fun to knit the sheep in different bright colors for baby.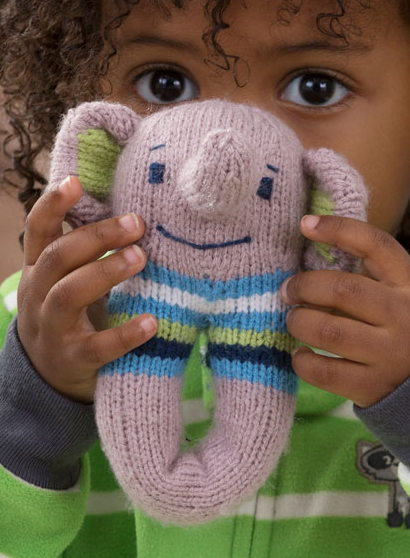 Elephant Baby Rattle
This soft knit elephant rattle is contains a cat toy in the head to make the sounds. Rattle measures 14 cm [5½"] tall and head is 16.5 cm [6½"] around at widest point. Designed by Nancy Anderson.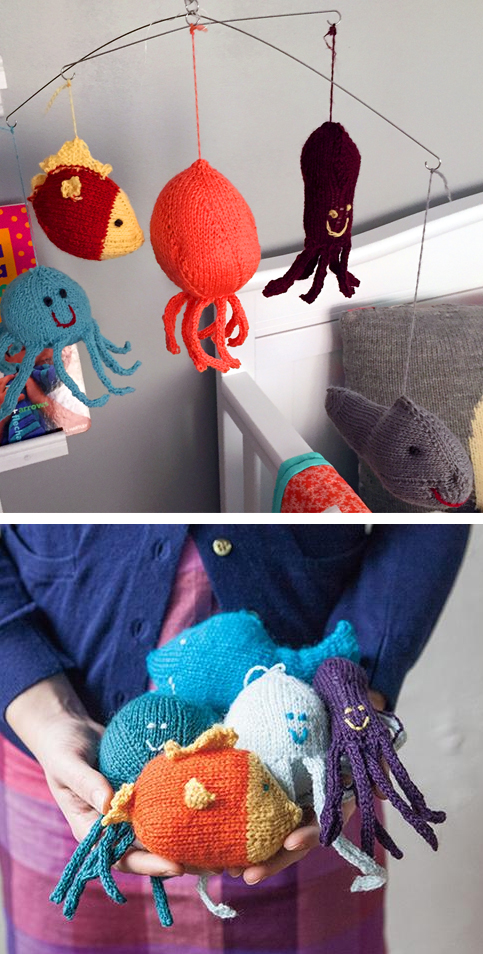 Under the Sea Mobile
Five fun sea creatures make up this adorable mobile perfect for baby! Knit the jellyfish, octopus, squid, whale, and fish, then hang from yarn covered dowels or wire. Designed by Allyson Dykhuizen. Pictured project by lavs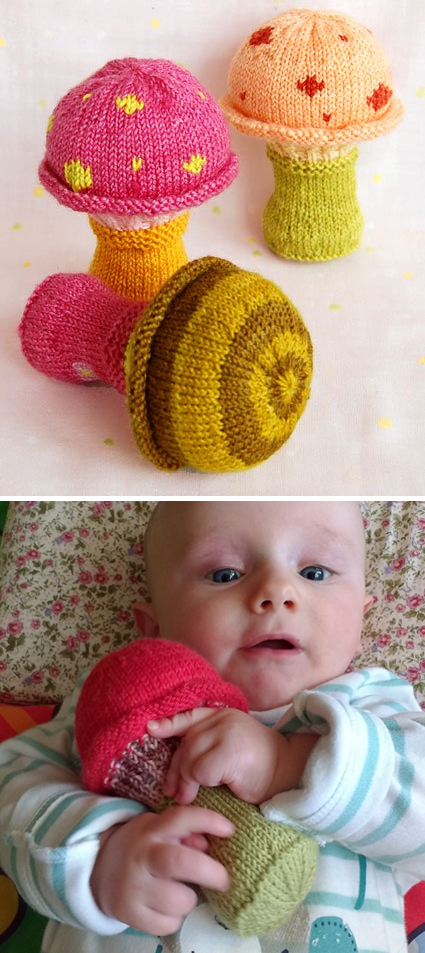 Toadstool Baby Rattles
This rattle is knit around a cat ball toy with a bell. About 3 inches in diameter and 4 1/2 inches high. Designed by Purl Soho. Pictured by dramy.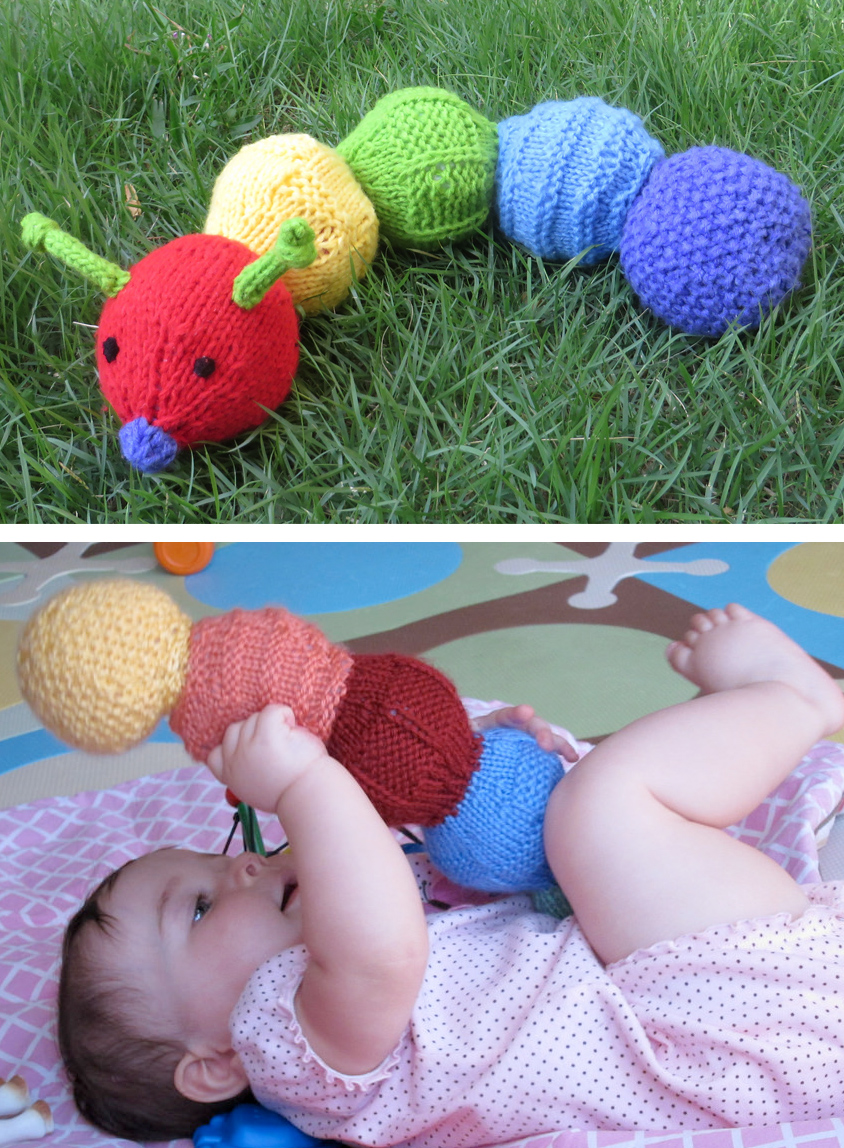 Sensory Caterpillar
This quick baby toy features bright colors, different textures, and sounds to engage baby's senses. Each section of the caterpillar features a different texture and color and some of the sections include sound makers like rattles, squeakers, and bells. About 12 inches long and 3 inches wide. Designed by Julie Anderson Pictured projects by plumpud and carolyn22. Great stash buster!
3 Little Bear Toys
These quick bear toys are knit in one piece with the ears knit separately and sewn own. Pattern includes instructions for koala, teddy, and panda. The designer says you can knit one in about an hour or so. I think you could also add rattles or bells for sounds.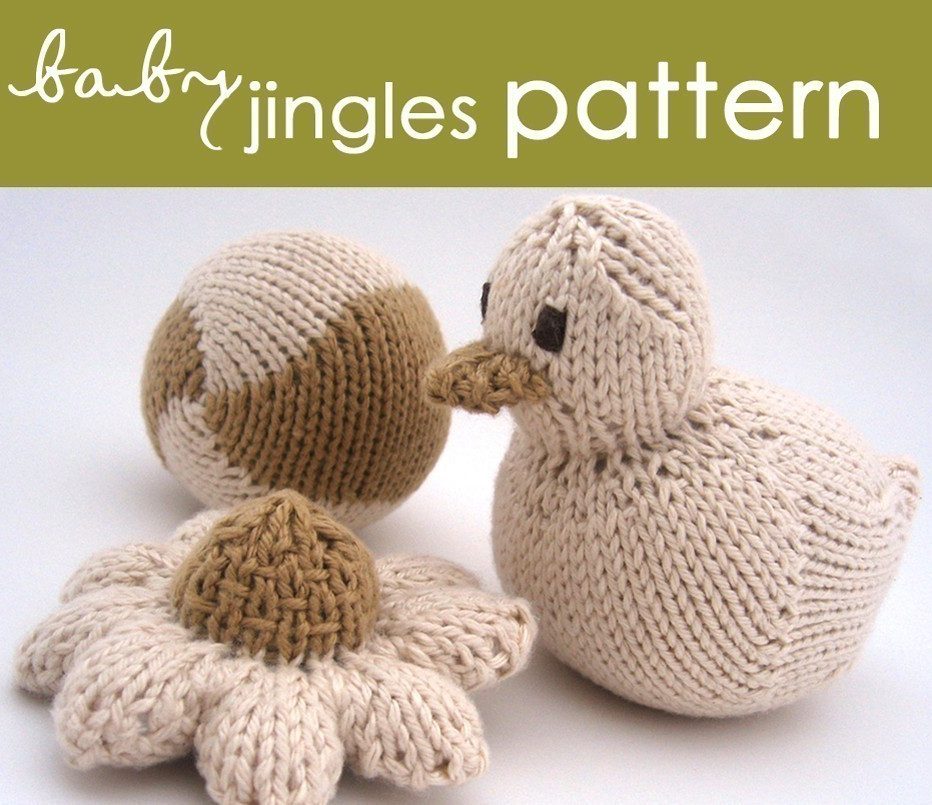 Duck, Daisy, and Dot Baby Jingles
These quick toys are designed to hold bells to ring when baby shakes them. Duck Size: Height – 3.5″; Length – 4″ Daisy Size: Height – 1.5″; Length – 3.5″ Dot Size: Height – 2.5″; Circumference – 8″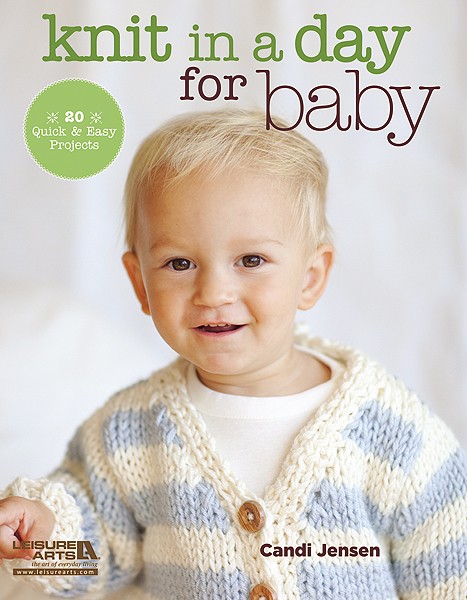 Knit in a Day for Baby
A treasury of 20 quick and easy designs that the average knitter can complete in 2 to 12 hours.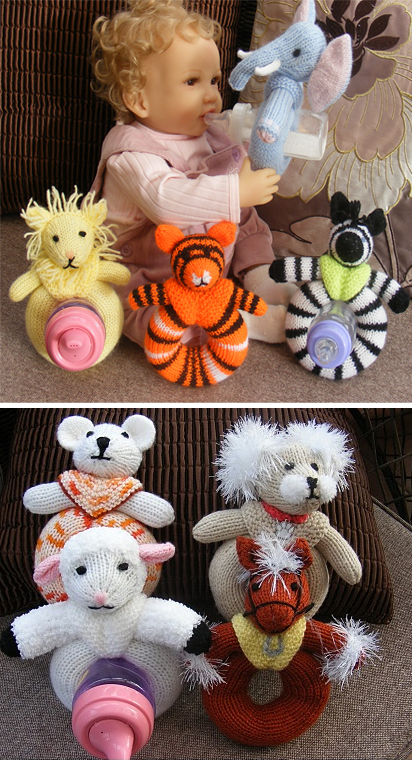 Baby Bottle Buddies
These bottle buddies are especially designed to hold a baby's bottle so little ones can grasp the bottle and feed themselves. The Safari Set includes Lion, Tiger, Zebra and Elephant instructions. The Animal Friends Set includes Lamb, Teddy, Dog, and Horse instructions.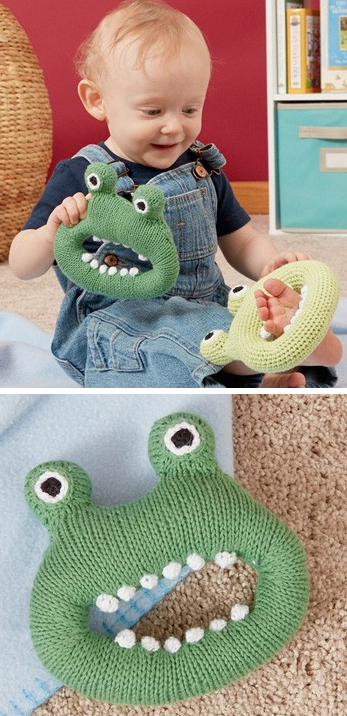 Silly Monster Rattle
This cute baby toy features a donut shaped base and rattle inserts safely tucked within the eyes. 5″ wide and 4¼ " tall (not including eyes). Crochet version also available.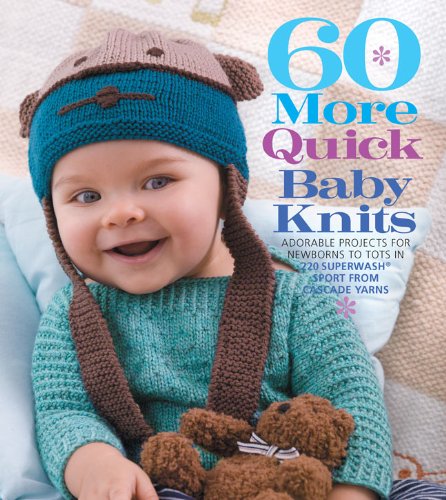 60 More Quick Baby Knits: Adorable Projects for Newborns to Tots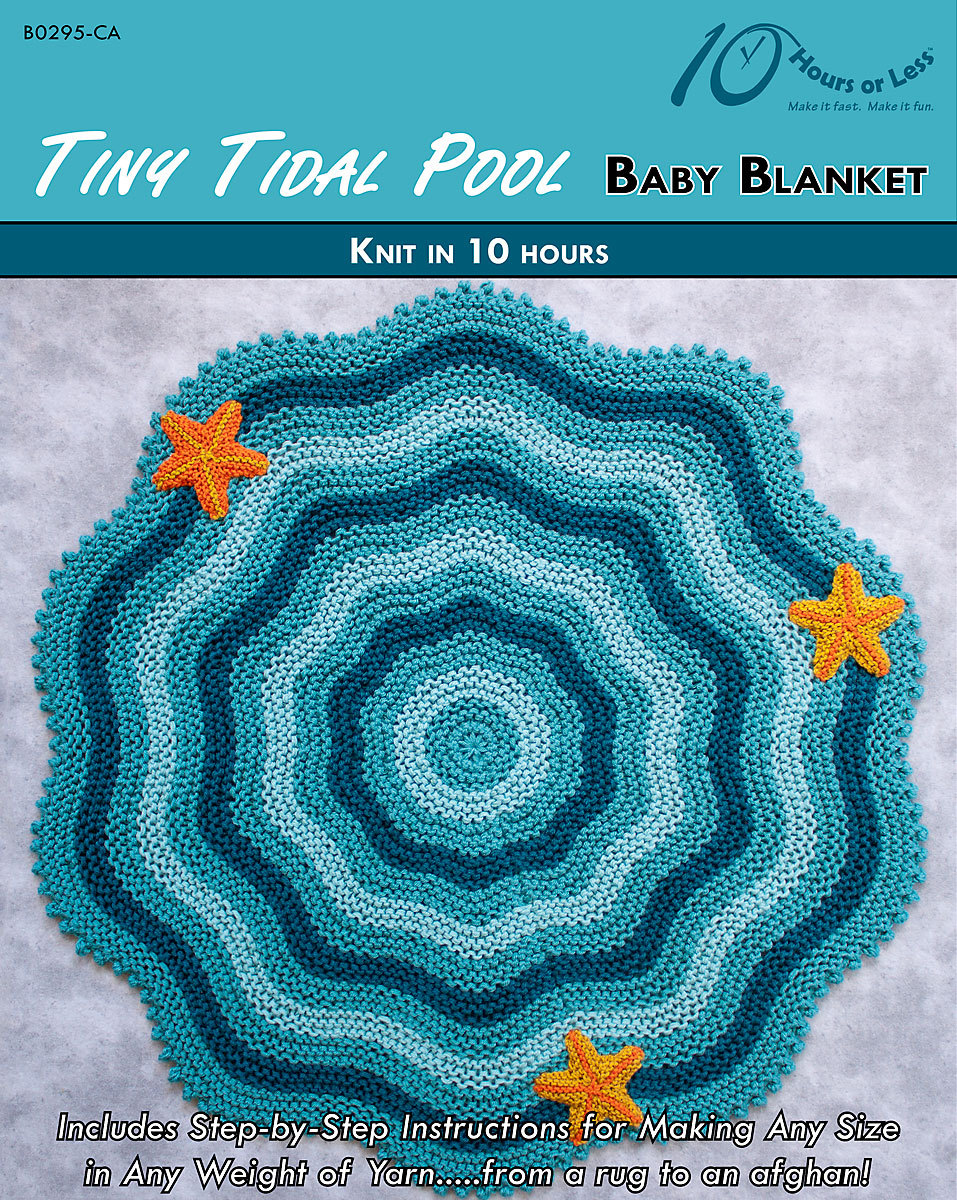 Tiny Tidal Pool Baby Blanket
This easy and quick striped circular blanket is knit to resemble ripples in a pool. Knit in garter stitch with a picot edge and decorated with 3 knit starfish. The designer says it can be knit in 10 hours which makes it a perfect quick baby shower gift.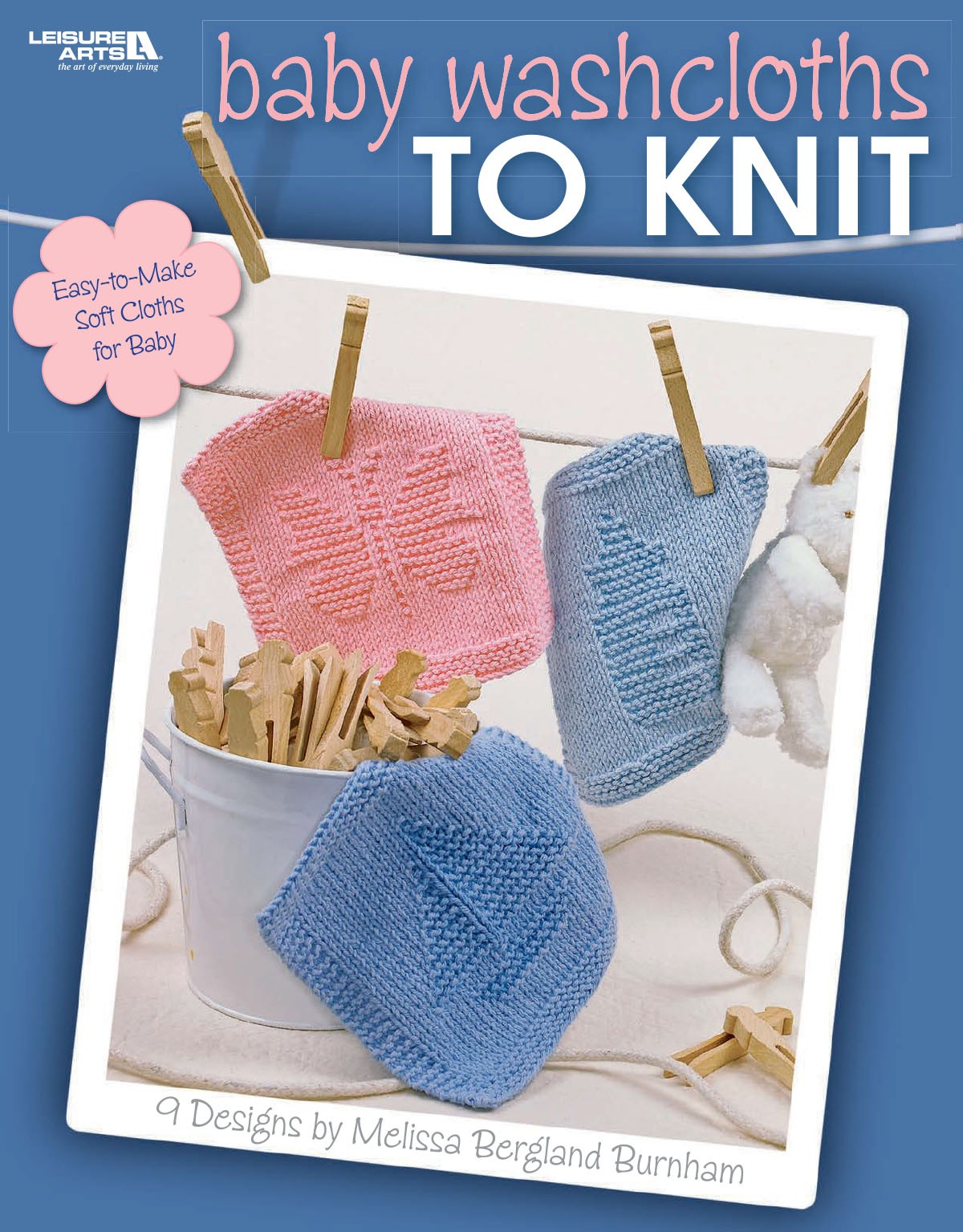 Baby Washcloths to Knit
9 washcloths including a Sailboat, Little Lamb, Baby Bunny, Butterfly, Rubber Ducky, Stork, Baby Bottle, Baby Buggy, and Rocking Horse.
[widget id="black-studio-tinymce-30″]
Terry Matz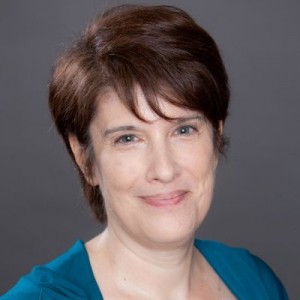 Terry is a knitting late-bloomer, learning to knit as an adult from Internet tutorials, because she wanted a craft that was useful, fun, and portable. Knitting hats for cancer patients inspired her to design her own patterns—available for free at her blog, intheloopknitting.com. Terry met her husband Ken at a science fiction convention and moved to the Kansas City area to be with him more than 30 years ago. Terry supports her yarn stash by creating websites and other digital media. Terry firmly believes in Knitting in Public—it's a great conversation starter!