Knitting projects for scarves knit with lace stitches. Many of the patterns are free.
To get the knitting patterns, scroll down the page to the individual pattern you want and click on the link to that pattern.
These patterns are not my designs but links to other designers who have generously shared their patterns. If you have questions about how to knit a specific pattern, please contact the designer directly.
All links on this site are for informational purposes, but please note that some links are to affiliate sellers that pay me a small commission on purchases.
Free Patterns

Lace Stripe Scarf
Colorful scarf knit in a lace stitch with different colors. Great for stash yarn or mini skeins. Approximately 180 x 25 cm (71 x 10)". Designed by Patons UK. Worsted weight yarn. Kit also available on pattern page.

Stunning Lace Scarf
Lace pattern in 16 row repeat flows the length of this scarf. Scarf Measures 12″ wide x 75″ long. Designed by Lisa Gentry for Red Heart

Advent Calendar Scarf
Lace scarf with 24 different patterns, one for each day from 1st of December until Christmas.by Kristin Benecken. Pictured project by GBayfan.

Waves of Grain Scarf
Generously sized scarf with lace ends resembling heads of wheat connected by a middle section with a two-row repeat that can be memorized very quickly. Designed by Rosemary Hill. Pictured project by Erin
Seafoam Scarf
Joan Janes used garter stitch, yarnovers and dropped stitches to create an exquisite design that is easy to knit and perfect for multi-colored yarn.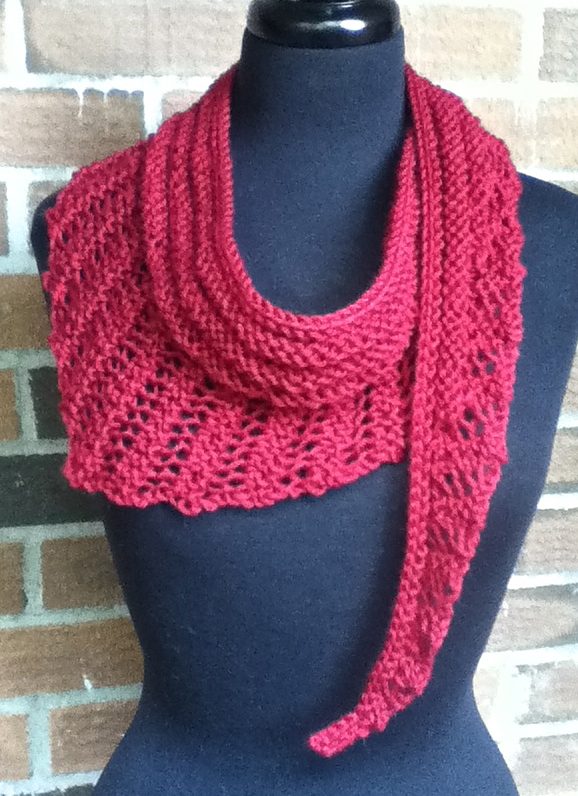 Gallatin
Kris Basta's scarf works up quickly with worsted weight yarn and size 10 1/2 needles. A simple repeat in the pattern makes this a great tv watching project.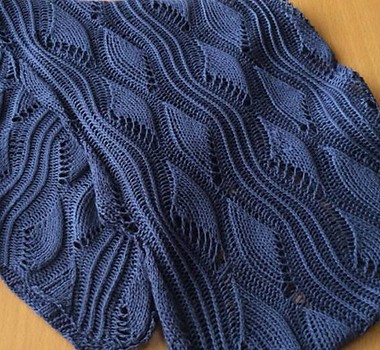 Wellen in Pink Scarf
Beautiful, versatile lace scarf designed by Sue Berg that can be knit in various weights from cobweb to fingering and more. Pictured project by teketen

Shetland Shell Lace Scarf
Designed by Shiz-Knits, this features a 12 row repeat.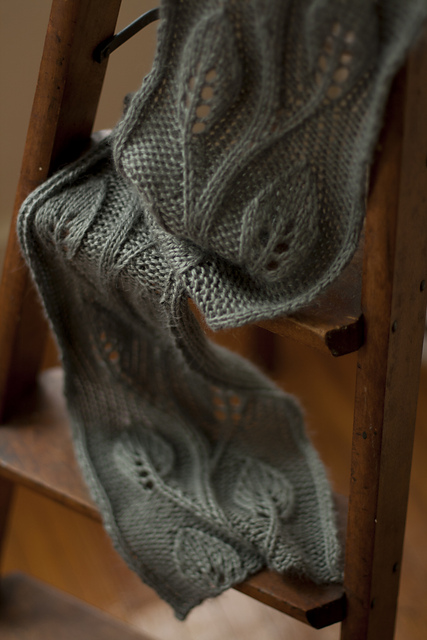 Daphne
Lace laurel leaves wind through this scarf by Saranac Hale Spencer, designed for worsted weight yarn.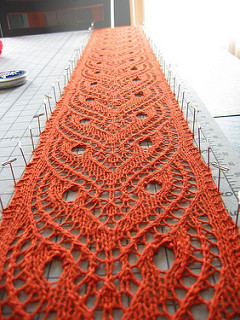 Tiger Eyes Lace Scarf
Toni Maddox designed this scarf for fingering yarn. Requires blocking.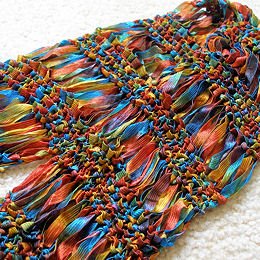 Drop Stitch Ribbon Scarf
Simple drop stitch paired with ribbon yarn makes an incredible statement scarf by Jeweled Elegance.

Tender Scarf
Designed by manaal for fingering yarn.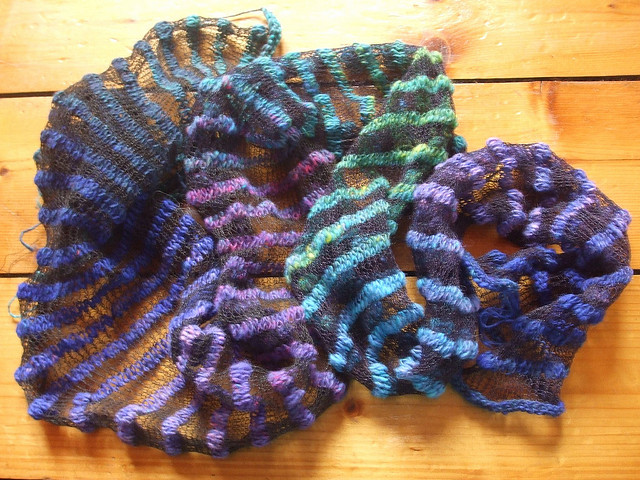 Strange Bedfellows
Ellielabelle provides this idea for knitting an unforgettable scarf with just stockinette: Take two lovely yarns from stash, knit in stockinette stripes and see what weirdness ensues. She used Noro Kureyon Sock and Habu Stainless Steel Wool lace.

Kernel Scarf
Bonnie Sennott was inspired by a lace pattern that reminded her of corn kernels (hence the name). Width: 9.5 inches
Length: 65 inches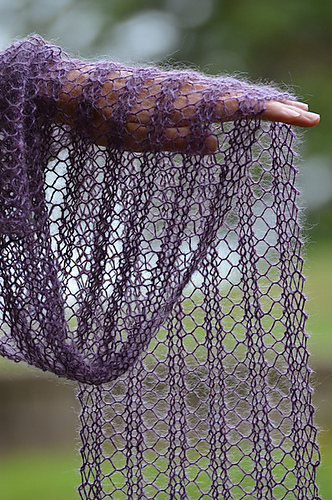 One Row Lace Scarf
Turvid designed this super simple scarf pattern. Cast on 24 sts (or any number of stiches dividable with 4). Knit 2 rows. Knit pattern row: K4, (YO, K2tog, K2) repeat between ( ) 5 times. Repeat the pattern row until your scarf is at desired length. Knit 1 row and cast off. The pictured project by jondrejka used a sport weight mohair yarn with size 9 needles, though the pattern recommends fingering weight on size 10 needles.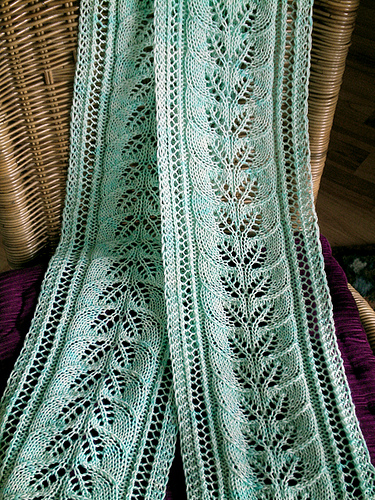 Column of Leaves Lace Scarf
Brooke Nelson designed this versatile scarf pattern for worsted weight yarn, on size 7 needles, but it can be knit on any yarn and needles you want. This pattern is very easy to memorize after a few repeats, making for quick and fun work. Pictured project by juliezryan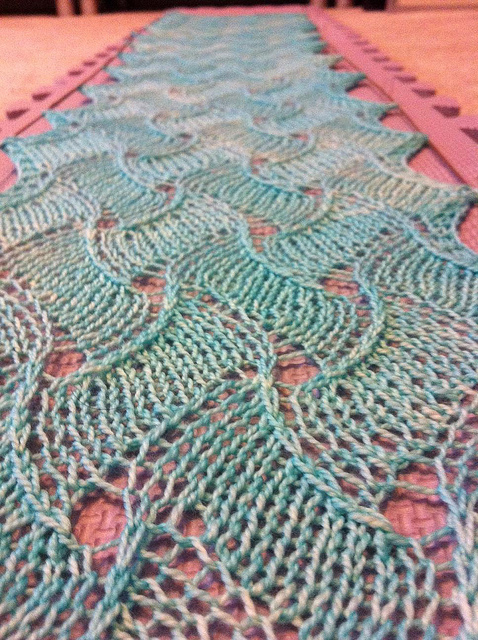 Laughingbird Scarf
Shelby Dyas designed this scarf with a wavy lace pattern. It can also be used to make a shawl.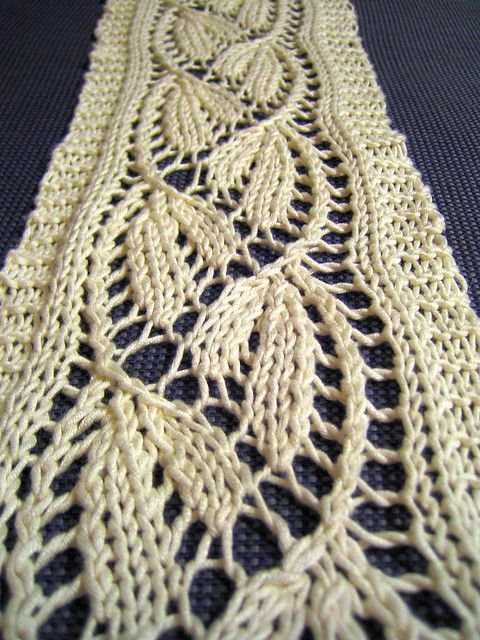 Dayflower Scarf
Toni Maddox designed this scarf for worsted yarn.

Lovely Leaf Lace Scarf
Purl Soho designed this cozy lace scarf for Aran weight yarn.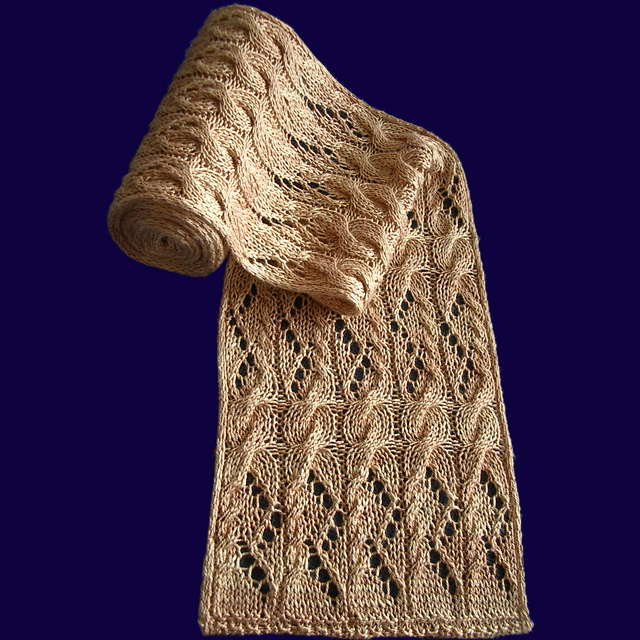 I Feel Pretty
Full written AND charted instructions are in this lace and cable pattern by Caoua Coffee. I'm considering adapting this with an angel wings pattern.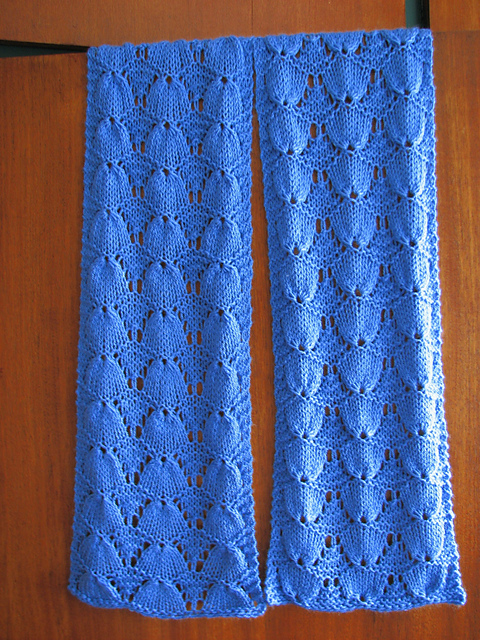 April Showers Scarf
Purl Soho designed this scarf with shell stitch lace that looks like umbrellas as well. Pictured project by Taya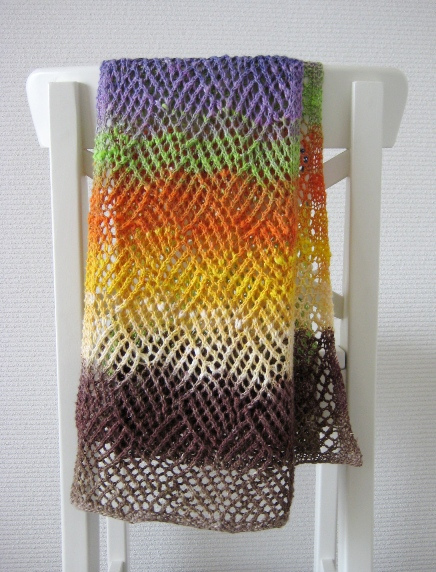 Gridwork Scarf
Janelle Martin's pattern includes both a chart and written out instructions for working the lace mesh pattern.
Patterns for Purchase

Lace Sampler Scarf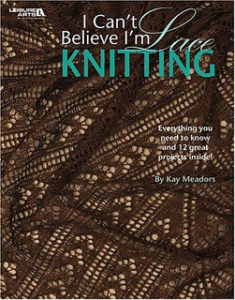 One of the 12 patterns in I Can't Believe I'm Lace Knitting (available in print or digital download). Patterns include shawls, baby blankets, sweaters, and more.

Summertime Scarfette
This quick scarf is knit lengthwise with alternating blocks of garter and lace stitching with stitches picked up to create the ruffles.

Motheye Scarf
This wide and versatile lace scarf is great for year-round wear, featuring a shimmery moth motif with scalloped hem.

Aria Delicato Scarf
This pattern produces a pretty lace scarf that is delicately complex to the eye but is actually comprised of a simple 8-row pattern.

Spring Flora Scarf
This lace scarf features floral and leaf shapes.

Drop Leaf Scarf
Drop stitches and a lace make this a uniquely exquisite scarf. You can knit in any weight of yarn.

Fernfrost Scarf
This fine and delicate lace scarf captures the curling, fern-like imprints of frost feathers on cold glass, creating a piece of wearable art!

Chunky Lace Scarf
A lovely diamond pattern is trimmed with fringe. Finished size is 9 1/2″W x 60″L, excluding fringe.

Isadora Scarf
Featuring a damask pattern, this 1920s-inspired scarf relies on changes in stitch direction for the play of shadows across its surface.

Streusel Scarf
Lace pattern is in written and chart form.

Coneflower Scarf
This one ball scarf by KnitChicGrace uses drop stitches to create a lacy floral design. Can easily be customized to make a shawl.