Teddy Bear Knitting Patterns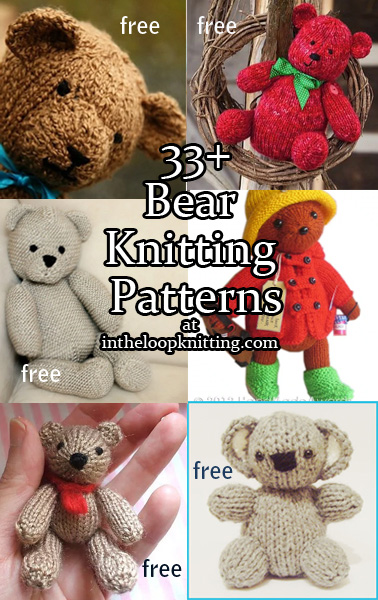 Everyone's favorite bears are included in this knitting pattern collection: Teddy bears, Paddington bear, Koala bear, polar bear, panda, and more.
To get the patterns, scroll down the page and click on the link for the individual pattern you want.
To get the knitting patterns, scroll down the page to the individual pattern you want and click on the link to that pattern.
These patterns are not my designs but links to other designers who have generously shared their patterns. If you have questions about how to knit a specific pattern, please contact the designer directly.
All links on this site are for informational purposes, but please note that some links are to affiliate sellers that pay me a small commission on purchases.

Christmas Panda
Toy panda with hat and scarf.Size: 15cm sitting height in DK yarn. Designed by Sachiyo Ishii. The file needs to be unzipped after download.

Flopsy Bear
Toy teddy bear designed by Kimberly Chapman with a pattern that includes photos. Pictured project by harmonster

Oliver Teddy Bear with Jacket
This adorable little bear is excerpted by permission from "The Knitted Teddy Bear" by Sandra Polley (Collins and Brown). He is about 5 inches and can be knit in a couple of evenings. You can also knit a larger size by using heavier yarn and larger needles.  To see more bears from this delightful book or to buy a copy, go to knitsandpieces.co.uk/toy-books/. Sandra is an amazing designer who offers many knitting patterns on her site at www.knitsandpieces.co.uk. Please be sure to check them out!

Easy Knitted Bears Free Ebook
Learn to knit your own gorgeous bears with these easy-to-follow knitting patterns from bestselling knitting writer Fiona Goble. There are also instructions to create a host of clothes, including bride & groom outfits, a graduation outfit, a Santa costume, a ballet outfit, and a sports outfit. This book is available for free as a Kindle ebook that you can read on ANY device with their free Kindle app.

Polar Bear Toy
Learn how to knit this 8 inch polar bear with cute critter expert, Megan Kreiner at Creativebug. The bear and fish are made with chunky yarn, so the knitting is fast and easy. The pattern and class are free with a free trial at Creativebug.

Panda Stack
Adorable panda pillow toys are easy to knit in 3 sizes: 7 3/4″, 11″, and 17″. Designed by Premier Yarns. I think instead of stuffing them you could use them over a pillow form or put in a zipper as a pajama pal.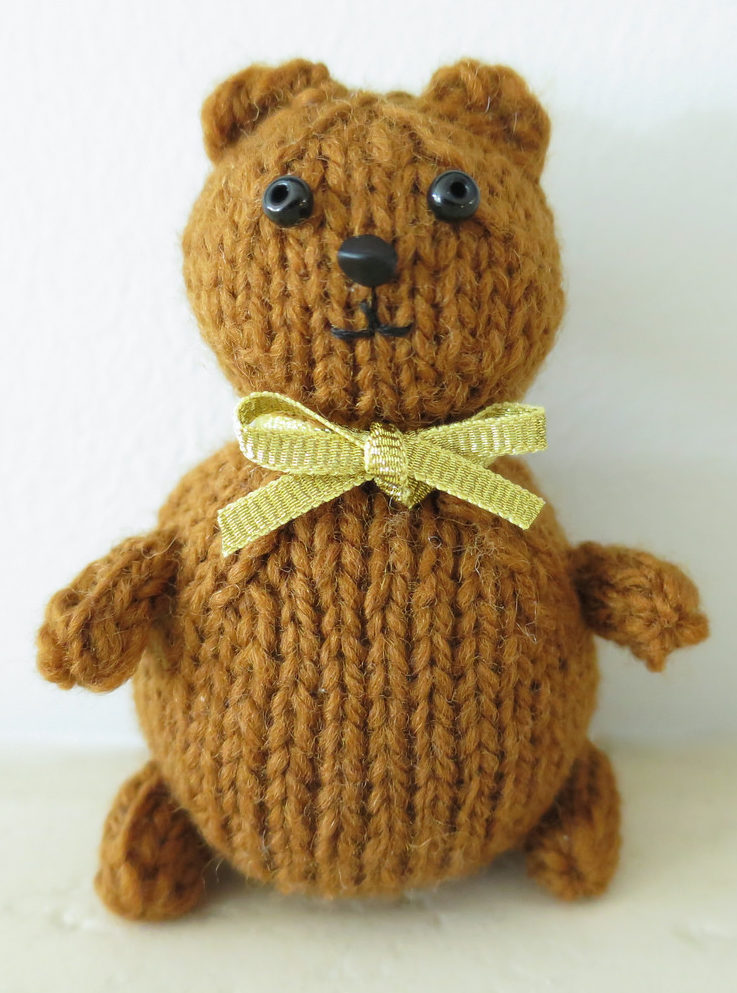 Mini Teddy Bear
This little bear is just 3" tall and a quick knit. Great stash buster or holiday ornament. Designed by Kathy Lewinski
New!
Ruby Bear
Michele Wilcox's cuddly bear for Premier Yarns measures approximately 16" from top of head to bottom of foot.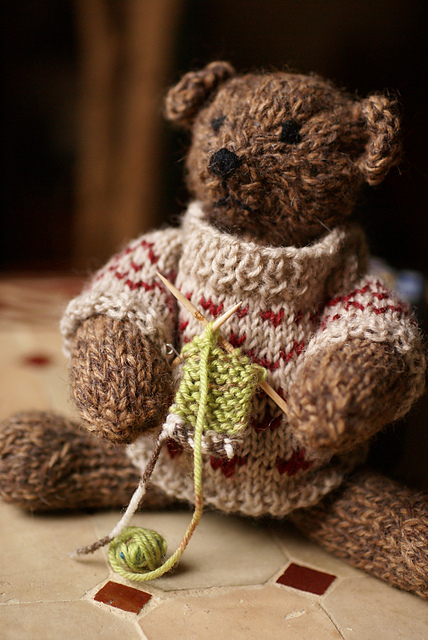 © Marsicanusbear
Pattoz, a Bear
Designed by Annalisa Dione, who requests you consider donating to Bear With Us a sanctuary for ex circus bears and a rehabilitation center for orphaned or injured bears. Pattern available in English and Italian.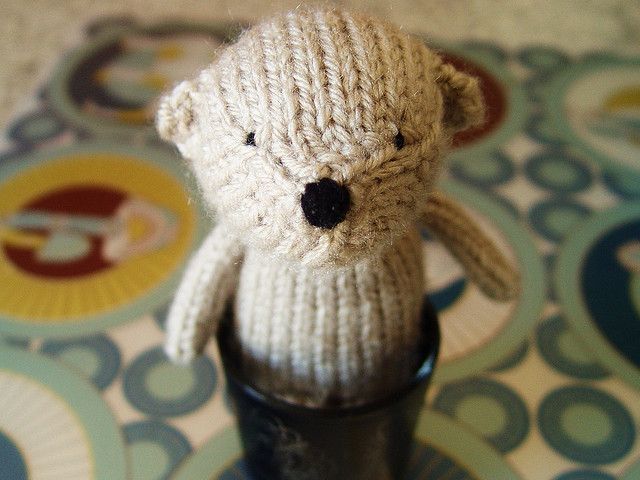 Henri the Knitted Bear
Designed by Rachel Borello Carroll, this small bear is a quick knit. You can't see in this photo but Henri has legs too. Great use for leftover yarn!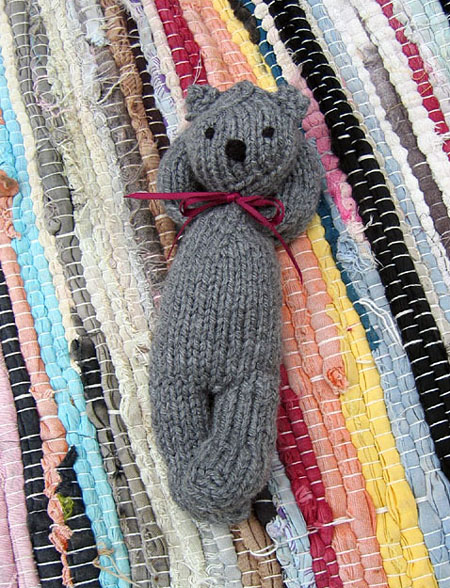 Bubby the Bear
Designed by Vanessa Carter, this relaxed teddy is 7 inches high. His body, legs and head are knit in one piece in the round.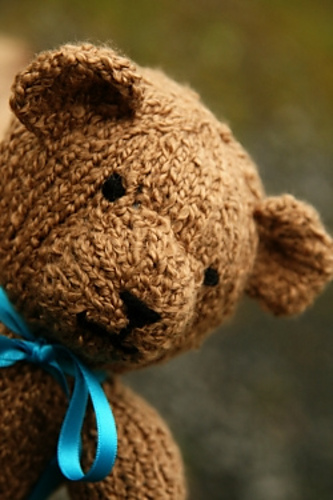 Teddy by Cassidy Clark
The size of the finished bear is not listed, as the gauge doesn't matter. As long as the gauge is tight enough so that the stuffing won't show through, the needle size and yarn choice is up to you.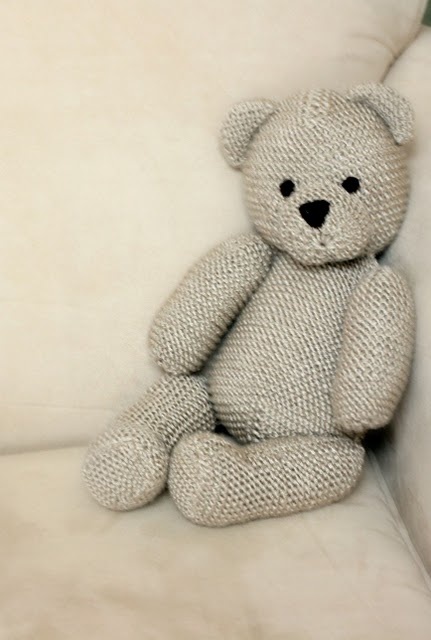 Teddy Bear by Debbie Bliss
30 cm (12 inches) tall. Each piece of this bear is knit flat and seamed.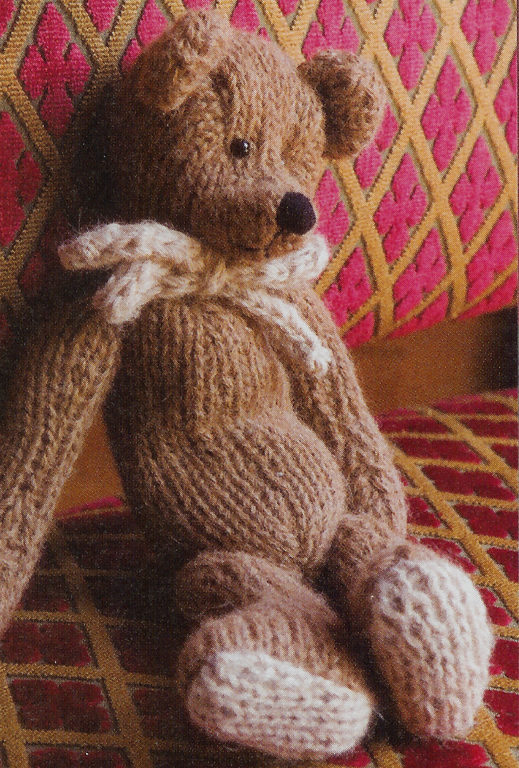 Classic Teddy Bear
Mary Ann Gebhardt designed this old-fashioned Teddy Bear with an eye for vintage details: Contrasting paw pads, hand-embroidered features, and fully jointed limbs turn a simple toy into a treasure. 11″ tall
[widget id="black-studio-tinymce-8″]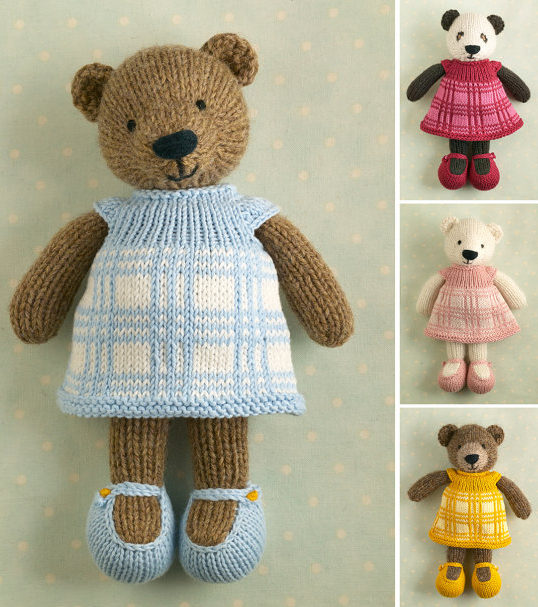 Bear Toy With Plaid Dress
Full instructions for knitting a bear softie with separate dress. All items knit flat and seamed. Finished size: approx 21 cm (8 inches) from the tip of the toes to the top of the ears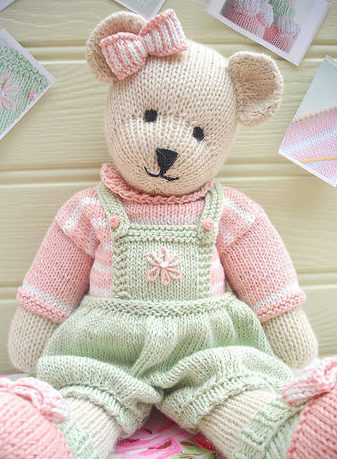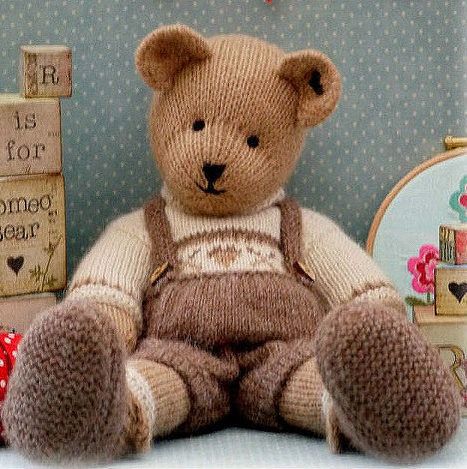 Candy Bear and Romeo Bear
Toy bears with wardrobes. Worked flat on 2 straight knitting needles and seamed. Length Approx 15 inches

Dressed Up Teddy Bear
This teddy bear toy with sweater is pne of more than 30 patterns in 1, 2 & 3 Skein Solutions, available in digital and print form.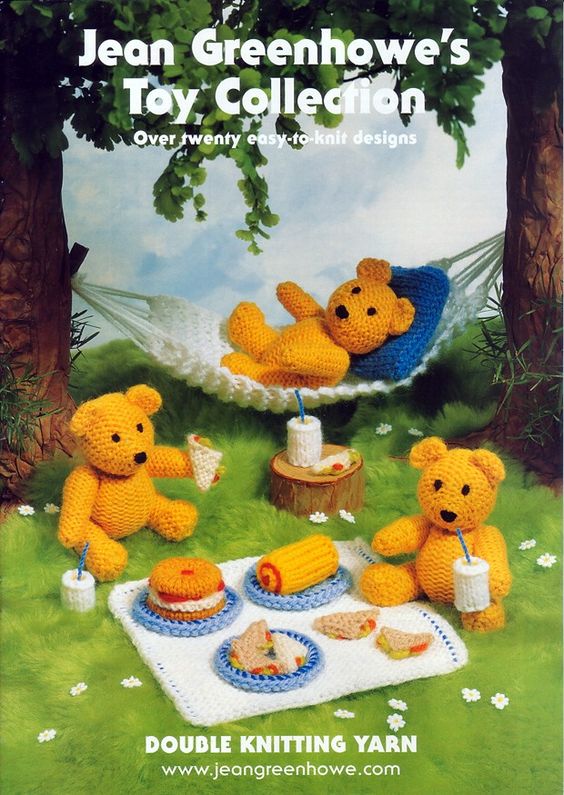 Teddy Bear Picnic: Jean Greenhowe's Toy Collection
The knitted Teddy Bear Picnic is just one of the many adorable knitting pattern sets in this book that also includes a family of bunnies, dinosaurs, and holiday stocking stuffers. This is available from a variety of sources. Last time I checked the best price seemed to be from Deramore's.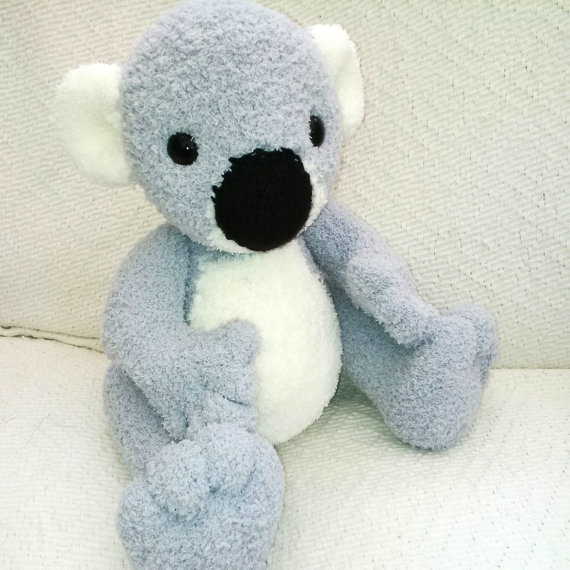 Kimmy the Koala
Kimmy is a tubby koala, sewn in the sitting position; he measures 15 inches/39 cms approximately.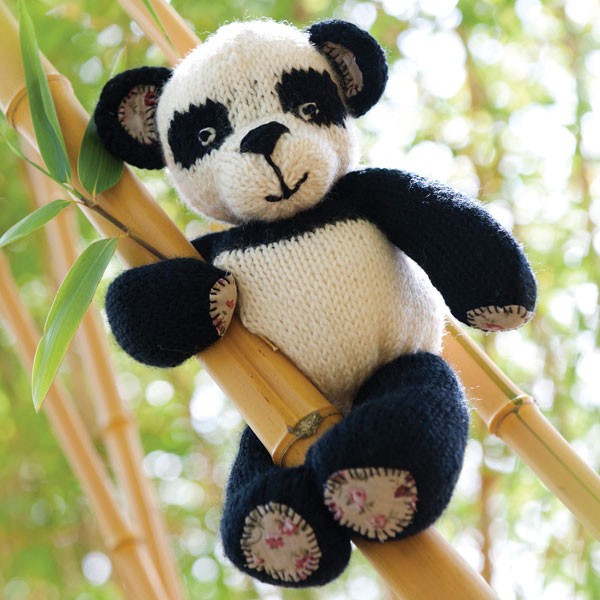 Penny the Panda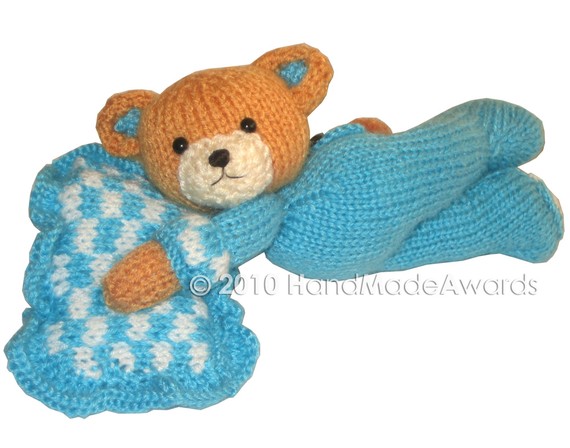 Happy Dreams Teddy Bear
This sweet sleepy time bear is 6.69 inches tall.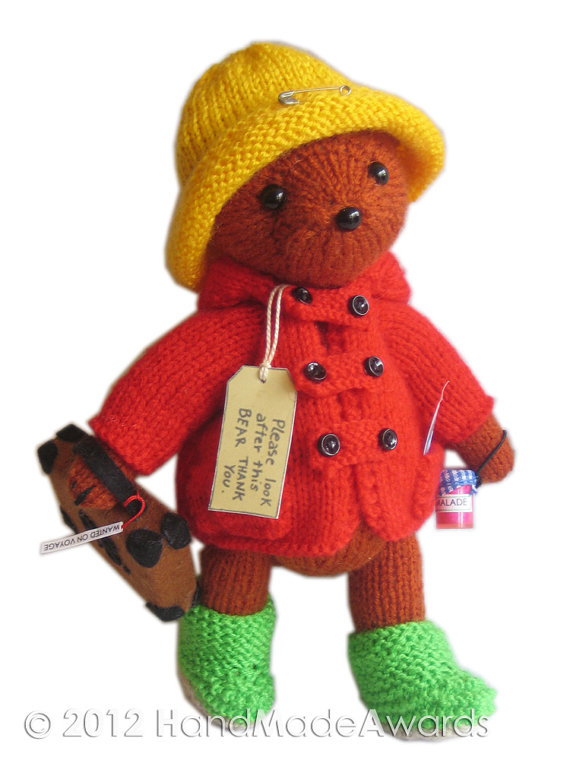 Paddington Bear
Paddington is 7.48 inches tall.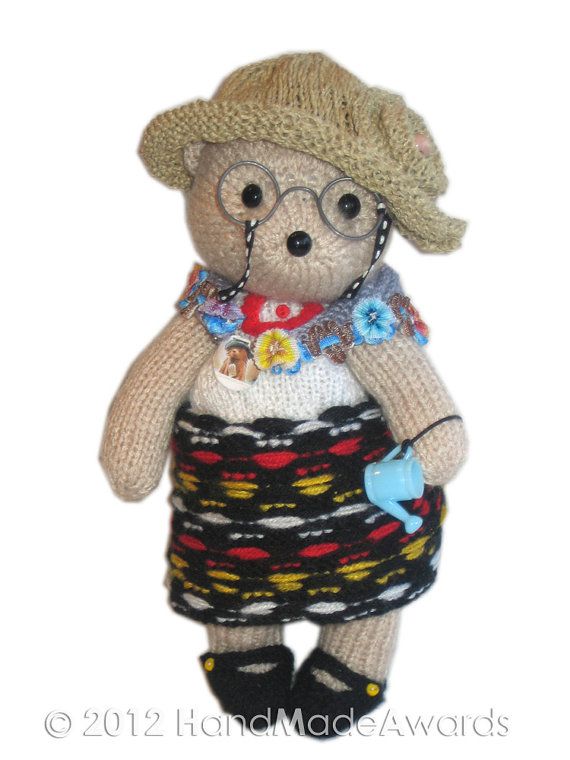 Aunt Lucy Bear
Paddington's Aunt Lucy is 7.48 inches tall.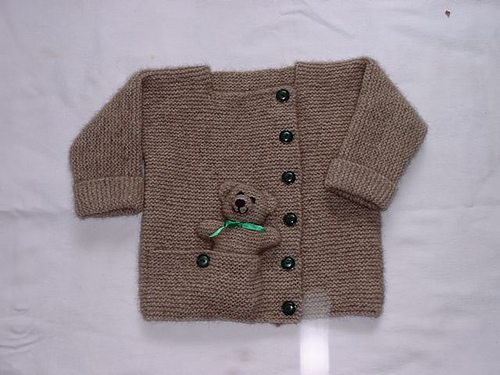 Child's Cardigan with Teddy Bear
This sweater has a special pocket just the right size for a child's new best friend! Sizes range from 1-6 years.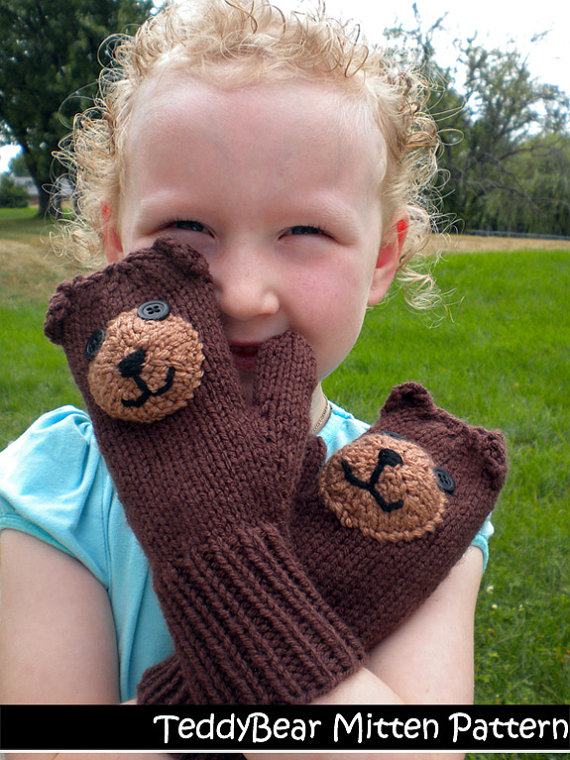 Teddy Bear Mittens
Includes instructions for the following sizes: 12 months, 2, 4, 6.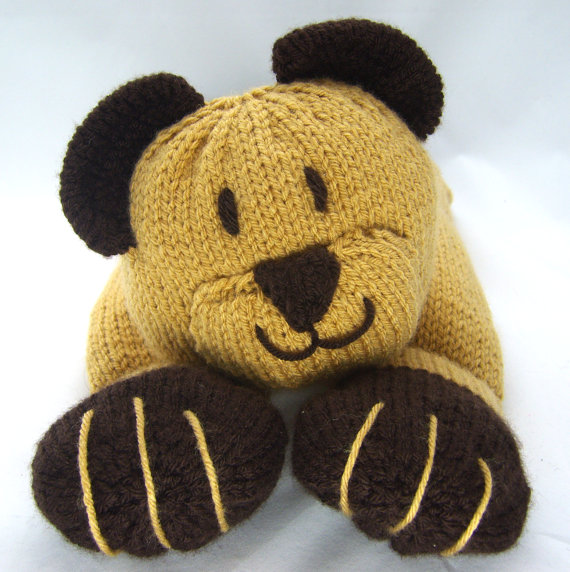 Bearly Bed Time Pajama Case
Toy Dimensions : 50cm front to back paws, 23cm wide. Opening 25cm long.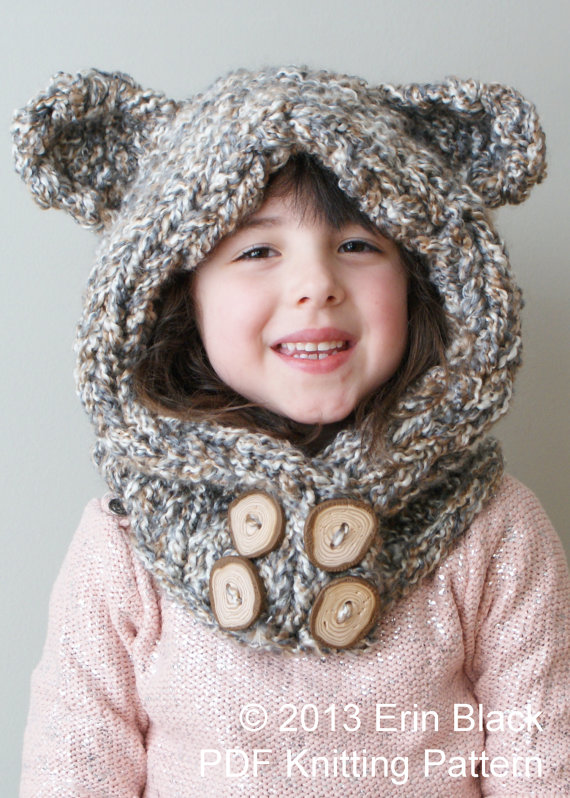 Teddy Bear Hood
Includes instructions to make Toddler size (approx. 11" deep x 15" high); Child size (approx. 12.5" deep x 17" high); and Adult size (approx. 14" deep x 19.5" high) hoods.
Terry Matz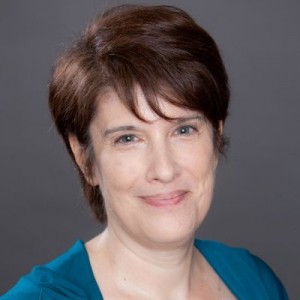 Terry is a knitting late-bloomer, learning to knit as an adult from Internet tutorials, because she wanted a craft that was useful, fun, and portable. Knitting hats for cancer patients inspired her to design her own patterns—available for free at her blog, intheloopknitting.com. Terry met her husband Ken at a science fiction convention and moved to the Kansas City area to be with him more than 30 years ago. Terry supports her yarn stash by creating websites and other digital media. Terry firmly believes in Knitting in Public—it's a great conversation starter!