<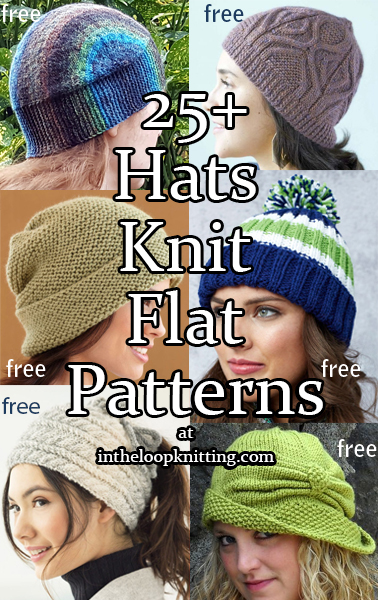 These hats are knit flat on straight needles and seamed so no need for dpns! Some are easy but some are more ambitious with short rows, cables, and other design techniques.
To get the knitting patterns, scroll down the page to the individual pattern you want and click on the link to that pattern.
These patterns are not my designs but links to other designers who have generously shared their patterns. If you have questions about how to knit a specific pattern, please contact the designer directly.
All links on this site are for informational purposes, but please note that some links are to affiliate sellers that pay me a small commission on purchases.
Free Patterns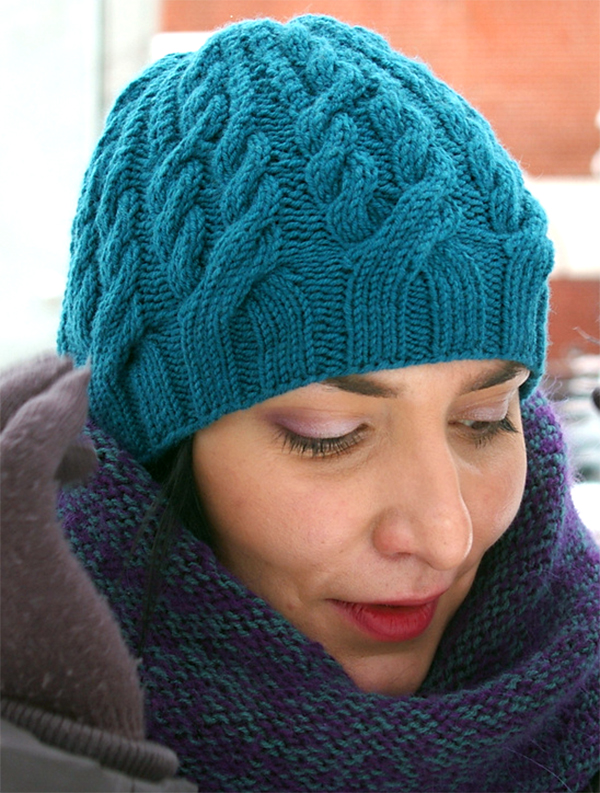 Balta Beanie
Hat with intertwined cables knit flat and seamed. Designed by Po Lena as Balta ainava. Pictured project by sochaknits. Available in English and Russian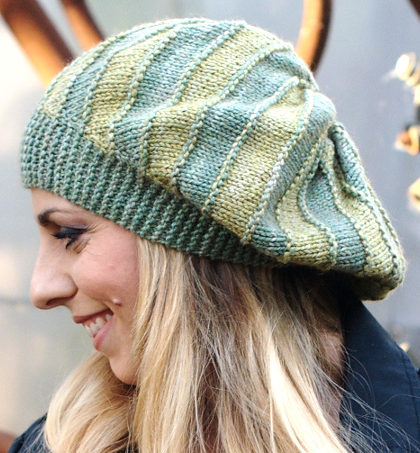 Bimitral Beret or Beanie
This slouchy hat is knit sideways with bias stripes. It can be adapted to a beret or beanie shape. 3 sizes. Designed by WoollyWormhead for Knitty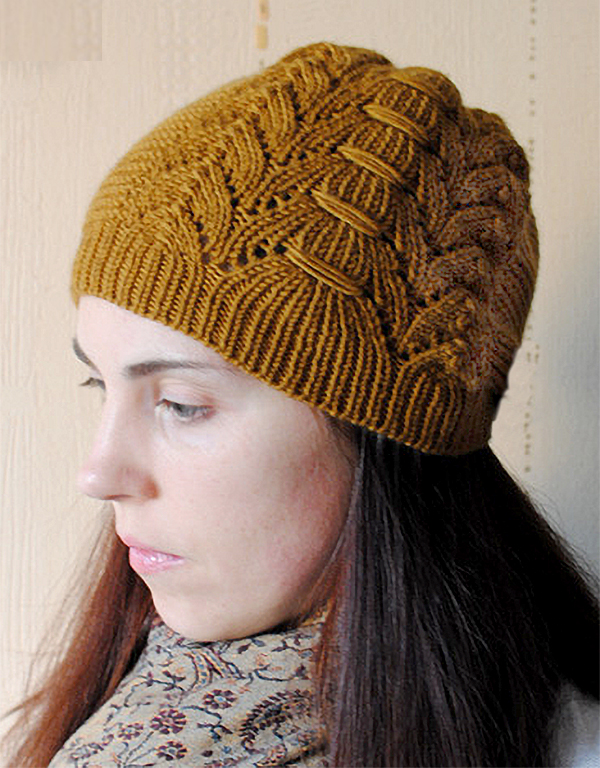 Equisetum Beanie
8 row repeat lace and slipped stitch hat on garter stitch background knit flat and seamed. Designed by Po Lena. Pictured project by sunnyknits. Available in English and Russian

Cabled Hat
Learn how to make this gloriously textured cabled hat with expert knitwear designer, Norah Gaughan. Instructions to knit flat OR in the round. Pattern and instructional video class available for free with a free trial at Creativebug OR purchase pattern and class individually.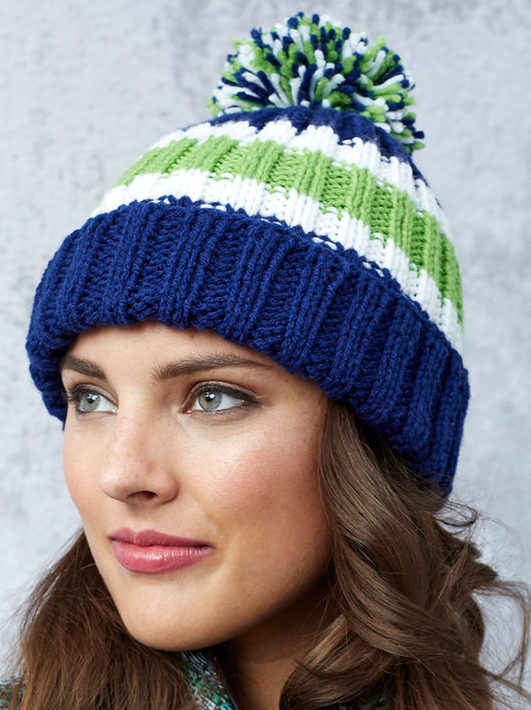 Game Day Hat
Classic ribbed hat knit flat with optional stripes and pompom. Knit in your favorite team colors! 2 sizes. Rated easy by the designers at Red Heart Design Team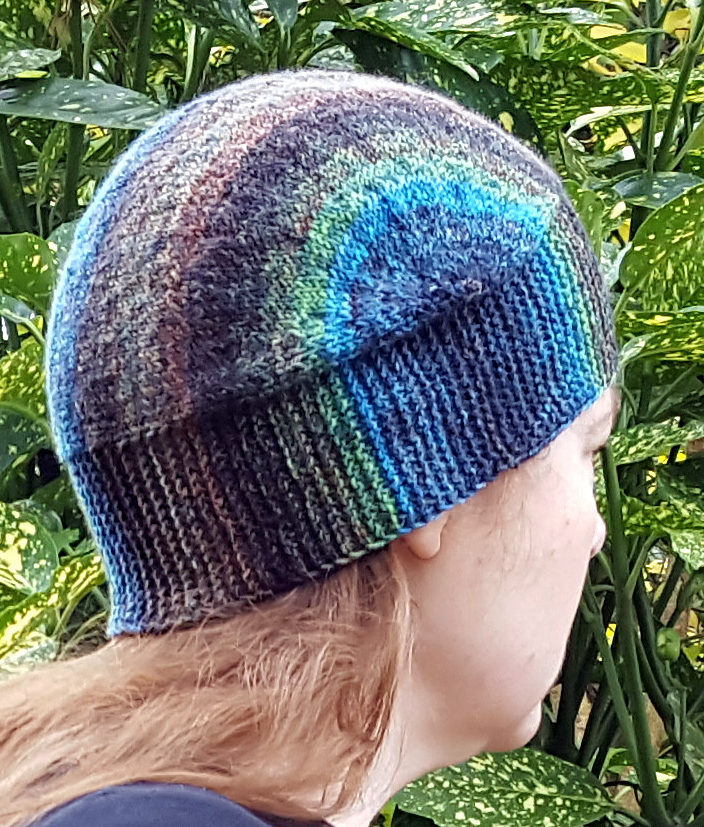 U-Turn Hat Knit Flat
This hat is knitted flat from side to side WITHOUT short rows. Perfect for showcasing variegated yarn – especially for that stash sock yarn. Designed by Sybil R for fingering yarn.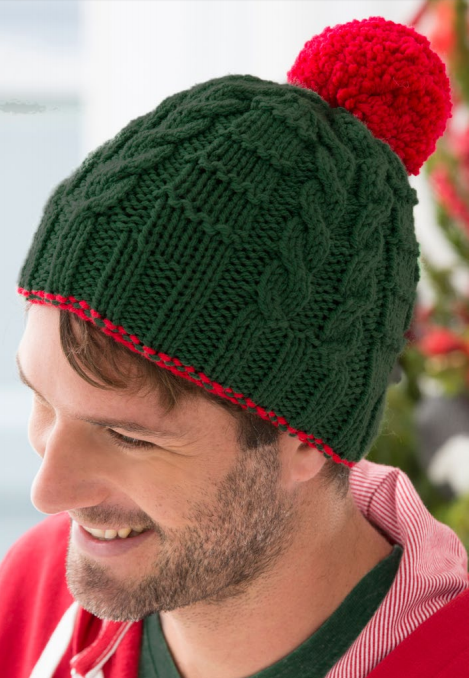 Gift Beanie
These hats feature mirrored cables and are knit flat and seamed. Designed by Cathy Payson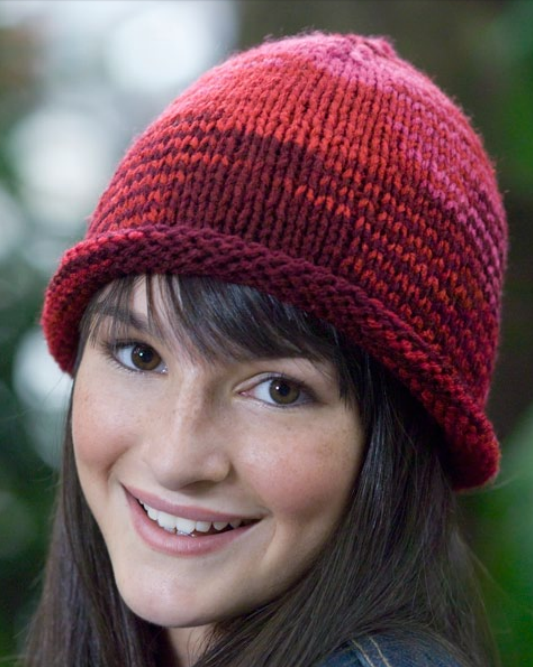 Easy Roll Brim Beanie
This stockinette hat is knit flat and seamed. Brim rolls naturally. Designed by Kathleen Sams. Rated easy by Ravelrers.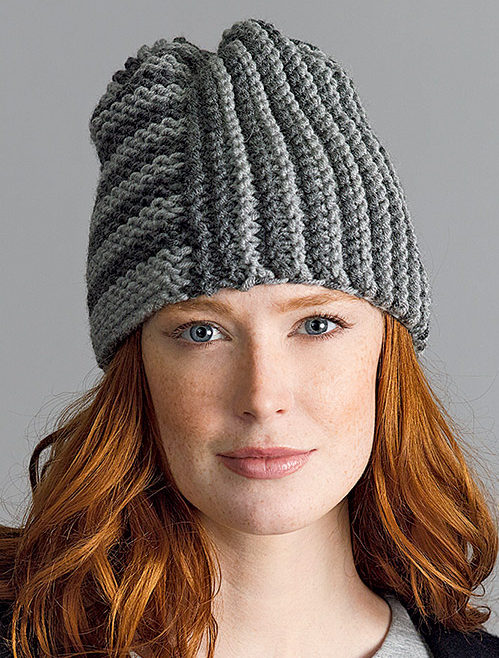 Two Square Hat
Easy hat perfect for beginners. Two Squares are worked in easy Garter stitch stripes and then seamed to form hat. Uses 2 contrasting color balls of recommended yarn.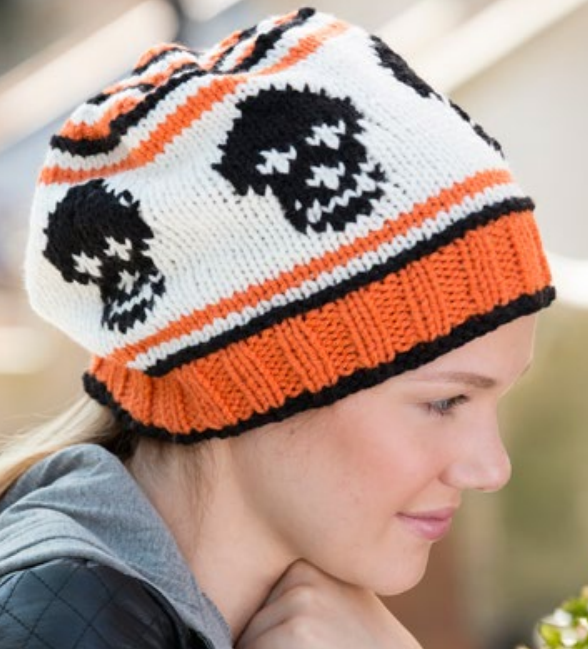 Skull Slouchy Beanie
Hat with fair isle skull motifs is knit flat and seamed. Designed by Cathy Payson.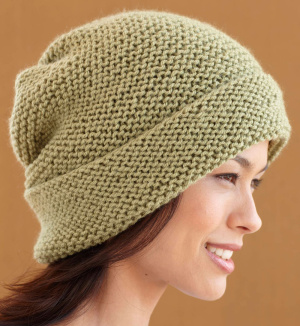 Fern Green Hat
This slouchy hat by Lion Brand couldn't be cuter or simpler — garter stitch that is knit flat and then seamed.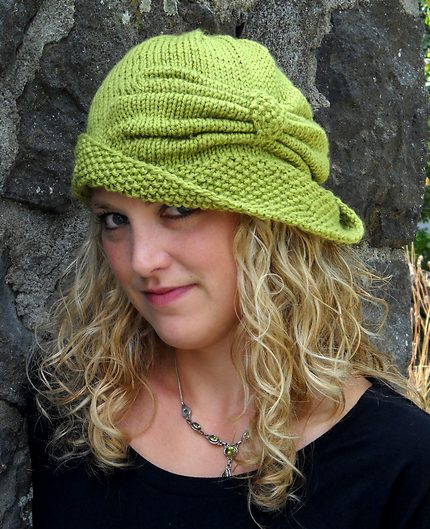 Cloche Divine
Designed by Meghan Jones, this cloche is knit flat sideways and seamed. It features a wide border of seed stitch for the brim. The stunning bow is created by making short rows and then gathering them together by purling together two rows at once.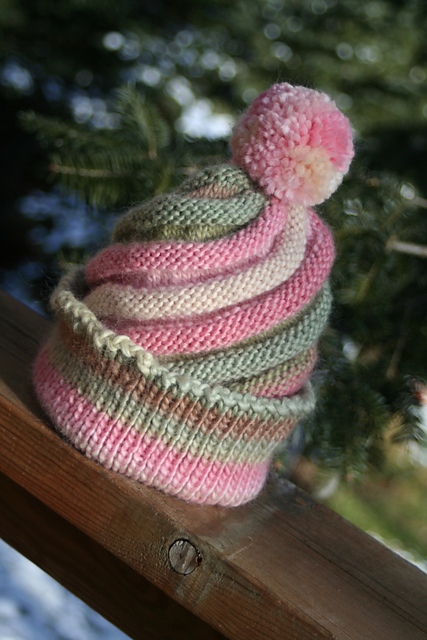 Swirled Ski Hat
Designed by Caps for Kids, this cap comes in 2 sizes. Knit flat from side to side, increases on one side and decreases on the other turn vertical stripes into swirls when the cap is seamed. Great for multi-color yarn! Pictured project by Scsteinberg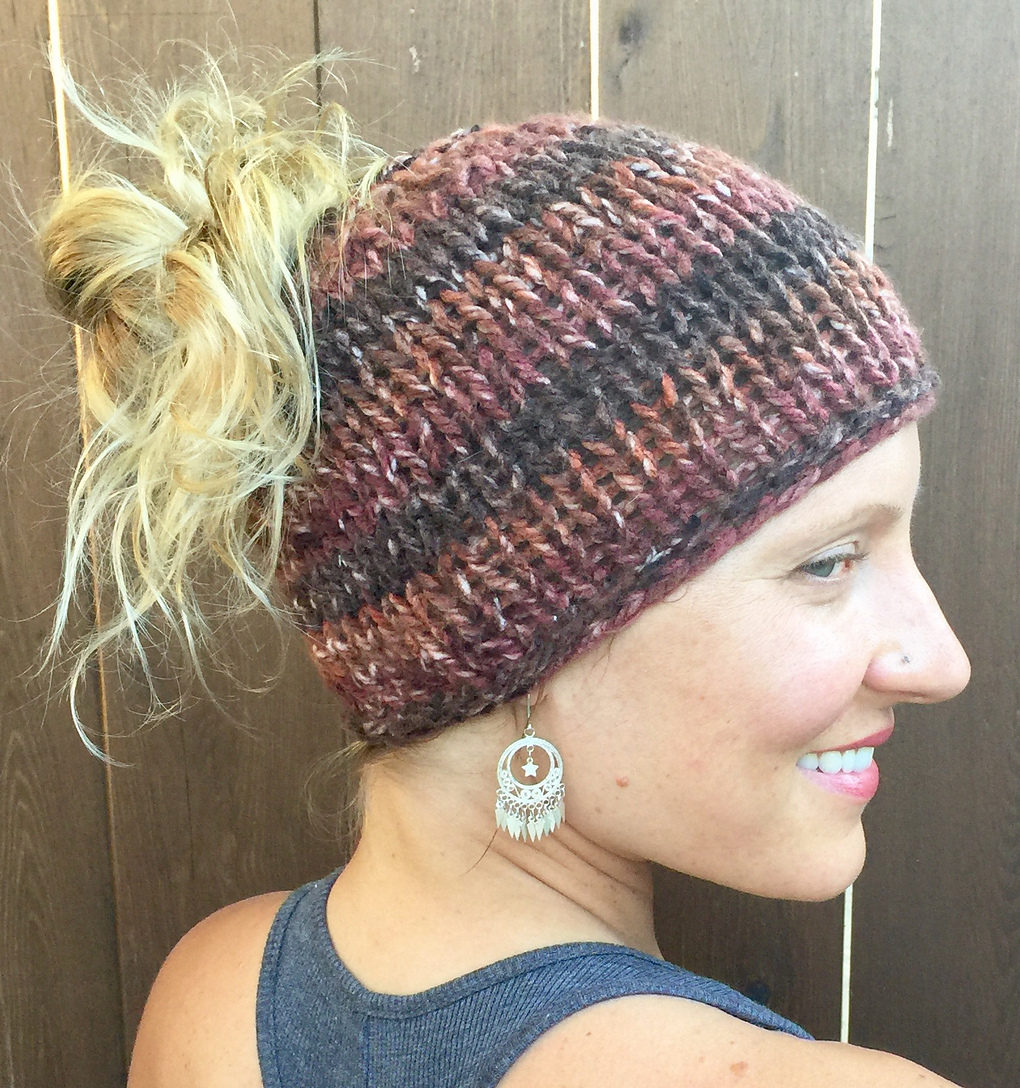 Chunky Messy Bun Hat
Easy hat knit flat and seamed to leave a top opening for messy bun or ponytail. Designed by Marni Reecer. Quick knit in super bulky yarn.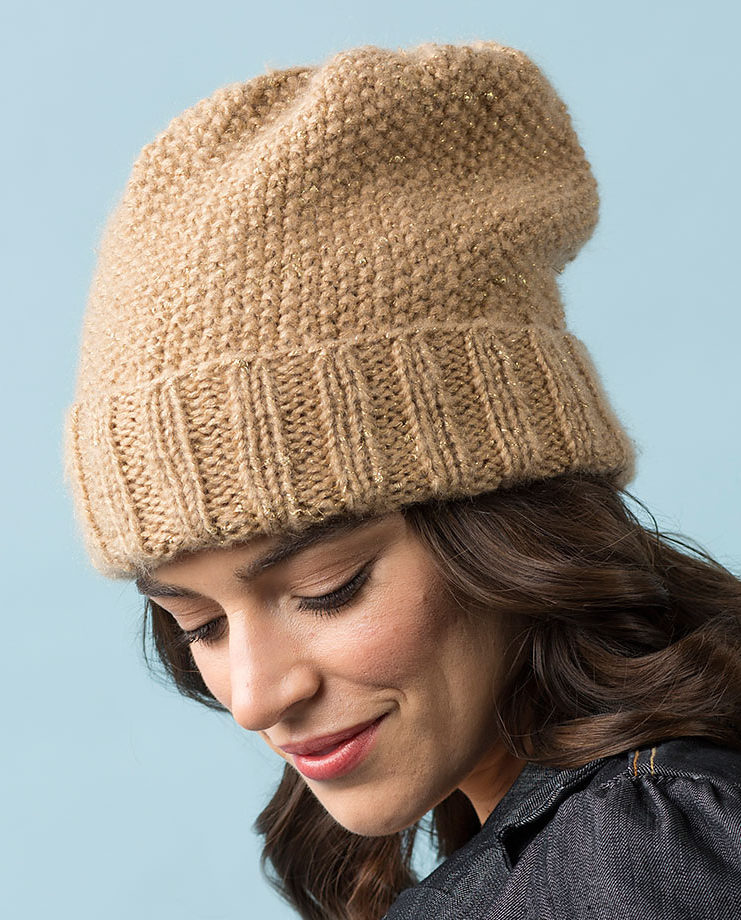 2 Row Repeat Seed Stitch Slouchy Hat
This easy hat takes just one skein of the recommended yarn and comes in two sizes. . Designed by Cathy Payson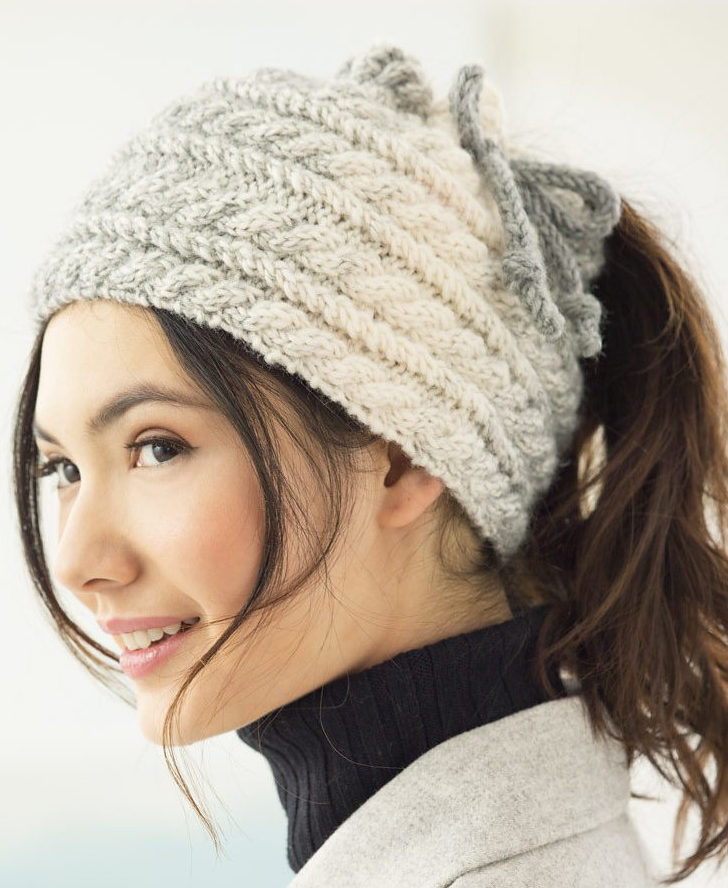 Cabled Bun Hat
Cable hat knit flat with a drawstring top opening for messy bun or ponytail. Designed by Lion Brand Yarn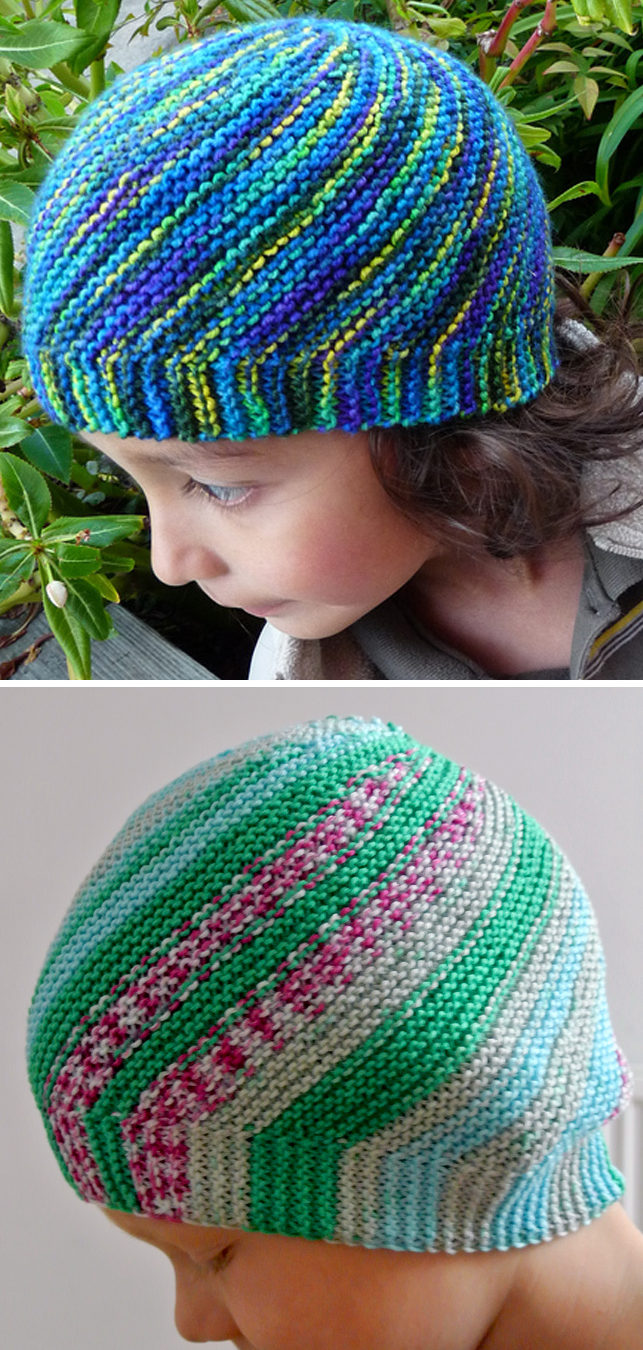 Vertigo Hat
This hat is worked flat with short rows that create swirls of multi-colored or self-striping yarn. Designed by Kerstin Michler. Pictured project by sockpr0n and Tilde. Available in English, Dutch, German, and Portuguese.

Jordan
This easy hat from Berroco features two color garter stitch stripes, one with multi-color yarn, to create the illusion of complex striping. Looks like it is knit sideways and then seamed. Designed by Cirilia Rose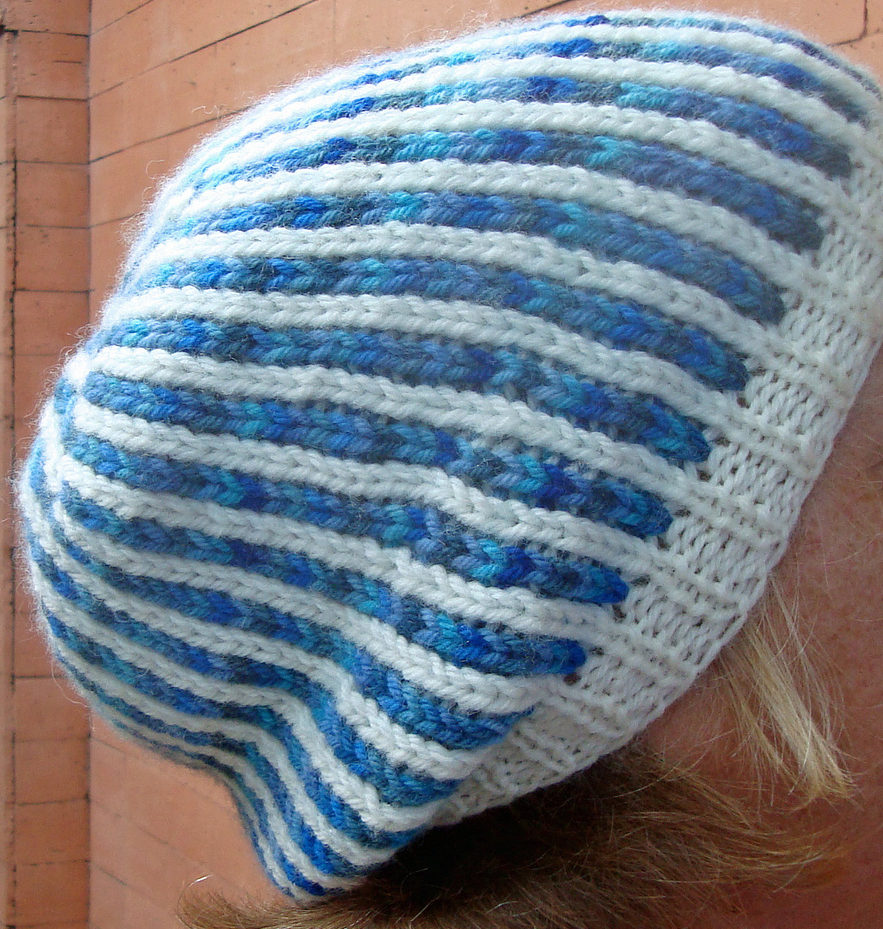 Matching Bi-Color Slouchy Hat
The vertical stripe colorwork in this set is knit with NO stranding or slipping any stitches. Mitts pattern has an option for full mittens. Hat can be knit flat or in the round. Great with multi-color yarn. Designed by Terry Morris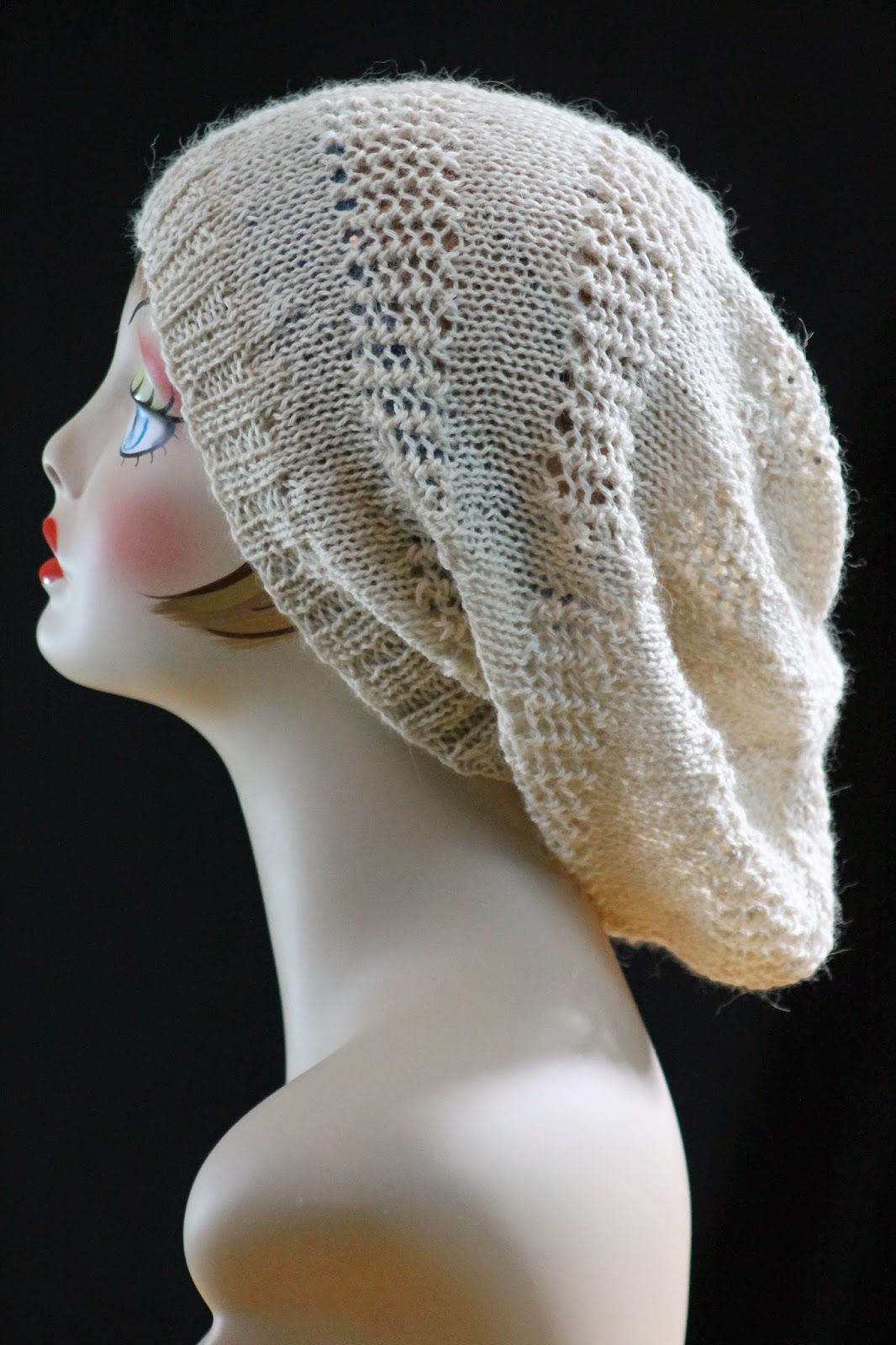 Super Slouch Hat
Knit flat on straight needles, this design by Gretchen at Balls to the Wall Knits has simple lace bands. You can make it less slouchy by omitting pattern repeats.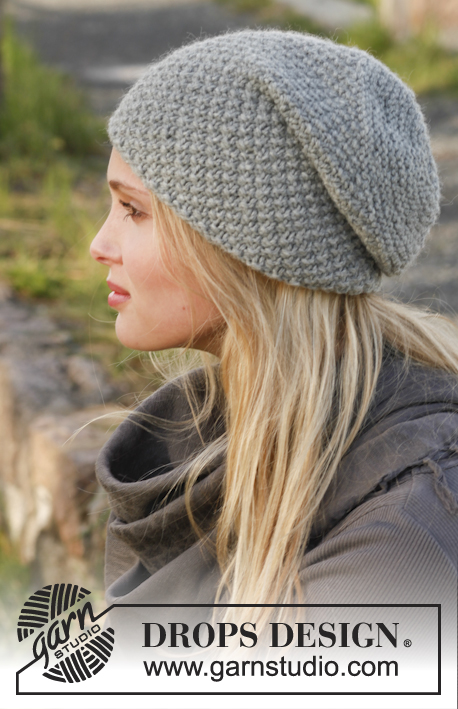 Mossing Along
DROPS Design's slouchy hat features double moss stitch. Knit flat and then seamed.
Patterns for Purchase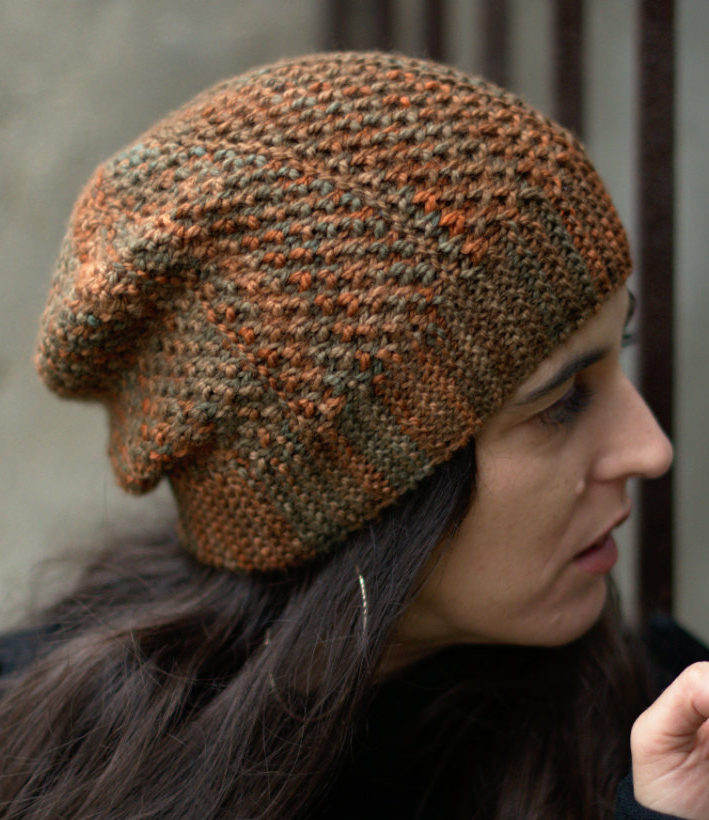 Muratura Sideways Slouchy Hat
Slouchy beanie with a textured stitch that showcases multicolored yarn. Designed by Woolly Wormhead.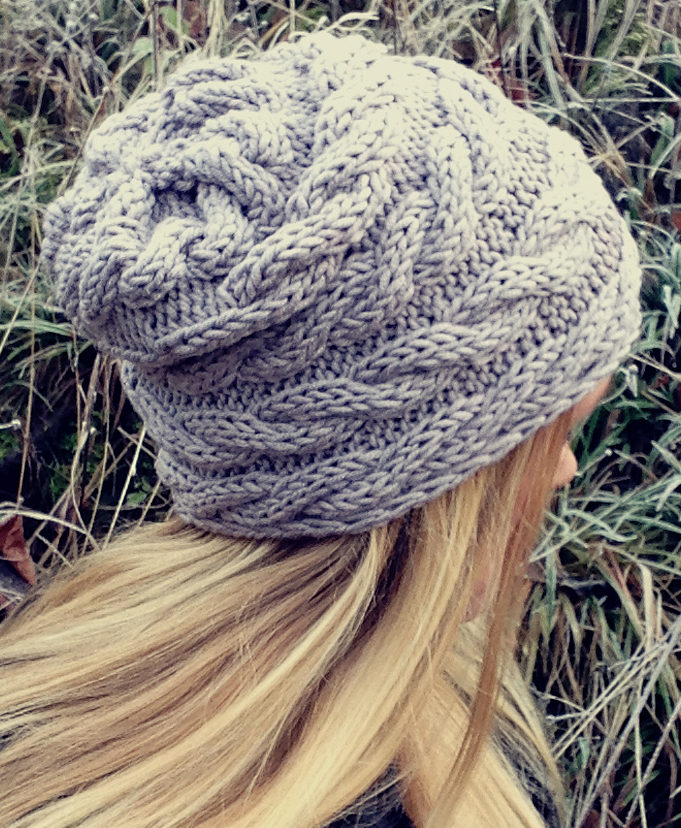 Cable Wrap Beanie
Slouchy hat knit sideways so the cables run horizontally around your head, almost like a scarf, with the cables making a natural slouch. Designed by Katrine Hammer. Rated easy by Ravelrers. No longer free.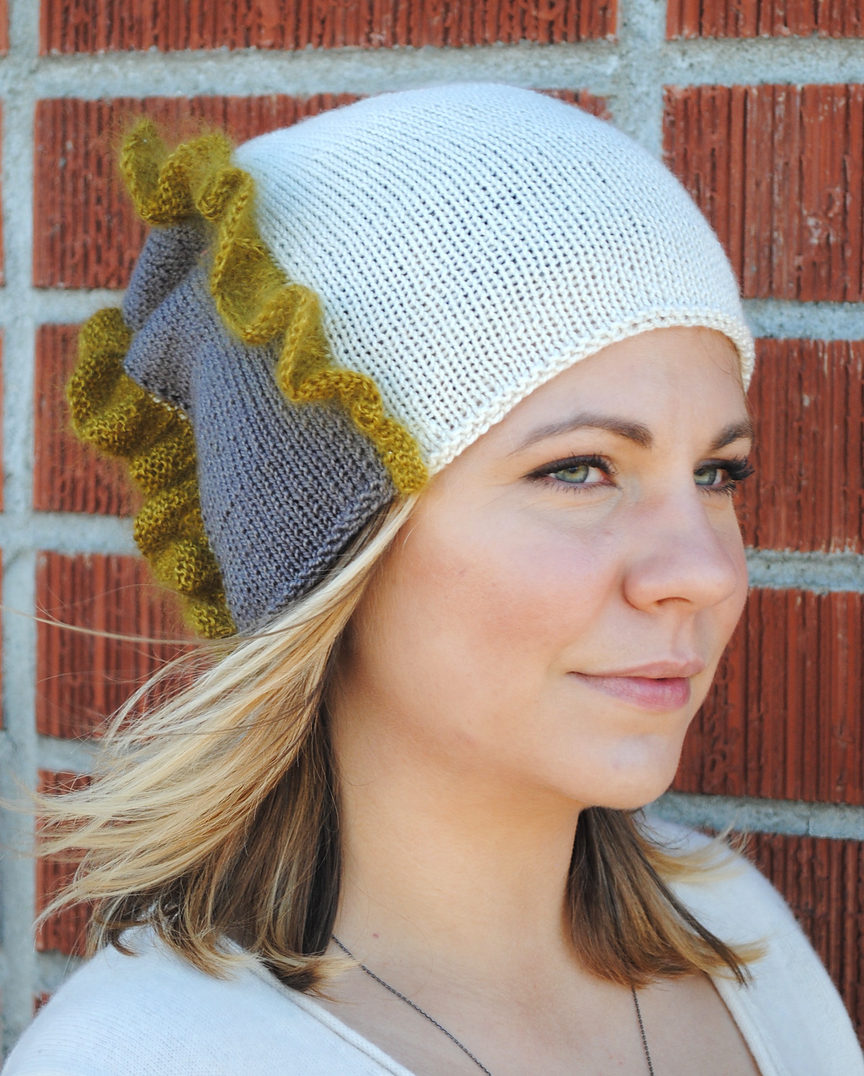 Preternatural Hat
Color block beanie knit flat using intarsia, with ruffles added at the end. Designed by Grace Akhrem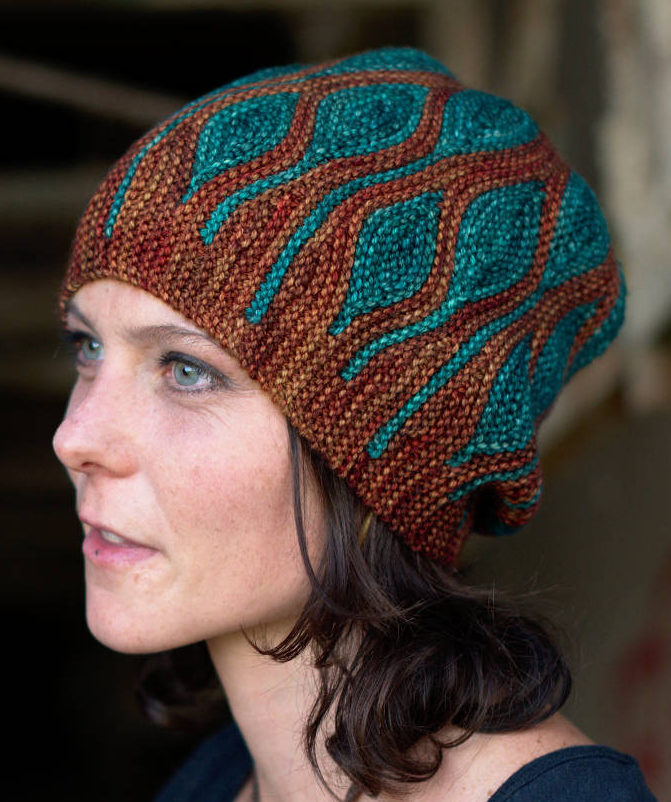 Toph Slouchy Beanie
Featuring short row colorwork, this hat is knit sideways flat on straight needles and grafted.. Designed by Woolly Wormhead.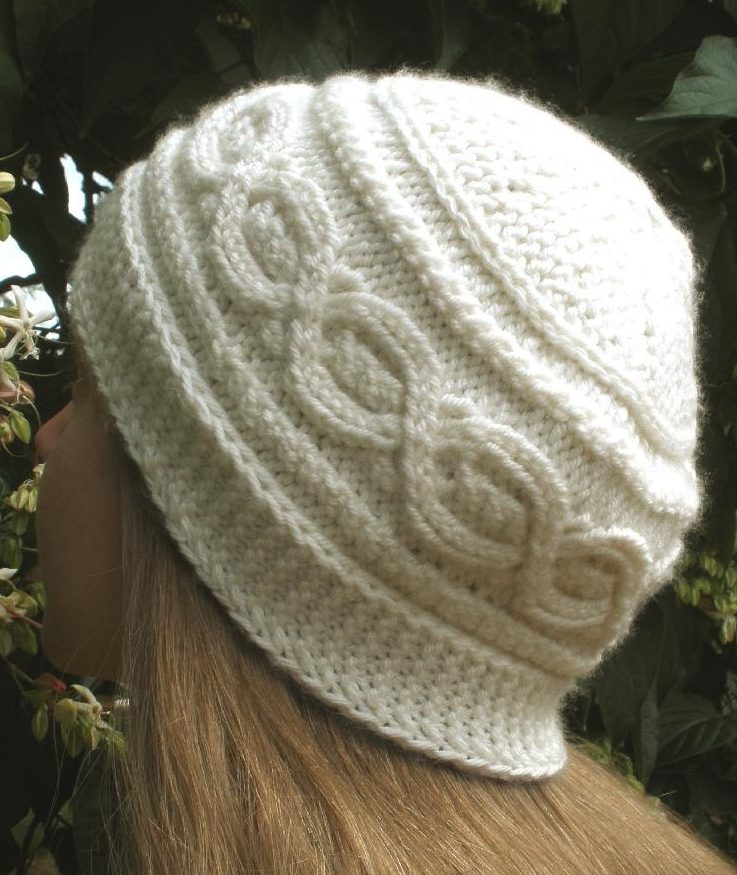 Bavarian Twist Hat
This crisply textured cap is knit flat sideways, using short rows to shape the crown. It has a Bavarian twist stitch cable around the side of the cap, and a garter stitch border at the lower edge.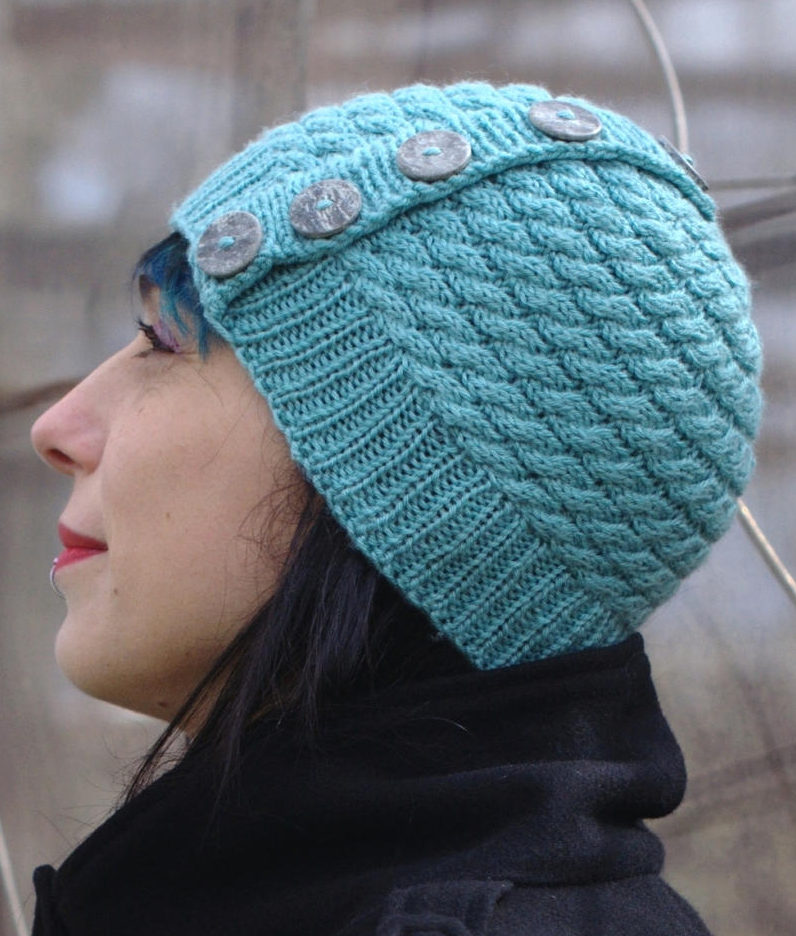 Niamh
This beanie is knit flat with sideways cables and a button band, shaped with short rows and seamed. Designed by Woolly Wormhead.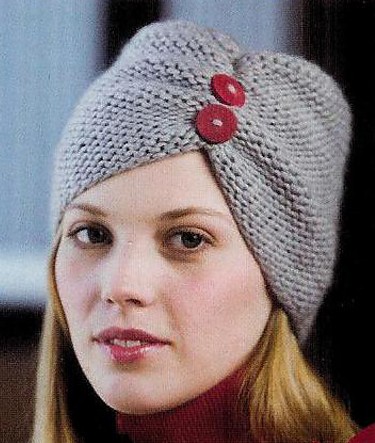 Pinch Hat
An easy hat worked flat then seamed together tightly to create a ruche. Several variations.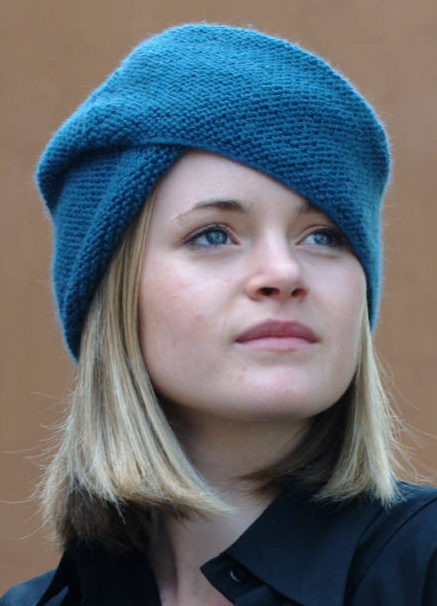 Imagiro Turban Hat
Worked flat, this piece is all in the finishing with fascinating folds and turns that turn simple garter stitch into a sculptural masterpiece. To fit size: 17 [19, 21, 23] in/ 43.25 [48.25, 53.25, 58.5] cm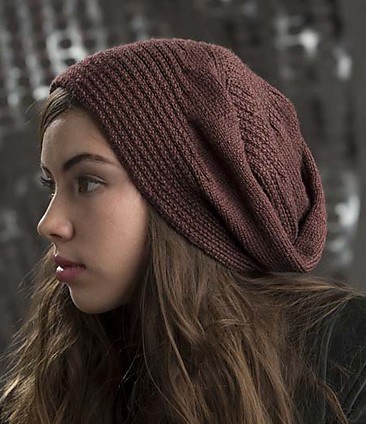 Envelope Hat
This ingenious hat is made from a scarf-like length of knitting. After binding off, the two ends are brought across one another and stitched to the center back of the crown.