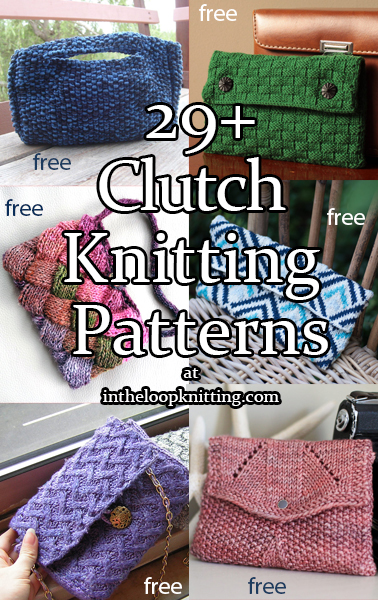 These small handheld bags are great for carrying a few items for an evening out or special occasion like a wedding, or for keeping your purse or tote organized.
To get the knitting patterns, scroll down the page to the individual pattern you want and click on the link to that pattern.
These patterns are not my designs but links to other designers who have generously shared their patterns. If you have questions about how to knit a specific pattern, please contact the designer directly.
All links on this site are for informational purposes, but please note that some links are to affiliate sellers that pay me a small commission on purchases.

Ashley Cable Clutch Bag
Cabled clutch is knit in two identical rectangles sewed together with a lining, a zipper, some beads. Designed by Celia Cheng.

Entrelac Notions Keeper
Small clutch takes a few hours to knit according to knitters. Designed by Emily Warren. Pictured project by sajrsteph who added an i-cord edge and strap and used 1 skein of yarn.

Reverse Stockinette Ruffle Bag
inspired by the Fendi bag Andy carries in the Devil Wears Prada, this clutch was designed to be easy enough for beginners to follow. Designed by Cam Banks

Chinese Waves Pouch
Clutch knit in a 4 row repeat slip stitch pattern. Approximately 5″ wide and 3.5″ tall when closed but can easily be customized for a larger or smaller size. Designed by Tamara Kelly.

Sundance Bag
Clutch with flap in seed stitch. 7" wide x 4½" tall. Worsted weight wool yarn. Designed by  Joëlle Meier Rioux. Pictured project by BetsyJo

Cleo Clutch
Felted cabled clutch 9.5 inches wide and 5.25 inches tall with flap closed, after felting. Worsted weight wool yarn. Designed by Chrissy Gardiner. Pictured project by labross who felted in one cycle

Tassel Clutch
The Knitted purse with beads and tassel features a 1 row repeat stitch pattern. Finished size: 21 cm x 13 cm x 2 cm. Designed by Gabriela Lupu

CoCo Clutch
The lattice work cable pattern mimics the quilted look of the classic Chanel bag. Designed by Janine Le Cras. Pictured projects by knittynic and neets222

Moss Stitch Clutch
This Hornbag's Corn bag is knit with 2 strands of sport yarn in moss stitch. Designed by Nicole Thorson

Mamie Clutch
Basketweave stitch bag uses just 131 – 137 yards (120 – 125 m) of DK yarn. Designed by Rosalind Aymes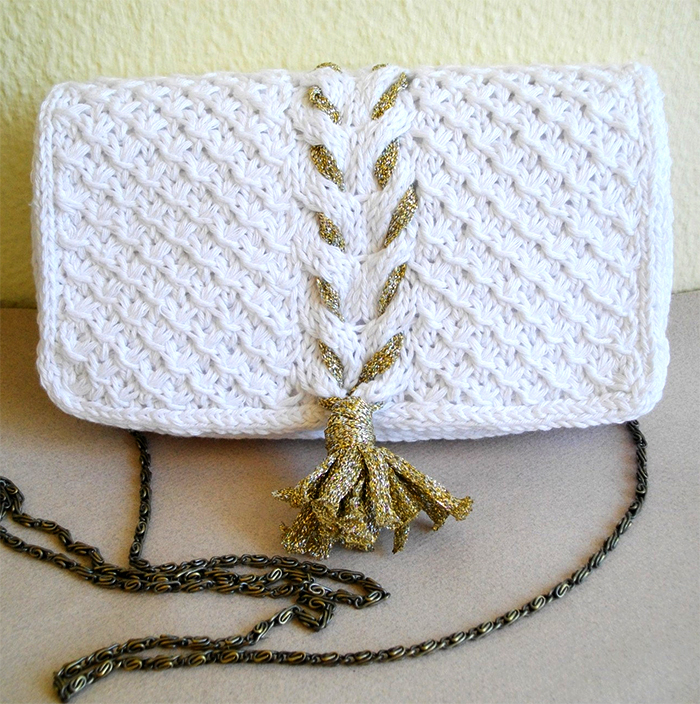 Golden Tassel Clutch
Textured clutch with central cable woven with ribbon and finished with tassel. Finished size: 8.7″/22cm wide, 5.1″/13cm high. Designed by creationsbyeve who also offers the finished bags for sale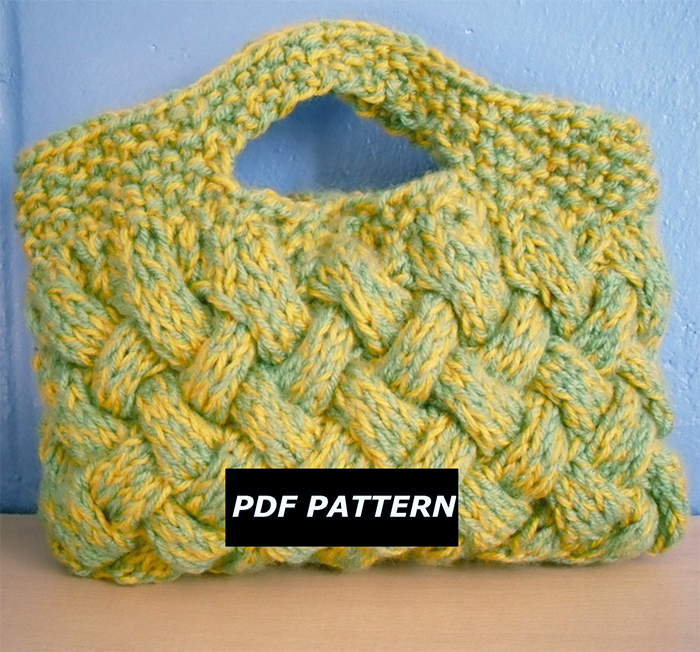 Woven Cable Clutch Bag
Easy cabled bag with knitted handle. Creates a small bag sized approx W20cm x H14cm plus Handle. DK yarn. Designed by Kezylou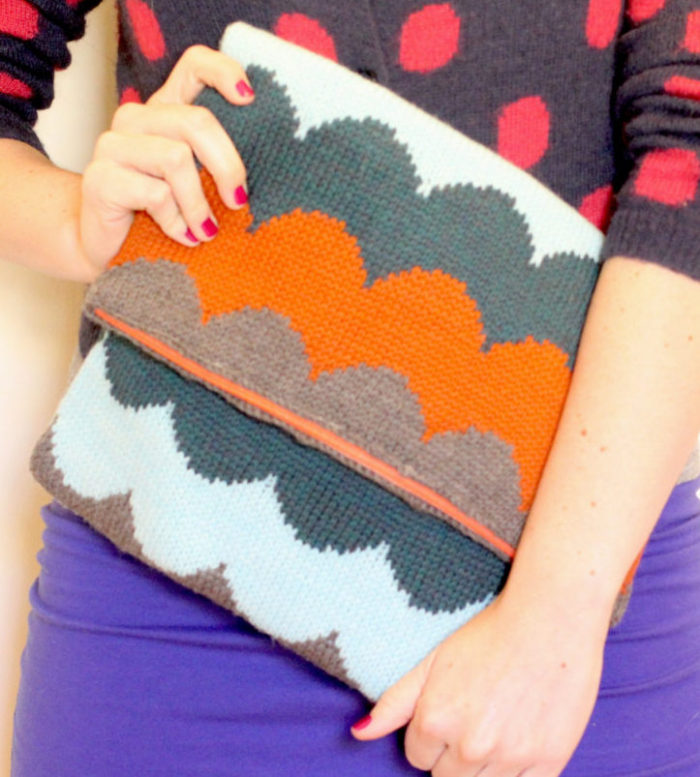 Scallop of the Sea Clutch
Foldover bag is stranded knitting in the round. Finished Size: 13" by 11", folded. 13" by 18", unfolded. Designed by Katie Canavan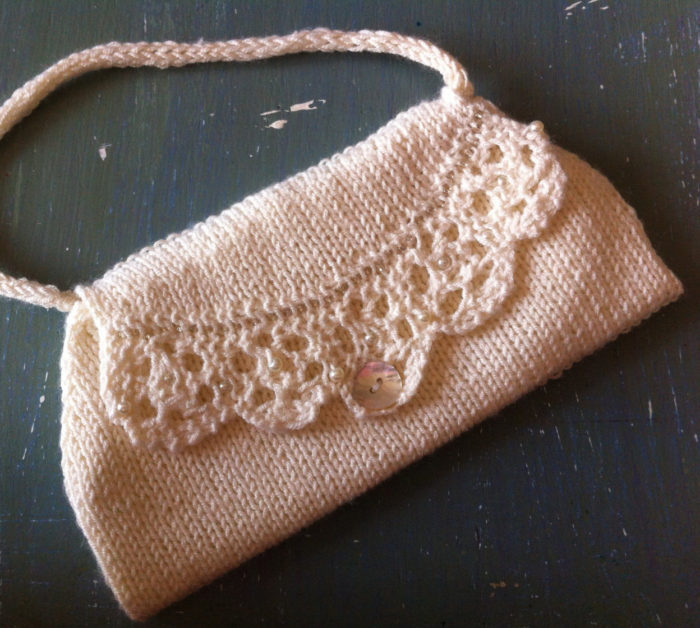 Pearla Clutch
Knitted flower lace edge with beads decorates the flap of this clutch bag knit in fingering weight yarn. Designed by An Irish Knit Odyssey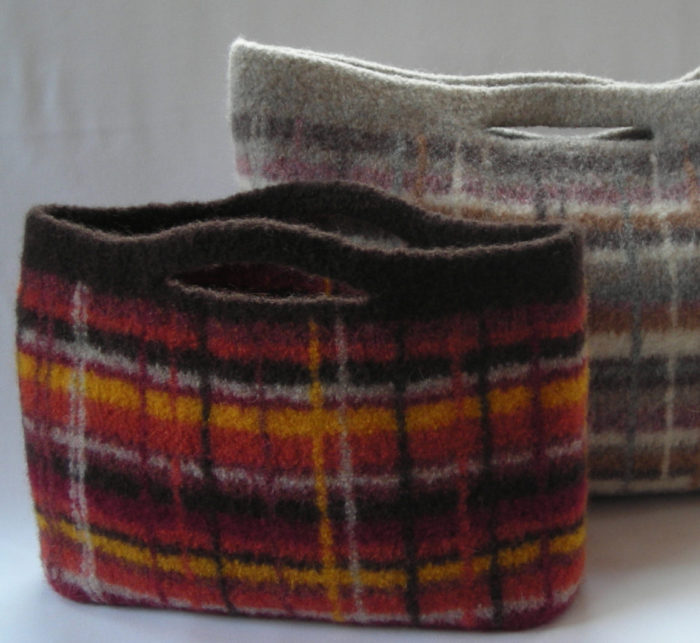 Portland Plaid City Clutch
Felted bag can be knit in one color, plaid, or stripes. This bag has no seams to sew and you only knit with one color of yarn at a time! Bag can be made in two sizes: Finished Size: 12.5" wide, 8" high, 2.5" deep or Finished Size: 17" wide, 9" high, 4.75" deep Designed by Lavender Hill Knits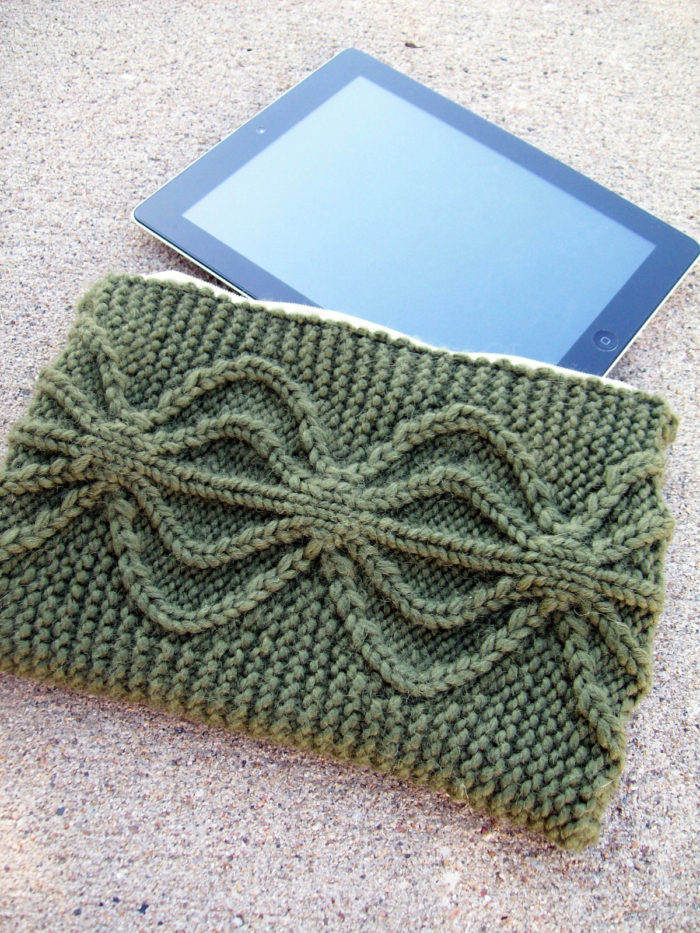 Aviatrix Clutch or Tablet Cover
This clutch features a bold birdcage cable on a background of garter stitch. 2 sizes 6 x 9 inches and 8 x 11 inches. Quick knit in bulky yarn. Designed by Sarah Wilson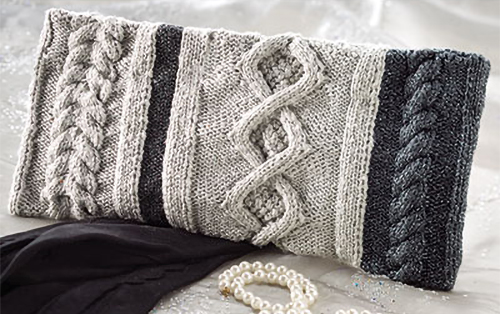 Dancette Clutch
Sleek clutch worked in intarsia cable panels. Worsted weight. Finished size is 10″ x 4 1/2″.  Designed by Jill Wright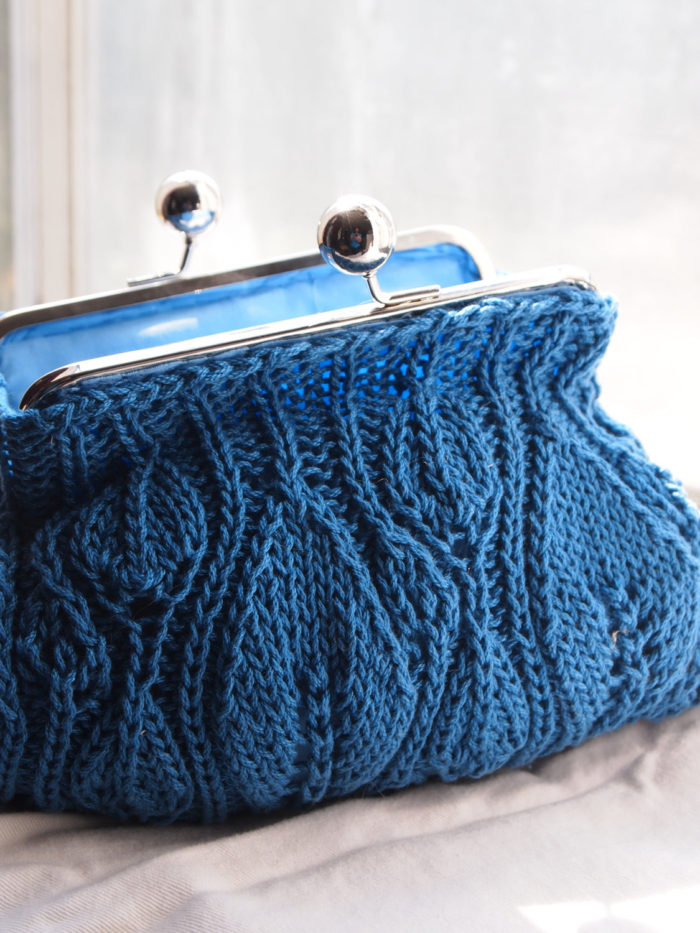 Leafy Clutch
Leaf clutch created by knitting two panels and sewing them together. Add a purse frame and lining to give your clutch a finished
look.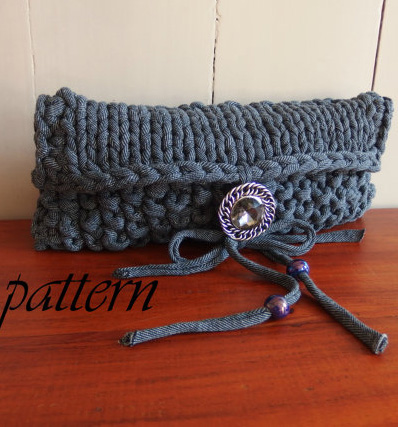 T-shirt Yarn Clutch
Knit a small purse with recycled t-shirt yarn. The size of the clutch is 33 x16 cm.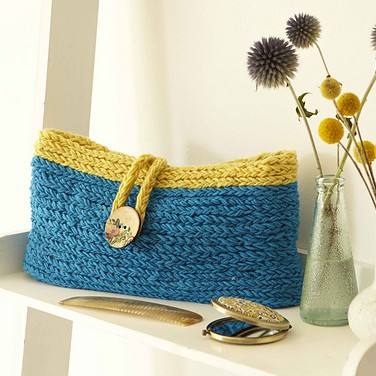 Finger Knit Clutch
Finger knit purse designed by Laura Strutt for  Arm & Finger Knitting 35 No Needles Knits For The Home & To Wear.
Terry Matz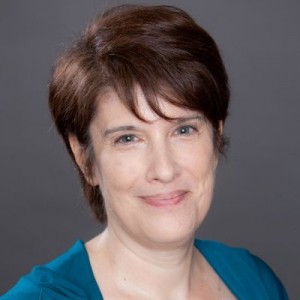 Terry is a knitting late-bloomer, learning to knit as an adult from Internet tutorials, because she wanted a craft that was useful, fun, and portable. Knitting hats for cancer patients inspired her to design her own patterns—available for free at her blog, intheloopknitting.com. Terry met her husband Ken at a science fiction convention and moved to the Kansas City area to be with him more than 30 years ago. Terry supports her yarn stash by creating websites and other digital media. Terry firmly believes in Knitting in Public—it's a great conversation starter!