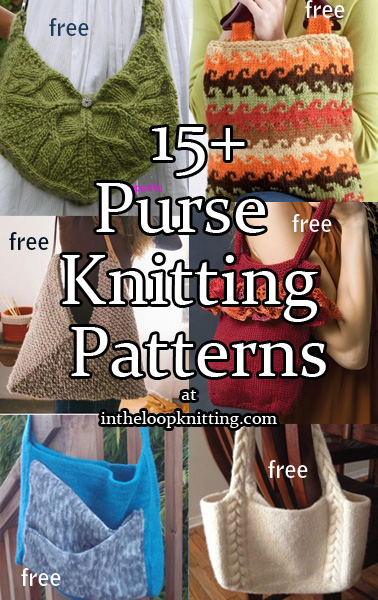 To get the knitting patterns, scroll down the page to the individual pattern you want and click on the link to that pattern.
These patterns are not my designs but links to other designers who have generously shared their patterns. If you have questions about how to knit a specific pattern, please contact the designer directly.
All links on this site are for informational purposes, but please note that some links are to affiliate sellers that pay me a small commission on purchases.
Free Patterns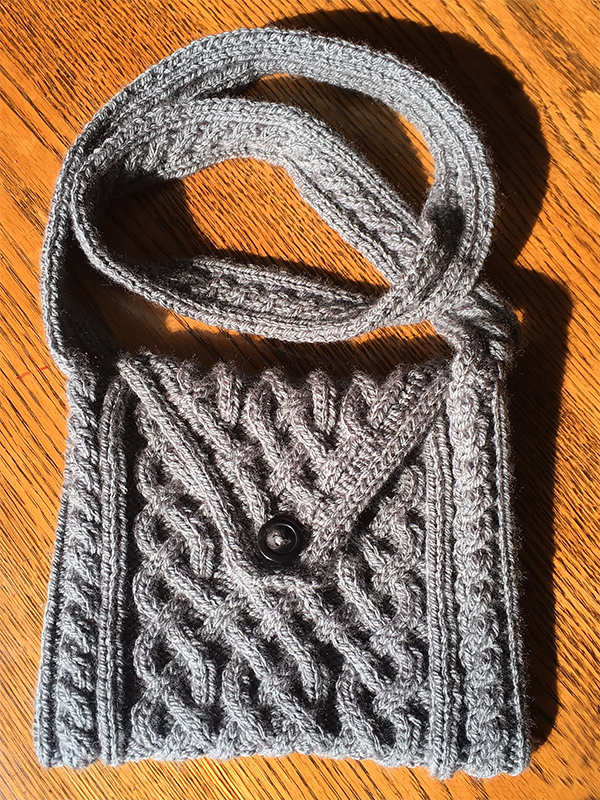 Interlace Bag
Small purse with a cabled interlace design, a flap that fastens with a button, and an optional strap. The finished bag shown measures 8.5"x7". Designed by H Huggy. DK weight yarn.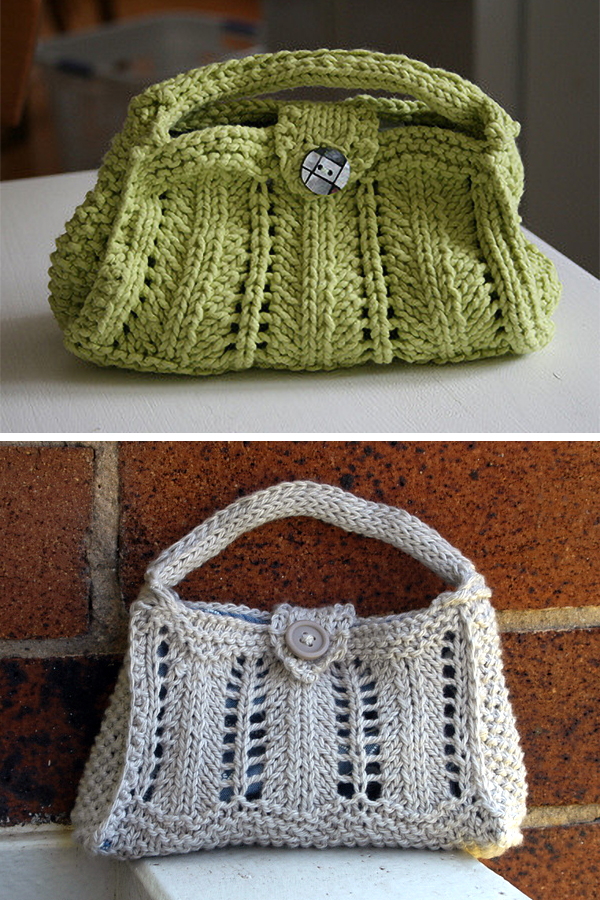 Isabeau Purse
Small lace bag with handle. A larger version is also available. Designed by Sylvie Damey. Pictured projects by labross and missyisobel. Aran weight yarn.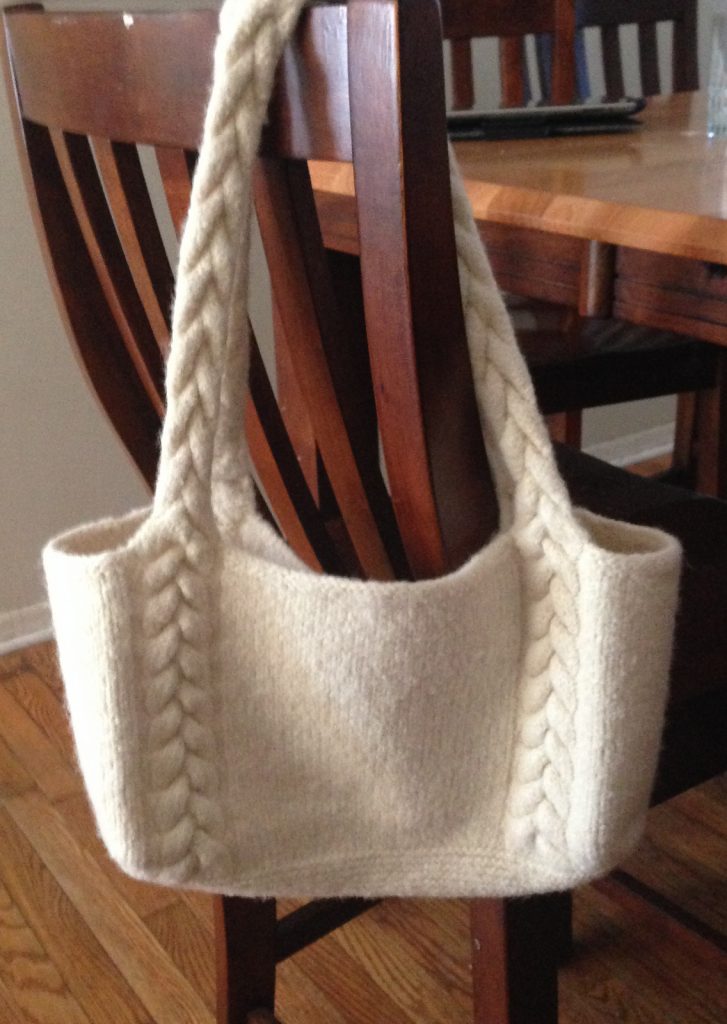 Braided Cable Handle Tote
This easy pattern is available in three sizes. Amanda Silveira's pattern featuers braided cables that continue into the handles. It's a great first cable or felting project. Pictured project by tiger7lady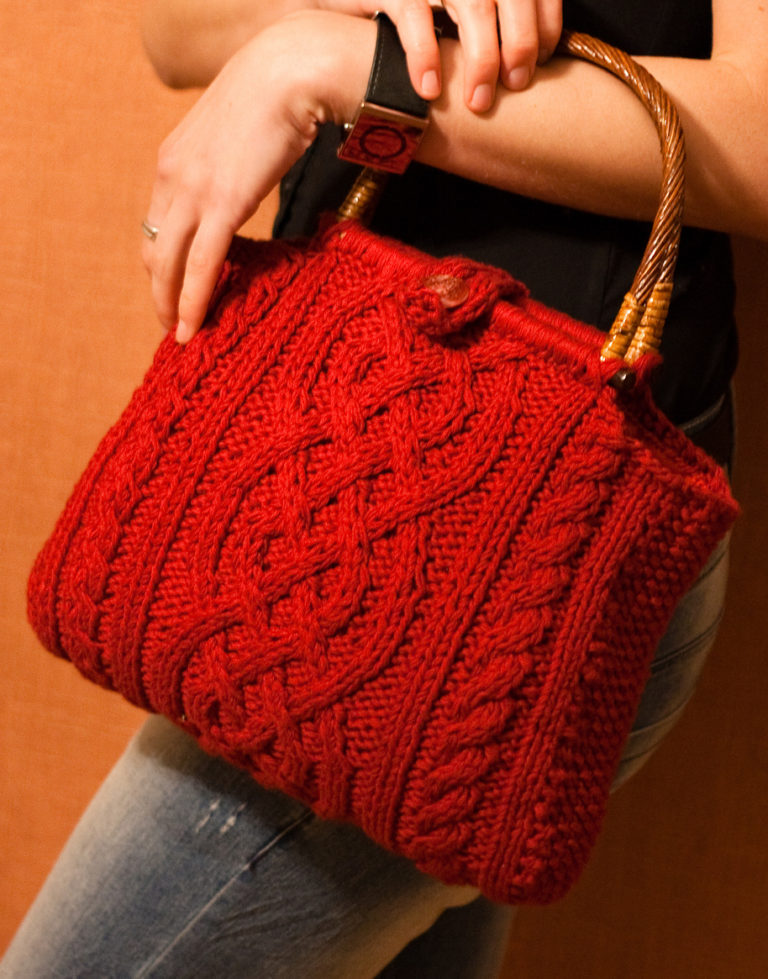 Viking Handbag
This purse features 3 cable patterns. Designed by Karen S. Lauger who says it is a good first cable project. Pictured project by athreena who added side gussets and a button flap. Available in English and Danish.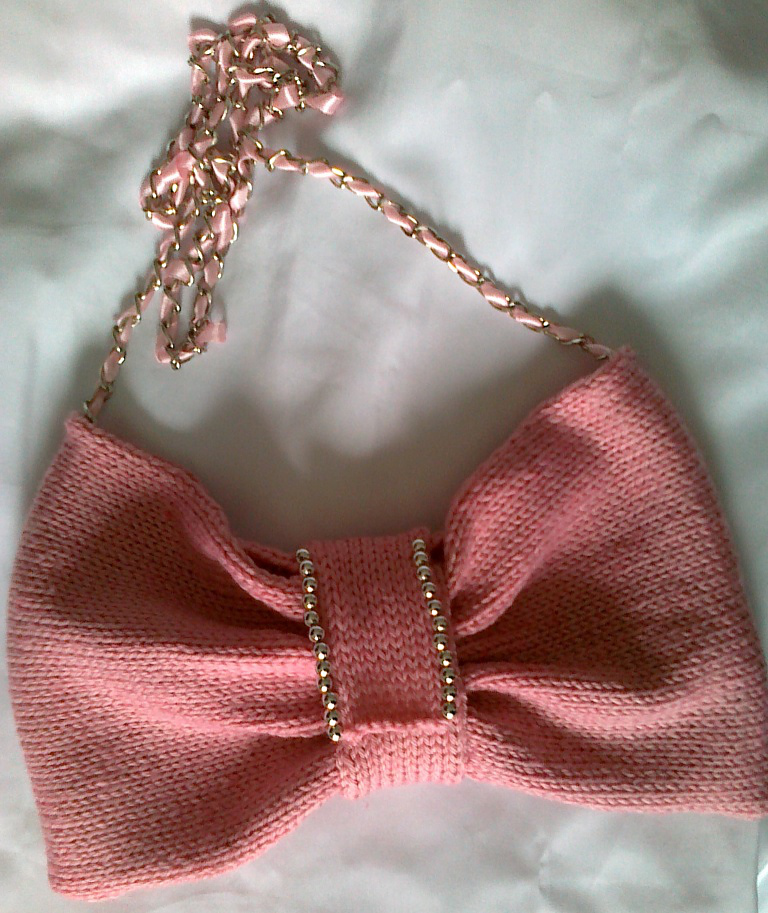 Princess Bow Purse
This glamorous but easy purse is knit in two pieces that form a bow shape when assembled. The first is seamed to the purse body and the second is added as the bow "knot". A thin ribbon is threaded through a chain for the strap. About 7 inches x 11 inches. Designed by Rim Ballouli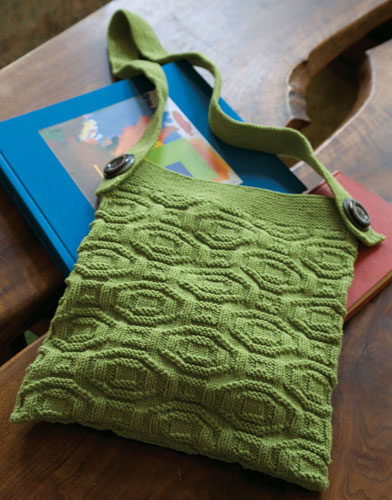 Skuld Bag
Easy mid-sized shoulder bag designed by Norah Gaughan with mid century modern octagon and square pattern defined in knits and purls. 12" across x 14" high (not including straps).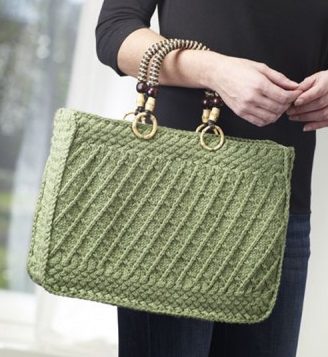 Summer Breeze Tote
This purse by Edie Eckman features a diamond lattice stitch pattern. 16″ w x 11″ h x 3″ d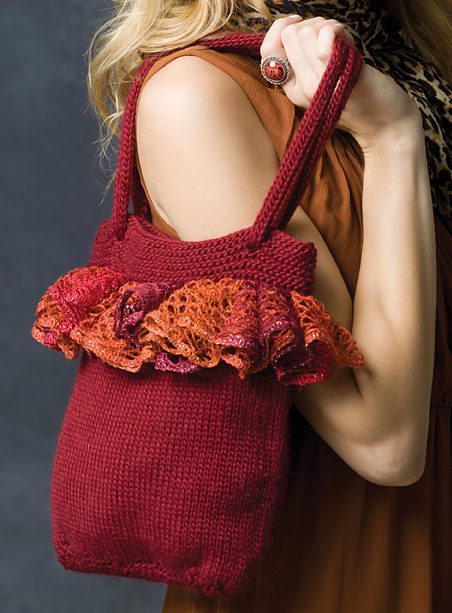 Ruffled Tote
Lorna Miser's easy purse pattern is dressed up with a ruffle. Bag measures 11″ high x 20″ around.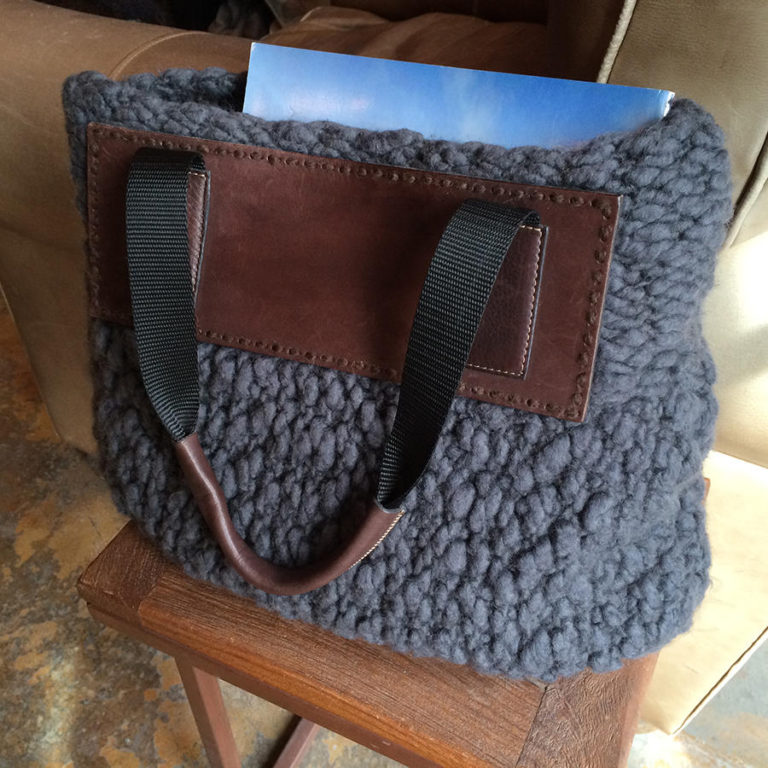 Salta Bag
This statement handbag by Americo Original is constructed from simple rectangle that is knit in chunky yarn, folded, seamed, and felted. Then leather accessories are added to complete the look. Pattern includes links to the yarn and accessories shown in the pictured project.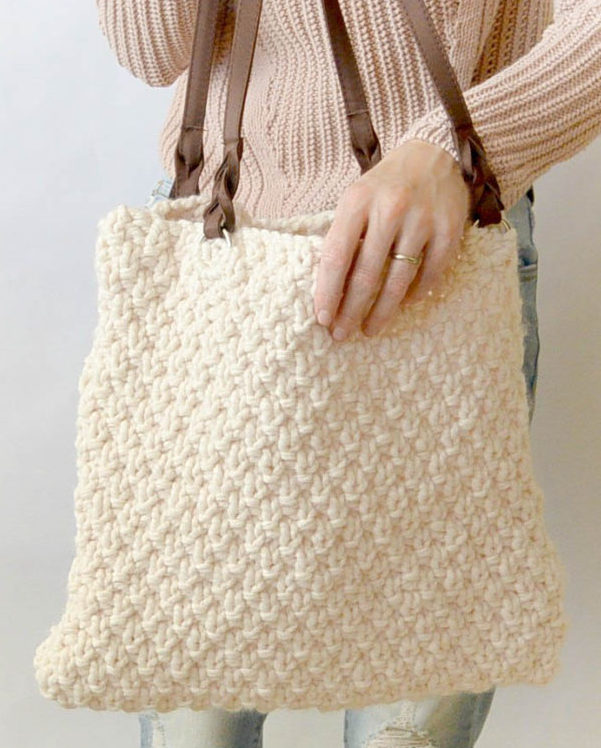 Aspen Knit Bag
This roomy purse from Mama In a Stitch couldn't be simpler — just knit a large rectangle in double seed stitch, fold, and seam! Even better, it's a quick knit in super bulky yarn.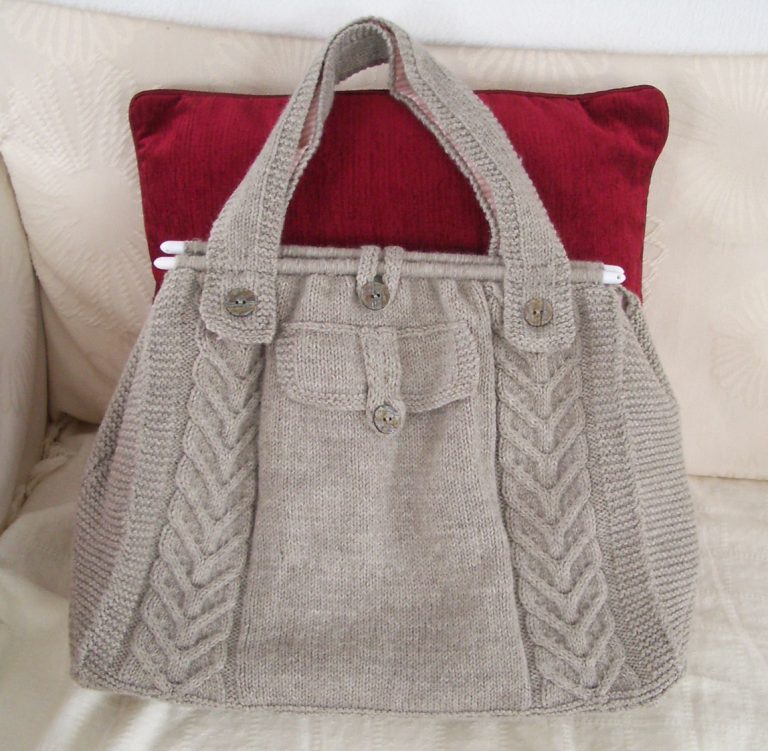 Cable Tote
Angelina at Knitted Creations designed this lined purse with knitted handle. W 35cm, H: 30cm (excluding handles), D: 11cm (about 14in x 12in x 4in)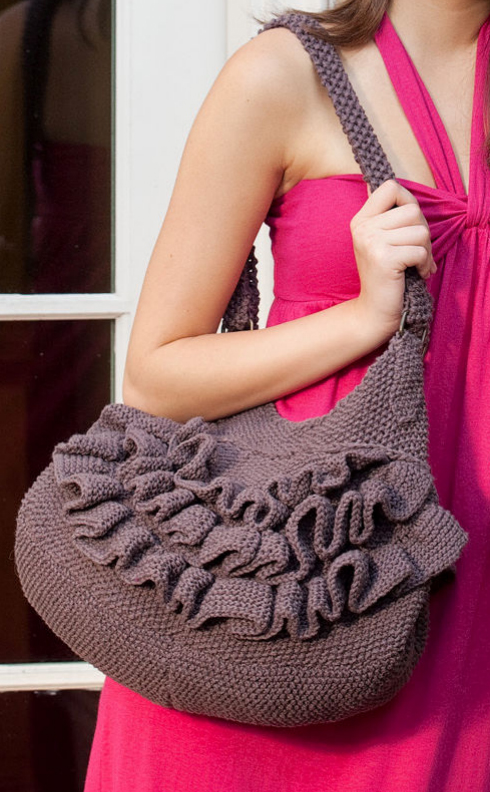 Ruffled Shoulder Bag
Purse from Universal Yarn measures 9 1/2″ x 17 1/2″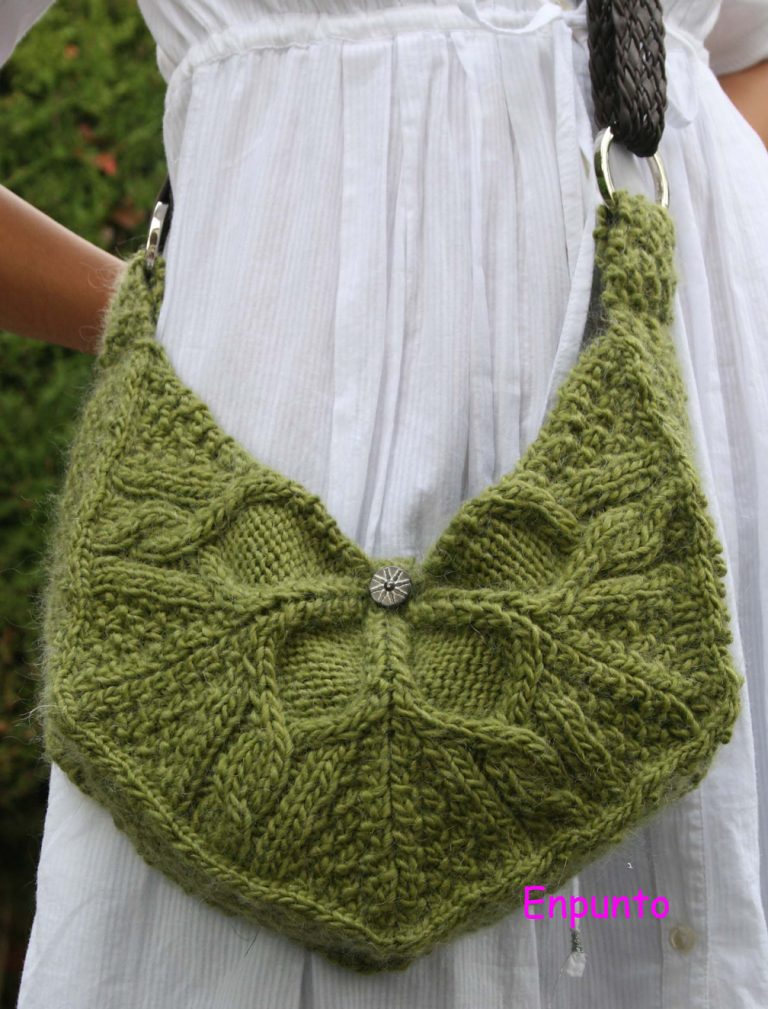 Brea Bag
Norah Gaughan's crescent shaped bag features a simple cable pattern repeated four times that come together to form a design that resembles a lotus flower according to the designer but looks like a butterfly to me. Pictured project by Enpunto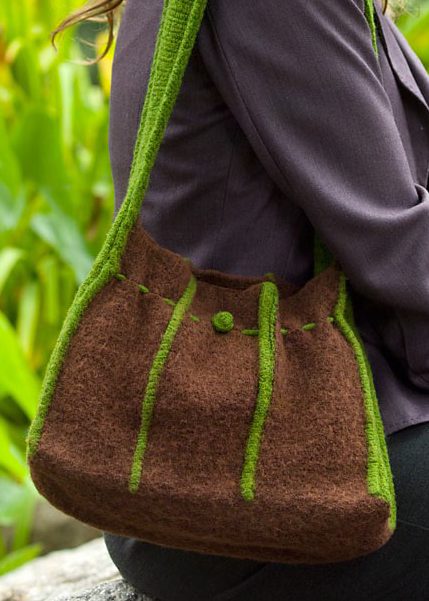 Felted Tuck Purse
Maggie Pace's bag is knit in two pieces, then sewn together and felted.Finished bag measures approximately 8½" high x 12″ wide.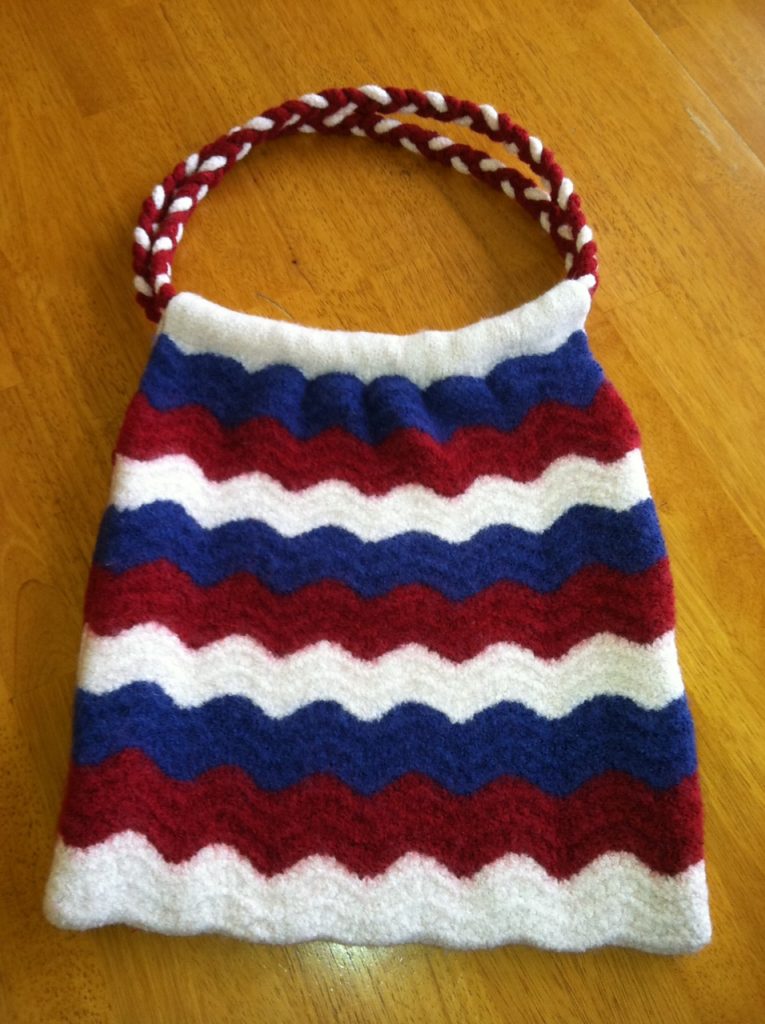 Wavy Shoulder Bag
Grace Alexander's easy purse pattern uses a simple zigzag lace stitch to create an eye-catching pattern. I like the pictured project, because lmbopp braided three felted i-cords for the handled instead of buying a leather handle.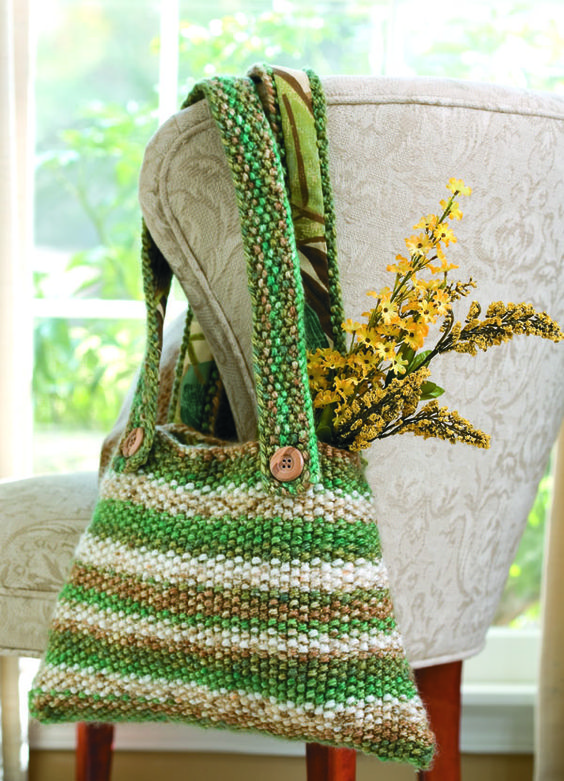 Seed Stitch Striped Tote
This easy purse from Designs by Deborah Norville is a fast knit in chunky yarn. Measures 153/4" (40 cm) at bottom x 12″ (30.5 cm) at top x 10″ (25.5 cm) high
Patterns for Purchase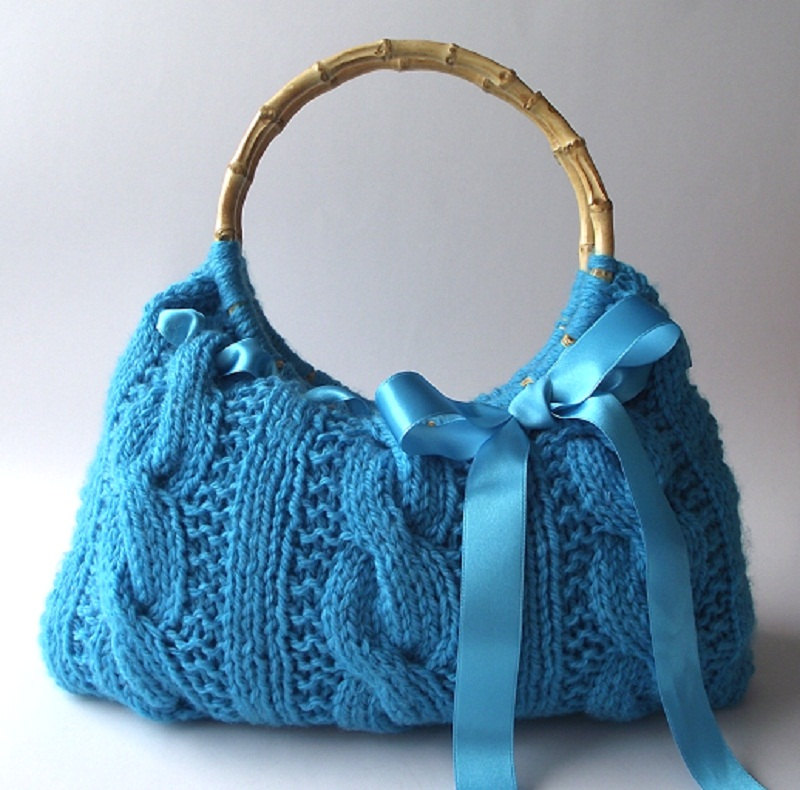 Cable Handbag With Ribbon
The designer says this is a super easy pattern suitable for beginners.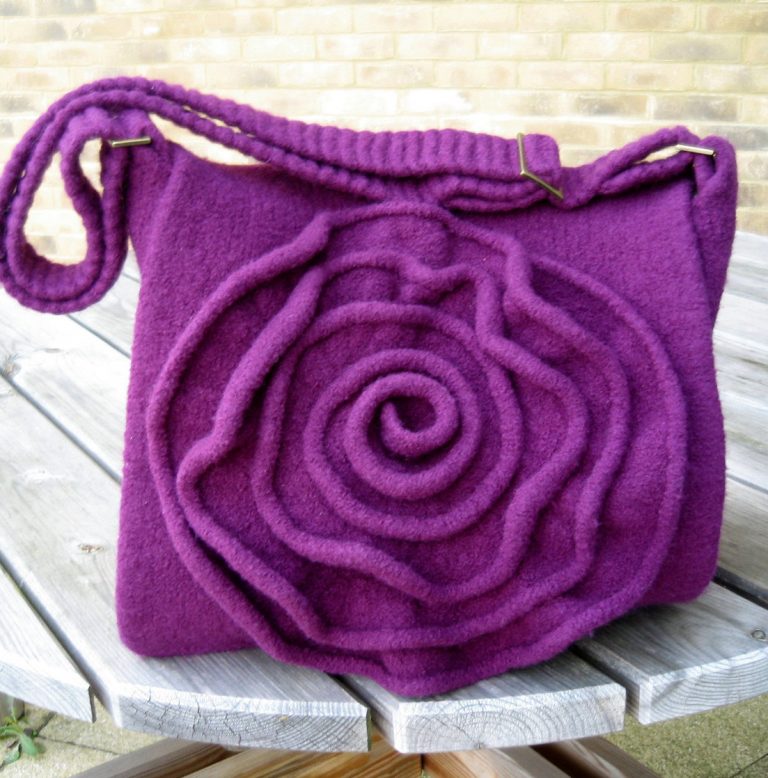 Rose Messenger Bag
I love the way the rose is in relief. Includes instructions to felt in the washing machine. Measurements after felting: Height 11", width 13.5",depth 2" large enough for small laptop or for tablet.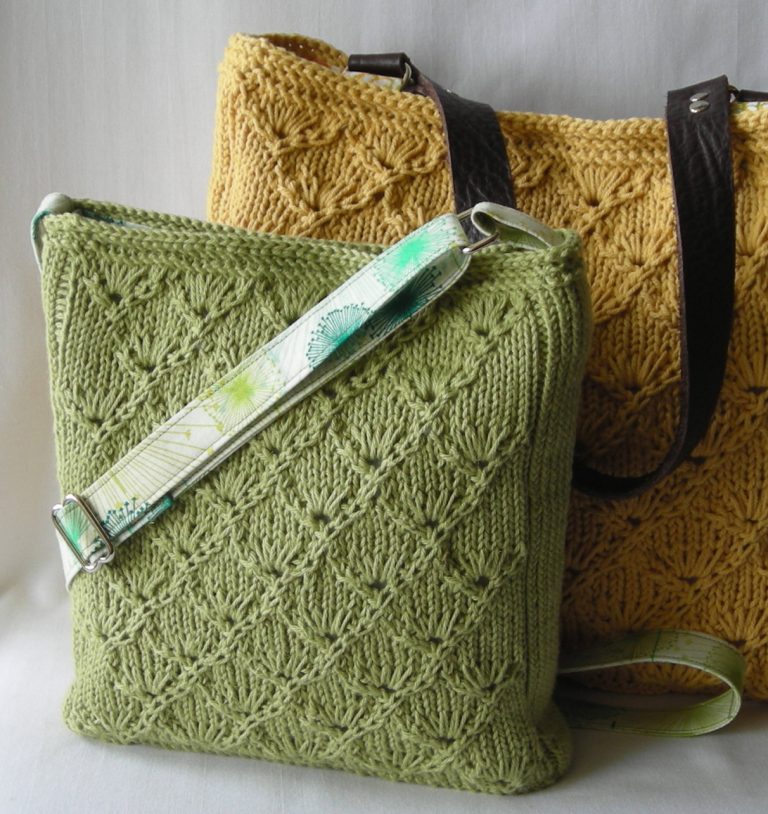 Espalier Purse and Tote
These bags feature trellis lace embellished by spray of stitches reminiscent of climbing flowers. Two sizes. Finished measurements:
Hipster: 9" long, 8" wide, 2" deep
Tote: 11" long, 12" wide, 3" deep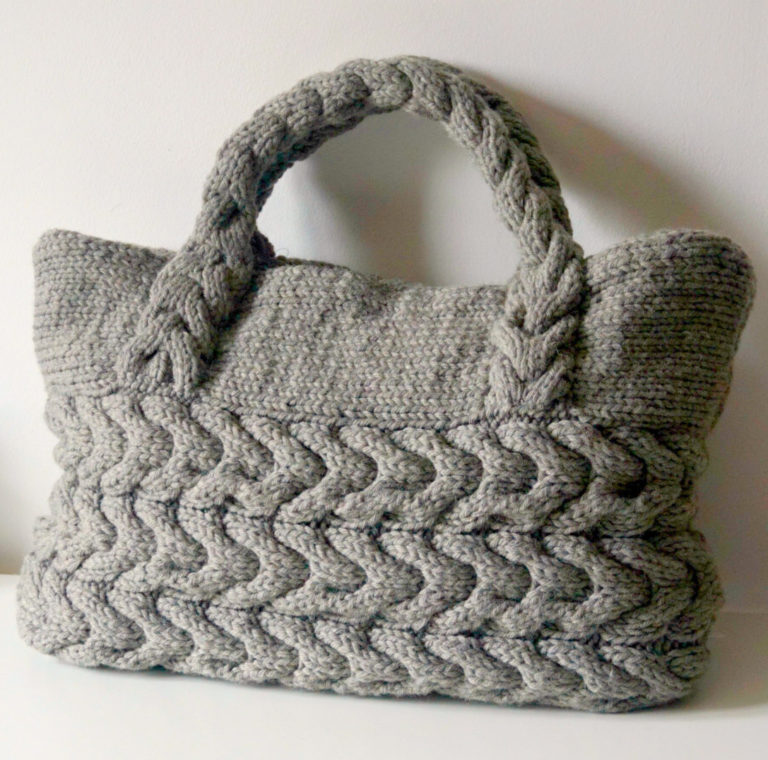 Cable Bag
Self-handled cabled purse. Width 50 cm (20") Height 32 cm ( 12.5")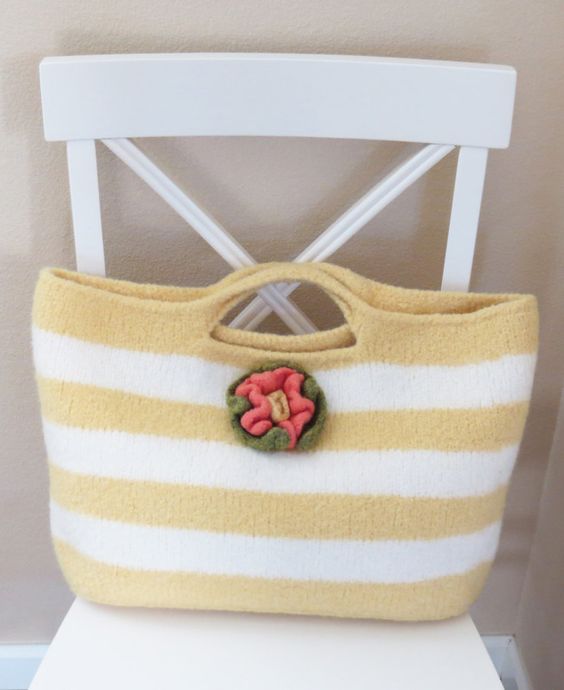 Summer Sun Bag
Cute and easy to knit felted bag pattern features optional stripes and felted flower.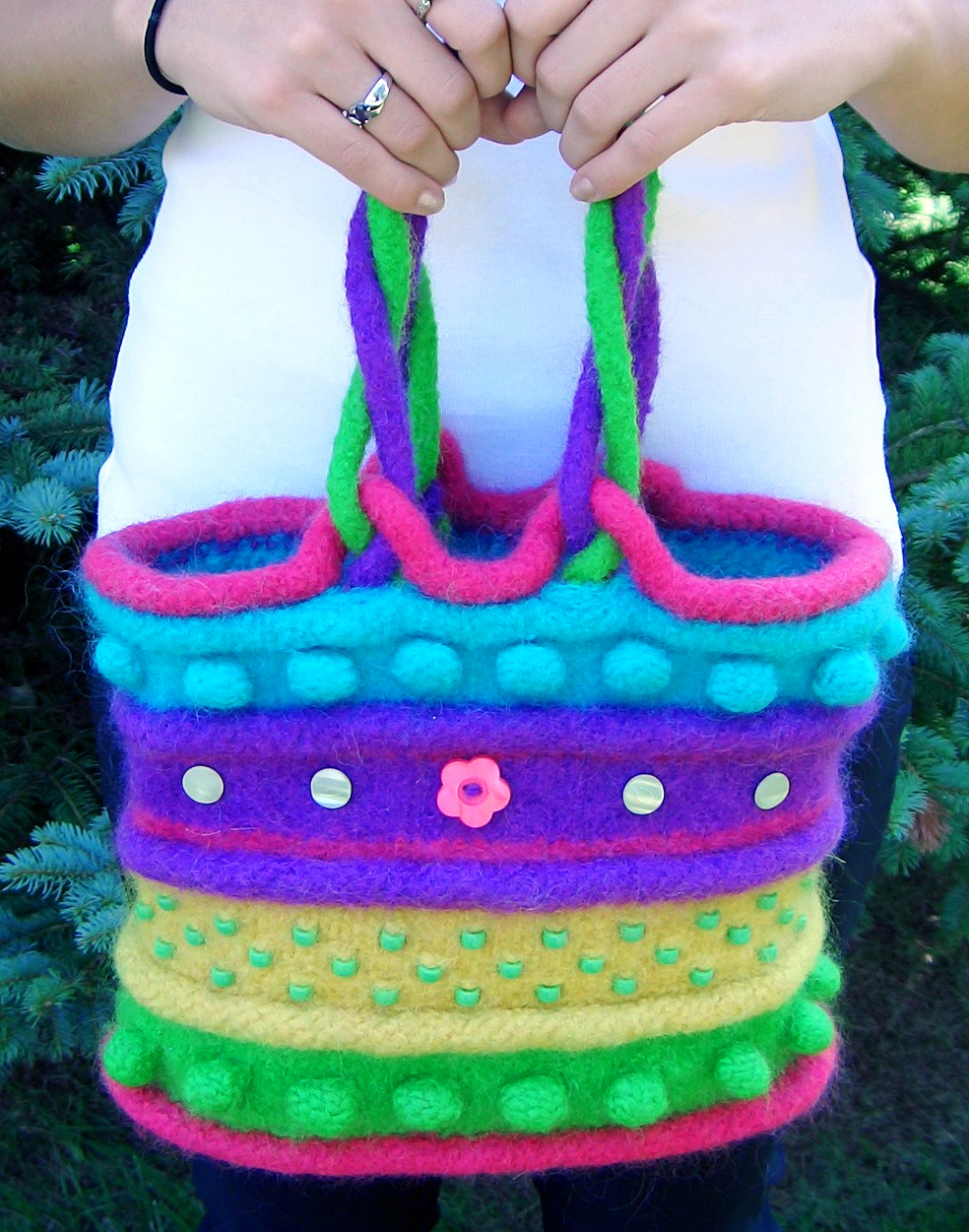 B4 Bag
Bobbles, Beads, Bumps and Buttons puts this felted purse pattern B4 all others. See the pics for great color ideas.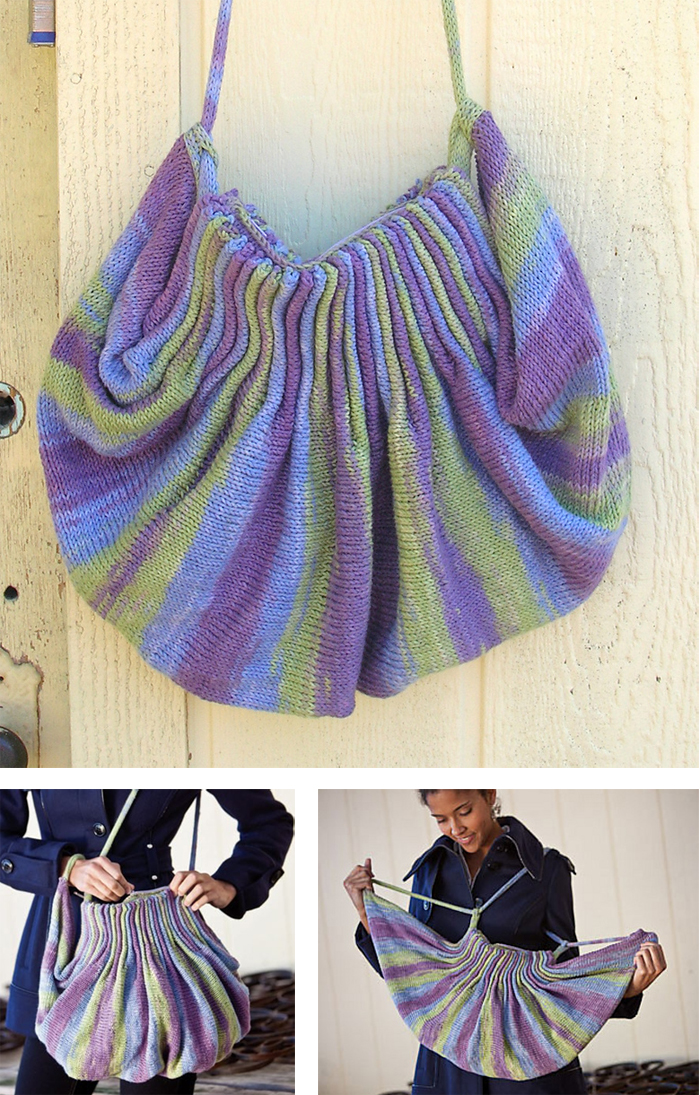 Jellyfish Bag
An unusual bag that is side to side in a pattern that creates ruffles as it is worked. An I-cord strap pulls on the lower edges of the bag, spreading the base to its full width. Perfect for variegated or self-striping yarn.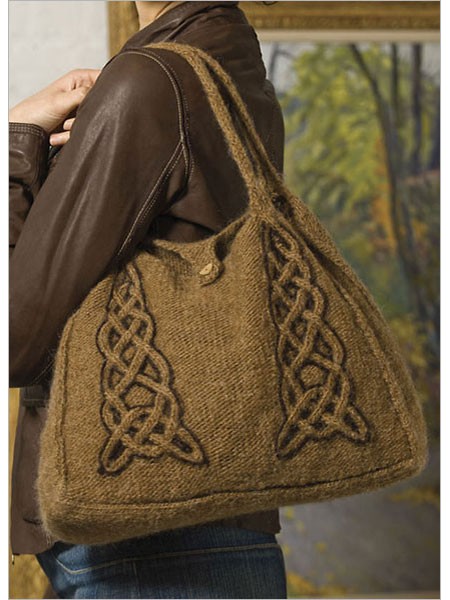 Celtic Tote
Celtic knotwork cables add structure to this purse.