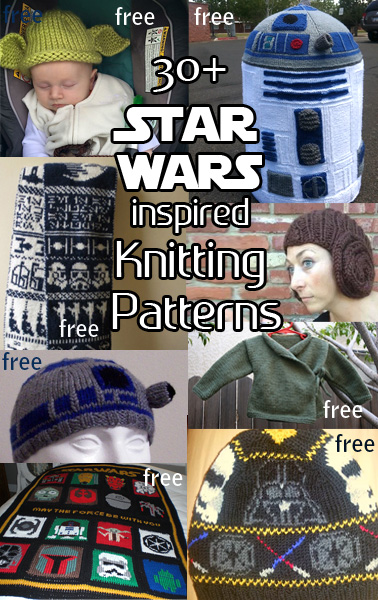 Knitting patterns for science fiction movie fans. Most patterns are free.
To get the knitting patterns, scroll down the page to the individual pattern you want and click on the link to that pattern.
These patterns are not my designs but links to other designers who have generously shared their patterns. If you have questions about how to knit a specific pattern, please contact the designer directly.
All links on this site are for informational purposes, but please note that some links are to affiliate sellers that pay me a small commission on purchases.
Free Patterns

Storm Trooper Beanie
Star Wars inspired hat knit with beginner-friendly stranded colorwork and a simple construction, this beanie would be a great introduction to fair isle knitting. Sport weight yarn. Designed by Lindsay Oncken (Bundle Handmade). Pictured project by the designer and MosterLina.

Beginner's Light Saber
These Star Wars inspired toys are knit entirely in stockinette on dpns. The designer Samantha Hamilton says this is a great way to learn and practice knitting in the round with double pointed needles. Pictured project by nupsi who inserted 1 m pipe insulating foam cover cut in two 50 cm pieces, stuffed with fiberfill, to create the shape.

Dark Side Mittens
These Star Wars inspired mittens feature Darth Vader on top and storm troopers on the palm with the words The Force Is Strong With This One split across the cuffs in stranded colorwork. Fingering weight yarn. Designed by JennyPenny. Pictured project by systeme Available English and Swedish.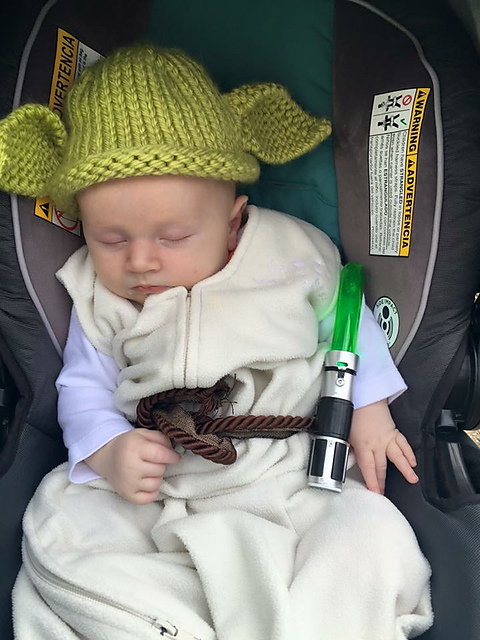 Baby Yoda Hat
Designed by Shinah Chang. Pictured project by Natalie

Pick Your Side Cowl
This Star Wars inspired cowl is features the Death Star on side and the other side features X-wing, tie fighters, and other spacecraft. The colorwork is double-knitting so the cowl is reversible and warm. Designed by Tricothon. Pictured project by tricoquelicot

Storm Trooper Mitts
Star Wars inspired fingerless mitts that are double knit. Designed by Northbound Studio

Rogue One Hat
Star Wars inspired beanie features X-Wings, AT-ATs, and (pre-exploded) Death Stars in stranded colorwork with optional Rogue One lettering. Designed by Mrs. Luedeke. Pictured projects by MidniteRaine and HighlandLassie10

Porg Toy
Inspired by Star Wars: The Last Jedi, this porg is 10" tall when standing and 8" when seated. Designed by Angela Villanueva. Pictured project by cascott

Desert Scavenger Hat
Inspired by Rey's desert garb, this hat features an attached scarf and "goggles". Sizes Small (baby/kid-sized), Adult Medium,Adult Large. Designed by Knit's All Folks!

Rebel Alliance Mitts
Star Wars inspired fingerless mitts with stranded Rebel Alliance logo motif. Designed by Ellen B. Wright

Rogue One Inspired Chirrut Hat
This slouchy beanie holds a secret message. The purl stitches spell out the mantra of the blind warrior Chirrut Imwe in Braille, ""I am one with the Force, the Force is with me." 3 sizes. Designed by Angela Villanueva

Rebel Alliance Socks
Star Wars inspired socks with Rebel Alliance emblem and repeated REBEL letters. Designed by Marie Wall. Sizes Adult & Teen

BB-8 Droid Toy
Designed by Juanita McLellan, this pattern for the Droid unit BB-8 from "Star Wars: The Force Awakens" comes in a free and for purchase version. The free version is on a web page. If you want the pdf, it is available at Etsy.

Women of Star Wars Hat
This beanie features four powerful Star Wars characters who are women, symbols of the Rebel Alliance, ships, and more.

BB-8 Droid Toy
Megan Wood's pattern for the Droid unit BB-8 from "Star Wars: The Force Awakens" is 6" tall x 4" wide. Designs are done with duplicate stitch.

BB-8 Droid Hat Chart
Suzanne Resaul's chart for an 80 stitch hat with the color and embroidery marked on it.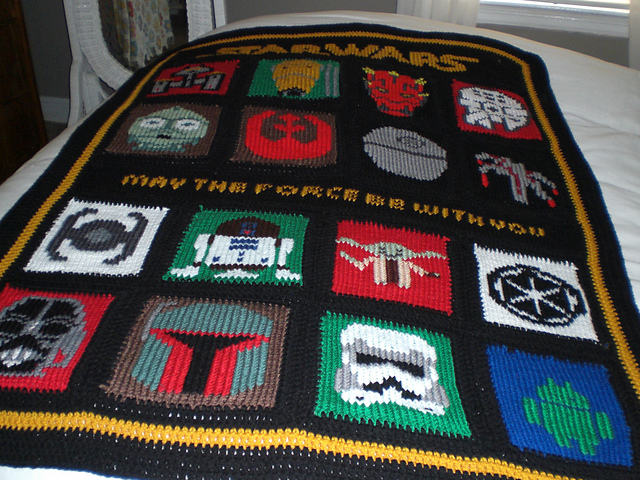 Star Wars Knitting Charts
Leah Fenton designed these charts you can use for blankets, hats, sweaters, or any knitting projects. Pictured project by dlinds20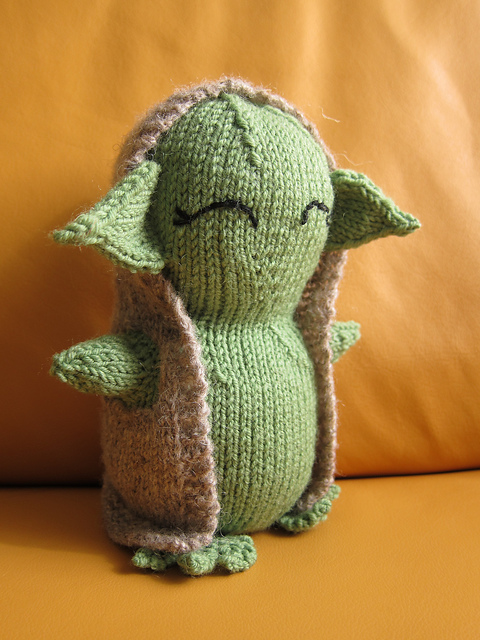 Yodagurumi
Designed by Valerie Johnson. Pictured project by eowynjesse
More Free Patterns

Space Princess Hat
Jennifer Dickerson designed this cute wig hat that can be knit in the round or flat. Comes in sizes from preemie to adult.

The Force Awakens Hat
Star Wars inspired beanie designed by Mrs Luedeke in two adult sizes in sport weight yarn. Available in English and German. Pictured project by alsoanno

Star Wars Motif Charts
This scarf is made with double knitting using free charts by ODD Eclectic.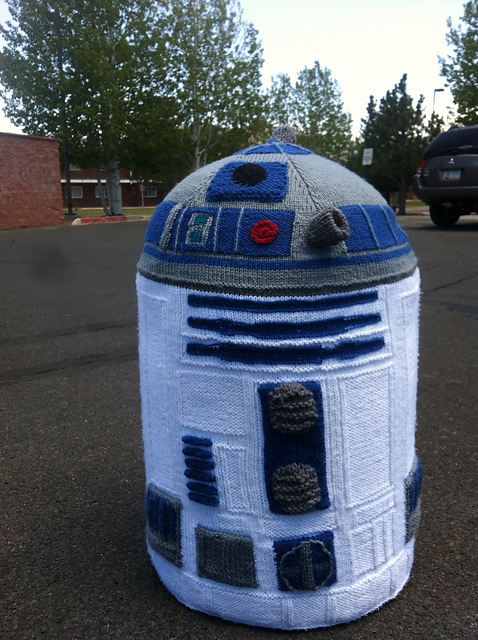 Lifesize R2D2 Cozy or Pillow
Originally designed by Sarah Rudder as a yarn-bomb, it has been adapted by knitter klpiccolo as a pillow / toy project. 37″ high by 56″ around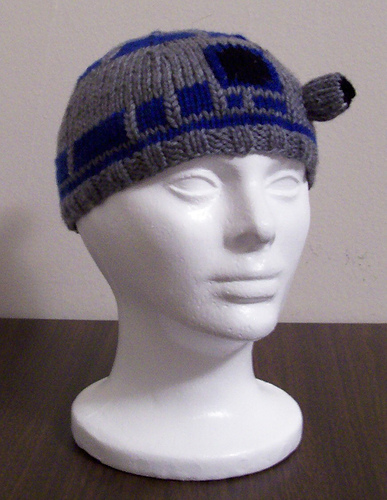 R2D2 Beanie
Designed by Carissa Browning. Be sure to take a look at the projects — some people have even added lights to their hats.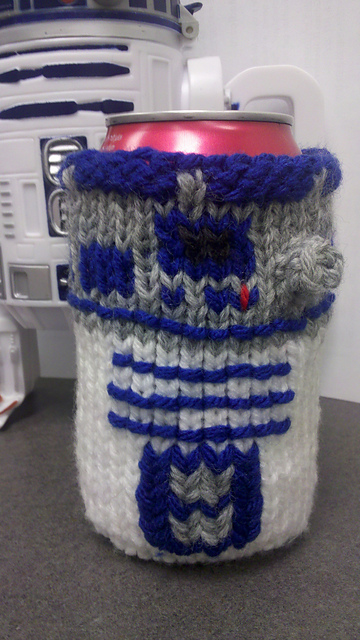 R2D2 Can Cozy
Designed by Robin Barnhill, this cozy can be knitted in the round or flat and then seamed.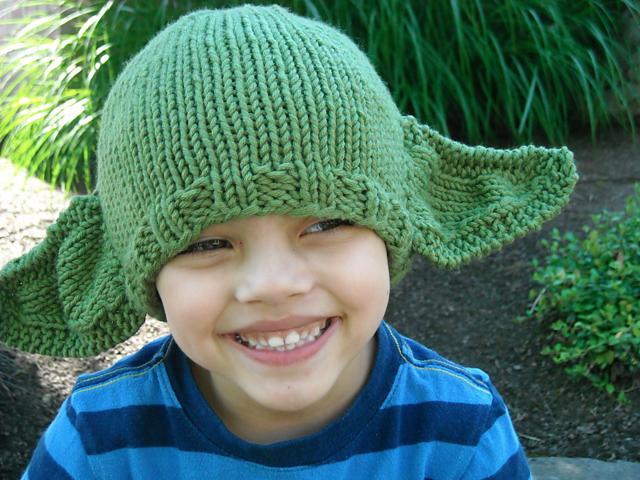 The Force You Will Feel – Yoda Inspired Hat
Designed by Jennifer Spock-Rank.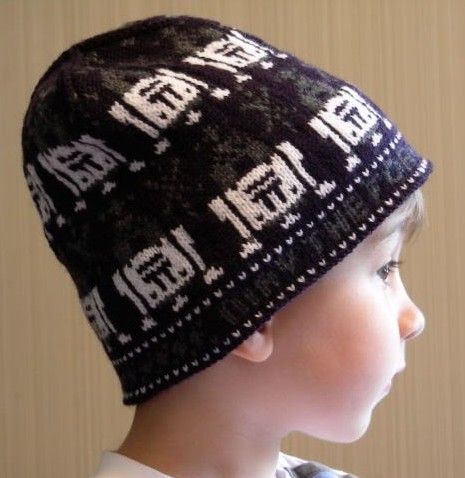 R2D2 Beanie
Carolyn designed this fair isle hat updated with R2D2 and "May the force be with you".

Yoda Baby Sweater
This baby wrap cardigan designed by Cari Luna is sized for newborn to 6 months with a 20-inch chest and a length of 10 inches.

Yoda Baby Bottle Cozy
Designed by Gaby Theriault

Felted Light Saber
Designed by Sara Przybylski, this light saber uses approximately three balls of wool yarn to make a soft plush light saber. Put a wood dowel inside if you want something more rigid.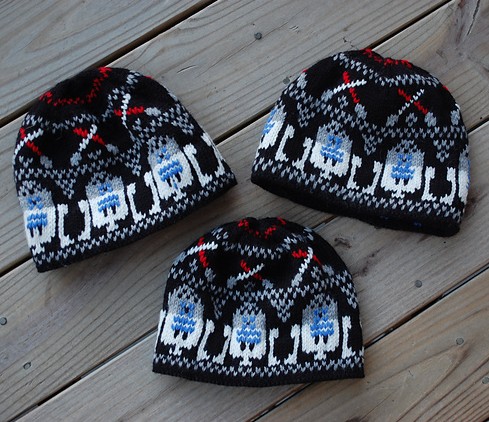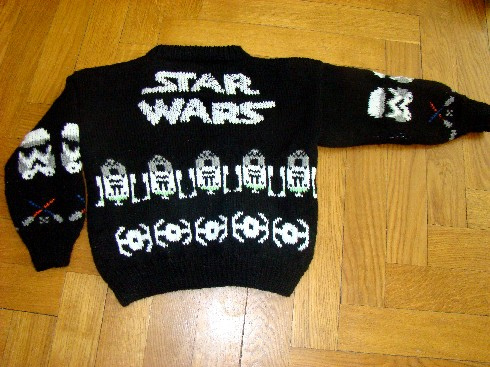 Star Wars Fair Isle Charts
Sarah Bradberry designed these charts and generously made them available for free. Pictured projects by rebelle467 and lenaF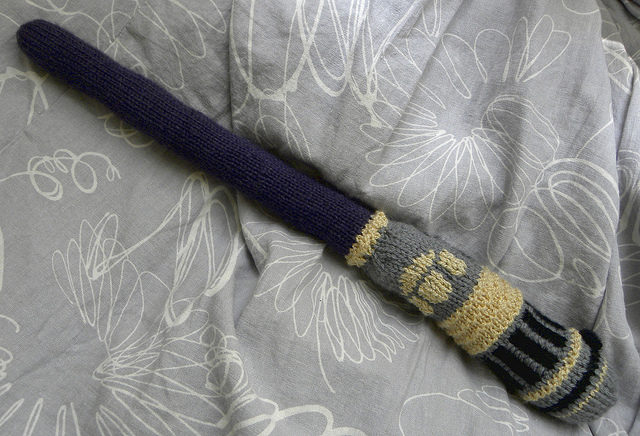 Mace Windu's Jedi Light Saber
Designed by Carolyn Joan, this light saber is 17 inches long.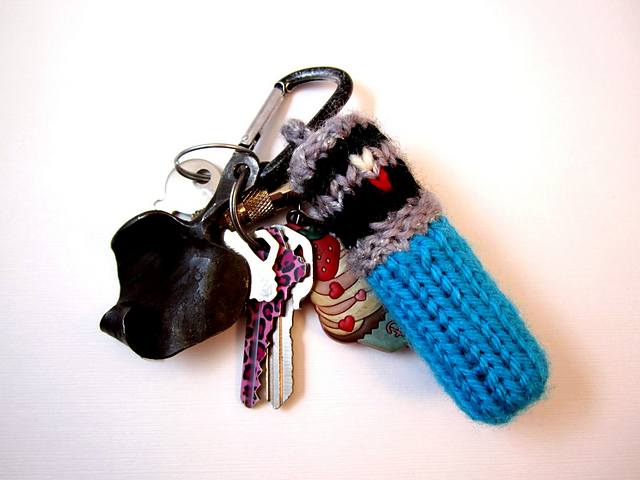 Lightsaber Lip Balm Cozy
Designed by Robin Barnhill, this tiny lightsaber can hold your Chapstick or be used as a tiny ornament. Pictured project by ThroughTheLooking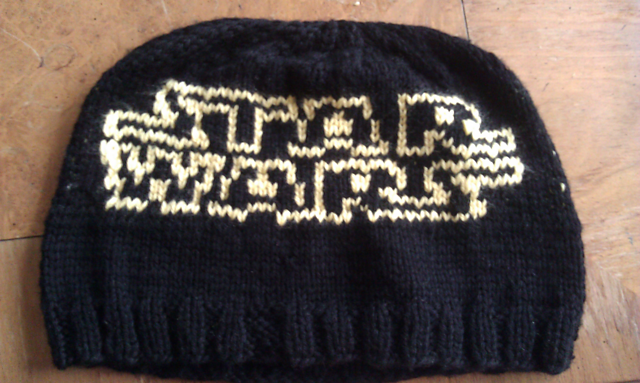 Star Wars Hat
Designed by Leah Goldstein

Darth Maul Light Saber freezer pop holder
Things you never thought to knit! Designed by Heather Means.

Cloud City
Designed by Anna Howard Shaw. Detailed instructions with photos.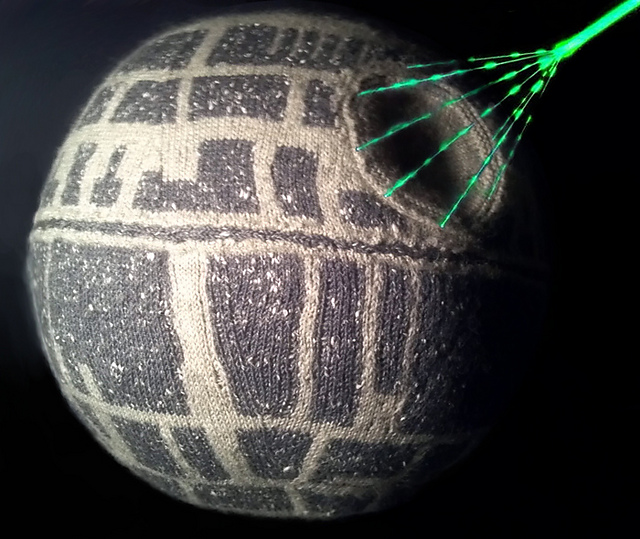 Death Star
Designed by Nicole Kostelec, this toy softie is about 14 inches in diameter.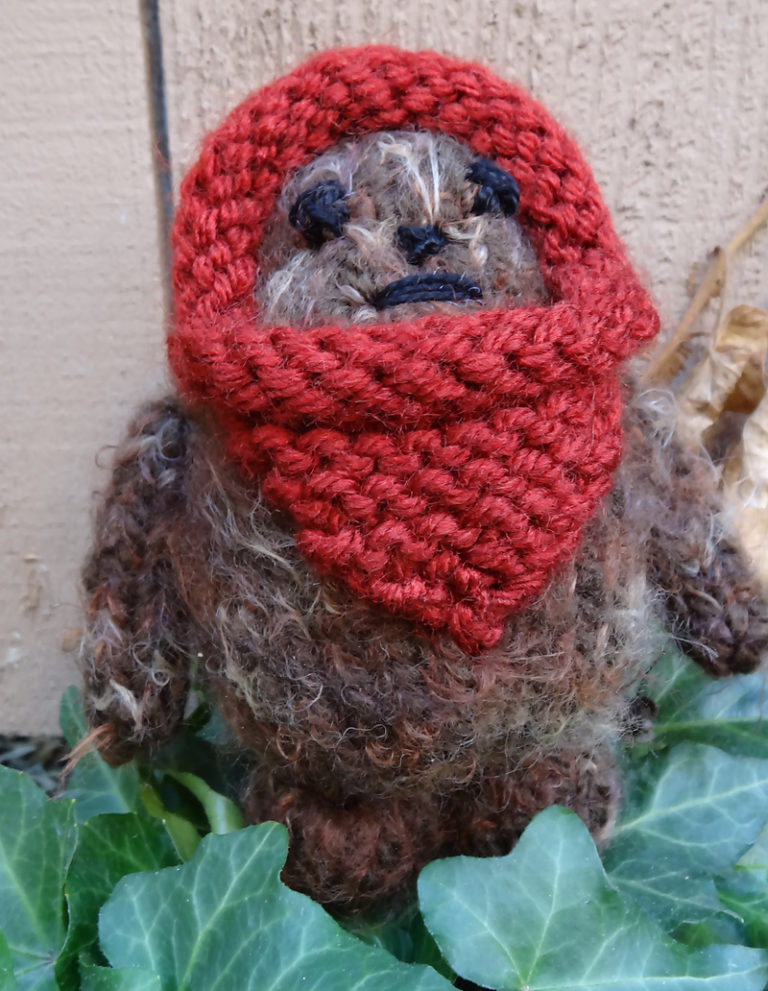 Pocket Ewok
This tiny toy by Mary Kate Long is knit in one piece. The hood is knit separately and the ears embroidered on.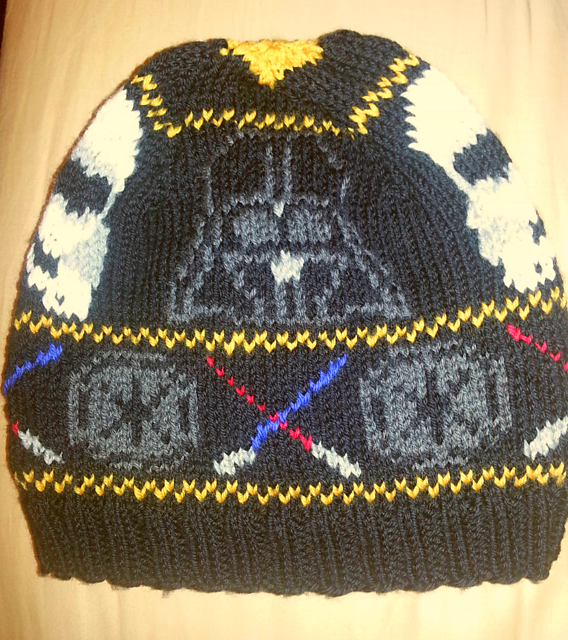 Empire Beanie Hat
Designed by Surey Rodriguez.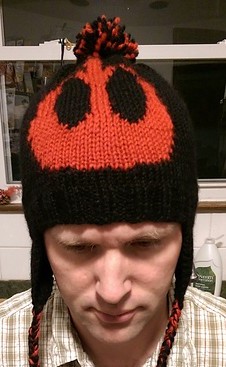 Rebel Alliance Hat
Designed by Lindsay Hoffman. Pictured project by staceybassoon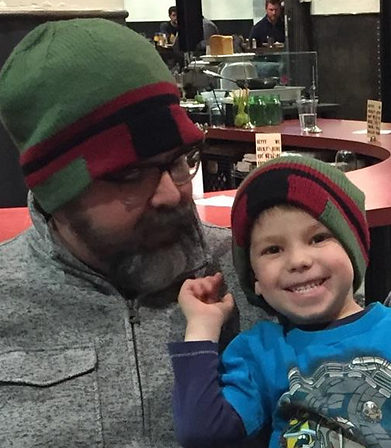 Boba Fett Hat
Designed by Katie Did Crafts. Pictured project by Idifazio who made modifications.
Patterns for Purchase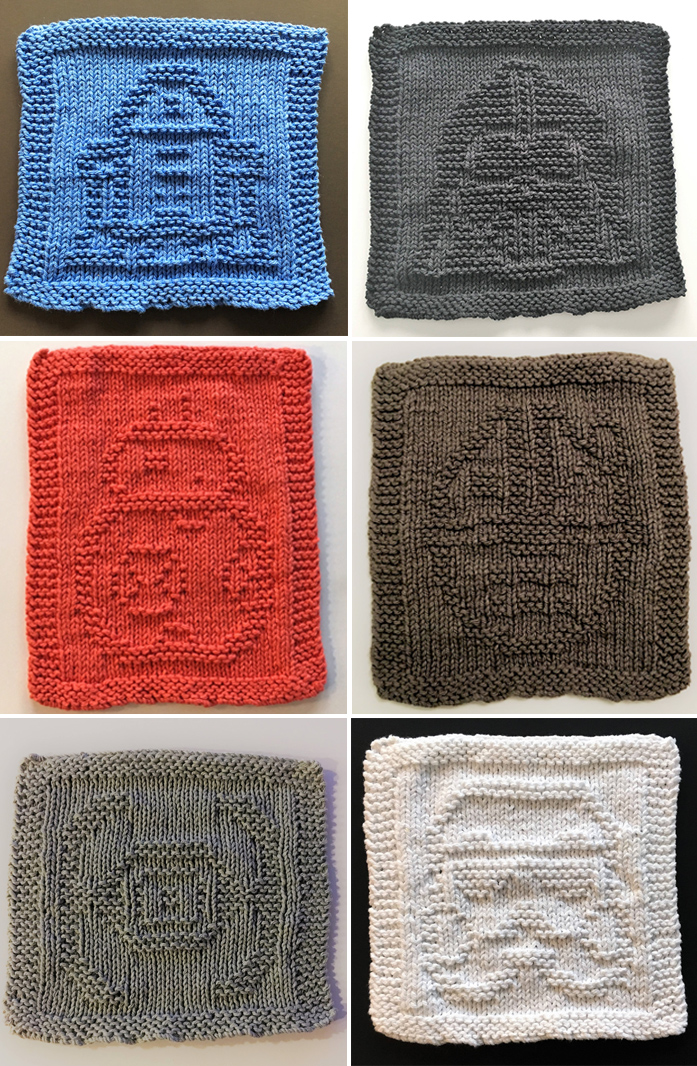 9 Star Wars Dishcloth/Washcloths
Patterns in the collection include: R2D2, Darth Vader, BB8, Millenium Falcon, TIE Fighter, Storm Trooper, and (not pictured) Death Star, Star Wars Logo, and Boba Fett. Patterns also available individually. Designed by ThePointyEndKnitting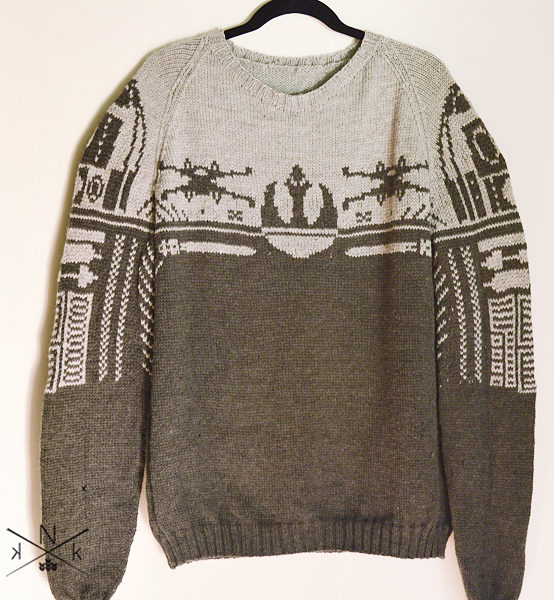 Rebel Alliance Sweater
This Star Wars inspired pullover sweater pattern by knatalieknits features the Rebel Alliance logo and x wings on the front and back, and R2D2 on the sleeves. Size ranges from child through adult. You can also purchase the finished sweater from the designer.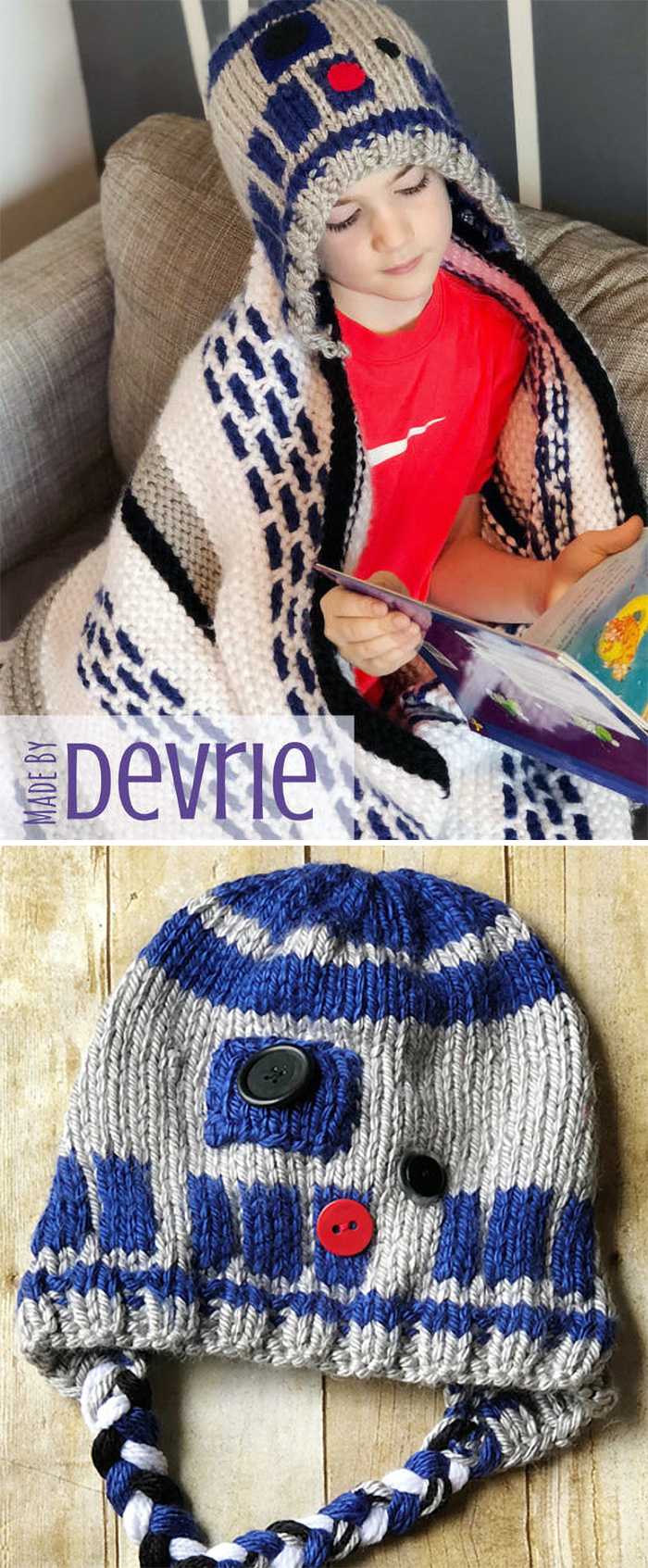 R2D2 Hooded Blanket and Hat
Chunky knit hooded blanket or hat in 3 different sizes inspired by belovedStar Wars droid. Designed by MadeByDevrie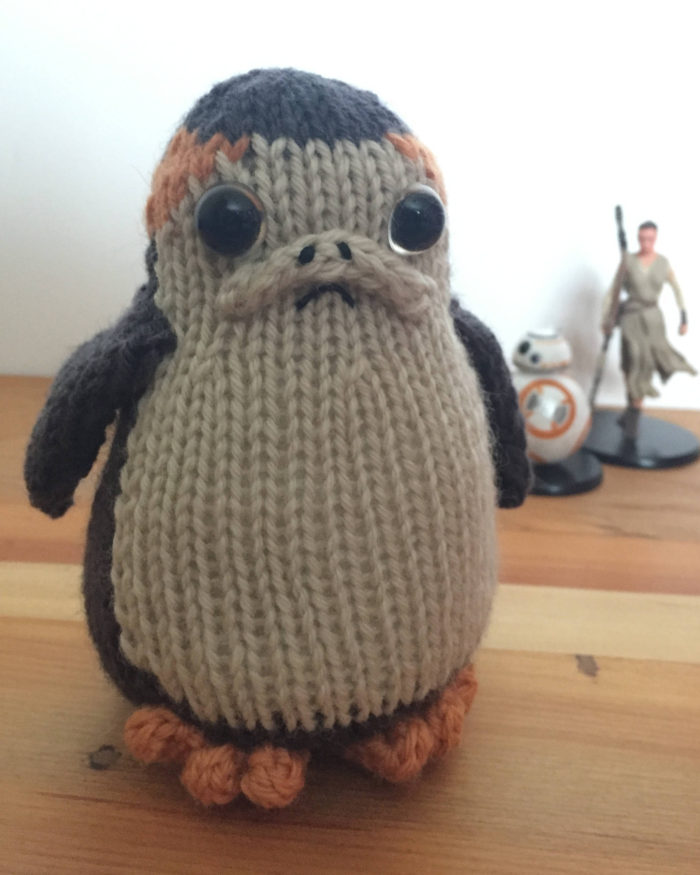 Porg
Toy softie inspired by the cute creatures from "Star Wars: The Last Jedi". Knit flat. Designed by TheKnitGuru

Star Wars Storm Troopers Sweater
This long-sleeved pullover sweater pattern by NatelaDaturaDesign features storm trooper motifs in colorwork on the yoke. Bust: S – 98cm/38.6″; M – 102cm/40.2″; L – 106cm/41.7″; XL – 110cm/43.3″.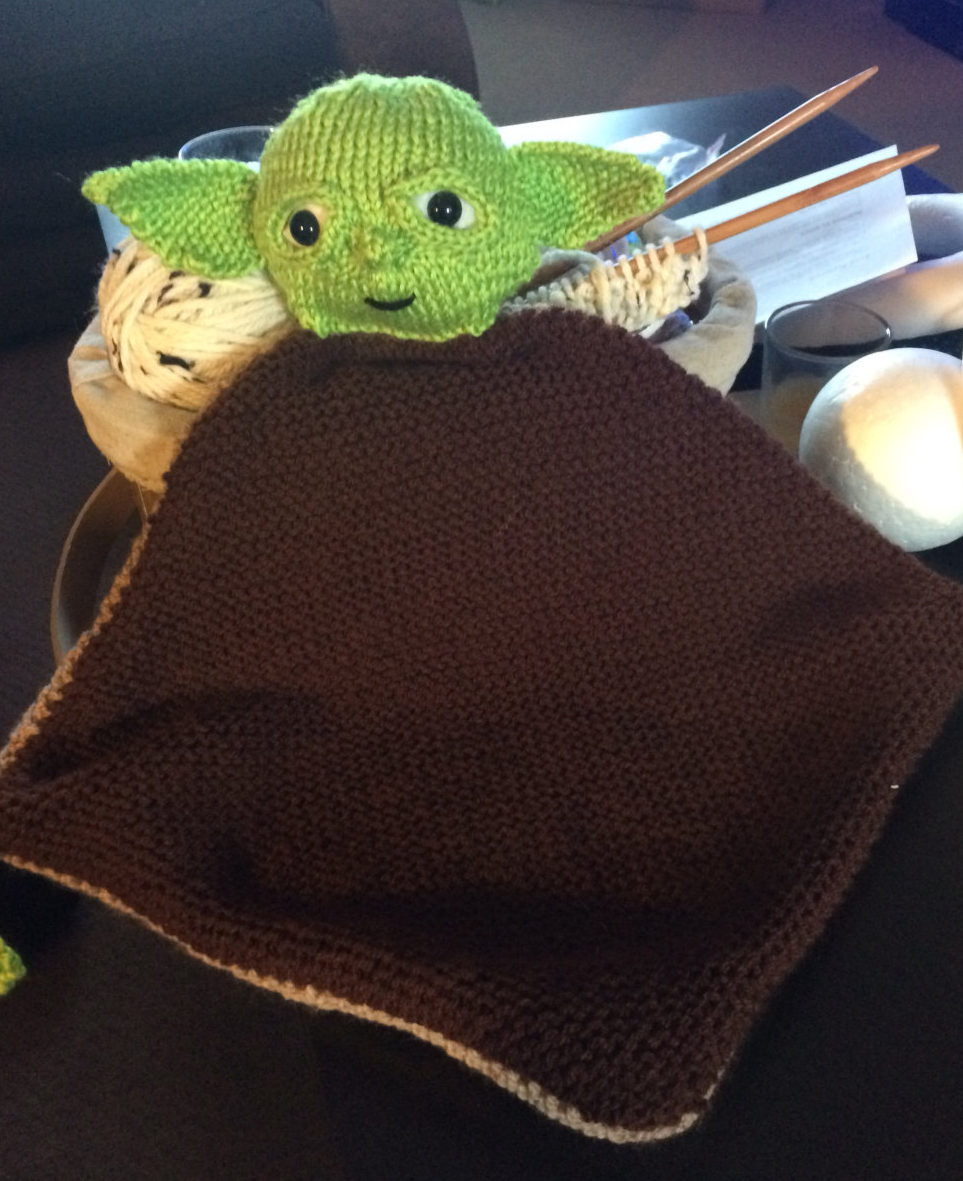 Yoda Lovey Baby Blanket
Security comfort blanket buddy inspired by the beloved Star Wars character.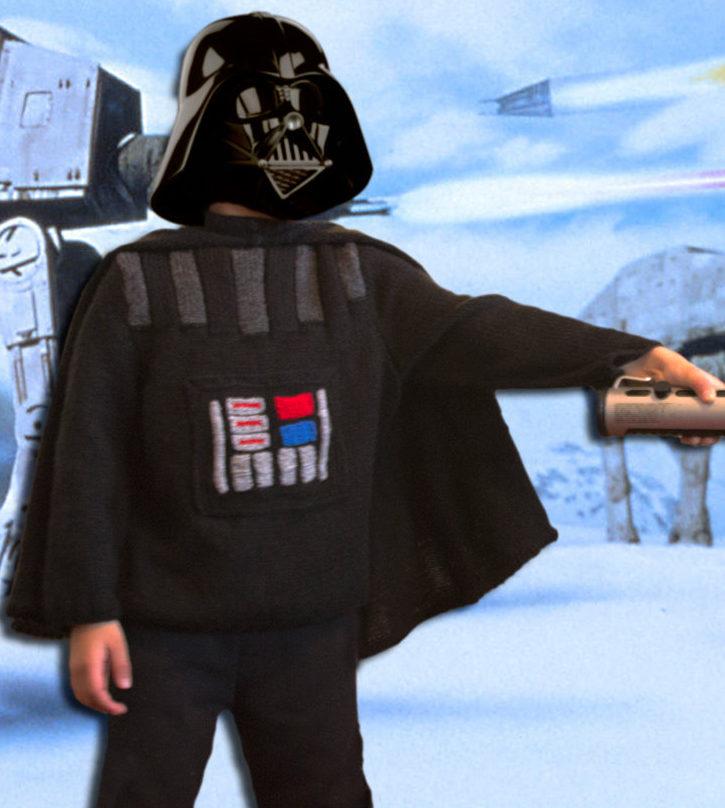 Darth Vader Sweater and Cape
Costume includes patterns long-sleeved pullover and cape. The buttons panel on the front is a pocket with 2 side openings. Sizes: 2 (4-6-8-10) years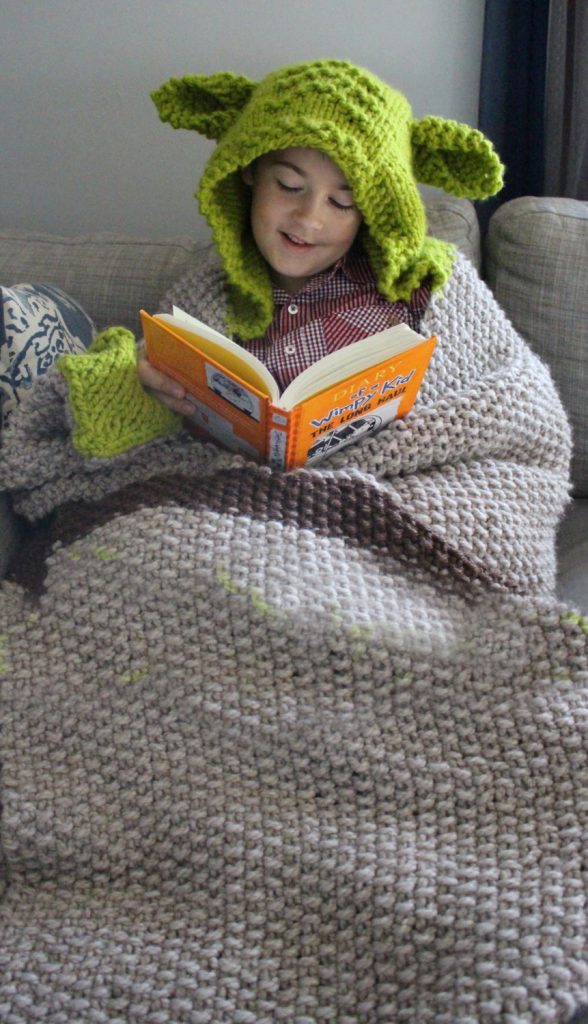 Hooded Yoda Blanket
The pattern includes instructions for three sizes: Toddler, child and adult. Knits up fast in bulky yarn and size 17 needles. Designer Devrie Metcalf says that this blanket is perfect for a beginner knitter.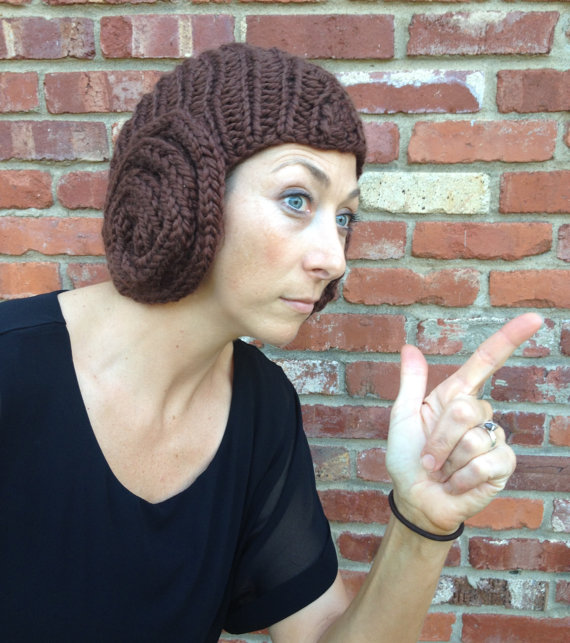 Princess Leia Hat
Doubles as wig for a Leia costume and a funny earflap hat!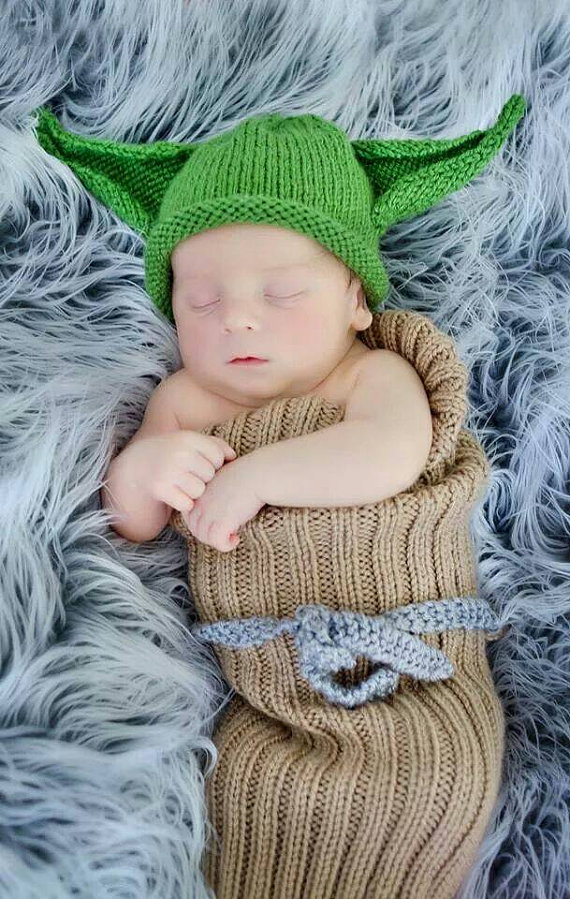 Little Yoda Baby Bunting and Hat
A beginner level pattern perfect for the youngest Star Wars fan. The sleep sack is a simple knit pearl rib that stretches to snuggle. The sleep sack pattern has several variations, so you can choose the one you like the best.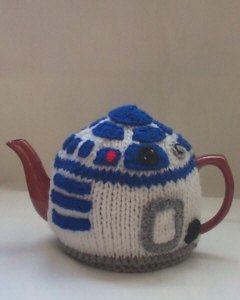 R2D2 Tea Cosy
The tea cosy fits a medium sized tea pot that covers a Teapot that holds 6 to 8 cups.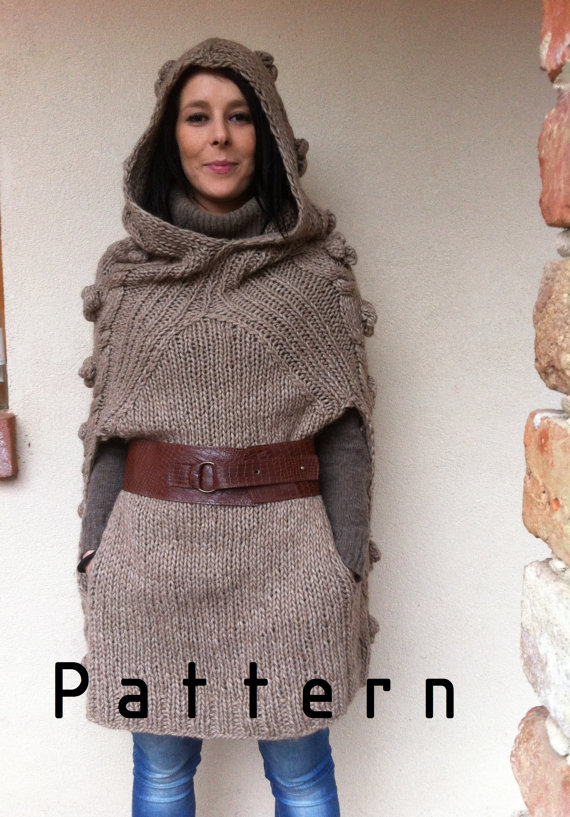 Ewok Inspired Poncho
One size hooded poncho fits S to XL.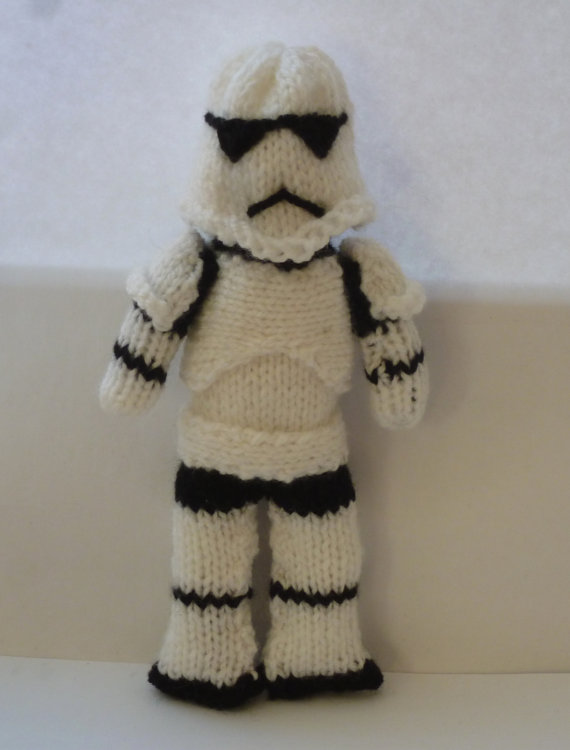 Storm Trooper
This fearsome knit toy is 6-7 inches tall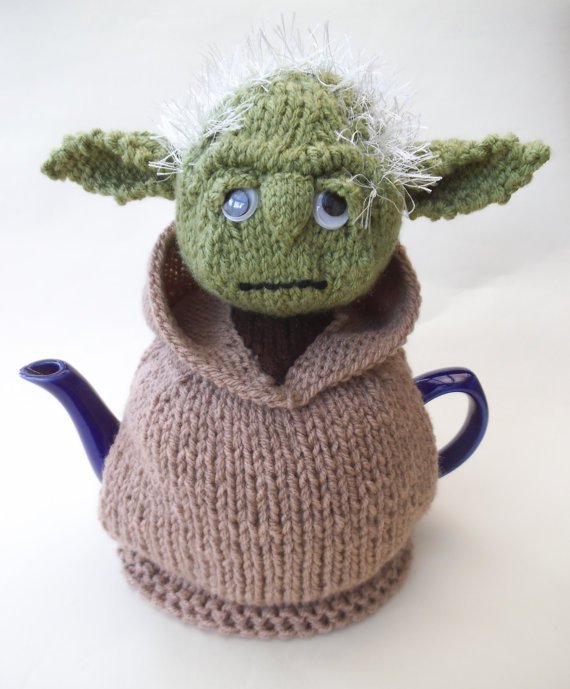 Yoda Tea Cosy
The tea cosy fits a medium sized tea pot that covers a Teapot that holds 6 to 8 cups. The hood can be up or down.

Star Wars Golf Club Covers
Knitting patterns for Yoda, Leia, Darth Vader covers.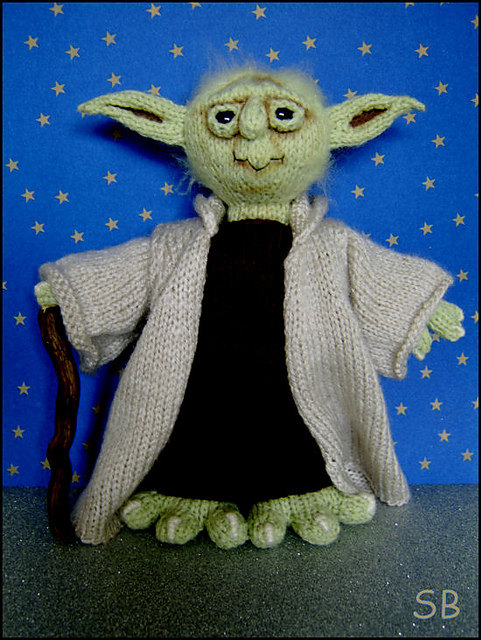 Yoda
About 8 inches tall.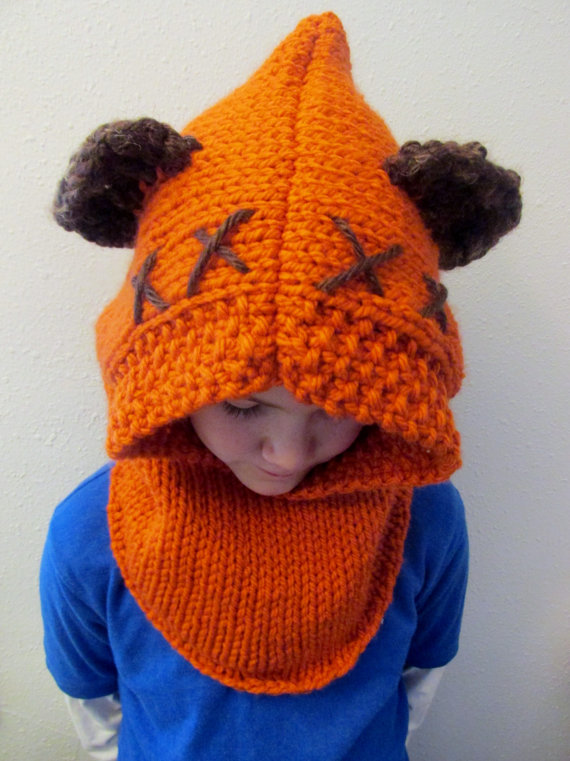 Ewok Hooded Cowl
Knit in super bulky yarn. Adult and child sizes