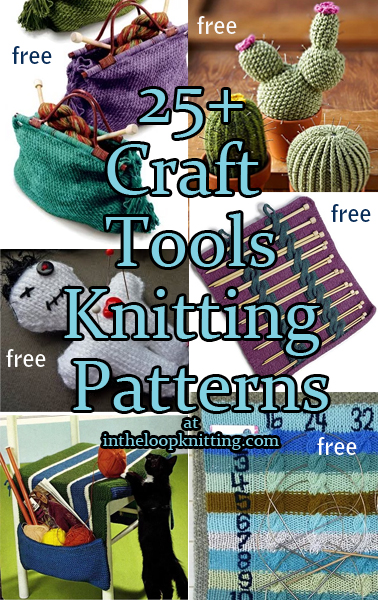 Knitting patterns for craft storage, tools, and accessories.
To get the knitting patterns, scroll down the page to the individual pattern you want and click on the link to that pattern.
These patterns are not my designs but links to other designers who have generously shared their patterns. If you have questions about how to knit a specific pattern, please contact the designer directly.
All links on this site are for informational purposes, but please note that some links are to affiliate sellers that pay me a small commission on purchases.
Free Patterns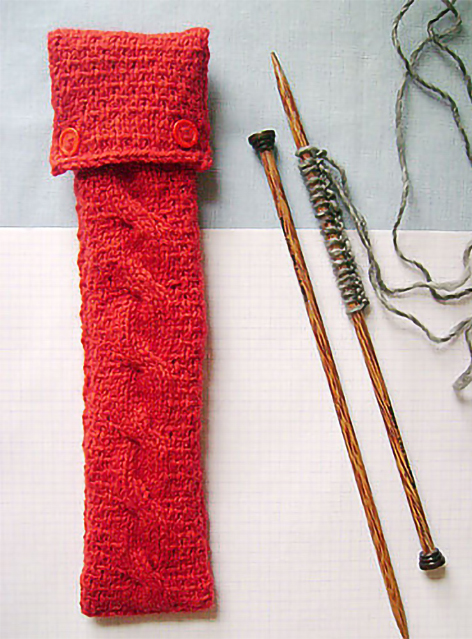 Princess Needle Cozy
Cabled knitting needle holder with buttoned flap. Great for on-the-go knitting or for gifts. Finished Measurements: 11" tall x 3½" wide. Designed by Cecily Glowik MacDonald. Worsted weight yarn.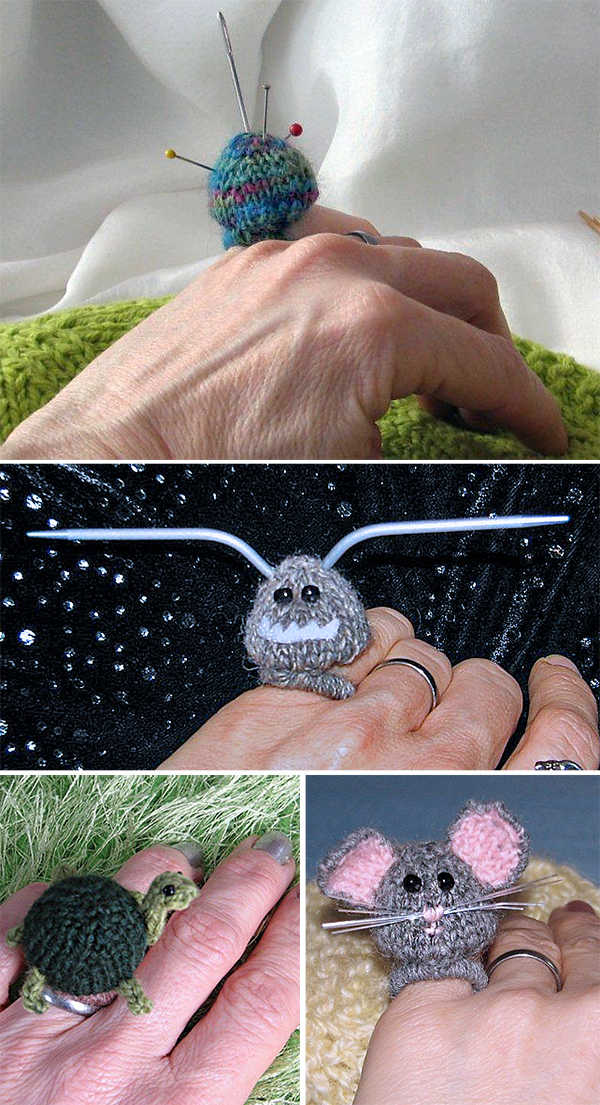 Pincushion Ring
This small ring knit around a pull tab can help you keep needles and pins convenient and safe. Customize with beads, felt, or knit pieces to make animals, flowers, and more. Designed by Sheila Higgins who also has instructions in the projects to create the monster, turtle, mouse, and more.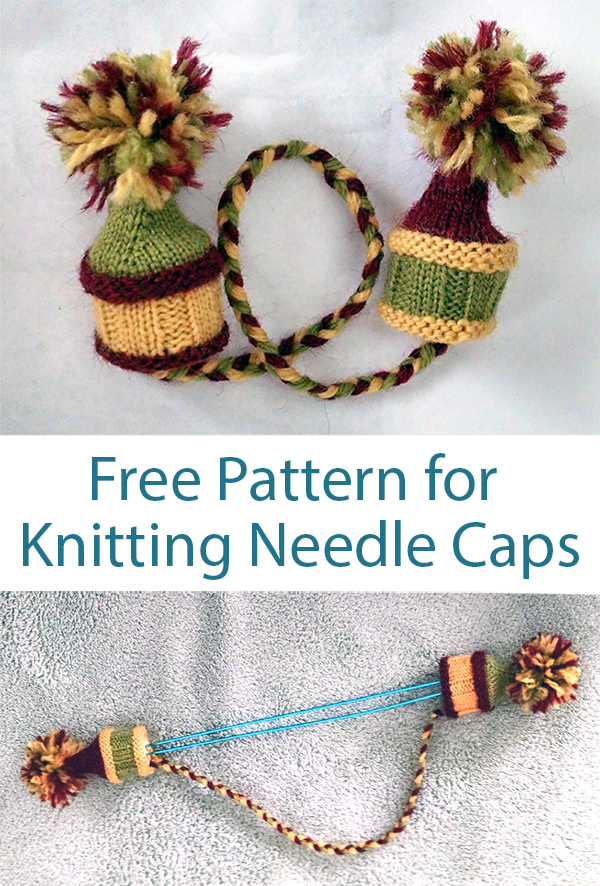 Punchinello Caps for Knitting Needles
Create your own needle protectors with these clever knit caps that fit snugly over corks to put on the ends of knitting needles between knitting sessions to keep your work from sliding off. Adapted by Ann Budd from a vintage knitting pattern in Weldon's Practical Needlework, Volume 11. Pictured project by schrlauws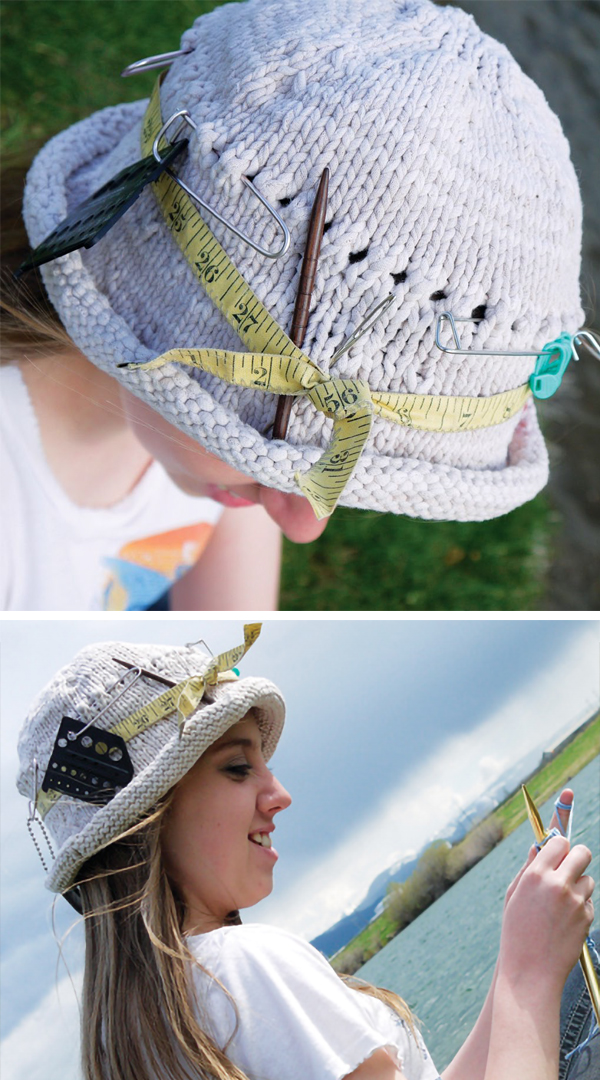 Gone Knittin' Hat
Inspired by fishing hats that store extra lures, sinkers, and leads, Melissa Somerville designed this hat for knitting on the go and outdoors with storage for cable needles, needle gauge, dp needles, tape measure, stitch holders, and more. Originally published in Tangled Online Magazine, it is now available in the Internet archive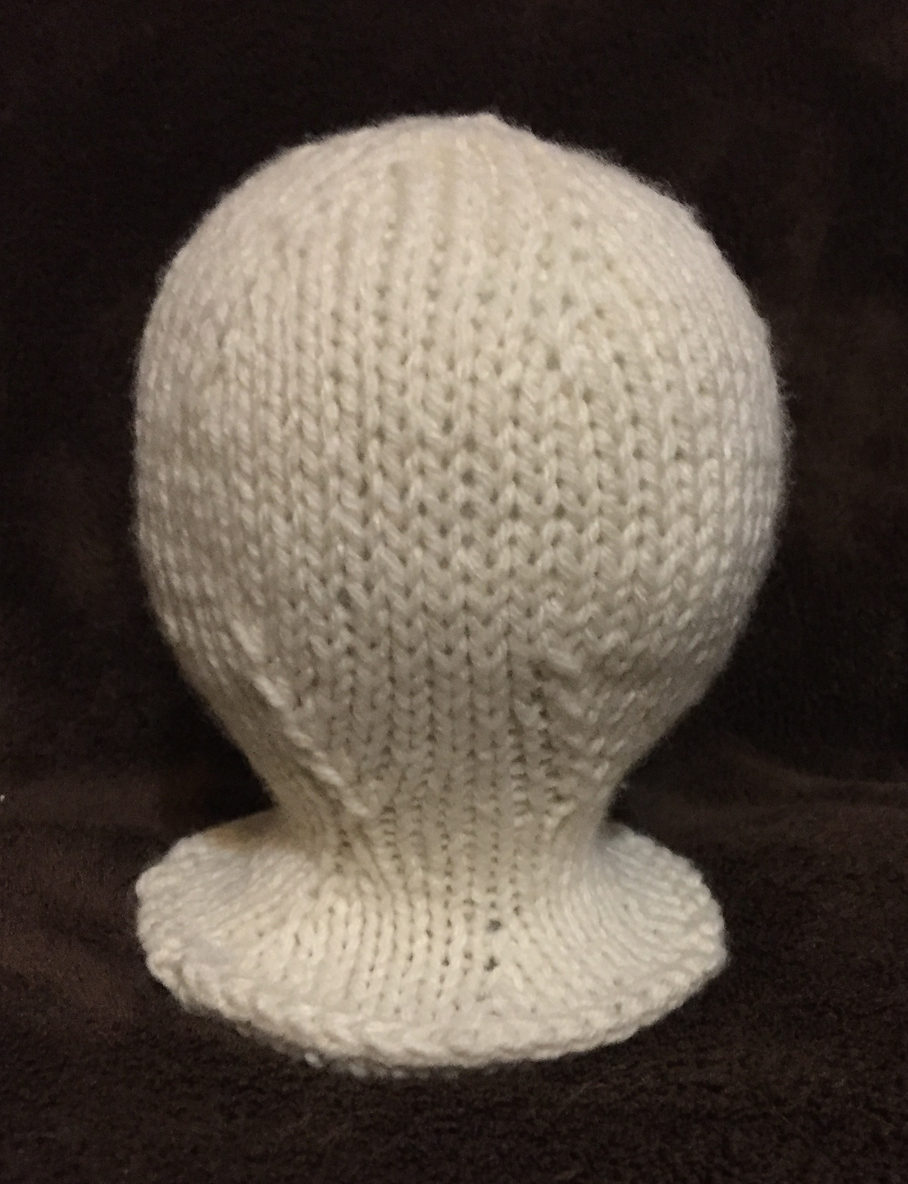 Knitted Mannequin Head
Instead of buying a mannequin for your knit or crochet hats, make your own! Knit it with tighter gauge to keep the stuffing from poking out. It might be interesting to felt it too. Designed by Olga Gubarev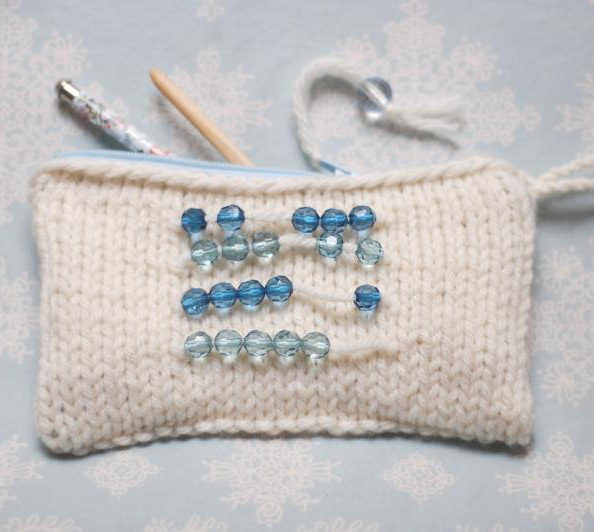 Abacus Pouch
What a clever idea for crafters! You can use beads to count stitches and rows while the pouch will hold knitting notions, cable needles, hooks, and so forth. Designed by Derya Davenport for Laylock.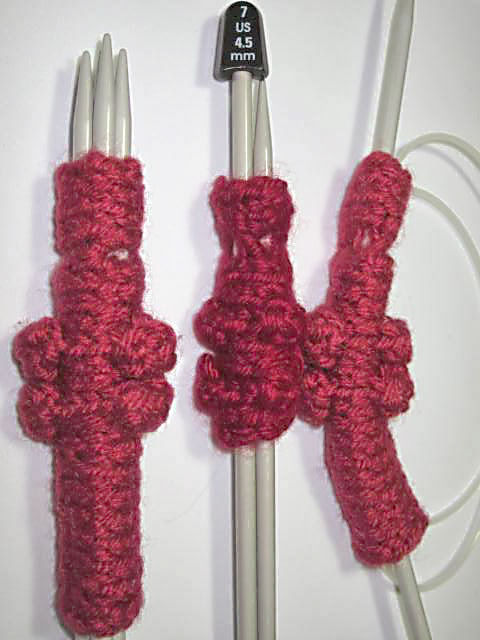 Needle Sleeves with Size Coding
These clever needle organizing sleeves corral your loose dpns and straight needles and indicate the needle size through bobbles, eyelet or beads, or simply through yarn color. Designed by Elizabeth Pierre. Great use for scrap yarn!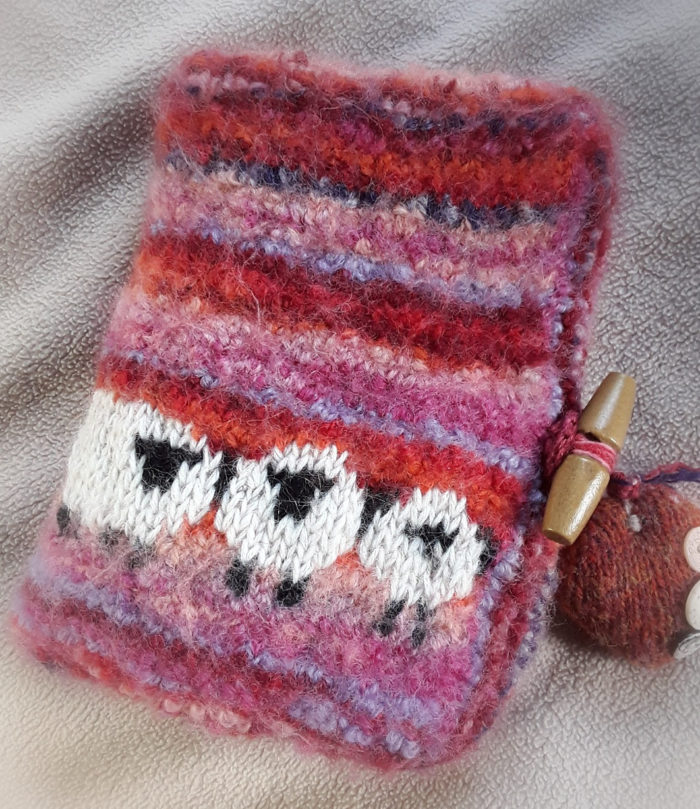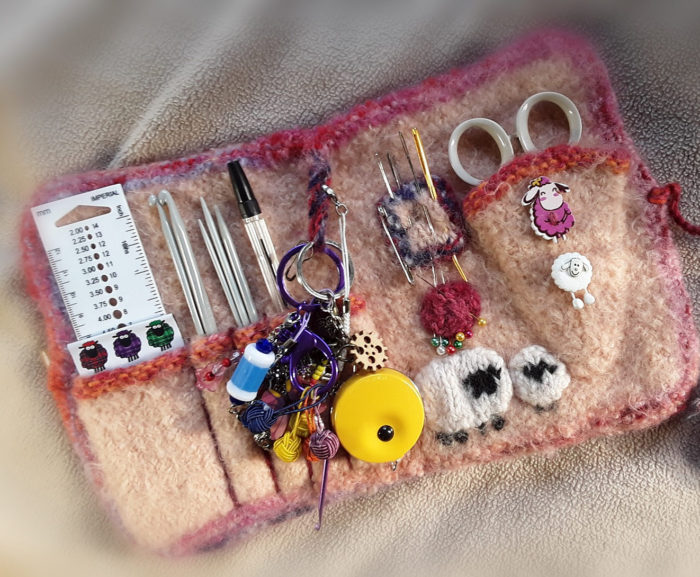 Knitting Organizer
This Knit Organised organizer opens up like a book for easy access to knitting tools. On one side there is a row of deep pockets for crochet hooks, cable needles, pens, etc. On the other side is a place for scissors, darning needles and pins. Tucked in the middle is a loop to hang other accessories such stitch markers, etc. Designed by Claire Sears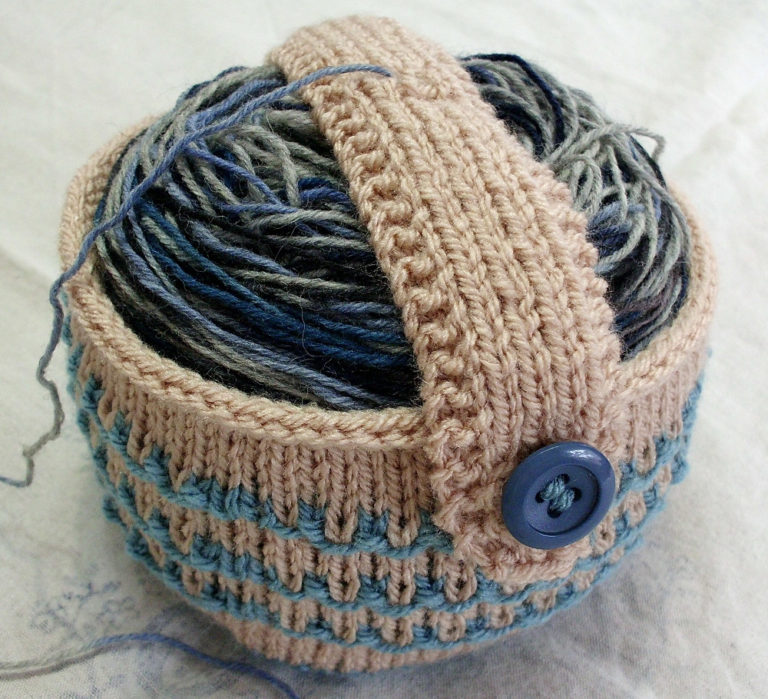 Home for the Cake
This yarn cozy holder was designed to hold yarn cakes and keep them tidy. The center pull goes through a little hole in the strap that holds the cake down. Perfect for on the go projects! Designed by Mareike Meyer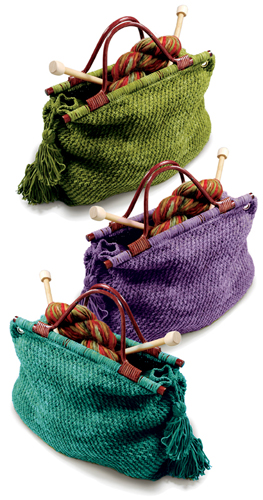 Knitting Tote
Donna Yacino designed this tote for Berroco. Approximately 15" wide x 11" high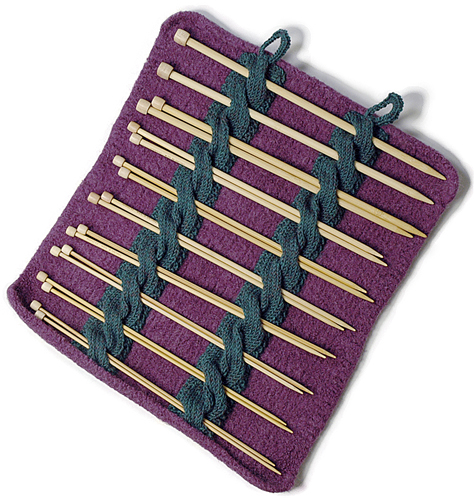 Kable Knitting Needle Holder
Berroco designed this clever felted needle holder with cables to keep your needles organized and snug.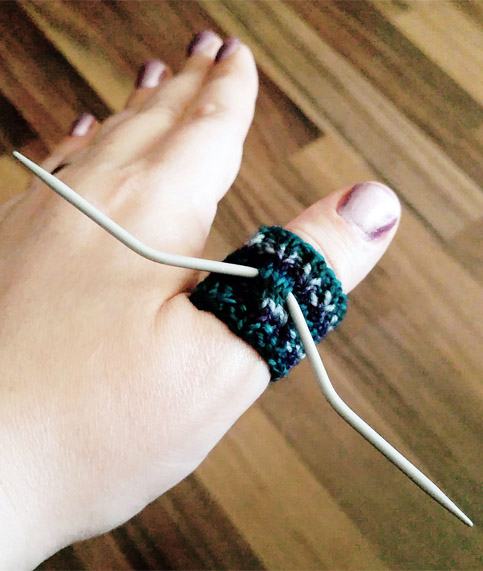 Nadel Parkplatz
Berta Carolinedesigned this simple finger cuff with a cable to park your cable needle or other needles to keep them close at hand – literally – while you're knitting. Pictured project © whitehologram
DPN Needle Roll
Catherine Ward's simple clever design holds double pointed needles in place with strategically placed rows of purl stitches. Be sure to check out the projects for customization ideas. Other knitters have added fabric backing or borders and different closures. On knitter adapted it for circular needles. Pictured project by laars.

Case in Point DPN Pockets
Kristin Briney's holder for double pointed needles uses pockets to organize your dpns. Be sure to check out the projects for customization ideas. Pictured project by digibron.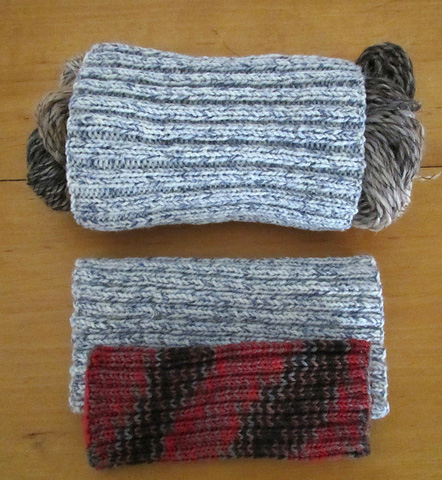 Yarn Ball Cozy
Keep your yarn balls and skeins tidy and prevent unraveling with this yarn sleeve tube by Kerstin Geiger. Great stashbuster!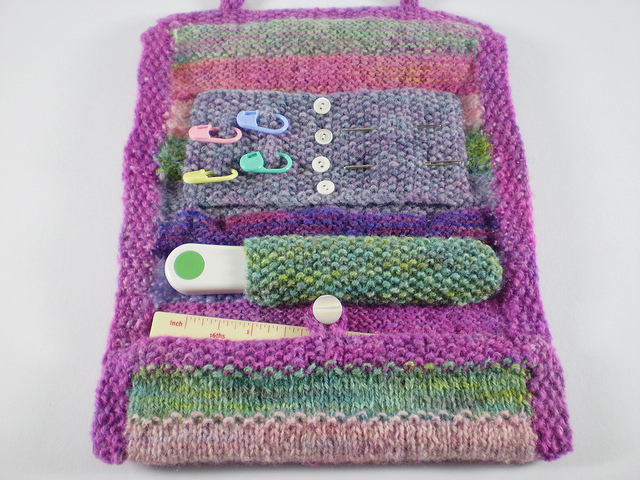 Shetland Stripes Knitting Kit
Get four patterns in one pattern by the amazing Frankie Brown. There's a crochet hook roll, a bank card case, a wallet for a notebook and pen and a knitting kit, all featuring special pockets and fastenings.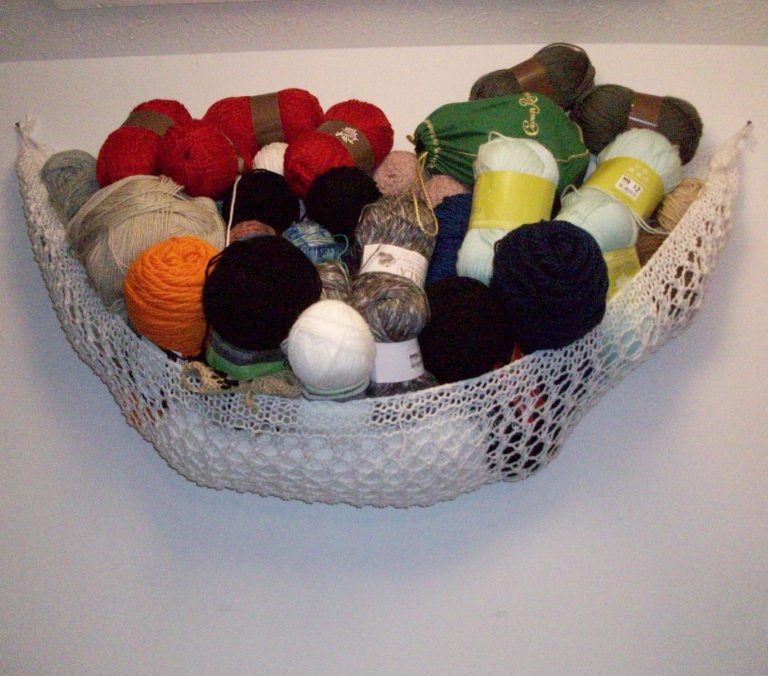 Yarn Hammock
I love this clever storage idea for your stash that you can knit yourself. The original pattern is for a bath toy hammock by Sarah K. Pictured project by vanessabeingmanny who adapted it for a yarn stash.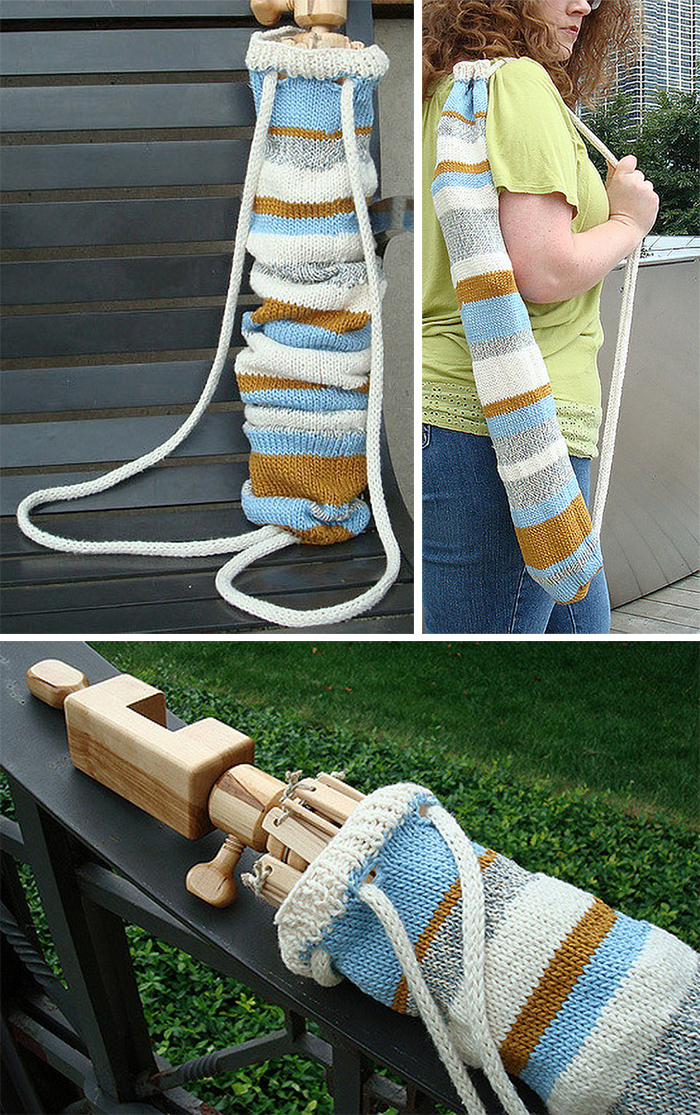 Umbrella Swift Bag
if you have an umbrella swift to wind your yarn (and if you don't, you're missing a great tool!), this Swift Sak is perfect for protecting, storing, and carrying your swift. An i-cord is threaded through holes to create an easy closure and carrying / hanging strap.Designed by Kris Carlson. Great use for scrap yarn!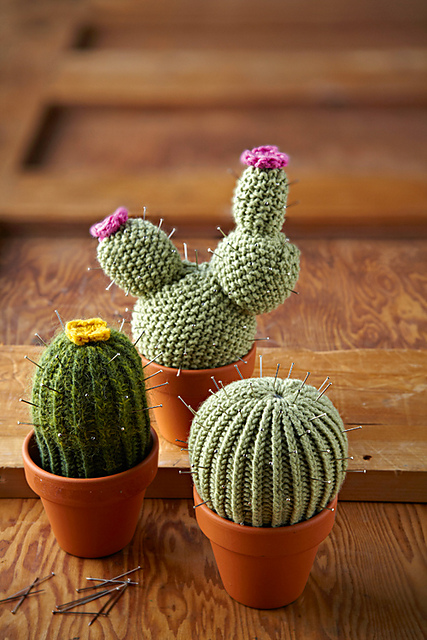 Cactus Pincushions
Lucille Randall designed these three miniature cacti that make perfect pin cushions. Add a few crochet or knit blossoms and put in tiny pots and you have perfect gifts.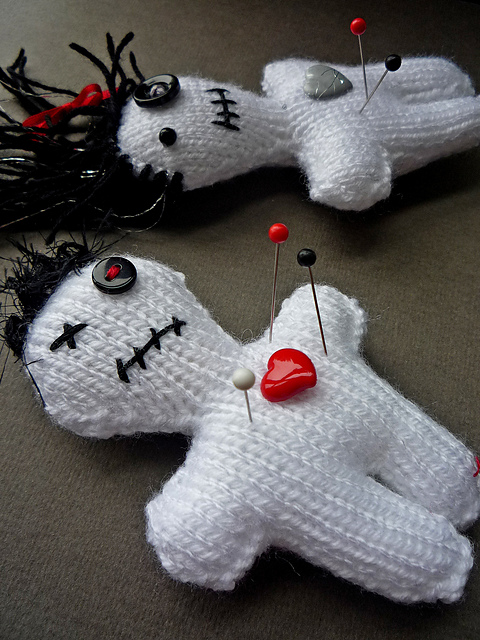 Voodoo Doll Pincushion
Alison Hogg of Crazy Dazy designed this cute pincushion for personal use.
Circularity Circular Needle Organizer
Lorie Klahn's ingenious design for a hanging needle organizer uses vertical cables to hold your needles and organize them by length. Needle sizes are indicated by different color horizontal stripes. There is even a pocket for a needle gauge at the top left and a length gauge in the lower right. Lorie embroidered the numbers but you can also use number charms for labels.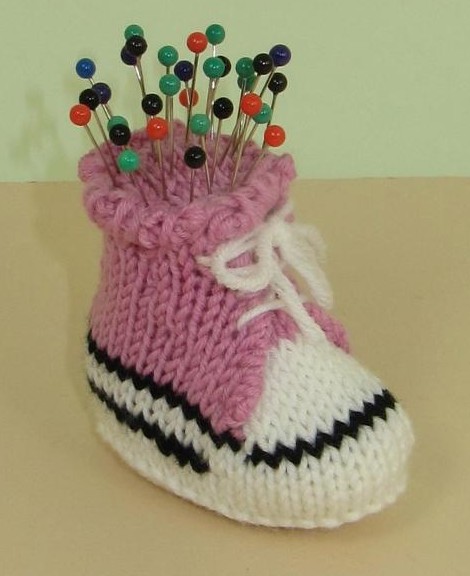 Converse Pincushion
MadMonkeyKnits created this cute crafting design that's a quick gift for crafters — she says it only took her an hour to knit. Worked flat and knit entirely in one piece. Great stash buster!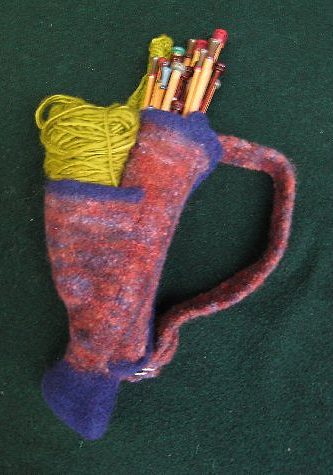 Needle Quiver
Knit while you walk! Pallas Hubler designed this quiver that holds straight knitting needles. Put a ball of yarn in the pocket and the adjustable strap over your shoulder and you can knit while you walk. There is an opening the length of the quiver with a velcro closure for easy access to the needles. When pulled tightly closed, the needles are held snugly in place. Even when the quiver is turned upside down, the needles do not fall out.

Tape Measure Cozy
Frankie Brown's tape measure cover is a quick project that's easy and fun to customize. Be sure to check out the projects at the pattern page for customization ideas. The Penguin cover customization is © Adzriel. The Mouse cover customization is © Astegal

Fiber Helper / Wrist Distaff
Crystal Calhoun designed this knitted tool for spinners. Although, looking at it, I wonder if it might also be a handy portable way to carry yarn if you wrapped your ball around it.

Slip Stitch Knitting Bag
Sabine Wosmann's colorwork design looks like intarsia, but uses only 1 color per row!

Mrs. Carter's Needleholders
Penelope Stitchworthy provides instructions for felted and non-felted versions. Great stash buster!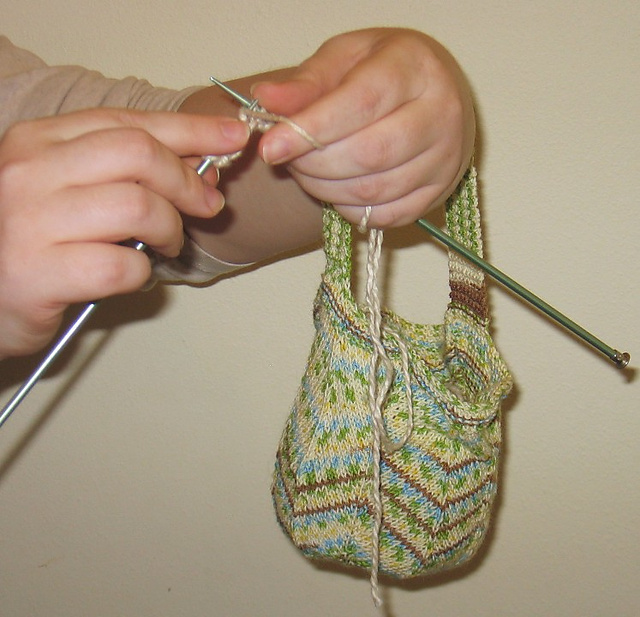 Jaywalker Wrist Yarn Holder
Tandy Imhoff designed this bag to keep your yarn tidy and clean when you're on the go. It also features a reinforced hole in the bottom for convenient double stranding.

Needle Tarte
This pattern is in German but I love this idea. Looking at the pattern and Google translate, it looks pretty simple. Knit a multi-colored strip. Then fold in half horizontally and the roll up to form the spiral and seam.
Patterns for Purchase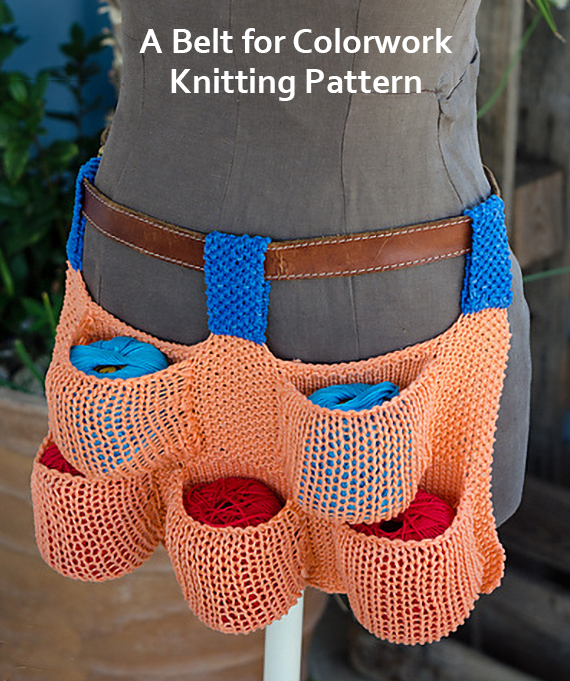 A Belt for Colorwork
Ingenious knit belt with pockets to help keep yarn skeins separate when you are knitting intarsia or other colorwork. Knit flat utilising only basic skills. It features 5 roomy pockets (though you can easily add more), 3 belt straps and a waist strap (not shown in sample pictures). Designed by Asimina Saranti. DK weight yarn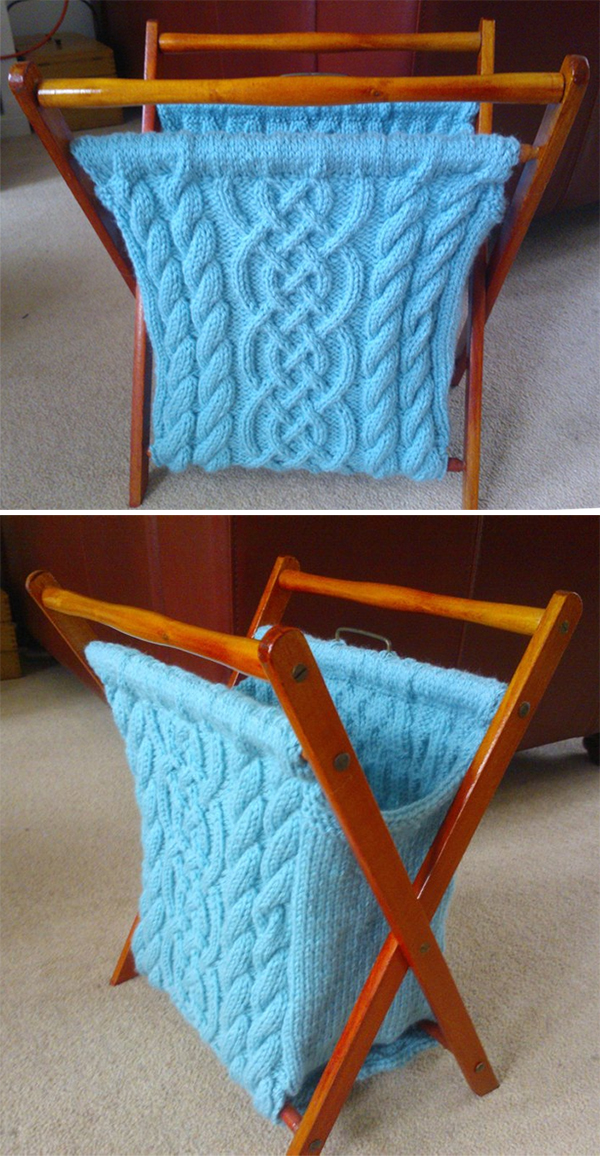 Knitted Folding Craft/knitting Storage Bag/basket
Full instructions are included to knit the cover for a folding frame and to assemble the cover to create a lovely craft storage bag. You will also need a frame for the craft bag, measuring 28cm x 28cm, with an opening gusset of 22cm x 15cm.. Designed by Sarah Dennis / Murray. Aran weight yarn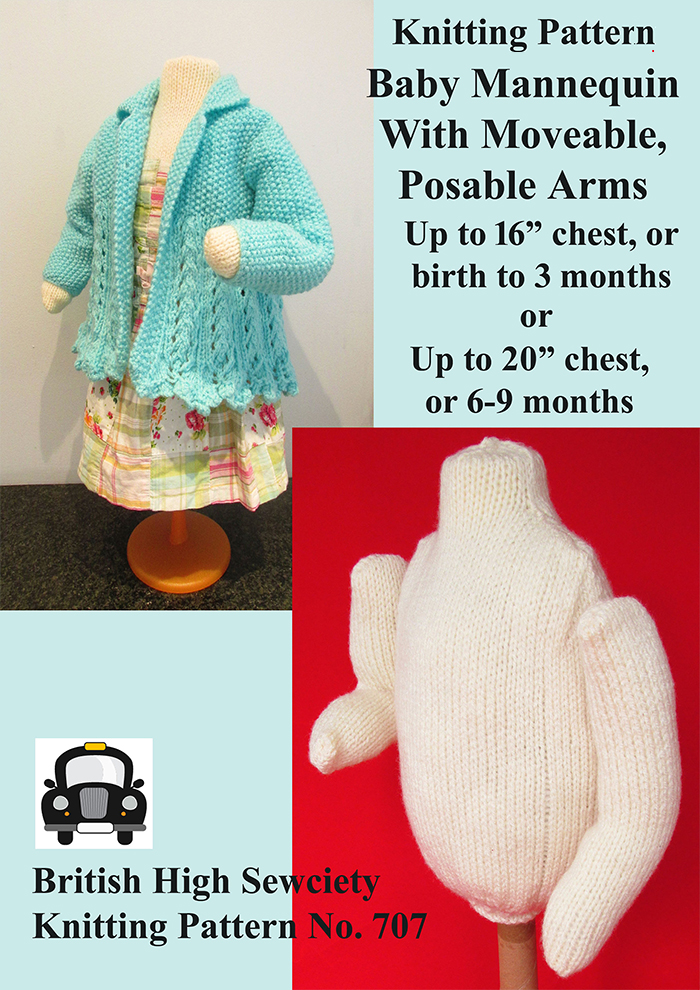 Baby Mannequin
Display your handmade baby clothes on a diy knitted mannequin with moveable, posable arms made with common materials. It's made very inexpensively from items you'll already have to hand – yarn, a cardboard tube, a yoghurt pot, pipe-cleaners and toy stuffing. 2 sizes in different patterns: Up to 16″ chest or birth to 3 months or up to 20" chest, or 6 to 9 months. Designed by British High Sewciety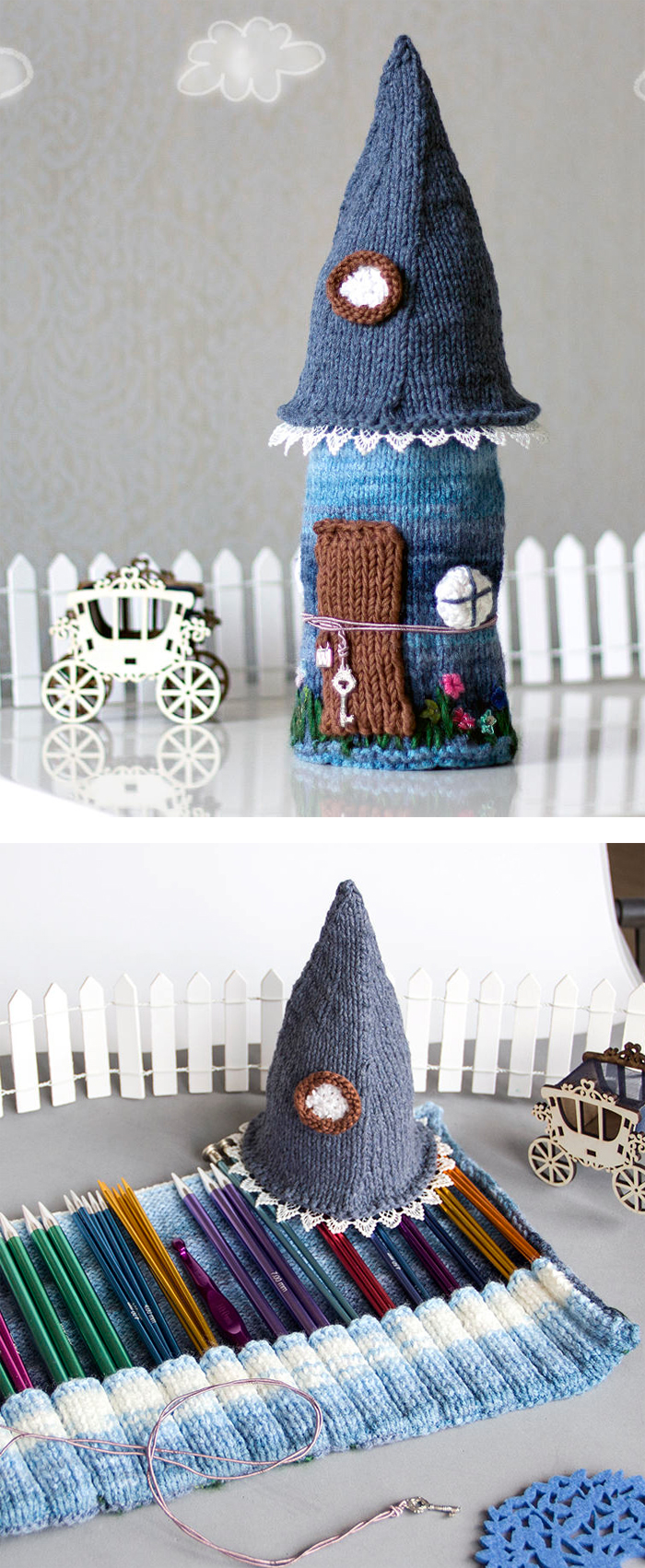 Fairy Tale House Case
This roll up case is perfect for knitting needles or color pencils and looks like an enchanted cottage. House height is about 31 cm /12.2 inches/.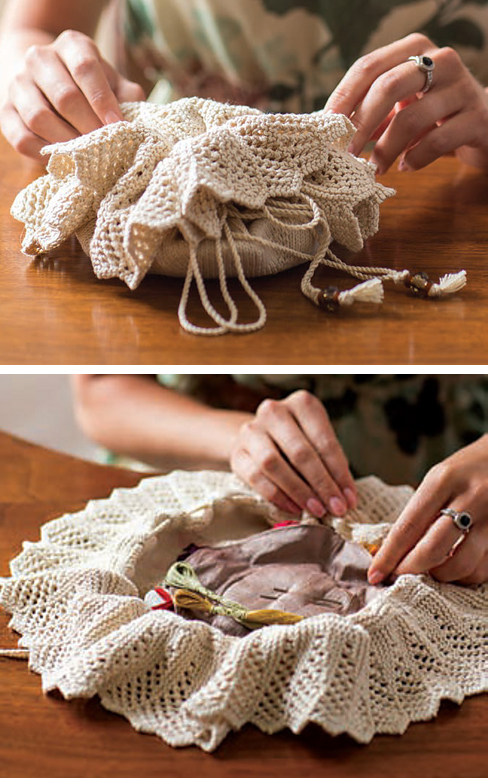 Upstairs Needlecraft Bag
Knit the perfect "keeper" of you other crafts tools (great for needlework and sewing essentials). With well-structured base and decorative edge you won't misplace this pretty bag. Finished Size: About 7 inches (18 cm) in diameter, closed. Originally published in Unofficial Downton Abbey Knits 2014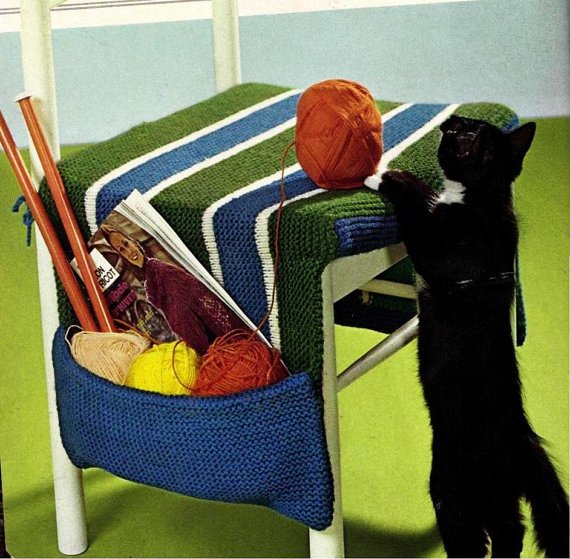 Striped Cushion With Craft Storage
What a brilliant idea! A chair cushion with pockets for your knitting or other crafting. Take one wherever you go!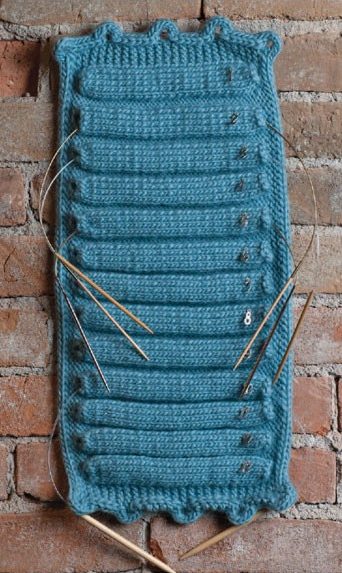 Circular Needle Holder
Kristin Omdahl designed this ingenious organizer for your circular needles that uses simple stitches, bulky yarn, a handy hanging loop and number charms to label the sizes. 8″ long and 9″ wide. Originally published in Interweave Knits Weekend 2011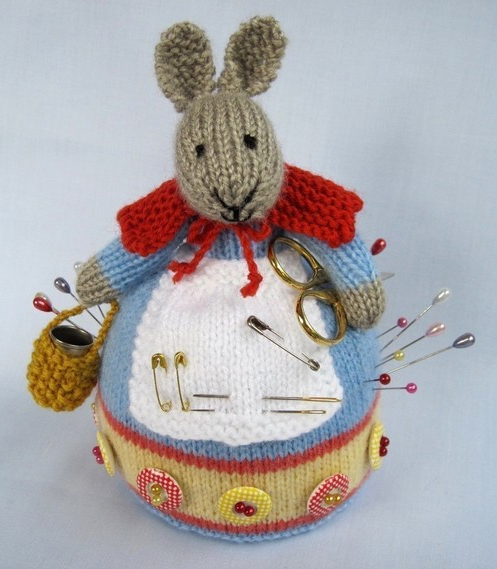 Rowena Rabbit Pincushion
Cute bunny pincushion sewing companion. She will hold your needles and pins, secure scissors under her arm, and keep your thimble inside her tiny basket. SIZE: Height is 18 cm (7 in) to tips of ears. Base has 10 cm (4 in) diameter.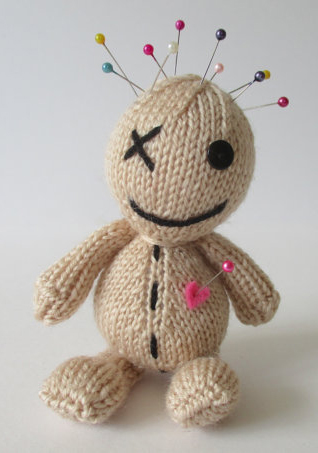 Voodoo Doll Pincushion
The finished doll is approximately 18cm tall (12cm when sitting).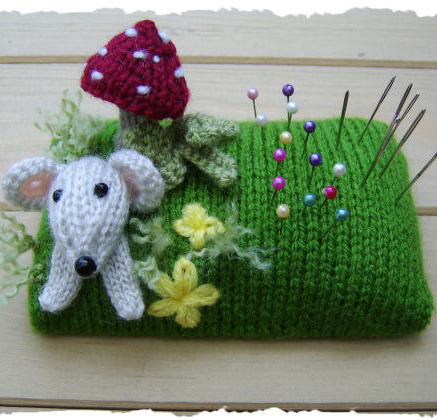 Mousey Pin Cushion
Phoeny designed this pin cushion 5 inches wide by 3 inches deep.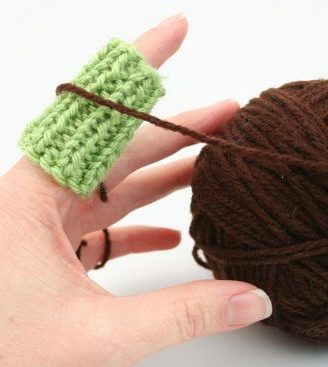 Finger Guard
Knit longer in comfort! This ingenious ribbed guard fits comfortably on your finger to protect from yarn rubbing when you're knitting for long hours.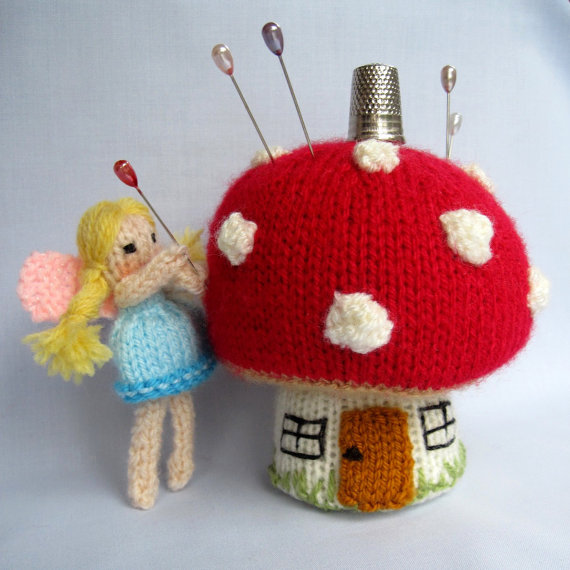 Toadstool Pincushion and Fairy
SIZE – Toadstool pincushion 10cm (4in). Fairy 9cm (3½ in). Can be used for pins and needles or as a tiny toy.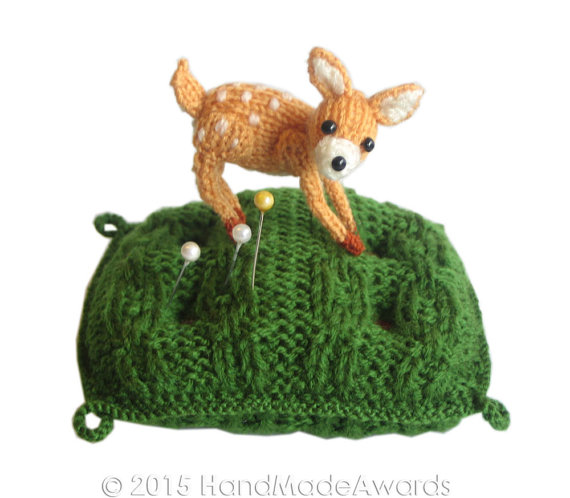 Bambi Pin Cushion
Bambi is 1.96 inches – 5 cm from the head to the end of the tail. Forest Green Pincushion Pillow 3.4 inches- 8 cm. (length) x 2.75 inches-7cm. (width). Would also make a great teeny toy!