<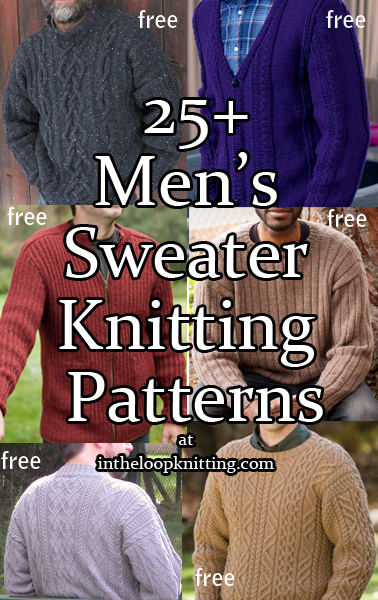 Cardigans, pullovers, vests, and jackets suitable for the men in your life. Most patterns are free.
To get the knitting patterns, scroll down the page to the individual pattern you want and click on the link to that pattern.
These patterns are not my designs but links to other designers who have generously shared their patterns. If you have questions about how to knit a specific pattern, please contact the designer directly.
All links on this site are for informational purposes, but please note that some links are to affiliate sellers that pay me a small commission on purchases.
Free Patterns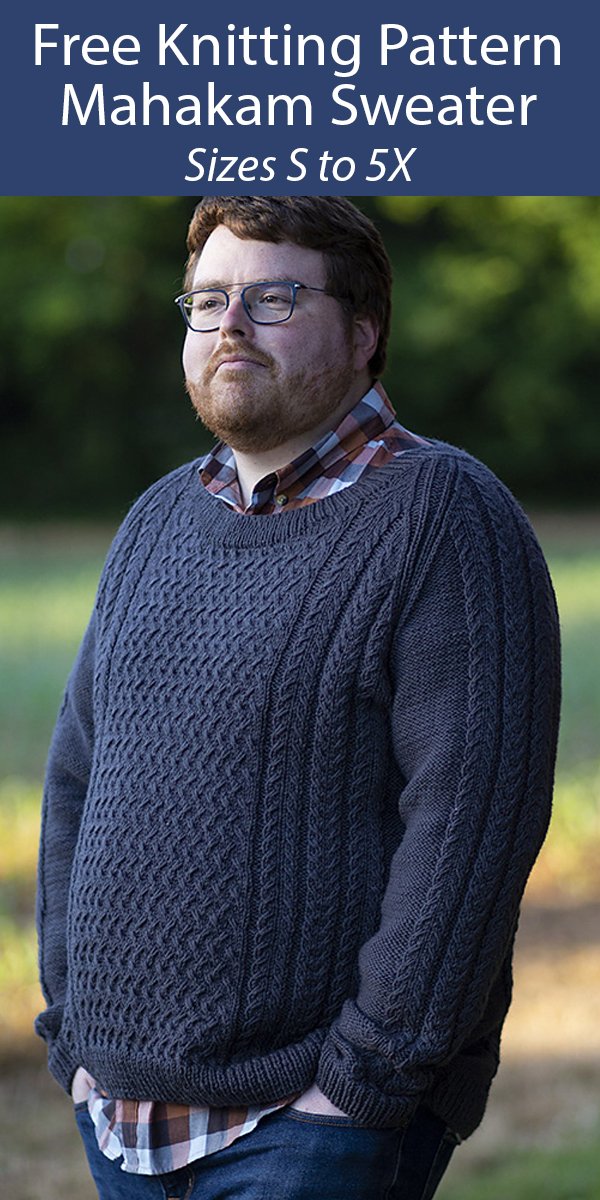 Mahakam Sweater
Cabled pullover that can be worn by men or women features slip-stitch cables throughout the body and sleeves. Ribbing highlights the lines of the raglan shaping, and the neck is wide enough to wear over shirts. Sizes S[M, L, 1X, 2X, 3X, 4X, 5X]. Worsted weight yarn. Designed by Rachel Brockman for Knitty.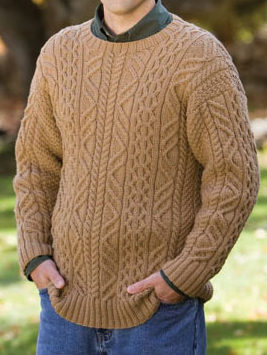 Aram Pullover
Classic men's aran cable pullover with long sleeves was designed by the amazing Norah Gaughan for Berroco. To Fit Chest Size: 34(38-42-46-50)".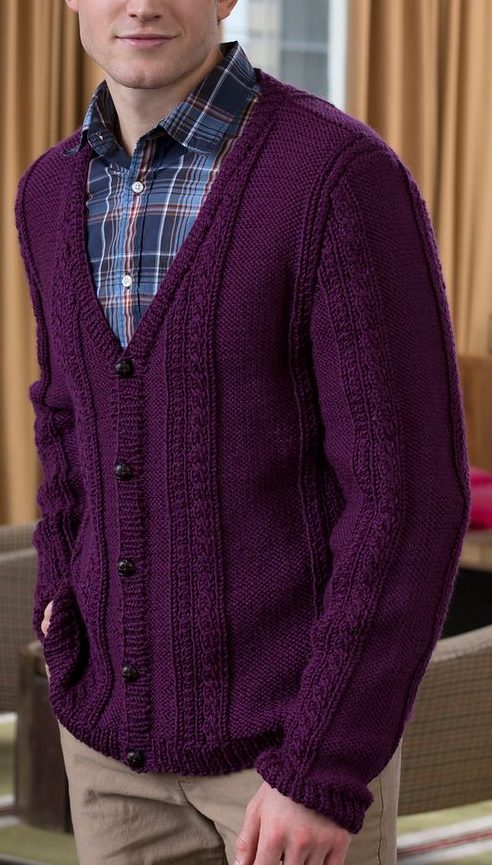 Men's V-Neck Cable Cardigan
Julie Farmer designed this classic long-sleeved cardigan sweater for the men in your life featuring cables and in sizes from Small to 2X.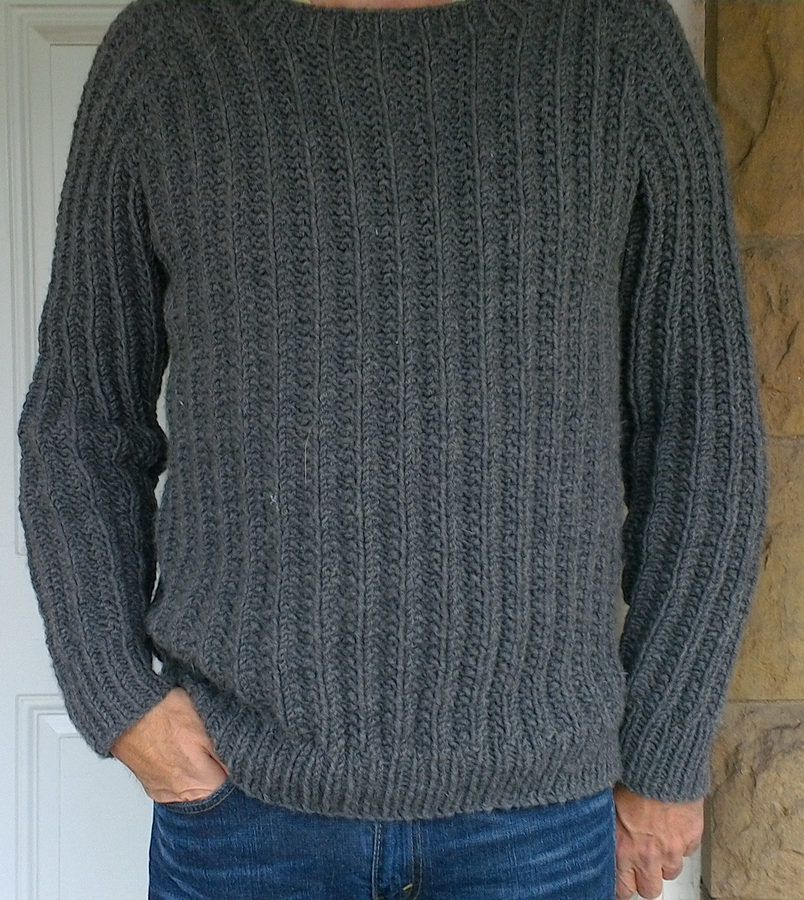 Outdoor Sweater
Crew neck long-sleeved pullover in a one row repeat textured rib. Kids sizes 6 to 14, Men's sizes 36 to 44. Rated easy by Red Heart Design Team. Pictured project by Pinkdarb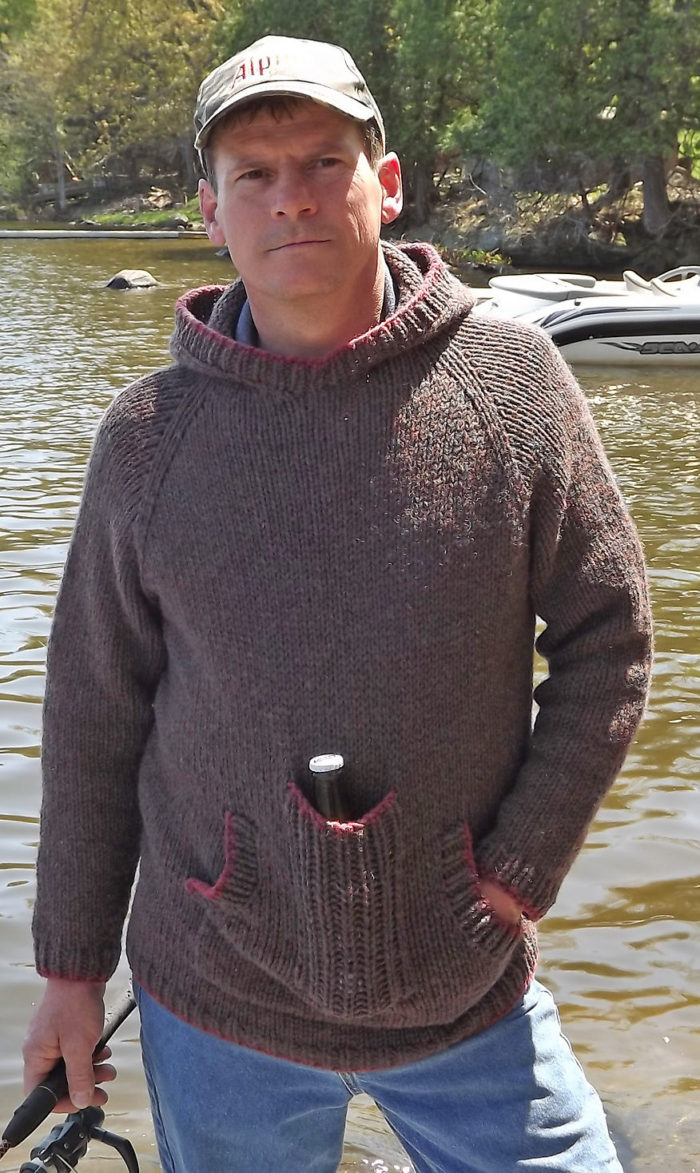 Bottle Rocket
This pullover hoodie features an extra pocket in front perfect for carrying a bottle handsfree when camping, hiking, fishing, or just relaxing. Quick knit in bulky yarn. Men's sizes S(M, L, X-L, 2X-L). Designed by Michelle Porter for Knitty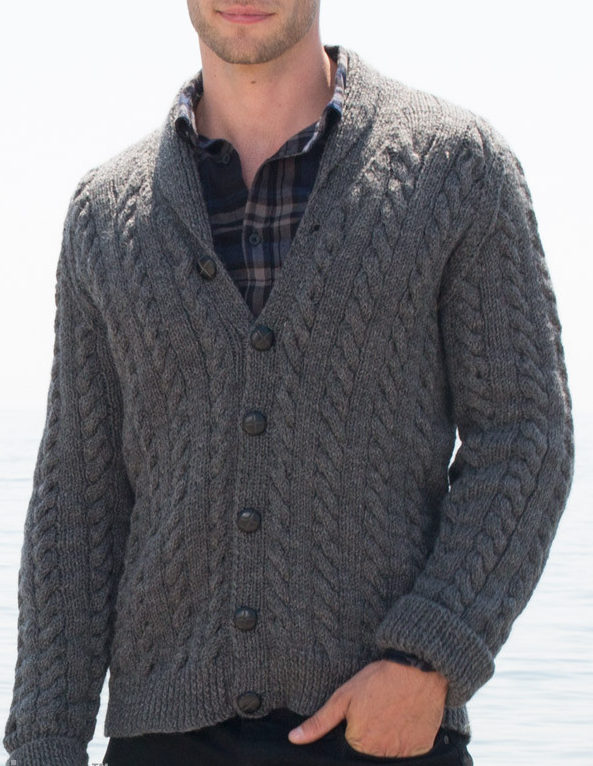 Hey Handsome Cardigan
Long-sleeved sweater with mirrored cables and shawl collar. Men's sizes XS to 5XL. Designed by Yarnspirations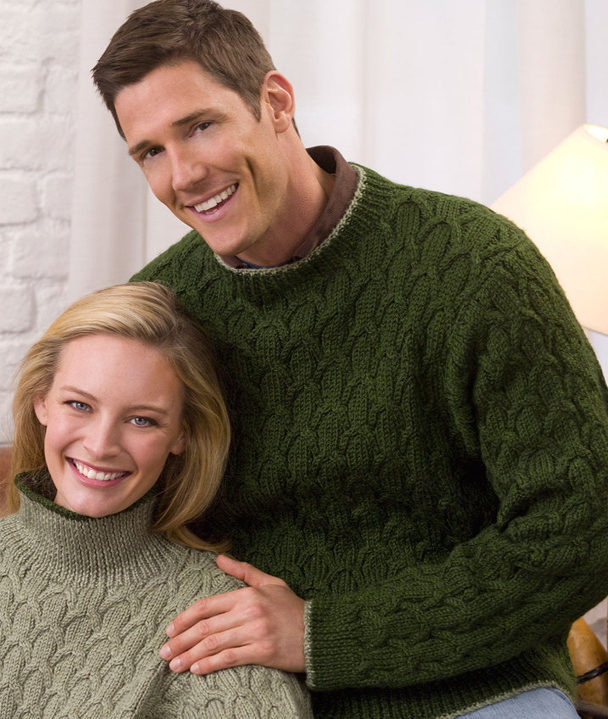 His Cabled Pullover
Cozy long sleeved sweater with all-over cable pattern. Sizes Small, Medium, Large, Extra-Large but runs large. Designed by Melissa Leapman for Red Heart. Matching pattern for women available.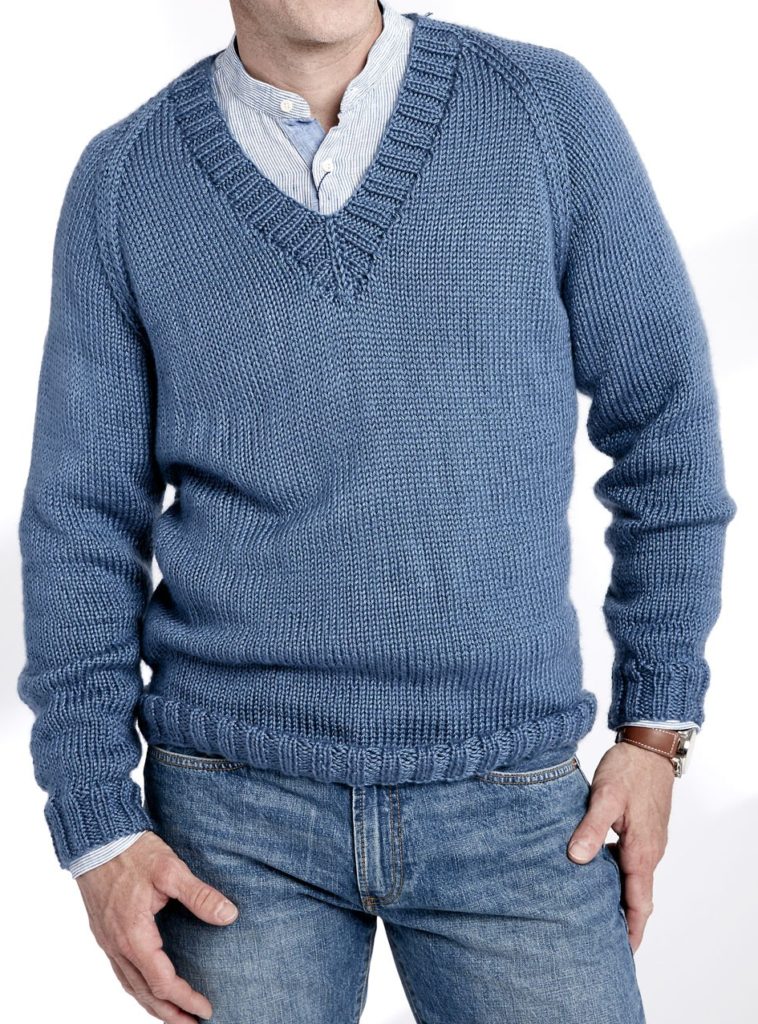 V Neck Pullover
Long-sleeved sweater is rated easy by the designer Yarnspirations. Sizes from XS to 5XL.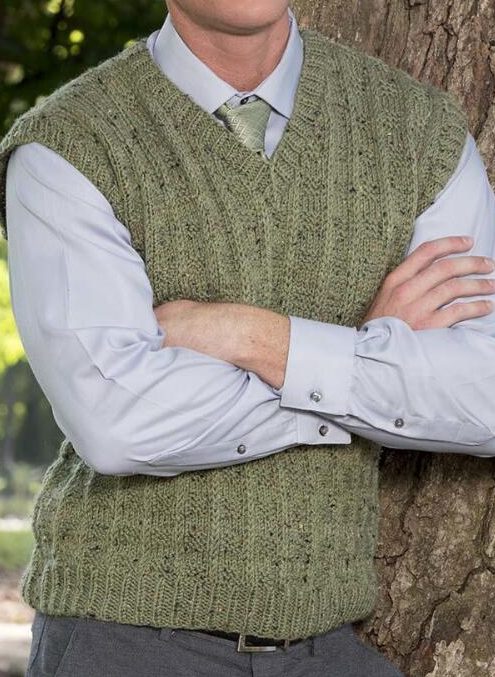 Crawley Vest
V-necked pullover man's vest inspired by Downton Abbey. Sizes Small (Medium, Large, X-Large, XX-Large). Designed by Premier Yarns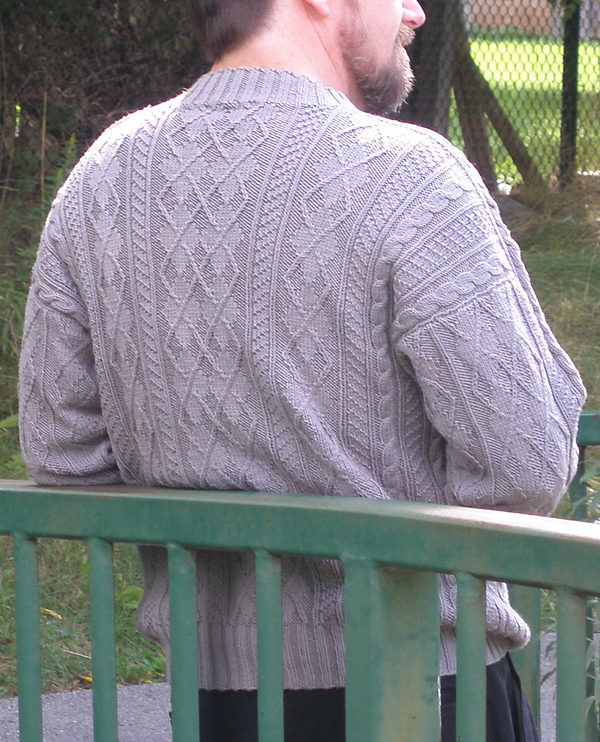 Arguyle Pullover Sweater
Long-sleeved pullover with stitches inspired by fishermen's gansey sweaters. Sizes S[M, L, 1X, 2X]. Designed by Kathleen Sperling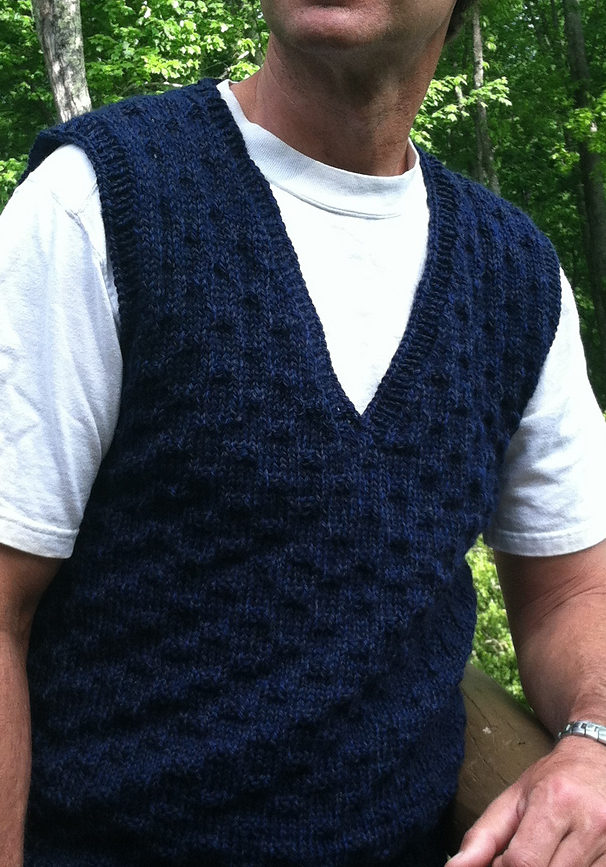 Par Vest
Classic V-necked textured vest. Sizes 37-52″ chest. Pictured project by YaYaHenry
More Free Patterns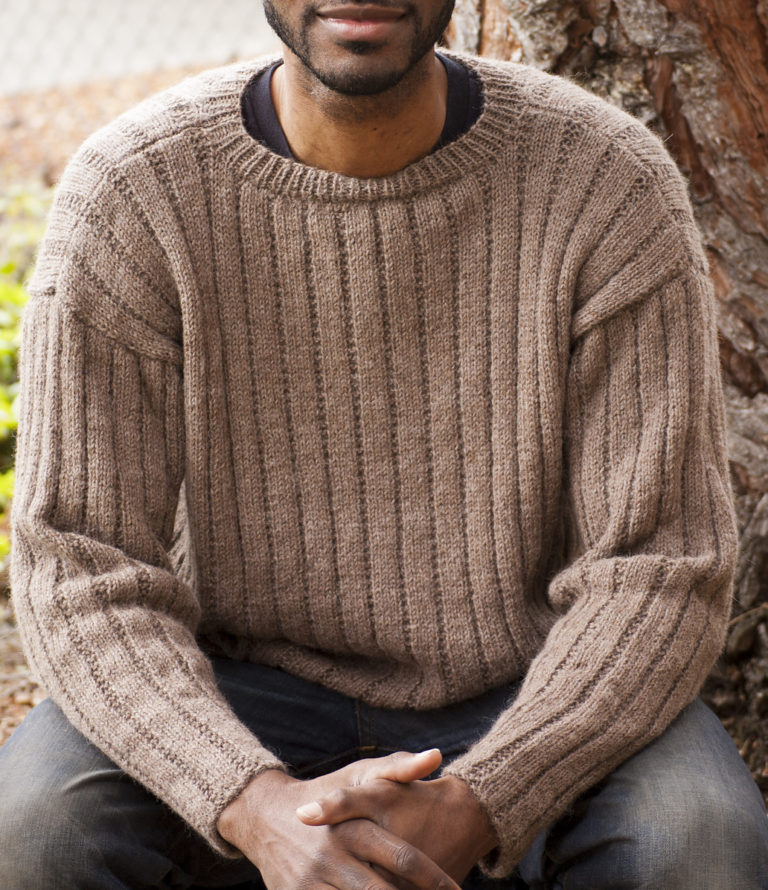 Garter Rib for Him
Long-sleeved pullover sweater knit with a two-row repeat in worsted weight yarn. Sizes S, M, L, XL, 2XL. Designed by Melissa Leapman for Cascade Yarns.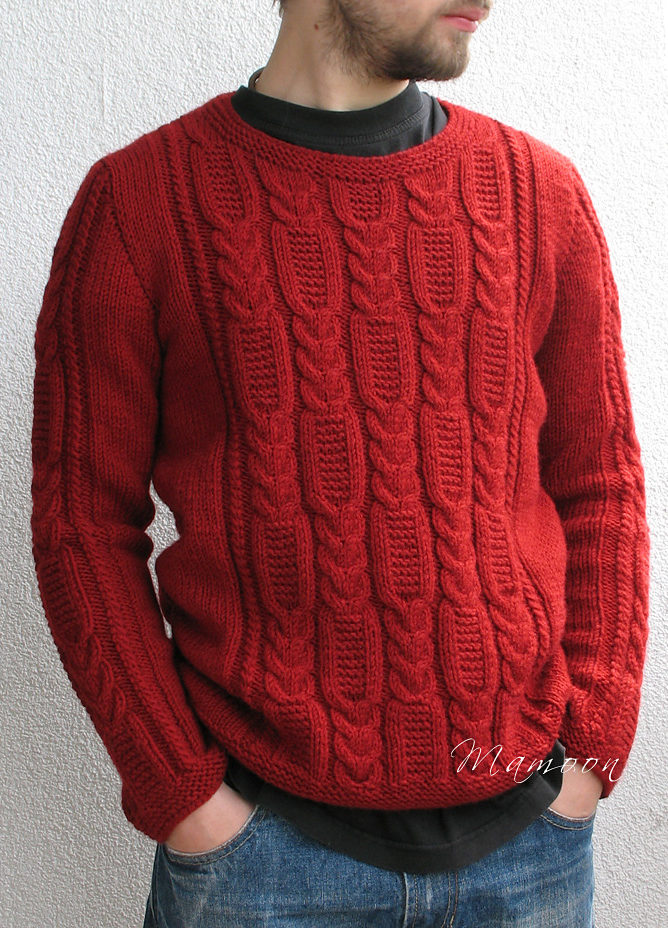 Tire Trace Sweater
This long-sleeved men's pullover features a wide cable panel on the front and on the sleeves. Designed by Agata Smektala. Sizes M/L 38(42)"; 98(108)cm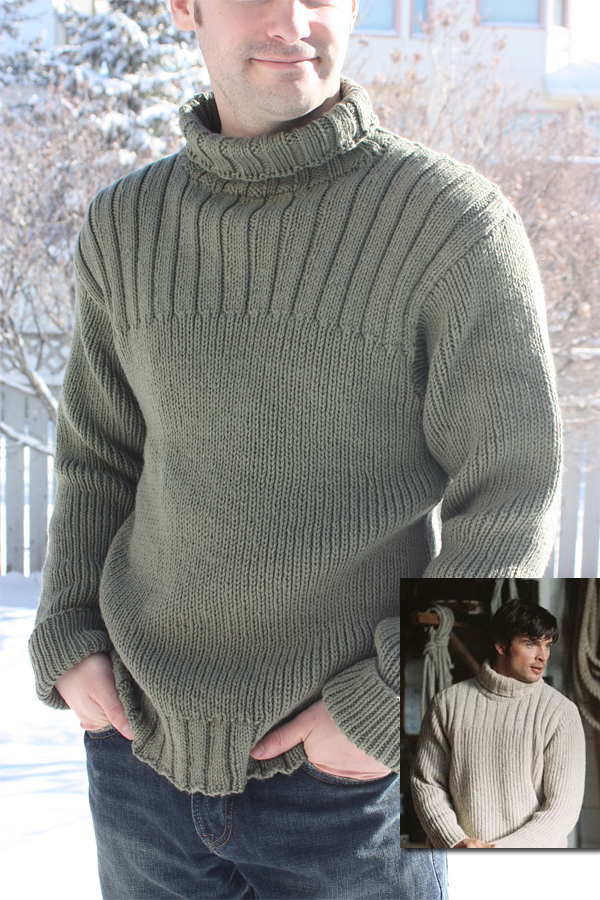 The Fog Sweater
Tiennie modeled this sweater after the one worn by the Nick Castle character played by Tom Welling in The Fog movie. Pictured project by FiveSticks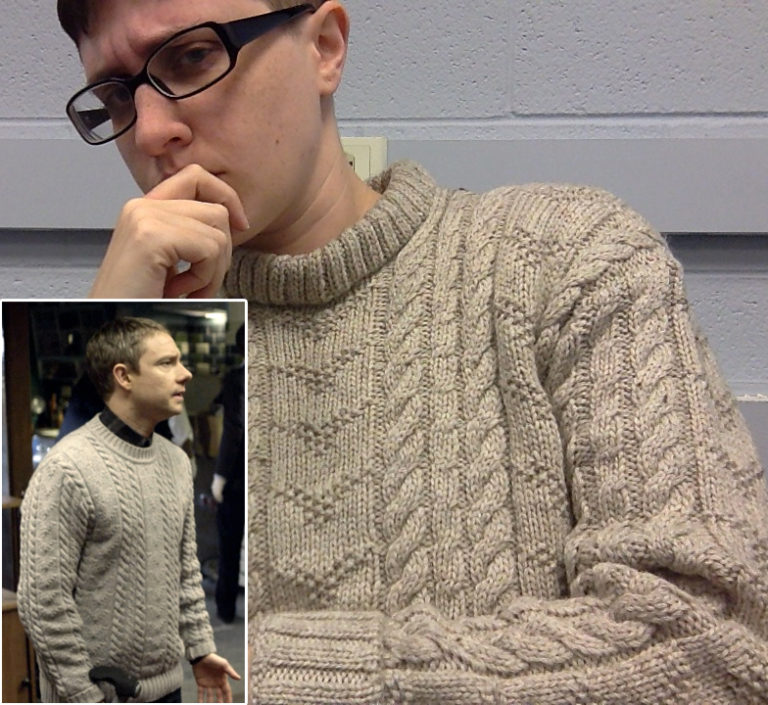 Sherlock – Dr. Watson's Cabled Crew Neck Jumper
Amy Noelle Walker (MeldeBaggins on Ravelry) feplicates the cable sweater worn by John Watson in the Sherlock series. The pictured project is by adamsfrood42 who has additional notes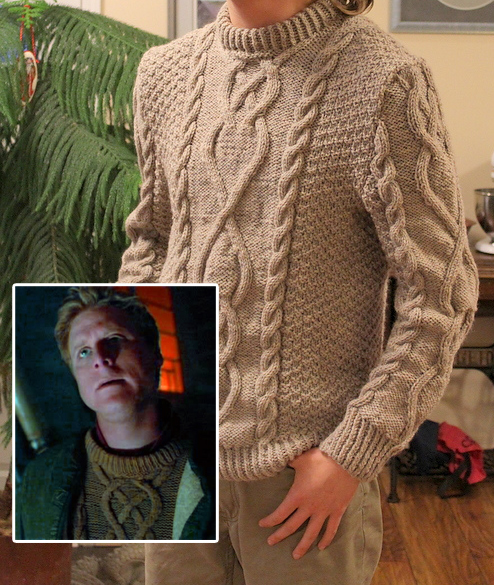 Firefly – Wash's Sweater
Don Yarman recreated the cabled pullover sweater worn by the character Wash in two Firefly episodes — "Out of Gas" and "The Message." Pictured project by dragonxser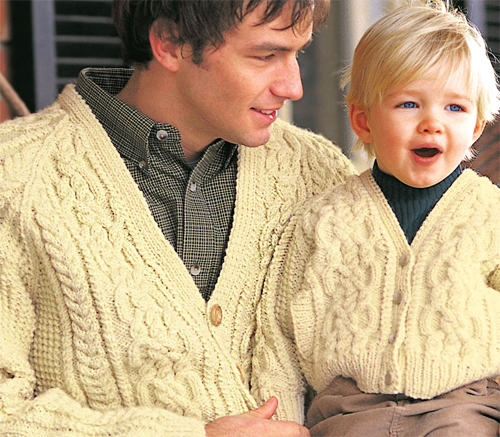 Dad and Son Cardigan
Aran cardigan with a matching pattern for Dad's little boy or girl. Adult Sizes from S to XL. Children Sizes 2-6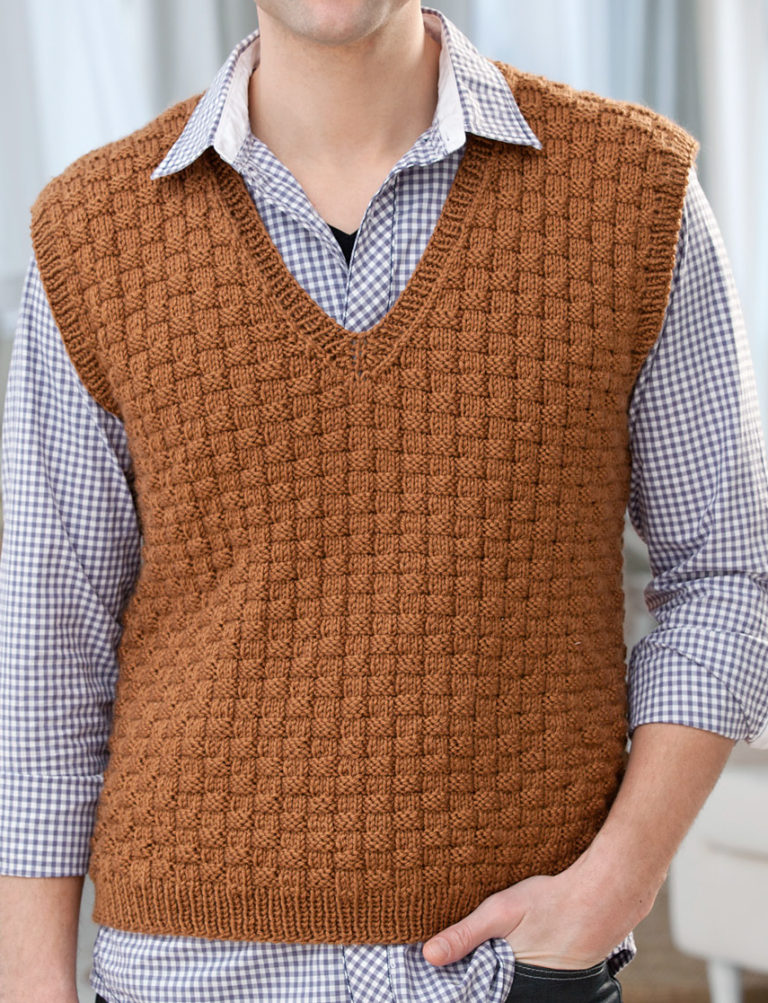 Men's Basketweave Vest
Textured vest in S, M, L, XL, XXL. Designed by Jodi Lewanda.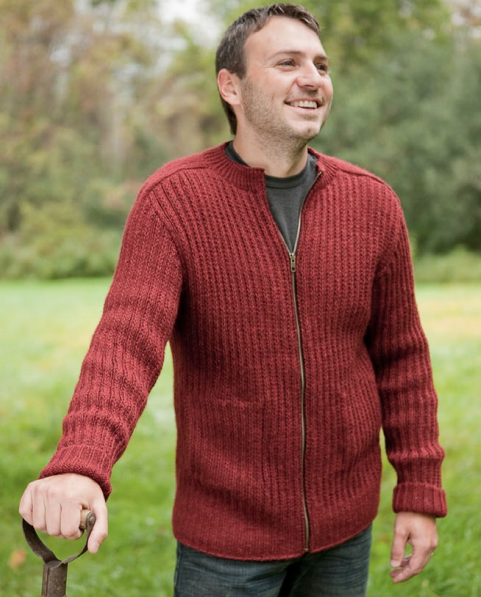 Lakenvelder Cardigan
This zippered front man's cardigan from Berroco features slipped stitch ribbing, saddle shoulder, pockets and a twisted rib collar. Designed by Cirilia Rose. Sizes Chest (closed) – 36(40-44-48-52)"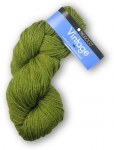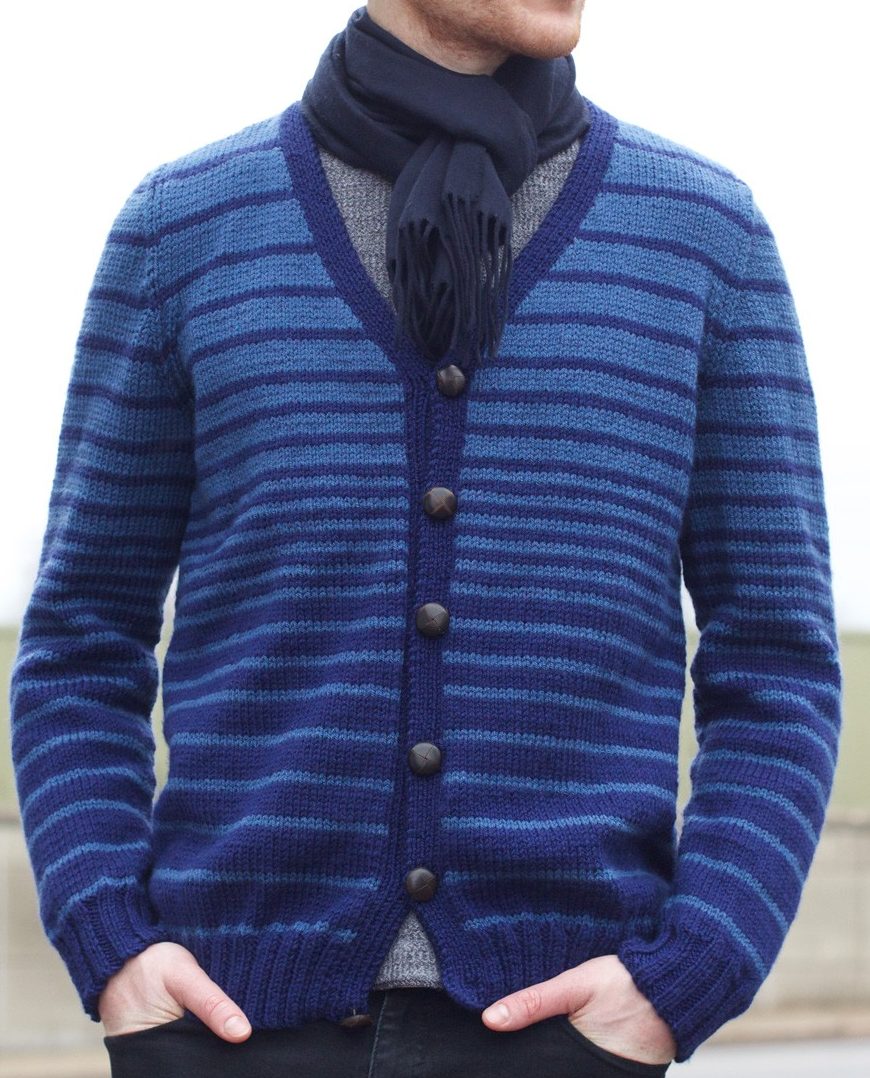 Men's Transitions Cardigan
Yarnspirations' design features a button front. Sizes from M through 5XL.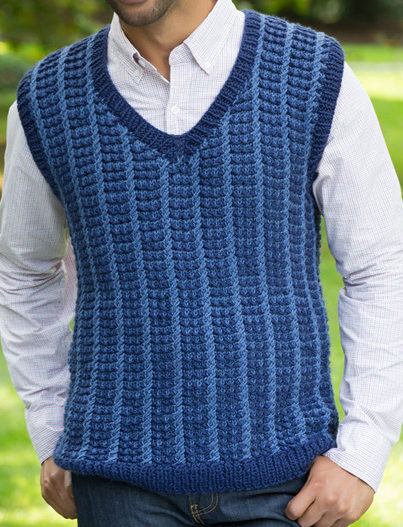 Mosaic Vest
The classic v-neck styling is given an interesting twist with the mosaic stitch pattern. Sizes small-2X. Designed by Brenda Bourg for Red Heart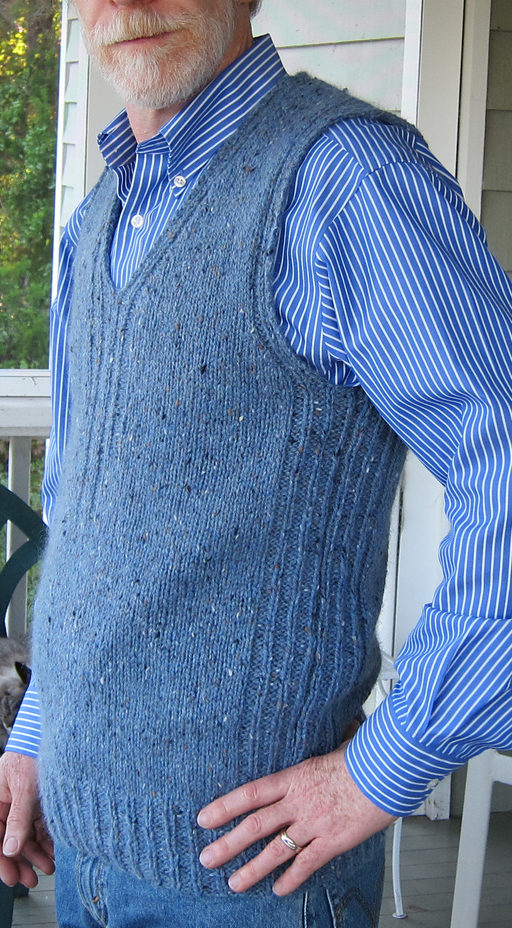 Textured Vest
Pullover vest with a v-neck and rib stitch details on the sides and neckline. No picking up stitches! Designed by Erika Knight to fit chest 36, 38, 40, 42, 44 inches. Pictured projects by kast and redsocksrules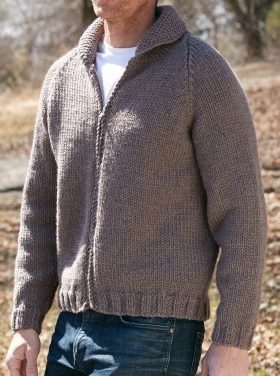 Dad's Zippered Jacket
Available in sizes XS/S – 4/5 XL from Yarnspirations.

Sticky Note
Meridith Shepherd designed this pullover sweater featuring garter stitch bordered squares. It is knit flat and seamed. Sizes S[M, L, 1X, 2X]
Patterns for Purchase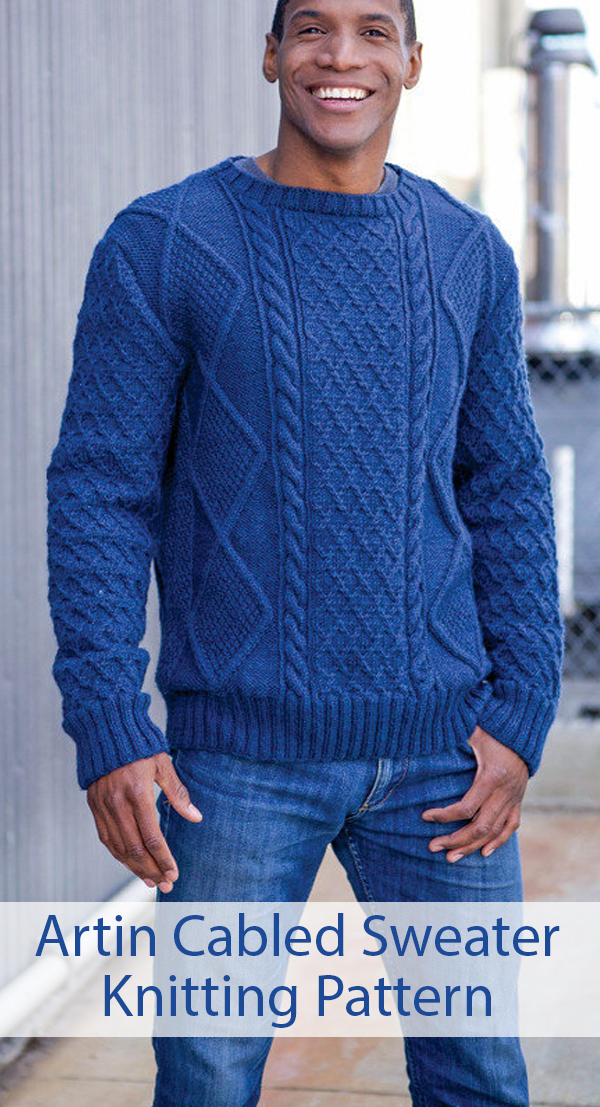 Artin Cabled Men's Pullover
Long-sleeved sweater with a variety of cables including lattice, braid, diamonds, and more. Sizes Men's Small, Medium, Large, 1X, 2X, 3X. Worsted weight yarn. Designed by Berroco Design Team.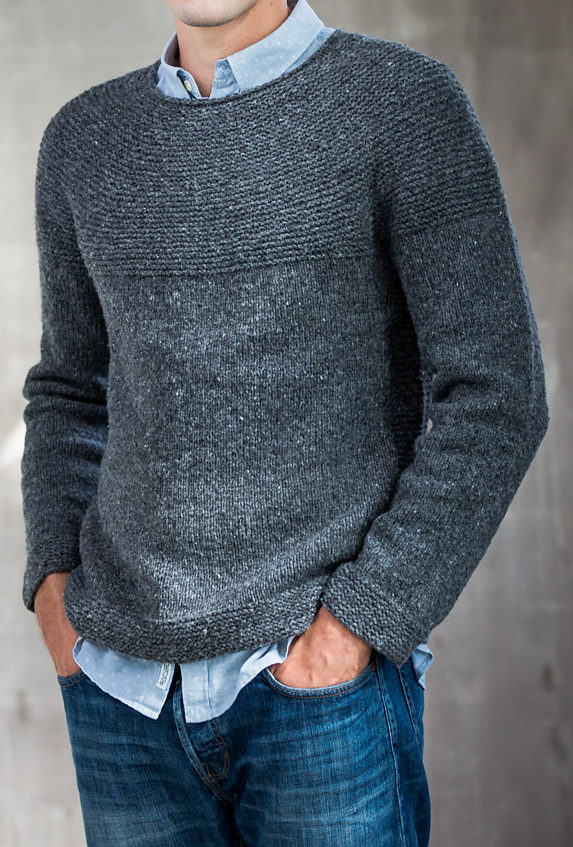 Cobblestone Pullover
Long-sleeved men's sweater designed by Jared Flood features a rounded garter yoke and garter panels flanking the body on each side. Sizes 39½ (43½, 47½, 51½, 55¾)" chest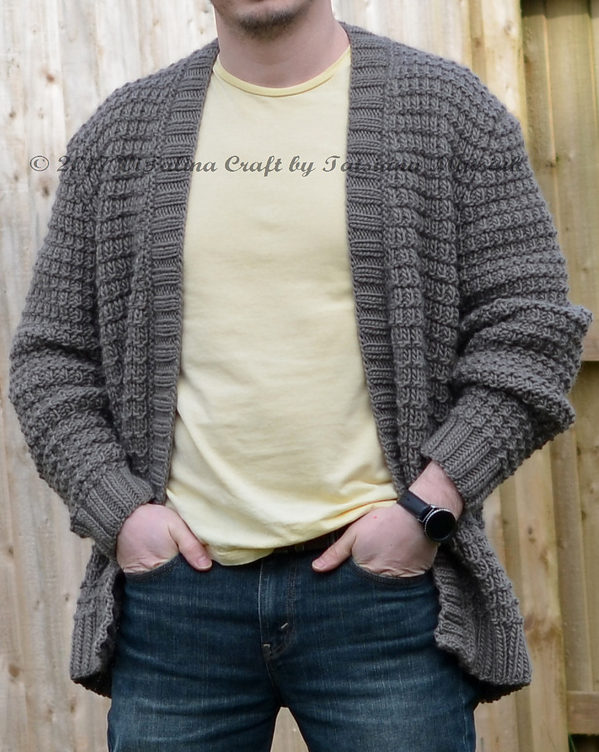 Gear Cardigan
This long-sleeved open cardigan is suitable for advanced beginners and a quick knit in bulky yarn. 5 sizes from S to XXL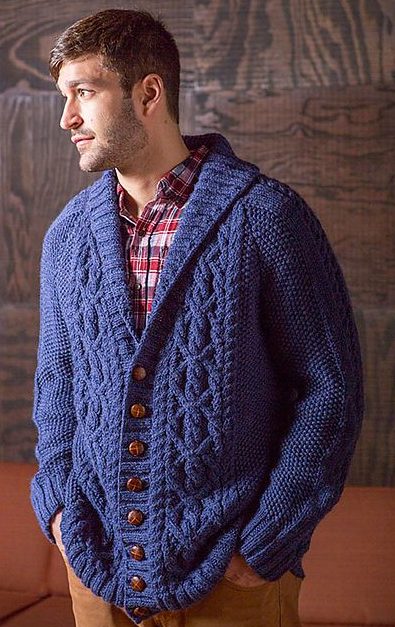 Fitzgerald Cardigan
Aran-style cable cardigan with a shawl collar and raglan shoulders. By Amy Christoffers. Sizes Chest (closed) 36(40-44-48-52-56-60)". One of the 12 patterns in the Berroco Vintage Men pattern booklet.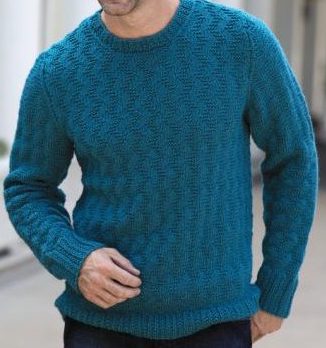 His Zigzag Pullover
This long-sleeved pullover sweater is one of the 29 patterns and 72 stitch patterns included in the book Easy Textured Knits available as digital download and paperback from Leisure Arts.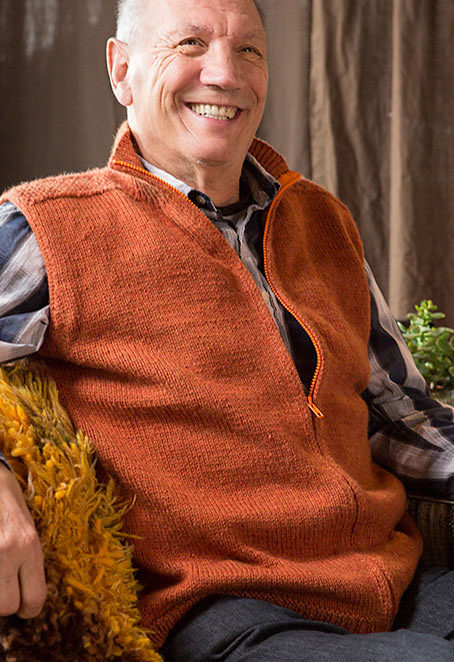 Peary Zipped Front Vest
Stockinette vest with detail shoulders inspired by Guernsey fishermen's sweaters. Amy Christoffers for Berroco. Sizes Chest (closed) – 34(38-42-46-50-54-58)One of the 12 patterns in the Berroco Vintage Men pattern booklet.