It's all about the color in these showstopping shawls. The patterns formed by color elevate simple stitch patterns to wearable art.
To get the knitting patterns, scroll down the page to the individual pattern you want and click on the link to that pattern.
These patterns are not my designs but links to other designers who have generously shared their patterns. If you have questions about how to knit a specific pattern, please contact the designer directly.
All links on this site are for informational purposes, but please note that some links are to affiliate sellers that pay me a small commission on purchases.
Free Patterns

Outside the Box Shawl
Creatively shaped striped shawl knit from the center top out for a smashing colorful accessory! Quick knit in bulky yarn. Designed by Kara Gott Warner. Worsted weight yarn.

Big Island Wrap
Triangular shawl with textured sections of 4 row repeat Andalusian stitch and 4 row repeat Netting openwork edge that showcases different colored yarn. Quick knit in bulky yarn. Designed by Little Church Knits

Lightning Shawl
The Lightning Shawl uses Frankie Brown's Ten Stitch Zigzag pattern. Garter stitch strips are shaped into elongated zigzags with regular increases and decreases and then joined on to other strips as you go to make the finished fabric. There is no sewing up and the shawl could be knitted in any yarn. Pictured projects by annalist, maryaustria, and miriamsdottir

Spring Ribbons Shawl
This colorful shawl uses easy to memorize slip stitch colorwork. The subtle shaping also helps keep it on your shoulders. Designed by Ann Weaver

Comfort Shawl
Three-color triangular shawl with two sections of garter stitch with lace edge. Designed by Bernat.

Yours Truly Summer Shawl
This shawl is uses repeats of 4 patterns – a 4-row repeat Ticking Stripe, a Firefly Lace pattern, a Wildflower Pattern, and a Sunspots pattern. This shawl was designed originally as a Mystery KAL so the pattern is in the form of 4 Section "Clues". There are links on the Ravelry page. Designed by Michele C Meadows. Pictured project by Redsometimes

Daria Shawl
Triangle-shaped shawl knit with three colors in a combination of an easy-to memorize lace pattern and garter stitch. Designer: Hanna Maciejewska. Available in English, Danish, German, and Polish Pictured project by mao7

Icelandic Lace Shawl
This stunning lace shawl, originally called the Thórdís shawl, is based on a traditional Icelandic shawl in the Icelandic Craft Council's collection of textiles. Designer: Sigrídur Halldórsdóttir ( Carol Rasmussen Noble ). Pictured project by pollyana

Festival Shawl
This shawl is a very long spiral of different size triangles knit in garter stitch. Perfect for gradient and multi-colored yarn. Designed by Frankie Brown. Pictured project by craftydebbi

Mitered Eyelet Shawl
This shawl is created from mitered diamonds in long self-striping or multi-colored yarn. Designed by by Gail Tanquary & Angie Kachelmeier. Pictured project by SvetlanaTomina

Ostro Shawl
The Ostro Shawl is knit in three colors using a modular construction. Each "shell" is knit individually, but the following shells are attached as you go, so there is minimal finishing. Designed by the Berroco Design Team
More Free Patterns

Vela Latina
Designed by Edda Fokken, this shawl comes in three shape variations and uses slip stitches to create the pattern.

Pointillés Shawl
Michèle Aixala designed this shawl inspired by Pointillistic use of dots of color. The web page is in French but there is an English version of the pattern on the page. Pictured project by edmoejewel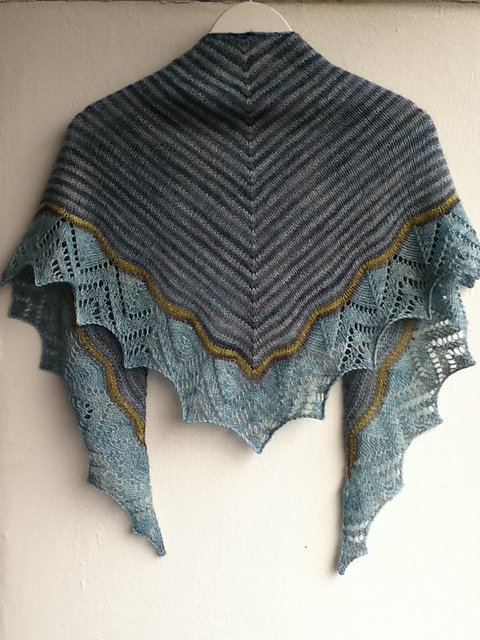 Dream Stripes Shawl
Stripes go to a new stylish level in this lovely shawl designed by Cailliau Berangere with a lace border. Pictured project by Patsy55

Sylvestra
Designed by Knitarin-Karin Hess, Sylvestra is an easily knitted asymmetrical shawl that can be knitted in any yarn weight. Pictured project by dany-m

Mi Parti
Designed by Martina Paulsen, this shawl turns two colors of yarn into a striking pattern.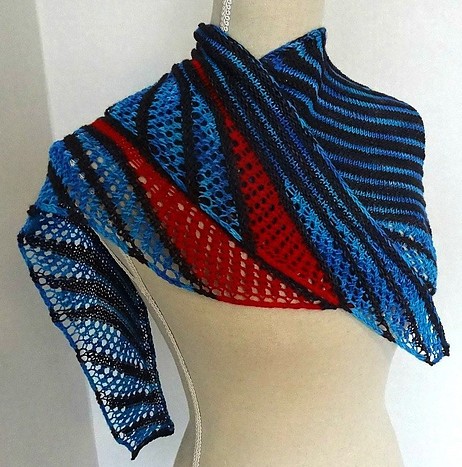 Nymphalidea
Melinda VerMeer designed this shawl to be knit with contrasting colors to resemble the wings of a butterfly. Because this is cast on with few stitches and expands, it easily can be adapted to different yarns or sizes. Pictured project by Landers
<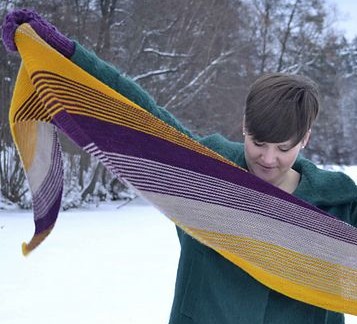 Tailwind
Designed by Clara Falk, Tailwind is a triangular shaped shawl knitted from one corner to the other which makes it possible to adjust the size after your amount of yarn or when you are happy with the size. Pictured project by Tabusn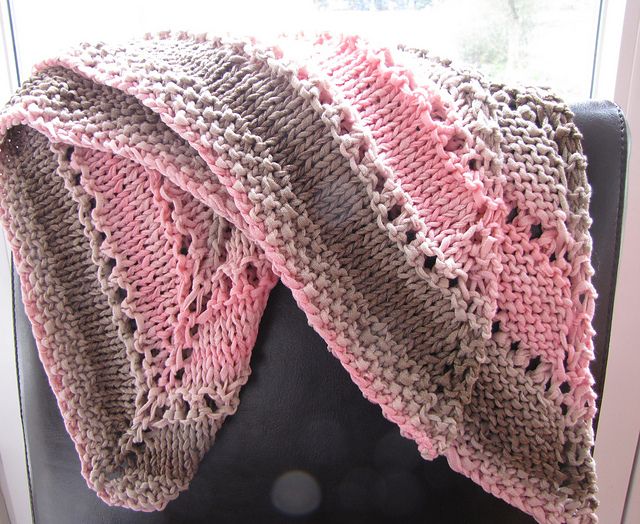 No-fuss shade-loving Shawl
Susan Ashcroft designed this easy, versatile shawl that is perfect for shaded yarns. The easy stitch variations including garter, seed, stockinette and a simple lace stitch showcase the color variations. See this project for the pattern by stitchnerd

Color Shift Shawl
Shannon Dubabin designed this shawl for Cascade. The shawl uses 3 colors of fingering weight yarn. 2 strands of yarn are held together and the color change is made by changing one strand of yarn at a time.

Diving In Shawl
Mam'zelle Flo designed this pattern/recipe as an opportunity to create a shawl from your stash yarn. The instructions explain how to achieve this modified triangle shape, and how to make modified garter stripes.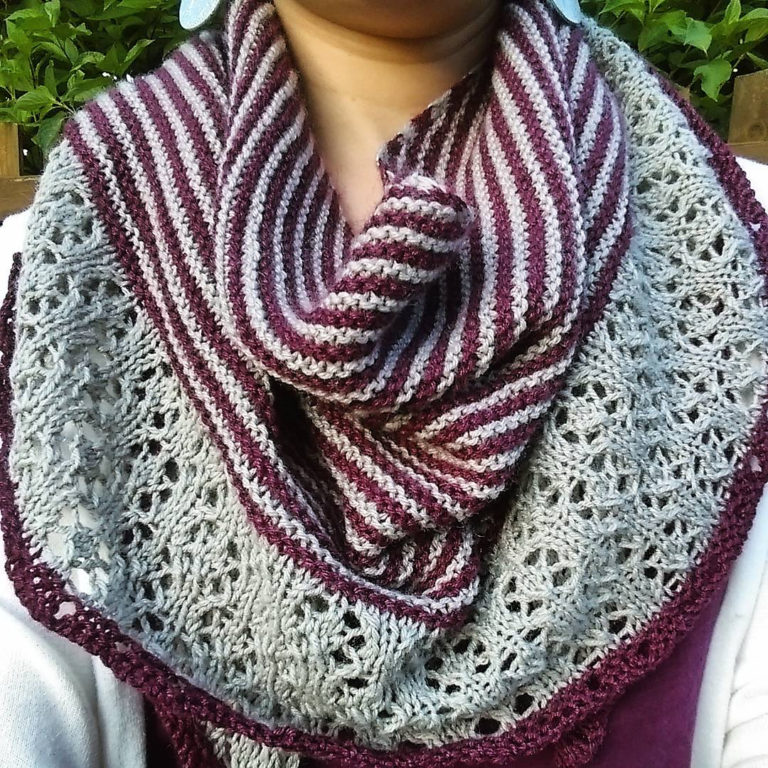 Muh-muhs Shawl
Designed by Isabell Kraemer after the striped toffee candy, this shawl is knit in bulky yarn. Pictured project by katiwei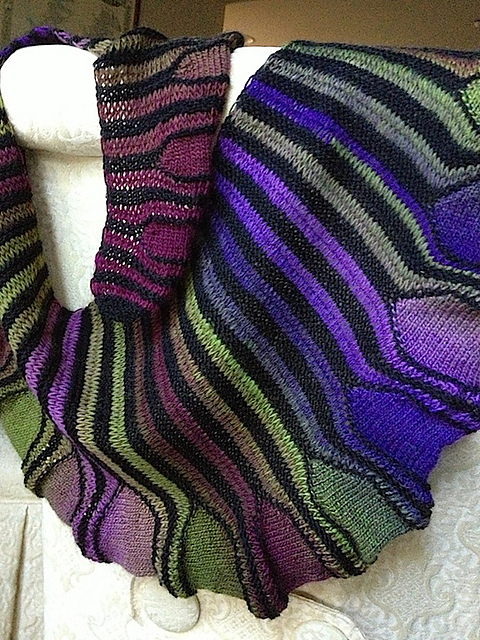 Coquille Shawl
Short rows and gussets create an interesting color pattern in Mary Lou Egan's design. Knitter stewlf created the stained glass look above by using solid black for the garter stitch and variegated color yarn for the stockinette.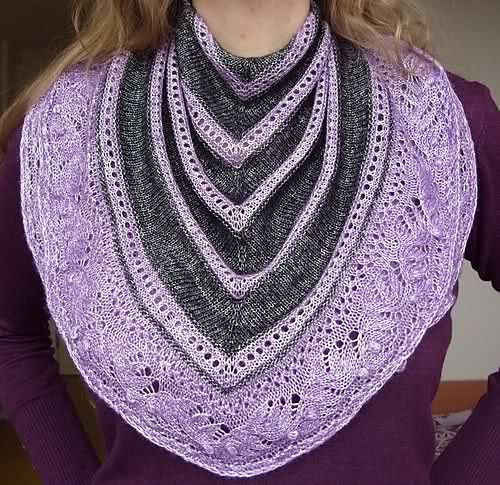 Sgiach Shawl
This stunning lace wrap designed by Britt Schmiesing has a main body of simple stockinette with garter stitch ridges with a lace border worked side to side. Pictured project by winke

Josephina Shawl
Designed by Amanda Rios for Classic Elite Yarn, this shawl combines lace and stripes in a romantic wrap.
Patterns for Purchase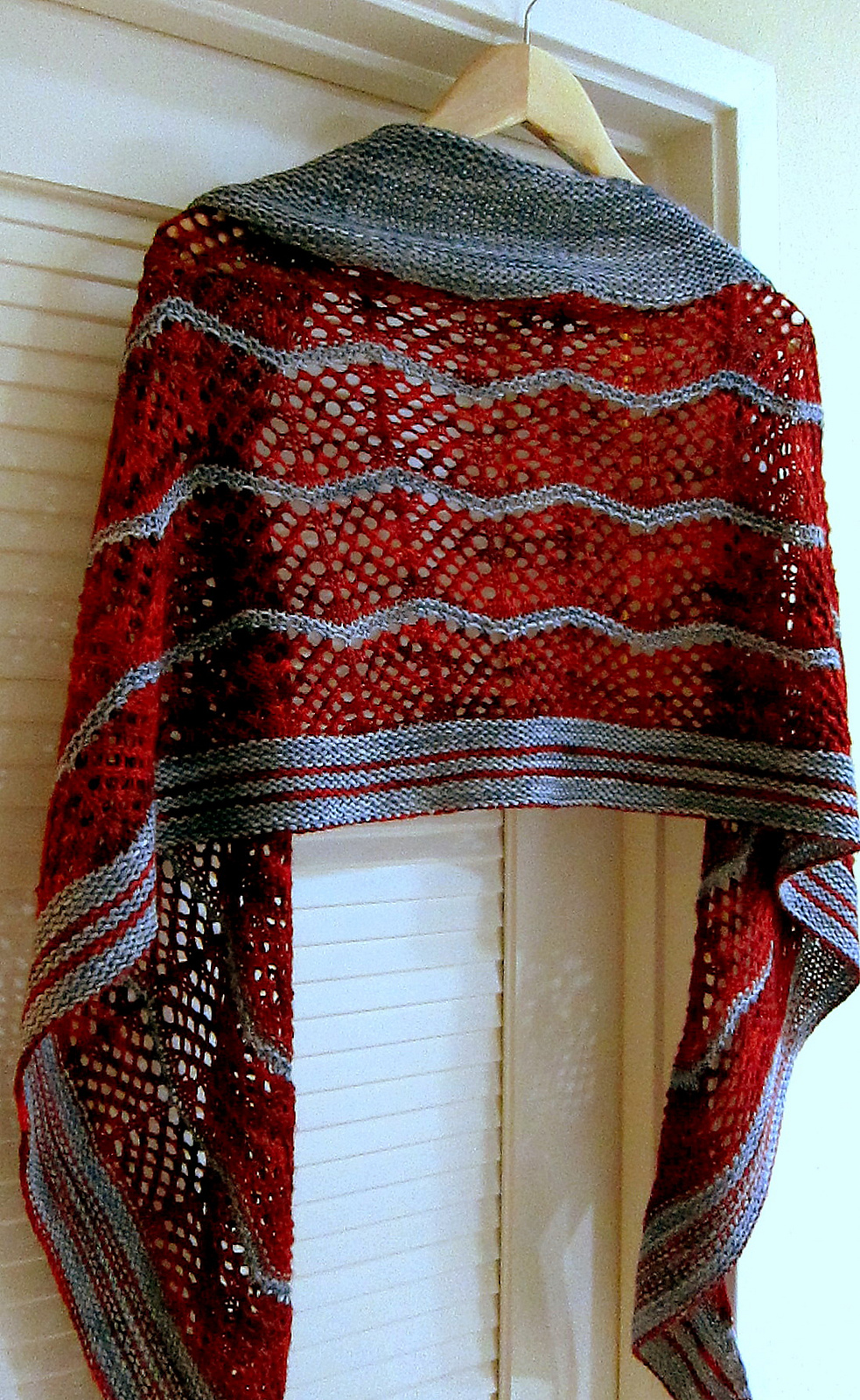 Ziggity Shawl
Kristen Kapur designed this shawl with a combination of simple garter stitch and zig-zag lace . Pictured project is MaryjoO's Magma.

Dressel Shawl
Inspired by Greek amphorae, Megi Burci designed bold panels of stranded colorwork in a semicircular shawl. Pictured project by JaneJetson

Hamburg Ahoi Shawl
Colorful shawl features zigzag stripes accented with bobbles. A matching mitts pattern is also available.

Cardinia Shawl
Easy wrap knit from the bottom up in sections of mesh and eyelets. Designed by Ambah O'Brien.

Indie Mash Up Shawl
This large triangular shawl is designed to showcase color and texture with a variety of stitch patterns and an cord bind off, Designed by Annie Lupton.

Earth and Sky Shawl by Stephen West
Designed by the amazing Stephen West, Earth and Sky is a top-down triangular knit shawl made with sport weight yarn in three sizes. Pictured project by by dennismarquez

Crosshatch Shawl
This triangular shawl is knit with a solid color and a variegated or self-striping yarn. Designed by Benjamin Matthews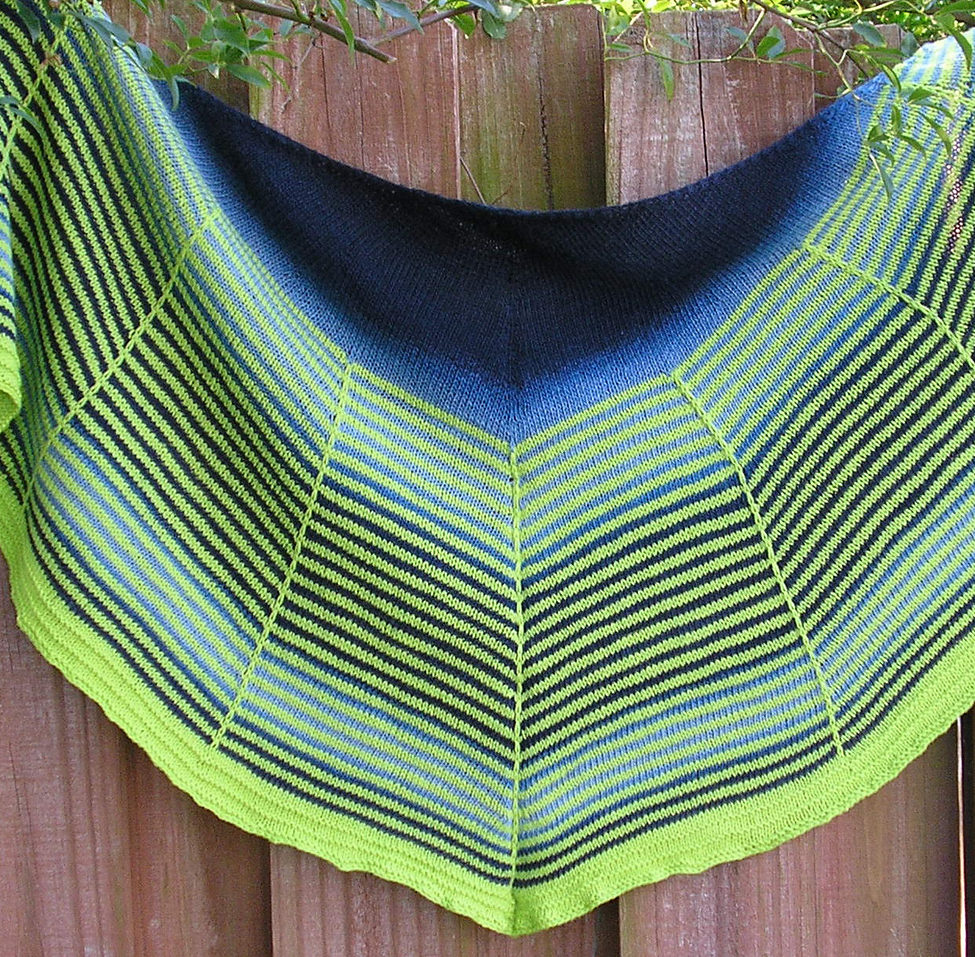 Daybreak Shawl by Stephen West
Designed by the amazing Stephen West, Daybreak is a semicircular shawl featuring clear, graphic stripes that echo a rising sun. in three sizes. Pictured project by by meginal

Om Shawl
This versatile shawl with texture and colorwork can also be worn as a poncho, stole, cowl or used as a lap blanket. Designed by Andrea Mowry. Pictured project by pialuna111

Gothic Shawl
Terri Rosenthal's shawl is perfect for multi-colored yarn. One of 30 patterns in Noro Silk Garden: The 20th Anniversary Collection.

Simply Sweet Shawl
This pretty little shawl features a pop of accent color separating the garter stitch body from the border. Little bow ties form the border into a scalloped edge with no tricky knitting required!

Canyonlands Shawl
"Canyonlands" is a long, shallow asymetrical shawl, knit in garter stitch throughout with carefully selected colors blending and merging to create an illusion of western horizons and sillouettes.