These patterns include plaid, gingham, and tartan designs in various styles of colorwork.
To get the knitting patterns, scroll down the page to the individual pattern you want and click on the link to that pattern.
These patterns are not my designs but links to other designers who have generously shared their patterns. If you have questions about how to knit a specific pattern, please contact the designer directly.
All links on this site are for informational purposes, but please note that some links are to affiliate sellers that pay me a small commission on purchases.
Free Patterns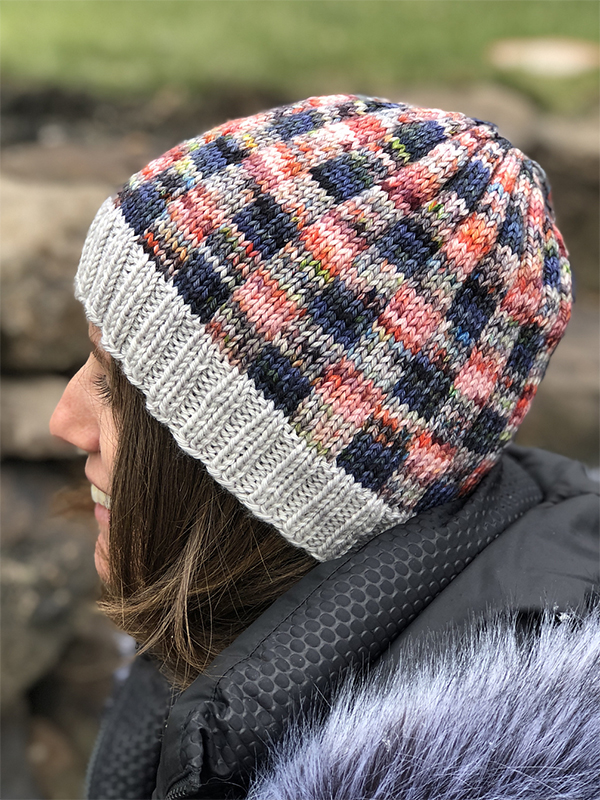 Buffalo Plaid Beanie
Hat knit in the round in either a 3 or 4 color combination of stranded colorwork plaid. Designed by Nice and Knit. Worsted weight yarn.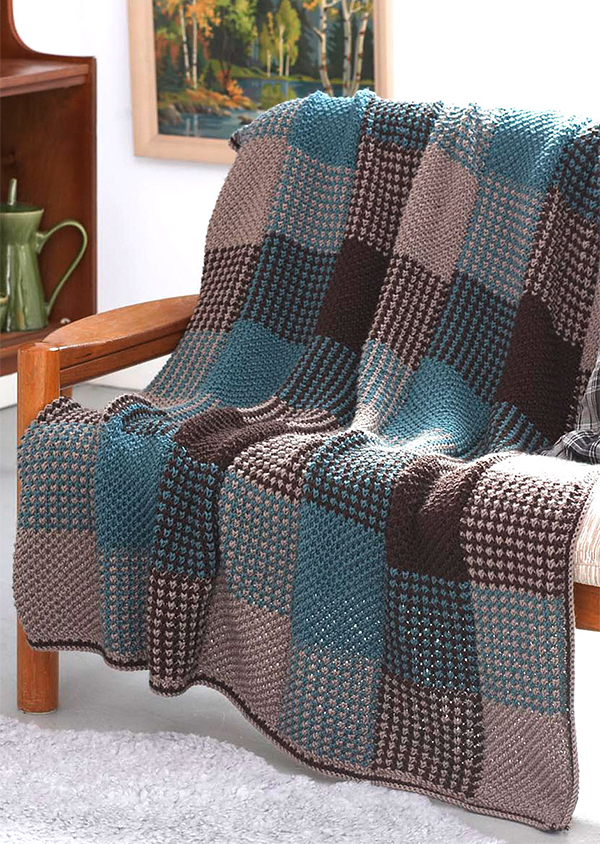 Plaid Texture Afghan
Blanket knit with slip stitch colorwork in strips and seamed. Designed by Patons. Worsted weight yarn.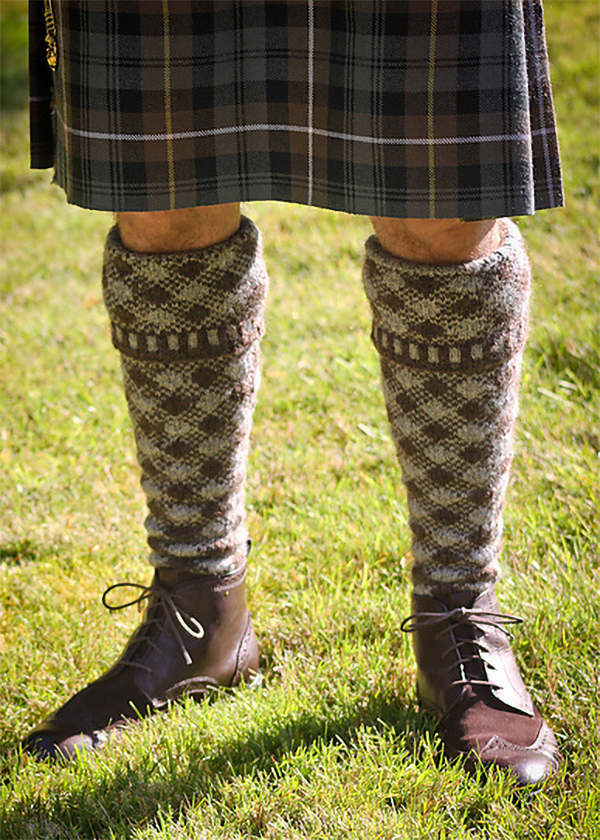 Shepherd's Plaid Kilt Hose
Stranded plaid socks pattern. Does require some experience with sock knitting. Designed by Joannie Newsome. Worsted weight yarn. Pictured project by okiwen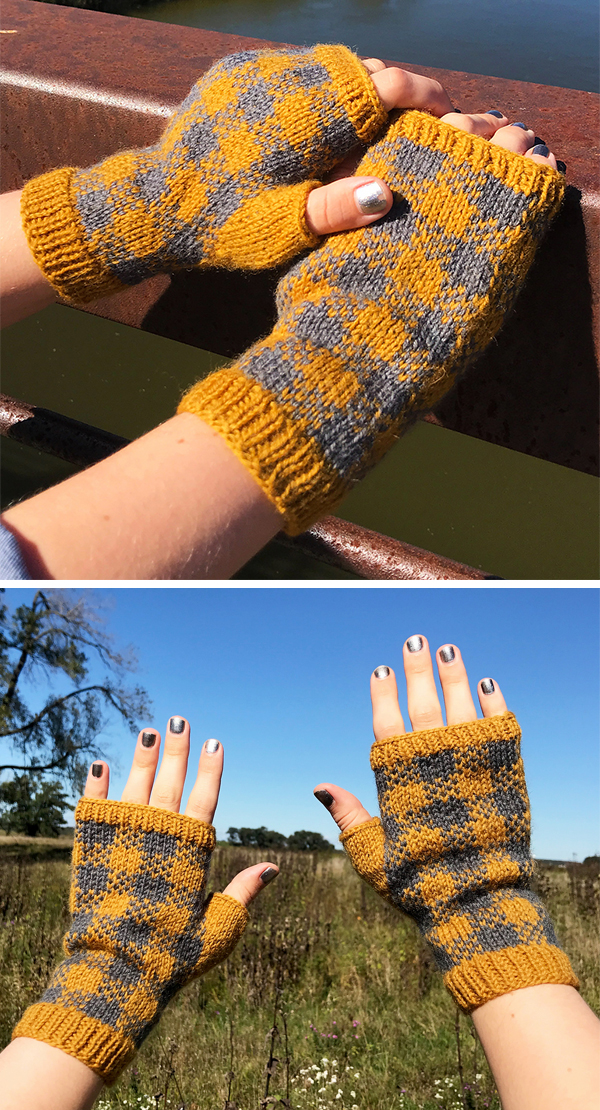 Plaid Field Mitts
Fingerless mitts with buffalo plaid pattern in stranded colorwork. Designed by Kristen McLaren. Sport weight yarn.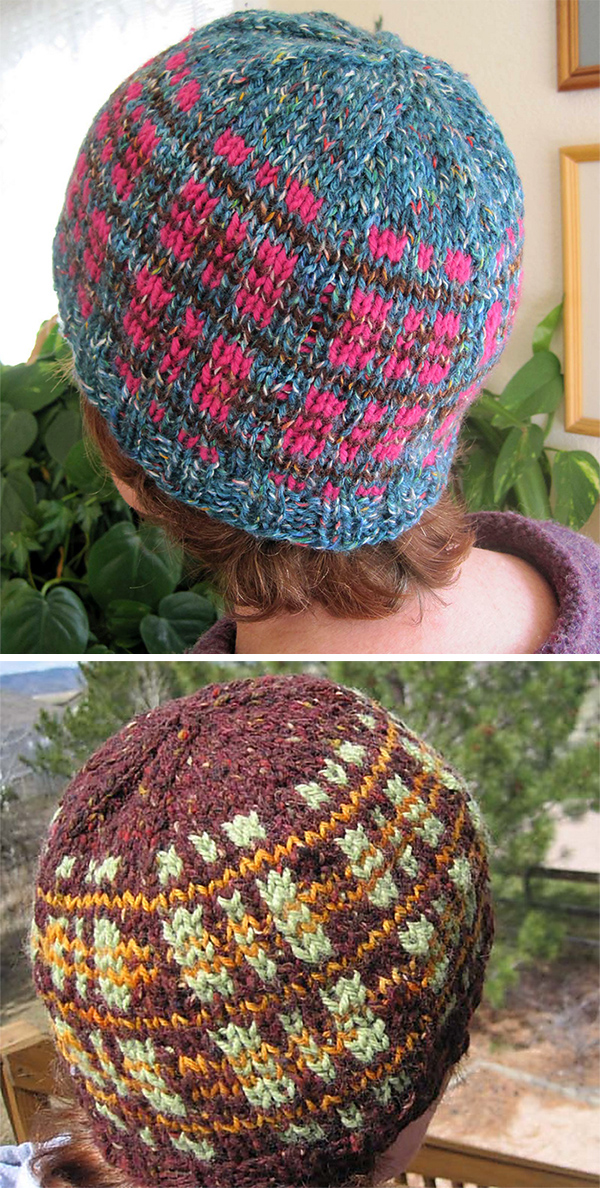 Tweedy Plaid Beanie
Hat with plaid pattern in stranded colorwork. Designed by Kathy North. Pictured projects by designer and dbkn5. Worsted weight yarn.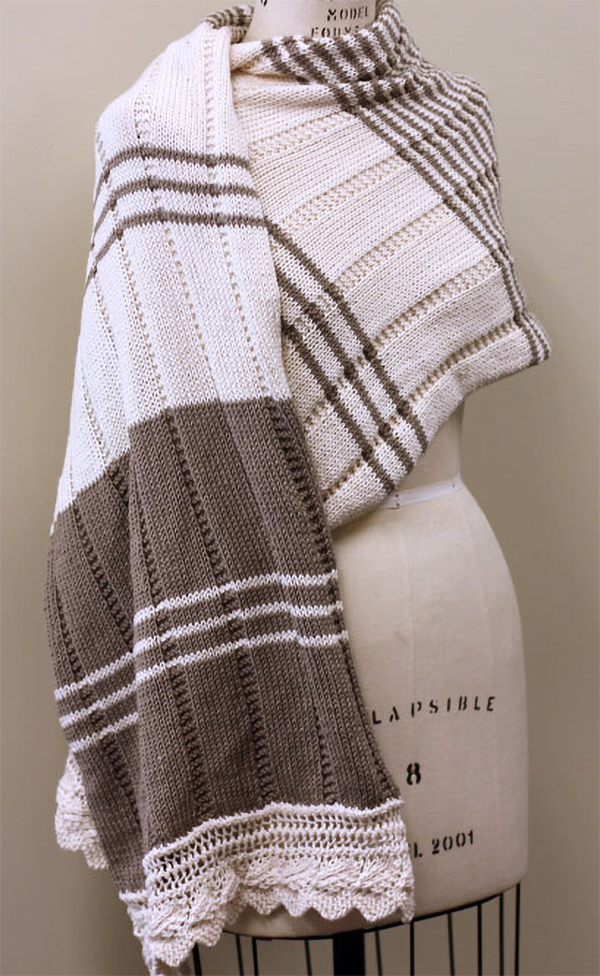 East Brewster Shawl
Rectangular wrap with a plaid inspired design made of colorwork horizontal stripes and textured vertical stripes. Lace border. Designed by Brenda York for Berroco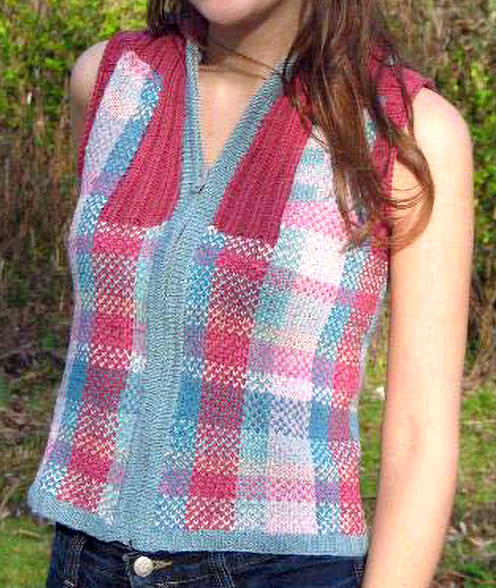 Highland Spring Vest
Plaid vest in slipped stitch and stranded colorwork. Great for using up leftover yarn. Sizes S, (M, L, XL). Designed by Annie Modesitt. Pictured projects by kaeru who used buttons instead of zipper and designer.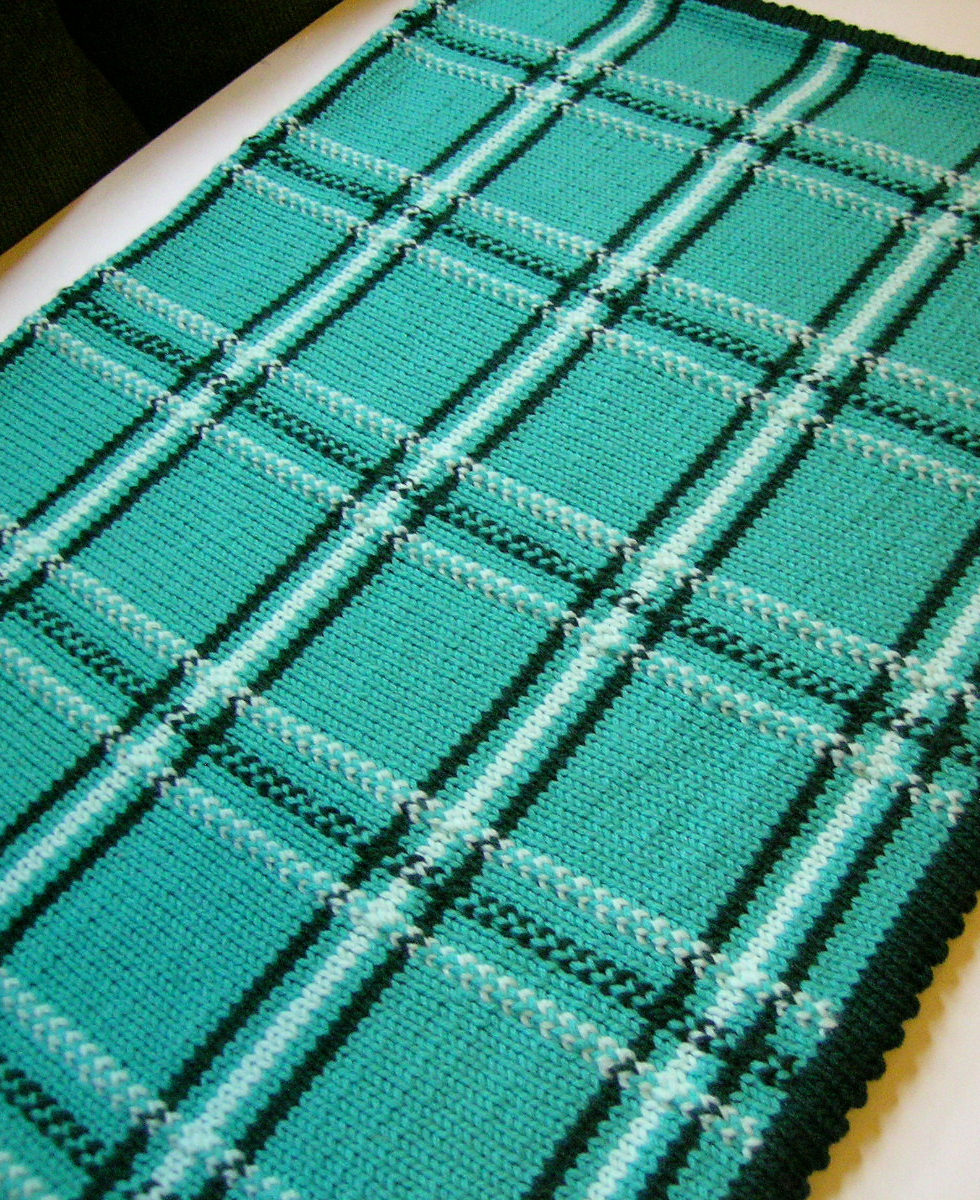 Plaid Blanket
Baby blanket with colorwork plaid design by Yana Ivey. The final size of the blanket is about 3 x 3 feet. Pictured project by jenzilla9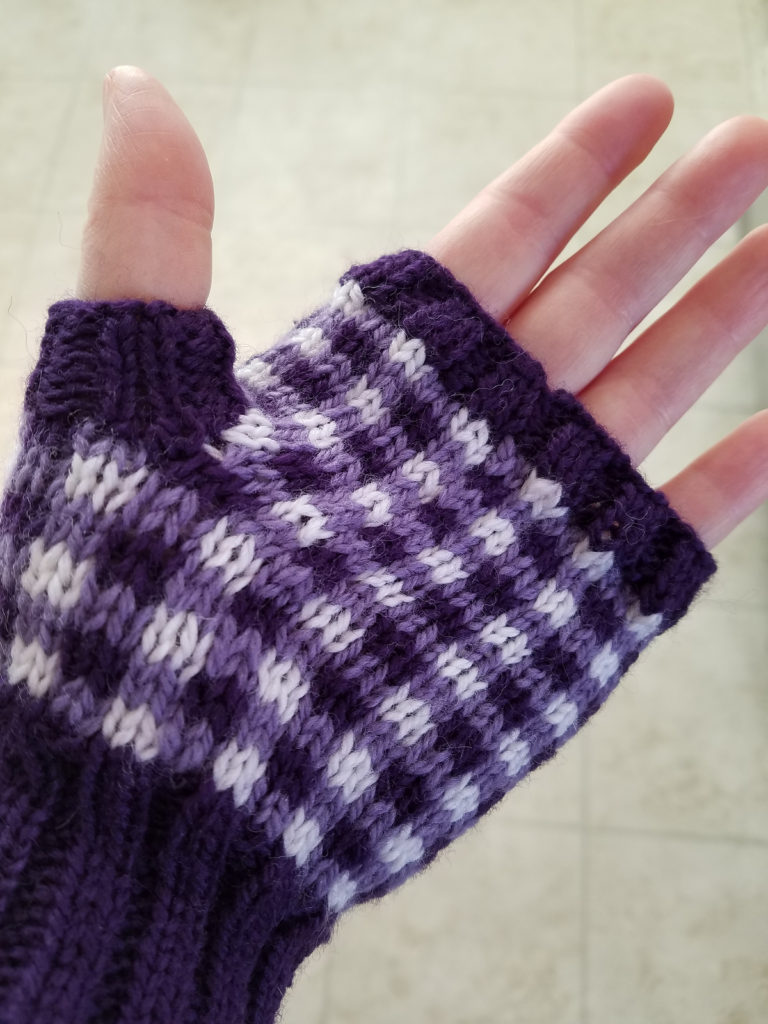 Gingham Fingerless Mitts
Mitts knit in a three color plaid. Designed by Diane Zangl for Cascade. Pictured project by Shenanigans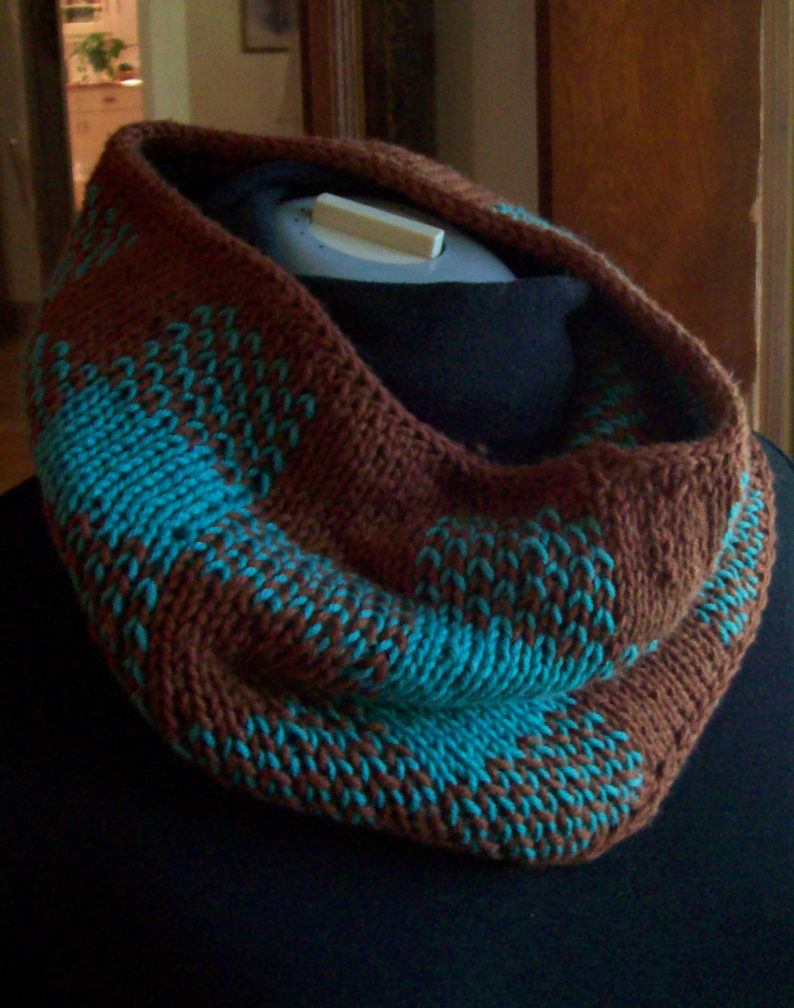 Gingham Neck Warmer in Double Knit
Reversible cowl worked in double knit plaid. Designed by Gabriella Kartz. Pictured project by CallieBknits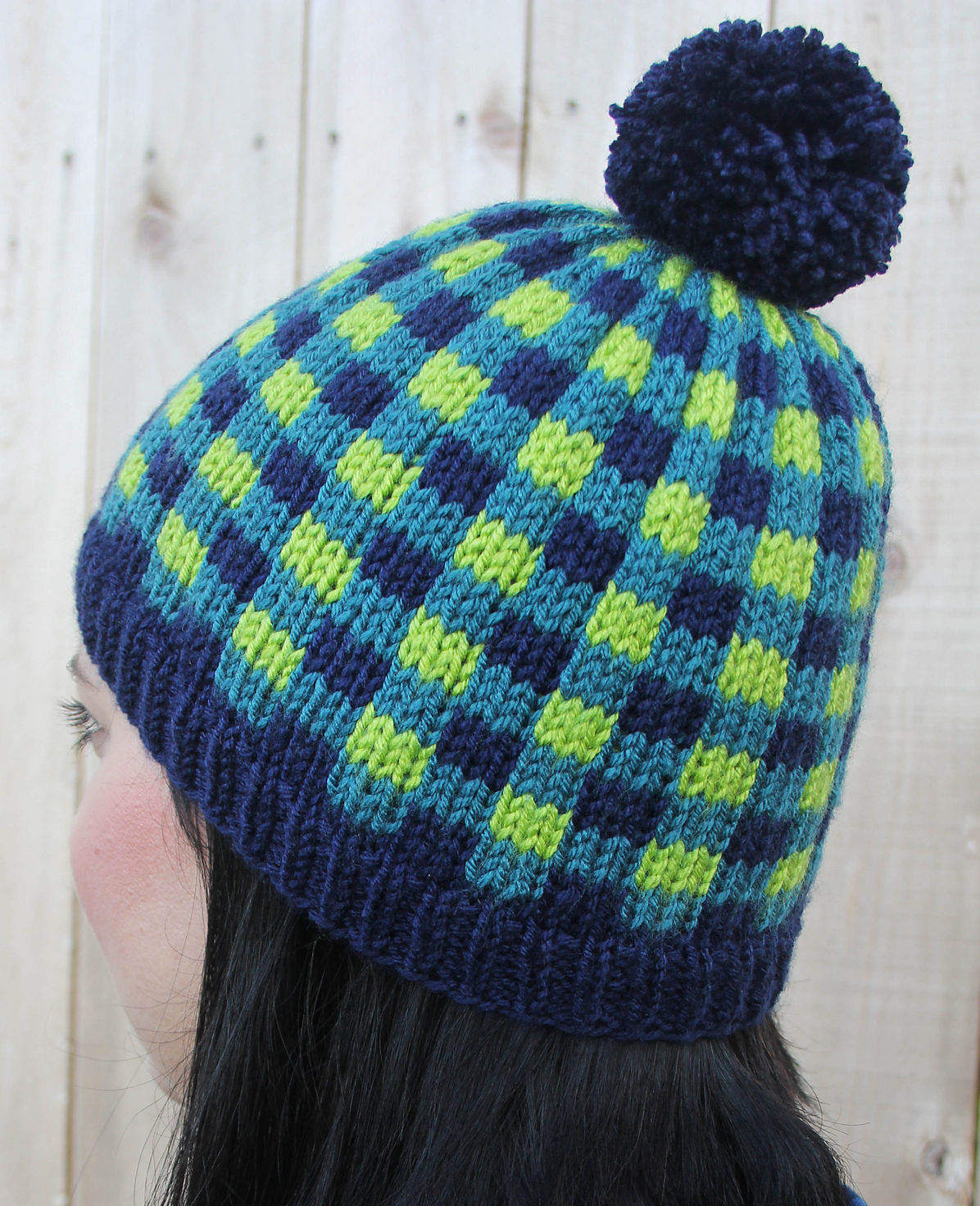 Cozy Plaid Hat
This pattern uses stranded colorwork to produce a plaid design over the entire hat. Designed by Amber Armstrong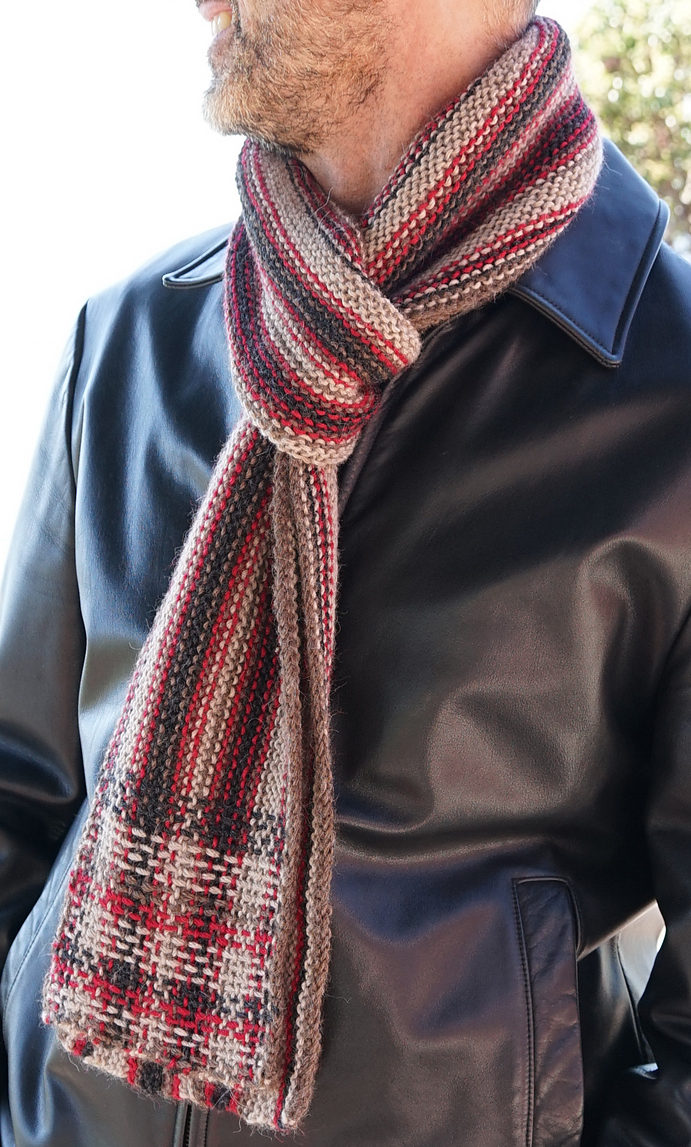 Reversible Garter Plaid Scarf
Reversible colorwork scarf knit in garter stitch stripes with plaid woven in with a needle at the ends of the scarf. Designed by Chuck Wilmesher for Skacel. 6" Wide x 72" Long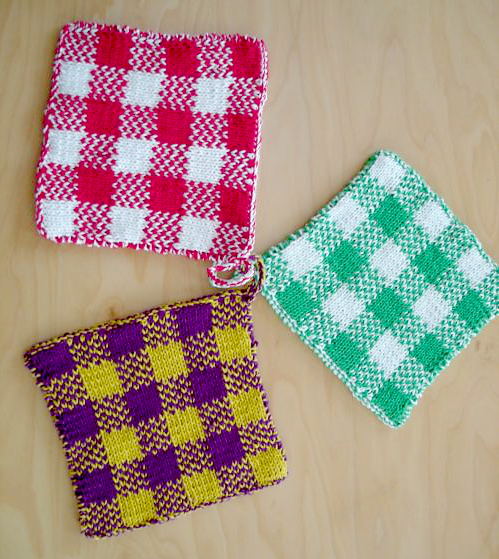 Gingham Plaid Potholders
Double knit potholder is a good way to learn double knitting. Designed by Helen Griffin. Pictured project by Wollgeschnatter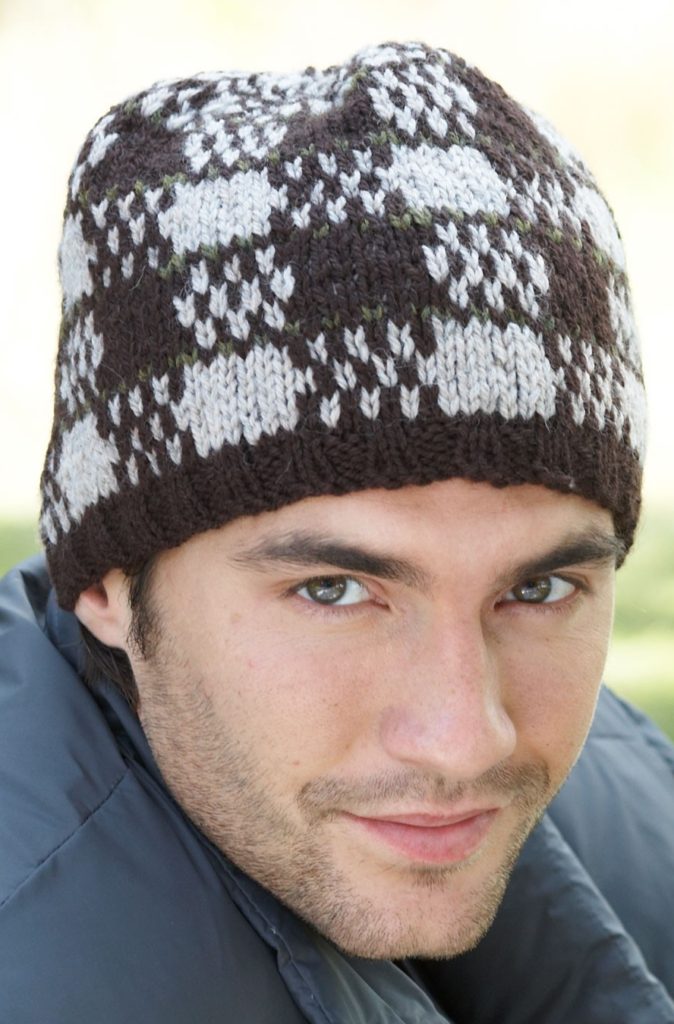 Check Mate Hat
Fair isle beanie in a plaid look from Patons.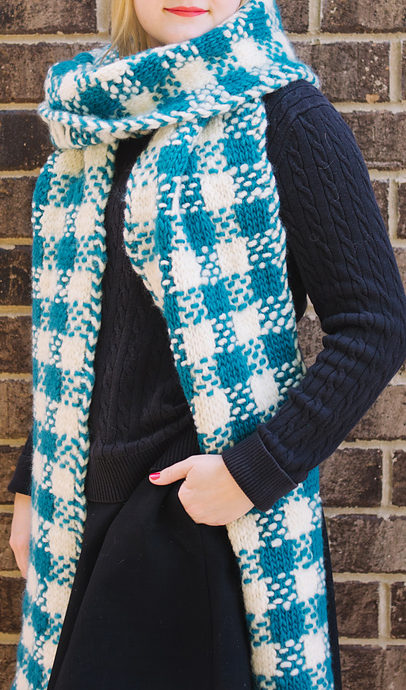 Plaid Super Scarf
Easy slip stitch colorwork creates a classic plaid pattern. Size 1 foot by 10 feet. Designed by Heidi Gustad.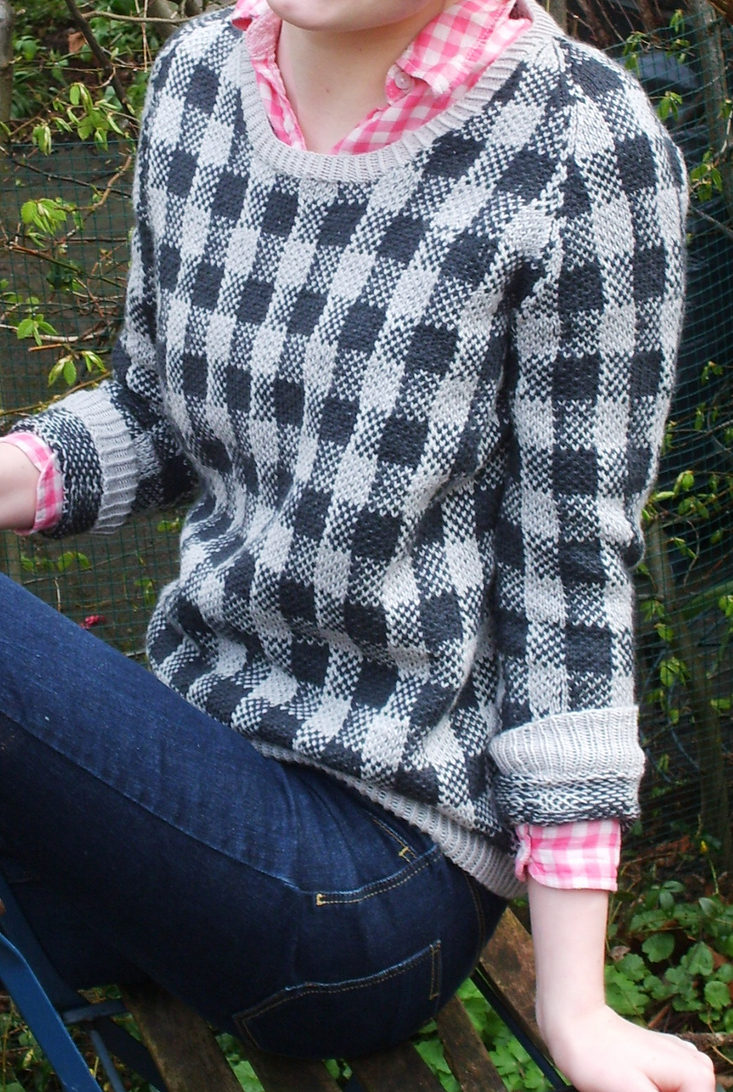 Checks and Balances Sweater
Long-sleeved pullover with gingham plaid stranded colorwork design. Sizes XS S, M, L, 1X, 2X, 3X Designed by Boadicea Binnerts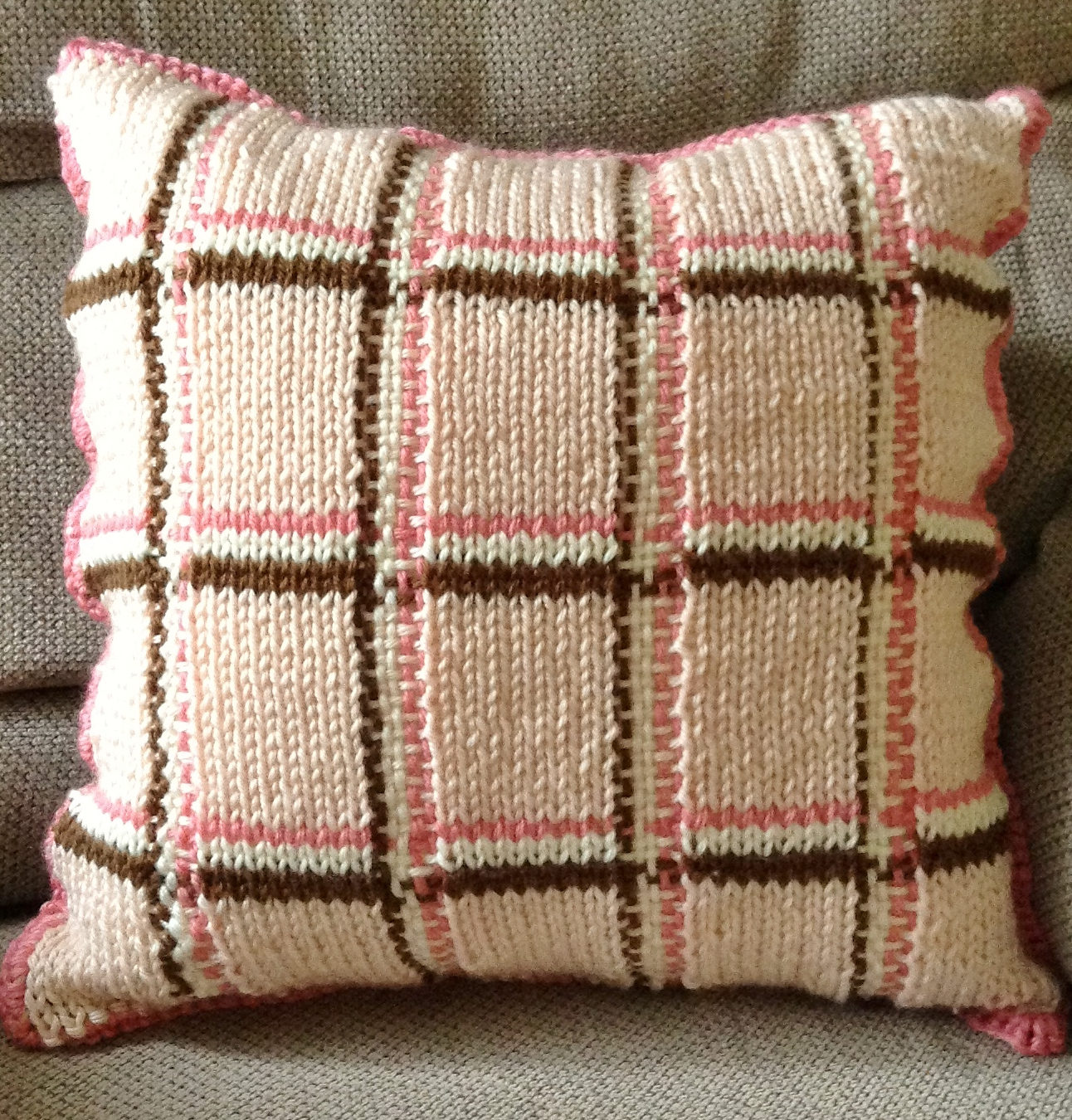 Plaid Pillow
This Knit and Weave pillow cushion cover can be completed in a weekend, according to the designer Holly Allison. It is knit with stripes and dropped stitches, then the vertical stripes are woven through the dropped stitches. Rated easy by Ravelrers.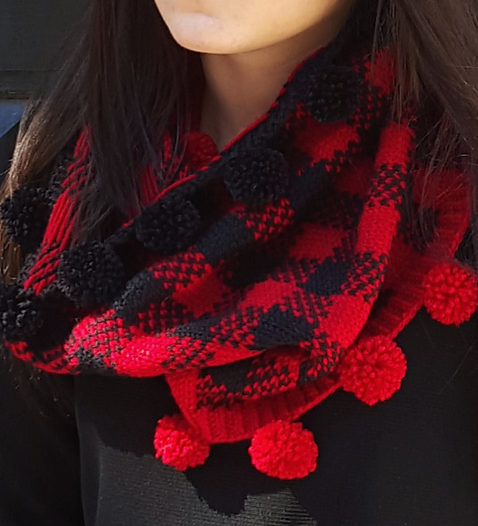 Mad for Plaid Cowl
Generous sized two-color cowl plaid pattern with optional pompoms. Designed by Alexandra Davidoff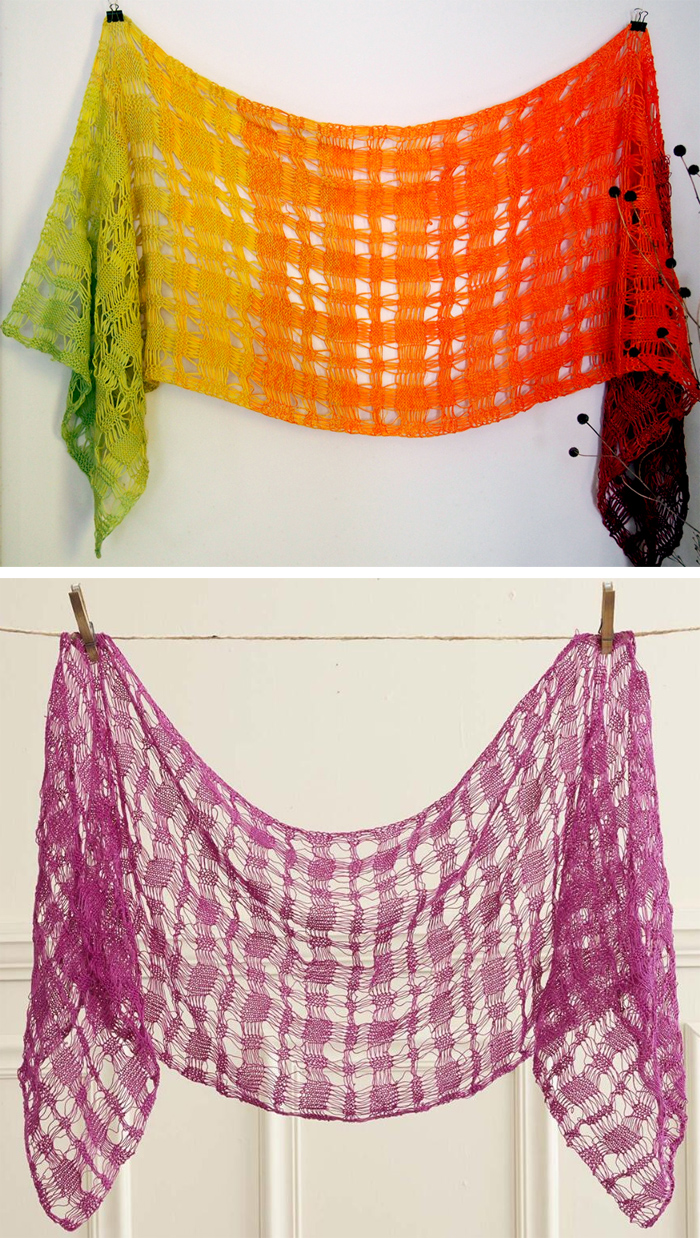 Caprino Wrap
This shawl is a re-imagining of plaid as lace created with dropped and extended stitches. 18" x 66" (46cm x 168cm) Designed by Rae Blackledge for Willow Yarns. Pictured project at top by andy02124.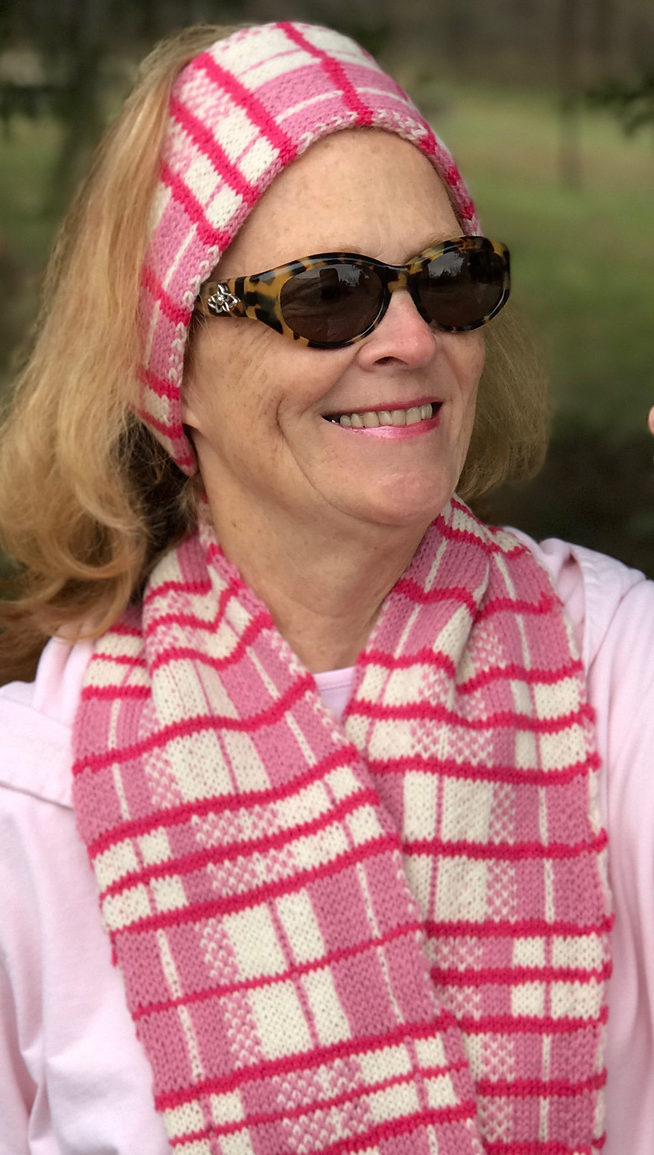 Selfie Plaid Scarf and Headband Set
This matching set uses 3 colors but no more than 2 colors per row to create a plaid look. Designed by Jill Weber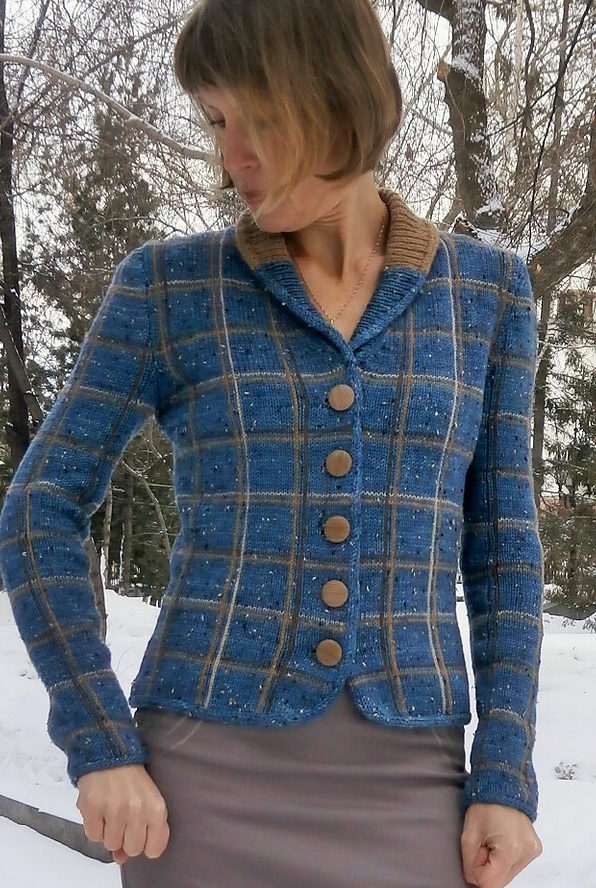 Lady Boss
Long sleeved cardigan sweater with plaid pattern designed by Inna M. Available in English and Russian. Sizes Chest circumference: 84 (88, 92, 96) cm [33 (34.6, 36.2, 37.8 in)]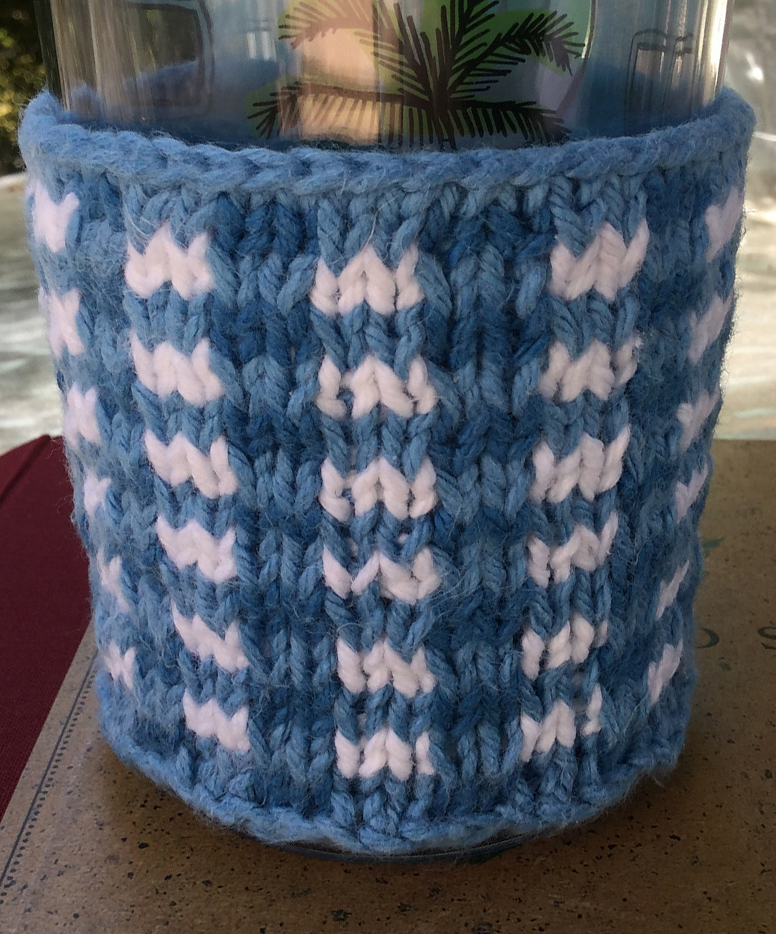 Gingham Plaid Cup Cozy
A quick pattern for a knitted cozy for a 18-20 oz. plastic "party" cup or 20 oz. coffee cup using mosaic or slip stitch color work so you only use one color per round. Only 3 unique rounds. Great take-home party favor or housewarming gift! Designed by Sherrie Kibler. Pictured project by Mapmaker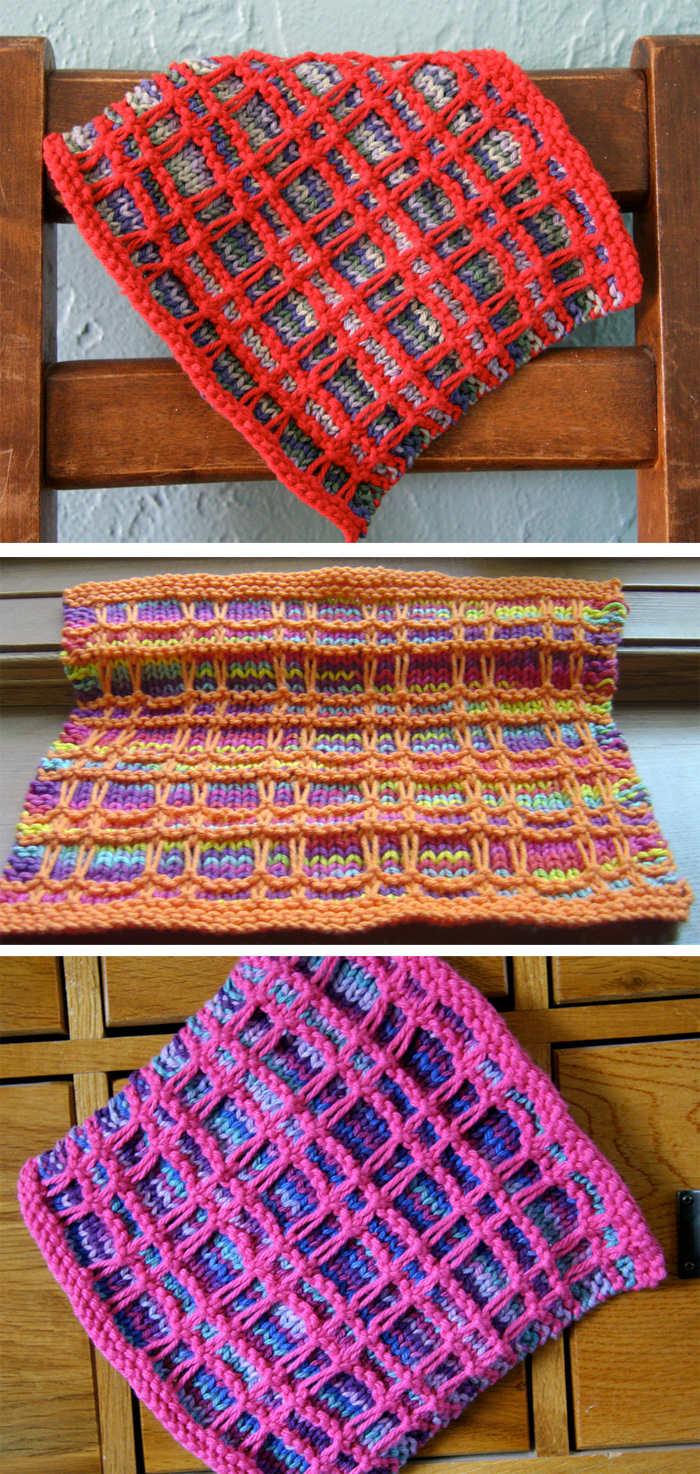 Playful Plaid Cloth
Slipped stitch colorwork on ombre or self-striping yarn background creates a fun plaid effect on these wash or dish cloths. Designed by solmama. Pictured projects by melissalm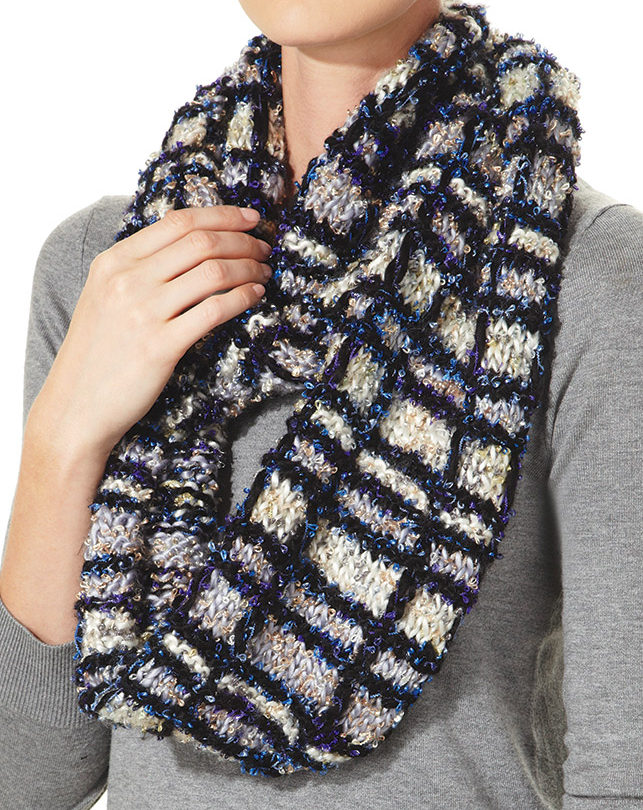 Isaac Mizrahi® Carnegie Hill Classic Plaid Scarf
Scarf with plaid made with wrapped stitches and slip stitch colorwork. FINISHED MEASUREMENTS: 72″x9″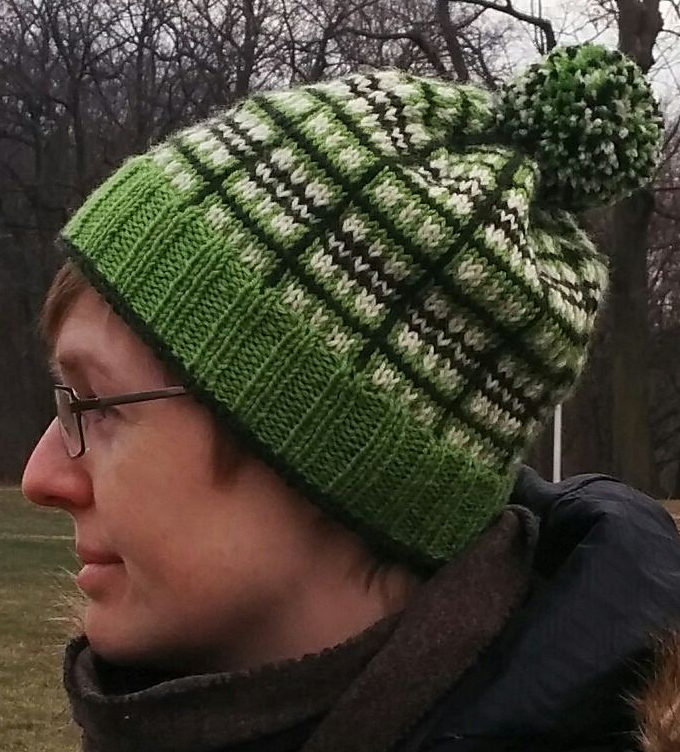 I'm Glad It's Plaid Hat
Slouchy hat with stranded and striped colorwork forming a plaid design. Designed by Jane Roberts. Pictured project by rebekafish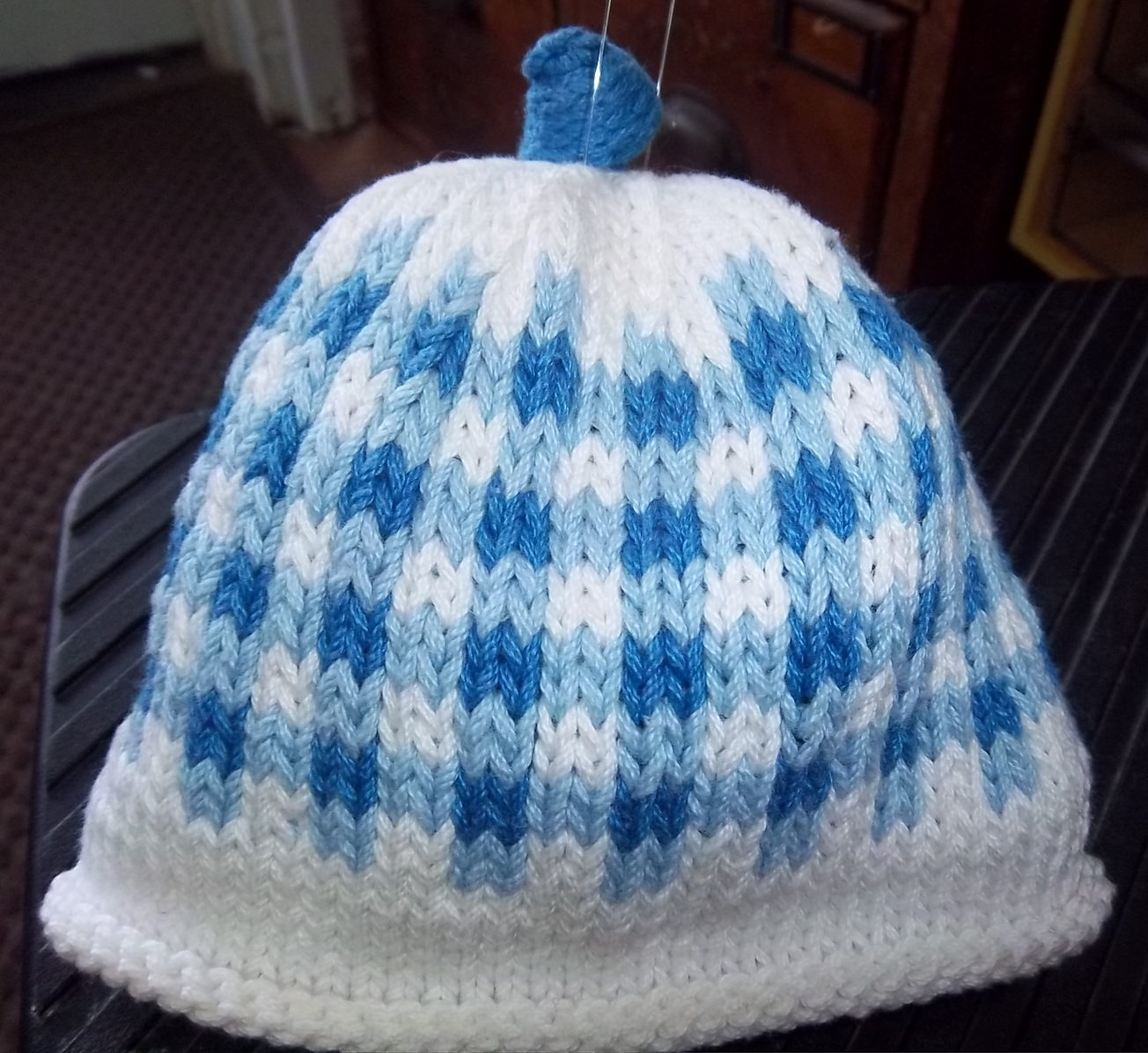 Gingham Baby Hat
Marji LaFreniere created 4 cute baby hat patterns — a hat topped with a rose, a gingham hat, and two bird hats. Sizes newborn-24 months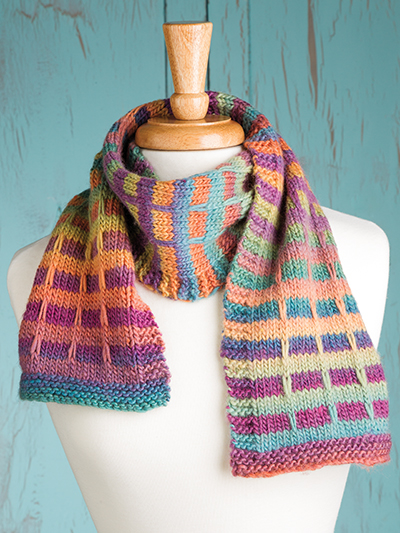 Mock Plaid Scarf
Designed by Susan Druding for Crystal Palace Yarns, easy slipped stitch colorwork with two multi-colored yarns creates a striking geometric pattern. You could also substitute one or two solid colors. Recommended yarn available on pattern page.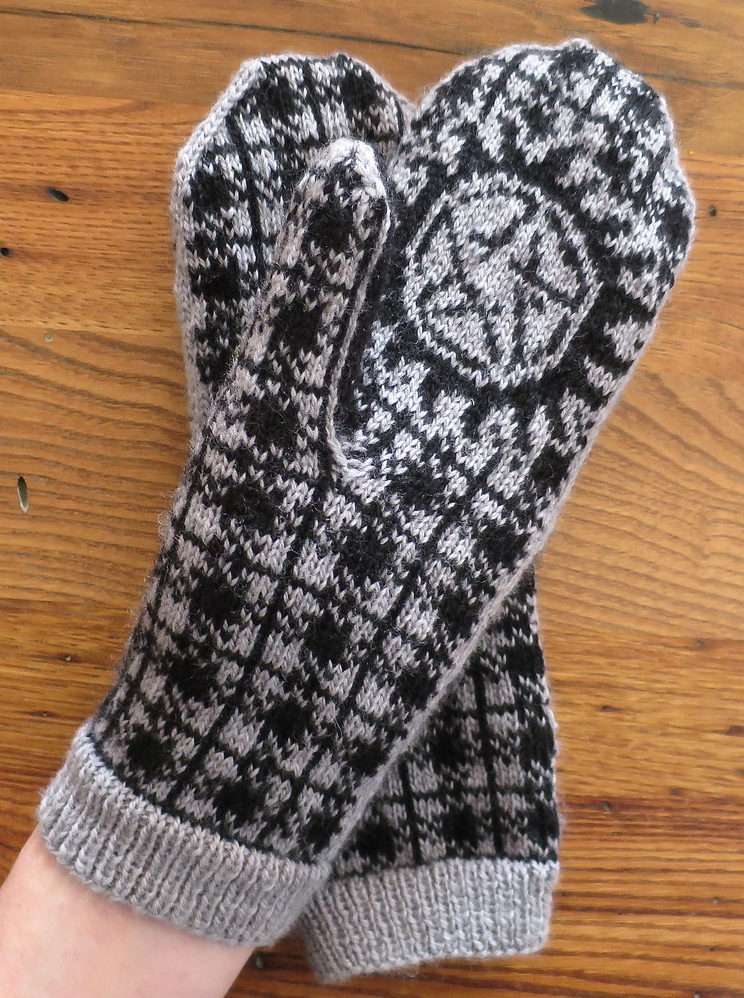 Winchester Plaid Anti-Possession Mittens
Inspired by Supernatural, these mittens designed by Kat Lewinski sport a stylish plaid on top and anti-demonic possession protection on the palms.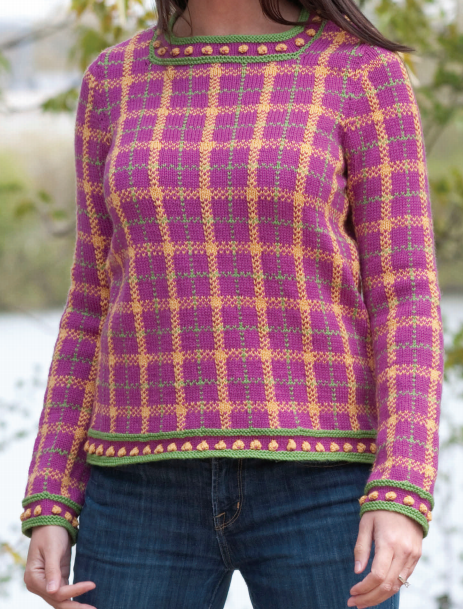 Plaid Pullover Sweater
Long-sleeved pullover with slip stitch plaid designed by Melisssa Leapman for Cascade Yarns. Sizes Extra-Small (Small, Medium, Large, 1X)
Patterns for Purchase

Plaid Baby Hats Pattern Bundle
Trio of knitting patterns for plaid baby hats in sizes 0-3 months, 6 months, 12 months, 2T+ Designed by Cassie at Little Red Window.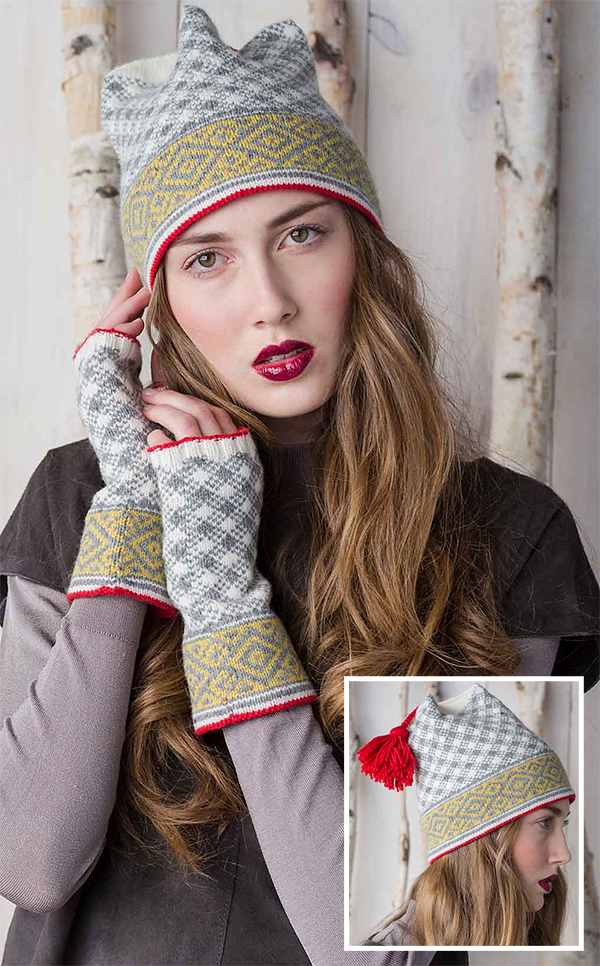 Egret Hat and Mitts Set
These matching accessories combine classic stranded gingham look colorwork with traditional Sanquhar two-color patterning. The hat is a classic ski-slope shape from the 1950s, and the fingerless mitts feature time-honored colorwork in a modern design. One of the patterns in Interweave Knits, Gifts 2018. Designed by Cheryl Toy. Sport weight yarn.

Simple Plaid Double Knit Scarf
Designer says this is suitable for beginning double knitters. Designed by Tania Richter. Worsted weight yarn.

Gingham Check Baby Blanket
Plaid blanket is one of the 16 knitting patterns for baby blankets in Precious Knit Blankies for Baby that are quick and easy to knit according to the designer. Designed by Jean Adel. Worsted weight bulky yarns. Available as digital download or paperback. Pictured project by rosebud521.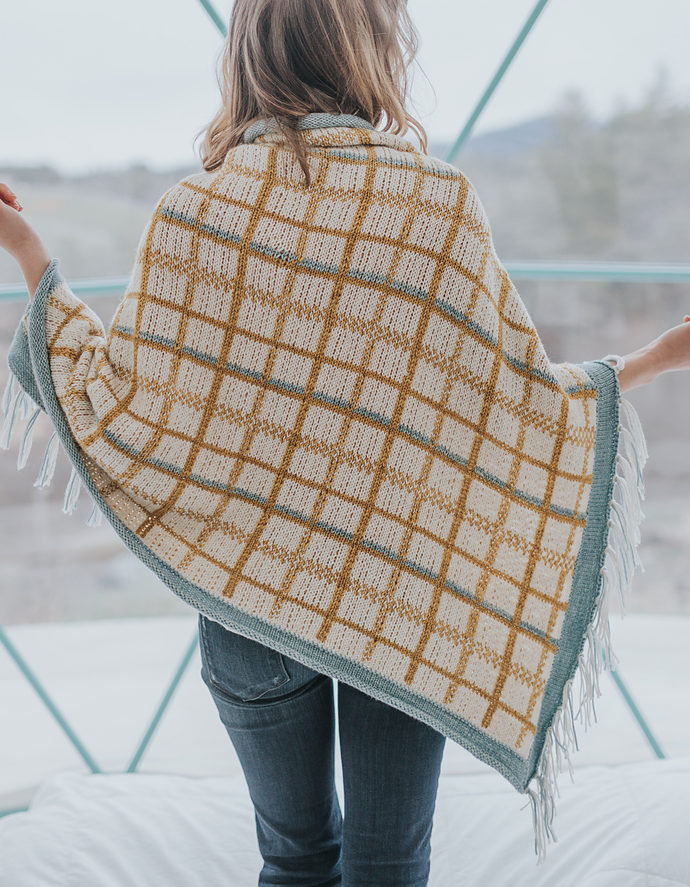 Allegany Plaid Shawl
Shawl or throw knit with stranded colorwork plaid design. DK yarn. Designed by Christina Danaee

Buffalo Plaid Baby Hat
Knitting pattern for 3 color plaid baby hat in sizes 0-3 months, 6 months, 12 months, 2T+ Designed by Cassie at Little Red Window.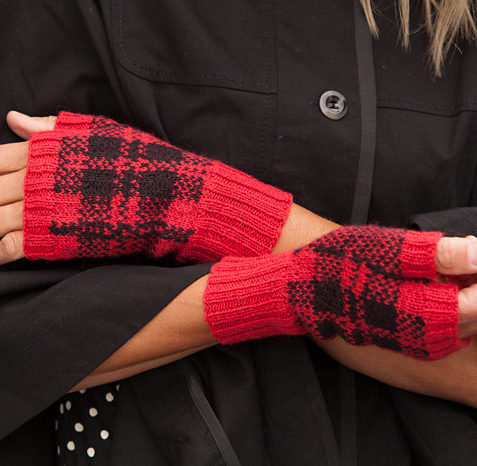 Tartan Fingerless Mitts
These women's fingerless mitts have ribbed cuffs and a bold plaid pattern on the palms and backs of hands.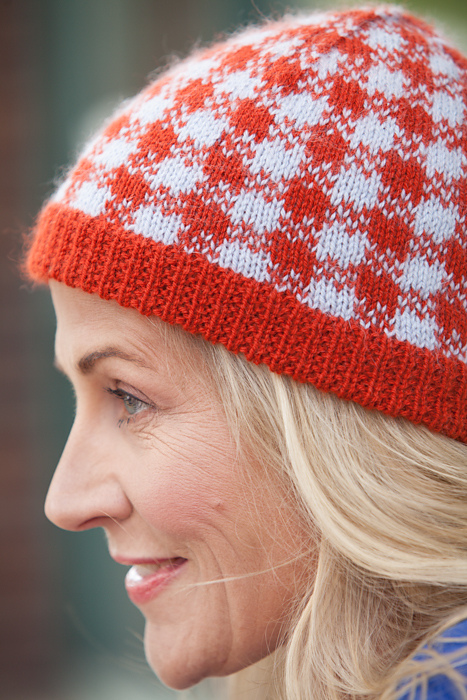 Complements Hat
Plaid beanie with doubled brim knit with stranded colorwork. Designed by Maria Leigh.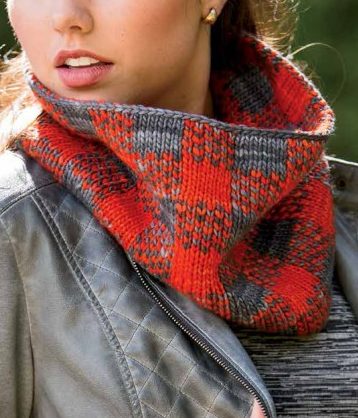 Trapper Cowl
Reversible double knit cowl in the classic "lumberjack check," inspired by plaid flannel shirts and jackets.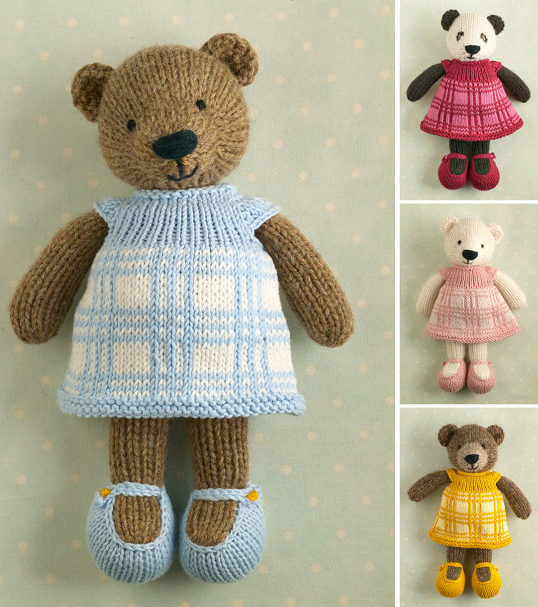 Bear Toy With Plaid Dress
Full instructions for knitting a bear softie with separate dress. All items knit flat and seamed. Finished size: approx 21 cm (8 inches) from the tip of the toes to the top of the ears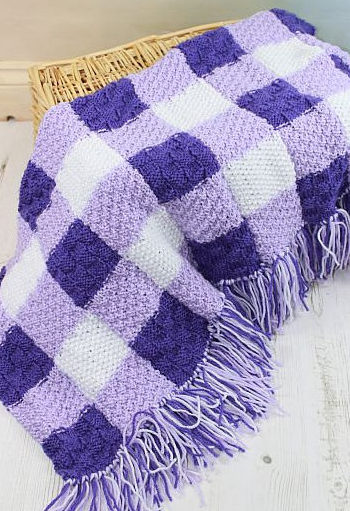 Gingham Baby Blanket
Three textured stitch patterns and three colors create a cozy plaid blanket. 27" X 26" (69cm x 66cm)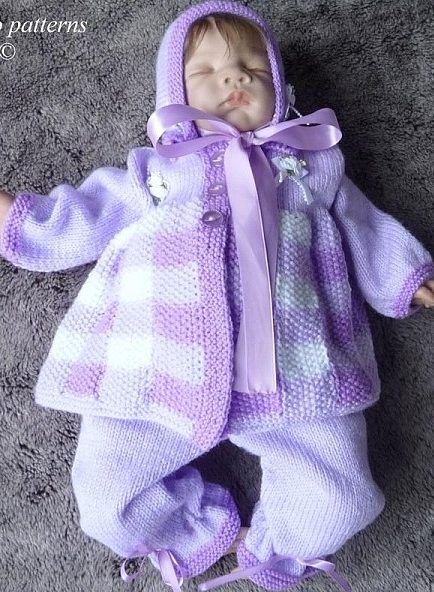 Gingham Baby Layette Set
This pattern set includes matching plaid Matinee Jacket, Trousers, Pants & Bonnet in 4 Sizes. 0-3mths,3-6 mths,6-9mths,9-12mths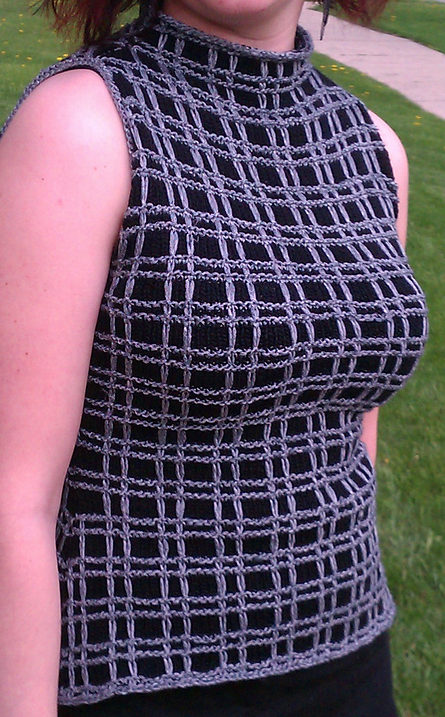 Plaid Halter Top
Sleeveless top with plaid design created with mosaic slip stitch colorwork. Finished Size: 30 ½ (34 ¾, 39, 41 ¾, 46)" bust circumference. Designed by Gryphon Corpus. Pictured project by Slinky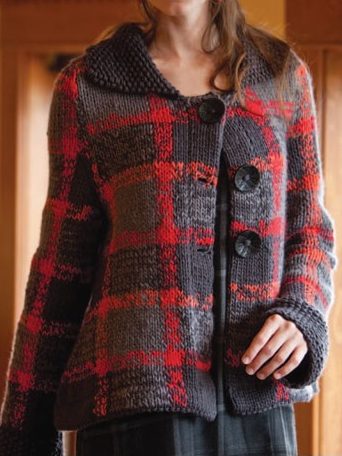 Breacan Swing Coat
Jacket cardigan with a plaid pattern created with stripes and intarsia. Sizes 37½ (40, 42½, 45½, 50½, 56)". Designed by Gwen Bortner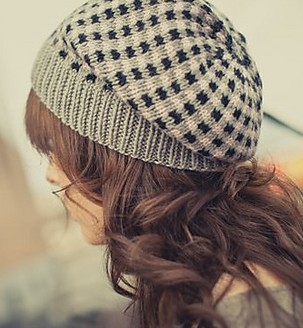 Check Slouchy Hat
This hat is much easier than it looks! The slipped stitch colorwork plaid pattern is worked with only one color in each round.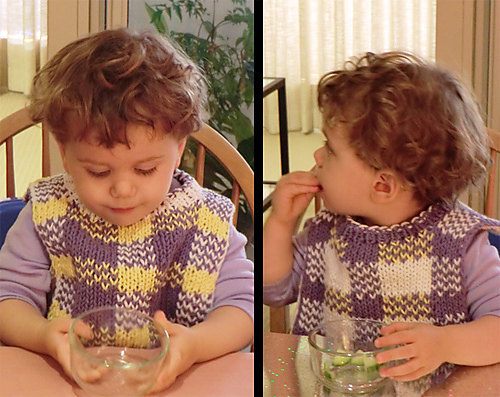 Tartan Reversible Baby Bib
What the well-dressed baby is wearing! Double knit to be reversible and absorbent. One size fits all; approximately 9″ x 13″ laid flat; to fit head circumferences up to about 17.5″

Sharon Tote
Lexi Nelson's gingham tote is 13 3/4 " wide and 12 3/4 " tall, not including handles. Originally published in Knitscene Spring 2016