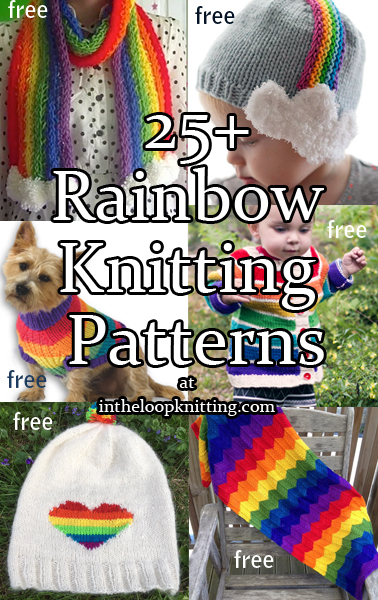 Knitting patterns with Rainbow motifs and shapes on blankets, pillows, sweaters, mitts and more! Most patterns are free.
To get the knitting patterns, scroll down the page to the individual pattern you want and click on the link to that pattern.
These patterns are not my designs but links to other designers who have generously shared their patterns. If you have questions about how to knit a specific pattern, please contact the designer directly.
All links on this site are for informational purposes, but please note that some links are to affiliate sellers that pay me a small commission on purchases.
Free Patterns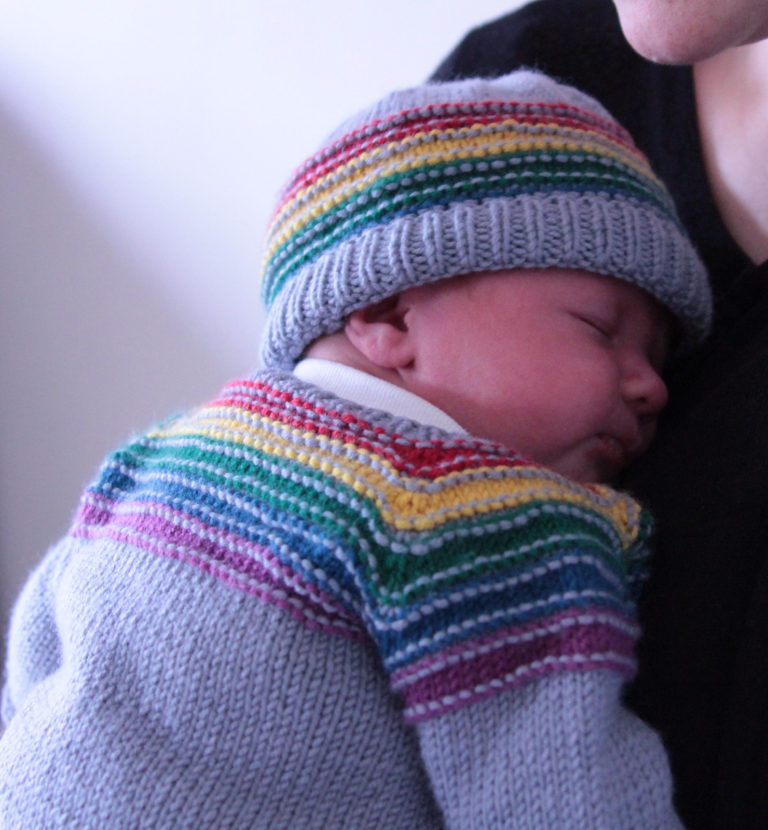 After the Storm Baby Cardigan and Hat Set
Easy baby hat and sweater set, sized for approximately 0-3 months. Designed by Playing With Fibre. Rated very easy by Ravelrers.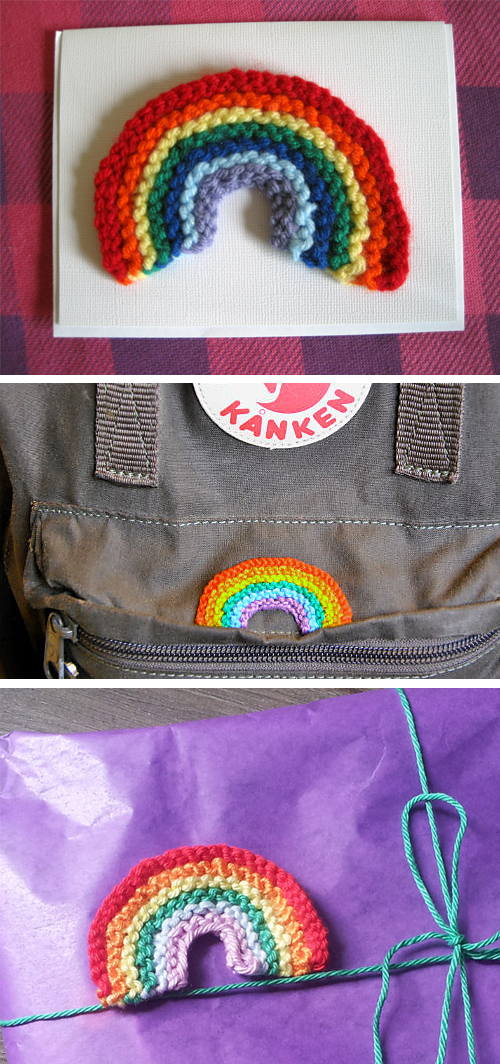 Happy Rainbow Patch
Easy rainbow that can be used as a patch, brooch, hair clip, or to embellish other craft projects. Great stashbuster!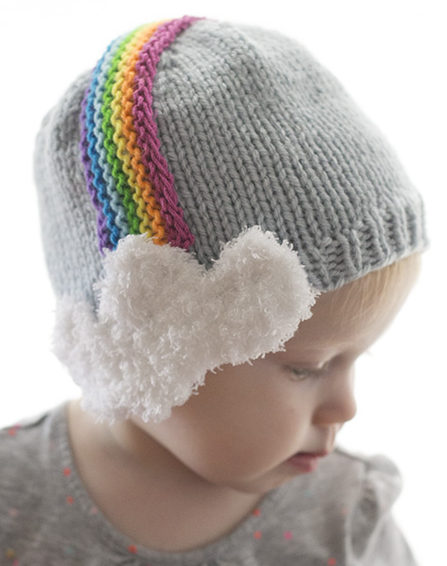 Over the Rainbow Hat
Adorable rainbow baby hat with little cloud earflaps. Web pattern for 6 months is free. More sizes and a printable pdf are available on Etsy. Designed by Little Red Window.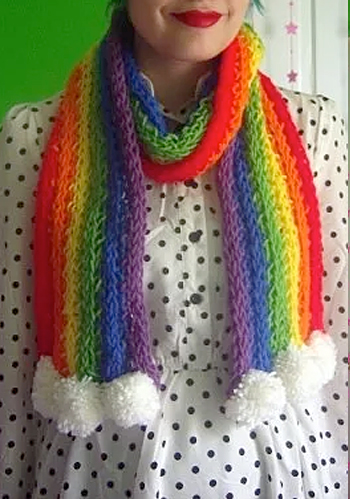 Finger Knit Rainbow Scarf
This easy scarf is made of 6 finger knit ropes that are sewn together and finished with white cloud pompoms. I think you could make this from I-cords as well.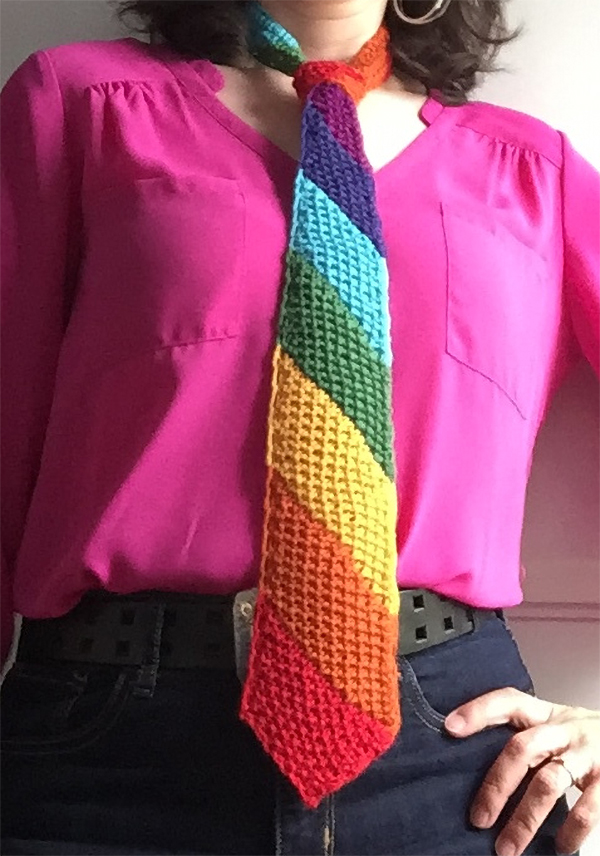 Rainbow Tie
This tie one on for love pattern is knit with bias stripes. Designed by Suzanne Resaul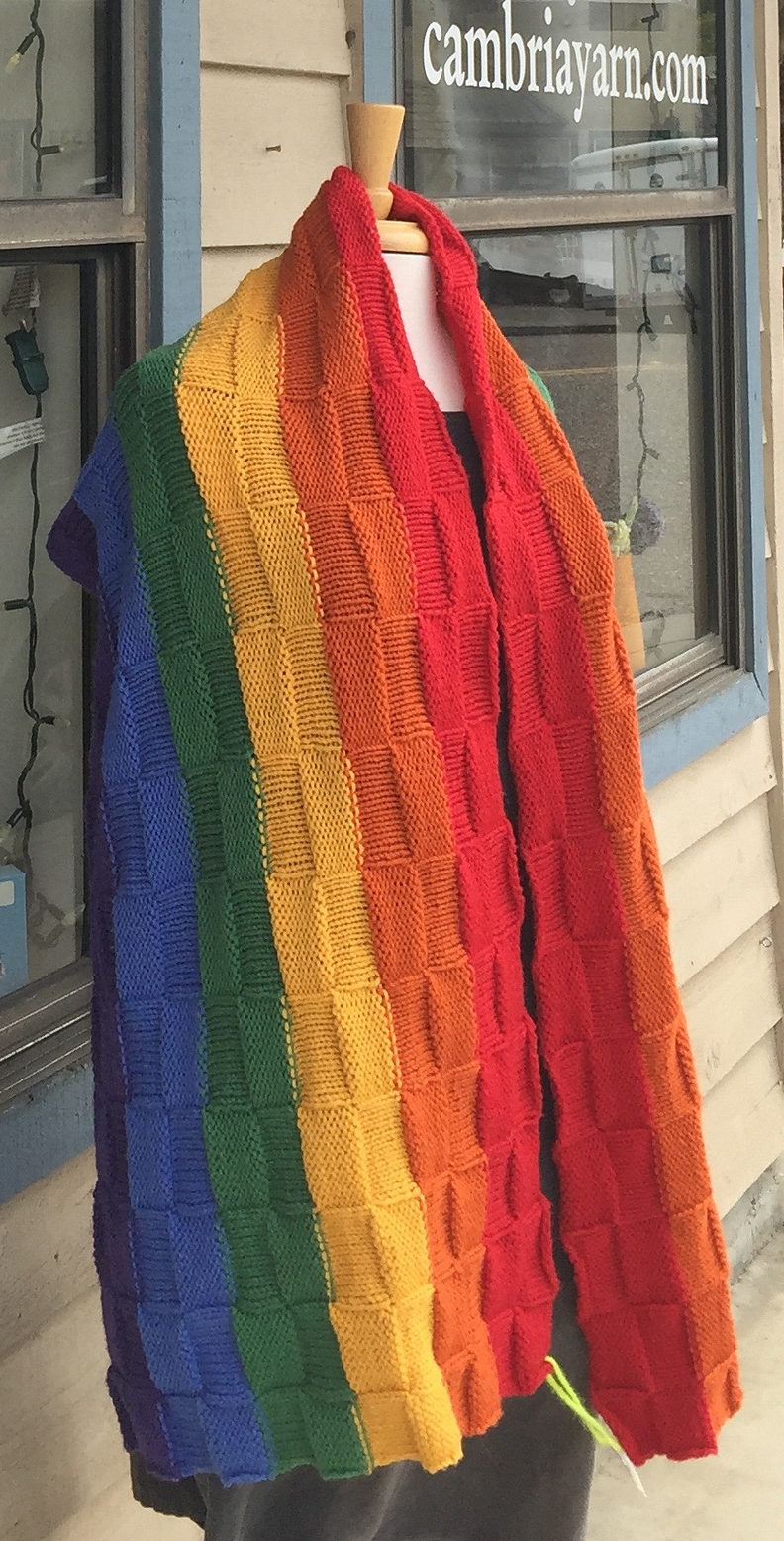 Rainbow Wrap
Using 6 skeins of a worsted weight yarn, this wrap is knit lengthwise. Designed by Kris Gregson for Cambria Yarn. .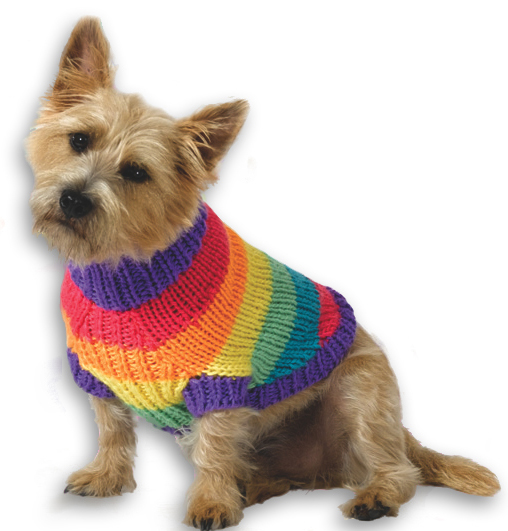 Rainbow Dog Sweater
Striped sweater in 4 sizes to fit your pooch: Chest measurement 14 (18, 22, 26)".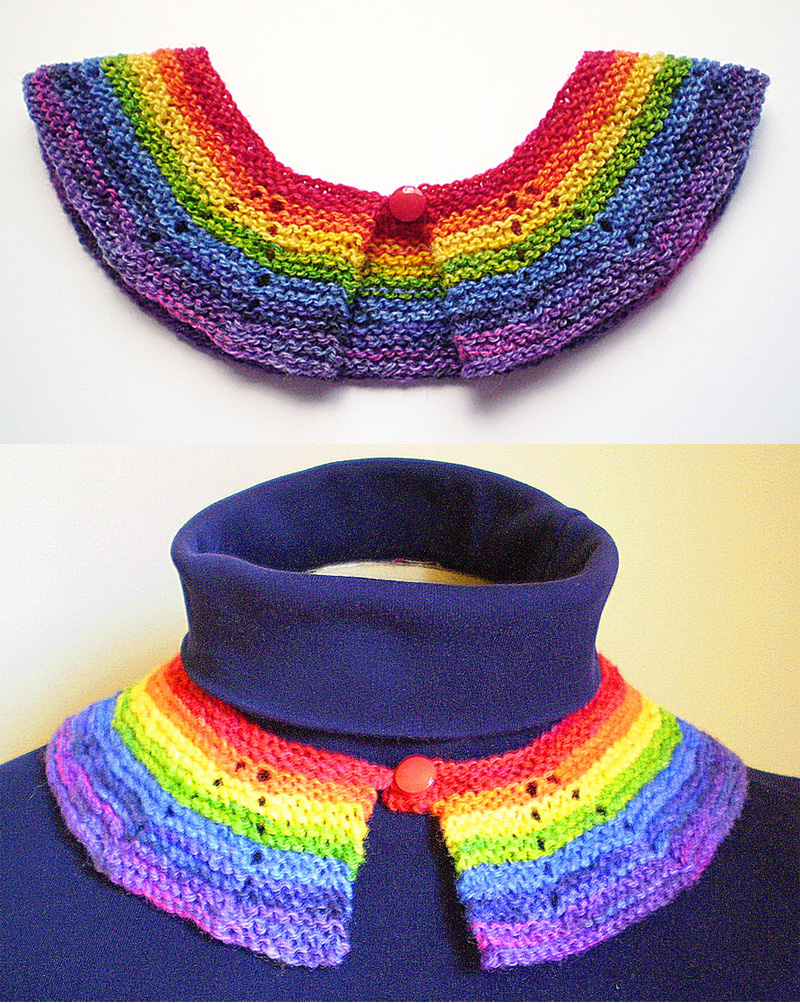 Rainbow Collar
Brighten up your outfit with this simple striped garter stitch collar by Frankie Brown.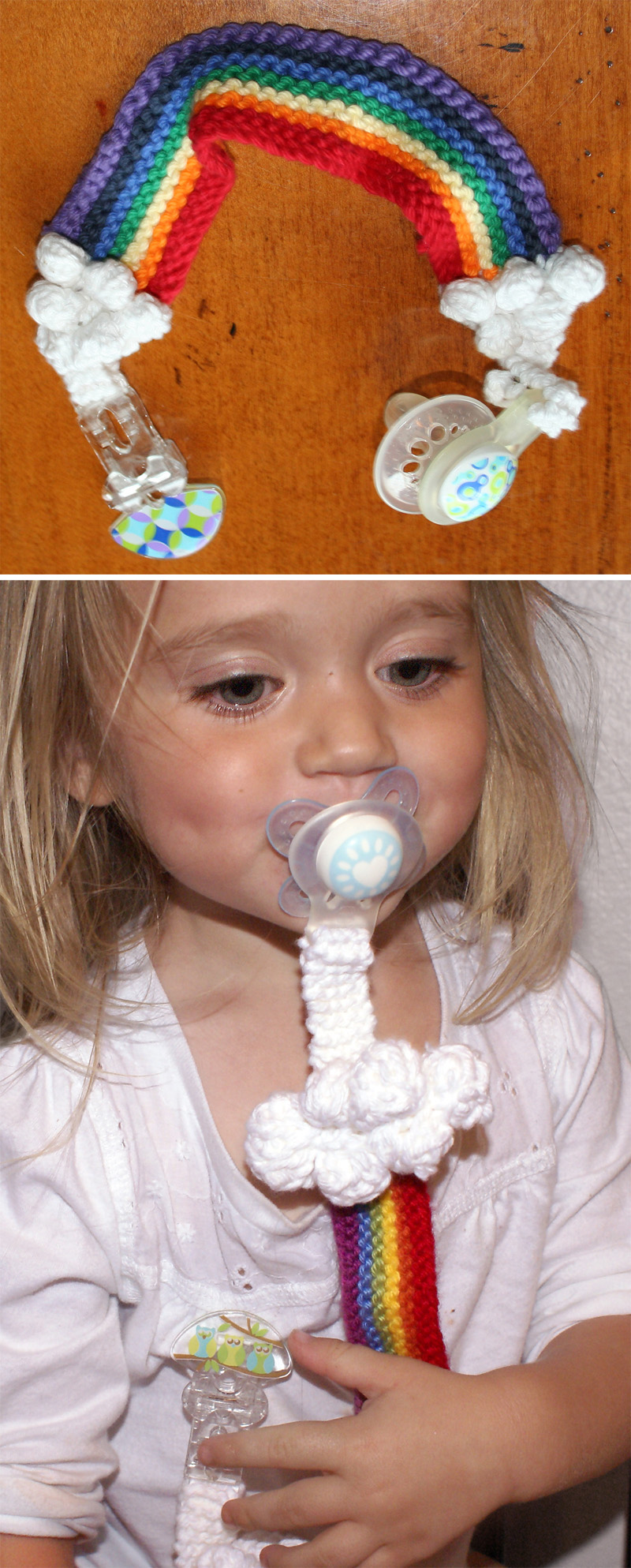 Rainbow Pacifier Keeper
Quick baby shower gift of rainbow strap with clouds that you can sew to pacifier and clip. Or sew snaps on each end for easy cleaning as ATexasYarn did. Designed by Sarah Turpin.
Pastel Rainbow Baby Blanket
An easy baby blanket with feather and fan stripes. Designed by Stitchylinda Designs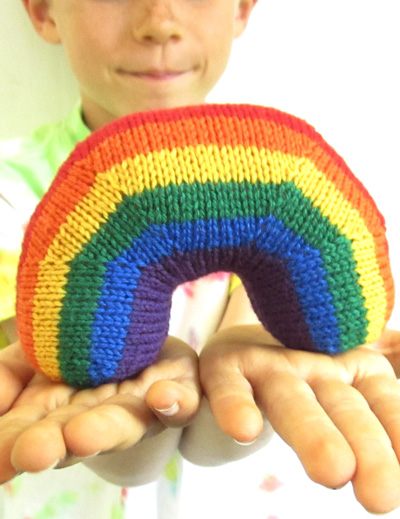 I Can Knit a Rainbow Softie
This cute and cuddly rainbow is knitted flat on straight needles and sewn together with one short seam. Great for mini skeins or scrap yarn. Designed by Natty Knits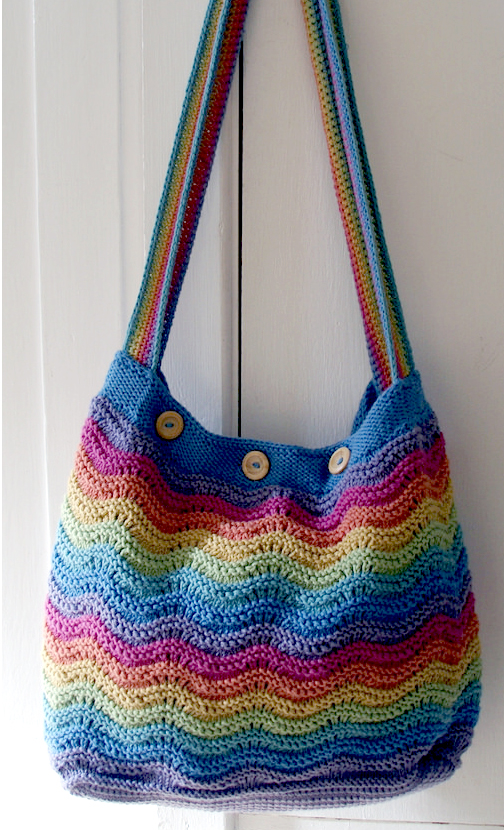 Feather & Fan Rainbow Ripple Beach Bag
Roomy tote bag with feather and fan stripes. Designed by Home Baked Online, the pattern is available in the Internet Archive and is probably not supported by designer. Perfect for mini skeins of DK yarn.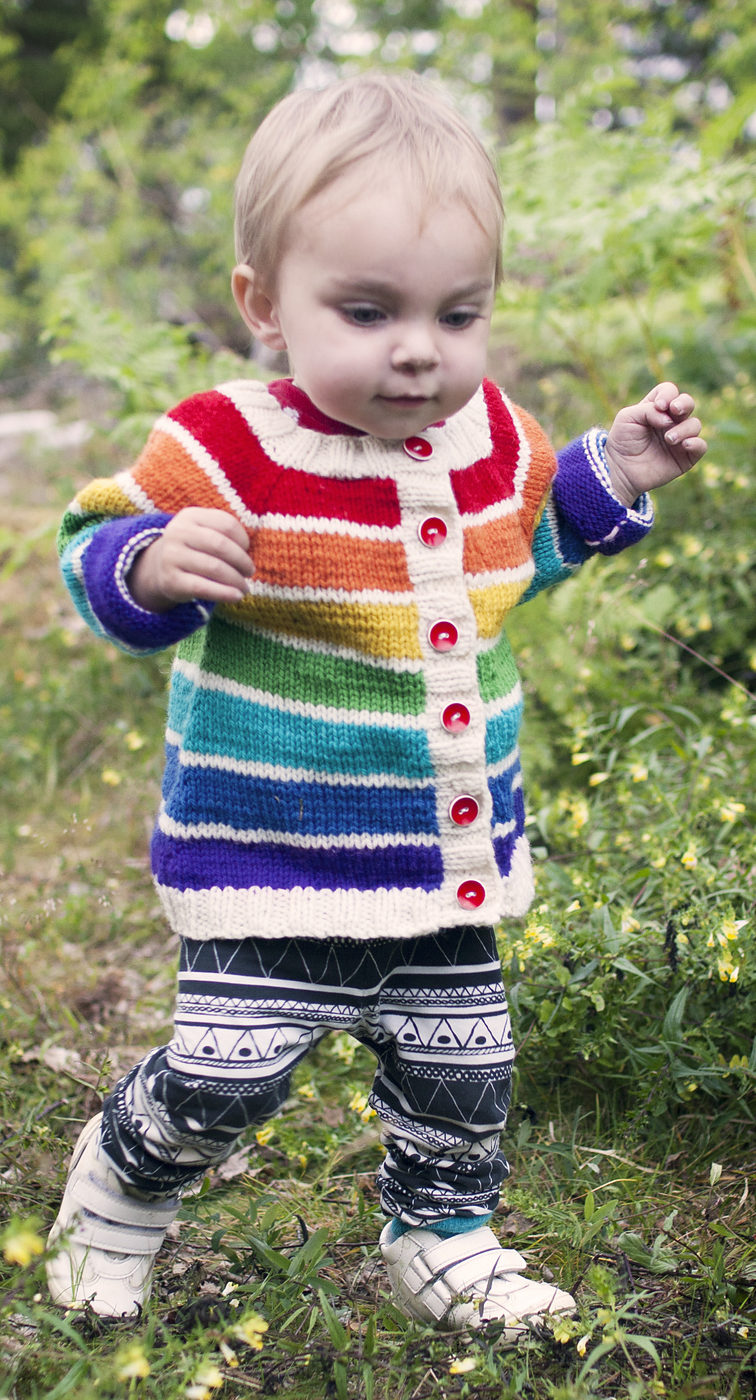 Rainbow Cardigan
This simple top-down raglan striped cardigan has short row shaping for a better fit and is slightly A-line shaped. Sized for babies and toddlers sizes 1 (2) 3-4 years. Designed by Clara Falk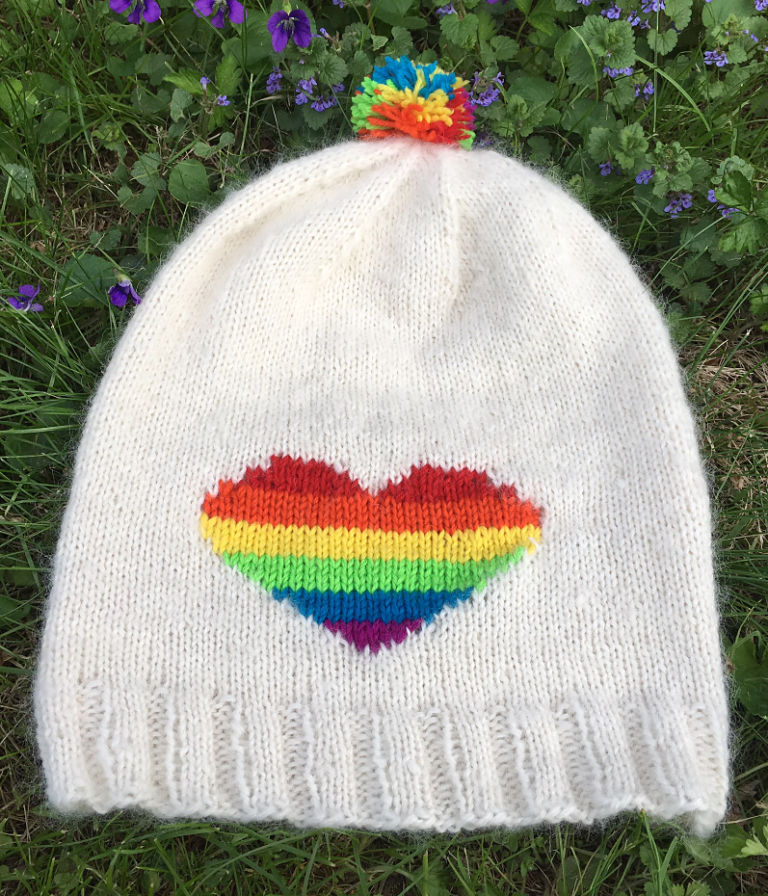 Rainbow Heart Hat
Slouchy beanie with striped rainbow heart chart that can be created with intarsia or duplicate stitch. Other Pride heart charts included. Adult S, M, L. Designed by weatherglass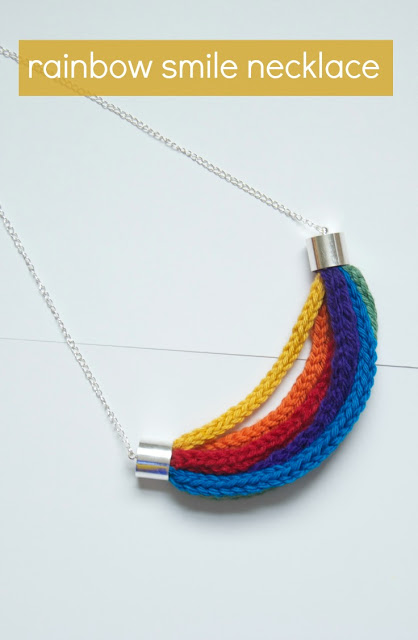 Rainbow Smile Necklace
This easy and fun necklace by Vicki Brown is constructed with a few i-cords that you can knit or crochet, plus a few jewelry supplies.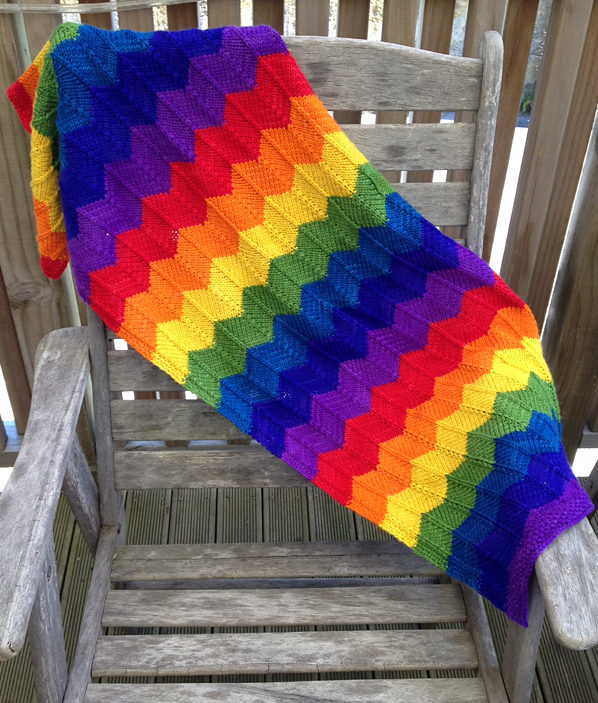 Rainbow Hills Blanket
Easy zigzag stripe blanket in 4 sizes. Western Hills Blanket designed by Julia Stanfield. Pictured project by mrsbielawski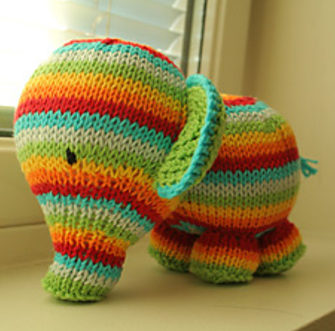 Elefante
Adorable striped toy elephant is a great stash buster. Finished size: 5 inches tall by 6 inches in length Designed by Susan B. Anderson Pictured project by Camilchen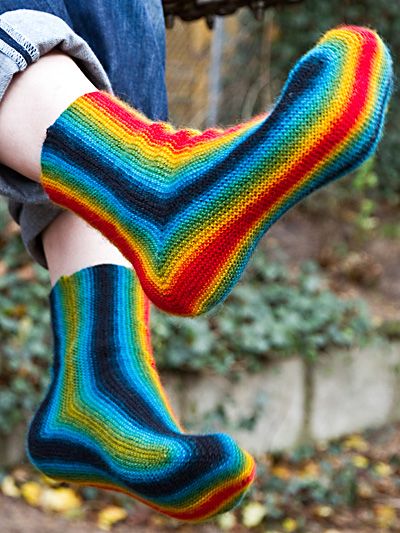 Longitudinal Rainbow Socks
These socks were designed for self-striping yarn with lengthwise stripes without seams to preserve the beauty of the colors. Designed by Nicola Susen. Available in English and German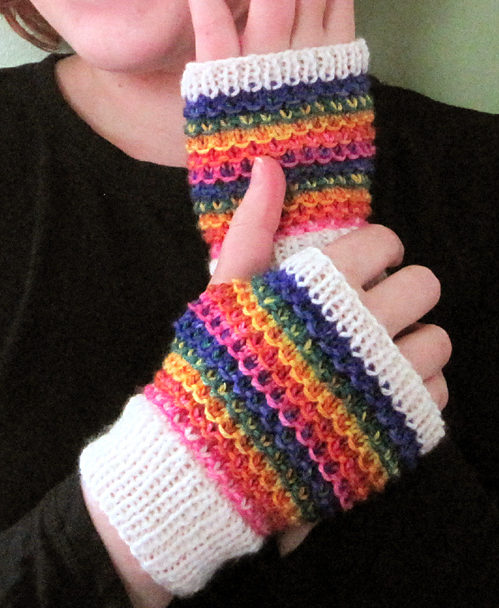 Rainbow Slip Stitch Mitts
These fingerless mitts feature easy slip stitch colorwork. Perfect stashbuster for using up scrap yarn.The designer Emma Welford says they take only a few hours to make. Mitts are worked flat and seamed.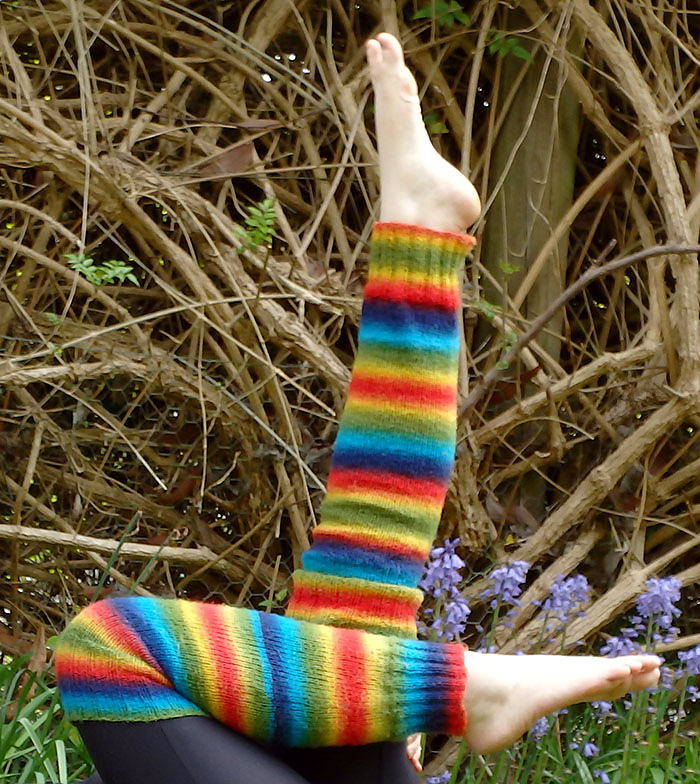 Rainbow Legwarmers
These leg warmers were designed with self-striping yarn. Designed by Aniko Heart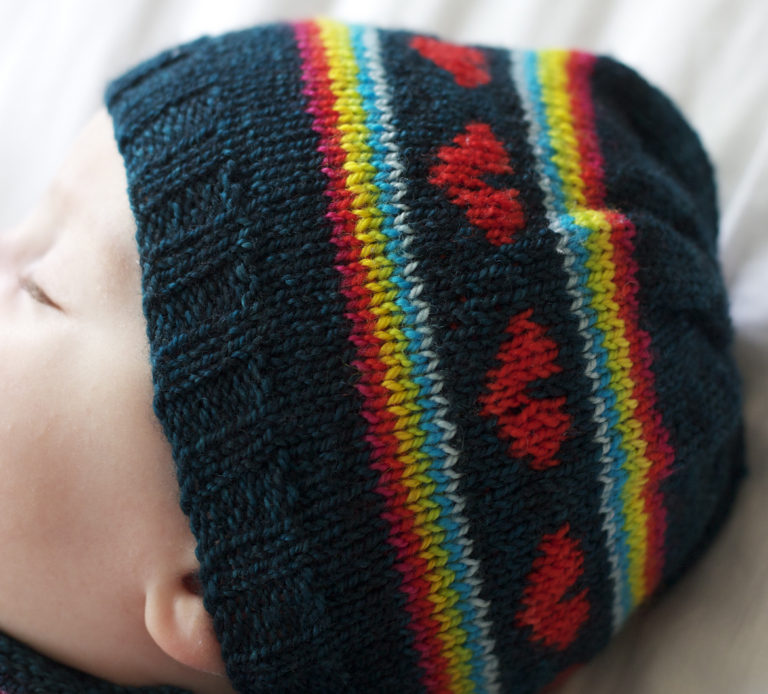 I Heart Rainbows Hat for All Ages
This beanie is available in sizes from baby to adult. Designed by Emily Wessel and Alexa Ludeman for Tin Can Knits. Matching pullover for babies and toddlers available at Etsy.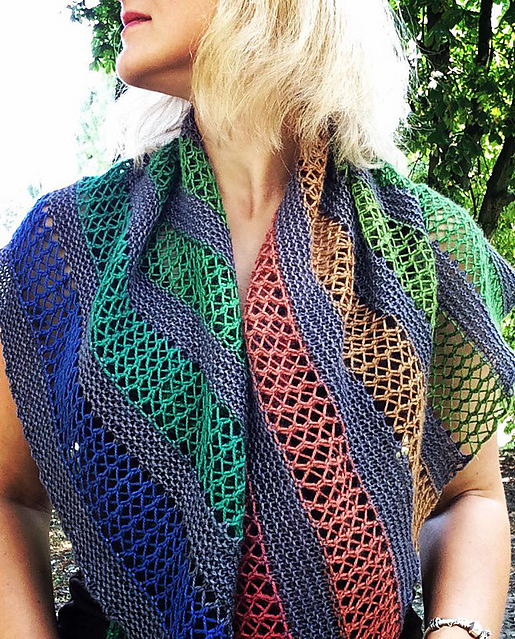 Playground Shawl
Justyna Lorkowska designed this shawl to be easy enough to knit while watching her children at the playground. Garter stitch stripes alternate with easy lace stripes to create a colorful shawl.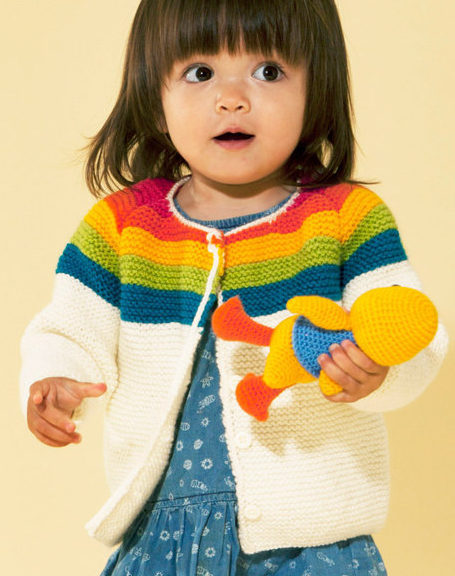 Rainbow Cardigan
This easy garter stitch sweater for babies and children features and striped yoke. Sizes 1 Years to 9 Years'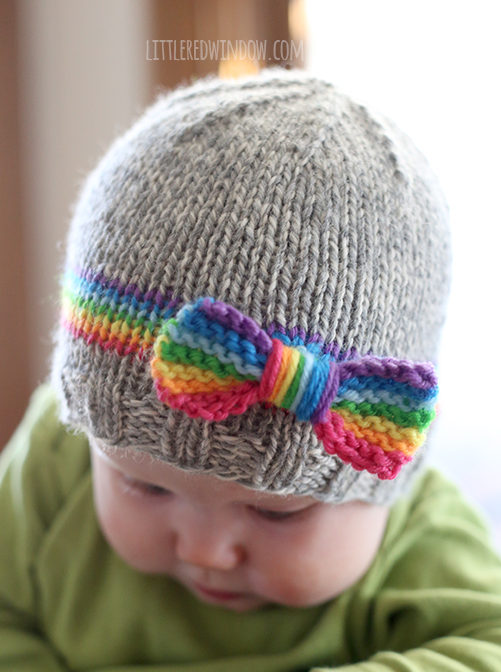 RainBOW Baby Hat
An easy cute baby hat from Little Red Window. 6 months size is free on web page. Additional sizes and pdf available on Etsy.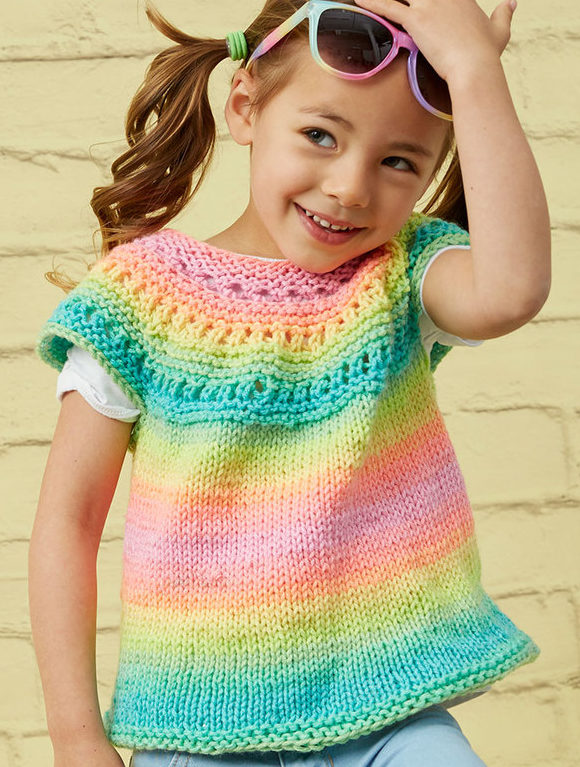 Girl Time Tunic
Child's pullover sweater with lace yoke becomes a rainbow with self-striping yarn. Sizes 2 years through 10 years. Designed by Erin Kate Archer for Red Heart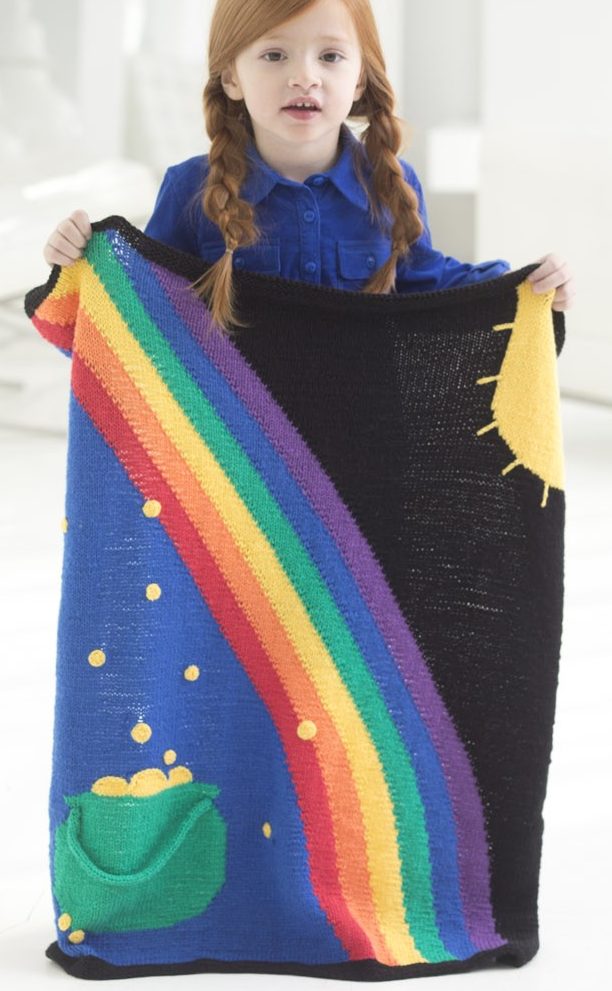 Pot 'O Gold Blanket
This baby or child blanket features a rainbow and the pot of gold. About 29 x 30 in. (73.5 x 76 cm). Designed by Amy Bahrt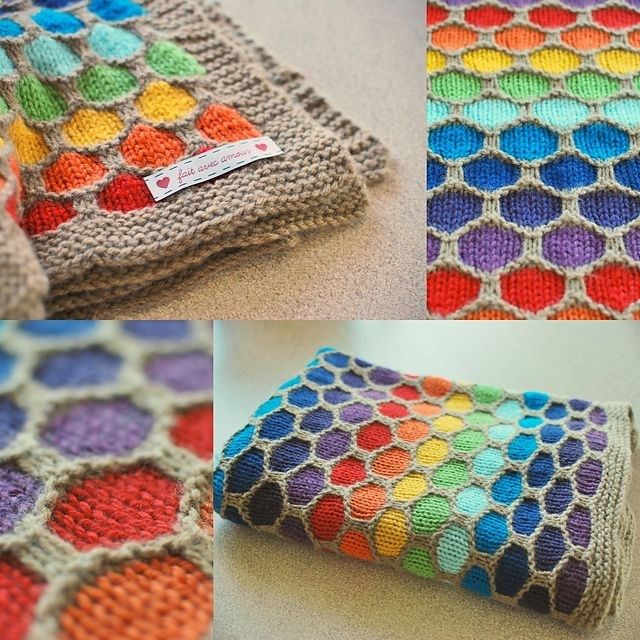 Honeycomb Stroller Baby Blanket
This may look complicated but the honeycomb pattern is made with alternating colors of yarn and slip stitches. Approximately 24x32″ (61x81.5cm)

Lanesplitter Skirt
Tina Whitmore's skirt is knit on the bias which creates the interesting diagonal pattern as well as keeps the edges from curling. Sizes XS [S, M, L, 1X, 2X, 3X, 4X] Great with multi-color yarn!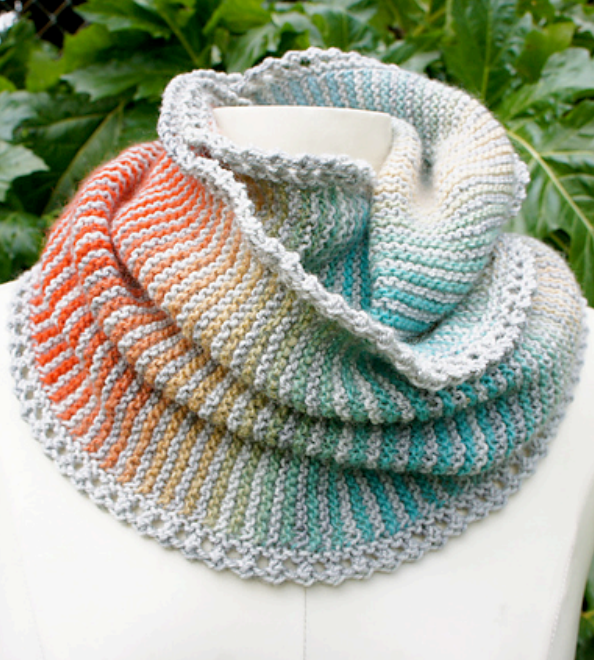 Prisma Loop Cowl Infinite Scarf
Garter stitch stripes combined with gradient yarn create a colorful cowl or infinite scarf. Designed by Virginia Catherall
Patterns for Purchase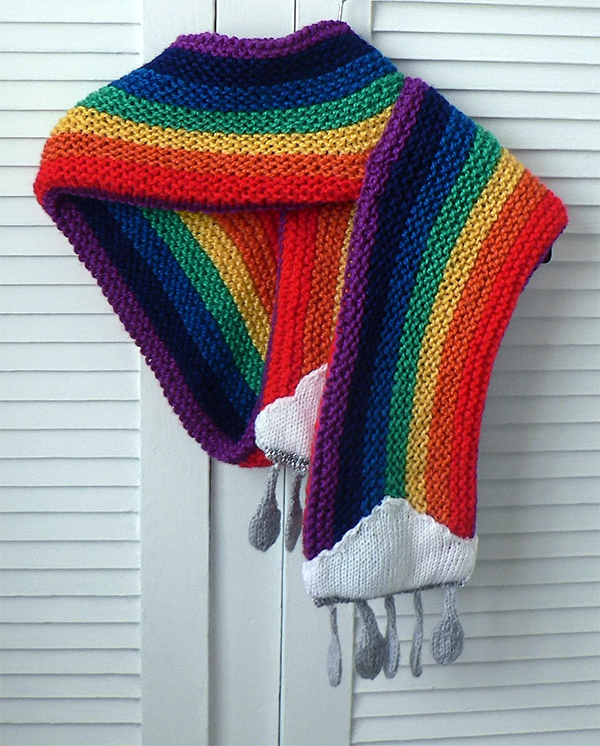 Raindrops & Rainbows Scarf
Easy garter stitch scarf knit sideways. The clouds & raindrops are worked as flat pieces in Stocking Stitch, on a pair of single point needles then stitched onto the finished scarf. Designed by LittleImaginKnits. Chunky yarn.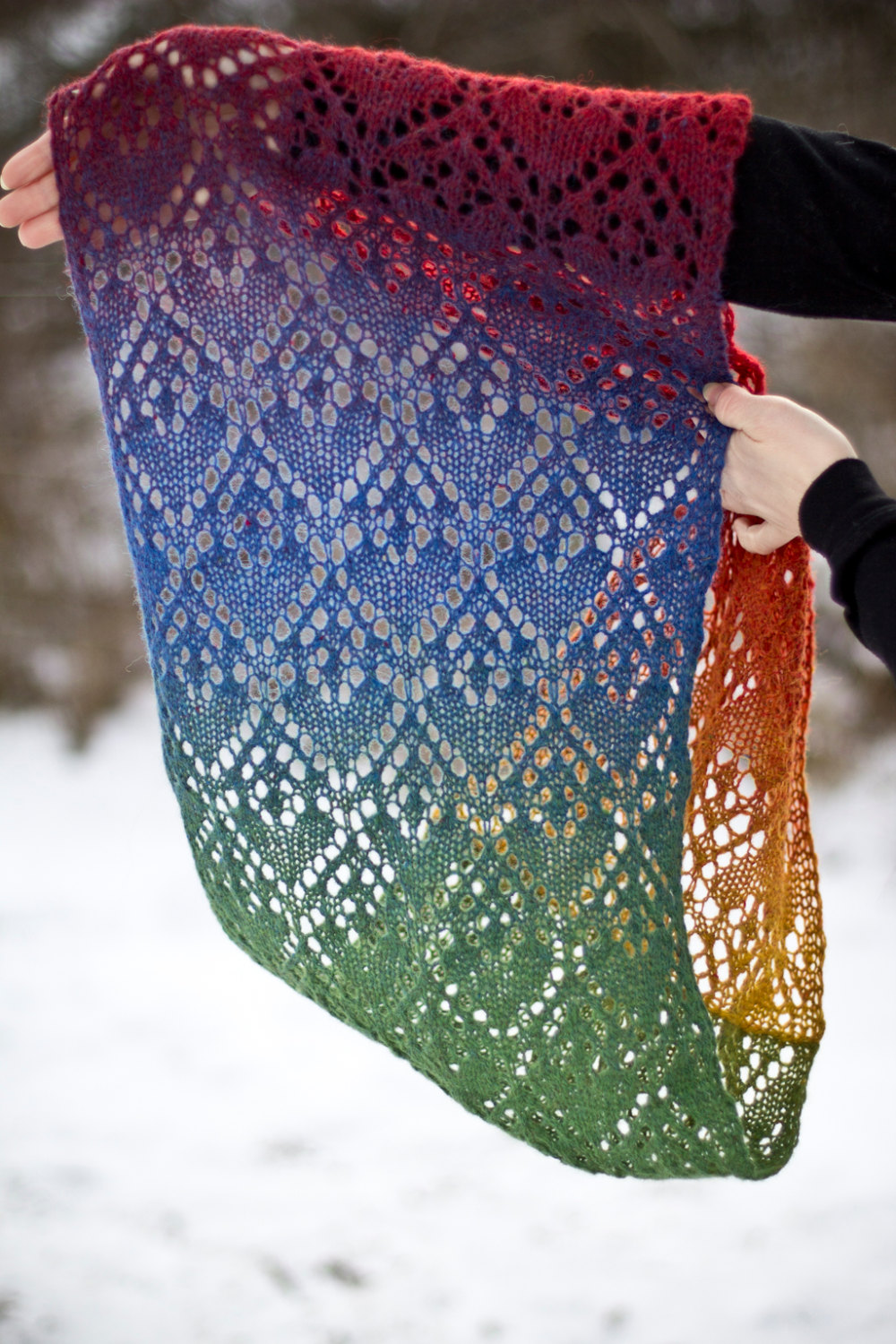 Rainbow Heart Lace Shawl
Heartfelt is a rectangular lace shawl that becomes an infinity shawl when the ends are sewn together. You could keep it open for a regular wrap. The pattern is easy to adapt and works well with any sport, dk or fingering weight yarn. Perfect for multi-colored yarn.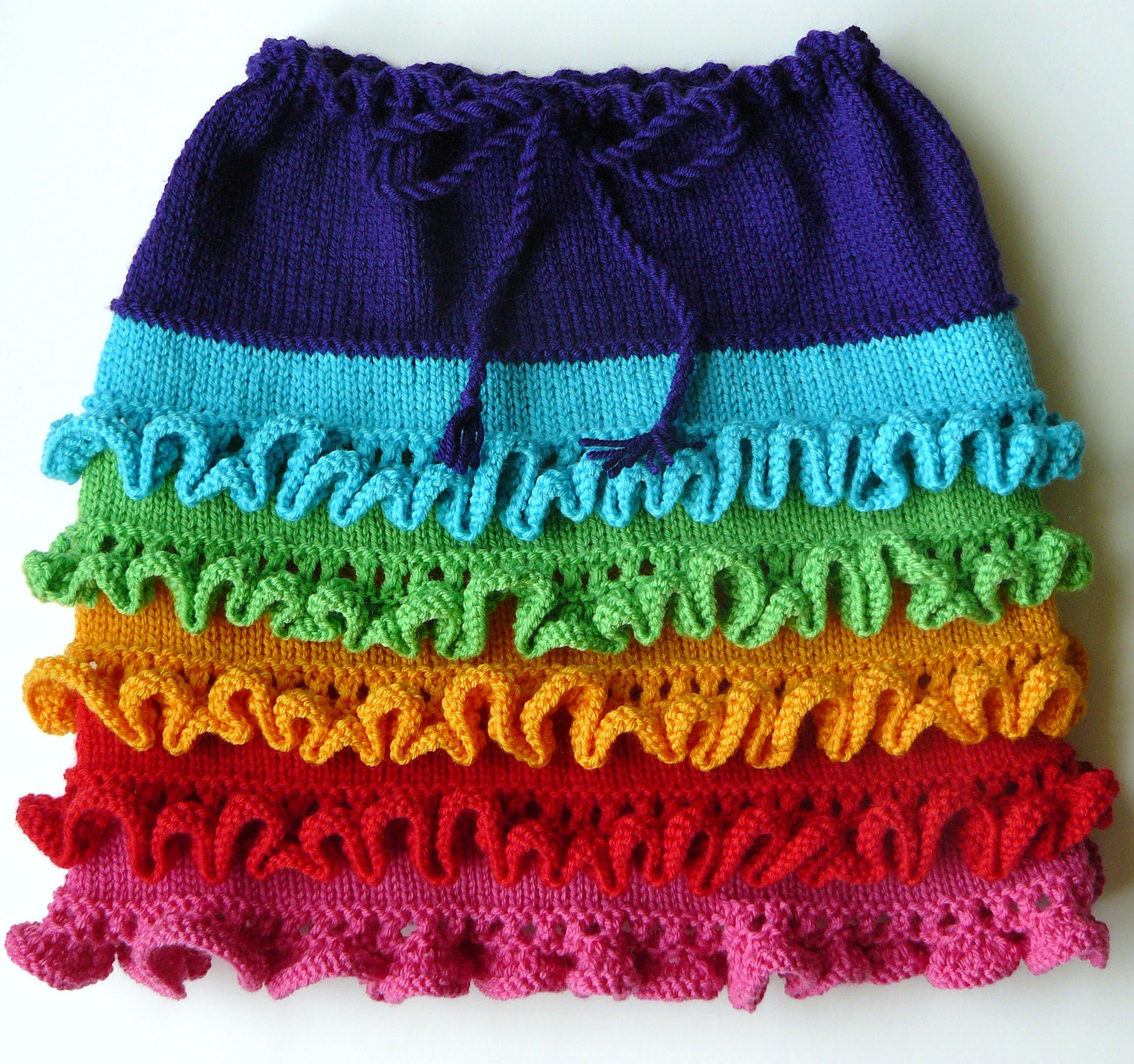 Rainbow Tiered Skirt
Arwen is a drawstring skirt knit from the top down, to fit ages approximately 2 – 10 years.The length of the skirt is adjustable by adding more or fewer frills. Add more frills as the child grows taller.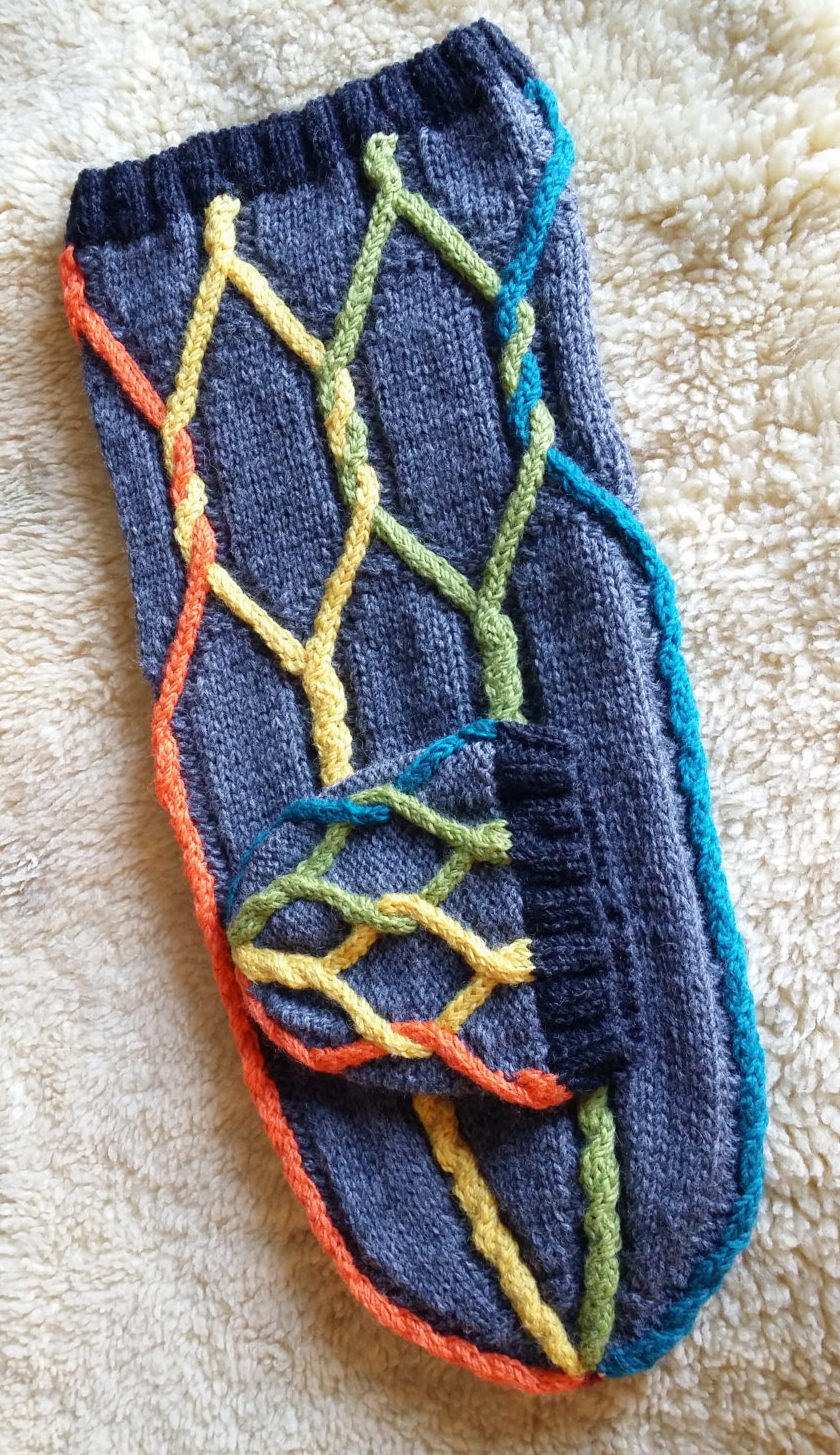 Rainbow Cable Baby Cocoon and Hat
Unique interwined cables are easier than they look but make a colorful baby set.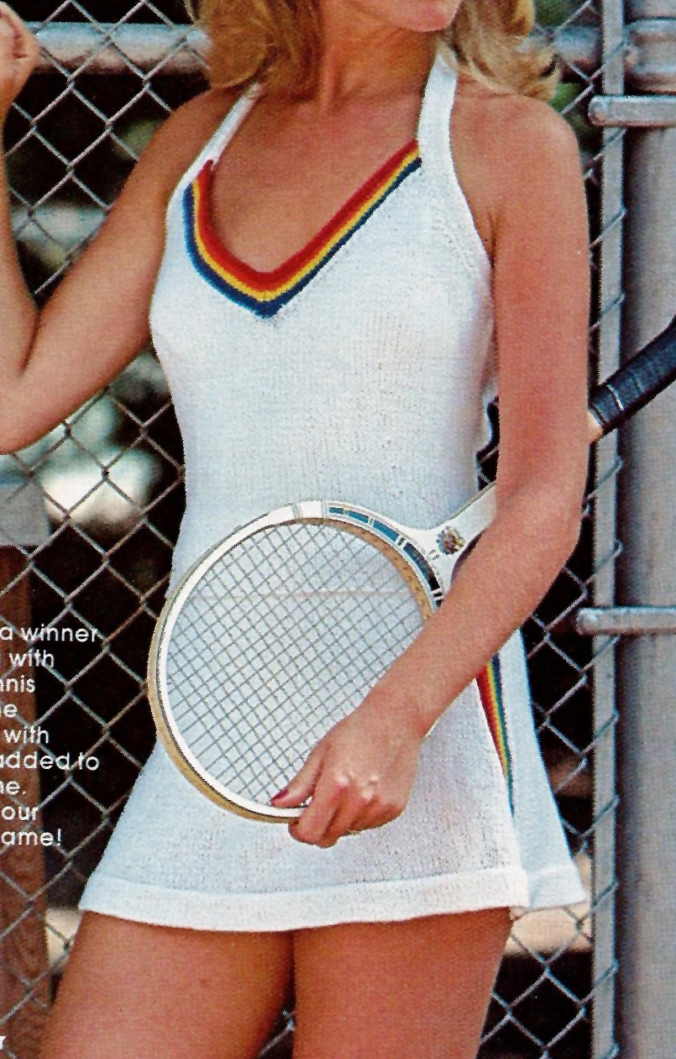 Rainbow Bordered Halter Top and Skirt
Vintage pattern for two-piece tennis set with rainbow bordered halter top and matching mini skirt with vertical rainbows on the sides. SIZES: 8, 10, 12 and 14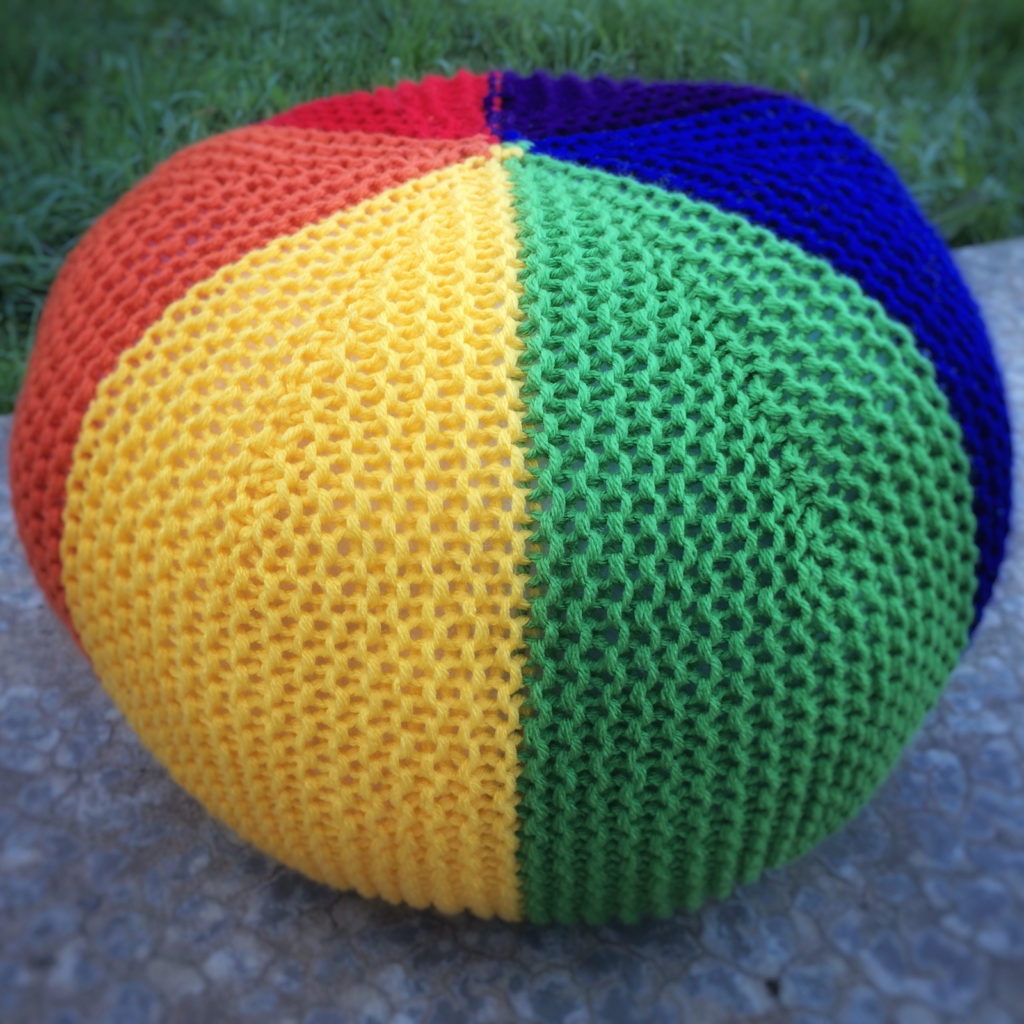 Spectrum Pouf
Rainbow colored footstool or seat. Finished Size: 20″ tall and 80″ around (stuffed). Designed by Vicki Square. Pictured project by knitnrundaisy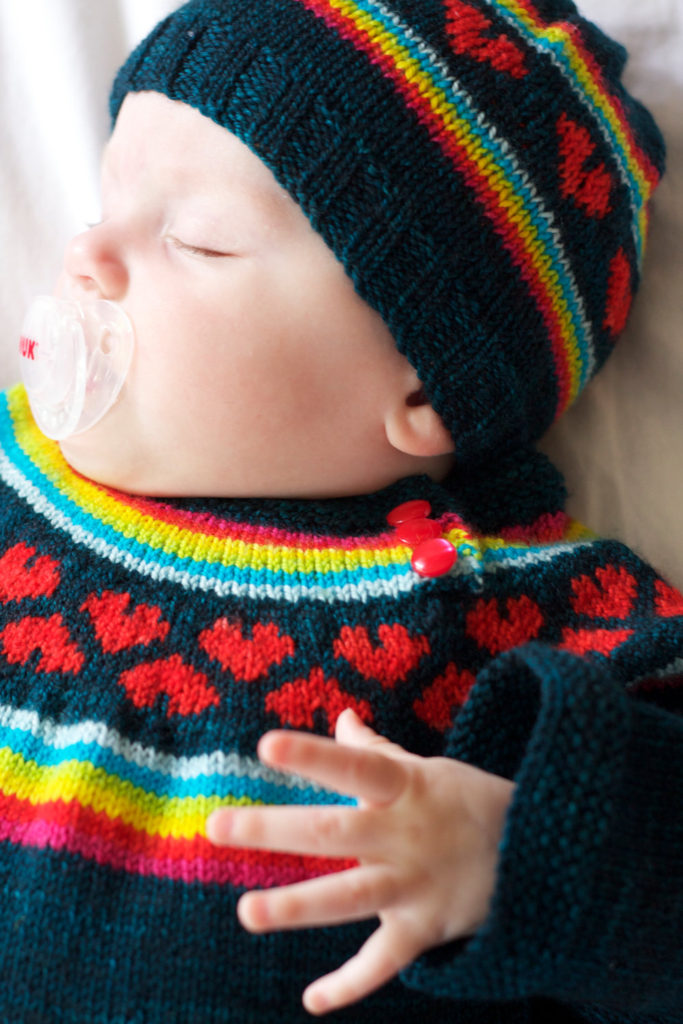 I Heart Rainbows Baby Sweater
Sizing for pullover: Premie (0-6 mo, 6-12 mo, 12-24 mo, 3-4 yrs). The matching hat pattern is free and sized from baby to adults.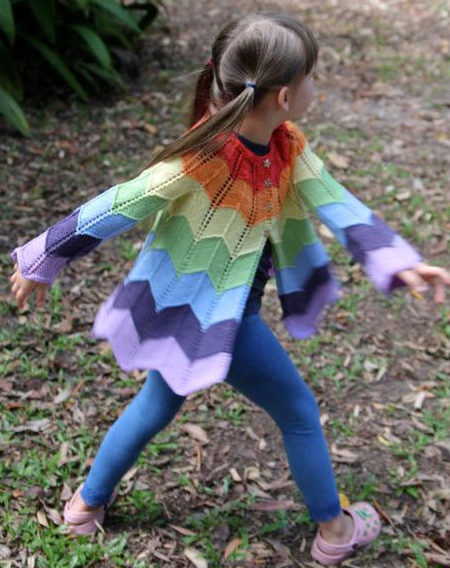 Ziggerzagger Rainbow Jacket
A lacy chevron patterned baby / child's cardigan in 5 sizes – to fit newborn up to 4 years old.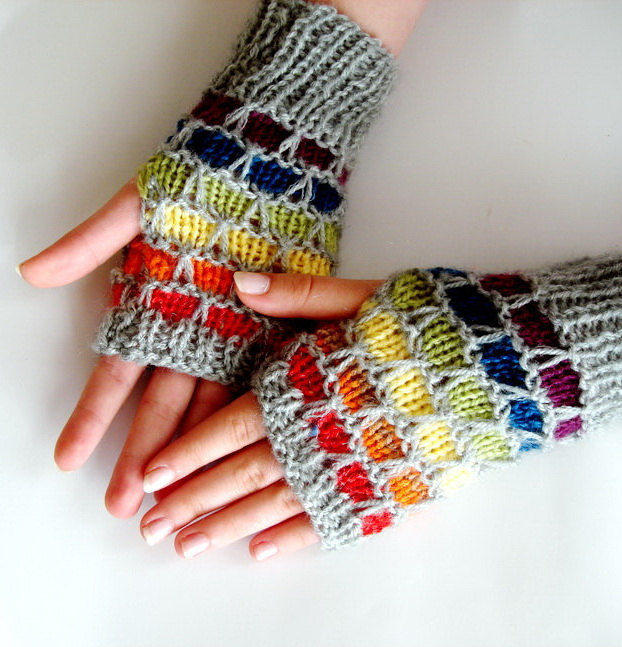 Rainbow Honeycomb Fingerless Mitts
Striped fingerless gloves.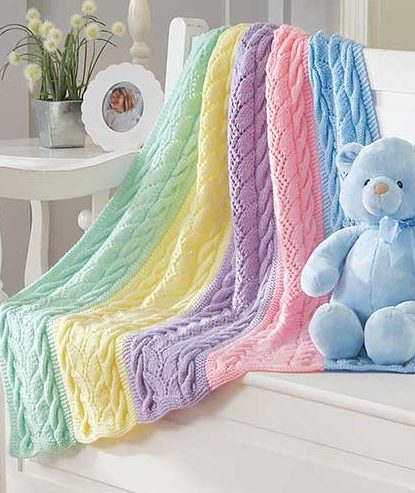 Striped Cables Baby Blanket
This baby blanket knit in the round is one of the 9 knitting patterns in the ebook Dreamy Baby Wraps available exclusively from Leisure Arts.

Lacy Stripe Cardigan for Baby through Adult
In sizes from baby to adult, this sweater is fast and easy. Knit in 4 colors in an alternating lace pattern with a simple ribbon-tie at the chest. Sizes: Baby to Women's 4XL . Designed by Lorna Miser, this pattern is one of the 53 patterns in the book Easy as 1-2-3 Skeins.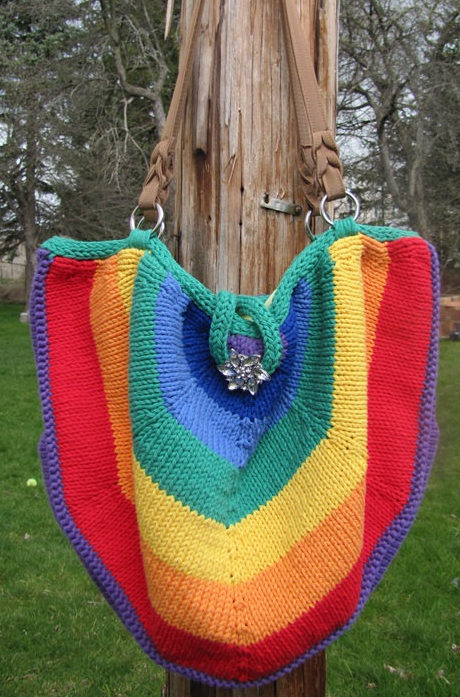 Over the Rainbow Bag
Roomy striped tote. Width: approximately 16 inches. Height: approximately 12 inches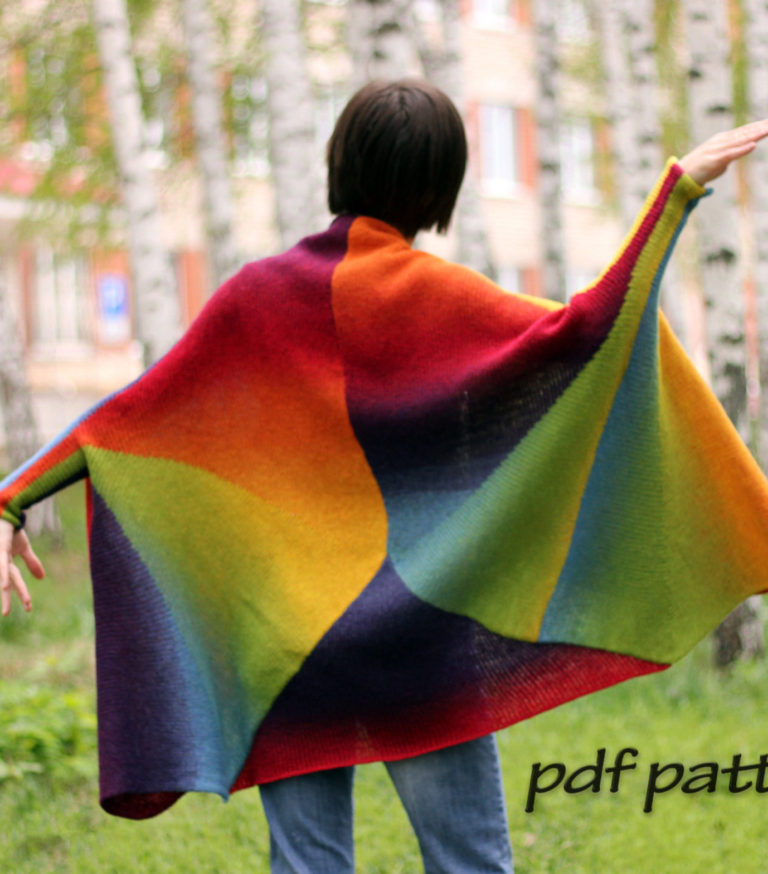 Rainbow Cardigan
Kimono jacket knit in variegated yarn.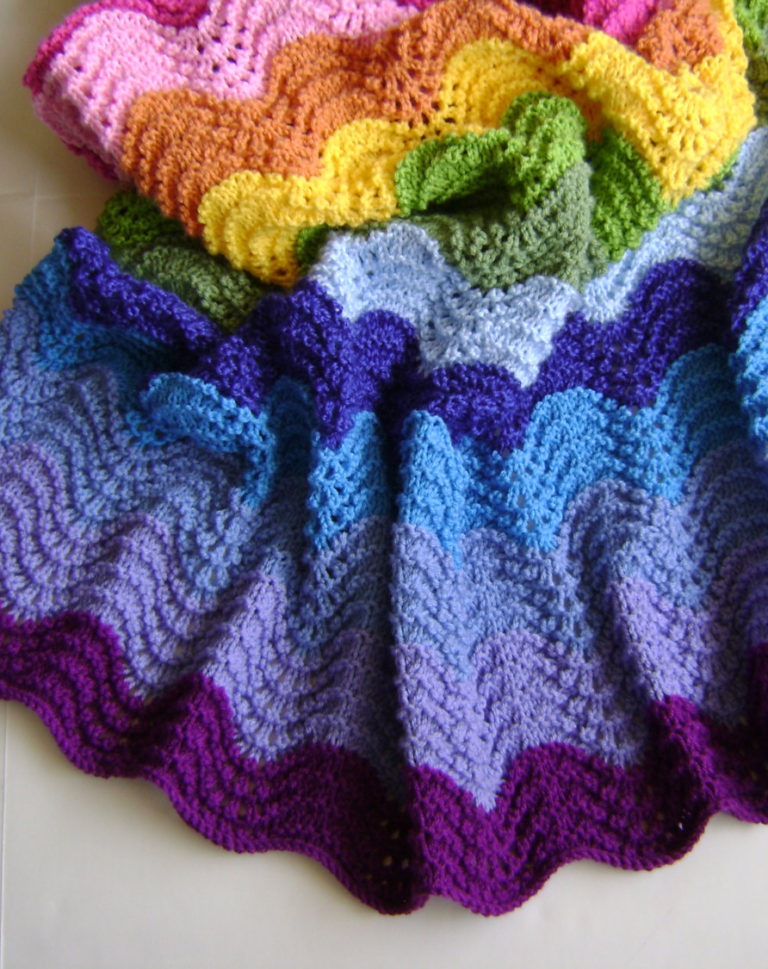 Technicolor Waves Blanket
Easy colorful blanket features a four row repeat lace pattern. 42" W x 54" L (107cm x 1137cm)