Baby Cardigan Sweater Knitting Patterns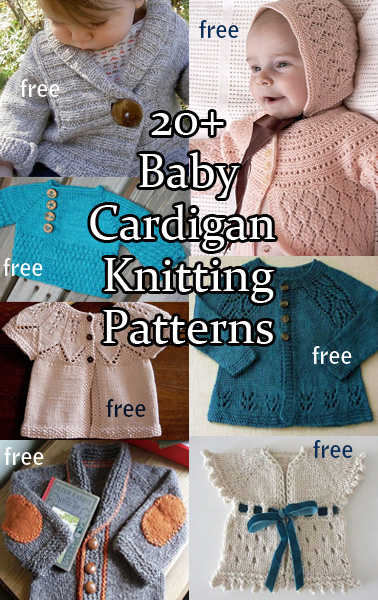 Scroll down for links to patterns. For more baby sweater patterns, visit
To get the knitting patterns, scroll down the page to the individual pattern you want and click on the link to that pattern.
These patterns are not my designs but links to other designers who have generously shared their patterns. If you have questions about how to knit a specific pattern, please contact the designer directly.
All links on this site are for informational purposes, but please note that some links are to affiliate sellers that pay me a small commission on purchases.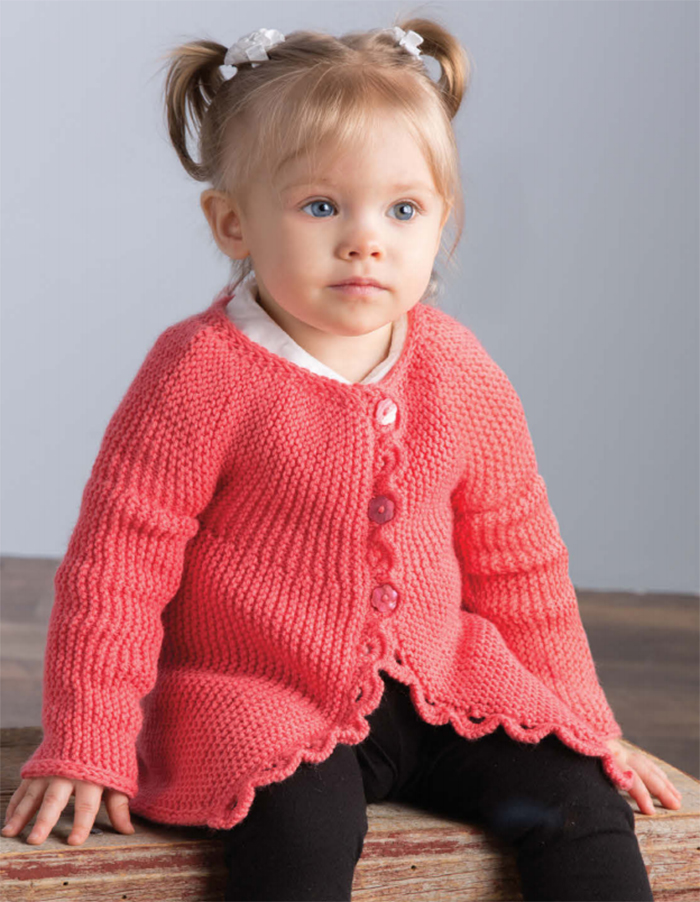 Sideways Baby Cardi
Long-sleeved baby cardigan sweater knit from side to side in garter stitch with scalloped button bands. Sizes 3–6 (12–18, 24, 36) months. Recommended DK yarn available on pattern page. Designed by Lena Skvagerson. DK yarn. This pattern was featured in Season 8 of Knit and Crochet Now! and is free with registration at Annie's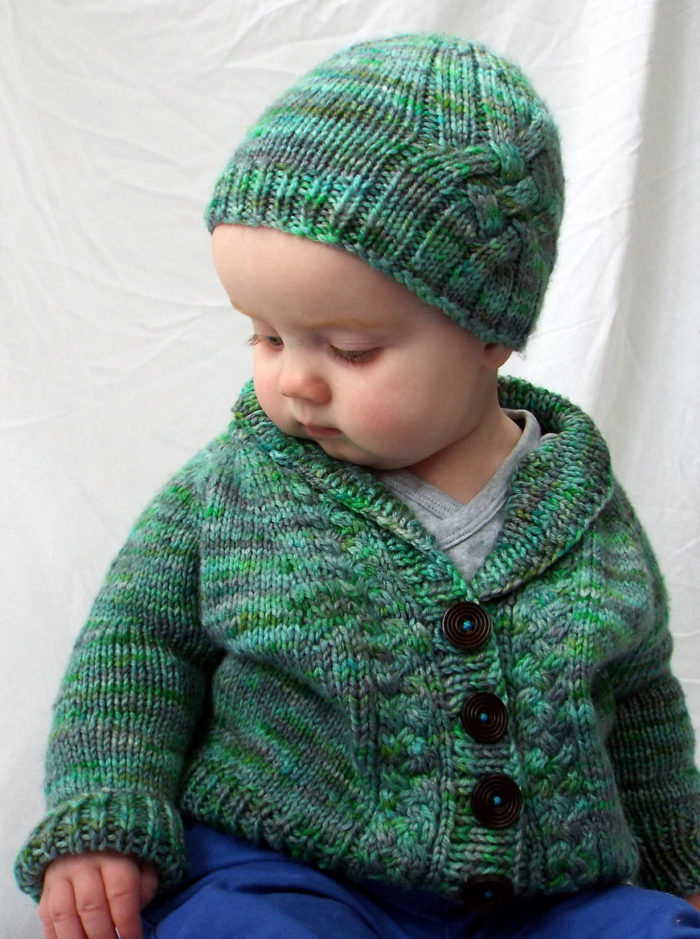 Méabh's Cardigan and Hat
Baby and toddler sized sweater features a shawl collar and braided cables down the front and a statement cable cascades down the back. Matching beanie features twisted rib and cables. Sizes 0-3 mths (3-6 mths, 6-12 mths, 12-18 mths, 18-24 mths, 2-3 years, 3-4 years). DK weight. Designed by Ciara Ní Reachtnín for Knotions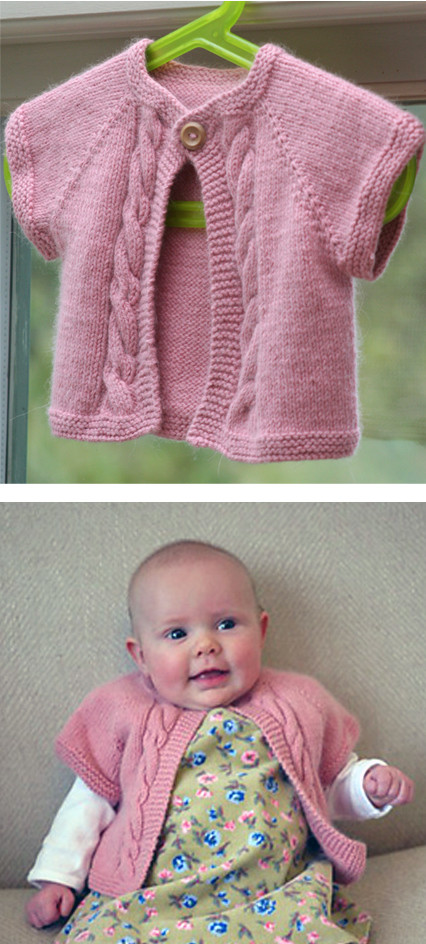 Cabled Raglan Baby Sweater
Short sleeved baby cardigan with cables on front. To fit 3–6 (9–12, 18–24) months. One of free patterns the free 9-pattern baby ebook from Interweave. Designed by  Rebecca L. Daniels. Pictured project by ElvieandBoo who reversed the left hand cable to make 2 mirror image cables and made the sleeves shorter, just knitting 2 rounds of stockinette before the garter trim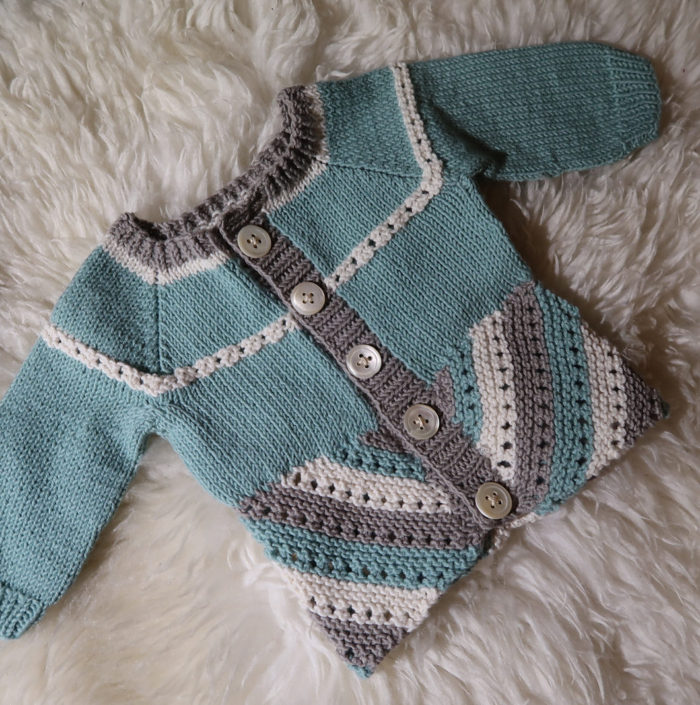 Elliot Baby Cardigan
Baby sweater can be knit in 3, 2, or even 1 color featuring a bias bottom worked in two pieces of garter stitch with eyelet rows. Newborn size is free. Other sizes are available for purchase. Sport weight. Great project for scarp yarn. Designed by Kristin Blom.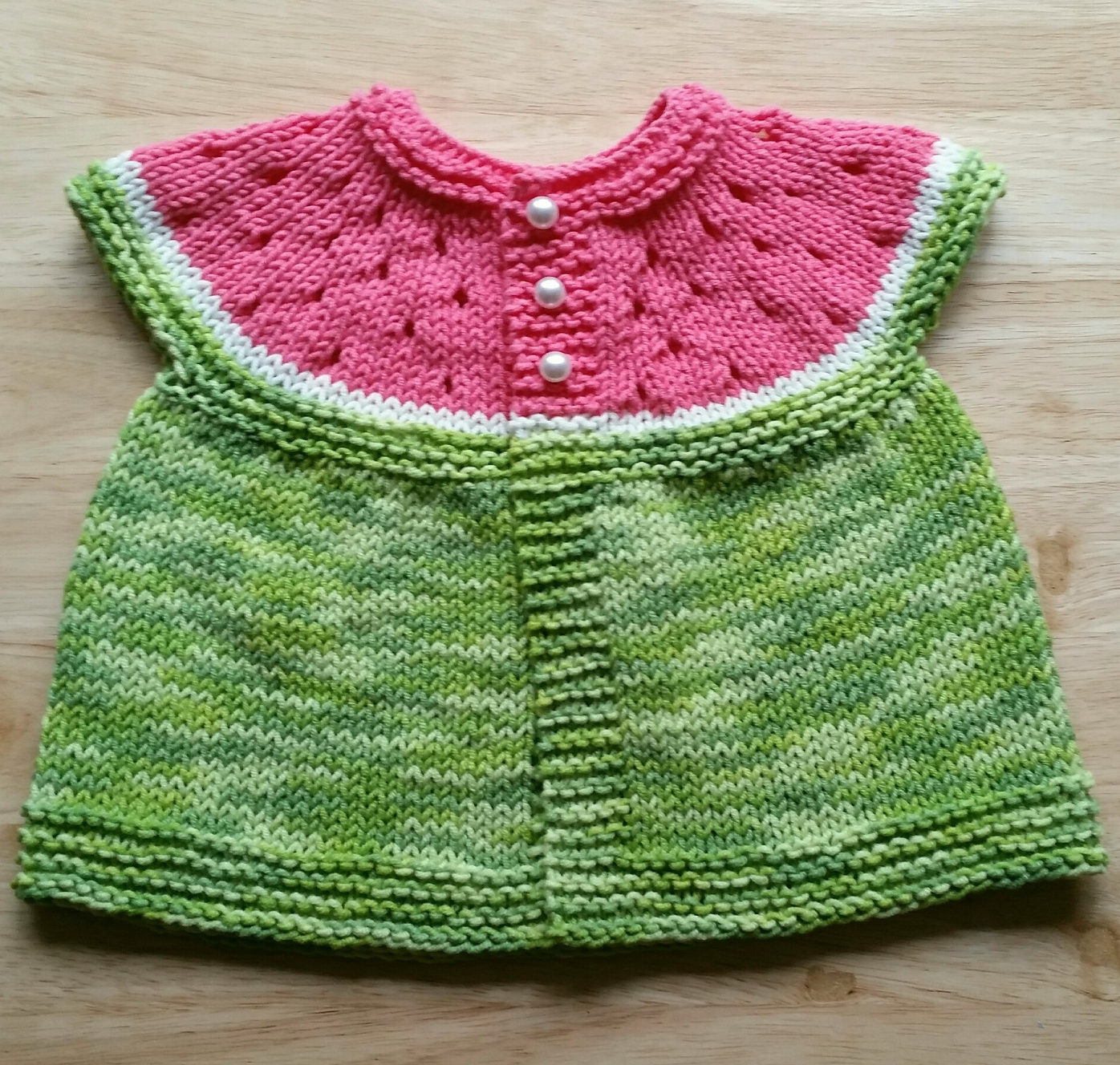 Watermelon Baby Cardigan
Sleeveless summer baby cardigan with watermelon slice yoke with eyelets to look like seeds. One size to fit approx 0-3 months. Designed by Stitchylinda Designs.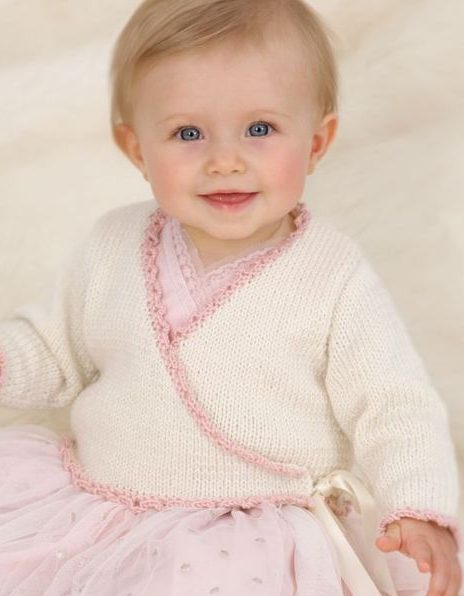 Baby Ballerina Wrap
Sizes: 0-3 Months, 3-6 Months, 6-12 Months, 1-2 Years. From Sublime Yarn.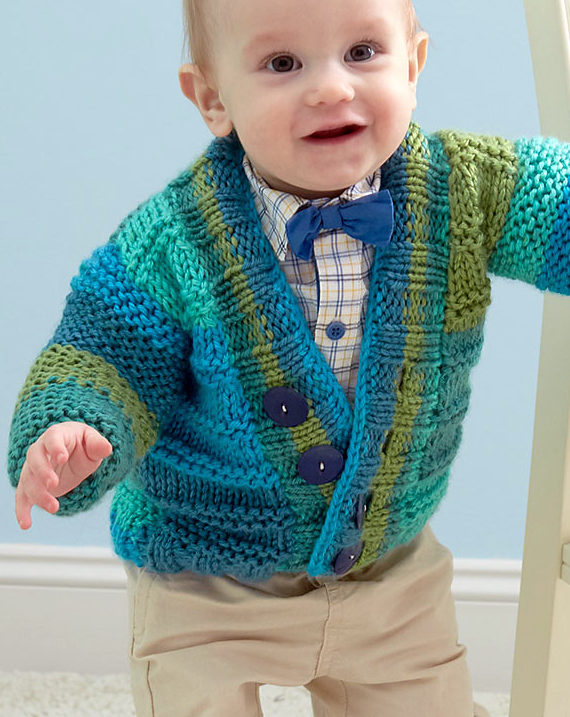 Soft Essentials Baby Cardigan
This classic baby cardigan gets its stripes from self-striping yarn. Sizes 6 months, 12 months, 18 months, 24 months. Designed by Sara Kay Hartmann for Red Heart. Quick knit in bulky yarn.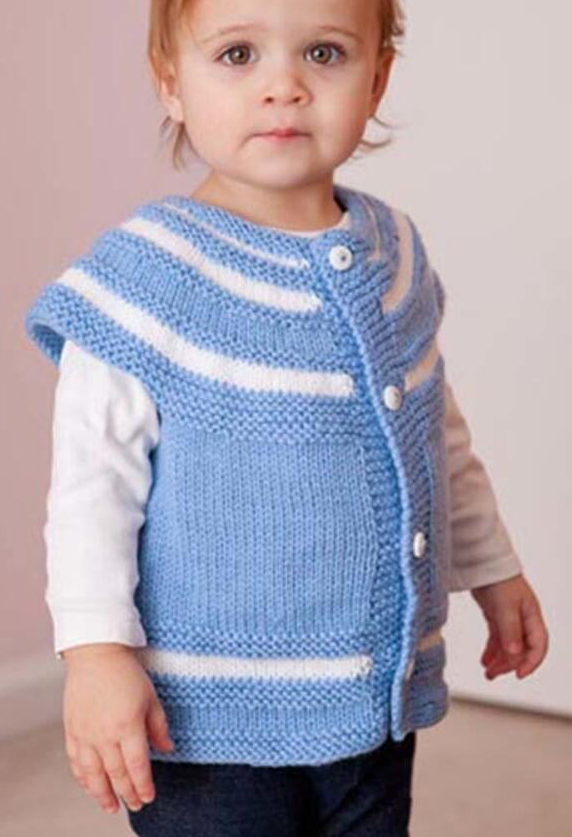 Deborah Norville Stripey Yoke Cardigan
This sweater in baby and child sizes features a striped yoke and button front. Sizes 12m (2y, 4y, 6y)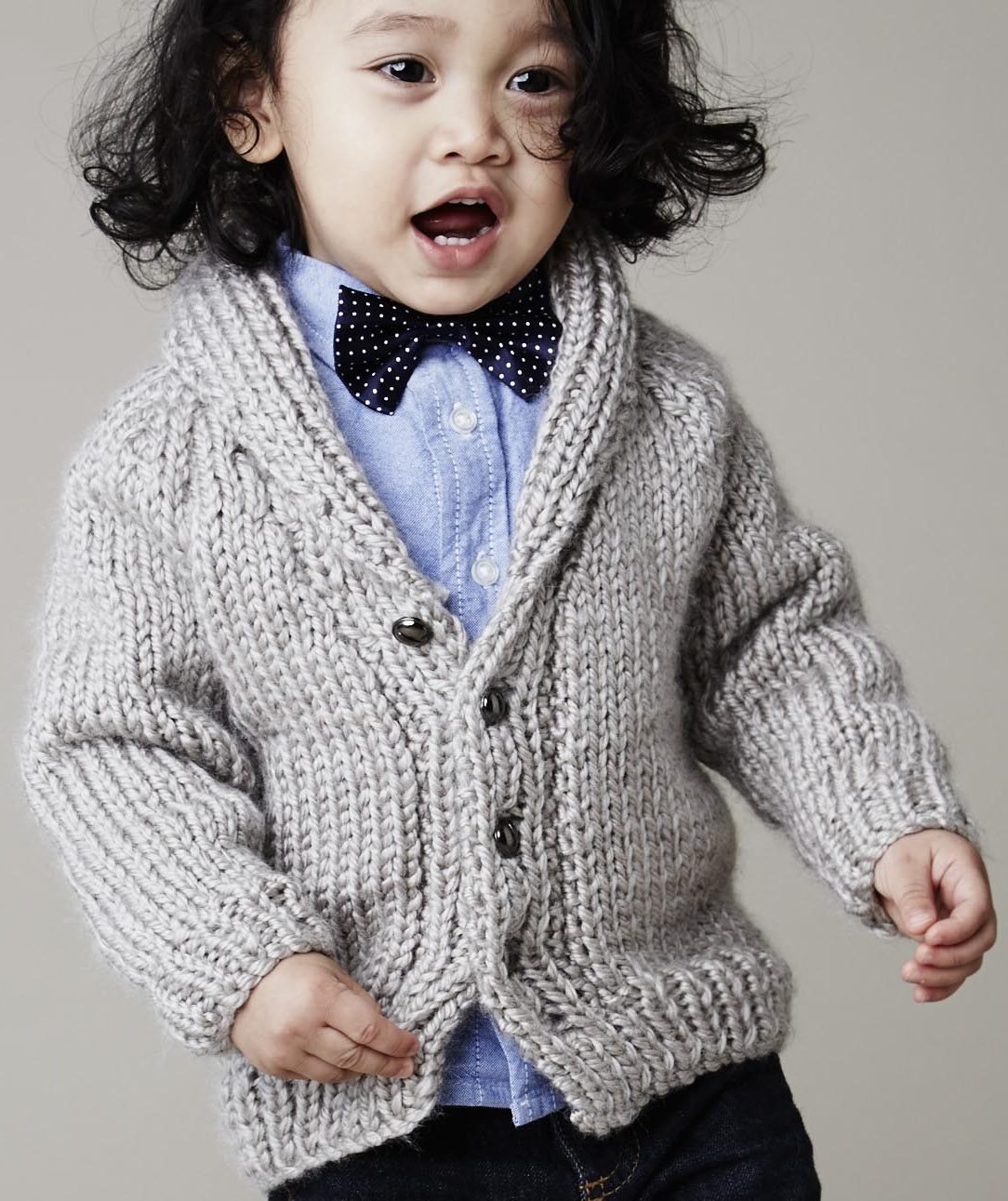 Cardigan with Shawl Collar
This shawl-collared long-sleeved cardigan sweater is available in baby and child sizes. Quick knit in super bulky yarn. Sizes 6 mos, 12 mos, 18 mos, 2 yrs, 4 yrs. Designed by Bernat Design Studio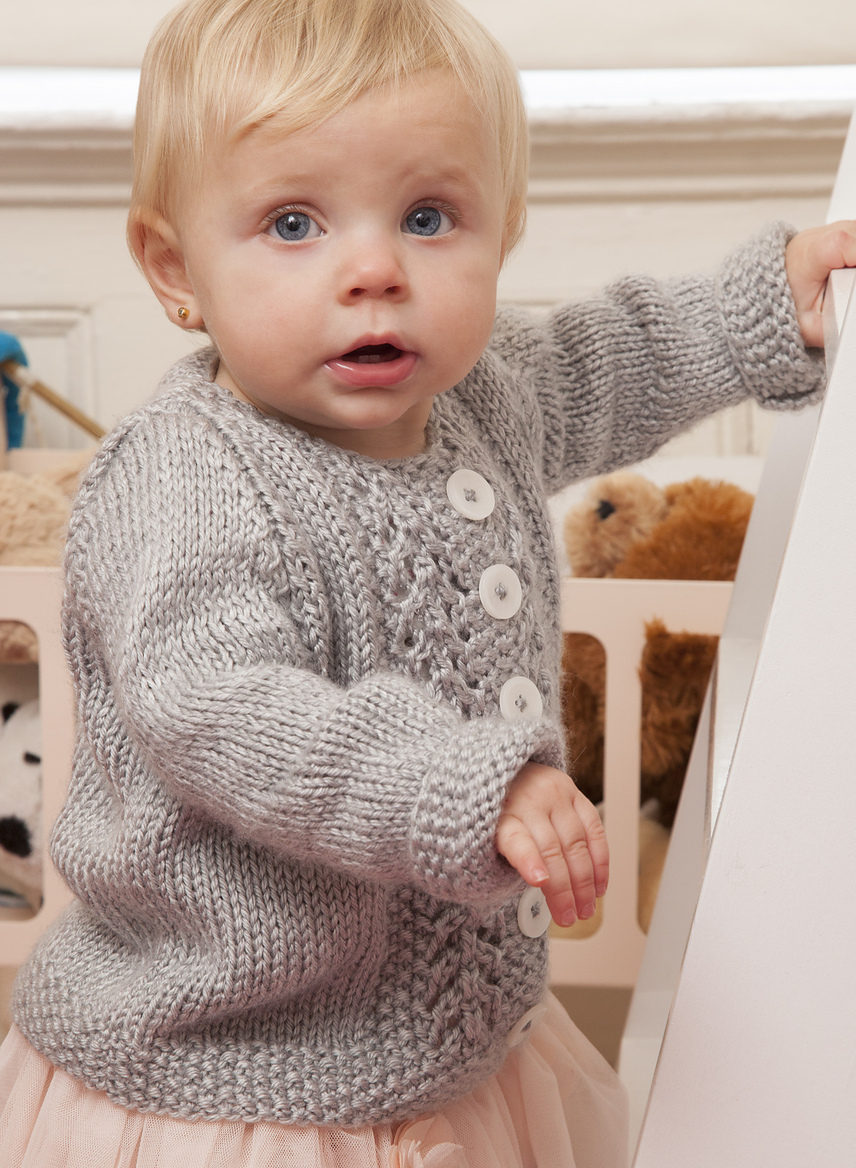 Baby Lace Cardigan
This raglan-style sweater features pretty lace panels on the front. Includes baby and child sizes from 6 mos – 5 years. Designed by Julie Hines for Red Heart.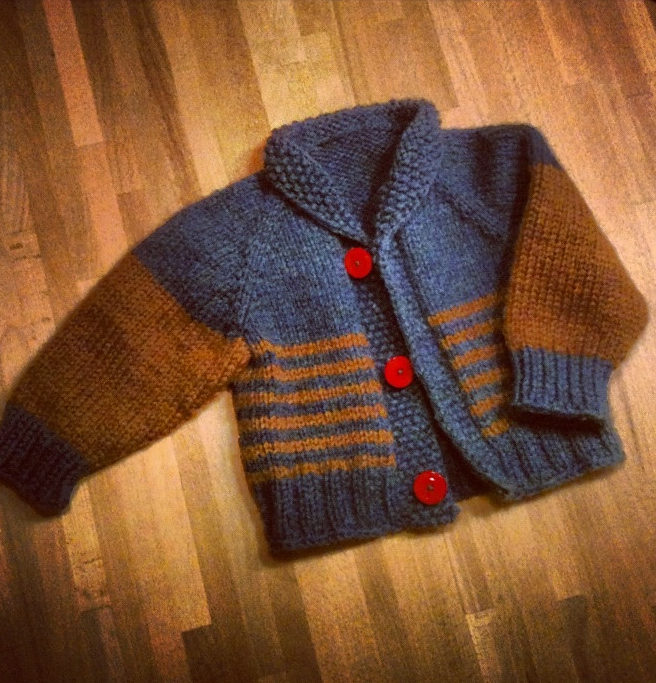 Denise or Denephew Baby Cardigan
This shawl-collared striped cardigan is knit seamlessly from the top down, increasing along the raglan lines. Quick knit in bulky yarn. Designed by by Ned Renfield.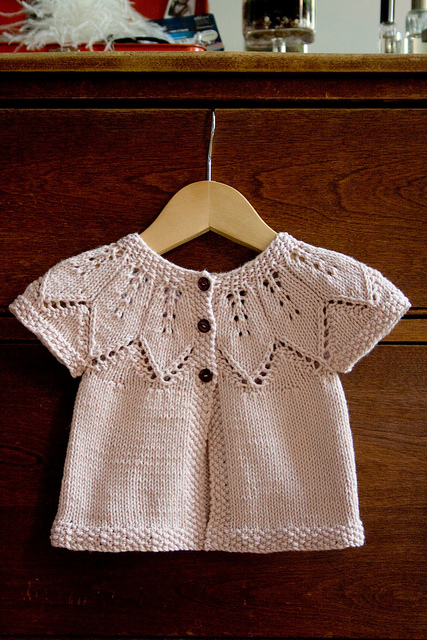 Autumn Leaves
Nikki Van De Car designed this baby cardigan for sizes 6-9, 9-12, 12-15 months. Get Nikki's book What to Knit When You're Expecting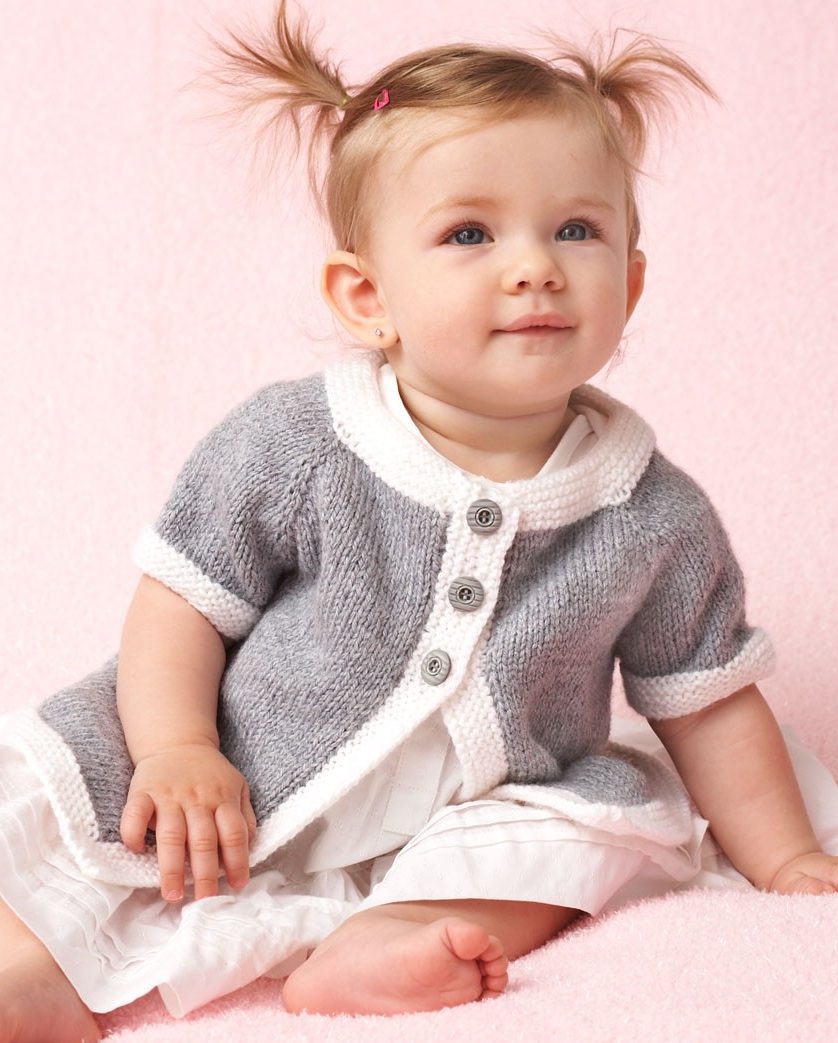 Baby Top Down Cardigan
Knit in one piece. Sizes 6, 12, 18, 24 months. From Bernat.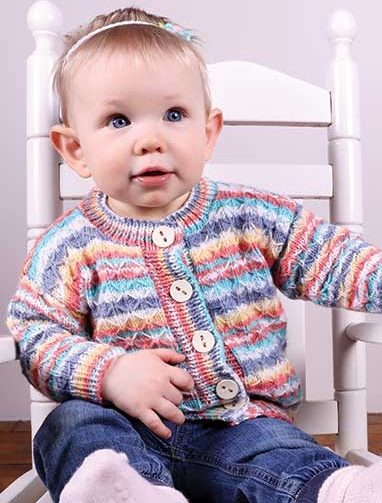 Quilted Lattice Baby Cardigan
ON SALE for $2.99! Designed by Vanessa Ewing, this child's cardigan has a quilted look that's created by slipping stitches with the yarn in front, then knitting through the loose strand several rows later to secure it. Sizes: 20(22,24,27)" to fit up to 3(6,12,24) months.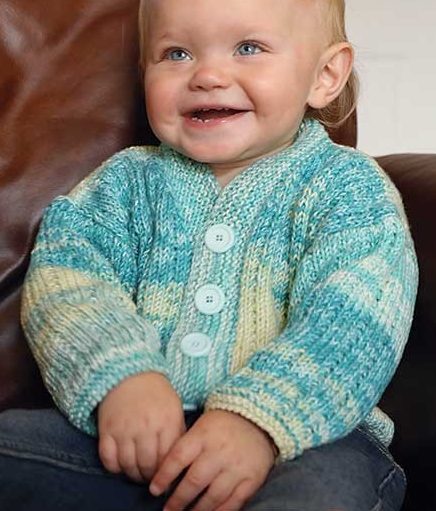 Ribbed Baby Cardigan
ON SALE for $2.99! Knit flat in pieces and seamed, this simple baby cardigan sports an allover rib pattern edged in garter stitch. Sizes: 18(20,23,25)" to fit up to 0(3,12,24) months. Great with self-striping or multi-color yarn!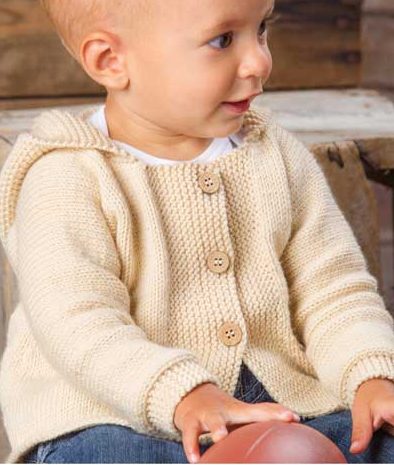 Happy Cheer Hooded Cardigan
This sweater is super easy to knit, making it perfect for the first-time sweater knitter!  Finished size to fit Child's 6 (12, 18, 24) months.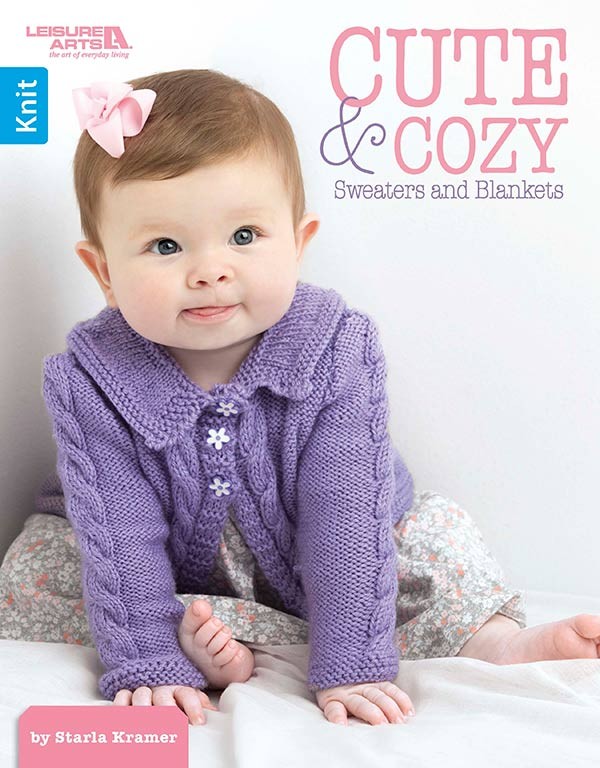 Cute & Cozy Sweaters and Blankets
This book in print or digital download contains four knit sets of a cardigan and a matching blanket. Desigtned by Starla Kramer. The sweaters are for size 6 months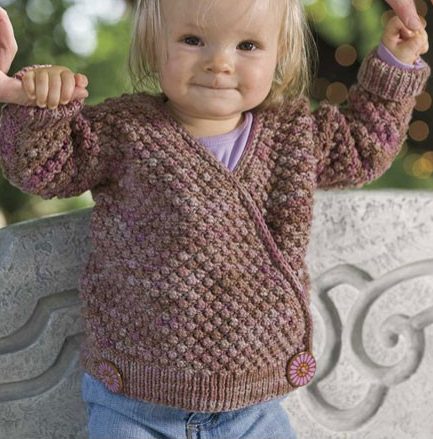 Blackberry Wrap Cardigan
Designer Nancy Shroyer created this cozy wrap sweater that wraps and fastens with big buttons that makes it easy to put on and take off.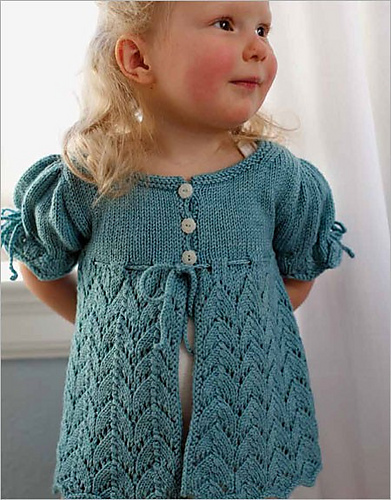 Summer Pelisse Cardigan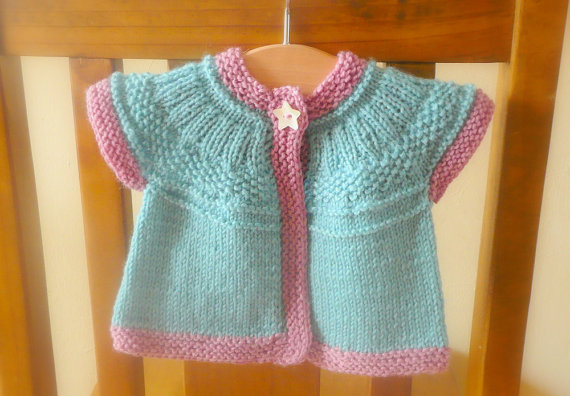 Seren
Seren is a seamless top down yoked cardigan for babies and children to age 7. 6 sizes given from 16″ – 26″ chest ( 0 – 7 yrs approx).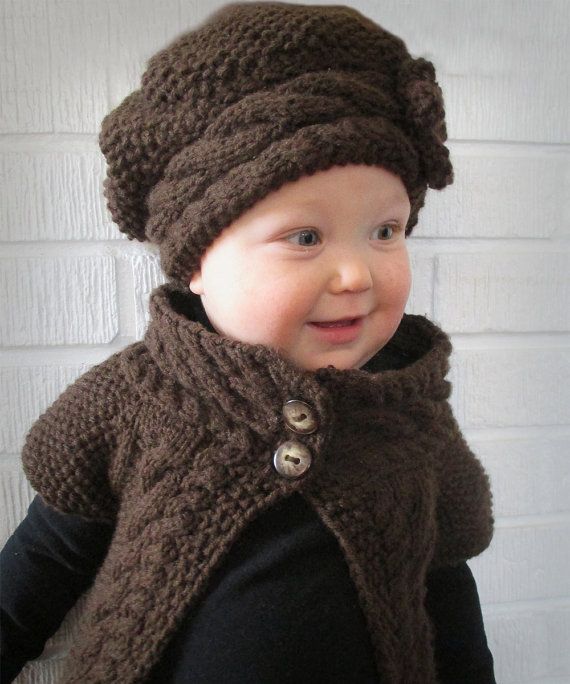 Little Miss Susie's Cardigan
NOTE: The hat pattern is sold separately – see link below. The cardigan is knit from the top down seamlessly in seed stitch with cable accents. This pattern comes in sizes: 3 mths, 6 mths, 12 mths, 2T and 4T.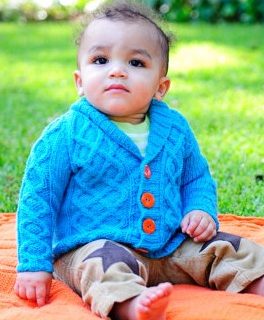 "Gramps" Cardigan
Inspired by the cozy cabled cardigan grandpa wears. Size: 6 months(12 months, 18 months, 2, 4, 6, 8)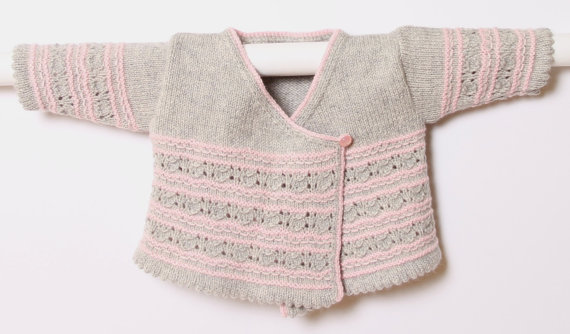 Baby Wrap Cardigan
Sizes Newborn, 1, 3 and 6 months