<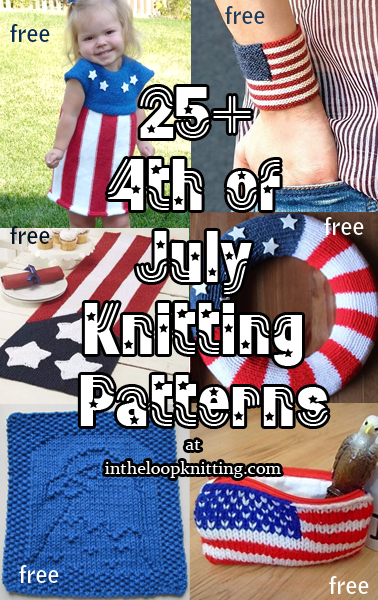 Star spangled patterns that are perfect for Independence Day Fourth of July parades, picnics, decorations, and parties. Patterns feature the stars and stripes, American flag, and Americana themes. Most patterns are free.
To get the knitting patterns, scroll down the page to the individual pattern you want and click on the link to that pattern.
These patterns are not my designs but links to other designers who have generously shared their patterns. If you have questions about how to knit a specific pattern, please contact the designer directly.
All links on this site are for informational purposes, but please note that some links are to affiliate sellers that pay me a small commission on purchases.
Free Patterns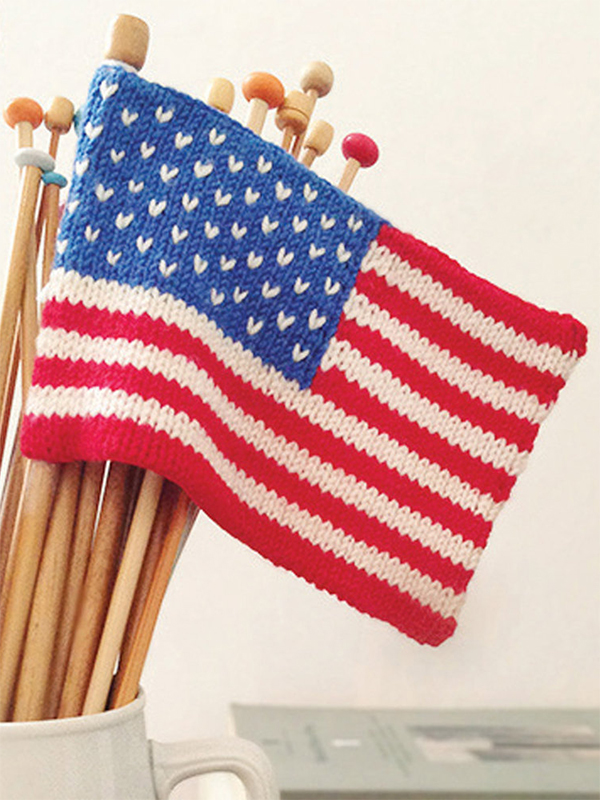 Stars & Stripes Mini Flag
Quick decorative flag designed by Debbie Bliss. 18cm/7in x 11cm/4in. Sport weight yarn.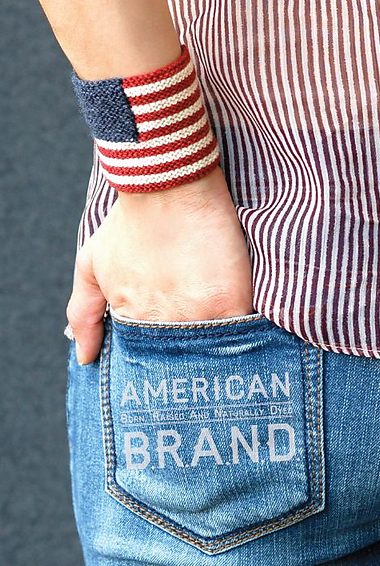 Americana Wrist Cuff
Quick easy project by Cirilia Rose for a bracelet cuff with a flag motif. Flag motif measures approximately 2.5x4 inches, but the cuff length can be adjusted.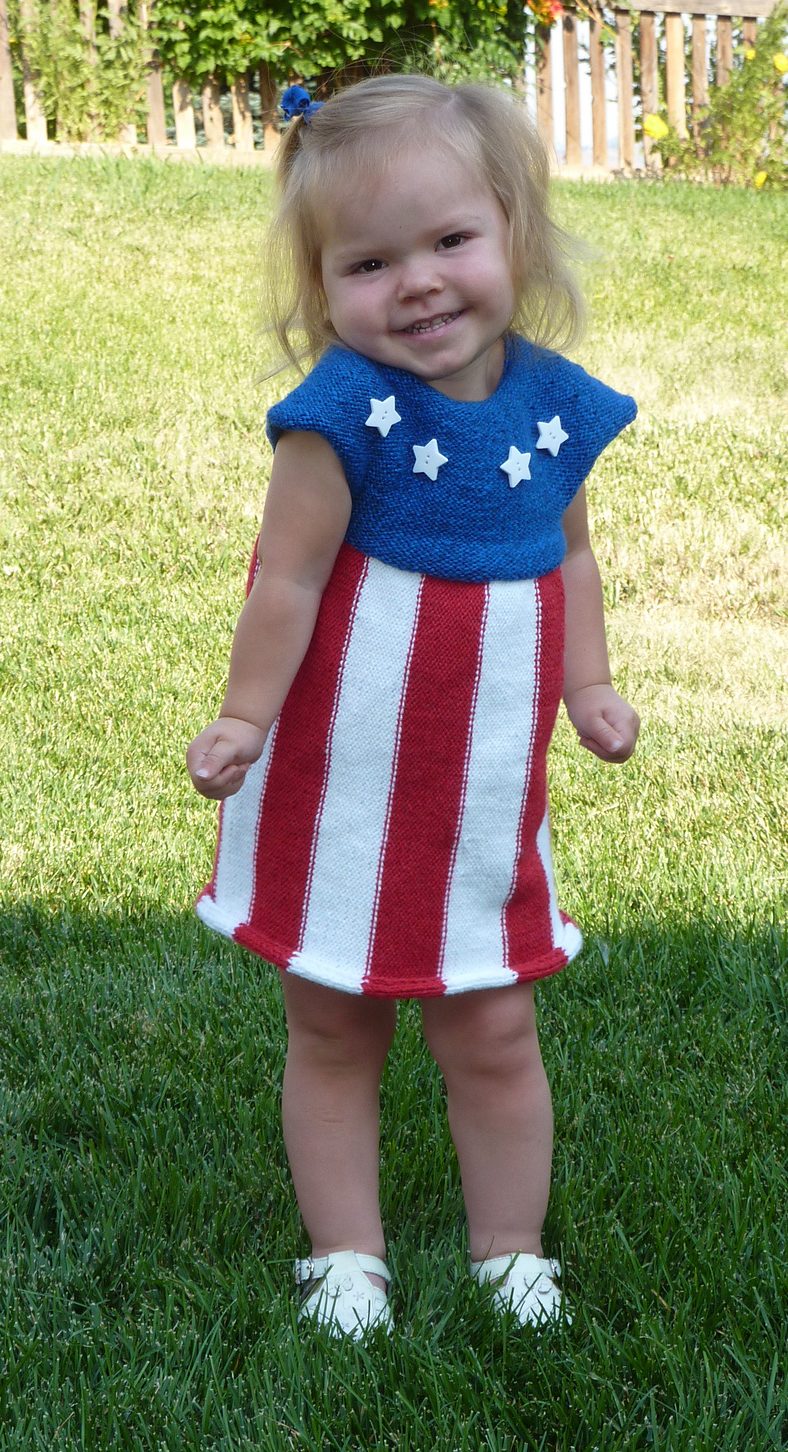 Patriotic Celebration Dress
Clara Masessa's red, white, and blue child's dress is sized to fit chest 18 (20, 22) inches. Pictured project by mrsgryphon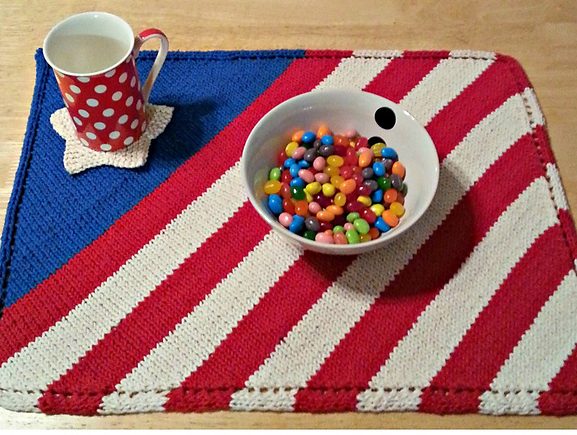 Patriotic Placemat
Jessie Rayot of JessieAtHome.com created this simple but dramatic placemat that's at home on at a dinner or a picnic. Video tutorial included in pattern. Two sizes Large 15.5 x 19.5" (samples in pictures are this size) and Medium 13.5 x 17.5"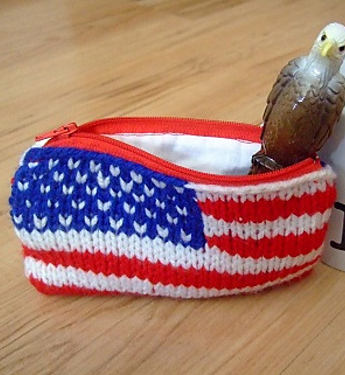 Flag Purse
Netta's Knits designed this small wallet / pouch that they say is simple and suitable for beginners..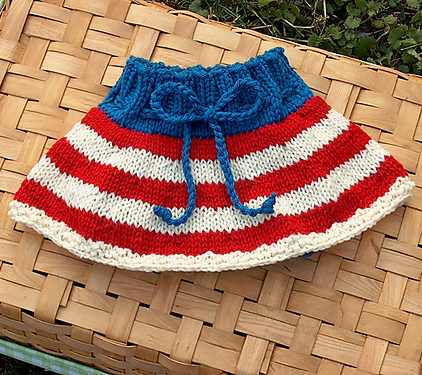 Red, White, and Blue Skirtie Diaper Cover
This baby skirt really hides a practical diaper cover and comes in a set with a pattern for soaker. Designed by Maggie Broderick. Excerpted from the book Knitting Wool Diaper Covers from Start to Finish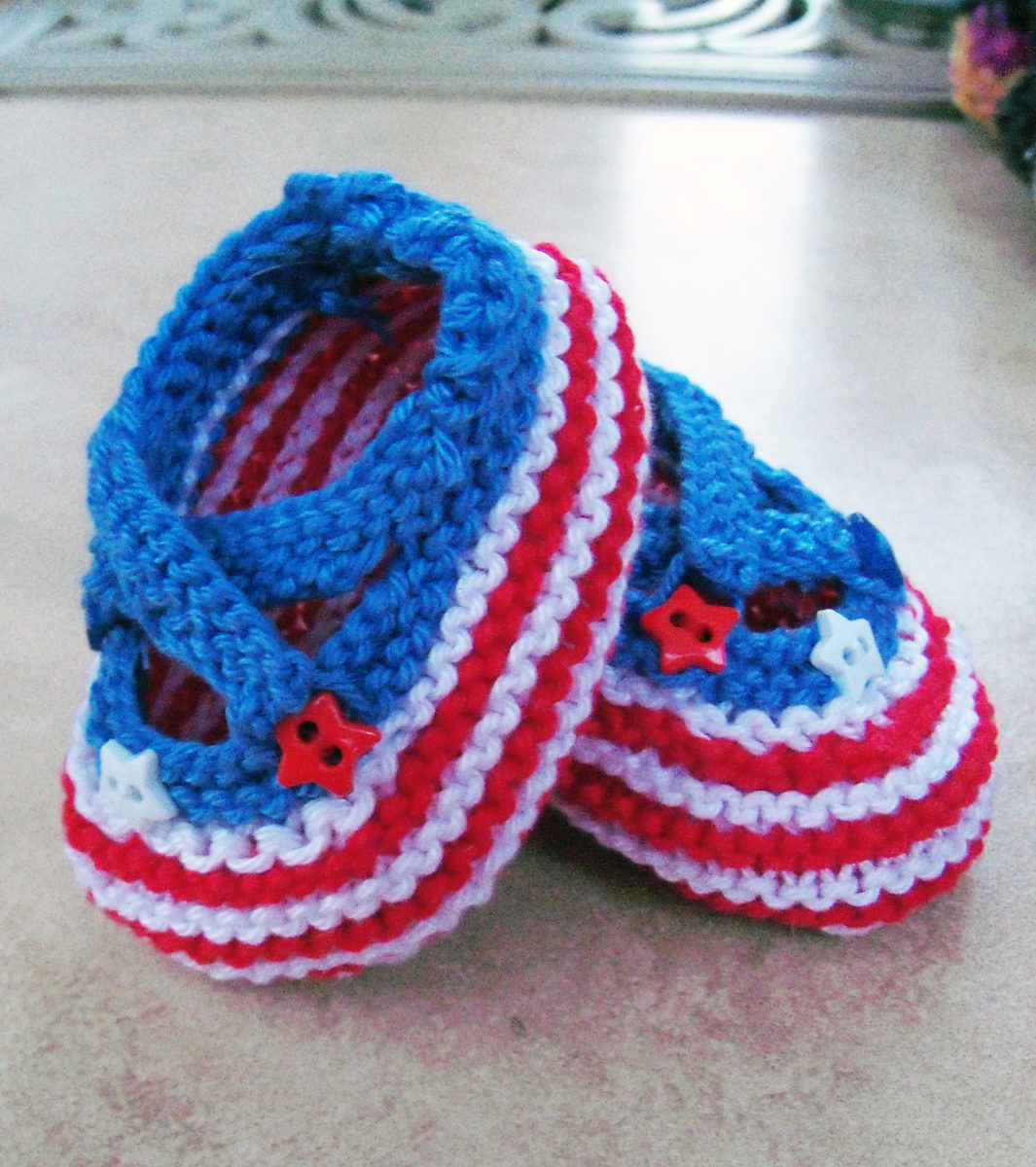 Saartje's Bootees
Knitter tiggerbjg customized this strapped baby bootie pattern with a red, white and blue flag theme. Designed by Saartje de Bruijn. Available in English, Dutch, and Spanish.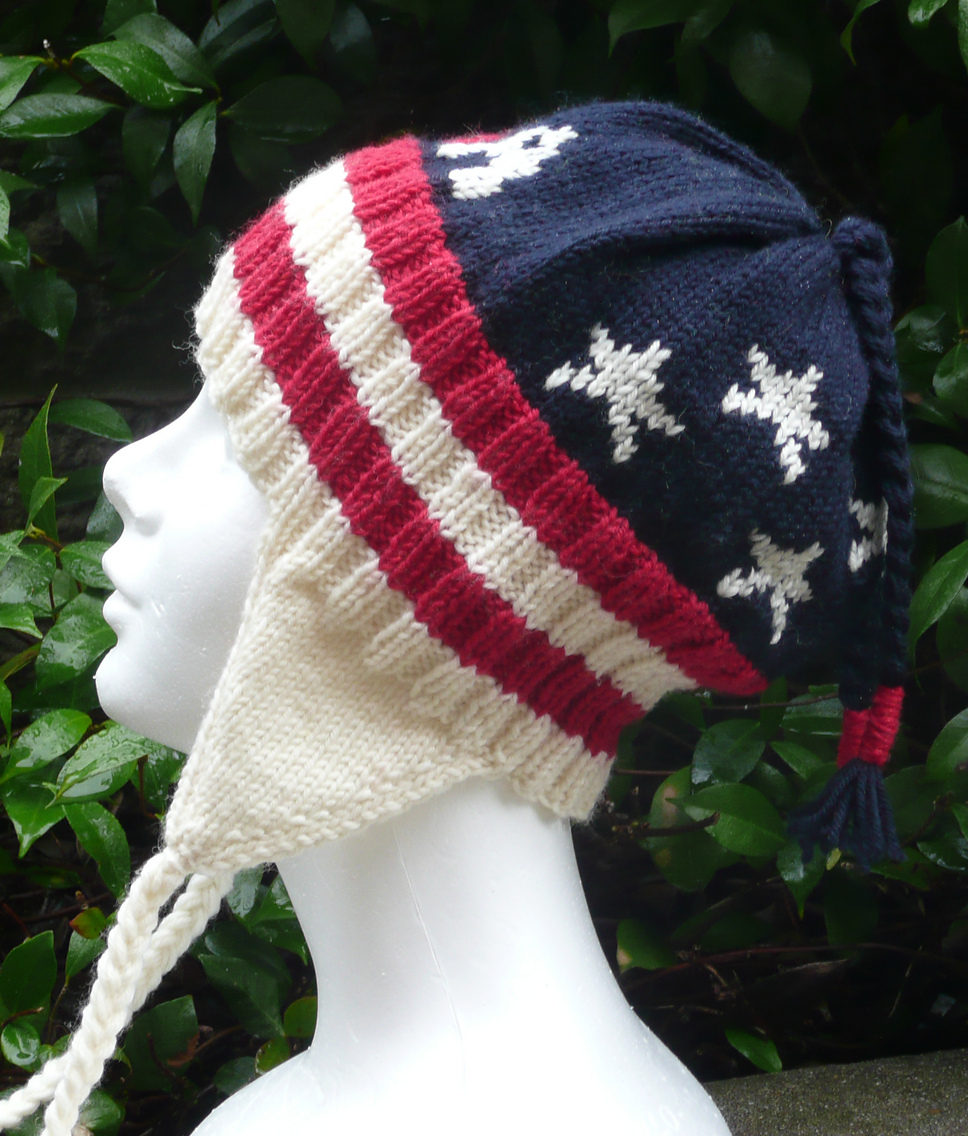 Patriotic Earflap Hat
Inspired by the hat worn by US skier Julia Mancuso after she won silver in the Olympics, this hat features stars and stripes with the letters USA on the front. I think you could easily adapt this to leave off the earflaps for a year-round hat, or fold the earflaps up into the hat. Designed by Marleen of belgianwaffleknit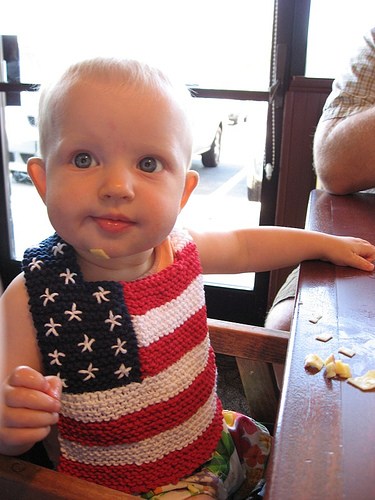 Red, White, and Bib – Flag Bib Pattern
This patriotic stars and stripes garter stitch bib was designed by Shelby Knits.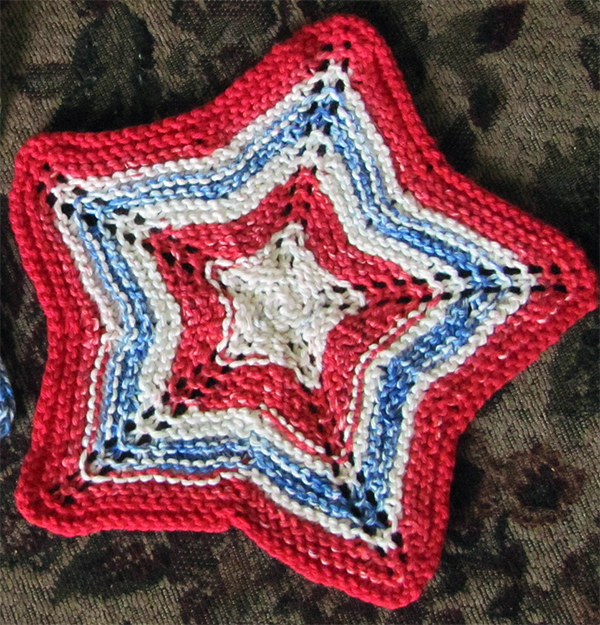 Star and Stripes Dishcloth
Designed by Yarnspirations, this dishcloth gets its stripes from self-striping yarn and its shape from knitting in the round. Approx 10 ins [25.5 cm]. Pictured project by knit2bitz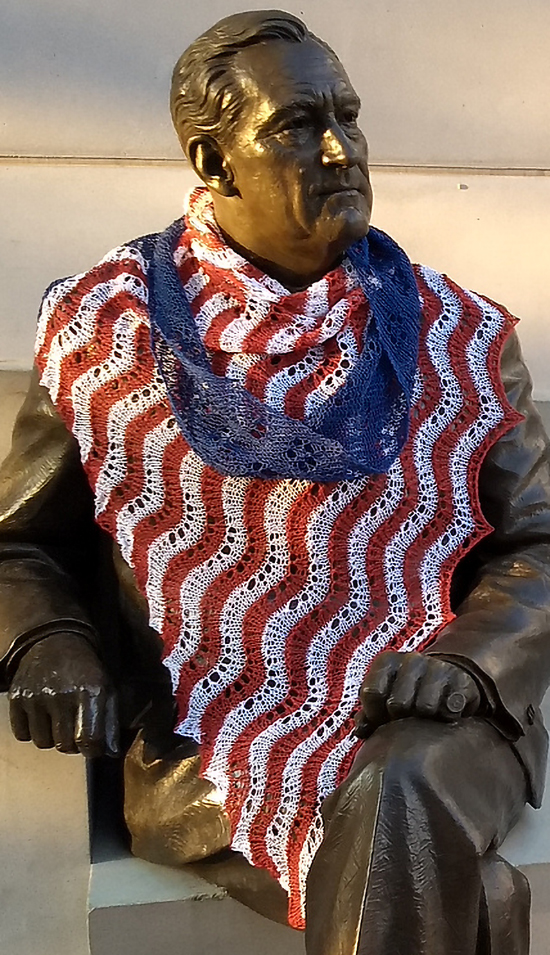 Stars and Stripes Forever Shawl
Asymmetrical, triangular lace shawl with lace stripes and lace eyelet cluster "stars". Designed by Monica Pogue
Eagle Dish or Wash Cloth
Easy pattern by Elaine Fitzpatrick of Down Cloverlaine can be used as cloth or afghan block or motif in other knitting projects.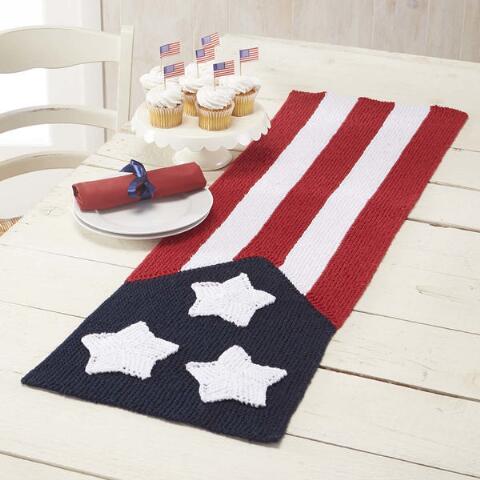 Flag Table Runner
This decorative design is by Willow Yarns. Finished Measurements: 12½" x 40″ (32cm x 102cm)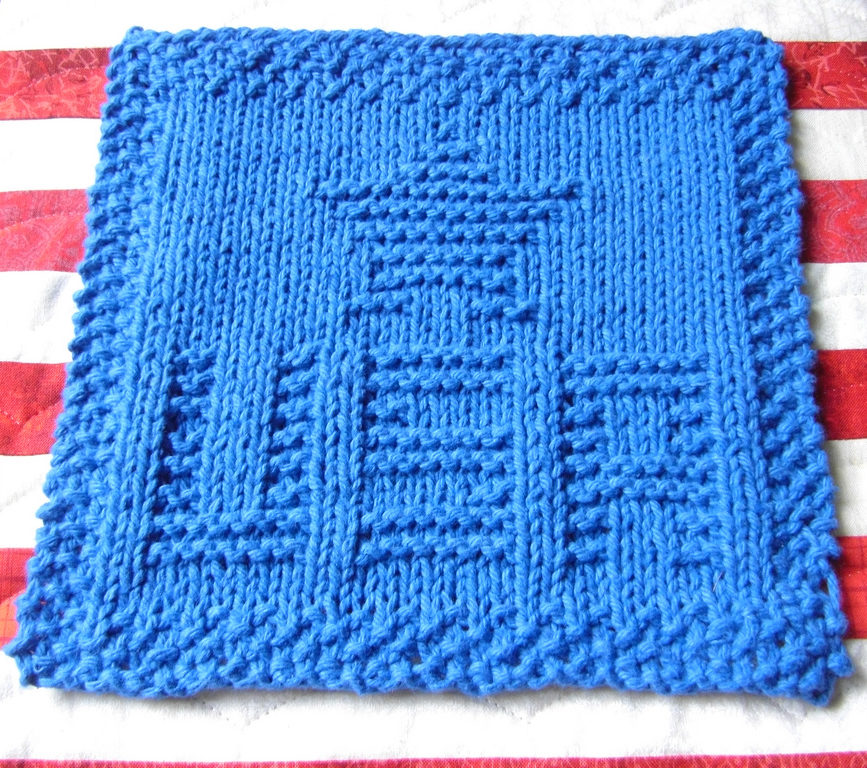 USA Star Dish Cloth
Easy cloth or block pattern featuring a star the letters USA. Designed by Knitted Kitty. Pictured project by plashus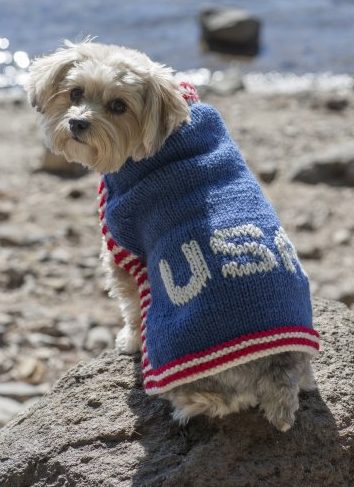 Team USA Dog Sweater
Jimmy Beans Wool and Red Heart designed this pet sweater that comes in 3 sizes. It also comes with human sized headband and mitts so you can match your favorite friend.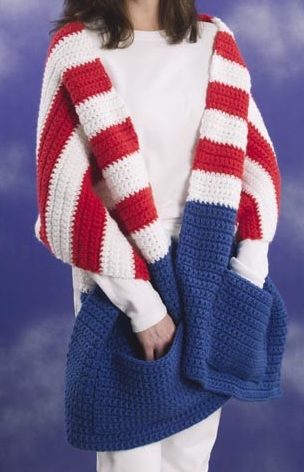 Patriotic Pocket Wrap (Knit or Crochet)
Easy beginner wrap pattern is a quick knit in super bulky yarn.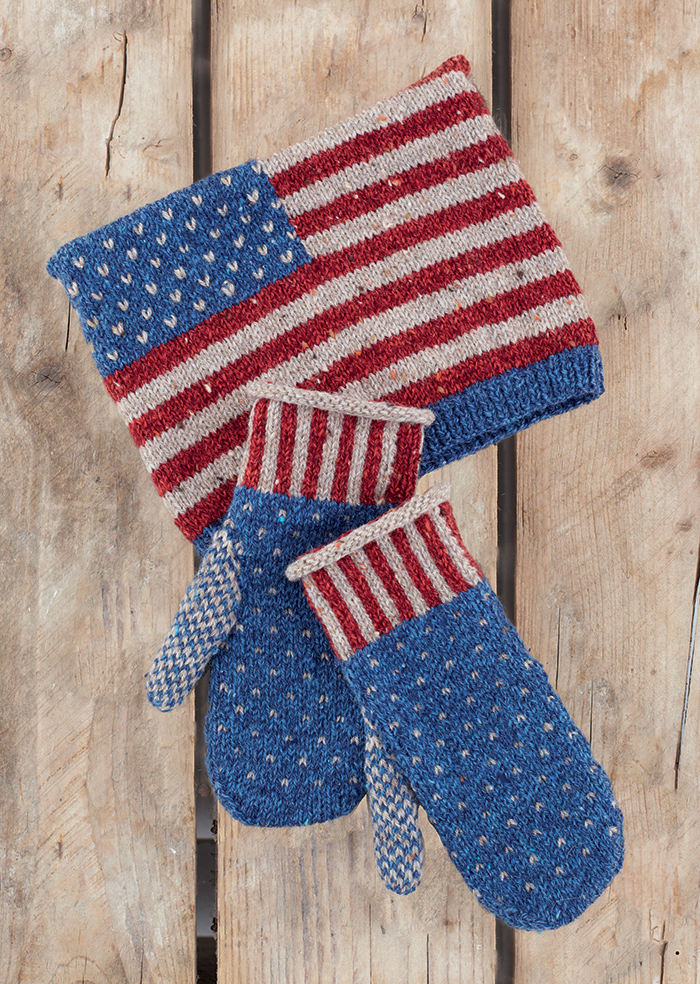 USA Hat and Mittens
Stars and stripes mittens and square hat from Sirdar. DK weight yarn.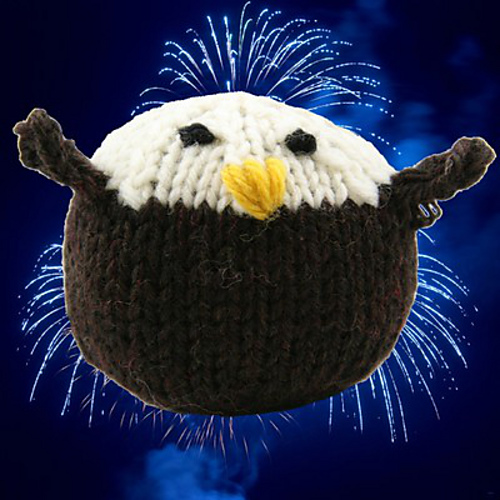 Bald Eagle Toy
Finished Size: about 4" tall. Softie designed by Kirsten Hipsky for Valley Yarns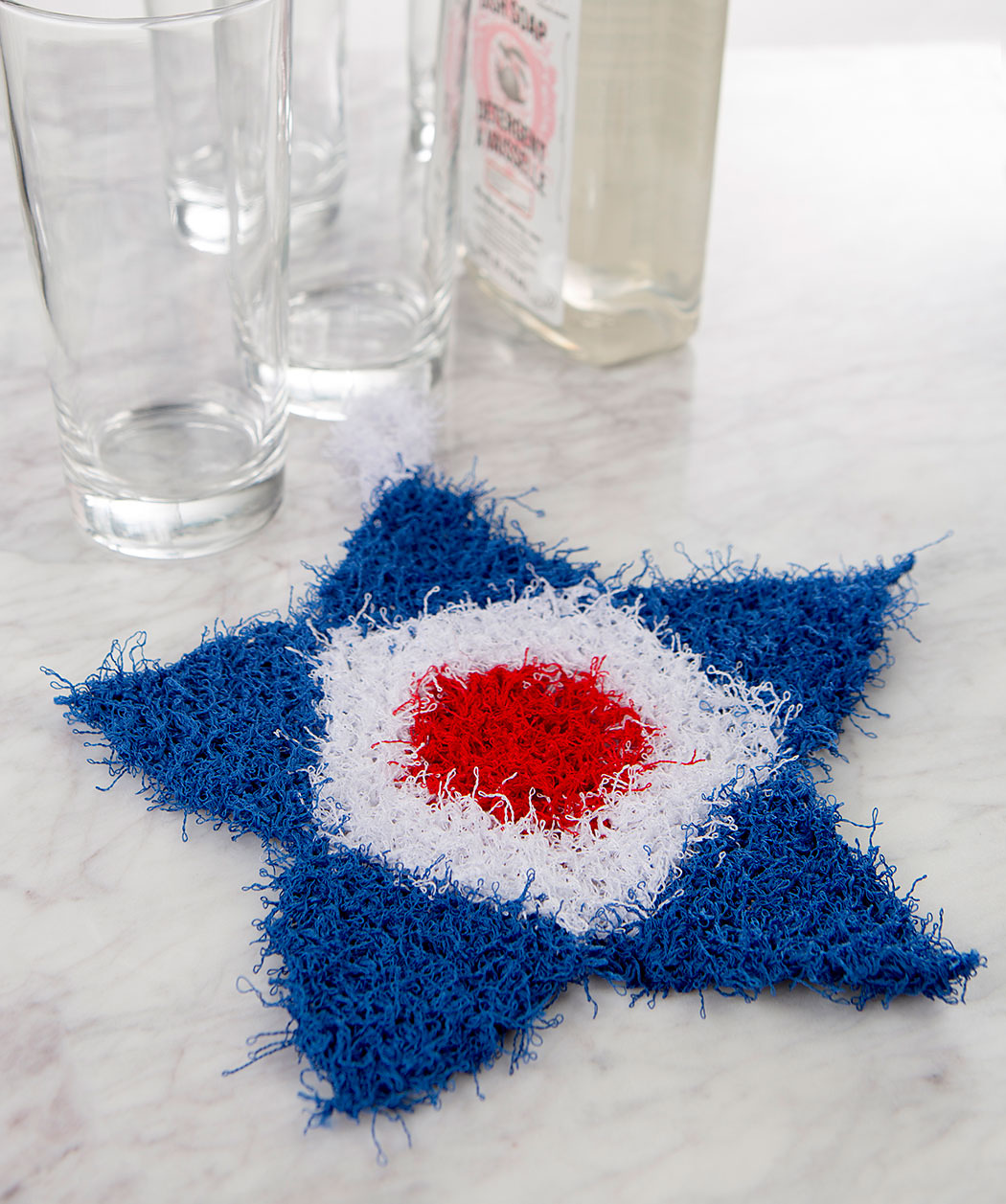 Patriotic Star Scrubby
Easy star shaped dish cloth by Rebecca J. Venton for Red Hear Yarn. Star measures 8" x 8" (20 x 20 cm)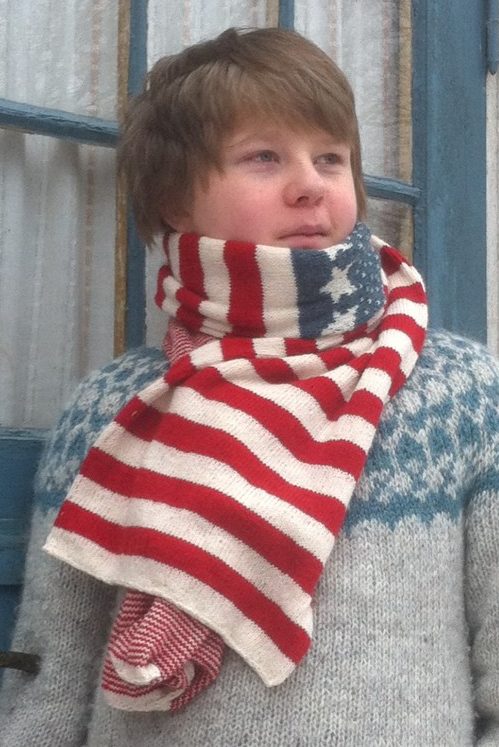 Stars and Stripes Scarf
This design comes "with love from Sweden" from Thea of Scandinavian Knit who wanted to honor those who emigrated from her country to the US. The flag inspired scarf has wide and narrow stripes with large and small stars.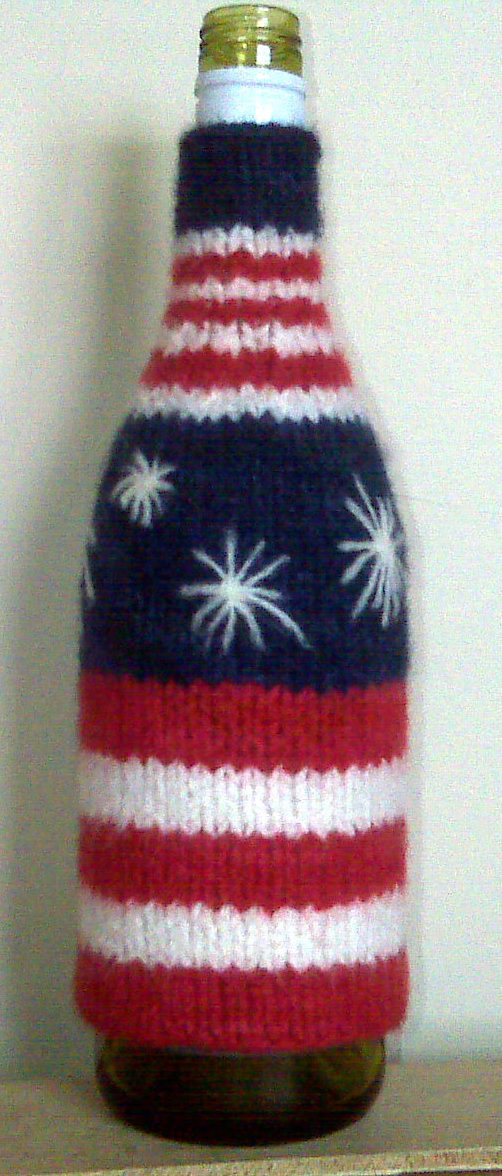 Festive Fourth Bottle Cozy
This stars and stripes bottle cozy is designed for wine bottle gifts but could be adapted for smaller bottles, I think. The fireworks are embroidered. Hilary Hues designed it to be felted but I think you could probably leave it unfelted.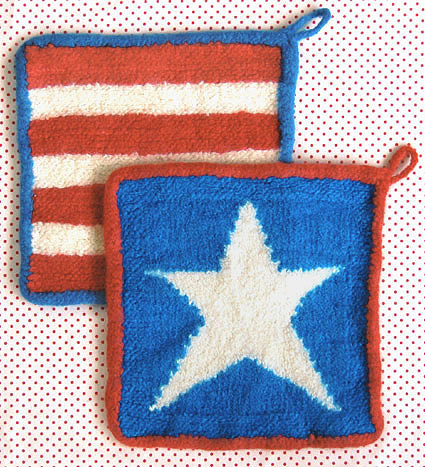 Stars and Stripes Felted Hot Pads
These flag-inspired hot pads by Purl Soho are perfect for Fourth of July celebrations. The striped hot pad is very easy, a great start for beginners. 9.5″ square after felting. Based on Felted Hot Pads pattern from the Last Minute Knitted Gifts book.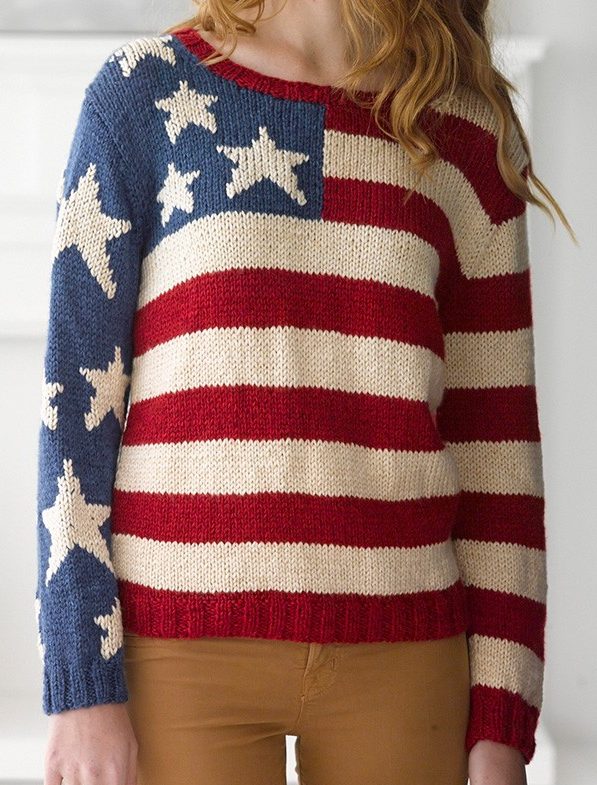 Flag Pullover
I think you could knit this stars and stripes sweater without the sleeves to make a cute 4th of July top. Designed by Lion Brand Yarn. S, M/L, 1X/2X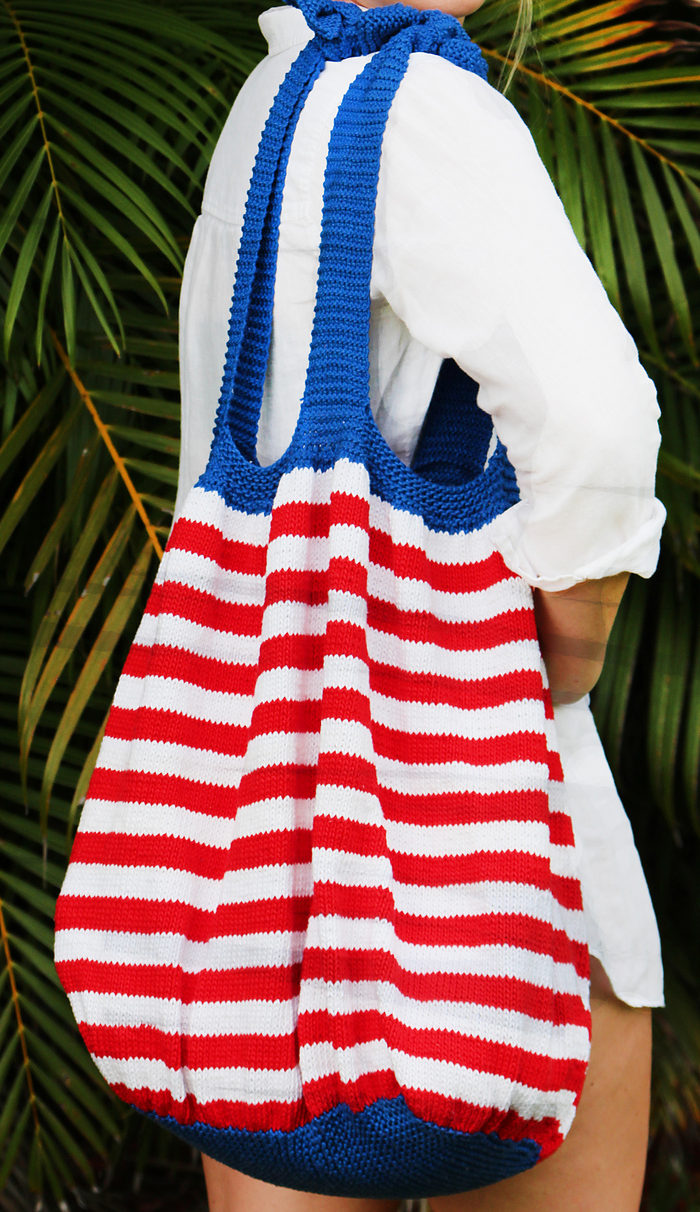 Fourth of July Beach Bag
Finished measurements for this striped tote: Length: 18" , Width: 28". Designed by Sassy Skein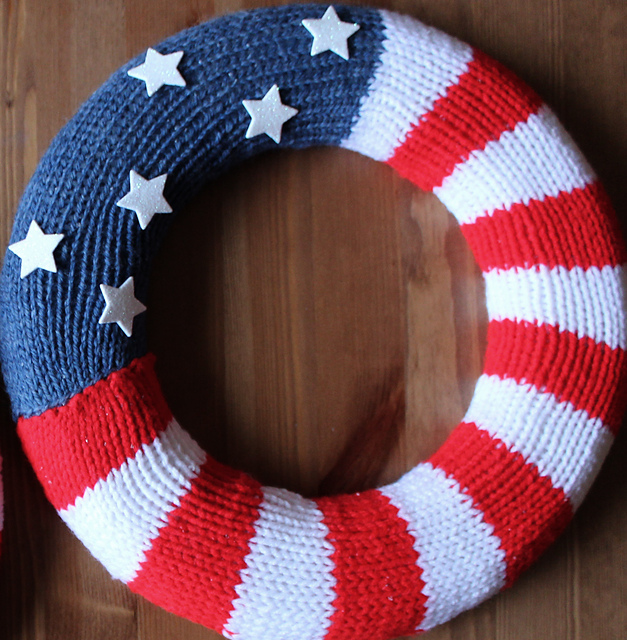 Patriotic Wreath
Kristen McDonnell designed this wreath pattern that includes video tutorials.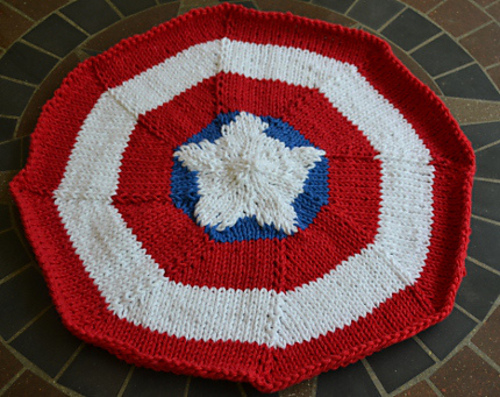 Captain America Placemat
Captain America's shield inspired this fun round placemat that could also be used as a trivet or table decor for the 4th of July. Designed by Rita at Craftbits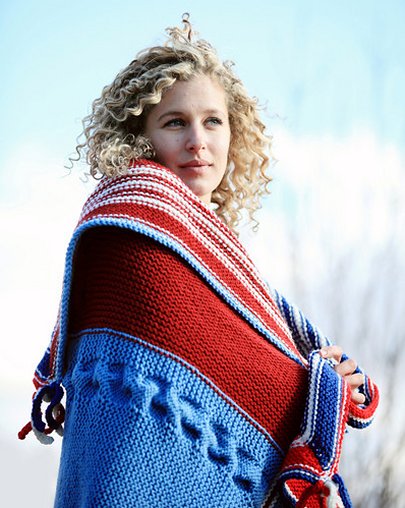 USA Throw
Designed by Jimmy Bean Wool and Red Heart, this afghan is created out of several triangles with a striped border and cute fringe on the corners.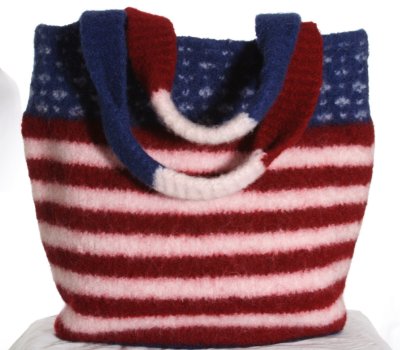 Star Spangled Tote
Free knitting pattern from Jimmy Beans Wool for a flag-themed tote bag. 14 inches wide at the top and 12 inches long (after felting)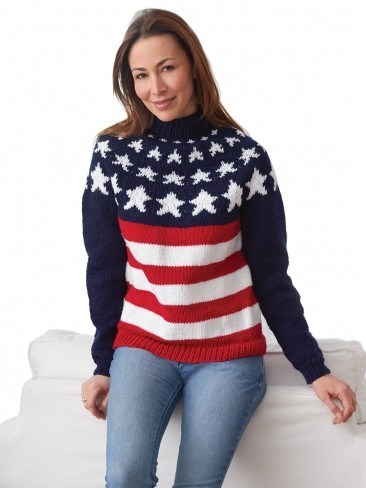 Stars and Stripes Pullover
Okay, this will need some modification for July wear in most places. However, I've spent July 4th in the mountains and would have appreciated this! Sweater designed by Yarnspirations in sizes XS to 5XL.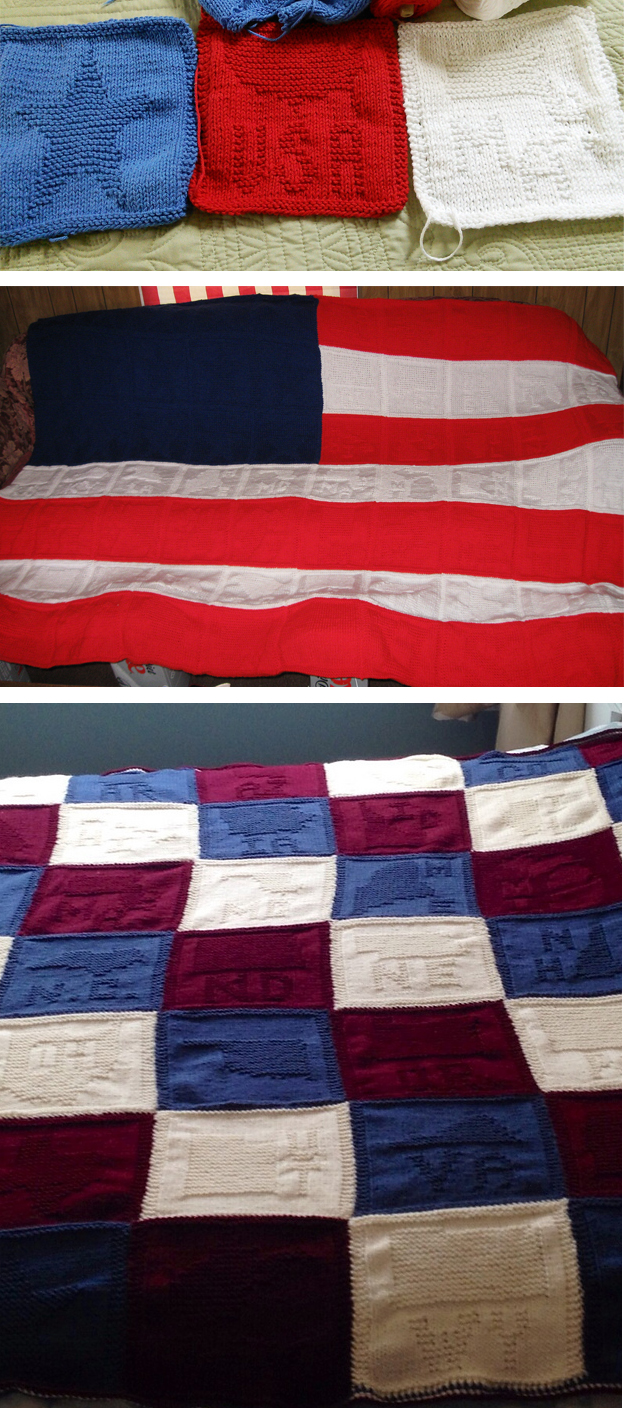 United States of America Flag Blocks
This is an afghan that uses red & white squares with the states of the US to make up the stripes. You can also use the blocks as wash or dish cloths or to make up a regular throw or as motifs for other knitting projects. Note that the state block patterns are on the Internet archive and you may have to try various captures of the site to get all the blocks. Designed by Rhonda White. Pictured projects include tgriffin541, shellic, and MaurabelaBee
Patterns for Purchase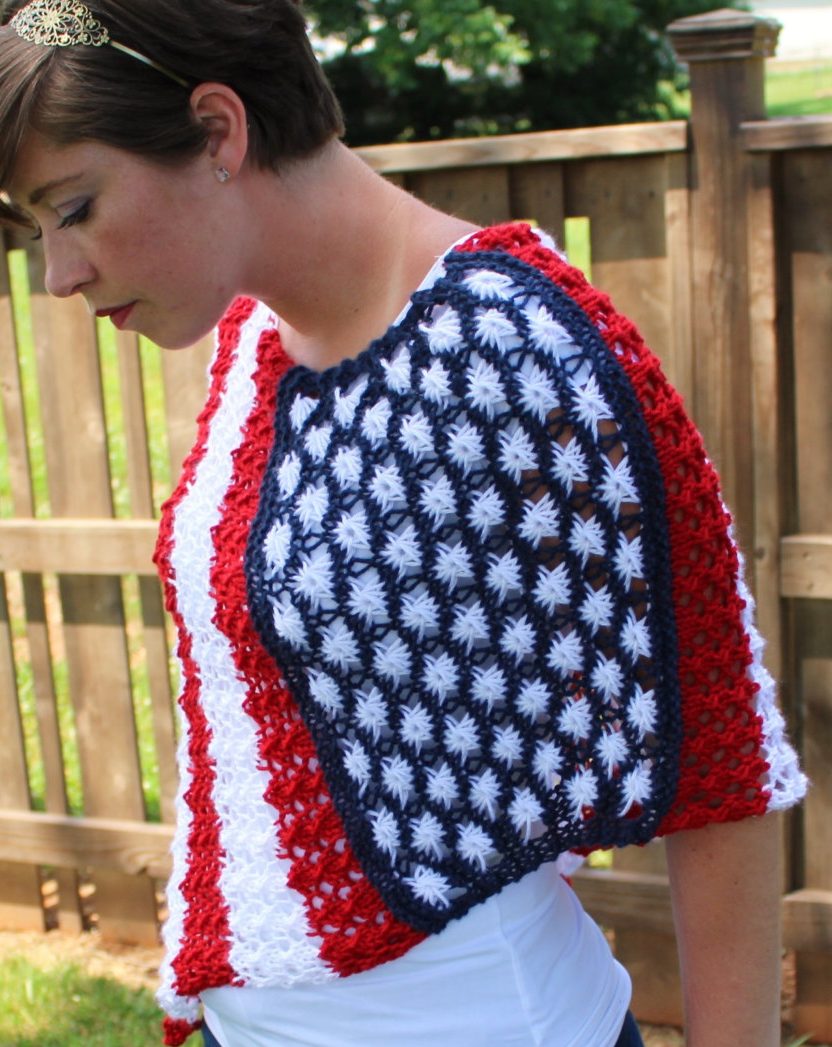 Stars and Stripes Poncho
Yes this is a knitting pattern! Devrie Metcalf uses lace stitches to create a patriotic openwork poncho. And the stitch looks lovely in other colors, too!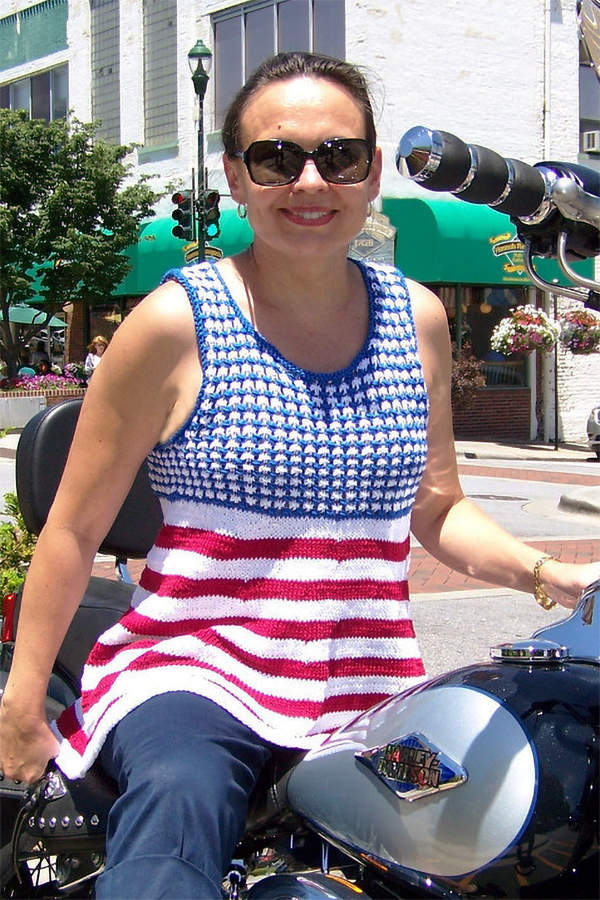 Fourth of July Tank
Flattering sleeveless top with A-line shape, star stitch yoke and striped body. Sizes: 34" (36", 38", 40", 42", 44", 46")/ 85 (90, 95, 100, 105, 110, 115)cm. Designed by Guzel Eaves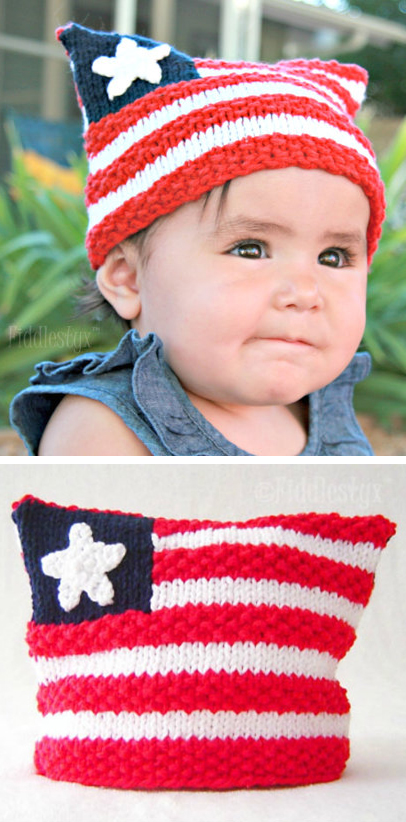 American Flag Hat
Cute hat in 6 sizes from Newborn to Adult. Great stars and stripes hat to wear to the Fourth of July parade or any other patriotic celebration.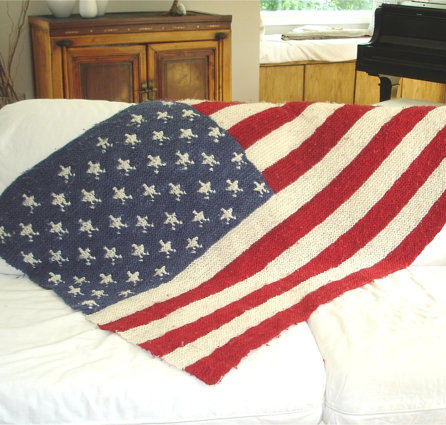 American Flag Afghan
This US Stars and Stripes blanket is knit with a chunky weight wool and measures approx. 35″x 65″. It is knit in one piece.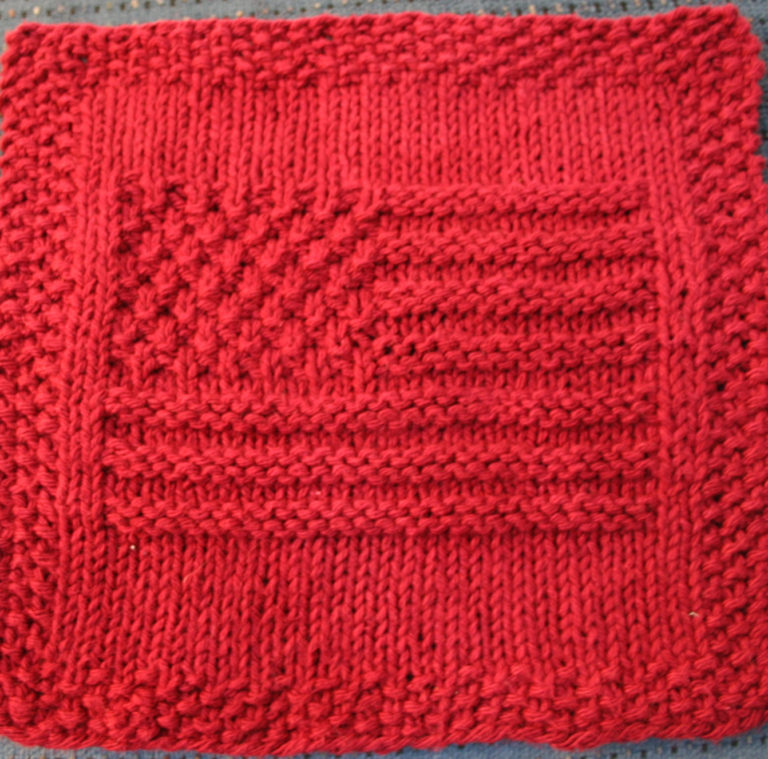 American Flag Cloth
The flag has 13 stripes and uses moss stitch to create stars in the upper corner — although there are not quite 50 of them.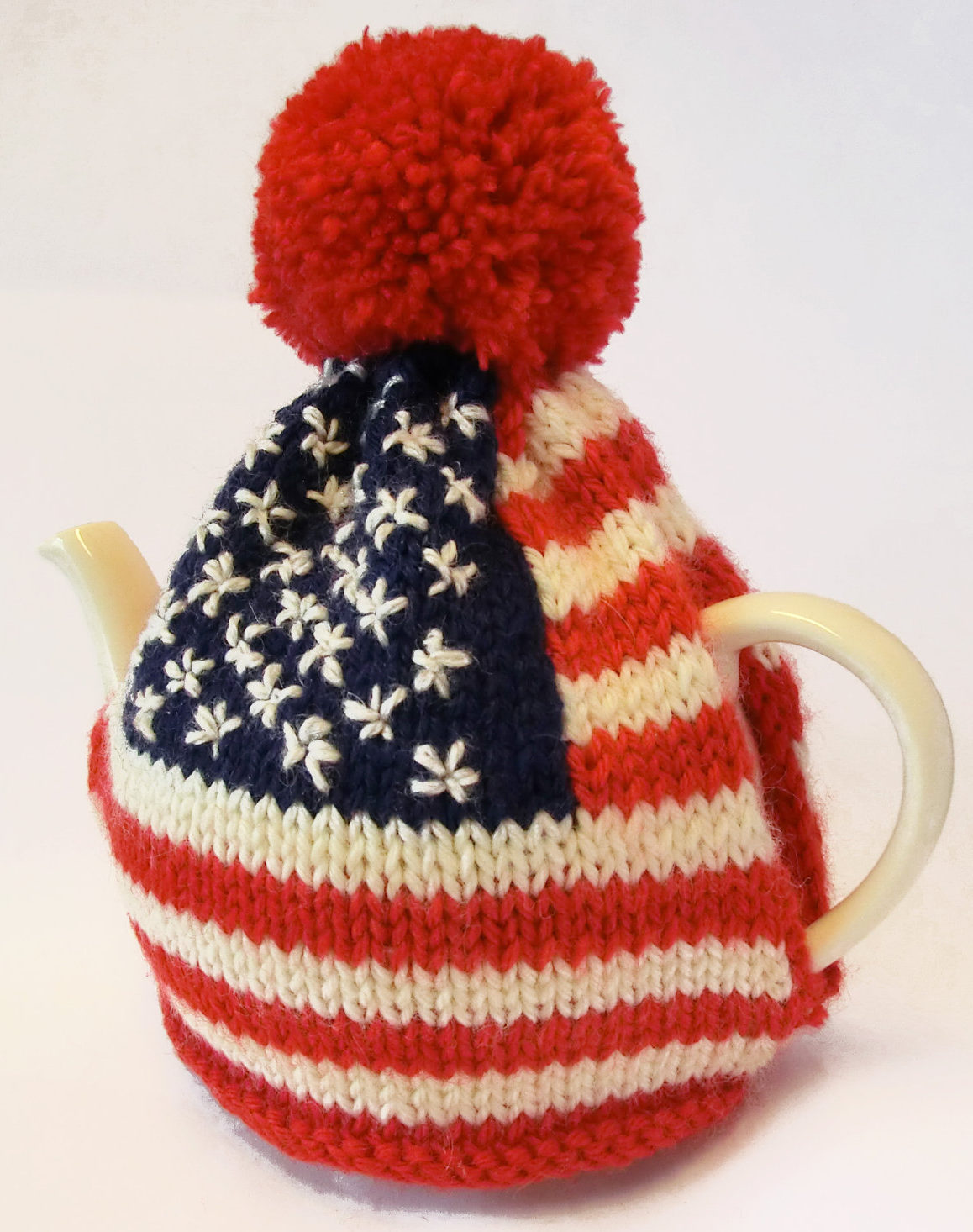 American Flag Tea Pot Cosy
Stars and stripes tea cozy perfect for Fourth of July celebrations.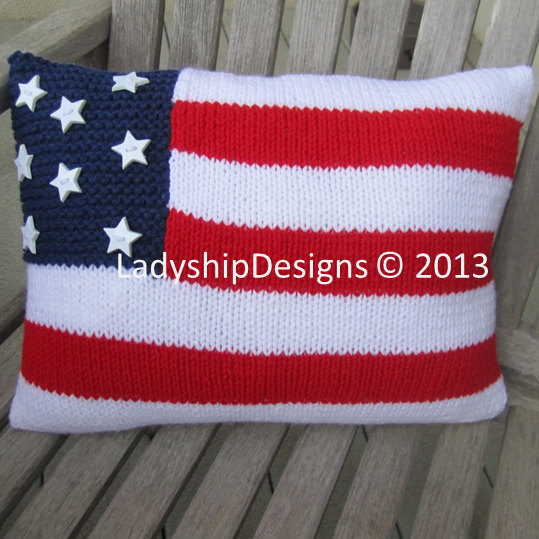 Stars and Stripes Pillow
Simple to knit 12″ x 16″ cushion cover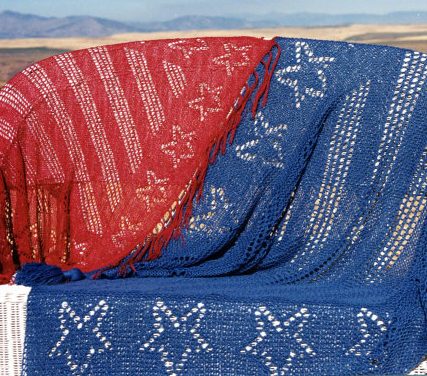 Stars and Stripes Lace Scarf or Throw
Design by Evelyn A. Clark A border of stars surrounds a center of slanting stripes on these square, garter stitch lace pieces. Edges may be left plain, finished with fringe or with corner tassels. Scarf (lace weight): 32″ square, excluding fringe. Throw (DK or worsted): 60″ square.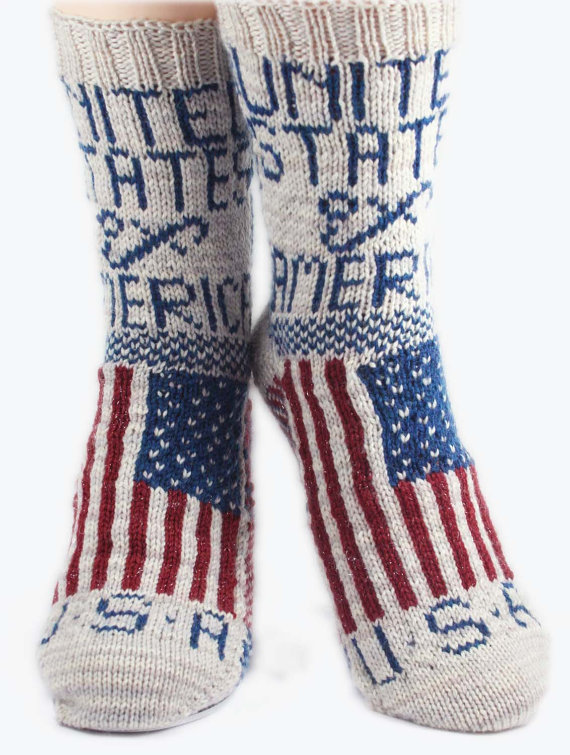 USA Flag Socks
Toe-up charted sock pattern in 2 sizes inspired by Team USA sweaters in 2014 Winter Olympics. .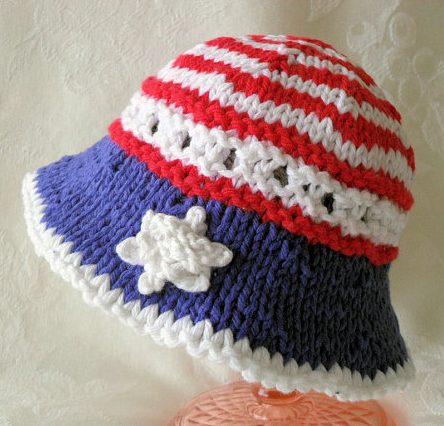 Fourth of July Baby Hat
The pattern for this patriotic sun hat includes sizes for Newborn, 0-3 mos., 3-6 mos., 6-9 mos., 9-12 mos., toddler/child, adult, but the designer says it works best as a baby hat. I think this would easily be adaptable to other colors for multiple year-round uses.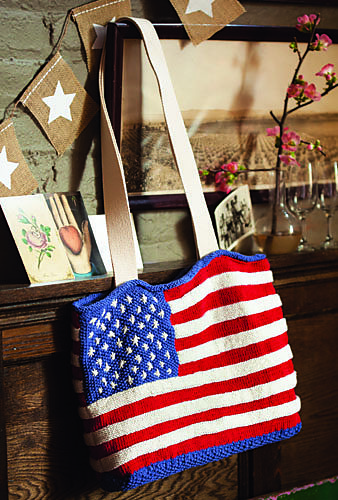 Flag Bag Tote
Designed by Lisa Buccellato this is one of the patterns in Knit Simple Magazine Spring / Summer 2013.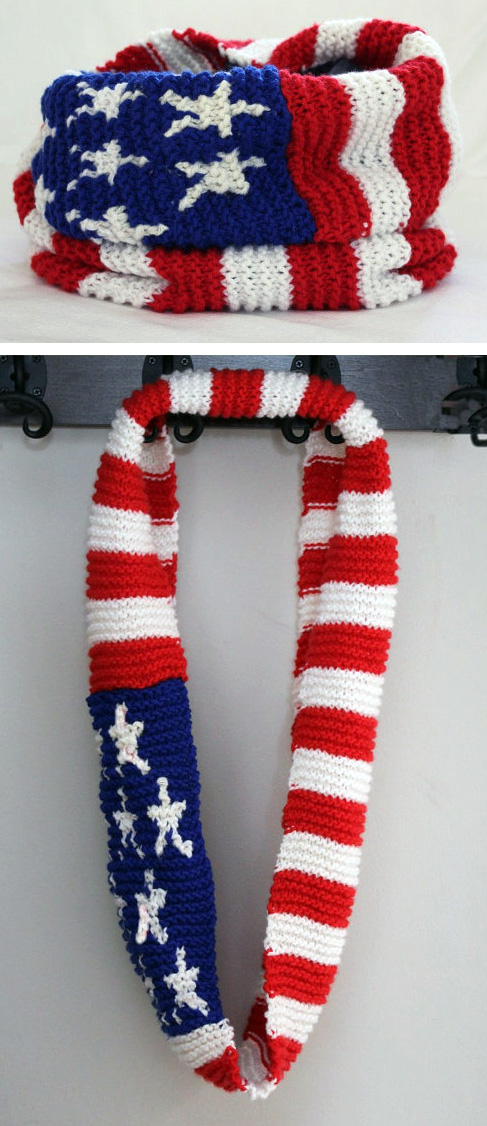 American Flag Cowl
This infinity scarf is knit in chunky yarn and can be worn several ways.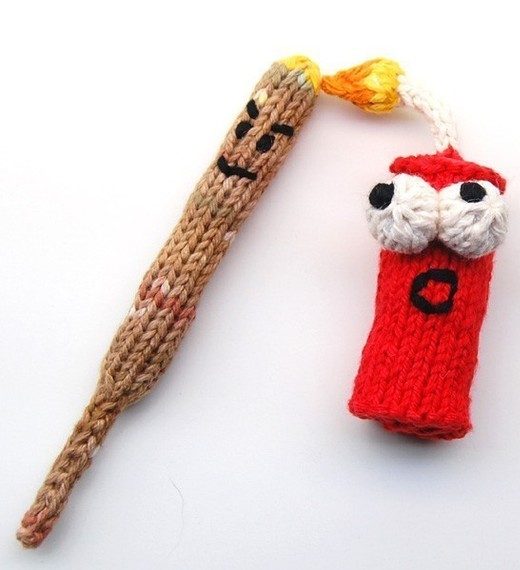 Punky and KaBOOM Firecracker Amigurumi Toy
This child friendly explosive duo is knit mostly in one piece on double pointed needles (or circulars & Magic Loop) with no seams.
Finished size depends on needle and yarn size of course, but the examples knit on US size 3 needles are 6 and 5 inches long.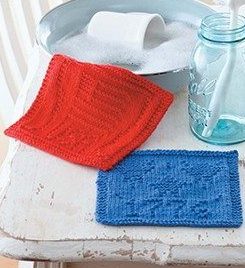 Patriotic Cloths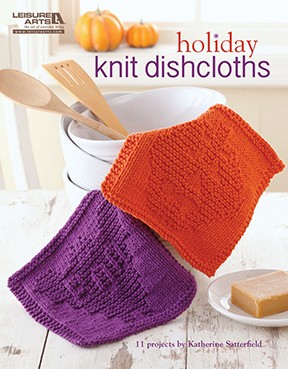 These American flag and 1776 cloths are 2 of the 11 patterns in the book Holiday Knit Dishcloths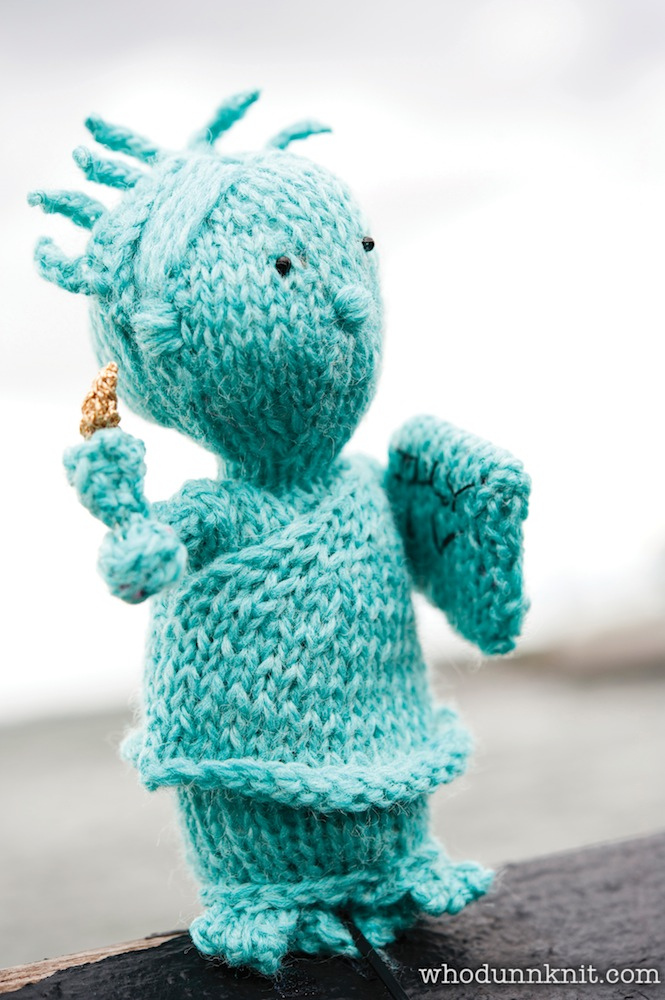 Lady Liberty Toy Softie
Knit this version of the Statue of Liberty.