Scarves that look the same on both sides.
To get the knitting patterns, scroll down the page to the individual pattern you want and click on the link to that pattern.
These patterns are not my designs but links to other designers who have generously shared their patterns. If you have questions about how to knit a specific pattern, please contact the designer directly.
All links on this site are for informational purposes, but please note that some links are to affiliate sellers that pay me a small commission on purchases.
Free Patterns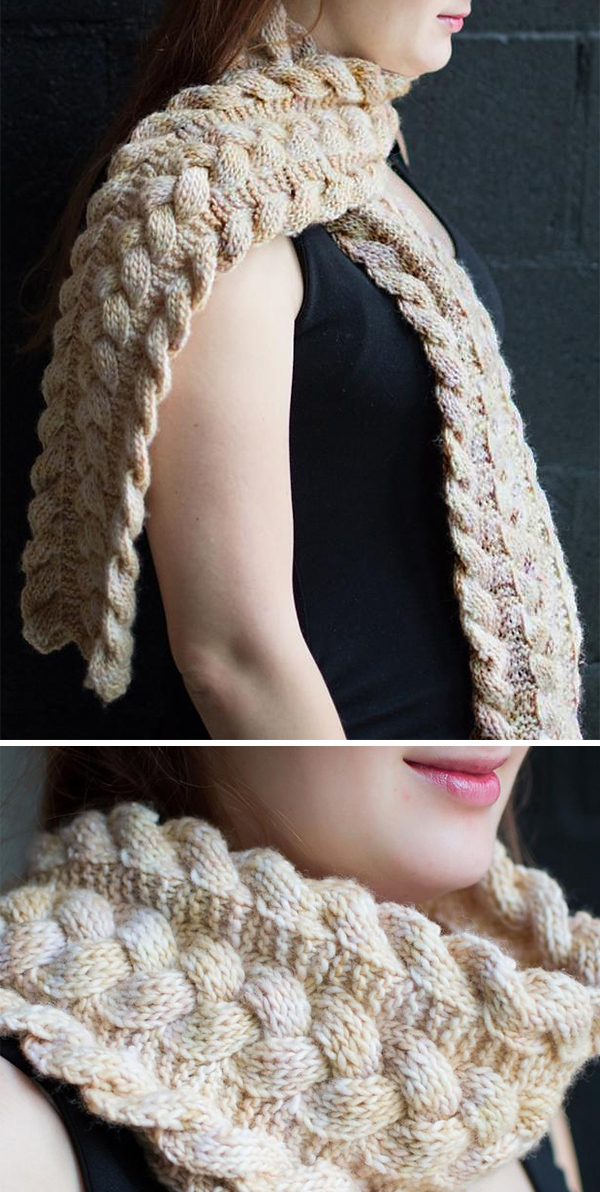 Third Law Scarf
Reversible scarf with cabled edges and a central cable. Designed by Edward Sosnoski for Darn Good Yarn. Worsted weight yarn. Also available as a kit.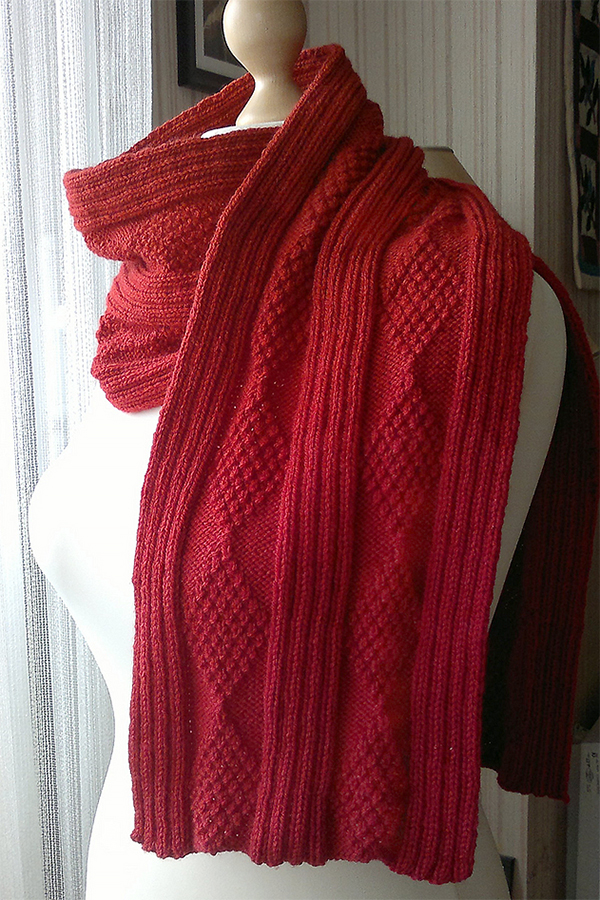 Ribs and Diamonds Scarf
Uses only basic techniques (cast on, knit, purl, cast off) to create the look of traditional Aran knits. Designer says the scarf is reversible, though it looks like the background of the diamonds will be all purl on one side and all knit o the other. Designed by Christine Roy. DK weight yarn.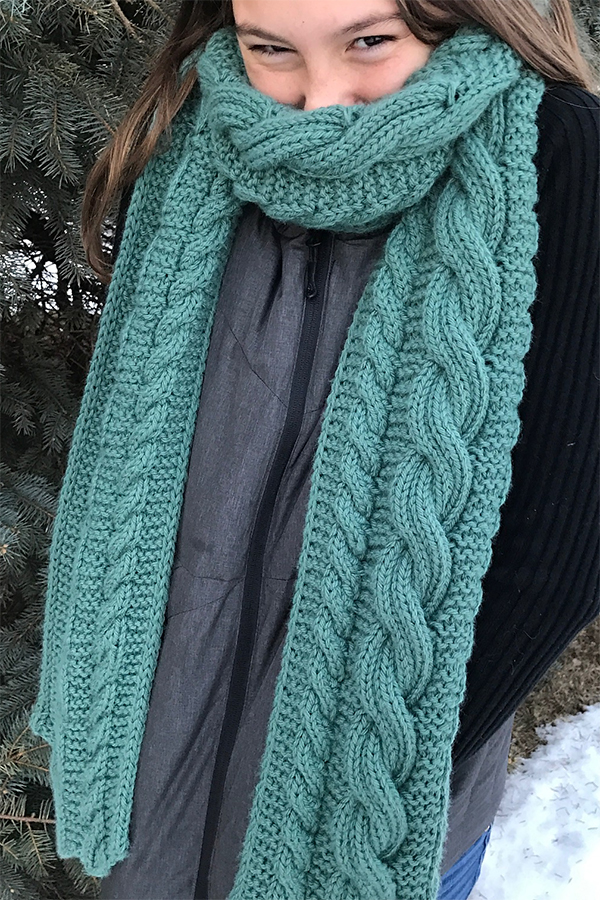 Cable It Up Scarf
Ribbed cables make this scarf reversible. 12 row repeat with 10 rows of ribbing and garter stitch and 2 cable rows. Designed by Aimee Pelletier. Bulky weight yarn.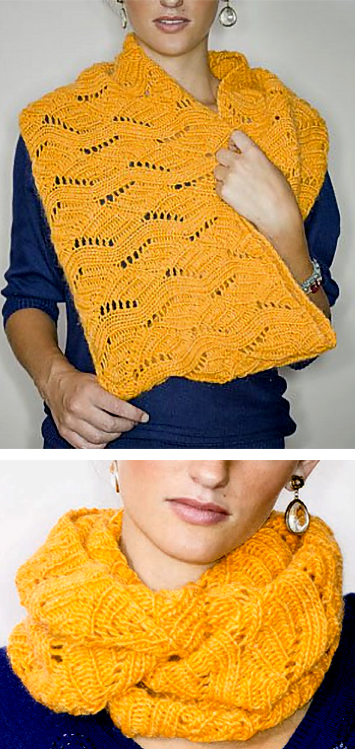 Maryse Infinity Scarf
Reversible lace pattern used in this cowl infinity scarf. Could easily be used to make a reversible flat scarf, blanket, or shawl. Worsted weight yarn. One of the free patterns in the free ebook Exploring the Infinity Scarf Pattern: 7 Free Designs for Knitting Infinity Scarves. Designed by Amy Christoffers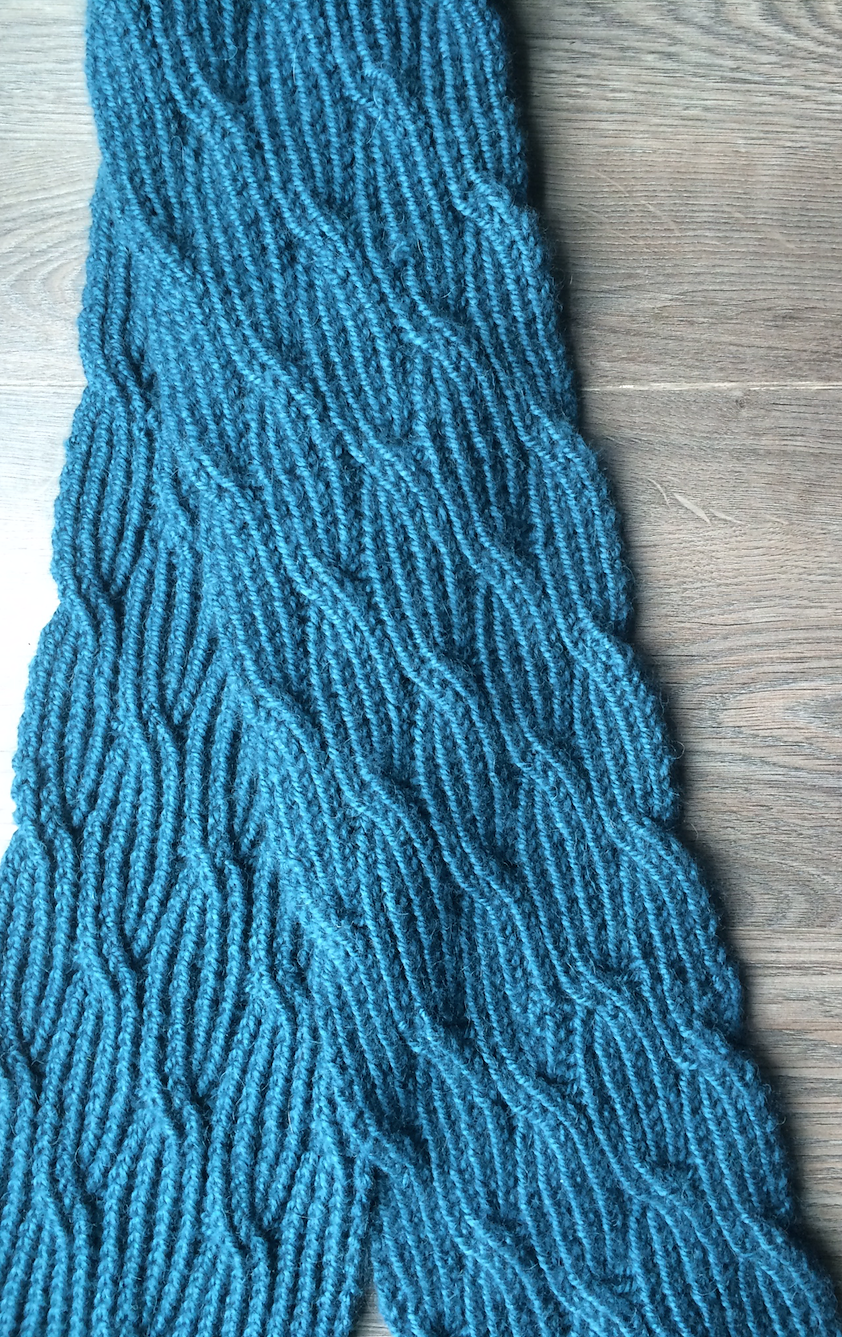 Reversible Twisted Stitch Rivulet Scarf
Purl Soho's reversible scarf features ribbed cables and twisted stitches that look the same on both sides. Pictured project by knotlinz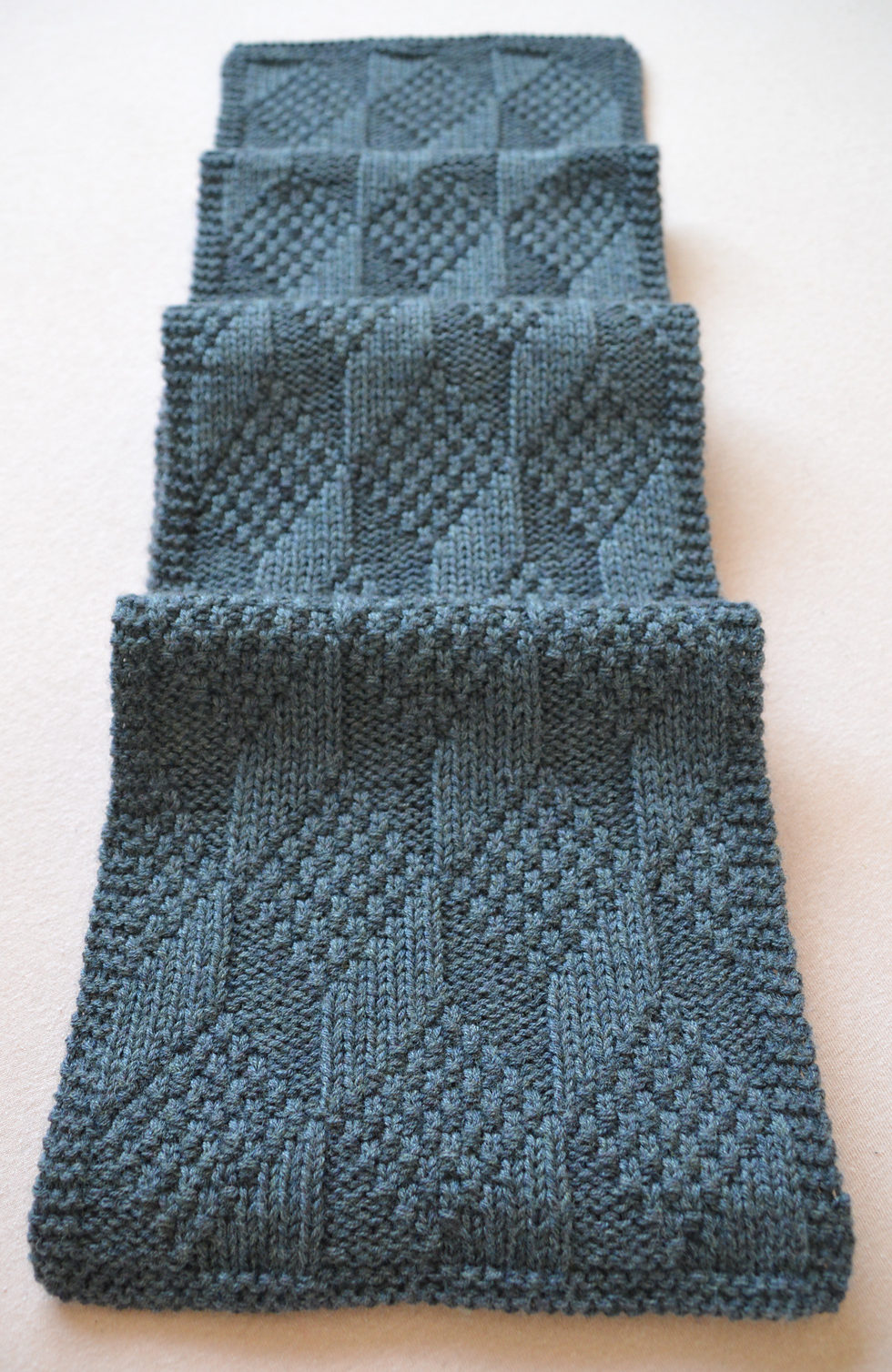 Reversible Asherton Scarf
This geometric tumbling blocks pattern looks the same on both sides. The geometric effect depends on how much you block it. It can look very sharp with blocking as in the pictured project or more wavy without much blocking. Designed by SmarieK. Pictured project by Carmela-Biscuit who also created a chart.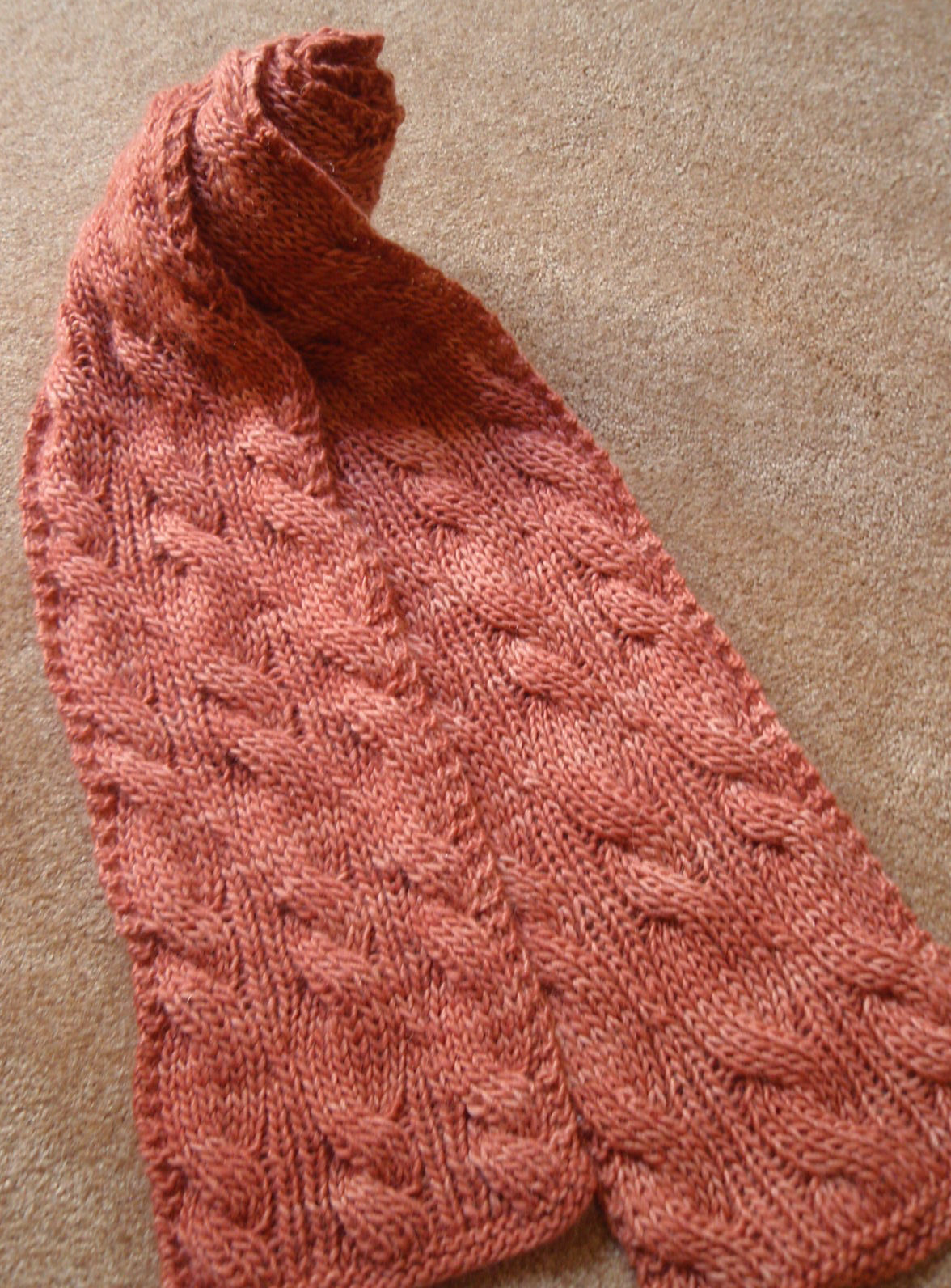 Reversible Rivulet Scarf
An all-over ribbed cable pattern means this scarf looks the same on both sides. Designed by Rebecca L. Daniels. Pictured project by DonnaParker.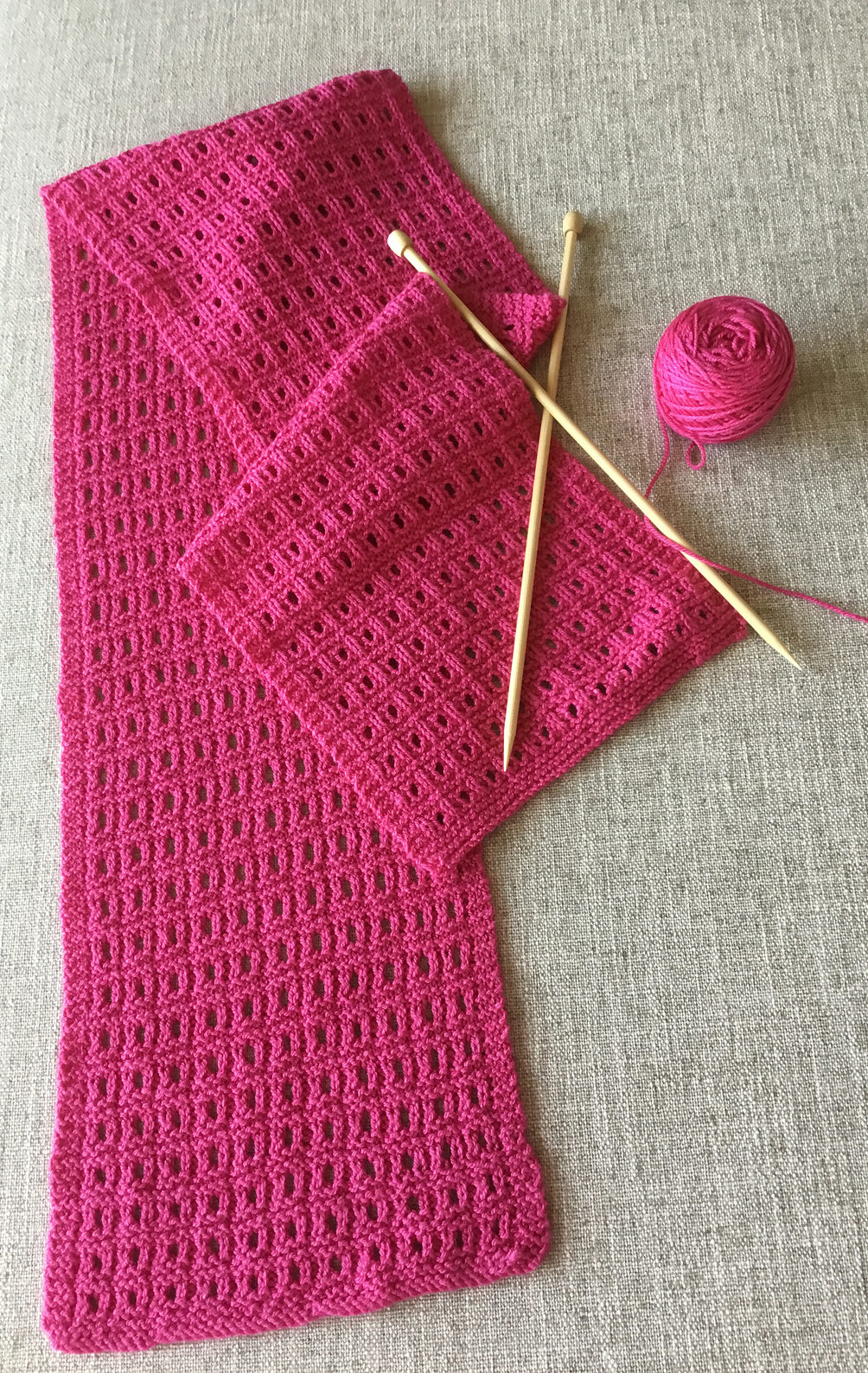 Sheesha Scarf
This scarf combines lace and texture in a simple, grid-like pattern with a six-row repeat worked over a multiple of 4 stitches. Rated very easy by Ravelrers. Designed by Sandhya S. Pictured project by Mrsdarth.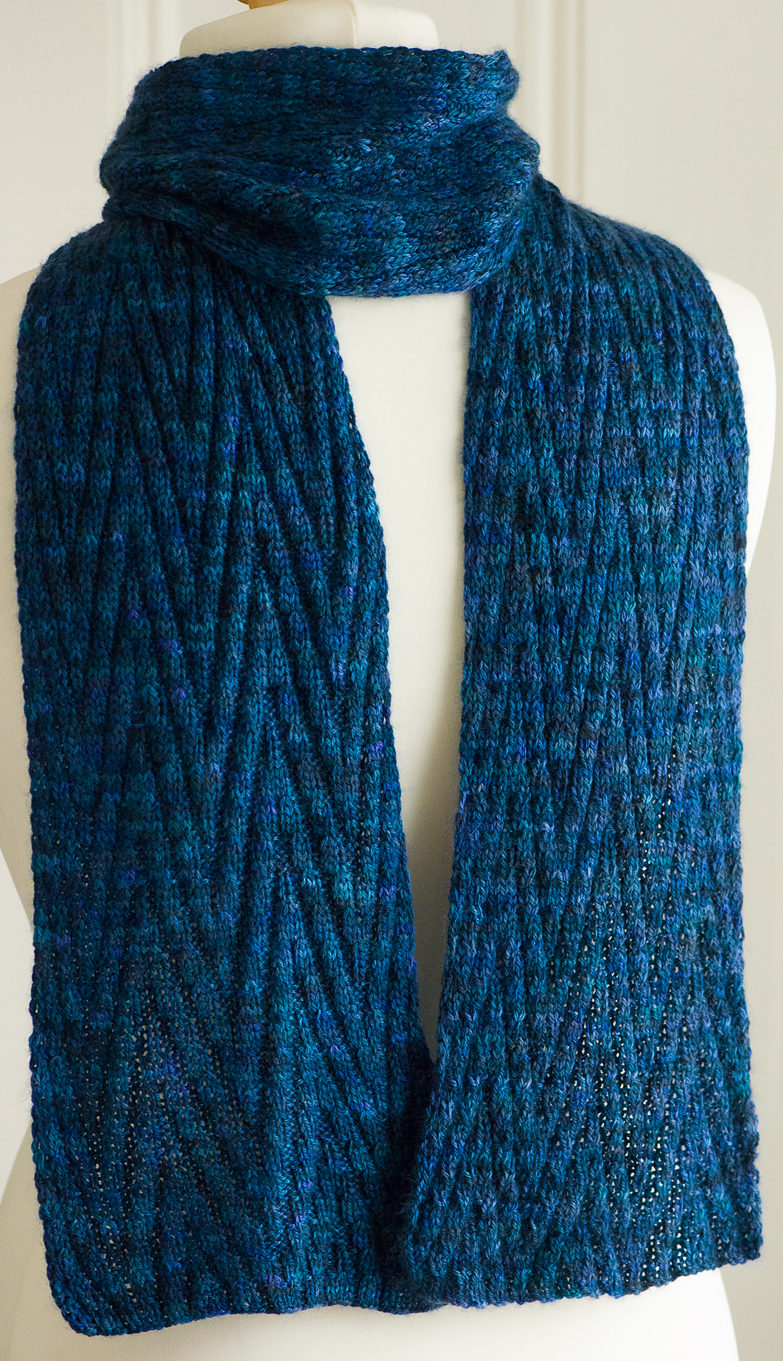 Reversible Chevron Scarf
Completely reversible stitch pattern looks the same on both sides. Designed by Debbie Seton. Rated easy by most Ravelrers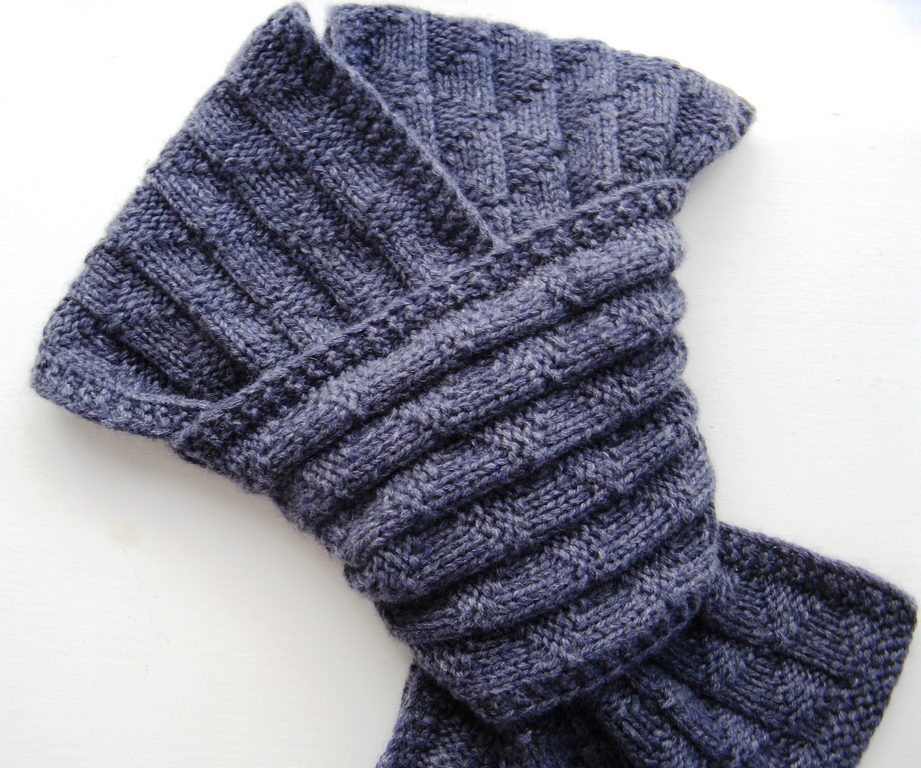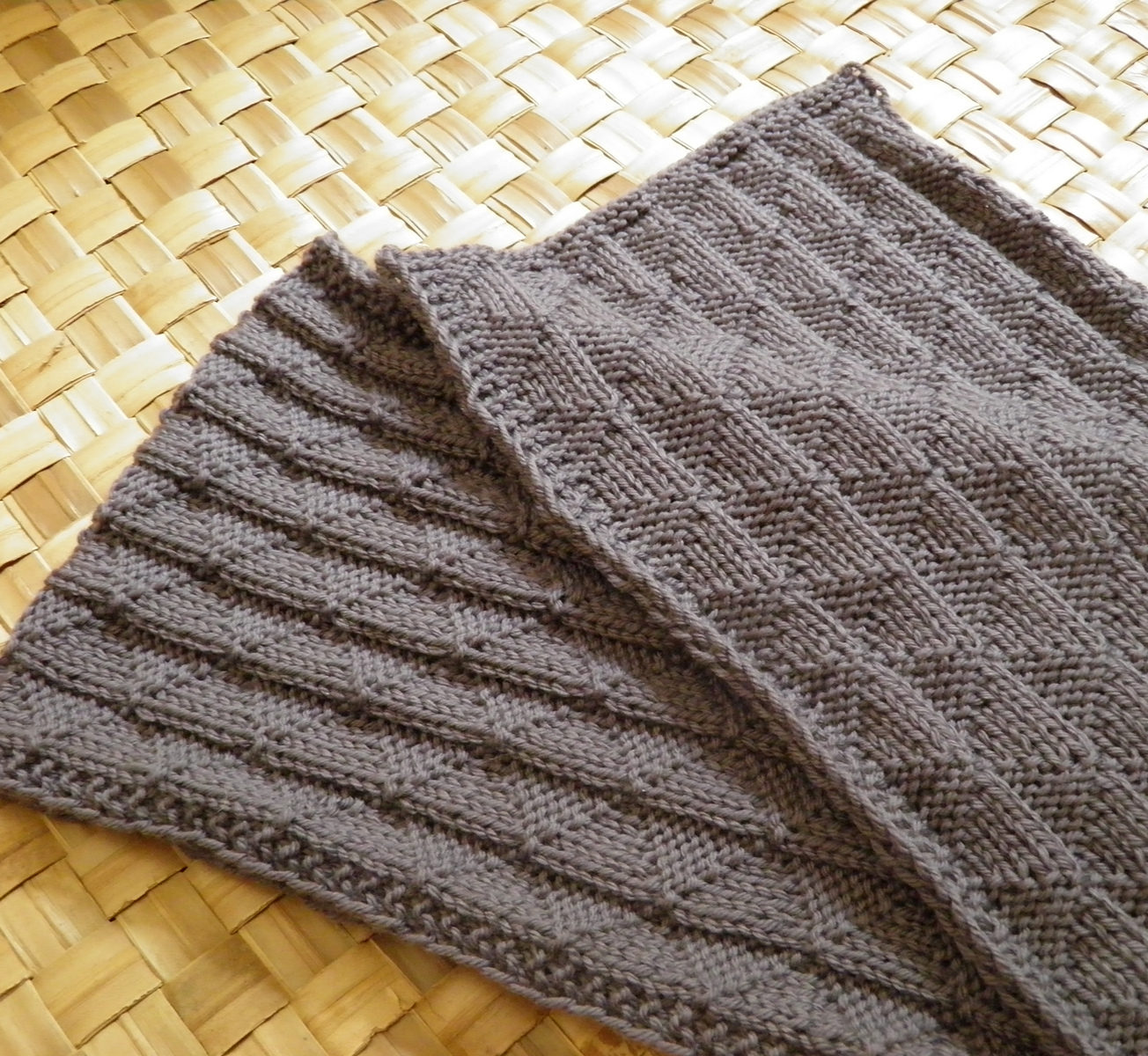 Ruggles Reversible Scarf
A 10 row repeat triangle texture stitch. The link to the pattern actually contains 3 patterns. This is the first. Designed by Catherine Wingate. Pictured projects by mdc550 and mgreen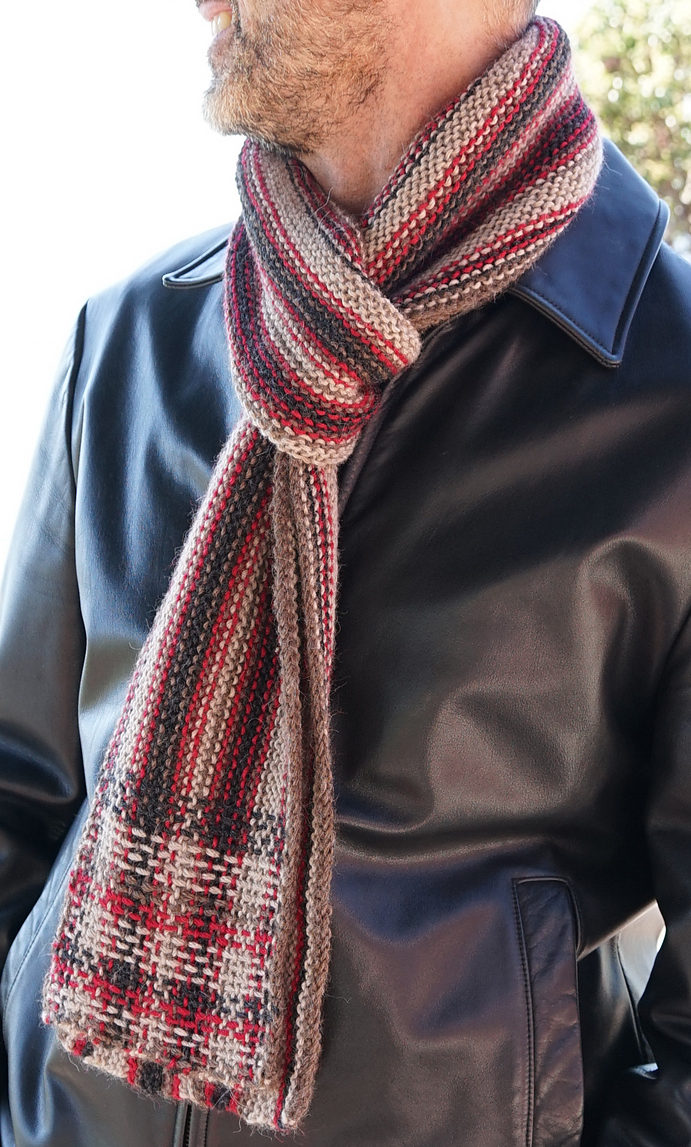 Reversible Garter Plaid Scarf
Reversible colorwork scarf knit in garter stitch stripes with plaid woven in with a needle at the ends of the scarf. Designed by Chuck Wilmesher for Skacel. 6" Wide x 72" Long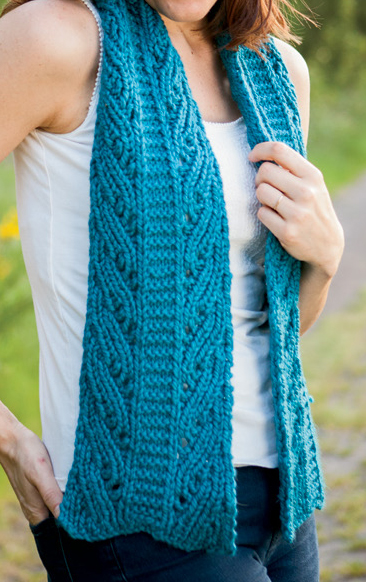 Duo Columns Reversible Scarf
Lace columns frame a garter stitch section on this scarf. Designed by Quenna Lee for Knit Picks. Quick knit in bulky yarn on big needles.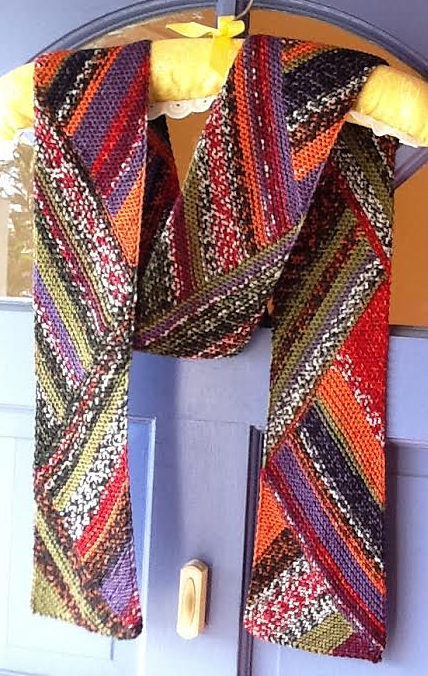 Reversible Multidirectional Diagonal Scarf
Knit in garter stitch and short rows that shape the triangles this is perfect for showcasing variegated or sock yarns. Designed by Karen Baumer. Pictured projects by Godzilla and iknit4joy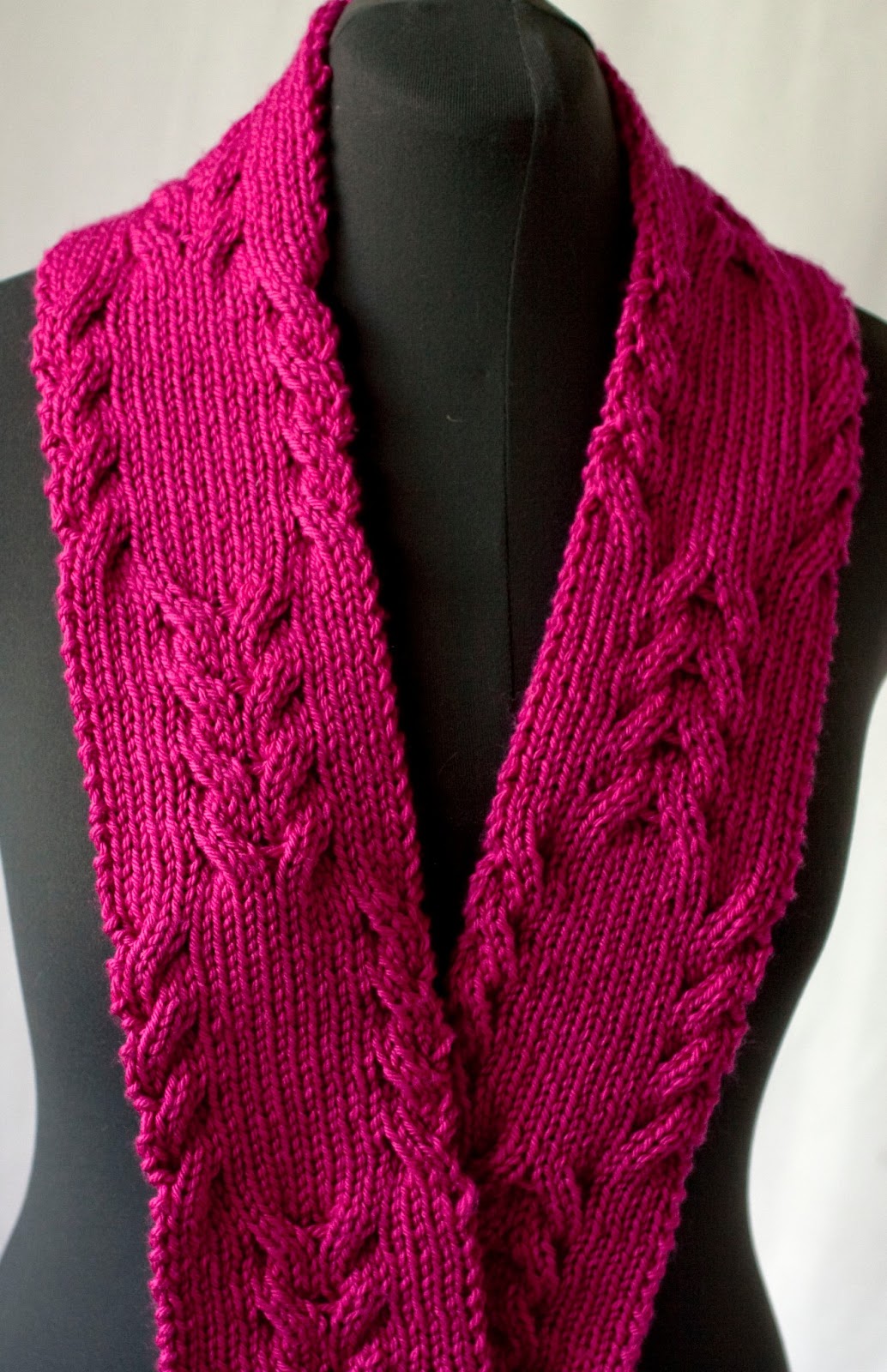 Reversible Cabled Scarf
Ribbing and cables result in a squishy reversible scarf. Designed by Shannon Dunbabin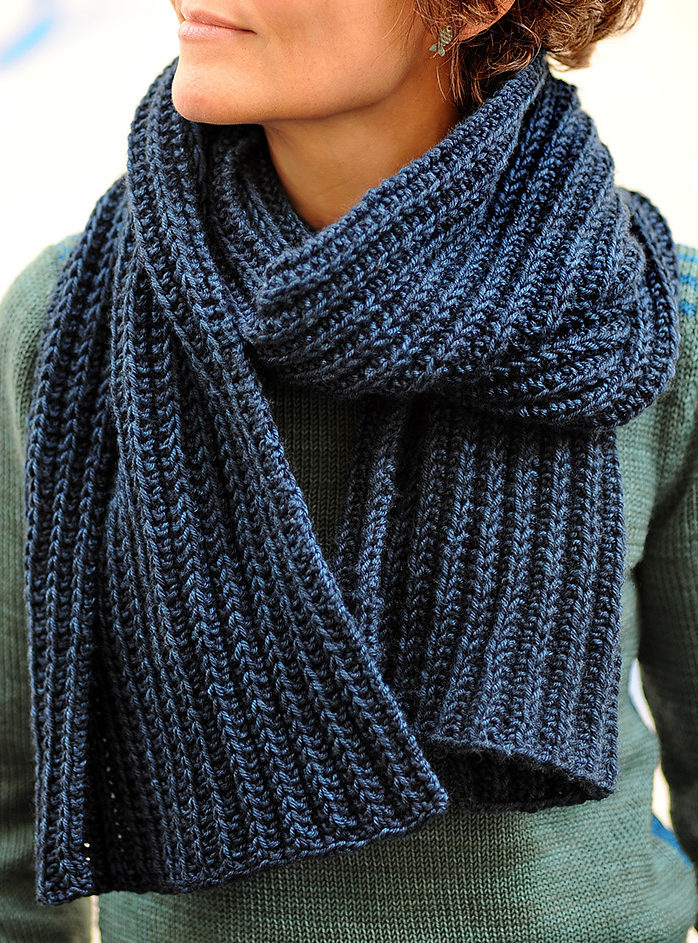 No Purl Ribbed Reversible Scarf
Knit with a 2-row repeat Cartridge Belt Rib stitch that uses slip stitches to create ribbing without purls. Designed by Purl Soho. Pictured project by HandSoOnKnits. 2 Sizes: 8 ½ inches wide x 64 (80) inches long. Rated easy by most Ravelrers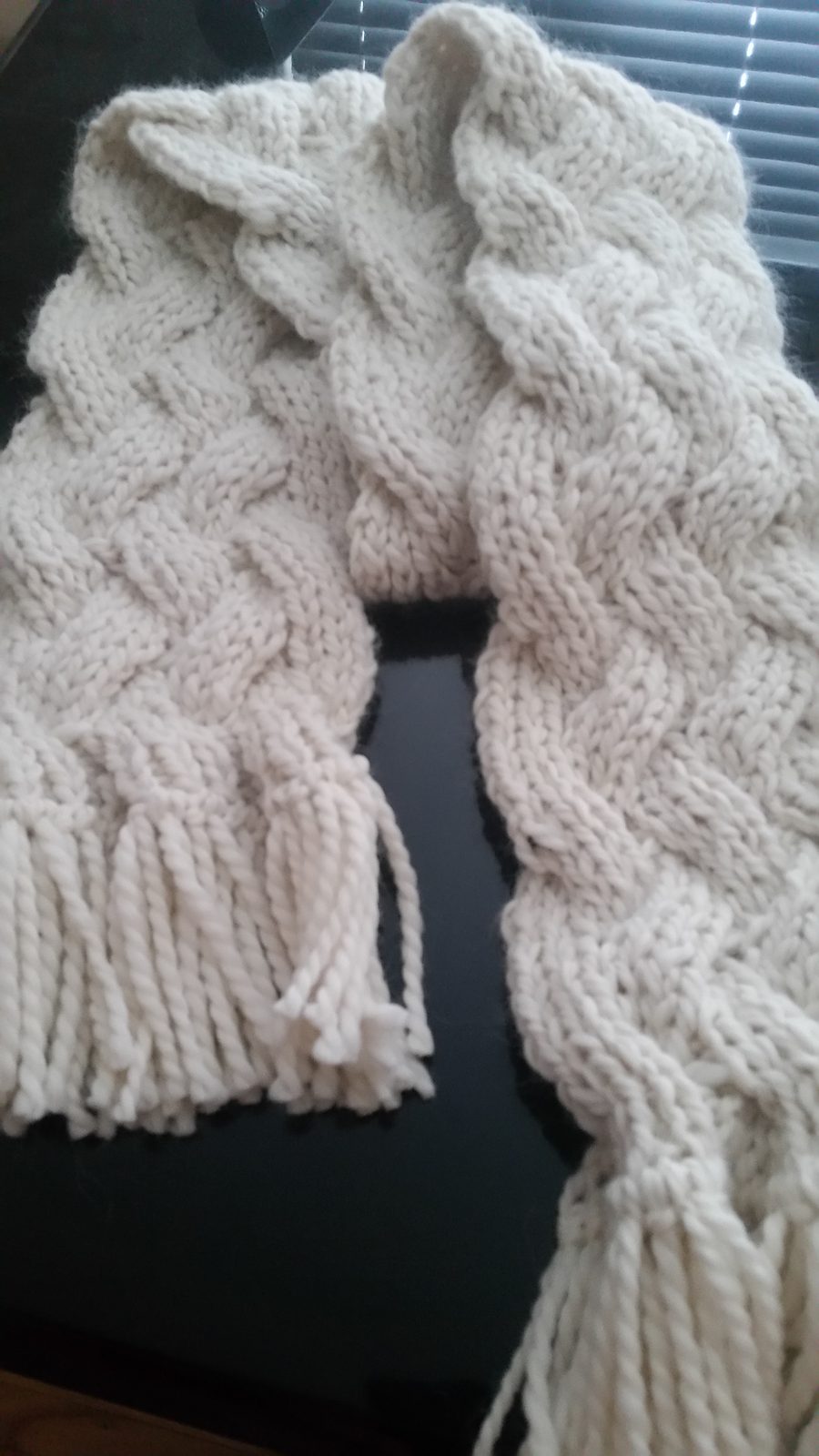 Lamar Scarf
Gale Zucker's unisex scarf is a quick knit in super bulky yarn. Pictured project by oraxia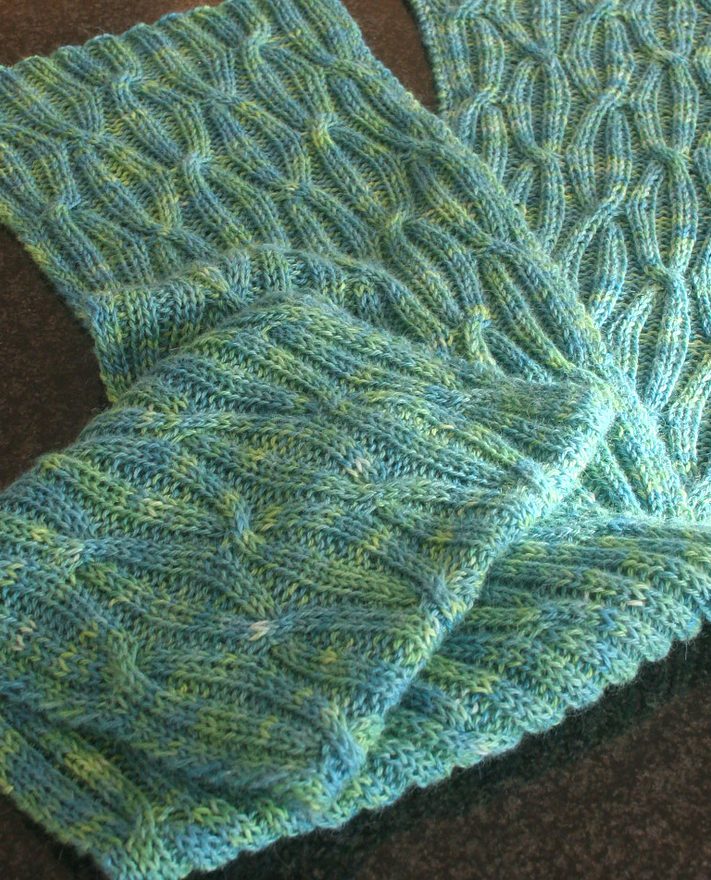 Reversible Cabled Scarf
Designed by Turvid, this scarf looks the same on both sides. Pictured project by tigermum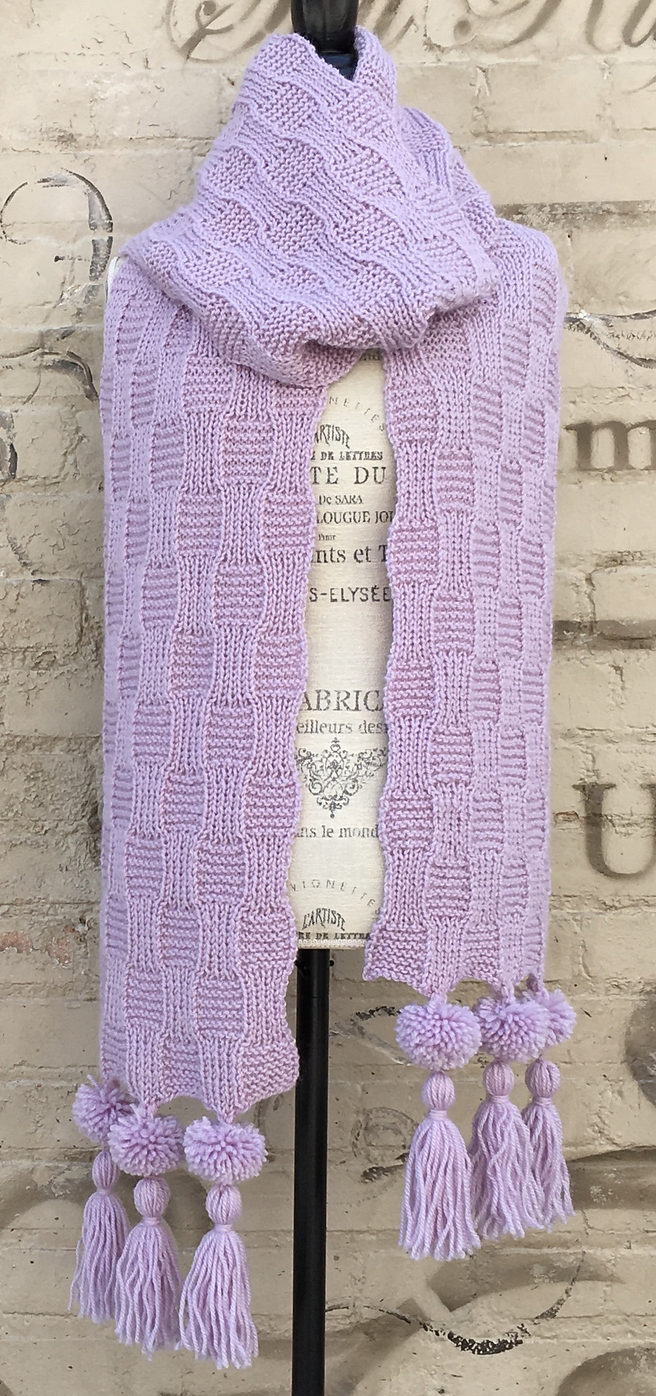 Faux Weave Super Scarf
This reversible Purple Super Scarf is made with the Faux Woven Stitch. One size: 10″ (25 cm) wide x 120″ (305 cm) long (including pompom and tassels). Designed by Alexandra Davidoff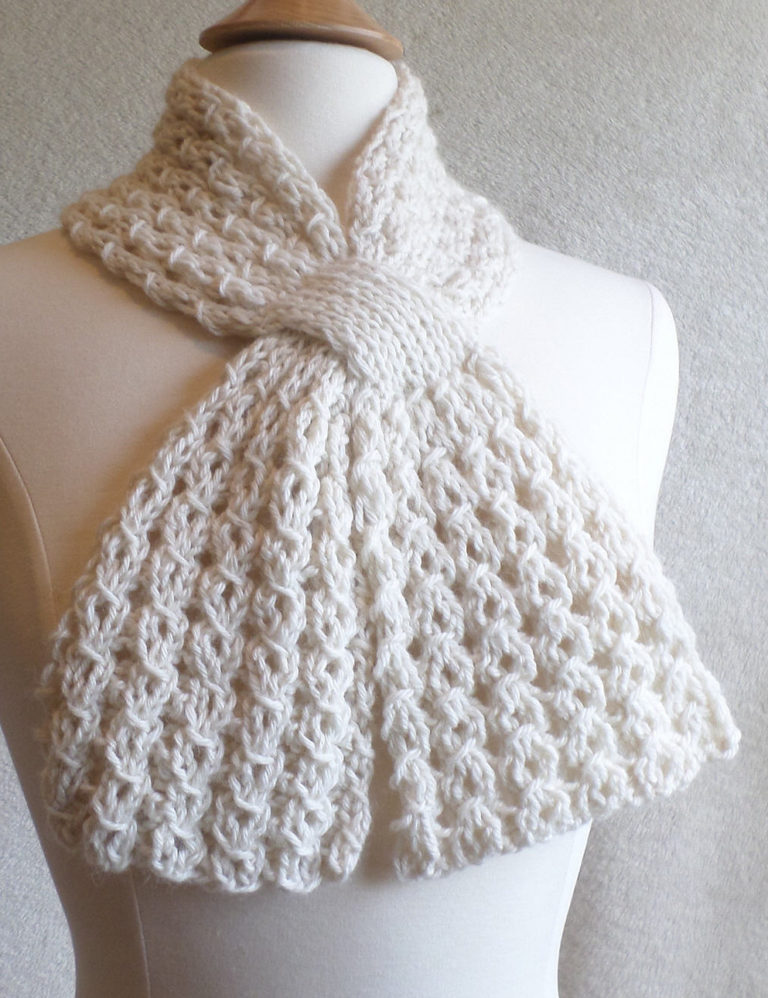 Loopy Lace Scarf
This scarf features a reversible 4-row repeat lace honeycomb stitch and a loop to keep it in place! Designed by Katie Harris. Pictured project by crumbgrubbers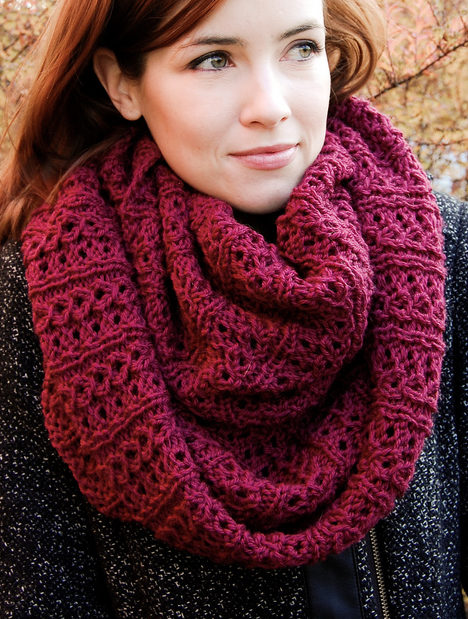 Stockholm Infinity Scarf
This cowl features a completely reversible stitch pattern with a 4 row repeat that is easy to memorize. Designed by knittedblissJC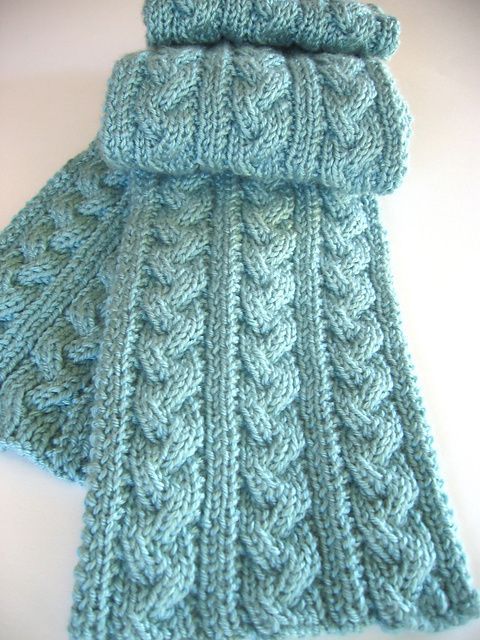 Braid Cable Reversible Hiking Scarf
Designed by Jeanna Quinones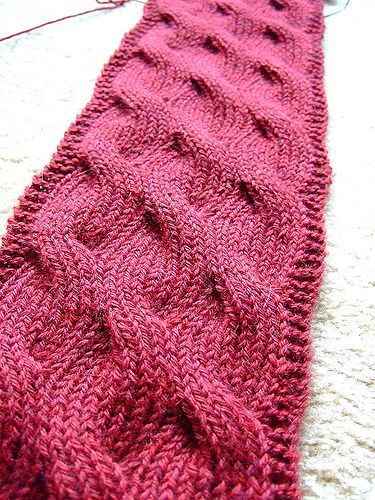 Manitou Passage Reversible Scarf
Jen Nashville designed this completely reversible cable scarf.
Patterns for Purchase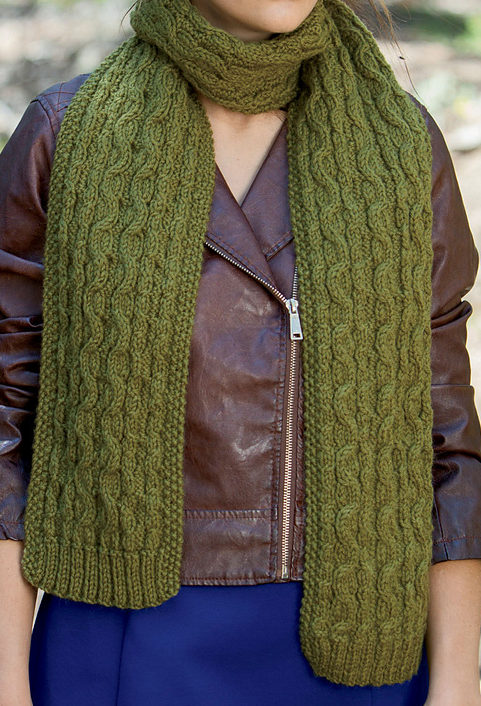 Chokecherry Scarf
Easy to memorize cable pattern. Size 6" wide and 68" long. Designed by Carolyn Pfeifer.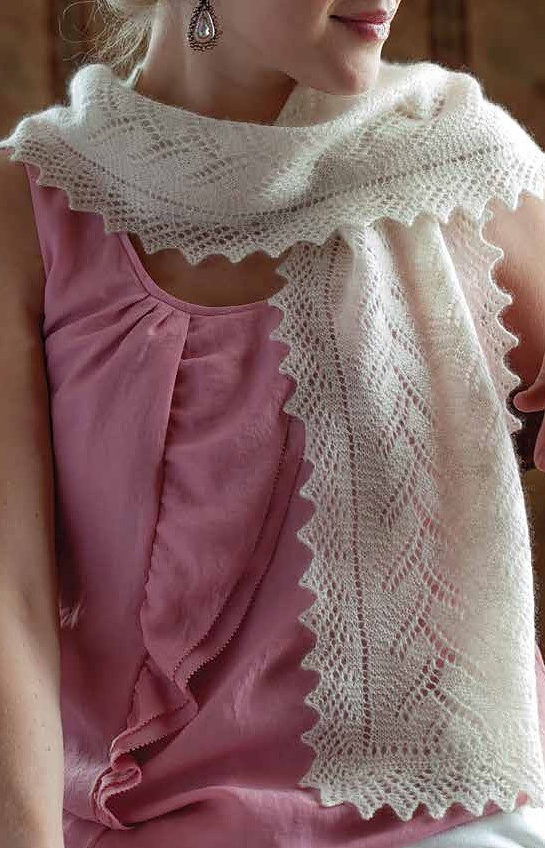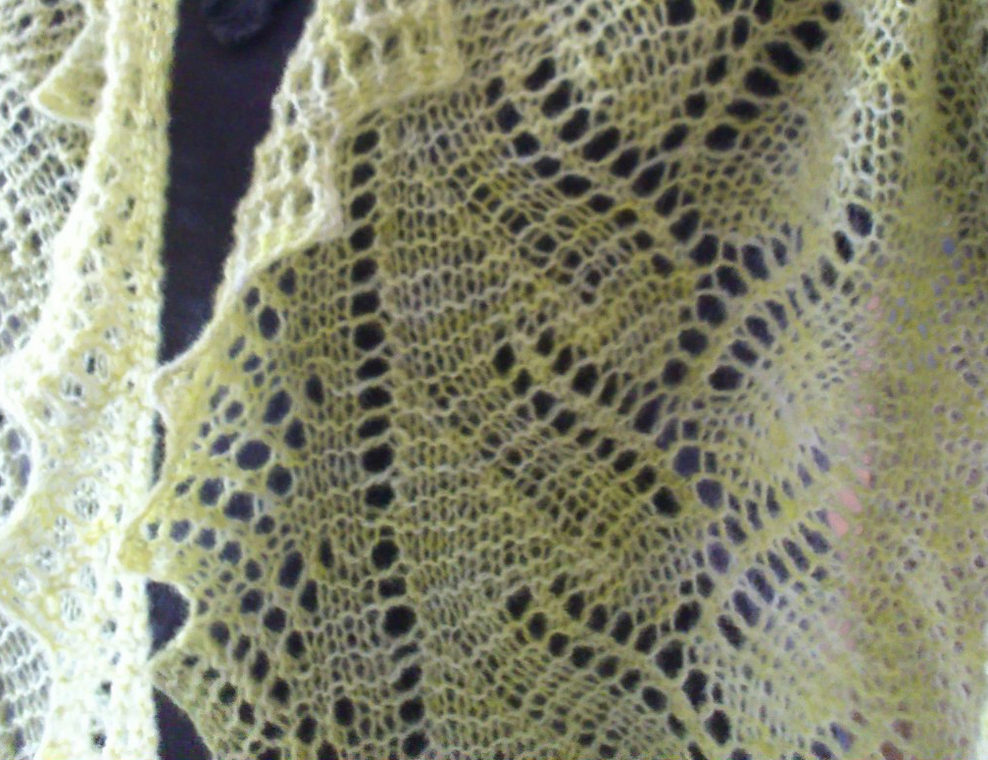 Koloski Lace Scarf
Garter stitch ears of wheat lace makes this scarf reversible. Designed by Galina Khmeleva. Pictured project by Nao-ko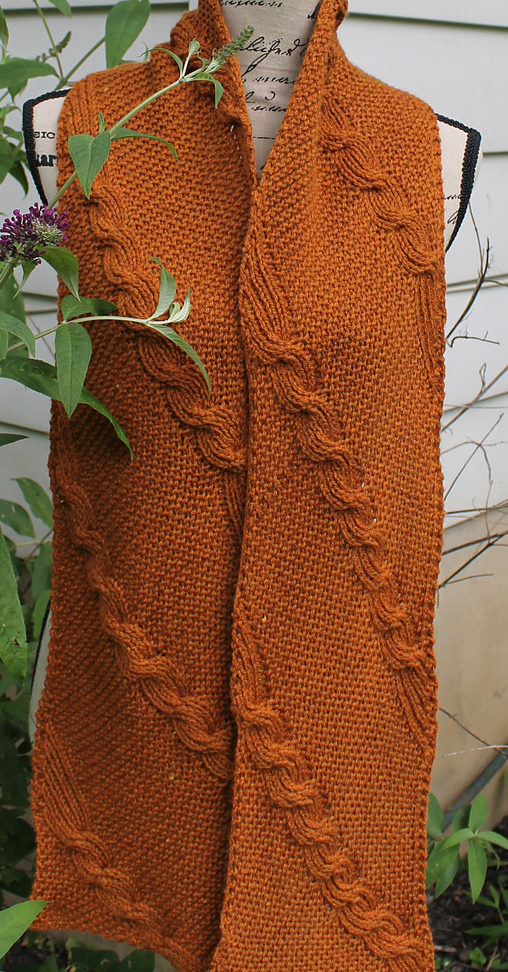 Quixote Scarf
Garter stitch and cables knit on the diagonal formed by increasing on one side and decreasing on the other. Completely reversible. Designed by Brenda Castiel. Pictured project by golfgirl417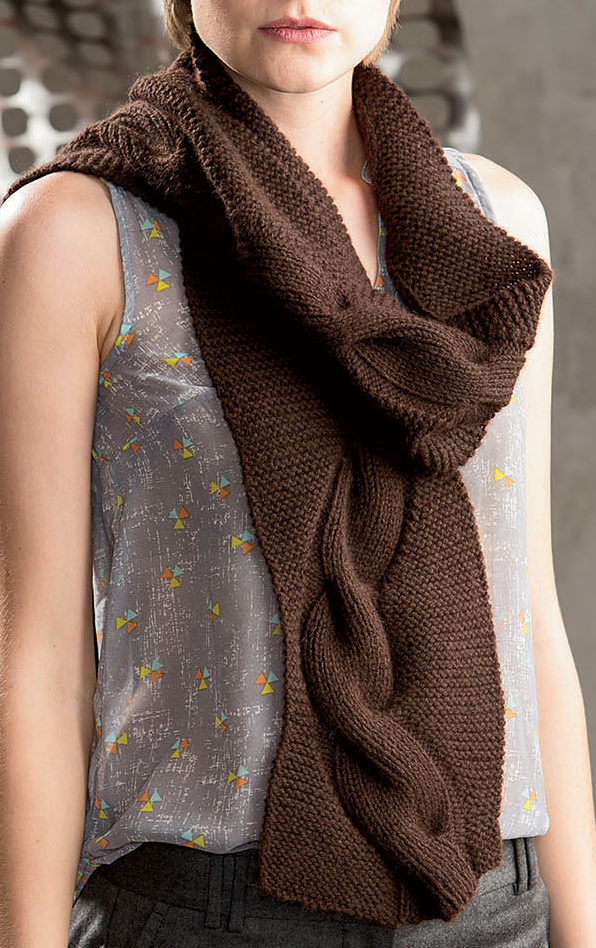 Swaying Cables Scarf
A wide cable is set on the bias in a garter-stitch in this reversible scarf that looks the same on both sides according to Ravelrers. Designed by talitha kuomi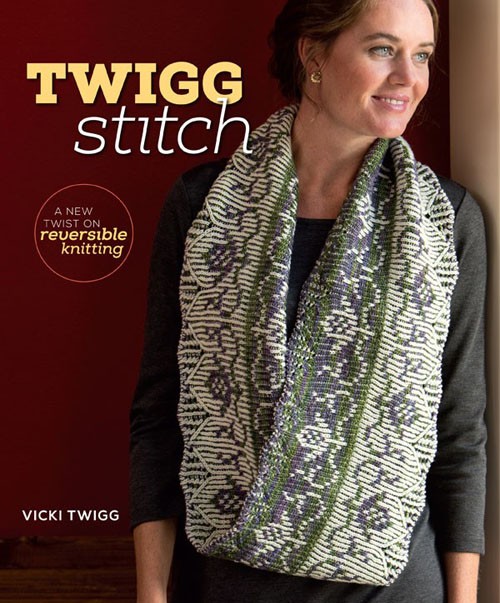 Twigg Stitch
A new technique for reversible colorwork knitting with 10 knitting patterns from Vicki Twigg. NOT brioche, NOT double knitting, NO slipped stitches, yarn-overs, or knitting into the stitch below.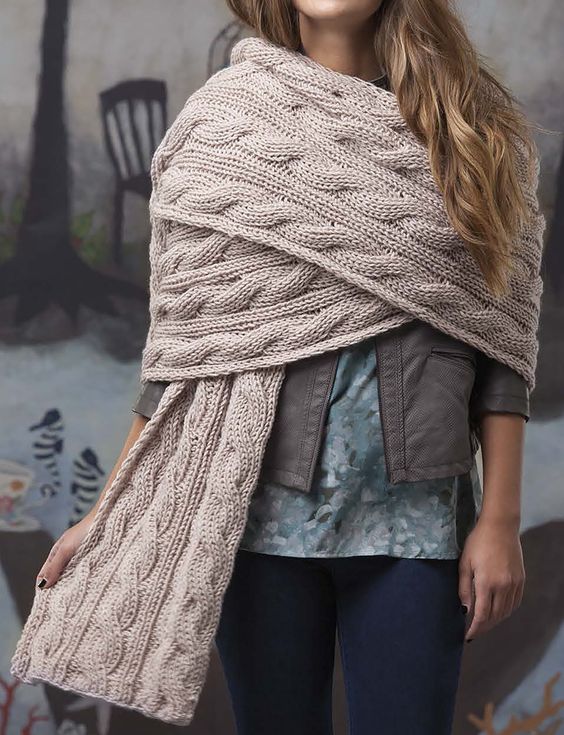 Reversible Super Scarf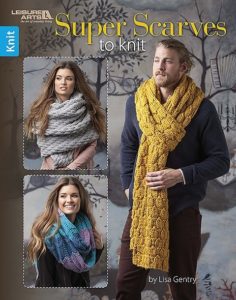 Each of the six designs in Super Scarves to Knit from Leisure Arts is about 14 inches wide and 120 inches long. The designs by Lisa Gentry include Pebbles, Radiance, Regency, Reversible Cables, Chevron, and Mosaic.

Bear Lake Cowl
Reversible infinity scarf with panels of ribbing and mock cables knit with double strands of Aran yarn. Designed by Quenna Lee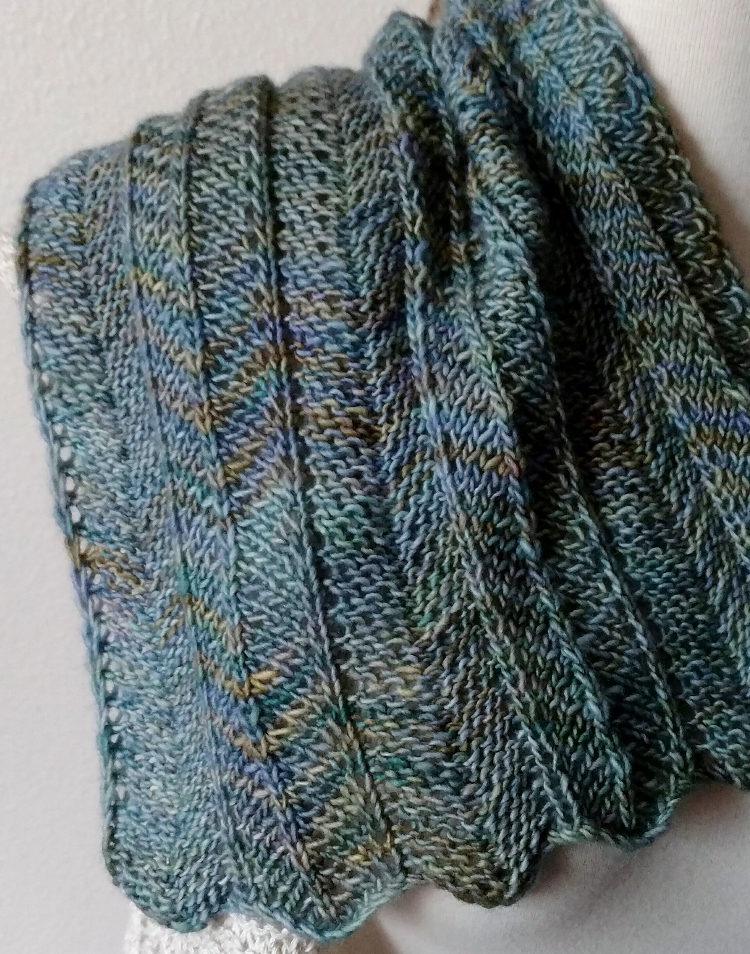 One Row Chevron Scarf
This easy reversible scarf creates the chevron lace stitch in a one row repeat. Looks great in multi-color yarn!