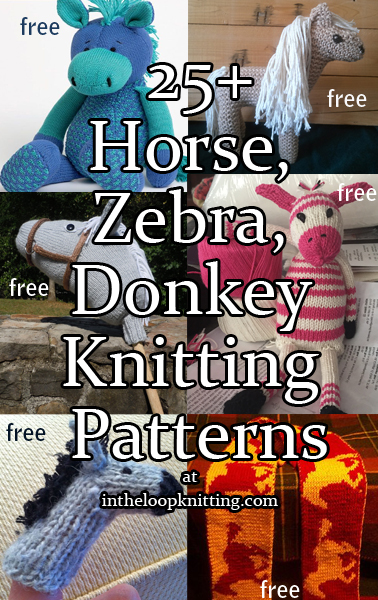 Knitting patterns for softies, hats, scarves, and more featuring various equine animals.
To get the knitting patterns, scroll down the page to the individual pattern you want and click on the link to that pattern.
These patterns are not my designs but links to other designers who have generously shared their patterns. If you have questions about how to knit a specific pattern, please contact the designer directly.
All links on this site are for informational purposes, but please note that some links are to affiliate sellers that pay me a small commission on purchases.
Free Patterns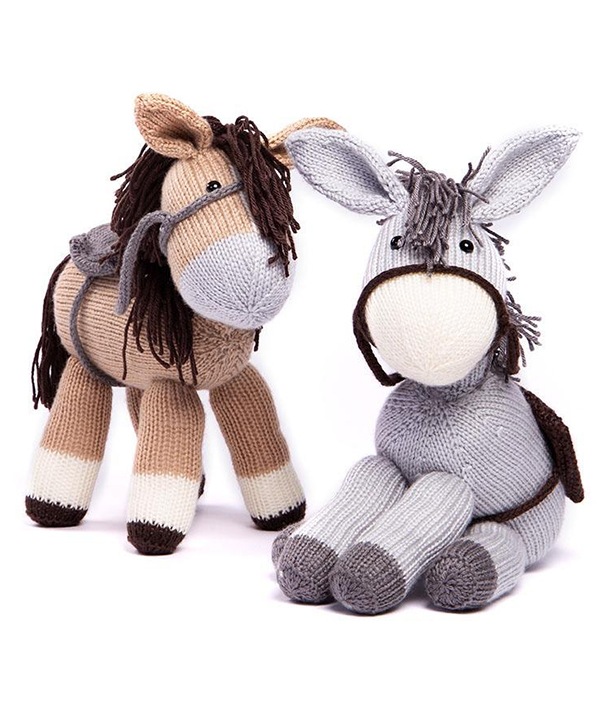 Dolly the Donkey & Bramble the Horse by Amanda Berry
The finished sizes for these cute friends is approximately 26cm long and 27cm tall. DK yarn. Designed by Amanda Berry for Deramore's. Also available as a kit.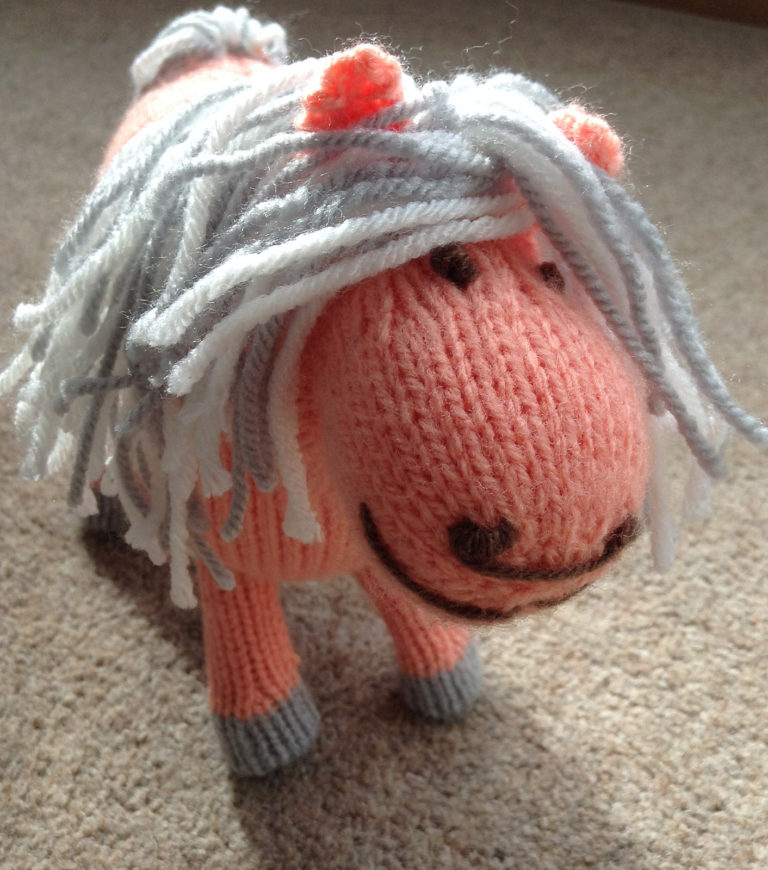 Kathleen the Shetland Pony
Height: Approximately from hoof to center back = 17cm (6.5″) in DK yarn. Designed by Janice Anderson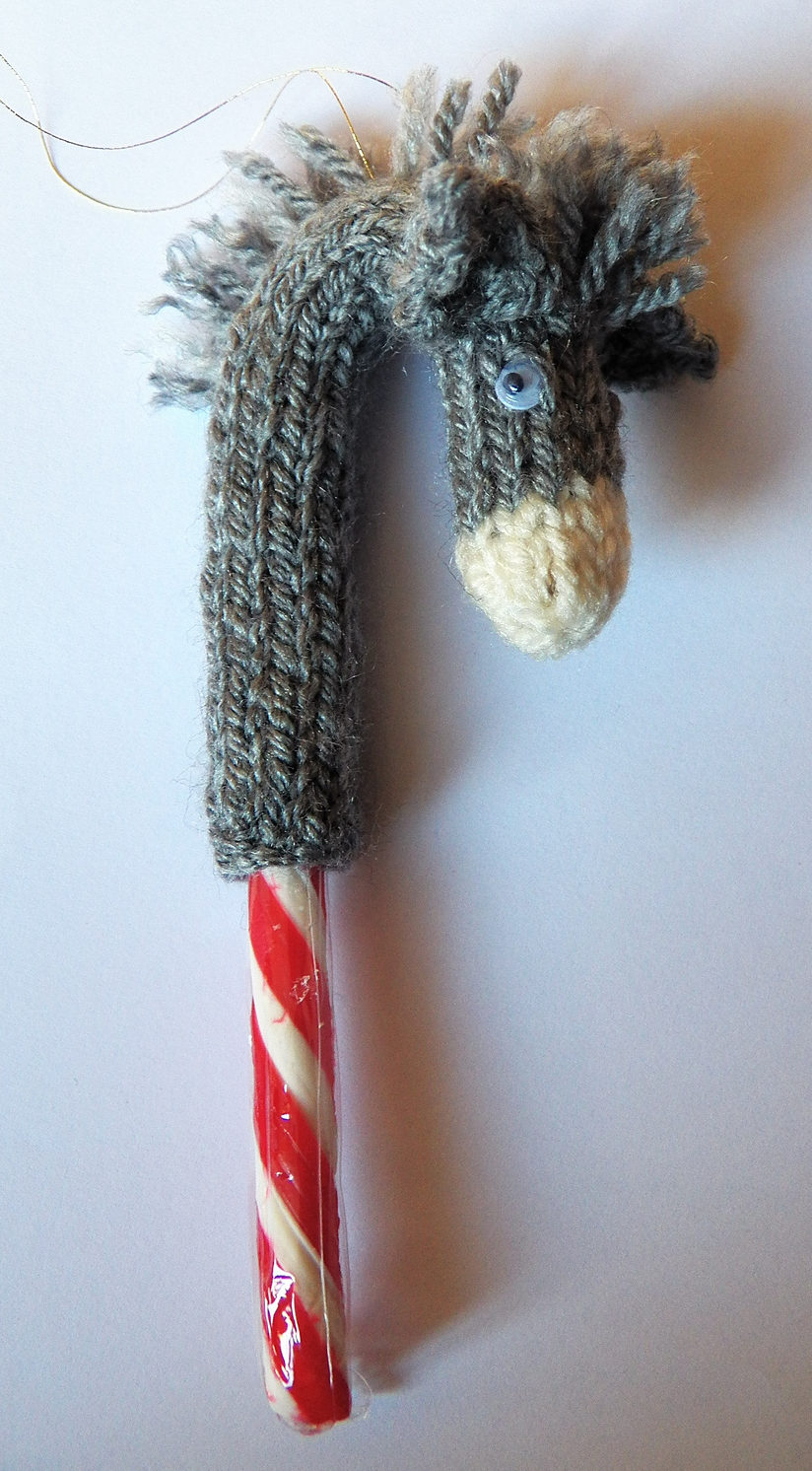 Candy Cane Donkey
This clever design creates a donkey or horse head knit in the round to slip over a candy cane for ornaments or treats. To fit a 12cm candy cane. Designed by J Paling who requests that you consider donating to a donkey sanctuary.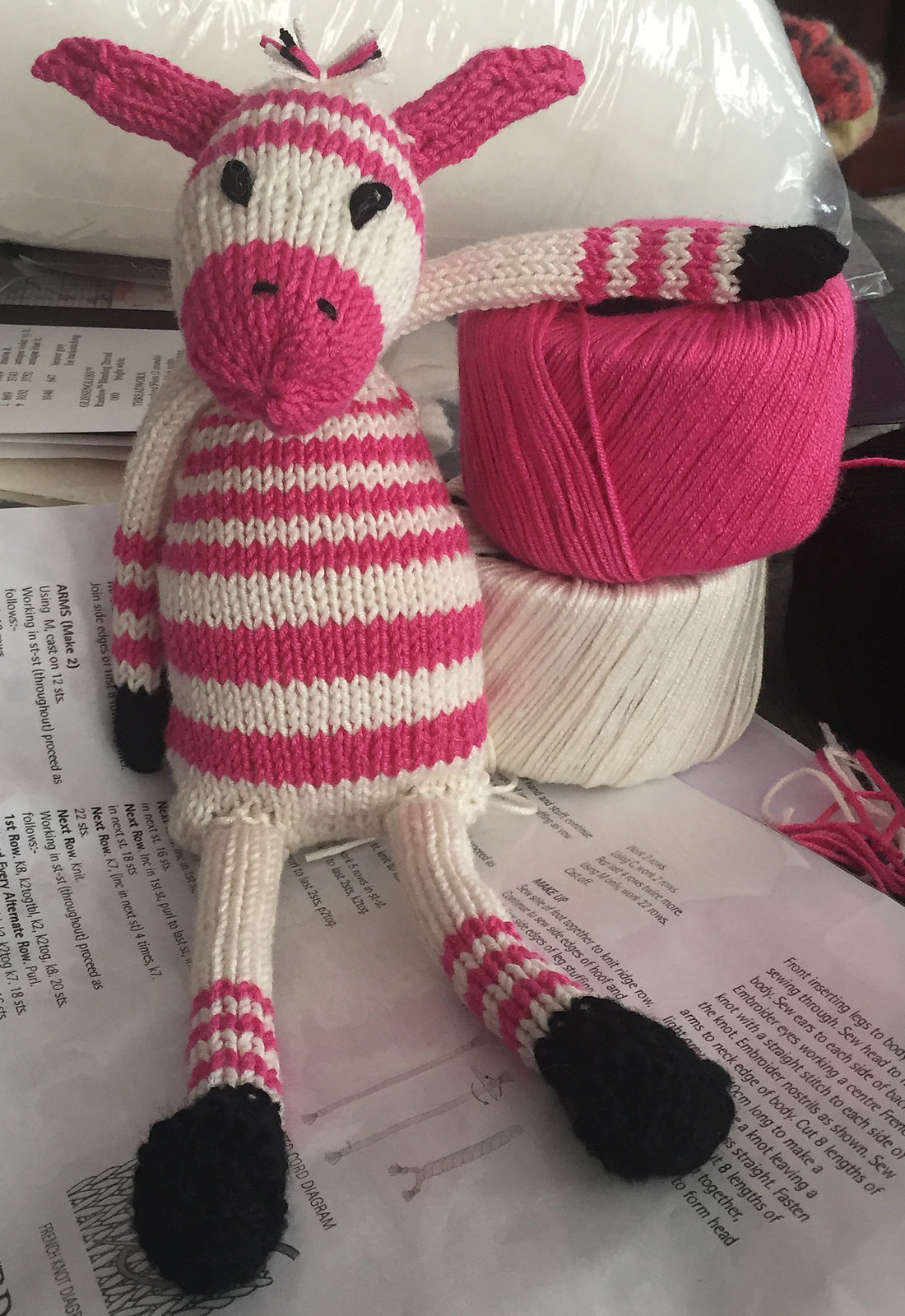 Zany Zebras
Height (approximately) 18cm, (7in) Sitting down in DK. Designed by Sue Jobson for Sirdar. Pictured project by mrsdr
Rosy Pony and Baby Burro
These easy toys are knit flat and seamed. 5 in. (12.5 cm) tall. From Lion Brand yarn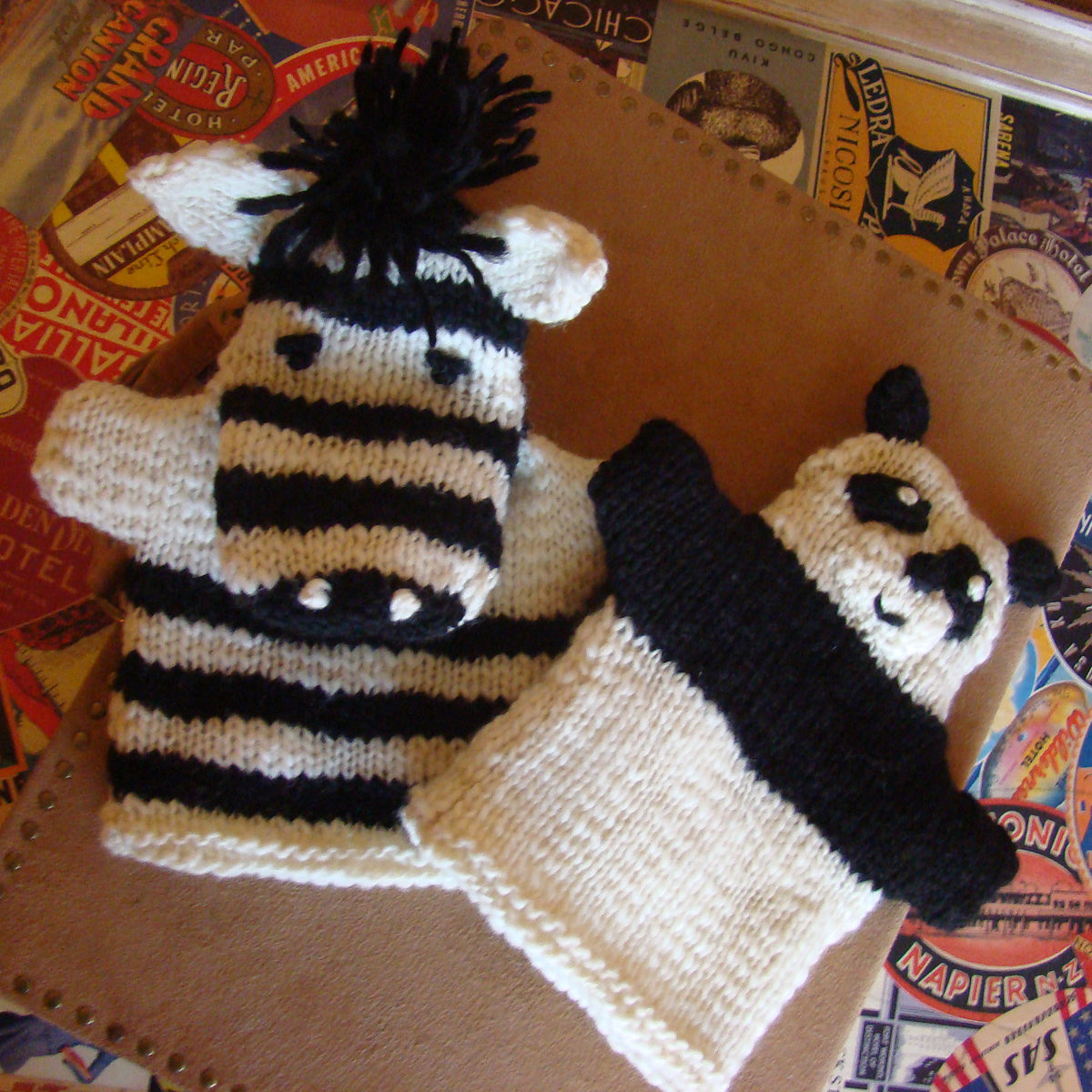 Zebra and Panda Hand Puppets
These easy and quick puppets are knit back and forth on larger-size needles. 91⁄2 inches tall and 81⁄2 inches wide. Excerpted from Itty Bitty Toys by Susan B. Anderson.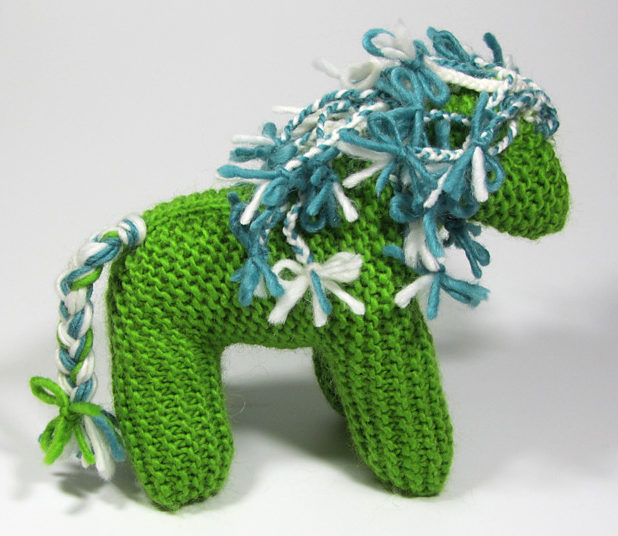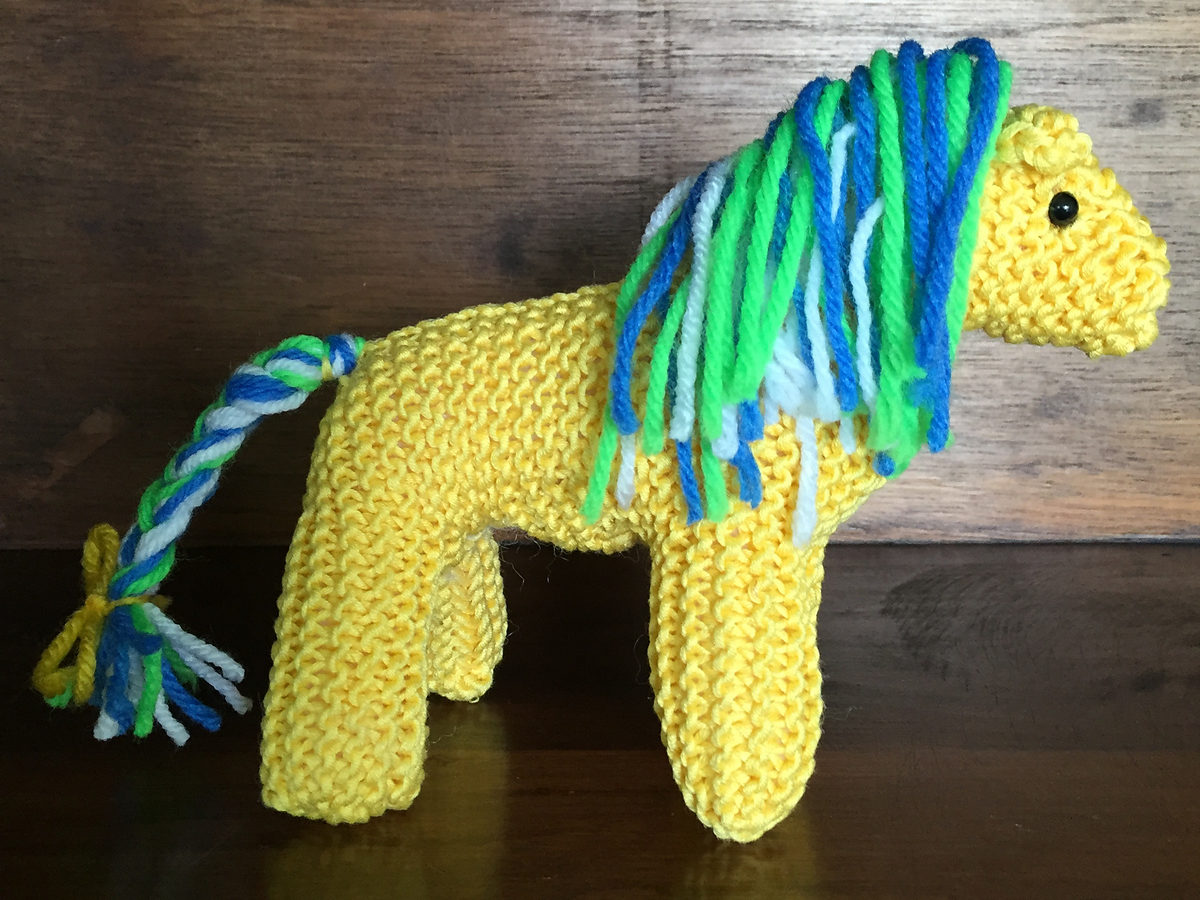 Acorn Hill Pony
This quick easy toy is knit flat in garter stitch and seamed. One Ravelrer said it takes 2 hours to knit. Approximately 7.5 inches/19 cm long from nose to tail and 6 inches/ 5 cm from hoof to head. Traditional pattern adapted by Noreen Slank. Pictured projects by noreen1009 and Lim2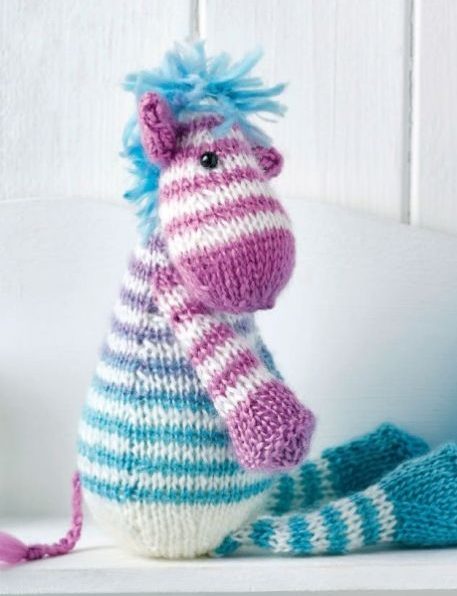 Zac the Zebra
This zebra toy softie was designed by Lucinda Ganderton and can easily be adapted to be a horse. Pattern bundle also includes Sid the Snake and Dolly the Sausage Dog by Lynne RoweSusie Johns. The file needs to be unzipped after download.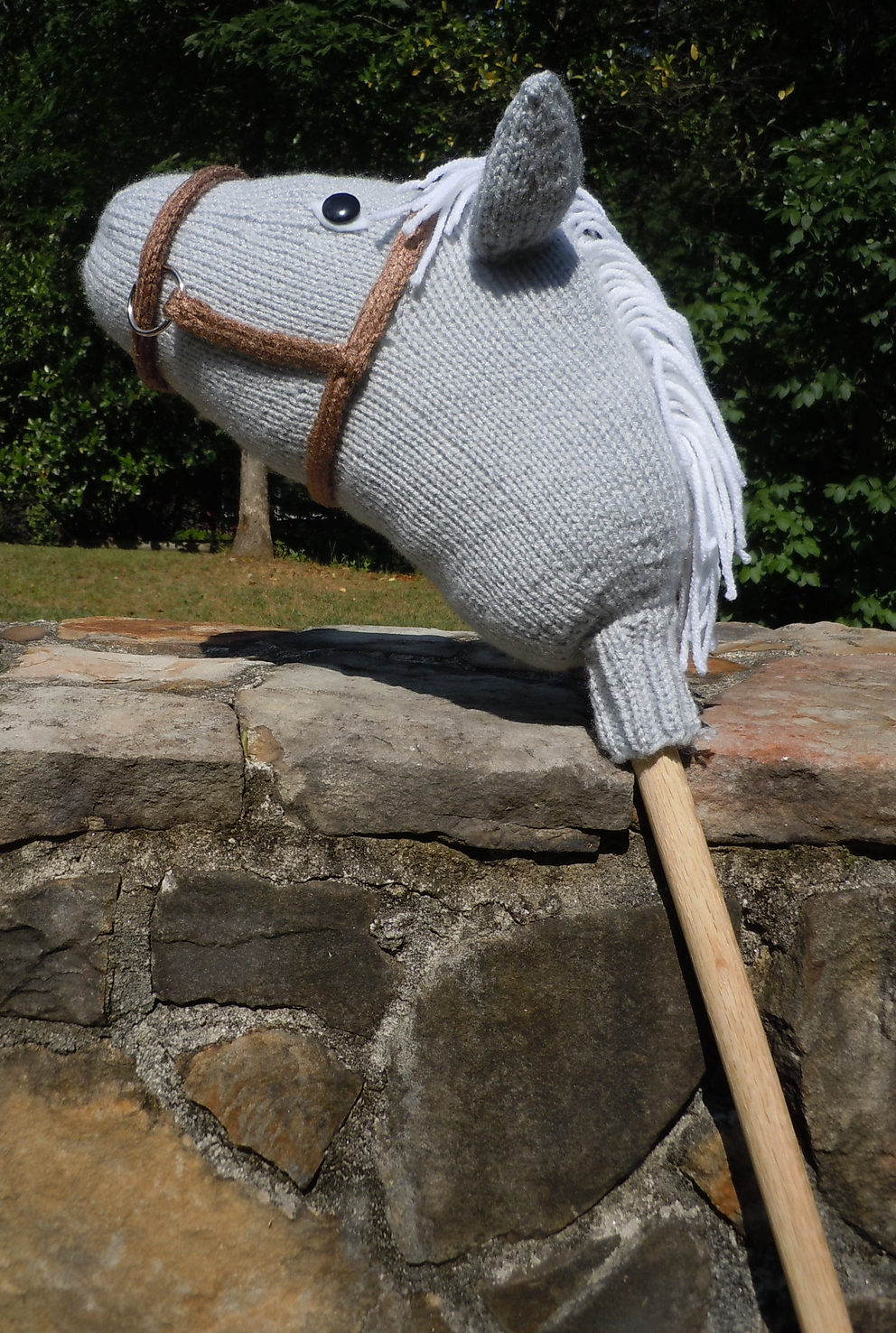 Stormy Dawn Hobby Horse
This softie is knit in the round with construction similar to a sock. Designed by Sara Elizabeth Kellner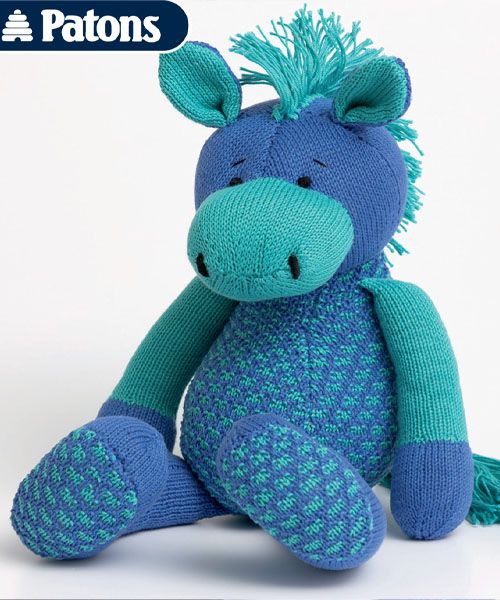 Horse Toy With Matching Sweater
Patons designed this pattern for a horse toy about 14 inches tall with matching striped sweater for babies 0, 3, 6, 9, 12, 18 months. Provided courtesy of Black Sheep Wools.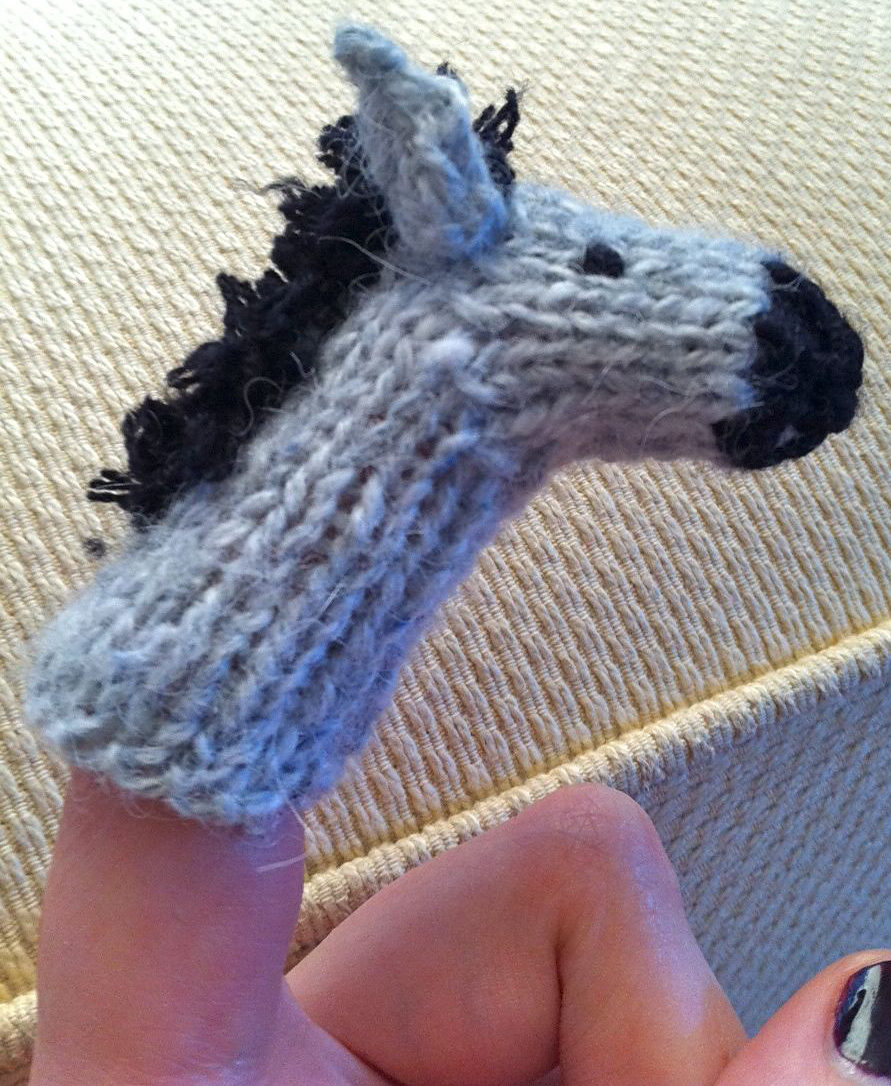 Donkey Finger Puppet or Pencil Topper
This tiny donkey can easily be adapted to look like a horse or zebra. Rated easy by Ravelrers. Designed by Emma Folds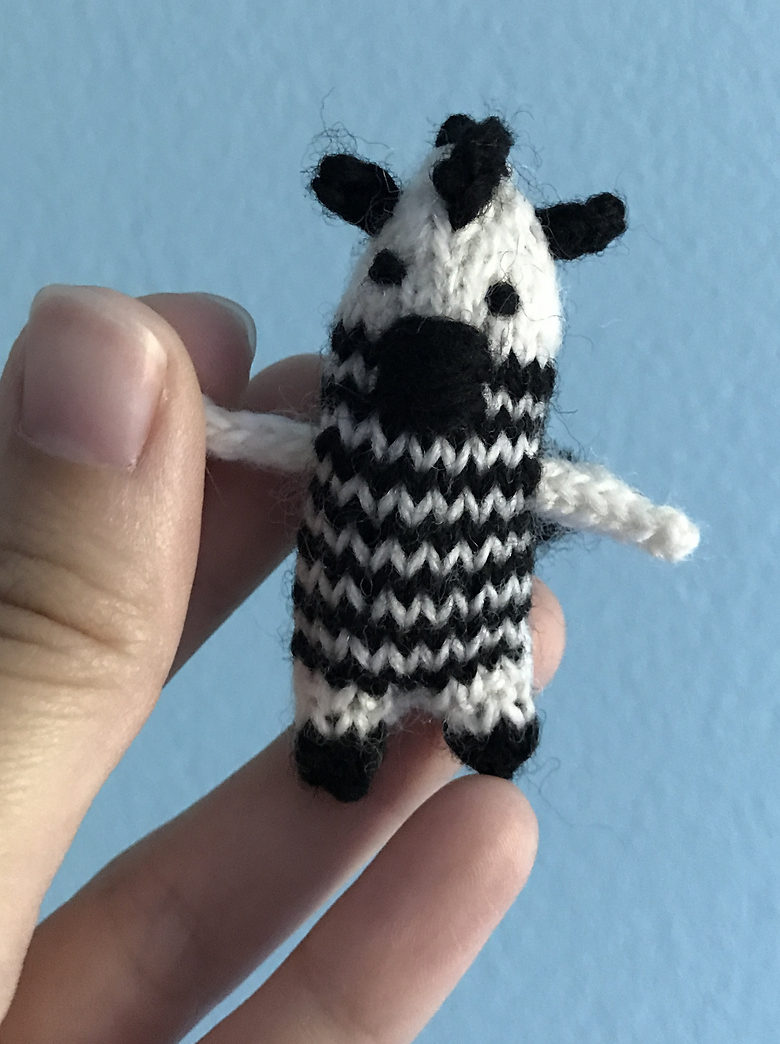 Tiny Zebra
This tiny Carnie Zebra amigurumi toy from Mochimochi Land designer Anna Hrachovec is a bonus pattern from Adventures in Mochimochi Land. Pictured project by juleen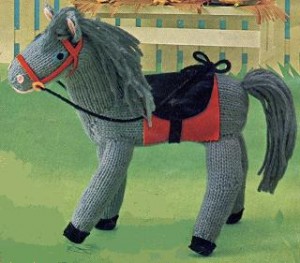 A Fine Knitted Horse
This toy softie from Grandmother's Pattern Book comes with patterns for saddle and bridle.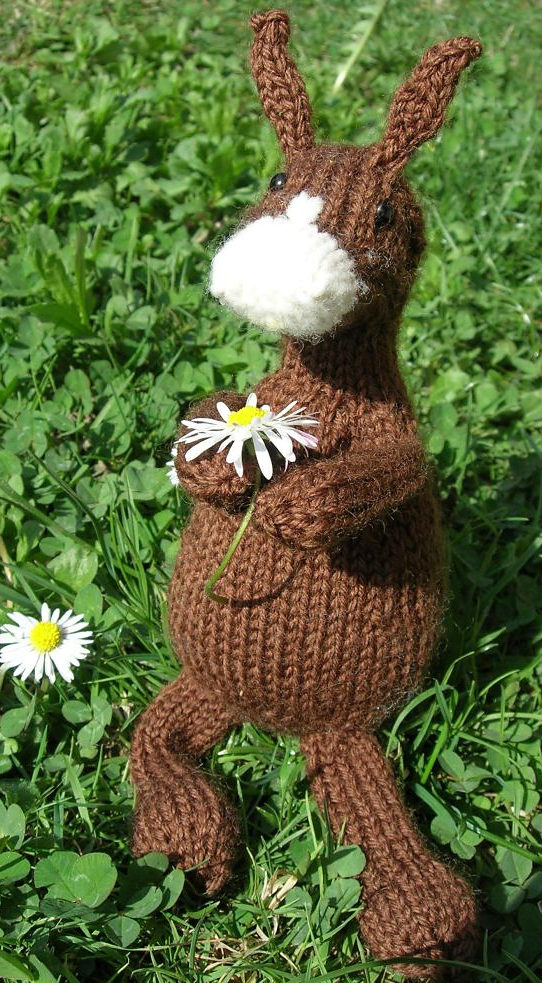 Hannibal the Donkey
Stitched on the round using double-pointed needles from bottom to head and is about 20 cm high from feet to ears.. Designed by Knit-a-Zoo.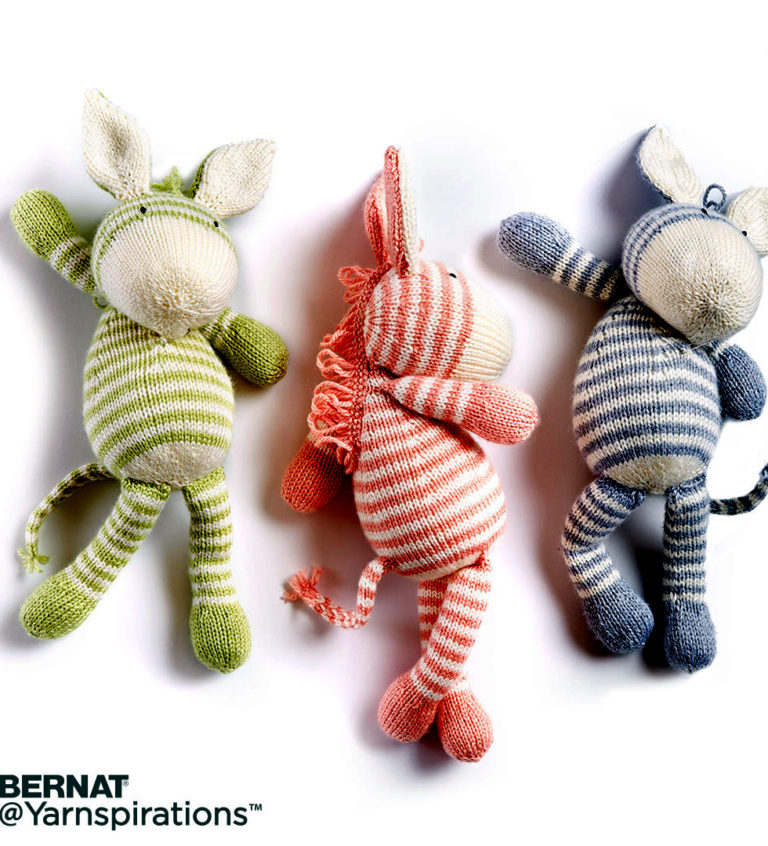 Zebra Toy
This softie by Bernat is approx 12″ [30.5 cm] long.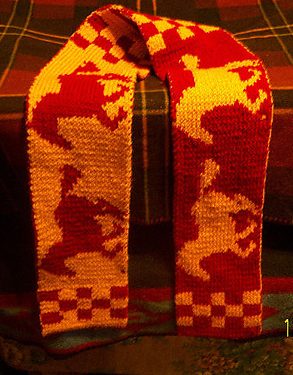 Double Knit Horse Scarf
Miranda Stanbery designed this reversible scarf with horse motif.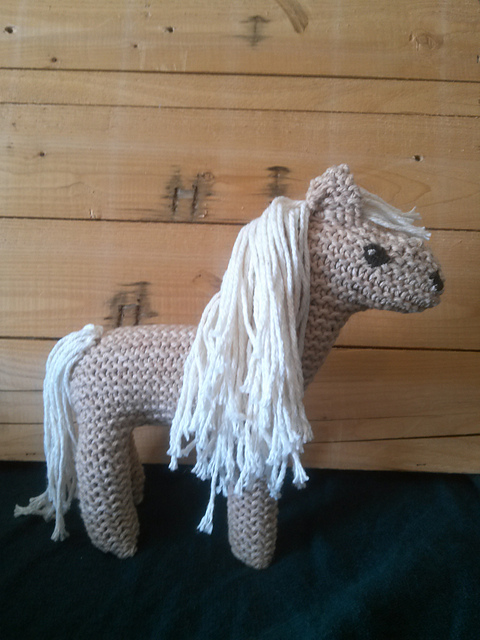 How to Knit a Horse
Jeannie R. Lee provided quick instructions for a simple horse toy with basically two pieces, modified from the pattern in A First Book of Knitting for Children by Bonnie Gosse and Jill Allerton. Pictured project is by crunchymamakim

Harriet the Horse
This horse softie is designed by Sachiyo Ishii. The file needs to be unzipped after download.

Rohan Banner Scarf
IrishElinor's reversible double knit scarf is based on the White Horse upon green banner of Rohan, or as the Rohirrim call their country, the Mark of the Riders. There are Celtic knot motifs on the middle and the ends of the scarf, with two horse profiles facing each other between. See Appendix A, II: The House of Eorl; LOTR.
Patterns for Purchase
Kylie Knit Doll & Little Knit Horse
Two softies pattern set, though patterns are also available set. The horse-living doll Kylie with horse hat and horseshoe sweater is approx. 13" tall in worsted weight yarn. The small horse is approx. 8" tall in worsted weight. Designed by VioletsandHeather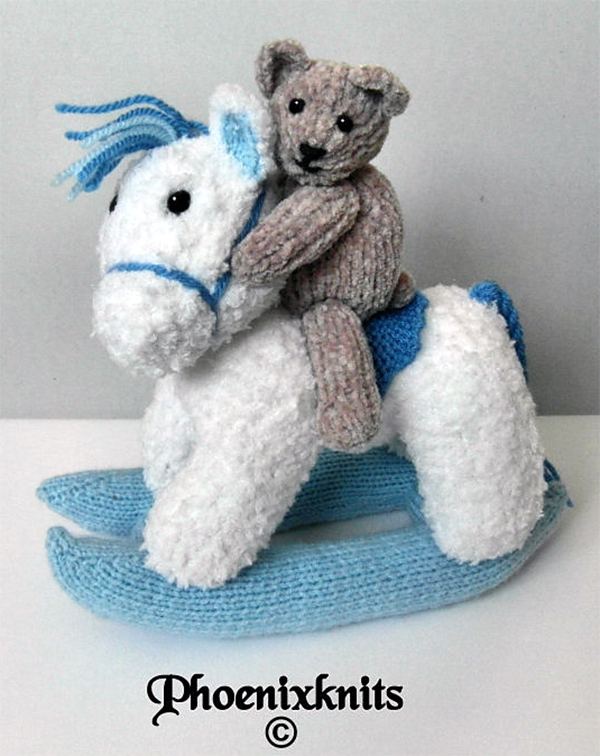 Rocking Horse and Teddy Bear
Pattern set for softie toy companions. The rocking horse including rockers stands 8 inches high and is 8 inches long, little Ted stands 5 inches high in DK yarn. The instruction for making the wings and the horn are included, so the rocking horse can become a Unicorn or a Pegasus – you could even make a Pegacorn! Little Ted can be given wings to change him into an angel bear. Designed by Phoenixknits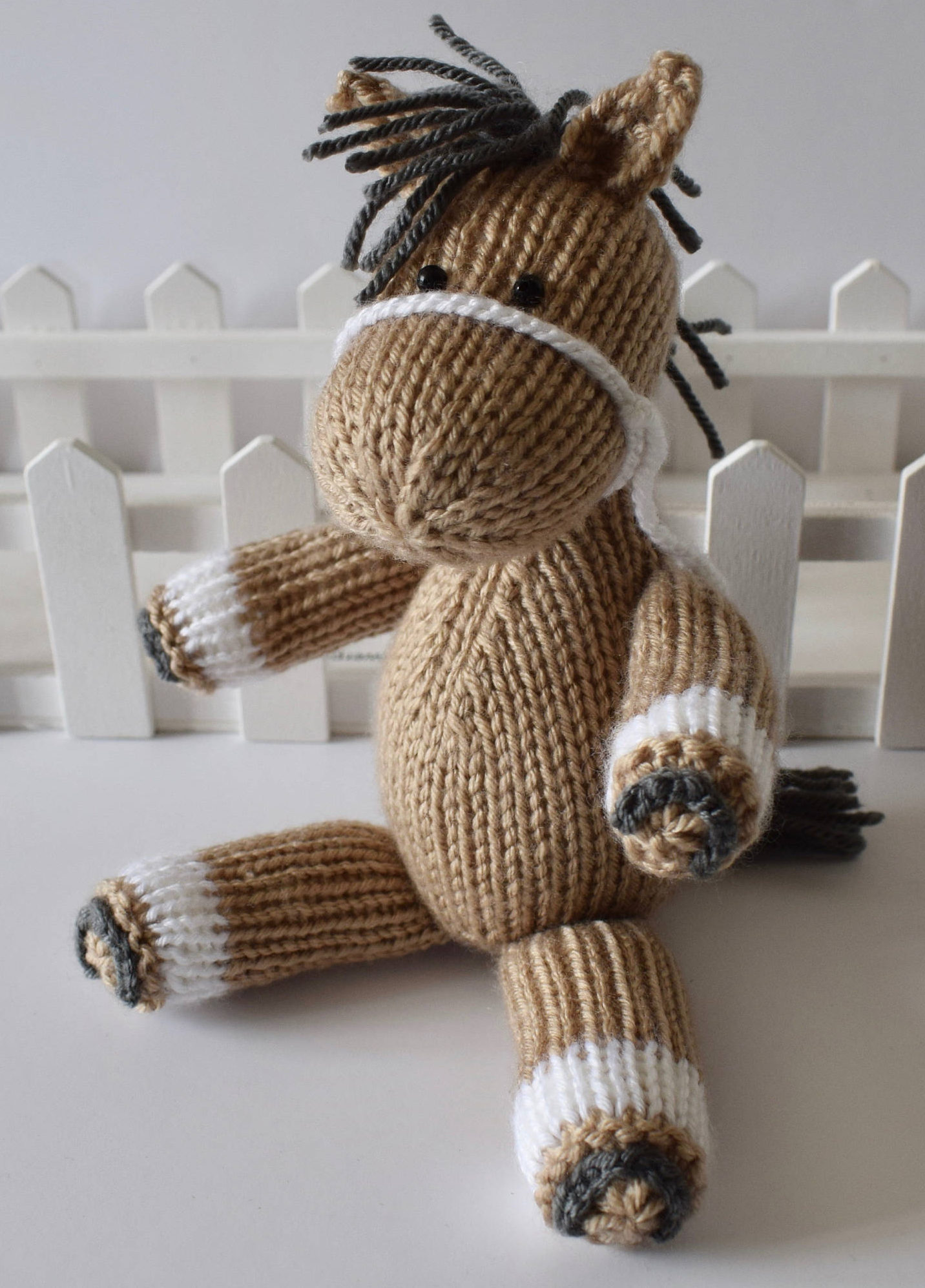 Henry the Horse
Horse toy softie designed by Amanda Berry. Knit flat and assembled. The horse is 23cm tall (when standing from tips of toes to tops of ears).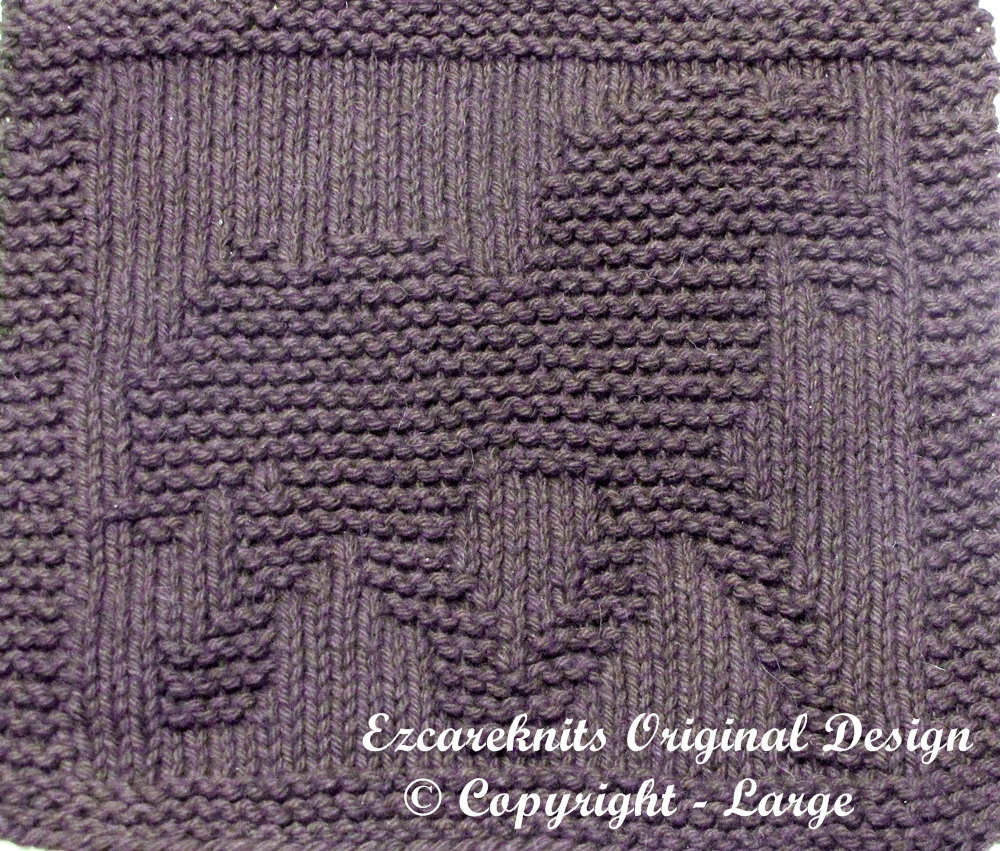 Draft Horse Cloth
Horse motif in knit and purl stitches for wash cloths, dish cloths, and more. Designer says it's suitable for beginners. Finished Size: 8" W X 8.25" H. Other horse motif cloths available from this designer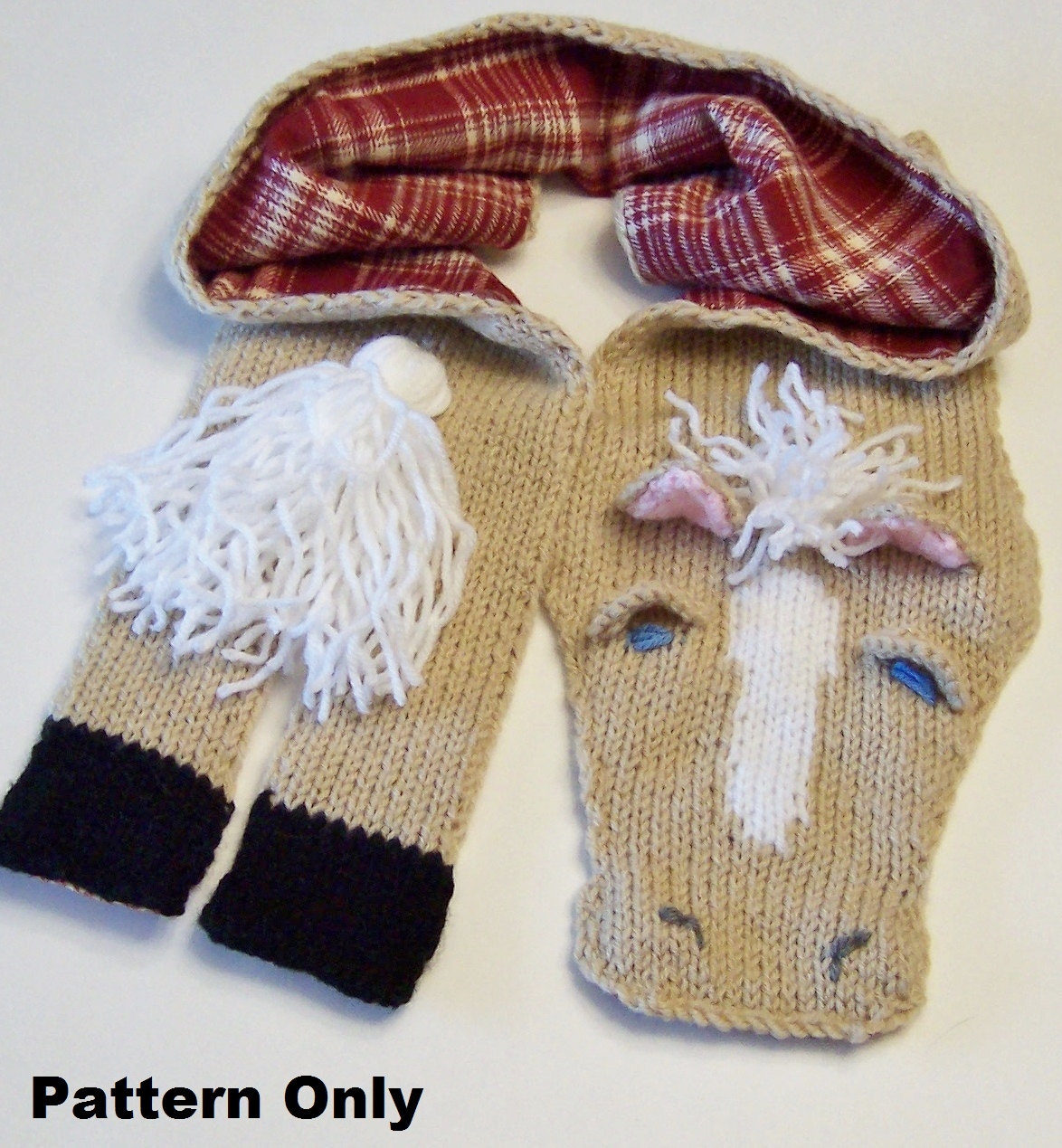 Horse Scarf
This horse shaped scarf just uses basic knitting and sewing skills. Width approximately 8 inches.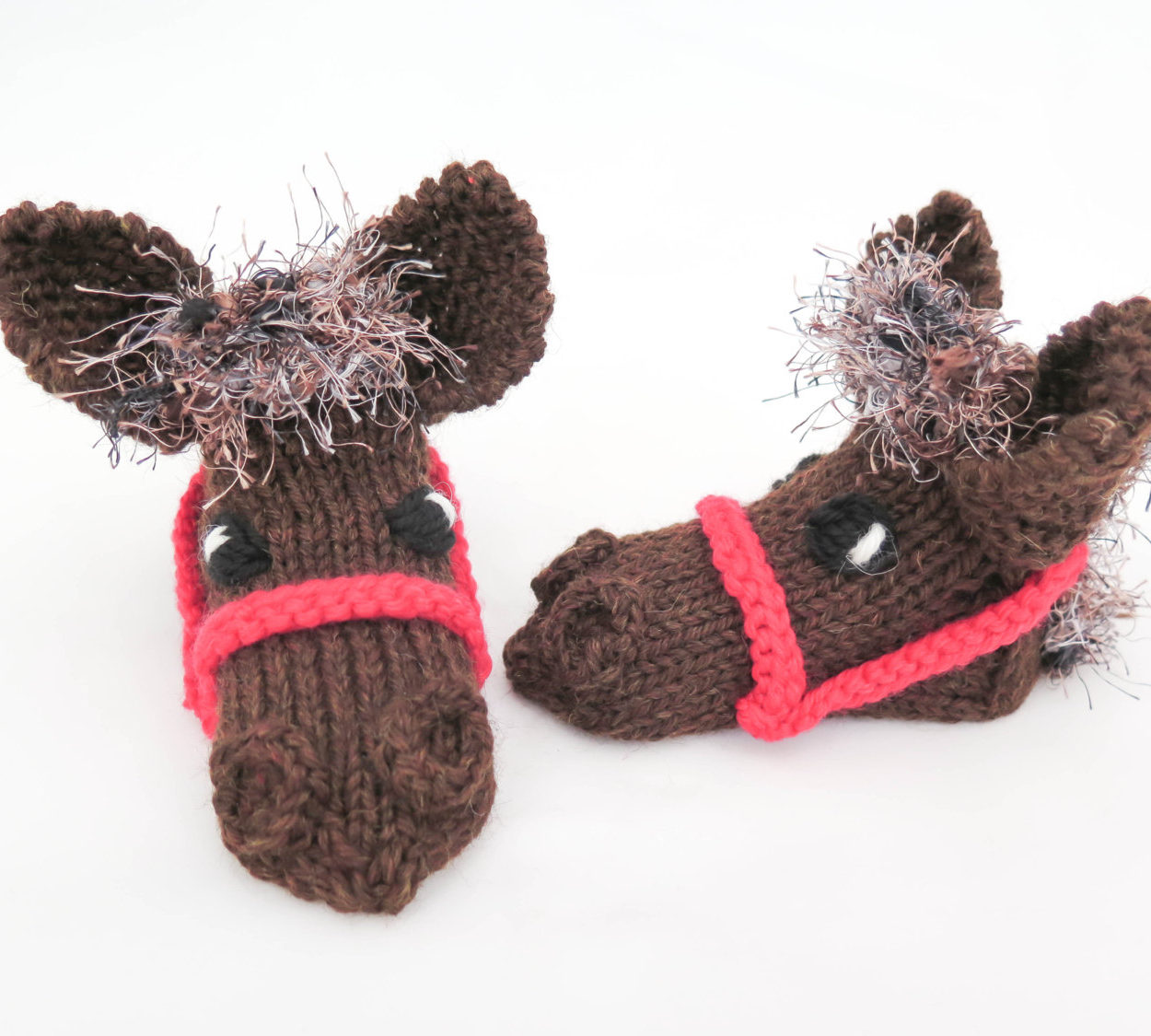 Horse Slippers or Baby Booties
This is a slipper sock pattern for the whole family. It comes in 7 sizes: 6-12 months, 1-3 years, 4-6 years, 8-12 years, small Women's, medium Women's, Men's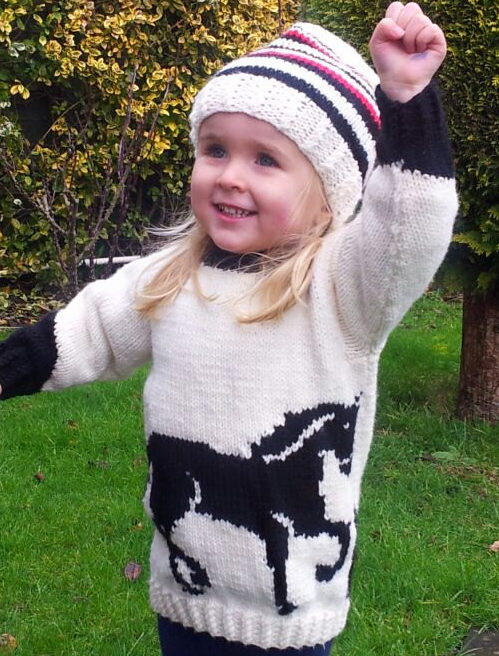 Horse Sweater and Hat
Pullover featuring a horse motif and matching hat for ages 2 to 10 years.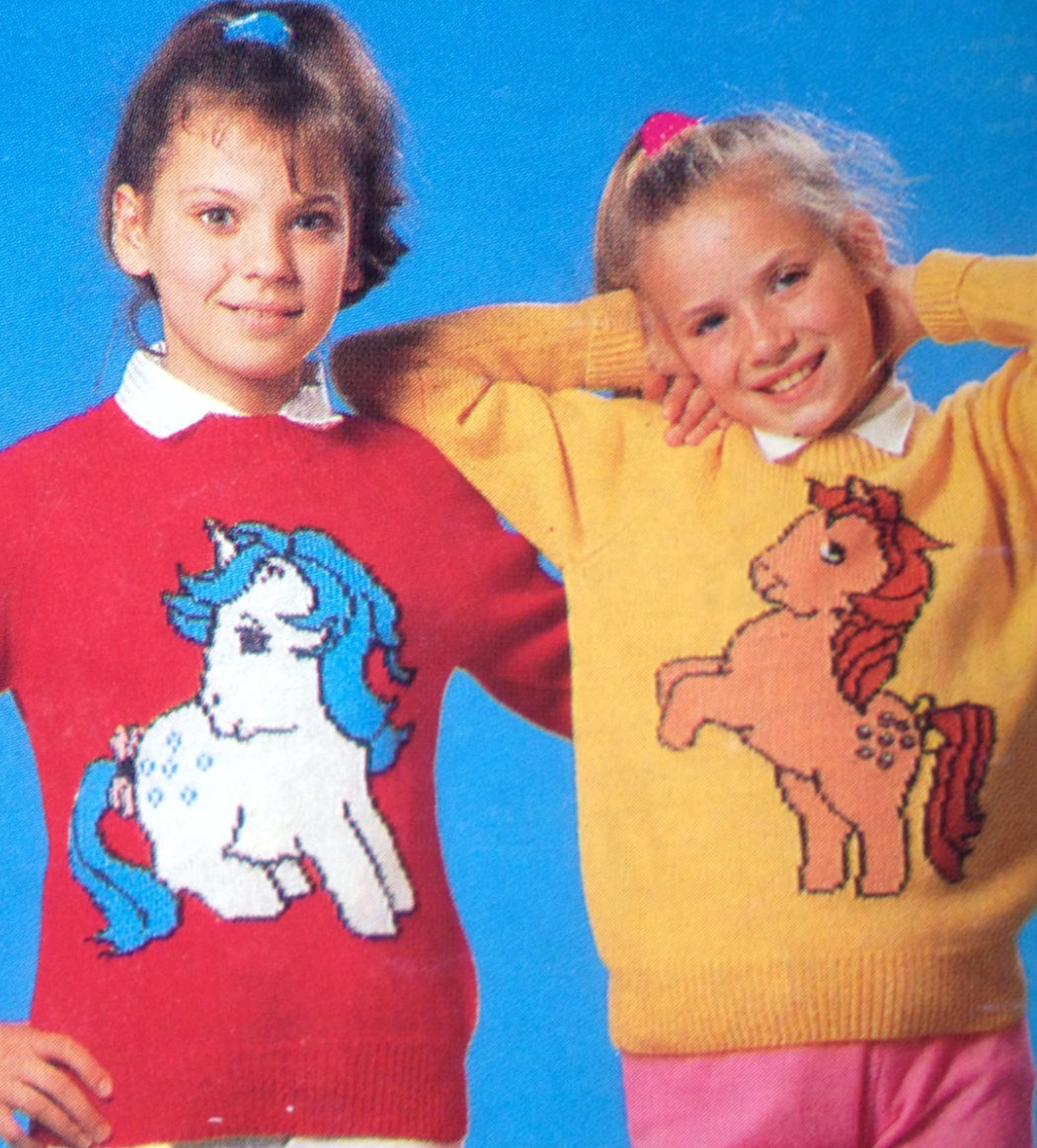 My Little Pony Sweaters
Vintage patterns in pdfs in a variety of styles including pullovers and cardigan, a range of child and adult sizes featuring My Little Pony characters in colorwork.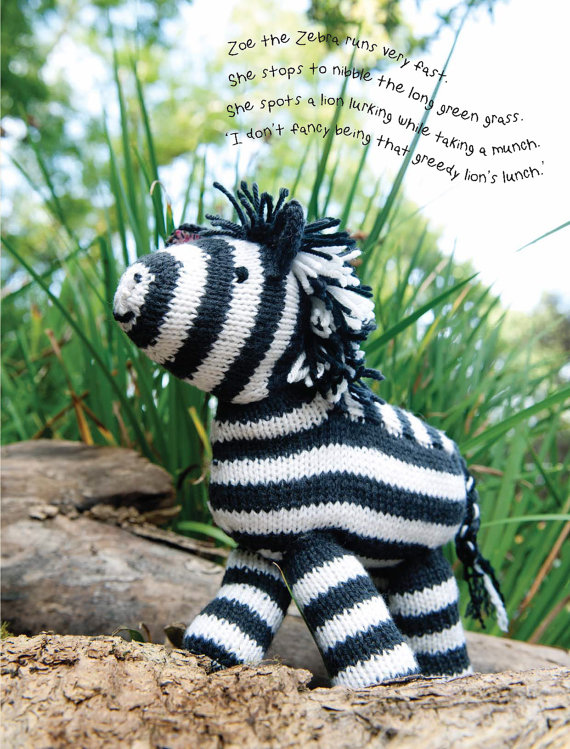 Zoe the Zebra
Designed by Laura Long and excerpted from her book Knitted Toy Travels.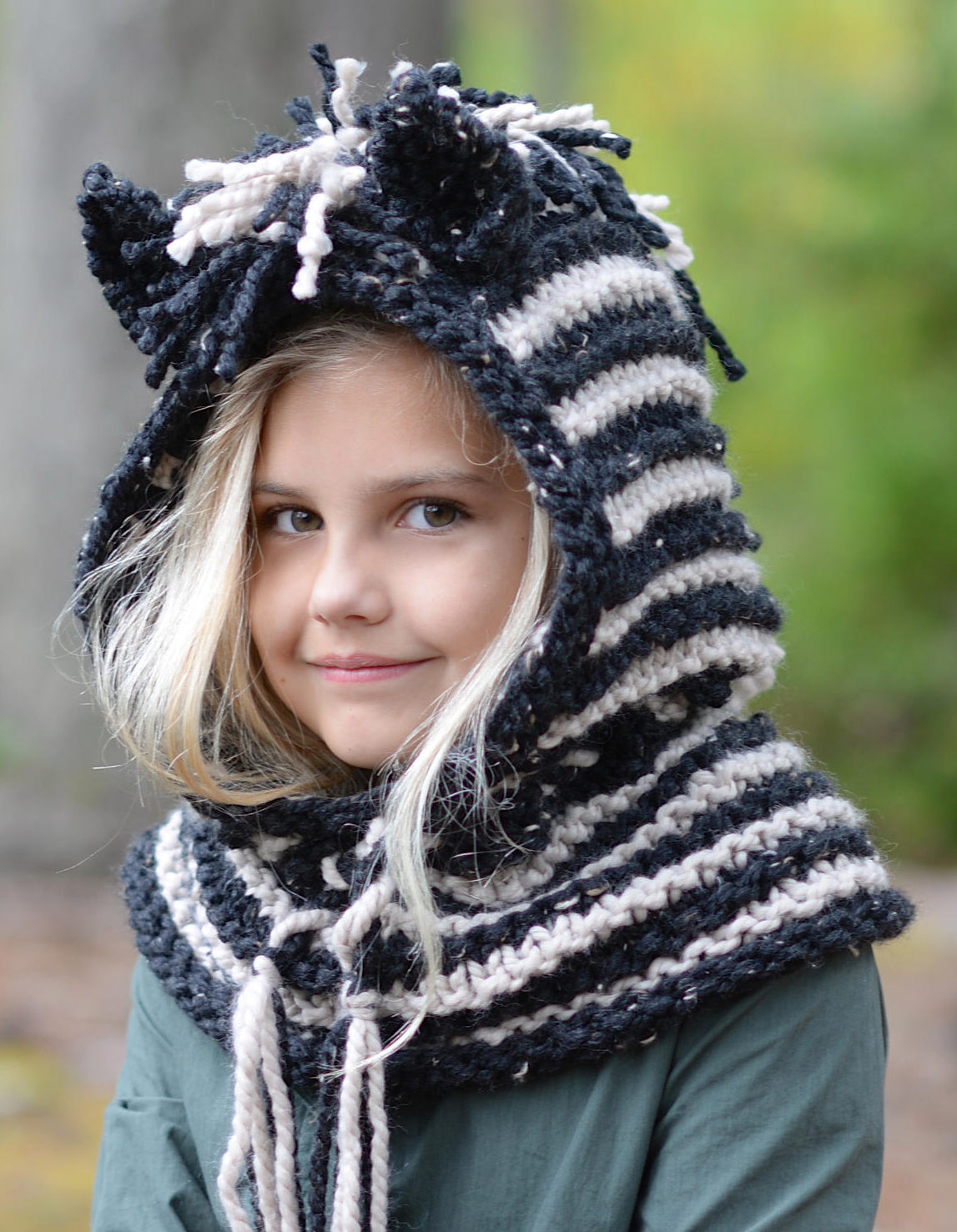 Zebra Hood Cowl
In sizes from baby through adult, this striped hood by Velvet Acorn is finished with ears and a mane. Sizes: 3/6 month – 6/9 month – 12/18 month – Toddler – Child – Adult sizes. Quick knit in super bulky yarn.