<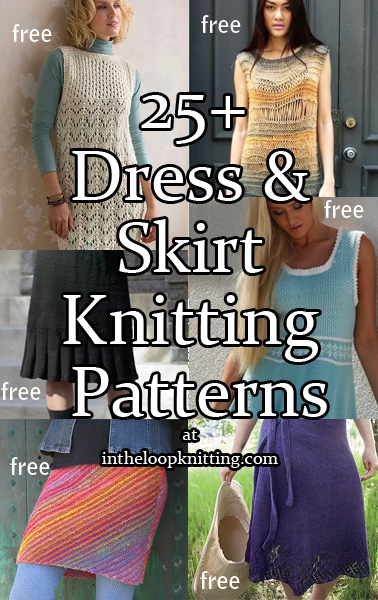 To get the knitting patterns, scroll down the page to the individual pattern you want and click on the link to that pattern.
These patterns are not my designs but links to other designers who have generously shared their patterns. If you have questions about how to knit a specific pattern, please contact the designer directly.
All links on this site are for informational purposes, but please note that some links are to affiliate sellers that pay me a small commission on purchases.
Free Patterns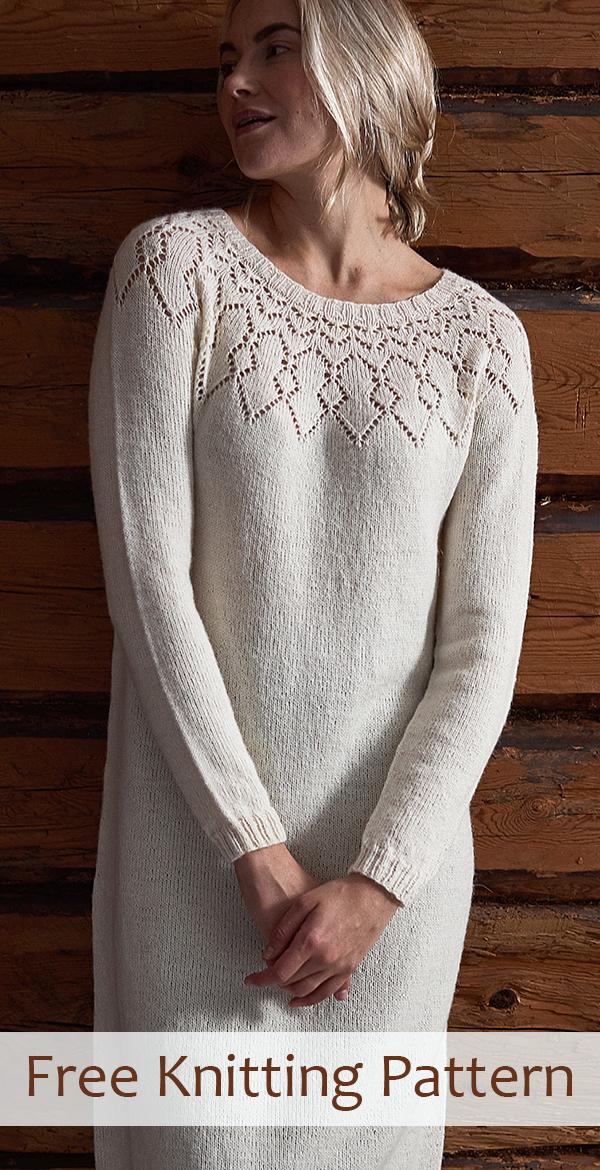 Lace Yoke Dress
Dress with circular lace yoke knit from the top down. This would also make a pretty pullover or tunic. Size XS/S(M)L(XL)XXL. Finished measurements body circumference 86(94)102(110)118 cm. Designed by Novita. A kit is also available.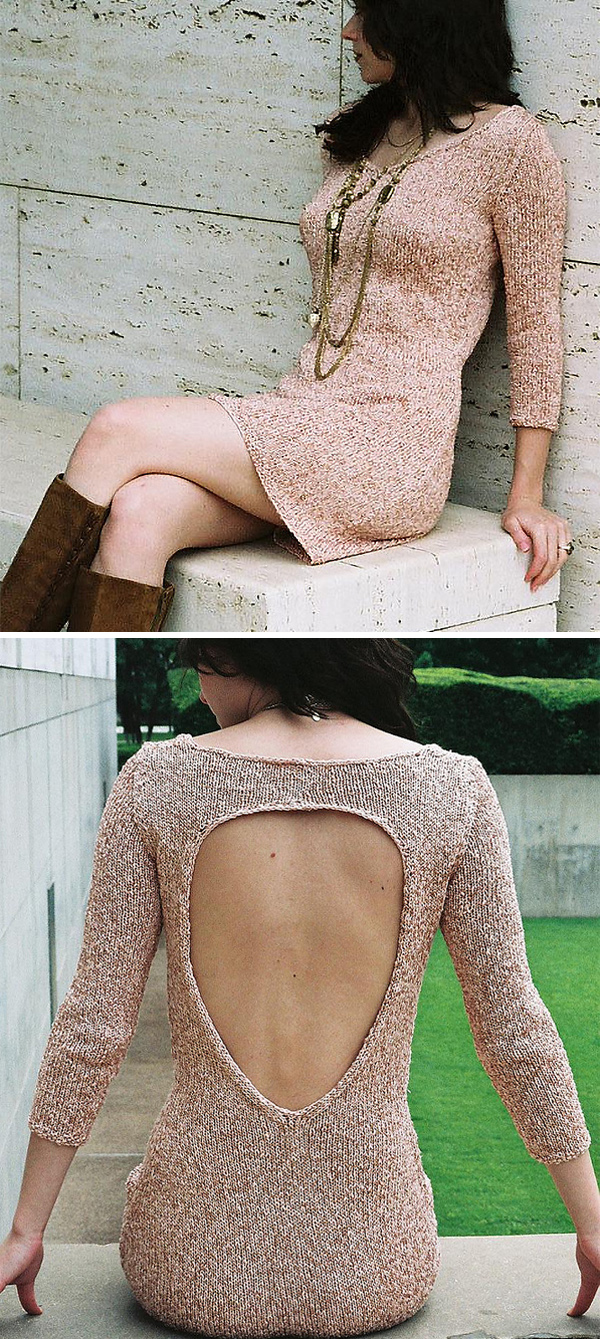 Pink Champagne Dress
Long sleeved fitted v-neck dress with a sexy back cutout. Designed by Ashley Adams Moncrief. DK weight yarn.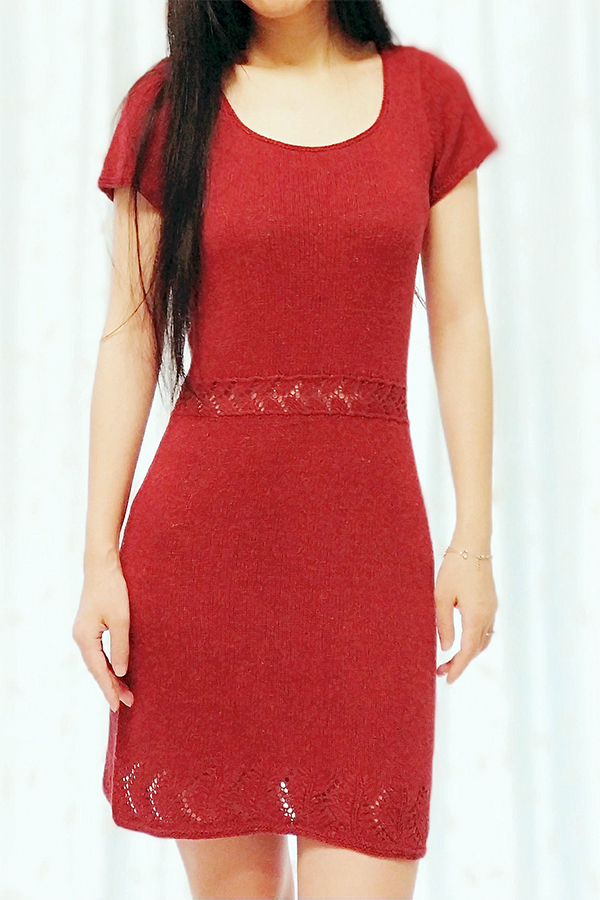 Little Red Dress
Short sleeved scoop neck dress with lace at the waist and hem. Designed by Lily Tang. Sport weight yarn.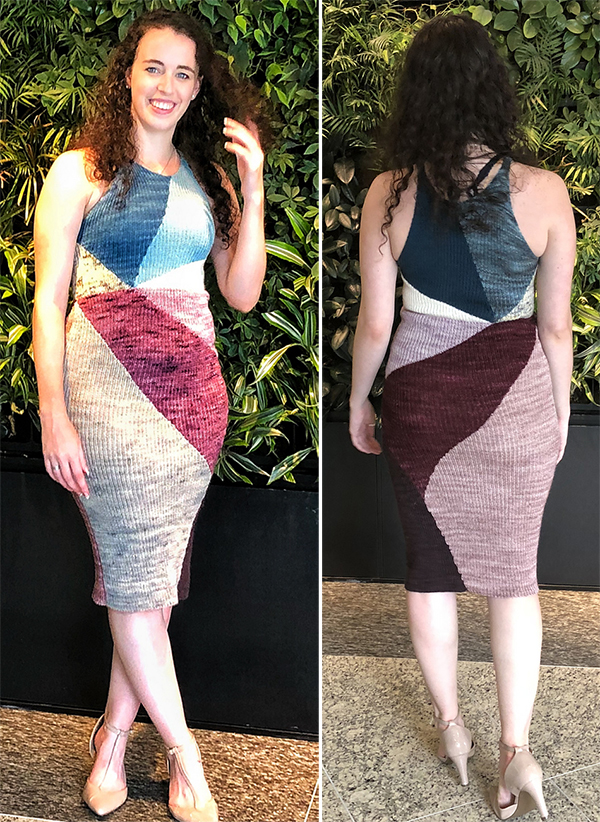 Butterfly Dress
This dress is worked in 12 pieces, all in 1x1 ribbing making it stretch to many body sizes and shapes. This is a great stash busting project, using 1 to 12 colours. It's like knitting a giant puzzle. You could also work only the top half to create a beautiful crop top. Designed by Emily Manasc. Fingering weight yarn.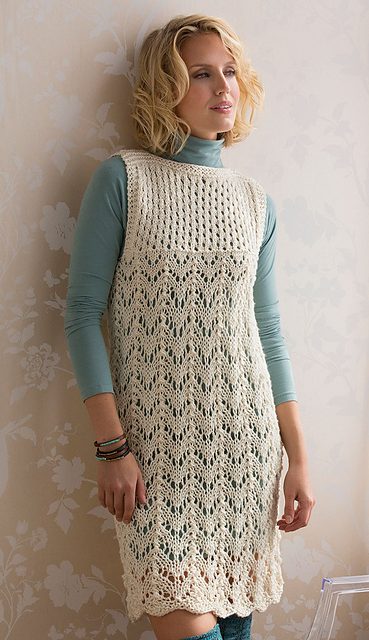 Layered Lace Dress
Lorna Miser's lace patterns for her design from Red Heart are both charted and written out. Sizes Small to XX-Large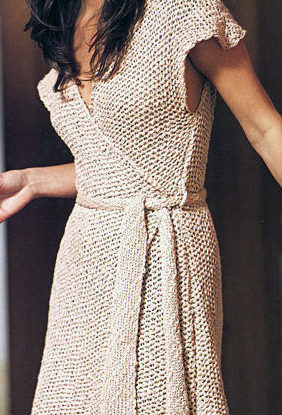 Wrap Dress or Tunic
Classic versatile wrap dress with belt knit in seed stitch in bulky yarn. Perfect as an easy summer dress or for layering or even as a beach coverup. Chest from 34″ to 40″. Excerpted by Canadian Living from Wedding Knits by Suss Cousins.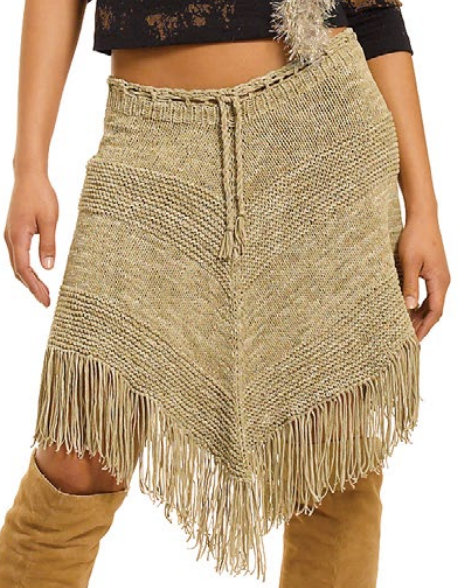 Belle Star Skirt
Easy fringed skirt that you could also wear as a poncho. Designed by Berroco. Sizes Waist – 28(29-30-32-34)"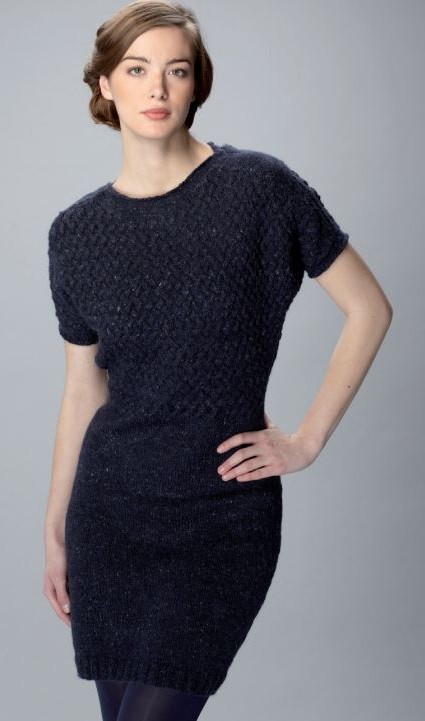 Woven Cable Tunic Dress
This design by Emma Middleton was a finalist in the Rowan Design Awards 2013. Textured body section, stocking stitch skirt and deep rib edgings, this dress is sized 32-34, 36-38, 40-42, 44-46, 48-50 inches.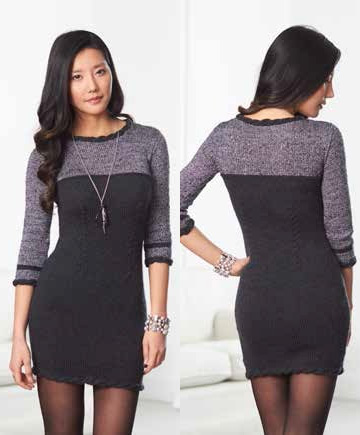 Little Black Dress
Patons version of the classic dress with a metallic yarn twist! Sizes from XS to 5XL.

Lanesplitter Skirt
Tina Whitmore's skirt is knit on the bias which creates the interesting diagonal pattern as well as keeps the edges from curling. Sizes XS [S, M, L, 1X, 2X, 3X, 4X] Great with multi-color yarn!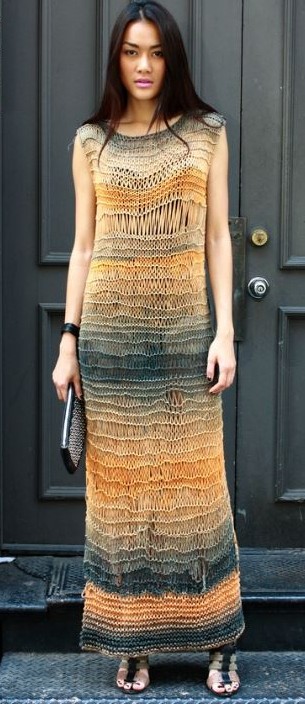 Brigitte Dress
Drop stitch is drop dead gorgeous in this dress designed by Waejong Kim for Loopy Mango. Sized for S-XL in three lengths, this pattern is just two panels and is perfect for multi color yarn.
Wrap Around Skirt
Erica Jackofsky (Fiddle Knits) designed this lace trimmed stockinette wrap skirt for Knit Picks. To fit 27 (34, 42, 47.5, 52)" waist measurement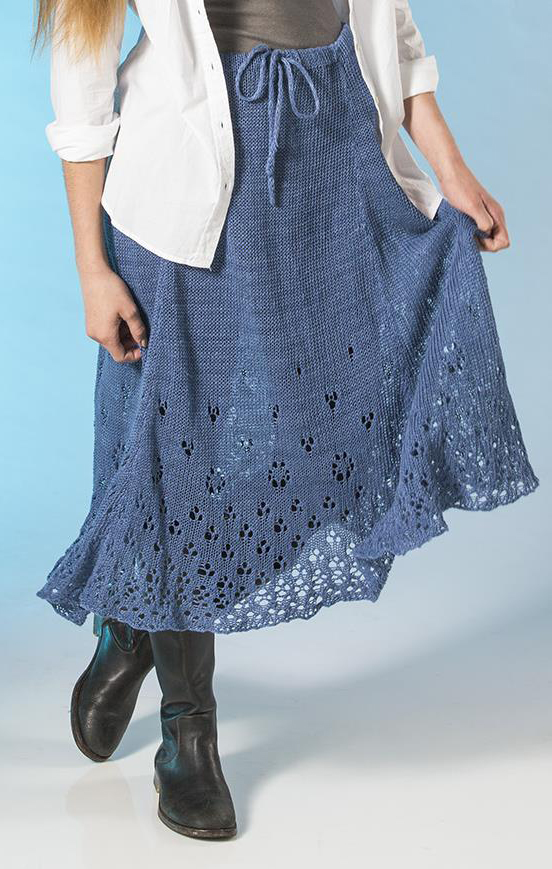 Eyelet Skirt
Laurel Murphy's flowing lace skirt is perfect for layering over leggings. Extra Small (Small, Medium, Large, 1X, 2X, 3X)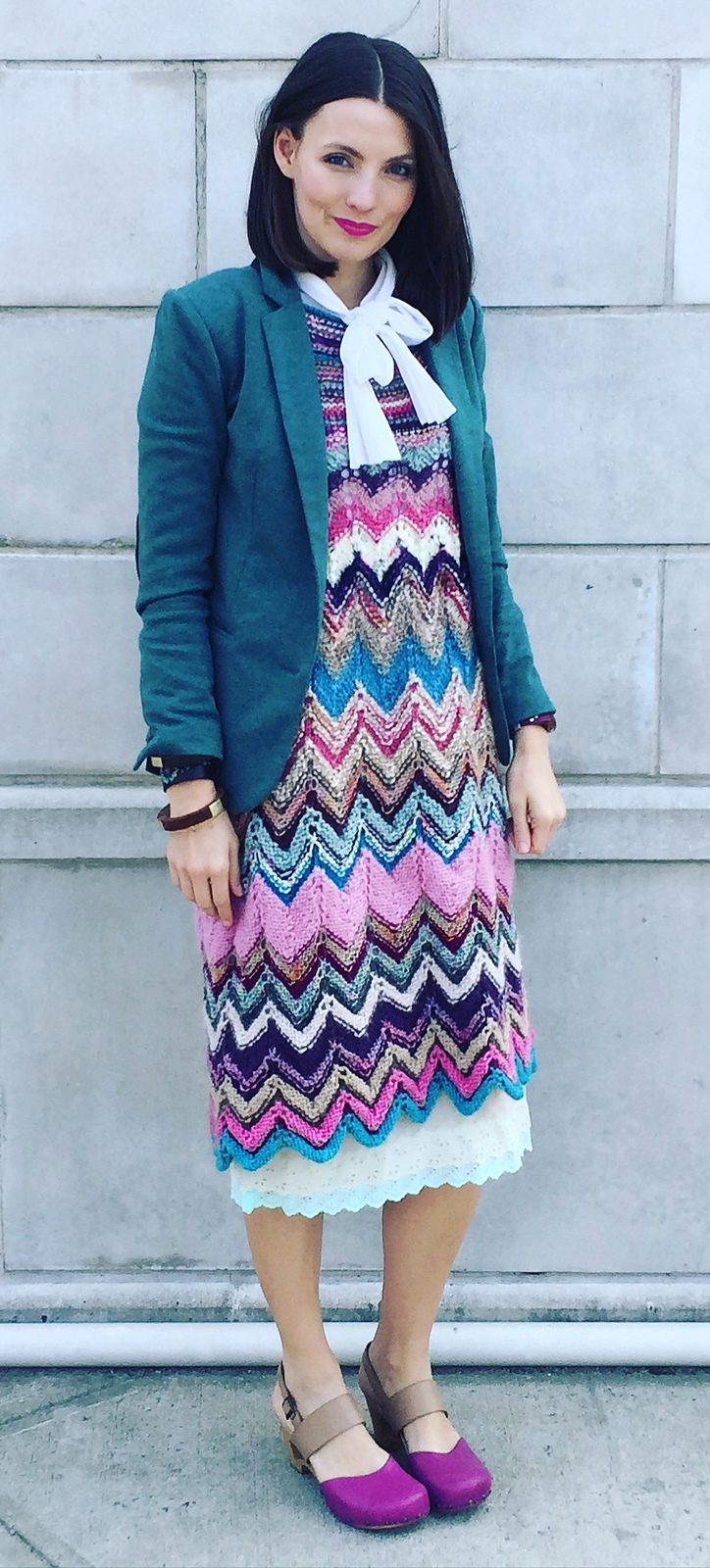 Zig Zag Dress
Irina Poludnenko designed this lace dress with a skirt that is knit in the round with chevron lace. Great for stash or multi-color yarn!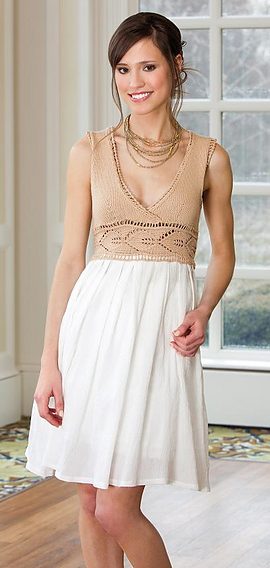 Summer Getaway Sun Dress
Designed by Joan McGowan-Michael, the Summer Getaway Sundress features a knit lace top with instructions for sewing to a fabric skirt. Sizes 32 1/2-40″ bust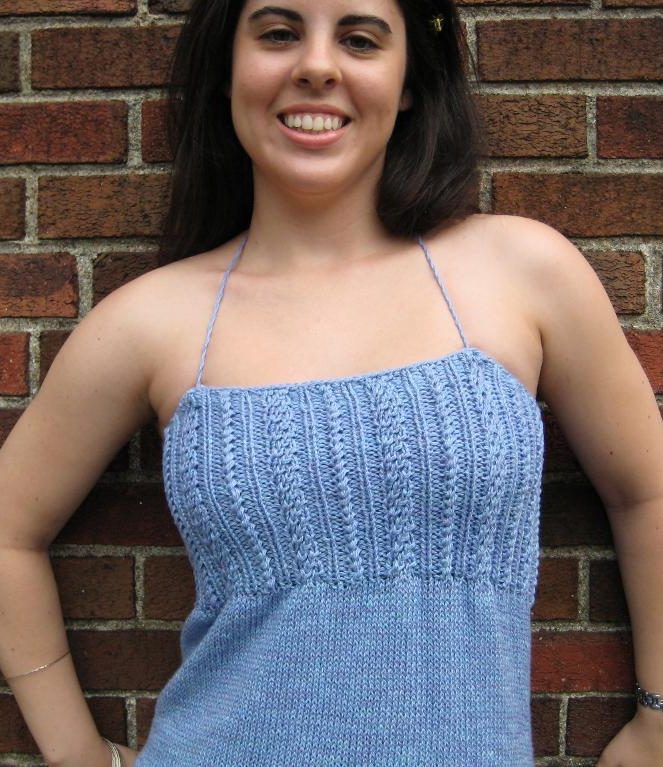 Cabled Strapless Dress or Tunic
The Sexy Knitter designed this clever dress with elastic knit into the pattern and mock cable twisted stitches for the bodice. XS (S, M, L, 1X, 2X, 3X)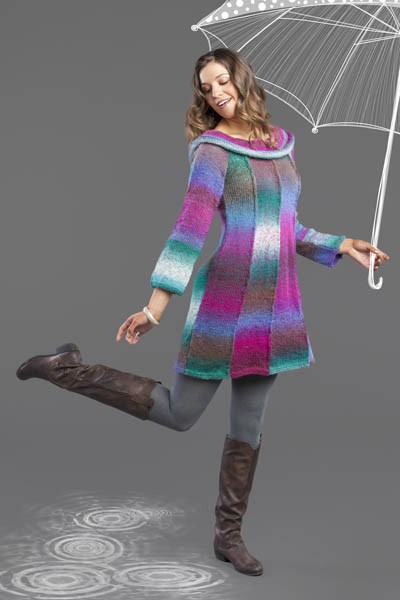 Umbrella Dress
Designed by Universal Yarn Design Team, the body is comprised of 8 panels; 4 for the Front and 4 for the Back. Each sleeve is
comprised of 2 panels. The collar is knit separately in the round. Small (Medium, Large, 1X, 2X). Perfect for multi color yarn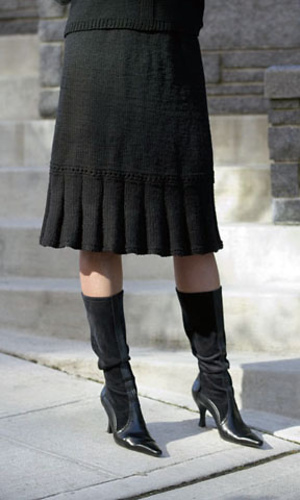 Little Flirt Skirt
Faina Goberstein designed this classic skirt with a pleated ruffle at the bottom Sizes XS (S, M, L, 1X, 2X). The pattern is one of 28 in Faina's book Casual, Elegant Knits: Classy Designs for Women and Men Photo courtesy of Martingale and Company, photographed by Brent Kane.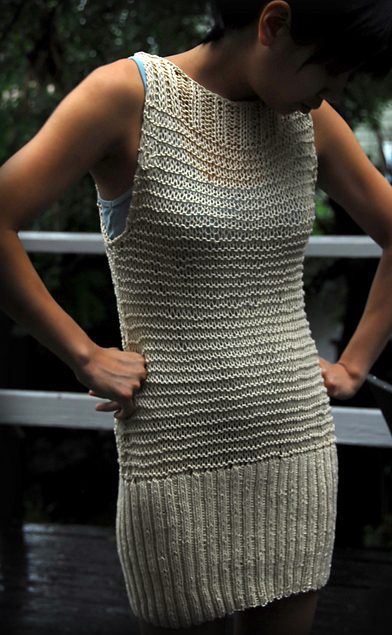 Playa Beach
Allison O'Dell's easy tunic / dress also works as a great beach cover up. S/M and M/L sizes.
Patterns for Purchase

Peridot Dress
This lace dress is one of the 23 patterns in Warm Weather Knits by Deborah Newton.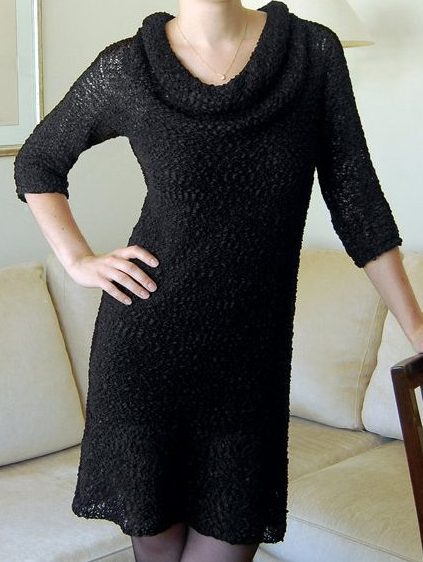 Little Black Dress
Dress or tunic in ribbon yarn in reverse stockinette with double draped neckline. Sizes: XS-XXL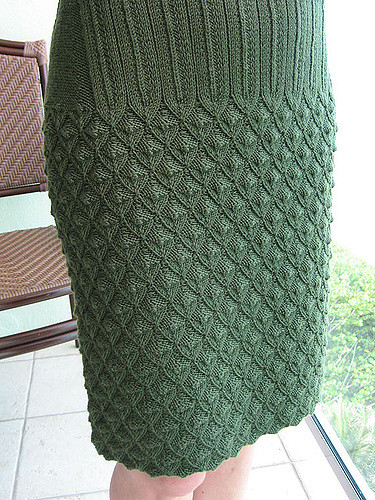 Selva Skirt
Angela Hahn's simple texture pattern, closely repeated, creates an effect of overlapping scales and a dense, elastic fabric. Sizes: 32 ½ (35, 37 ½, 40, 42 ½, 45, 47 ½, 50)" hip circumference; 26 (28 ½, 31, 33 ½, 36, 38 ½, 41, 43 ½)" waist circumference.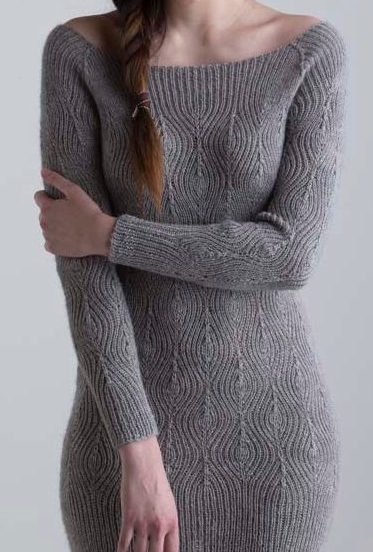 Diamond Rib Dress
Increases and decreases force single ribbing into textured diamonds, creating a slinky, elastic fabric that hugs and skims curves in Laura Zukaite's dress or tunic. 26 3/4 (32, 37 1/4)" bust circumference. Originally published in Knit.Wear Spring 2013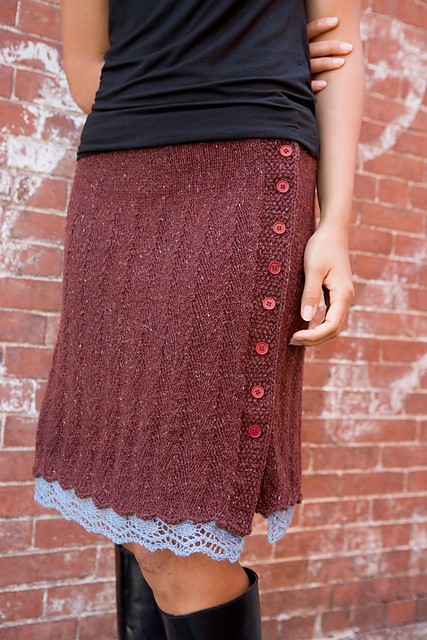 Chelsea Skirt
Cecily Glowik MacDonald's skirt has a delicate lace border that peeks out from under the edge of the herringbone stitch pattern that looks like pleating. Sizes below waist circumference 32 (37 1/4, 42 1/2, 48)" Originally published in New England Knits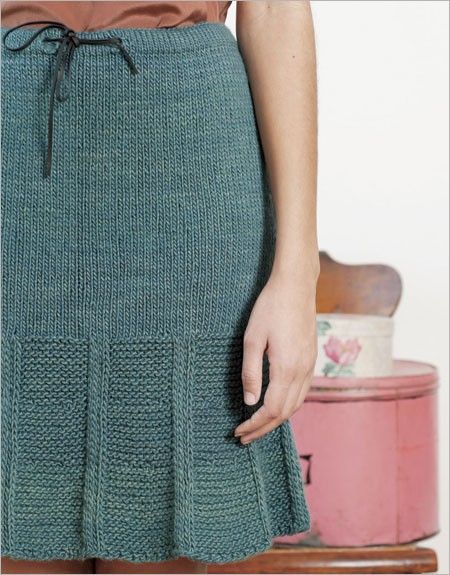 Seashell Skirt
This knit skirt is a sampler of garter, slipped, and stockinette stitches. Finished Size: 32 (35, 39¼, 42)" waist circumference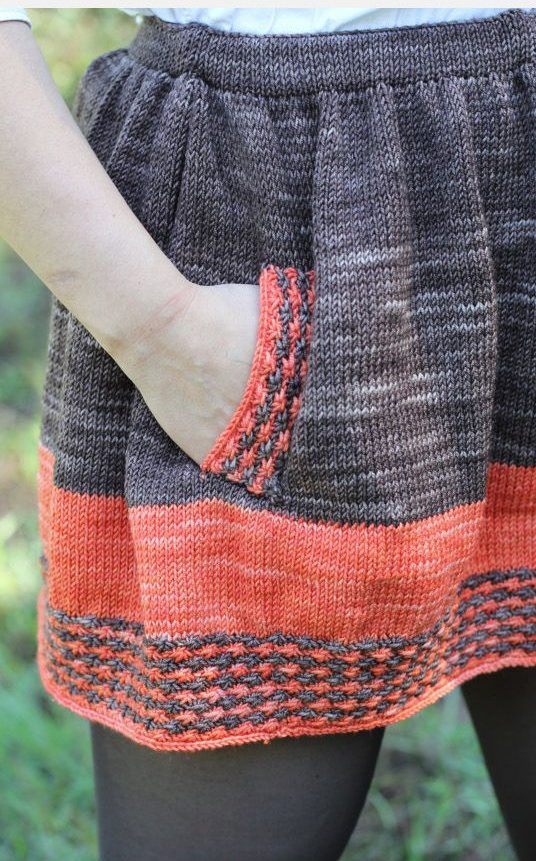 New Girl Skirt
Inspired by the style of Zooey Deschanel's character Jess on New Girl. Circle skirt features an elastic band, pockets, stripes and daisy stitch. Finished Size 29 (31, 35, 39, 43, 47, 50) waist measurement.