Storage Knitting Patterns
To get the knitting patterns, scroll down the page to the individual pattern you want and click on the link to that pattern.
These patterns are not my designs but links to other designers who have generously shared their patterns. If you have questions about how to knit a specific pattern, please contact the designer directly.
All links on this site are for informational purposes, but please note that some links are to affiliate sellers that pay me a small commission on purchases.

Stash n Store Set
This organizer set includes a Sofa Caddy, Basket, and Door Hanger knit with moss stitch and cables in chunky yarn. Designed by Nicola Valiji. Note that this pattern requires registration of your email and log in at the Let's Knit website. Some times their site is very slow. I am not associated with Let's Knit so if you have issues with their website, you must contact them.

Laundry Bags
Easy laundry bags in two sizes: 40 cm x 48 cm and 50 cm x 60 cm. Quick knit in super bulky yarn. Designed by Pirjo M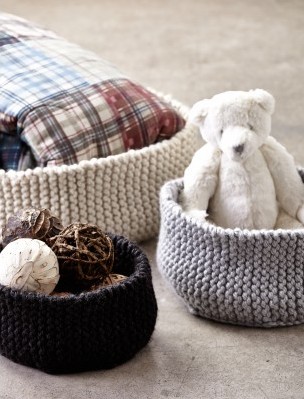 Garter Ridged Basket
Designed by Yarnspirations. Small: Approx 7″ [18 cm] diameter x 6″ [15 cm] tall. Medium: Approx 10″ [25.5 cm] diameter x 7" [18 cm] tall. Large: Approx 14″ [35.5 cm] diameter x 8″ [20.5 cm] tall.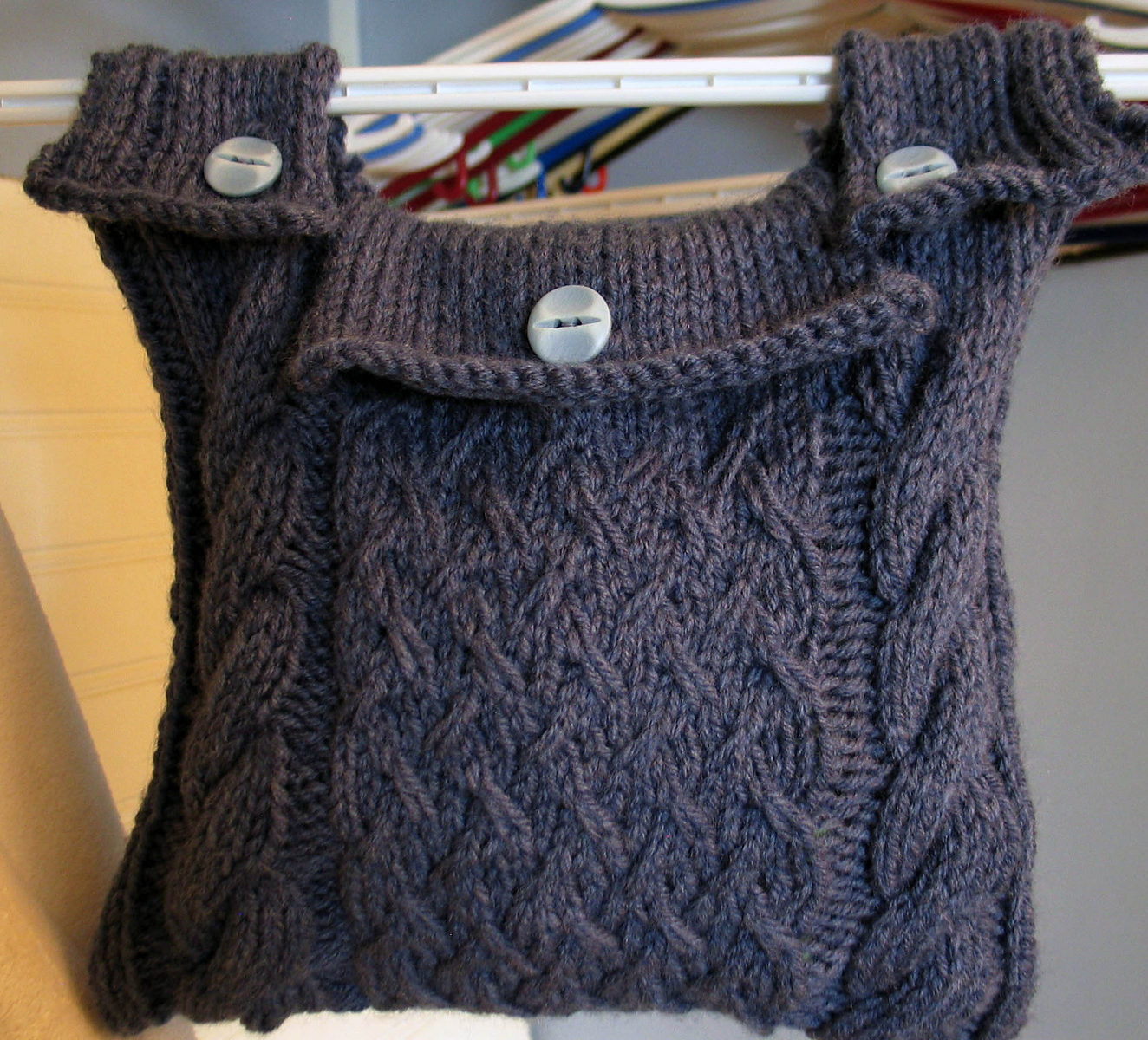 Hanging Storage Bag
Originally designed to hold clothespins while hanging on a line or hanger, this cabled bag could easily be adapted for other uses where you want a hanging tote bag. I thought it might be useful to hang on a walker for example. About 12" x 12" (30cm x 30cm). Designed by Catherine Marcoux
[widget id="black-studio-tinymce-17″]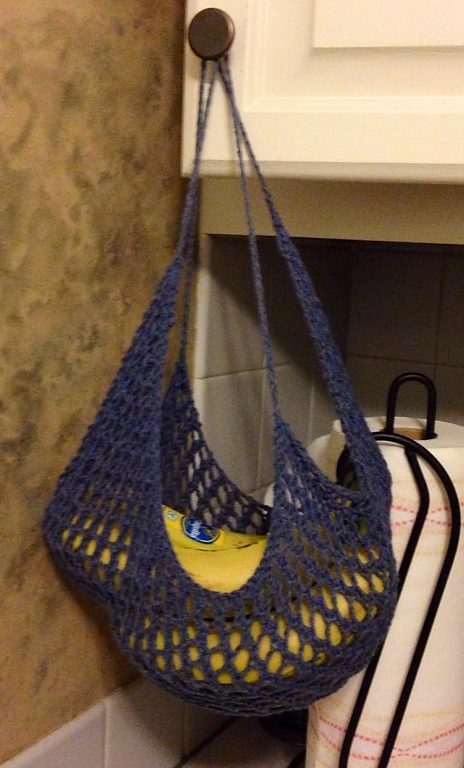 Banana Hammock
Protect your fruit and keep it fresh in this mesh storage. Designed by by Hilary L. Pictured project by LidiDi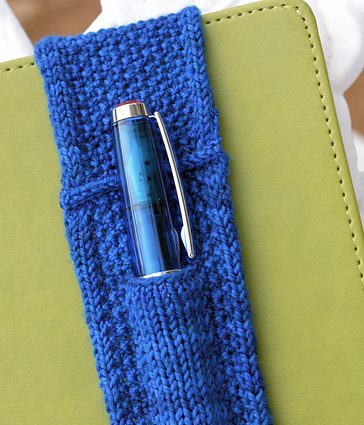 Journal Band with Pen Pocket
Laura Crowley designed this easy, quick-to-knit band with a built-in pen pocket. Great stash buster or quick gift!
Quickie Plastic Bag Holder
Anna Maliszewski created a lace bag holder with a ribbed opening that will allow you to pull out bags to re-use when you need them. Great stash buster!

Pan Protectors
Life Beyond the Kitchen had a great idea to replace paper or store bought protectors for stacked pans with knitted protectors. She offers 4 knitting patterns but you can make your own. You can even re-purpose leftover knitting swatches. Great stash buster!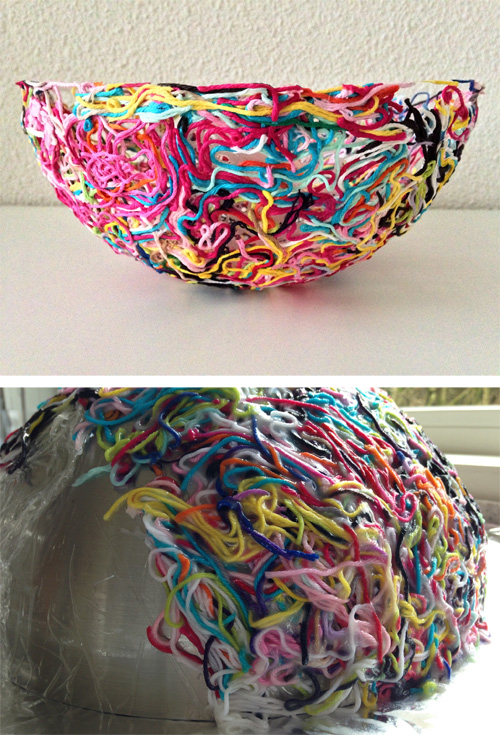 Yarn Bowl
Ok, it's not a knitting pattern but it's a great way to use all those yarn ends you know you hate to throw away. maRRose has a great photo tutorial for creating this bow using yarn ends in a homemade paste placed over a plastic-wrapped bowl form.
Entangle Basket
The braided detail and handles are knit as the basket is made. Quick knit in super bulky yarn. 8″ high x 26″ around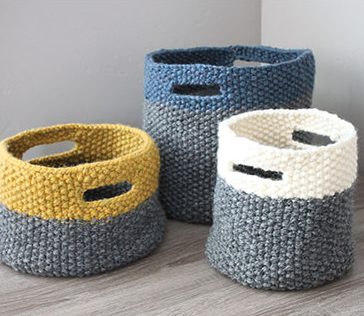 Triplet Baskets
3 sizes of oval baskets with handles. Finished measurements: Circumference: 23 (29, 34)" Height: 9 1/2 (7, 12)"
[widget id="black-studio-tinymce-13″]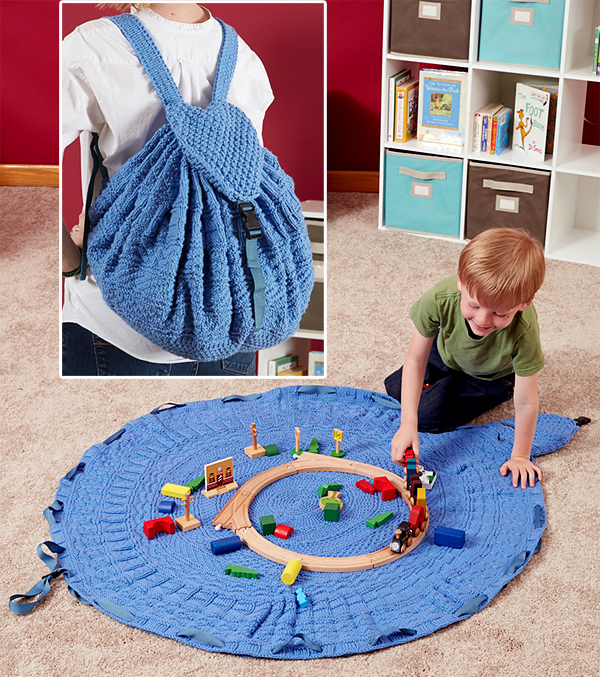 Toy Tote
Love this ingenious tote! Carry all your child's toys in this generously sized backpack. At your destination, loosen the drawstring and the toy tote flattens out into a circular play mat. Quick knit in bulky yarn!
[widget id="black-studio-tinymce-8″]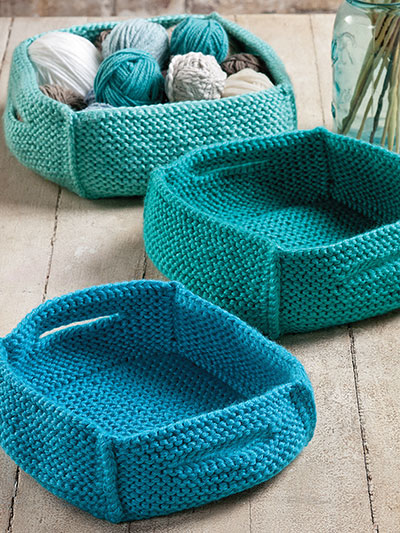 Wheatland Baskets
Quick knit baskets in 3 sizes. Finished measurements:
Small: 6″W x 6″L x 3″D
Medium: 7″W x 7″L x 3 1/2″D
Large: 8″W x 8″L x 4″D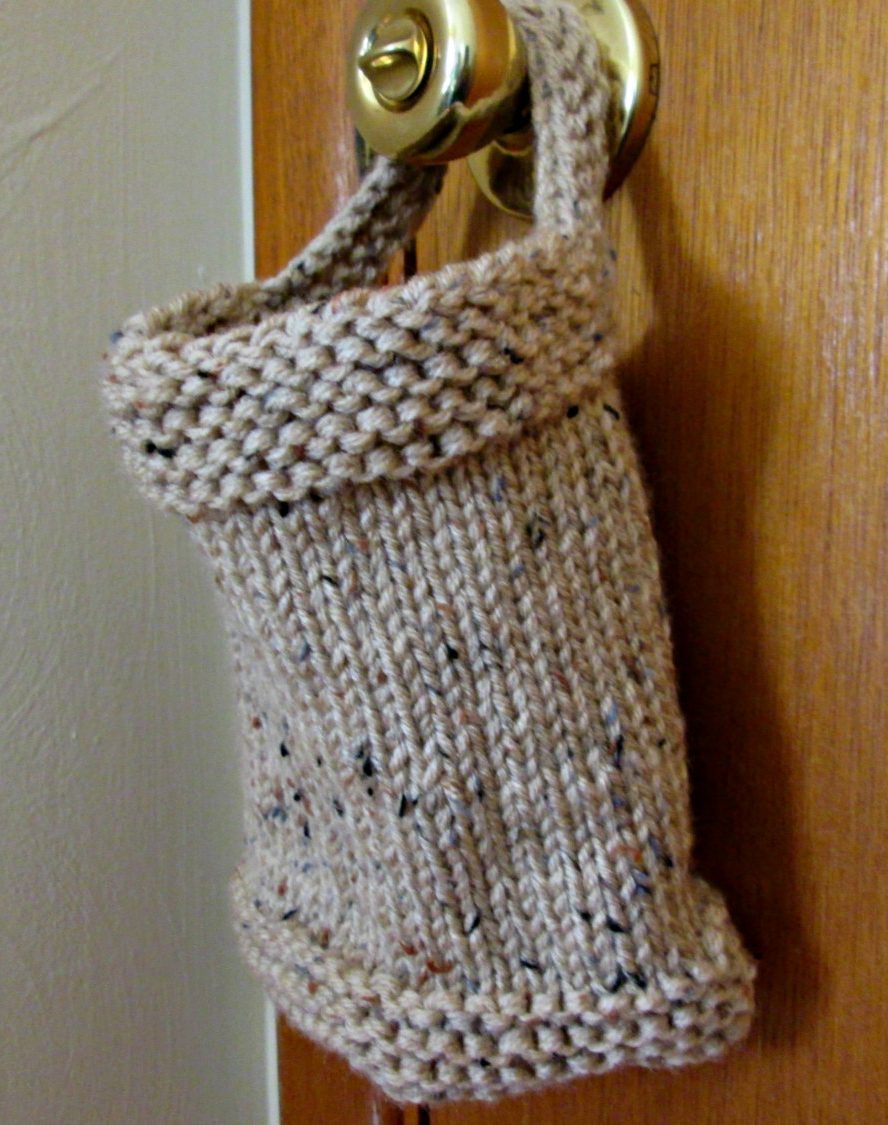 Hanging Basket
Quick knit using two strands of yarn. 7 inches long (not including handle) and 7 inches wide. Shaped so that it hangs flat against the door.
Striped Cushion With Craft Storage
What a brilliant idea!  A chair cushion with pockets for your knitting or other crafting. Take one wherever you go!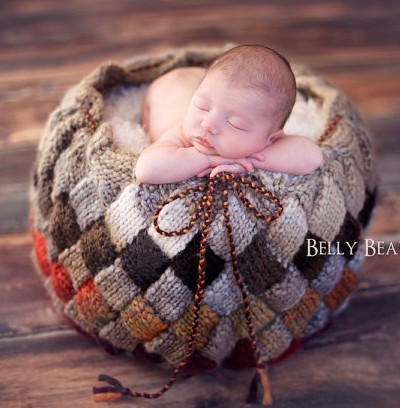 Entrelac Basket
Designed by Melody's Makings as a newborn photo prop, this colorful basket is also great for home decor. Knit in super bulky yarn, it's great for multi-color yarn. Comes with three tutorial videos as well as written instructions.
Soft Porcelain Bowls
Make small felted ornamental bowls with fun lace edgings. Sizes  14 (17, 21)" circumference and 3″ (3, 4 )" high after felting.
[widget id="black-studio-tinymce-8″]
Finger Knit Handy Storage Tubs
Finger knit baskets designed by Laura Strutt for  Arm & Finger Knitting 35 No Needles Knits For The Home & To Wear.