Knitting patterns for Christmas and other seasonal hats, sweaters, socks, and more for children and adults. Most patterns for free.
To get the knitting patterns, scroll down the page to the individual pattern you want and click on the link to that pattern.
These patterns are not my designs but links to other designers who have generously shared their patterns. If you have questions about how to knit a specific pattern, please contact the designer directly.
All links on this site are for informational purposes, but please note that some links are to affiliate sellers that pay me a small commission on purchases.
Free Patterns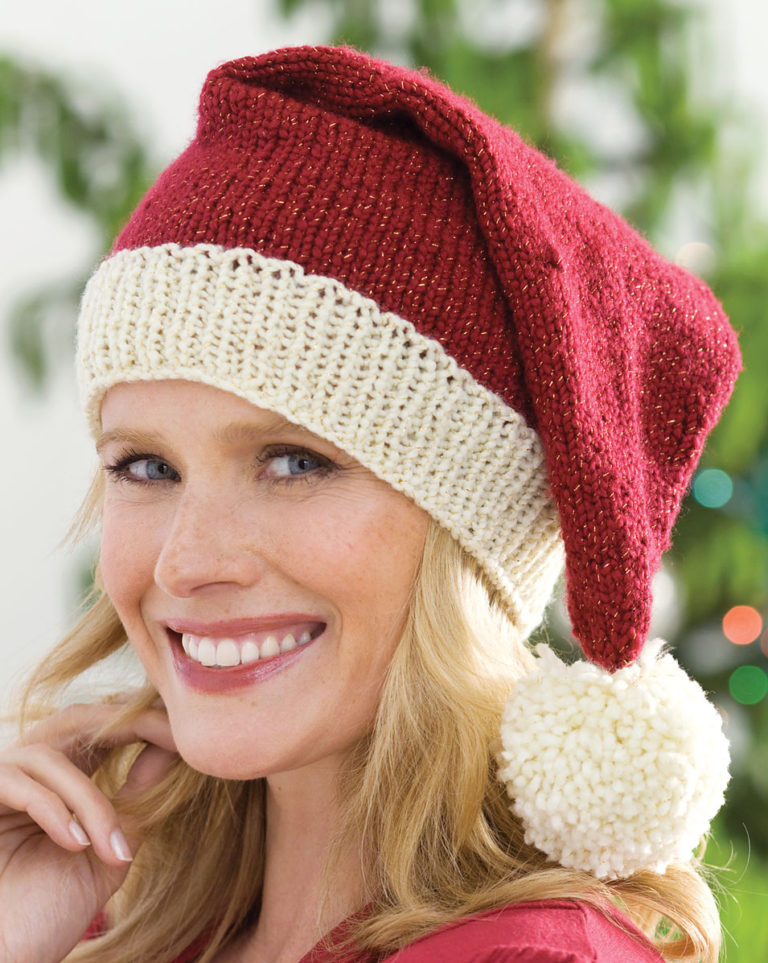 Santa Hat
Easy holiday hat by Edie Eckman in two sizes.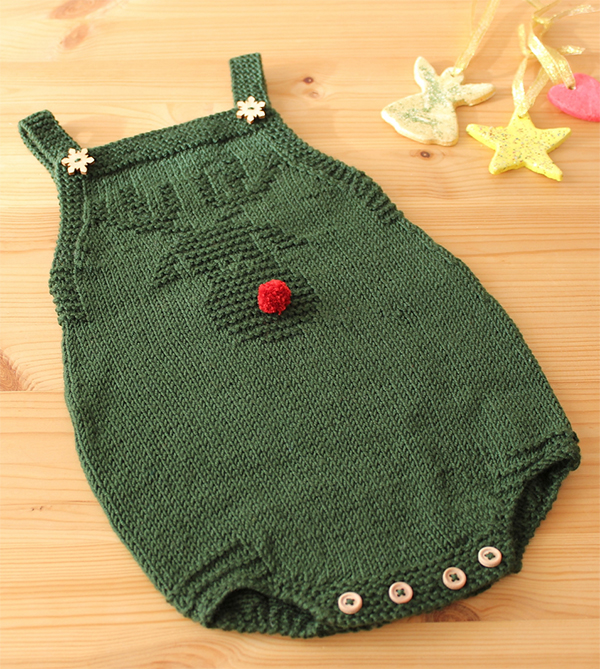 Rudolph Baby Onesie
Adorable Christmas romper with reindeer design in knit and purl stitches with pompom nose. Perfect holiday baby outfit! Sizes 1/3 (3/6, 6/9, 9/12) months. Available in English, Spanish, and Portuguese. Designed by Filipa Carneiro. Fingering weight yarn.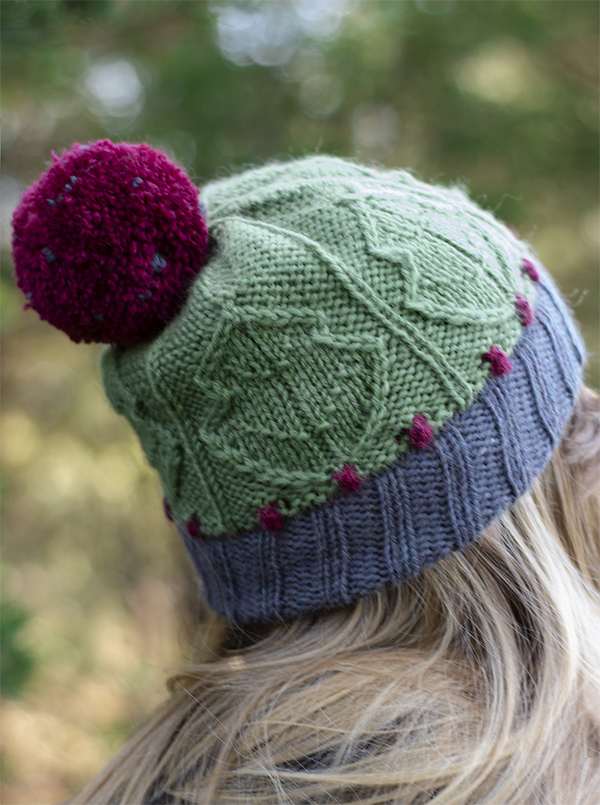 Holly Hat
This beanie features a twist-stitch holly leaf motif embellished with red bobble berries. Great holiday hat! Designed by Rachel Brockman. Worsted weight yarn.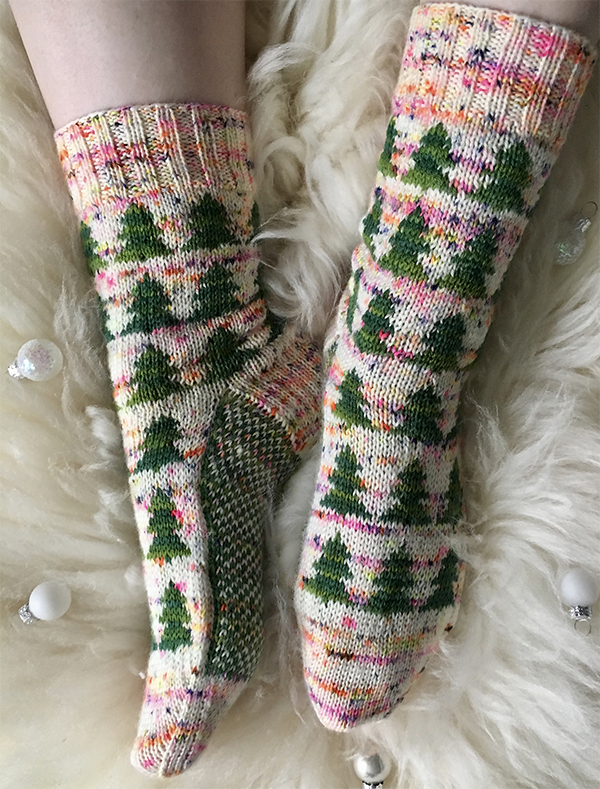 Christmas Tree Socks
These festive O Dennenboom socks feature a a forest of fir trees in a snowy field in stranded colorwork. Designed by Renée Kies. Fingering weight yarn.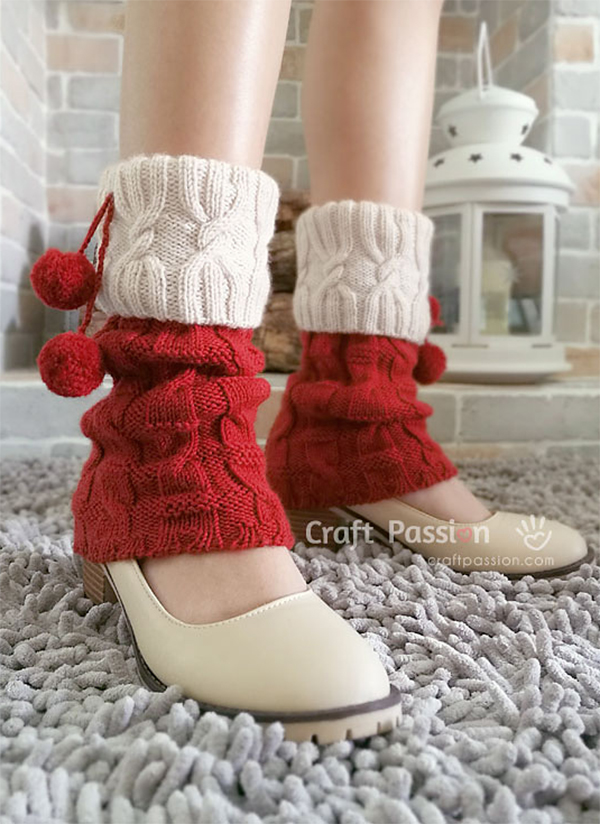 Miss Santa Cuff Leg Warmers
Two color cabled leg warmers or boot toppers in Santa's signature holiday colors. Or knit them in other colors for year round use. Sizes Adult and Teen. Designed by Joanne Loh for Craft Passion. DK weight yarn.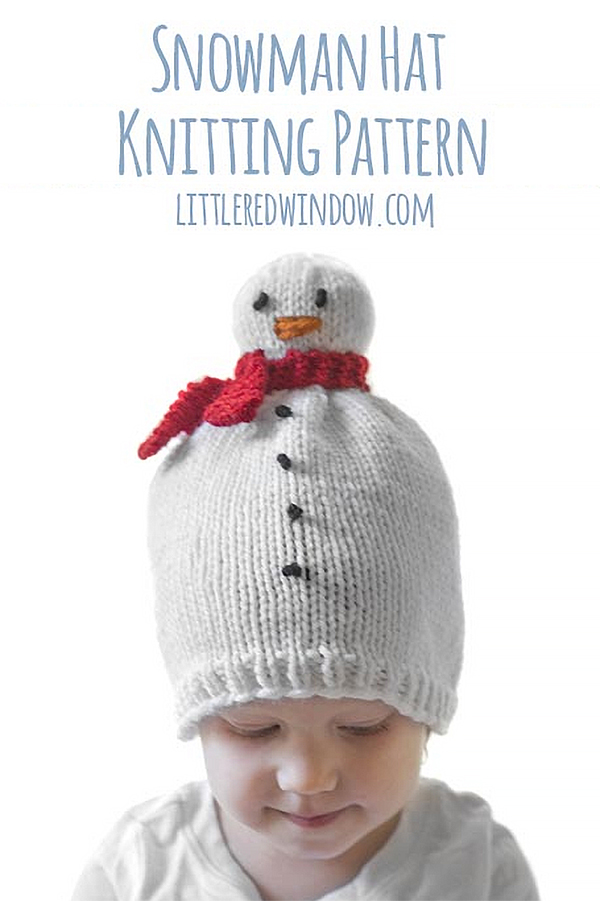 Snowman Hat
Adorable baby hat features a snowman's head that sits on top just like a cute little pom pom and has an orange carrot nose, coal eyes and buttons and even a perfect tiny red scarf! Web pattern for size 12 months is free. More sizes and a printable pdf are available on Etsy. Designed by Cassie at Little Red Window.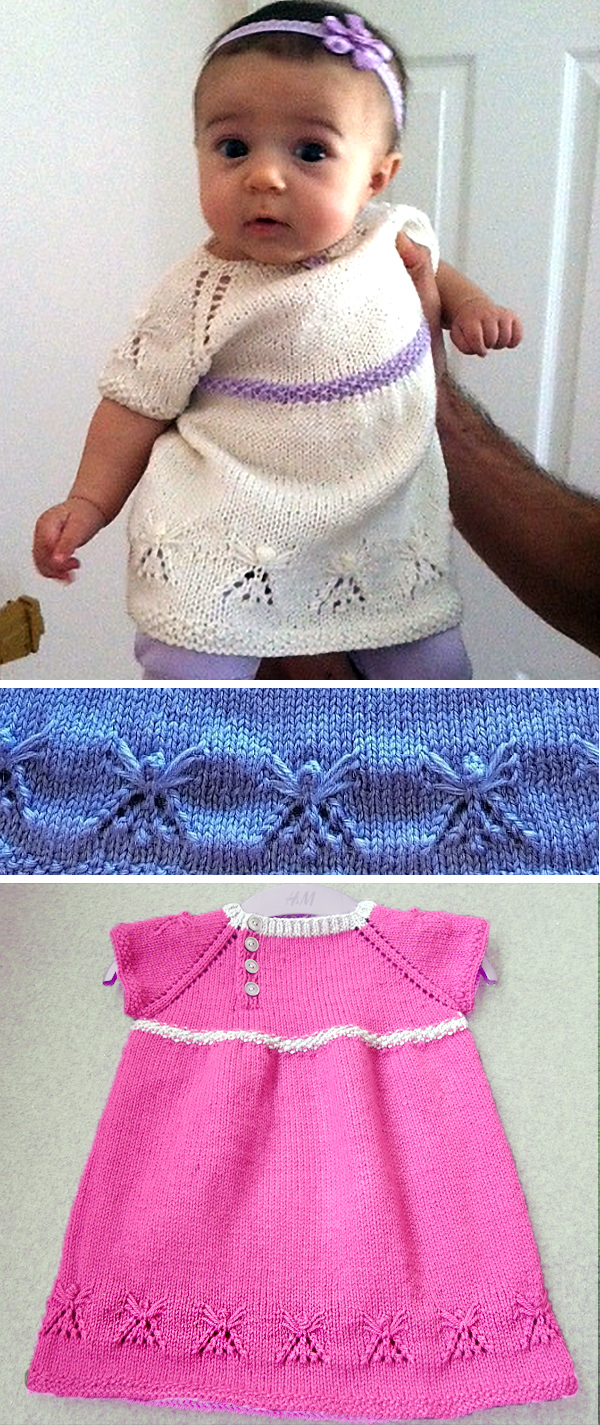 Angel Baby Dress
Baby dress with an angel lace pattern on the sleeves and above the hem. Sizes 0-3, 3-6, 6-12, 12-18 and 18-24 months with mods for Preemie and 2T-4T. Sport weight. Designed by Jenny Wiebe. Pictured projects by maritere, vsbanotto, and ilknur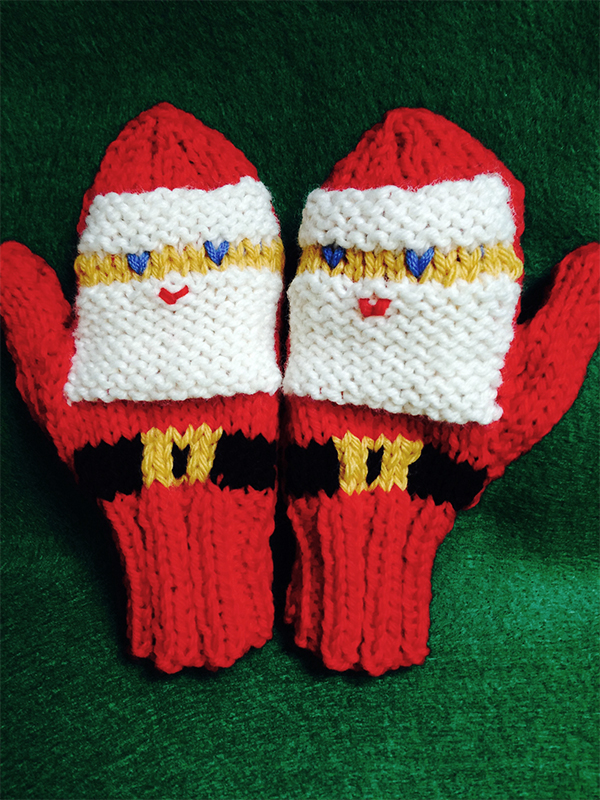 Jolly Santa Mittens
The Christmas mittens feature traditional construction with ribbed cuff and thumb gusset. Reverse stockinette stitch gives texture to Santa's beard; eyes and mouth are added with duplicate stitch. Designed by Ann Faith. Worsted weight yarn.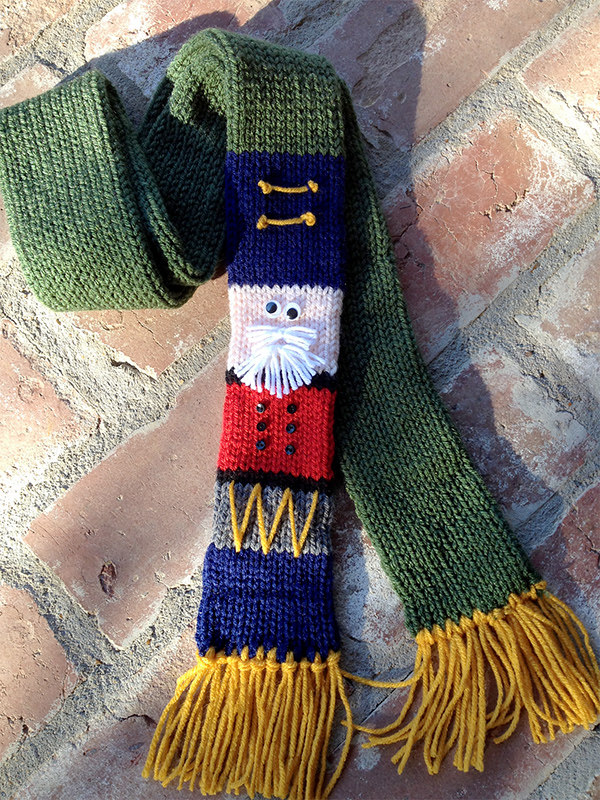 Nutcracker Scarf
Video tutorial for holiday scarf that can be done in knitting, crochet, or loom knitting. Worsted weight. Designed by Margaret Olander.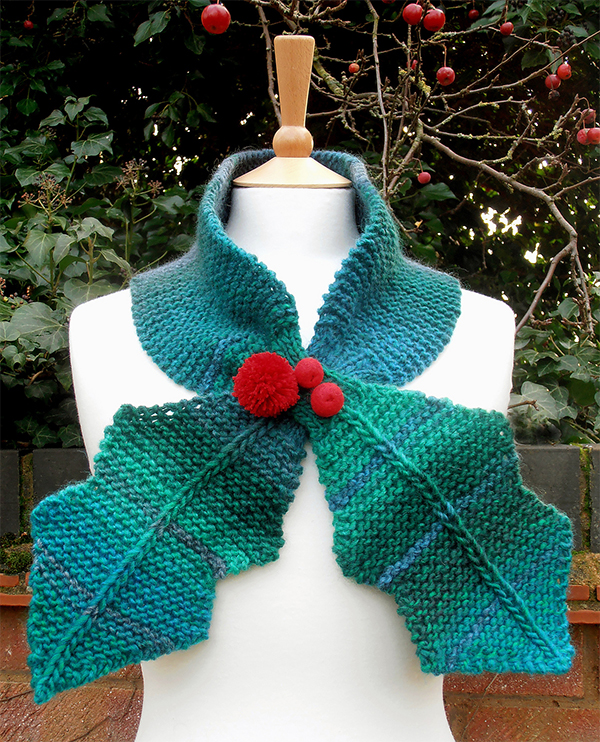 Holly Scarf
Crossover scarf knit to resemble leaves with garter stitch and slipped stitches. Aran weight. Designed by Anni Howard.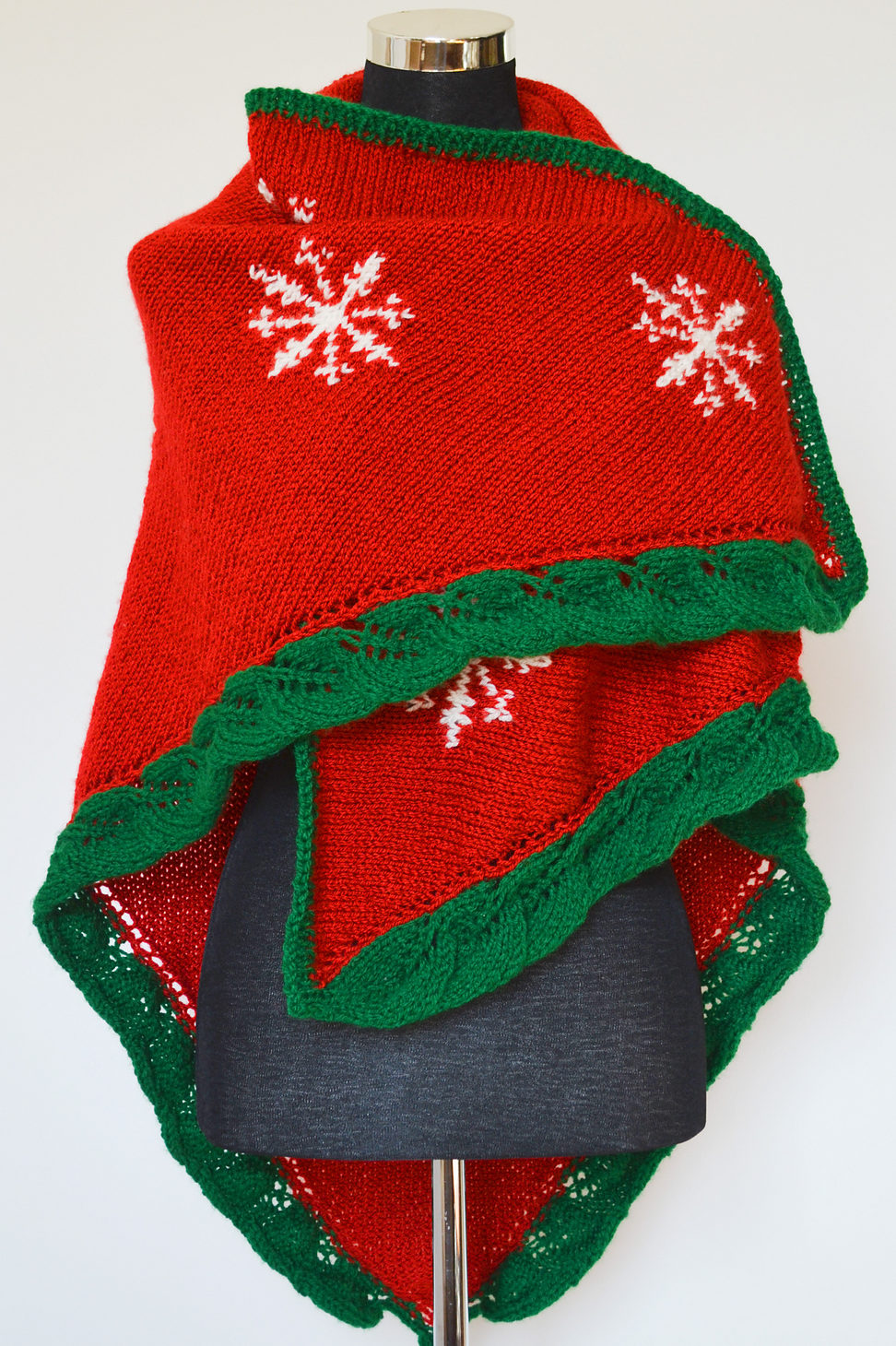 Christmas Eve Shawl
Cozy shawl in stockinette with a decorative leaf lace border and snowflake motifs. Perfect for the holiday or knit in other colors to wear all winter long. Worsted weight. Designed by Wiam's Crafts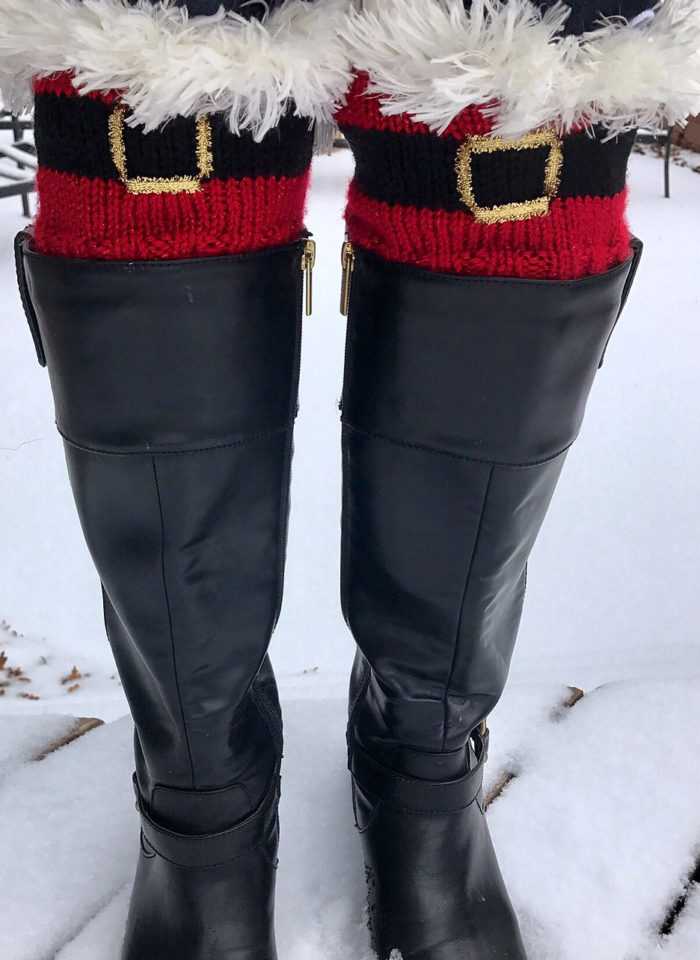 Kringle Cuffs
Holiday boot toppers inspired by Santa Claus and trimmed with faux fur yarn or chenille yarn. Designed by Brooke Ada. Pictured project by Jensch42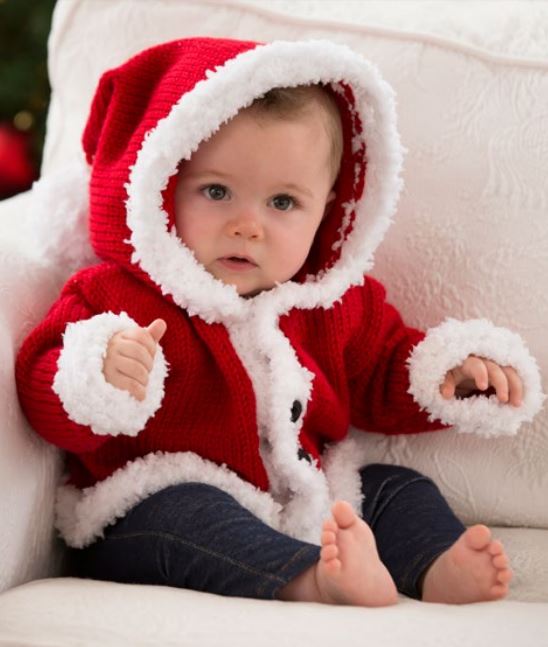 Santa Baby Sweater
Easy hooded baby cardigan with a fuzzy trim designed by Lorna Miser for Red Heart in sizes 3mos, 6 mos, 12 mos, 18 mos, and 24 mos.
More Free Patterns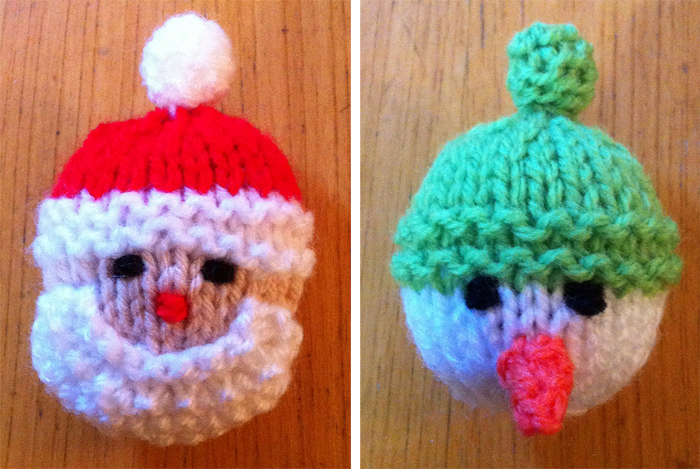 Santa and Snowman Brooches
Brooches measure about 5cm x 5cm. Ideal for parties or to sell at holiday bazaars. Quick and easy to knit. Designed by Bizzle McQuizzle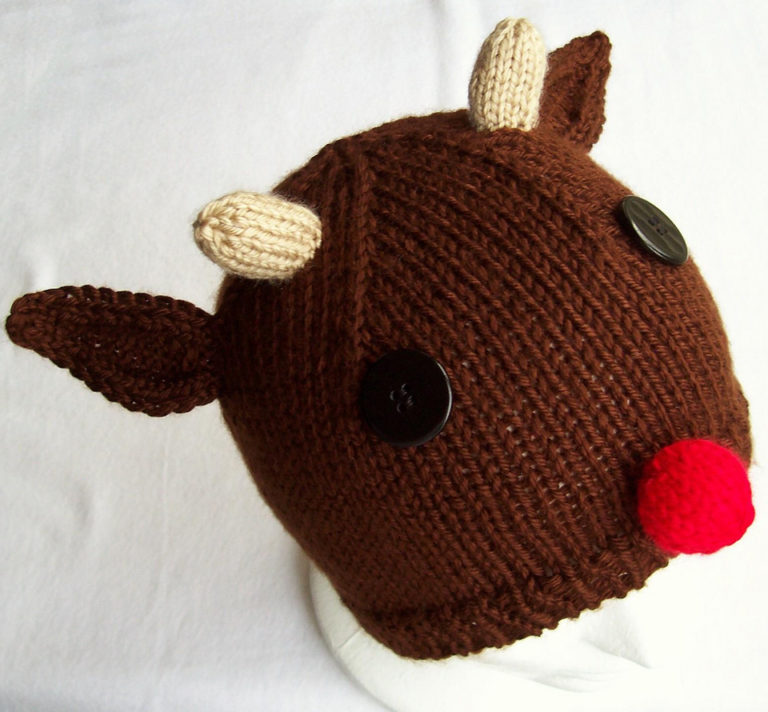 Rudolph Hat
Carissa Browning's easy holiday hat is sized for Infant – 10 years.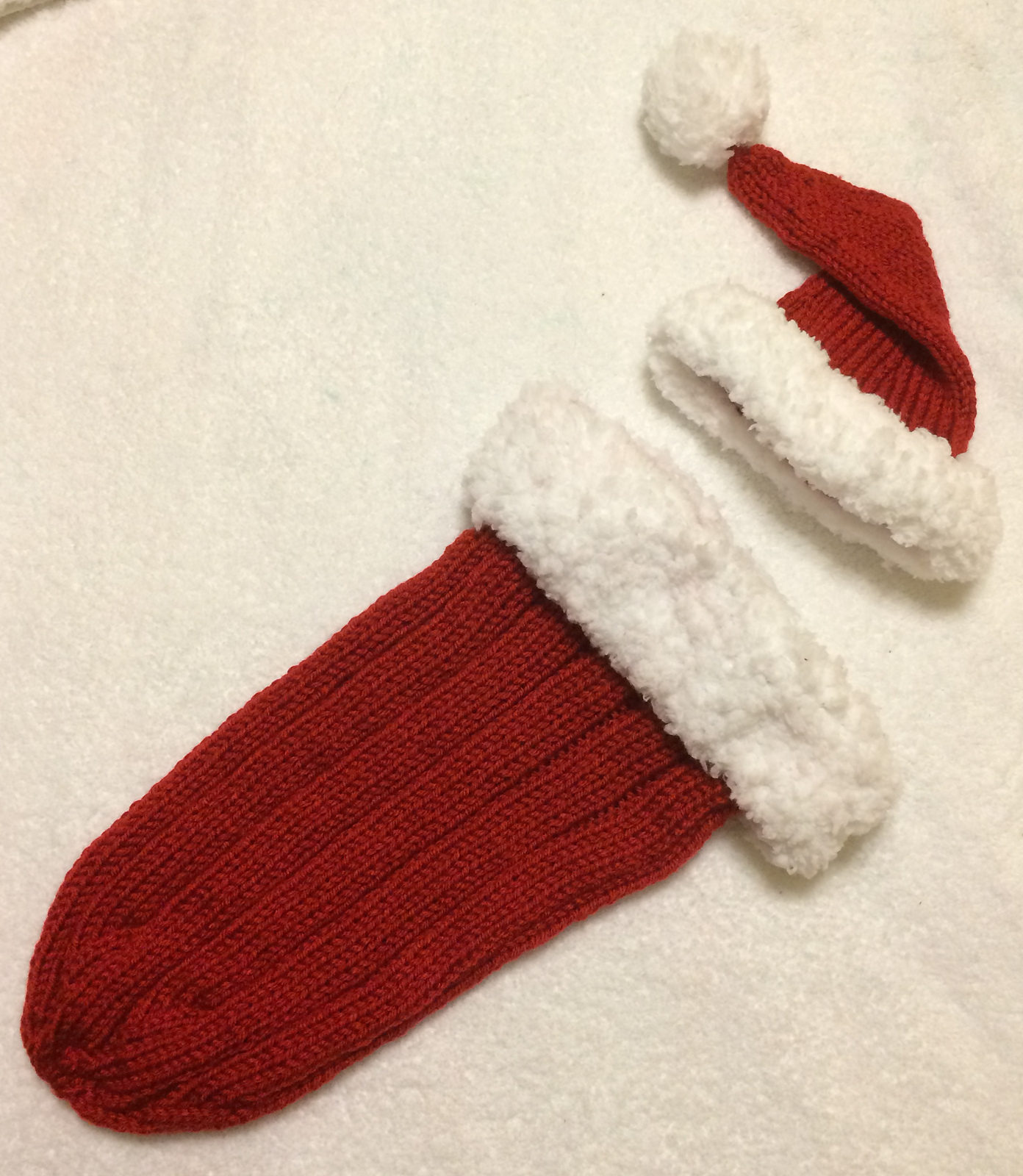 Santa Baby Cocoon
This holiday set includes baby Santa hat and snuggle sack. It's great for holiday photos for a new arrival, and will fit most babies from newborn up to 3-6 months.Designed by Danielle Lanois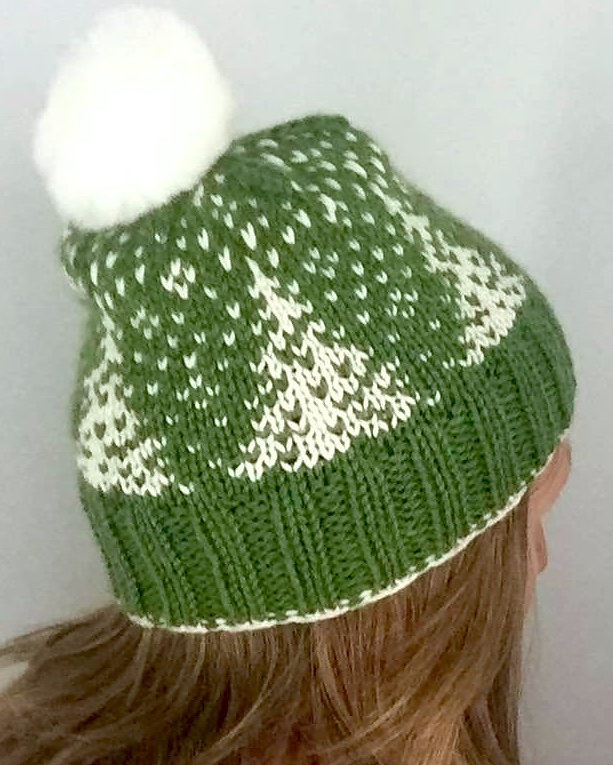 Snowfall Hat
Slouchy beanie by Sara Setters features colorwork everygreens in the snow. Pictured project by Aussieraveler. Many Ravelrers have said the pattern knits up small so you may want to adjust.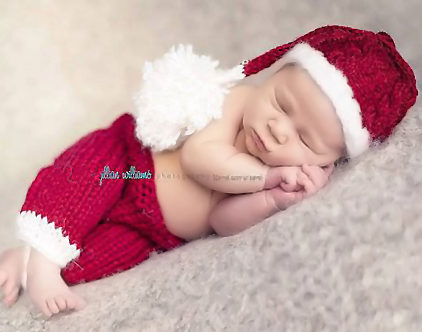 Santa Baby Set
This pattern set includes santa hat and pants set in bulky yarn for sizes Newborn, 0-3 Month, 3-6 Month, 6-12 Month. Great photo prop! Designed by Crochetmylove Designs for Melody's Makings. Free for sharing on a social network.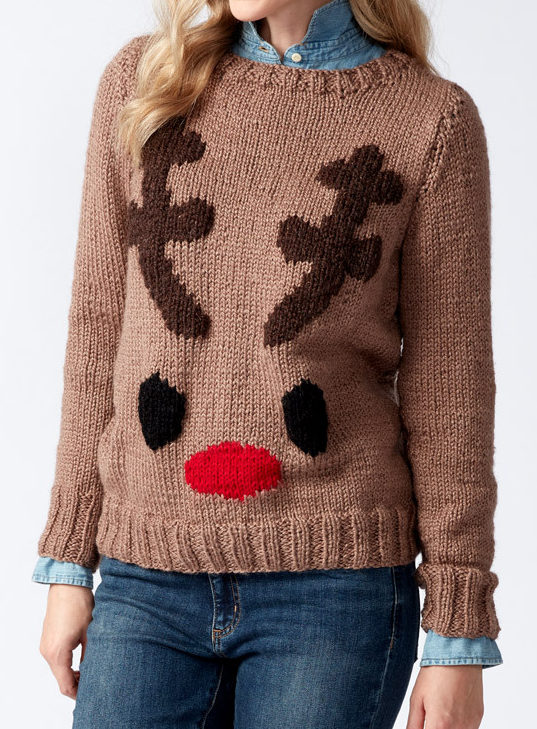 Reindeer Sweater
Long-sleeved pullover with a reindeer face, antlers, and Rudolph red nose. Sizes from XS to 5XL.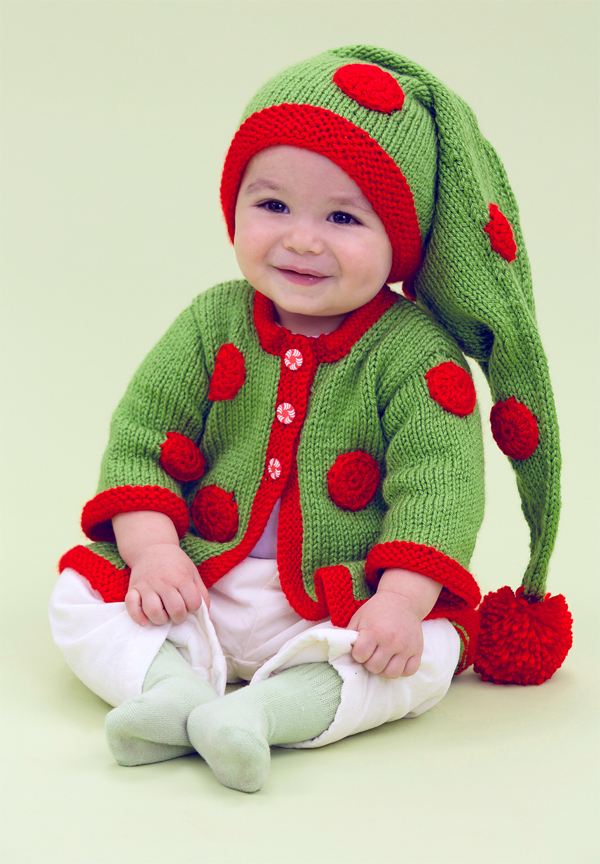 Santa's Baby Elf
Baby hat and sweater set. Easy pattern by Cindy Craig. Sizes 3 to 12 months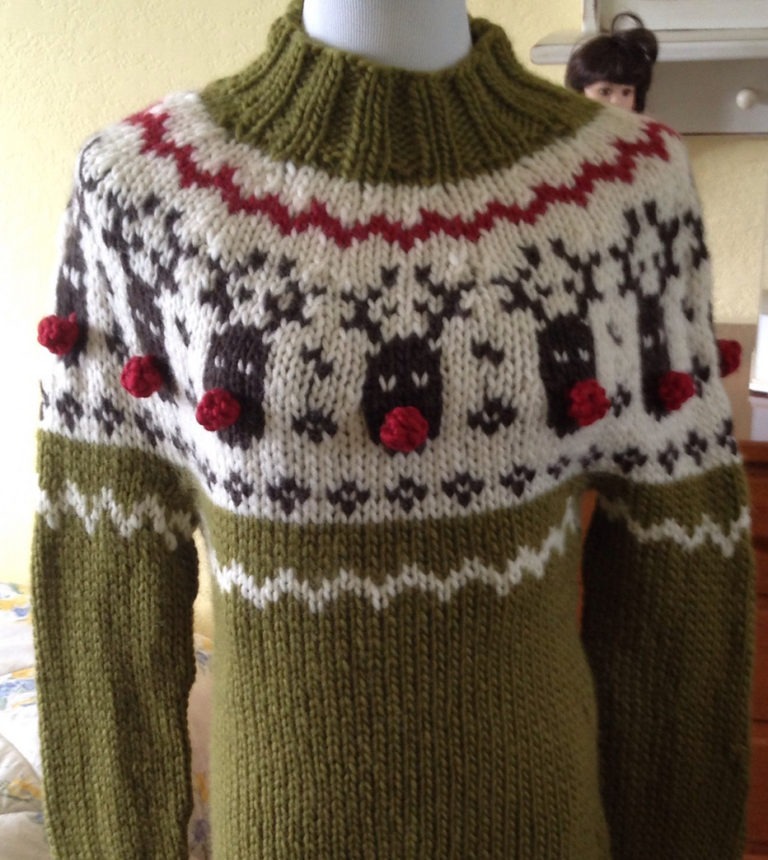 Rudoph Sweater
This pullover by DROPS Design features fair isle reindeer with red bobble noses. Sizes XS/S – M/L – XL/XXL – XXXL. Pictured project by tahoediva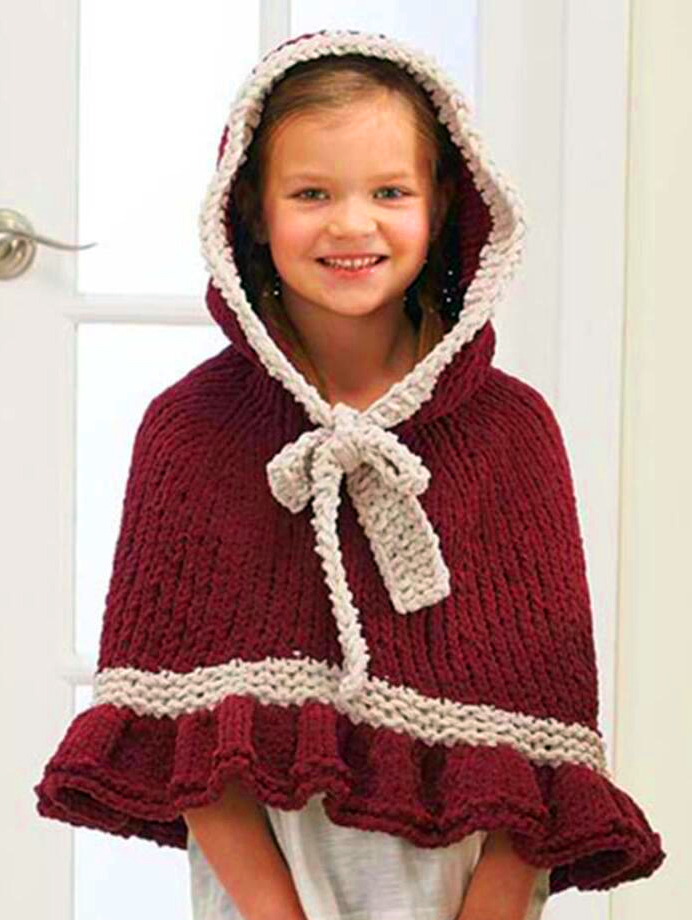 Noel Cape
This knit version of the classic carolers cape is from Willow Yarn. Quick knit in bulky yarn. Child's 2 (4, 6)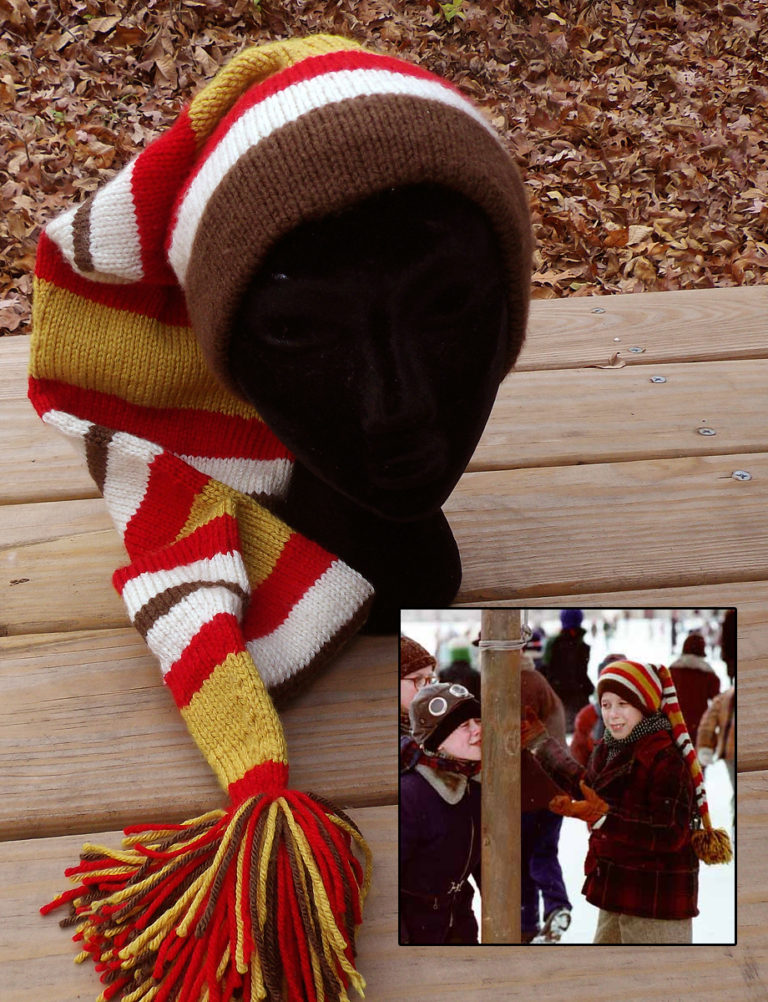 A Christmas Story – Schwartz's Stocking Cap
LaDonna Bubak recreates the iconic long striped hat worn by Schwartz in the classic "triple dog dare" scene in A Christmas Story. Pictured project by knitforewe.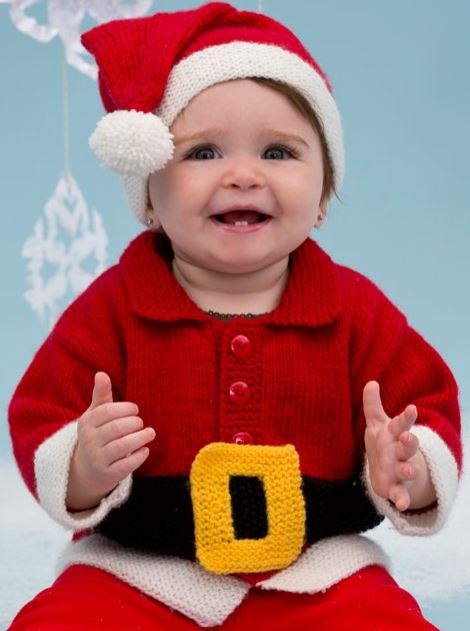 Baby Santa Suit
Lorna Miser's cardigan, belt, and hat make the perfect Santa outfit for your little one. Sizes 6 months to 2 years.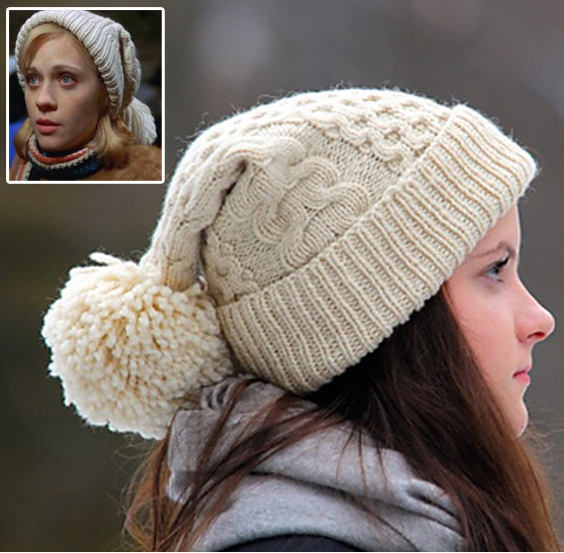 Elf the Movie – Jovie's Hat
Bezzi's cabled toque is inspired by the scene where Jovie is with the crowd in Central Park while Buddy and Santa are escaping the Central Park Rangers. Jovie leads the crowd in singing Santa Claus is Coming To Town while wearing a beautiful cabled stocking cap. Pictured projectby Triknittyknots who made a few modifications.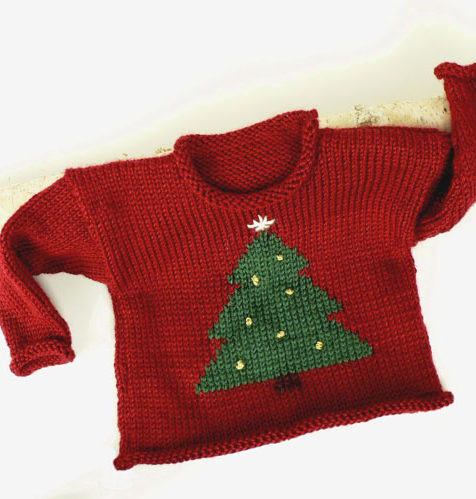 Christmas Tree Sweater
This holiday pullover for toddlers features a tree. Sizes 1 year, 2 years, 4 years. The pattern is at the Web Archive. Pictured project by michellelsmith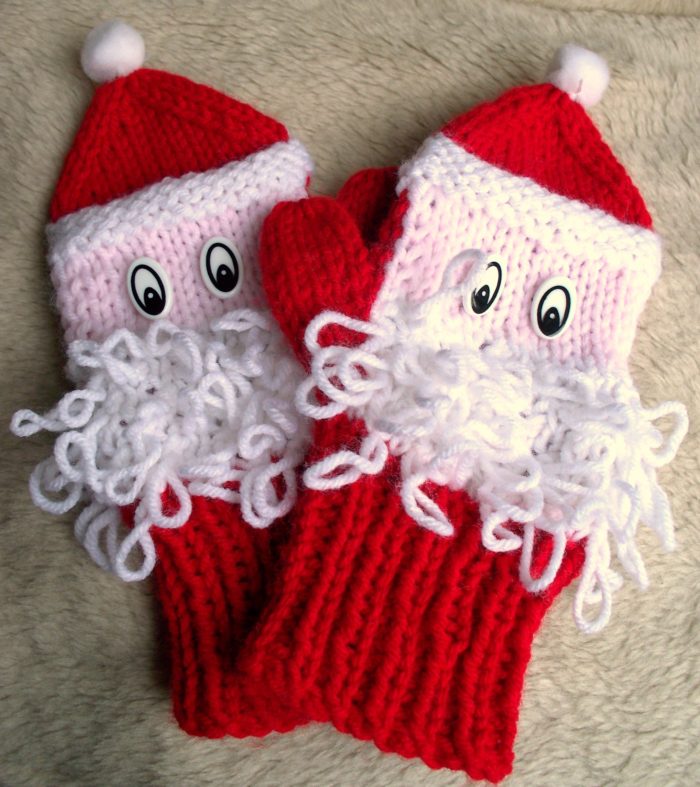 Santa Mittens
These holiday mittens use a loop stitch for Santa's beard and sewn on eyes, but you can also embroider eyes and nose for the face. Designed by Theresa Pendlebury.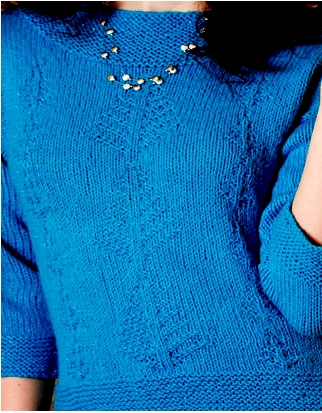 Trees for Your Sweater
This holiday pullover features tree motifs formed by purl stitches. Purl stitches are used to form the tree pattern with garter stitch bands at the cuffs, hem and neck edge. This pullover has rectangle body with 3/4 drop sleeves. The neck band and the hems are garter stitch. Sizes 36-54″ finished bust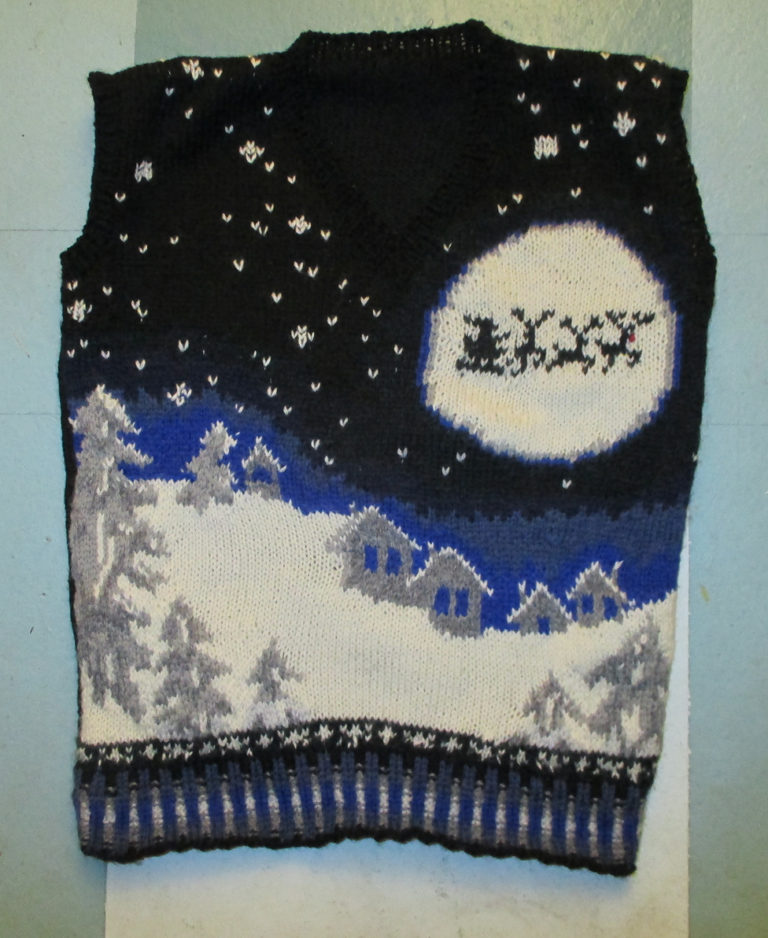 Winter's Night Vest
Jenna La Due's Christmas vest features Santa's sleigh flying over a sleeping town on the night before Christmas.
Patterns for Purchase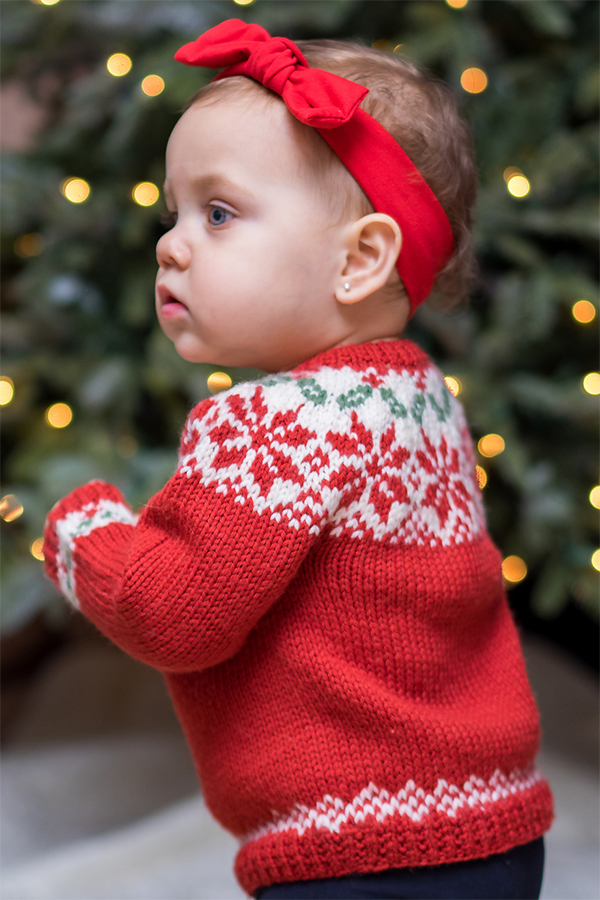 Lunaberry Baby and Child Sweater
Holiday pullover featuring poinsettia inspired snowflake designs and holly motifs in stranded colorwork. Sizes 6 months (12-18 months, 2 years, 4 years, 6 years, 8-10 years, 10-12 years). Designed by Rachel Brockman. Aran weight yarn.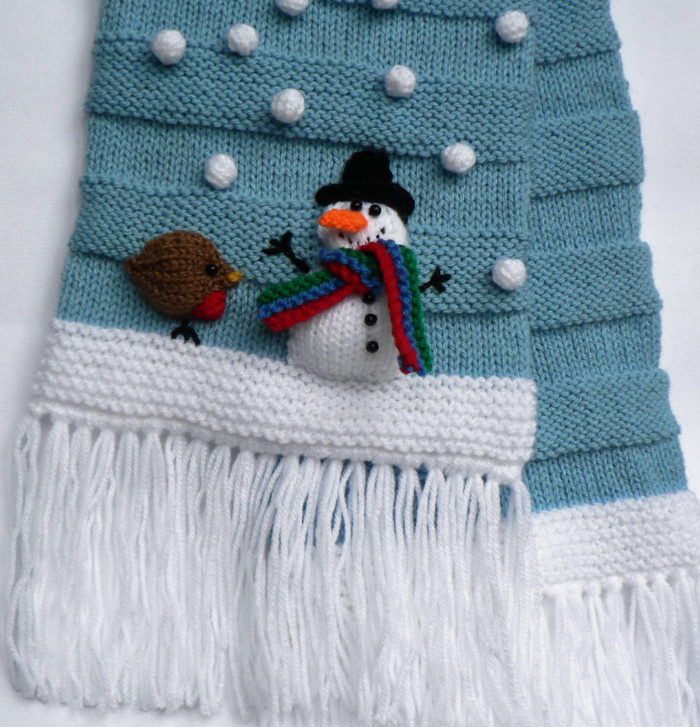 Let It Snow Scarf
This scarf features separately knitted snowman, snowflake & robin details which are stitched to the finished scarf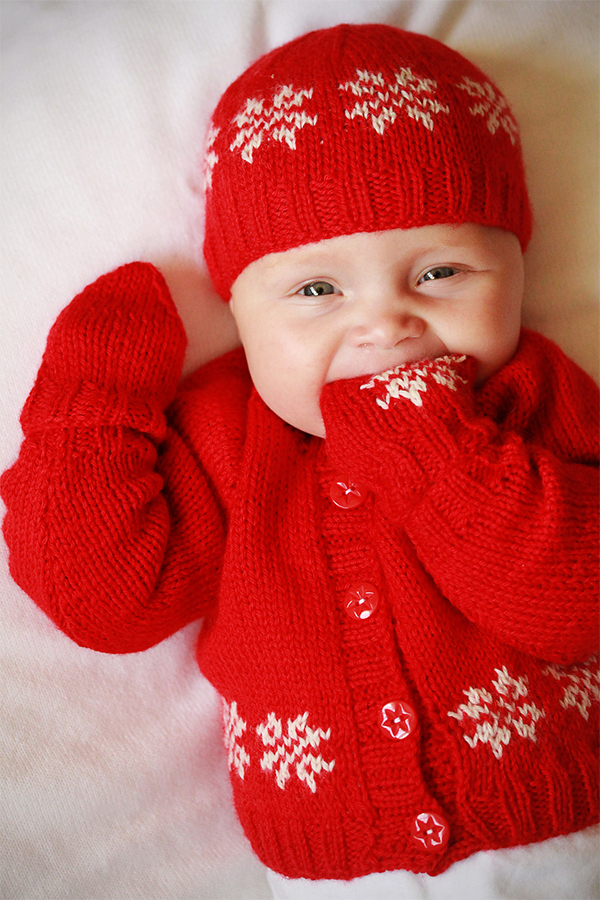 Little Snowflake Baby Set
Matching baby cardigan sweater, hat, and mittens featuring a stranded snowflake motif. Sizes 0-6mths (6-12mths, 1-3yrs). Designed by Torya Winters, DK weight yarn.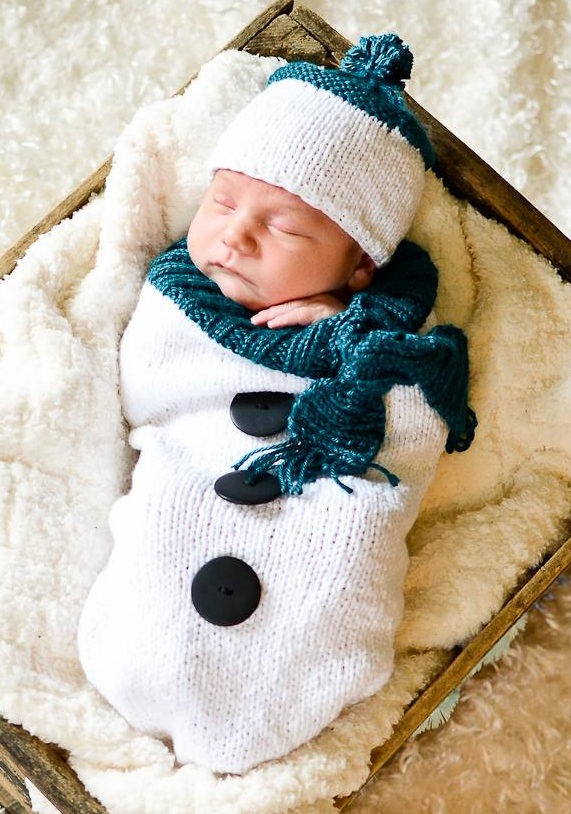 Snowman Baby Bunting
Baby cocoon and hat set in worsted weight yarn.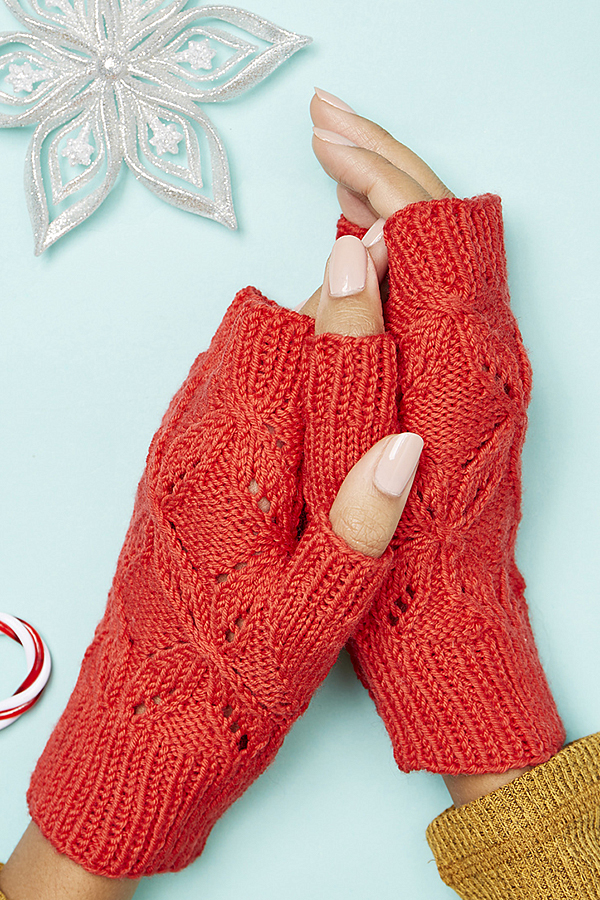 Poinsettia Mitts
Fingerless mitts with a lace and cable poinsettia floral design. Designed by Ruth Dorrington. Fingering weight yarn. One of the 16 patterns in Issue 94 of Knit Now.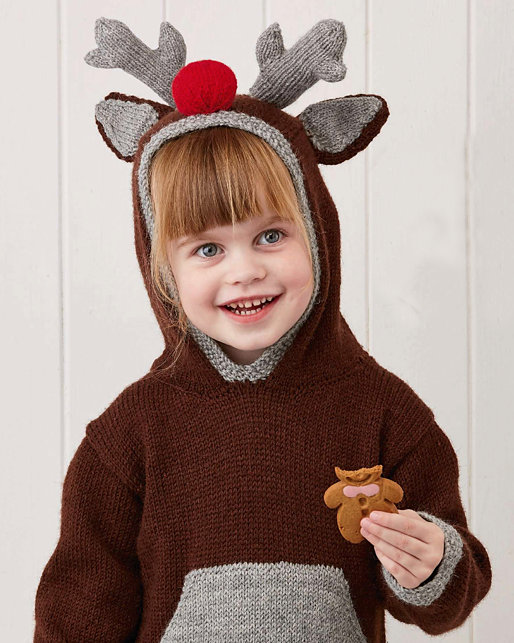 Little Deer Hoodie for Babies and Children
Adorable reindeer hooded sweater, complete with ears, antlers and that all-important red nose. Sizes 12 months to 10-11 years. Designed by Jane Burns. One of the 34 patterns in Simply Knitting 152, December 2016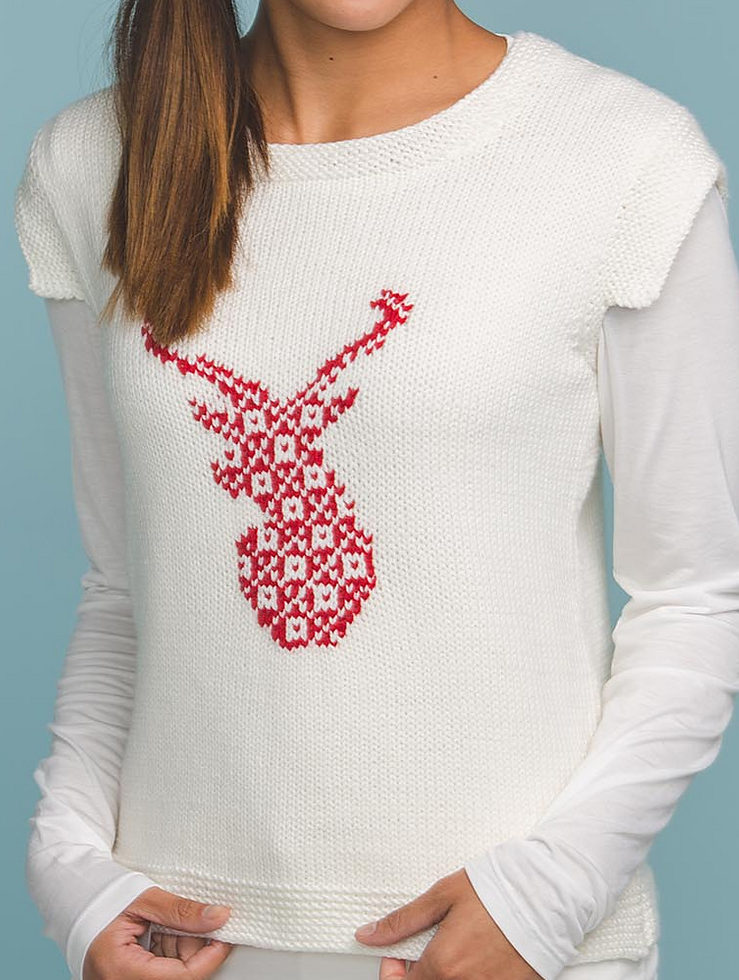 Lone Buck Vest
Pullover vest with holiday stag motif in stranded colorwork. Sizes 32 (36, 40, 44, 48, 50.5 )" bust circumference. Designed by Irina Anikeeva. One of the 17 patterns in Knitscene, Winter 2017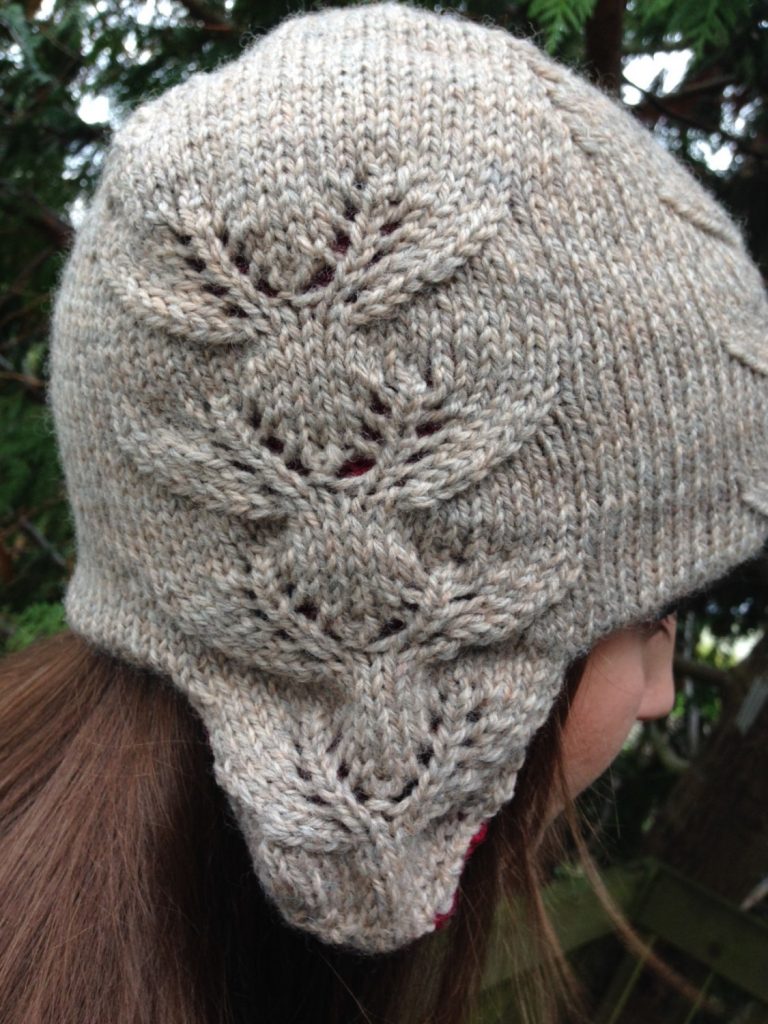 Eight Tiny Reindeer Hat
This creative earflap hat features a lacy pattern that looks like Santa's eight reindeer. Great for the holidays or all year one.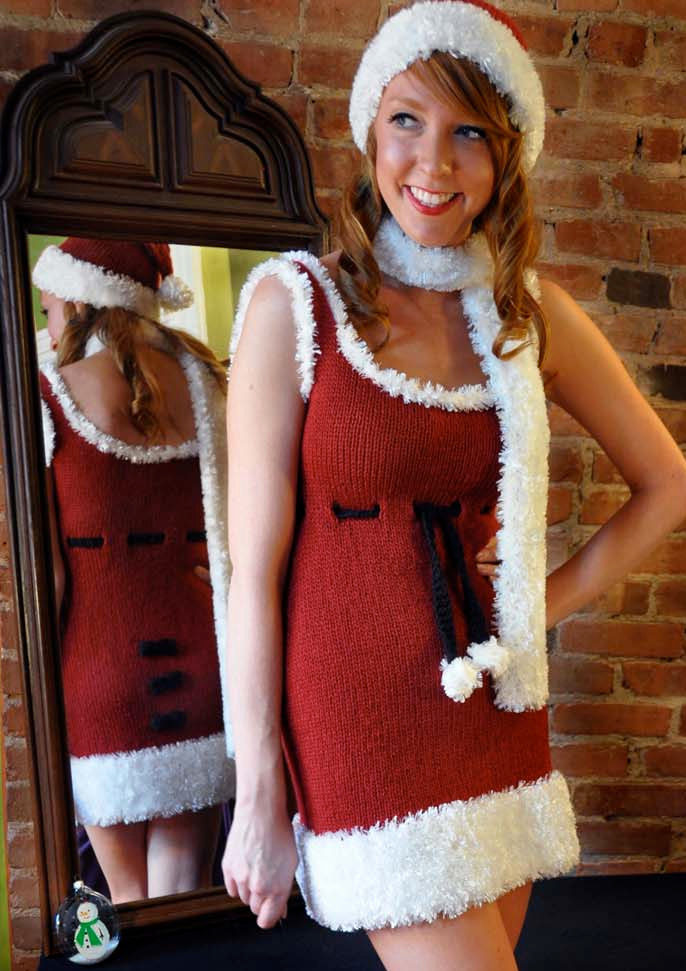 Ms. Claus Costume
This seamless Santa costume is perfect for your holiday events! Includes instructions for dress, hat, scarf, and belt for sizes XS, S, M, L, and XL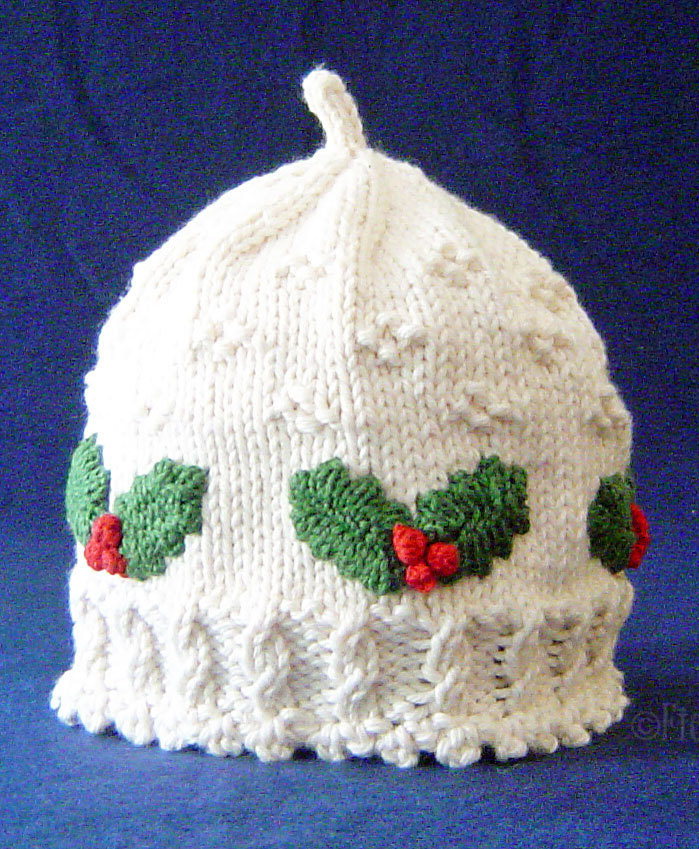 Holly Hat
This holiday hat pattern features hollies and berries motif and texture. Sizes from newborn to adult: Newborn * 3-6 months * 6-12 months * Toddler * Child * Adult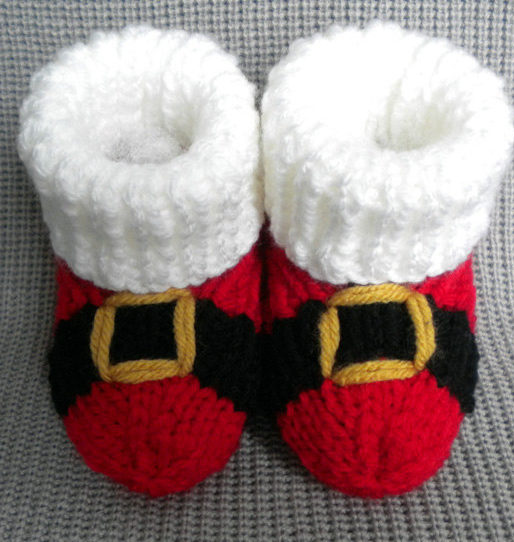 Santa Baby Booties
Designed to be stretchy and very comfortable. Sizes 0-3 months, 6 months, 12 months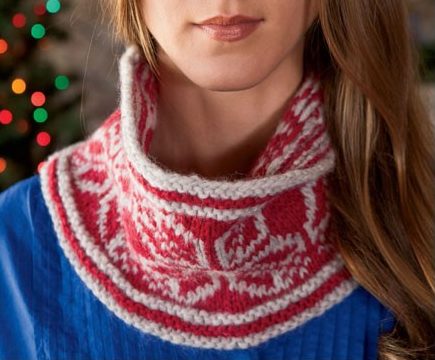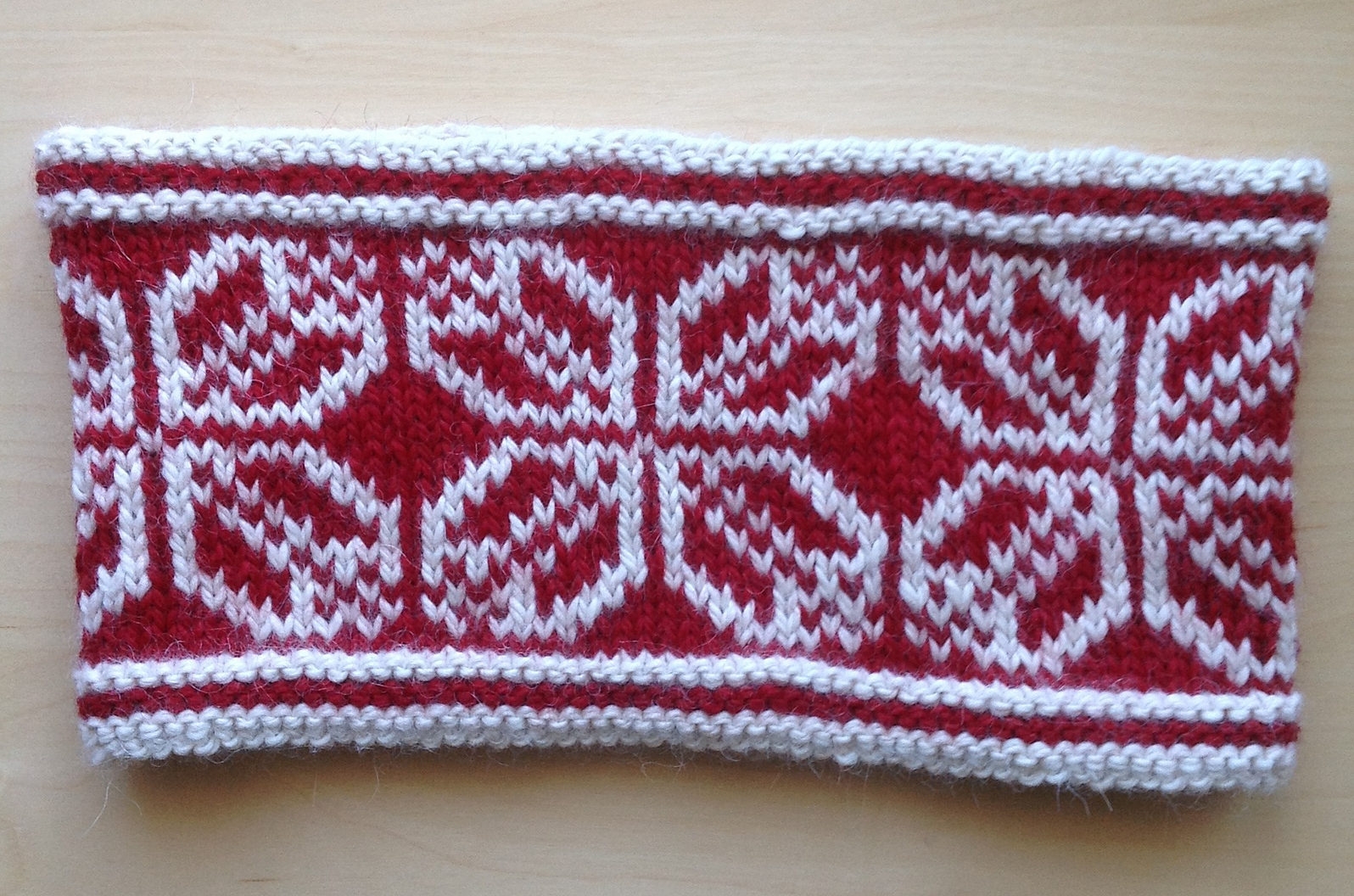 Snowflake Cowl
Stranded colorwork cowl inspired by traditional Scandinavian motifs. Designed by Celeste Young. Pictured project by sherry-h who said it was a very quick project.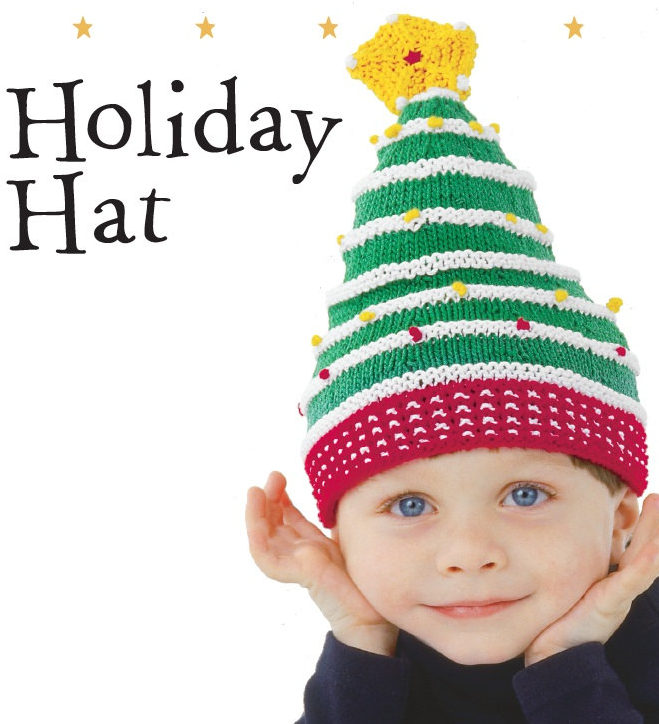 Holiday Hat
Debby Ware's Christmas tree hat is sized for babies and children three months to three years. Available as pattern or kit or you have it custom made.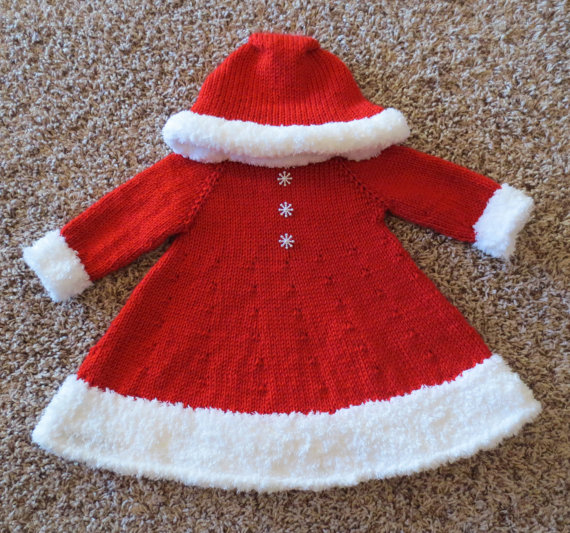 Santa's Christmas Cutie
This baby dress with hood would be adorable for Christmas card photos or pictures with Santa. Size 6-9 months. Designer says it can be knit in a weekend.