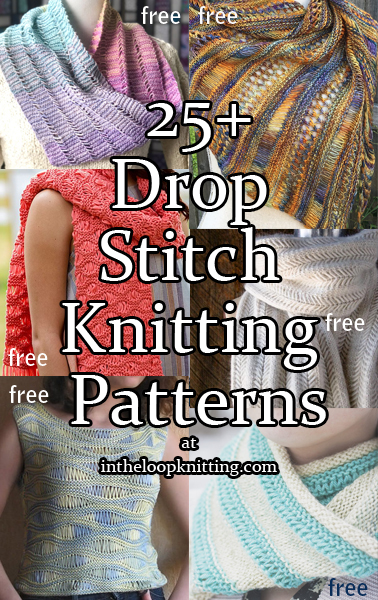 We all know that "uh oh" feeling when we've dropped a stitch. These patterns drop stitches intentionally to turn that "oh no" to "oh wow" in patterns for tops, scarves, cowls, shawls, blankets, and more.
To get the knitting patterns, scroll down the page to the individual pattern you want and click on the link to that pattern.
These patterns are not my designs but links to other designers who have generously shared their patterns. If you have questions about how to knit a specific pattern, please contact the designer directly.
All links on this site are for informational purposes, but please note that some links are to affiliate sellers that pay me a small commission on purchases.
Free Patterns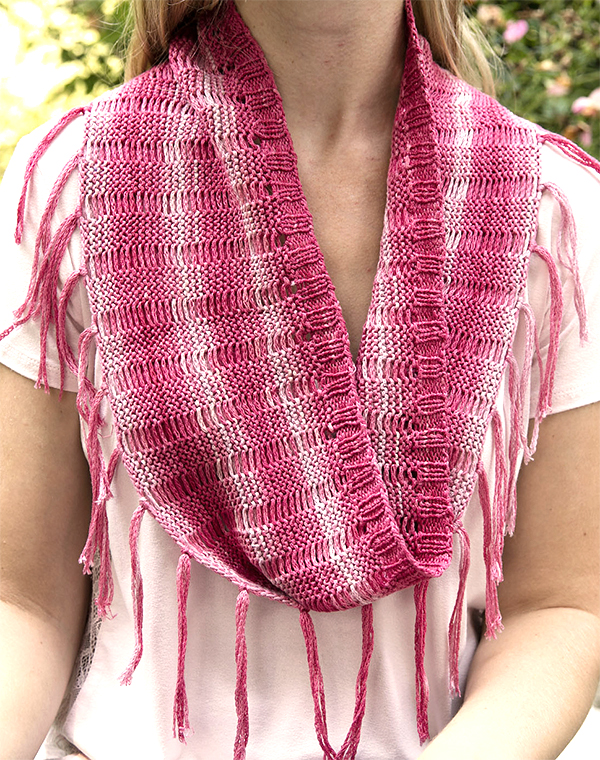 Fringed Drop Stitch Cowl
Easy light cowl with dropped stitches and fringe. Great with self-striping yarn. Designed by Vanessa Ewing for Plymouth Yarn.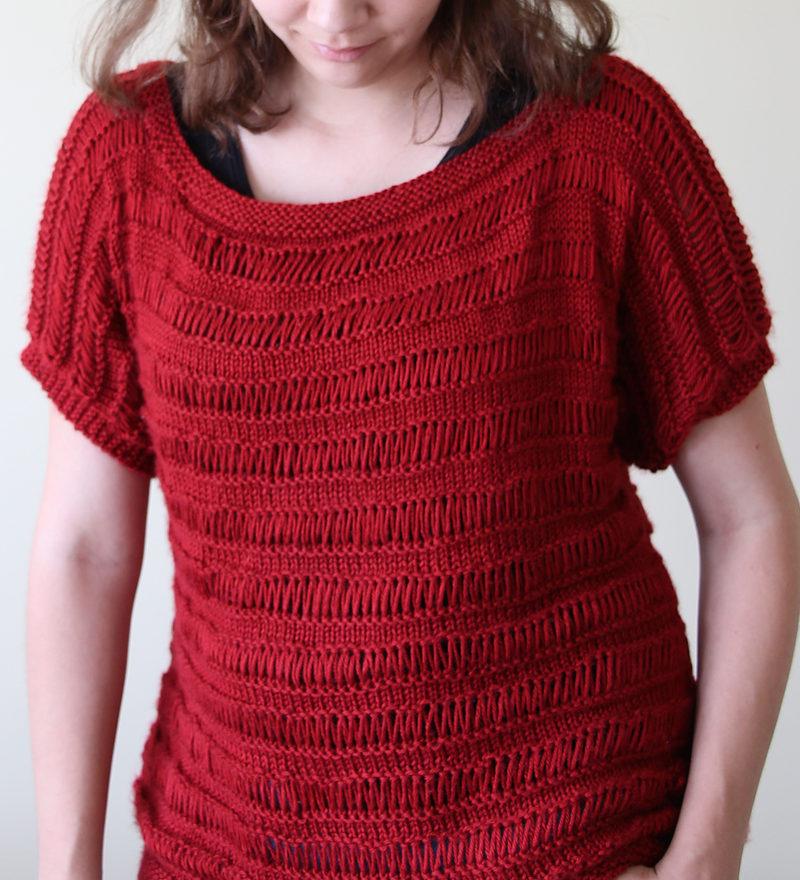 Drop Stitch Tunic
The Glistening Drops Tunic uses dropped stitches for easy openwork that's perfect for day-to-evening layering. Sizes XS/S — M — L — XL — 2/3XL — 4/5XL. Designed by Julia Madill. Pictured project by Jwatkins0850 who added more garter stitch at neckline and some waist shaping.
Seafoam Scarf & Wrap
Classic dropped stitch pattern in worsted weight yarn in two sizes. FINISHED SIZE Scarf: Approx. 5 x 58". Wrap: Approx. 16 x 72".. Designed by Churchmouse Yarns & Teas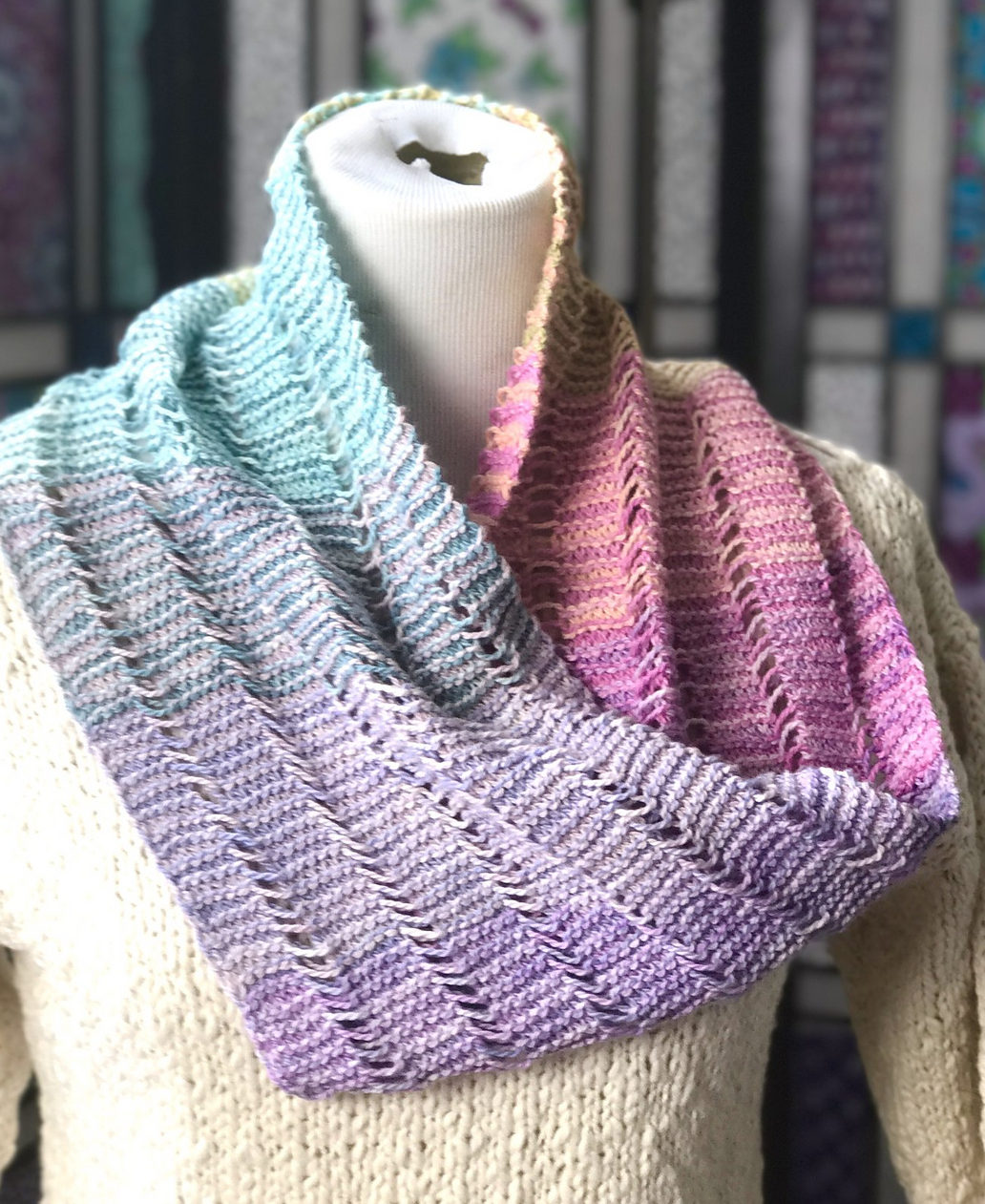 Serene Sampler Cowl
This easy cowl is worked flat in garter stitch and dropped stitches for a unique texture. The color effect is created with mini skein gradients but I think you could achieve the same effect with variegated yarn. Designed by Kristin Omdahl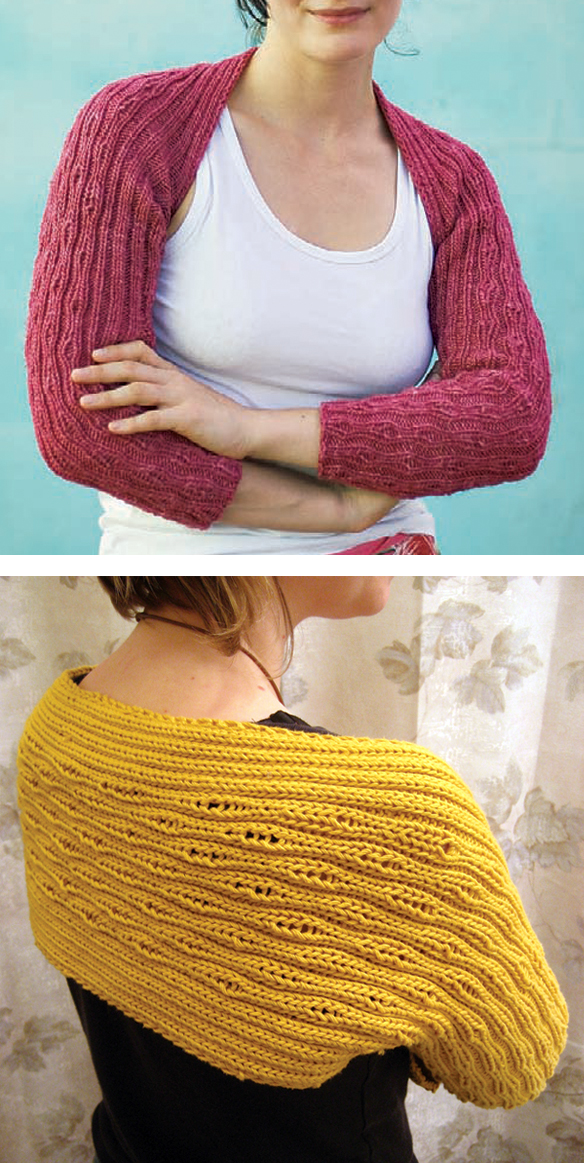 Drop Stitch Shrug
This shrug is knit in one piece and then folded and seamed to create the sleeves. Designed by Meema Spadola who said the organic look of the dropped stitch pattern reminded her of flowing water or tree bark. The drop stitch pattern runs vertical on the sleeves and horizontal across the back. Pictured project by jowley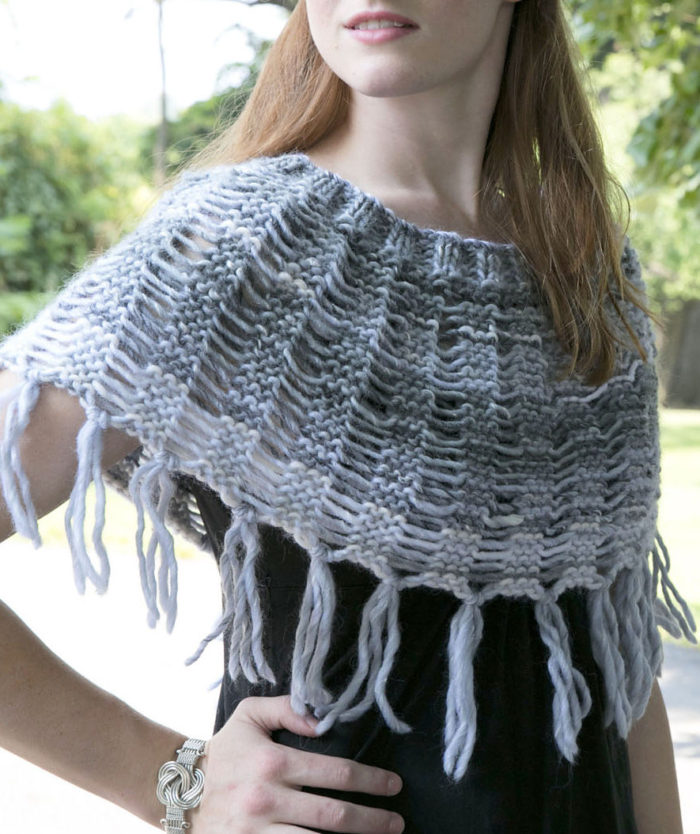 Drop Stitch Cowl
Shoulder cozy knit in garter stitch with dropped stitches and fringe. Quick knit in super bulky yarn. Great with variegated yarn. Designed by Vanessa Ewing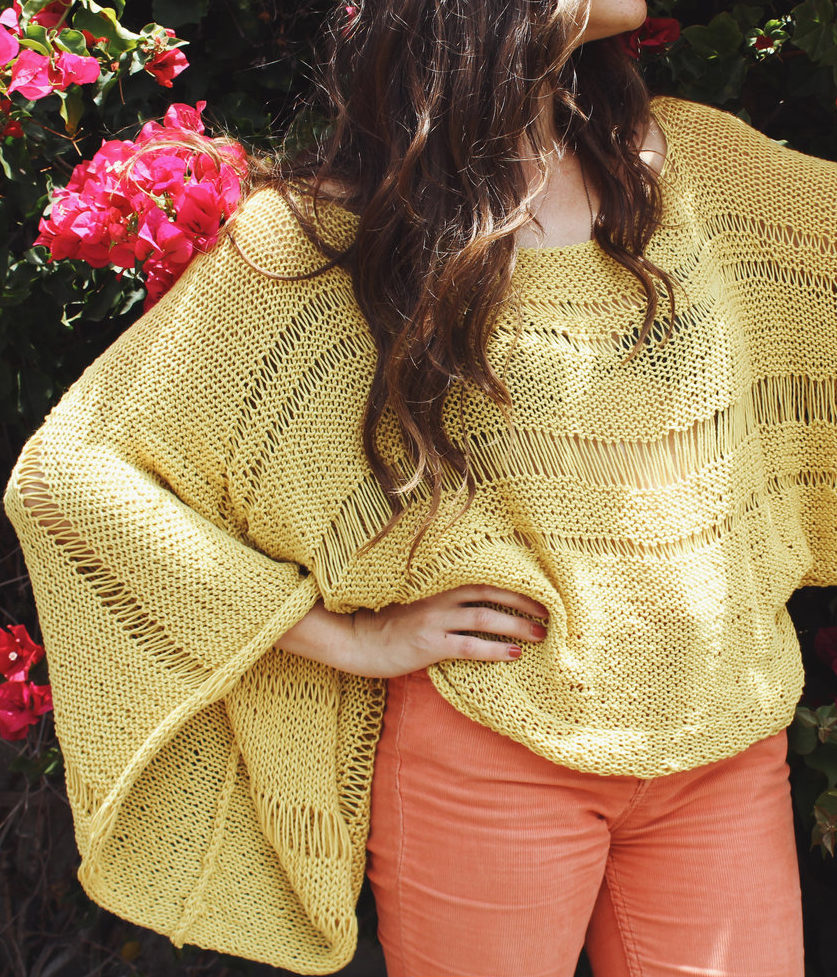 Lemon Drop Sweater
This long sleeved pullover features a flattering drape, billowing kimono sleeves and rows of drop stitches. Designed by Alexandra Tavel for Two of Wands.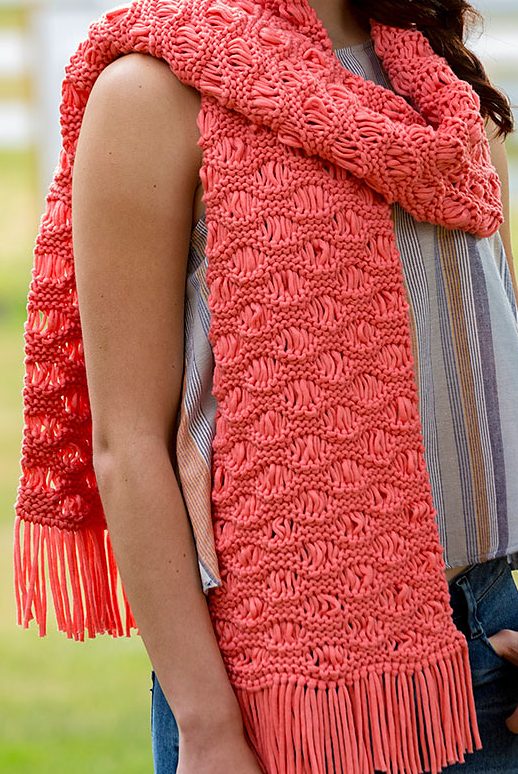 Wavy Drop-Stitch Scarf
Laura Bain designed this easy scarf using the classic sea foam stitch. A quick knit in jersey-knit tubular yarn.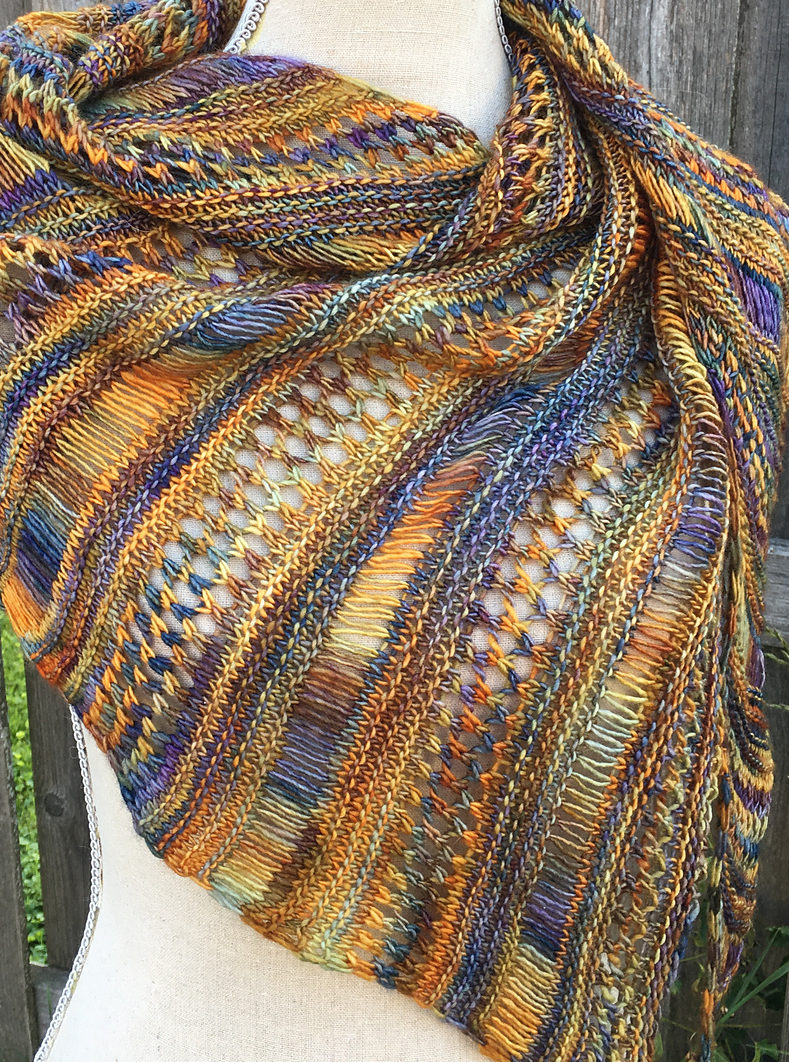 Stormy Sky Shawl
Designed for that one skein of special yarn! This asymmetrical shawl alternates sections of dropped stitches, eyelet lace, and garter stitch to showcase multi-colored yarn in skewed triangle. Easy to memorize. Designed by Life Is Cozy.Pictured project by River Poet who used one skein of Malabrigo yarn (420 yards) for the project.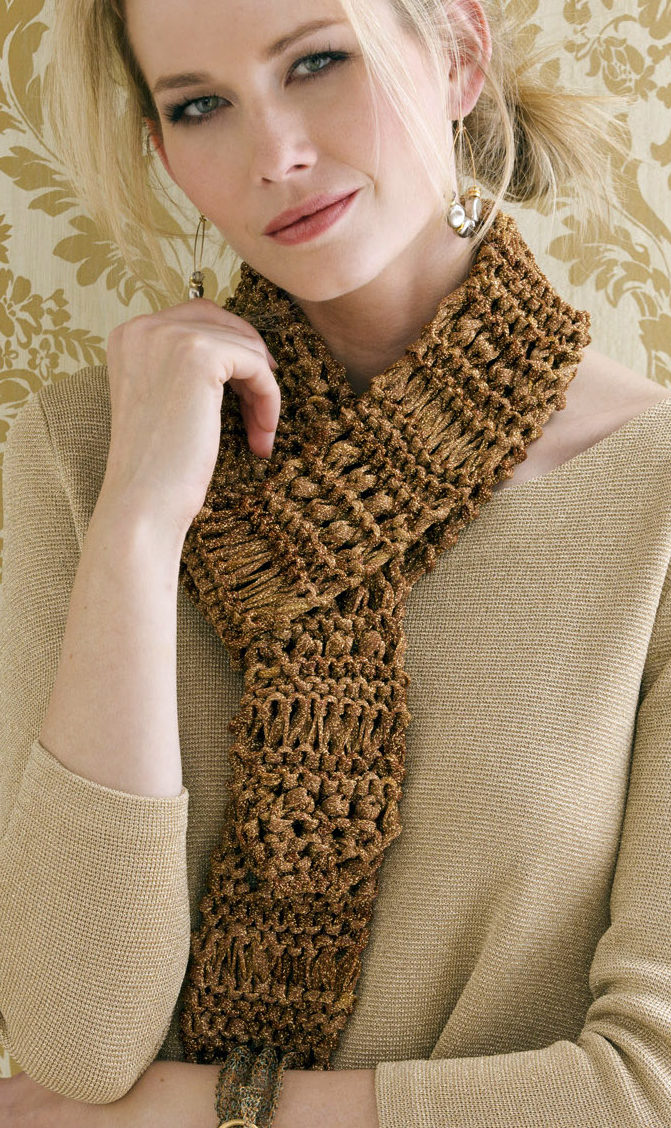 Paulette Drop Stitch Scarf
Garter stitch and drop-stitches make up this purl-free scarf. Perfect with ribbon yarn. Designed by Andi Javori for Tahki Stacy Charles, Inc.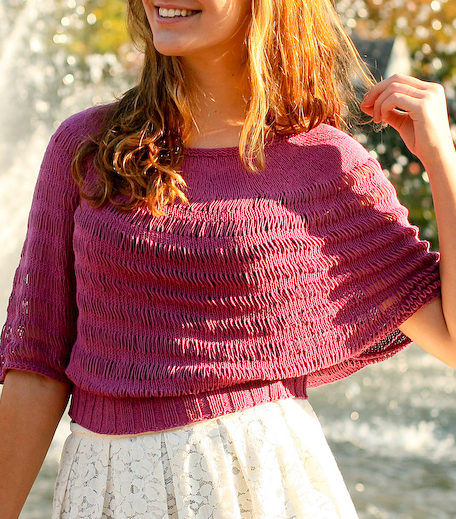 Rosarian
This pullover is combination of sweater and poncho, wrapping the shoulders and upper arms with elbow length arm openings just above the fitted waistband. Knit with dropped stitches, it creates a flattering silhouette for almost everyone. Designed by Melinda VerMeer. XS (S, M, L, 1X, 2X 3X)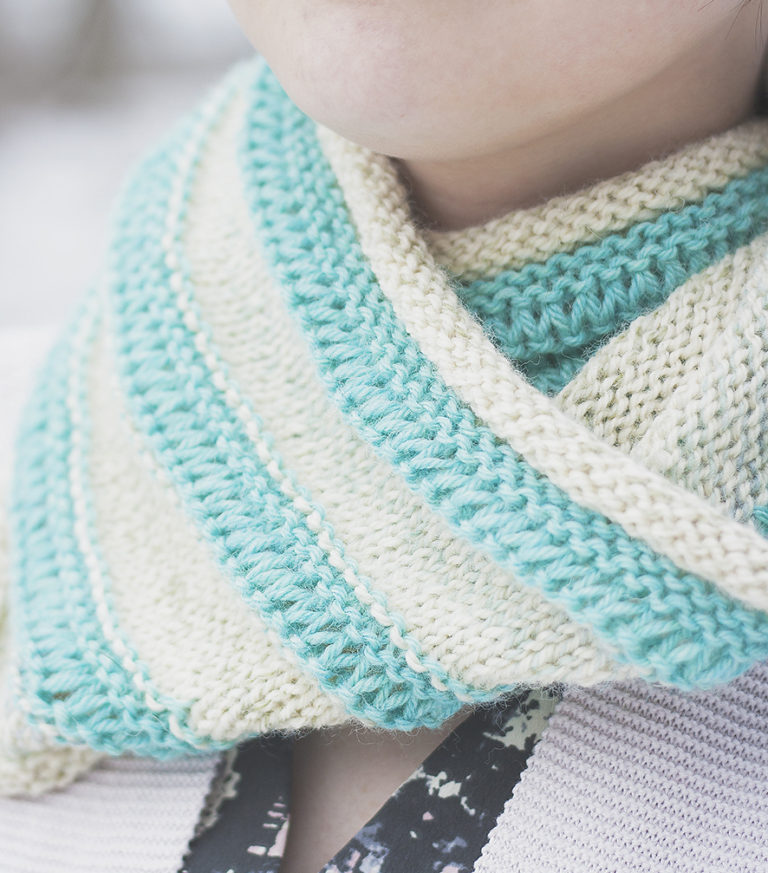 Drop Stitch Cowl
This easy cowl by Margo Snyder can be worked in any colors with any weight of yarn. Great stash buster!

Breezy Baby Blanket
This easy pattern by Pickles features a light version of the drop stitch sea foam pattern, which makes it airy, stretchy and comfortable in warm weather.
More Free Patterns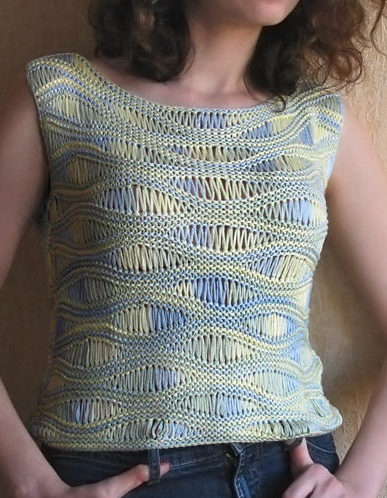 Ribbon Top
Sleeveless top is knit with drop stitch wave pattern. The original pattern is for a crop top but the knitter of the pictured project just added additional repeats of the pattern for length. Pictured project by julysnow. Great with multi-color yarn!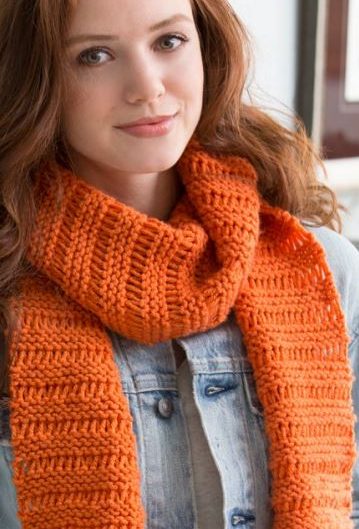 Beginner Garter Drop-Stitch Scarf
Michelle Maks proves shows you how easy it is to make a quick drop-stitch scarf If you can do a knit stitch and you can wrap yarn around a needle. Video tutorial included with this Red Heart pattern.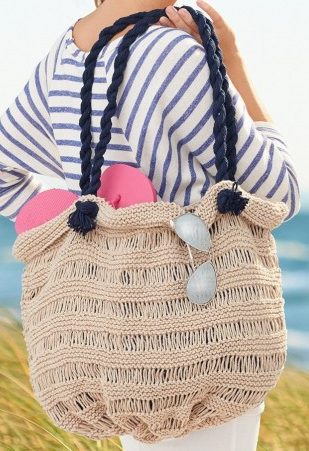 Sea Breeze Bag
This Lily Sugar n Cream bag features drop stitches for interest. Approx 20" x 40" [51 x 101.5 cm]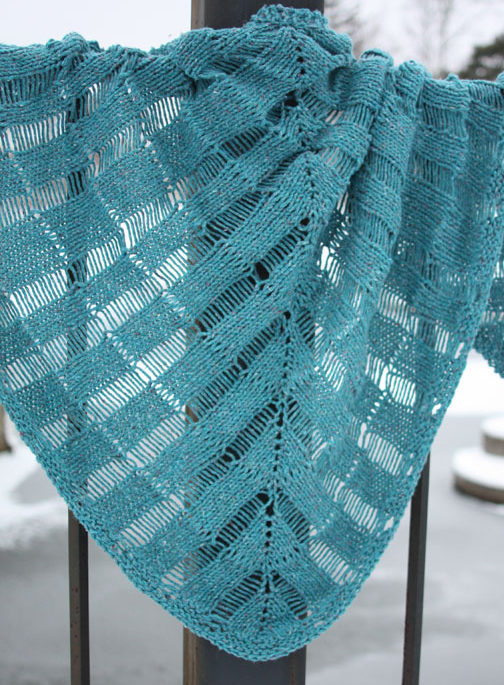 Windlass Shawl
Windlass combines dropped stitches and easy elongated stitches in a top-down triangular shawl in a design by Amy Palmer.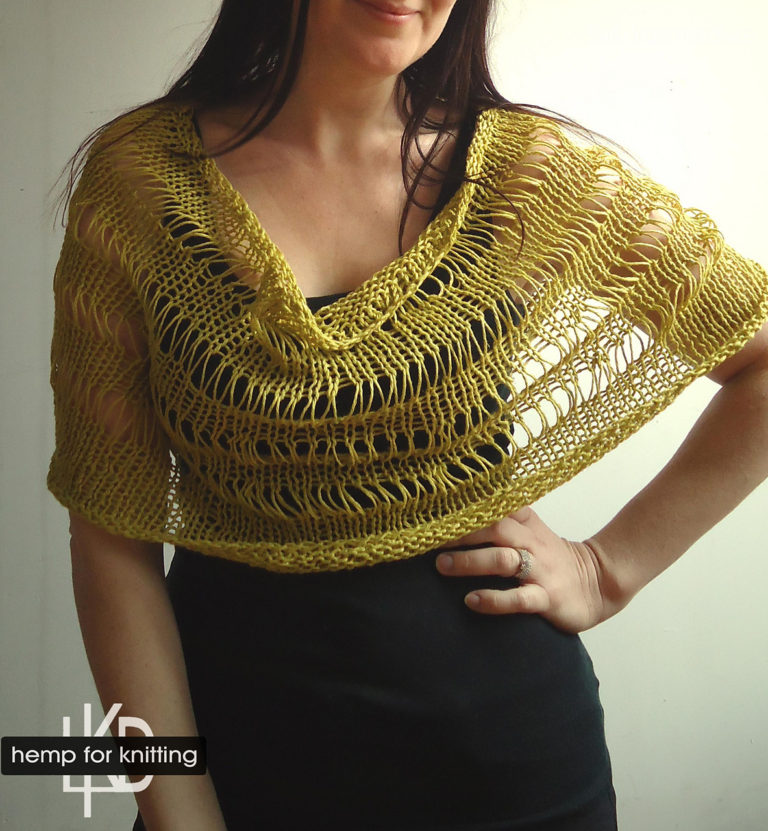 Drop Stitch Capelet Cowl
Easy drop stitch pattern creates the perfect summer accessory for beach or evening. Designed by Lana Hames. Small – Med 32-40″; Med – Lrg 40 – 48″ Available in English and Spanish.

Eternidad Scarf
This infinity scarf features a Teardrop drop stitch pattern. Designed by Lisa R. Myers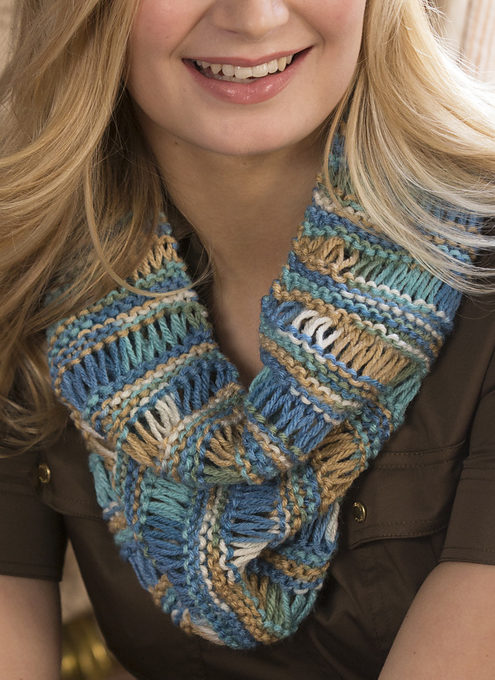 Drop Stitch Cowl
This easy cowl by Red Heart features a drop stitch pattern that looks great in multi-colored yarn. Uses just one ball of the recommended yarn.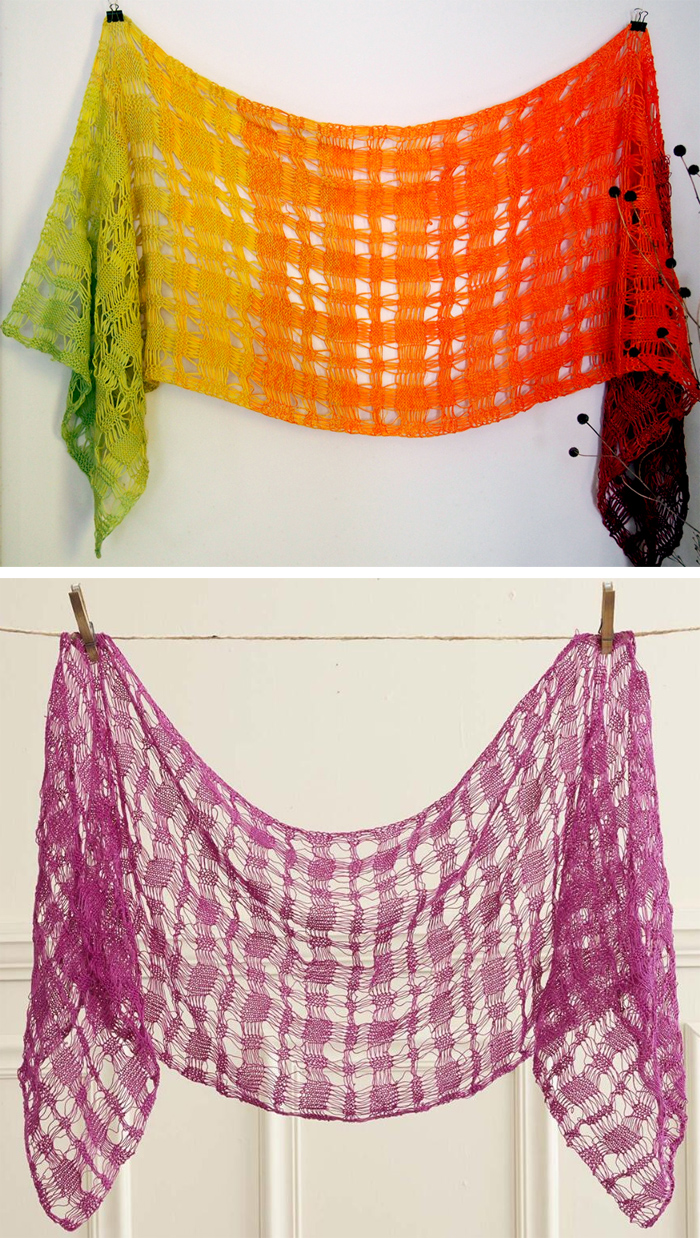 Caprino Wrap
This shawl is a re-imagining of plaid as lace created with dropped and extended stitches. 18" x 66" (46cm x 168cm) Designed by Rae Blackledge for Willow Yarns. Pictured project at top by andy02124.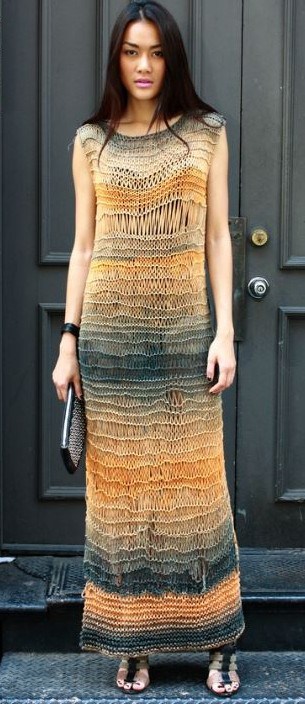 Brigitte Dress
Drop stitch is drop dead gorgeous in this dress designed by Waejong Kim for Loopy Mango. Sized for S-XL in three lengths, this pattern is just two panels and is perfect for multi color yarn.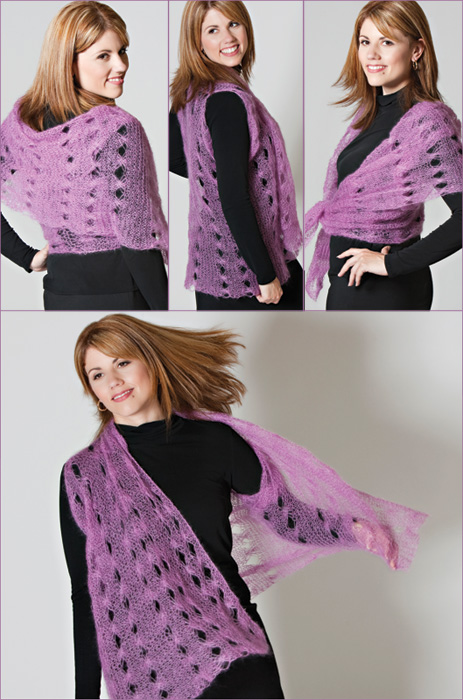 Crosshatch Vest
This versatile accessory by Robyn M. Schrager can be worn many different ways. Knit one rectangle in a drop-stitch cable and garter pattern and then make a clever Y-shaped seam to fashion the armholes. You can now wear the Crosshatch as a swing vest, a sleeveless jacket: with tuxedo cutaway styling, or draped with a handkerchief neckline and fastened at the shoulder with a shawl pin. Knit in lace yarn on large needles.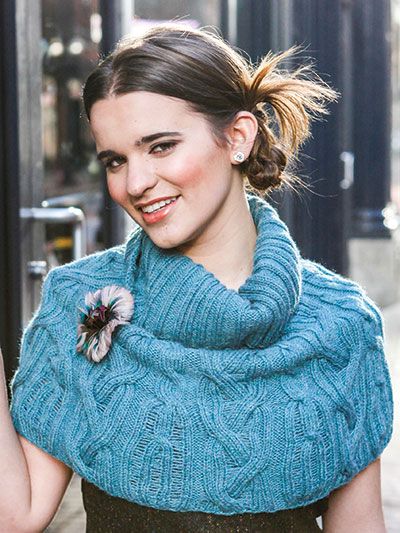 Cloos
This capelet designed by Norah Gaughan for Berroco Design is knit in the round with cables and dropped stitches.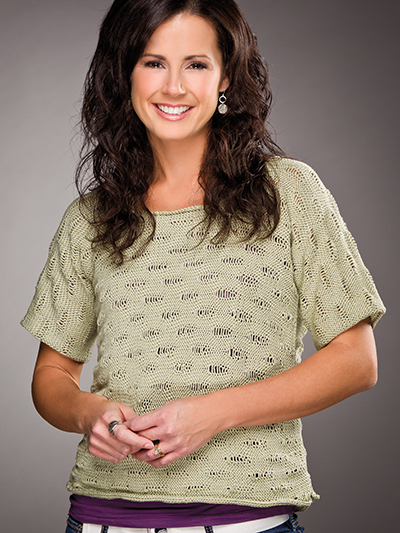 Vertical Drop Tee
Design by Kennita Tully. Top includes options for three-quarter- and full-length sleeves. Sizes S, M, L, XL, 2XL, 3XL

Seafoam Scarf
Joan Janes used garter stitch, yarnovers and dropped stitches to create an exquisite design that is easy to knit and perfect for multi-colored yarn.

Jasmine Scarf
Designed by Purl Soho, the chevrons in this textured scarf are created with wrapped and dropped stitches.
Patterns for Purchase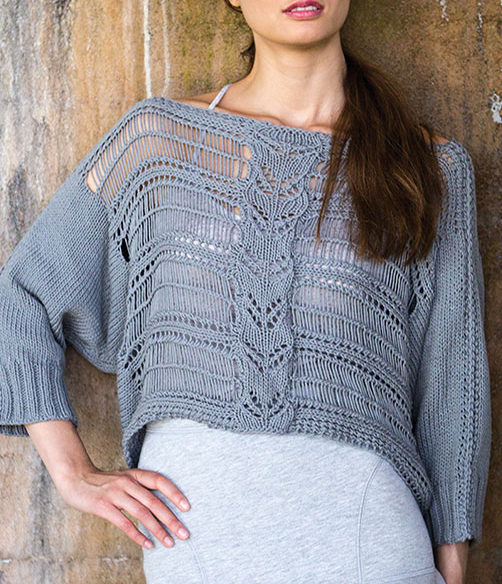 Burkina
Exquisite pullover top designed by Norah Gaughan featuring a central lace panel on a background of dropped stitches. To fit bust sizes 30(34-38-42-46-50-54)". One of the patterns in Berroco: Norah Gaughan Vol 16

Channel Cowl
Dropped stitches make variegated yarn pop in this circular cowl that converts into a capelet. One of the patterns in Creative Knitting Summer 2015.

Summer Skies Shrug
This lightweight bolero shrug is knit sideways, using dropped stitches between the cable and eyelet stitches to create extra spacing in an intricate knit fabric. Sizes: S (M, L, XL, 2XL) . Recommended yarn available on pattern page.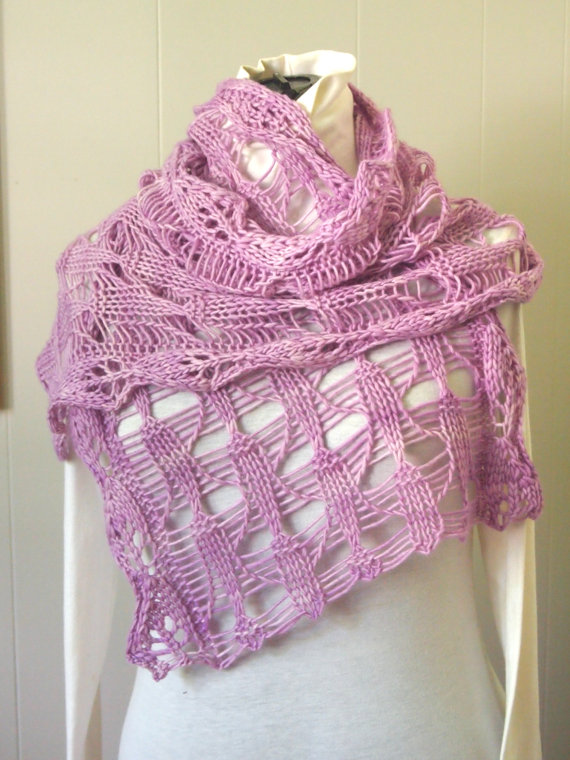 Coneflower Scarf
This one ball scarf by KnitChicGrace uses drop stitches to create a lacy floral design. Can easily be customized to make a shawl.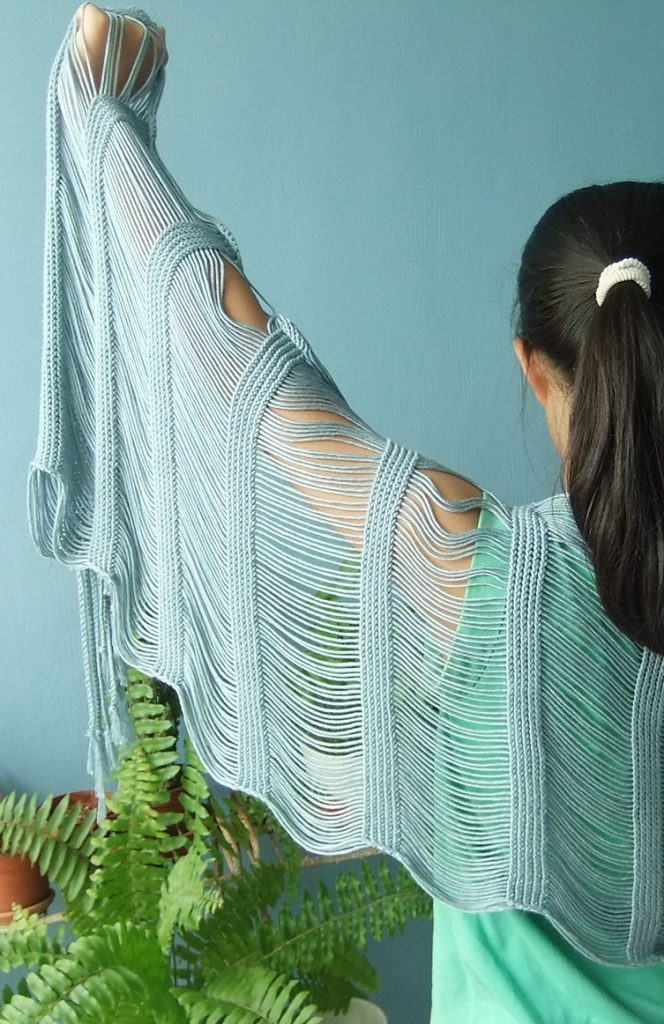 Phiaro Scarf
Katie Himmelberg designed this easy, flowing drop stitch scarf. Stitches are dropped during the bind-off to create the dropped-stitch sections and the fringe. Pictured project by stephccng. This is on the knitting patterns selected for Best of Knitscene.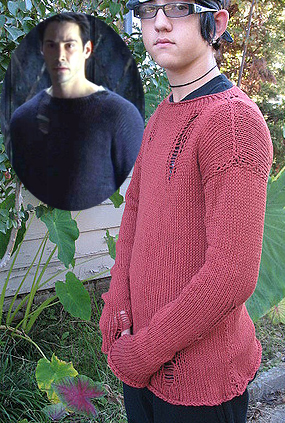 The Matrix 2: Neo's Sweater
Suss Cousins is a knitwear costume designer for movies. This pattern is the actual design that Neo wore in the second Matrix movie. To add the holes, use drop stitches. This is one of the designs in her book Hollywood Knits: Thirty Original Suss Designs Pictured project sansmerci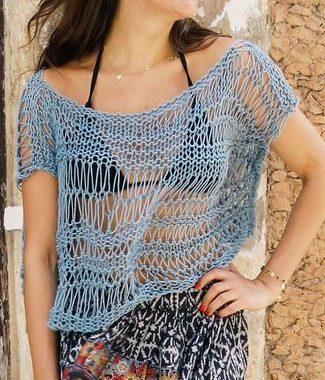 Drop Stitch Lace Beach Cover-Up
This is an easy knitting pattern by TwoOfWandsShope, and the techniques used are knit, purl, and yarn over. Sizes:Width: 22"/55.9cm (S/M) 26"/66cm (M/L)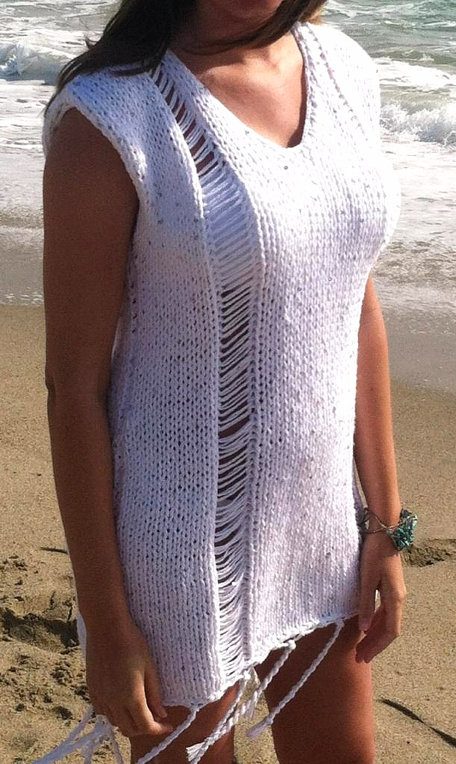 Adela Swimsuit Cover-Up
This top by CardiffBayHandknits features drop stitch panels and twisted fringe. Sized for misses and teens, XS/S (Chest sizes 32-34″) as shown on model, or M/L (Chest sizes 36-38″).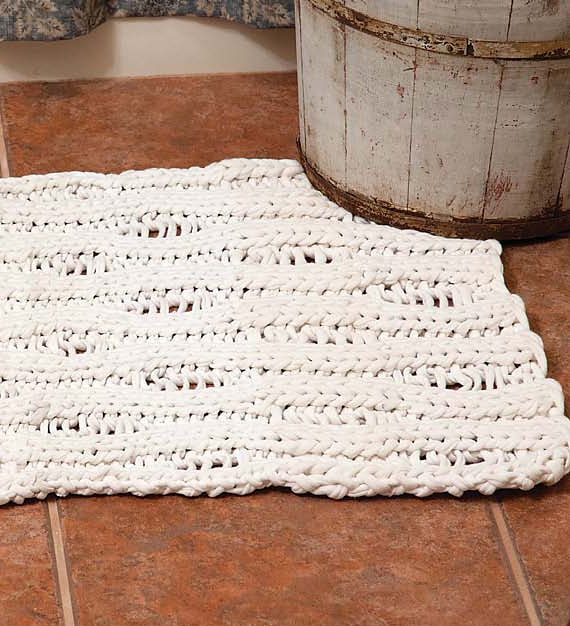 Denim Fluff Rug and Seafoam T-Shirt Rug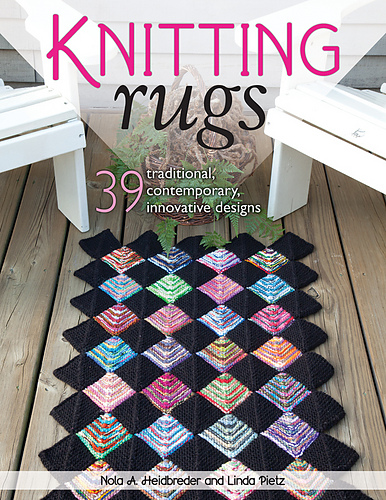 The Denim Fluff Rug is knit with old jeans cut in strips and yarn. The Seafoam Holey T-Shirt Rug is knit with t-shirt yarn in a classic drop stitch pattern. Two of the patterns in Knitting Rugs: 39 Traditional, Contemporary, Innovative Designs. Available in Kindle and Paperback (Prime available).

Drop Leaf Scarf
Drop stitches and a lace make this a uniquely exquisite scarf. You can knit in any weight of yarn.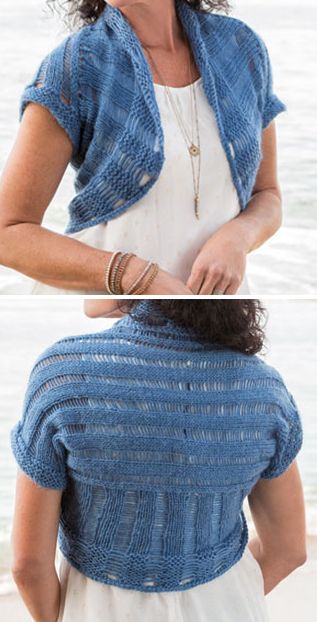 Pacifica Shrug
Lightweight shrug with drop stitch pattern. Uses just one skein of the recommended yarn for S, M, and L sizes. To fit: S (M, L, XL/2XL, 3XL/4XL)