Shoulder Cozy Knitting Patterns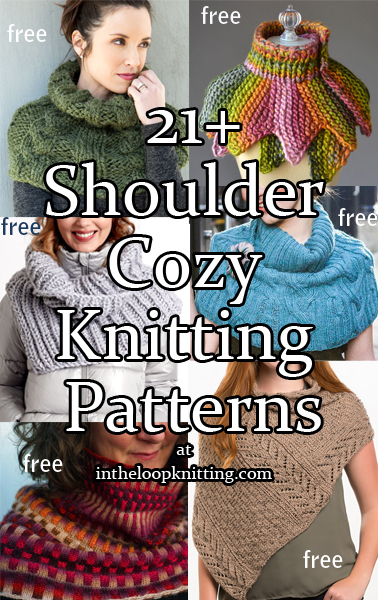 These shoulder cozies can drape over the shoulders for more warmth than smaller cowls but are lighter and more manageable than full ponchos. Many can convert easily from a shoulder wrap to a neck cowl by simply pulling up and off the shoulders.
To get the knitting patterns, scroll down the page to the individual pattern you want and click on the link to that pattern.
These patterns are not my designs but links to other designers who have generously shared their patterns. If you have questions about how to knit a specific pattern, please contact the designer directly.
All links on this site are for informational purposes, but please note that some links are to affiliate sellers that pay me a small commission on purchases.
Lush Cable Cowl
This shoulder cozy increases in circumference from the neck edge to fit over the shoulders. Quick knit in super bulky yarn.
Pine Sway Cowl
This shoulder cozy is knit with garter ridge stripes that lead into a slanting herringbone band in slipped stitch colorwork. Designed by Juju Vail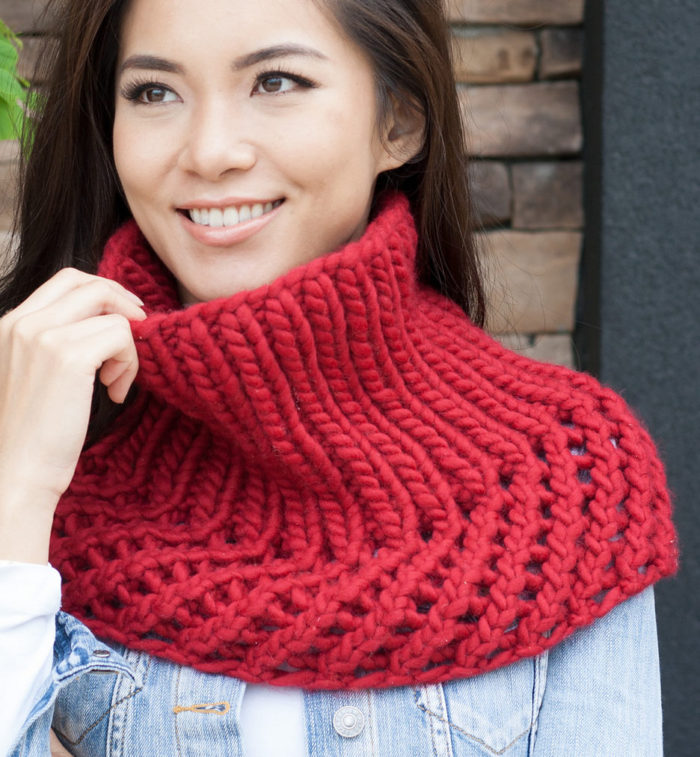 Ribbed Cowlet
This easy cowl/ shoulder cozy is knit in with 2 row repeat mesh and ribbing. Super Bulky yarn. Designed by Shannon Charles for Estelle Yarns. Rated easy by Ravelrers and the designer.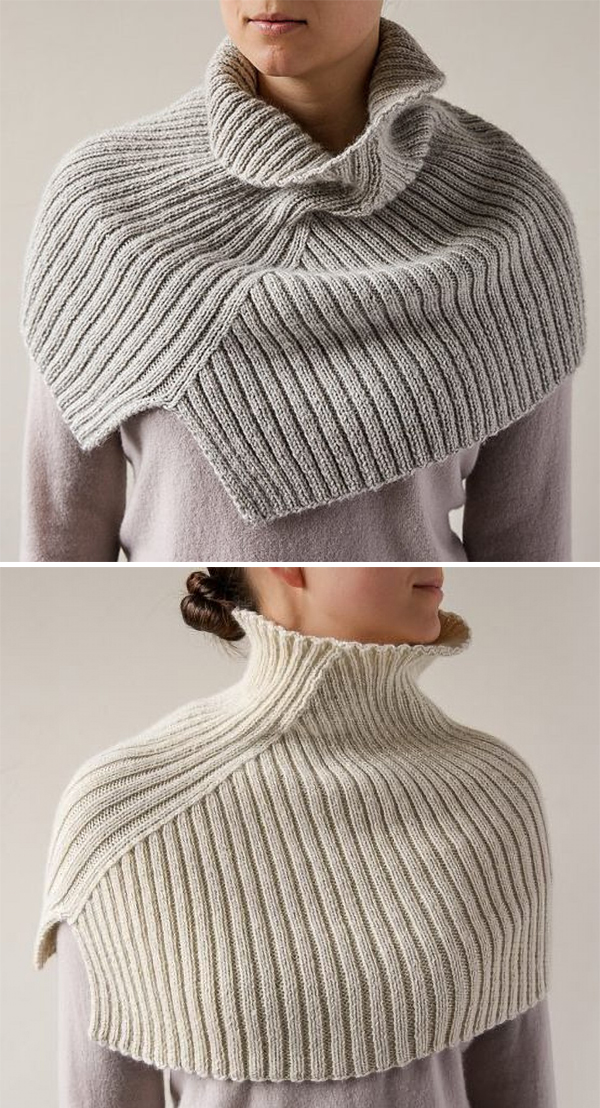 Converging Lines Cowl
This cowl/ shoulder cozy is knit in ribbing in sport weight yarn. Designed by Purl Soho
Trifecta
This cowl/ shoulder cover can be worn in variety of ways. Knit in ribbing in rounds in worsted weight yarn. Designed by Angela Juergens
Collar Cowl
This shoulder cozy has a ribbed collar for extra warmth. 3 sizes. Quick knit in bulky yarn. Designed by Universal Yarn
Cozy Polar Cowl
This shoulder cozy is knit flat in ribbing and seamed leaving an opening along shoulder. Approx. 20″ deep x 40″ around. Quick knit in super bulky yarn. I think this would be suitable for beginners comfortable with ribbing.
Soft Shoulder Cowl
This shoulder cozy cowl is knit in stockinette from the top down and bordered at the bottom with a crossed stitch. Perfect with multi-colored yarn. 2 sizes. Designed by Kris Basta – Kriskrafter, LLC. Pictured project by ohmay and yayalovestoknit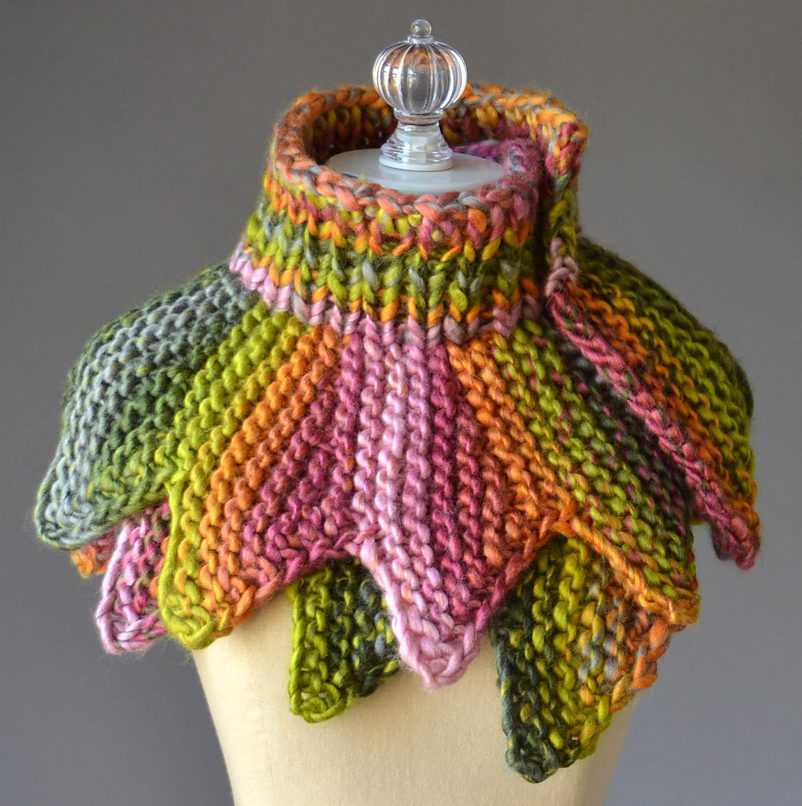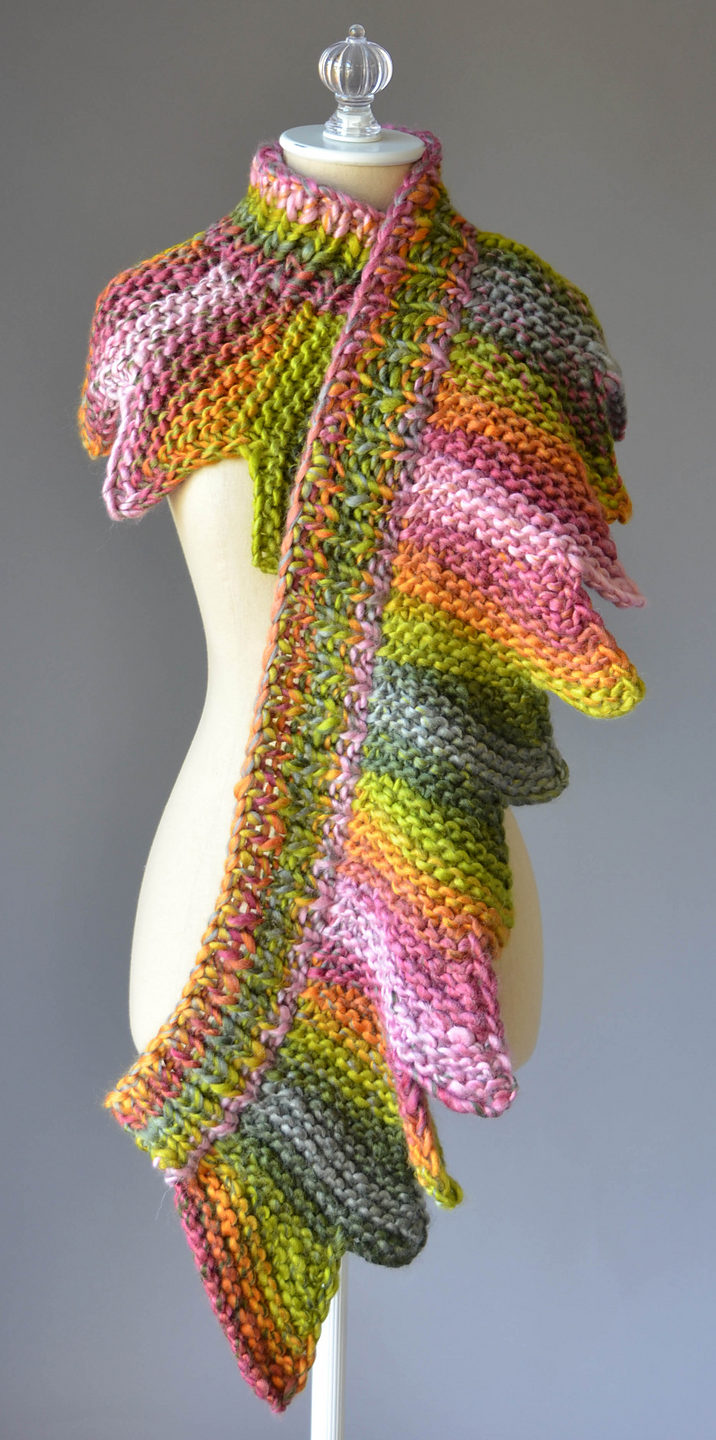 18 Petals Scarf
Wrap this versatile accessory around your neck for a unique layered shoulder cozy cowl, unwind to wear as a scarf, or drape over the shoulders for a shawl. The "petals" of this decorative edged accessory are shaped through short-rows and decreases. Knits up fast in a super bulky yarn. Perfect with multi-colored yarn. Designed by Amy Gunderson for Universal Yarn.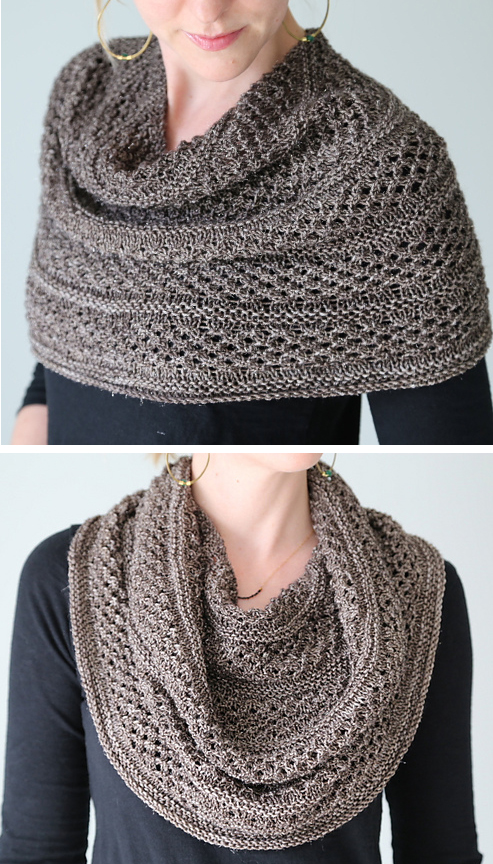 Starshower Cowl
This wrap can be worn as cowl, shoulder cozy, or shawl. Knit in star stitch that showcases variegated sock yarn. Designed by Hilary Smith Callis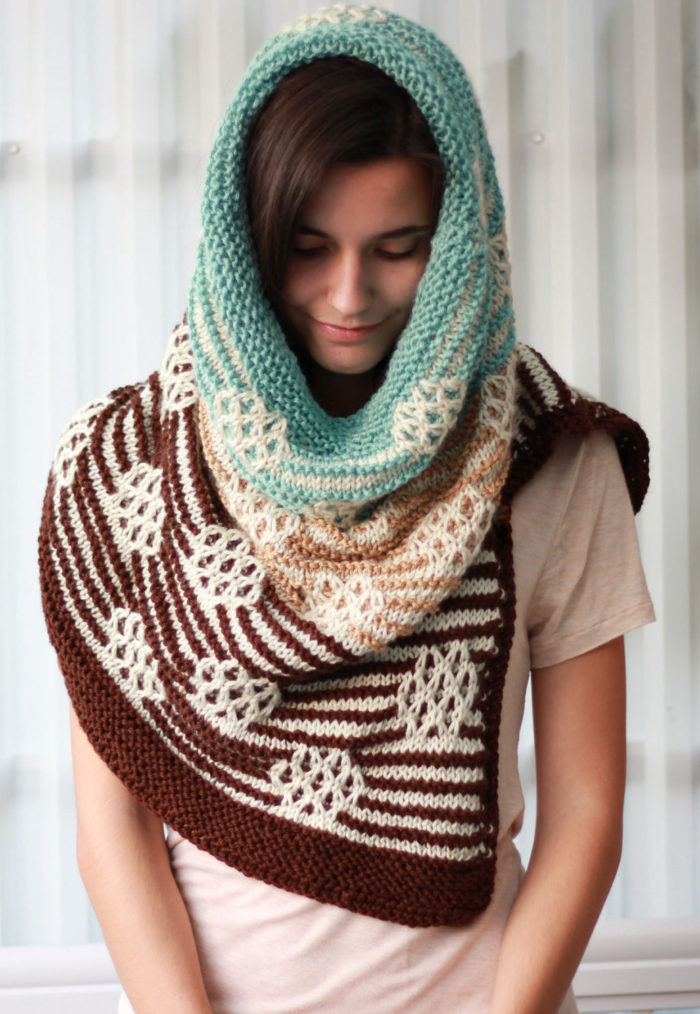 Serenity Cowl Shawl
Shoulder cozy with cowl than can be worn down as a neckwarmer or up as a hood. Designs are knit with easy slip stitch colorwork. Sizes S/M/L. Available in English and French  Designed by The Easy Design
Ribbed Hugger Cowl
Easy versatile wrap that can be worn many ways knit in garter stitch and suitable for a beginner according to the designer. Quick knit in bulky weight yarn  Designed by CharmedFibers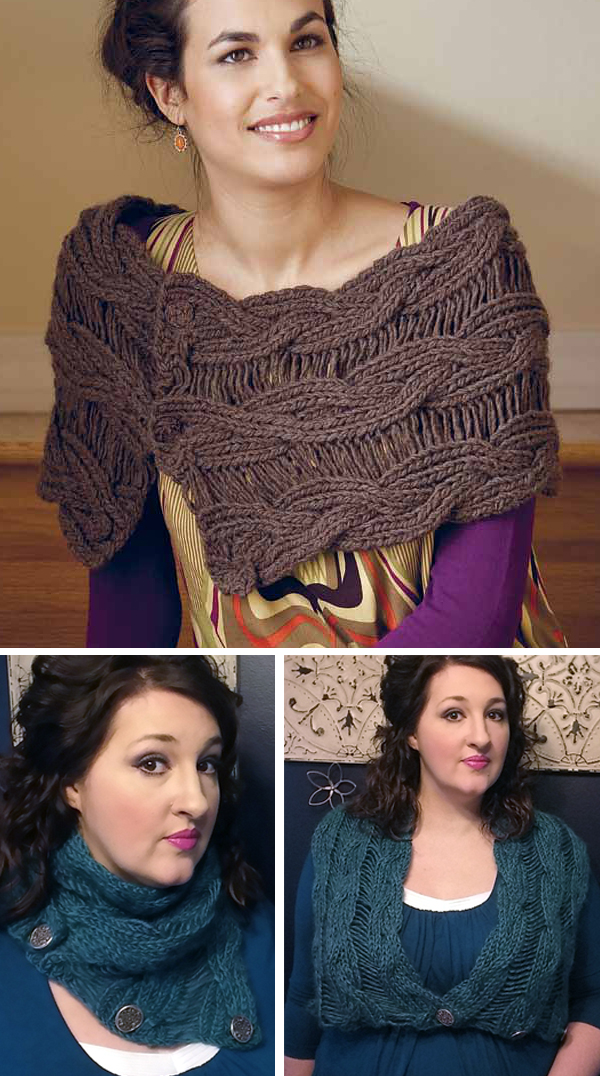 Echo Reversible Drop-Stitch Mobius
This stunning wrap can be worn as a cowl, scarf, shoulder cozy, shawl, and more. Knit with reversible cables and drop stitches in bulky yarn. Designed by Teresa Kristin Omdahl. Pictured project by LollyJoy. One of the 22 patterns in Interweave Knits, Spring 2011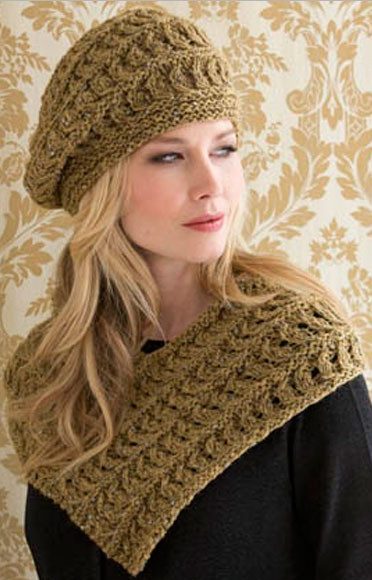 Madeleine Cowl and Beret Set
Matching lace hat and shoulder cozy cowl. Quick knit in bulky yarn. Designed by Teresa Chorzepa

Capra Cowl Braided Shoulder Warmer
This knit pattern includes 3 stylish cowls: a roll-over collar style, a neckwarmer and a slouch style.  DK weight yarn  Designed by daydreamerknits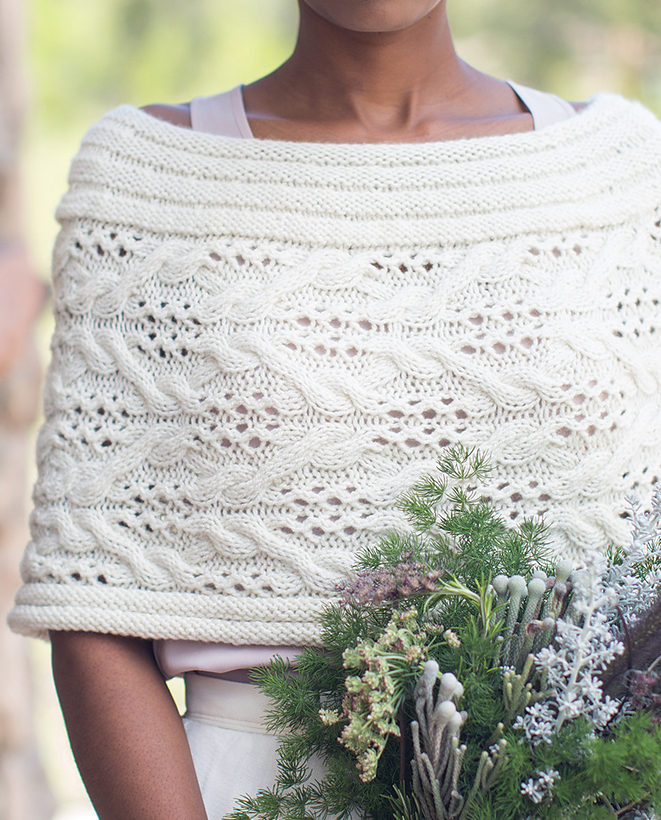 Solstice Capelet
Graceful pullover capelet in cables and lace. Designed by Monika Sirna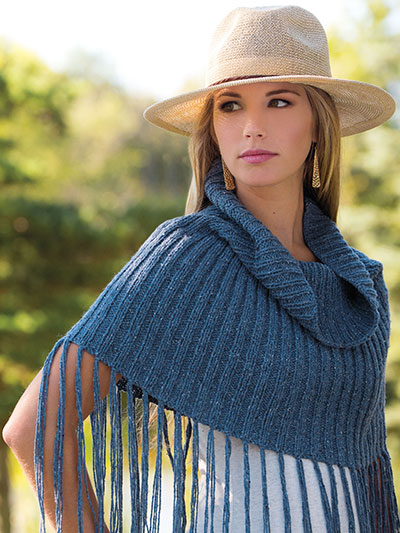 On the Fringes Capelet Poncho
Easy short poncho features a cowl neck and fringe

Channel Cowl
Dropped stitches make variegated yarn pop in this circular cowl that converts into a capelet.
Terry Matz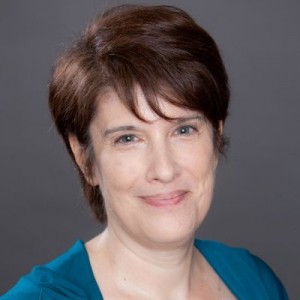 Terry is a knitting late-bloomer, learning to knit as an adult from Internet tutorials, because she wanted a craft that was useful, fun, and portable. Knitting hats for cancer patients inspired her to design her own patterns—available for free at her blog, intheloopknitting.com. Terry met her husband Ken at a science fiction convention and moved to the Kansas City area to be with him more than 30 years ago. Terry supports her yarn stash by creating websites and other digital media. Terry firmly believes in Knitting in Public—it's a great conversation starter!