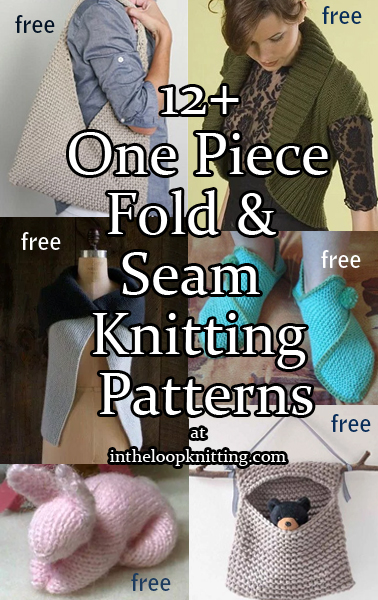 What could be simpler than these quick projects? Just as in origami, all you have to do is knit one flat piece, in most cases just a rectangle or square, then fold it into a bag, a shrug, a toy and more. Let your creativity go by trying different knitting stitches for the rectangle.
To get the knitting patterns, scroll down the page to the individual pattern you want and click on the link to that pattern.
These patterns are not my designs but links to other designers who have generously shared their patterns. If you have questions about how to knit a specific pattern, please contact the designer directly.
All links on this site are for informational purposes, but please note that some links are to affiliate sellers that pay me a small commission on purchases.
Free Patterns

Foldini Bag
Just knit a rectangle in 2 color brioche, then fold it and sew the edges - and you have a colorful new tote. Syncopated Two-Color Brioche is used for a thick and reversible fabric. Designed by Mareike Meyer. Aran weight yarn.

Cable Cross Shrug
Knit in one piece that is seamed at the ends and across the back to form arm holes. Designed by Willow Yarns. Sizes: Small (Medium, Large)

Home Slippers
These slippers are created by ingeniously folding a flat piece of knitting. The pattern is mostly instructions translated from Russian.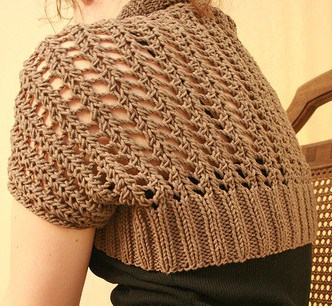 Ribbed Lace Bolero
Easy shrug by Kelly Maher is a rectangle that is knit and then seamed to form the shrug shape.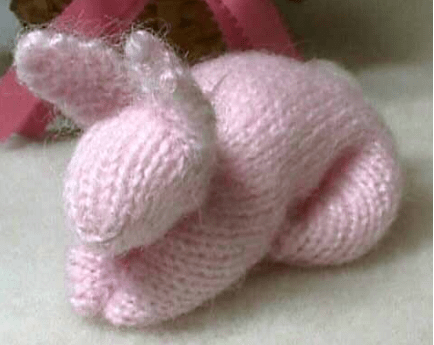 Knitted Square Bunny
Heartstrings Fiber Arts created this clever pattern to make a bunny out of a square piece of knitting.

Folded Rectangle Shrug
Easiest shrug ever by Echtstudio! Although the original post is not in English, the photo tutorial is clear and you can, of course, translate the page through Google. The basic instructions are
Knit an elongated rectangle. Use any stitch pattern you want.
To determine the length of the shrug you measure from your neck to where you want the end of the shrug. Their example is 70 x 85cm.
Fold the piece in half and sew the sides with a darning needle leaving at least one-third open for armholes. That's it! There are also instructions for adding longer sleeves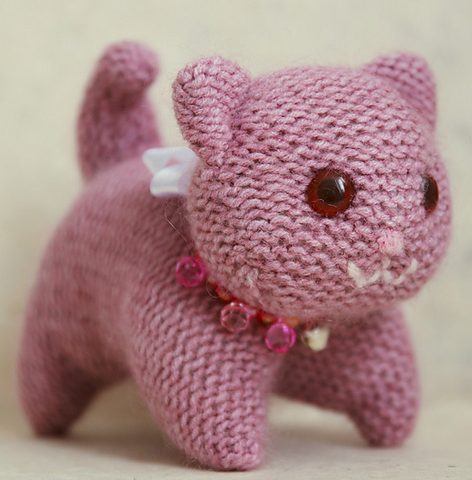 Knitted Kitty
A folded knitted square is all you need to make the cat body in Lillian's ingenious pattern. The hat and tail are knitted flat and seamed. Pictured project by abryss

Tolt Folded Bag
Veronika Jobe created this clever pattern that creates a tote out of a folded rectangle of knitting. Handle is optional. Two versions are included for garter stitch and stockinette, but you can use any stitch you want. The pictured garter stitch version uses ribbon yarn.

Shawl Collar Chevron Shrug
Amanda Berka's design is another knit rectangle folded and sewn to form a shrug. Her design features a ribbed shawl collar and a chevron pattern in the back.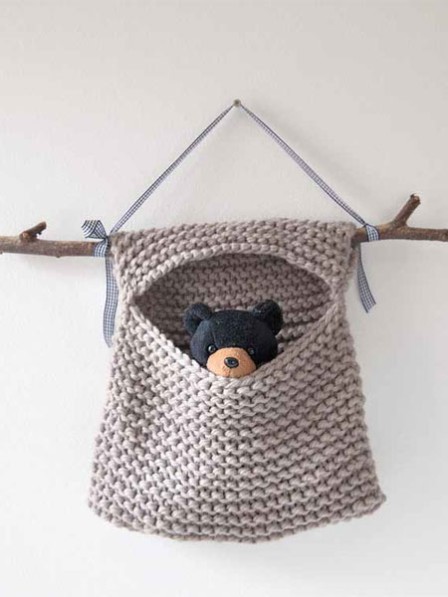 Toy Hideaway Hanging Bag
This adorable pattern is knit in garter stitch and folded around a stick or a branch. The pattern is in German but you can translate by opening the page in the Chrome browser, right clicking on the text on the page and selecting Translate to English. However, you can probably easily figure it out without translation. I'm not entirely sure who designed the pattern. It is posted by Tina on the site Mango, but the poster refers to a book by Nina Schweisgut

Sideways Garter Vest
Designed by Purl Soho, this versatile vest / wrap is a rectangle of garter stitch with two well-placed slits for armholes, nothing could be simpler to make. Can be worn many different ways, with the collar up or down.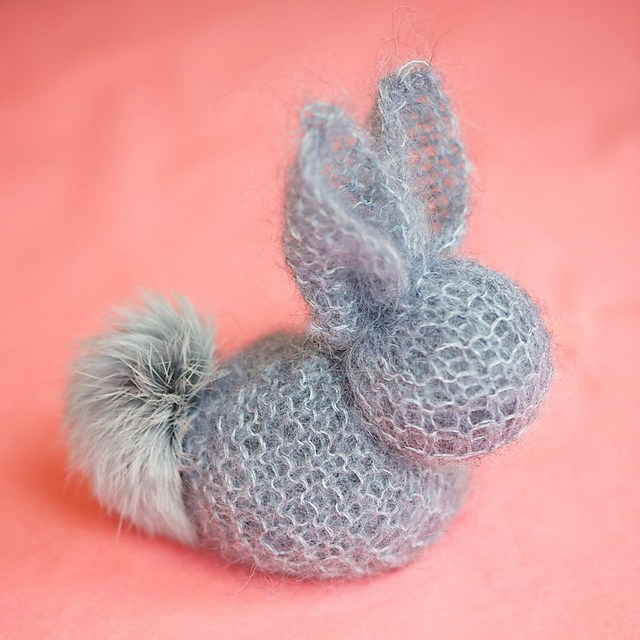 Another Knit Square Bunny
Here is another version of a bunny created by knitting a single square, designed by Annette of Lebenslustiger.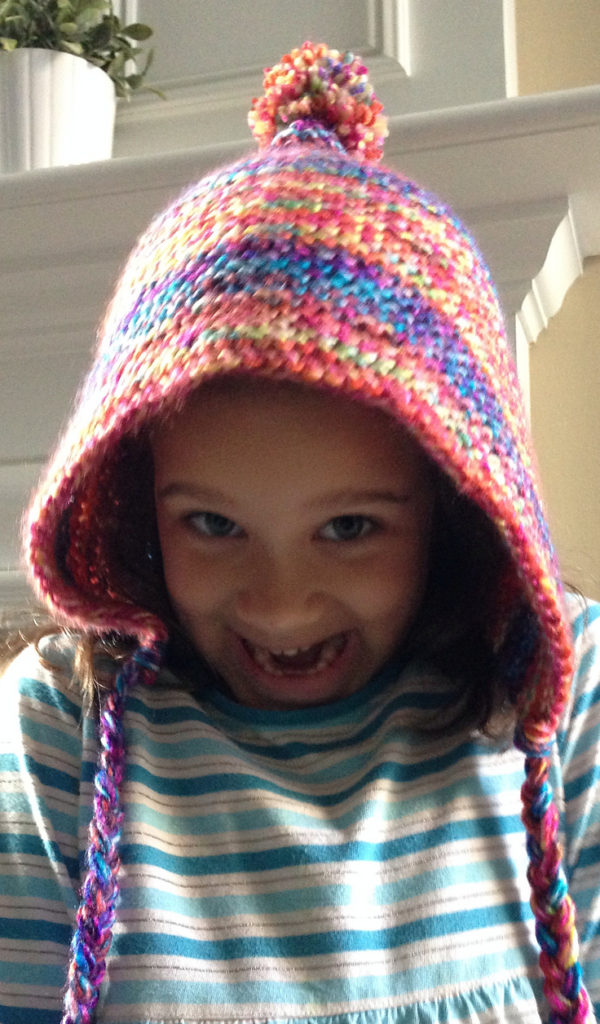 Hood Hat
Courtney Spainhower's hood couldn't be easier. Just knit a rectangle in garter stitch and seam according to her instructions. Pictured project by fluffymoonhair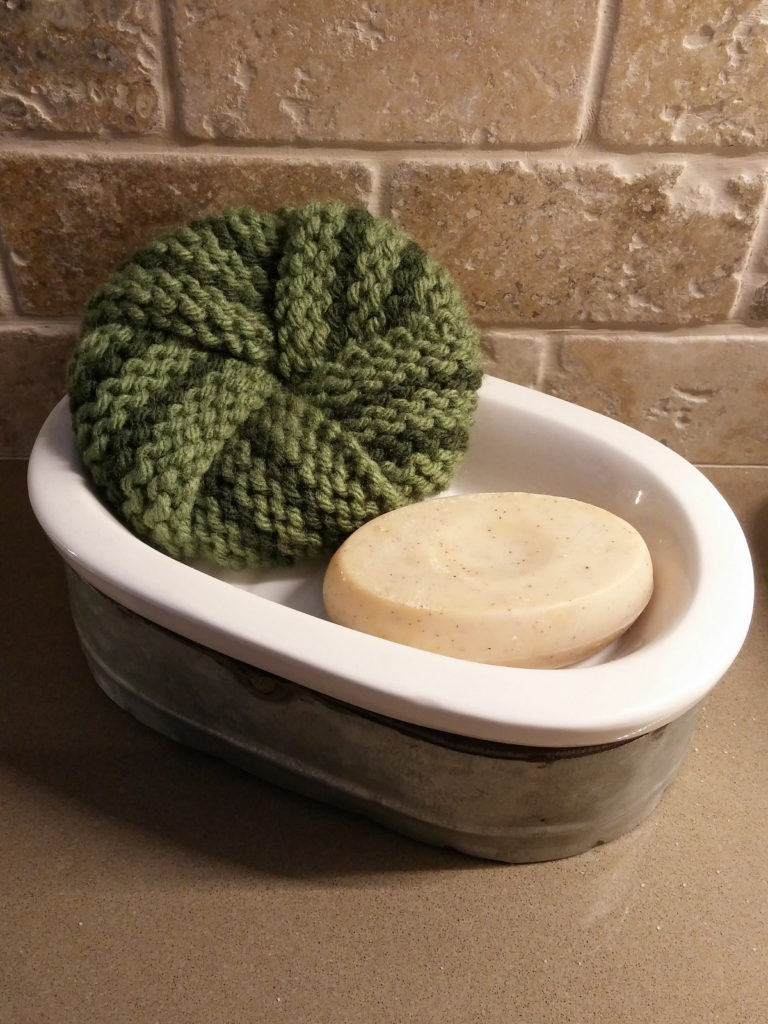 Tawashi Knot
This Japanese-style dish scrubber is constructed of a long strip that is folded origami-style into this puff. Great stash buster! Designed by Marte Fagervik Pictured project by shalond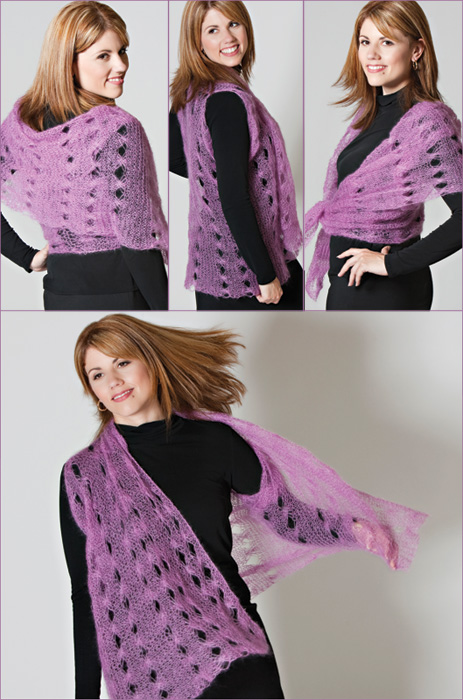 Crosshatch Vest
This versatile accessory by Robyn M. Schrager can be worn many different ways. Knit one rectangle in a drop-stitch cable and garter pattern and then make a clever Y-shaped seam to fashion the armholes. You can now wear the Crosshatch as a swing vest, a sleeveless jacket: with tuxedo cutaway styling, or draped with a handkerchief neckline and fastened at the shoulder with a shawl pin. Knit in lace yarn on large needles.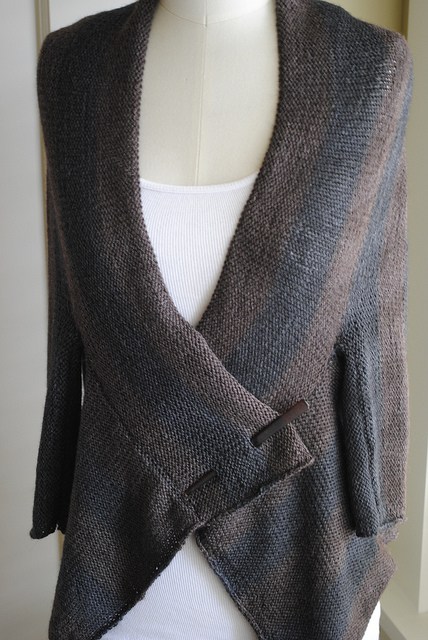 Triple Fold Striped Wrap Cardigan
This ingenious cardigan by Monica Welle Brown is made from one rectangle (with strategic bind-offs and cast-ons) and then folded and seamed into this cardigan.
Patterns for Purchase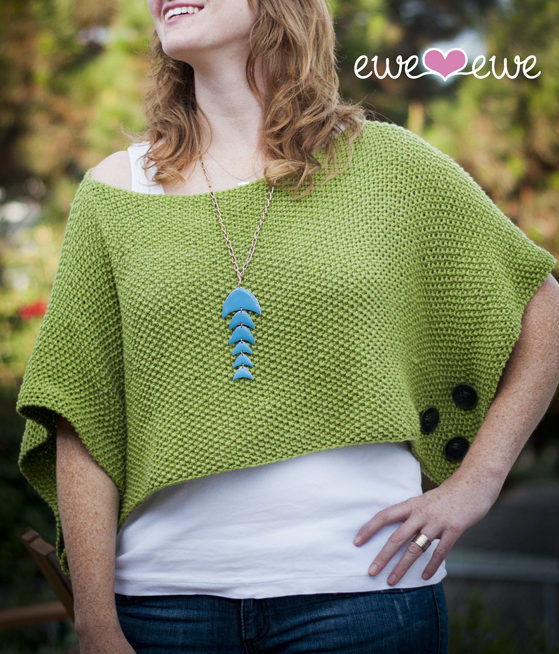 Contessa Cover-Up
If you can knit, purl, cast on and bind off, you can knit this easy short sleeve cropped pullover top in seed stitch with buttons to close sleeves and define the shape. One size fits most – 15″ high x 33″ wide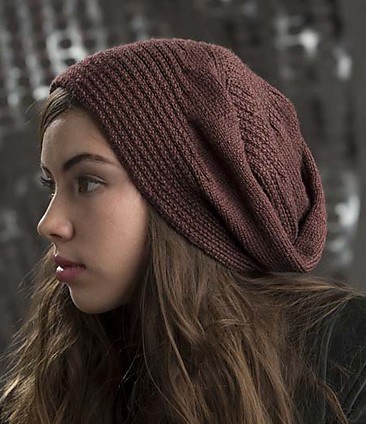 Envelope Hat
This ingenious hat is made from a scarf-like length of knitting. After binding off, the two ends are brought across one another and stitched to the center back of the crown.

Combination Sweater and Cowl
This ingenious convertible pattern takes a strip of flat knitting like a scarf and with clever assembly makes a versatile accessory.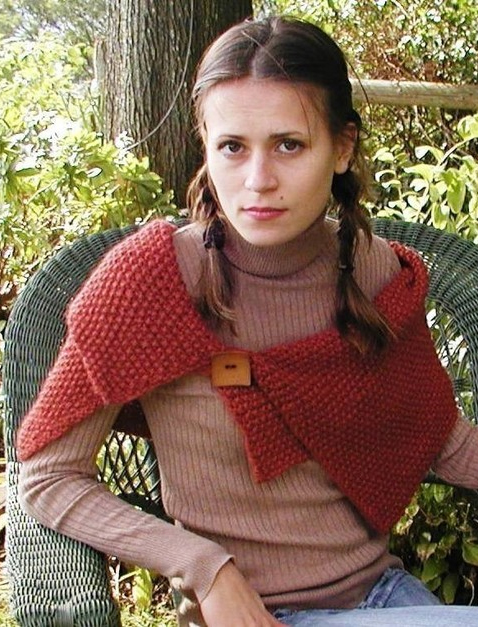 Seed Stitch Wrap
The shoulder wrap by Sarah Montie is a simple rectangle knit in seed stitch and then buttoned in such a way to drape beautifully over your shoulders in layers.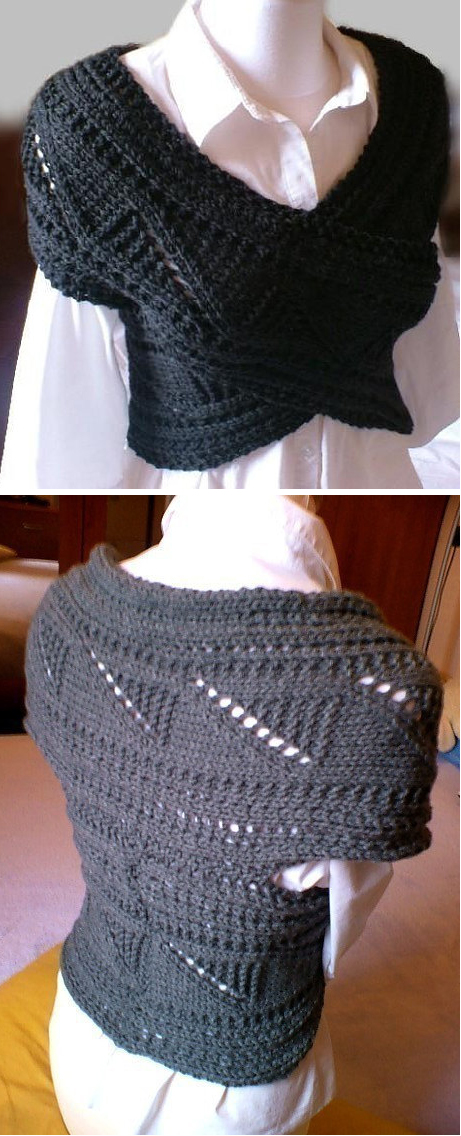 Pilland Sweater Vest
This ingenious convertible pattern takes a strip of flat knitting like a scarf and with clever assembly makes a versatile accessory.