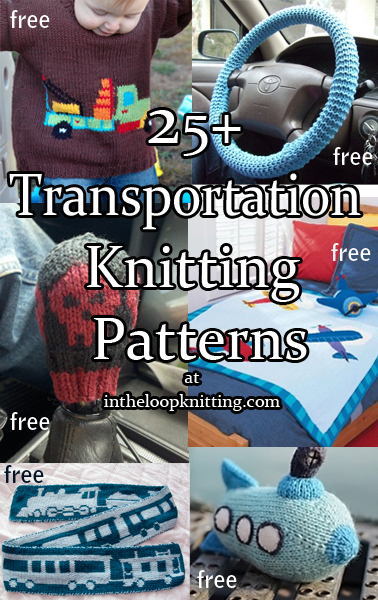 Knitting patterns featuring cars, trains, planes, trucks, submarines, blimps, and other vehicles. Also projects for use in traveling.
To get the knitting patterns, scroll down the page to the individual pattern you want and click on the link to that pattern.
These patterns are not my designs but links to other designers who have generously shared their patterns. If you have questions about how to knit a specific pattern, please contact the designer directly.
All links on this site are for informational purposes, but please note that some links are to affiliate sellers that pay me a small commission on purchases.
Free Patterns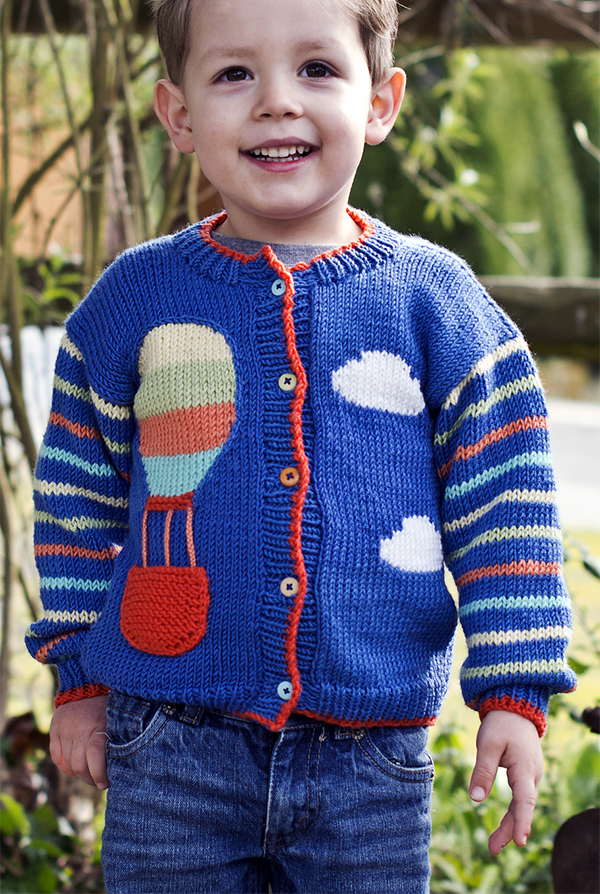 Up Up And Away Sweater
A hot air balloon and clouds in intarsia take flight on this pullover for children. The balloon basket is also a pocket! Sizes Child's 2 (4, 6). Designed by Amy Bahrt. Worsted weight yarn.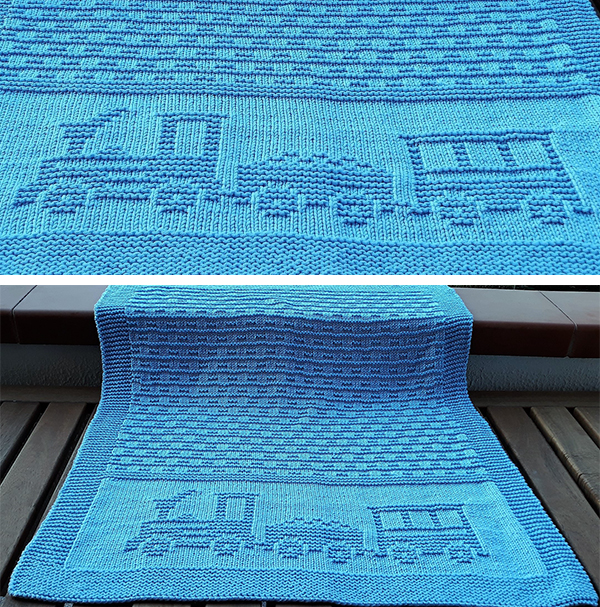 Choo Choo Baby Blanket
Baby blanket with knit and purl train and textured stitch background. Designed by Filomena Lanzara. DK weight yarn. Available in English and Italian as Copertina Ciuf-Ciuf.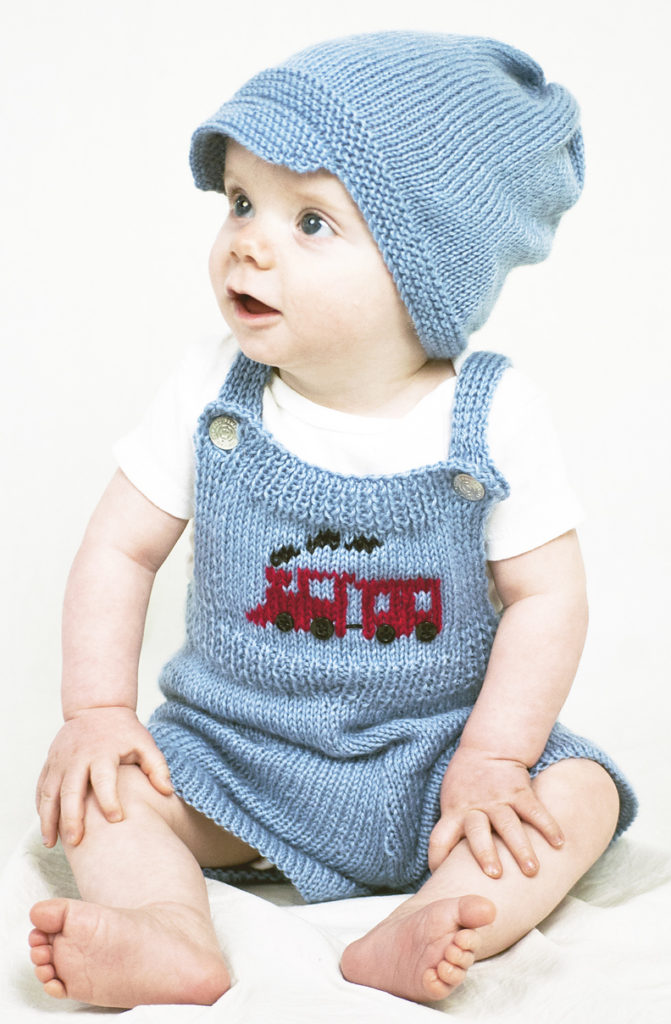 Train Conductor Baby Overalls and Hat
Adorable train inspired baby set with train motif. Sizes 3 mo, 6 mo, 12 mo Designed by Susie Bonell for Cascade Yarns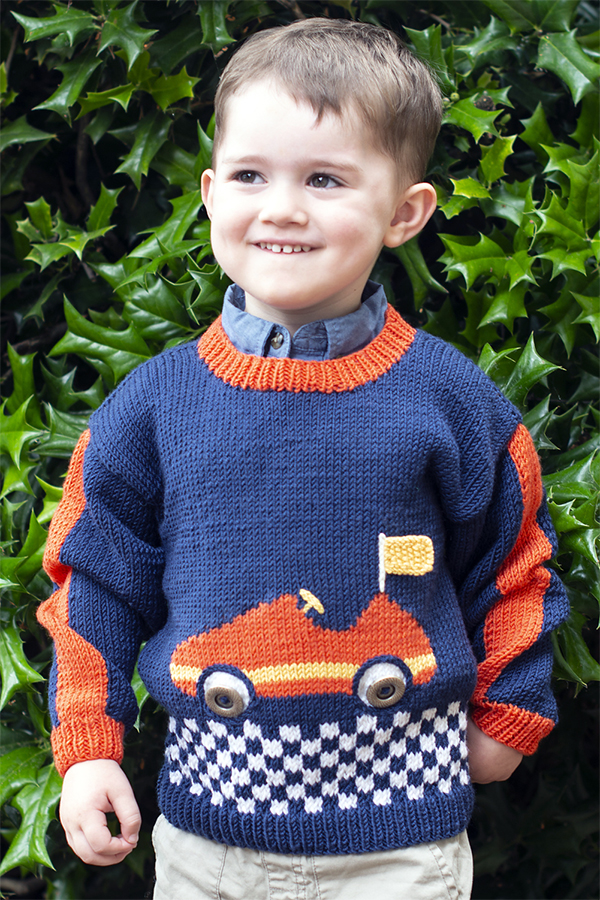 Off To The Races Sweater
Pullover for children with intarsia race car and checkered flag border. Sizes Child's 2 (4, 6). Designed by Amy Bahrt. Worsted weight yarn.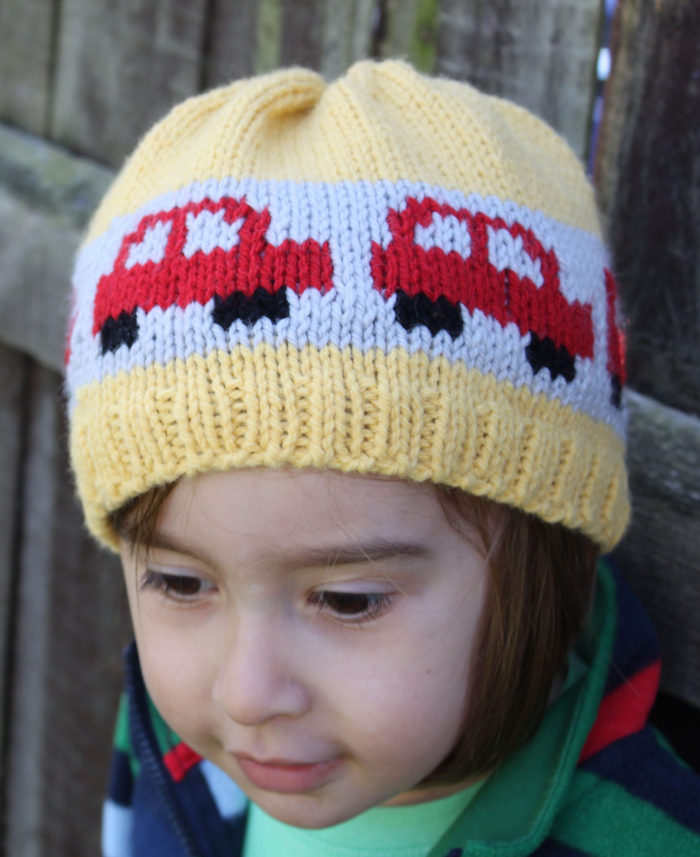 Little Beep Hat
Simple beanie with a fun stranded colourwork band of bright cars driving all around the hat. Designed by Claire Slade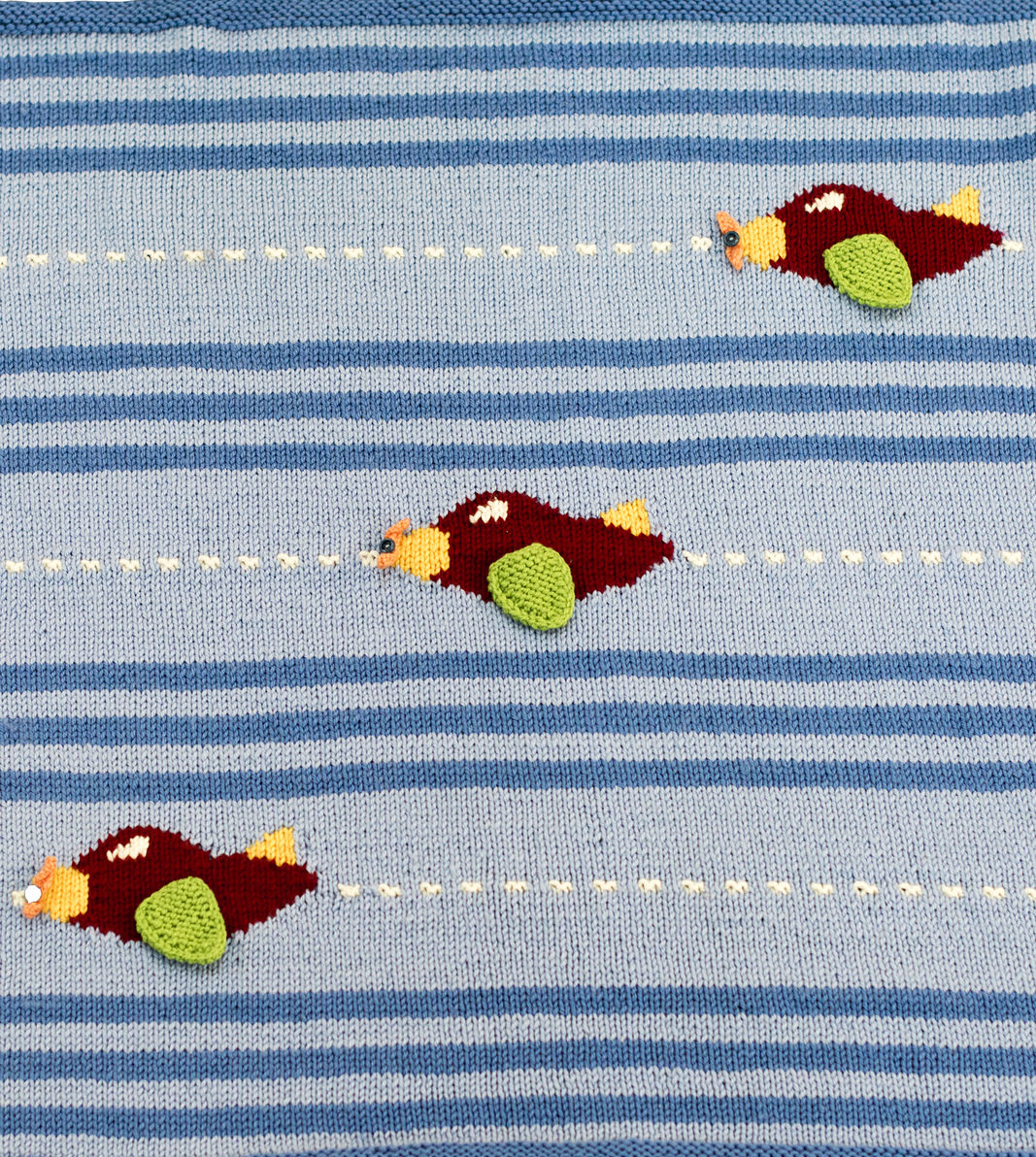 Flight Pattern Blanket
Baby blanket with airplanes in flight worked with stripes, intarsia, and appliqued knit pieces. 28" wide x 30" long. Designed by Amy Bahrt for Cascade Yarns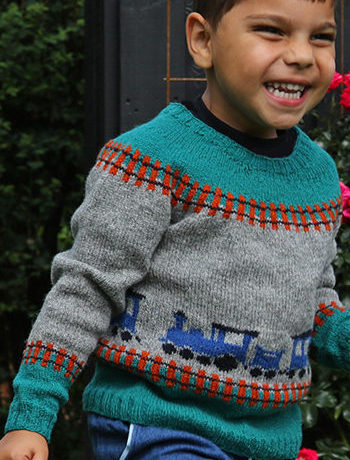 Train Sweater
Child's long-sleeved pullover with train and tracks motifs. Sizes 2 yrs/92 cl (4 yrs /104 cl) 6 yrs /116 cl (8 yrs /128 cl) 10 yrs /140 cl. Futfut designed by Karen S. Lauger for Filcolana. Available in English, Danish, and German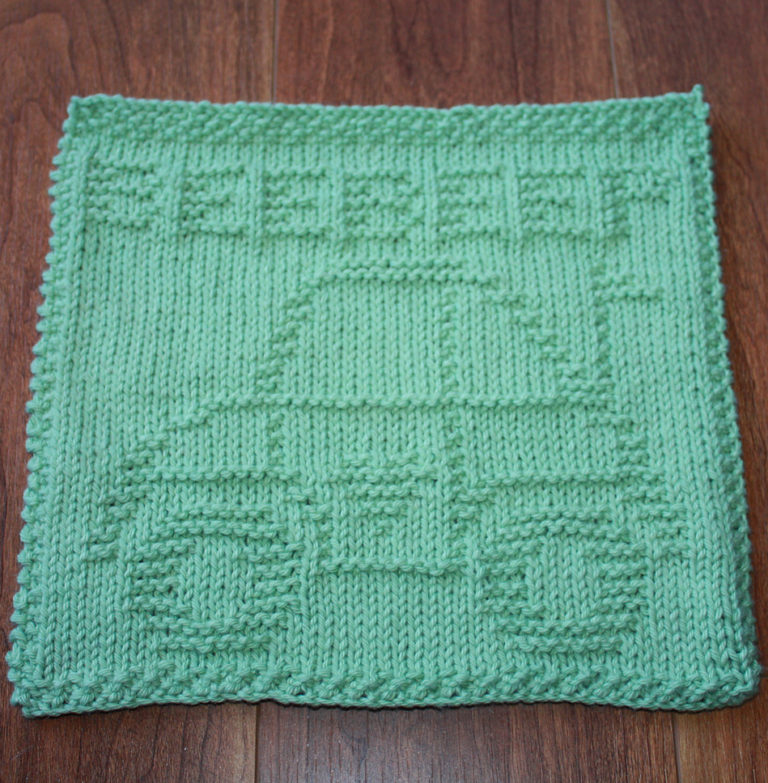 Luv Bug Dish Cloth
This dish or wash cloth with a car motif comes is 9″x8″. Designed by Rachel van Schie. Pictured project by eyegirl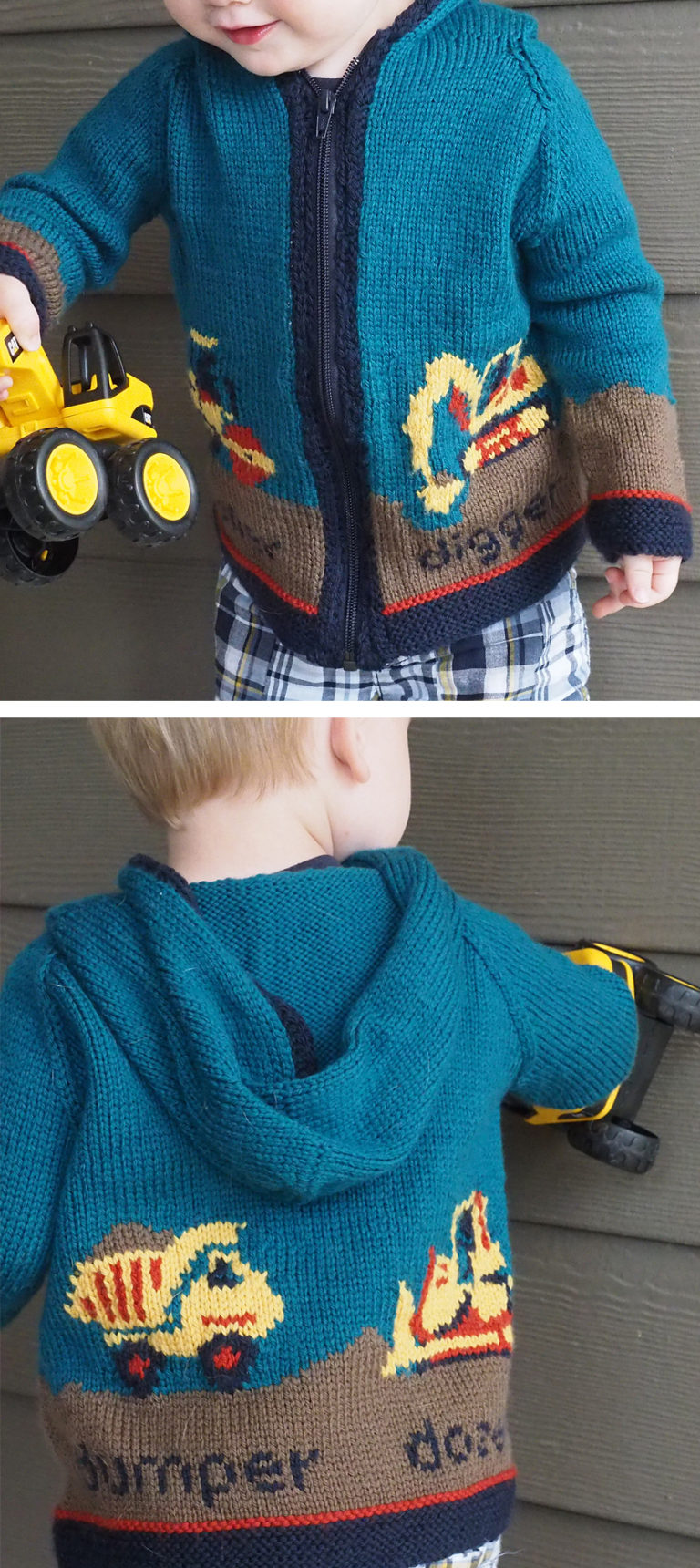 Digger Jacket
Hooded cardigan sweater with colorwork motifs for all the construction vehicles children love – digger, roller, bulldozer, and dump truck. Sizes 3-5 yrs. Designed by by Sam Godden. Pictured project by prairiegrl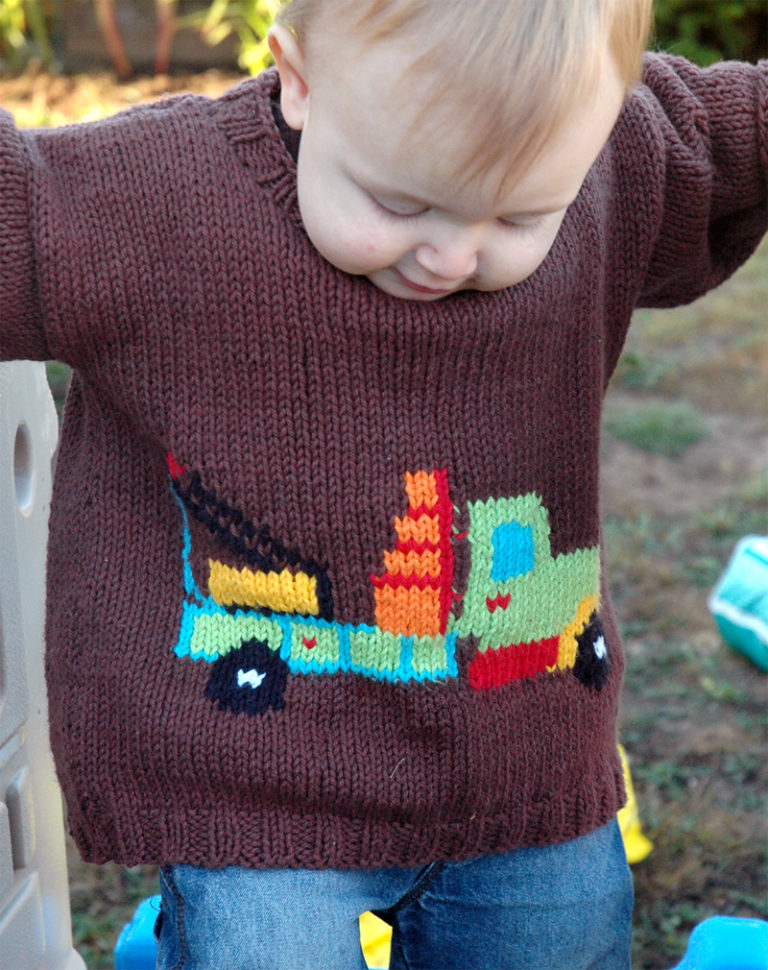 Truck Sweater
Baby and child's pullover with detailed truck motif. Sizes Chest 24″-30″, 2-8. Designed by Tonia Barry. Pictured project by StephB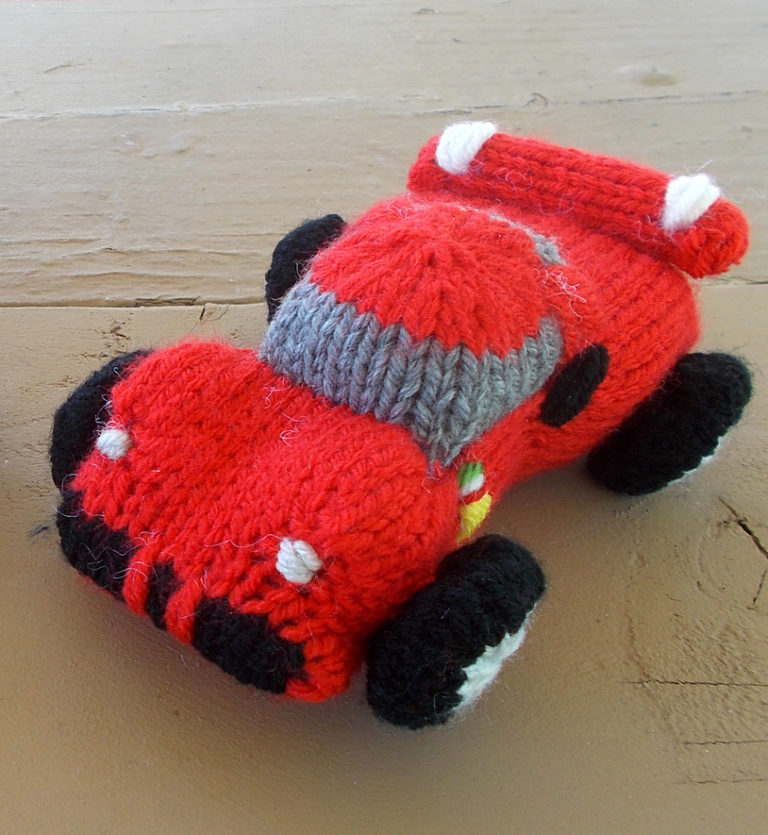 Sports Car Toy
Knit a Ferrari-style model of a sports/race car stuffed toy. When knitted with worsted weight yarn and US size 6 needles, it measures about 6 inches long, but the gauge is not important. Designed by Ilana Marks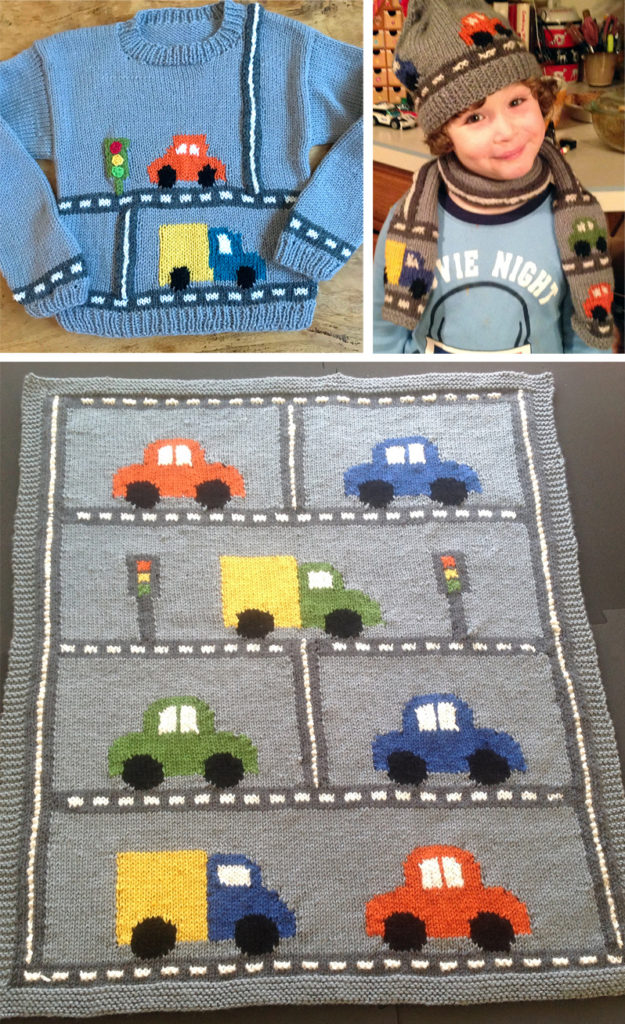 Car Blanket, Sweater, Hat, and Scarf
Collection of free Traffic patterns worked in one piece in intarsia and stranded colorwork by Amy Bahrt for Lion Brand. Pullover sweater is sized for 2,4,6. Pictured hat and scarf by mandaraqs. Pictured afghan by GGknitsalot. Pictured sweater by terukosan.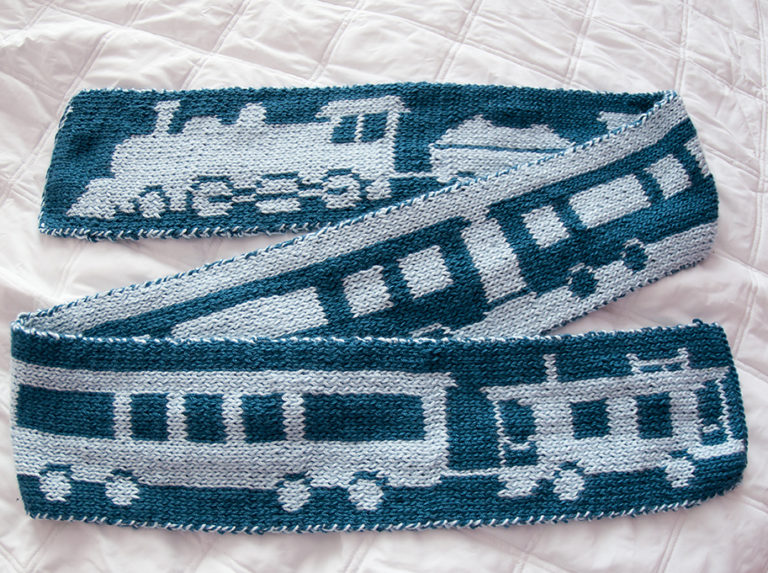 Chugga Chugga
Double knit scarf with train motifs that can be used with other projects such as afghans, sweaters, and more. Designed by Laura Chamberlain. Pictured project by rnmpinky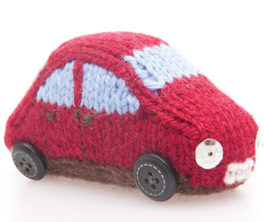 Miniature Car Toy
Approximately 3cm/1 1/4 in high, 8cm/3 in long, 4cm/1 1/2 in deep. Designed for The Yarn Loop.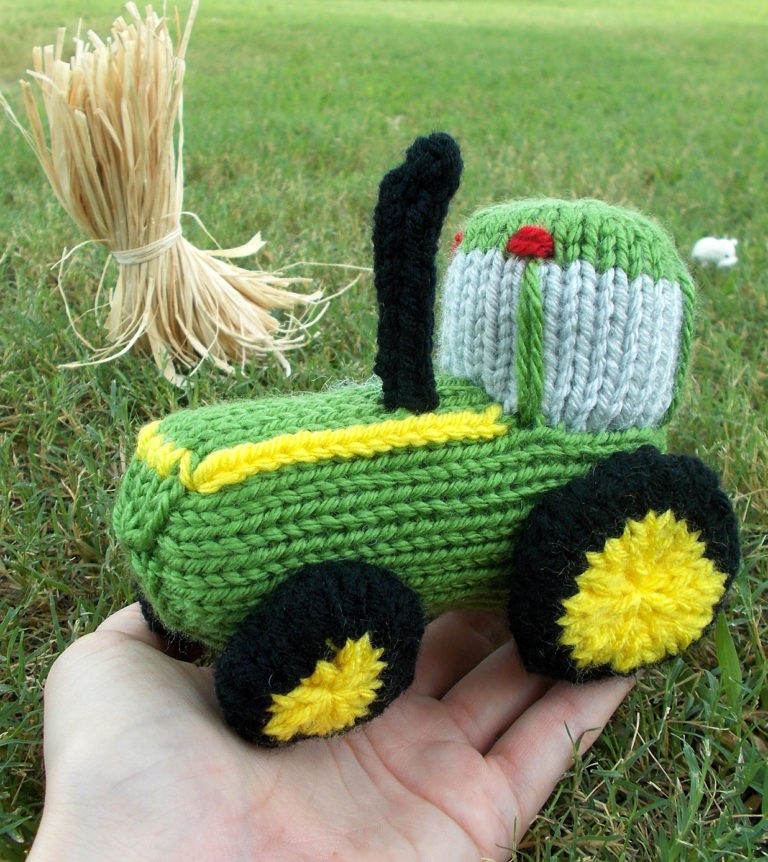 Tractor Toy
When knitted with worsted weight yarn and US Size 6 needles, this tractor softie measures about 5 inches long. Designed by Ilana Marks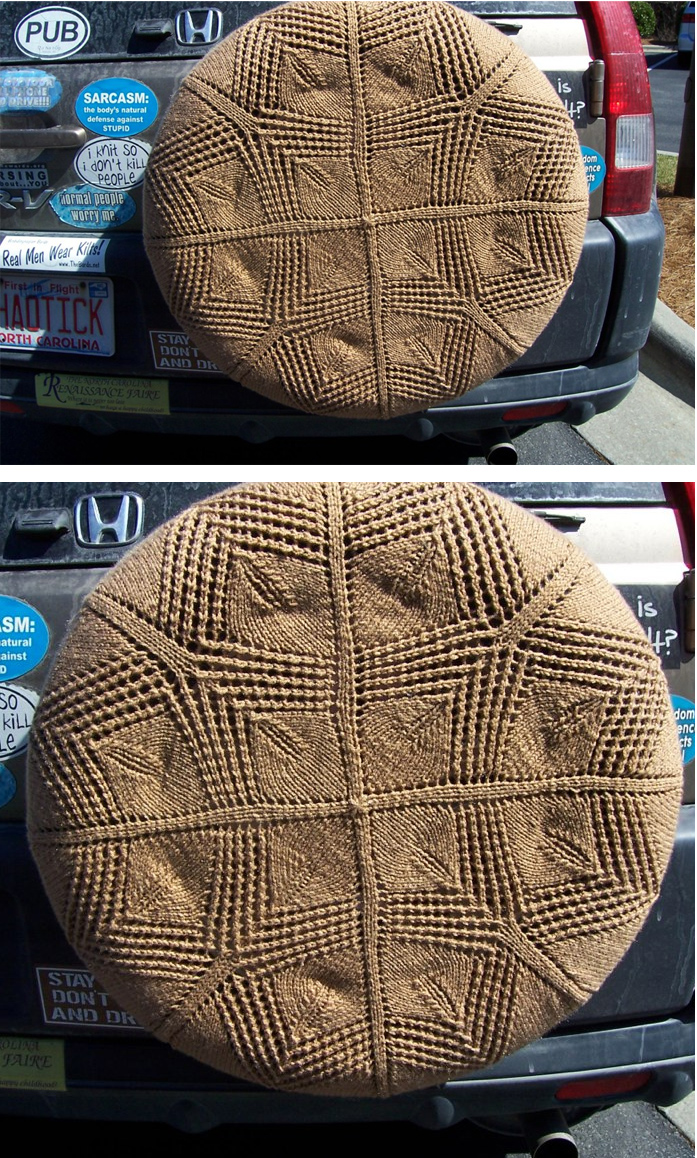 Templeton Square Tire Cozy
Cover fits 24″ diameter spare tire. Designed by Karen Vradelis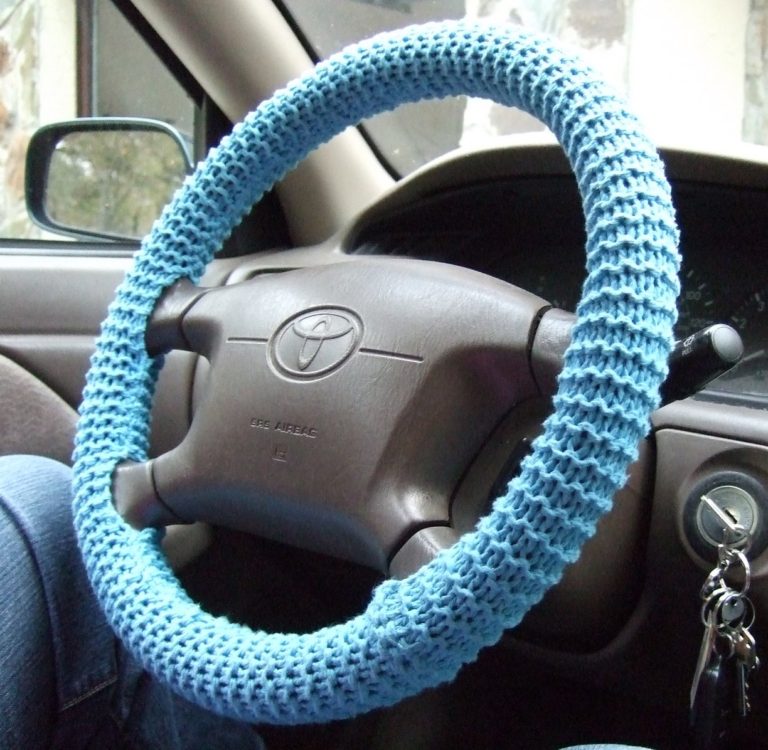 Simple Steering Wheel Cover
An easy cozy that can be adapted to fit any size steering wheel. Knit with two skeins of cotton yarn. Designed by Rachael Stern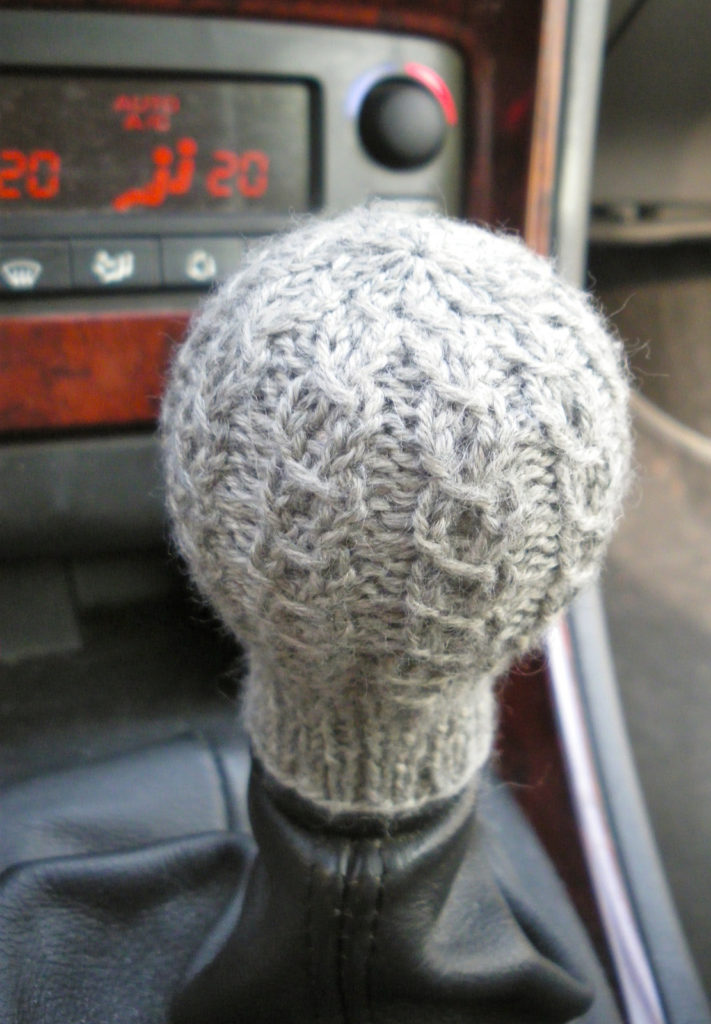 Gear Stick Sock
This gear shift cozy by imawhale protects your hand freezing in the winter or burning in the summer.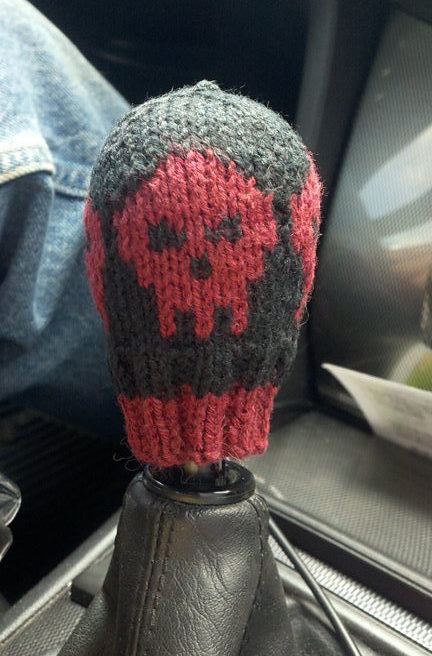 Highway to Hell Shifter Cozy
This skull motif shift stick cover was designed by Cindy Murdock Ames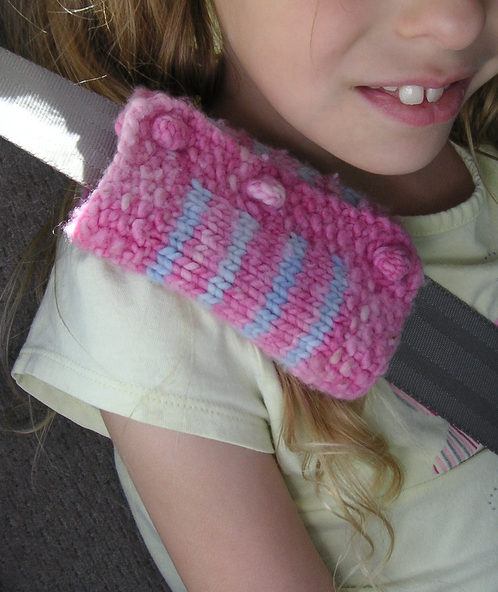 Seat Belt Snuggles
A simple cozy to cushion the feel of the seat harness and keep it from digging into skin. Fastened with bobble buttons. Designed by Chris Behme. Pictured project by CoriInKansas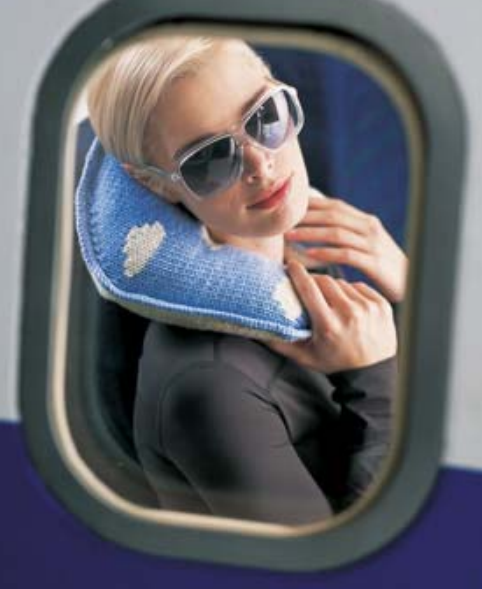 Sweet Dreams Travel Pillow
This comfy neck pillow cover is fastened with buttons on the underside so you could also use it just as cover for airline supplied pillows. Designed by Lion Brand.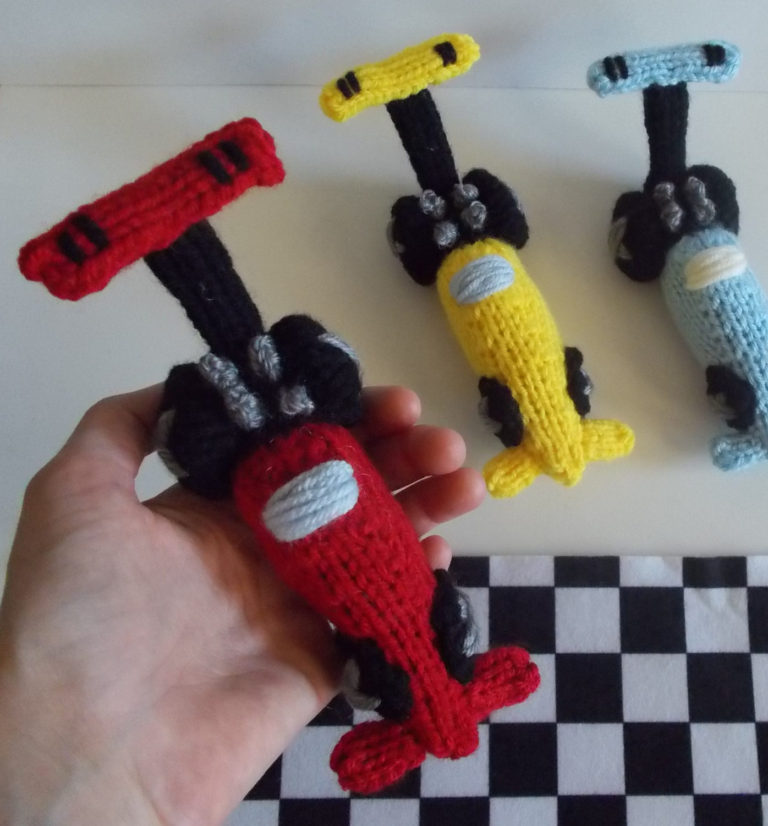 Dragster Race Car Toy
A small knitted drag racer softie. When worked with worsted weight yarn and size 6 needles, it measures about 6 inches long. It's a safe alternative to metal die-cast cars. Designed by Ilana Marks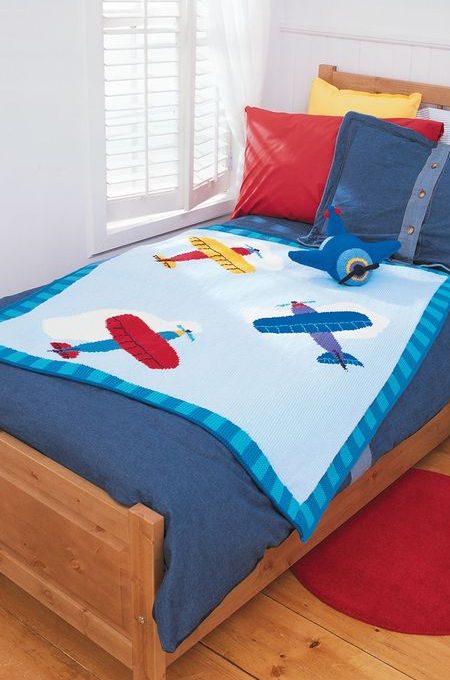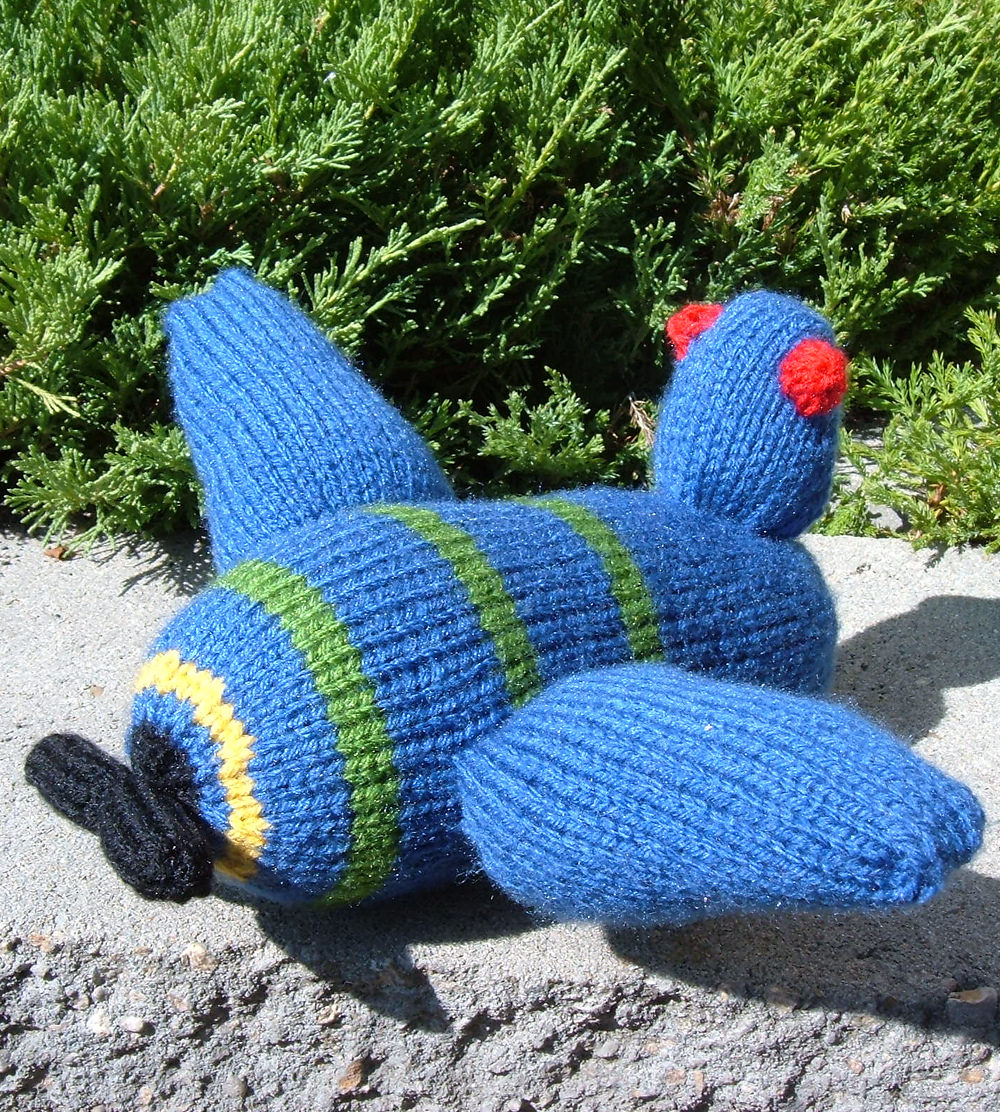 Airplane Blanket and Toy
This bright design by Patons is Approx 38 x 46 ins [96.5 x 117 cm]. The matching airplane toy pattern is also available – size 13 x 13 ins [33 x 33 cm]. Toy project by KnittingSM who has project notes on modifications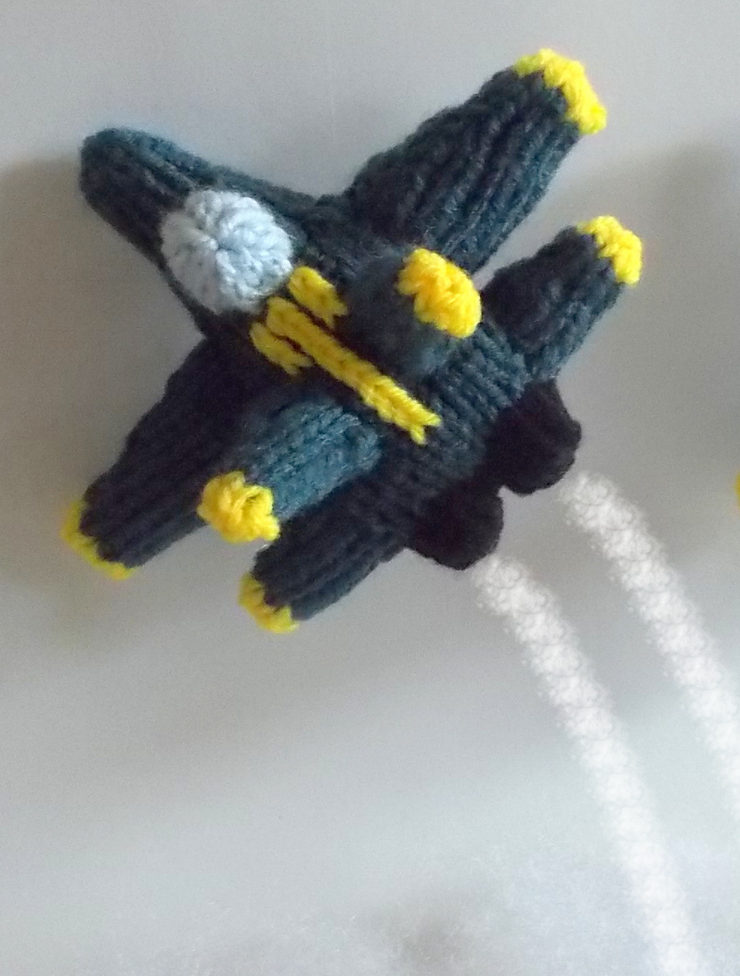 Small Fighter Jet Toys
When knitted with worsted weight yarn and US size 6 needles, it measures about 4.5 inches long, but can be customized for other yarn. Designed by Ilana Marks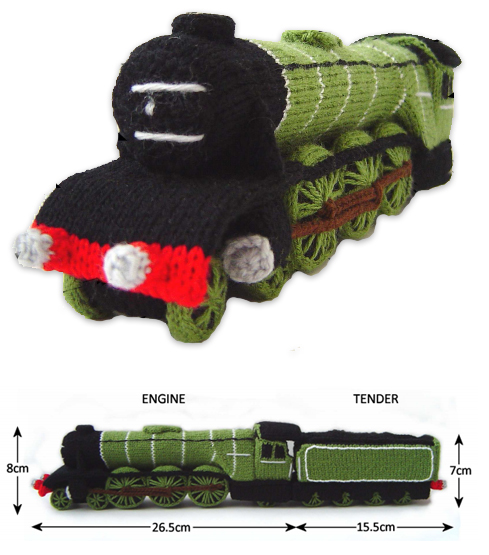 Steam Train Toy
This incredibly-detailed miniature engine and tender (complete with coal!) by Claire Scope-Farrell is loosely based on an A1/A3 class steam locomotive and is just 3 inches (8 cm) tall.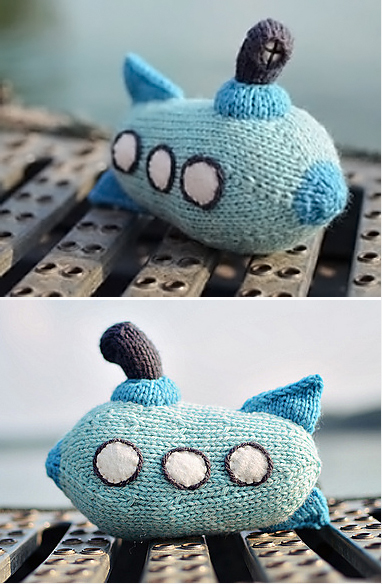 Tadpole Submarine
Toy softie submarine is about 7 inches long, 5½ inches tall. Designed by Katie Boyette
Patterns for Purchase

Bumper Car Mobile
Each car measures approx 10 cm long and the mobile is made using a wooden ring approx 20cm in diameter. Perfect for a nursery or child's room. Designed by Georgina Manvell. Fingering weight yarn.

Working Vehicle Sweaters
Children's pullovers with motifs of fire engine, tractor, cement truck, tow truck, digger, dump truck, train, and more. Sizes: 24 to 30 inches. Designed by KnitaPattern.

Zeppelin Mobile / Toy With Animal Passengers
Donkey, goose, bunny, and human aviatrix soar away in the basket of their zeppelin. The passengers can be taken out of the basket. Suitable for all ages as a mobile hung out of children's reach; suitable for ages 8 and up as a toy. One of the 24 patterns in Knit and Crochet Toys, 2017. Designed by Sachiyo Ishii. Size 6″ from zeppelin nose to tail, and 8″ tall from top of zeppelin to bottom of basket.

Vehicle Play Set With Mat
This exclusive car toys and playmat designed by the fantastic Amanda Berry includes patterns and yarn for Ambulance, Post Van, Tractor, Car, Police Car, Camper Van, Bus, and Fire Engine. Choose between large or small road play mat.

Race Car Hat
This beanie pattern includes 5 sizes: Newborn * Baby * Toddler * Child * Adult

Thomas the Tank Engine Sweaters, Hat, and Scarf
Variety of knitting patterns for sweaters, cardigans, scarves, hats featuring intarsia motifs of Thomas the Tank Engine and his train friends.

Train Hat
The Captain Caboose hat features a colorwork train design traveling around the brim.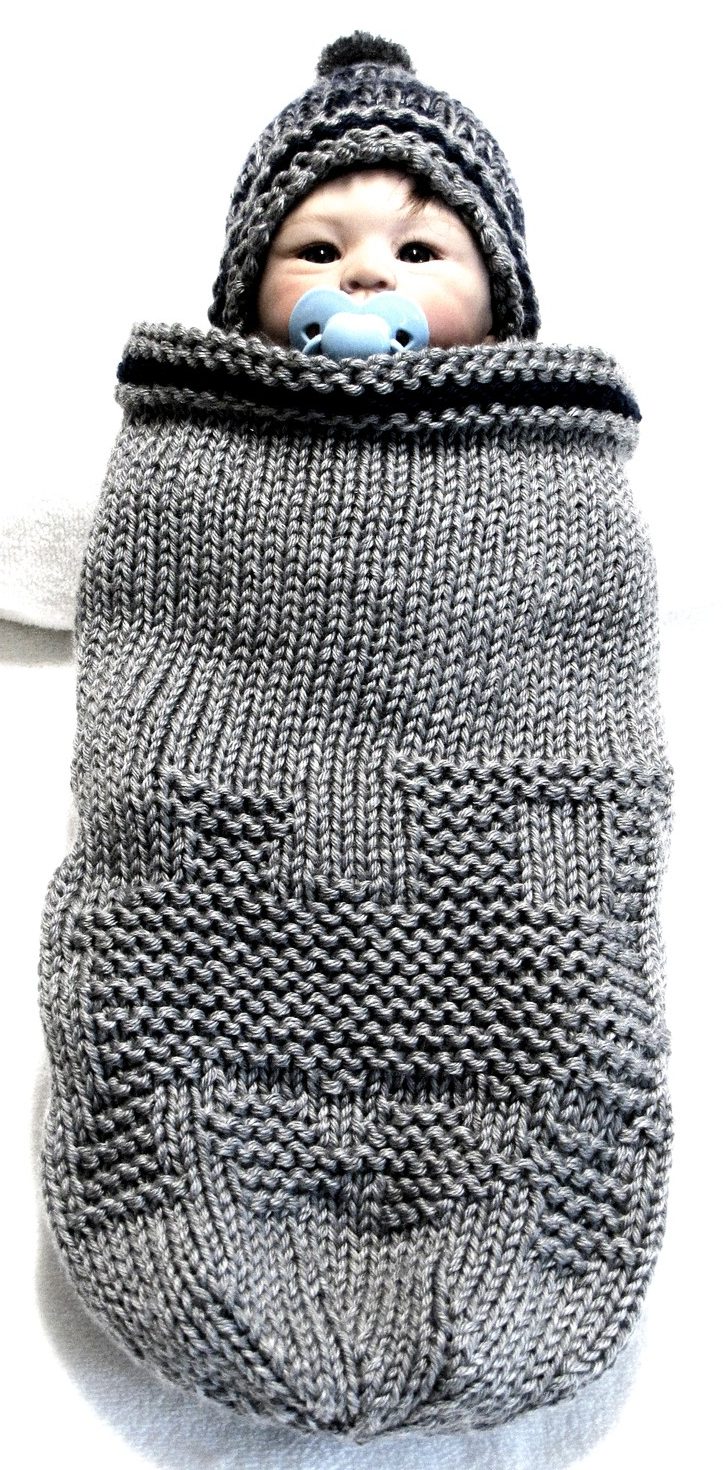 Train Baby Cocoon and Hat
Finished Size: Small baby to 3 months with 2 larger sizes included for both the cocoon and hat.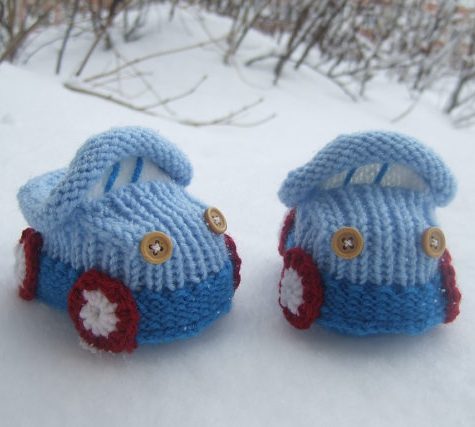 Car Baby Booties
Booties shaped like automobiles desiged by davodix. Size – 0/6 months, 6/12 months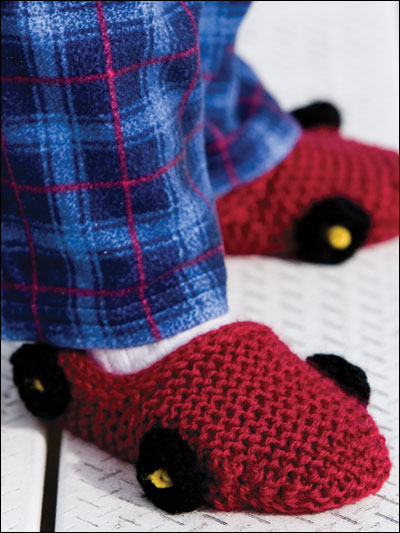 Car Slippers
These garter stitch slippers designed to look like race cards are one of the thirteen patterns in Knit a Dozen Plus Slippers. This digital book includes styles and sizes to fit anyone from young children to adult women and men.
See the slipper patterns in the book and get the book

Submarine Cloth
Easy knitting pattern for submarine motif block that you can use for wash or dish cloths or afghans. Great baby shower gift! approx. 7″W X 7 1/4″ H (18cn X 18.5 cm)

Whirly Submarine Toy
This submarine softie has a propeller that turns round at the back. Approximately 15cm long, 13cm tall and 8cm wide.

Cable Safety Belt Cover
This cozy will help make your seat belt harness more comfortable.

Airplane Spoon for Baby
Cute cozy that turns baby's spoon into an airplane to please picky eaters. Great shower gift!