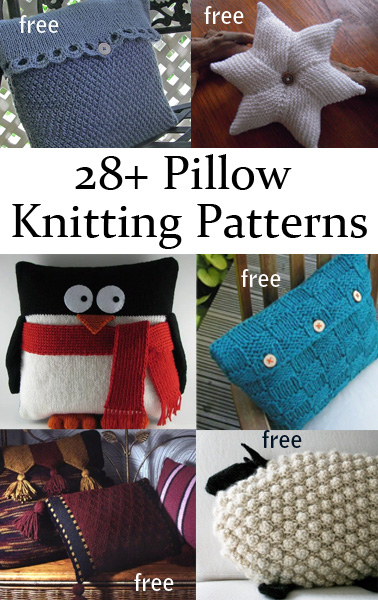 To get the knitting patterns, scroll down the page to the individual pattern you want and click on the link to that pattern.
These patterns are not my designs but links to other designers who have generously shared their patterns. If you have questions about how to knit a specific pattern, please contact the designer directly.
All links on this site are for informational purposes, but please note that some links are to affiliate sellers that pay me a small commission on purchases.
Free Patterns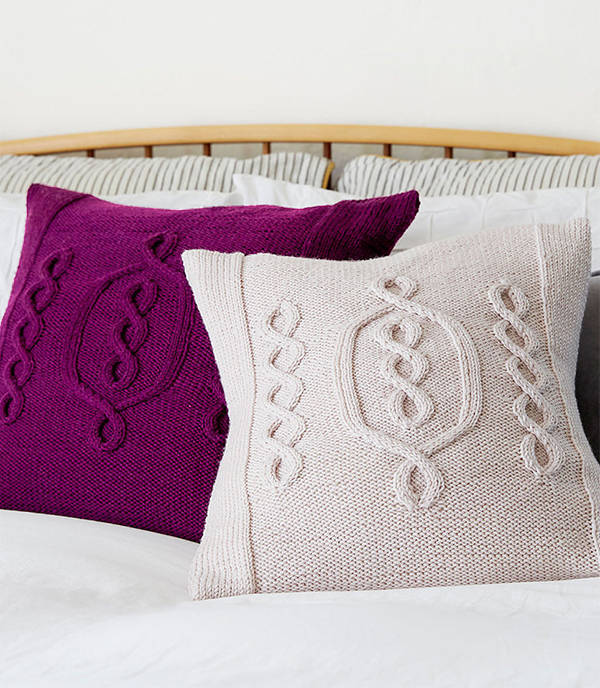 Hygge Chic Knit Pillow
This cushion features a cable motif to evoke the Danish word for enjoying a cozy and charming moment. Designed by Briana Kepner for Red Heart. There is also a crochet version. Worsted weight yarn.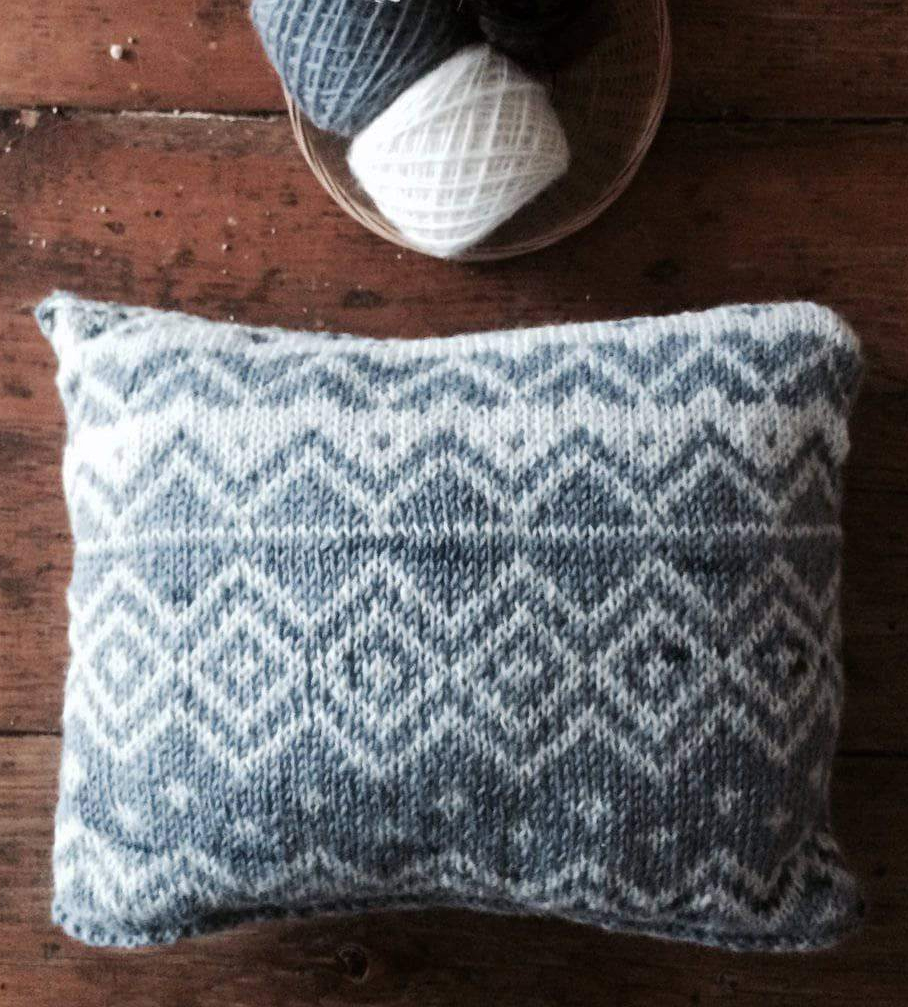 Bjerge Pillow
Cushion with diamond and zigzag colorwork design. Finished Dimensions: 12.5 in. x 15 in. Designed by Weichien Chan for Darn Good Yarn. A kit is also available.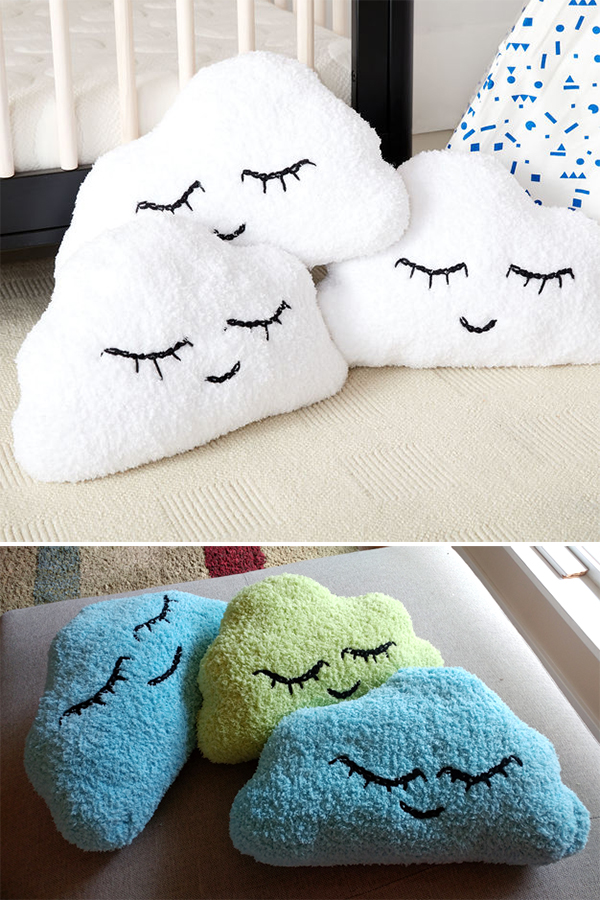 Head in the Clouds Pillow
Cloud shaped cushion approx 19¼ x 14¼" [49 x 36 cm] with embroidered face. Rated easy by the designer and many Ravelrers. Designed by Julia Madill for Yarnspiratons. Use a chenille yarn to give it a fluffy no-stitch texture. Pictured projects by the designer and craftycoug. Super Bulky weight yarn.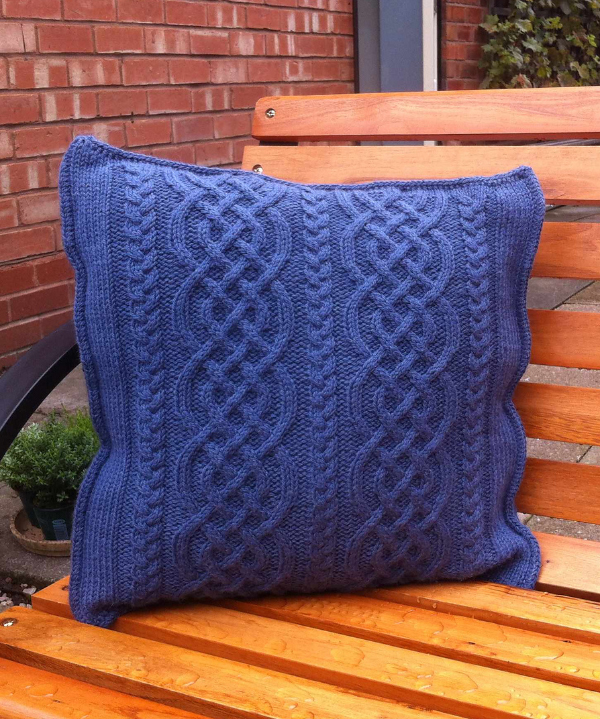 Celtic Knit Aran Pillow
Cable cushion cover with Saxon Braid and Simple Braid cables. Simple Braid repeats after 4 rows; Saxon Braid repeats after 16 rows. Designed by Glenna C. for Canadian Living. Pictured project by MarWhite who has some notes. Aran weight yarn.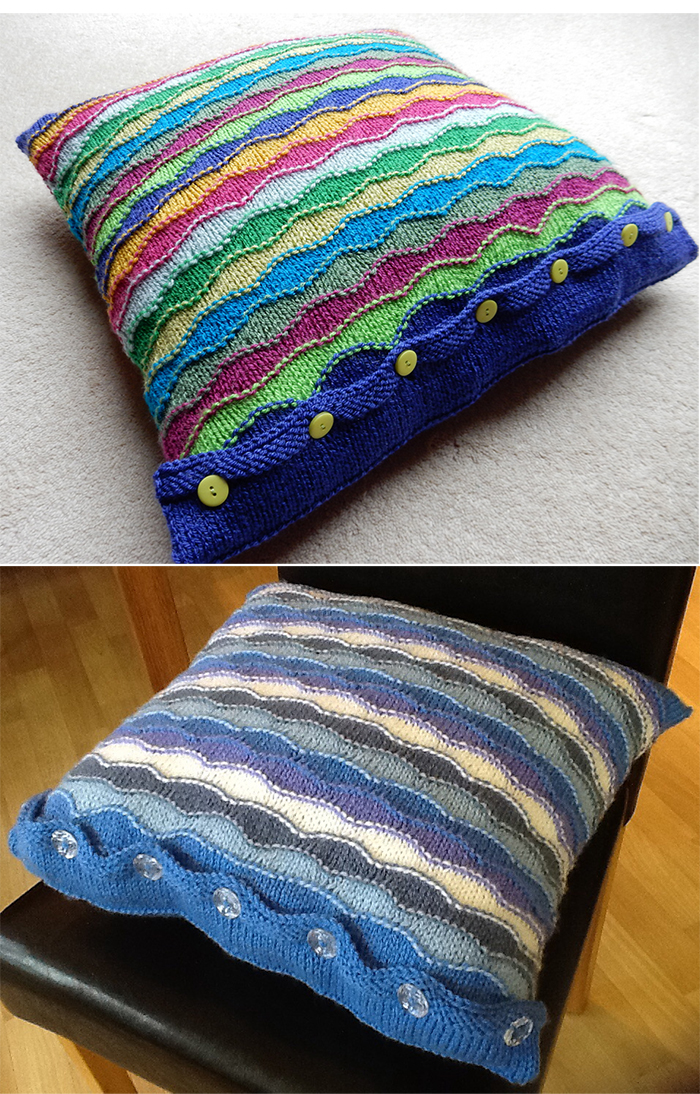 Ripple Stitch Pillow
The cushion features a ripple stitch striped pattern and is closed with a button flap. Great for mini skeins or stash and scrap yarn. Designed by Helen Kurtz. Pictured project by the designer and sarahy75. DK yarn. Rated easy by Ravelrers.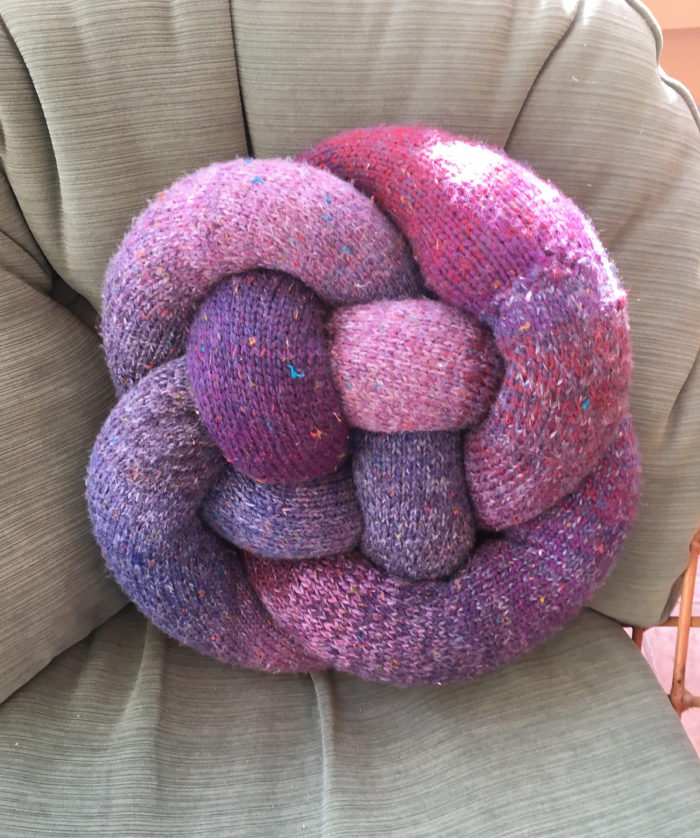 Celtic Knot Pillow
This pillow starts as a very long tube, then it's then stuffed and cleverly woven around itself to form a knot. Designed by Emily Ringelman for Knit Picks. Pictured project by dami13. Worsted yarn.

Steeked Fair Isle Pillow
Steeking makes fancy colorwork patterns much easier to knit, because you can knit in the round and then open your work up to lay flat. Kristin Nicholas shows step by step how to knit in the round, reinforce your steeks, cut them and then add mitered corners to create this stunner of a pillow and shed all of your steeking fears once and for all. Pattern and instructional video class available for free with a free trial at Creativebug.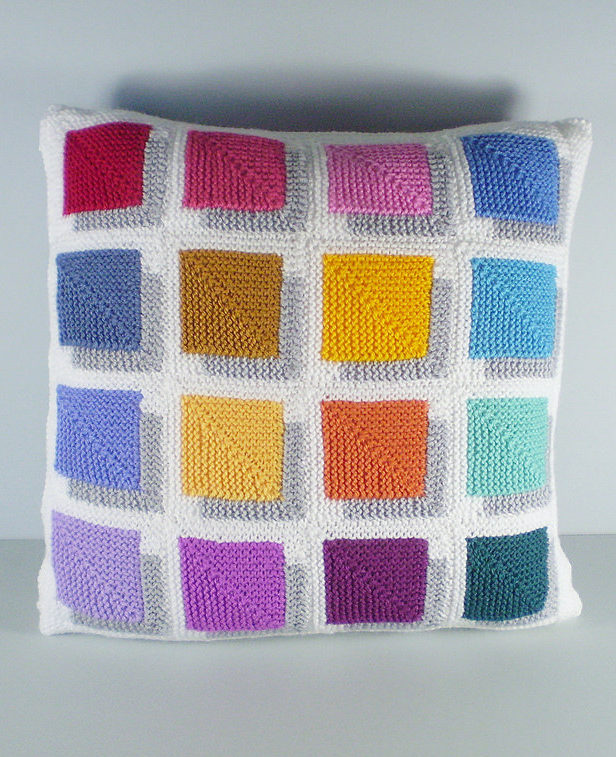 Shadow Magic Pillow
This cushion cover is created from mitered magic squares with their own shadow so that the colors seem to float above the surface. Great stash buster for using scrap yarn. Designed by Frankie Brown.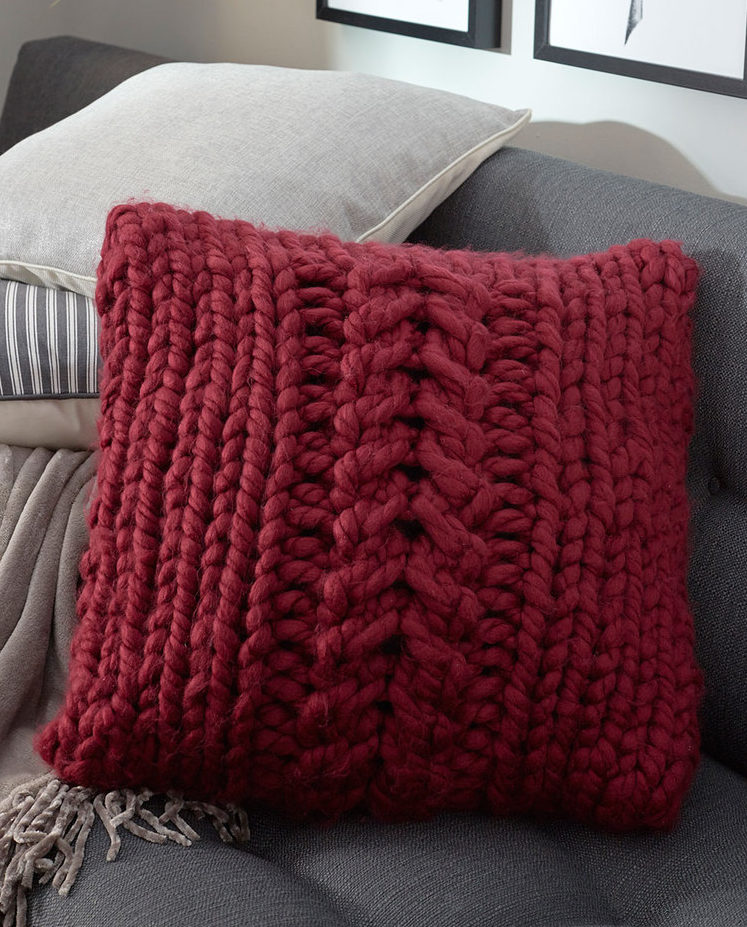 Easy Oversized-Cable Pillow
Pillow cover features a large central cable in front and button fastening in back. Finished pillow cover measures 20" x 20" (51 x 51 cm). Quick knit in jumbo yarn. Designed by Stacey Gerbman for Red Heart.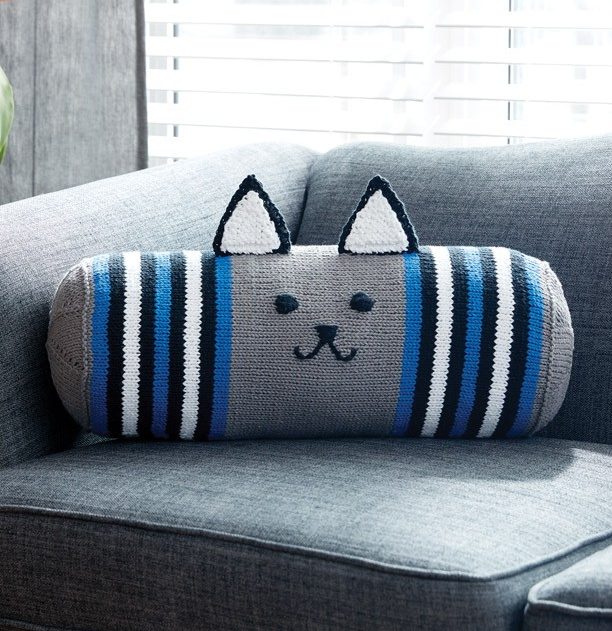 Kitty Bolster Pillow
Adorable cat-faced cushion from Yarnspirations. Approx 19″ [48 cm] long x 7″ [18cm] diameter.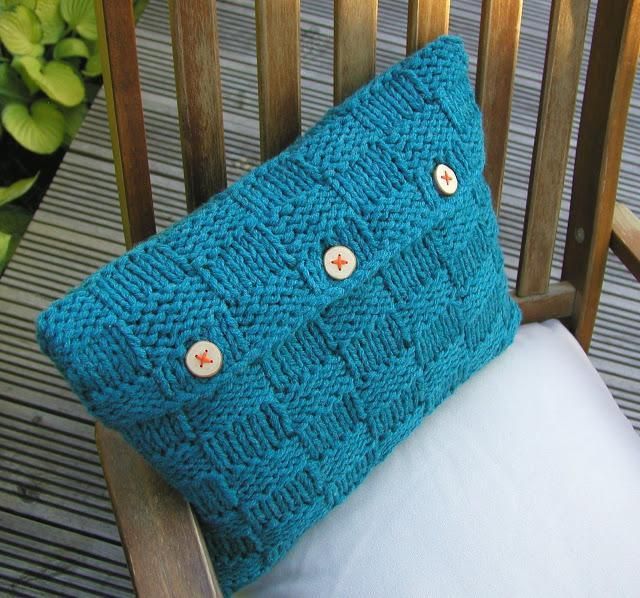 Checkerboard Cushion Cover
This easy pillow cover by Julia Marsh is knit flat with three strands of Aran/worsted weight yarn held together. It's a perfect project for beginners. Fits a 40cm x 30cm / 16″ x 12″ cushion pad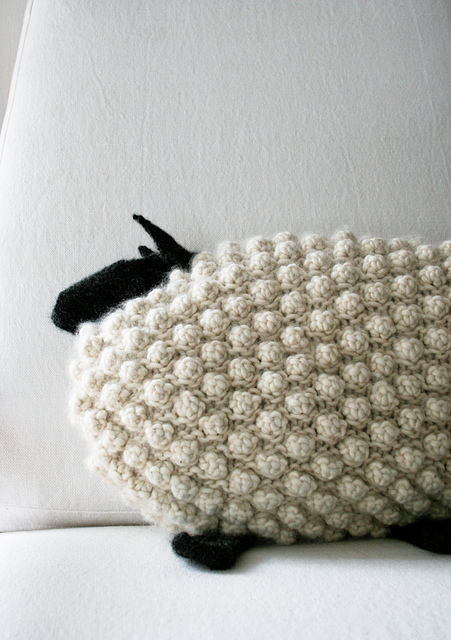 Bobble Sheep Pillow
Purl Soho designed this squeezable sheep pillow with a bobble coat of super chunky yarn and a head and feet of sport weight yarn. 19 inches by 14 inches.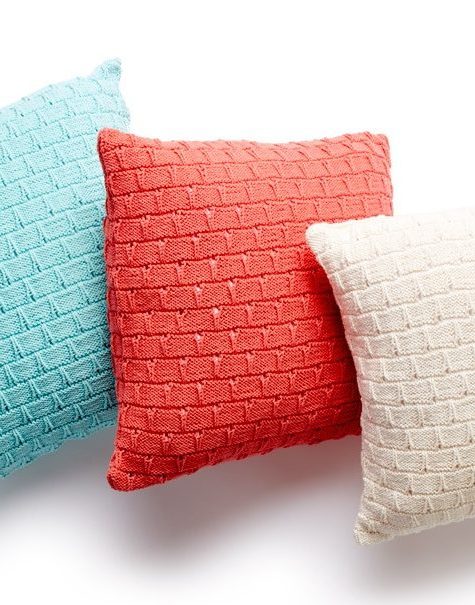 Easy Pillow Trio
Large easy pillows with an interesting texture from Yarnspirations. Approx 20″ [51 cm] square.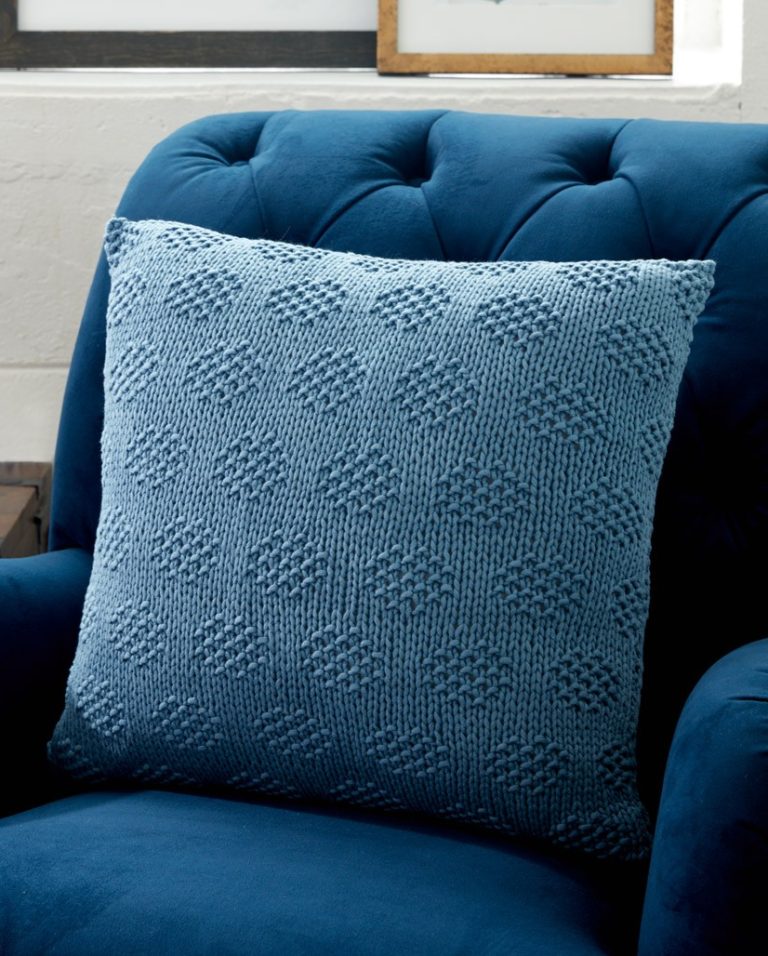 Mossy Dots Pillow
Easy pillow worked in seed stitch and stockinette from Yarnspirations. Approx 18″ [45.5 cm] square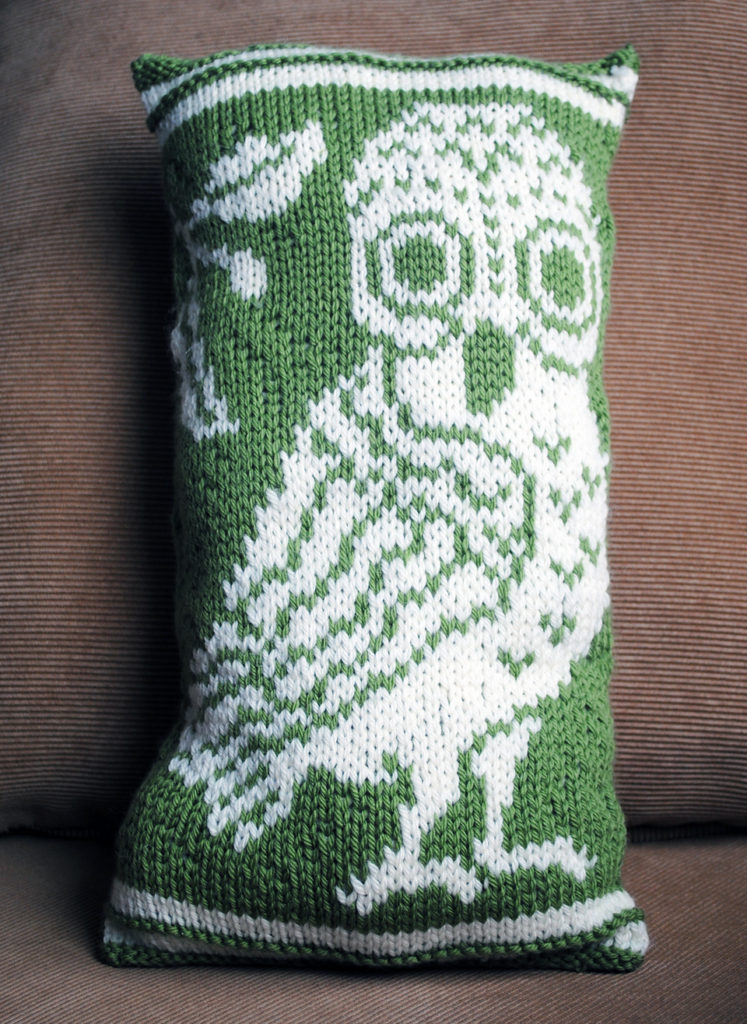 Athena's Pillow
Designed by Kalliopi Aronis after ancient Greek designs of the symbol of the goddess of Wisdom.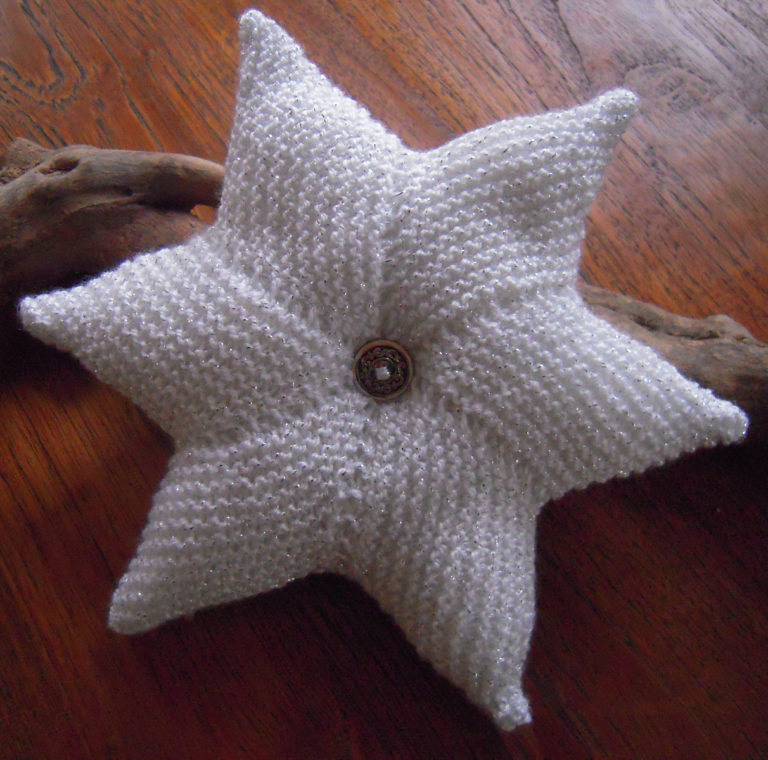 Star Cushion / Sternkissen
Annette Maas designed this pillow that can be knit in any size.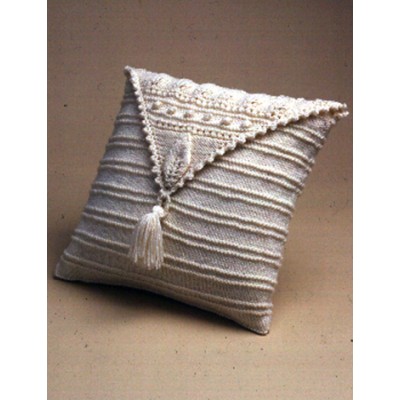 Aran Leaf Pillow
This sophisticated design by Yarnspirations features a triangular aran panel. Approx. 16 x 16 ins [40.5 x 40.5 cm]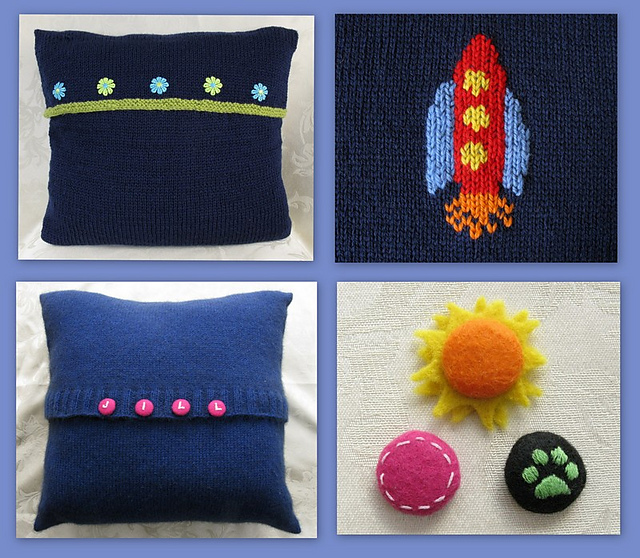 Two Easy One Piece Cushion Covers With Embellishments
Ali Hamilton designed these two patterns for an envelope cushion cover and button fastened cushion cover. The pattern includes instructions for creating motifs without intarsia and fabric covered buttons to embellish the covers.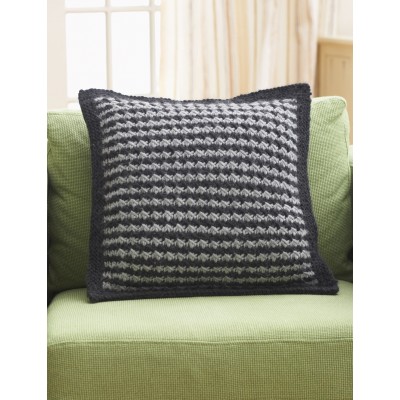 Houndstooth Pillow
This cushion is approximately 18 ins [45.5 cm] square (excluding edging).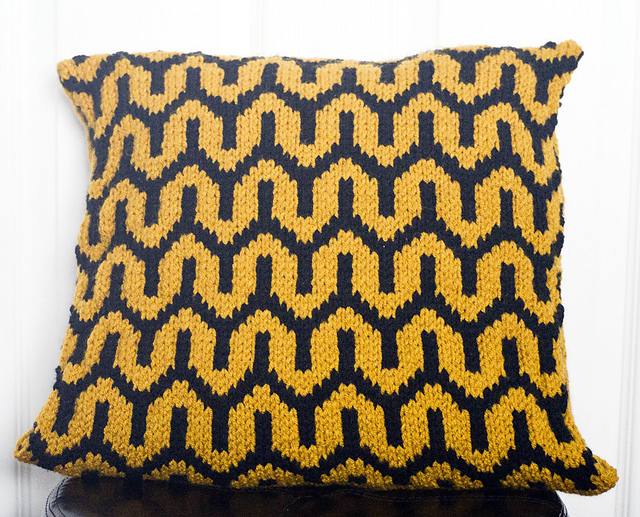 Bold Art Deco Pillow
This design by Joleen Kraft works well in bold colors and is easy to knit. For pillows about 16" x 16".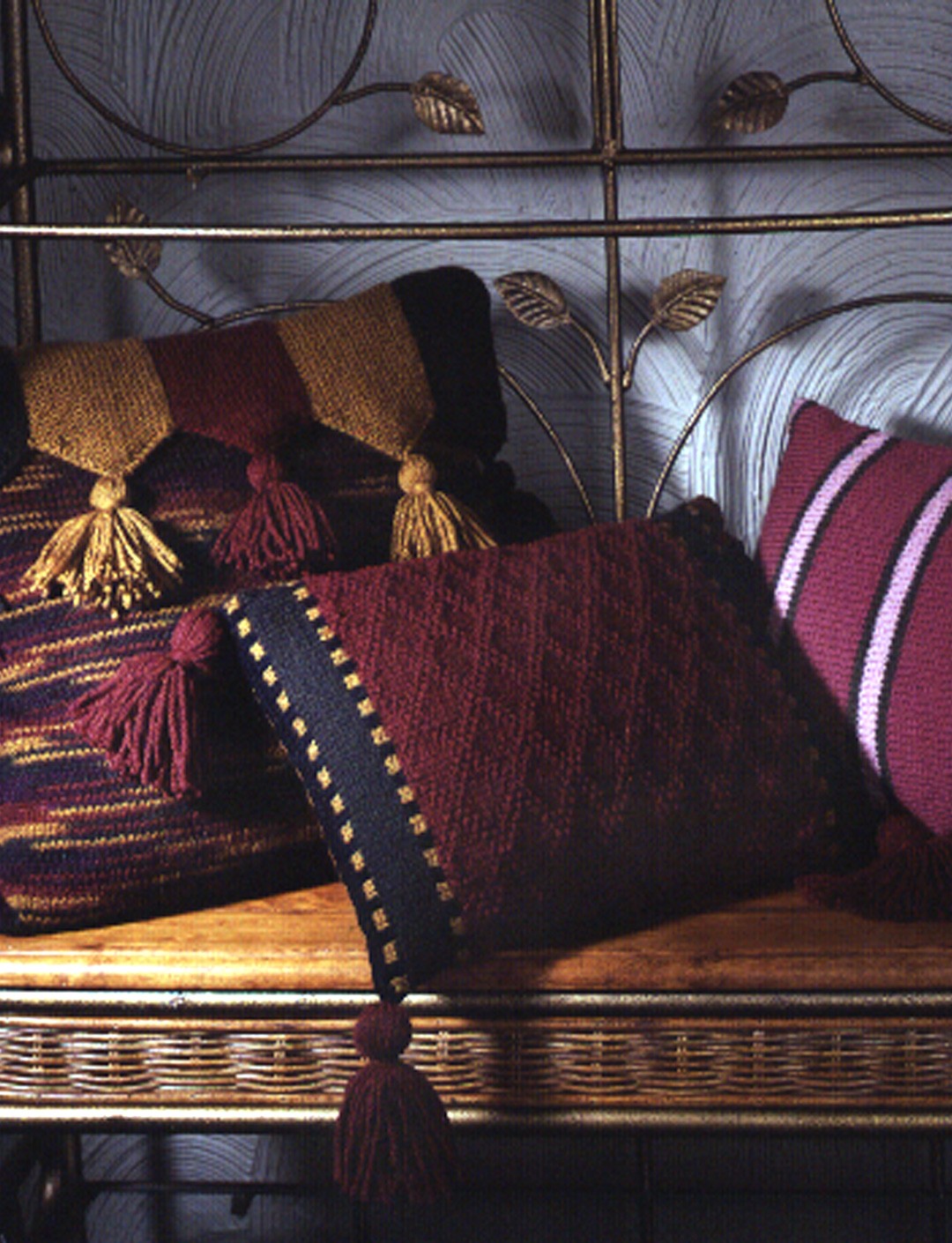 Florentine Pillow, Harlequin Pillow, and Simple Striped Pillow
The Harlequin Pillow (back left) is designed with knit edge resembling ribbons with tassels and is spprox. 18 ins [45.5 cm] square.The Florentine pillow (front center) with a knit brocade pattern is about 12 x 16 ins [30.5 x 40.5 cm]. Simple Striped Pillow (back right) features dramatically outlined stripes and is about 12 x 16 ins [30.5 x 40.5 cm].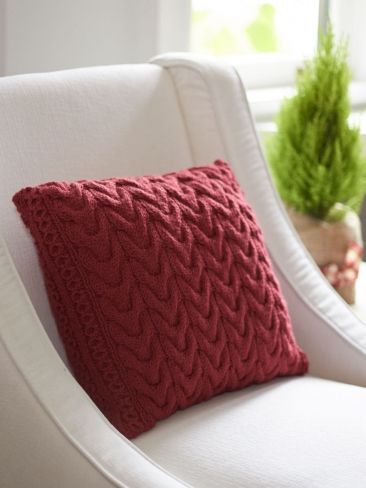 Christmas Cables Pillow
This design by Patons might have had a holiday inspiration but its look is timeless for everyday use. Approx 16″ [40.5 cm] square.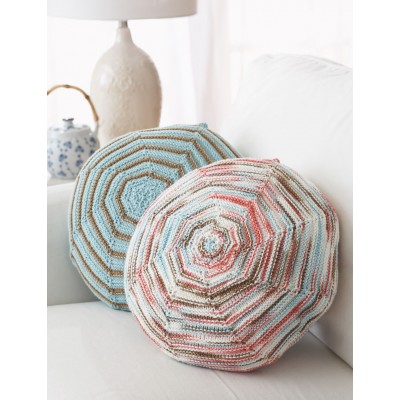 Zen Pillow
Round pillows with a spiral motif designed for worsted cotton yarn. Approx 16 ins [40.5 cm] diameter.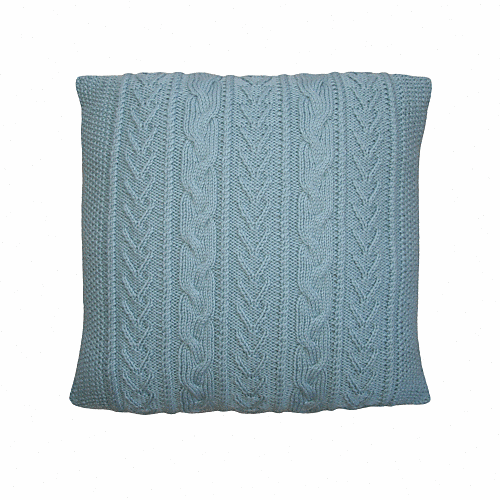 Cable Cushion
Sarah Gasson designed this fashionable pillow. Approximately 40 cms x 40 cms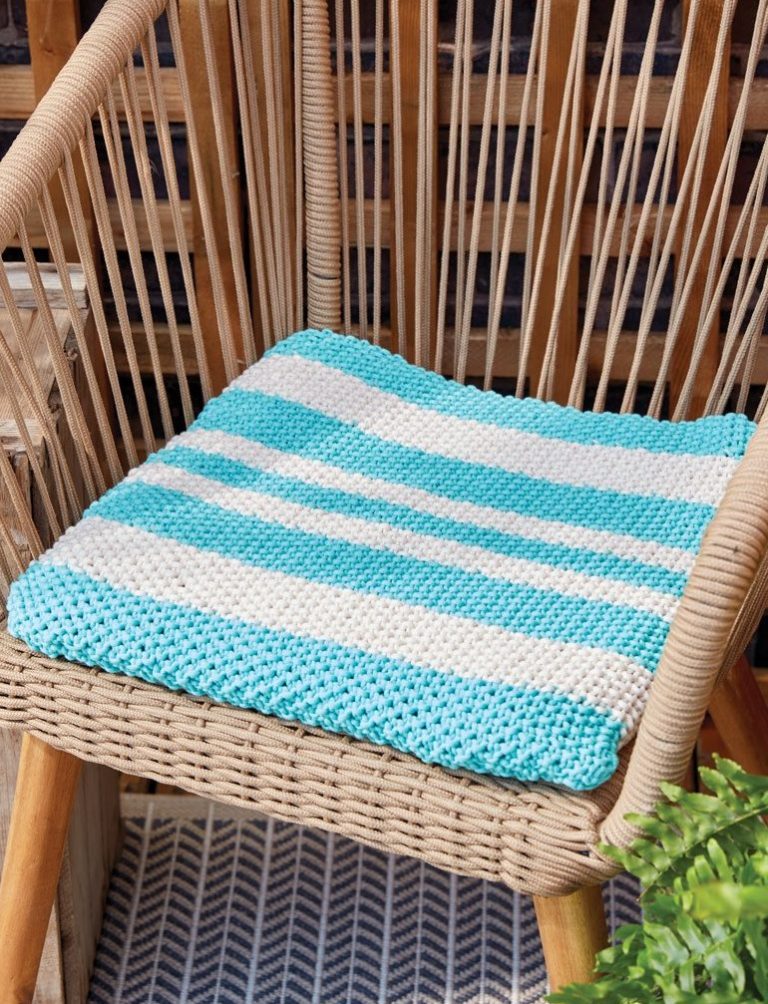 Seat Cushion
Easy chair cushion knit in seed stitch from Bernat. Approx 16″ [40.5 cm] square. I've used the recommended Bernat Maker Home Dec cotton yarn and it cleans very easily.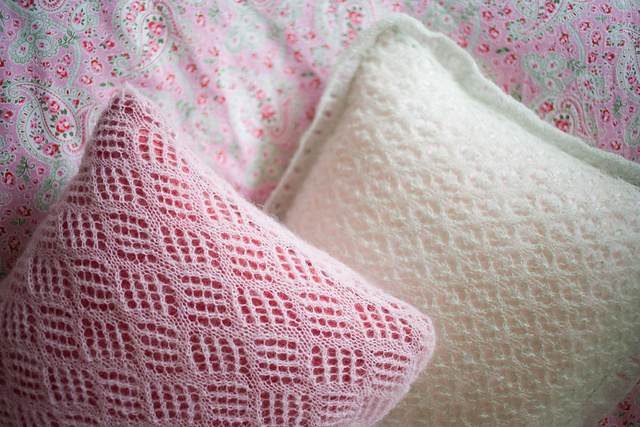 Mohair Lace Pillows
Joanne Yordanou designed these two lace pillow covers using mohair lace. 16″ x 16″ (40.5 cm x 40.5 cm)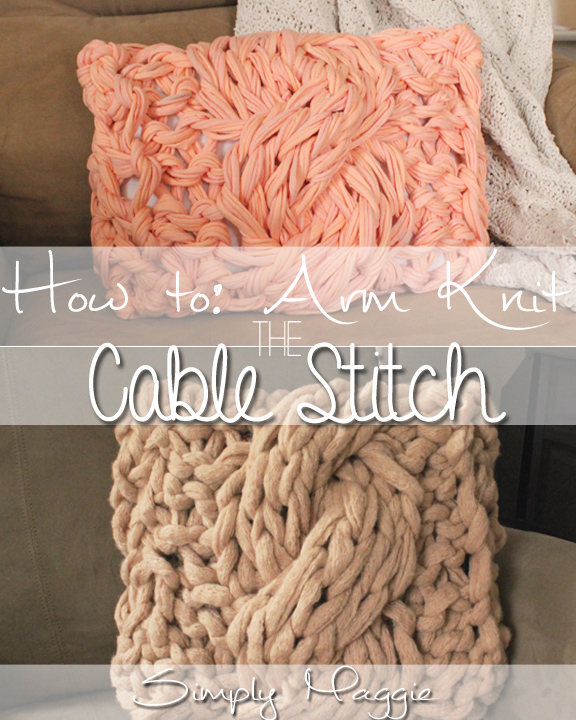 Arm Knit Cable Stitch Pillow
Simply Maggie demonstrates how to arm knit a cable stitch by making a pillow in this tutorial.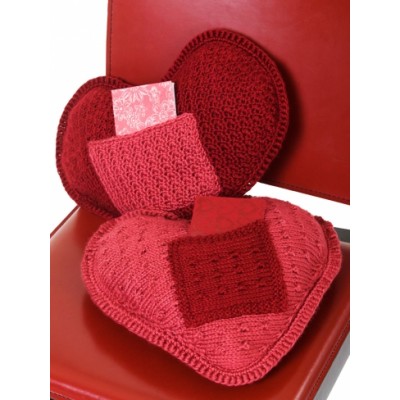 Heart Pillow With Pocket
This soft cuddly pillow has a pocket for a note, card, or small gift to show your love. Approx 13 x 12"/33 x 30.5cm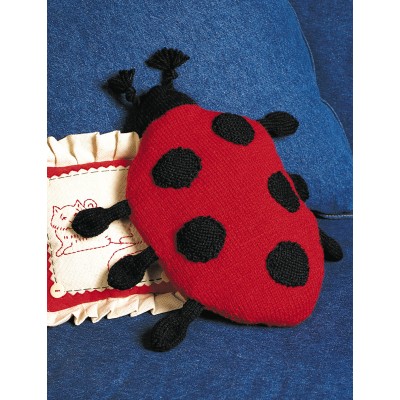 Ladybug Pillow
16 ins [40.5 cm] long and 11½ ins [29 cm] wide.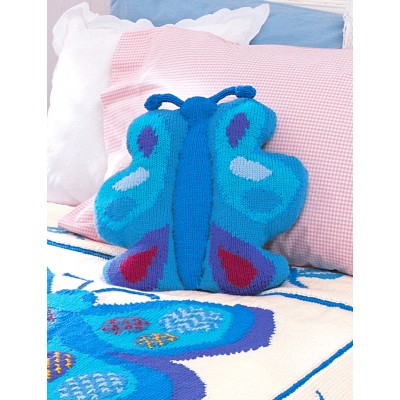 Butterfly Pillow
This fair isle design by Yarnspirations is shaped and colored like a butterfly approximately 16 x 16 ins [40.5 x 40.5 cm]
Patterns for Purchase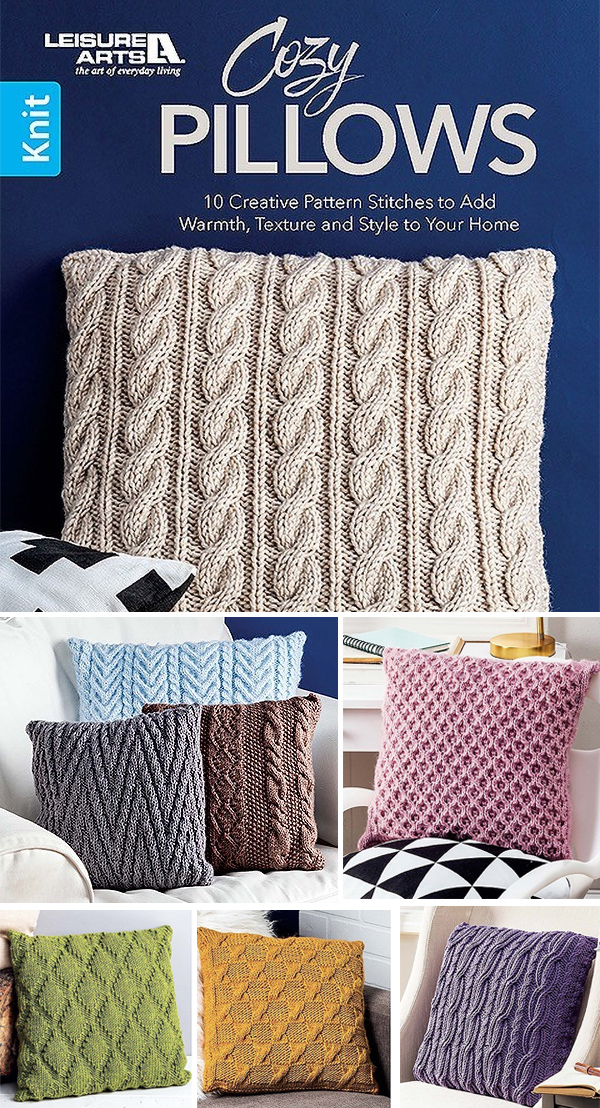 Cozy Pillows - 10 Creative Patterns to Add Warmth, Texture and Style to Your Home
These 10 designs are quick to knit for home décor while having fun with eye-catching stitch patterns. Designs include Eyelet Diamond and Cables, Cable Check, Six-Stitch Cable, Hourglass Eyelets, Imitation Lattice, Pinnacle Chevron, Ribbed Cables, Staghorn Cable, Bolster (with bobbles and cables), and Shadow Cable. Featuring yarn weights from light to super bulky, most pillows are for Easy or Easy-Plus skill level; the bolster is for Intermediate. The square pillows range from 12 to 20 inches across; the bolster is 14 inches long and 5 inches diameter. Available in ebook or paperback.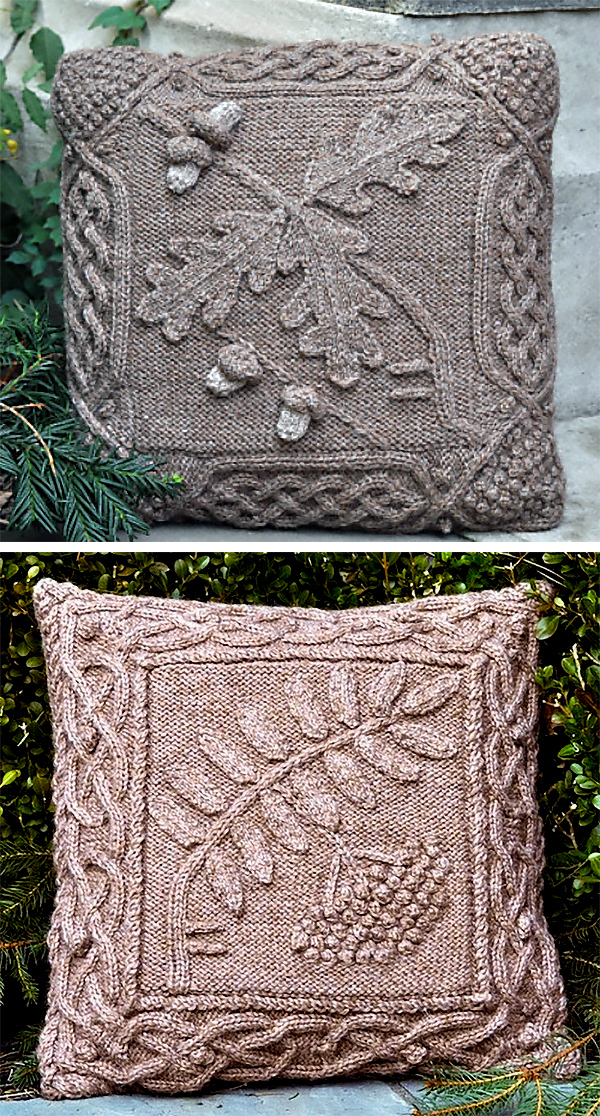 Celtic Oak and Rowan Pillows
These pillow cover patterns feature botanical leaf designs with celtic cable borders. Worsted weight yarn. Designed by Barbara Pott.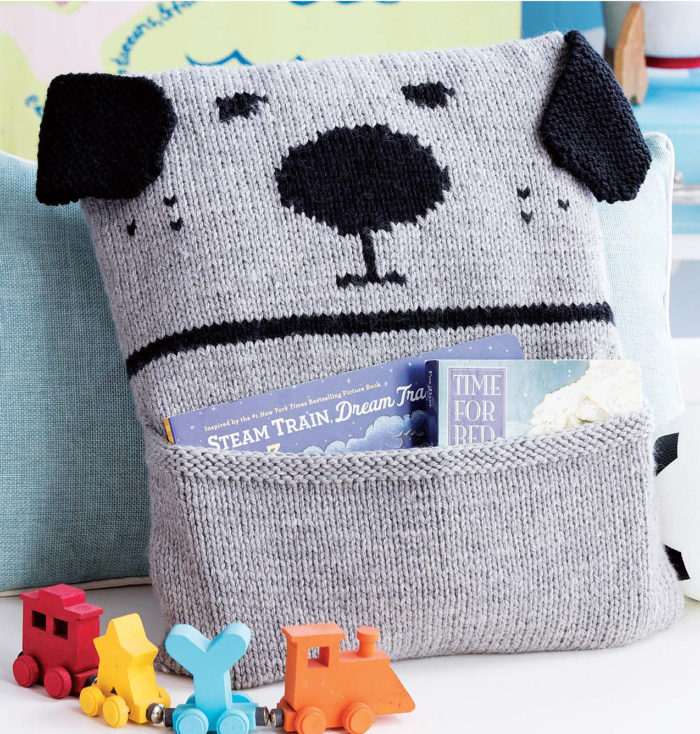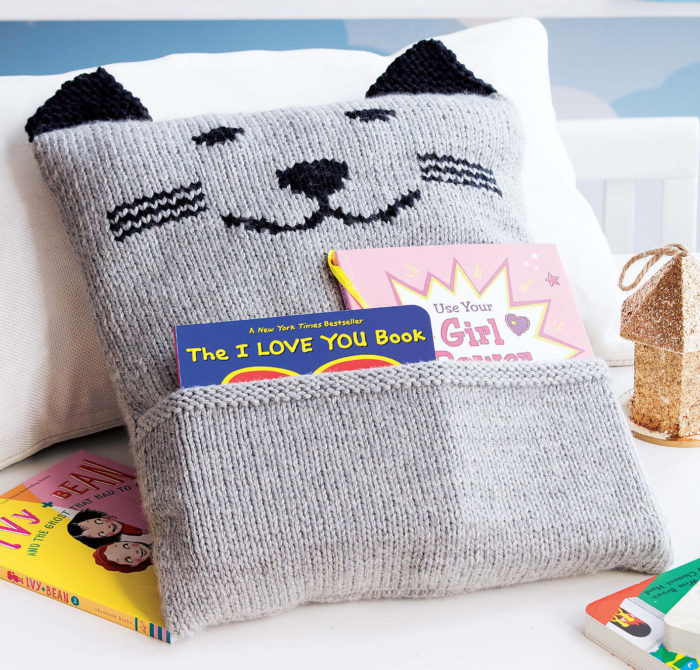 Bow-Wow and Meow-Meow Pillows
Playful pillow covers with dog or cat face and pockets for storybooks or other treasures. Approx 14 x 16"/35.5 x 40.5cm. Two of the patterns in 60 Quick Knitted Toys. Designed by Lisa Craig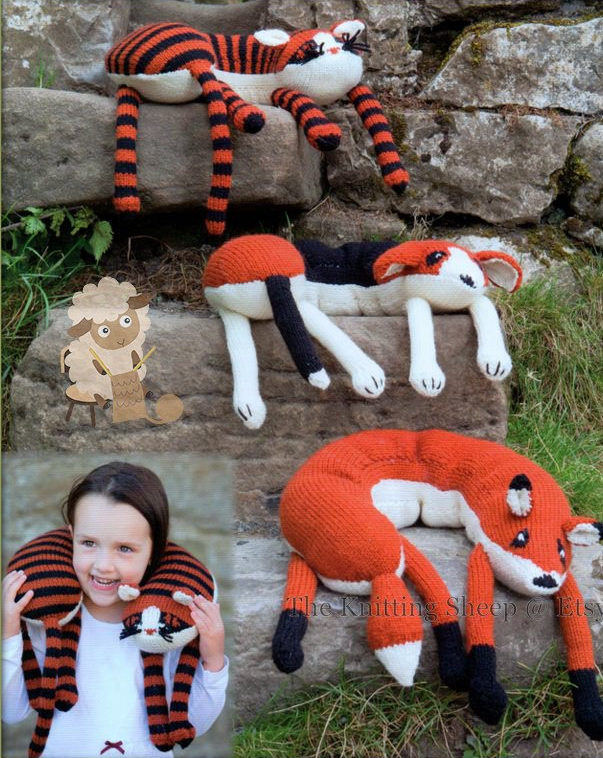 Dog, Cat, and Fox Neck Pillows
3 knitting patterns in 1 for animal neck pillows or toys large enough to fit up to and adult neck size.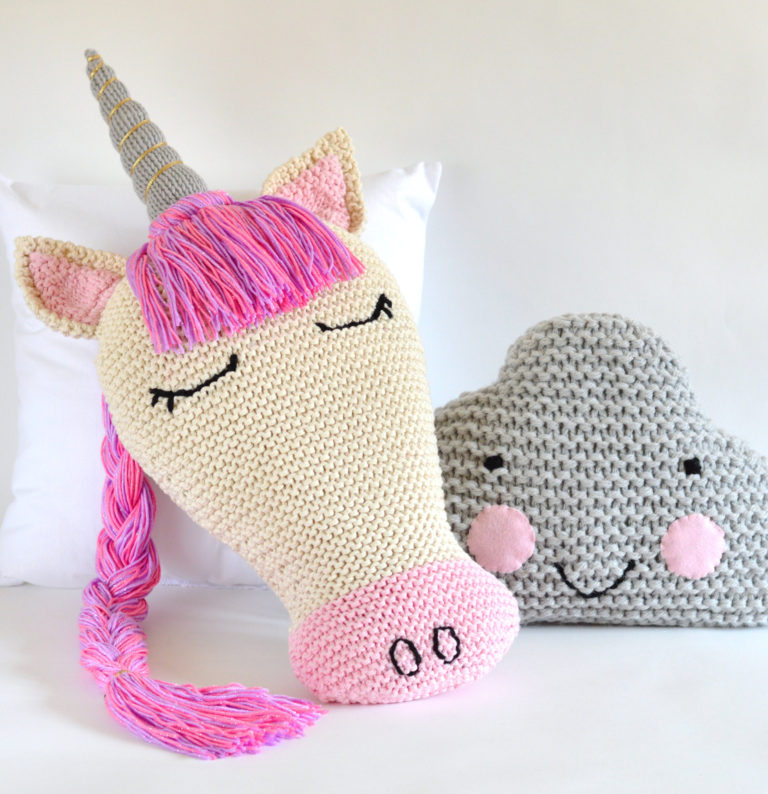 Unicorn and Cloud Pillows
2 patterns in 1. Finished Dimensions: Unicorn (without horn) 17″ x 9.75″ (43cms x 25cms); Cloud: 15″wide x 9.5″ high (38cms x 24cms). You could also leave the horn off the unicorn to make a horse pillow.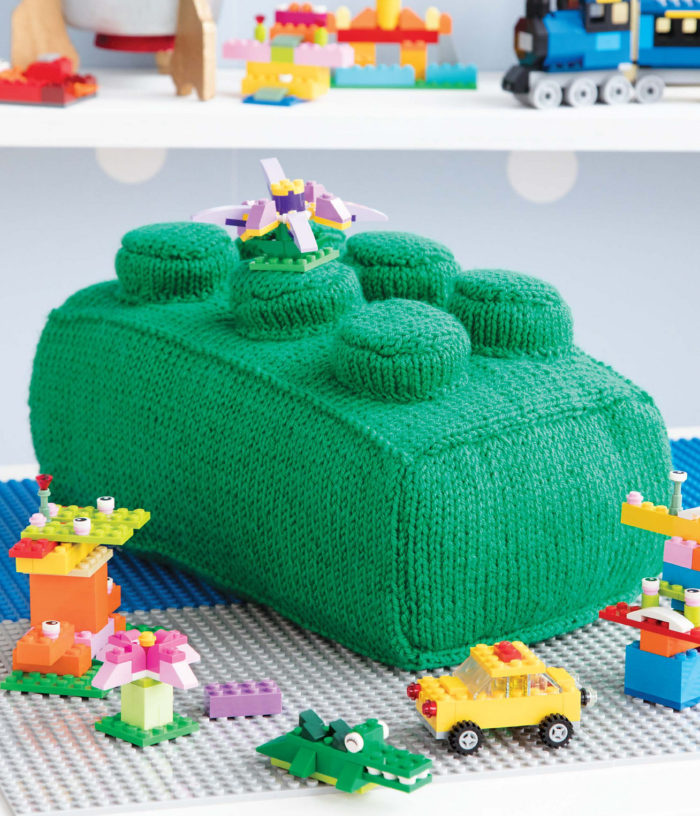 Lego Pillow
This Building Brick Pillow is approx 7 x 12 x 4½"/18 x 30.5 x 11cm. One of the patterns in 60 Quick Knitted Toys. Designed by Amy Bahrt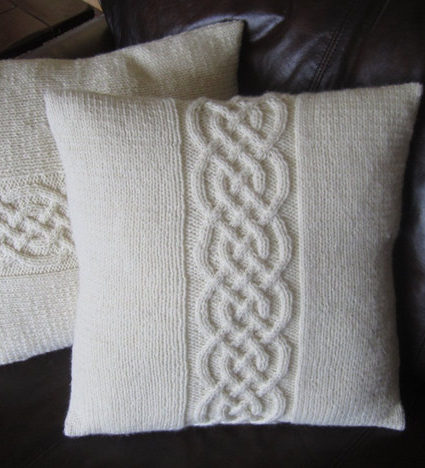 Celtic Knot Pillow
Pattern is for two sizes – 16″/40 cm and 18″/45cm square pillow inserts and is knit using worsted/#4/aran weight yarn.
With the option of either an envelope or 3 button closure on the reverse, it will be easy to remove for laundering.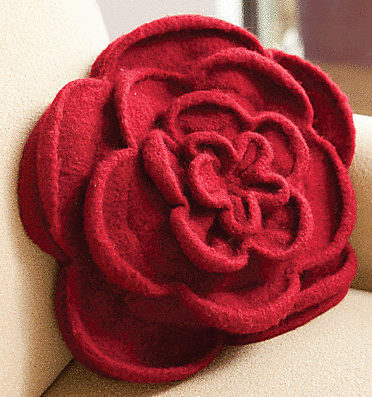 Rose Pillow or Purse
2 patterns in one for knit and felted pillow or purse.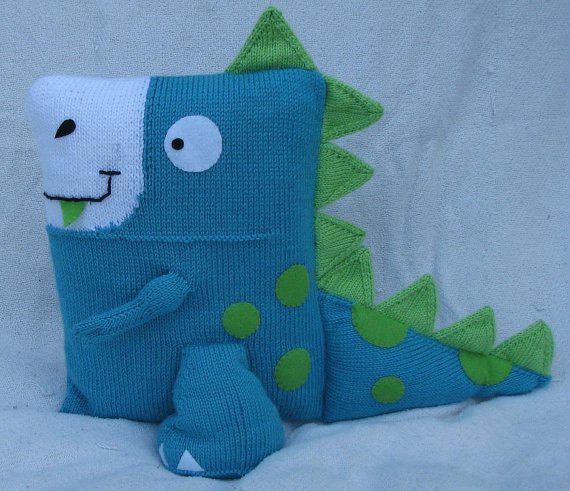 Dinosaur Pillow
Approximately 18″ tall (to the tip of the spike on the head) and 23″ wide (to the tip of the tail).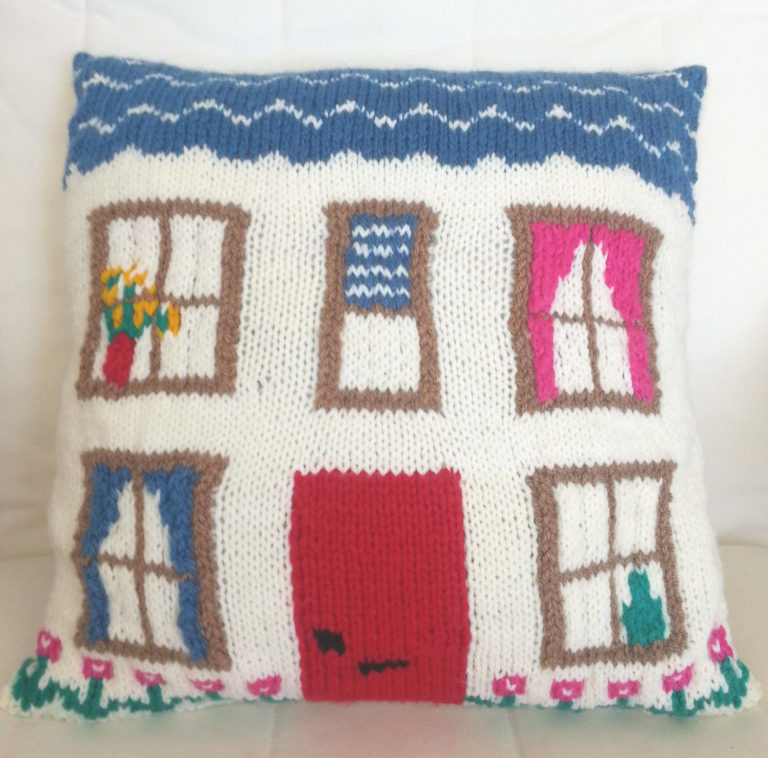 House Pillow
Personalize this pillow to match your house or for a gift recipient. Uses a combination of intarsia and stranded (fair isle) knitting. Great housewarming gift!

Penguin Pillow
This cute pillow cover is made to fit around a 14″ X 14″ pillow form.

Oliver Fox Pillow Softie
This huggable fox doubles as a pillow and a softie toy. Designed by Amanda Berry, it is knit as a square with some basic intarsia for the color changes. The cushion is approximately 25cm wide (not including the tail) and 28cm tall.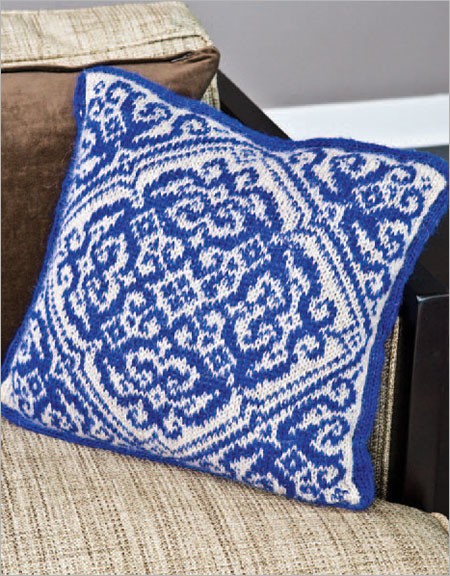 Delft Pillow
Easier than it looks! 14″ square.

Hungry Alligator Pillow
This design features an alligator with a closed mouth and bird peacefully sleeping on the front and an alligator with an open mouth and a wary looking bird on the back. Approximately 17″ tall to the top of the bird's head and 16″ wide.

Love Owls