Bracelet knitting patterns are a great way to use leftover stash yarn or showcase expensive hand-dyed yarn. They also make great quick gifts and stocking stuffers.
To get the knitting patterns, scroll down the page to the individual pattern you want and click on the link to that pattern.
These patterns are not my designs but links to other designers who have generously shared their patterns. If you have questions about how to knit a specific pattern, please contact the designer directly.
All links on this site are for informational purposes, but please note that some links are to affiliate sellers that pay me a small commission on purchases.
Free Patterns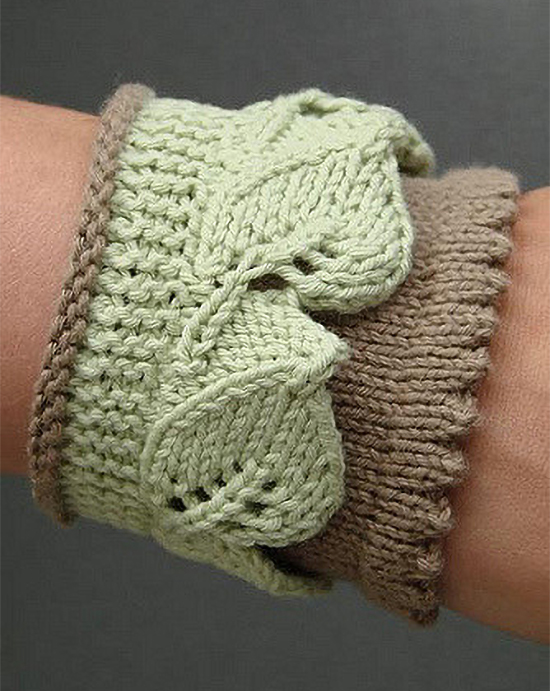 Leaf Lace Cuff
This cuff with lace can also be adapted to trim socks, fingerless mitts, etc. Designed by Monique Boonstra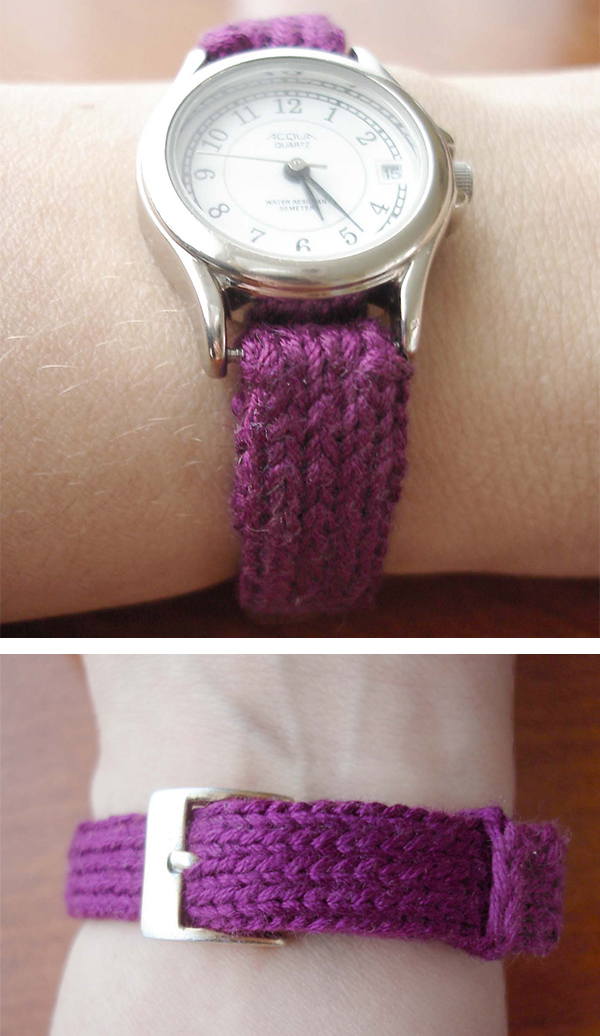 Watch Strap
This knitted strap can be adjusted to fit most watches. You will need the hardware (pins and buckle) from another strap that fits your watch. Designed by Maggie van der Stok. Fingering weight yarn.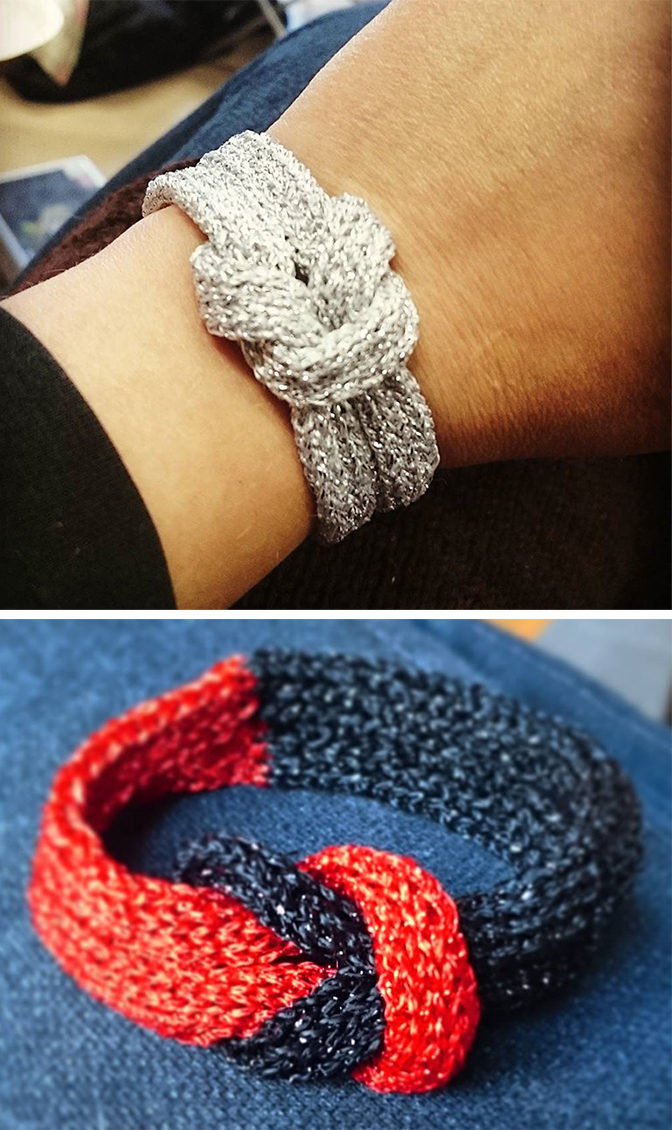 Simple Glamour Bracelet
Braided i-cord bracelet in fingering yarn. Especially effective in metallic yarn. Sizes wrist circumference 16/18/20/22cm. Designed by Pirre Nakola. Available in English and Finnish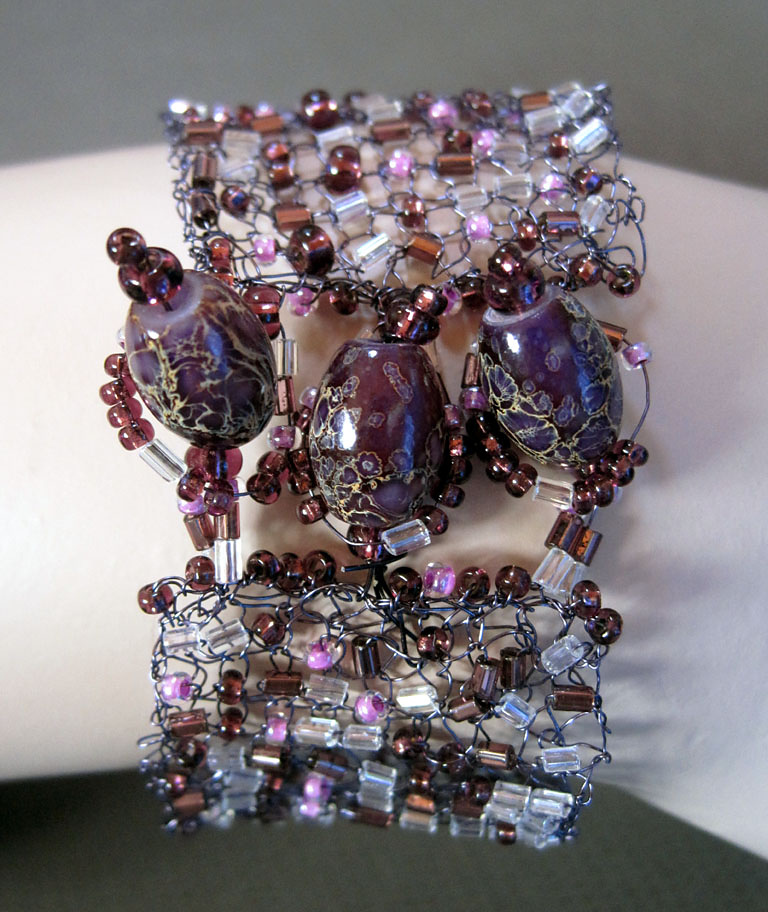 Diamond Jubilee Cuff
This bead and wire knit bracelet design by Fiona Morris also comes with a pattern for wire and bead necklace and flower.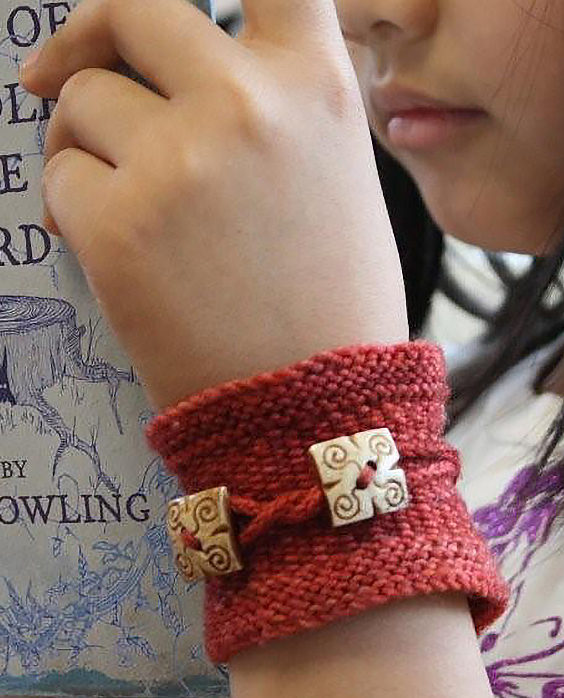 Pretty Twisted Cuff
This trio of linen stitch bracelets is perfect use for scrap yarn and handmade buttons. Each of the three versions has slightly different design details – slipped st edging or not, worked horizontally or vertically, different types of attachment options – to produce different results, and to keep the knitting interesting. Designed by Cat Wong for Knitty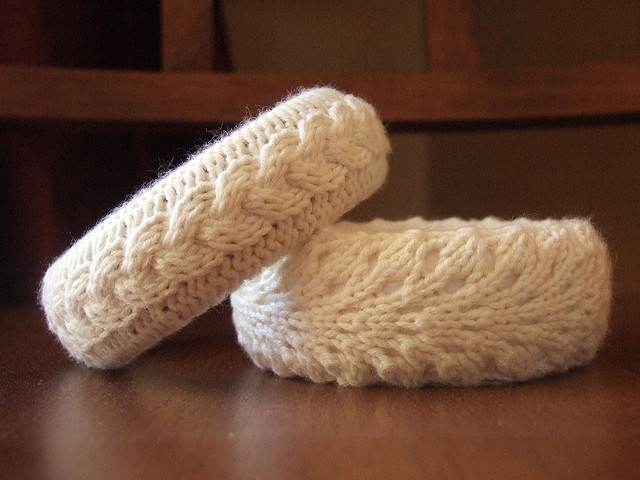 Swatch Bracelet
What a great idea from Mimsie! Don't know what to do with those swatches? Turn them into bangles. I know I'll be more inclined to knit more swatches.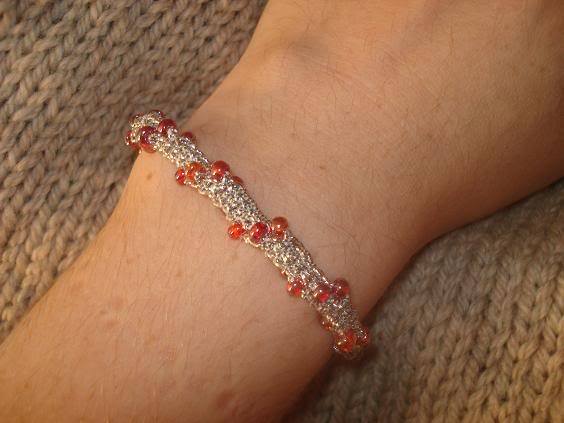 Beaded Bracelet
Knit with metallic elastic cord. Beading tutorial included.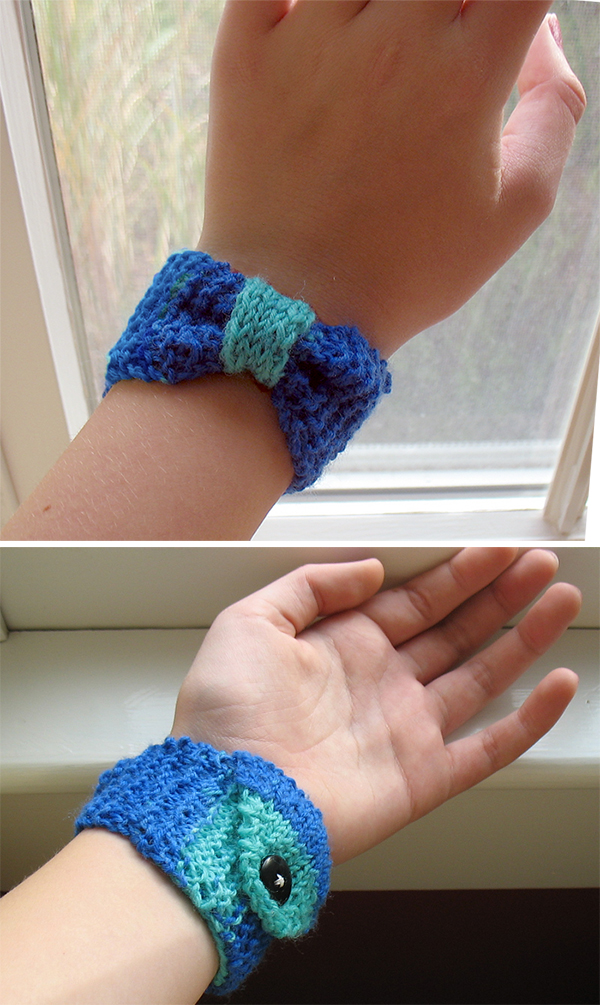 Bow Pouch Bracelet
This cute bow bracelet designed by Derya Davenport has a secret — a little pouch on the underside where you can put coins, bobby pins, etc. A great beginner project because it's made of 3 rectangles.
More Free Patterns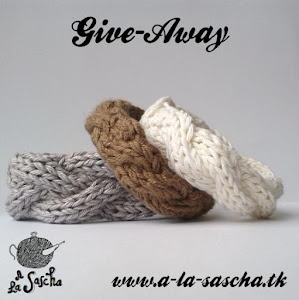 Cable Bracelets
Great quick project for stash yarn! Worked flat on 5.0mm needles with two strands of shiny cotton held together.
Get the free knitting pattern. Note that the link to the English pattern is in the second section on the page.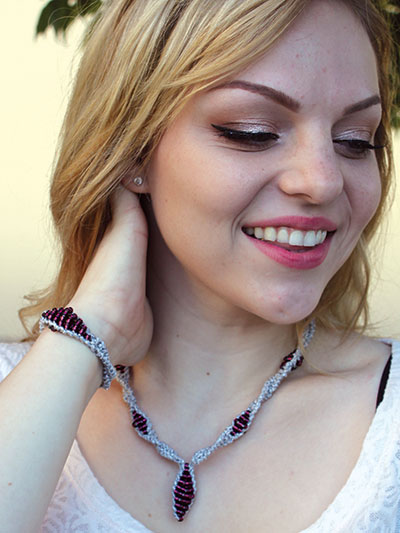 Paloma Necklace and Bracelet
Necklace and bracelet in metallic yarn designed by Andi Jovori.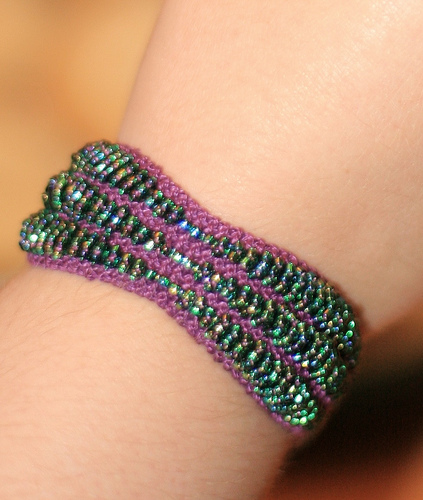 Emerald Beaded Bracelet
This design by Heather Murray is easy and quick to knit. The beads are all prestrung before the knitting starts, and all rows are knitted, with the same number of stitches in each row. The shaping is produced by varying the number of beads in a row.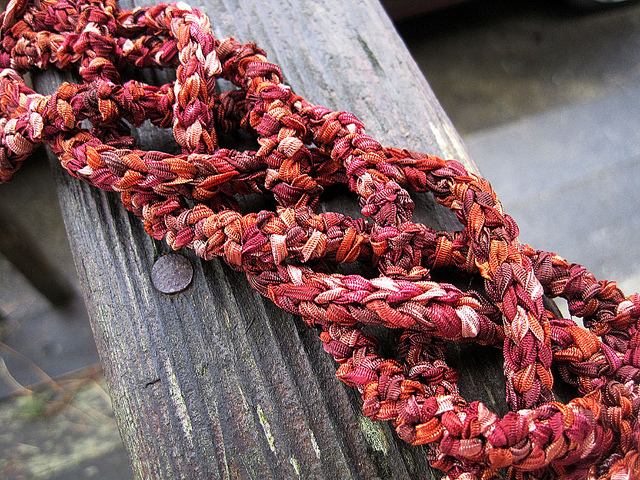 Ribbon meShell Bracelet
A great use for those ribbon yarns you love but don't know what to do with.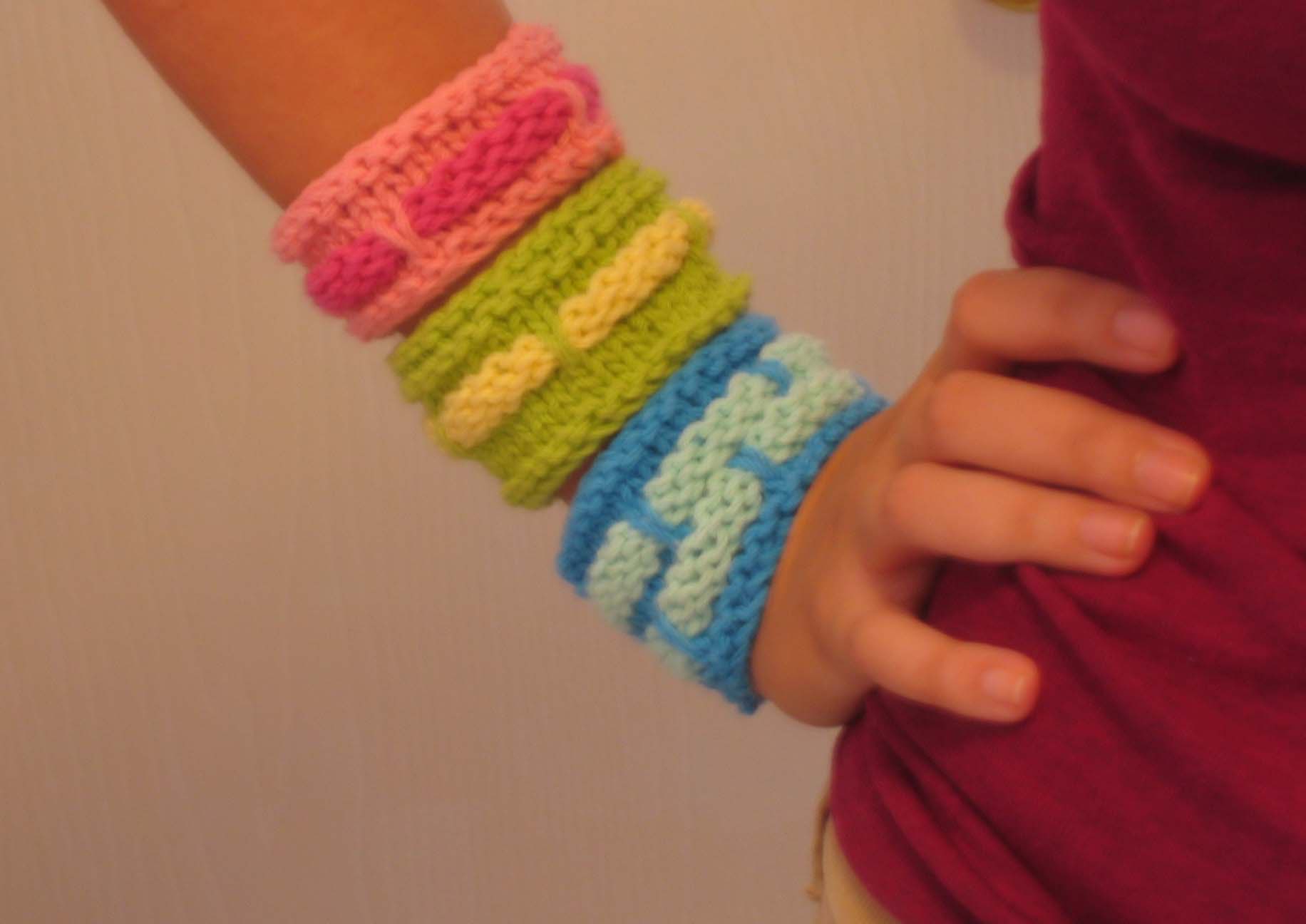 Band Cuffs
Make in less than an hour and wear out tonight!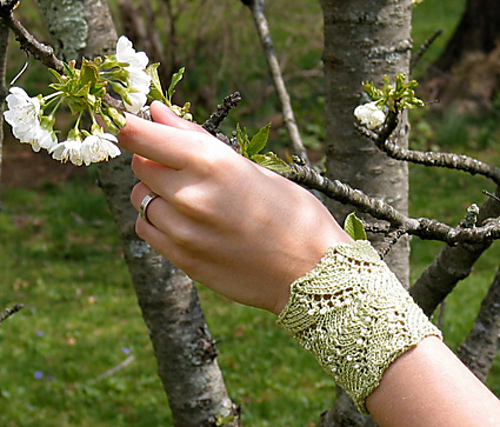 Perdita Cuff
Three floral motifs designed by Elizbeth Klett for sizes XS (S, M, L, XL).
Get the floss recommended by the designer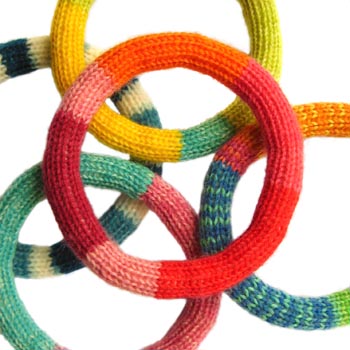 Seamless Bangle
Get the free knitting pattern designed by Oddknit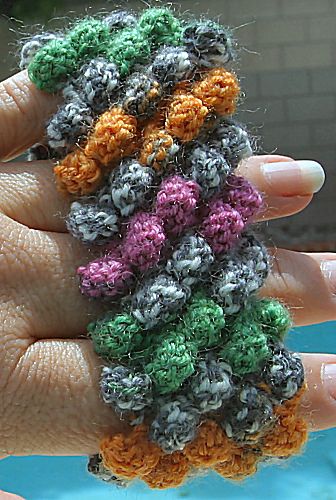 Not on My Watch Bobble Bracelet
Amy Seeberger designed this great use for leftover fingering or sock yarn, especially for multi-colored or self-striping yarn.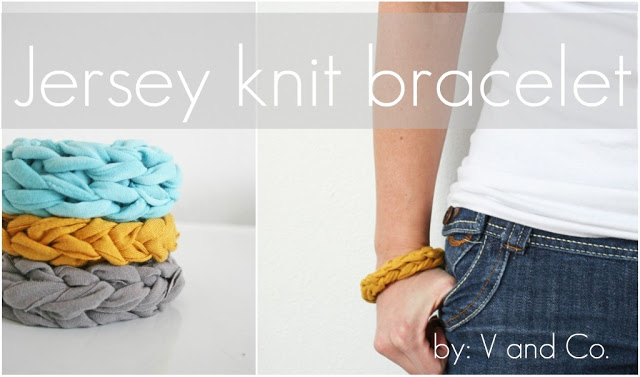 Jersey Knit Bracelet
Finger knit this bracelet with jersey knit. Vanessa Christensen created a detailed tutorial and video.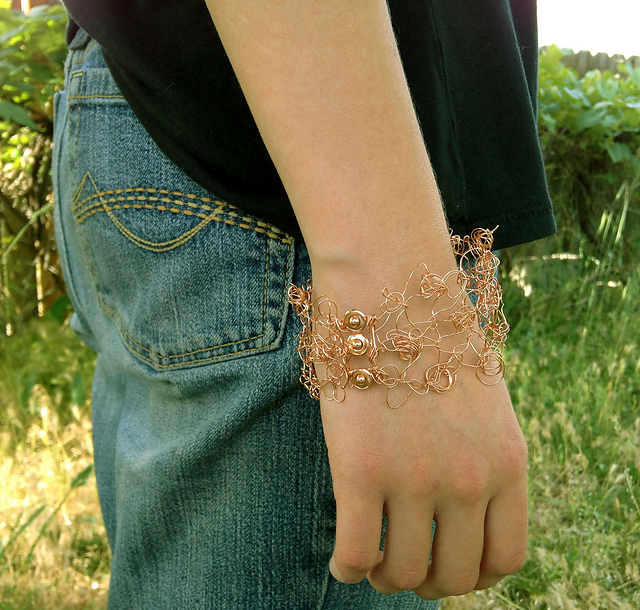 Lark Cuff
Virginia Catherall gives you instructions on knitting a bracelet from copper wire!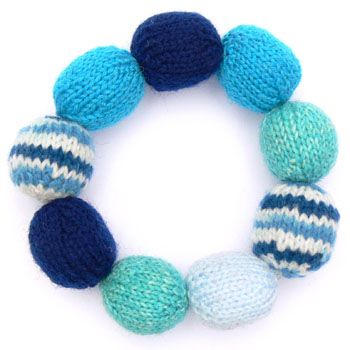 Bracelet Beads
Oddknit created this easy pattern to knit beads from leftover yarn, stuff them and string on stretchy cord.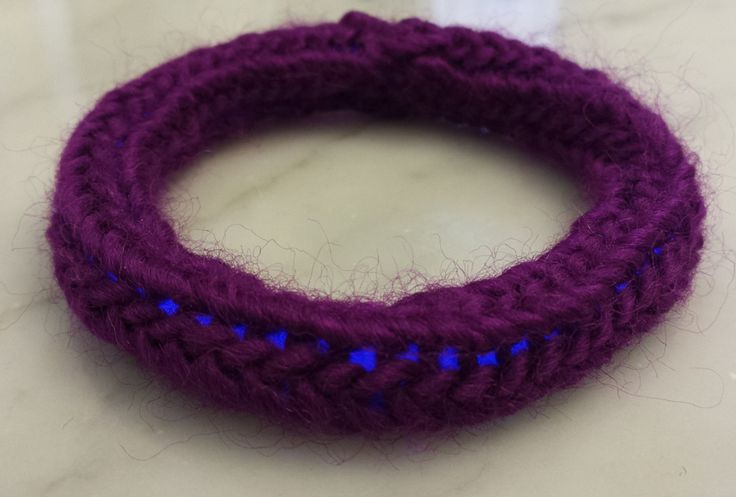 Glow Stick Bracelet
Knithacker created these instructions for a unique bracelet with an inner glow!
Patterns for Purchase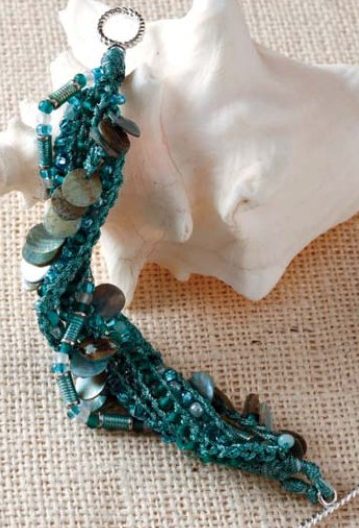 Braided Bracelet
One of 15 exciting bracelet designs by Leslieanne Beller in the Beaded Bracelets to Knit ebook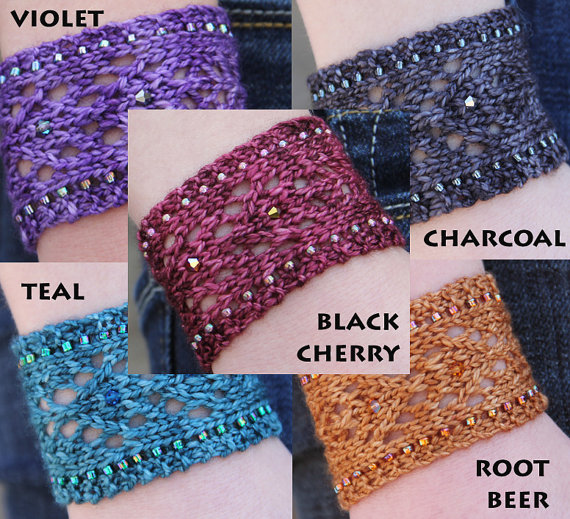 Pioneer Knitted Cuff Kit
Pioneer Cuff is a lace cuff knit in a light fingering cashmere/merino yarn that incorporates both pre-strung beads that are slipped in between stitches and Czech crystal beads that are placed on stitches with super floss. Knitting kit includes yarn, glass and crystal beads, clasp, floss, and threader.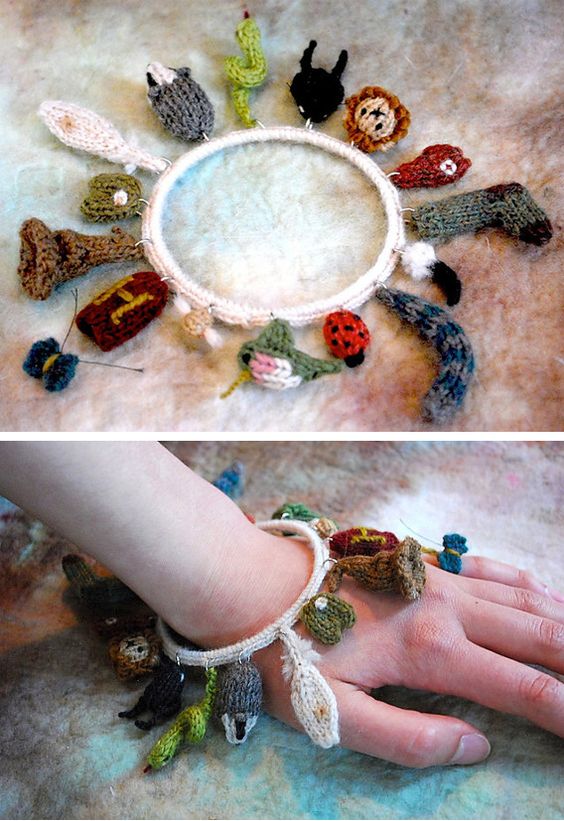 Care of Magical Creatures Charm Bracelet #3
Harry Potter inspired charm bracelet with charms that include Cheshire cat tail, HP sweater cocoon (with butterfly), cricket, gryffindor lion, house elf sock, hufflepuff badger, hummingbird, ladybug, lilypad, pegasus feather, ravenclaw eagle claw, slytherin snake, snitch, sorting hat, thestral treat (steak.).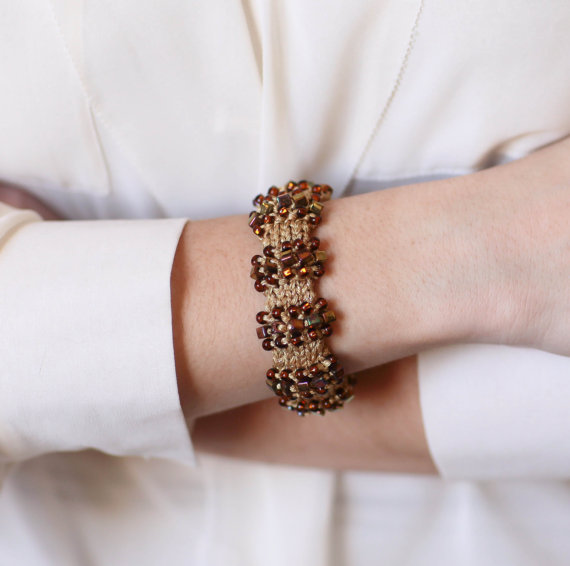 Toldeo Bracelet Kit
The Toledo Bracelet is a stunning knitted bracelet that uses garter stitch and stockinette stitch to create its 3-dimensional texture. Knitting kit includes yarn, colored beads, metallic beads, clasp, and threader.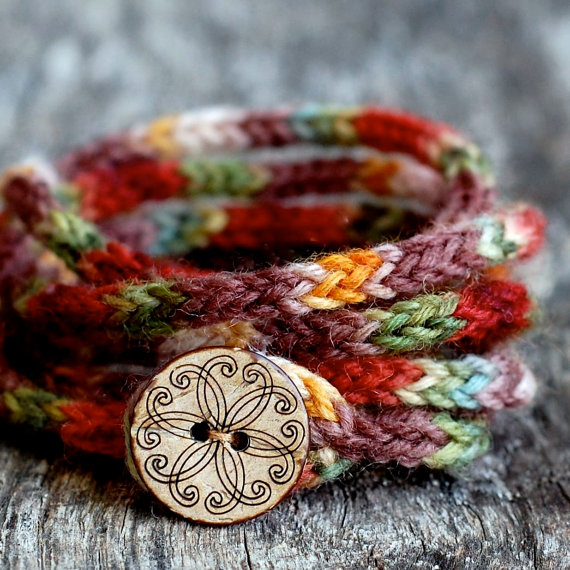 Boho I-Cord Bracelet
A charming little wrap bracelet with a rustic flair and just the right amount of femininity.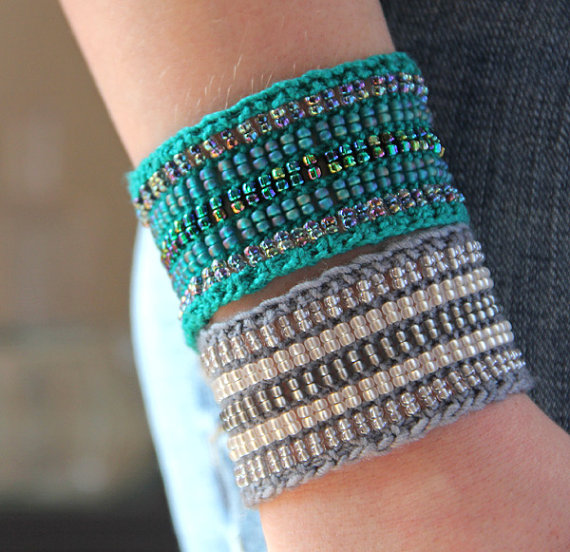 Stereo Cuff Kit
Stereo Cuff is deceptively simple… there are only 8 stitches with 3 colors of beads slipped up in between. Knitting kit includes yarn, glass beads,clasp, and threader.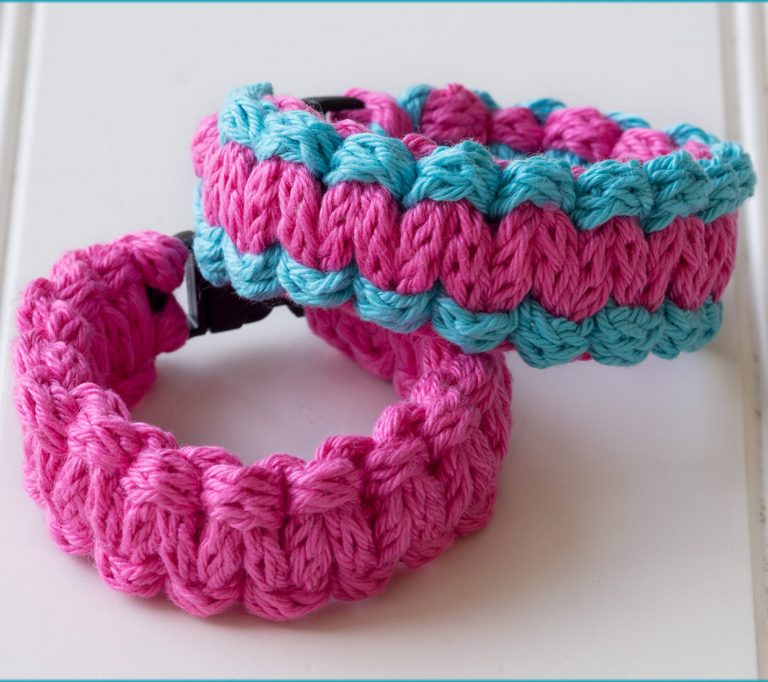 Ryedale Bracelet
Instructions for making trendy, chunky paracord style bracelets from knit i-cord. Easy pattern in 5 sizes.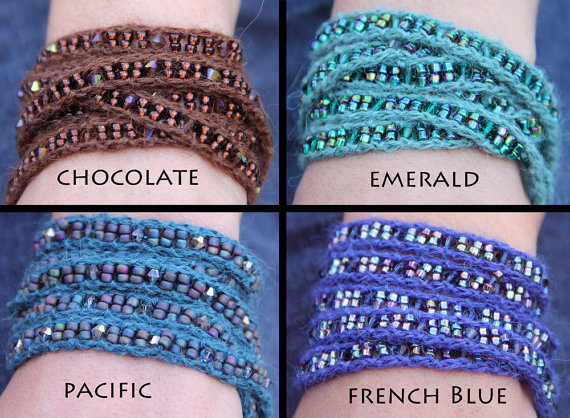 Ribband Kit
Ribband is a versatile knitted jewelry piece: it is a 32 inch long beaded strand that can be worn as both a multi-looped bracelet or a necklace. Based on 4 stitches of knitting this is knitted beaded jewelry at it's easiest! Knitting kit includes yarn, glass and crystal beads,clasp, and threader.