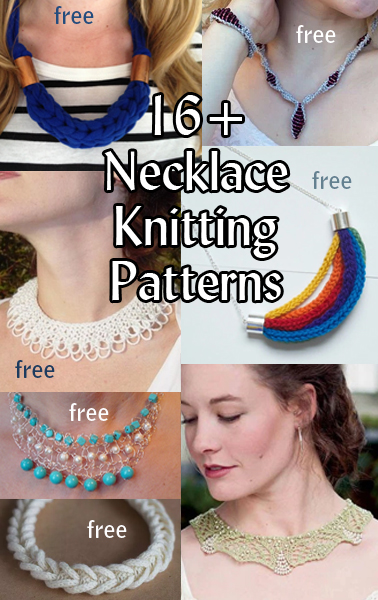 Scroll down to see the individual patterns and click the links to download.
Free Knitting Patterns
Patterns for Purchase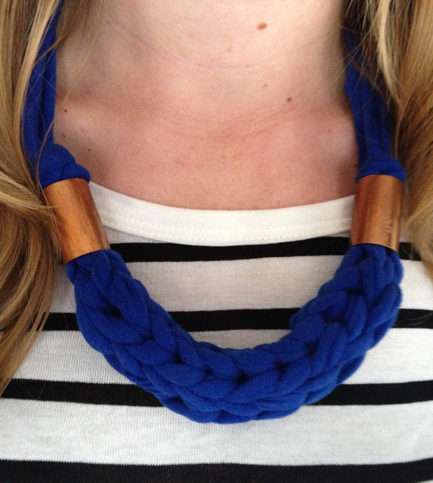 Chunky Finger Knit Necklace
Designed by Erin at Thanks, I Made It, all you need to make this necklace is jersey fabric yarn, plumbing couplings from a hardware store and your fingers!
Shop for jersey t shirt yarn at Etsy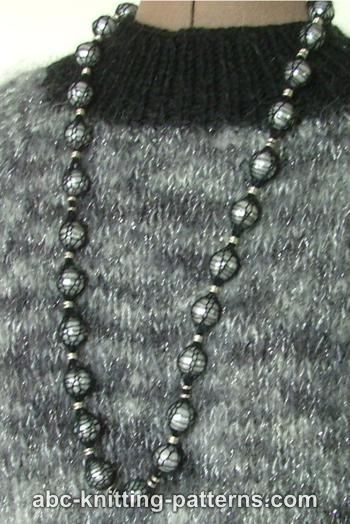 I-Cord Necklace
An ingenious necklace knit with beads inserted into an i-cord.
Free video and instructions on how to make i-cords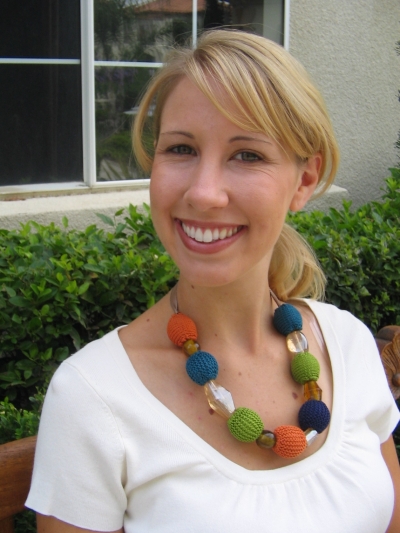 Julie Statement Necklace
Designed by Jordana Paige after designer necklaces.
Shop for the floss recommended by the designer at Michaels
Shop for beads and jewelry supplies at Michaels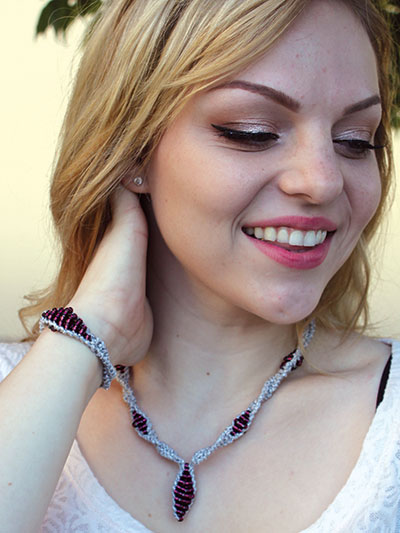 Paloma Necklace and Bracelet
Necklace and bracelet in metallic yarn designed by Andi Jovori.
Get silver lined glass beads at Etsy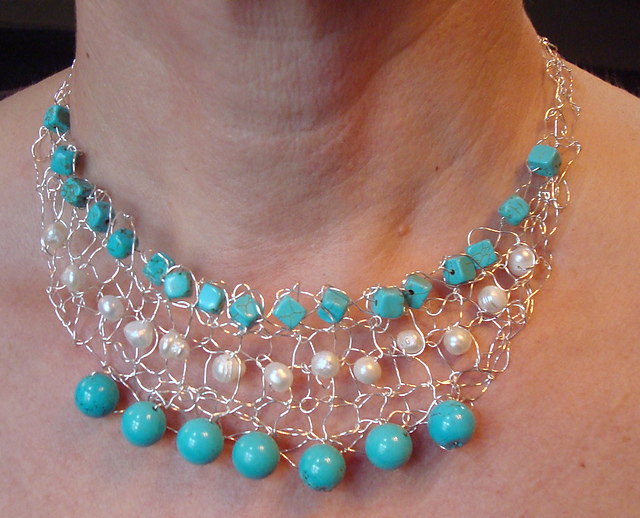 Desert Meets Sea Necklace
Karen Catlin designed this beautiful knitting pattern using flexible wire, turquoise beads and freshwater pearls.

Knecklace
Designed by Hilary Engebretson, this necklace can be adjusted for any weight of yarn.
Get the yarn recommended by the designer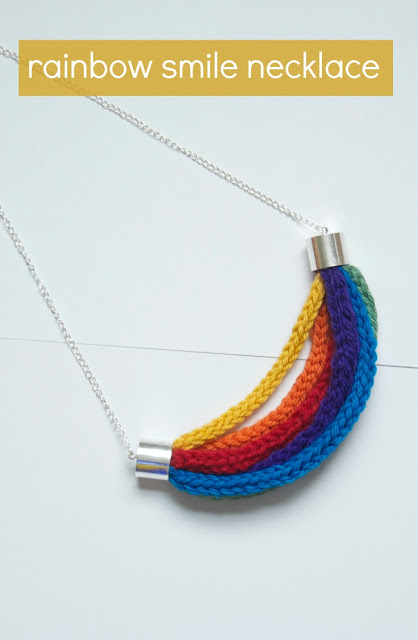 Rainbow Smile Necklace
This easy and fun necklace by Vicki Brown is constructed with a few i-cords that you can knit or crochet,  plus a few jewelry supplies.
Free video and instructions on how to make i-cords
Shop for the jewelry supplies at Michaels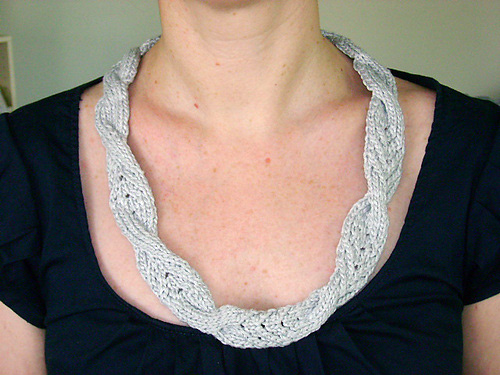 High Tea Collar Necklace
This versatile necklace designed by Donna Heron can be worn with either the button fastening in the back as a necklace or in the front for more of a collar look.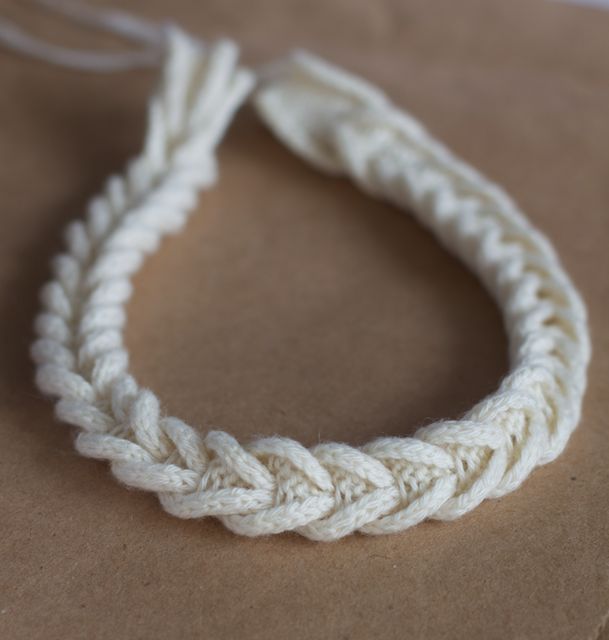 Cable Braided Necklace
Designed by Olga Jazzy this necklace is braided from two pieces of stockinette.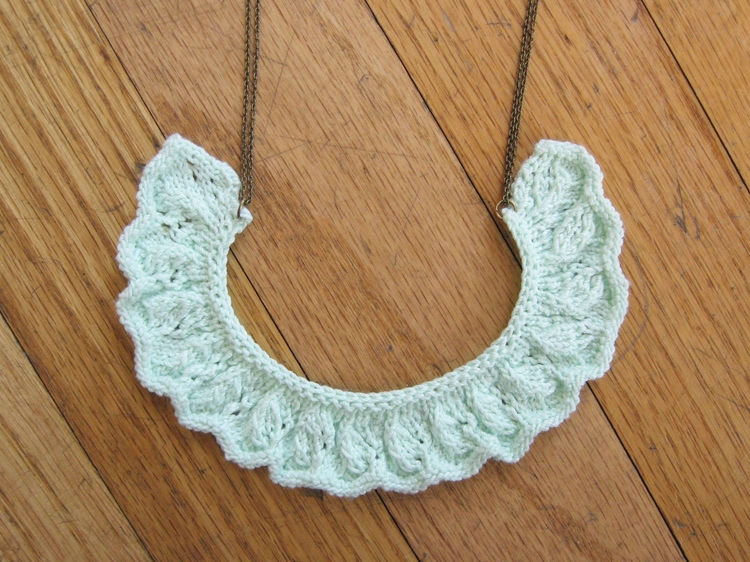 Ruched Necklace
Get the free knitting pattern designed by Kris DeGraeve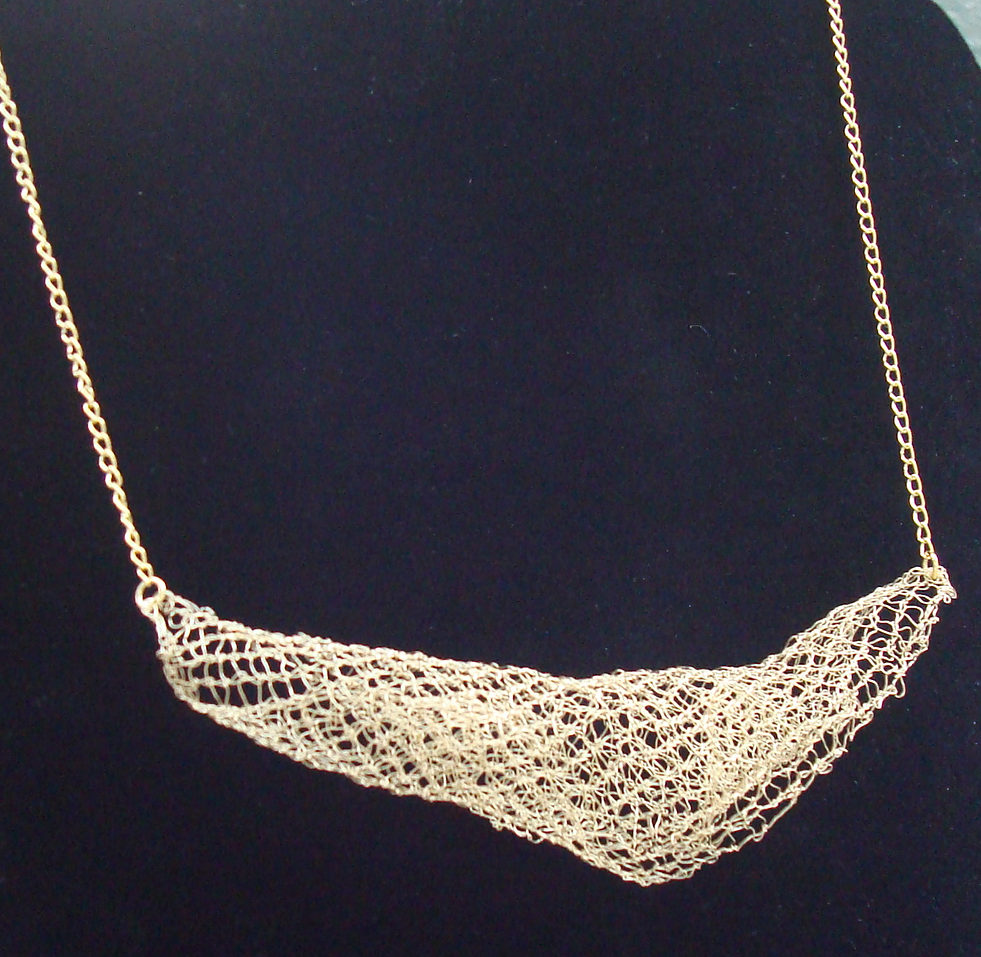 Golden Waves Necklace
A simple rectangle, knit from flexible wire and then curled, creates a unique twisted necklace.
Get the free knitting pattern designed by Karen Catlin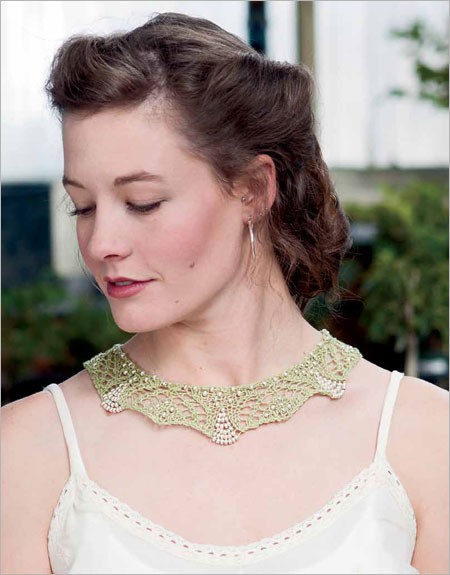 Endira Necklace
Two different beading techniques add a little sparkle to crisp old-world linen lace.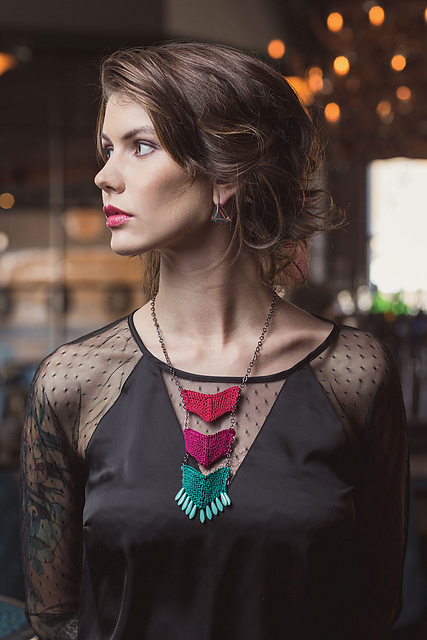 Nicole Necklace
This jewelry design by Daniela Nii combines stunning beads with easy garter-stitch knitting. It is just one of 33 knitting patterns in Knitscene Accessories 2015. That's less than 50 cents per pattern!
See this and the other patterns in Knitscene Accessories 2015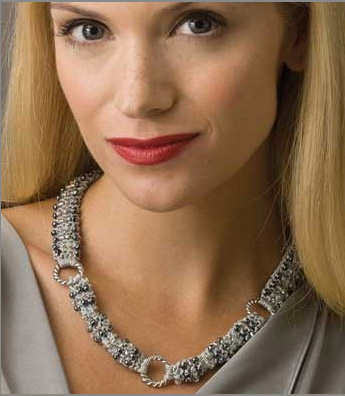 Jacqueline Necklace Knitting Kit
Designed by Andi Javori, this elegant knitted jewelry kit includes Stella (silk/lurex) yarn, beads, findings and instructions to make one 19″ x 1/2″ necklace. Gold or silver. (Note – I noticed that the site says "pre-order" until you select an option then it says "in stock")
Get the kit on sale at Patternworks for $26.99 $15.99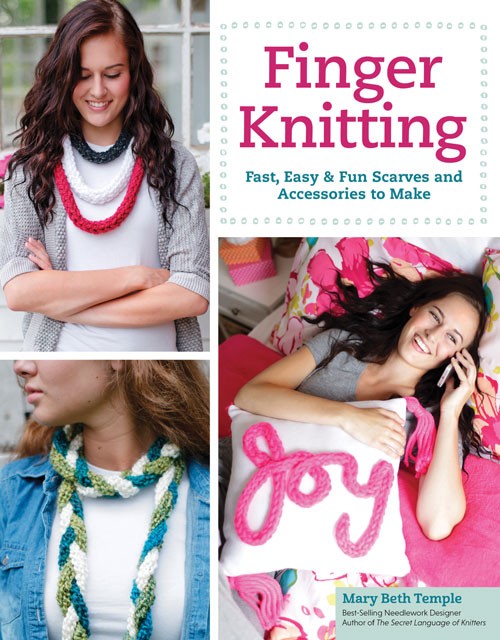 Finger Knitting
Finger knitting is the amazingly simple process of knitting with only your fingers, instead of with traditional knitting needles. It's the ultimate on-the-go, take-it-with-you craft. 13 totally cute projects are included in this book, from bracelets, necklaces, scarves, belts, and headbands, to wreaths, coasters, rugs, and pillows.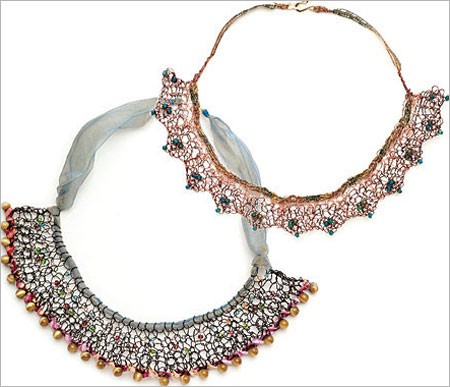 Three Wire Necklaces
Three unusual knitted necklaces, combining glass beads, colored wire, and just a bit of yarn or ribbon. The wire, prestrung with beads, is used as the knitting yarn and the beads are slipped into place as required.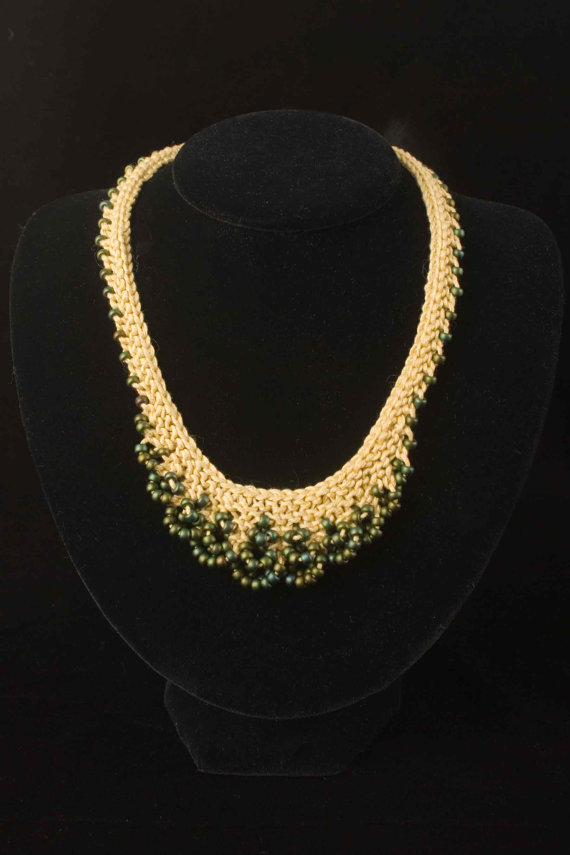 Scallop Edge Beaded Necklace
The original pattern for the Scallop Edge Beaded Necklace featured in 101 Designer One-Skein Wonders. Very popular on Ravelry. This version includes both the book version and a variation designed for a friend using finer yarns and smaller needles than the pattern in the book.