To get the knitting patterns, scroll down the page to the individual pattern you want and click on the link to that pattern.
These patterns are not my designs but links to other designers who have generously shared their patterns. If you have questions about how to knit a specific pattern, please contact the designer directly.
All links on this site are for informational purposes, but please note that some links are to affiliate sellers that pay me a small commission on purchases.
Free Patterns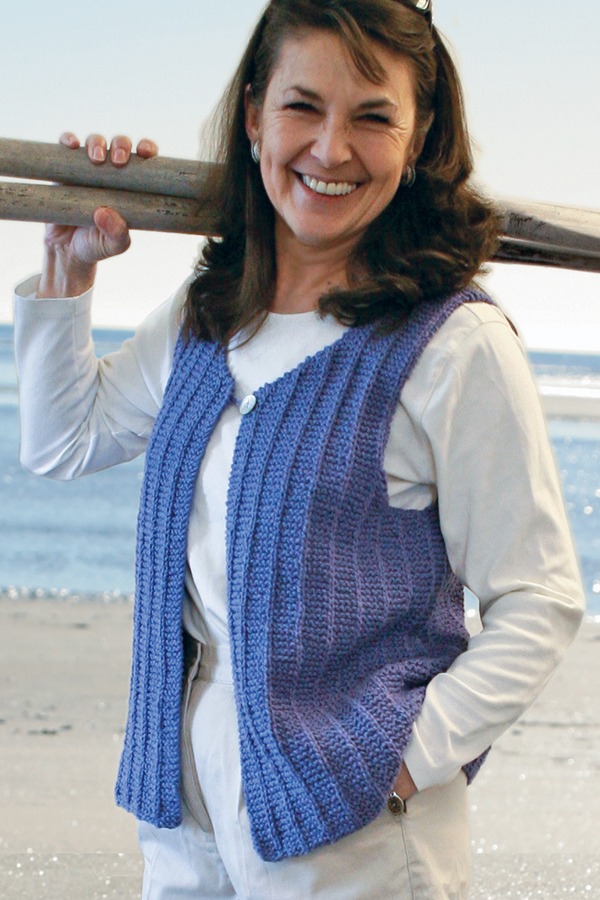 2 Row Repeat Vaill Island Vest
Easy vest knit in a 2 row repeat garter slip stitch. Designed by Gwynn Erickson. Rated easy by Ravelrers and recommended for advanced beginners by the designer, though the construction requires a little more attention than some basic patterns. Sizes 36", 40", 44" chest. Worsted weight yarn.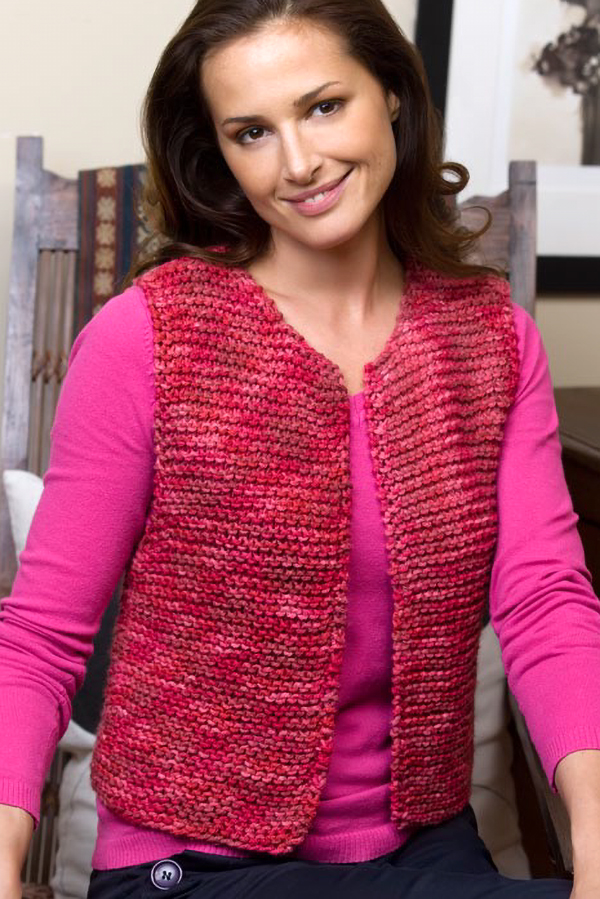 Easy Going Vest
Garter stitch cropped cardigan vest in 3 pieces and seamed. Rated easy by the designer and I think it would be suitable for an advanced beginner. Designed by by Cynthia Yanok for Red Heart. Sizes Small to XX-Large. Chunky weight yarn.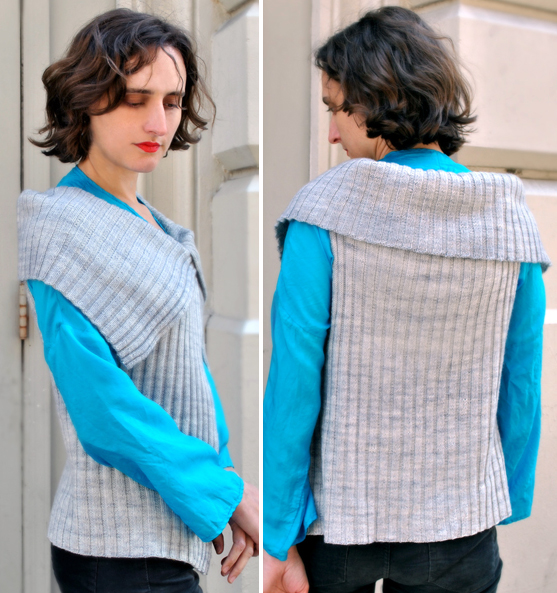 Joelle's Favorite Vest
Knit in 3x3 rib rectangle with armholes and blocked to size. Rated easy by Ravelrers and the designer. Designed by by Purl Soho. Sizes small/medium and medium/large. Fingering weight yarn.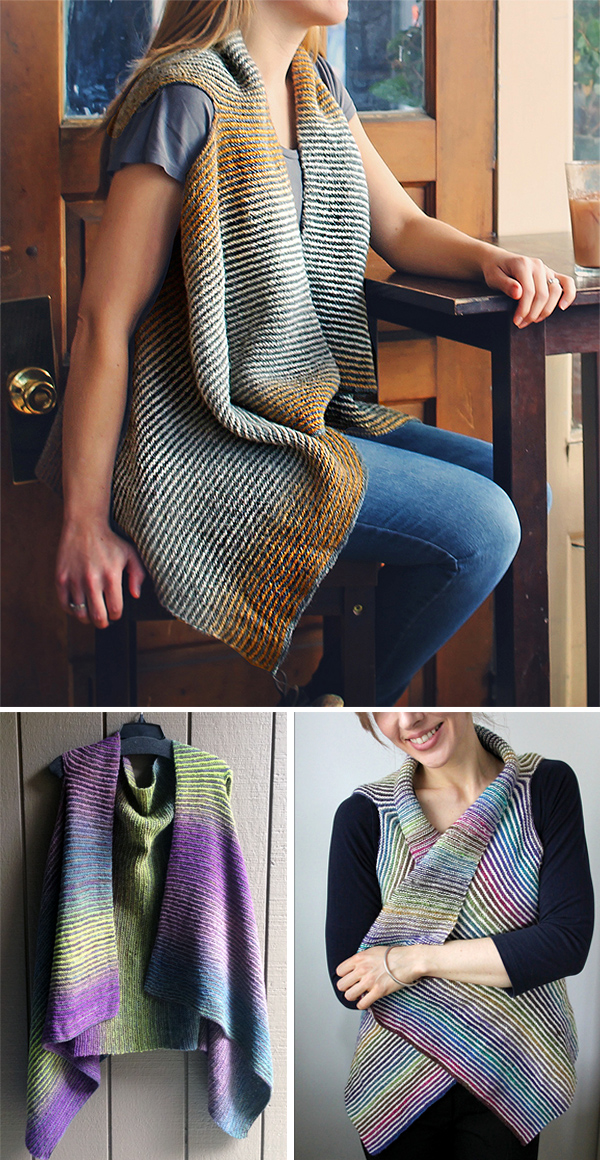 Cascade Vest
Striped a-line vest knit flat in one piece with armholes so it naturally drapes in front alternating a variegated colorway with solid color. Designed by Sally Brandl. Rated easy by Ravelrers and the designer. Pictured projects by designer, janeskatz, and elsteffo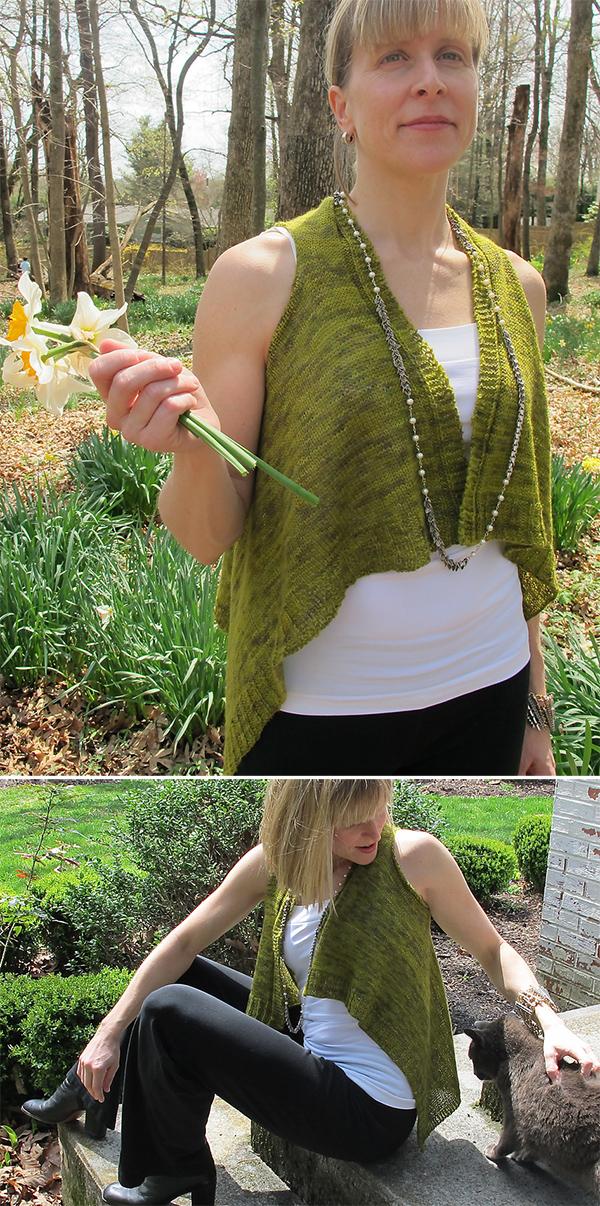 Flyaway Vest
Knit flat in one rectangle with armholes this simple vest features a high low hem silhouette. Designed for one skein of lace weight yarn knit on size 6 US needles. Designed by Gina Bonomo. Rated easy by Ravelrers and the designer.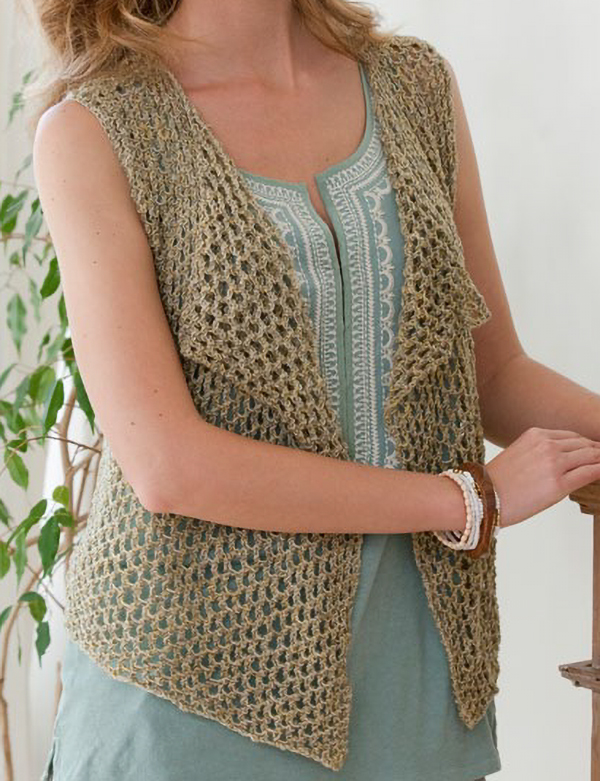 Four Seasons Vest
Just three flat pieces are knit in a 4 row 4 stitch repeat lace mesh pattern and seamed make this stylish openwork vest. Designed by Julie Farmer for Red Heart. Rated easy by Ravelrers and the designer. To Fit Bust: 28 (32, 36, 40, 44, 48)" Fingering weight yarn on large needles.

Racerback Vest
Sleeveless cardigan knit flat in one piece in stockinette. "Summer Vest" designed by Julie Beatty. Rated easy by Ravelrers. DK weight yarn. Available in English and French.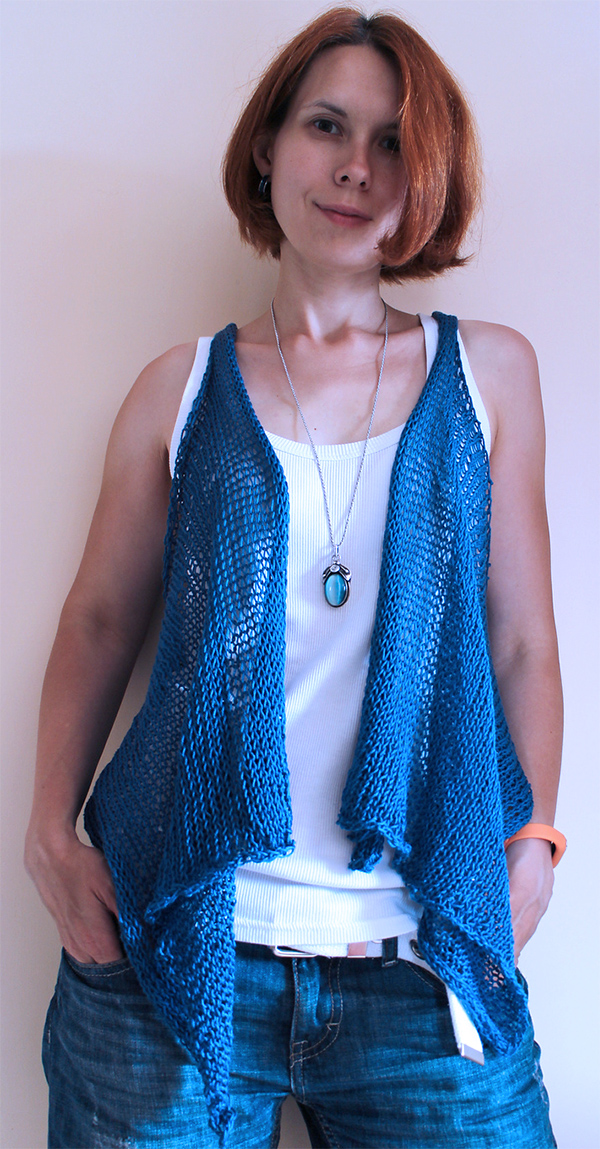 Diumenge Vest
Knit from side to side in stockinette with sport weight yarn on large needles. Designed by Jennifer Callahan. Pictured project by KoshkaLola. Rated easy by Ravelrers. Available in English and Spanish.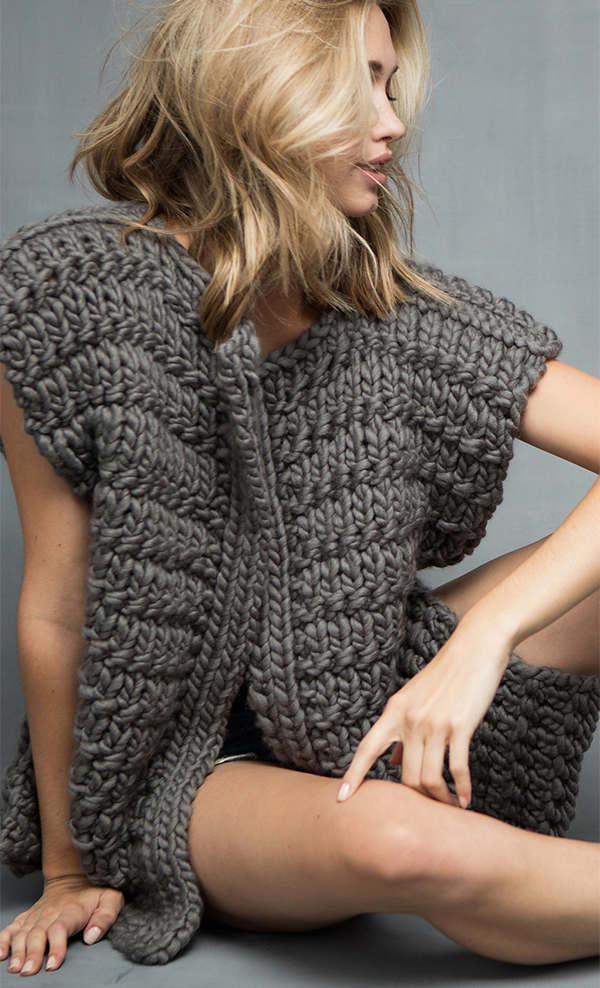 The Cheryl Vest
Quick and easy vest knit in 3 rectangles of a 4 row repeat using super bulky yarn. Designed by The Third Piece Design Team. Rated easy by Ravelrers.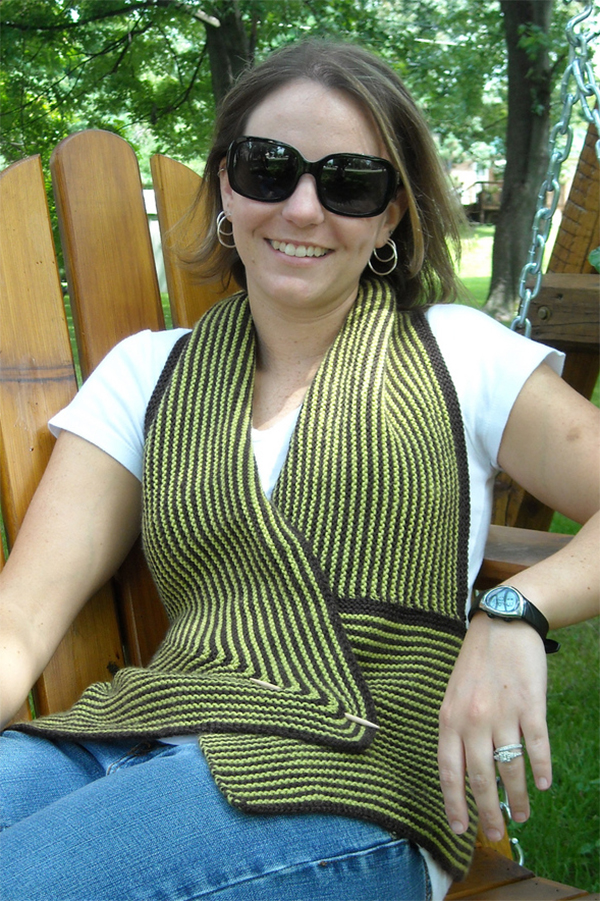 Hanne Vest
This halter wrap vest is knit in striped garter stitch in one piece with mitered corners and then folded and seamed to form the vest. Designed by Lia Moya for Knitty. Rated very easy by Ravelrers. Pictured project by lindseyann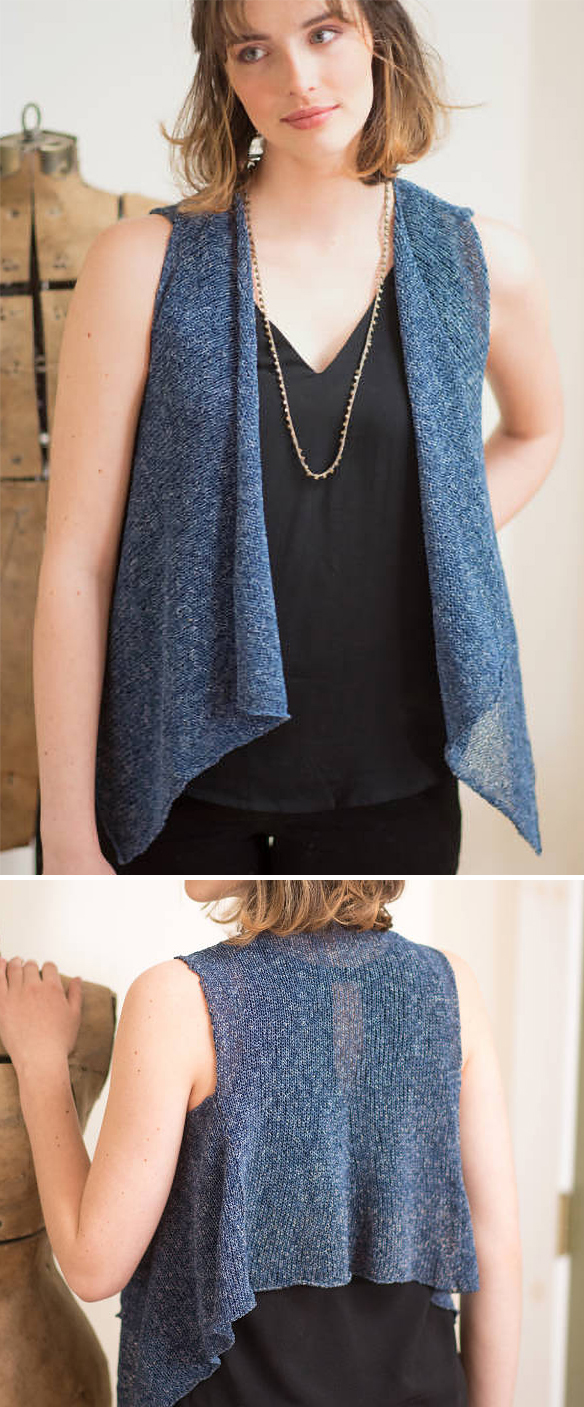 Leni Vest
This draped front vest is knit with stockinette in 3 pieces with a shaped back and long, angled front that's great for layering. Knit flat and seamed. Designed by Berroco Design Team. Sizes Back Shoulder Width—10½ (12, 13½, 15, 16¼)". DK weight yarn.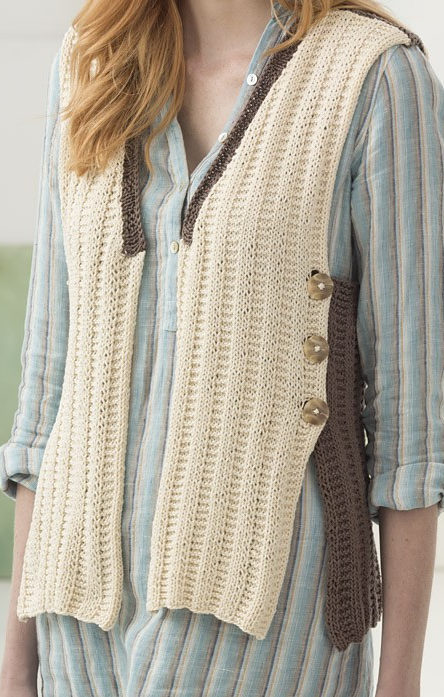 Milford Vest
This easy open front vest is knit in a two row repeat garter rib stitch and is buttoned the on sides. Designed by by Irina Poludnenko for Lion Brand Yarn. XS/S (M/L, 1X/2X)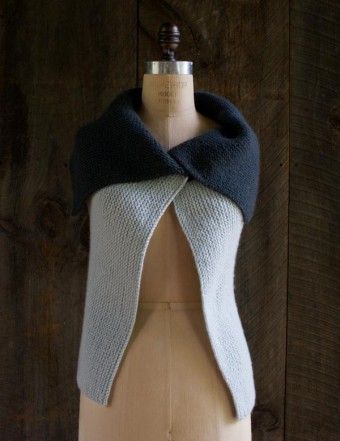 Sideways Garter Vest
Designed by Purl Soho, this versatile vest / wrap is a rectangle of garter stitch with two well-placed slits for armholes, nothing could be simpler to make. Can be worn many different ways, with the collar up or down.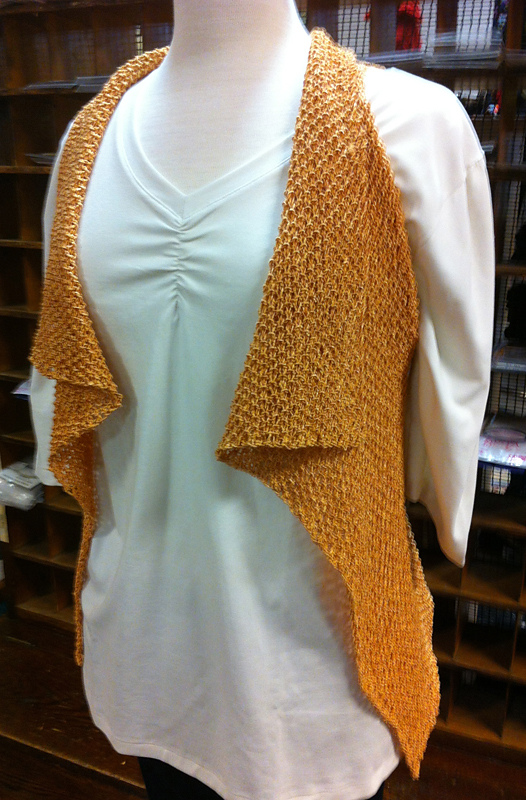 Seabrook Vest
This draped vest by Amanda Keep Williams is super easy. Just knit a single rectangle with armholdes in seed stitch at a loose gauge and it drapes naturally. Pictured project by lippyone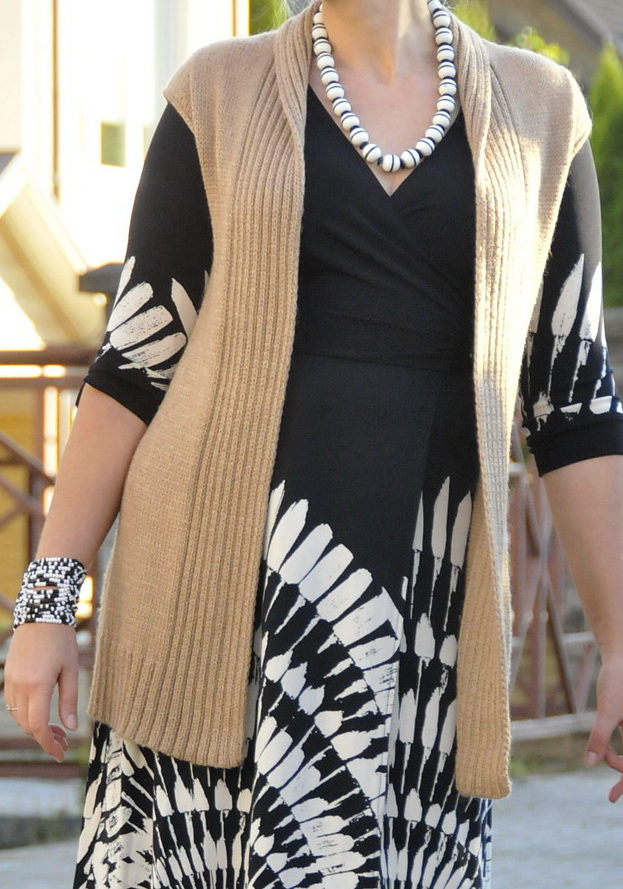 Kaino Vest
This long, open-front vest features ribbed front edges, a pointed back collar, ribbed detail in back, and easy cap sleeves. Designed by Norah Gaughan for Berroco. Sizes Bust: 30 (34) 38 (42) 46 (50)" Rated easy by most Ravelrers. Pictured project by aisteb1973.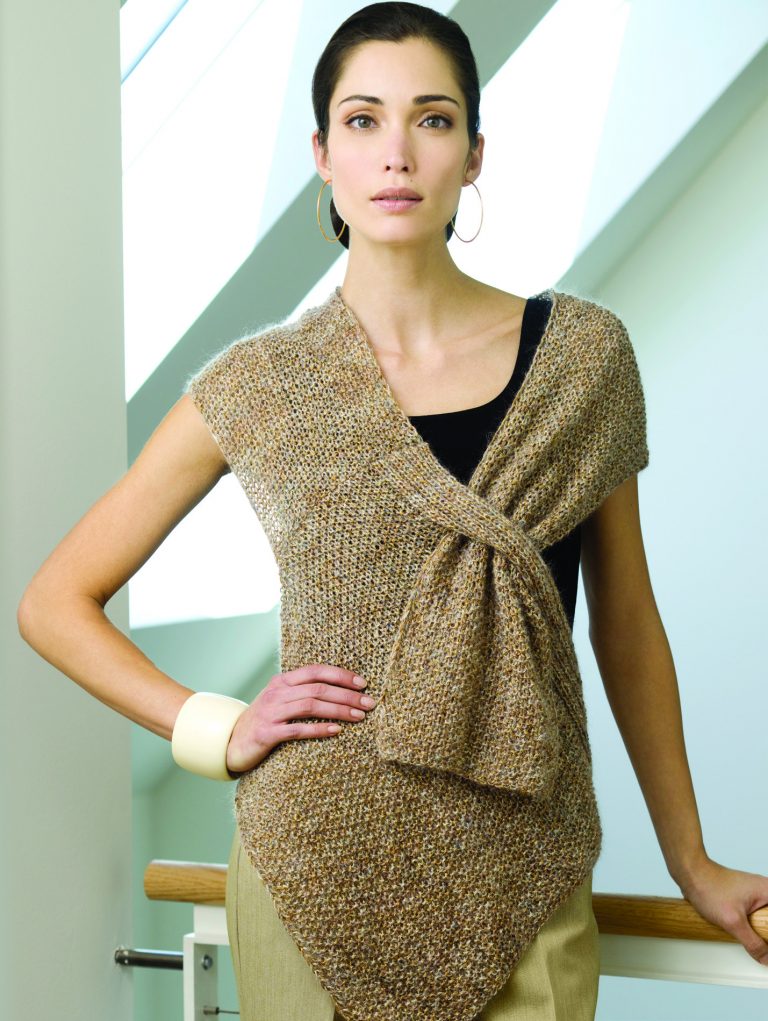 Tyra Top
This easy pattern by Irina Poludnenko has fascinated me for a long time because of its keyhole shawl shoulder fastening. It's more than a shawl because it has a band on the lower back, yet it's more than a top because it is made for layering. So I'm calling it a vest! Rate easy by the designer and Ravelrers, it is sized for X-Small (Small/Medium, Large/XL, 2X)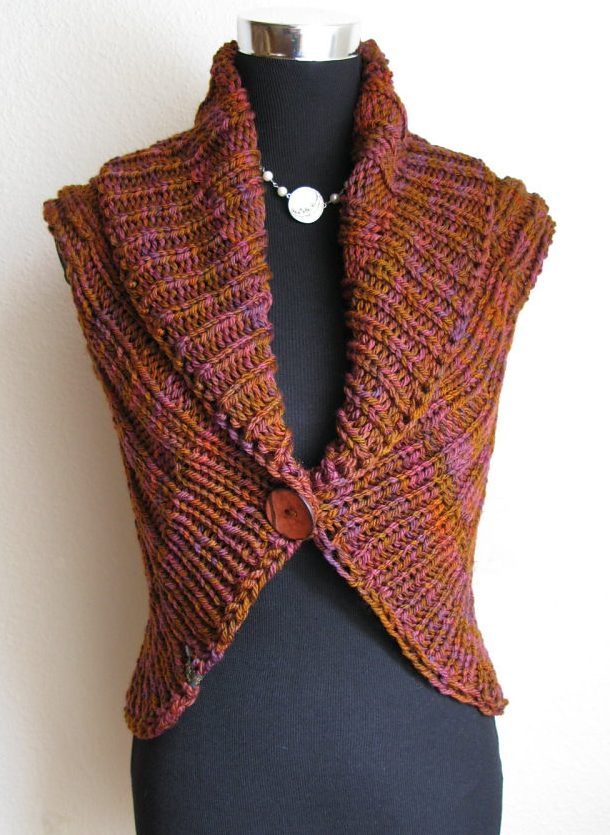 Shawl Collar Vest
This easy circle shrug / vest by Jennifer Miller is knit in chunky yarn. Great for multi-color yarn. Pictured project by Telse
Patterns for Purchase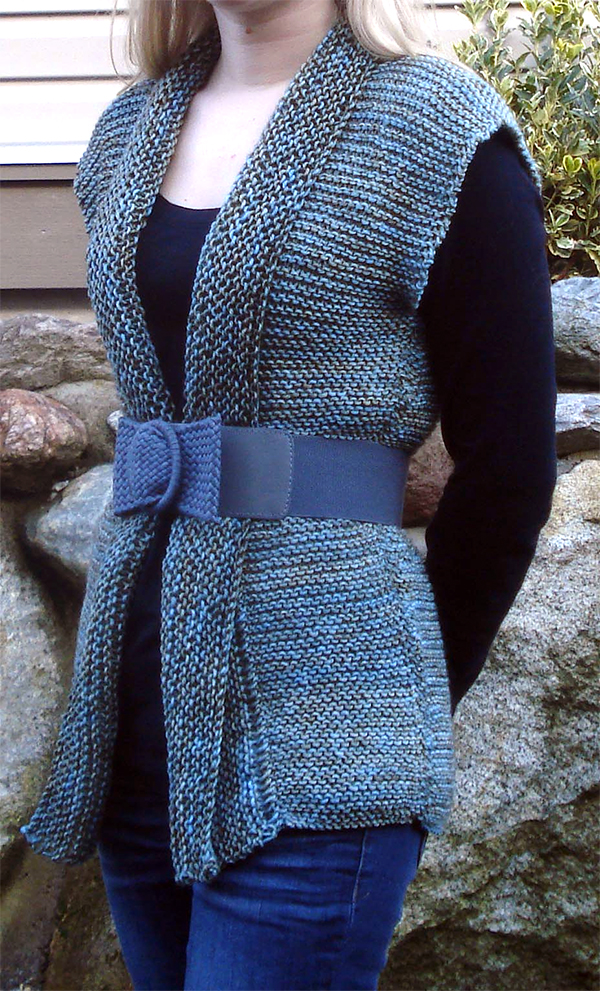 Astrolabe Vest
Garter stitch vest knit in one piece and seamed. The collar is picked up and worked in garter stitch. Sizes 32 (35, 38, 41, 44, 47, 50, 53, 56)" bust. Designed by Cecily Glowik MacDonald. DK weight yarn. Rated easy by Ravelrers amd the designer. Pictured project by blondecatalogue who said this was great for tv knitting!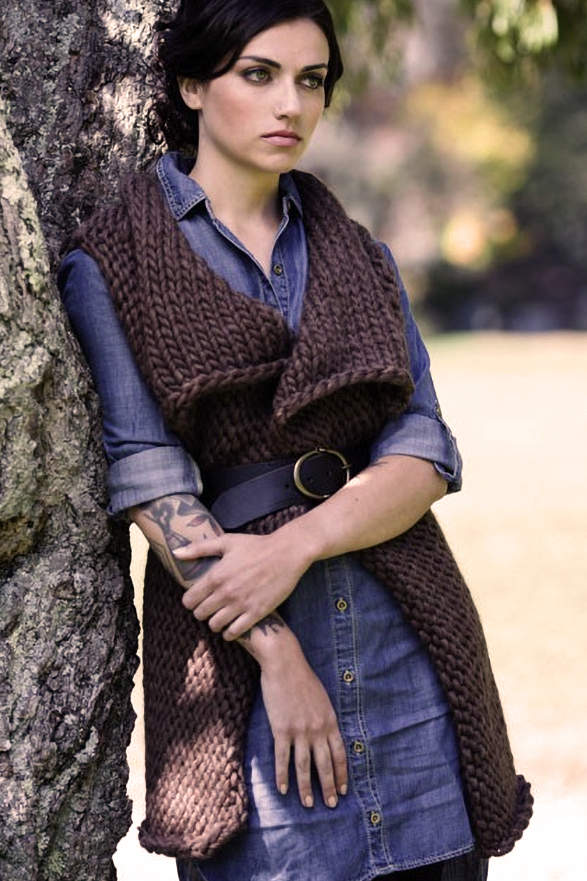 Time Traveler Reversible Vest
This unusual wrap can be worn several ways: belted or open, with a shorter collar and a longer vest (as shown) or turned upside down for an oversized collar. Designed by Karen Clements. Super Bulky weight yarn. Rated very easy by Ravelrers. One of patterns in Highland Knits: Knitwear Inspired by the Outlander Series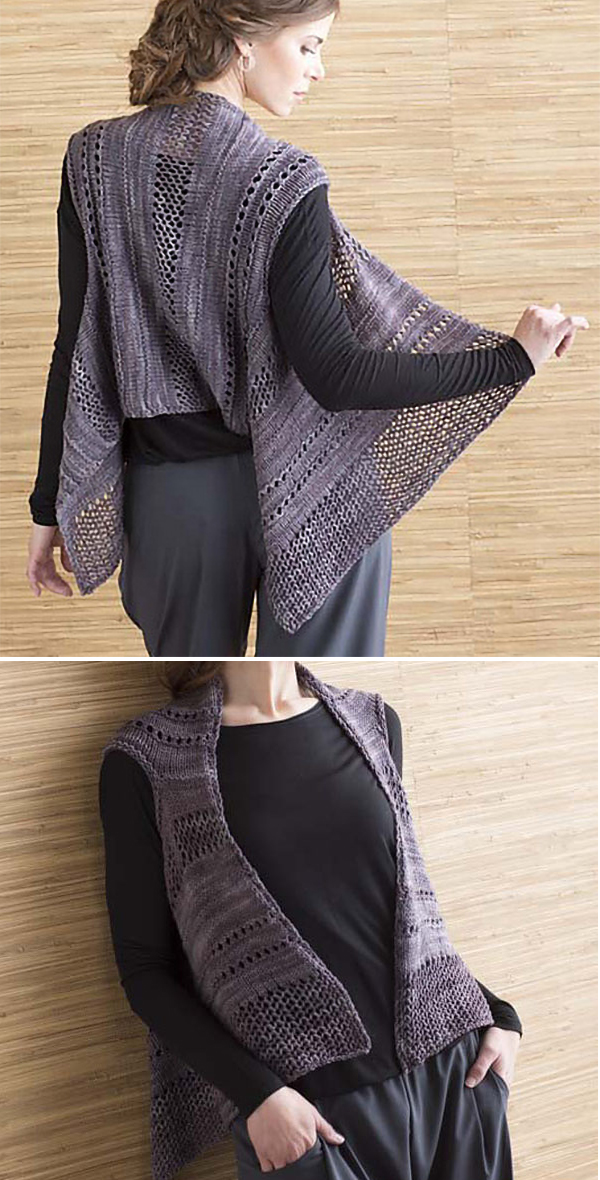 Wisteria Vest
This vest is a simple rectangular shape with armholes worked in a combination of stockinette stitch, garter stitch, and a one-row repeat lace pattern. This project is deliberately worked at a looser gauge to create a drapey effect but can be knit in worsted-weight yarn for a heavier vest. 3 sizes. Designed by Yumiko Alexander. Sport weight yarn. Rated easy by Ravelrers. One of 23 patterns in Rustic Modern Knits: 23 Sophisticated Designs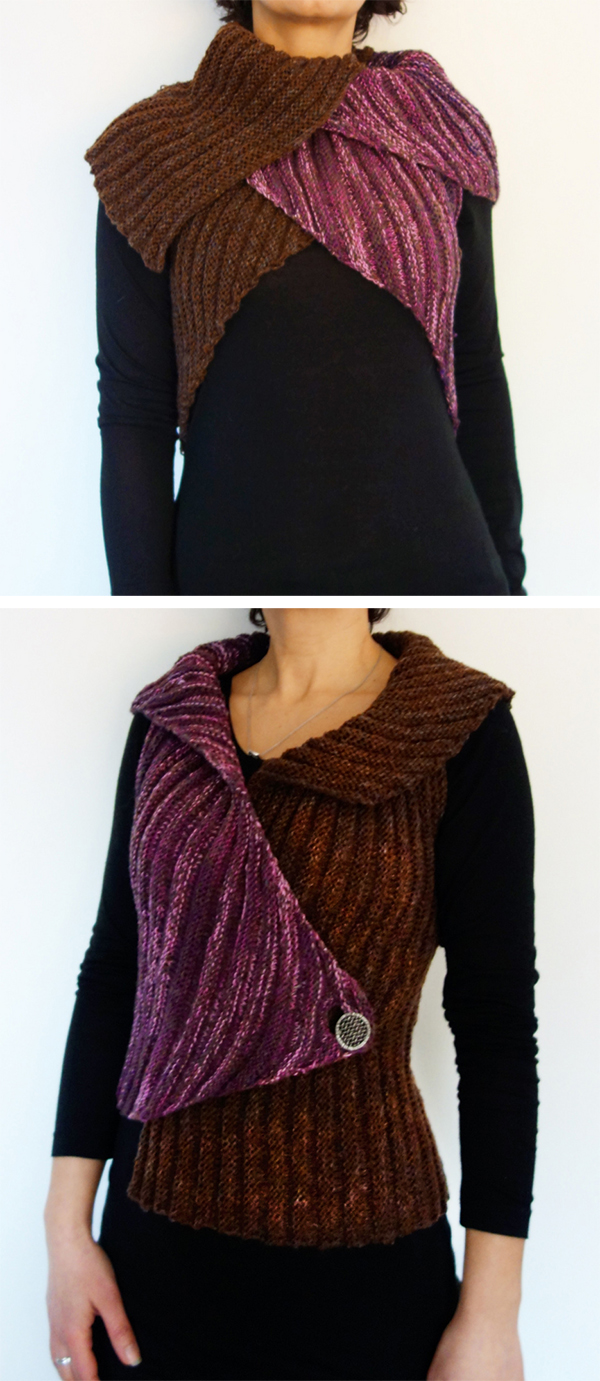 Tulip Vest
This versatile vest is knit with a ribbed stitch in one piece from side to side. The sleeveless sweater is designed to be worn two ways: as a large collar vest or a simple collared vest with the larger side down. Sizes XS,S,M,L,XL,XXL. Designed by Camexia Designs who says it is easy enough for beginners. Worsted weight yarn.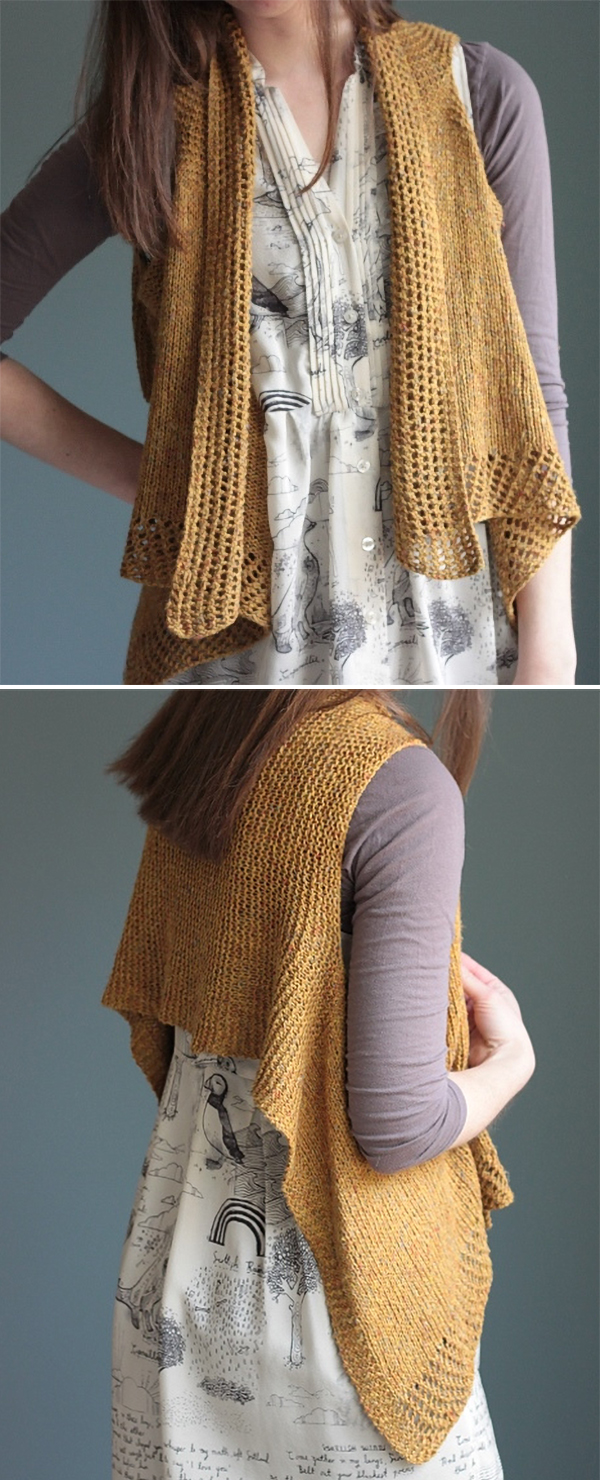 Penny Vest
Penny is a seamless vest that is knit in one piece from side to side. The pattern is written for 5 different yarn weights: fingering, sport, dk/light worsted, worsted/aran, and bulky, so you can use whatever yarn you like (pictured project in worsted). Simple, quick and versatile, Penny is a relaxing knit that will make a perfect light layering piece. Sizes S (M, L, XL). Rated easy by most Ravelrers. Designed by Elizabeth Smith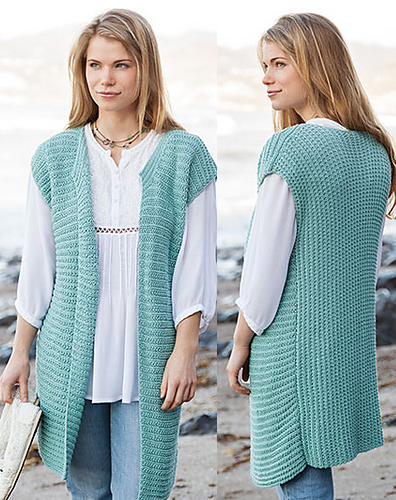 Passionista Vest
Lena Skvagerson's simple-to-stitch vest is a versatile accessory and easy enough for beginners looking to branch out.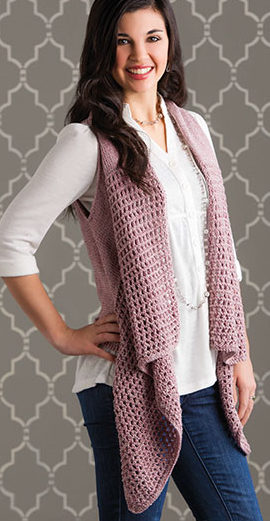 Breezy Mesh Vest
Easy vest pattern with a draped front is a quick knit. Woman's S (M, L, XL, 2Xl)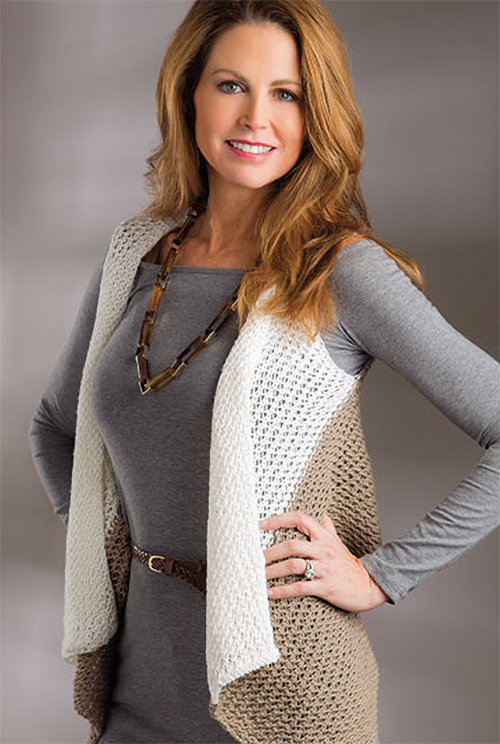 Caldew Vest
Easy draped front lace vest is essentially a rectangle with arm holes. Woman's S (M, L, XL, 2XL)