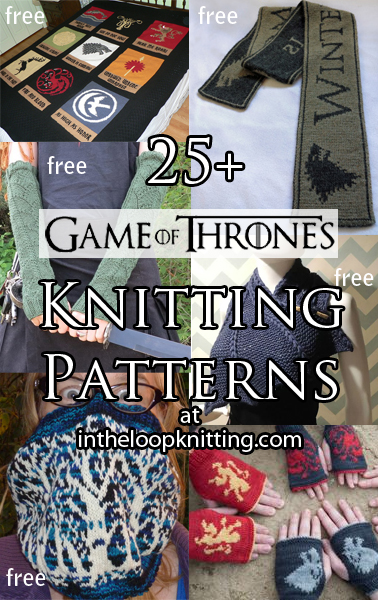 Winter is coming — so it's time to get knitting with these scarves, cushion, shawls, mitts, hats, blankets, cowls, and socks inspired by Game of Thrones, the Song of Ice and Fire characters, and dragons. Most patterns are free.
To get the knitting patterns, scroll down the page to the individual pattern you want and click on the link to that pattern.
These patterns are not my designs but links to other designers who have generously shared their patterns. If you have questions about how to knit a specific pattern, please contact the designer directly.
All links on this site are for informational purposes, but please note that some links are to affiliate sellers that pay me a small commission on purchases.
Free Patterns
Game of Thrones Blanket
The sigils of the houses adorn this knitted design by Ruby Gal is created with intarsia, a simple cable pattern, and basic embroidery.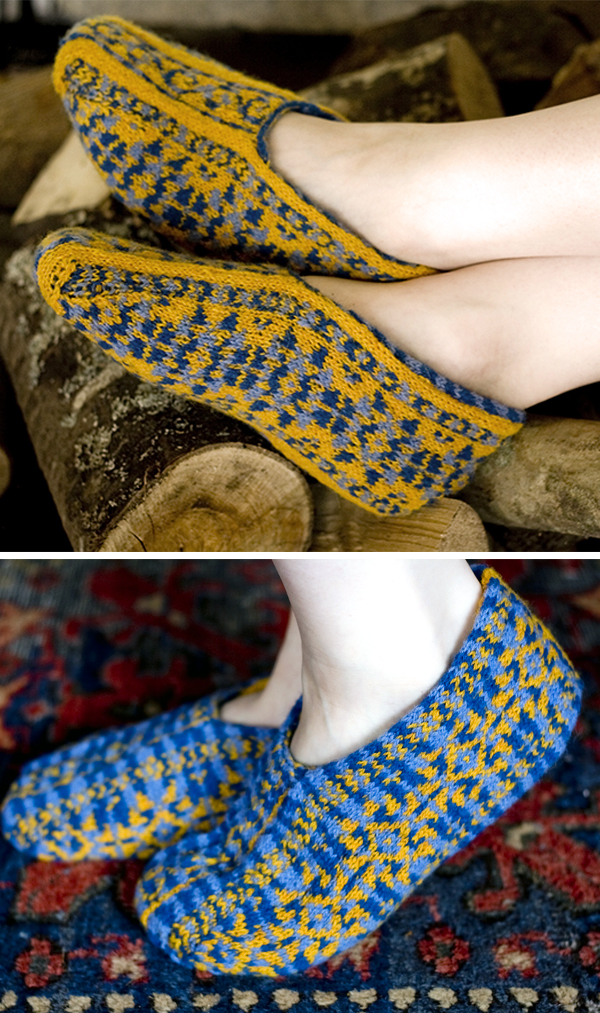 Drogo Slippers
Game of Thrones inspired footwear named because of the sun and stars motifs in stranded colorwork, and also because they're complex and beautiful, not unlike a certain Dothraki khal. Each slipper is knitted entirely in one piece and are reversible. Foot Circumference: Approximately 7.75 (9, 10) inches (on inside of slipper after assembly. Designed by Ashley Knowlton for Knitty. Fingering weight yarn.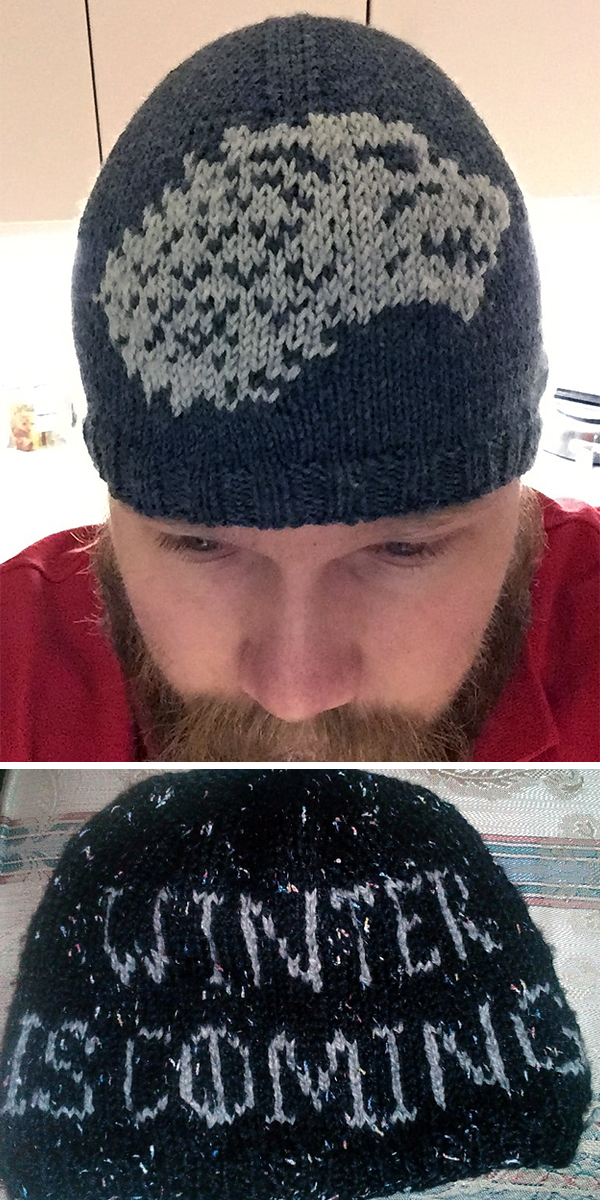 Winter Is Coming Hat
Game of Thrones inspired hat with the Stark Direwolf house sigil on one side and the motto "Winter Is Coming" on the other. Designed by Sarah Rowland. Aran weight yarn. Pictured projects by ulvhild and the designer.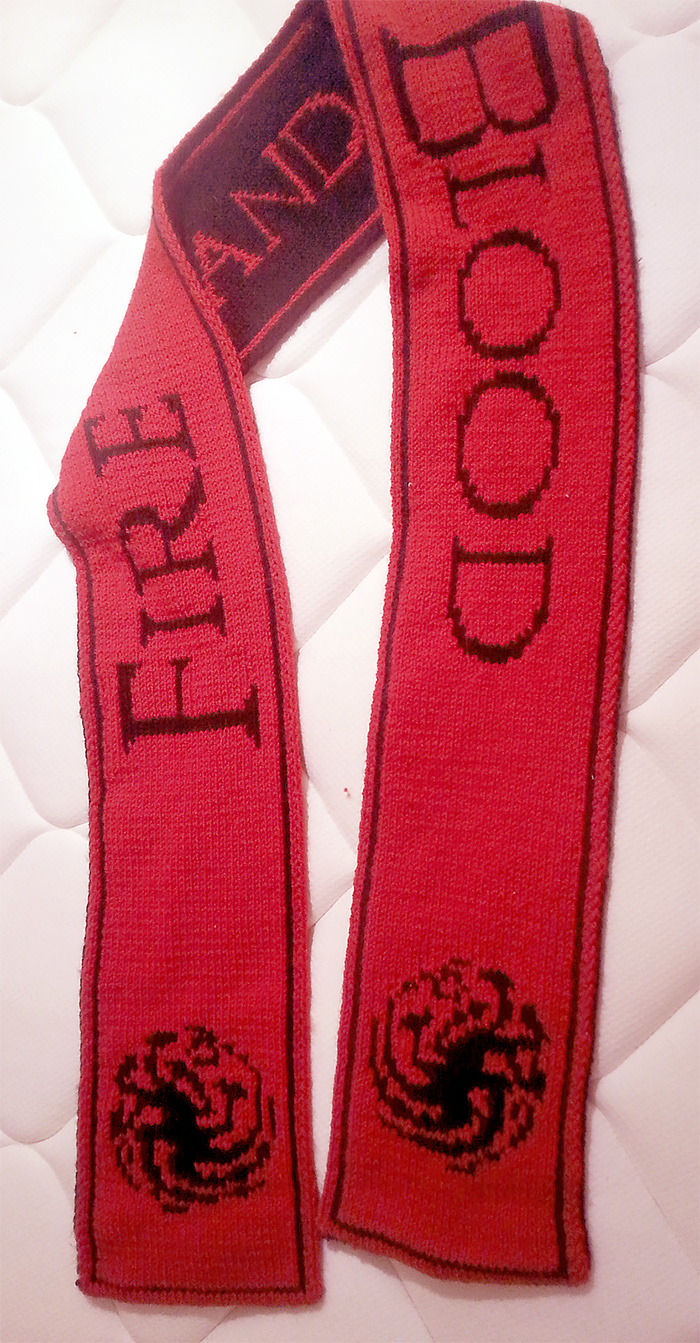 House Targaryen Scarf
This double knit reversible scarf inspired by Game of Thrones features the House Targaryen dragon sigil and the motto "Fire and Blood". Designed by Elizabeth McComb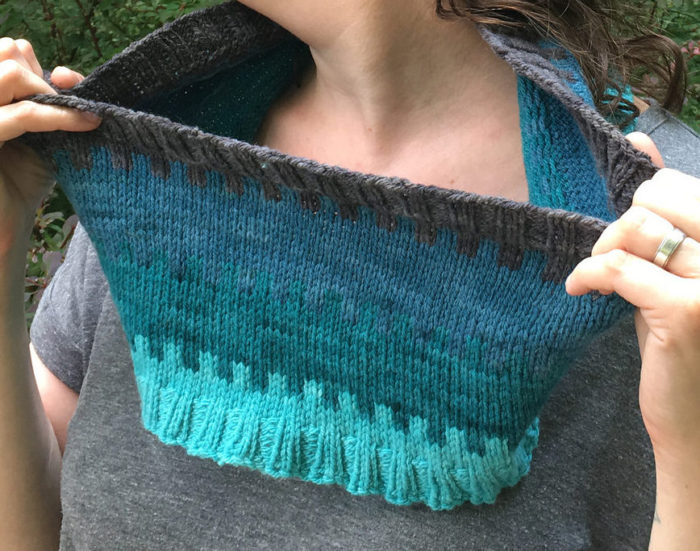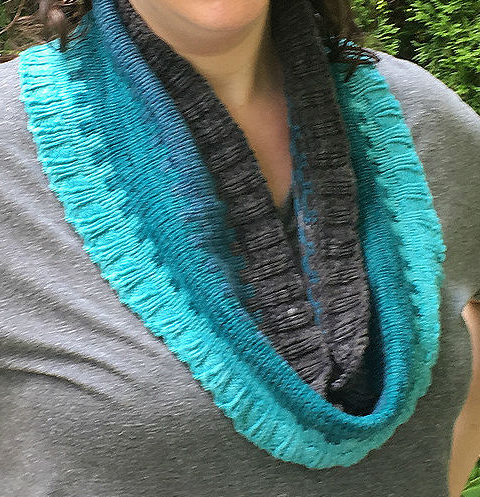 Beyond the Wall Cowl
Three color cowl in ice colors. 2 sizes. Designed by Stefanie Goodwin-Ritter

Weirwood Cowl
A stranded cowl picturing the Weirwood trees from A Song of Ice and Fire and Game of Thrones. Designed by Andrea Krüß-Anders. I like the way it looks just like a pretty graphic pattern when draped around the neck. Available in English and German. Pictured projects by JennyLee1011 and ajtho1

Winter Is Coming Scarf
The Dire Wolf of House Stark proclaims that winter is coming in this charted pattern designed by Julie Chen.

Daenerys Mitts
Cable and texture create a dragon back on the back of these fingerless mitts. Designed by Vlněné sestry. Available in English and Czech. Pictured project by creationsonawhim

Arya's Water Dancer Cowl
Kristen Ashbaugh-Helmreich was inspired by Arya Stark to create this hooded cowl that her favorite character might have worn on her journey to get back to Winterfell.
Download the free knitting pattern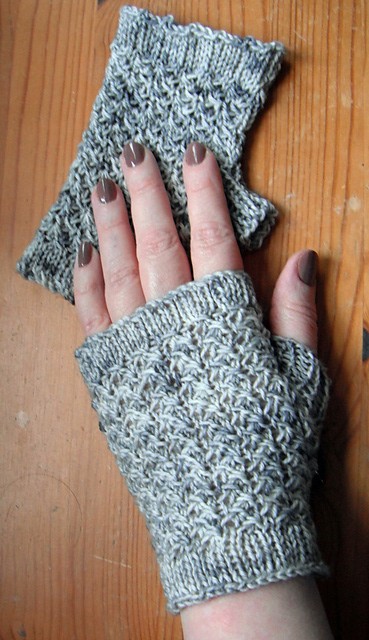 Arya's Gauntlets
These fingerless mitts were designed by Julie Coburn with modified star stitch to resemble chain mail.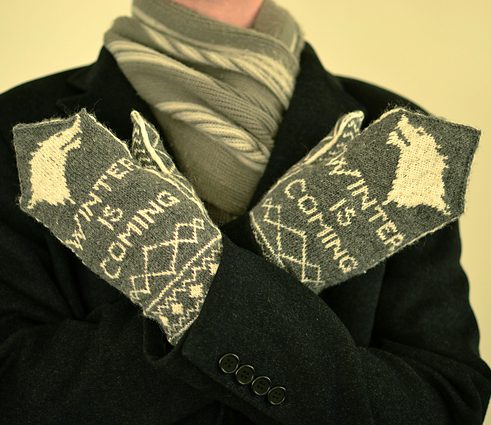 Winter Is Coming Mittens
Designed by Annelie Hansson.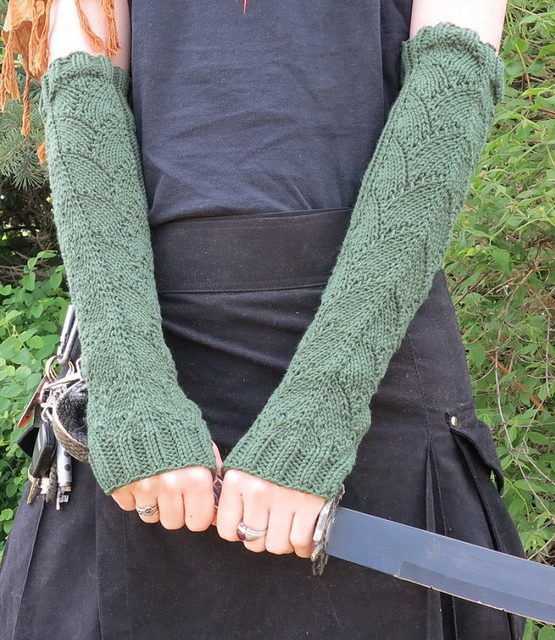 Dragon Scale Gauntlets
Designed by Annemarie Pearson. Pictured project by twinklespin
More Free Patterns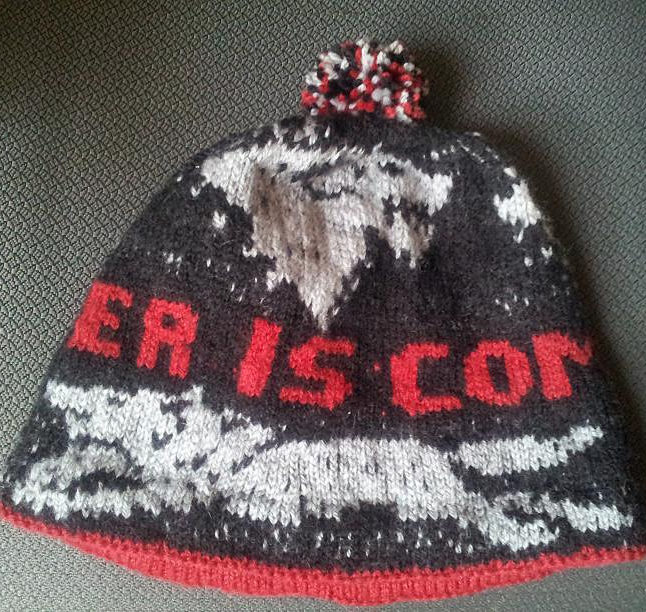 House Stark Hat
Dire wolves race around this hat designed by Lynn Flatley.

Direwolf Mittens
Designed by Carly Hill, these mittens are knit in the round with stranded colorwork.
Download the free knitting pattern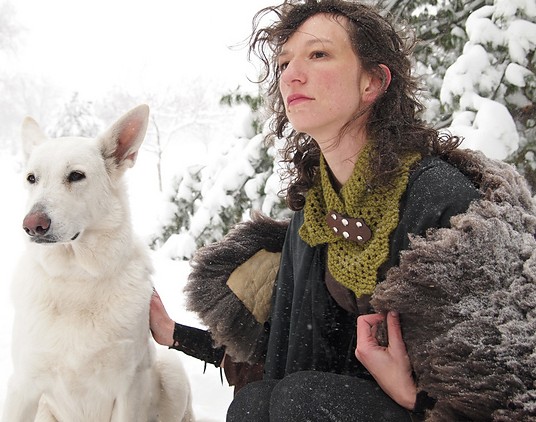 Winterfell Cowl
Designed by Fancy TigerCrafts, this cowl will keep your neck warm when winter is coming.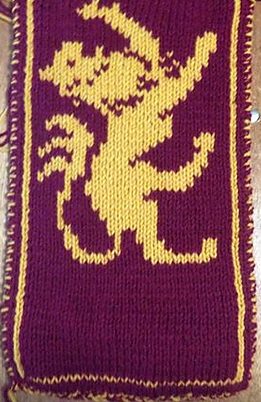 Lannister Scarf
Designed by Kate Trewin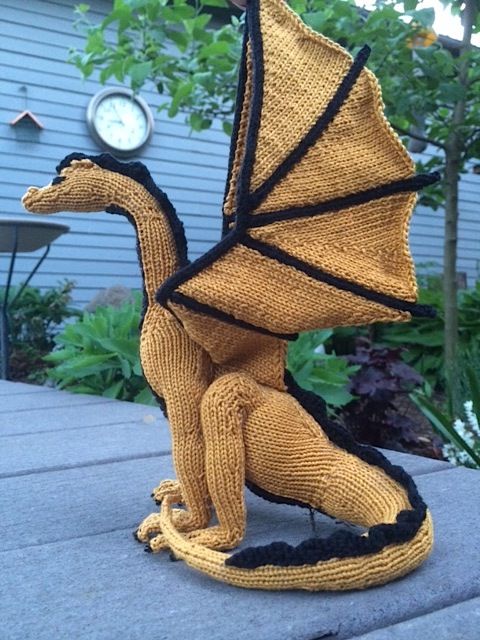 Dragon
NY Times Bestselling Author Kim Harrison designed this impressive dragon and has generously provided the pattern complete with photo and video tutorials.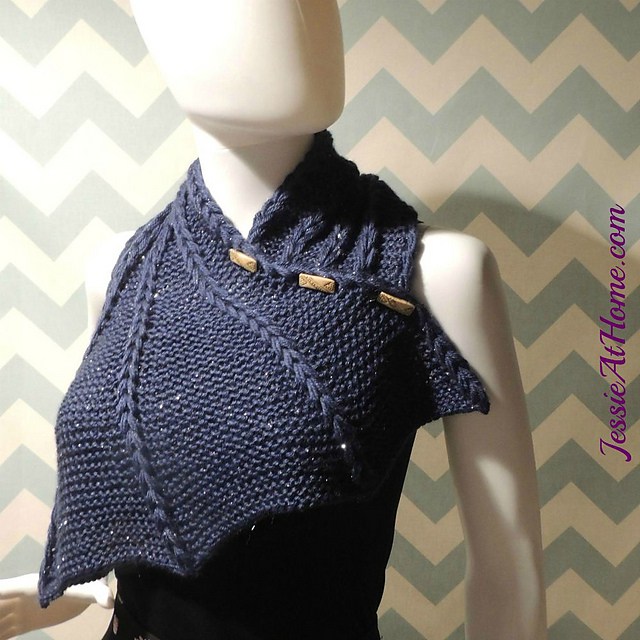 Dragon Wing Cowl
A cowl Daenerys would love! Jessie Rayot's neck wrap uses dropped stitches that are picked up and reknit in bunches to create fun ridges, and simple increases to give it shape.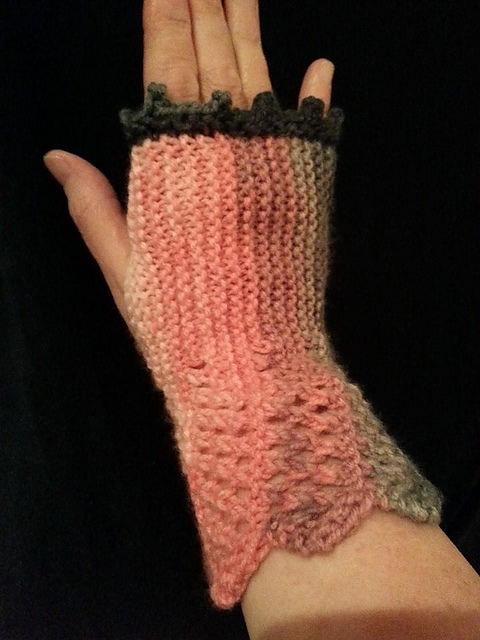 Game of Thrones Hand Warmers
Ceecees Stringer designed these gauntlets.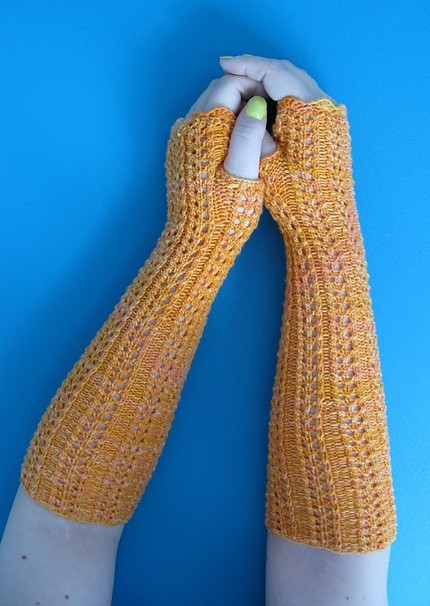 Khaleesi
Marika Lepistö designed this long lace fingerless mitts.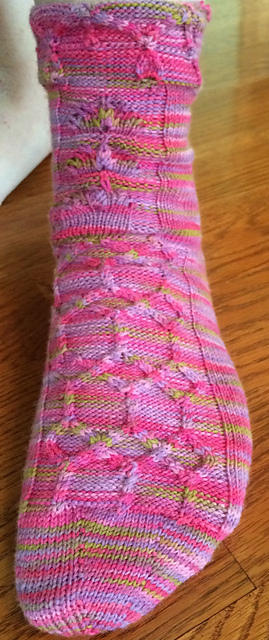 Cersei Socks
These socks by Sordid Details interpret Cersei's complex character and life with knit crown motifs, honey drop cables that look like jewels and cabling on the sock. Pictured project by liptontheturtle

House Stark Dire Wolf Illusion Chart
Designed by Louise Williams with illusion or shadow knitting that uses knit and purl stitches to create a raised texture surface.
Download the free knitting pattern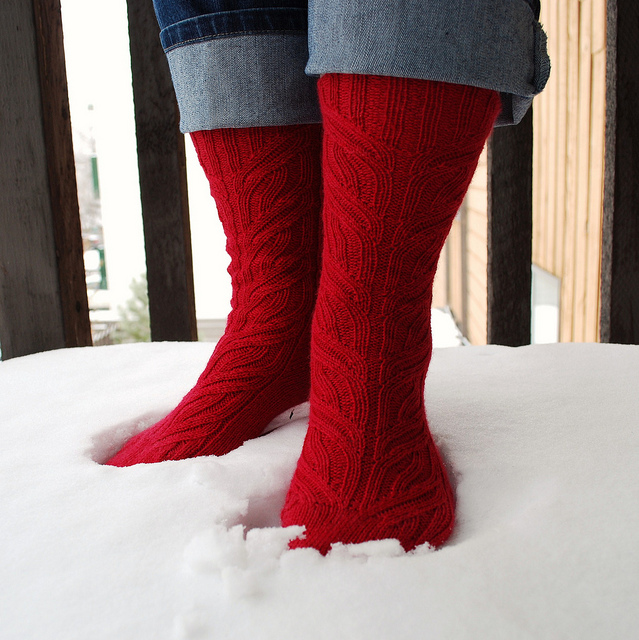 Melisandre Socks
Inspired by priestess Melisandre, this toe-up sock designed by Purrlescent features a swirling rib pattern that blazes up the leg like the fire of the red god R'hllor.
Download the free knitting pattern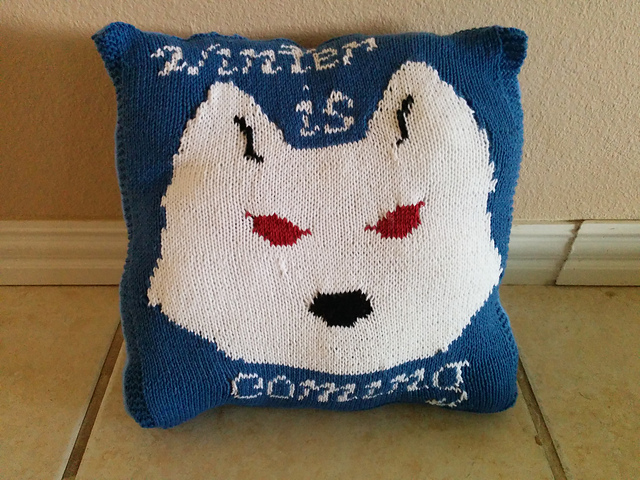 Winter Is Coming Pillow
Get the free pattern at Ravelry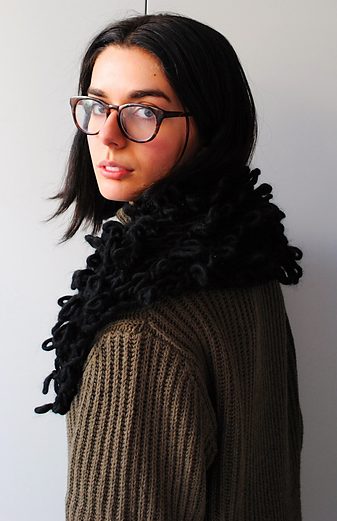 Ygritte Shawl
Designed by Hare & Anser, The Ygritte Shawl is a versatile accessory that can be worn whenever you want some wildling fierceness. Knit in regular super bulky yarn.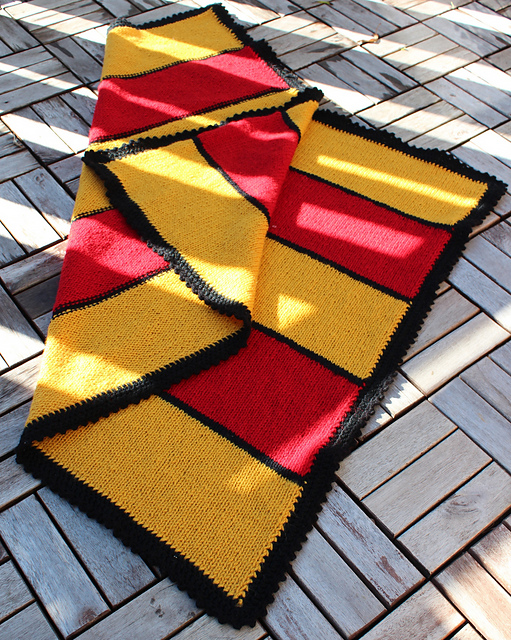 Castamere Blanket
Lanja Khon-Engheim's afghan was inspired by the song "The Rains of Castamere" – "In a coat of gold or a coat of red,a lion still has claws" Size 38.5" x 30" / 98 x 76 cm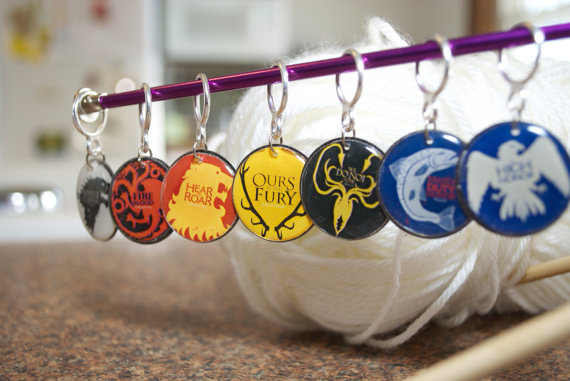 Patterns for Purchase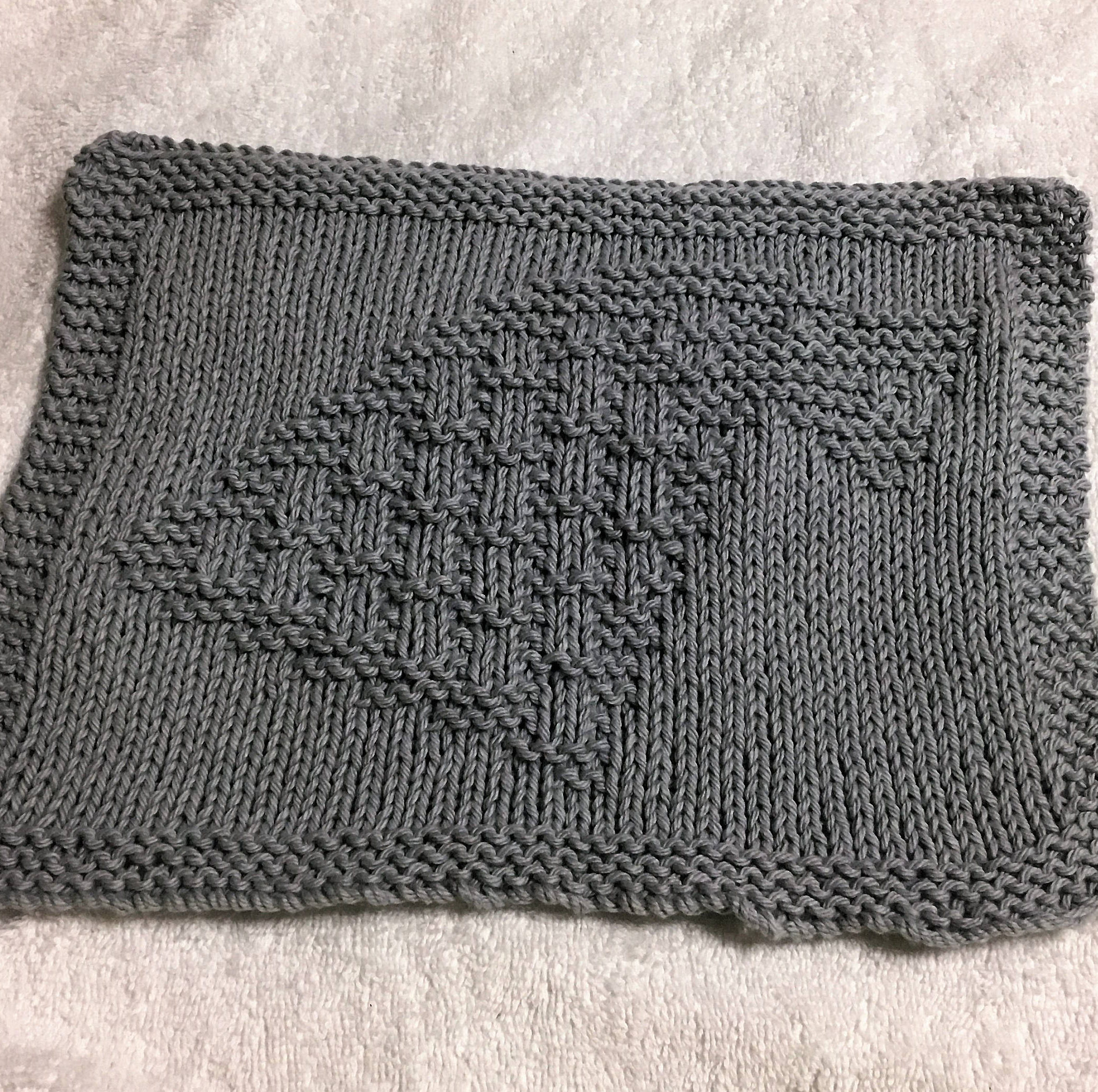 House Stark Wash Cloth
Knit and purl design.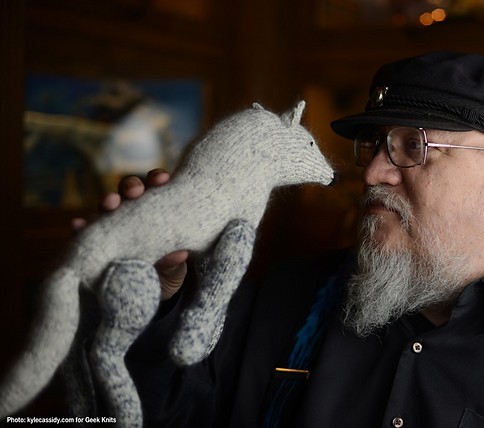 © Kyle Cassidy
Dire Wolf Softie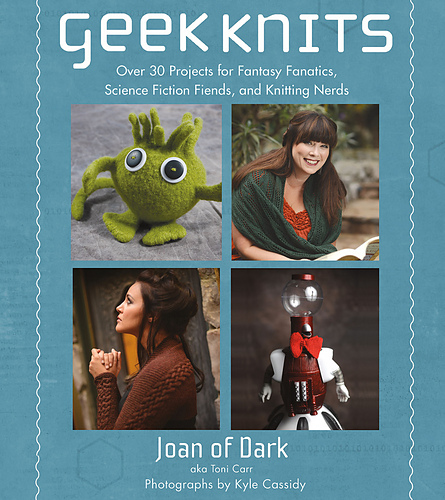 This dire wolf toy is one of 30 knitting patterns in the book Geek Knits by Toni Carr aka Joan Dark. The dire wolf is worked in the round starting at the tail and ending at the nose. The legs are each worked separately, also in the round, and then joined using two I-cords to create movable limbs for a frolicking, leaping, or lounging beast!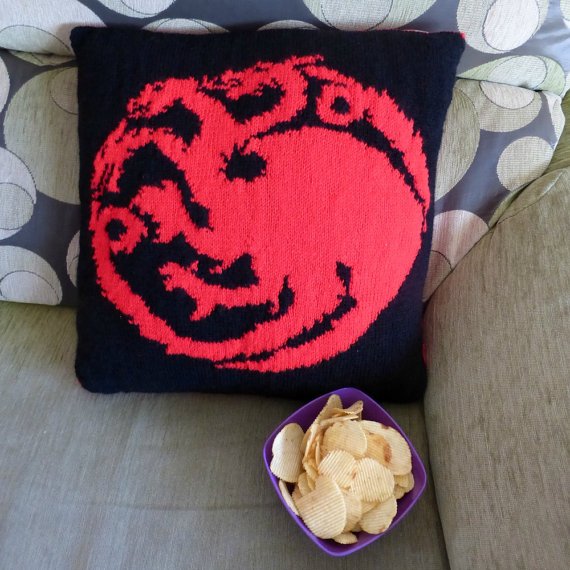 House Targaryen Cushion
A simple knitting pattern with straight needles with colorwork in intarsia. Back has the motto "Fire and Blood"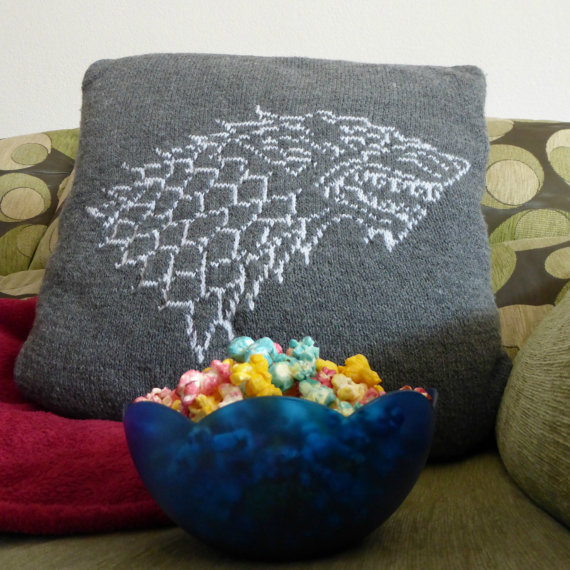 House Stark Cushion
Direwolf front pattern shown. The reverse has the motto "Winter is coming".
Get the knitting pattern at Etsy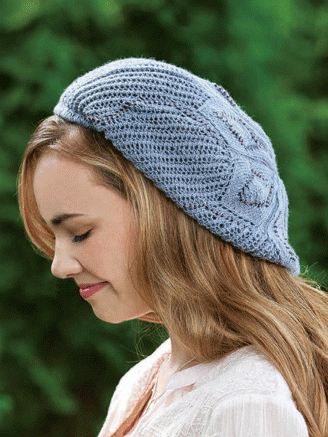 Sansa Hat
This beret / snood hat designed by Katrina King was inspired by silver net with gems that Sansa wore in her wedding to Joffrey in the Song of Ice and Fire books. The hat has seven sections to represent the seven new gods that are worshipped in Westeros and uses beads for the gems.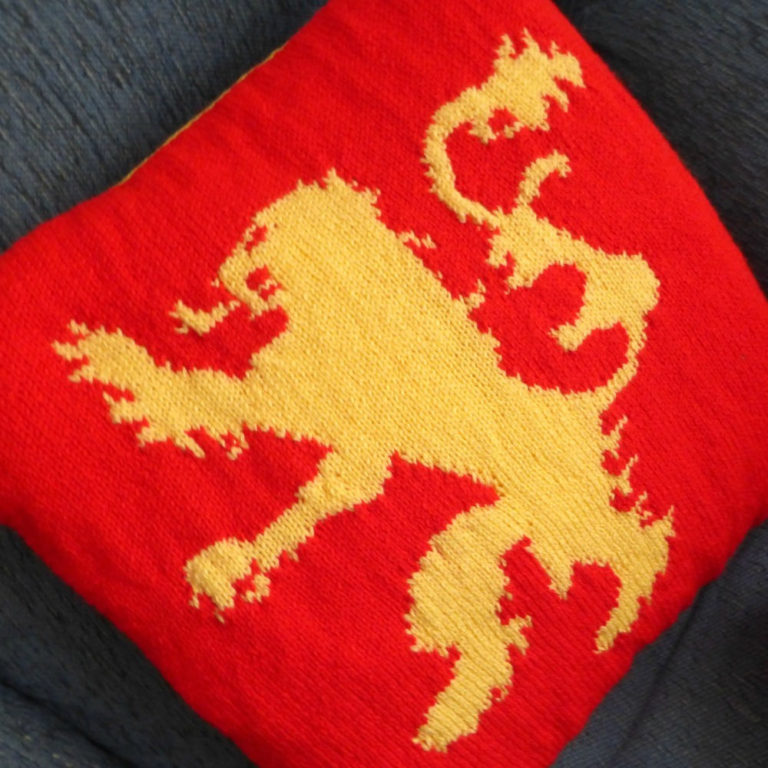 House Lannister Cushion
A simple knitting pattern with straight needles with colorwork in intarsia. Back has the motto "Hear My Roar"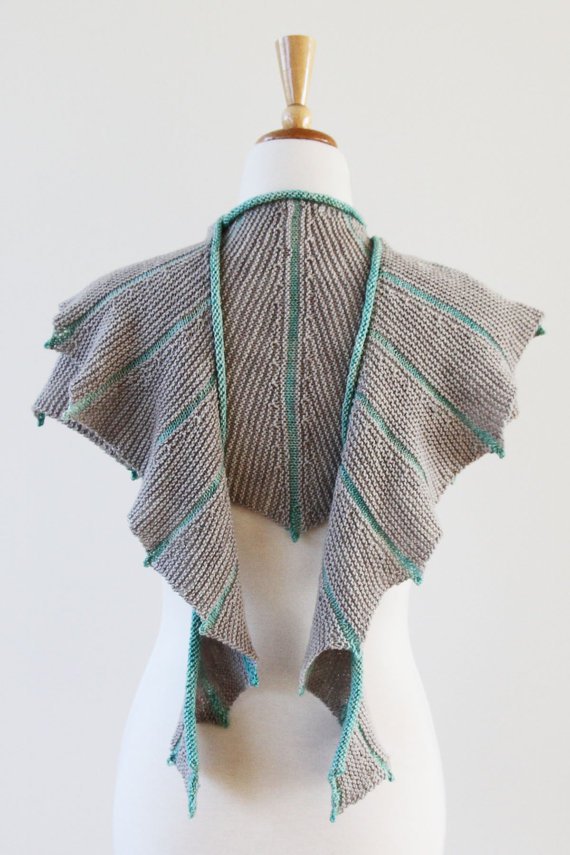 Dragon Shawl
This pattern wasn't specifically inspired by Game of Thrones but it fits so perfectly with the theme I couldn't resist. Knit side to side in short rows.

Game of Thrones Inspired Mitts
10 patterns in ebook with sigils for Arryn, Baratheon, Greyjoy, Lannister, Mormont, Night's Watch, Stark, Tarygaryen, Tully and Tyrell. Four sizes from child to adult.
Get the 10 pattern ebook for $30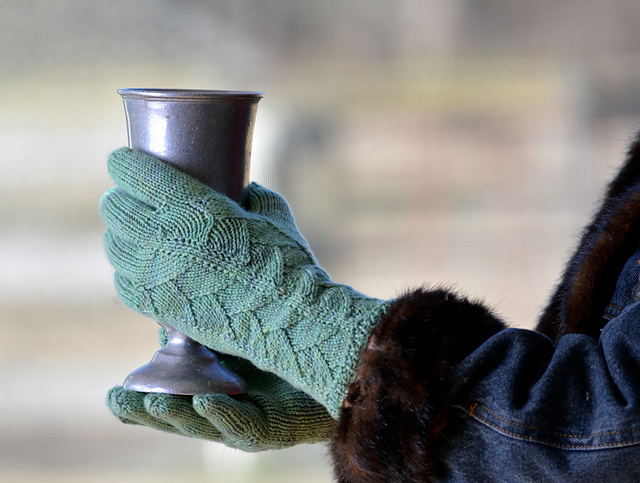 Danni's Gloves
Named for Daenerys Targaryen from The Game of Thrones. The stitches resemble the scales of a Dragon.