These quick projects are designed to use up those leftover bits of yarn. Many use less than 25 yards!
To get the knitting patterns, scroll down the page to the individual pattern you want and click on the link to that pattern.
These patterns are not my designs but links to other designers who have generously shared their patterns. If you have questions about how to knit a specific pattern, please contact the designer directly.
All links on this site are for informational purposes, but please note that some links are to affiliate sellers that pay me a small commission on purchases.
Free Patterns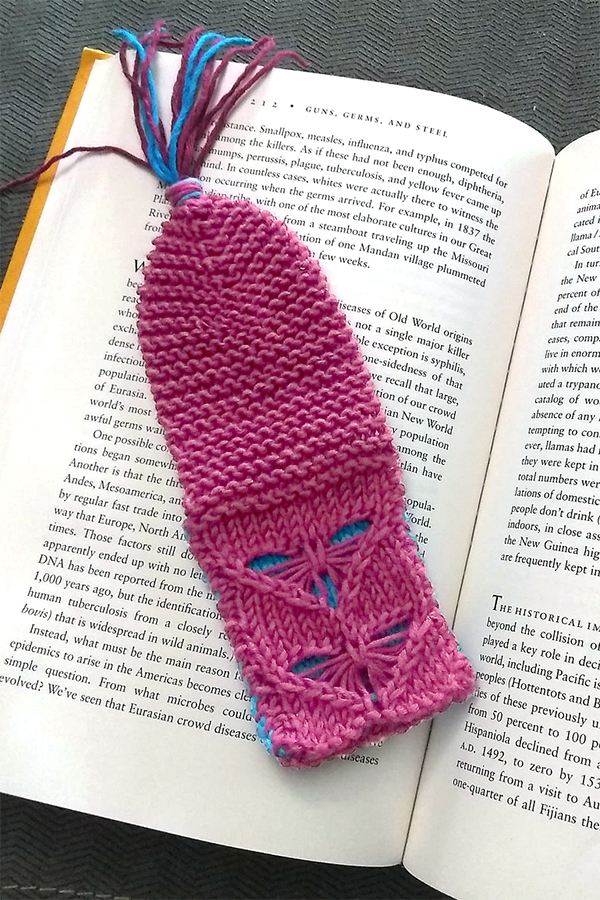 Butterfly Hearts Bookmark
Dropped stitches with gathered stitches similar to the butterfly stitch makes this unusual design that looks like a butterfly or a heart. Putting a panel of contrast color behind it makes it pop. DK weight. Designed by Erica Kempf Broughton.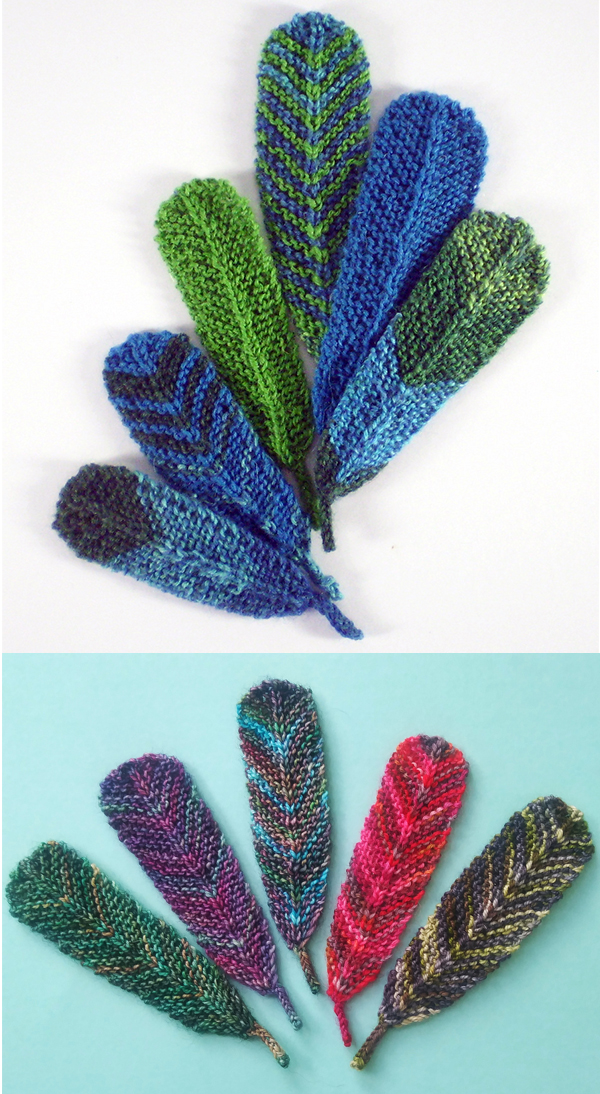 Feathers
Quick, fun pattern for some knitted feathers that can be used for bookmarks, decorations, embellishment, and pet toys. Great for variegated yarn. Samples knit with DK weight and fingering weight. 2 sizes. Rated easy by Ravelrers. Designed by Frankie Brown. Pictured projects by the designer and shilao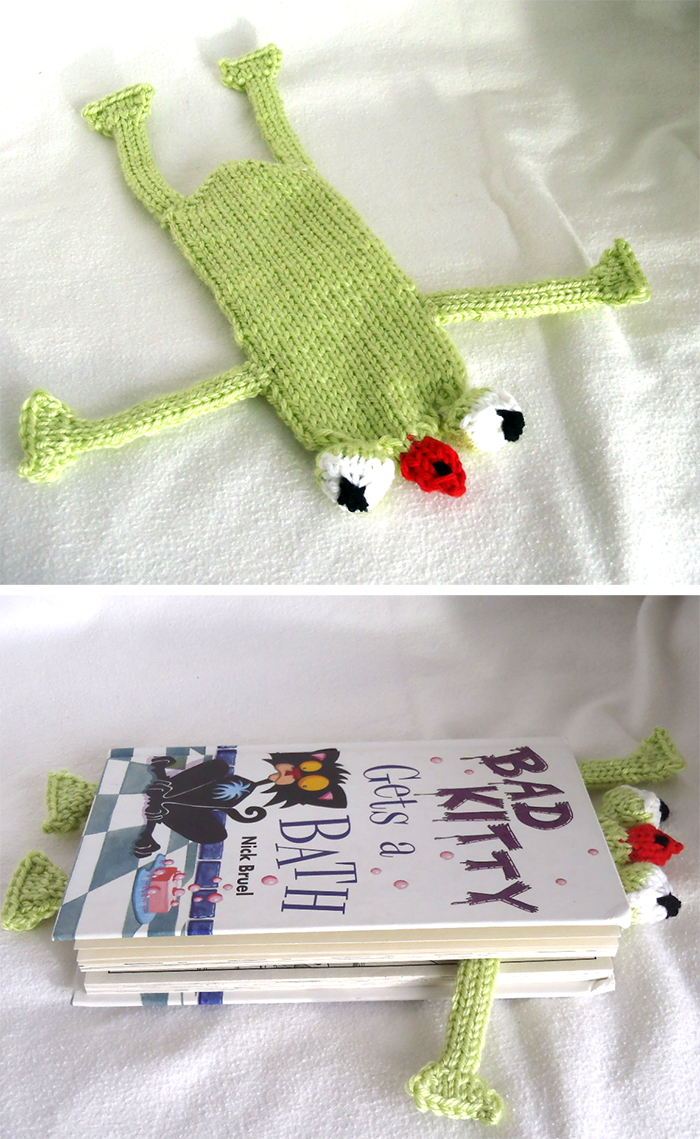 Fred, the Frog Bookmark
Uses just 52 – 55 yards (48 – 50 m) of Aran weight yarn. Rated easy by Ravelrers. Designed by Stana D.Sortor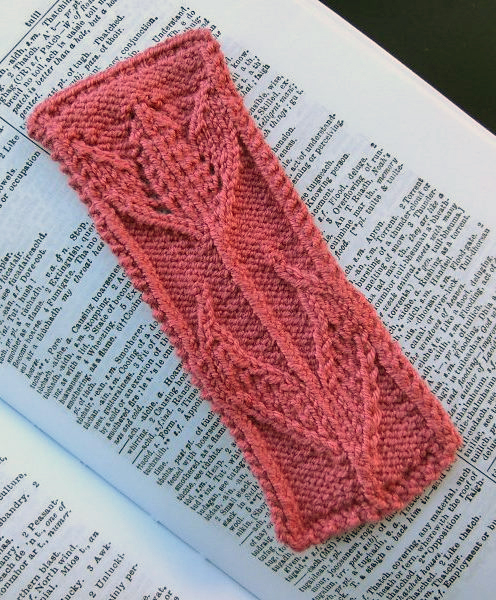 Tulip Bookmark
This bookmark features a flower motif created with 1/1 cables (right side only), twisted stitches (both knit and purl), yarn overs and various decreases. Designed by Jessica Wirthig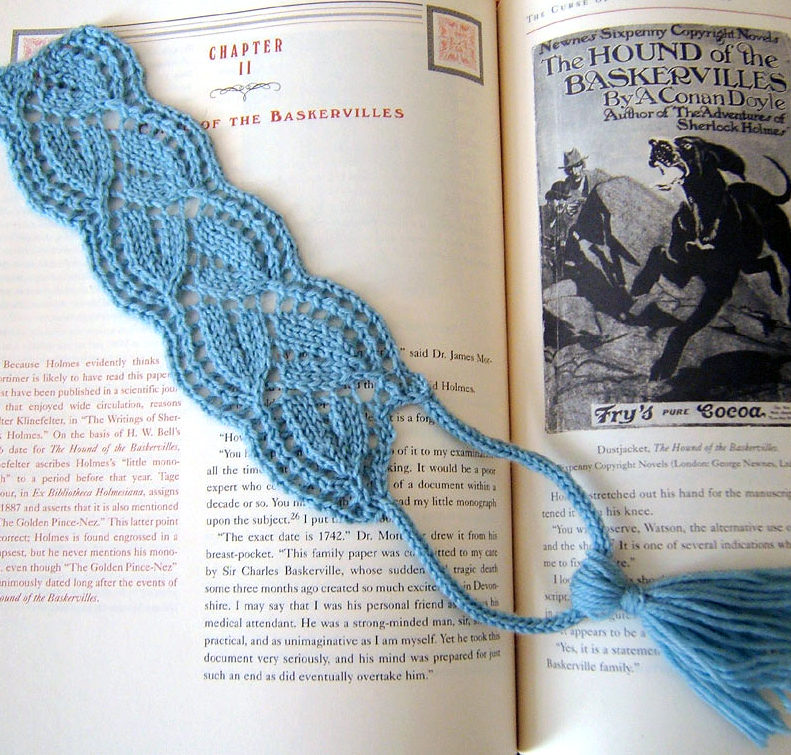 Flourish Bookmark
Lace bookmark with knit tassel. Body is approximately 6.5 inches. Designed by Nina Casey. Pictured project by AriadneWebb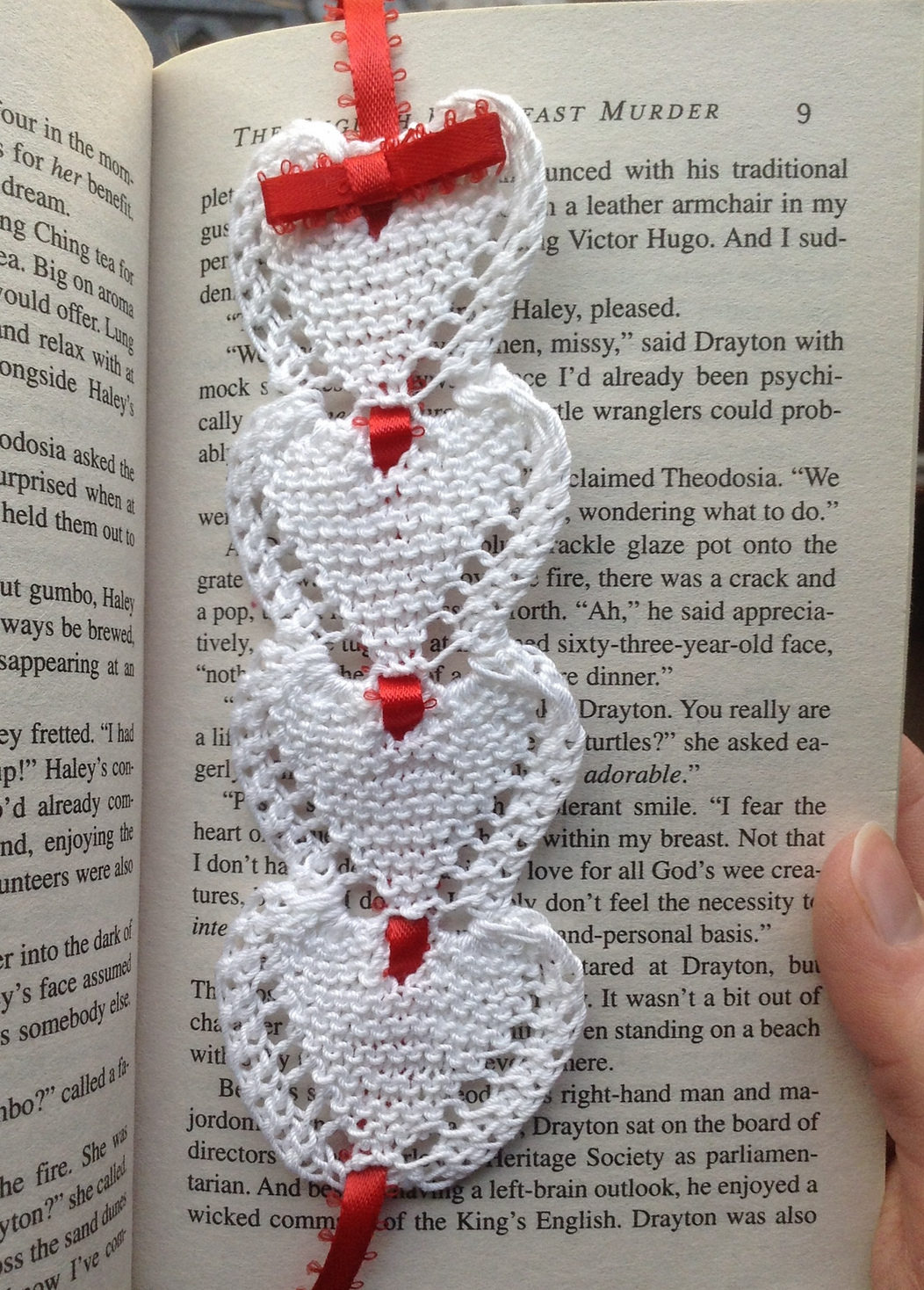 String of Hearts Bookmark
Lace hearts with pretty ribbon woven through eyelets can be used as decoration as well as bookmark. Designed by Judy Gibson. Pictured project by espomull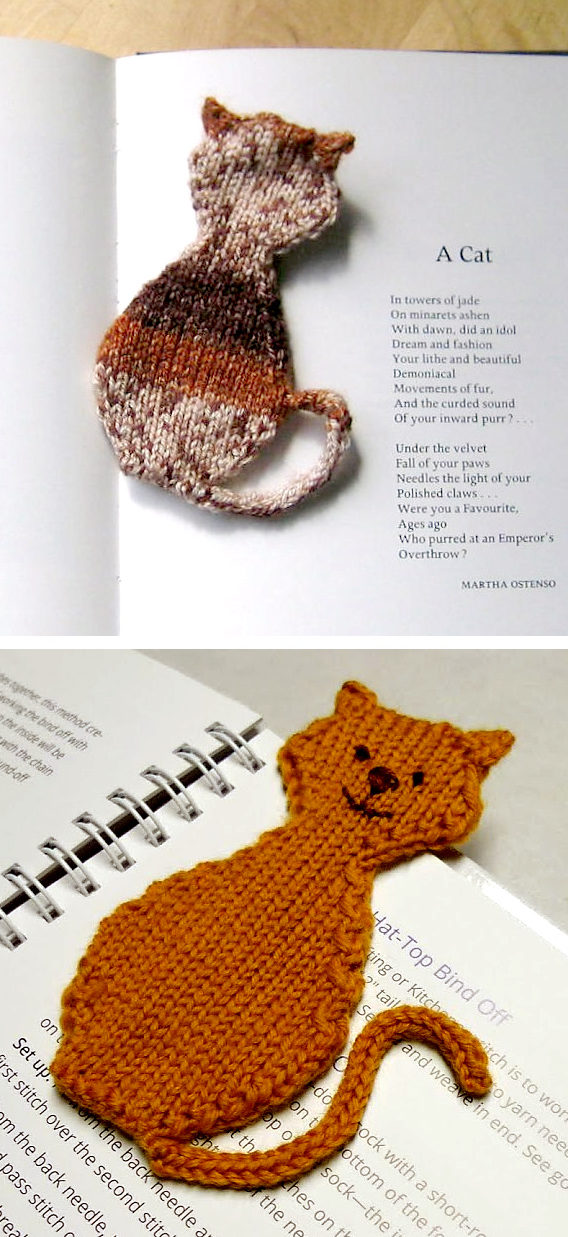 Cat Silhouette Bookmark
Knit in one piece with the ears picked up and the tail in i-cord. Approximately 7" / 18 cm long. Designed by Stana D.Sortor. Pictured projects by seymor and Patty7737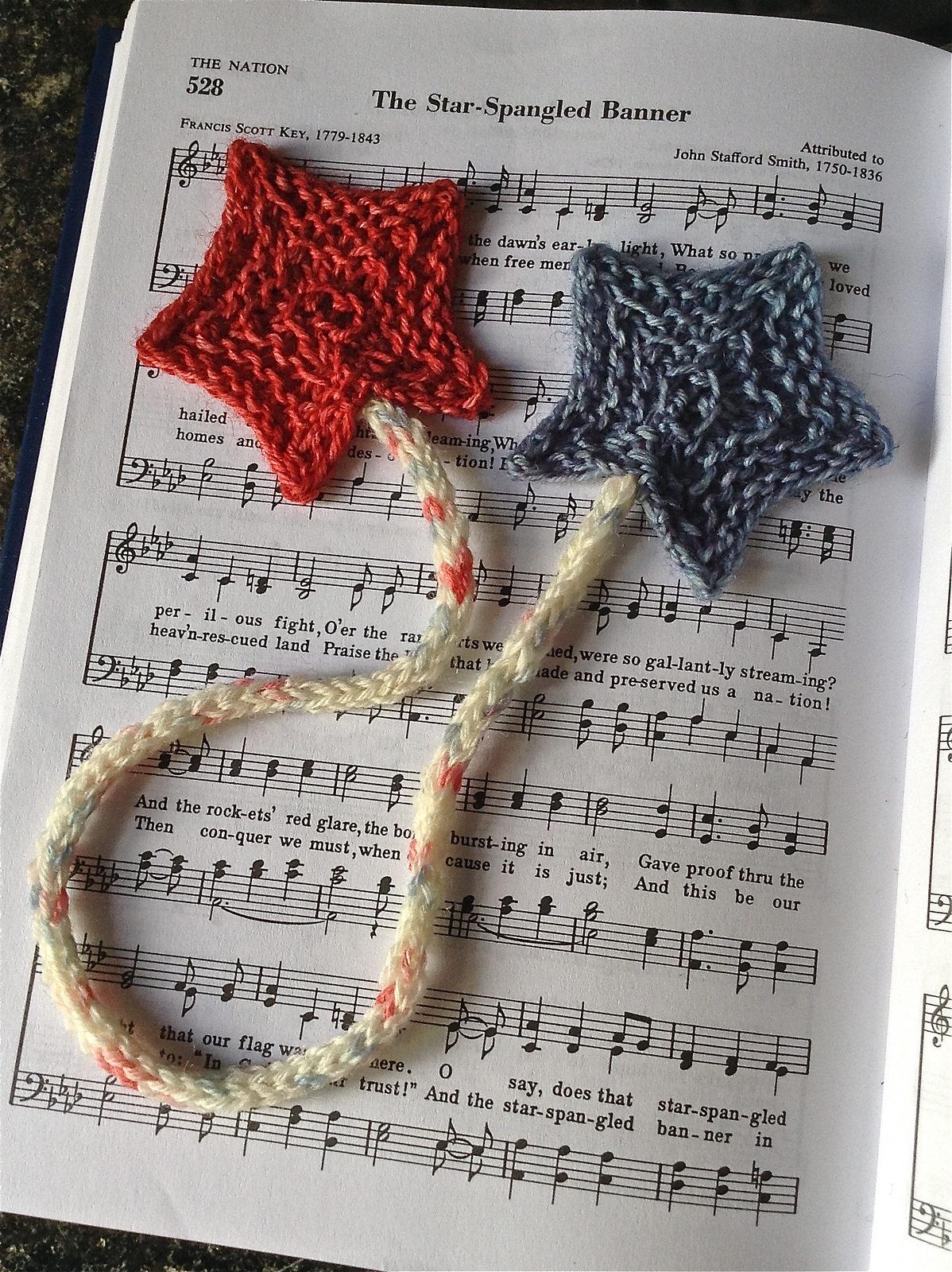 Star Spangled Bookmark
Two stars knit on straight needles joined by an i-cord. Designed by Faith Schmidt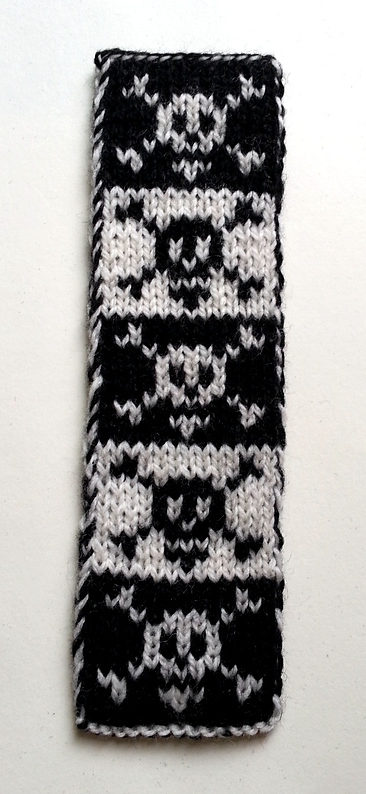 Pirate Bookscarf
Double knit reversible bookmark featuring a skull and crossbones motif. Designed by Sandra Jäger. The chart can also be used for other colorwork projects. Pictured project by PixelBamf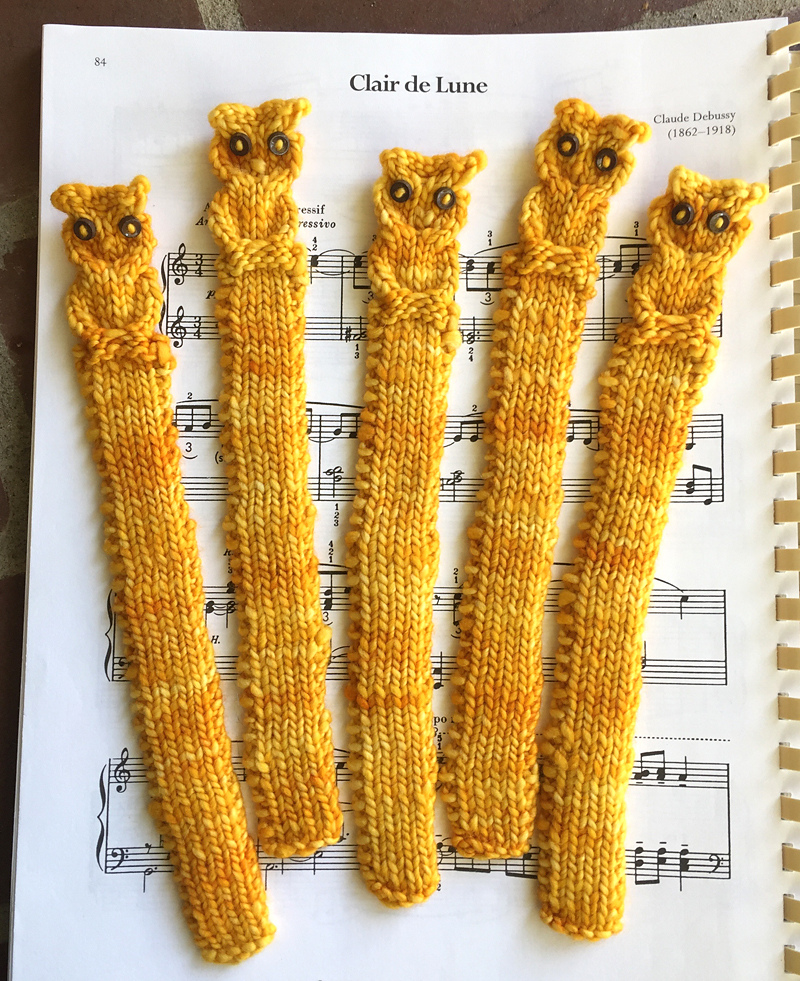 Owl Bookmark
Easy quick book mark with a cable owl in bulky yarn. Designed by Sarah Alderson. Pictured project by skazyla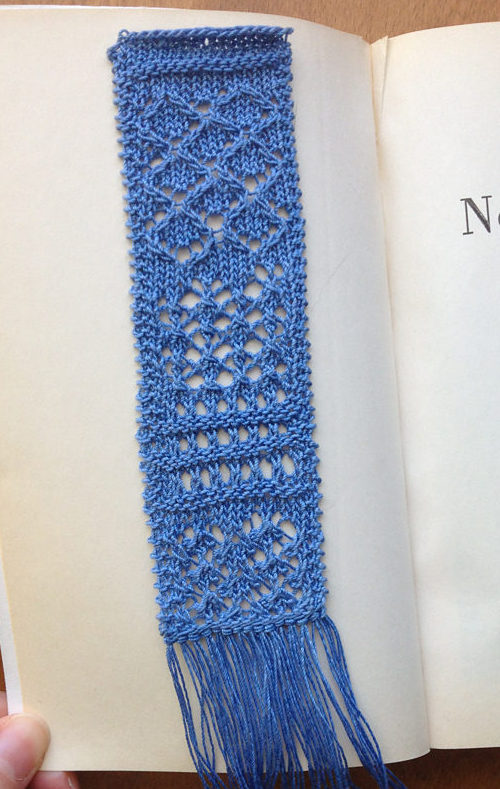 Lace Sampler Bookmark
4 stitch patterns including Bead Stitch, Fill Stitch, Trinity Stitch, and Trellis Stitch from the designs of Anna Marie Jensen are incorporated into this bookmark by Ava T. Coleman. Pictured project by NicolaKL

Snake Bookmark
This Curvy Bookmark by the amazing Frankie Brown is knit in garter stitch using short rows to make curves. Great use for scrap yarn, especially variegated or self-striping. Pictured projects by wbotelho and moonflower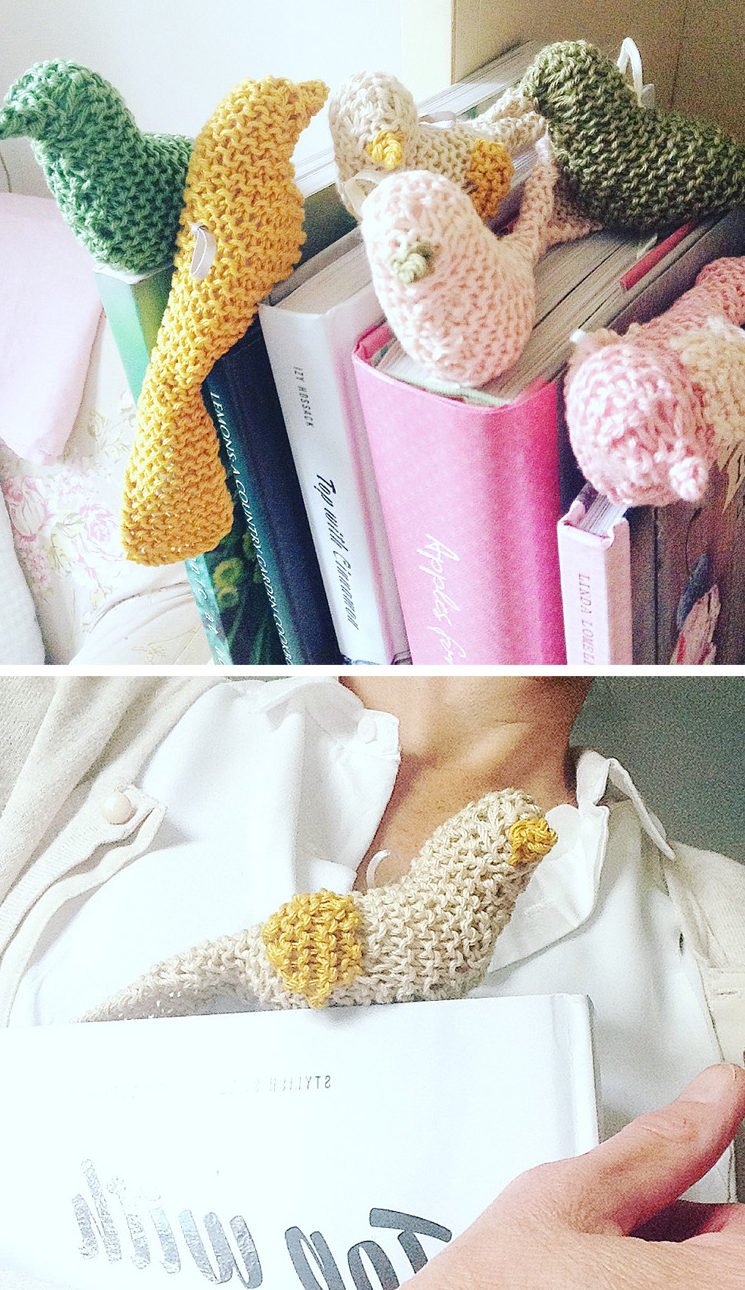 Bookmark Birds
This easy bird bookmark is knit flat in one piece using simple garter stitch and then attached with a ribbon to hold you place in a book. Quick gift and great stash buster. Designed by Claire Garland.

Bunny Bookmark
All pieces of the bookmark designed by the Twins are knitted flat. Pictured project by chickenbeans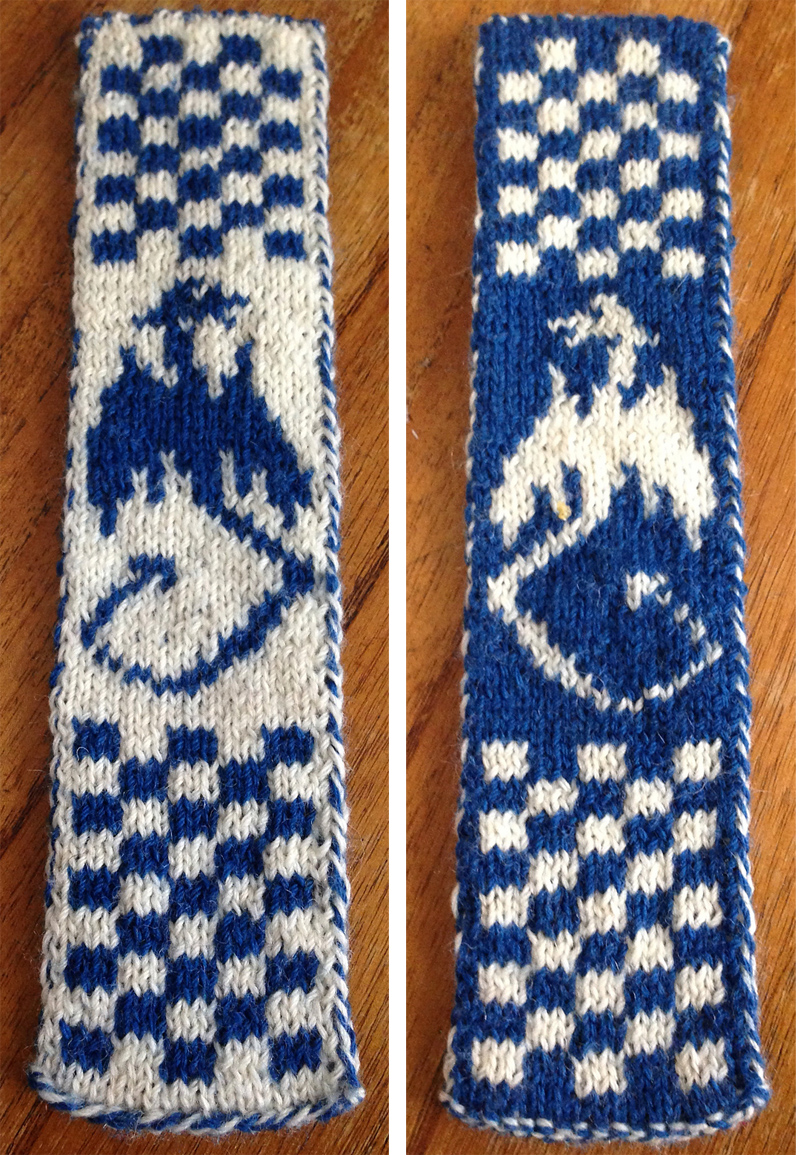 Dragon Bookmark
Reversible doubleknit bookmark with a dragon motif. Designed by LFSAlden. Pictured project by Carla72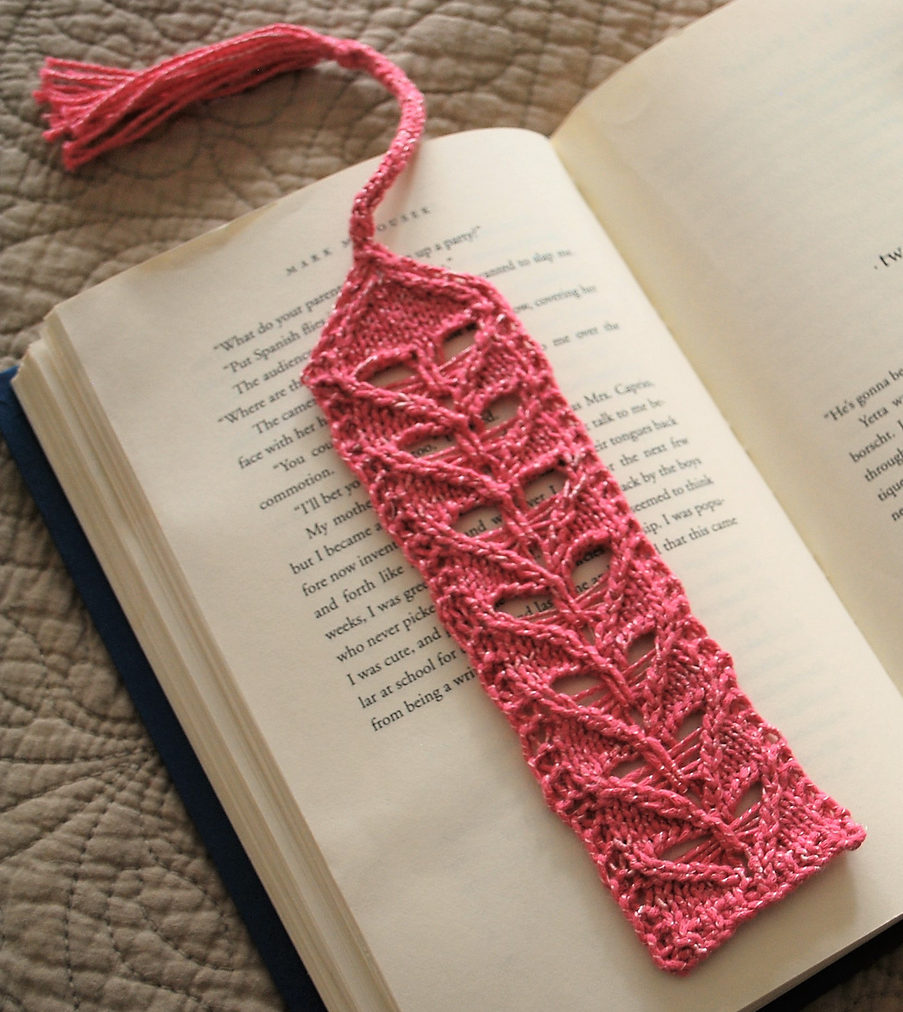 7 of Hearts Bookmark
Lace bookmark with interlocking hearts designed by Eric Haas. Pictured project by GeorgiaRain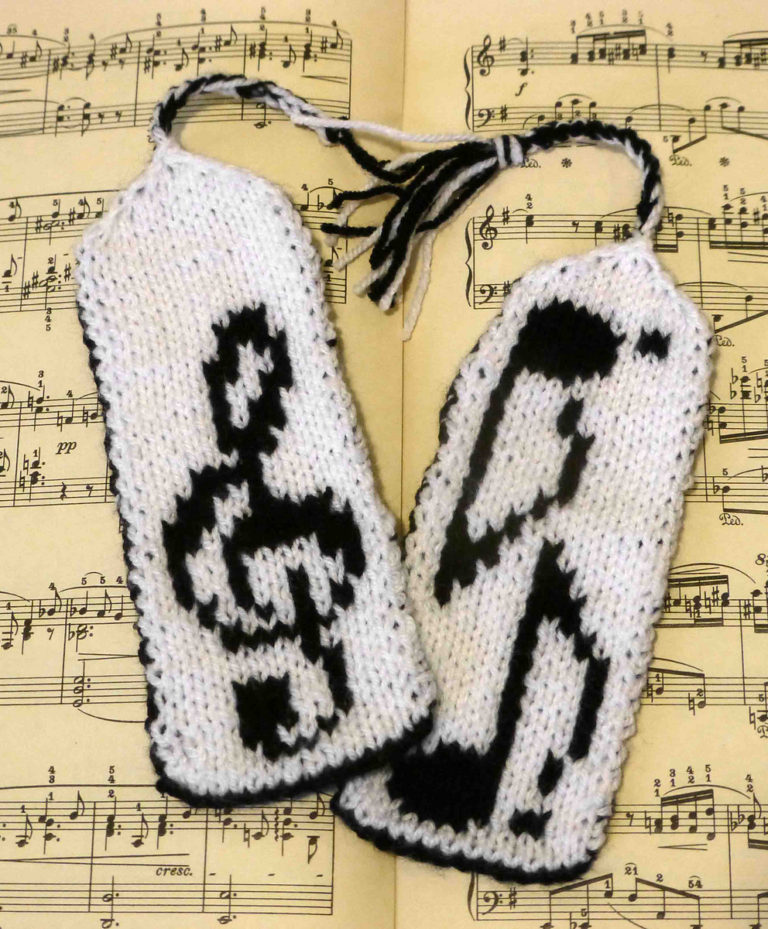 Musical Bookmark
These doubleknit bookmarks feature a treble clef and musical notes. They are fully reversible and can be completed in 1 or 2 hours. Designed by Miss Buttons. Great stashbuster for scrap yarn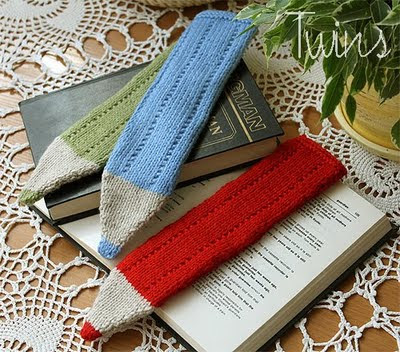 Crayon Bookmarks
Designed by Twins Knitting, these easy bookmarks are knitting flat and seamed.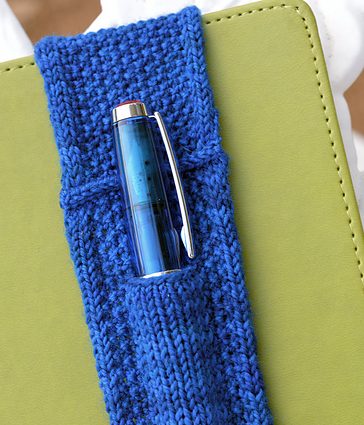 Journal Band with Pen Pocket
Laura Crowley designed this easy, quick-to-knit band with a built-in pen pocket. Great stash buster or quick gift!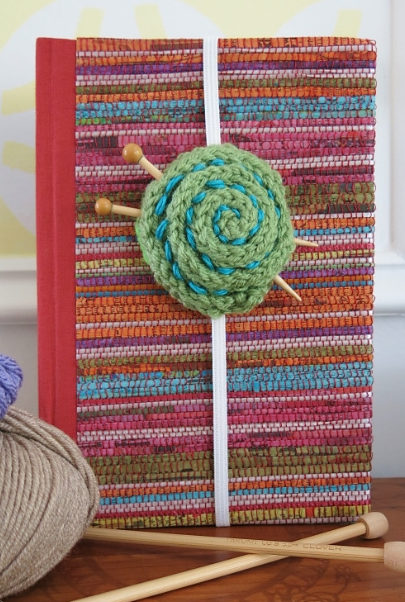 Yarn Ball Bookmark
Easy knitting pattern for band-style bookmark constructed of i-cord to look like a ball of yarn. Instructions for the tiny knitting needles included. Designed by Donna Herron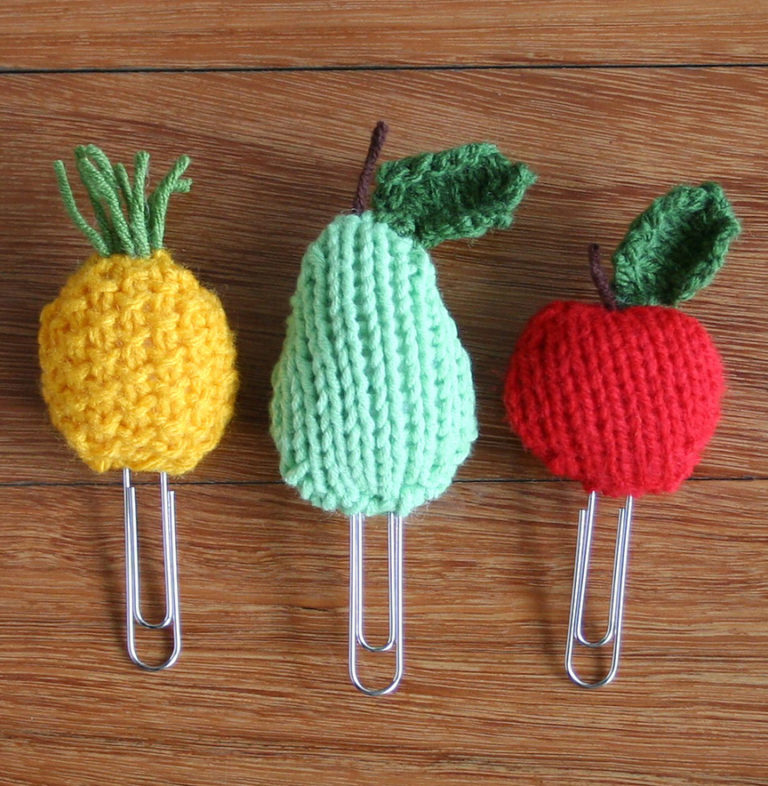 Fruit Bookmarks or Clips
This tiny set of apple, pear, and pineapple is a cute way to keep your place in a cookbook or any book, clip papers together or even decorate a gift. Great stashbuster for scrap yarn or a quick gift! The tallest, the pear, is about 7cm (3") high. Designed by Amalia Samios who allows you to sell the finished projects.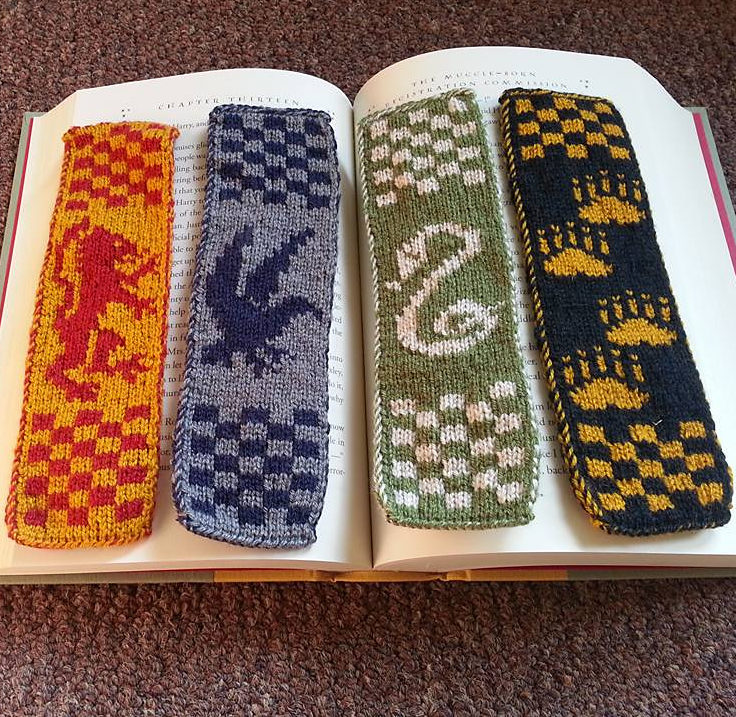 Hogwarts Bookscarves
Designed by Anna Kingstone, these reversible double knit bookmarks are designed with the house sigils for Gryffindor, Slytherin, Ravenclaw, and Hufflepuff. Pictured project by FiberOfMyBeing

Lace Heart Bookmark
Easy bookmark pattern by Darilyn Page. Pictured project by share32006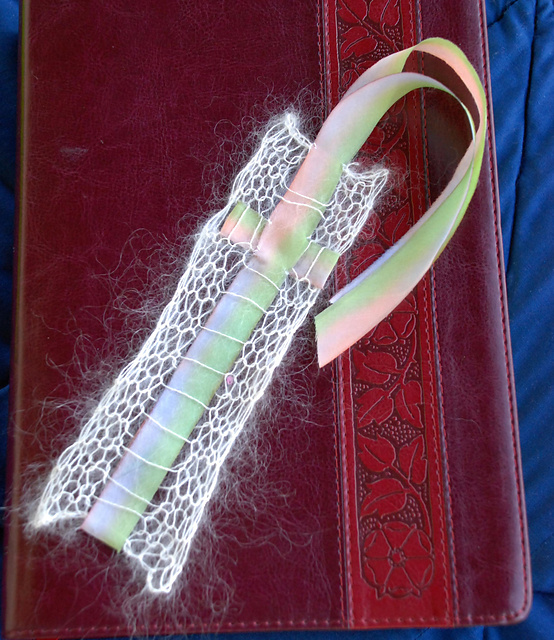 Simple Cross Bookmarks
Designed by Lori Klahn, this lace bookmark features a ribbon cross or a cross made of contrasting yarn.
Download the free knitting pattern at Ravelry

Harry Potter Bookscarf
Laura Miller designed these bookmarks with Hogwarts house colors because she loved Harry Potter but didn't have much use for a full-sized scarf where she lived. Pictured project by knittinglaura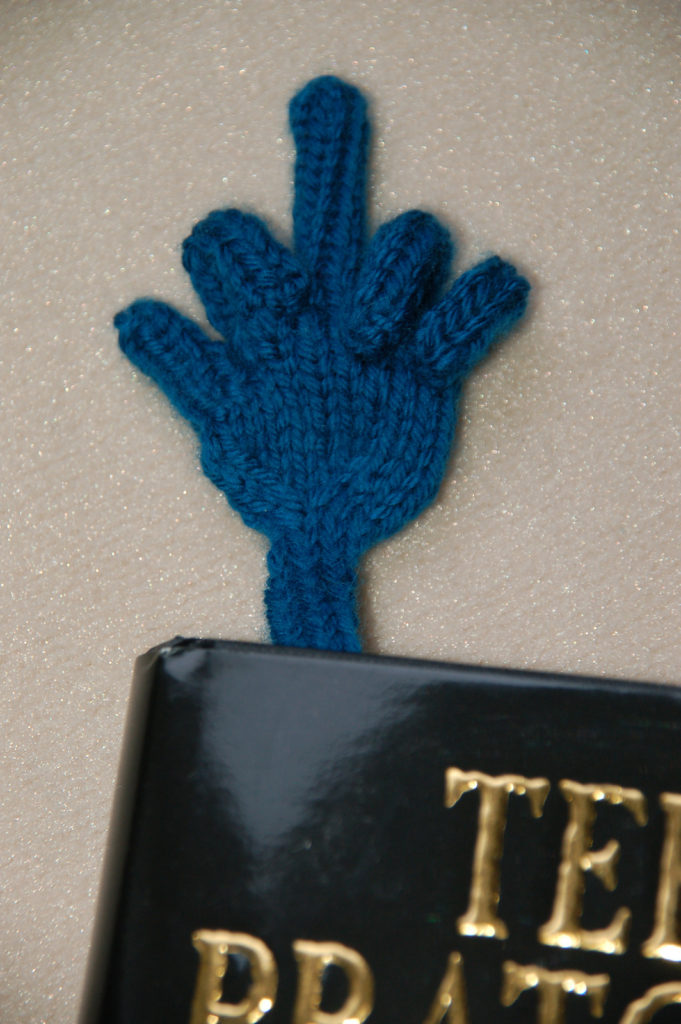 Eff Off I'm Reading Bookmark
Edith Cummings created this subtle message for when we don't want to be bothered. I think this would also be great to tie to your knitting needles or project bag to send the message "Eff Off I'm Knitting". Easy quick project that knitters reported only took a couple of hours. It does recommend using a spool knitter to create the i-cords but you can knit them with needles. Pictured project by bloepper

Broomstick Bookmark

Shamrock Bookmark
Double knit bookmark with shamrock motifs. Designed by Sandra Jäger. Available in English and German
Patterns for Purchase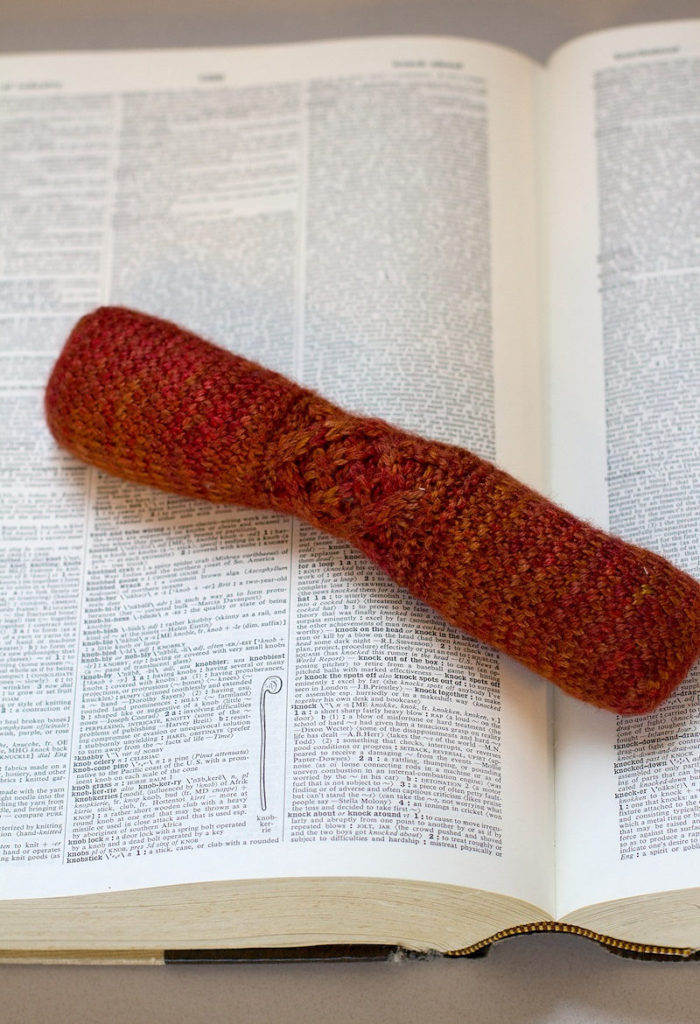 LOC Bookweight
Bookweights keep your book open at that page — perfect if you're trying to read while your hands are full of knitting needles and yarn. The twisted stitches of this bookweight were inspired by a painted border running across the archways at the Library of Congress. and it can be filled with rice or small pebbles. Designed by Kendra Nitta. One of the 28 patterns in Stitching in the Stacks: Librarian-Inspired Knits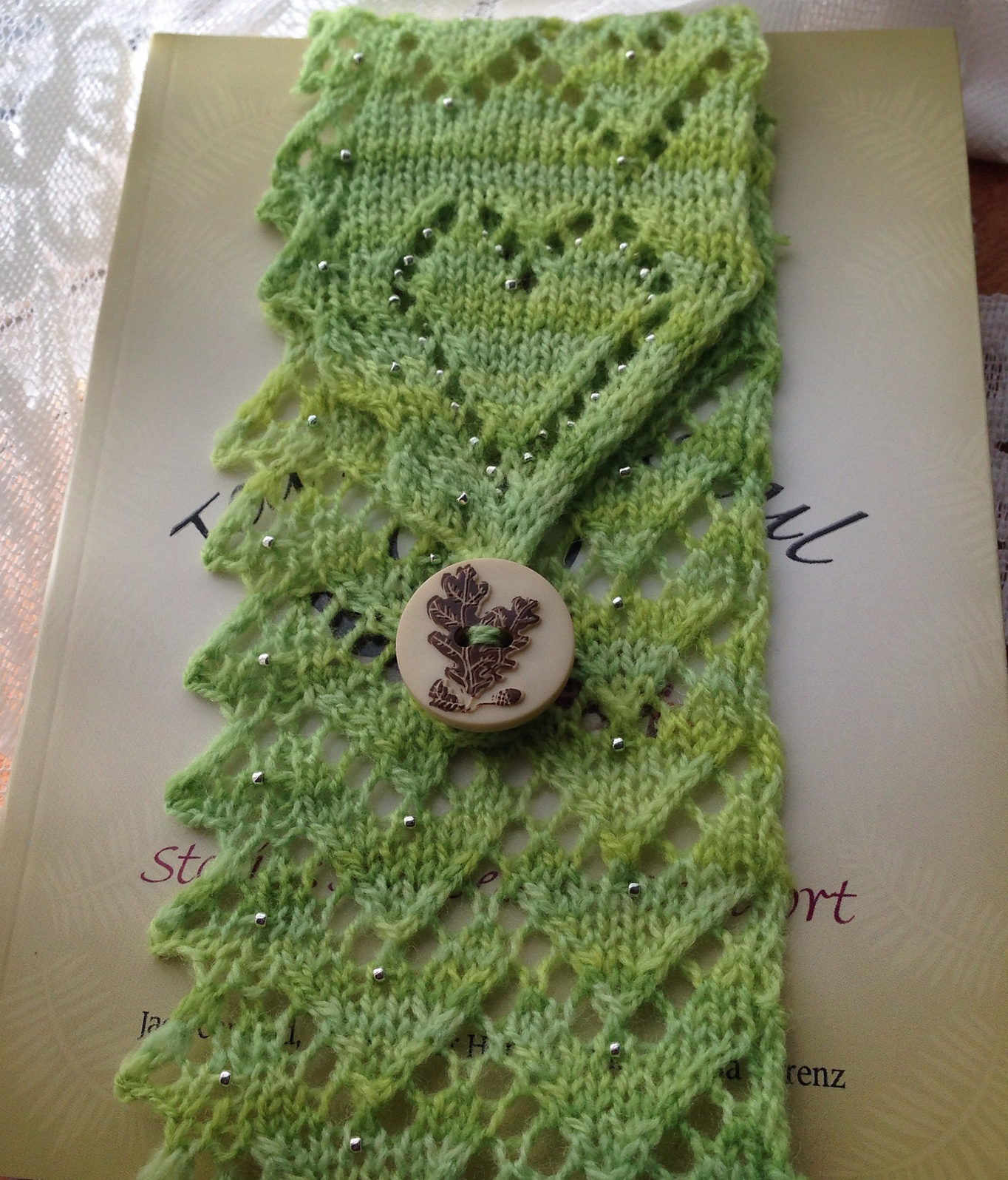 Jane Austen Bookmark
Marianne's Romantic Bookmark is a lace band that wraps around the pages and buttons at the heart. The designer Carolyn Mills was inspired by Marianne Dashwood and John Willoughby reciting Sonnet 116 to each other in the 1995 film version of Sense and Sensibility. The edging is meant to look like the waves of the tempest, yet the arrows point in one direction as in "never shaken," love is "an ever-fixed mark." Pictured project by Strickliese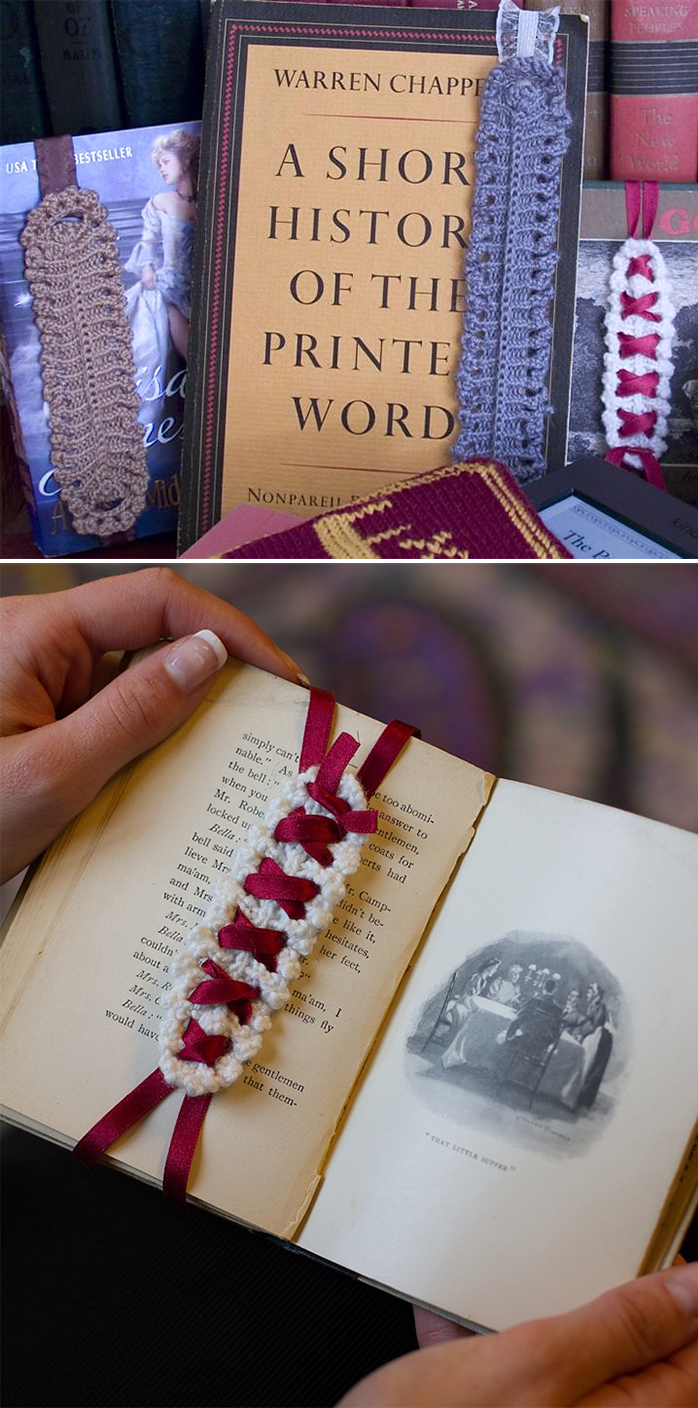 Bibliort Bookmark Band
This book band is attached to lace or ribbon to hold pages without damage (the second photo shows the knitted piece inside the book but it is intended to go outside). You can also wear as an accessory like a headband, garter, choker, so you will always have a bookmark handy. Designed by Sharon Fuller. One of the 28 patterns in Stitching in the Stacks: Librarian-Inspired Knits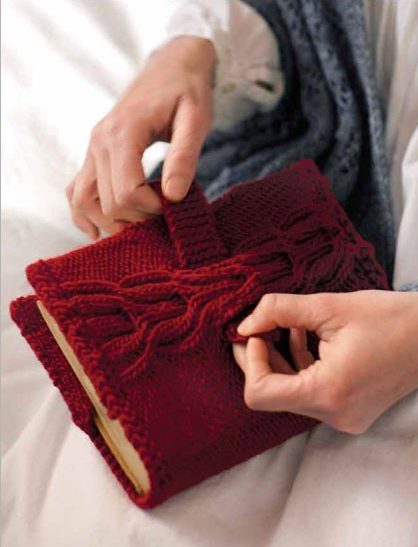 Resizable Book Cover
A Book Cover for Edmund is resizable, features a horseshoe cable, and was inspired by Jane Austen's Mansfield Park. Designed by Melissa Armstrong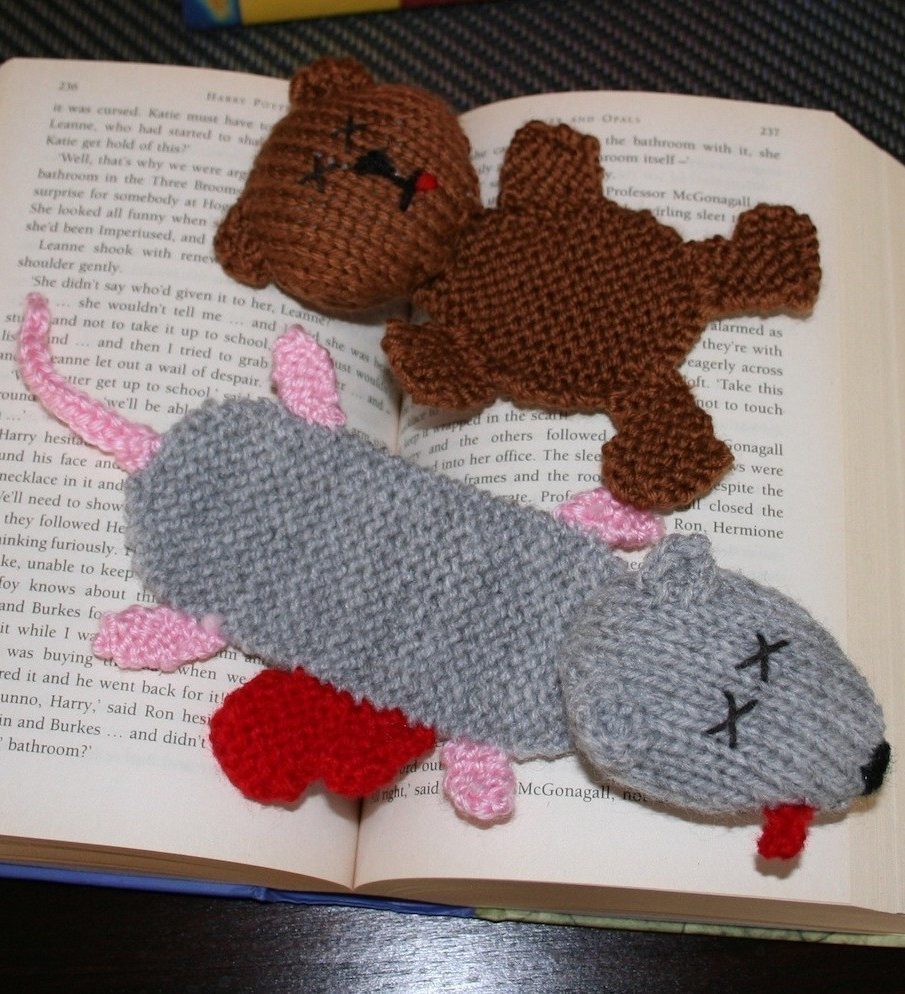 Squashed Rat and Teddy Bookmarks
The body is flat and the head is thicker so it can stick out of the top of your book. I think you could easily customize the teddy's face so you could have a regular cute teddy bookmark. You can buy the rat bookmark pattern separately or in a set with the teddy bookmark.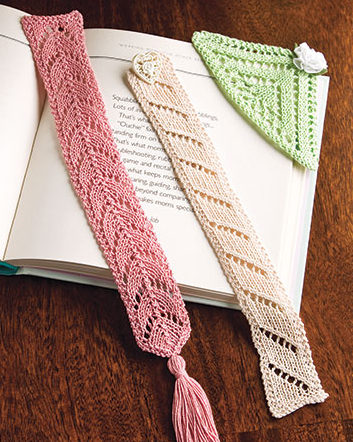 Lacy Bookmark Trio
Set of 3 lace bookmark designs including corner and flat bookmarks.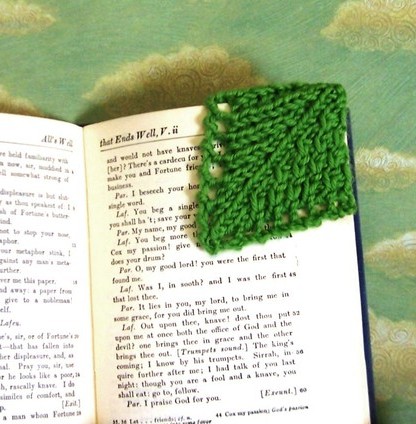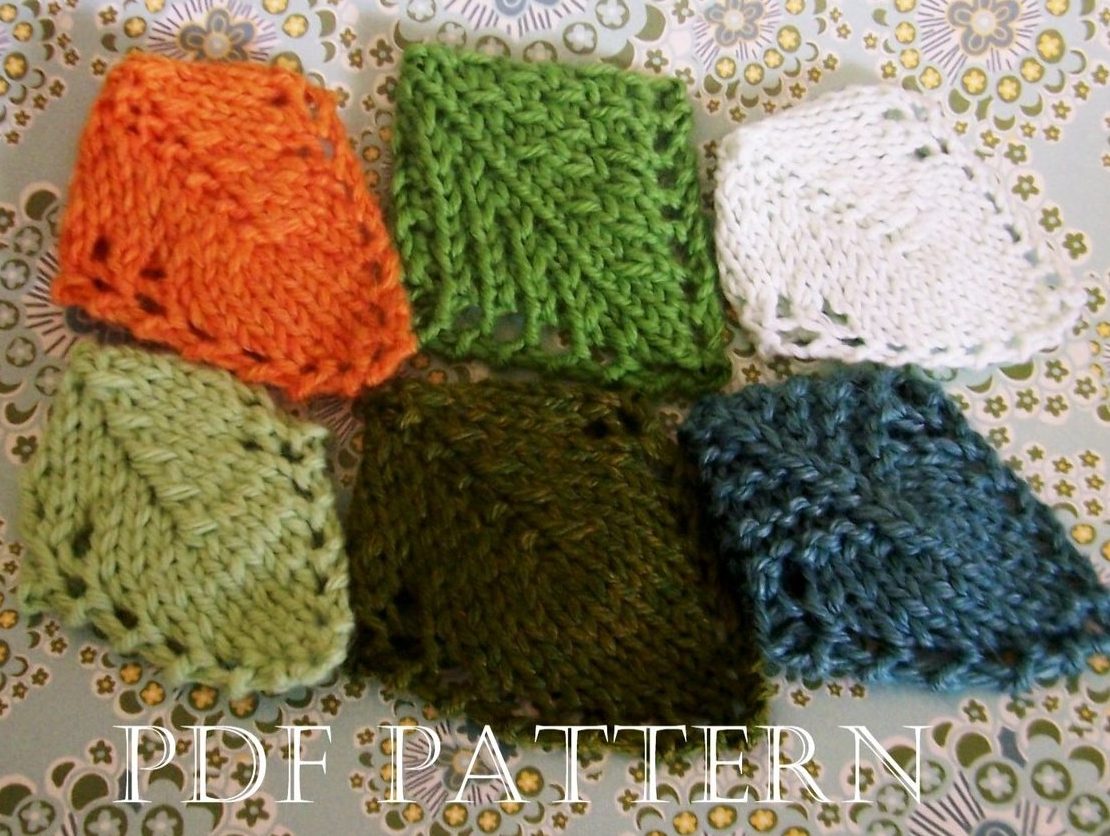 Leaf Corner Bookmark (4 Designs)
The corner bookmark is a spin-off of the traditional bookmark only instead of slipping it into the book it hugs the pages. You will receive all 4 different leaf patterns.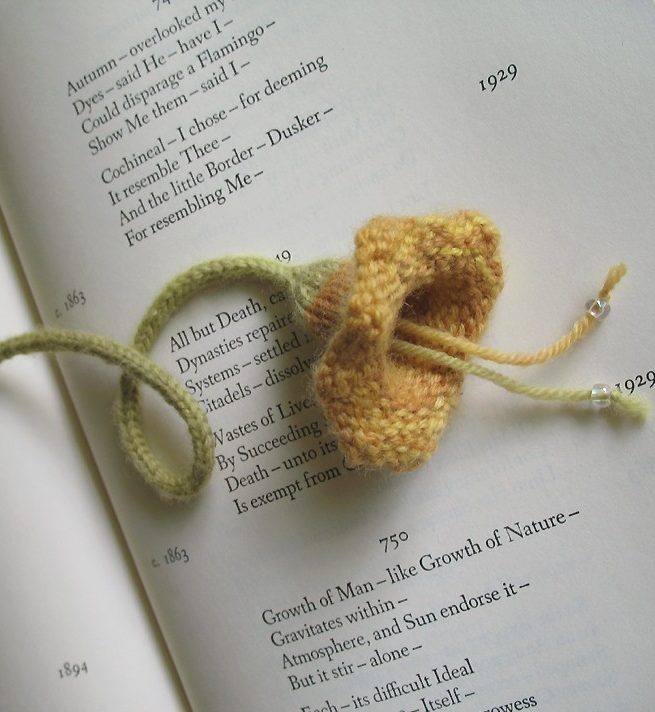 Squash Blossom Bookmark
Flower bookmark knit on dpns.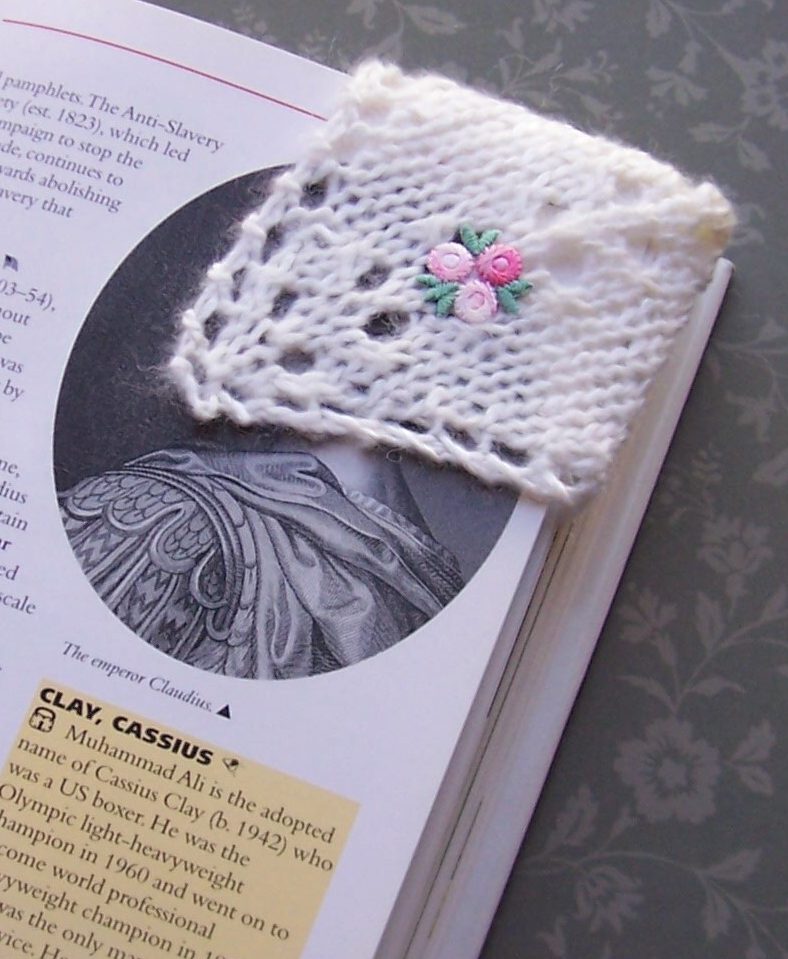 Lace Corner Bookmark
Approximately 3" on the diagonal, finished. Pictured version shows how the bookmark can be embellished.

Knitting for a Cure Bookmark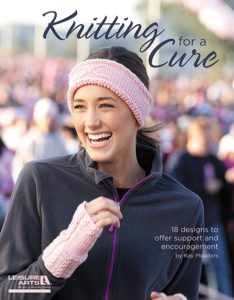 This bookmark is one of 18 designs from Knitting for a Cure. Other patterns include scarves, a hat, a headband, fingerless gloves, teapot cozy, hot water bottle cover, pillow, and more. Many feature breast cancer awareness ribbon.

Lace Bookmarks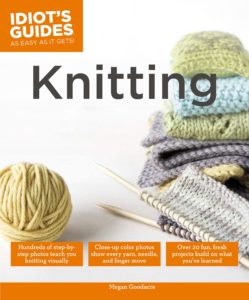 Two lace bookmark patterns about 1 1⁄4 inches (3cm) wide by 6 1⁄2 inches (16.5cm) tall. Two of the 20 projects in Knitting (Idiot's Guides).