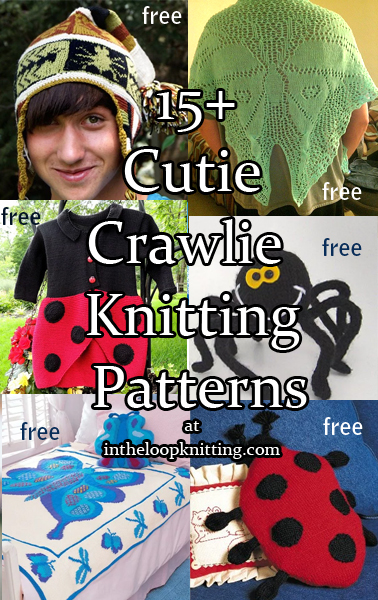 Butterflies, ladybugs, bees, and, yes, spiders are all part of the Cuddly Crawlie kingdom. Take a look at these adorable patterns and you'll never call them creepy again!
To get the knitting patterns, scroll down the page to the individual pattern you want and click on the link to that pattern.
These patterns are not my designs but links to other designers who have generously shared their patterns. If you have questions about how to knit a specific pattern, please contact the designer directly.
All links on this site are for informational purposes, but please note that some links are to affiliate sellers that pay me a small commission on purchases.
Free Patterns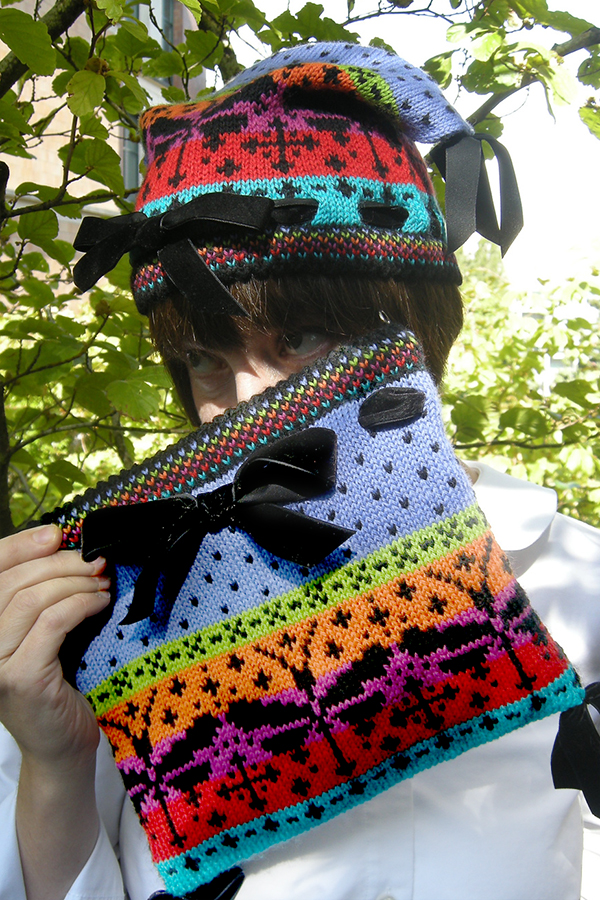 Ebony Jewelwing Hat or Bag
Stranded design featuring dragonflies and other motifs. Can be knit as a bag, with the opening at the top, or as a hat, with the opening at the bottom. Designed by Mary Scott Huff. Sport weight yarn. Excerpted from The New Stranded Colorwork.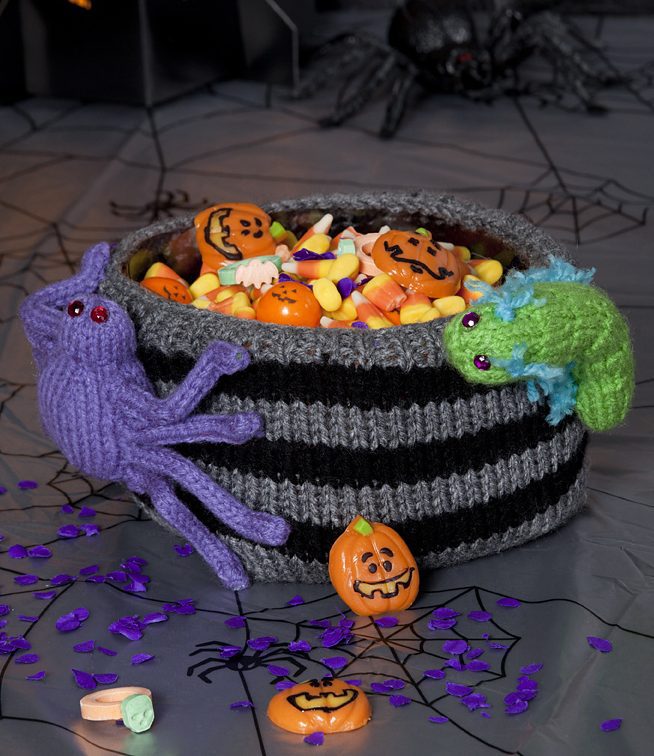 Bug Infested Bowl
Nancy Anderson designed this fun decorative treat bowl for Red Heart. easy by Red Heart and Ravelry knitters. Not just for Halloween! Bowl Finished Size: 5½"(14 cm) wide x 4″ (10 cm) tall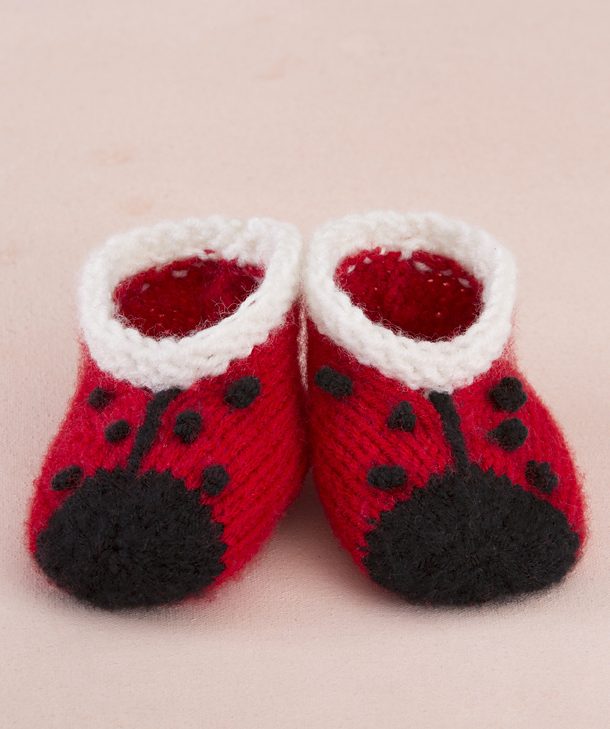 Sweet Lady Bug Booties
Lorna Miser designed these adorable baby booties for your love bug. Pattern is rated easy by Red Heart and Ravelry knitters. Also available with matching Lady Bug Jacket and Hat.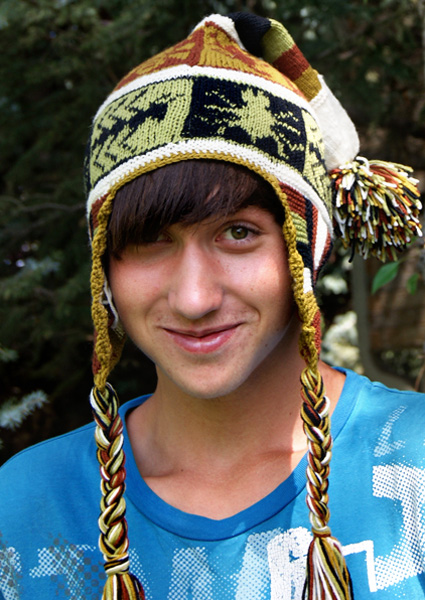 Creepy Critters Chullo
Donna Druchunas's earflap hat is is decorated with motifs of insects from the Andes. Sizes Child[Teen, Adult]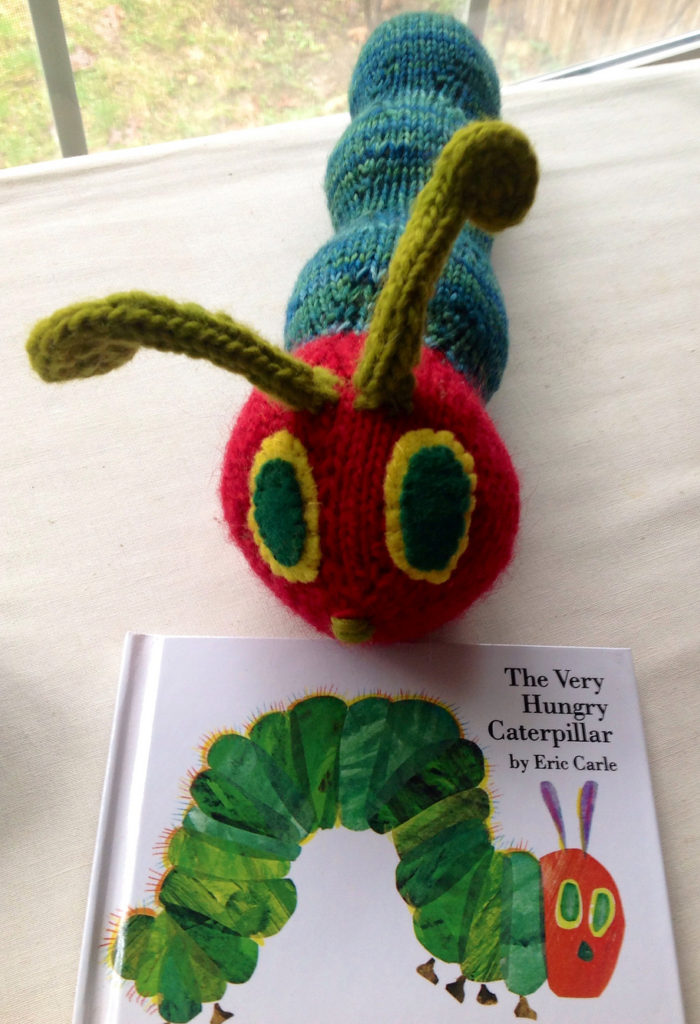 He's Hungry… Caterpillar
Toy softie caterpillar designed by Jillian Plante inspired by the beloved storybook character. Pictured project by StacyMora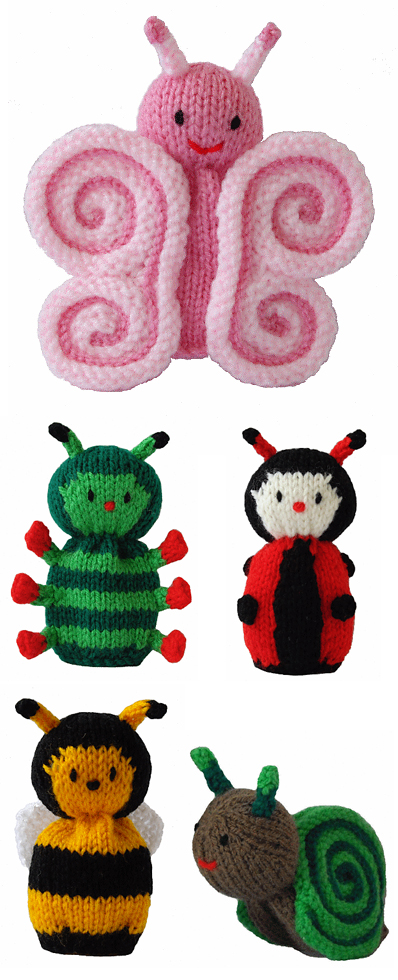 Summer Garden Butterfly and Cutie Crawlies
This set from Knitables features a butterfly, caterpillar, ladybug, bee, and snail. Finished Height Approximately 12cm. The butterfly's wings are created ingeniously by rolling knitted fabric. Great use for scrap yarn. Designed by Sarah Gasson of Knitables.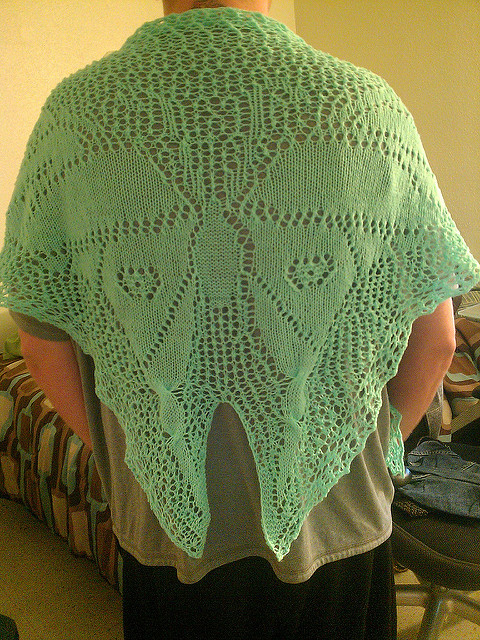 Limberlost Luna Moth Shawl
Mmario designed this lace shawl shaped like a Luna Moth. Pictured project by crazycandigirl

Bumblebee Beanie
Evelyn A. Clark designed this hat using stranded colorwork.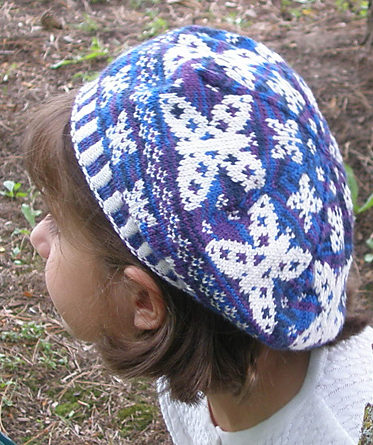 Flutterby Tam
This hat features butterfly motifs on the crown and around the brim knit in stranded colorwork. Sizes baby through adult. Designed by Kathleen Sperling
More Free Patterns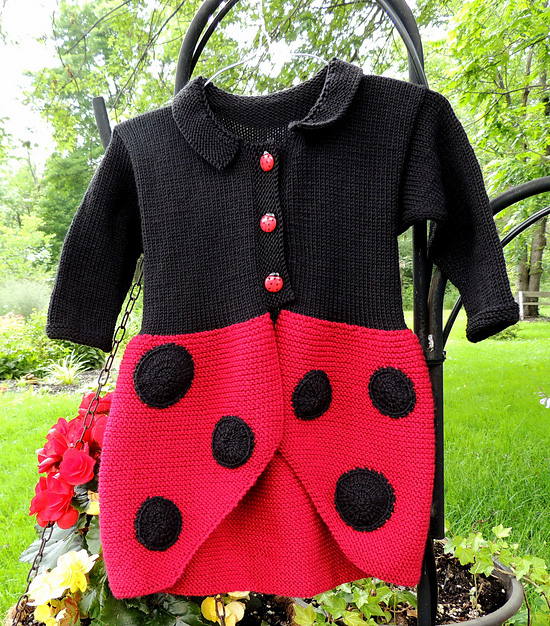 Ladybug Sweater Coat
Alison Stewart-Guinee designed this cute jacket for babies and toddlers 6 months-18 months [2T, 4T, 6, 8] Also makes a great costume! Pictured project by schrlauws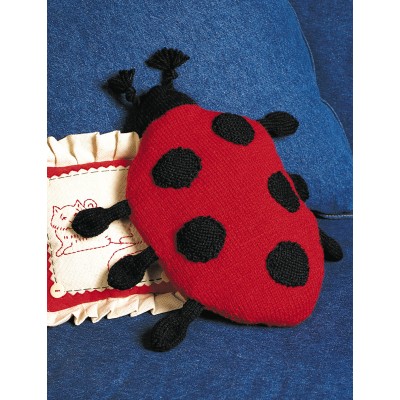 Ladybug Pillow
16 ins [40.5 cm] long and 11½ ins [29 cm] wide.

Spidey
Amanda Berry designed this cute spider toy approximately 12cm tall and 13cm wide. The legs are i-cords with pipe cleaners inserted so Spidey can stand.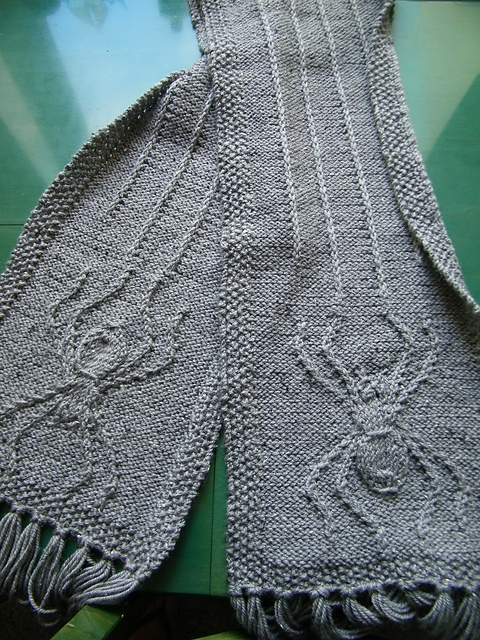 October Is For Spinners
Sharon Emery created a spider-themed scarf. Her original scarf contains dropped stitches to make the scarf look like a web in need of repair. This variation by vassiliki-araxni changed the design to include two spiders and standard scarf look without dropped stitches.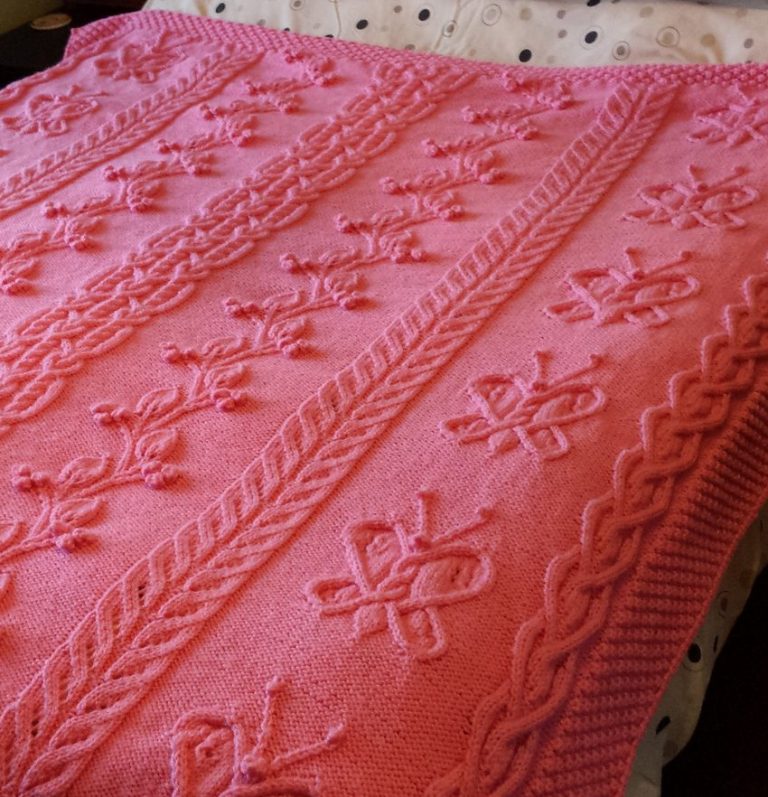 Butterfly Cabled Blanket
Joan Barnett designed this breathtaking cable afghan for Red Heart with 4 different cable patterns and a Bramble Stitch border. 58 x 66″ (147.5 x 167.5 cm). Pictured project by laudanum1964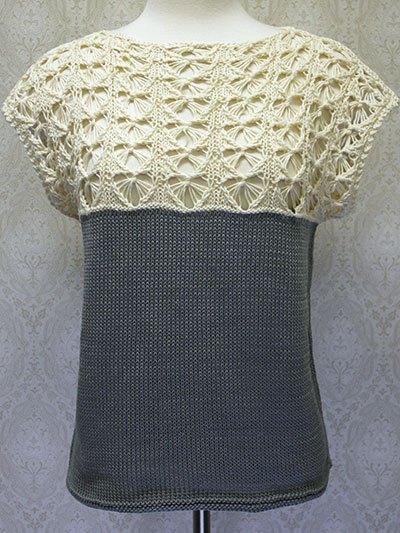 Butterfly Tee
This unique top has a butterfly lace yoke.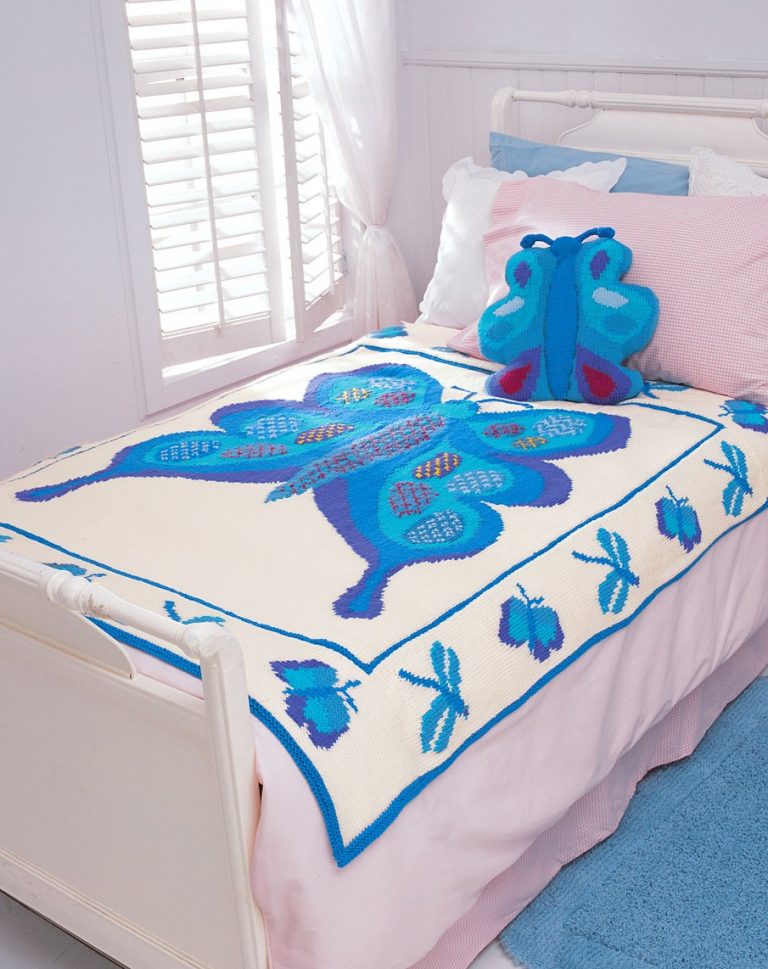 Butterfly Blanket and Pillow
This fair isle design by Yarnspirations is features on a blanket that is approx 47 x 55 ins [119.5 x 139.5 cm] and a cushion that is shaped and colored like a butterfly approximately 16 x 16 ins [40.5 x 40.5 cm]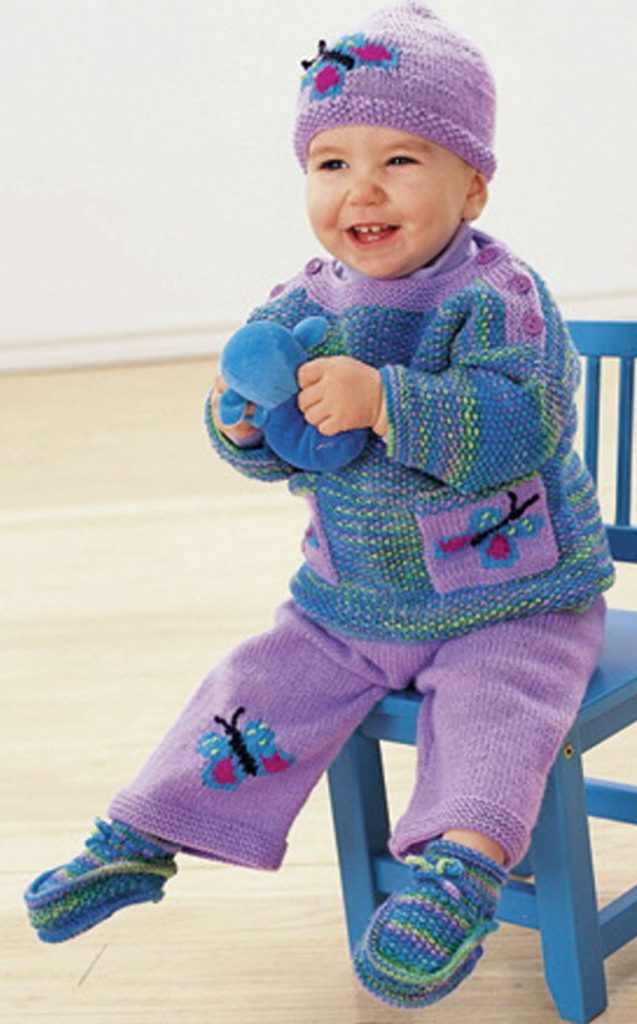 Butterfly Baby Set
This "Butterflies Are Free Set" by Yarnspirations includes pullover, pants, and hat with butterfly motifs and matching booties. Sizes for 6 months to 2 years. Note that all the parts of the outfit are included in the pattern, even though the pattern page says it is just for the booties.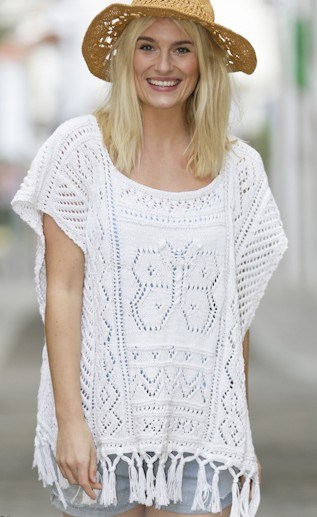 Butterfly Poncho
This lace poncho with butterfly motif by DROPS Design is sized for S/M – L/XL – XXL/ XXXL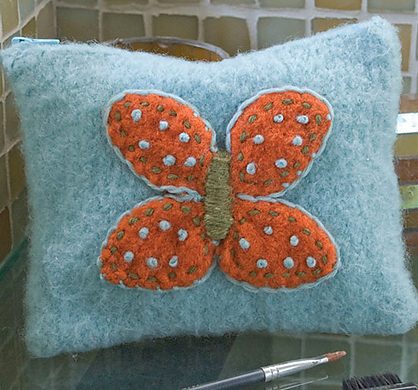 Butterfly Make-up Bag
This felted bag with zipper by Maggie Pace can be completed in one day.
Patterns for Purchase

Praying Mantis, Spider, Garden Snail, and Ant Amigurumi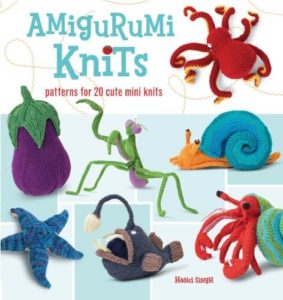 These insect toys are included in the book Amigurumi Knits: Patterns for 20 Cute Mini Knits by Hansi Singh. Sizes depend on yarn weight. Use wire and pipe cleaners to stabilize and pose the legs. Pictured projects by Adelemaria, Dona, freshstitches, and joansgarden.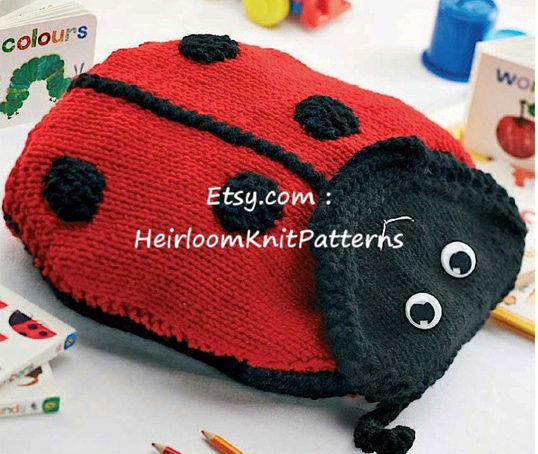 Ladybug Backpack
Also includes a pattern for Bumblebee Backpack. SIZE : 34cm (length) x 32cm (width at widest point). Quick knit inChunky weight yarn

Dazzle of Dragonflies Shawl
Sharon Winsauer designed this lace wrap or stole. All wrong side rows are purled. The dragonflies remind me of the Outlander books.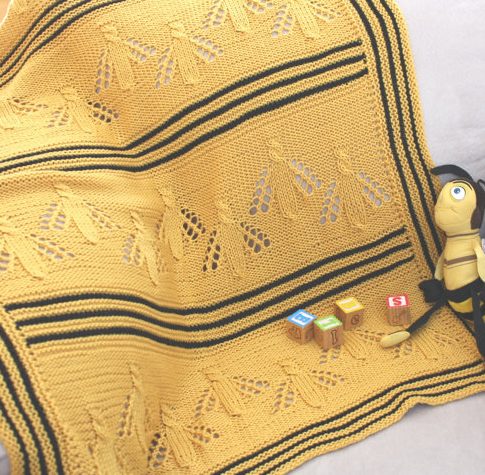 Buzzy Bee Blanket
The buzzy bees and characteristic stripes make this baby blanket adorable and fun at the same time! It is easy to knit and will make a great gift for any new mom and her baby (especially, if we do not know yet if it is a boy or a girl).

Monarch Butterfly
The finished butterfly is approx 4 inches wide, about the size of a real monarch butterfly. This pattern comes with two versions. You can either knit a flat butterfly, to use for applique, or knit a 3-dimensional butterfly, which would make a lovely toy or mobile.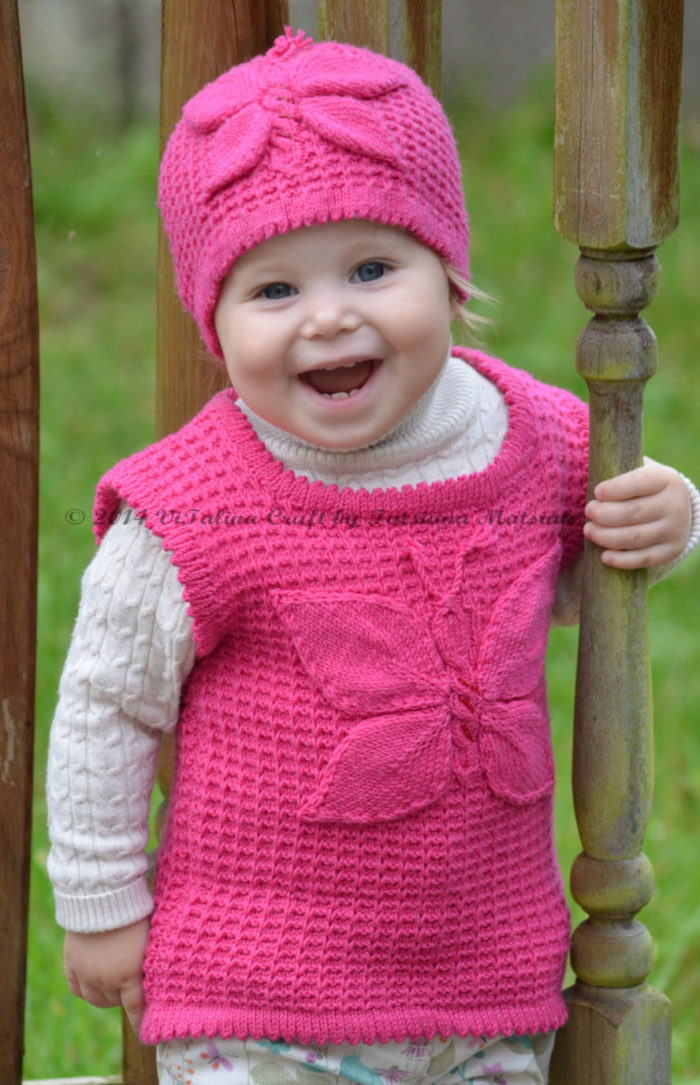 Lady Butterfly Hat and Vest for Babies and Children
The hat pattern is written for seven sizes: 0-3 months, 3-6 months, 6-9 months; 9-12 months; 18-24 months; 2-5 years and 6-10 years. The vest pattern sizes are 6-9 months; 9-12 months; 18-24 months; 3-4 years; 5 years.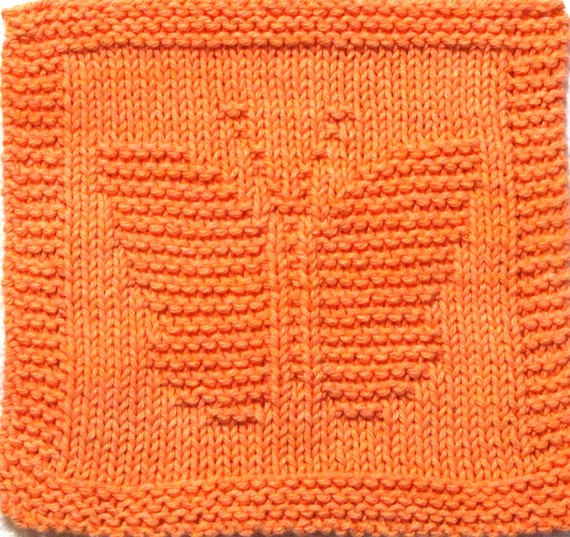 Butterfly Wash Cloth
Finished Size: 7″W X 7 1/4″ H (18cn X 18.5 cm)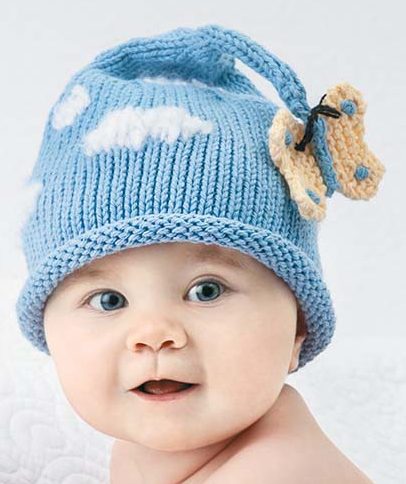 Butterfly and Clouds Baby Set
This hat is part of a set that also includes matching diaper cover and booties. One of 7 pattern sets in the ebook Diaper Cover Sets. Sizes 0-3, 3-6, and 6-12 months.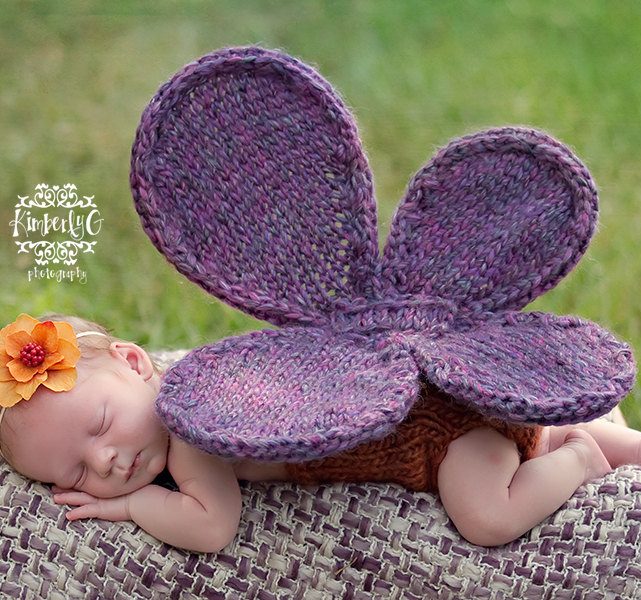 Baby Butterfly Wings
This easy pattern by Melodysmakings is perfect as a prop for baby photos. Sizes: Newborn, 0-3 Months, 3-6 Months, 6-12 Months. Melody says this is a beginner level pattern.