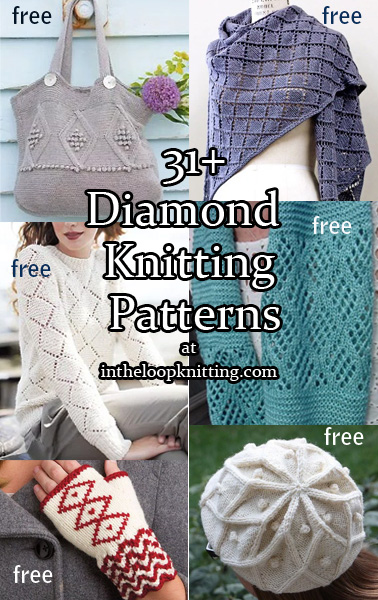 Diamonds are a knitter's best friend – diamond motifs that is — in diamond lace, diamond cables, diamond stitch patterns, diamond colorwork in these knitting patterns, most are free.
To get the knitting patterns, scroll down the page to the individual pattern you want and click on the link to that pattern.
These patterns are not my designs but links to other designers who have generously shared their patterns. If you have questions about how to knit a specific pattern, please contact the designer directly.
All links on this site are for informational purposes, but please note that some links are to affiliate sellers that pay me a small commission on purchases.
Free Patterns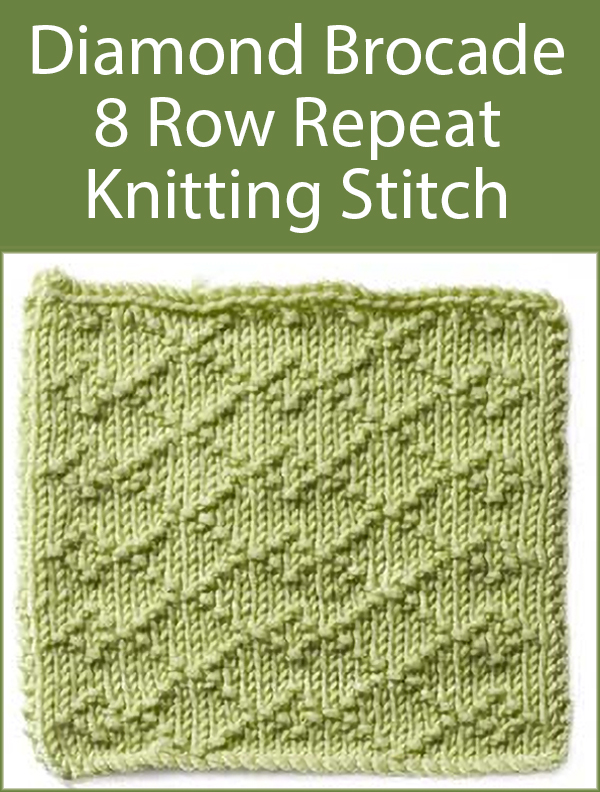 Lattice Diamonds Knitting Stitch
Instructions for knitting an 8 row 12 stitch repeat of overlapping diamonds in knit and purl stitches. Excerpted from the Vogue Knitting Stitchionary: Volume One.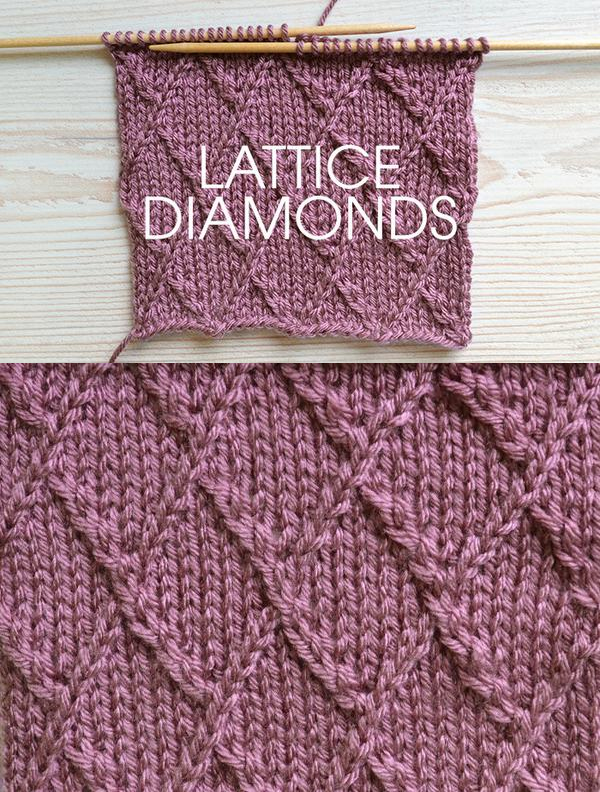 Lattice Diamonds Knitting Stitch
Instructions for knitting lattice diamond stitch.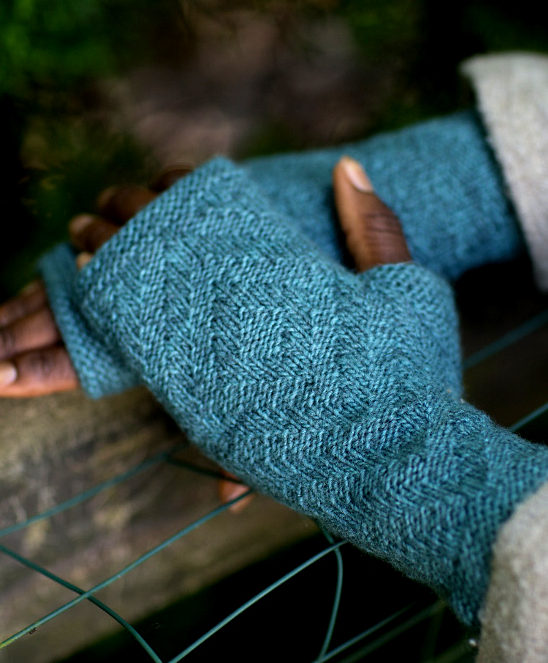 Rowell Mitts
Fingerless mitts with a diamond textured pattern on top and practical rib on the palm. Designed by megi burcl for Brown Sheep Company. Sport weight yarn.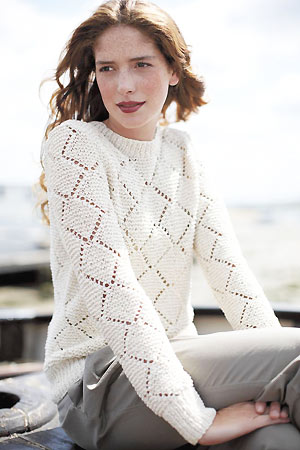 Diamond Lace Sweater
A simply shaped pullover sweater worked in garter stitch with diamonds outlined by eyelets.

Susan's Blissful Sunset Cardigan
Kathy Zimmerman's cropped cardigan with three-quarter sleeves features diamonds formed by cables and openwork lace.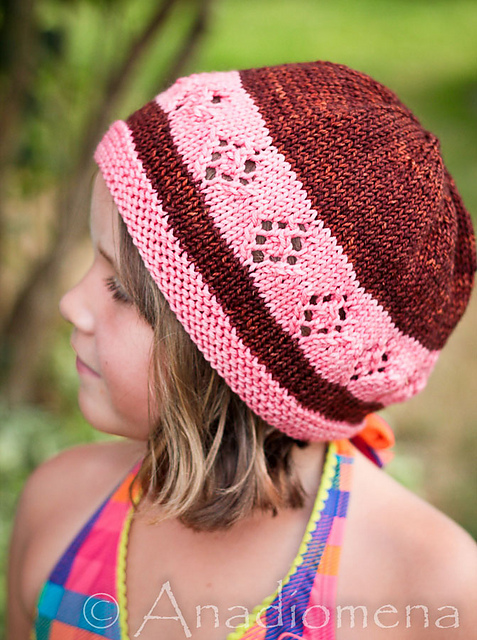 In Between Seasons Hat
Adult and Child sized hat with diamond lace pattern designed by Elena Nodel. Great use for multi-colored yarn in the body to contrast with the lace band. Sizes Small – Extra Large; 18-24″

Fairhaven Pullover
Designed by Melissa Leapman for Cascade Yarns, this long-sleeved pullover sweater features a diamond cable pattern. Woman's Small (Medium, Large, 1X, 2X, 3X)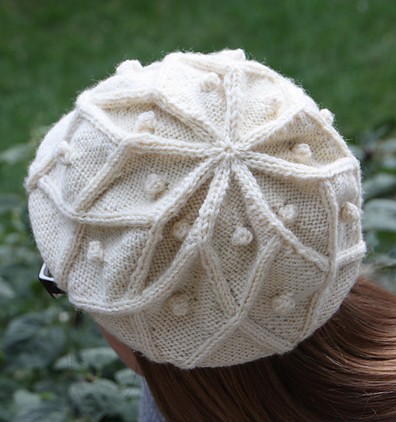 Cabled Rangoli Beret
Technically, Desi Knitter's design is not based on diamonds but "inspired by an 8-point lotus-shaped 'rangoli' design my mother makes, one of the many rice-powder free-hand designs drawn outside many South Indian homes", but the cable pattern, especially for houndiesmom's project, looks like a diamond shape to me.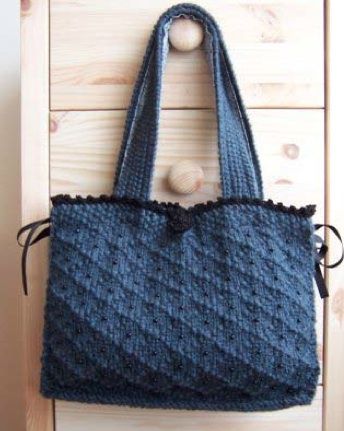 Victoria Bag
This purse design by Knitwise features a diamond brocade pattern. Approximate size 27cm wide 20cm high 7cm deep.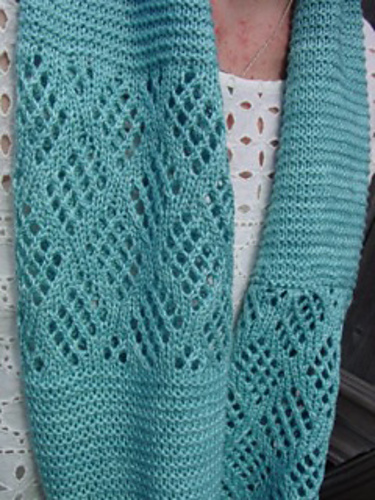 Glacier Cowl
Jo Strong designed this cowl with alternating panels of diamond (checkerboard) lace mesh and garter stitch. She recommends two lace weight yarn strands knit together or fingering weight yarn.

Cable and Lace Baby Blanket
Designed by Yarnspirations with diamond lace and cables. Approx 36″ [91.5 cm] square.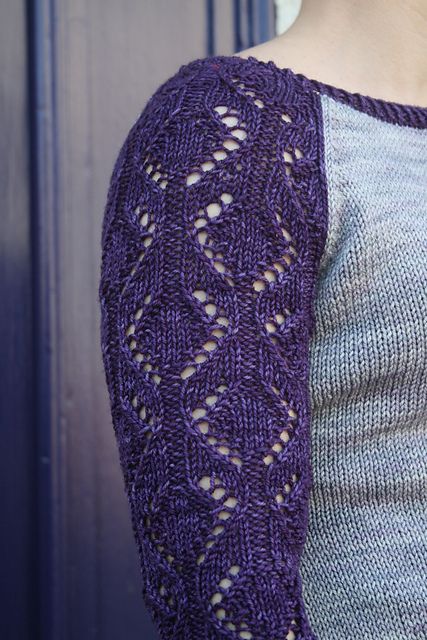 Jasseron Pullover Sweater
Becky Wolf designed this intriguing pullover with feminine lace sleeves and ballet neckline contrasting with a casual body. Sizes XS (S, M, L, 1X, 2X, 3X)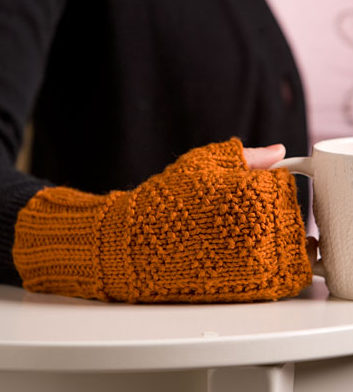 Gansey Diamond Mitts
Fingerless mitts feature a Gansey inspired stitch pattern of purl stitches on a stockinette field. Designed by Kerin Dimeler-Laurence. Pictured project by Chimona
More Free Patterns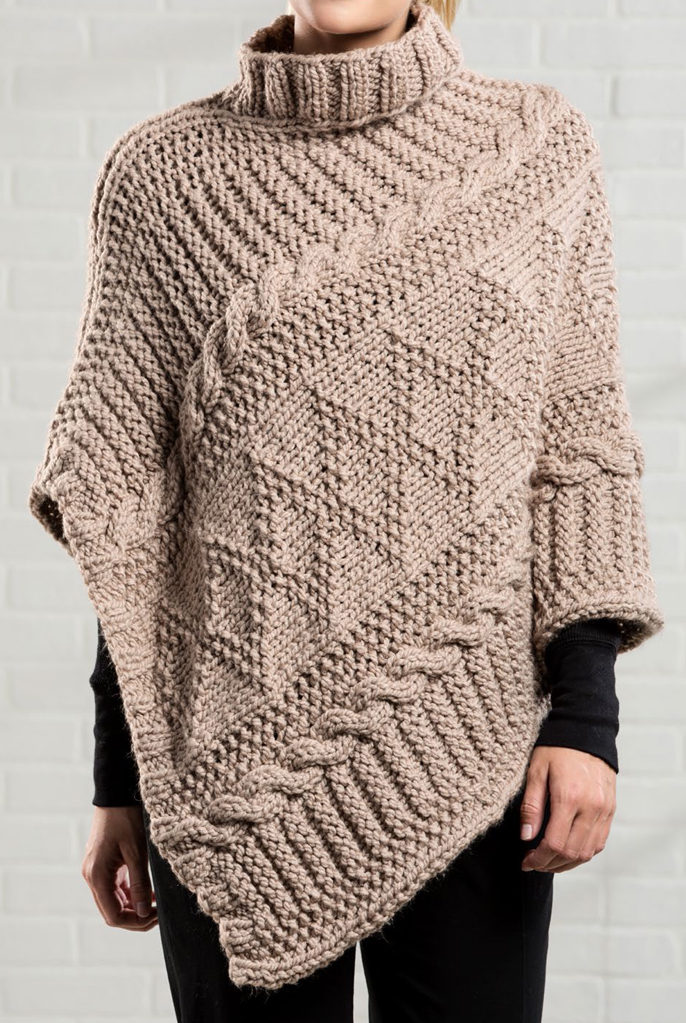 Gansey Poncho
The poncho is knit in a single long panel that is folded in half and sewn together along one side, with an opening left for the neck. The sideways construction made this look crocheted to me but it's knit! Designed by Premier Yarns.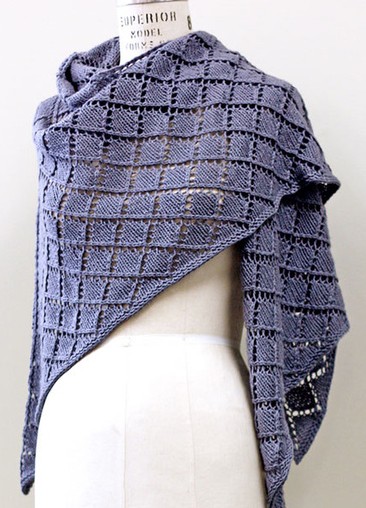 Dorothea Wrap
Amy Christoffers designed this lace stole for Berroco that forms a geometric diamond pattern.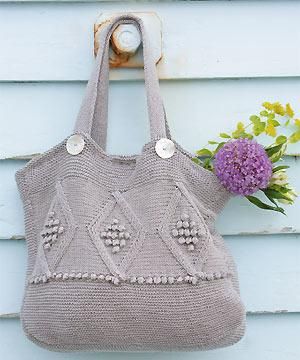 Diamond Patterned Bag
This roomy bag is knitted mainly in garter stitch with a diamond-patterned panel across the front measures 43cm wide x 38cm deep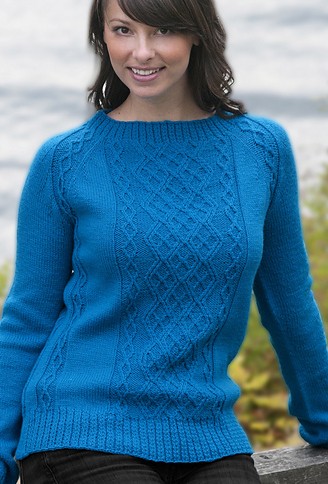 Modern Argyle Pullover Sweater
Nancy Rieck's sweater features a diamond argyle pattern with cables and twisted stitches. Sizes 32-52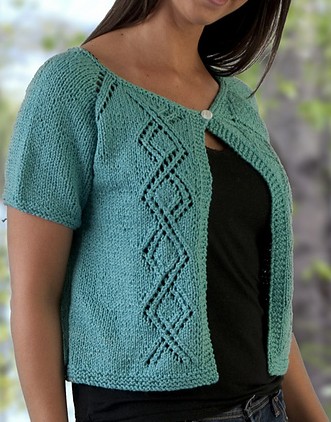 Top Down Summer Lace Cardigan
Vera Sanon's cropped short-sleeved cardigan is knit seamlessly and features a diamond lace detail. S (34-36), M(38-40) L/XL(42-46)" XXL(47″)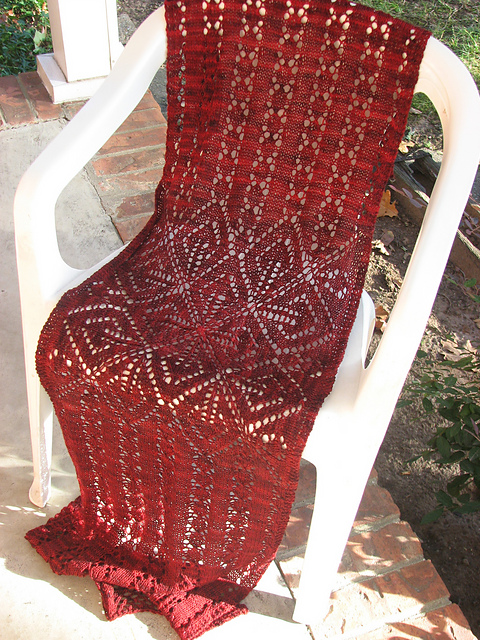 To Zola With Love Wrap
Kay Meador's lace prayer shawl features a central medallion panel of diamonds. Great for multi-colored yarn! Pictured project by Naturalstateknits

Cassie Bolero
Easy shrug by DROPS Design features a diamond lace pattern. Worked flat in one piece. Size: S/M – L – XL /XXL – XXXL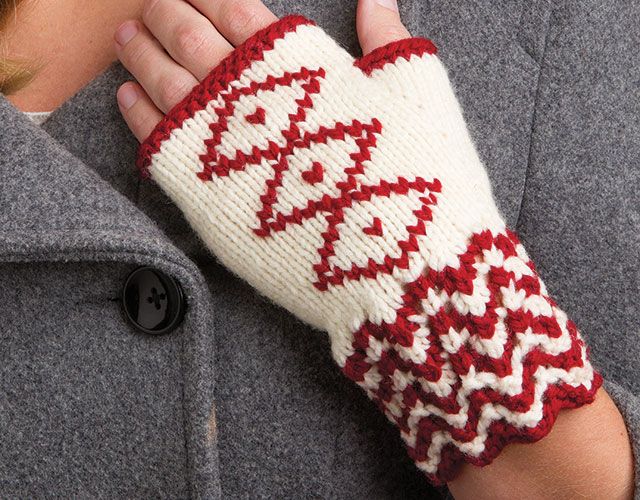 Embroidered Wrist Warmers
Knit and Crochet Now designed these two-color fingerless mitts with a diamond pattern embellishment. Yarn is also available at the pattern site.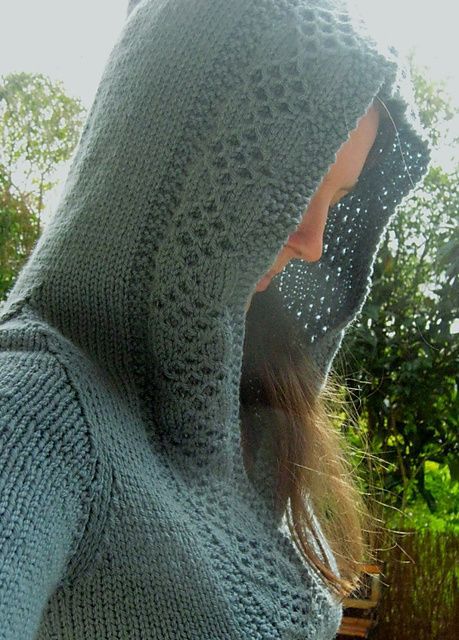 Corona
Teresa Gregorio designed this hoodie pullover sweater with diamond pattern trim. Sizes 28″ – 54″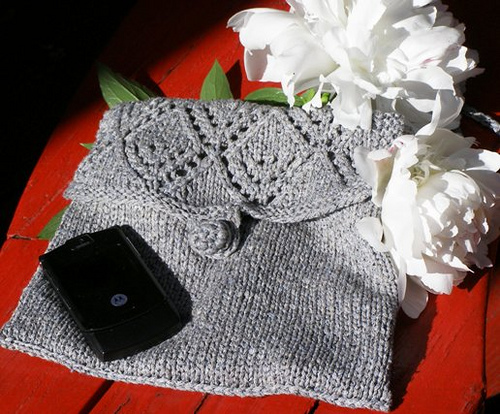 Lacy Diamond Purse
Designed by Jill Chatelain, this bag is 9.5″ wide by 7.5″ in length.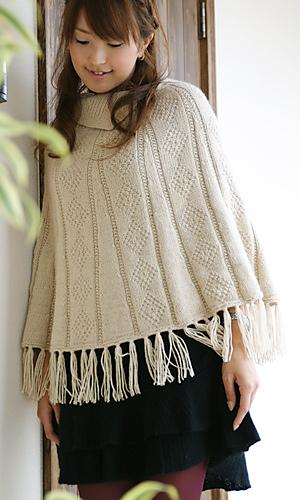 Diamond Cashmere Poncho
The diamond pattern and fringe of the Vintage Cashmere Poncho designed by Pierrot Yarns for DK yarn is topped off by a collar.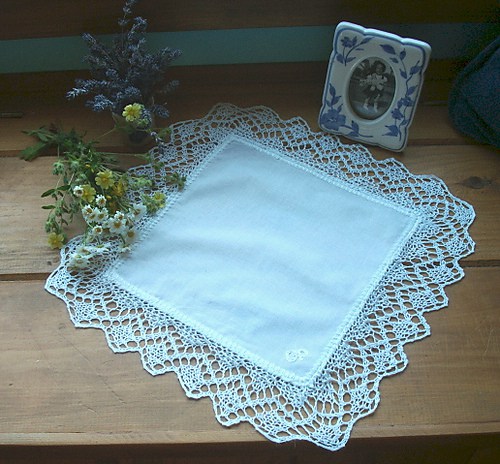 Diamond Edging
Perfect edging for decorations, table settings, dresses, and shawls, especially for weddings.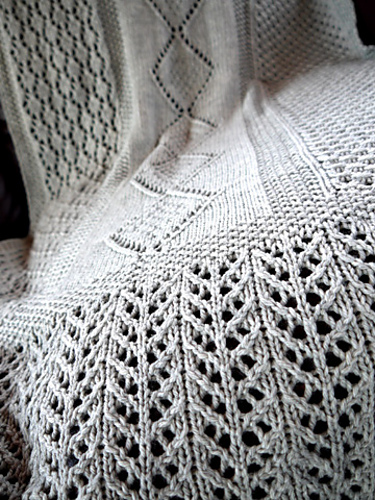 Lace Blanket Shawl
Denise Twum designed this worsted weight shawl with a diamond lace pattern panel surrounded by other lace stitches.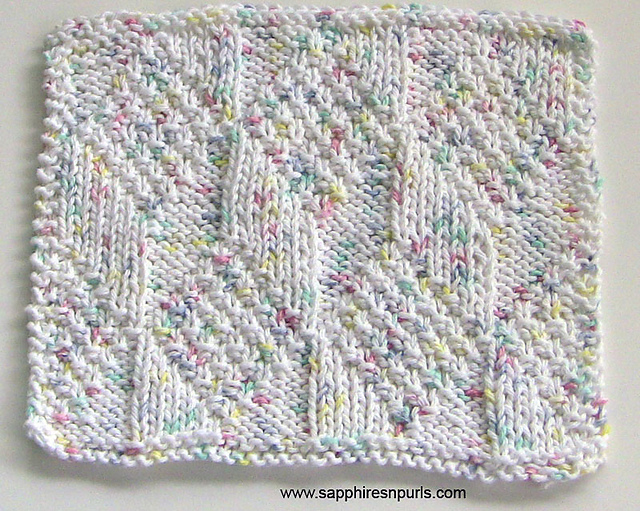 Diamond and Lozenge Dishcloth
Beth Richardson's design is a great stash buster for cotton yarn. Easy for beginning knitters!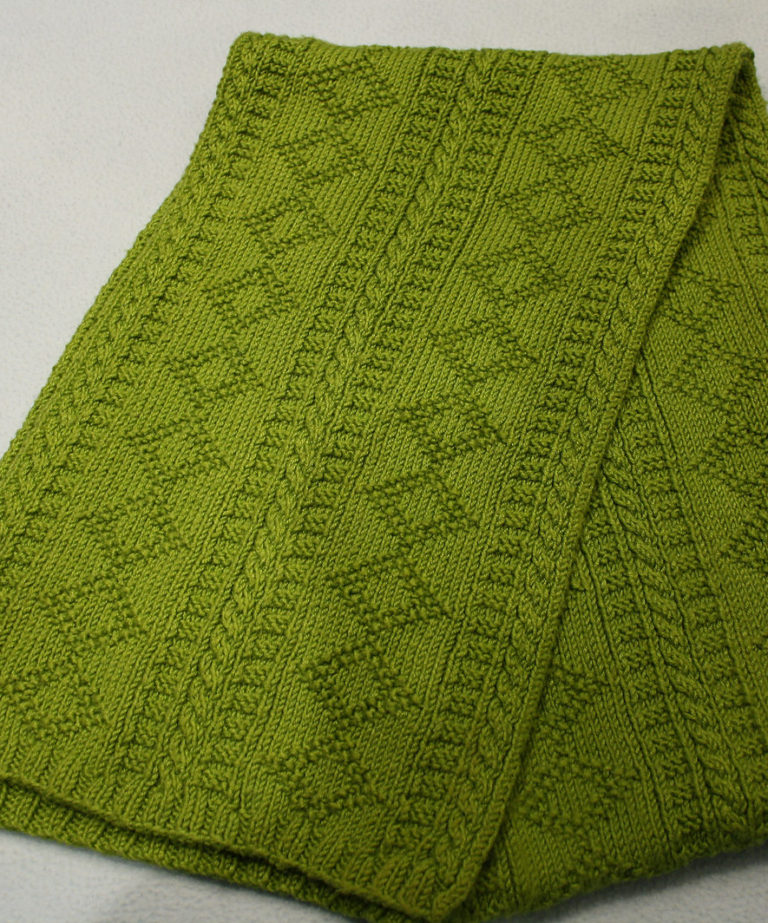 Karin's Gansey Scarf
This scarf features diamond motifs and other textured stitches. Designed by Tina Hees. Pictured project by jeffmeister
Patterns for Purchase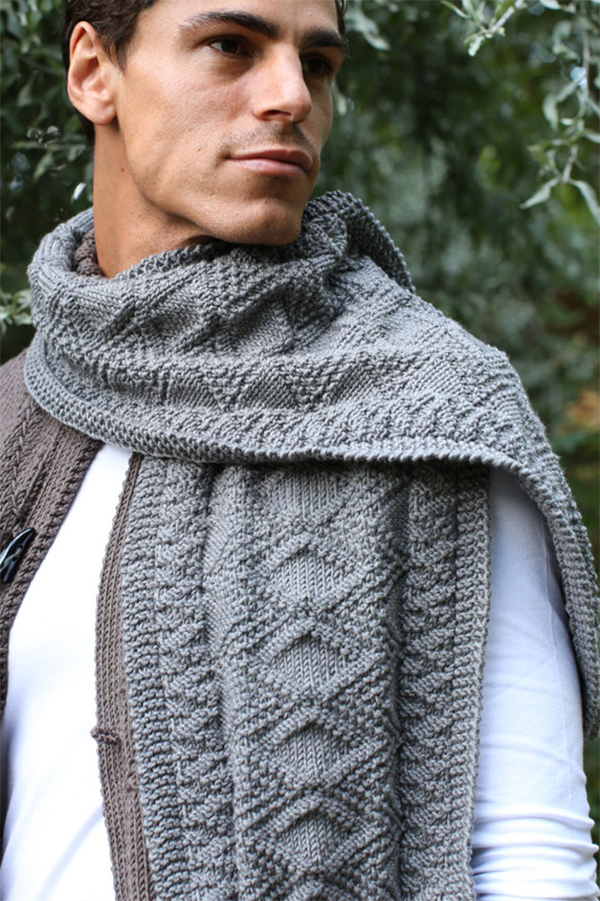 Martin Scarf
A fabulous scarf for adventurous beginner knitters! Create these gorgeous motifs with just knit and purl stitches following a chart. Size 28cm x 150cm. Designed by MillaMia. Aran weight yarn.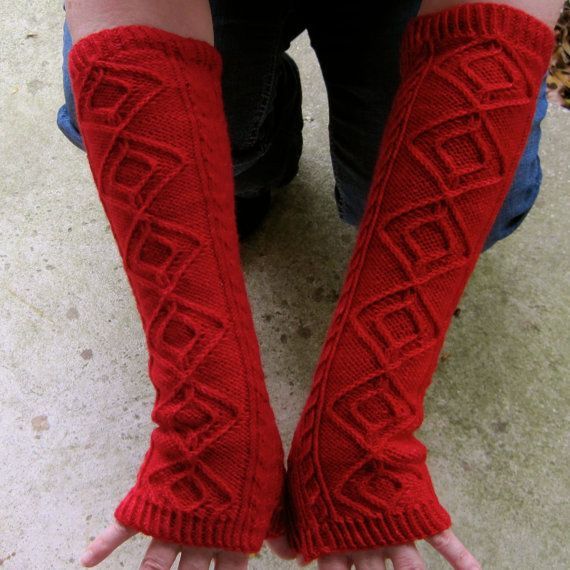 Matterhorn Long Fingerless Mitts
There are three distinct cables in the mitts with the center cables forming a diamond pattern.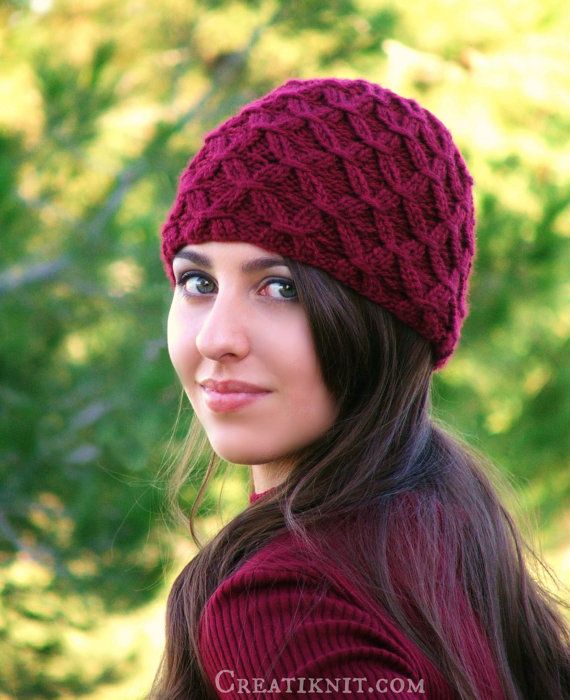 Diamond Weave Hat
Clear & simple instructions along with picture tutorials make this a beautiful & fun project. Sized for teens and adults.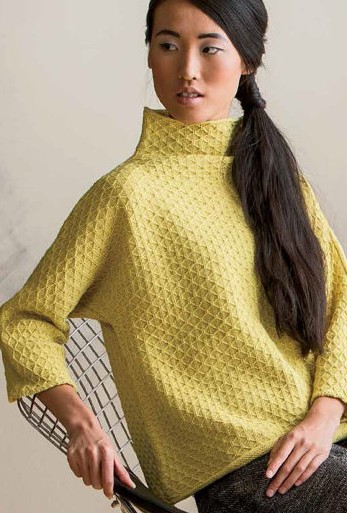 Diamond Funnelneck Pullover
This sweater features a pretty slip stitch diamond pattern, dolman sleeves, and funnel collar. Finished Size: 40 (44, 47 1/2, 51 1/2, 55 1/2, 59)" bust circumference.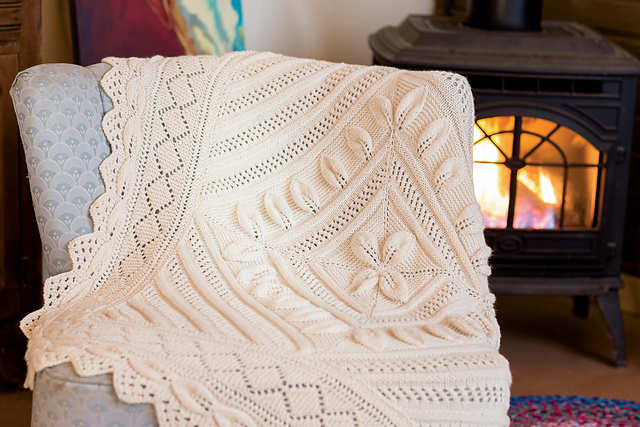 Cottage Baby Blanket
Not only does this baby blanket have diamond lace edging and border, the other motifs are knit in concentric diamond shaped panels. This pattern is one of 21 patterns in the Interweave Knits Summer 2015. Designed by Ava T. Coleman, this counterpane is a variation on a popular pre–Civil War pattern called Grandmother Anderson's Pattern.
Finished Size 46" square.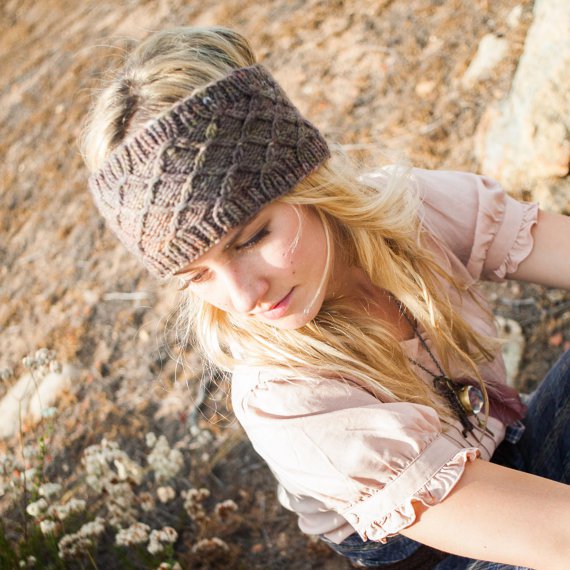 Reversible Smocked Head Wrap
Quick project for reversible ear warmer with diamond smocking.

Chunky Lace Scarf
A lovely diamond pattern is trimmed with fringe. Finished size is 9 1/2″W x 60″L, excluding fringe.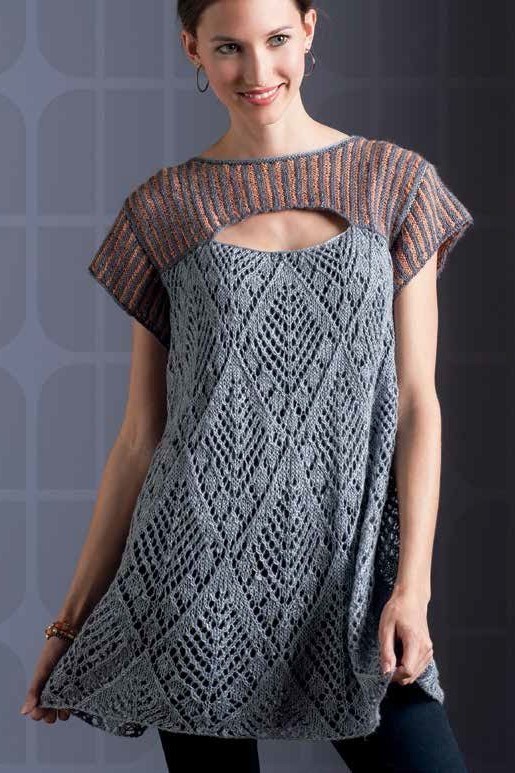 Tuscany Lace Tunic
This well structured pattern allows for a balance between a flattering stabilizing yoke continuing into a lovely draped diamond patterned lace lower tunic. Sizes 36 (40, 44, 48)" (91.5 [101.5, 112, 122] cm) finished bust circumference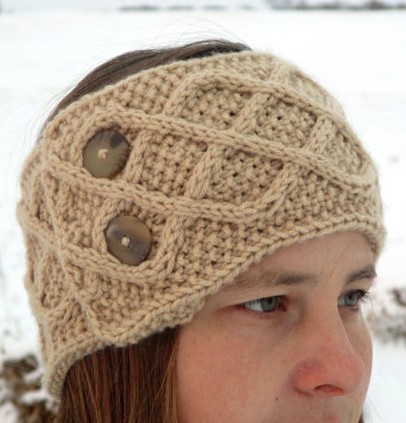 Woodland Walk Headband
This headwrap features diamond cables. This headband comes in 4 different sizes (length x width).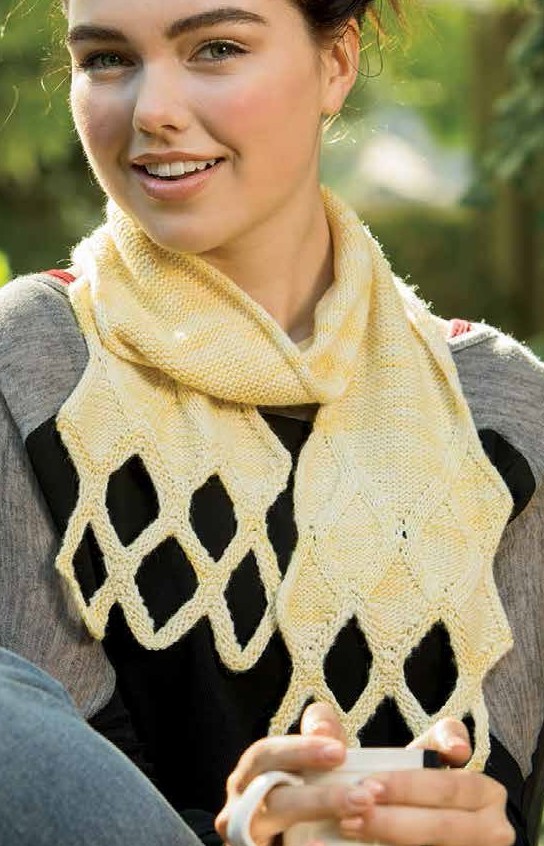 Sign of Four Scarf
This scarf features solid and openwork diamonds.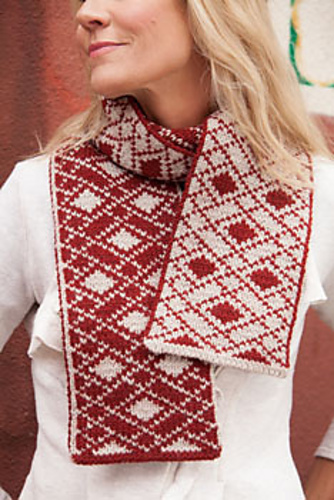 Trimble Court Scarf
Reversible argyle scarf double knit with a diamond motif.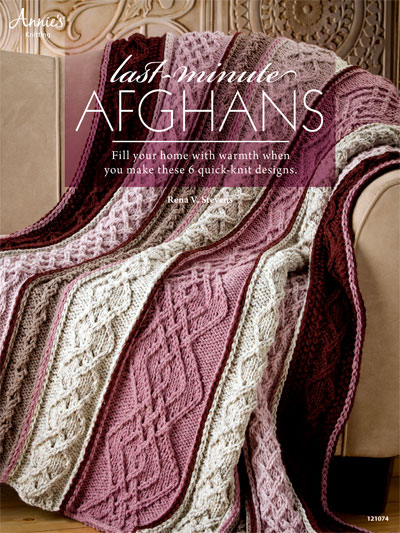 Last Minute Afghans
Made as smaller separate pieces that are joined together later, the knit patterns inLast-Minute Afghans are fun, fast and great for on-the-go knitting. Knit with bulky yarn or two strands of yarn knit together. On sale for only $3.49 at Annie's. That's about 58 cents per pattern!