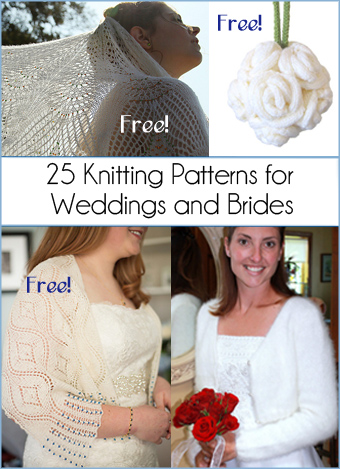 Below are more than 25 knitting patterns for weddings, many of them free knitting patterns, including shrugs and wraps suitable for anyone in the bridal party, an angora shrug modeled after the royal wedding bolero worn by Princess Kate, stunning bridal veils, accessories such as a ringbearer pillow, throwing bouquet, and centerpieces.
Free Knitting Patterns
Patterns for Purchase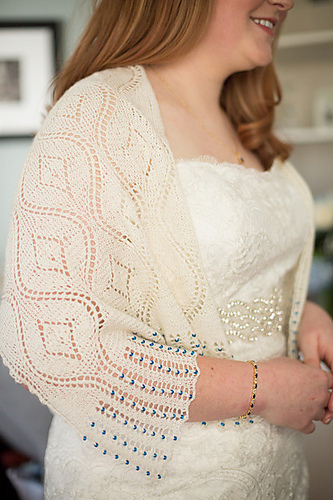 Bridal Seascape Stole
A versatile pattern designed by Kieran Foley. Scroll down the project pictures to see the bridal version.
Alaina's Bridal Veil
This gorgeous veil created by RickMartin – view the amazing photos of this project 
The free pattern used for this veil is designed by MMario and is equally beautiful as a shawl for other occasions.
Download the free pattern at Ravelry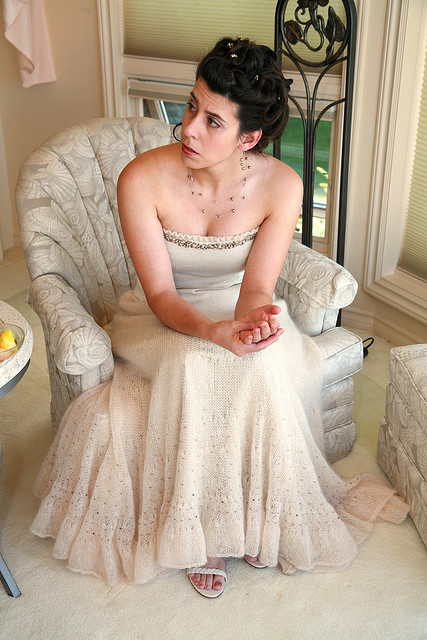 Wedding Gown
Yes, a knit wedding gown! Designed by Linda Daniels and Jill Montgomery, the pattern is only sized for 34-36″ bust.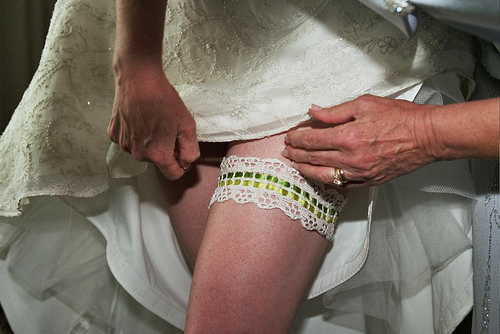 Knitted Lace Wedding Garter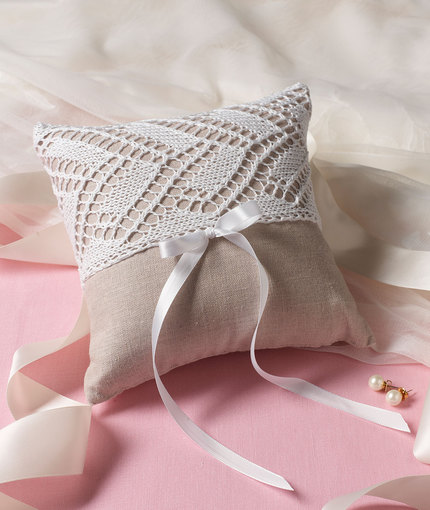 Ring Bearer's Pillow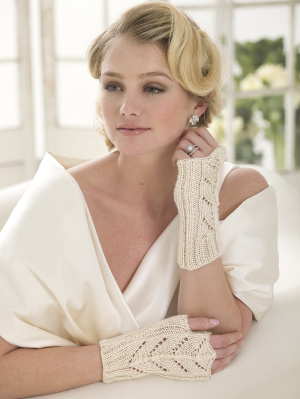 Wedding Belle Lace Gloves
Designed by Cathy MacGuire
Get the free knitting pattern for registration at Lion Brand's site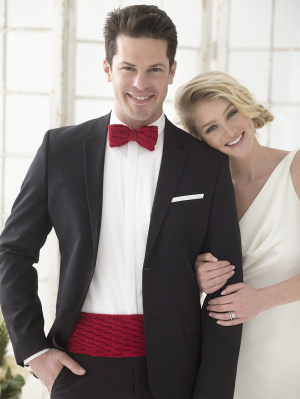 Wedding Cummerbund and Bowtie
Designed by Nicky Epstein
Get the free knitting pattern for registration at Lion Brand's site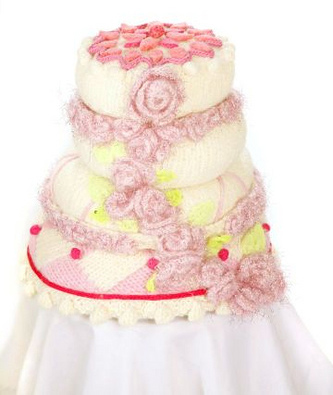 Knit Wedding Cake
A wonderful memento that will last a lifetime! Decorate it any way you want.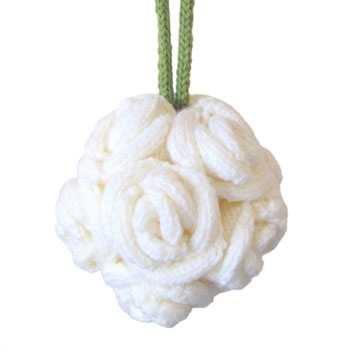 Throwing Bouquet
One of my most popular pins, this design by Oddknits is "suitable for all your ballistic flower needs".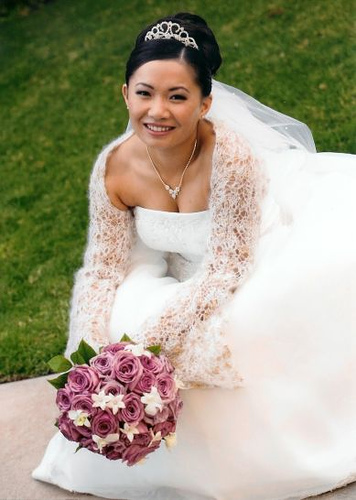 I Do! Shrug
A lacy shrug with bell-shaped sleeves designed by Jody Prival.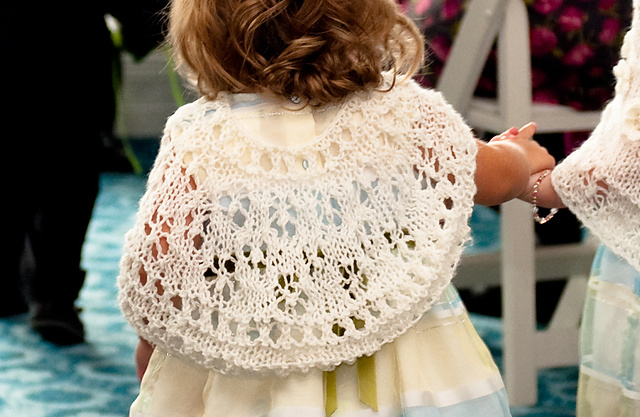 Flower Girl Shawl
Knit on large needles, this lace shawl designed by CaseyAnn Michael takes only a couple hours to complete. Sized for 2-3 years.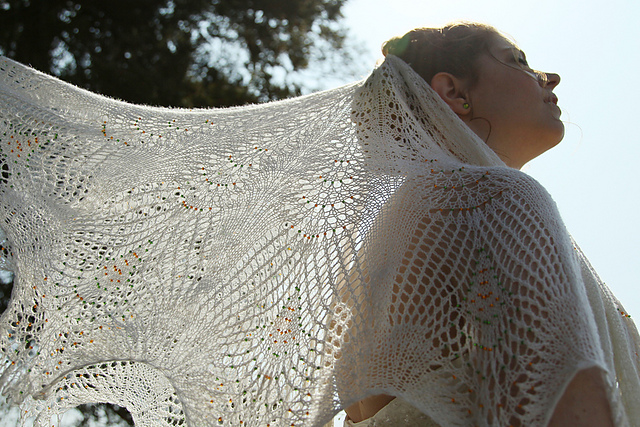 Snow Peacock Bridal Veil
Also lovely as a shawl.
Gossamer Wedding Wrap
View the project notes for the ValerieKnits project based on the free Gossamer pattern by Marie Wallin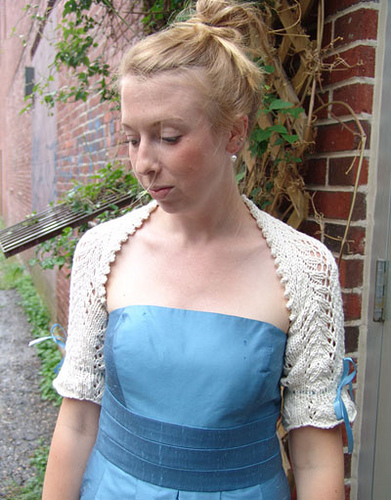 Posh Wedding Shrug
Designed by Cecily Glowik MacDonald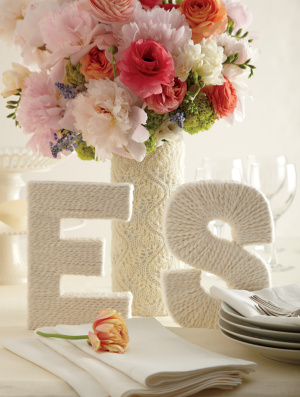 Lace Vase Cozy
Great to dress up centerpieces for a shower or reception. Includes a link to create the monogram letters as well.
Get the free knitting pattern for registering at Lion Brand's site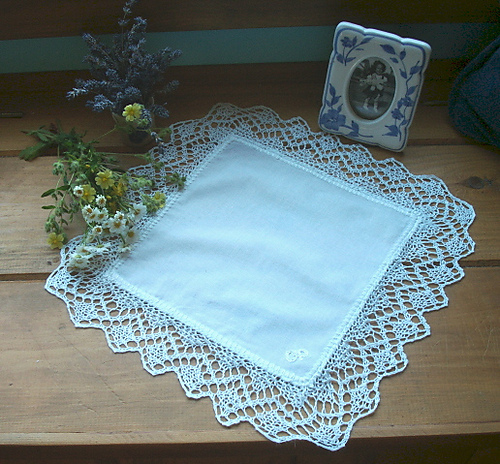 Diamond Edging
Perfect edging for decorations, table settings, dresses, and shawls.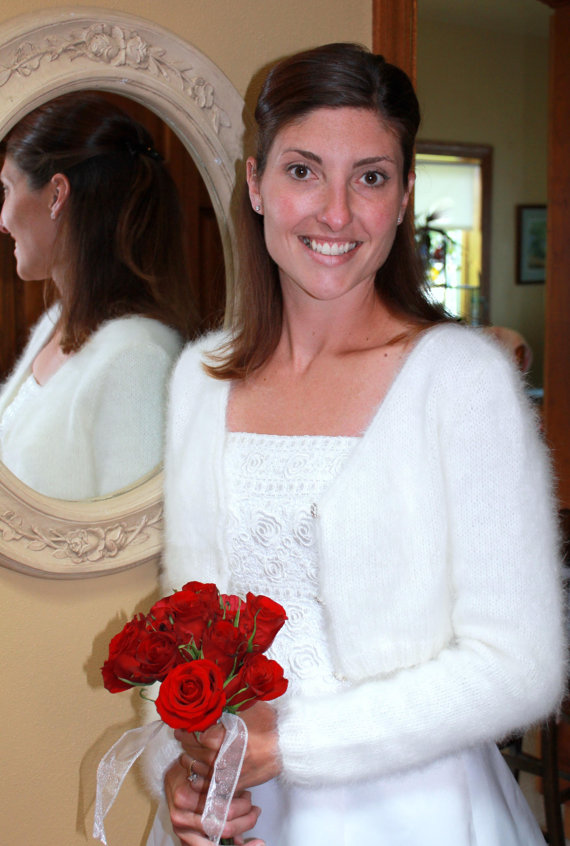 Kate Middleton's Royal Angora Wedding Shrug/Bolero
7 sizes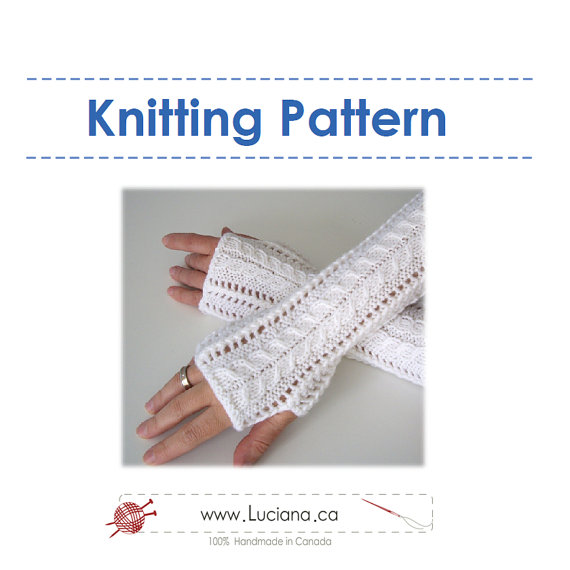 Lace Fingerless Gloves
These elegant gloves only use one ball of worsted weight yarn.
Get the knitting pattern for $5.00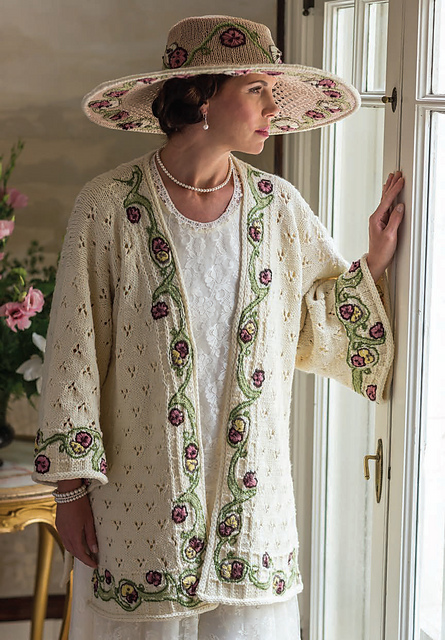 Wedding Garden Hat and Kimono
These 2 patterns are included in the Unofficial Downton Abbey Knits 2013 digital edition along with 24 other patterns.
Get the pattern book for $14.99.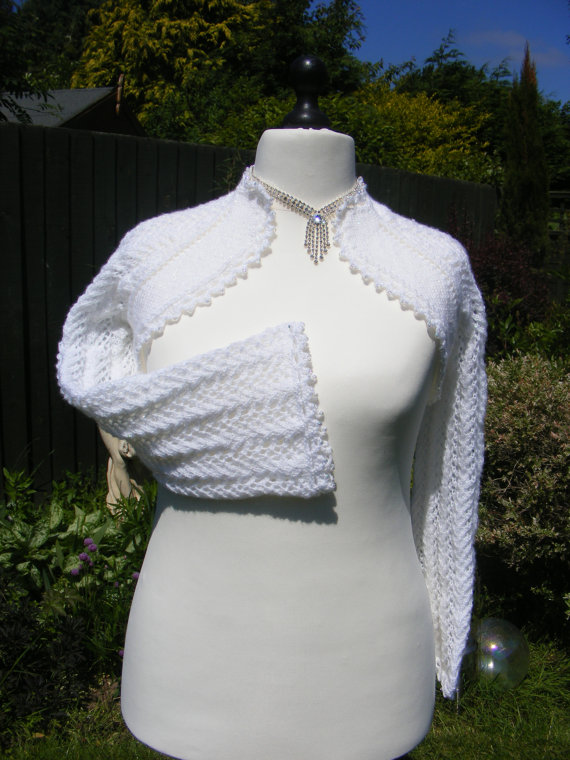 Bridal Shrug With Beading
 Get the knitting pattern for $6.38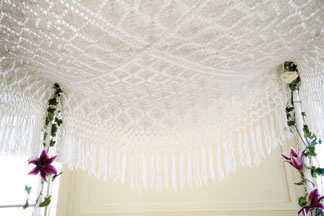 Knit Lace Chuppah
Knit this airy lace wedding canopy.
Get the knitting pattern for $5.50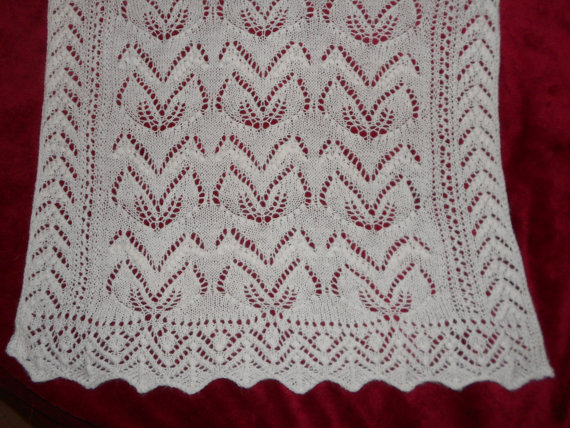 Lily of the Valley Bridal Shawl
Get the knitting pattern for $6.99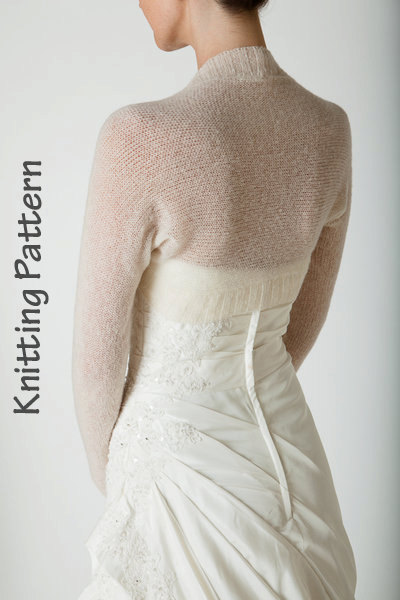 One Piece Bolero
Knitted in one piece.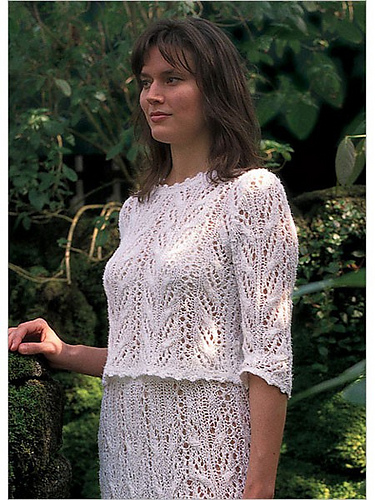 Lovely in Lace Two Piece
Get the knitting patterns for this sweater and skirt for $5.50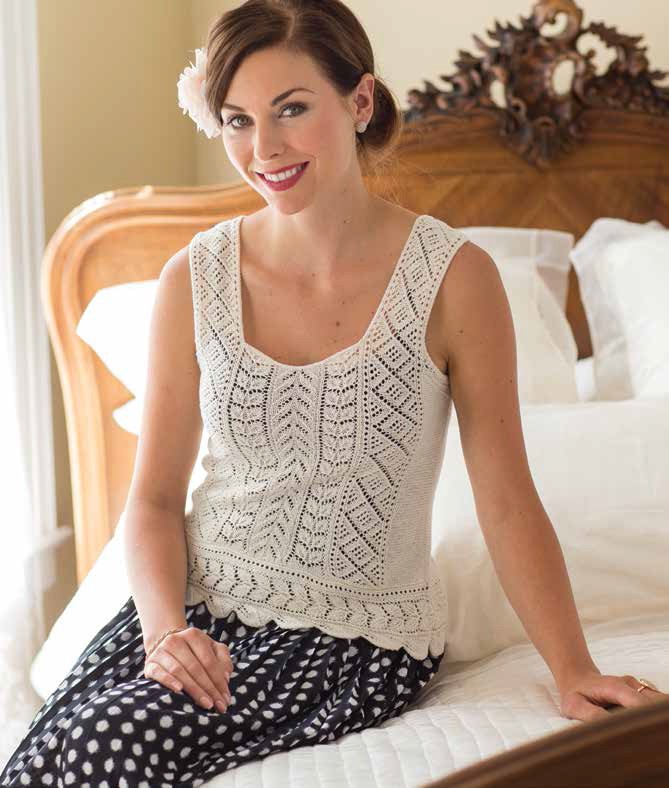 Hidden Delight Lace Camisole