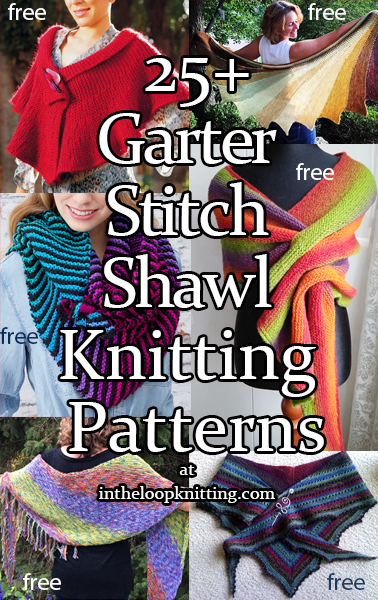 Knitting patterns for shawls knit all or mostly with garter stitch including variations like colorfuly striped shawls, hooded shawls, and clever short row shaped shawls.Many of the patterns are free
To get the knitting patterns, scroll down the page to the individual pattern you want and click on the link to that pattern.
These patterns are not my designs but links to other designers who have generously shared their patterns. If you have questions about how to knit a specific pattern, please contact the designer directly.
All links on this site are for informational purposes, but please note that some links are to affiliate sellers that pay me a small commission on purchases.
Free Patterns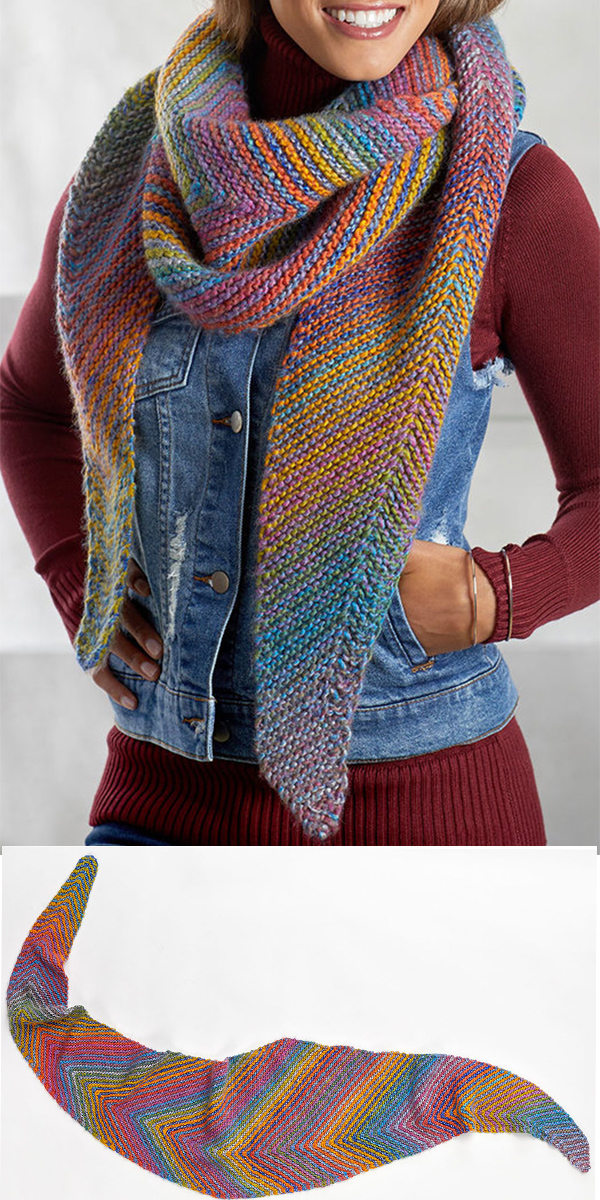 Cityscape Shawl
Crescent shaped shawl knit with 2 colorways of multi-color yarn in garter stitch to create stunning color. Worsted weight. Designed by Benjamin Matthews for Red Heart. Rated easy by the designer.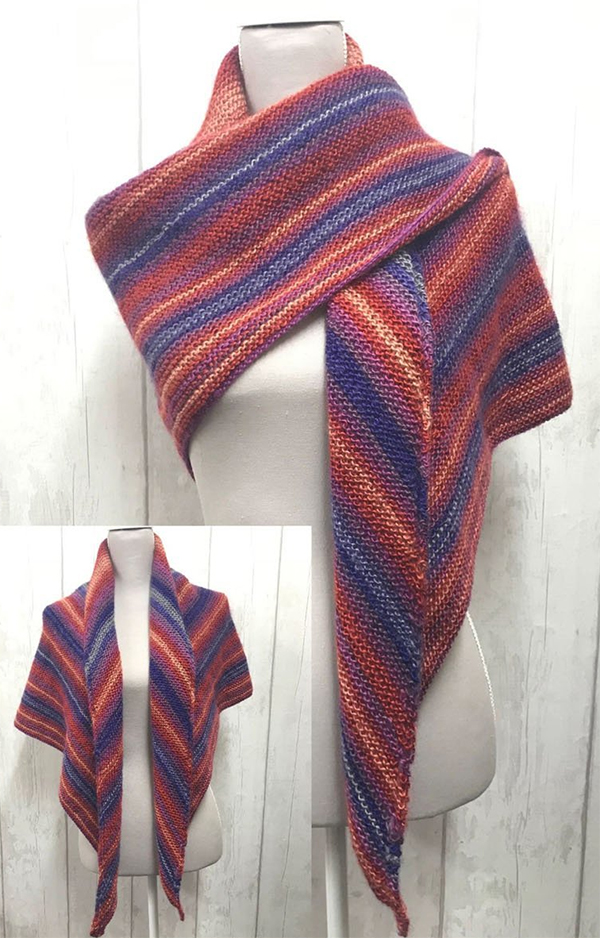 Boho Spirit Shawl
Triangular shawl or large scarf knit in garter stitch. Also available as a kit for under $18. Great for self-striping yarn to create a multi-colored striping effect. Worsted weight. Designed by Cygnet Yarns for Deramore's.

Arabella Shawl
Garter stitch shawl knit sideways designed with a different color in each section separated by eyelets. Perfect for gradient mini skein sets or stashbusting. (There's also an option for a crochet cast-off instead.) Rated easy by Ravelrers. Designed by SKEINO who offers kits. Pictured projects by Natalie1963 and haysmom25. Fingering weight yarn.
.

3S Shawl
Amy Meade's easy garter stitch triangle shawl is dressed up with eyelet rows and a picot bind-off. (There's also an option for a crochet cast-off instead.) Rated easy by Ravelrers. Pictured projects by Tmorneau and nanabnana. Fingering weight yarn.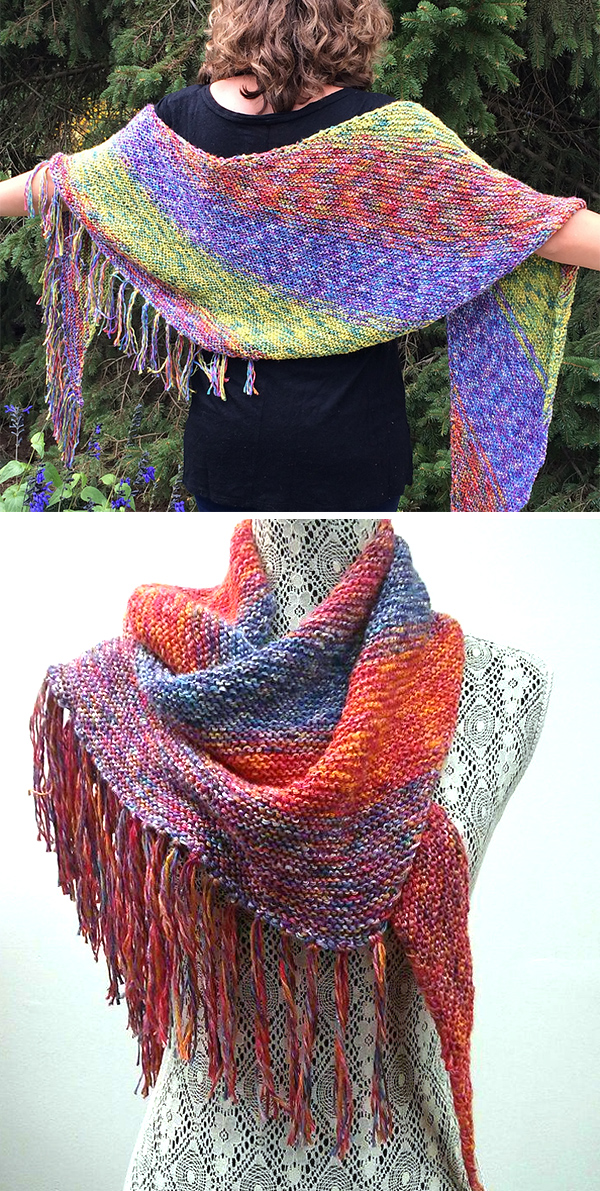 Summertime Shawl
Striped garter stitch shawl with fringe and transitional rows to create a gradient effect. Worsted weight. Designed by Michele C Meadows. Rated easy by Ravelrers. Pictured projects by anitz and MadyDesigns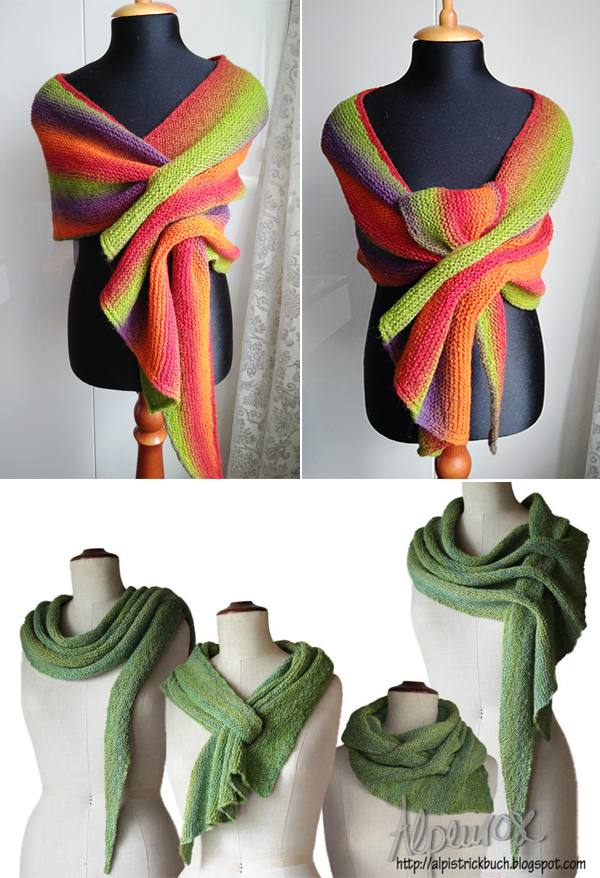 Pfeilraupe Shawl
This versatile garter stitch wrap can be worn in many different ways thanks to slits knit into the fabric. Asymmetrical shawl shaped with short rows. Sport weight. Designed by Alpi Alpenrose. Available in English, Danish, German, Italian, and many other languages. Pictured projects by tigris00 and the designer.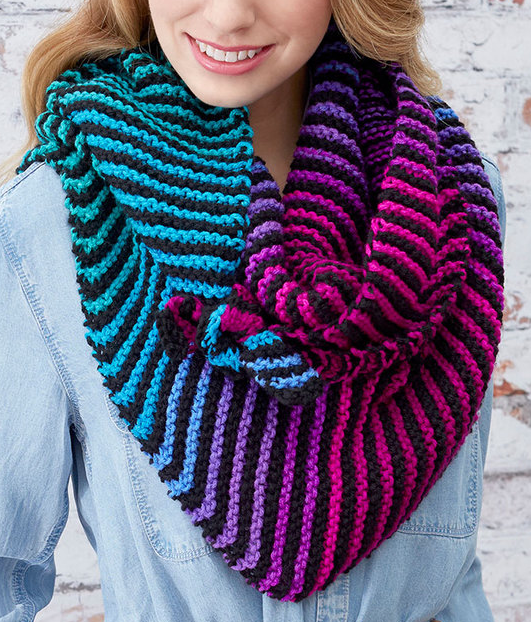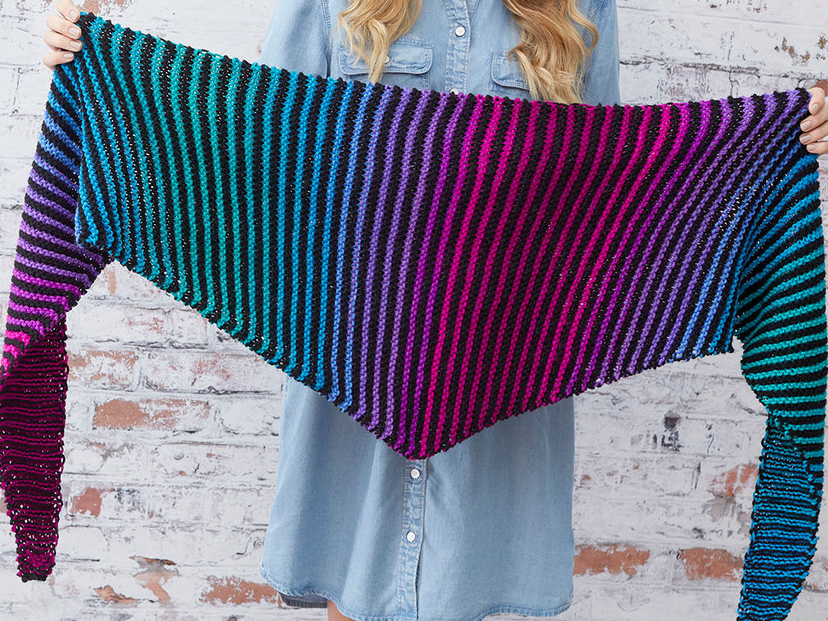 Brighten My Day Shawl
Triangular shawl knit side to side in garter stitch alternates a self-striping yarn with contrasting color like black for a striking effect. Rated easy by Red Heart. Designed by Nancy J. Thomas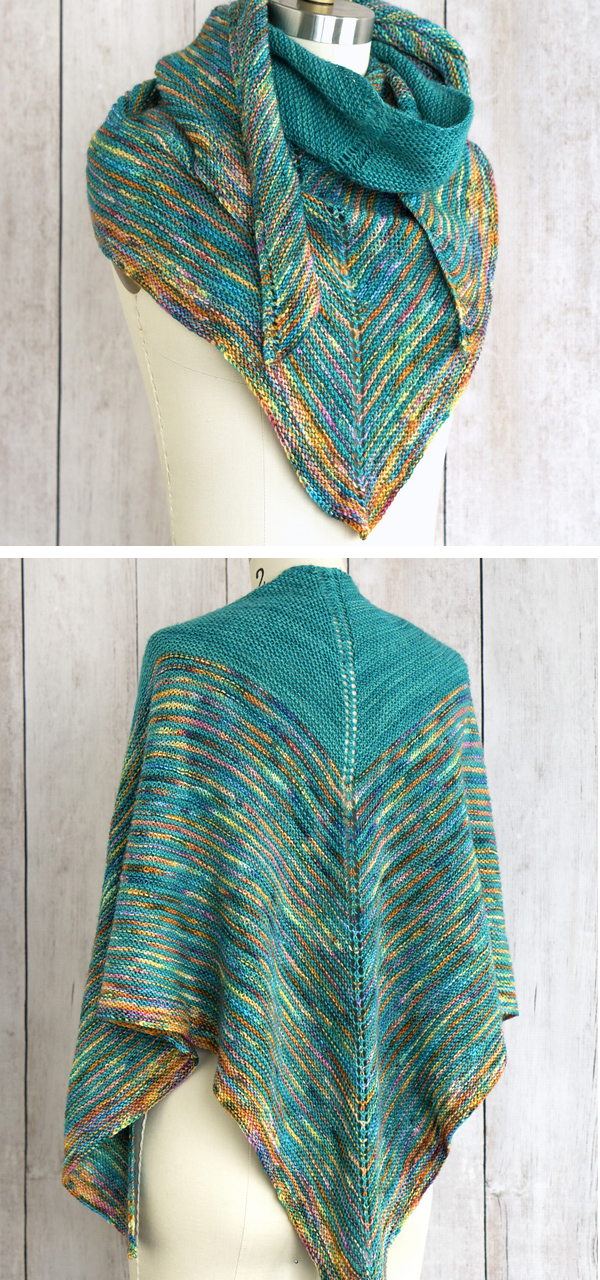 Allspice Shawl
Triangular garter stitch shawl with sold upper section and striped lower section. Fingering weight. Designed by Lisa R. Myers for Manos del Uruguay.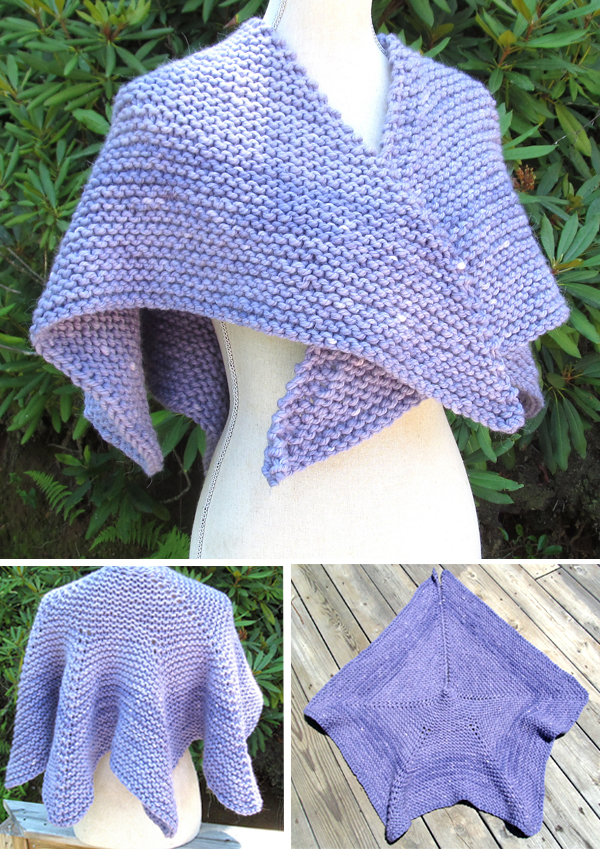 Cloud On Her Shoulders
Designed for maximum comfort, the curved back and neckline of this pentagon-shaped garter stitch shawl makes it sit securely on the shoulders, reduces the weight on shoulders and back, and keeps it from rolling against the back when seated. 2 shapes included. Bulky weight on large needles but can be adapted to aran or worsted. Designed by Diana Troldahl. Rated very easy by Ravelrers. Pictured project by kibbin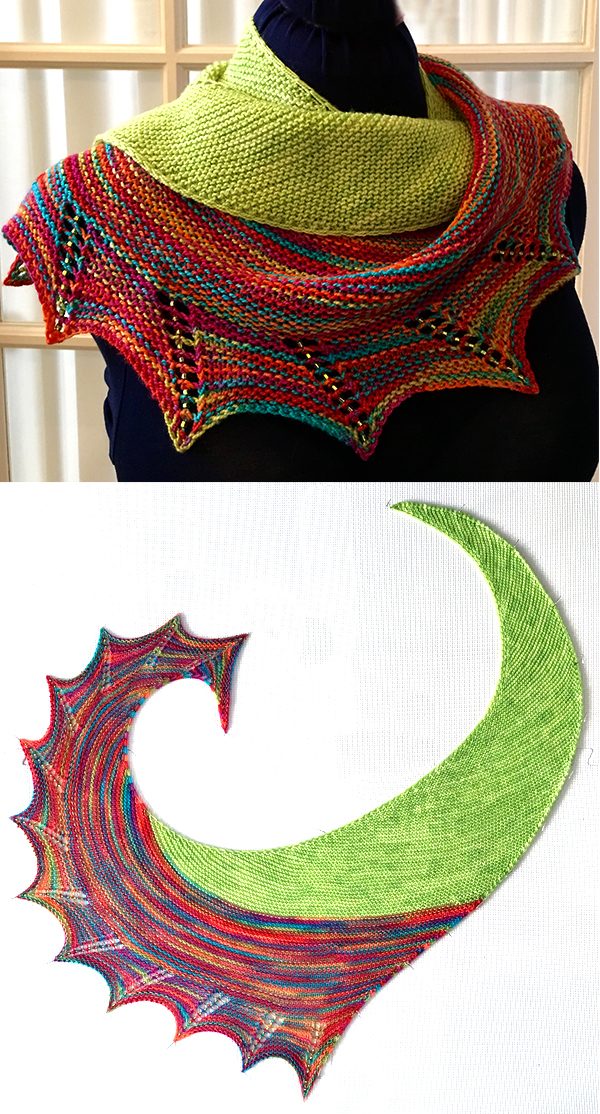 Smash Shawl
Asymmetric shawl knit in garter stitch starting from one point and ending with a bias laced edging. Designed by Rebeka Darylin. Rated easy by Ravelrers. Pictured project by docdaisymae who used contrasting yarn and added some beads.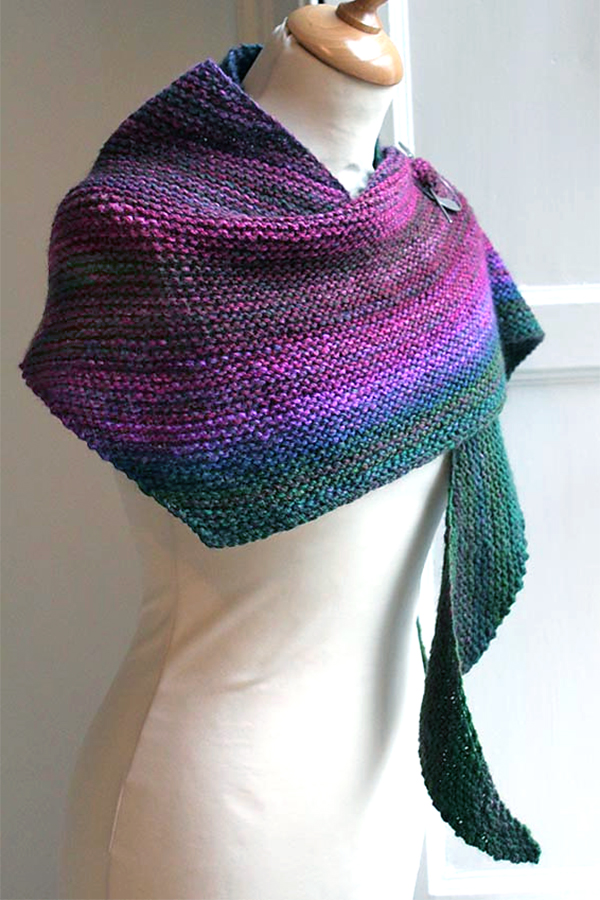 Boom! Shawl
Very simple asymmetric boomerang shawl, knit in garter stitch with increases and decreases designed to showcase gradient or striping yarns. Adaptable to any yarn weight or size. Designed by Playing With Fibre. Rated very easy by Ravelrers.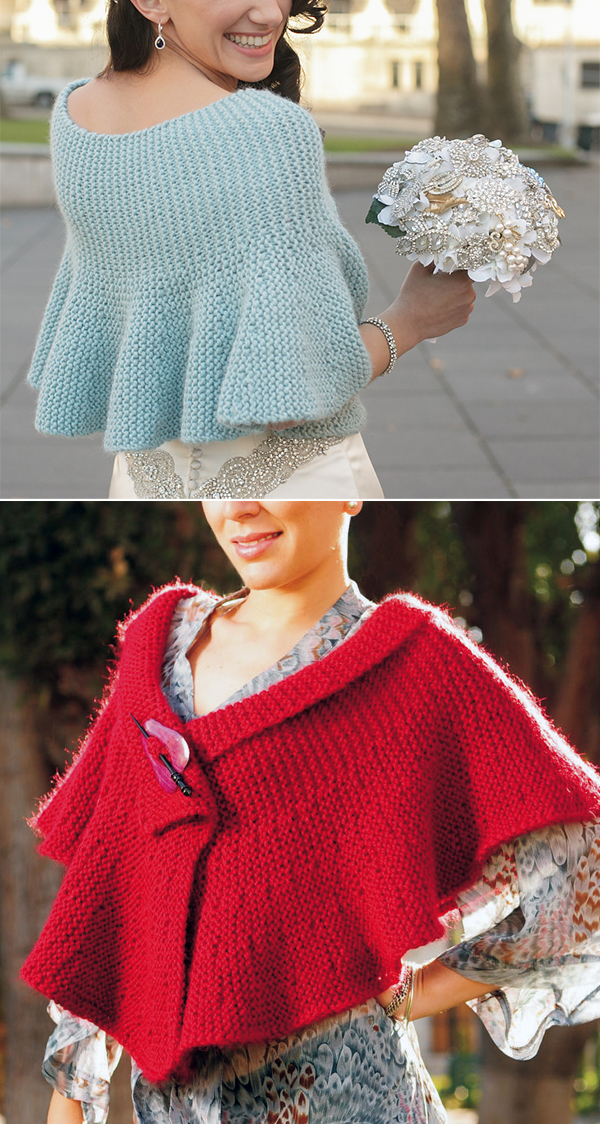 Ruffle Wrap
Garter stitch shawl with a large ruffle created with short row shaping. Bulky weight yarn. Designed by Miriam Leth-Espensen. Rated easy by Ravelrers. Pictured project by Sodafloat and the designer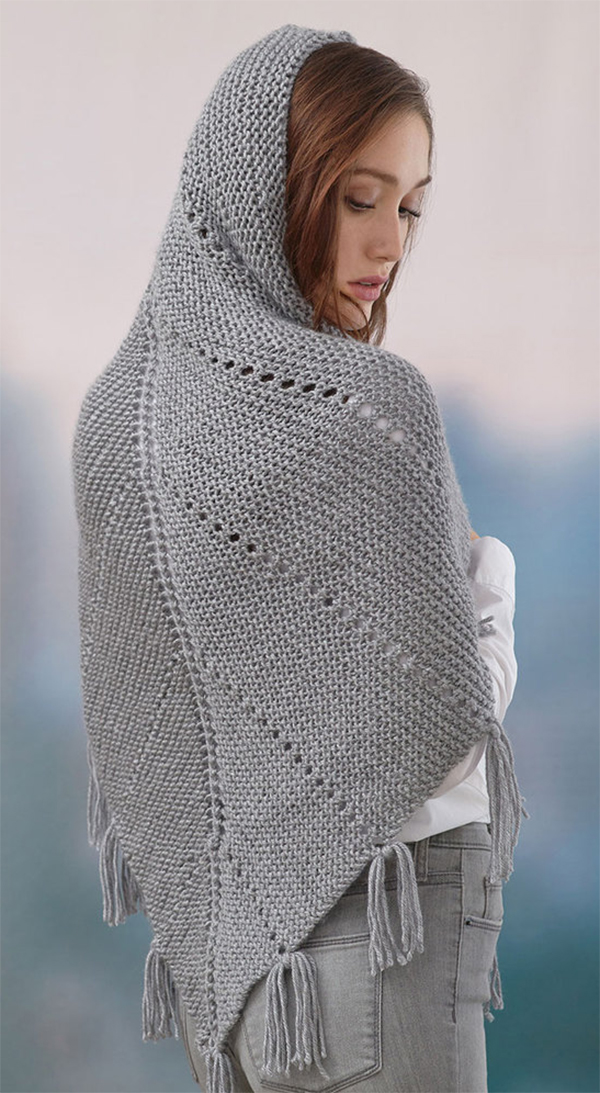 Hoodie Shawl
This easy shawl is knit in garter stitch with rows of eyelets. Wear it as a regular wrap or with hood up. Designed by Erin Kate Archer for Red Heart. Rated easy by the designer. Worsted weight yarn.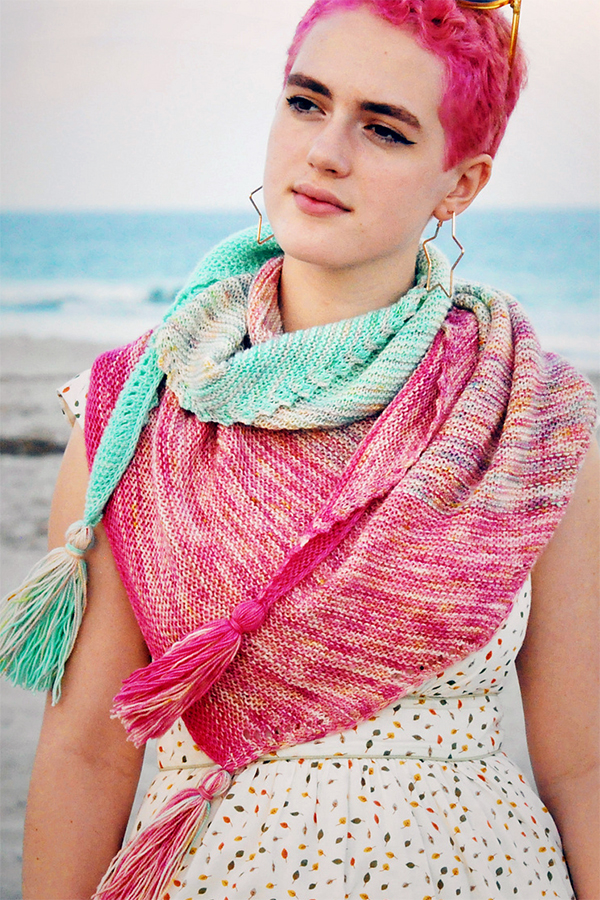 Summer Fling Shawl
Garter stitch, asymmetrical triangle shawl with a decorative crenulated edge. The shawl is knitted from point to point in one piece. Designed by The Noble Thread. Rated easy by Ravelrers and the designer. Fingering weight yarn. A kit is also available.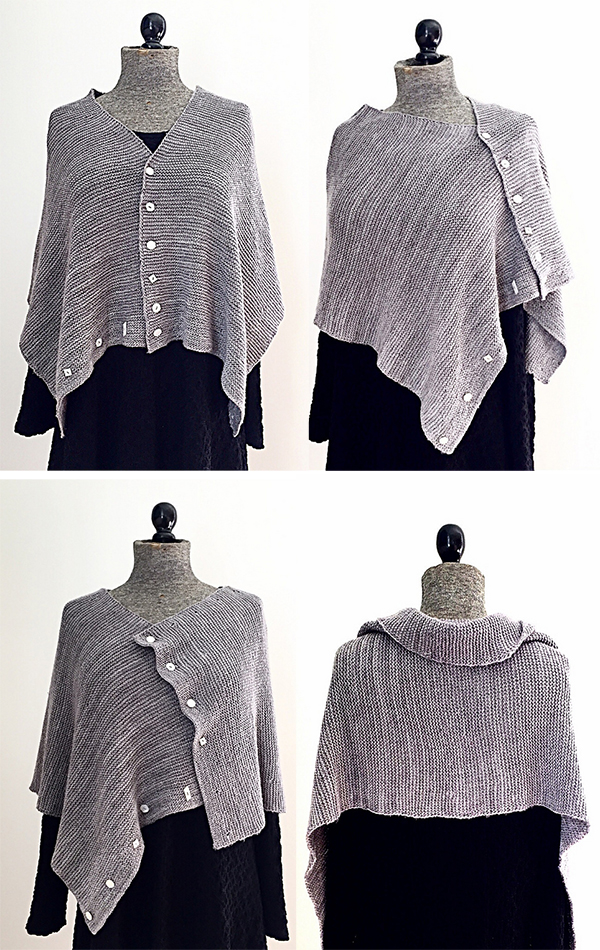 Rectangulum Wrap
Knit entirely in garter stitch, the buttonhole placement on this elegant, drapey shawl made allows for multiple styling options. Wear it as a poncho, cardigan, and more. One size but easily adapted to other sizes by making longer or using heavier yarn and larger needles. Uses 2 skeins of any fingering weight yarn. Designed by Karen Grover. Rated very easy by Ravelrers.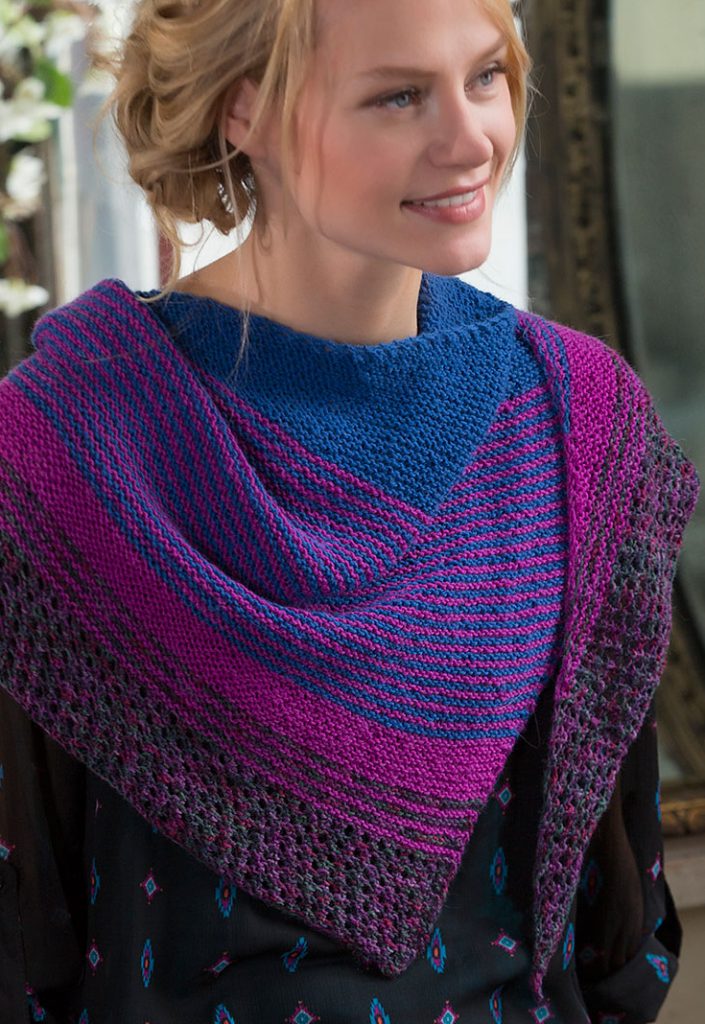 Modern Stripe Shawl
Julie Farmer designed this easy shawl pattern in garter stitch with an eyelet border.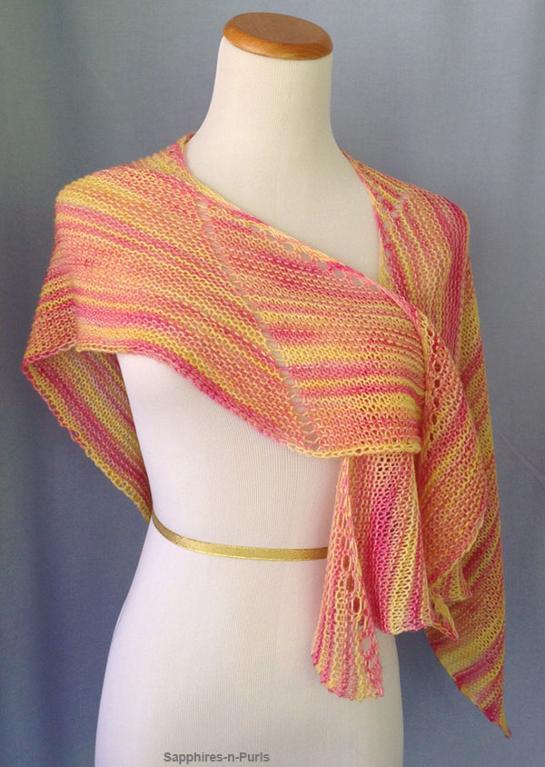 Calypso Shawl
Beth Richardson's simple garter stitch shawl is easy enough for beginners and a great use for multi color yarn.

Scrappy Bias Shawl
Garter stitch shawl knit on bias to create asymmetrical triangle shape with color changes. Perfect for scrap fingering / sock yarn or mini skeins. Designed by Emily Clawson, Pictured project by janehunter8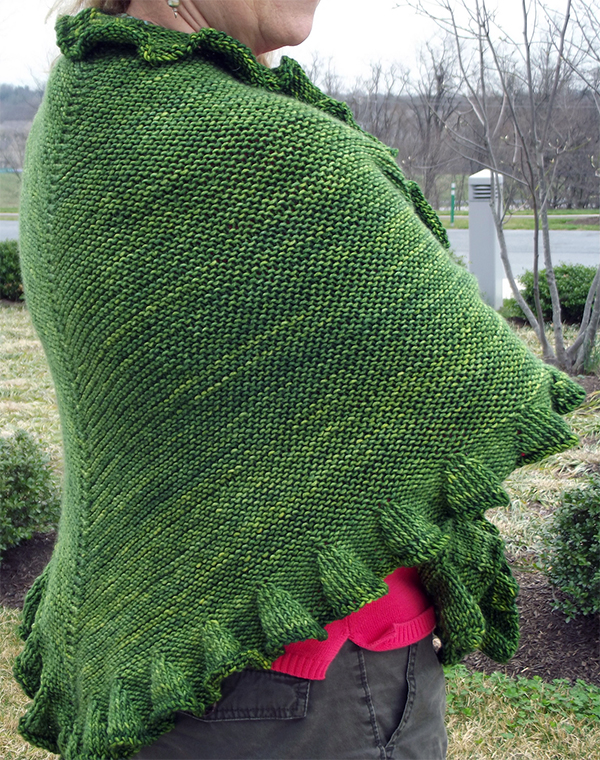 Milk Run Shawl
Reversible triangle shawl with a garter stitch body and ruffled border inspired by Kate Middleton's market run shawl. Designed by Cat Wong. Worsted weight yarn. Pictured project by kaaatija. Rated easy by most Ravelrers.
Patterns for Purchase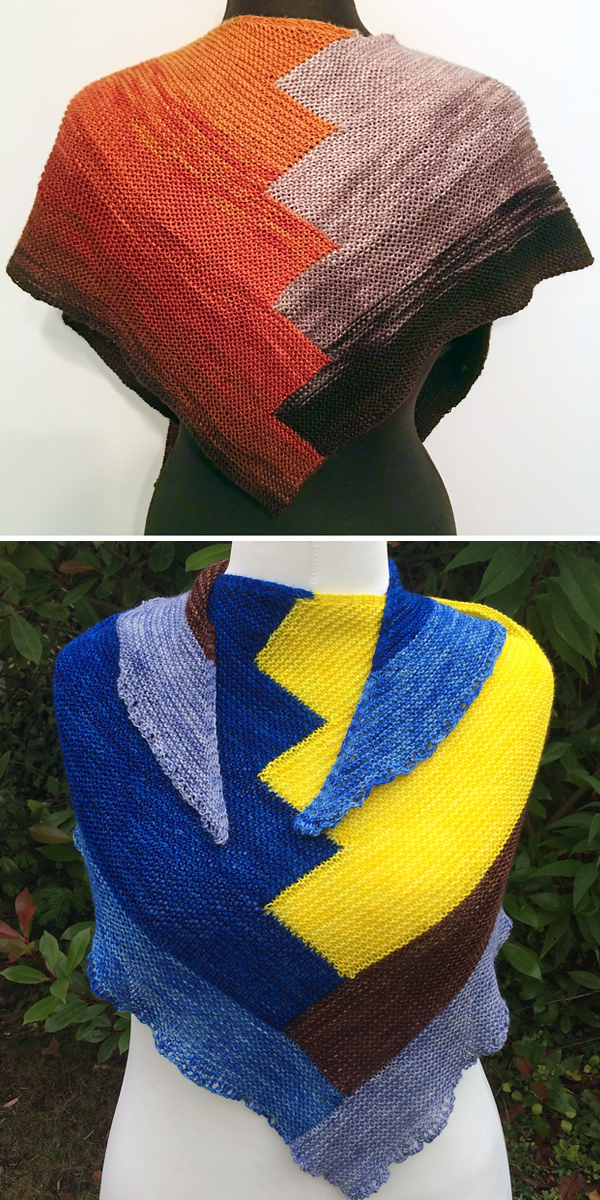 Duplicity Shawl
Triangle shaped garter stitch shawl knit from a single skein of gradient yarn or a mini skein set. Instead of working from one end of the color progression to the other, Duplicity moves from both ends of the color progression toward the middle, melding colors together. Designed by Megi Burcl. Pictured project by the designer and HappyDebs. Fingering weight yarn.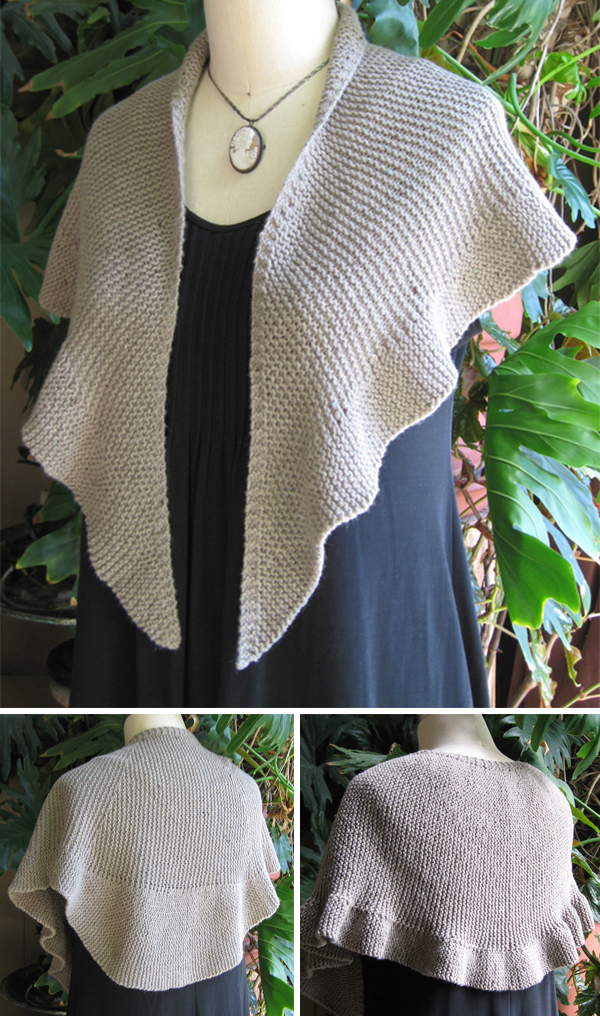 To Eyre
Inspired by shawls worn in the movie Jane Eyre, this 1800's style ruffled garter stitch shawl includes 4 versions with various sizes and ruffle types. Designed by Carol Sunday. Worsted weight yarn.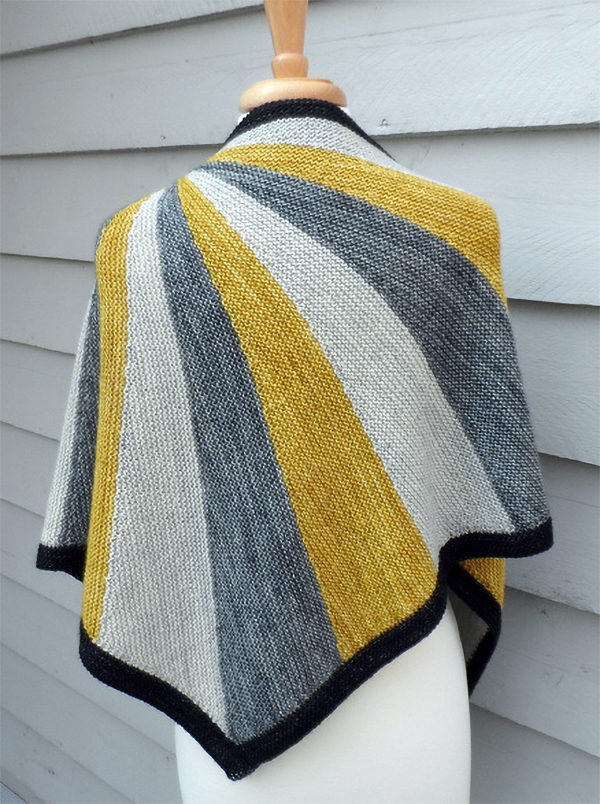 Sunstruck
An asymmetrical triangular garter stitch shawl knit in at least two but as many as 13 colors. Great stashbuster! Designed by Laura Aylor. Fingering weight yarn.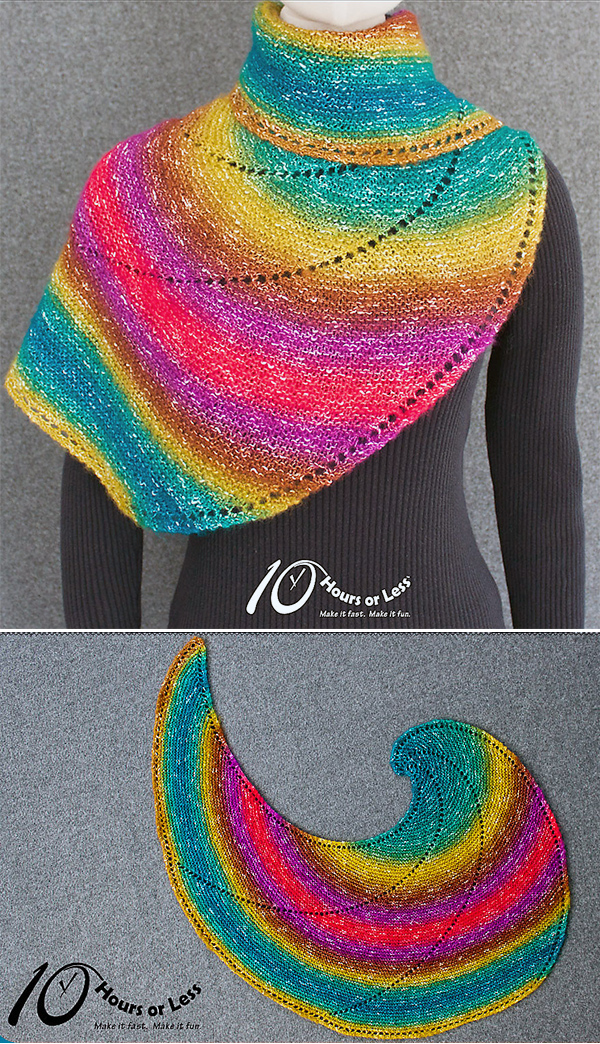 Garter Galaxy Shawl
Worked in an easy 2-row repeat, this novice level pattern features simple Garter Stitch that magically curves to create a form-fitting silhouette. It's made from corner-to-corner, so you can even resize the shawl as you work. Best of all? It's completely reversible. Perfect for multi-colored yarn. Designed by 10 Hours or Less. Any weight yarn.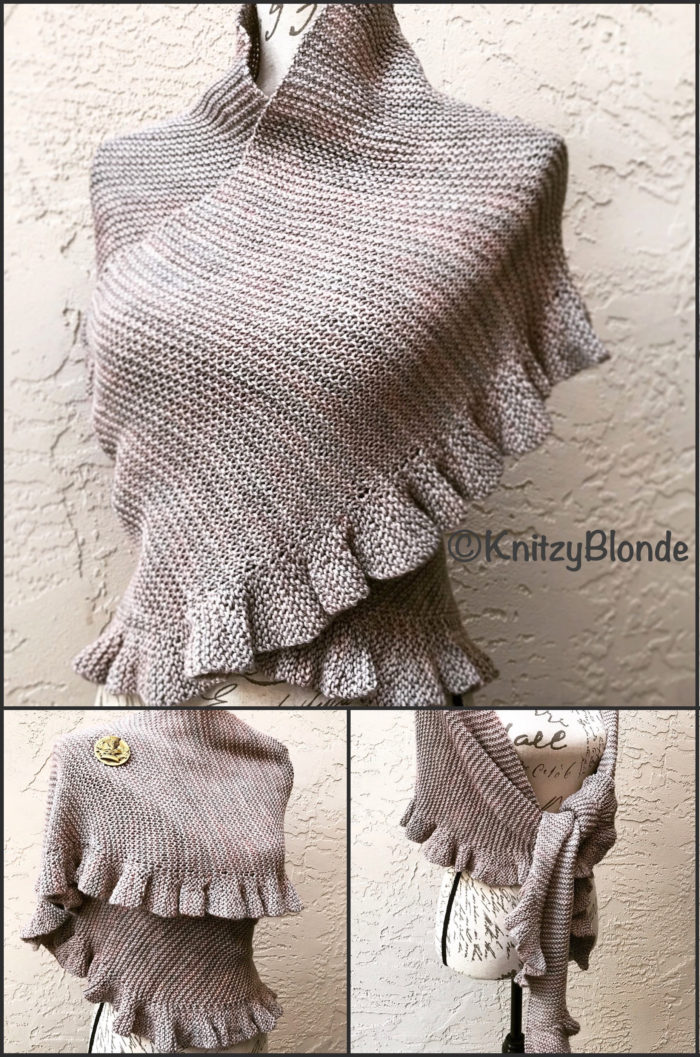 Jenny's Shawl
Long, curved, rustic, garter-stitch shawl with (wrap & turn) short rows that make a soft ruffle along the lower edge, inspired by an Outlander shawl. Designed by Knitzy Blonde.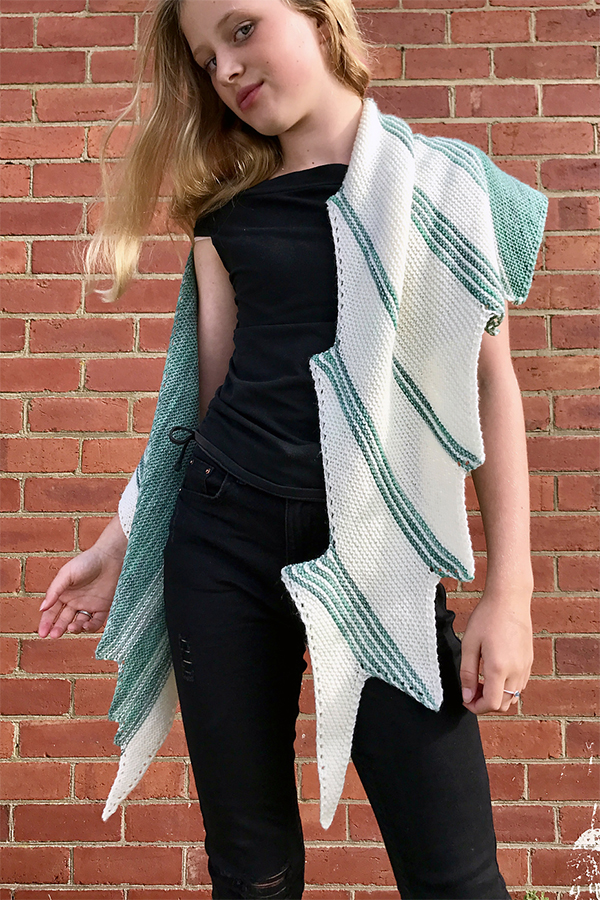 A Little Bit Bowie Shawl
The stripes and lightning bolt shape of this shawl make it an interesting garment to both wear and knit. Knit all in garter stitch, A Little Bit Bowie uses a de-constructed asymmetrical shawl construction; achieving its unique shape through simple alternating increases and decreases. Fingering weight yarn. Designed by Georgie Nicolson.
See more pics and get the knitting pattern on Loveknitting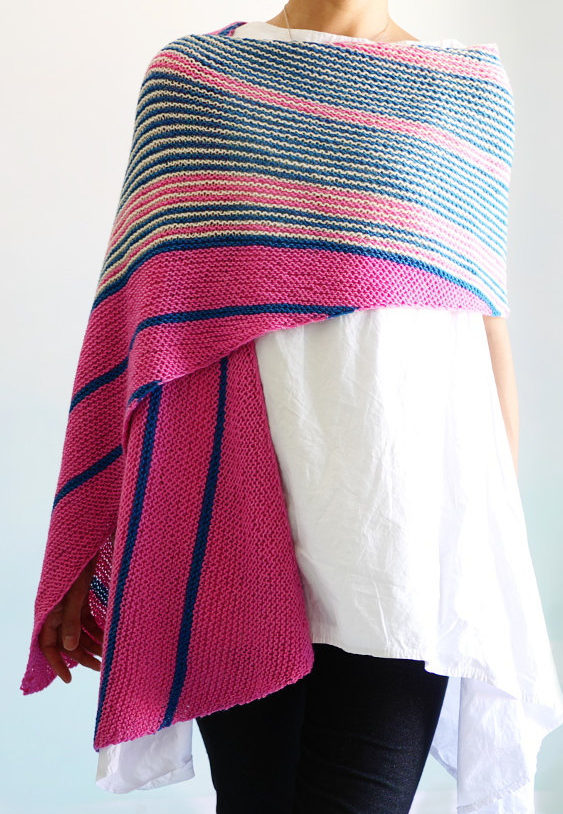 By Airmail Wrap
This easy rectangular shawl is knit on on the bias in easy garter stitch.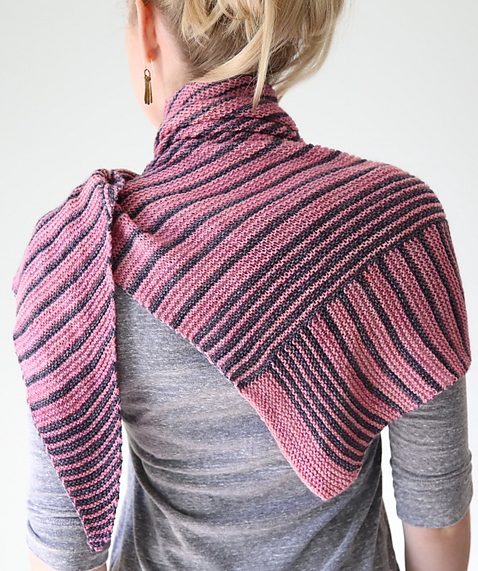 Itineris Shawl
This design by Hilary Smith Callis is a modern triangular wrap knit all in Garter Stitch with patterns and shaping that are easy to memorize, Because of the graphic intersection of the stripes, this will give you a different look each you wrap it.

Simply Sweet Shawl
This pretty little shawl features a pop of accent color separating the garter stitch body from the border. Little bow ties form the border into a scalloped edge with no tricky knitting required!