<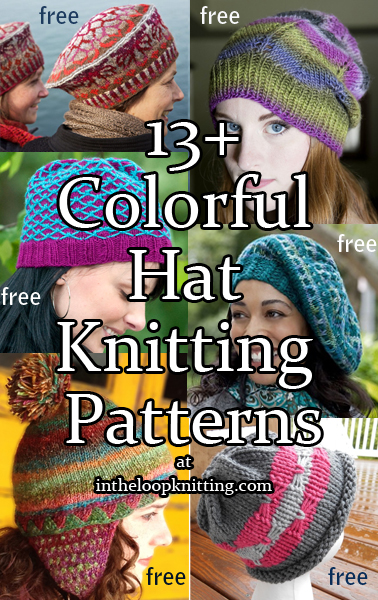 Beanies, berets, and slouchy hats featuring colorwork designs or using multicolor yarn. Most patterns are free.
To get the knitting patterns, scroll down the page to the individual pattern you want and click on the link to that pattern.
These patterns are not my designs but links to other designers who have generously shared their patterns. If you have questions about how to knit a specific pattern, please contact the designer directly.
All links on this site are for informational purposes, but please note that some links are to affiliate sellers that pay me a small commission on purchases.
Free Patterns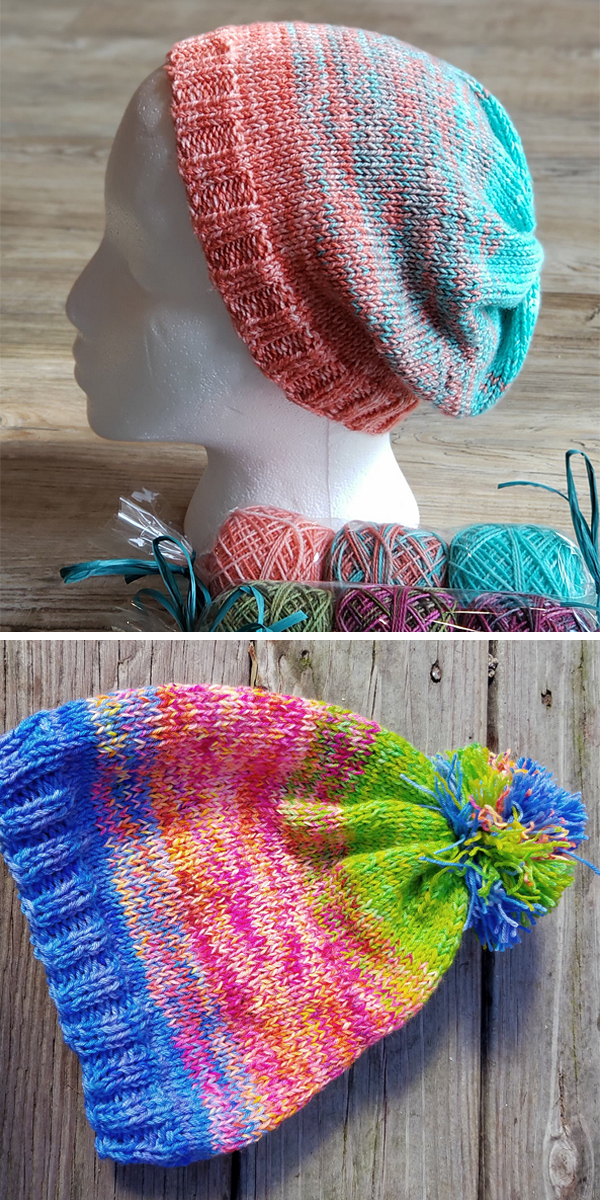 Ombre Party Hat
Beanie knit with fingering weight held double to create beautiful transitions from one color yarn to the next. This is a fantastic stash buster (who doesn't need another one of those) or goes great with mini skein sets. Designed by Melissa Ilgen. Fingering weight yarn. Pictured projects by the designer and aknewlin.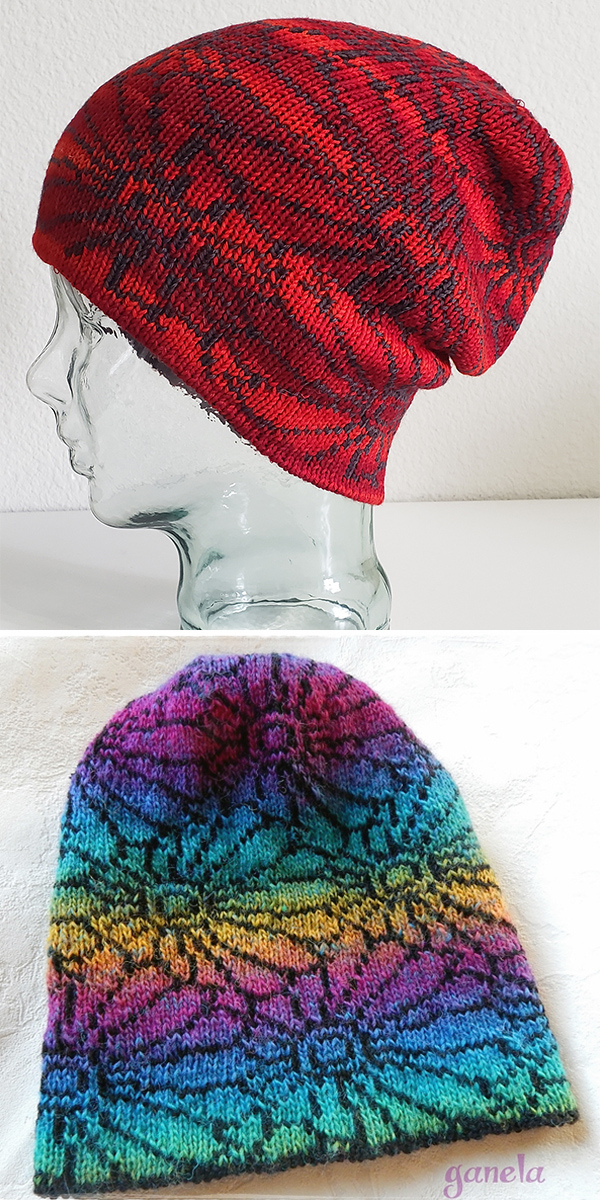 Chrysanthemum Hat
Slouchy, double-knitted hat, making it reversible, with an all-over flower design. Perfect for multi-color yarn. Designed by Mirielgw. Fingering weight yarn. Pictured projects by the designer and ganela.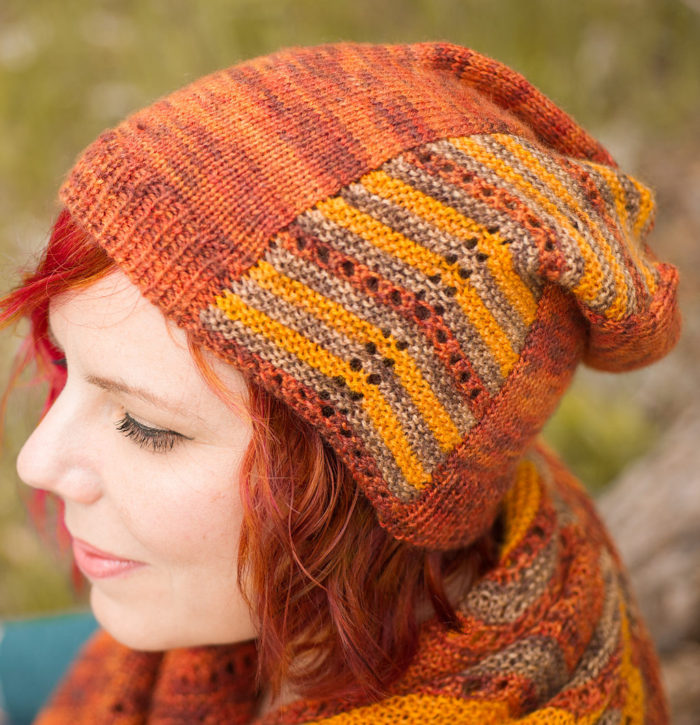 Autumn Spice Slouchy Hat
Unisex slouchy beanie, with a chevron panel knit with intarsia. Designed by Carolyn Macpherson for Knotions. Fingering weight yarn

Fair Isle Hat
Kristin Nicholas provides step by step video instructions and pattern to make this colorful hat in Fair Isle, a traditional color work technique where two colors are knit in one row to create a geometric pattern. Pattern and instructional video class available for free with a free trial at Creativebug .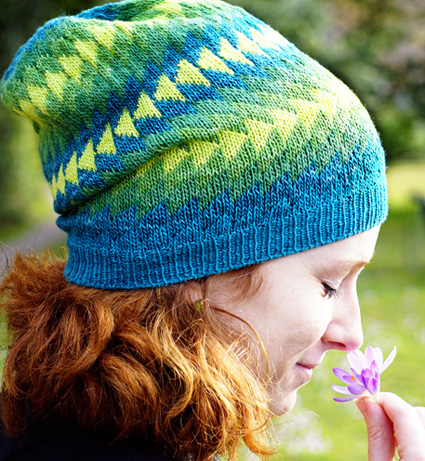 Dingle Hat
Inspired by a colorful Irish village named Dingle, this slouchy hat interprets the traditional Fair Isle in a geometric pattern that uses only two colors per round. Designed by Sabrina Schumacher. Perfect for stashbusting or mini skeins.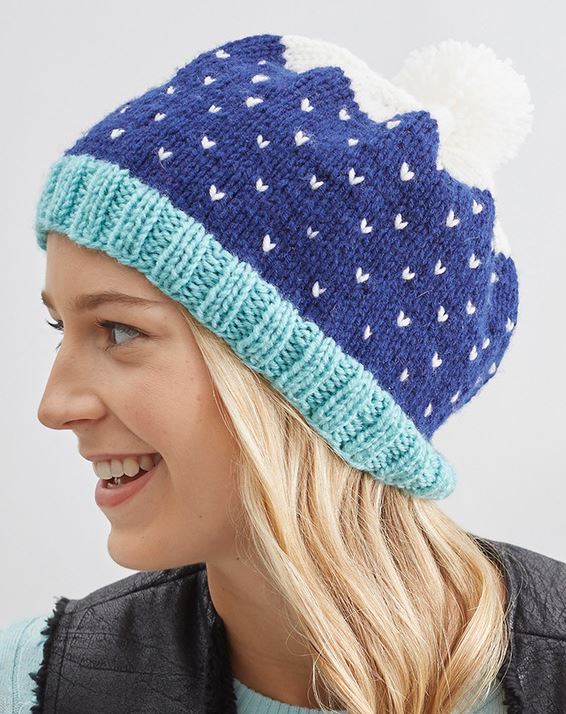 Snow Speckled Hat
Simple fair isle colorwork creates the illusion of snowy sky in this colorful hat designed by Erin Kate Archer in two sizes.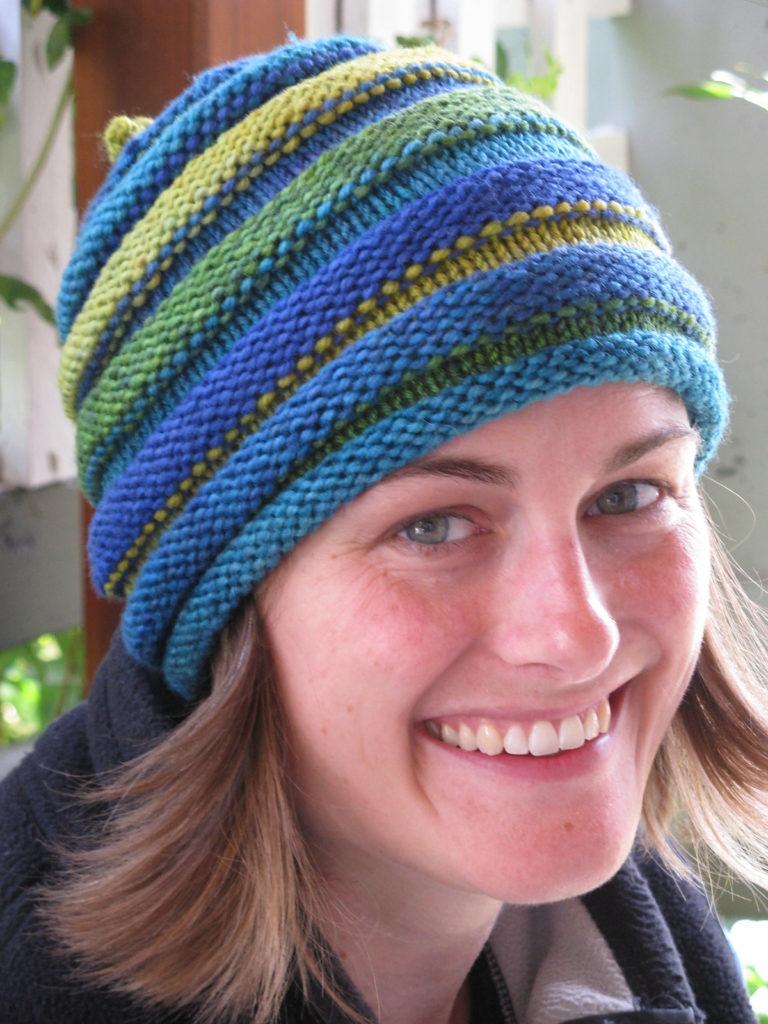 Hive Hat
This easy hat is a super stretchy twist on stripes. Designed by Tanya Patterson

Ogiku Chrysanthemum Tam
Sarah Mombert's fair isle beret features chrysanthemum motifs. Available in English and French.

Royal Quilting Hat
Betty P Balcomb's 2-color pattern is surprisingly easy. Strands or floats are laid down on the right side of the fabric and then a couple rows later you lift the strand and catch it in a stitch to form the slightly draped diagonal lines.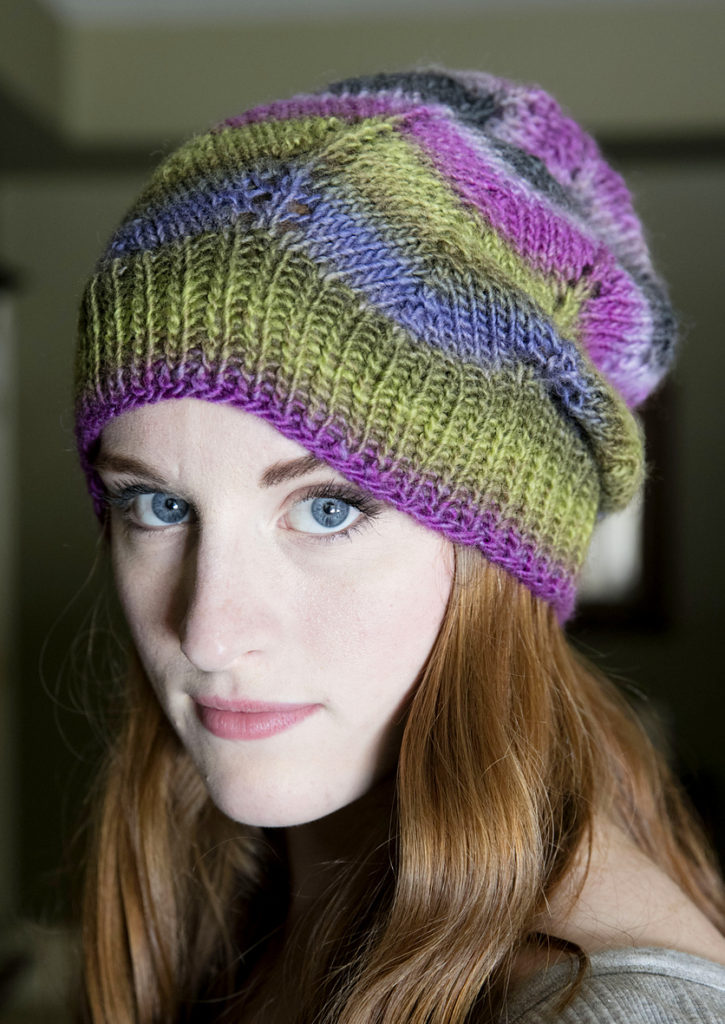 Gina Chevron Hat
This easy lace slouchy hat looks great in multi-color yarn!

Cassidy
This colorwork hat from Berroco features a three color staggered geometric pattern. Designed by Amy Palmer

Pandemonium
Karin Michele's hat features pandas on an ombre background.

Jordan
This easy hat from Berroco features two color garter stitch stripes, one with multi-color yarn, to create the illusion of complex striping. Looks like it is knit sideways and then seamed. Designed by Cirilia Rose

Simple Style Hat
Laura Bain's easy pattern for slouchy beanie is created by alternating stripes of knit and purl rounds in multi-colored yarn.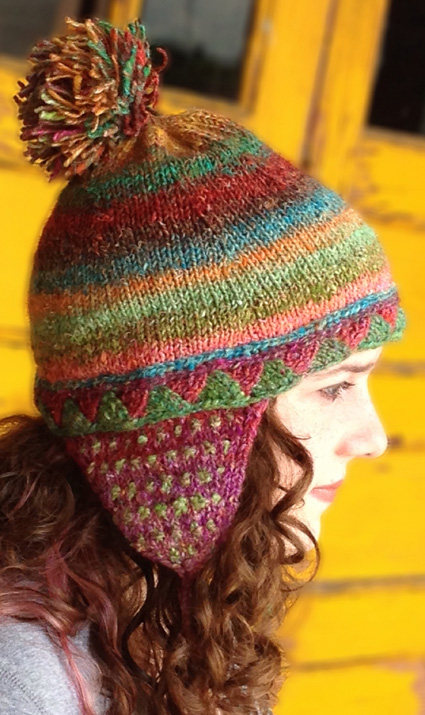 Attention Span Hat
This colorful earflap hat by Mimi Kezer is a great sampler of knitting techniques. Pattern includes a pinhole cast-on, a bit of Entrelac, a lateral braid or two, some stranded colorwork, tassels and a pom-pom, German short rows, and a little stockinette stitch.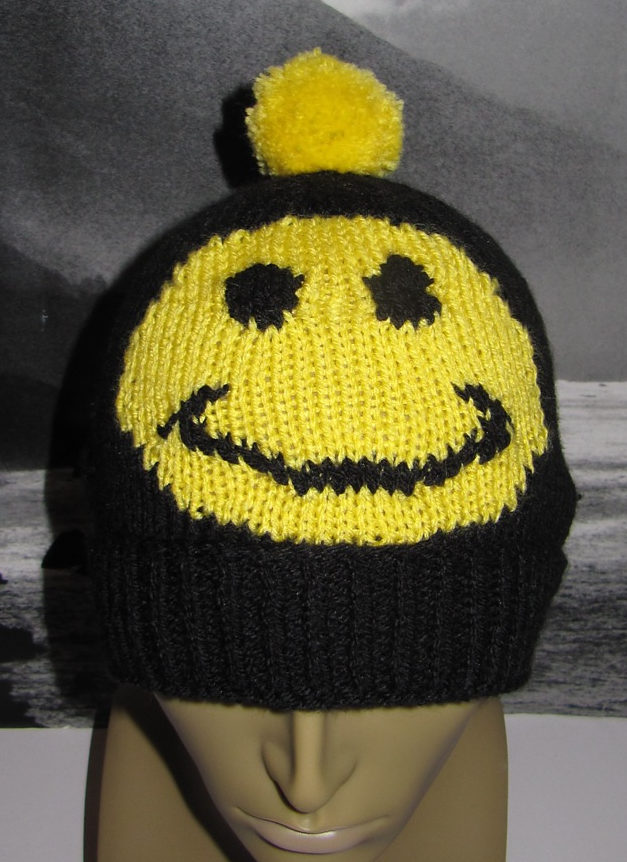 Smiley Bobble Beanie Hat
This easy pompom hat pattern by madmonkeyknits features an intarsia smiley face.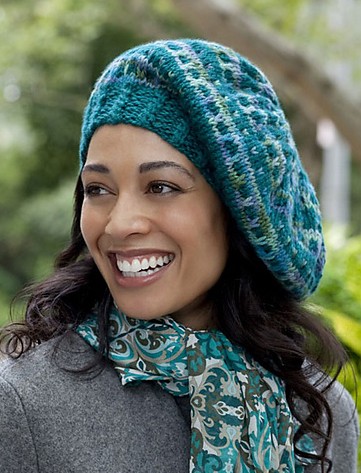 Slip Stitch Beret
Easier than it looks! Lisa Gentry designed this easy beret for Caron. Mixing multi-color yarn and solid color yarn with an easy slipped stitch colorwork pattern gives a look like complicated stranded colorwork. Three sizes.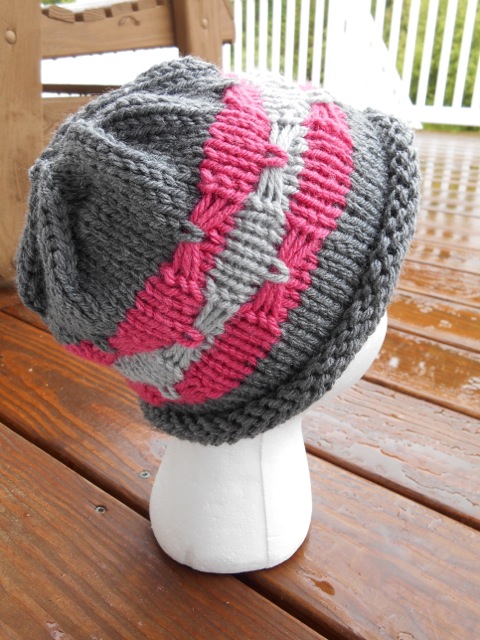 Ribbons and Bows Hat
This hat pattern from Knitting With Schnapps features one of my favorite stitches — the bow or butterfly stitch. It's much easier than it looks and creates a great bow on your ribbon stripes. Quick knit in bulky yarn.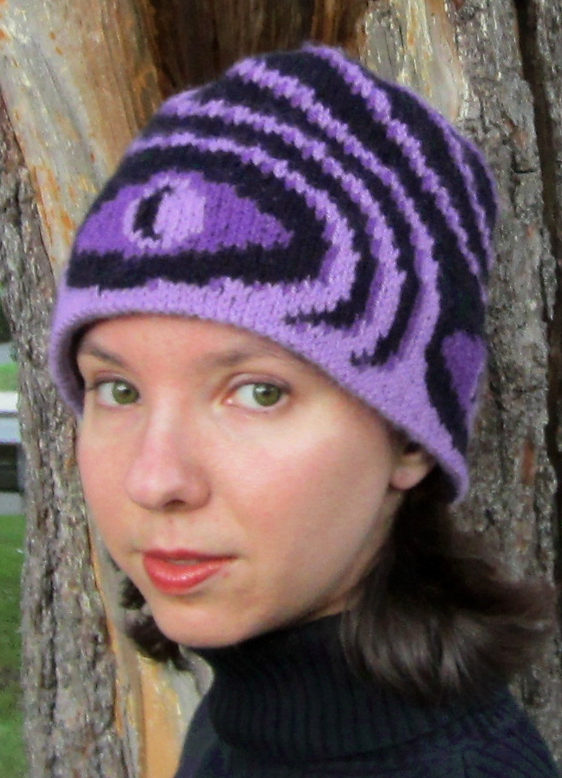 Night Vale Hat
This unusual beanie was inspired by the podcast Welcome to Night Vale. It features a stranded colorwork pattern in three colors and a wide hemmed edge for extra warmth. I've never heard of the podcast but I'm fascinated by the strobing eye design in such great colors and I think I'm going to have to check it out….

Butterfly Beret
Ingrid Fallon designed this hat for Red Heart that uses one skein of Red Heart Boutique Midnight. Great for multi-color yarn!
Patterns for Purchase

Stockholm Hat and Scarf Set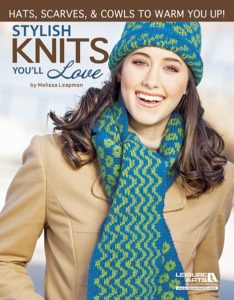 The patterns for this colorful hat with matching scarf are included in Stylish Knits You'll Love by Melissa Leapman. Available as Digital Download or Paperback.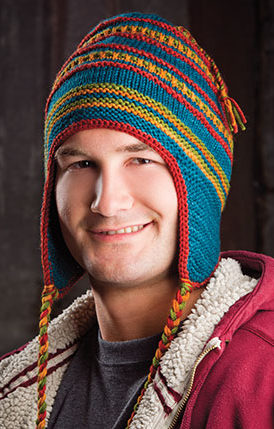 Chromatic Earflap Hat
Chullo style hat in 3 sizes. One of 30+ patterns in Creative Knitting Winter 2015.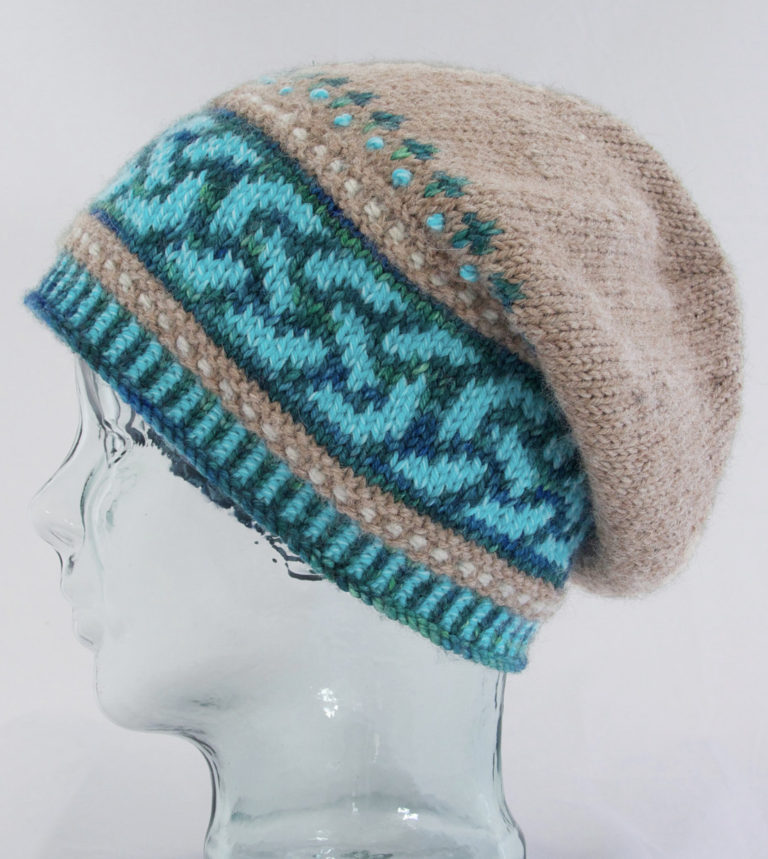 Celtic Double Knot Slouch Hat
Striking fair isle colorwork slouchy hat.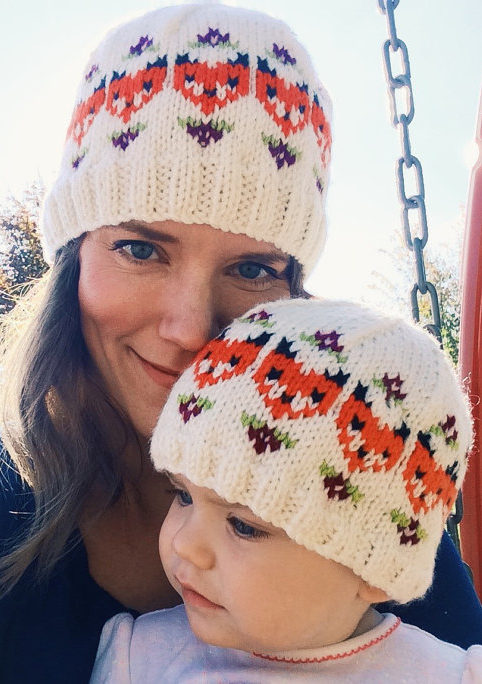 Fox and Fleur Cap
This charming beanie for all ages features adorable stranded foxes and tiny flowers. Available in 6 sizes from baby to adult.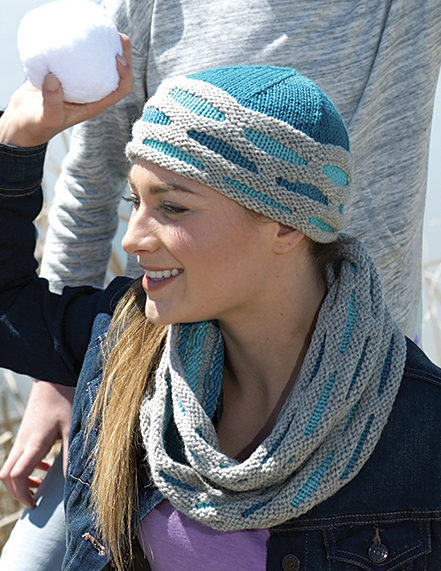 Chain Links Hat and Cowl Set
Slipstitch patterns make this colorwork easy. Three skeins of yarn is enough for the small hat, the medium hat, and the cowl if you change up the main colors.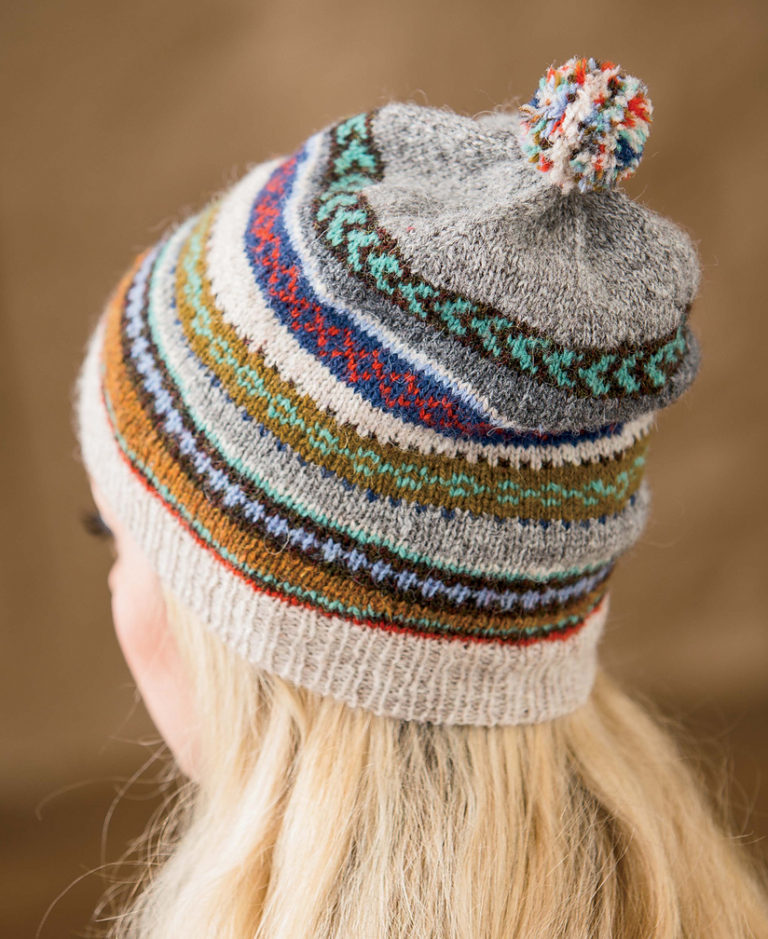 Tilting Fair Isle Hat and Mitts
Bands of stranded colorwork are separated by short-row wedges that put everything at angles for a quirky effect.