<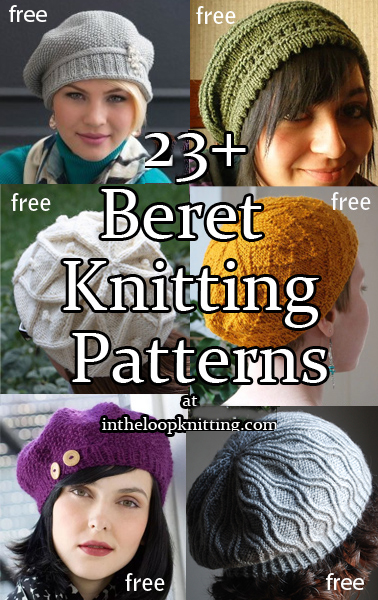 Beret style hats are easy to wear and versatile. They can be worn slouchy, perched on top of your head, or pulled down for warmth. However you wear them these hats add style and fun to your wardrobe.
To get the knitting patterns, scroll down the page to the individual pattern you want and click on the link to that pattern.
These patterns are not my designs but links to other designers who have generously shared their patterns. If you have questions about how to knit a specific pattern, please contact the designer directly.
All links on this site are for informational purposes, but please note that some links are to affiliate sellers that pay me a small commission on purchases.
Free Patterns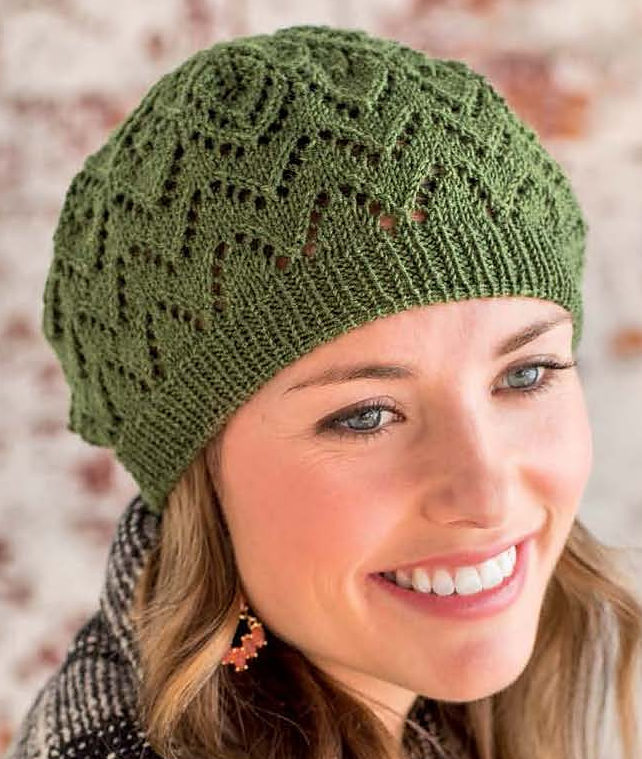 Salunga Beret
Lace hat designed by Heather Zoppetti. One of the free patterns in the free ebook Make Knitted Hats: 10 Free Knitted Hat Patterns from Interweave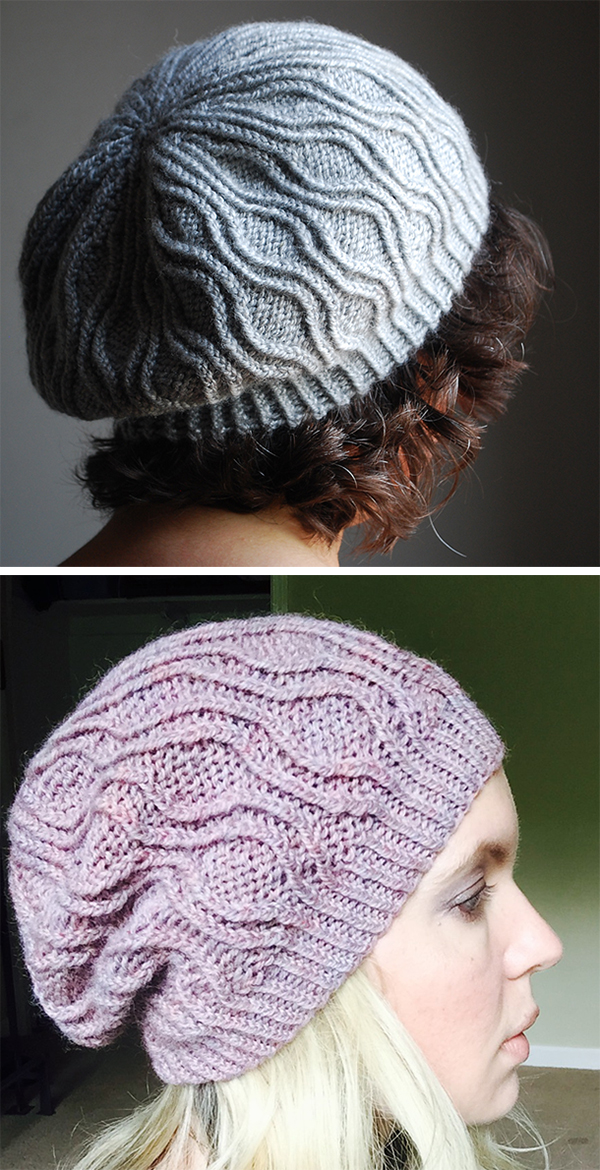 Amanara Beret
This hat features twisted-stitch columns. Options for fitted or slouchy fit. Designed by Valeria Garcia. Pictured projects by the designer and TheWildSide. Available in English, Spanish, and Portuquese. Worsted weight yarn.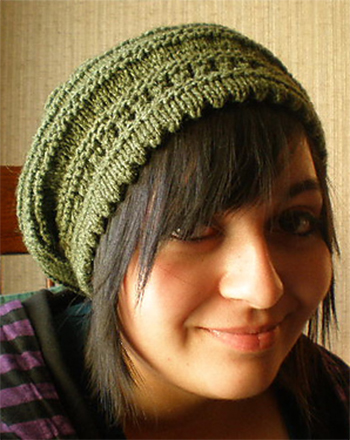 Slouchy Hat With Picot Edge
Jan Wise's slouchy beret features a picot edge that is formed by turning a hem on an eyelet row. Two sizes.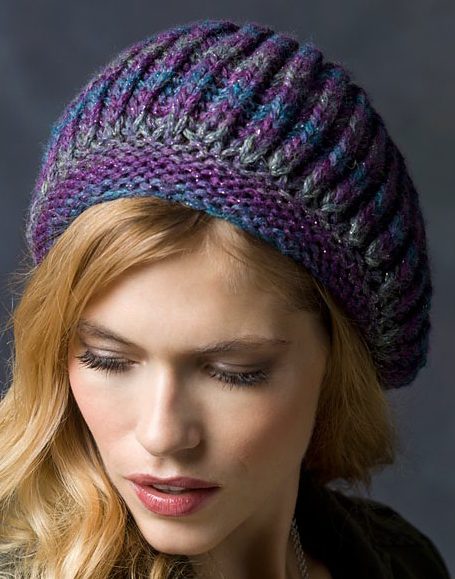 Faux Brioche Beret
This easy hat pattern by Linda Cyr uses a simple rib stitch to mimic the look of the more complicated Brioche stitch. Designed to look great with multi-color yarn.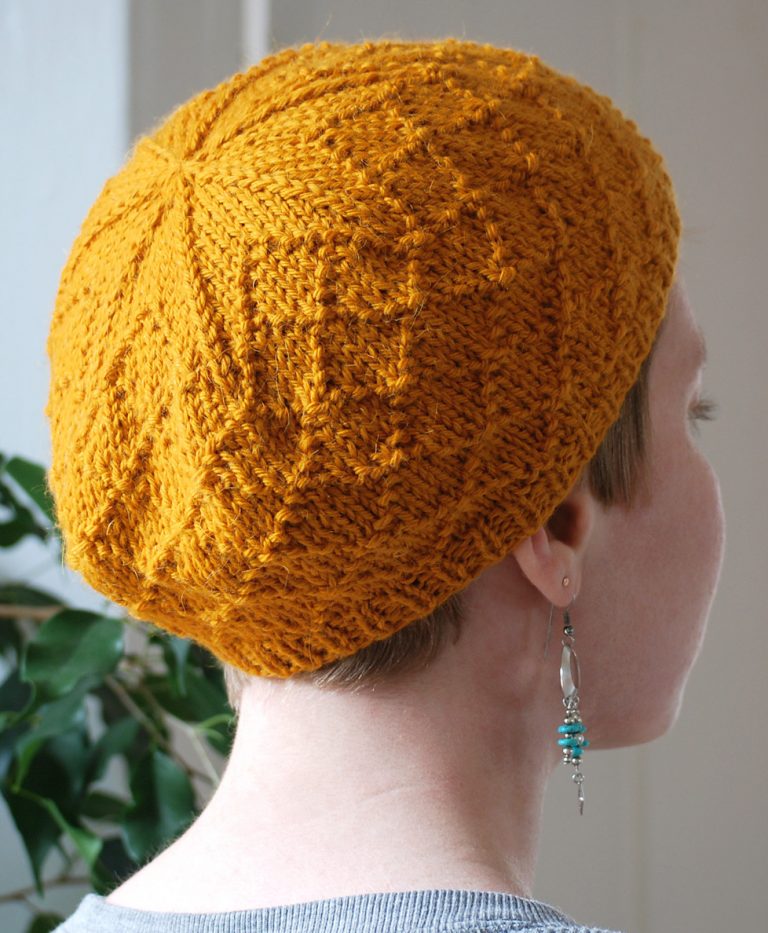 Diamond Cap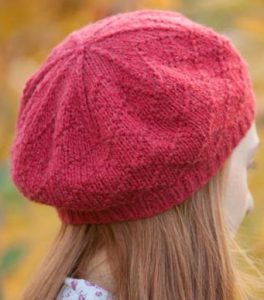 Meg Myers designed this beret hat with a diamond pattern.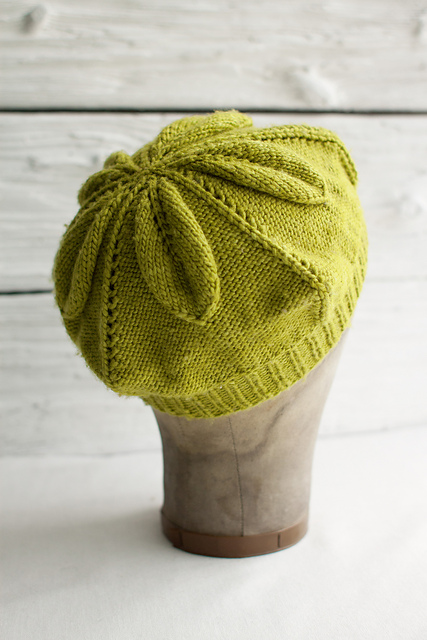 Crumpet Beret
Maura Kirk designed this hat with a raised leaf motif.

Butterfly Beret
Ingrid Fallon designed this hat for Red Heart that uses one skein of Red Heart Boutique Midnight. Great for multi-color yarn!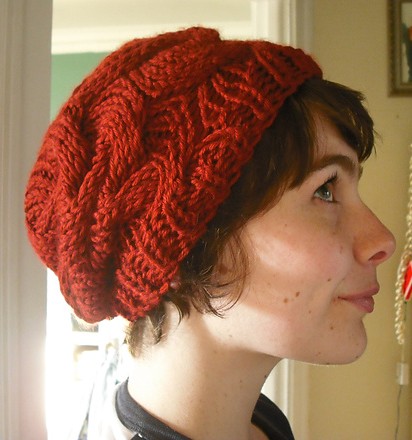 Cabled Slouchy Beret
Allyson Dykhuizen's hat can be knit in bulky yarn or two strands of worsted held together. The cables make it stretchy and slouchier.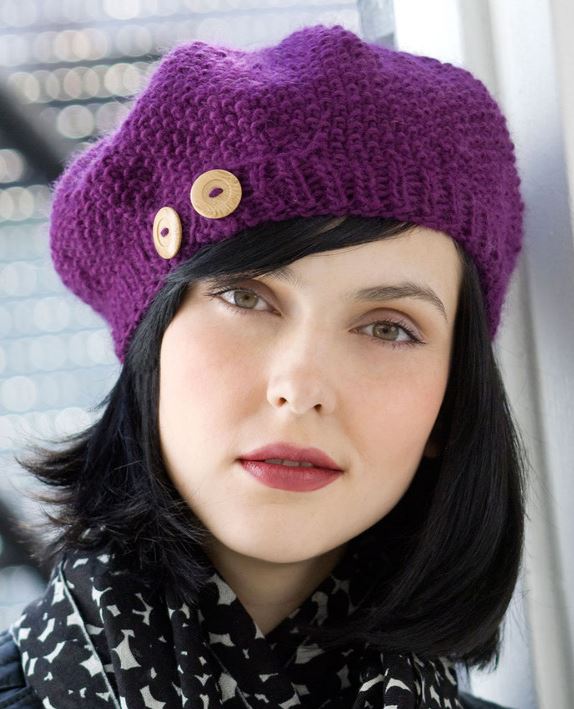 Buttoned Beret
Jodi Lewanda's beret features a buttoned cuff and a body knit in the round with seed stitch for texture in aran weight yarn.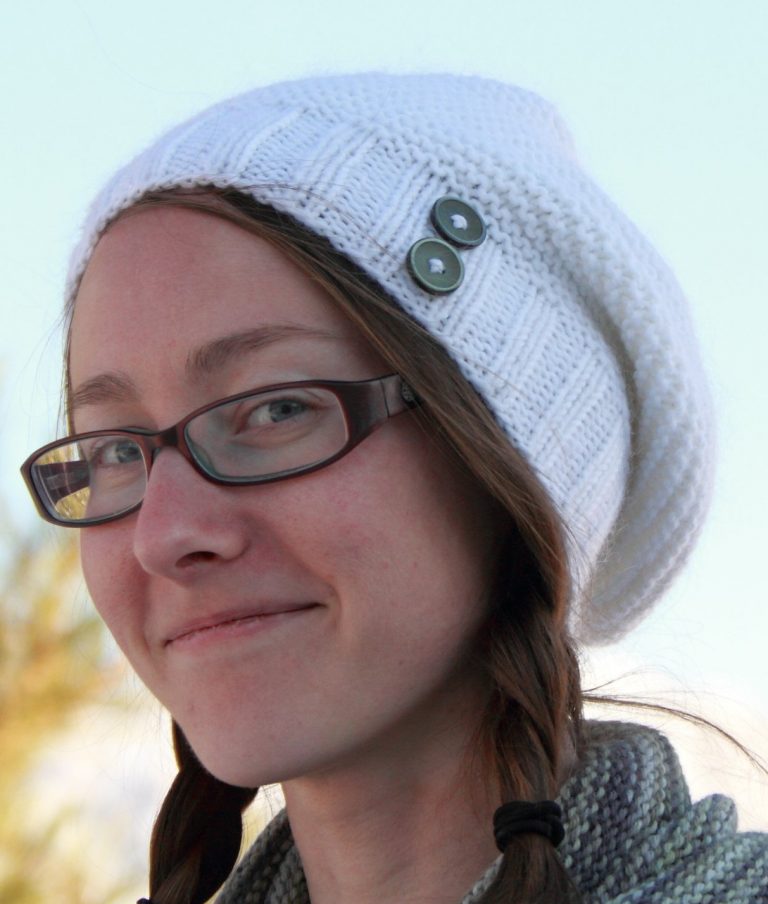 Frosty Hat
Kristen Ashbaugh-Helmreich's easy slouchy hat features a garter stitch body.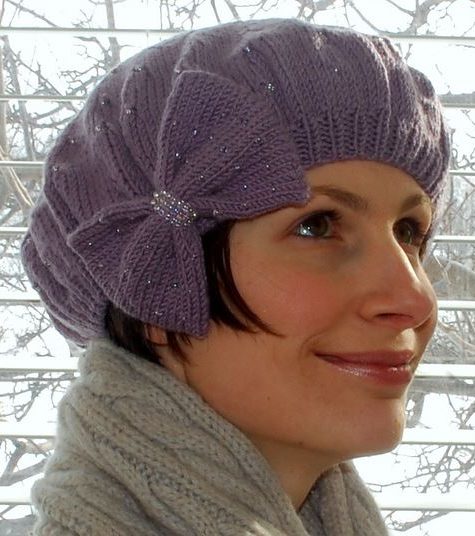 Glimmer Beret
A bow and optional beads dress up Erron Anderson's easy beret.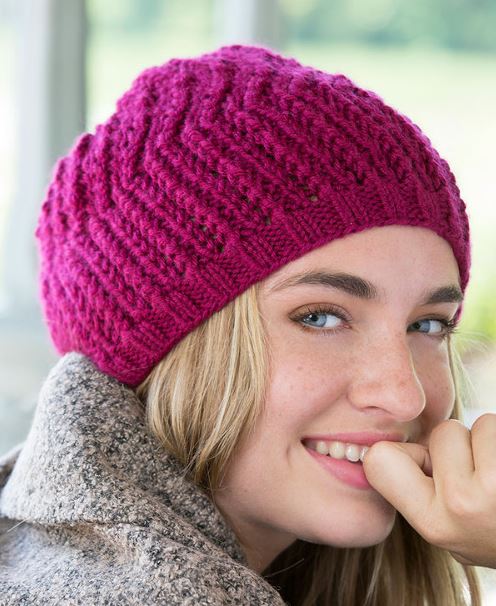 Any Day Beret
This easy hat pattern by Red Heart features an intriguing spiral diagonal stitch pattern.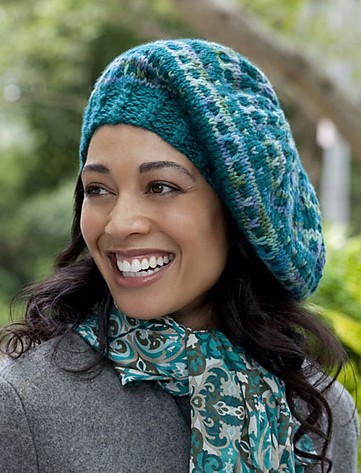 Slip Stitch Beret
Easier than it looks! Lisa Gentry designed this easy beret for Caron. Mixing multi-color yarn and solid color yarn with an easy slipped stitch colorwork pattern gives a look like complicated stranded colorwork. Three sizes.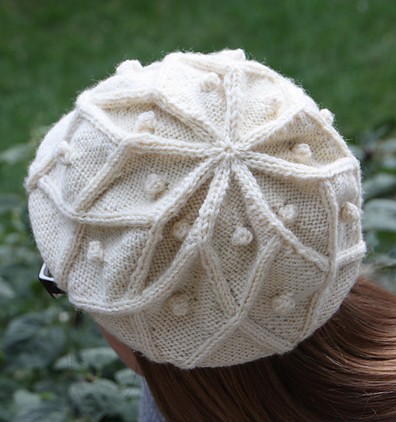 Cabled Rangoli Beret
Technically, Desi Knitter's design is not based on diamonds but "inspired by an 8-point lotus-shaped 'rangoli' design my mother makes, one of the many rice-powder free-hand designs drawn outside many South Indian homes", but the cable pattern, especially for houndiesmom's project, looks like a diamond shape to me.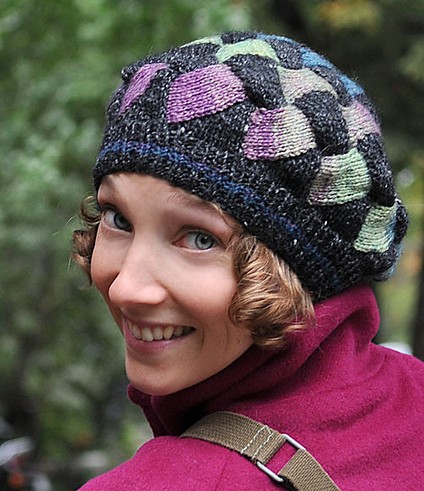 Fourth Grade Hat
Abby Franquemont's entrelac slouchy hat is great use of multi-color or stash yarn. Customizable for any type of yarn.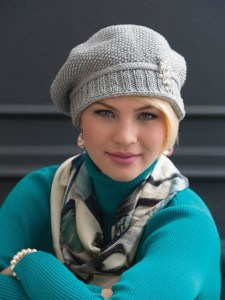 Ann McCauley's Seed-Stitch Beret
Sixth & Spring Books generously gave permission to In Stitches blog to offer a free knitting pattern for this lovely the Seed-Stitch Slouch Hat from the book "60 Quick Luxury Knits
," a book Sixth & Spring compiled with Cascade Yarns. In Stitches still offers the pattern on their site.
Patterns for Purchase

Traversa Beret
This hat by WoollyWormheadHats creates its lightning inspired design simple twists and cables with a combination of decrease techniques.

Falling Leaves Beret
This lace hat by ApiaryKnits is a perfect one skein project, because it takes approximately 175 yards of worsted weight yarn.

Weekend Beret
This tam hat with a cable headband knits up quickly in chunky weight yarn.

Selina Beret
This slouchy beret features a unique lace brim in sizes for Children and Adults.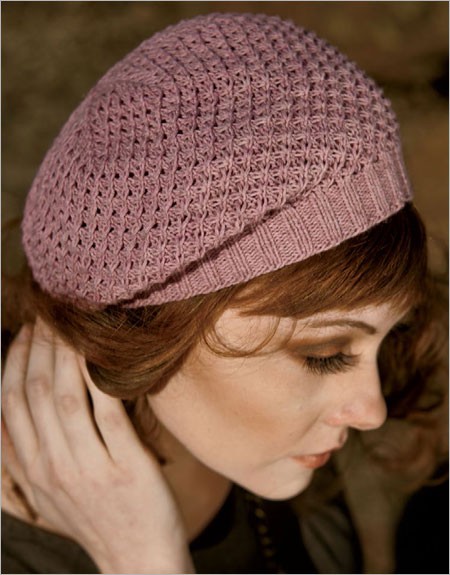 Aotearoa Beret
An all-over star stitch pattern makes this slouchy beret easy but unique.

Stillness of Winter Beret
Slouchy hat in adult, child, and toddler sizes features a wide cable band with 3 cables.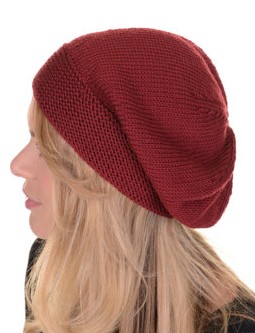 Daisy Beret
Elegant slouchy beret by Haloopa Joop.

Elsica Beret
This hat by WoollyWormheadHats uses a combination of slipped stitches, simple twists and bias techniques to create a unique shape.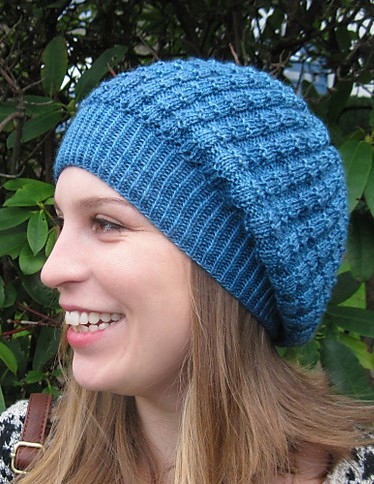 Sunny Slouchy Beret
No longer free! Alla Saenko's textured slouchy hat can be knit in two colors to accentuate the distinctiveness of the stitch pattern. Fits children to adult sizes: XXS, XS, S, M, L