Knitting patterns for rabbit inspired toy softies, hats, accessories, and more. Most patterns are free.
To get the knitting patterns, scroll down the page to the individual pattern you want and click on the link to that pattern.
These patterns are not my designs but links to other designers who have generously shared their patterns. If you have questions about how to knit a specific pattern, please contact the designer directly.
All links on this site are for informational purposes, but please note that some links are to affiliate sellers that pay me a small commission on purchases.
Free Patterns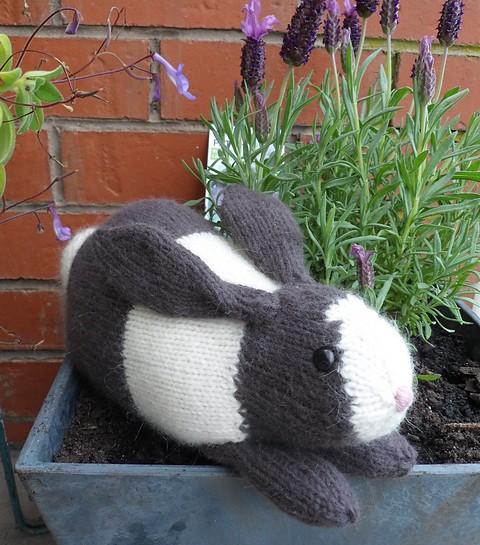 Henry's Rabbit
Designed by Sara Elizabeth Kellner, this rabbit is knit in the round with few seams. Finished size is about 12 inches long, and 6 inches high at tallest point. The Ravelry page shows several variations. Pictured project by jeanc

Simple Bunny Toy
Huggable toy measures 11" (28 cm) tall and 12" (30.5 cm) long at base. Simple shaping keeps this project easy to make. Designed by Erin Kate Archer. Aran weight yarn.

Floppy Eared Bunny
A classic rabbit toy softie that only takes a few hours to knit according to the designer. The bunny is worked flat and seamed. Size: Height = 19 inches (from top of the head to bottom of the feet). Designed by Louise Bollanos. Super Bulky weight yarn.

Bunny Mini Cuddly Blankie
Pat Alinejad designed this lovey sized 11 inches/28cms square/diameter.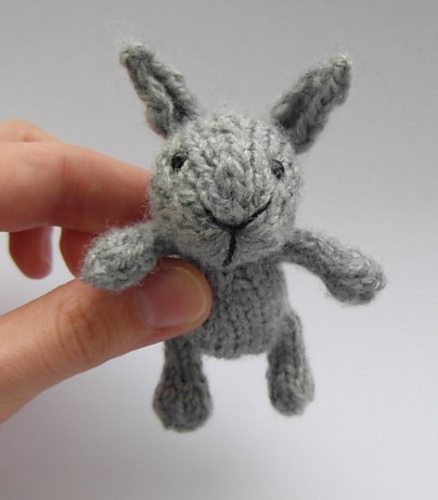 Little Baby Bunny
Quick little toy rabbit is just 9cm/3.5" (with ears, standing). Designed by Justyna Kacprzak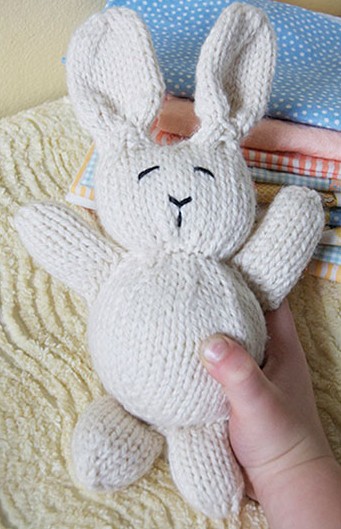 Bunny Rabbit Toy
This toy bunny softie is about 7 inches tall and has optional tennis ball stuffing to give him shape. Yarn available on pattern page.

Bunny in a Pillow
This pattern includes instructions for a bunny rabbit toy with removable sweater and a pillow with a pocket for the bunny to sleep in. Rabbit 10″/25.5cm tall; Sweater 3″/7.5cm long; Pillow 16″/40.5 by 12″/30.5cm. Designed by Marissa Ramsey. Knitting pattern is available for free with a free trial at Creativebug – scroll down the pattern page to this pattern. Pictured project by avasmom2007

Tuxedo Ted Bunny
A tiny bunny that fits in the palm of your hand. Worked from the top down in one piece except for arms which are worked first and then knitted onto body as you go down. Ears are worked separately and sewn on. Worked in the round. Designed by J.G. Miller. Worsted weight yarn.

Little Animal Toys
This pattern includes instructions for knitting a variety of animals including bunny, fox, dog, cat, mouse, and bear from a basic pattern with modifications, and their clothes (shoes, dress, pants and cardigan). Designed by Irene Kiss. Available in English and Spanish

Zoe Bunny
Bunny toy softie. Approx 10" [25.5 cm] tall, excluding ears. Sport weight yarn. Designed by Patons

Basic Bunny Rabbit
This easy bunny toy is knit flat and uses 25 – 50 yards (23 – 46 m) of worsted yarn. Designed by Lynn Flatley

Lizzie Rabbit
This adorable bunny toy is 14″ (36cm). Designed by by Rae Blackledge for Willow Yarns.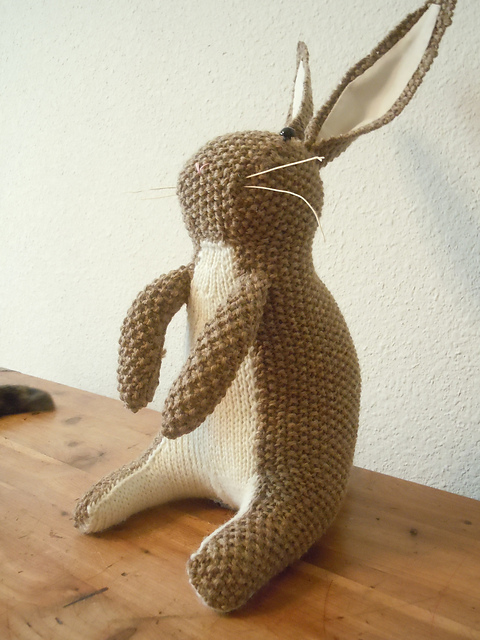 Vintage Rabbit Toy
Sara Kellner modified a vintage knitting pattern to create this bunny that stands 15" tall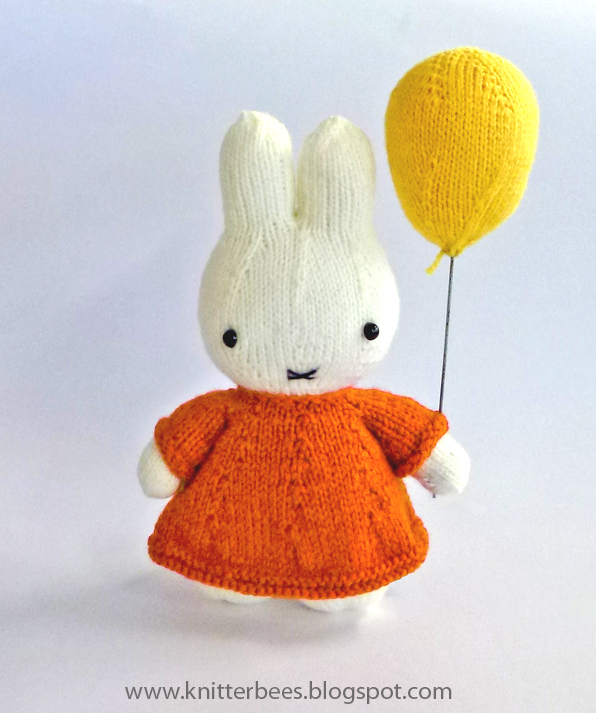 Miffy
Knitterbees designed this cute little bunny with dress and balloon.
More Free Patterns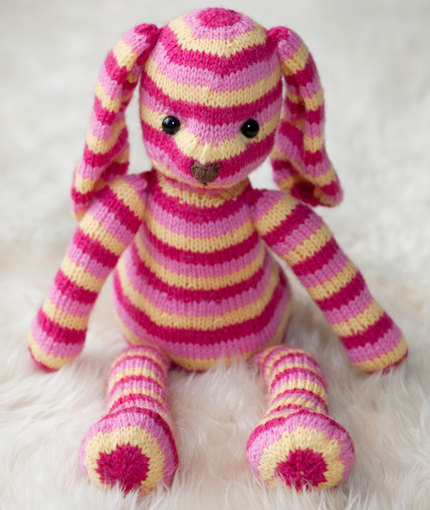 Hop Along Bunny
This easy striped bunny is knit in the round. 16″ tall. Designed by Nancy Anderson for Red Heart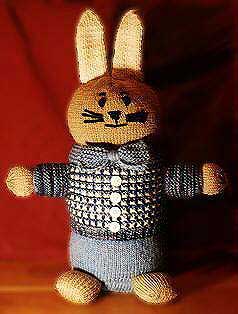 Dapper Rabbit
Sarah Bradberry designed this dapper bunny after a beloved childhood toy her mother made for her. Height: 35cm, 13 3/4in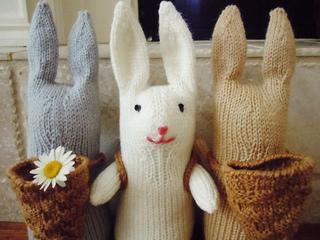 Basket Bunnies
Sara Kellner's 11 inch bunnies come with a treat carrying basket.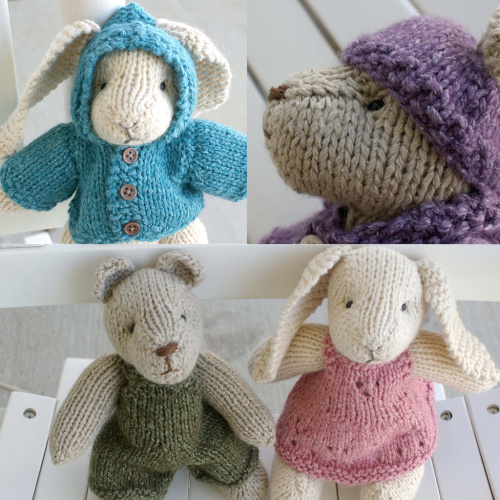 Rabbit and Bear plus 5 items of clothing
Dress your bunny in style with this pattern designed by April Cromwell for a rabbit and its clothing, as well as its bear friend!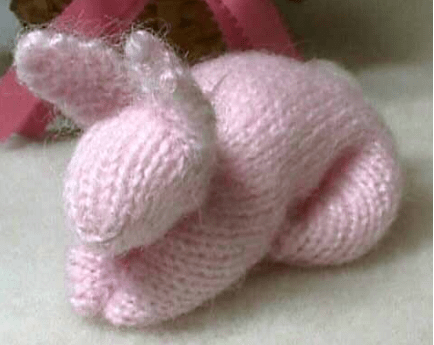 Another Knitted Square Bunny
Heartstrings Fiber Arts created this clever pattern to make a bunny out of a square piece of knitting.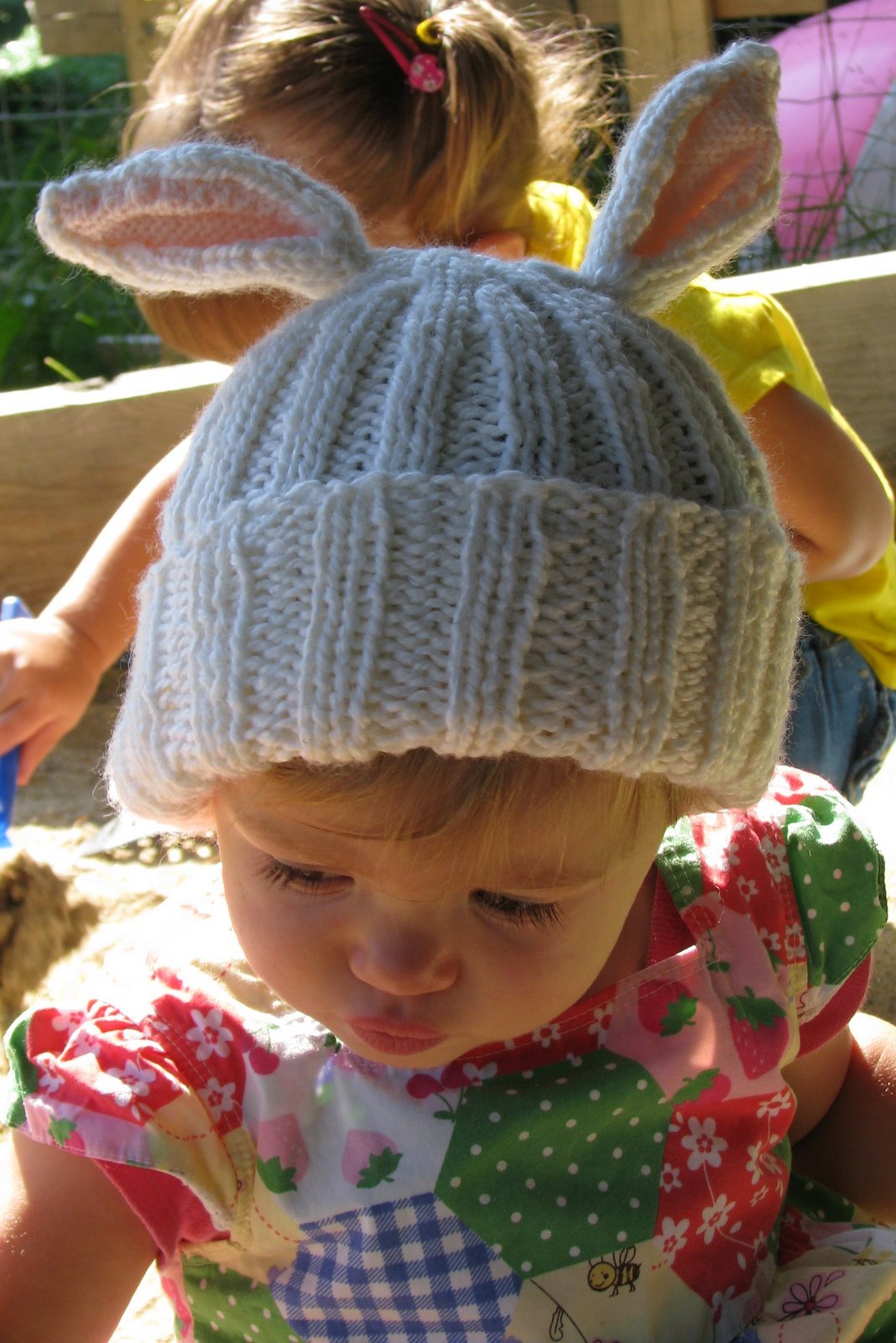 Bunny Ears Hat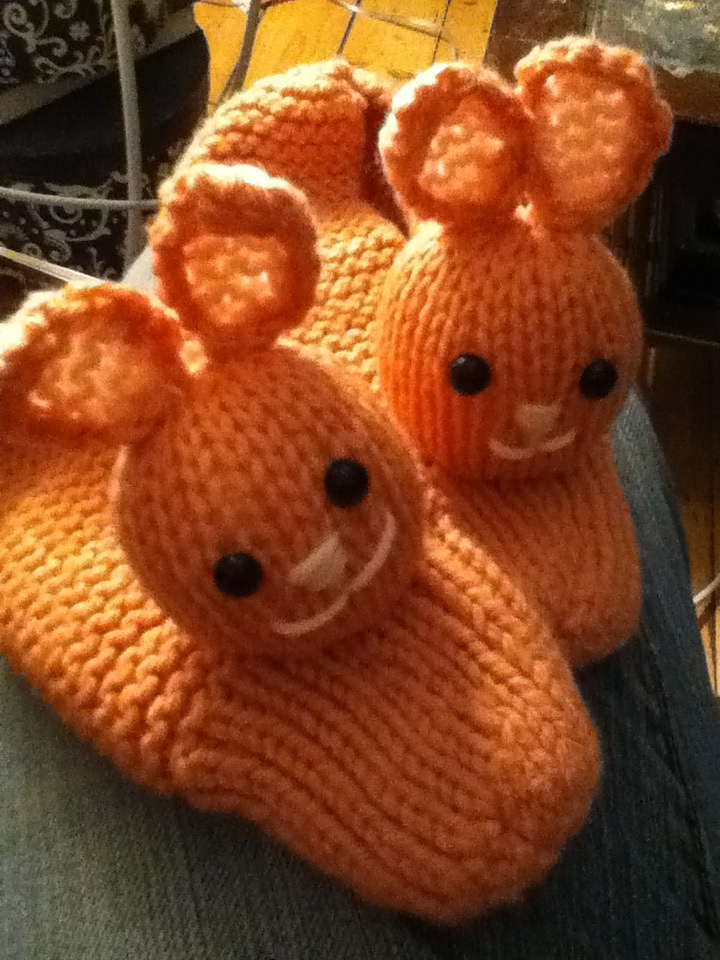 Bunny Slippers
These children's slippers come in 3 sizes. Designed by Red Heart. Pictured project by knitjvf70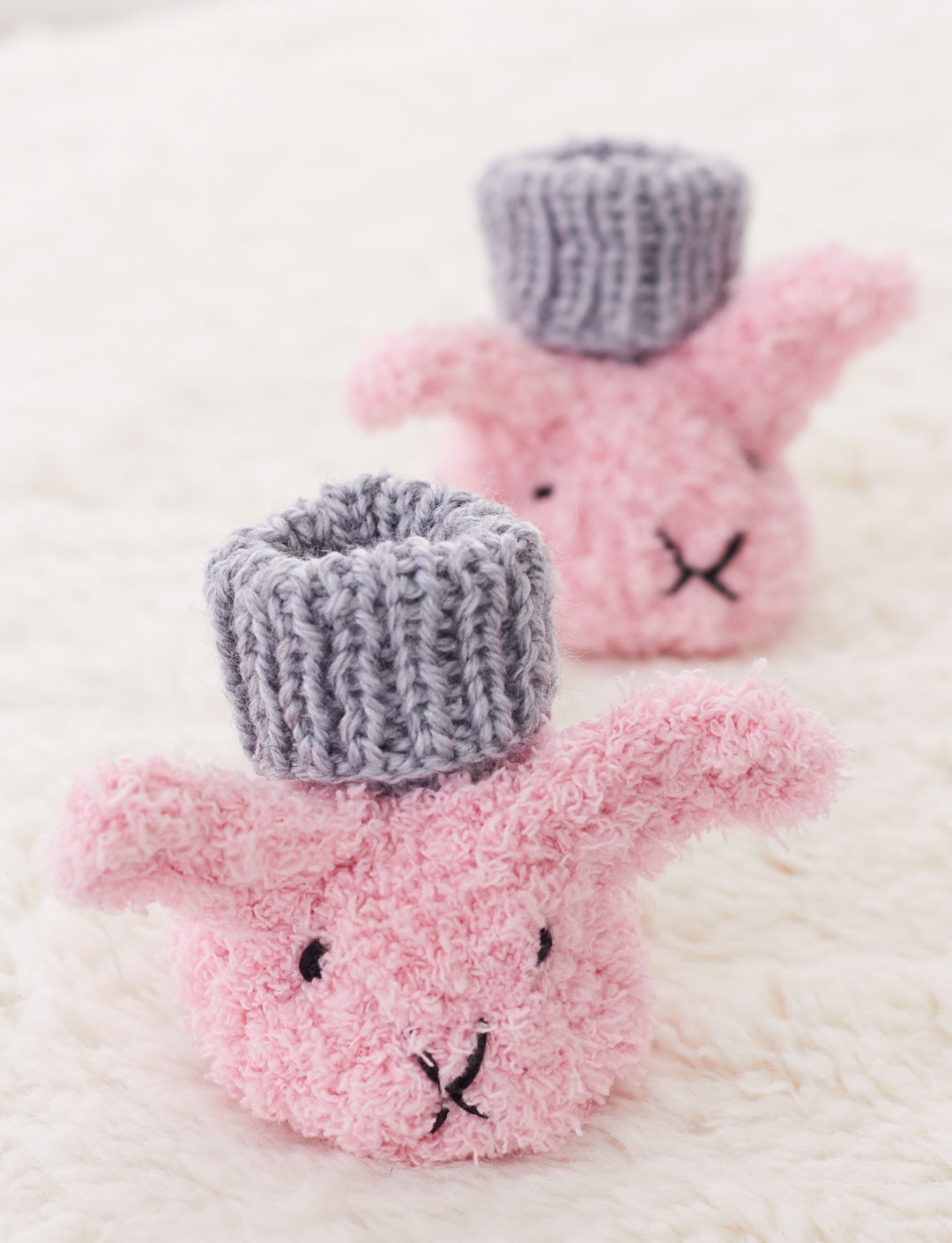 Itty Bitty Fuzzy Wuzzy Bunny Booties
This pattern for super soft booties from Yarnspirations is sized for 3, 6, and 12 months.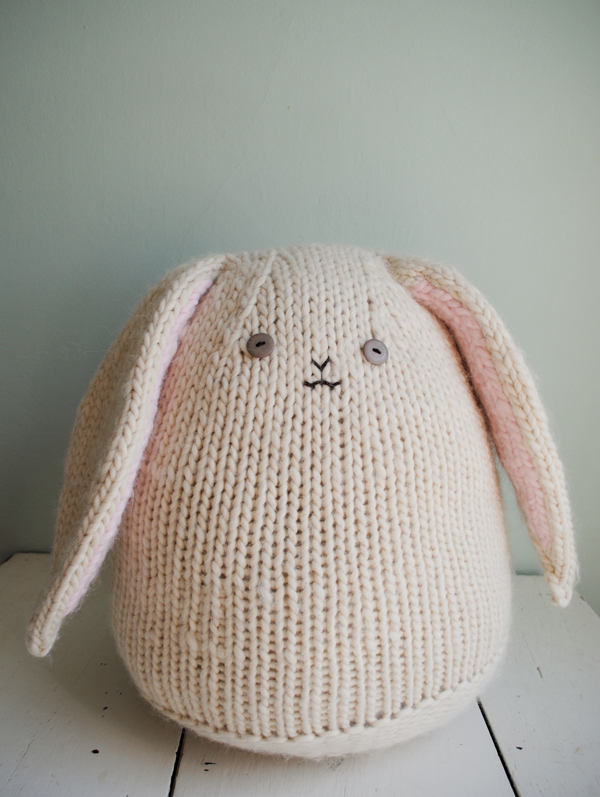 Big Cuddly Bunny
This bunny's designed for maximum huggability by Purl Soho and is 15 inches high and 38 inches in circumference.

Floppy Eared Bunny
Frank the Bunny is knit in garter stitch and shaped with short rows. Length: 16". Worsted weight yarn. Designed by Premier Yarns

Baby Bunny Rabbit Toy
Measures roughly 20cm tall. Knitted flat with straight needles. DK weight yarn. Designed by Emma Whittle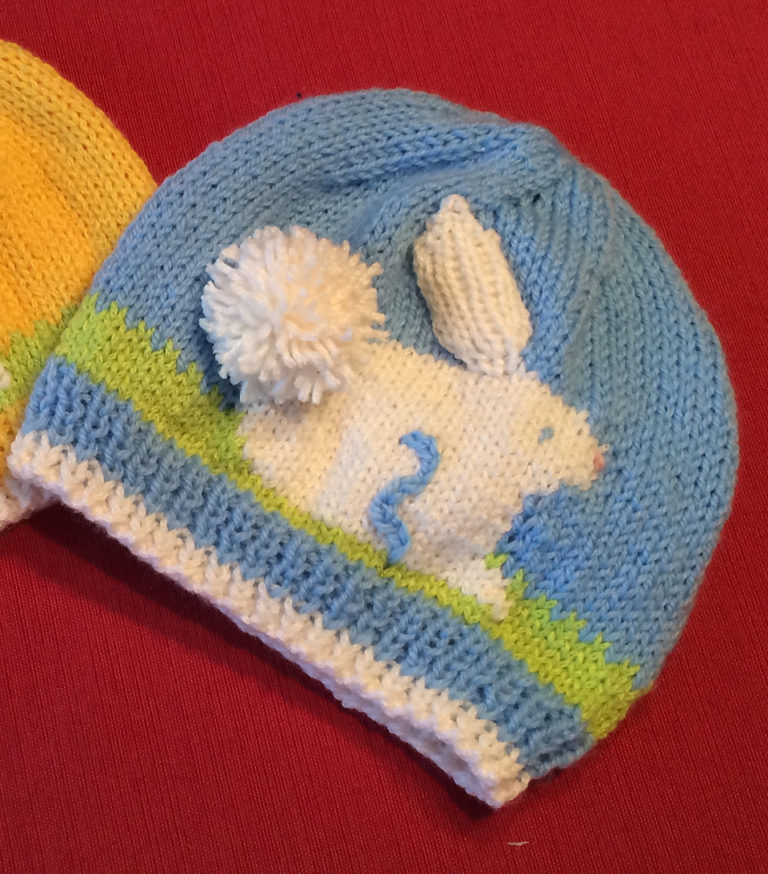 Bunny Hat
This cute hat pattern comes in three sizes Small (Medium, Large) with a finished circumference of about 17 (19, 21) in. (43 (48, 53.5) cm). Pictured project by rothkosmom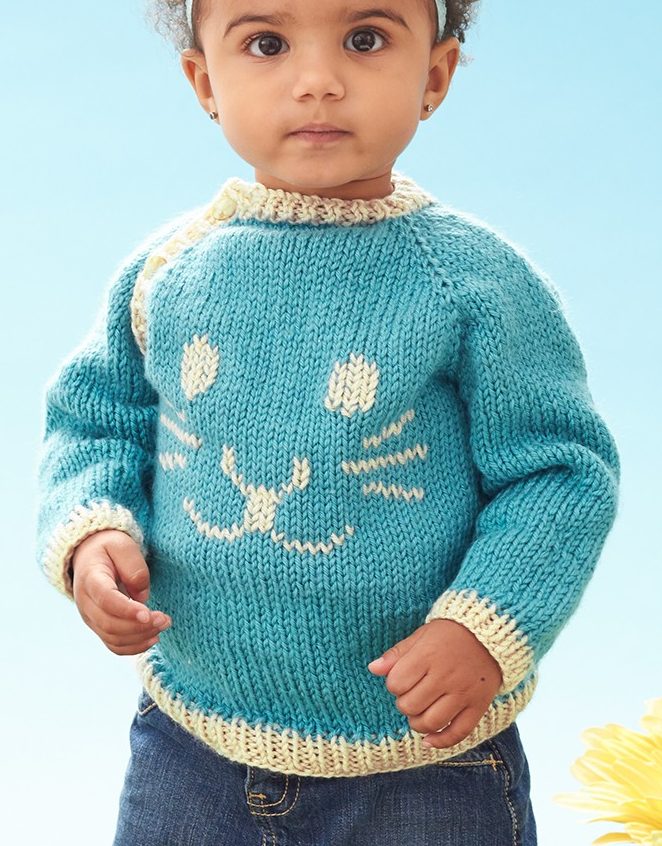 Funny Bunny Pullover
Baby sweater to fit chest measurement 6 mos 17" [ 43 cm ] 12 mos 18" [ 45.5 cm ] 18 mos 19" [ 48 cm ] 24 mos 21" [ 53.5 cm ]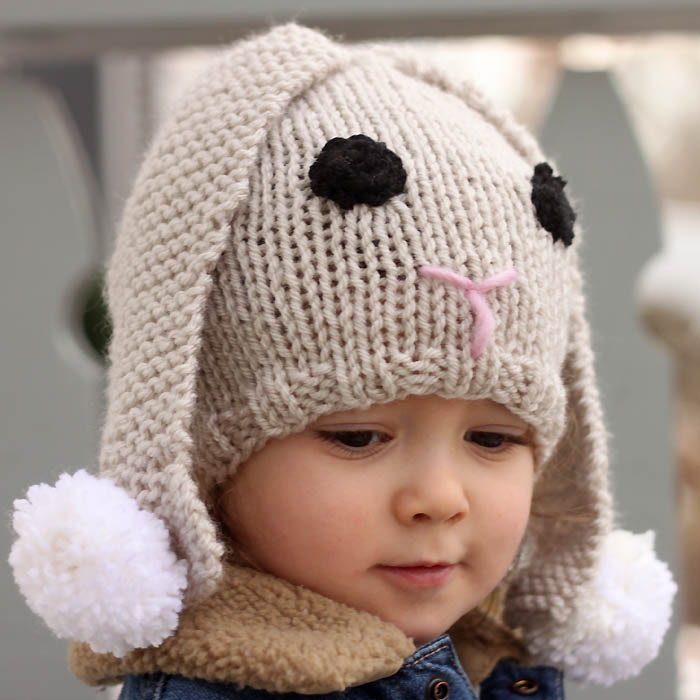 Baby Bunny Hat
Floppy-eared rabbit hat by Gina Michele for babies 1-2 years.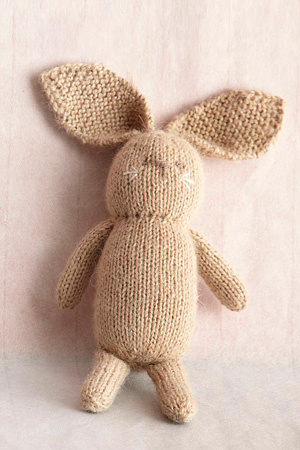 Knit Little Bunny
This easy homespun bunny is about 9 in. tall.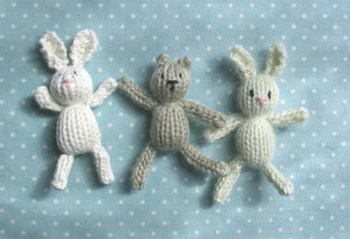 Teeny Tiny Knitted Animals
These tiny toys by Julie at Little Cotton Rabbits are just under 2.5 inches (6 cms) tall. Great stashbuster for scrap yarn!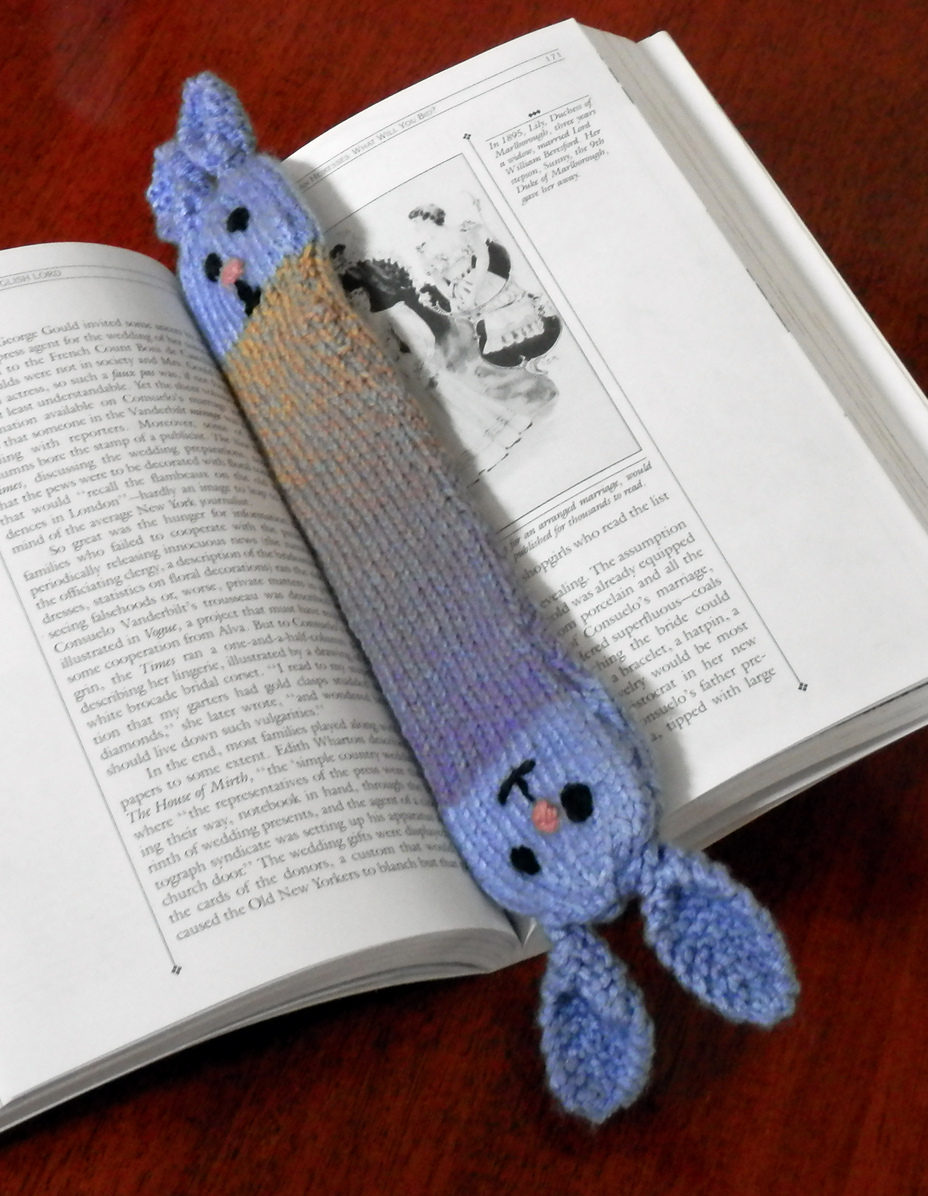 Bunny Bookmark
All pieces of the bookmark designed by the Twins are knitted flat. Pictured project by chickenbeans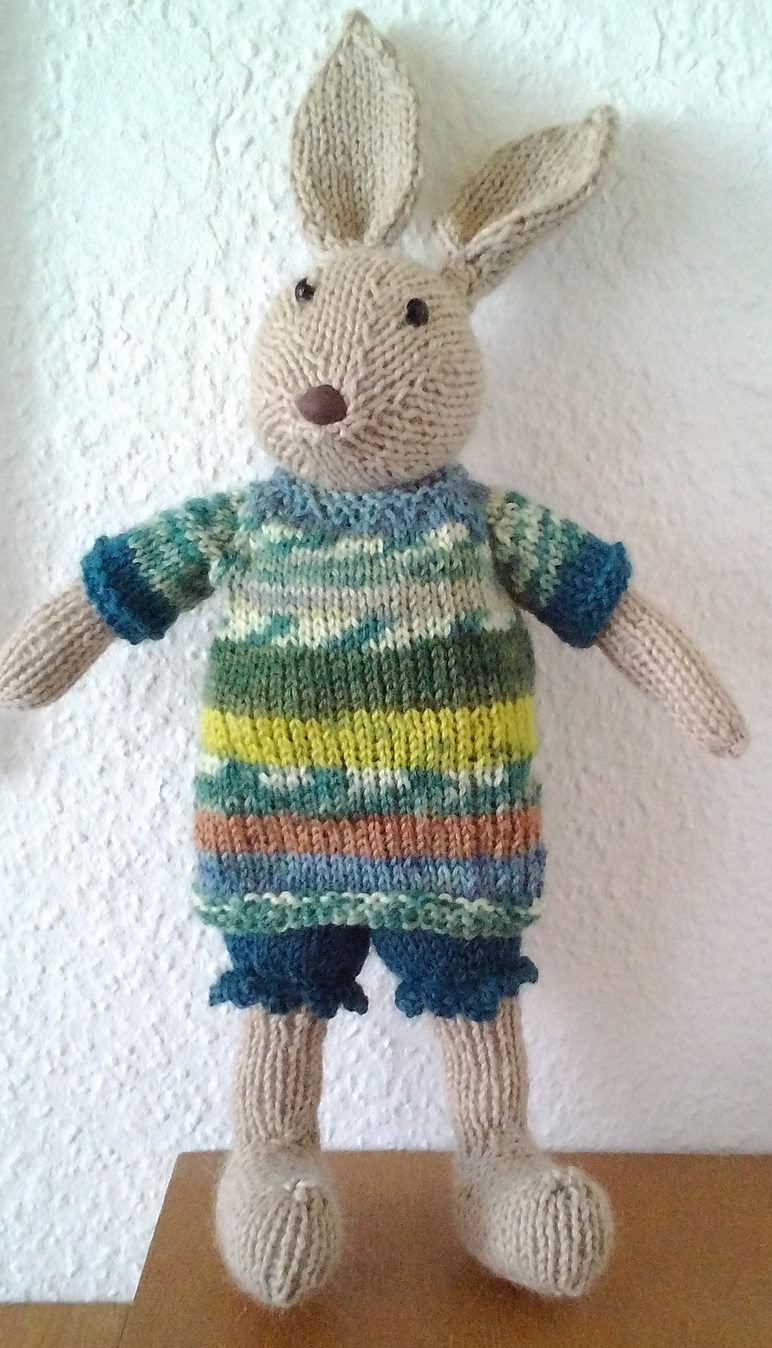 Mr. Bunny
This adorable rabbit toy by DROPS design sports pants, jumper (pullover) and bow, and is 12 inches (including ears). Pictured project by kabagi
Patterns for Purchase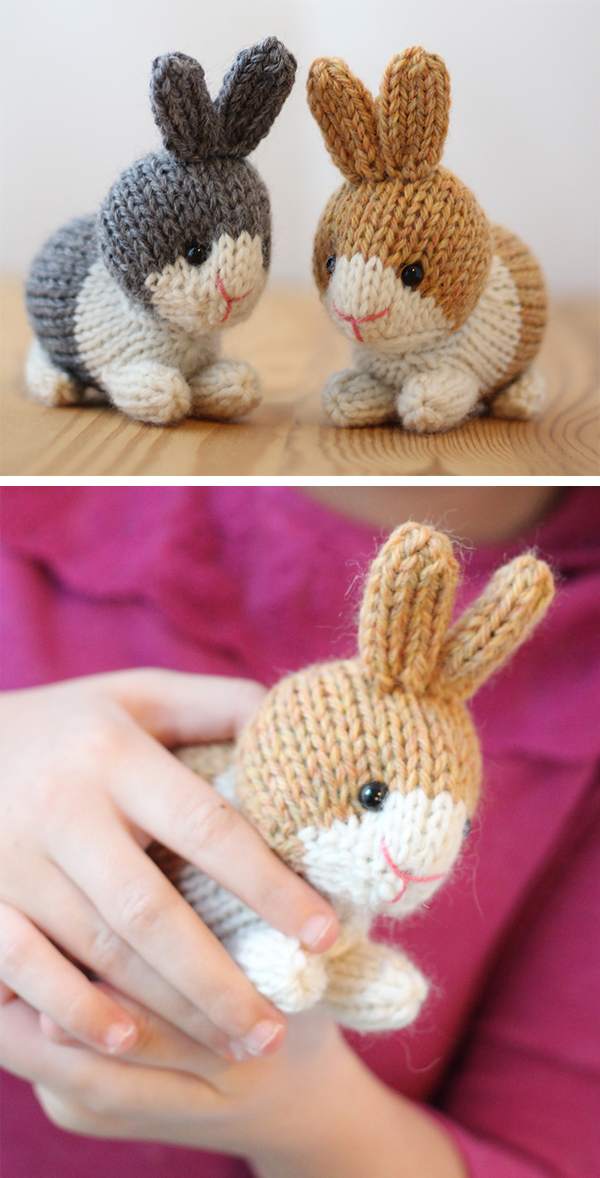 Dutch Rabbits
Bunny toy softie 4" from nose to tail in worsted weight yarn, but can be sized up or down by using different weights of yarn. Designed by Rachel Borello Carroll.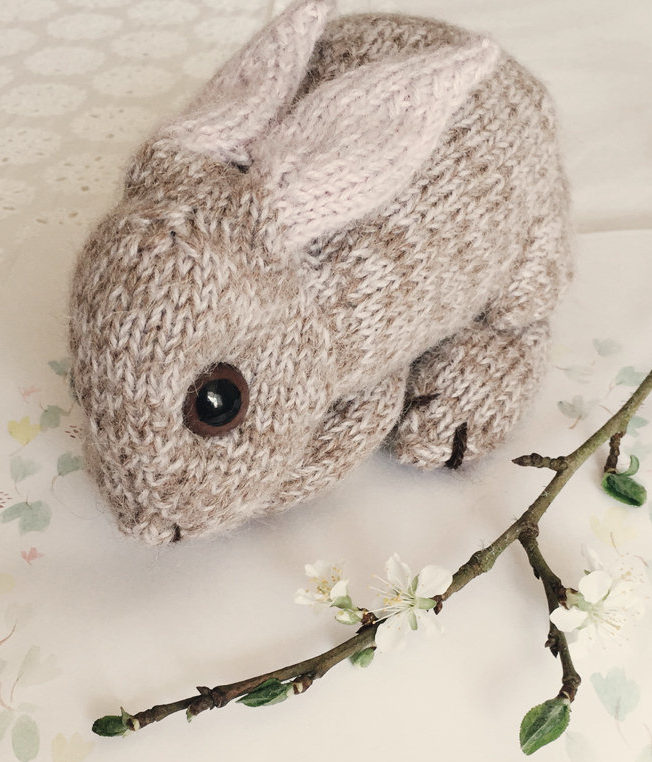 Baby Bunny
Life-size baby bunny toy lies 20cm/ 8in long (tip of nose to tail). Knit flat and joined as you go. Designed by DotpebblesKnits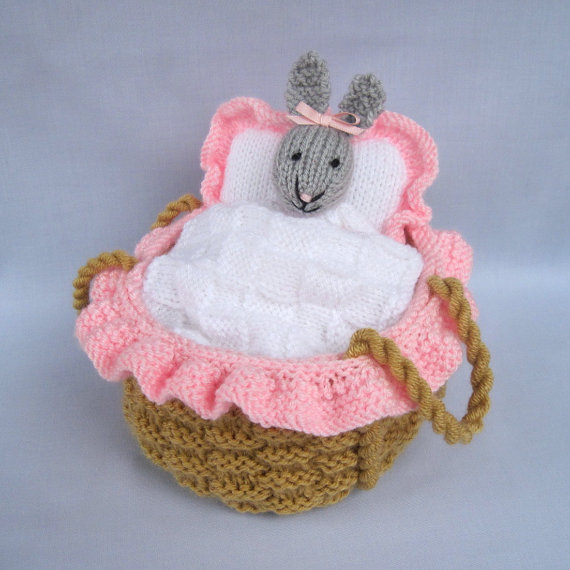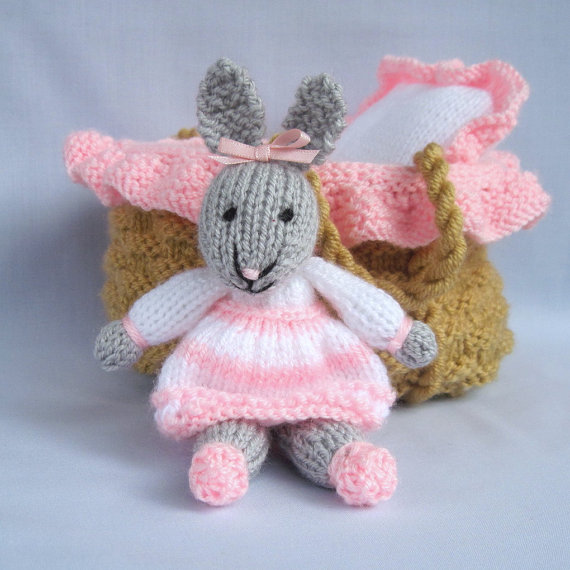 Baby Bunny in Crib
Her little crib with handles is ideally suited for small hands to carry. She can be snuggled down to sleep on her frilly pillow and kept warm with her cozy blanket. And when she's not sleeping she'll be happy to play alongside her young owner. SIZE: Baby Bunny – 17 cm (6.5 in).
See more images and get the pattern at Etsy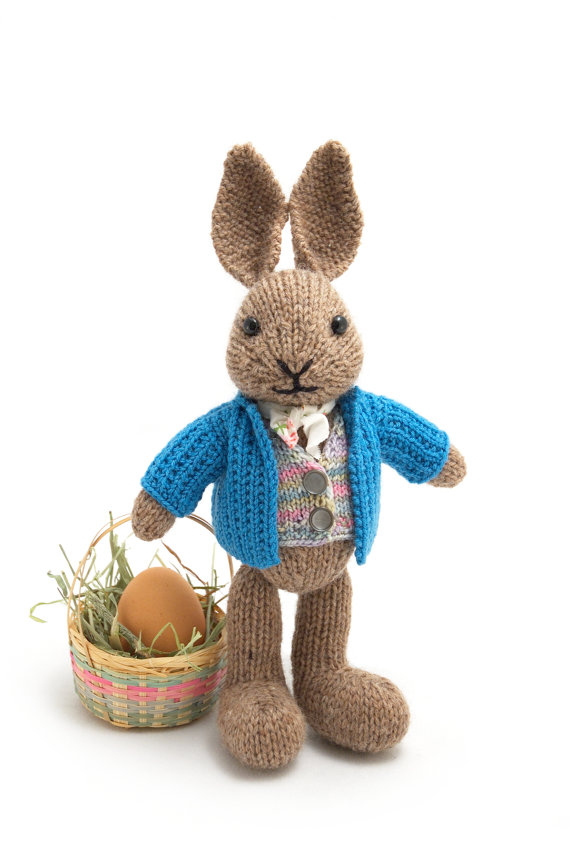 Well-Dressed Bunny
This bunny pattern includes short and long-eared versions, together with three outfits.
See more images and get the pattern on Etsy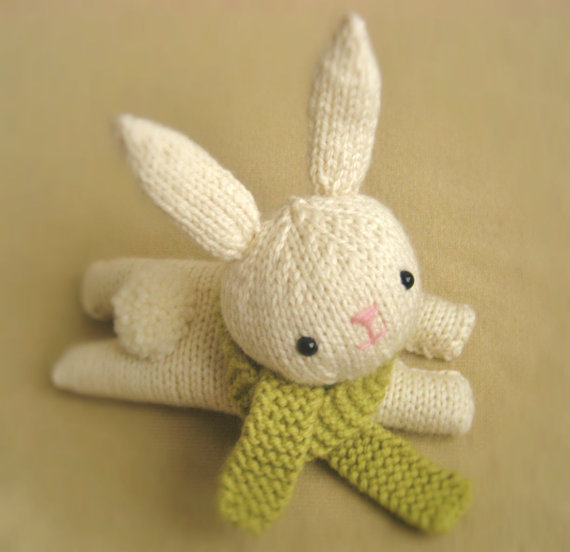 Bunny Amigurumi
Bunny measures 6 inches long and 6 inches tall.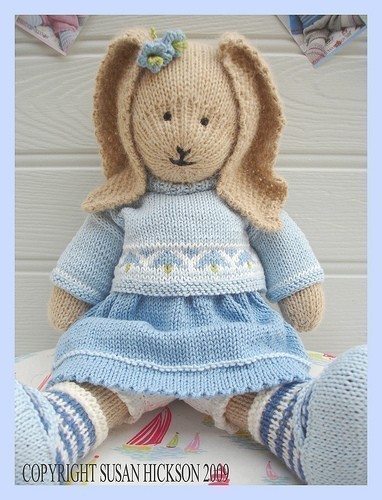 3 Bunny Rabbits – Bluebell, Primrose, and Oscar
Three of the cutest bunny rabbits you can imagine. Length Approx 15 inches, Arm span approx 11 inches
Patterns are available individually and the designer has many other cute designs at Mary Jane's Tearoom You'll fall in love!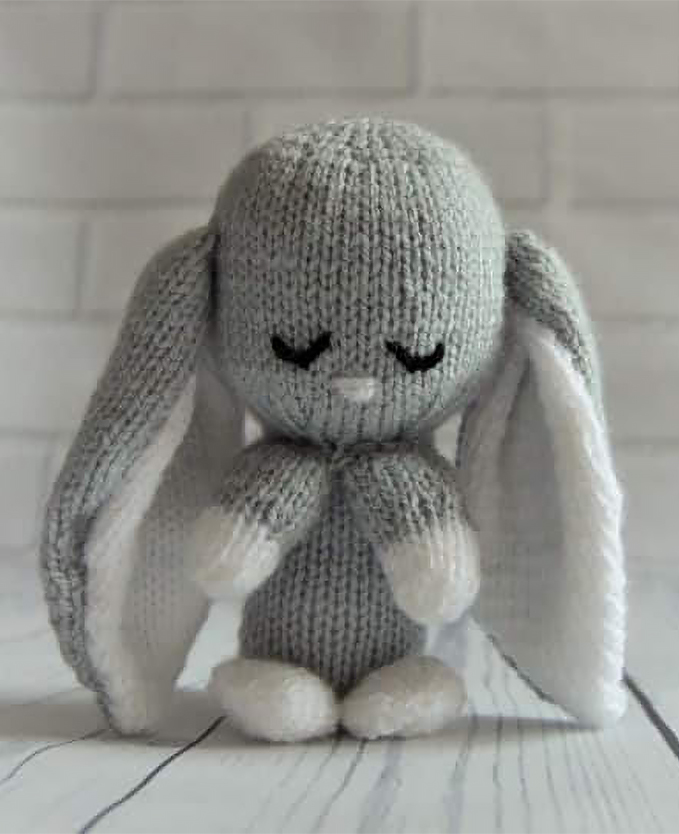 Baby Bunny
Rabbit toy with long floppy ears. DK yarn. Measures approx 15cm high. Designed by TobyCreates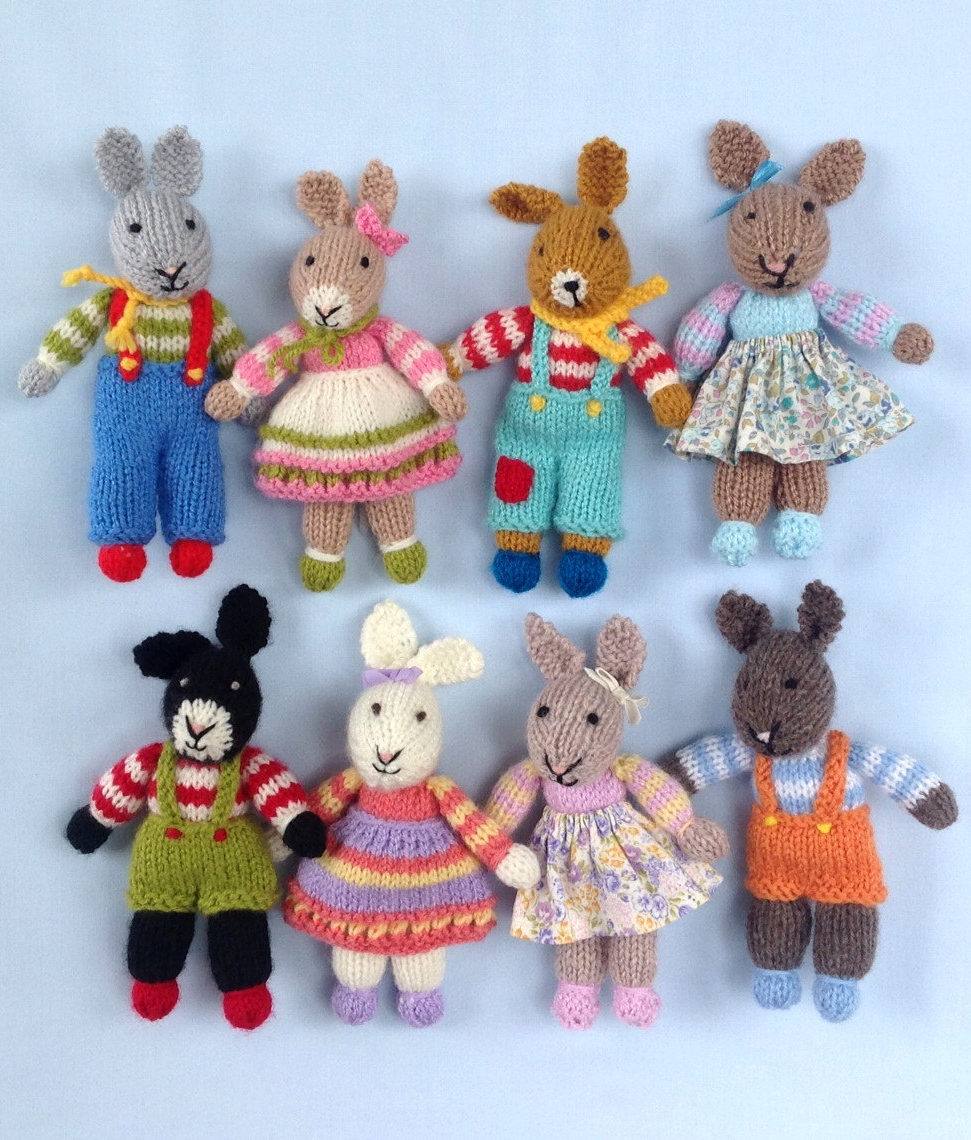 Rabbit Rascals
Pattern contains instructions for 10 cute little bunnies that are easy to make and only require small amounts of yarn. SIZE: Rabbit Rascals – 18 cm (7.5 in) to tips of ears.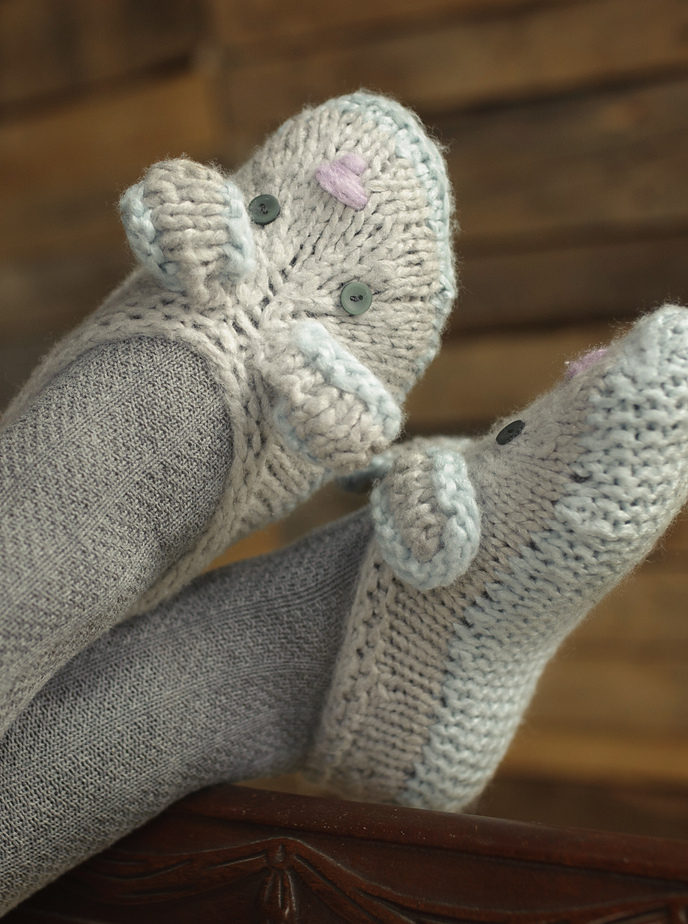 Beatrix Bunny Slippers
These slippers are a quick knit in super bulky yarn. One of the patterns in 25 Stylish Knitted Slippers by Rae Blackledge.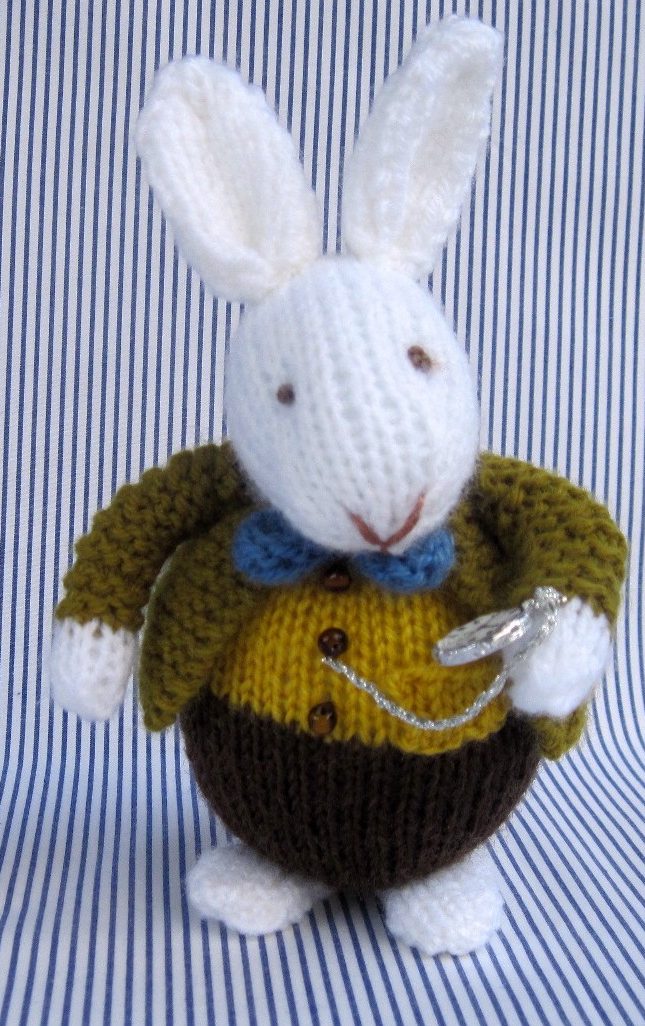 White Rabbit
Straight from Wonderland, this White Rabbit in DK yarn is 18cm (7in).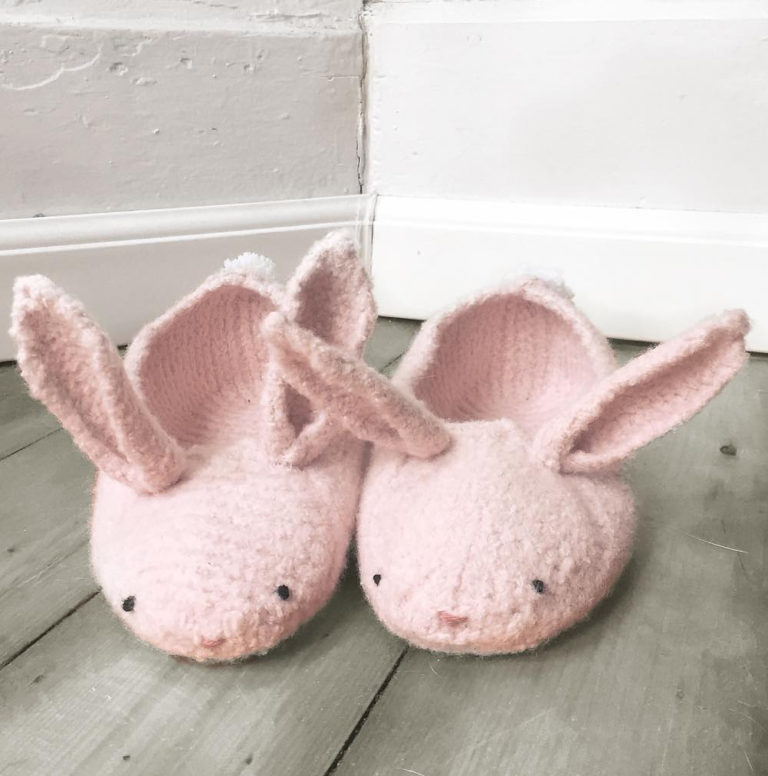 Hopsalot Slippers
Quick and easy bunny slippers are knitted FLAT using DK weight wool held double and come in adult sizes S, M and L. Pictured project by celestefohl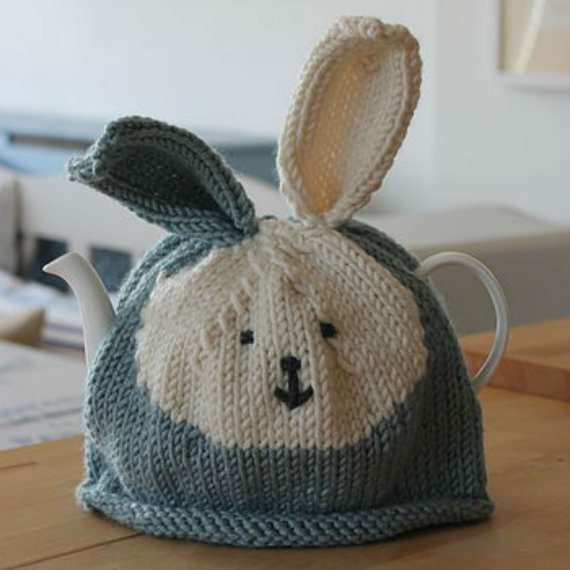 Bunny Tea Cosy
This adorable teapot cozy even has a fluffy pompom tail!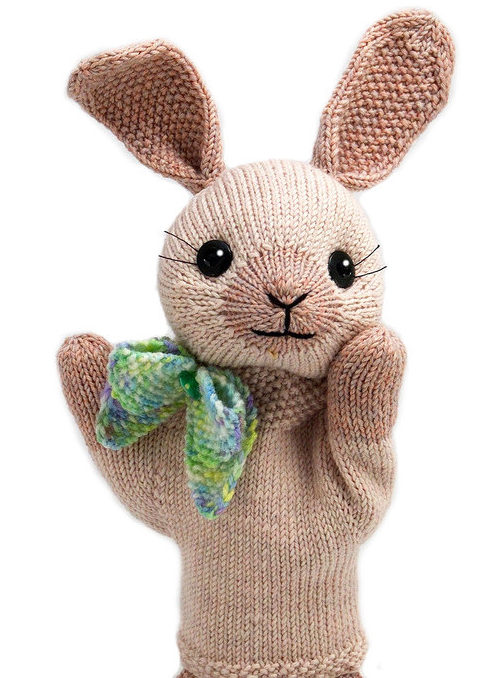 Bunny Puppet
The pattern is written in 3 sizes:
Small: 5 1/2" around, 5" long
Medium: 6 1/2" around, 6" long
Large: 7 1/2" around, 7" long
See more images and get the pattern at Etsy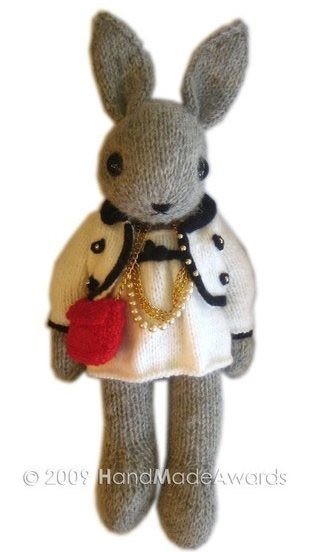 Marni the Bunny
This bunny is all dressed up to go out! 13 inches high and the dress pattern is included.