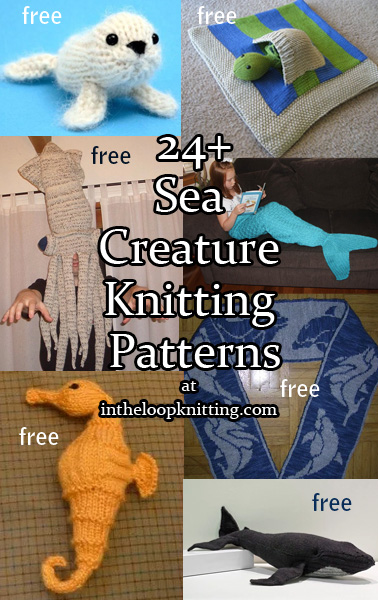 Knitting patterns for all kinds of animals who love and live in or near the water including whales, sharks, dolphins, seals, and even mermaids!
To get the knitting patterns, scroll down the page to the individual pattern you want and click on the link to that pattern.
These patterns are not my designs but links to other designers who have generously shared their patterns. If you have questions about how to knit a specific pattern, please contact the designer directly.
All links on this site are for informational purposes, but please note that some links are to affiliate sellers that pay me a small commission on purchases.
Free Patterns

Little Sea Creatures
Toy ocean animals include Octopus (3 ½"), Starfish (2"), Turtle (2 ½"), and Crab (1 ½"). These sweet little sea creatures take 25-50 yds. of yarn, so they're great stash-busters and wonderful craft table items. Designed by Lorraine Pistorio for Rainebo Designs. Worsted weight yarn. Pictured projects by the designer and Dana78.

Ocean Project Bag
Turn a cotton canvas bag into an oceanscape with knit red crab, sea plants, and embroidered seaweed. carey-plastic hoops handles. Designed by Loly Fuertes of HandMadeAwards Design

Theo's Octopus Baby Toy
Toy softie with eight curling i-cord tentacles and embroidered face making it suitable for babies. The designer says that the octopus is a quick and easy knit – she finished mine during three of her baby's nap times. 38 – 49 yards (35 – 45 m) of worsted yarn. Designed by Sari Nordlund

Frida the Fish
This fish amigurumi softie is about 8 in. (20 cm), though you could change the size by changing the yarn weight. Ravelrers knit this for baby toys, cat toys, mobiles, and more. Great use for scrap yarn to make stripes or self-striping yarn. Designed by Lion Brand Yarn. Pictured project by jenniebear

Sheldon the Turtle
This adorable turtle softie wears his removable shell like a sweater. Length: Approx. 9 inches. Designed by Ruth Homrighaus. Available in English, German, and French

Mini Octopus Hat
This adorable baby hat by Cassandra May at Little Red Window is an easy design that turns into an octopus with curly i-cord tentacles (video tutorial included!) and knit eyes. The 6 month size pattern is free at her website. Printable pdf version and other sizes are available on Etsy.

Arm Knit Orca Blanket
Slip into this cozy blanket designed by Amanda Bassetti of SimplyMaggie.com who designs many ingenious arm knitting patterns. Quick knit in super bulky yarn. Length: 49" from nose to tail

Dolphin Dishcloth
This dolphin motif block can be used for dish or wash cloths, afghans, and more. Designed by Kelly Daniels. Pictured project by Hellioz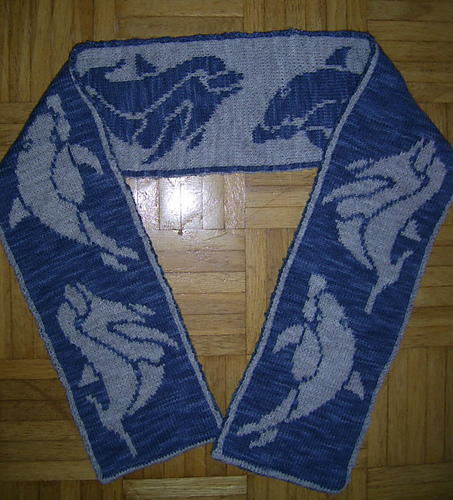 Bonny Dolphins
Tina13 designed this chart for a double knit reversible scarf. Familiarity with double knitting and using charts would be needed for this pattern.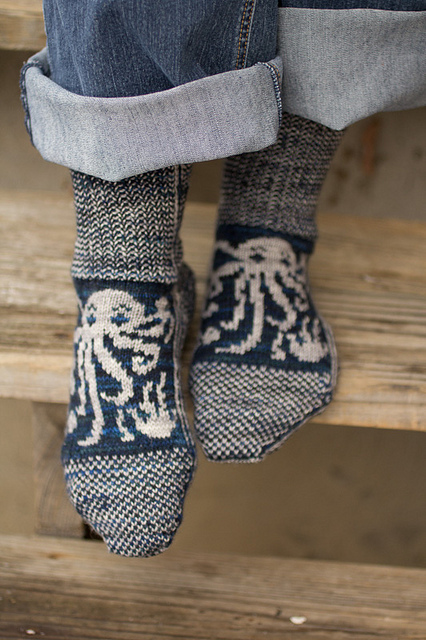 Octopodes Socks
Jennifer Raymond's socks feature an octopus design in stranded colorwork. XS[S, M, L, XL]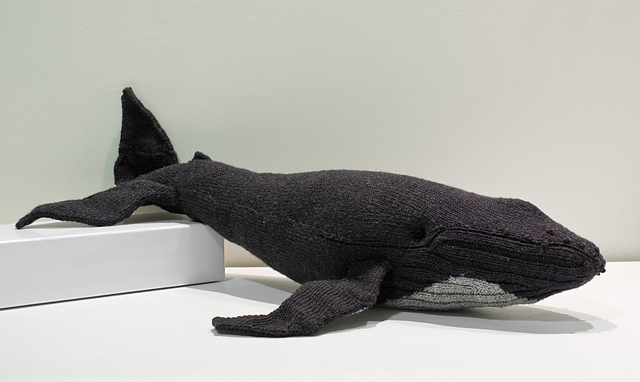 Hazel the Humpback Whale
Bec Brittain designed this 26 inch softie toy whale.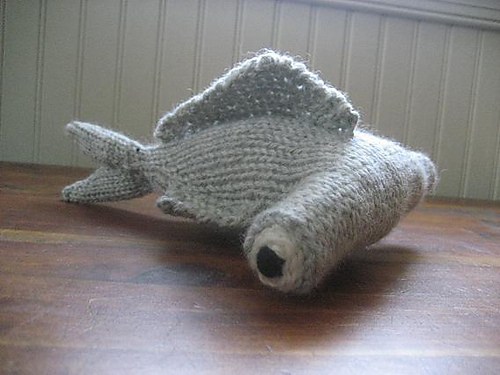 Hammerhead Shark
Toy softie shark designed by Mary Kate Long.
More Free Patterns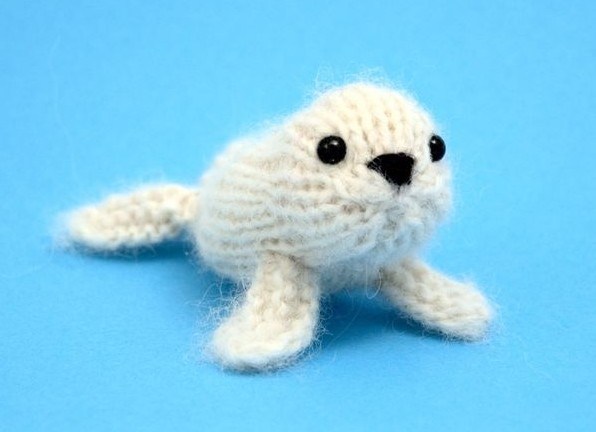 Baby Seal
Barbara Prime created this cute tiny seal that is perfect for ornaments and little toys. She has paired it with an Innuk pattern.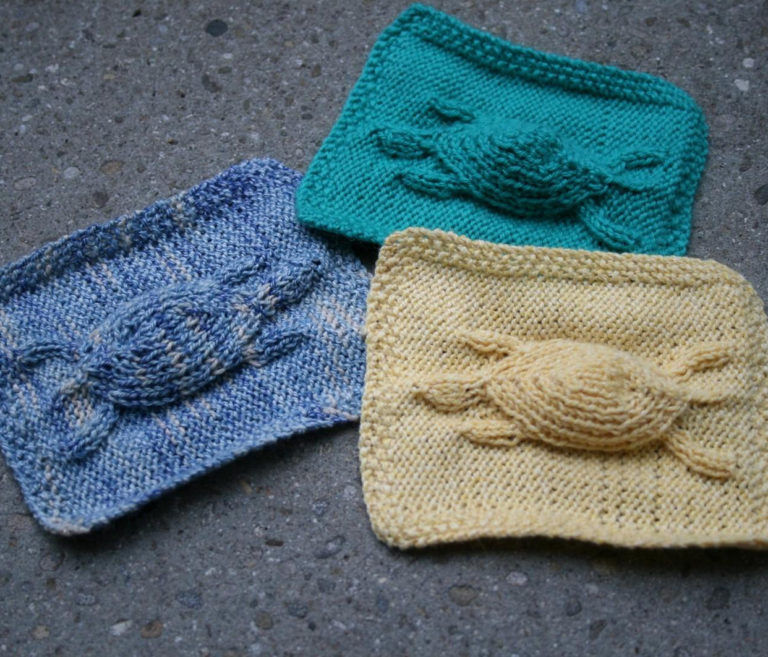 Embossed Turtle Motif Cloth
This clever design by SmarieK takes some skill but it will be worth it. Knitters have incoporated this motif into blankets, sweaters, fingerless mitts, potholders, as well as dish cloths. Pictured project by anjasword.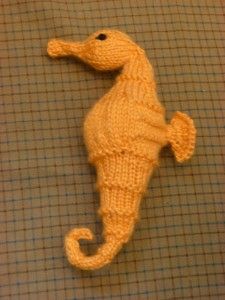 Seahorse
Softie by Thora Bey takes up very little yarn.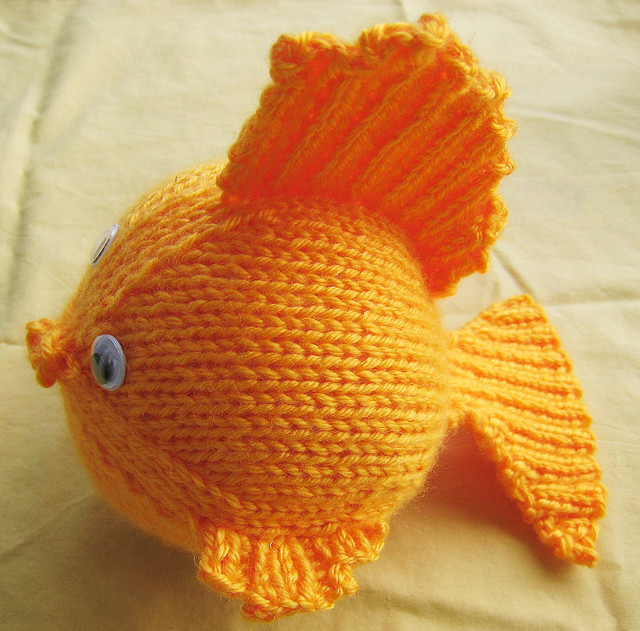 Goldfish
Toy softie fish designed by Susan Dennis comes with two tail variations, stuffed and ribbed, and is easily customized to the color and size of fish you want.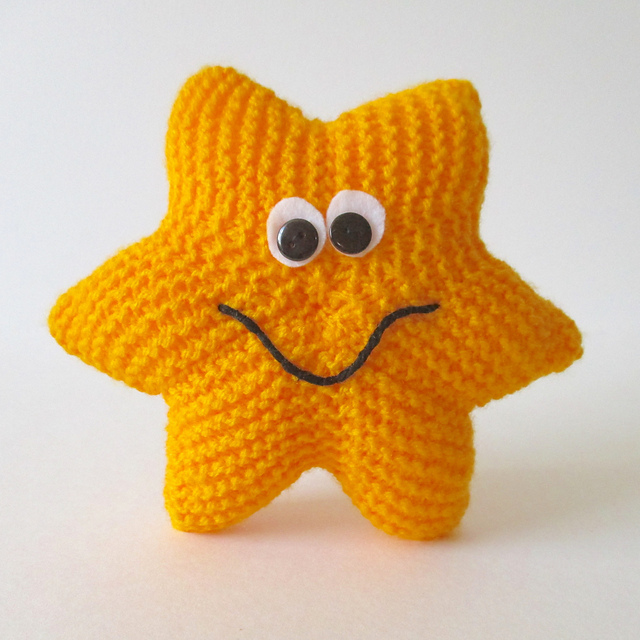 Starfish
Amanda Berry's cute starfish toy is knit flat and seamed. The starfish is approximately 18cm wide (at the widest point).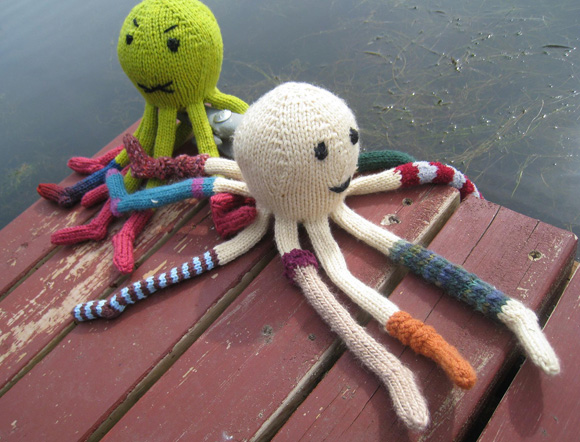 Socktopus
Laura Edwards' sock-wearing octopus uses simple increases and decreases for shaping and a little short-row heel on each sock. Great use for leftover yarn!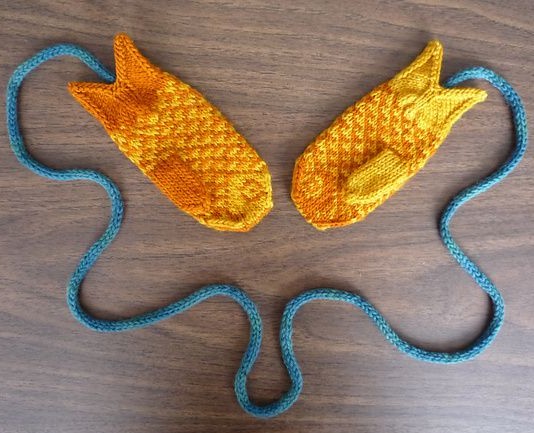 Goldfish Mittens
Amy Christoffers designed these mittens for toddlers but they can be customized for bigger sizes.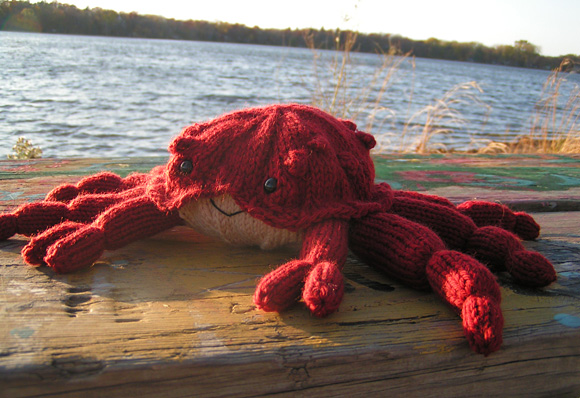 King Crab
Amber Allison designed this friendly crab with a leg span of 14 inches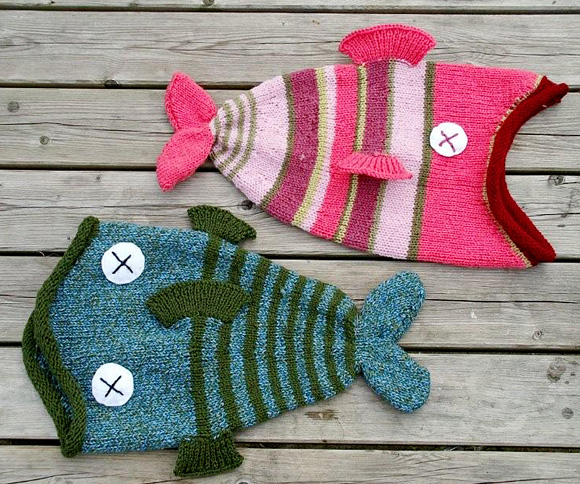 Fish Hat
Great project for stash yarn. Replace the X in the fish eye with a dot for a pupil and you can revive your fish hat!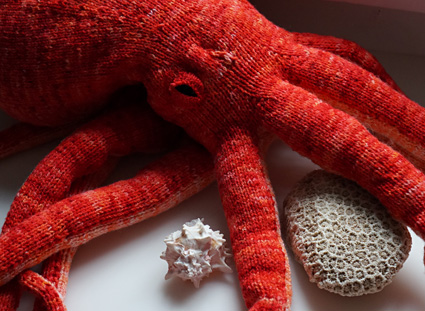 Opus the Octopus
Cate Carter-Evans' octopus is worked in the round with intarsia tentacles worked flat. Opus measures 36 in. / 92 cm in length, and head diameter 8.5 in. / 21 cm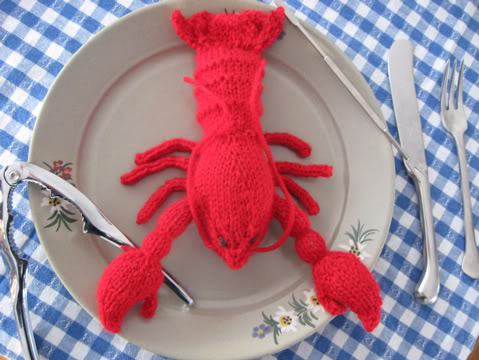 Toy Lobster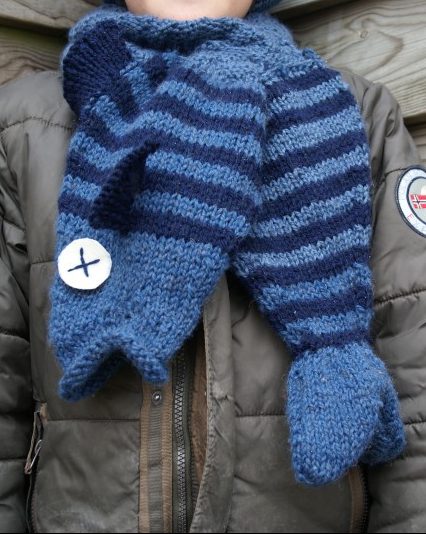 Scarfish
This keyhole scarf was designed by Thelma Egberts to match the fish hat knitting pattern above.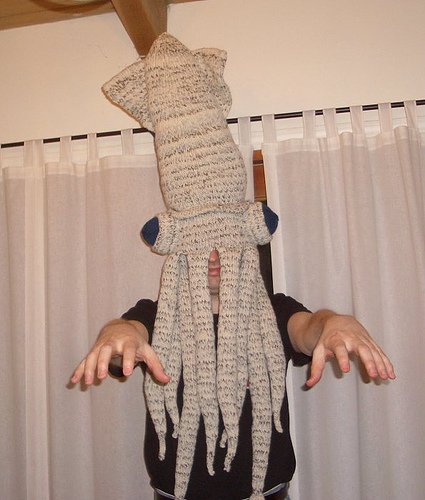 Giant Squid Hat
Designed by Matie Trewe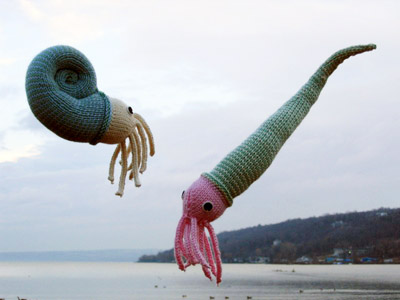 Nautie
Most nautiloids are extinct now but they ruled the seas for 500 million years. Beth Skwarecki designed these nautiloid toys. Coiled nautiloid: approx. 7 inches long, excluding tentacles Straight nautiloid: approx. 18 inches long, excluding tentacles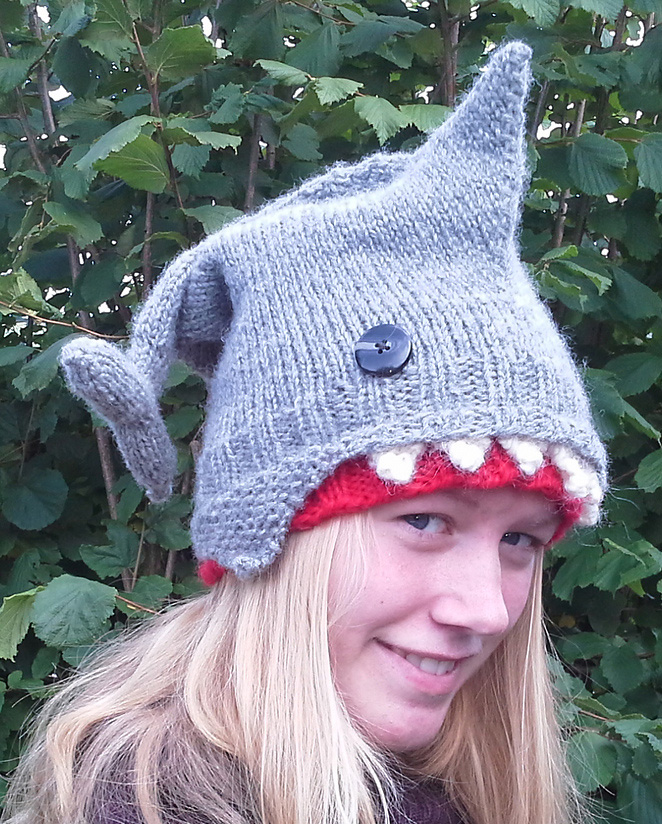 Shark Hat
Adult and child sizes are available for this fierce hat designed by Allison Mcalister. Pictured project by Brsus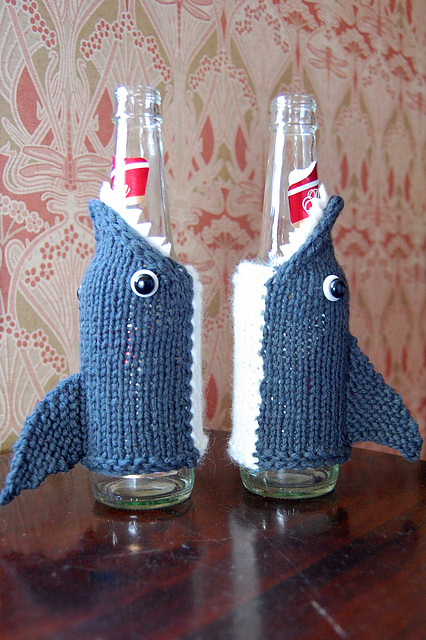 Shark Bottle Cozy
Jenny Sparrow designed this bottle shark that is knit flat and seamed with felt teeth and eyes to give it personality. Great stash buster! Pictured project by lynnike
Patterns for Purchase

Ocean Hat
Knit in the round in a simple textured wave stitch, this hat features an octopus perched on top. Bright fish are knit separately and sewn on. Sizes Newborn, 3-6 mos., 6-12 mos., Toddler, Child, and Adult. DK weight yarn. Designed by Fiddlestyx.

Akiak the Walrus
This walrus toy softie measures approximately 45 cm = 18 inches from head to tail fins.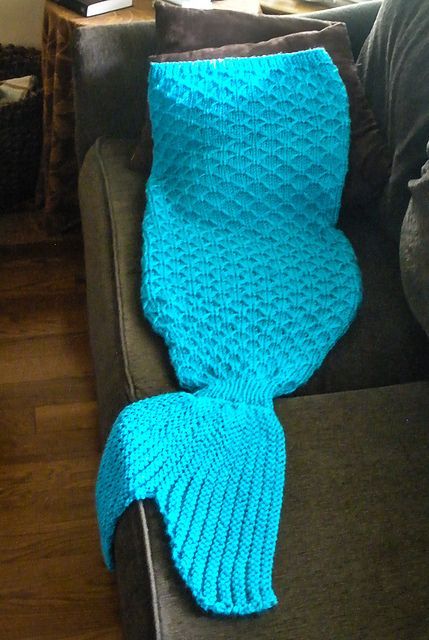 Mermaid Tail Lapghan
Can be knit flat and used as a blanket or knit in the round to use as a cocoon. She has several patterns sized for adults, teens and children, and babies.

Angler Fish, Octopus, Jelly Fish, Hermit Crab Amugurimi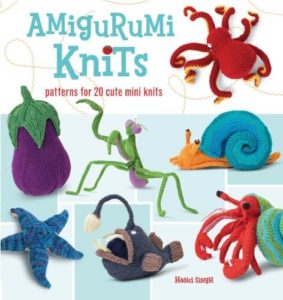 These sea creature toys are included in the book Amigurumi Knits: Patterns for 20 Cute Mini Knits by Hansi Singh. Sizes depend on yarn weight. The book also includes other sea creatures including a giant skid, sea star, and sun star. Use wire and pipe cleaners to stabilize and pose the legs. Pictured project for jellyfish by jessdhill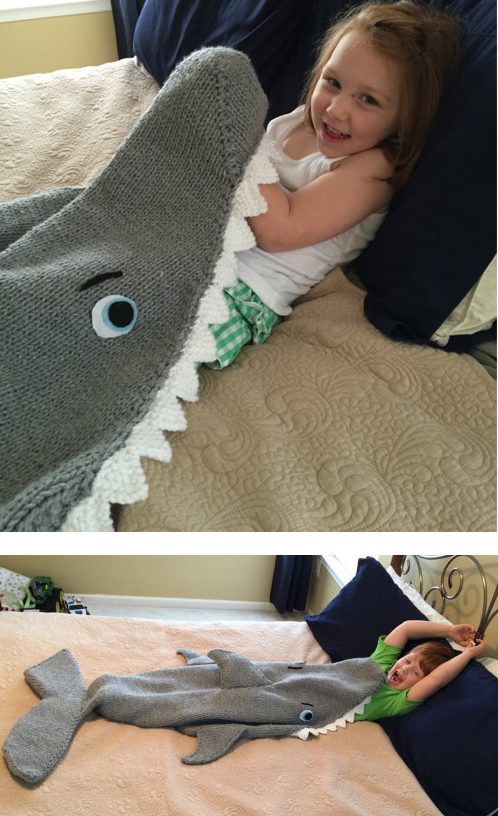 Shark Attack Lap Blanket
Two versions included — one for knitting in the round and one for knitting flat. Small (2 to 6 years) Medium (6 to 10 years) Large (10 to 14 years)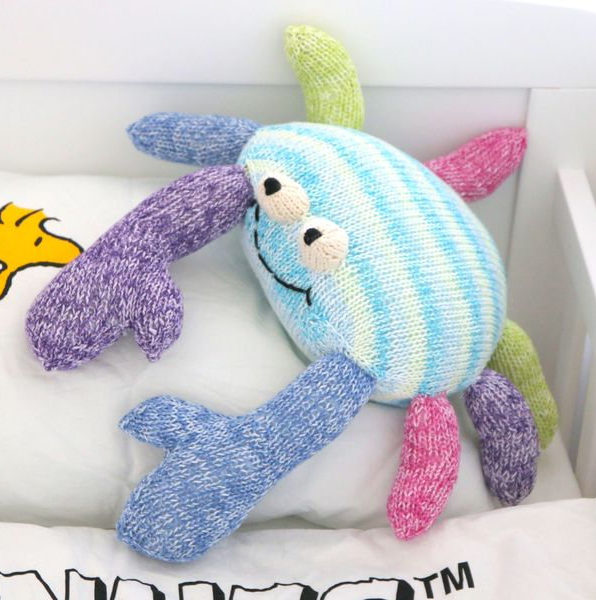 Crab Pillow or Toy
This cuddly crab is easily customized to different sizes by using different weights of yarn. Great stash buster!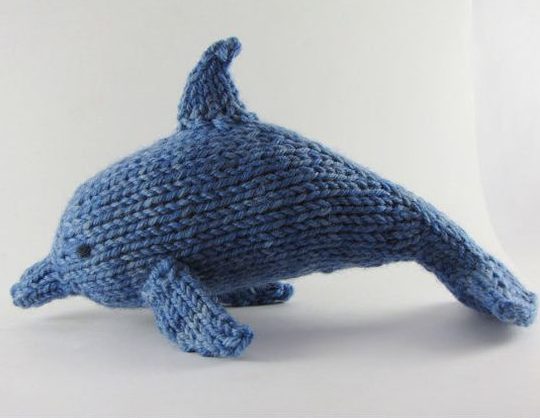 Dolphin Toy
This dolphin's name is Sifiso, meaning 'Hope' in the Zulu language. His body is knitted in 1 piece and the flippers and fin are knitted separately and sewn on. 7 inches from snout to end of tail, 4 inches tall.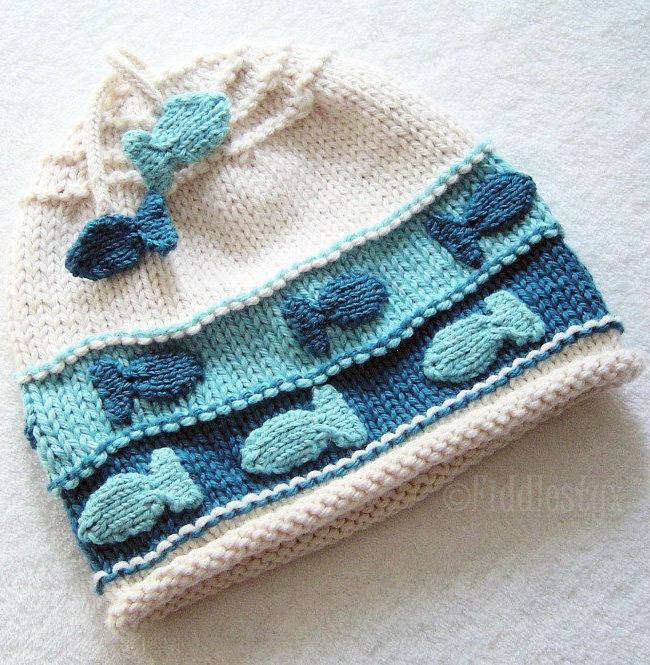 Fish Hat
Beanie with fish motifs in sizes baby through adult. Pattern includes 6 sizes: Newborn * 3-6 months * 6-12 months * Toddler * Child * Adult. Designed by Martha Johnson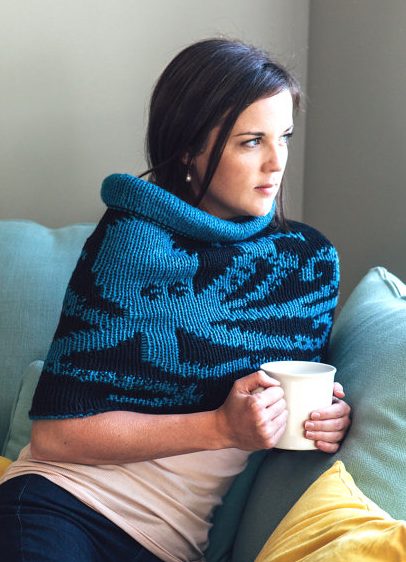 Double Knit Kraken Cowl
This reversible double knit cowl by kraftling can be worn around neck or pulled down around shoulders as capelet or poncho.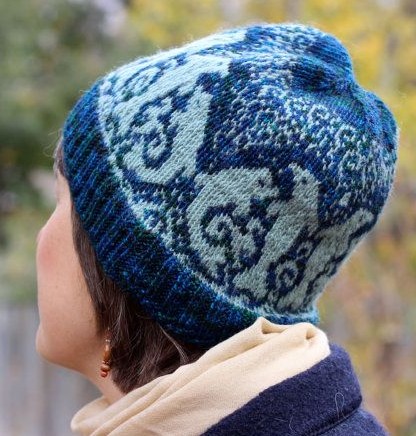 Dancing Dolphins Hat
This fair isle hat comes in two sizes – medium and large. Matching mitts wristwarmer pattern available.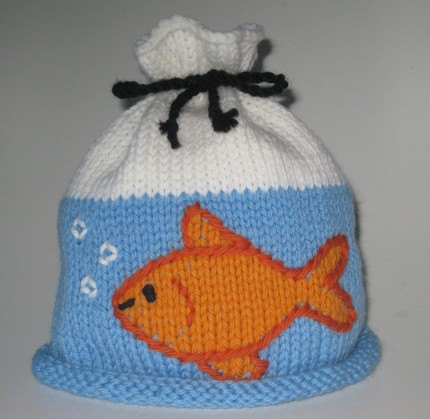 Goldfish in a Bag Hat
Two sizes: infant and toddler. Get the knitting pattern at Etsy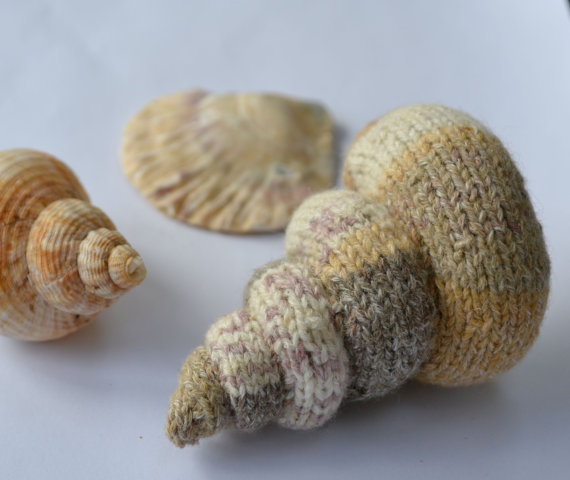 Spiral Shell
Multi-color yarn gives this knitted shell a natural look. It is knitted flat and shaped with short rows that makes the knitting fall into a natural spiral.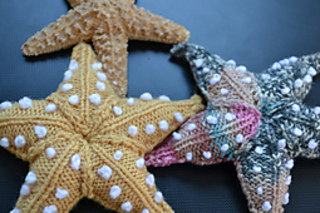 Starfish
Knit your starfish in any size and color!