<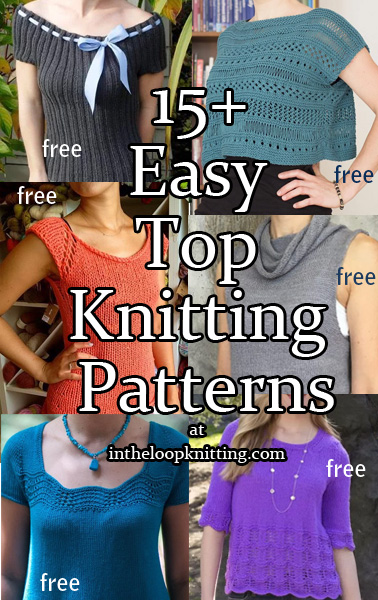 These tops, shells, tanks, and tees are all easy according to their designers and/or the ratings of knitters who used the patterns. Most patterns are free.
To get the knitting patterns, scroll down the page to the individual pattern you want and click on the link to that pattern.
These patterns are not my designs but links to other designers who have generously shared their patterns. If you have questions about how to knit a specific pattern, please contact the designer directly.
All links on this site are for informational purposes, but please note that some links are to affiliate sellers that pay me a small commission on purchases.
Free Patterns

Granite Tank Top
Easy top knit in 2 pieces with minimal shaping use a 4 row repeat granite stitch. It does recommend picking up stitches for an i-cord neckline and includes tutorial. Sport yarn. Designed by Handmade Mayara. Available in English, Spanish, and French.

Eyelet Sleeveless Top
Pullover knit flat in two rectangles in stockinette with easy eyelet rows. Designed by Jessica Reeves Potasz of Mama in a Stitch who says this sleeveless top is perfect for beginners. Sizes XS, S, M, L, XL, XXL. The web version is free and the printable pdf is available on Etsy. DK weight yarn.

Cap Sleeve Lattice Top
Purl Soho designed this tee top that has been rated very easy or easy by hundreds of Ravelrers and features a 4-row repeat lace yoke and stockinette body. Sizes adult small (34″), medium (36″), large (38″). Pictured project by mystique27

Easiest Classic Top
The designer Jessica Reeves Potasz of Mama in a Stitch says this sleeveless top is perfect for beginners since it is knit flat in two rectangles in beginner stitches like stockinette, garter stitch, and rib. In fact she says this is good first project. Sizes Womens X Small, Small, Medium & Large. The web version is free and the printable pdf is available on Etsy.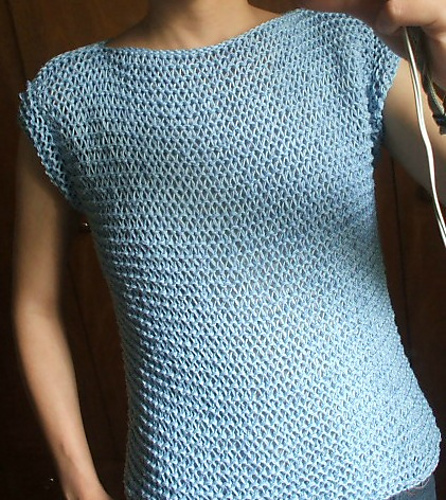 Coral
This sleeveless top was rated very easy by Ravelrers. Designed by Kim Hargreaves. Finished bust: 33-43". Pictured project by marico

Summer Vacation Top
Jessica of Mama in a Stitch designed this easy sleeveless crop top with mesh yoke that's a fast knit with two strands of yarn held together.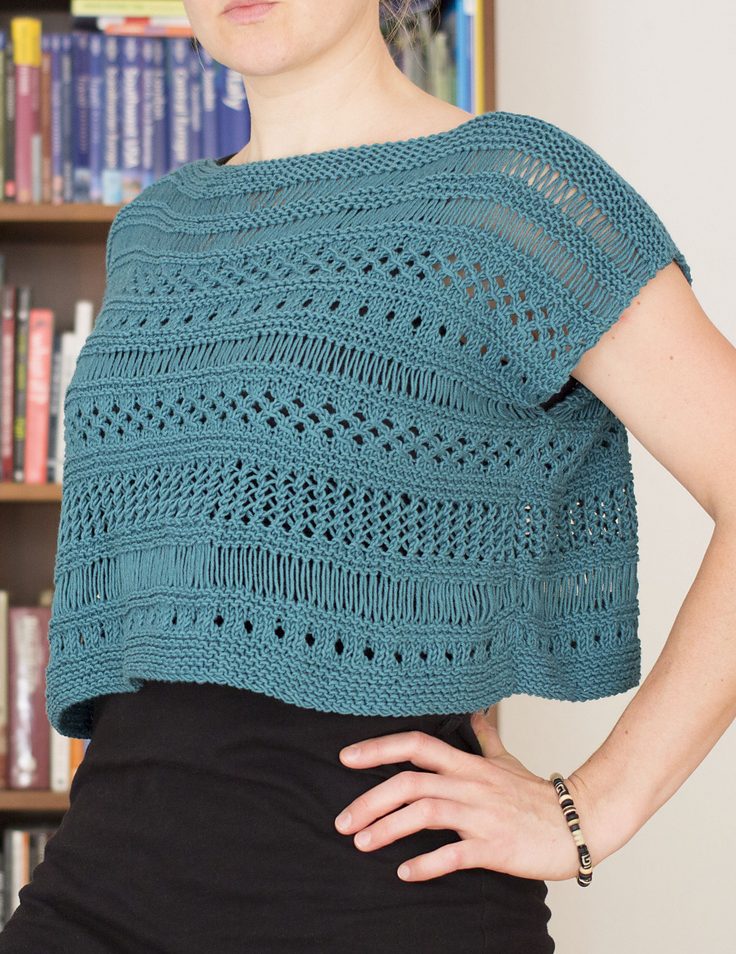 Cancun Boxy Lace Top
Erin Kate Archer's lace-sampler top is knit in two simple rectangles from the bottom up and seamed. The designer says it is very suitable for beginners and it has an easy rating from knitters. Pictured project by miss-power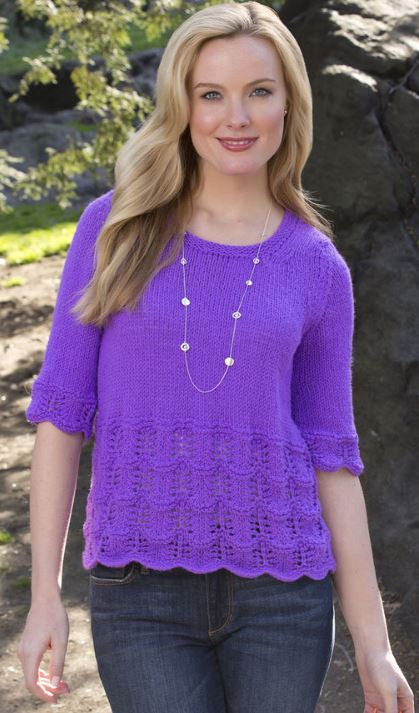 Any Time Top
Melissa Leapman designed this easy lacy short-sleeved top for Red Heart. Sizes Small, Medium, Large, 1X, 2X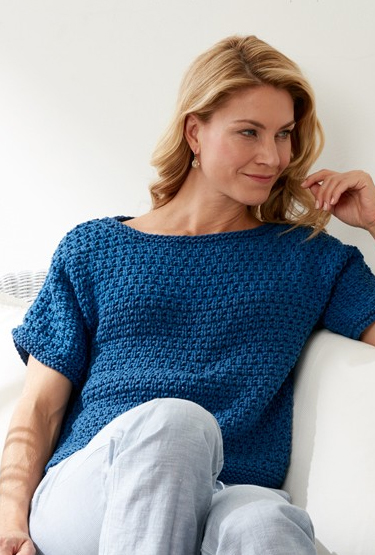 Textured Tee
Easy short-sleeved top pattern from Bernat that knits up quickly in chunky yarn. In sizes from XS to 5XL.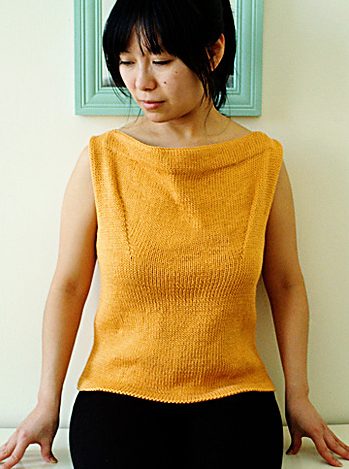 Petrie
Beautia Dew was inspired by the classic 60s style of Laura Petrie to create this sleeveless tank top with draped boatneck. Sizes XS (S, M, L, 1X, 2X, 3X)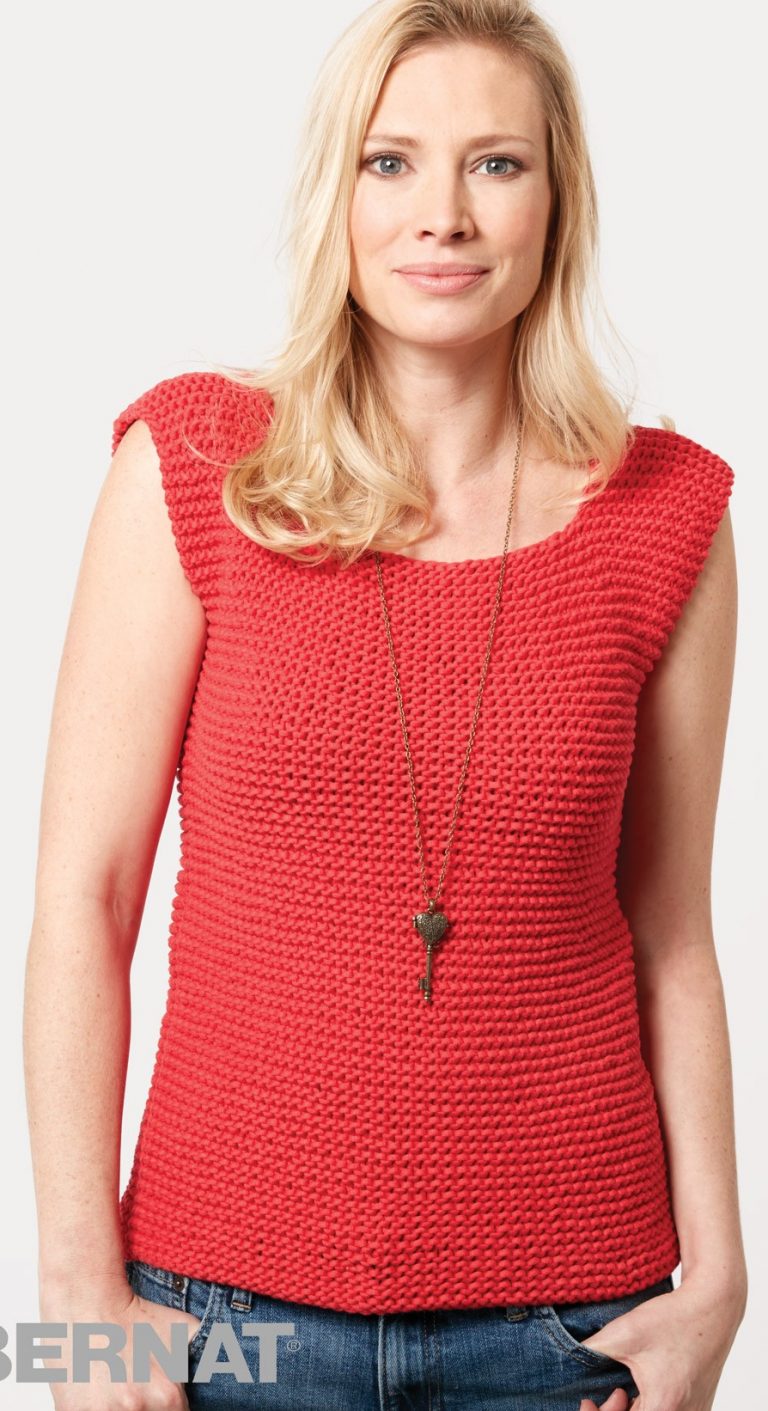 Garter Stitch Tank
This Bernat pattern is so easy it's recommended for beginners. Quick knit in chunky yarn. Sizes XS through 5XL.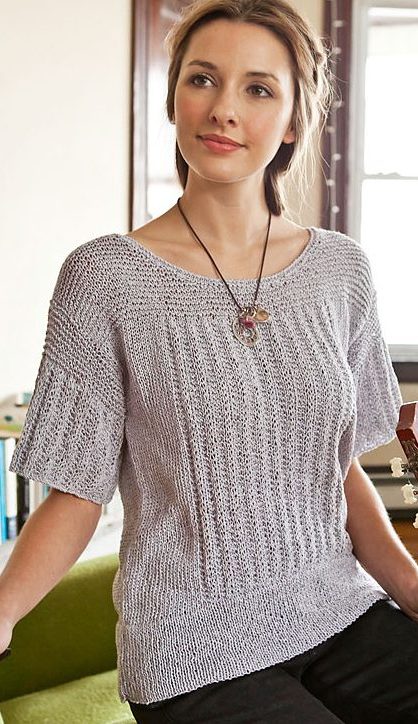 Pern
Norah Gaughan's easy tee top re-interprets the traditional fisherman's gansey with easy slipped stitch rib, garter details, and a generous hem. XS, S, M, L, 1X, 2X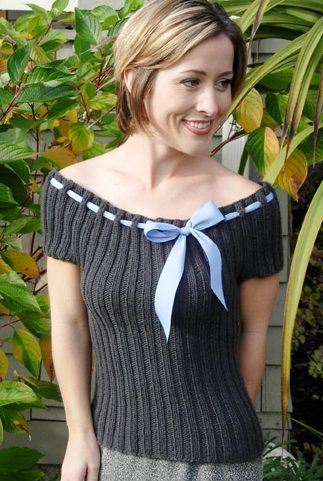 Tempting
Jenna Adorno designed this easy top suitable for beginners. The ribbing eliminates the need for shaping and seamless construction reduces finishing time. A ribbon adds an elegant touch. Finished bust: 32 [36, 40, 44, 48] inches

Easy Little Black Tank Top
Easy sleeveless pullover is knit flat on large needles to get the open mesh look. Designed by Jessica Reeves Potasz of Mama in a Stitch who says this is perfect for beginners. Sizes Womens Small, Medium & Large. The web version is free and the printable pdf is available on Etsy.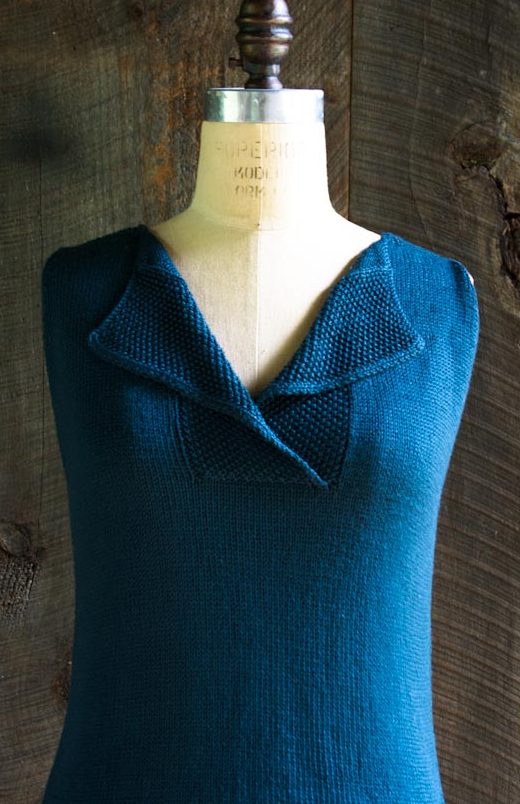 Bamboo Shell
Purl Soho designed this sleeveless top in seed stitch and stockinette. Three length options: Short, waist-length; Medium, dropped-waist; Long, hip-length. Sizes 32 (36, 40, 44 1/2, 49)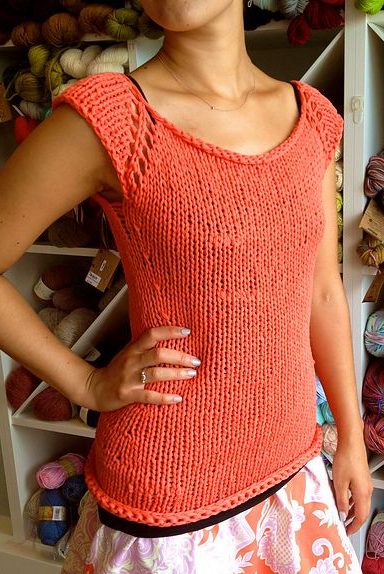 Bulky Summer Tank
Emma Fassio's free pattern for Rosa's Sleeveless Cardi -Jumper was adapted into this easy cute sleeveless top by clairegirl.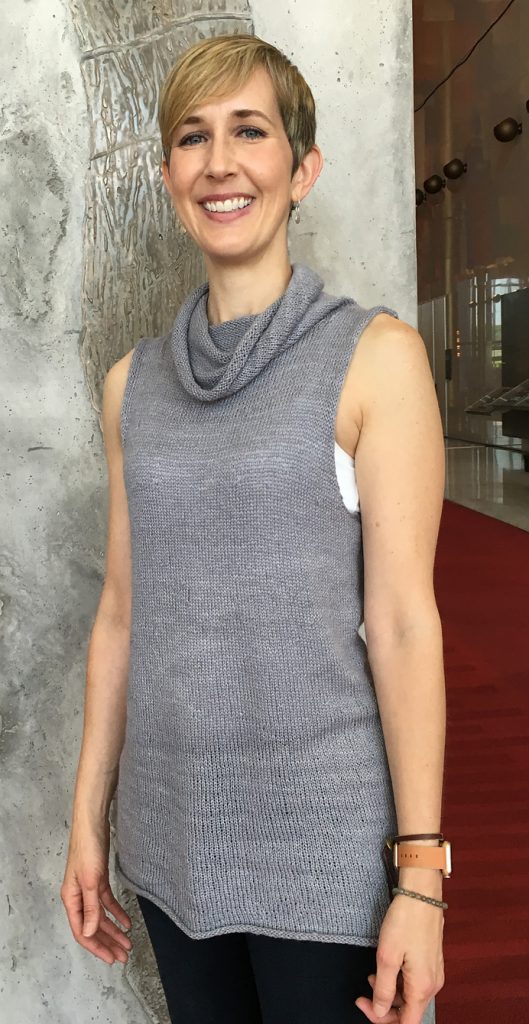 Cowl Vest
Purl Soho designed this easy sleeveless top for layering with cowl neck. Sizes 32 1/2 (35 1/2, 38 1/2, 41 1/2, 44 1/2) Chest. Pictured project by joybranagan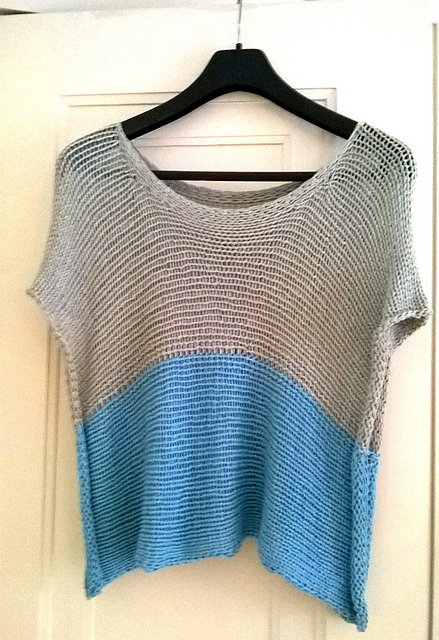 Rowan Straight Top
Angela Juergens designed this comfortable, flattering tee that's a fast knit in bulky yarn. Sizes S, M, L, XL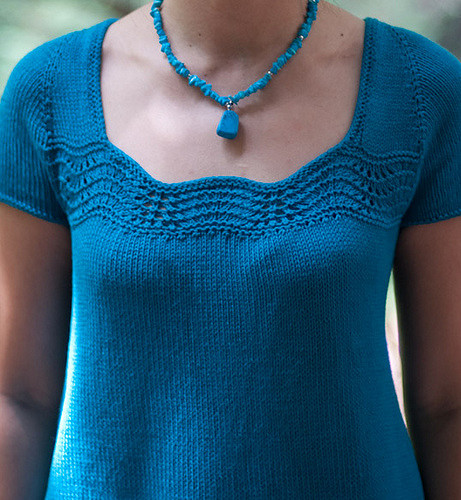 Buttercup
Heidi Kirrmaier designed a top down, seamless raglan, A-line top, with lace at the neckline and hem. Sizes to fit bust 30 – 50 inches. This does have some difficulty ratings – most knitters thought it was easy but some felt it was more intermediate. Pictured project is by Sirianne

Arleen
Dona Knits' simple pullover is knit from the top in one piece and seamless. You can customize the length of the top and the sleeves easily. It does include crochet for the button opening but knitters report that the instructions are easy. Sizes 34″, 36″, 38″, 40″, 42″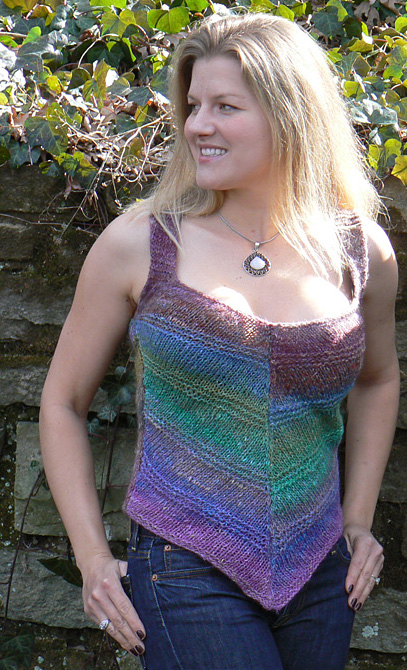 Askew
Cheryl Kemp's tank top's bias diagonal makes a simple v-neckline. No shaping and minimal finishing makes Askew a quick and easy project. Sizes XS[S, M, L, 1X, 2X, 3X] Great with multi-color yarn!
Patterns for Purchase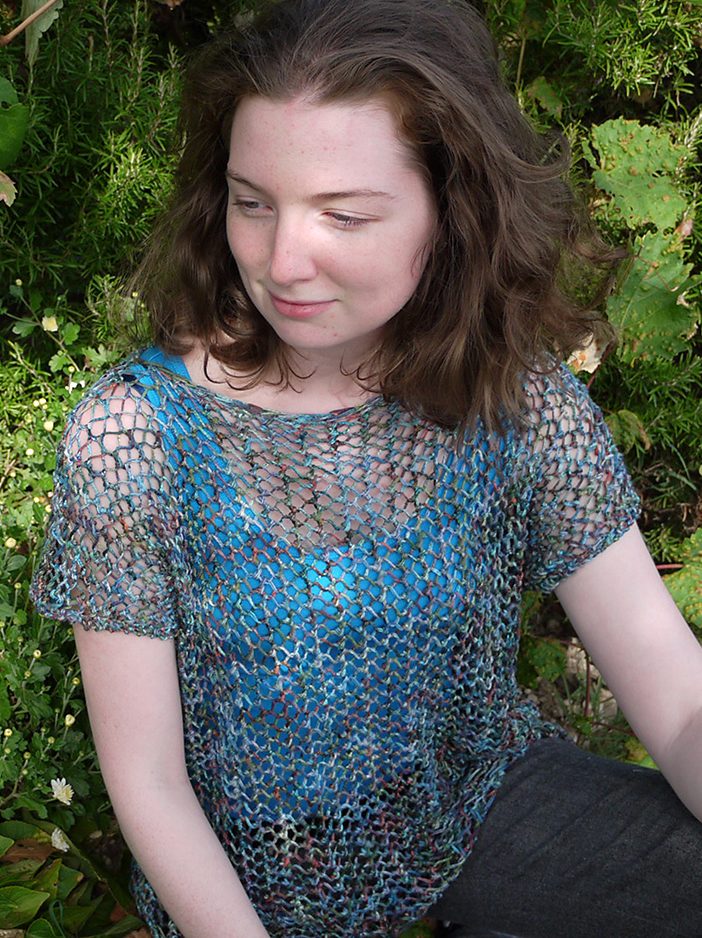 Lucente
This openwork top by Kennita Tully looks great in multi-color yarn. Quick knit great for layering or could even work as a cover up. S (M, L, XL, 2XL, 3XL)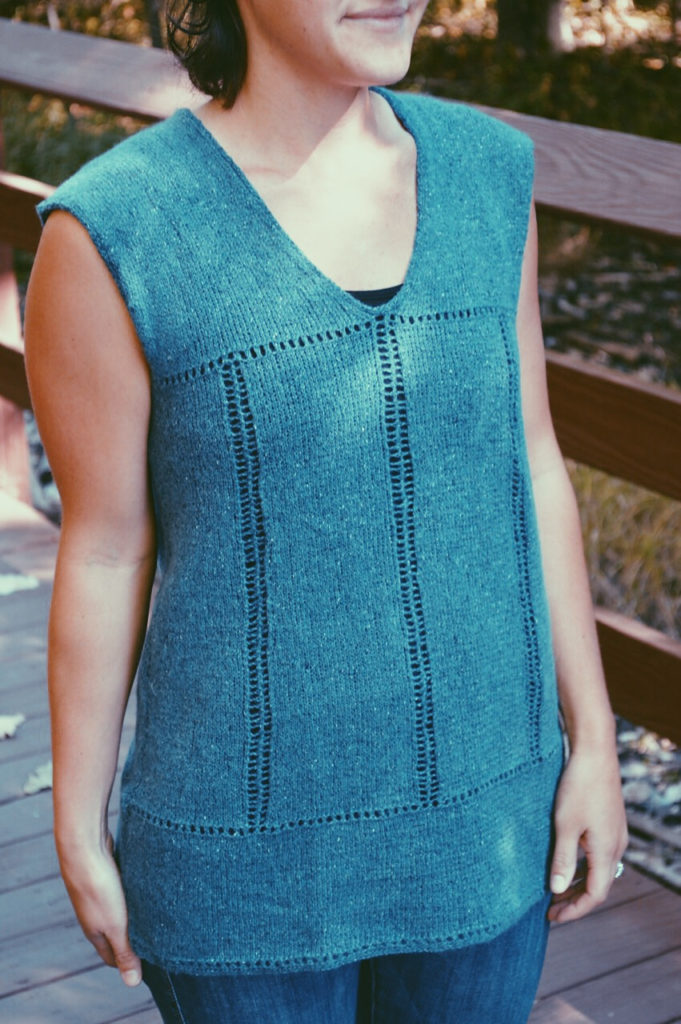 Everyday Tunic
This simple sleeveless tunic length top features eyelet rows and columns set on a stockinette background and a V neckline. Rated easy by Annie's. To fit bust: 34 (36, 38, 40, 42, 44, 46, 48, 50, 52)"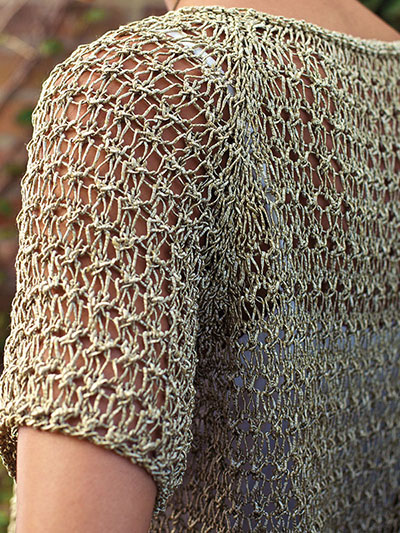 Void Pullover
Openwork lace top is worked in an easy 4-row lace pattern with a larger gauge. To fit bust: 30 (34, 38, 42, 46, 50, 54)"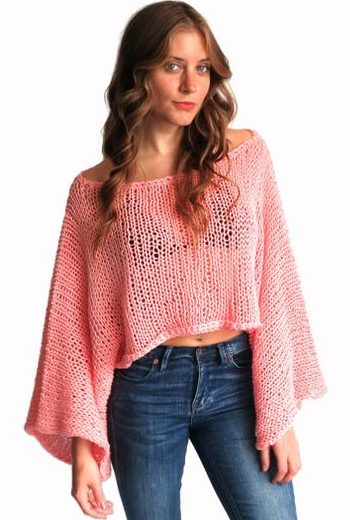 Yucatan Sweater
Two of Wands designed this easy pullover that is great for layering or coverup. Fast knit in worsted yarn on oversized needles. It does include a single crochet stitch for the border.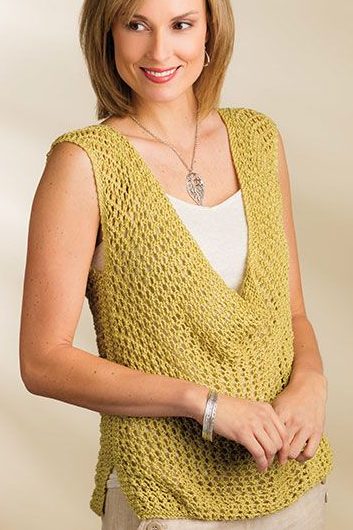 Indus
I love the drape neckline of this lace sleeveless top / shell. Woman's S (M, L, XL, 2XL) Sport weight yarn.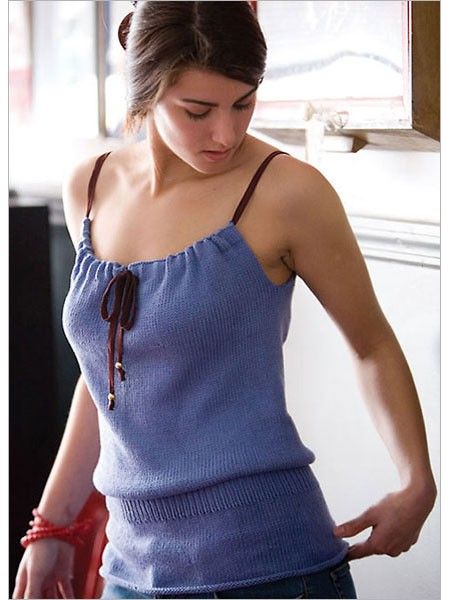 Summertime Tunic
Easy pattern for simple tunic is a breeze to knit – you don't even need to shape armholes. Long ties threaded through foldover casings provide both armhole and neckline shaping. Finished Size: 29" (33, 37, 41, 45)" bust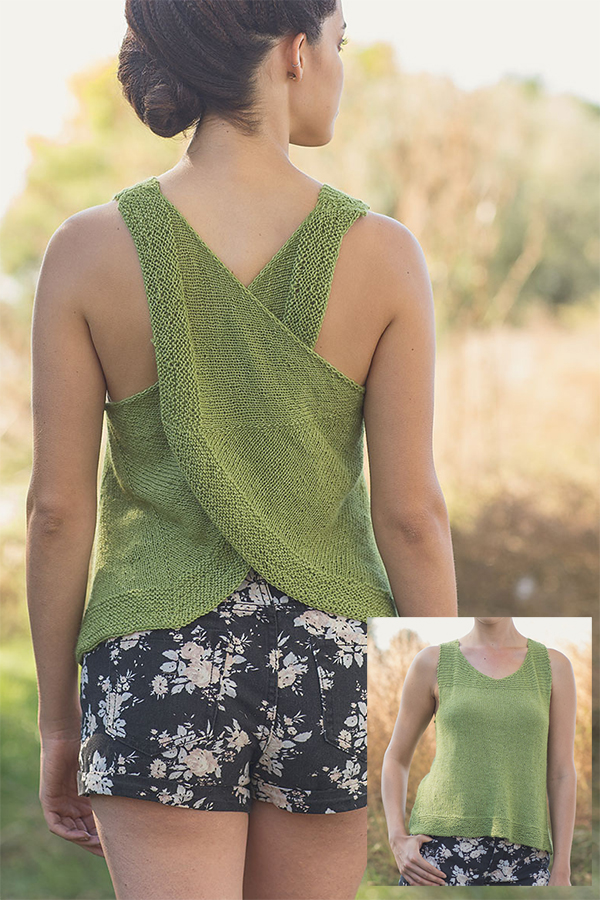 Green Apple Tank
With its intriguing crossover back, Amy Palmer's design is an easy knit in simple garter and stockinette stitches knit from the top down. Sizes 14½ (16¾, 19, 20¼, 21¾, 24)" front width.