Variegated Yarn Knitting Patterns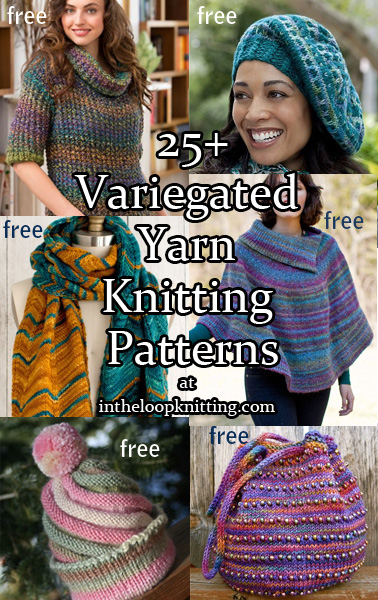 Knitting patterns for multi-color, variegated, ombre, and self-striping yarn. Most patterns are free.
To get the knitting patterns scroll down the page to the individual pattern you want and click on the link to the pattern.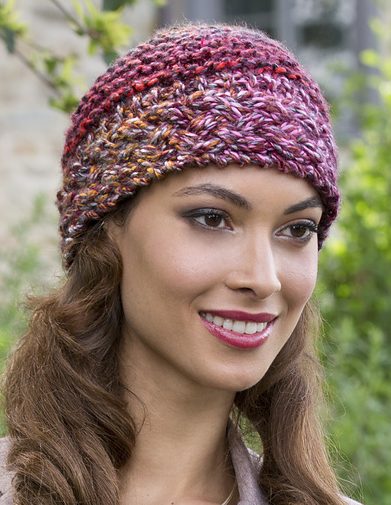 Berries Blast Beanie
Cathy Payson designed this stylish beanie with cable band for Red Heart Yarn. Stitches are picked up from the band to knit the garter stitch body. Red Heart sent me a free sample of the bulky Medley yarn used for this hat. Although I haven't had a chance to knit with it yet, it's very soft and the colors are striking.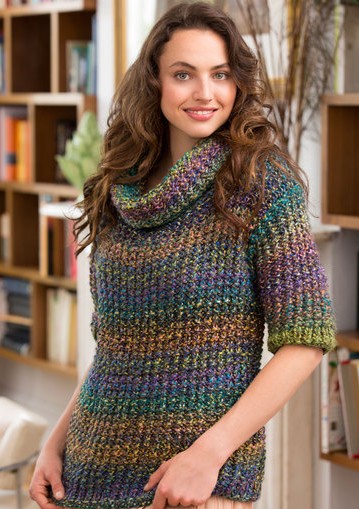 Cowl Neck Slouchy Sweater
I love cowl necks! Cathy Payson's sweater knits up quickly in broken rib pattern with Red Heart's bulky Medley yarn. Stitches are picked up from the neckline to knit the cowl. Red Heart sent me a free sample of the bulky Medley yarn used for this hat. Although I haven't had a chance to knit with it yet, it's very soft and the colors are striking.
Flutterwheel Poncho
Berroco designed this split cowl neck poncho that is knit in two pieces.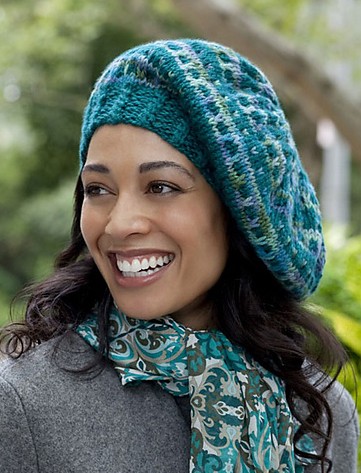 Slip Stitch Beret
Easier than it looks! Lisa Gentry designed this easy beret for Caron. Mixing multi-color yarn and solid color yarn with an easy slipped stitch colorwork pattern gives a look like complicated stranded colorwork. Three sizes.
WesterWaldWaves Scarf
kaeidschie's lace scarf combines two feather and fan lace patterns to showcase the colors of variegated yarn.

La Riviera Shawl with Brioche Border
This design by Elaine Phillips uses a solid color brioche stitch to set off the gradient colors of the yarn.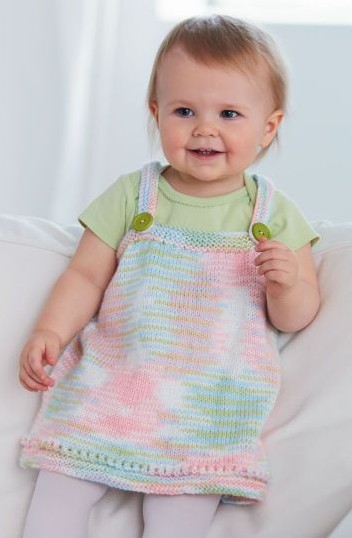 Pinafore Jumper
This baby jumper features a pretty eyelet lace hem and button straps. Sized for 6, 12, 18 months. Recommended yarn available on pattern page.
[widget id="black-studio-tinymce-9″]
Swirled Ski Hat
Designed by Caps for Kids, this cap comes in 2 sizes. Knit flat from side to side, increases on one side and decreases on the other turn vertical stripes into swirls when the cap is seamed.
Sugar Stick Infinity Scarf
Kristine Byrnes designed this scarf with a modified sugar stick rib that is easy to memorize and showcases that special hand-painted yarn.

Basketweave Lace Shawlette
Riin Gill designed this pattern that's easy to memorize and knit while watching TV. Full size shawl version also available. One skein of the recommended yarn is enough for the shawlette. Two skeins for the shawl.

Chrysantheme Shawl
Sabine Naumann designed this double knit shawl with floral pattern.

Be Kind Hat
Multi-color yarn adds interest to this easy gender neutral 3 by 2 ribbed beanie designed by Melissa Simpson. You might want to try a tubular cast on to keep the bottom stretchy.

Favorite Scarf Ever
Lisa Bruce designed this chevron lace specifically to show off variegated yarn.

Bias Stripe Afghan
This stunning throw is knit in strips with contrasting diagonal stripes and multi-color yarn and then seamed. Designed by Karen King Garlinghouse for Noro. One of the 35 patterns in Noro Knitting Magazine, Fall/Winter 2013, Issue 3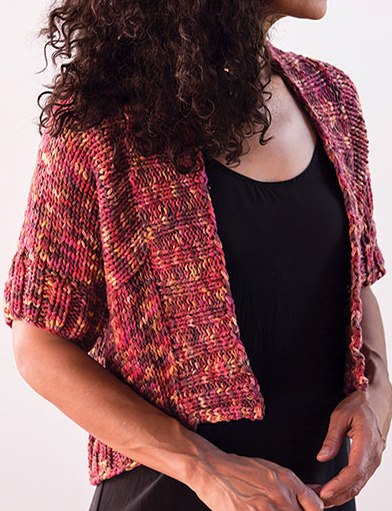 Sibilla Cardigan
Flattering cropped cardigan with short sleeves made with a simple, modular construction. Quick knit in super bulky yarn. Great with multi-color yarn! XS (S, M, L, XL, 2XL, 3XL). Designed by Amy Christoffers

Rhythm Kimono
Self-striping yarn adds style to this kimono style cardigan. Finished bust is 40 1/2 (44)".
[widget id="black-studio-tinymce-13″]

Channel Cowl
Dropped stitches make variegated yarn pop in this circular cowl that converts into a capelet. This is one of the patterns in Creative Knitting, Summer 2015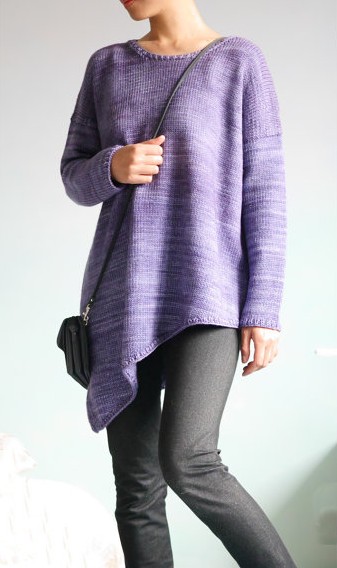 Al Mare Pullover Sweater
Cristina T. Ghirlanda's oversized pullover sweater features an asymmetric hemline and a lovely drape. XS (S, M, L, 1X)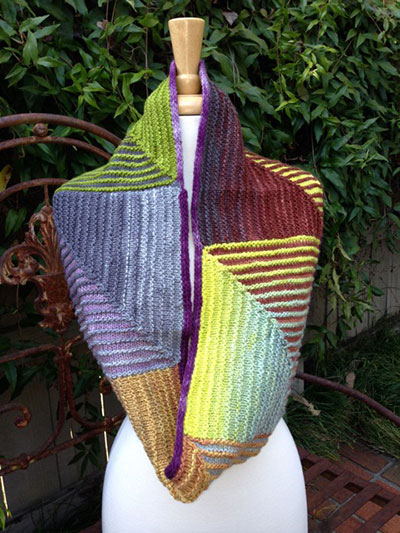 Mitered Obsession
A combination of mitered squares and ombre yarn make a stunning cowl.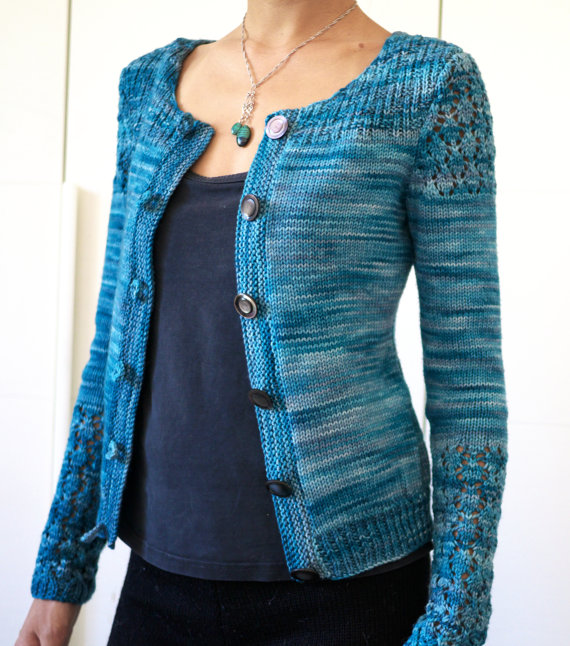 Costanza Cardigan
Cristina T. Ghirlanda's fitted cardigan features lace sleeves and shoulders and is knit in pieces. XS (S, M, L, 1X, 2X)

Lace on the Edge Hat
The unique lace brim of this hat sets off the self-striping colors. Sizes Adult S/M (L/XL)
Reversible Cowl
Audrey Kerchner's cowl looks the same on both sides so you can twist and wrap however you want.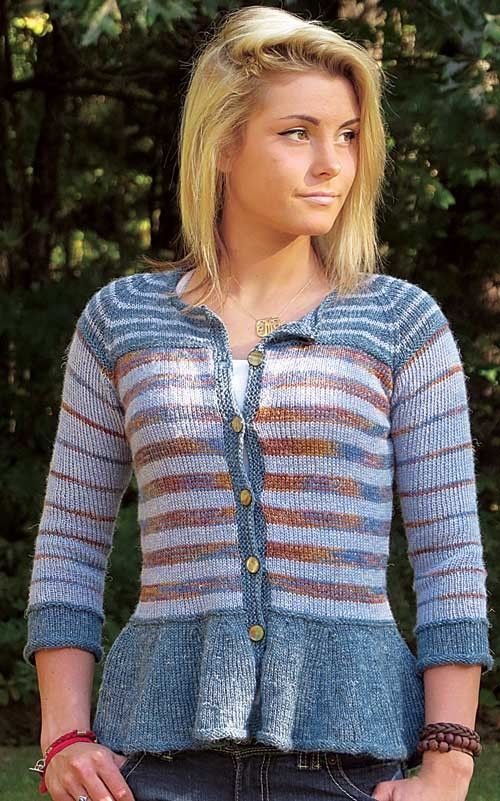 Pepperelle Cardigan
Stripes of hand-painted multi-color yarn brighten Helene Rush's striped cardigan with peplum. 35(39,43,48,52)"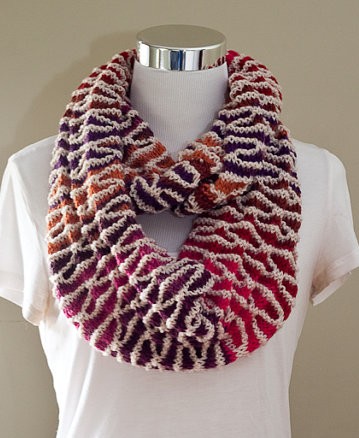 Colored Diamond Cowl
Audrey Kerchner's cowl is an easy color change pattern. NO stranding or fair isle color working required.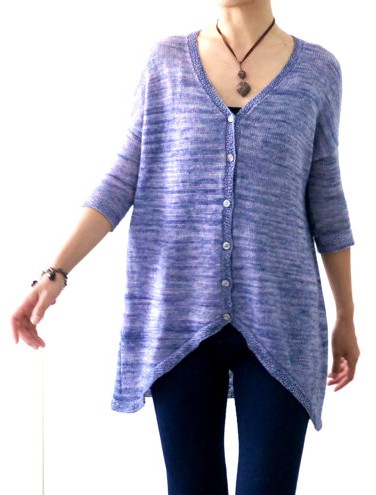 Bella Vita Cardigan
An asymmetric hem adds edge to Cristina T. Ghirlanda's lightweight oversized cardigan that is worked in one piece from the bottom up.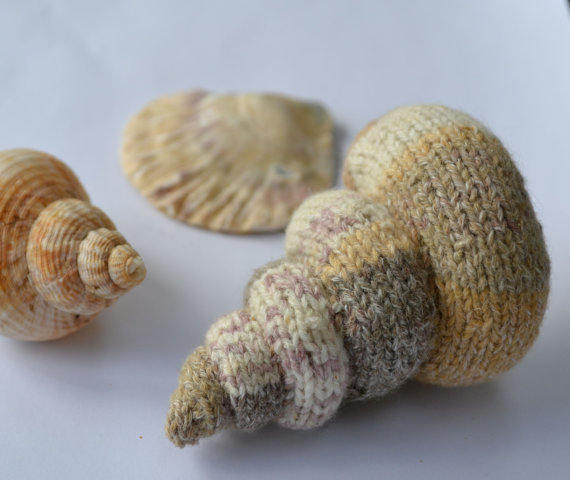 Spiral Shell
Multi-color yarn gives this knitted shell a natural look. It is knitted flat and shaped with short rows that makes the knitting fall into a natural spiral.
Terry Matz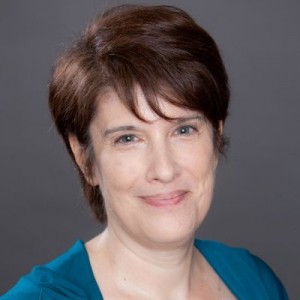 Terry is a knitting late-bloomer, learning to knit as an adult from Internet tutorials, because she wanted a craft that was useful, fun, and portable. Knitting hats for cancer patients inspired her to design her own patterns—available for free at her blog, intheloopknitting.com. Terry met her husband Ken at a science fiction convention and moved to the Kansas City area to be with him more than 30 years ago. Terry supports her yarn stash by creating websites and other digital media. Terry firmly believes in Knitting in Public—it's a great conversation starter!