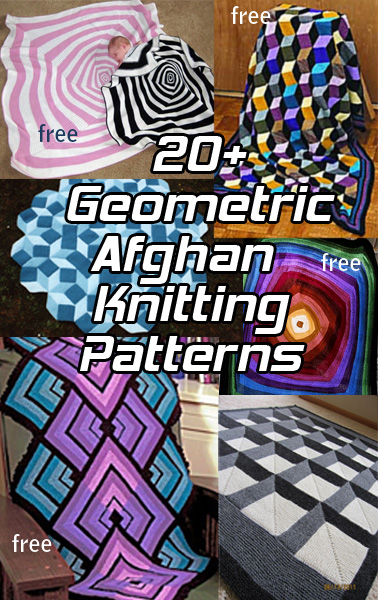 Bold graphic patterns for afghans, blankets, and throws create dramatic beautiful designs from op art, pop art, optical illusion, and mathematical formulas. Easier to knit than they look like they should be, they are fun to knit and will get you lots of compliments. Many of the patterns are free. Updated 4/3/23
To get the knitting patterns, scroll down the page to the individual pattern you want and click on the link to that pattern.
These patterns are not my designs but links to other designers who have generously shared their patterns. If you have questions about how to knit a specific pattern, please contact the designer directly.
All links on this site are for informational purposes, but please note that some links are to affiliate sellers that pay me a small commission on purchases.
Free Patterns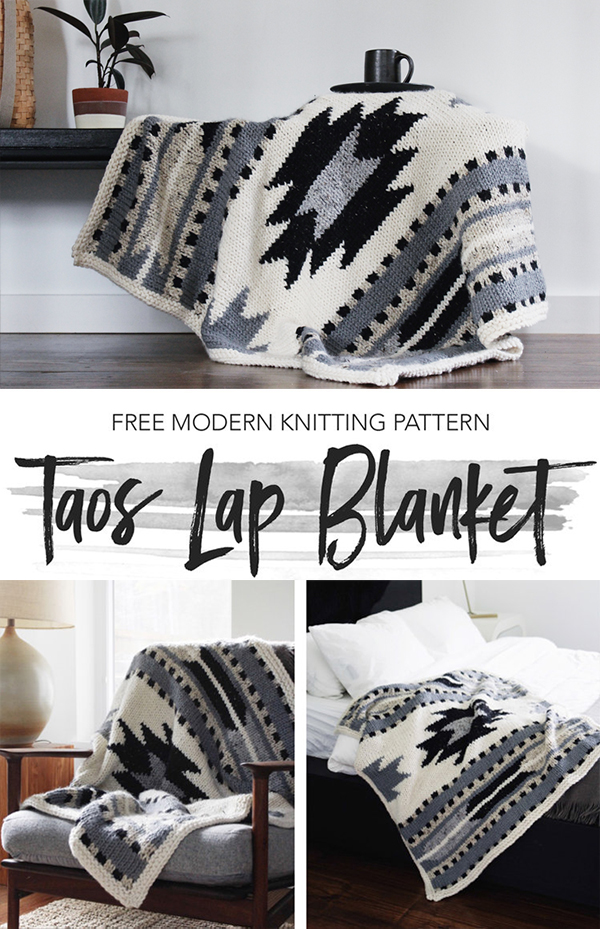 Taos Lap Blanket
Afghan knit with a southwestern graphic design in intarsia and stranded colorwork. Designed by Alexandra Tavel. Width: 37"/94cm Length: 42"/107cm. Super Bulky weight yarn.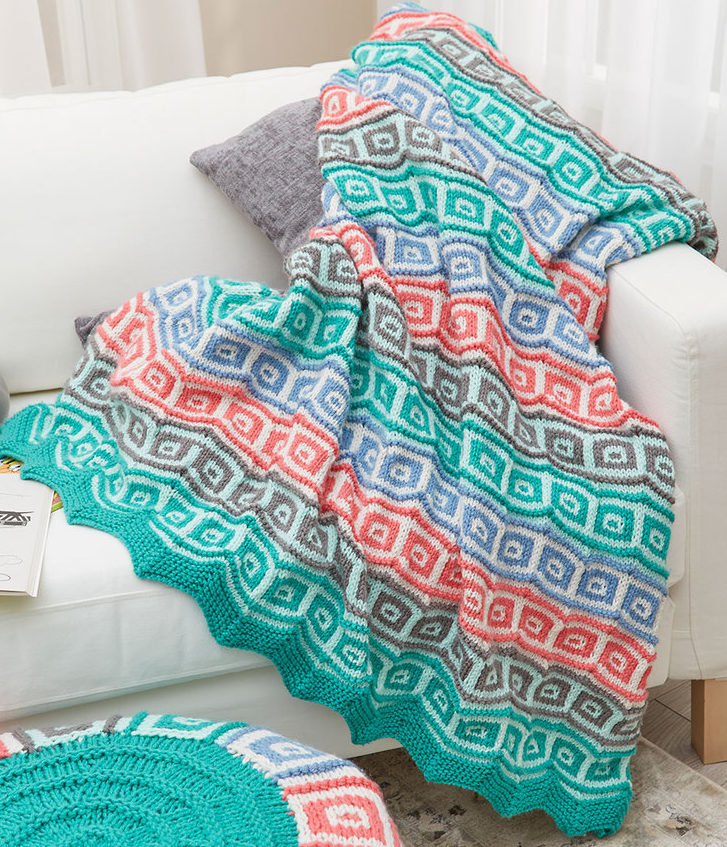 Mosaic Squares Throw
This colorful afghan is knit flat in sections of Zigzag Garter Stitch, Divider, and Mosaic Square patterns. Designed by Heather Lodinksy for Red Heart. Throw measures about 56 x 56″ [142 x 142 cm].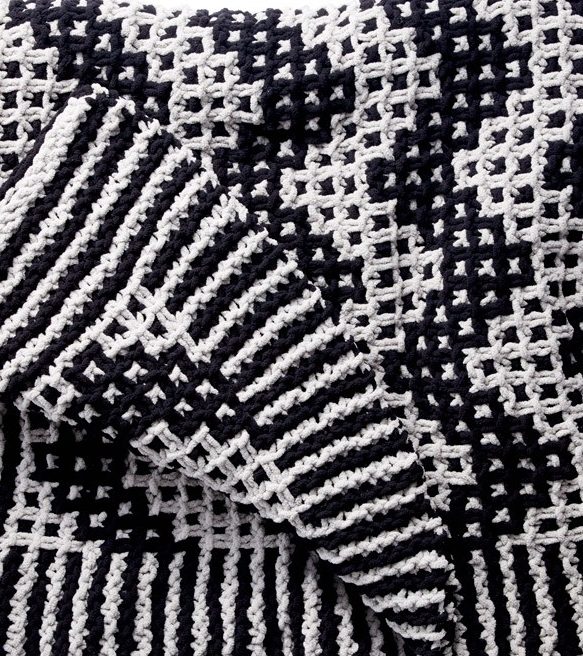 Mosaic Chevron Blanket
Great pattern for Bernat Blanket Yarn, this afghan features a two color mosaic zigzag that's a quick knit in super bulky yarn.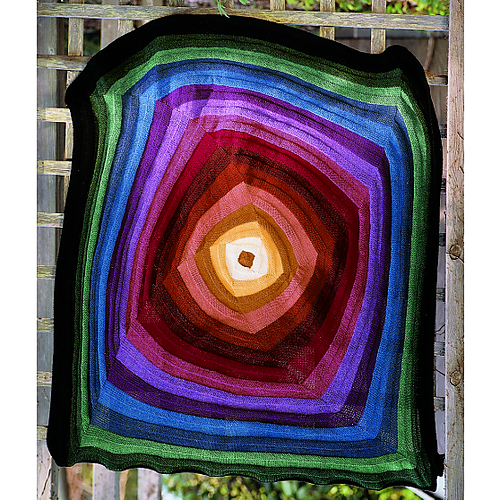 Artful Afghan / Centerpiece Treasure Afghan
The unusual shape of this Lion Brand design is achieved by knitting in the round and increasing out from the center. Approximately 64 inches diameter.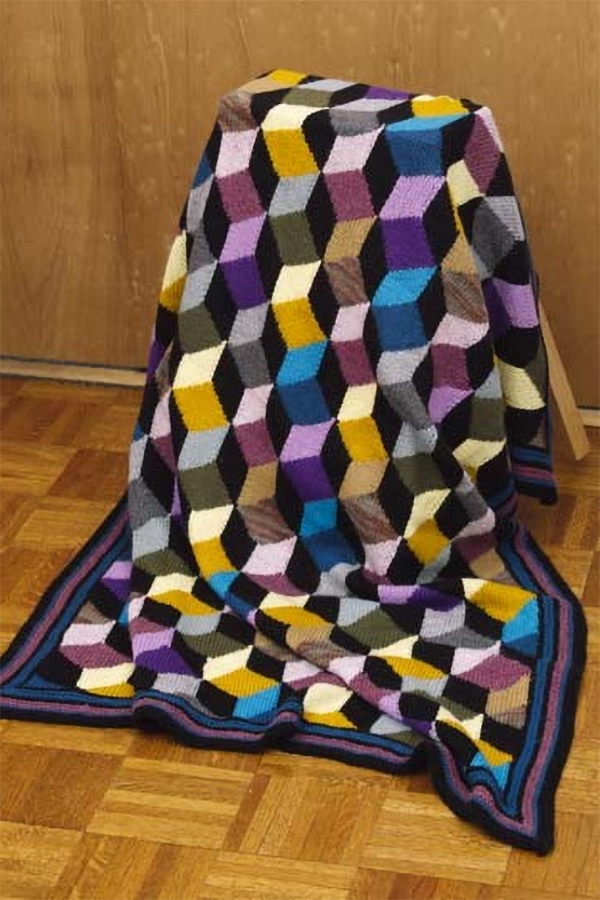 Tumbling Blocks Afghan Throw
Variations listed at Ravelry for fewer colors or larger blocks.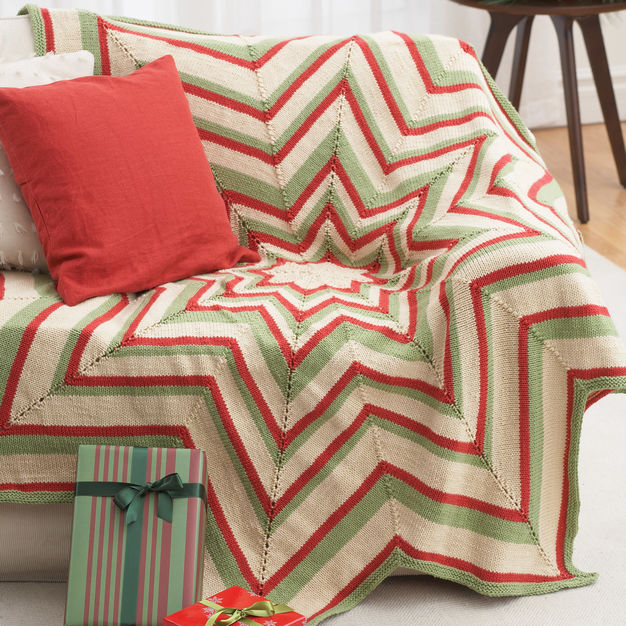 Festive Star Afghan
Approx 70 ins [178 cm] diameter.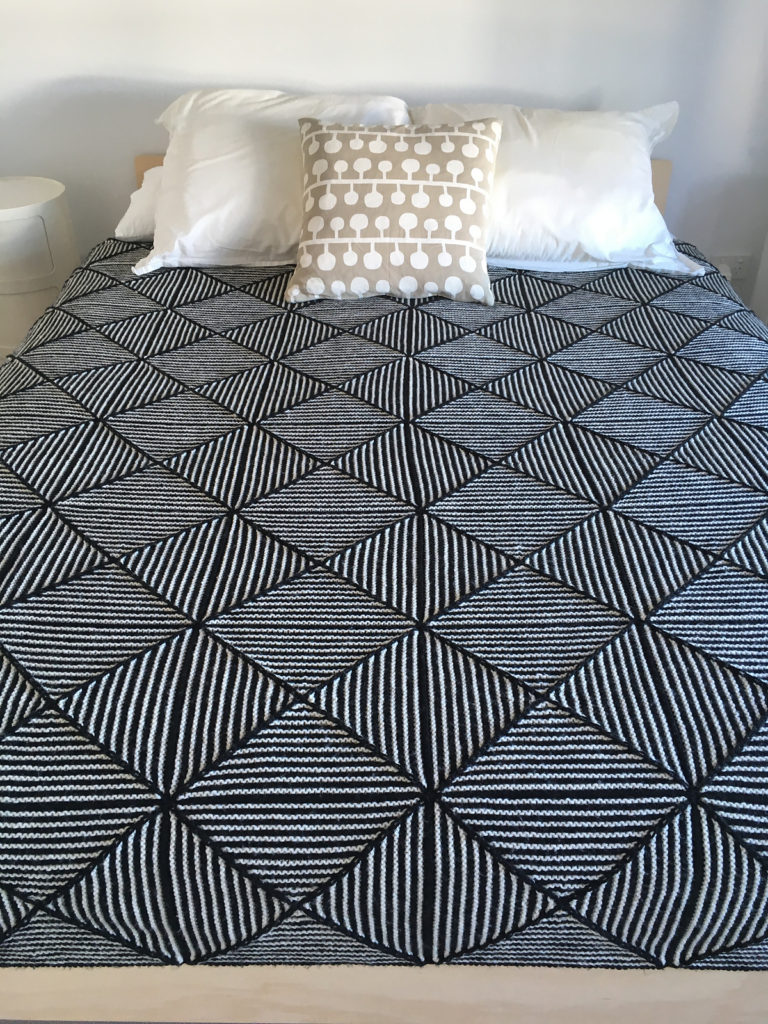 Optic Blanket
Graphic blanket in striped squares knit in the round and joined by picking up stitches. Designed by Purl Soho. Finished dimensions: Approximately 48 inches wide x 56 inches long. Pictured project by knitsbakesruns
More Free Patterns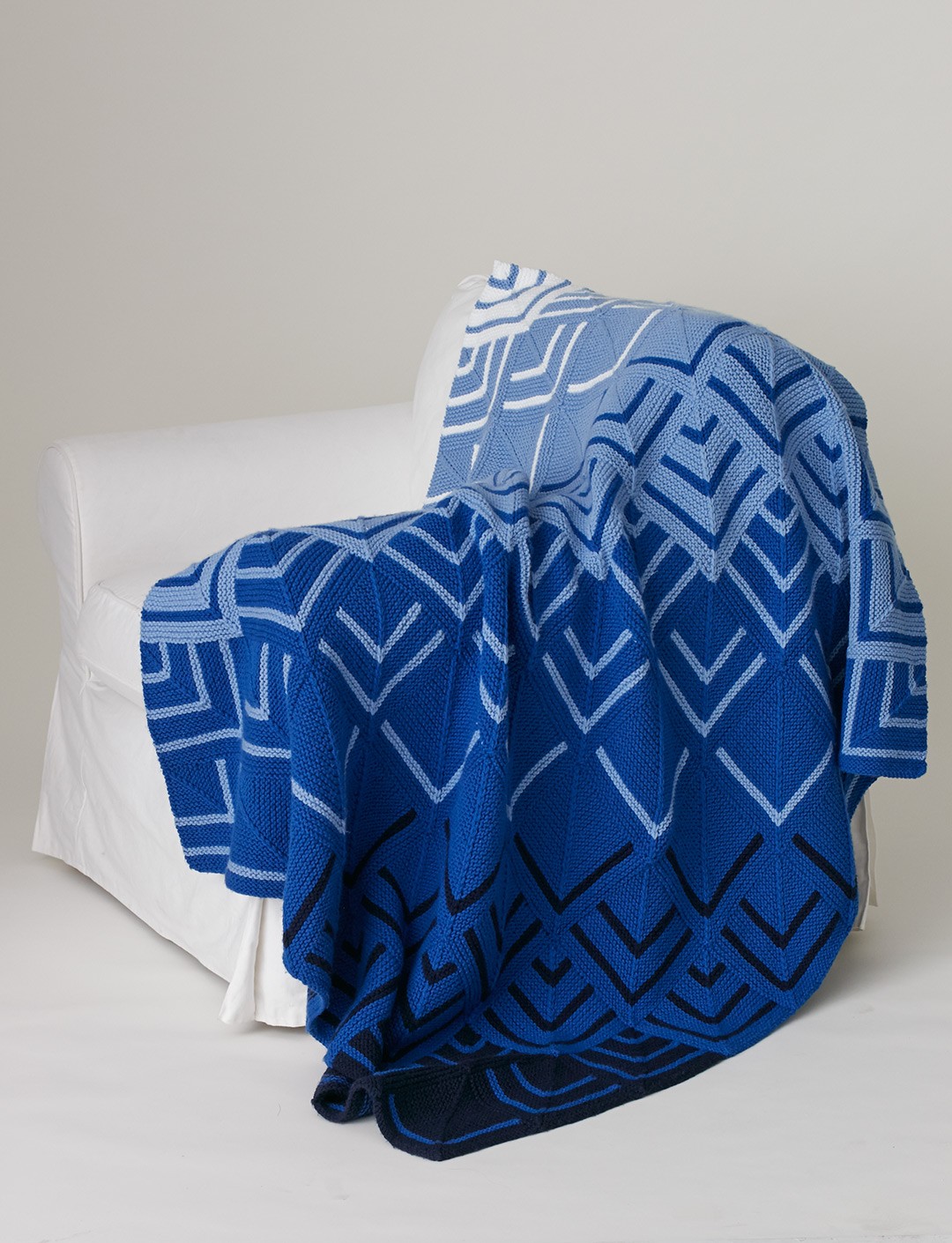 Cascading Colors Mitered Blanket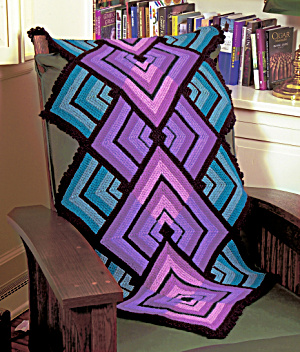 Mitres in Motion Throw or Shawl
Simple decreases create the squares. The patchwork technique of adding squares as you go is done by picking up stitches along one side of the square to begin the next one. Each Square: 71/4inches x 71/4inches. Finished Dimensions of Shawl/Throw: 60inches x 30 inches.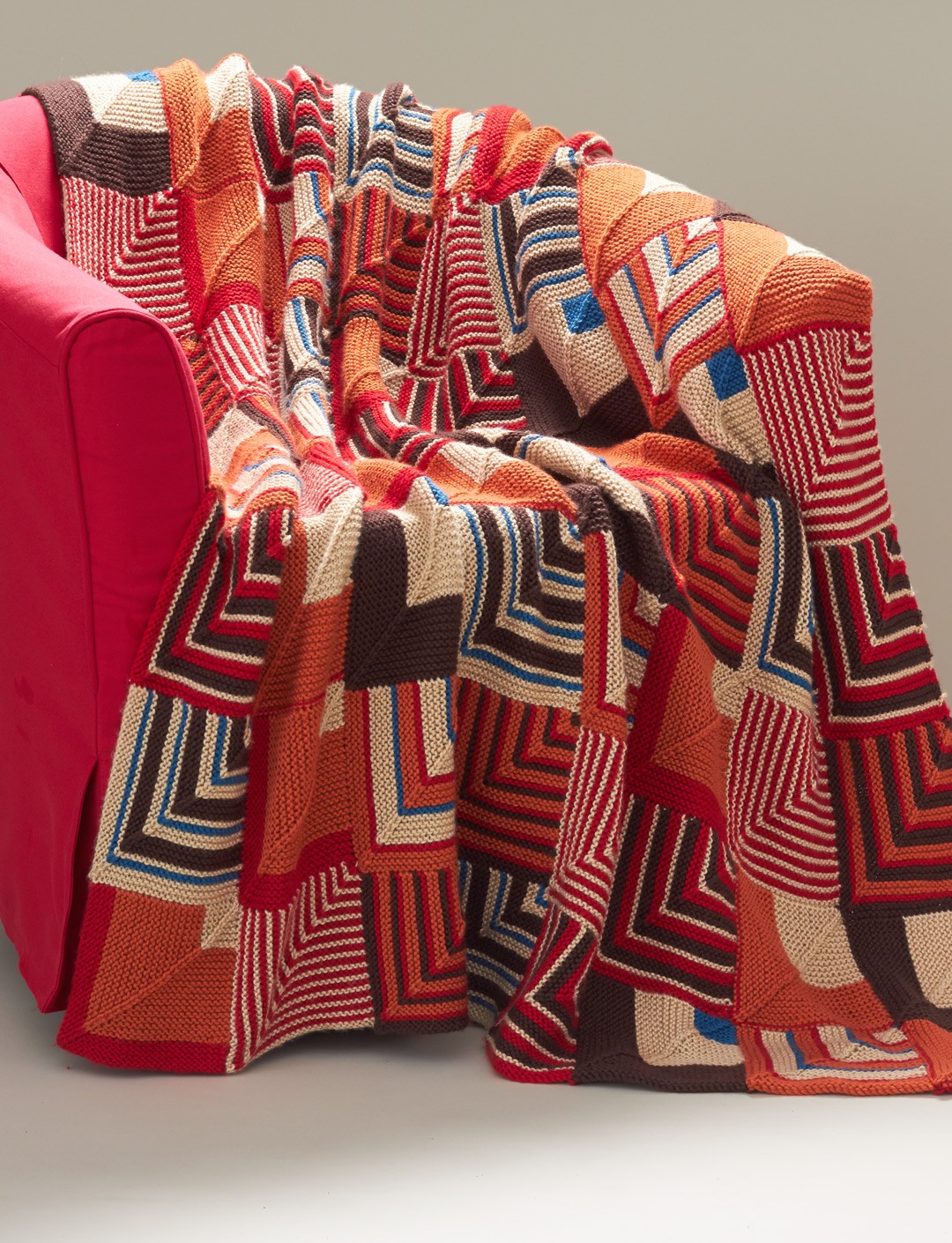 Southwestern Geometric Blanket
Approx 48″ x 60″ [122 x 152 cm].
Get the free knitting pattern designed by Yarnspirations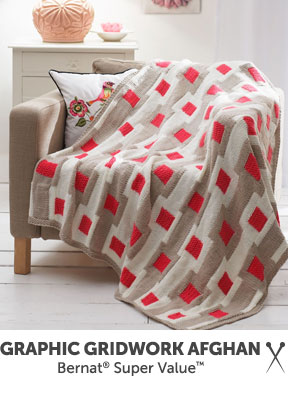 Graphic Gridwork Afghan
This design from Yarnspirations includes a matching pillow pattern. Approx 47″ x 56″ [119.5 x 142 cm].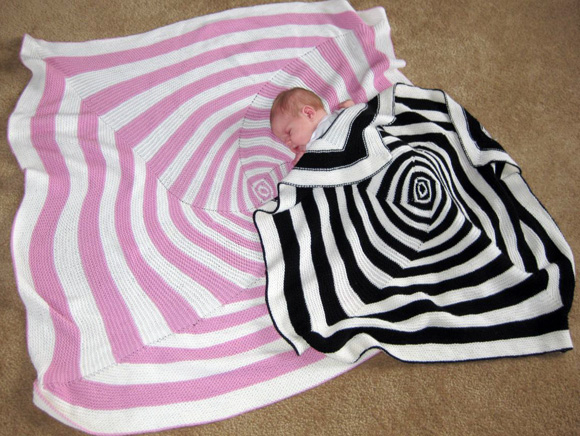 OpArt Blanket
This high contrast, op art blanket is designed by Melissa Dominguez to appeal to a baby's developing vision, but we adults love it too! Two sizes.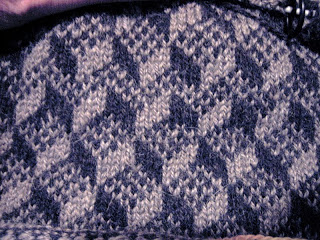 Escher Cubic Chart
Although this is a chart, not a pattern per se, it can be adapted to a blanket.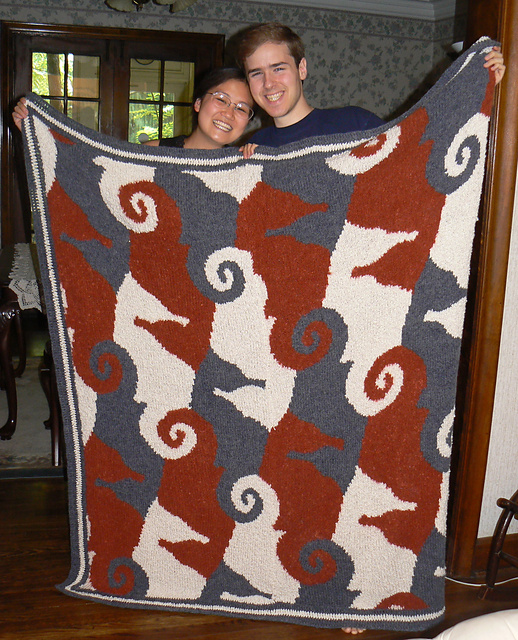 Escher Seahorse Afghan
Pictured project by Beverly Simmons
Get the free knitting pattern designed by Beverly Simmons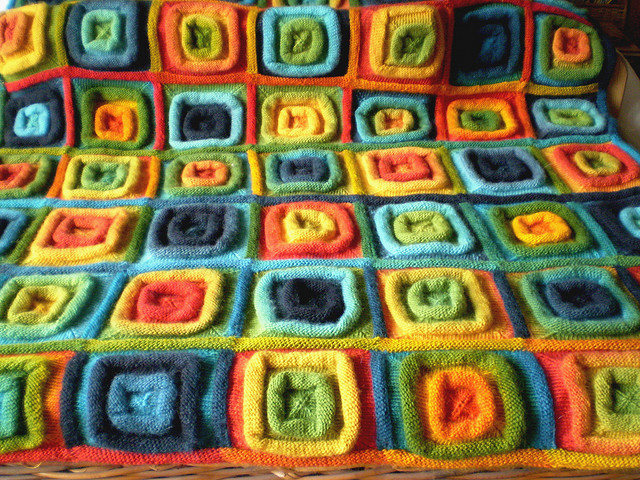 Squares on a Roll
Another fantastic design by Frankie Brown. Stocking stitch rolls add another dimension to these simple squares knitted in the round giving an exciting tactile fabric that is thick and warm.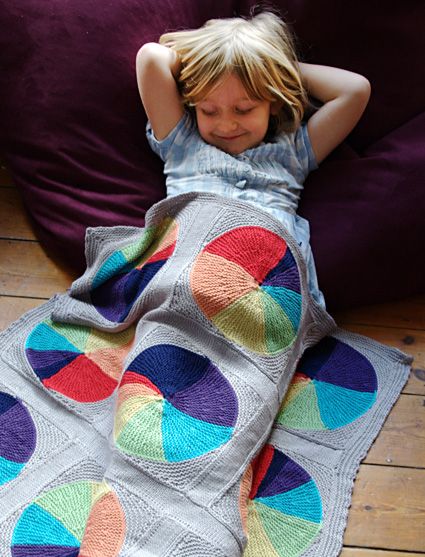 Easy as Pie Blanket
Mathematics and knitting come together in this design by OneHandKnits. Garter stitch short-rows are used to to form a full 'pie' of rainbow slices and again to 'square the circle'.
Get the free knitting pattern and see variations
Patterns for Purchase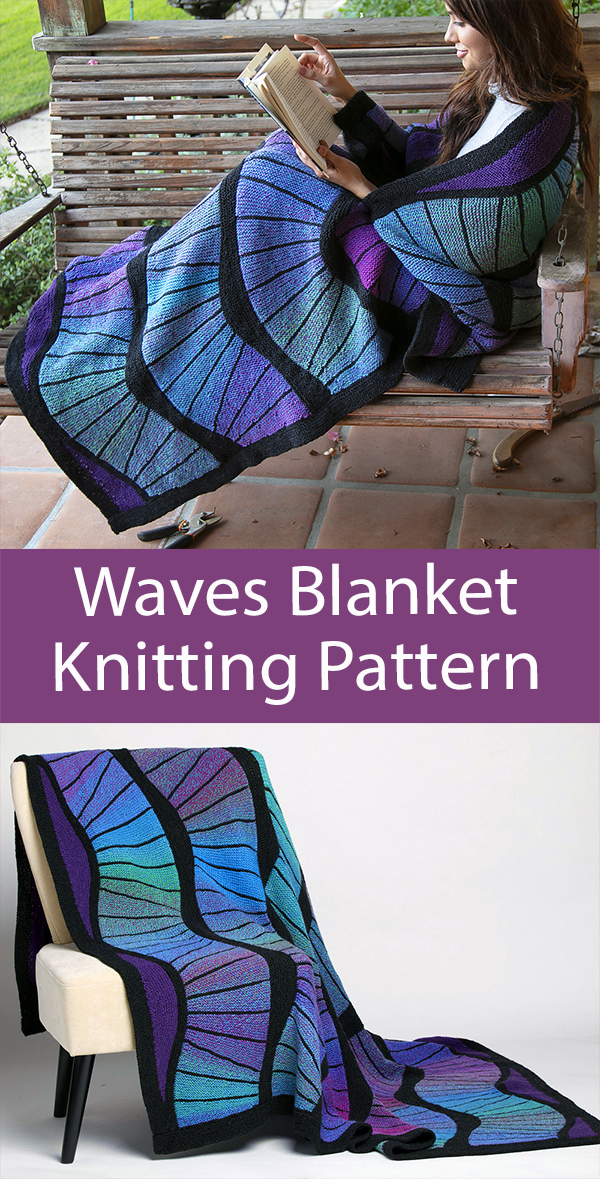 Waves Blanket
Blanket with graceful wavy stripes shaped by short rows. Waves is one of 30 blankets in the Geometric Knit Blankets book. Great showcase for multicolored yarn! Designed by Margaret Holzmann. Worsted weight yarn.
Get the Geometric Knit Blankets book (Kindle or Paperback) on Amazon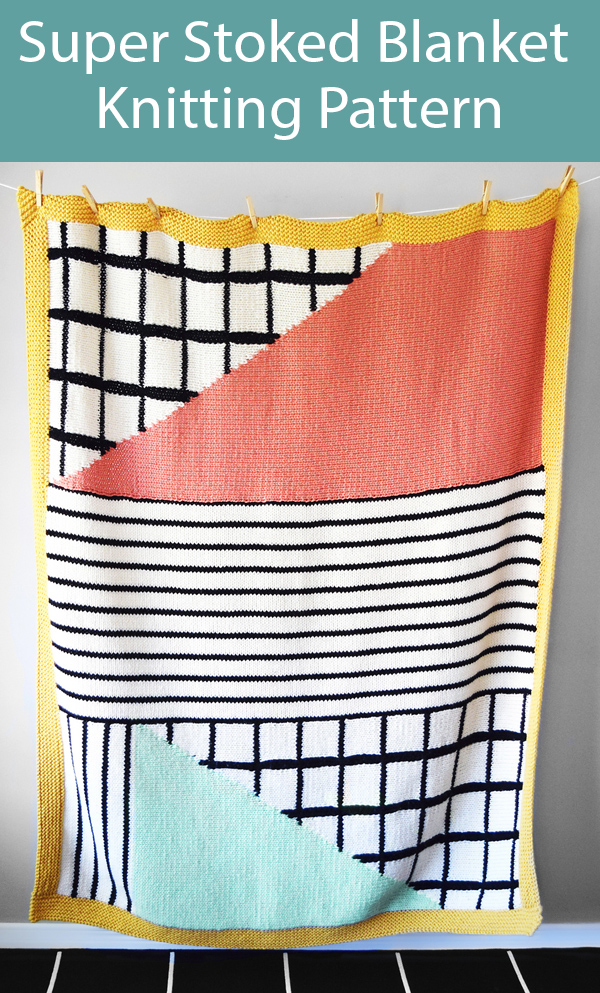 Super Stoked Knit Blanket
Use intarsia techniques and simple striping colorwork to knit this stockinette blanket. Knit in 3 panels with garter stitch edging. Great stashbuster! Designed by Erin Black. 2 strands of Worsted weight yarn held together.
Get the knitting pattern at Etsy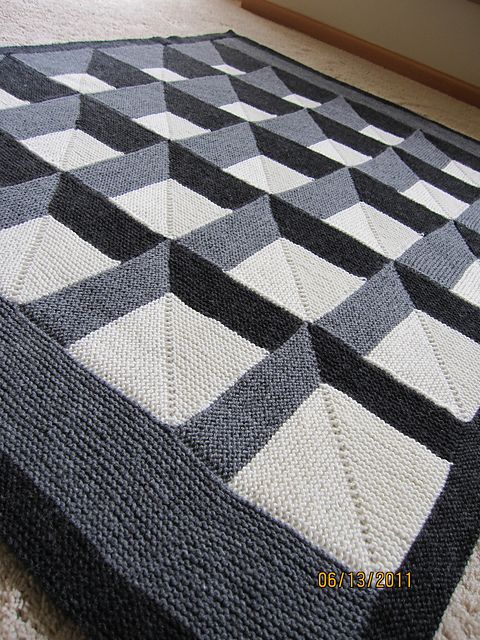 A New Angle
3D illustion for an afghan blanket or wall hanging.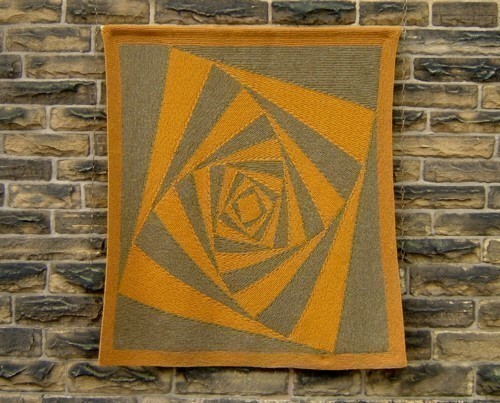 Curve of Pursuit
It may look complicated but, if you can knit garter stitch, you can make this.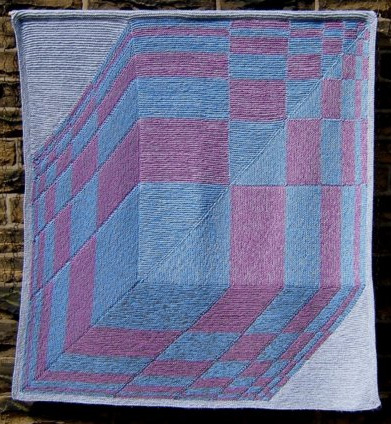 Fibo-optic Afghan / Wall Hanging
Fibo-optic uses the Fibonacci Sequence in two directions, in each of the three dimensions, to give the illusion of a large flying cube.
This design by woollythoughts is nowhere near as complicated to make as you may think. If you can knit garter stitch, you can do it.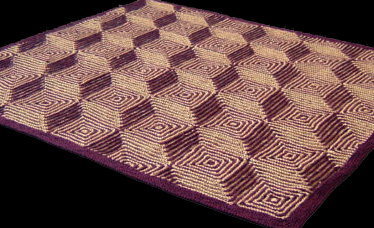 Step Up
Optical illusion blanket knit with illusion knitting. There are never more than 20 stitches on the needles at any time. Most of the joining is done as you go but there are a few small seams left to be stitched.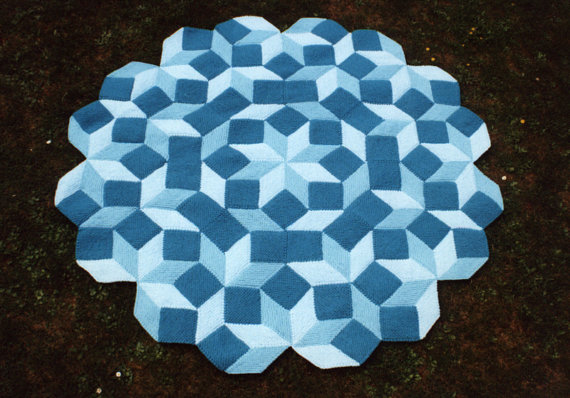 Penrose Afghan
This afghan is based on a design sent to woollythoughts by the famous Oxford mathematican Sir Roger Penrose and is named in his honor.
Get the knitting pattern on Etsy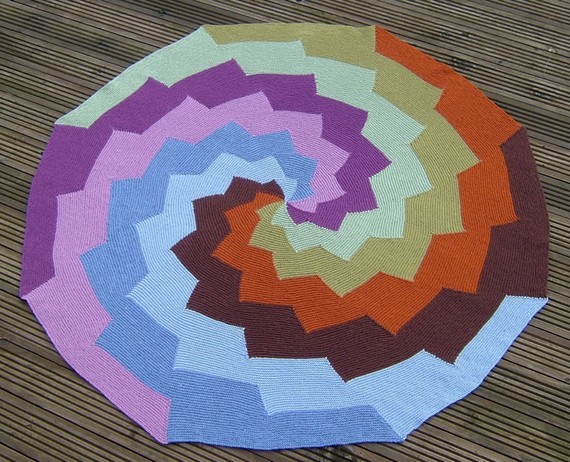 Revolution Blanket
This is design is much easier than it looks. It is worked in one piece, using one colour at a time and with a maximum of around one hundred stitches on the needles. There is a tiny amount of stitching to be done.