These quick projects are designed to use up those leftover bits of yarn. Many use less than 25 yards!
To get the knitting patterns, scroll down the page to the individual pattern you want and click on the link to that pattern.
These patterns are not my designs but links to other designers who have generously shared their patterns. If you have questions about how to knit a specific pattern, please contact the designer directly.
All links on this site are for informational purposes, but please note that some links are to affiliate sellers that pay me a small commission on purchases.
Free Patterns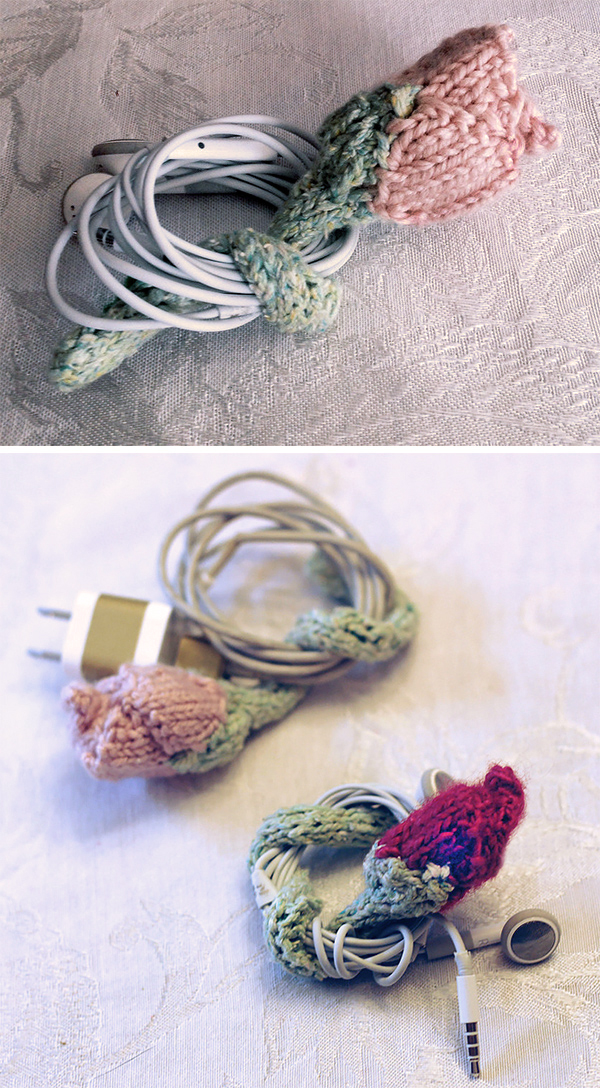 Rosebud Cord Keeper
What a clever charming way to keep your earbud or charger cords from tangling! This knit flower has a pipecleaner in the i-cord stem so you can wrap it around your cords neat and pretty! Great use for scrap DK or worsted yarn. Designed by Erin Kate Archer. Because the active web page is missing the photos, I'm linking to the archive page with the photos.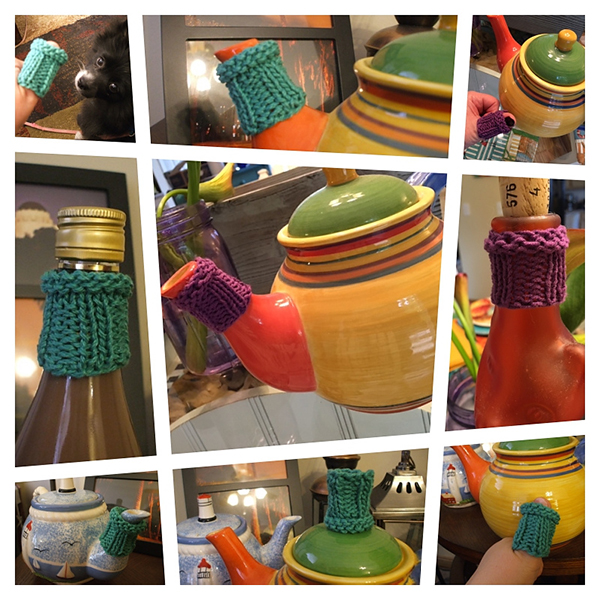 Drip Catcher
"To Catch A Drip" is an easy versatile cozy soaks up drips teapot spouts and bottles before they can get on your clothes or furniture. It also is a great cozy for teapot lid handles and to protect your thumb while you sew or craft. Great use for scrap worsted yarn. Designed by Whims C3.

Facial Scrubbies
Less than 10 yards of cotton yarn creates these cute and useful face scrubbers. Designed by Knits by West. Great for gift baskets!

Kitchen Towel Holder
Easy waffle stitch towel holder uses a clever construction to hold the towels. Just wrap the flat knit piece around a handle, pull the i-cord loop through a "buttonhole" and hang your towel through the loop. Uses just 5 – 10 yards (5 – 9 m) so it's perfect for scrap yarn. Designed by Marcia J. Prill. Pictured project by kpet

Ice Cream Cozy
The Gelato Hug pattern keeps your hands warm while enjoying ice cream. It features decreases to make a nice flat bottom surface. Great for stash and scrap yarn! The pattern is designed for a 4 oz container but I think it could easily be adapted to larger sizes. Designed by Stacey Lee

Mandala
This mandala is knitted back and forth, then joined and blocked to shape. It's knitted with scraps of 4 ply yarn and measures about 26 cm / 10 " across. A felt backing gives it more weight so that it can be used as a mat.. Designed by Frankie Brown

Earbud Covers
Knit soft colorful cozies to replace earbud covers. Uses just 15 yards of scrap sock fingering yarn. Designed by MJ Saunders

Mug or Teacup Handle Sweater
Knit a flat rectangle of 10 to 20 yards, add buttons to fasten around a handle, and you have an easy cozy to keep your fingers comfortable when handling hot cups. Designed by DaniDo Crafty. Pictured project by KatieDaugherty


Traffic Cones
These traffic cone softies are a great use for scrap yarn – especially orange – and can be used as human or cat toys. Designed by Sarah Jenkins. Pictured projects by Csorrels805 and MrsZoom. Rated easy by Ravelrers.

EZ as pi Headphone Covers
Transform your hard or worn out headphones with scraps of your favorite sock yarn knit into soft colorful cozies. Designed by Jocelyn Blair. Pictured projects by elizanca who made modifications and aKnitOnTheSide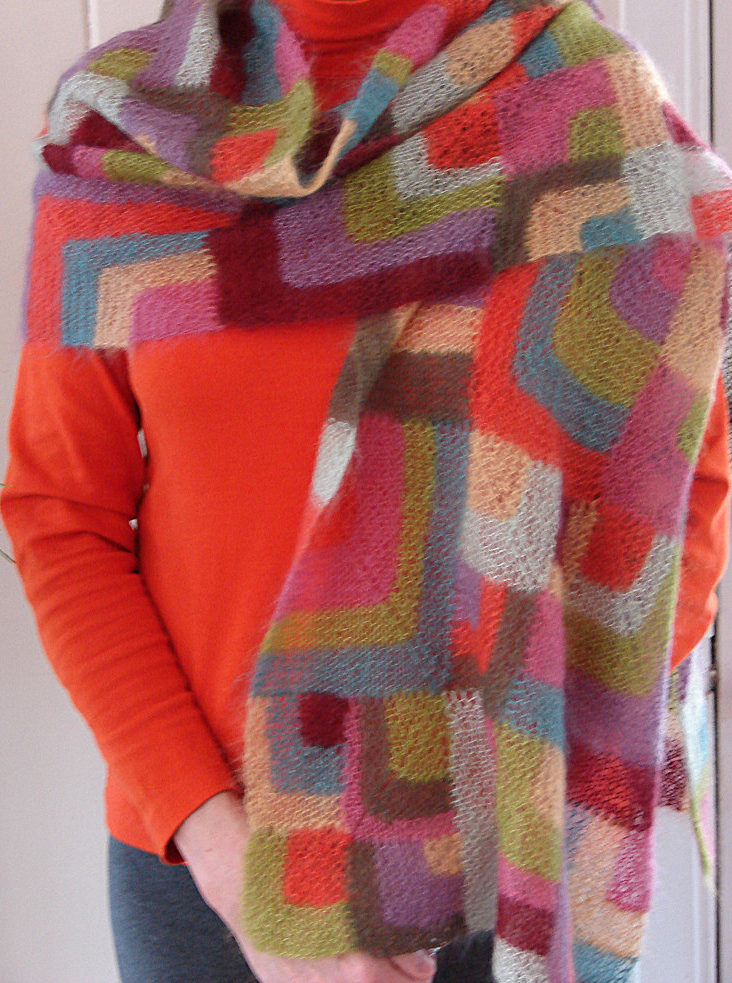 Modern Quilt Wrap
This wrap/oversized scarf is created with the mitered-square method of color knitting, as effortless as working in stripes, but the results are far more impressive. Great use for stash or scrap yarn! Designed by Mags Kandis. Pictured projects by karinhoja and summerinatlanta. There are several ways to get the pattern. Also the designer recommends weaving in the ends as you knit.
Sherbert Bear
This colorful bear is knit with easy intarsia patchwork that makes it great for scrap yarn. 20 cm tall. Designed by Sachiyo Ishii. The file needs to be unzipped after download.

Wine Glass Slip-on Coaster
This little cozy slips on the bottom of a glass or goblet and allows you to put a wine glass anywhere you are while protecting furniture from rings. Uses just 30 yards of yarn so it's great for scrap yarn. Designed by Terry Morris. Pair a set with wine glasses or wine for a great gift!

Badge Holder Cozy
So you have to wear a badge? You don't have to make it boring. This stockinette cover is knit in the round from center out to fit standard-sized retractable reel ID badge holder. It's the perfect way to show off a leftover bit of pretty sock or lace weight yarn and to display your love of knitting at work. Designed by E.B. Fouts-Palmer. Pictured projects by ekellyo and sarahmags who added a decorative button.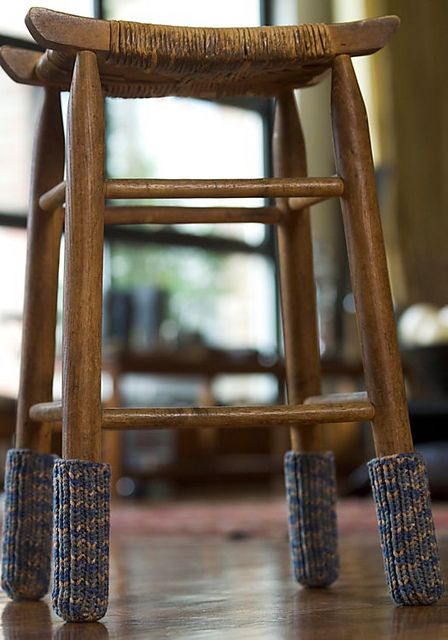 Protect-Your-Floor Socks
Jodi Lewanda came up with these clever furniture leg socks for Red Heart. Cute, practical, and a great use for scrap yarn!

Wrist Tool Belt for Knitters
Turn your scrap yarn into something you can use for your knitting – a bracelet that holds the knitting tools you most frequently need to get at such as stitch markers, cable needles, crochet hook. Make it in any stitch pattern and any width you like. Fasten with a button or use a stretchy knit to slip on and off. Designed by Judy Vallas. Pictured project by laraghdaniel who used less than 50 yards of yarn.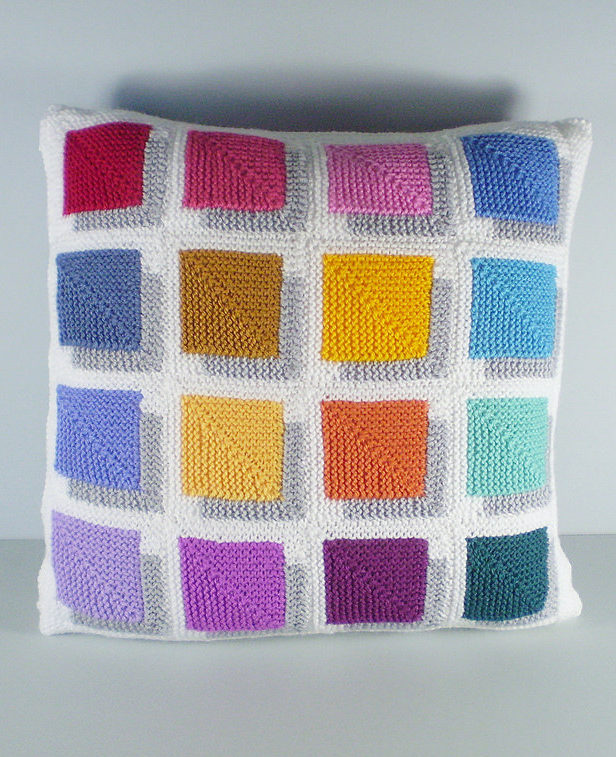 Shadow Magic Pillow
This cushion cover is created from mitered magic squares with their own shadow so that the colors seem to float above the surface. Designed by Frankie Brown. Less than 10g of each of the bright colors is used to knit a cushion so this is a good project for using up small amounts of yarn.

Lip Balm Holder
This Chapstick cozy is knit with ribbing to hold your lip balm or lipstick snugly. Loop can attach to key ring, lanyard, and more. Only uses 10 yards of scrap yarn. Rated easy by Ravelrers. Designed by Dawn L.E. Riden. Pictured project by atbixby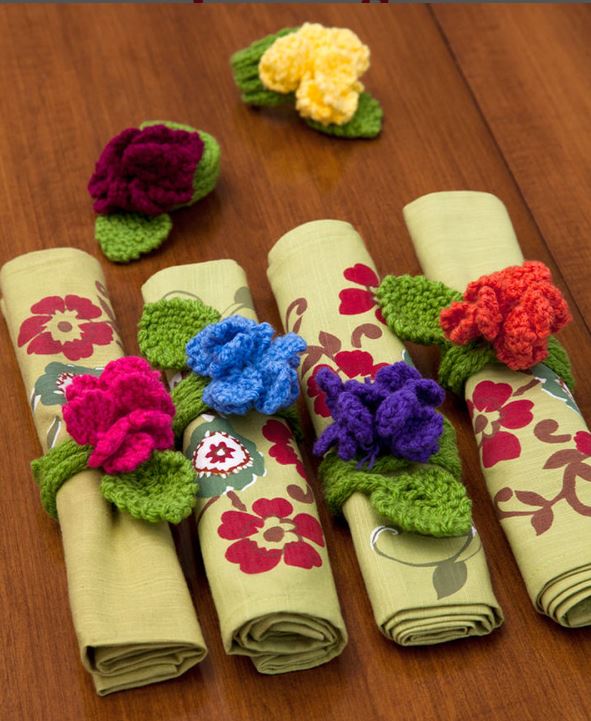 Fantasy Flower Napkin Rings
Easy knitting pattern by Scarlet Taylor from Red Heart. Each flower is knit in 3 sets of 4 petals. Great stash buster!

Clock Cozy
This Colorful Clockwork Cozy by Retrobaby is very easy. She knit a strip in garter stitch and fastened the ends together, crocheted a neat edge for the front (though you could knit a selvedge), then gathered the back edge with thread to hold it around the clock edge. Use your imagination and your scrap yarn to create a unique piece of home decor. MrsKnitsalot used a zigzag chevron lace pattern on her clock. Marijke11 adapted the pattern to cover the edge of patio table (no project notes unfortunately!).

Easy Outline Shawl
This easy rectangular wrap or scarf was designed specifically to use up scraps of sock yarn or mini skeins. It's length, width, and color scheme are easily customizable. Rated easy by Ravelrers. Designed by Beata Jezek for Hedgehog Fibres. Pictured project by Splendorfalls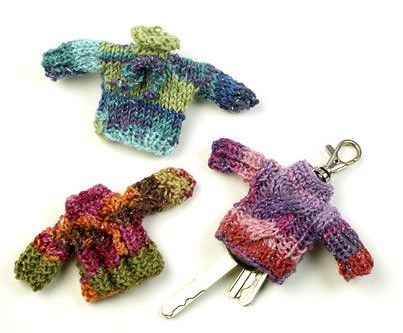 Sweater Key Chain Covers
This set of miniature sweaters will keep your keys from scratching up your purse contents, designed by Berroco. Although it's a great use of scrap yarn, these were knit in Berroco Sox which is a variegated sock yarn works up into faux Fair Isle and self-striping patterns.

Lacy Candle Holders
These pretty cozies for glass candle jars are perfect for scrap lace yarn.Two sizes. Designed by by Rae Blackledge for Willow Yarns.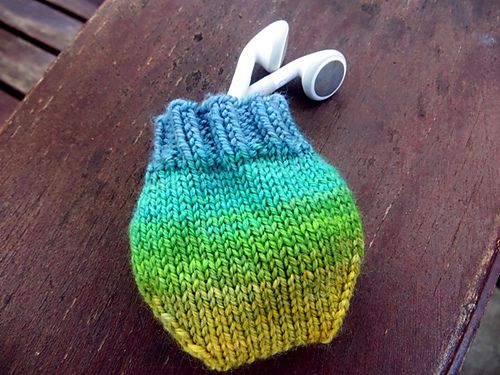 Earbud Pouch
Mary Keenan designed this pouch that keeps earbuds safe and untangled and looks great too! Knit in the round, you can make this in the time it takes to watch a movie. Great use for leftover yarn and multi-color yarn!

Scrap Bag
This tote is knit in slip stitch colorwork with short lengths of scrap yarn of different colors so it's the perfect stash buster for small amounts of yarn. Insert plastic canvas in the front back and base to give it sturdiness. The finished bag is 28 cm wide, 27 cm tall and 8 cm deep. Designed by Frankie Brown.

Plant Cozies
These fair isle covers in three sizes are perfect for dressing up pots. Perfect for housewarming, hostess, get well, and teacher gifts. Each cozy uses small amounts of each color of yarn so it's a great project for scraps and oddments. Designed by SpillyJane for Knit Picks.

Flip Flop Straps
Don't like the plastic straps on your flip flops? Replace them with the soft knit straps of this Flippy Floppies pattern. Perfect for scrap yarn because it uses less than 25 yards. Designed by SnowBlue. With a pictured project by paintingitblue

Checkered Pan Handle Cozies
Protect your hands from hot skillet handles and use up scrap yarn with these covers by Stephanie Sun.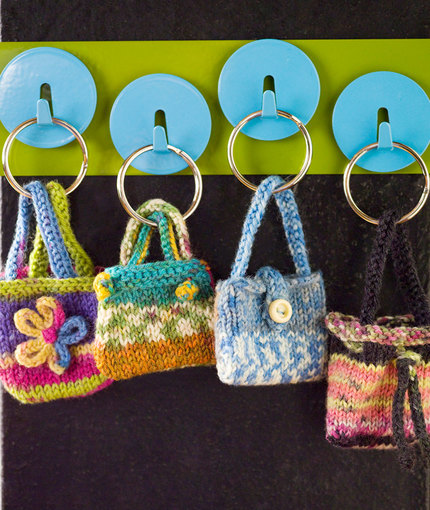 Mini Key Ring Purses
Kathy Sasser designed these cute key ring fobs for Red Heart. Perfect for scrap yarn and multi-color yarn!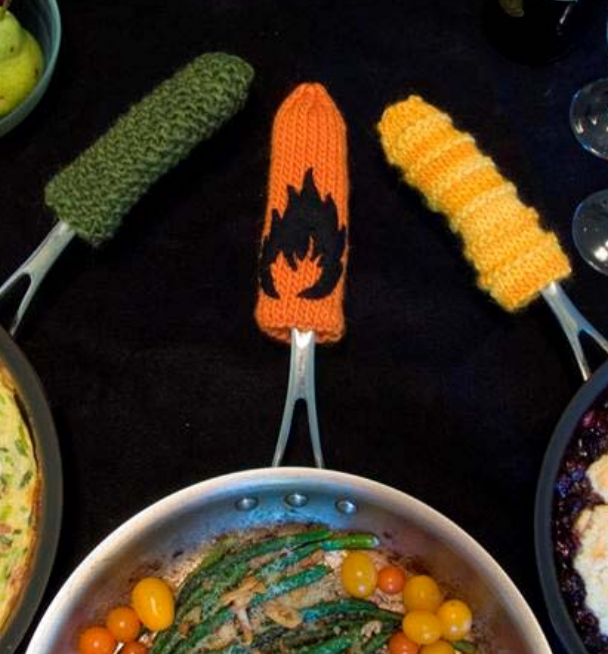 Pan Handle Cozies
Easy quick pattern for insulating covers to protect hands from hot handles. Three designs. Great for scrap yarn and quick housewarming gift! Designed by Sharon Fuller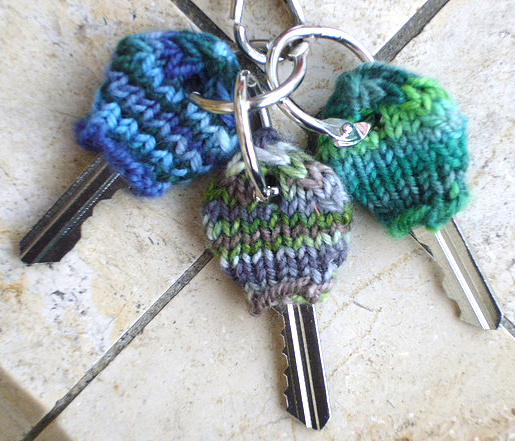 Key Cozies
These tiny key sweaters are great for identifying your keys, keeping them warm in winter, using up stash yarn and learning Magic Loop techniques. Designed by Liat Gat who has included an instructional video.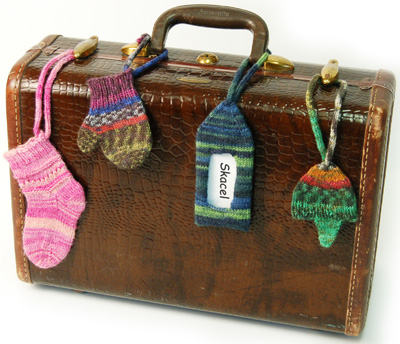 Luggage Finders
You'll always be able to find your suitcase when you give it the personal touch of knitted tags designed by Kathy Sasser for Skacel.
Patterns for Purchase
Wrapped Up Baby and Baby Bear in blanket and basket
The baby in both patterns are the same size so they are interchangable with the basket and blanket. Knit flat on straight needles. The babies are about 9cm (3 1/2″) long and 7cm (3″) wide. The basket measures about 13cm (5″) long and 9cm (3 1/2″) wide. Designed by Kookla Creations who allows the selling of finished items. Great use for scrap yarn!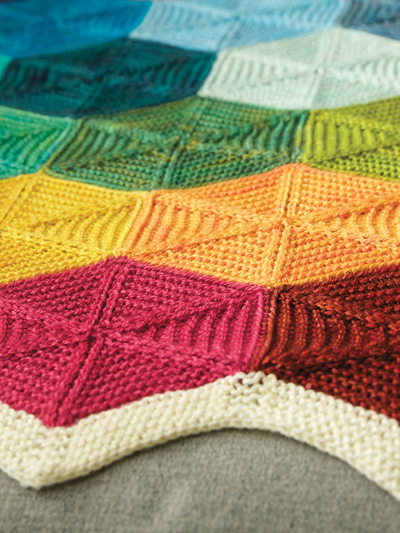 Polygon Blanket
This afghan is made of individual garter stitch hexagons that are knit individually and assembled. Great stash buster and portable project! Blanket as shown: 29 1/2″W x 37 1/2″L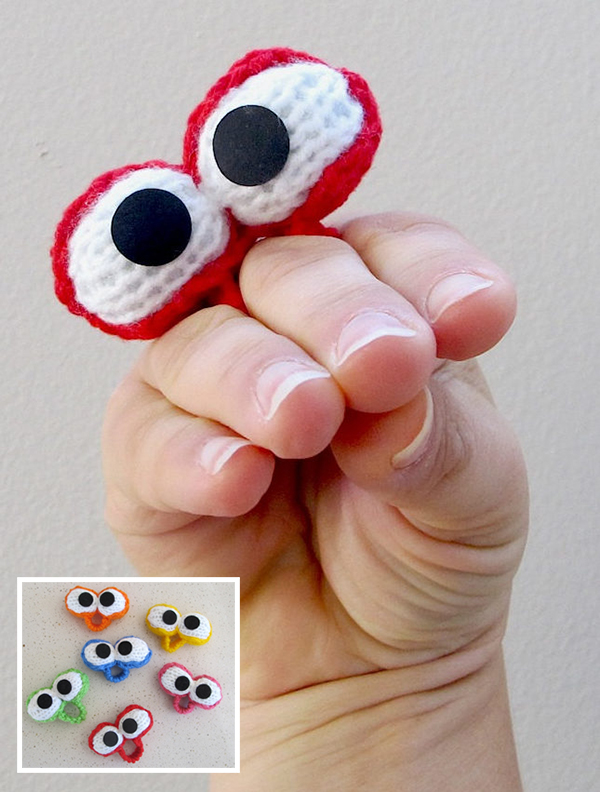 Googlers
This finger / hand puppet toy is knit with about 10 1/2 m (11 1/2) yards of yarn. Perfect for scrap yarn! They also only take about 30-40 minutes to make so they are the perfect last minute gift or stocking stuffer. Knit flat on straight needles. About 6 1/2cm (2 1/2″) tall. Designed by Kookla Creations who allows the selling of finished items.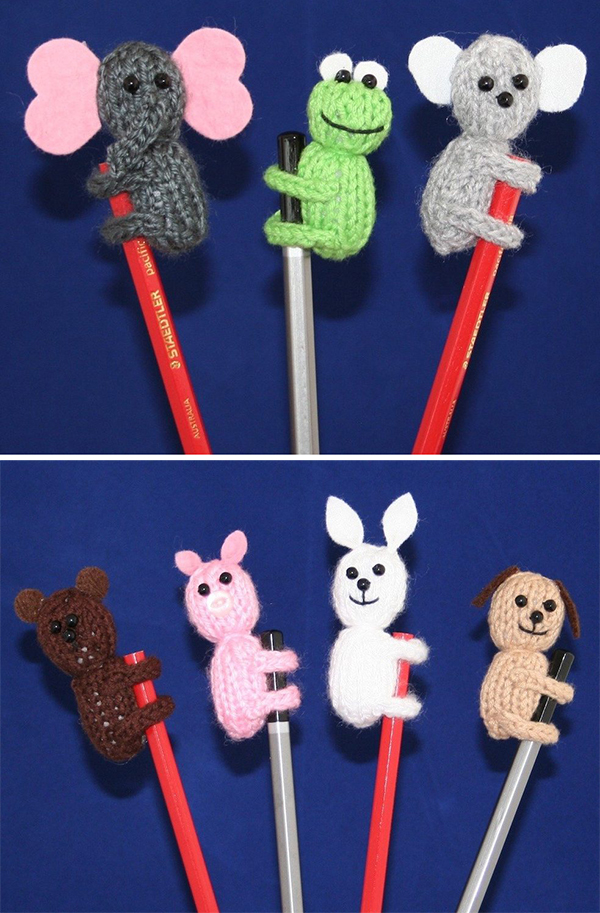 Animal Pencil Toppers
Elephant, frog, rabbit, dog, teddy bear, koala and pig pencil toppers but with different coloured bodies and ear shapes you can make any animal you want. Knit flat on straight needles. About 6 1/2cm (2 1/2″) tall. Designed by Kookla Creations who allows the selling of finished items.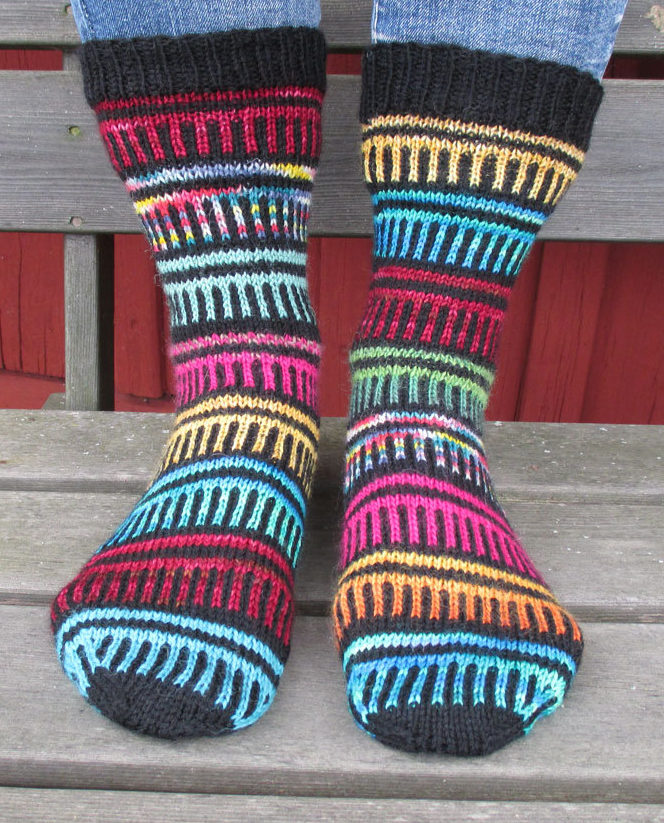 Happy Go Scrappy Socks
This sock pattern is designed to use up all those leftovers from previous socks. Great use for scrap and stash yarn! Designed by Anita Grahn. Available in English, Danish or Swedish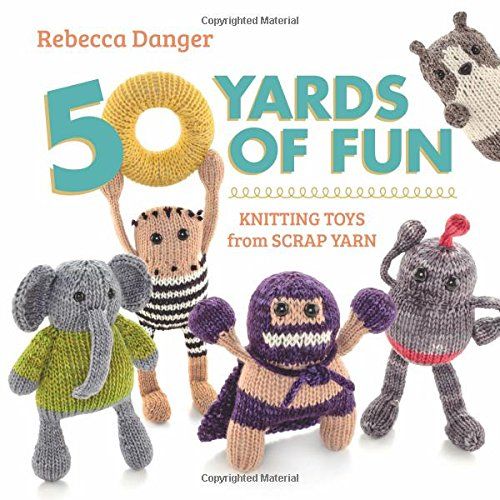 50 Yards of Fun: Knitting Toys from Scrap Yarn
More than 30 irresistible toys by Rebecca Danger that use only about 50 yards of yarn and can be used for ornaments, gifts, mobiles, and baby toys.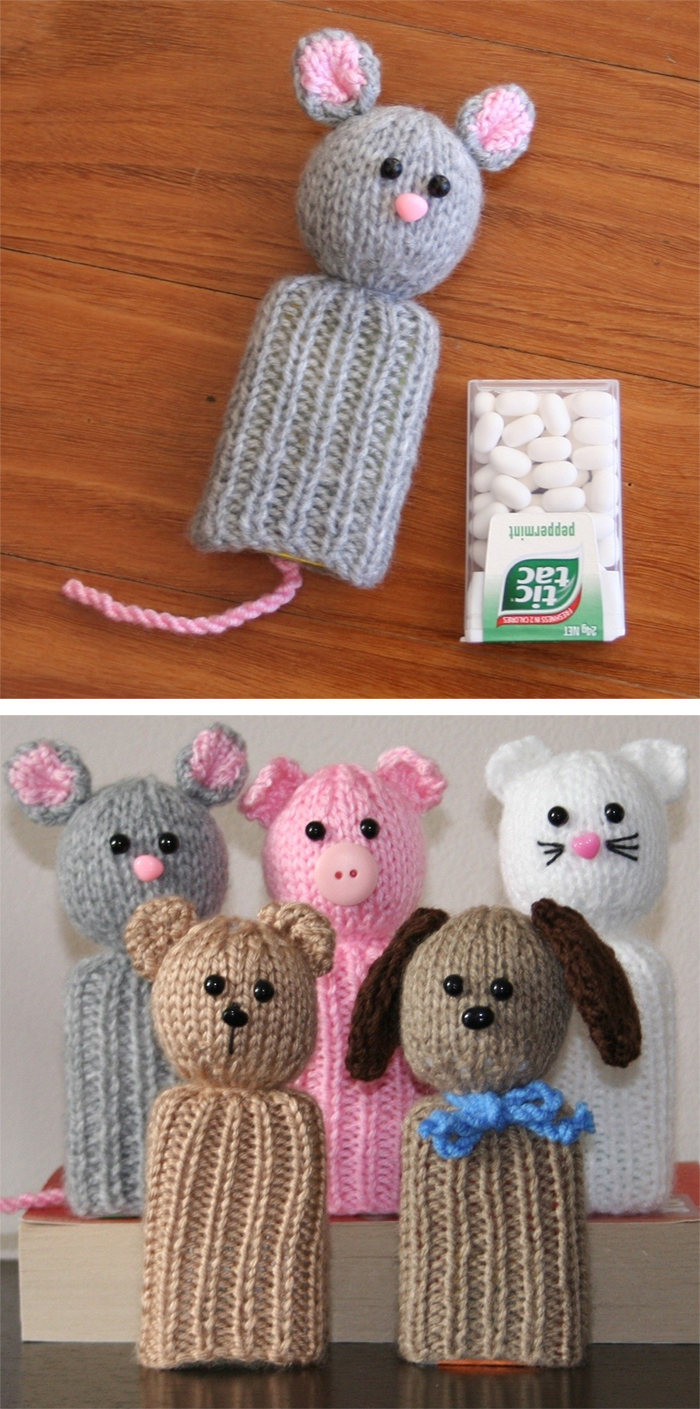 Tic Tac Toys
Knit these animals to place over the Tic Tac type boxes. They have many uses:
a cover for your Tic Tacs
a tooth box for the tooth fairy
a secret note holder
a goody bag at a birthday party
a rattle – sew up the bottom to enclose the box totally, fill with beads
This pattern includes instructions for a mouse, puppy, cat, bear, and pig. Designed by Kookla Creations who allows the selling of finished items. Great use for scrap yarn!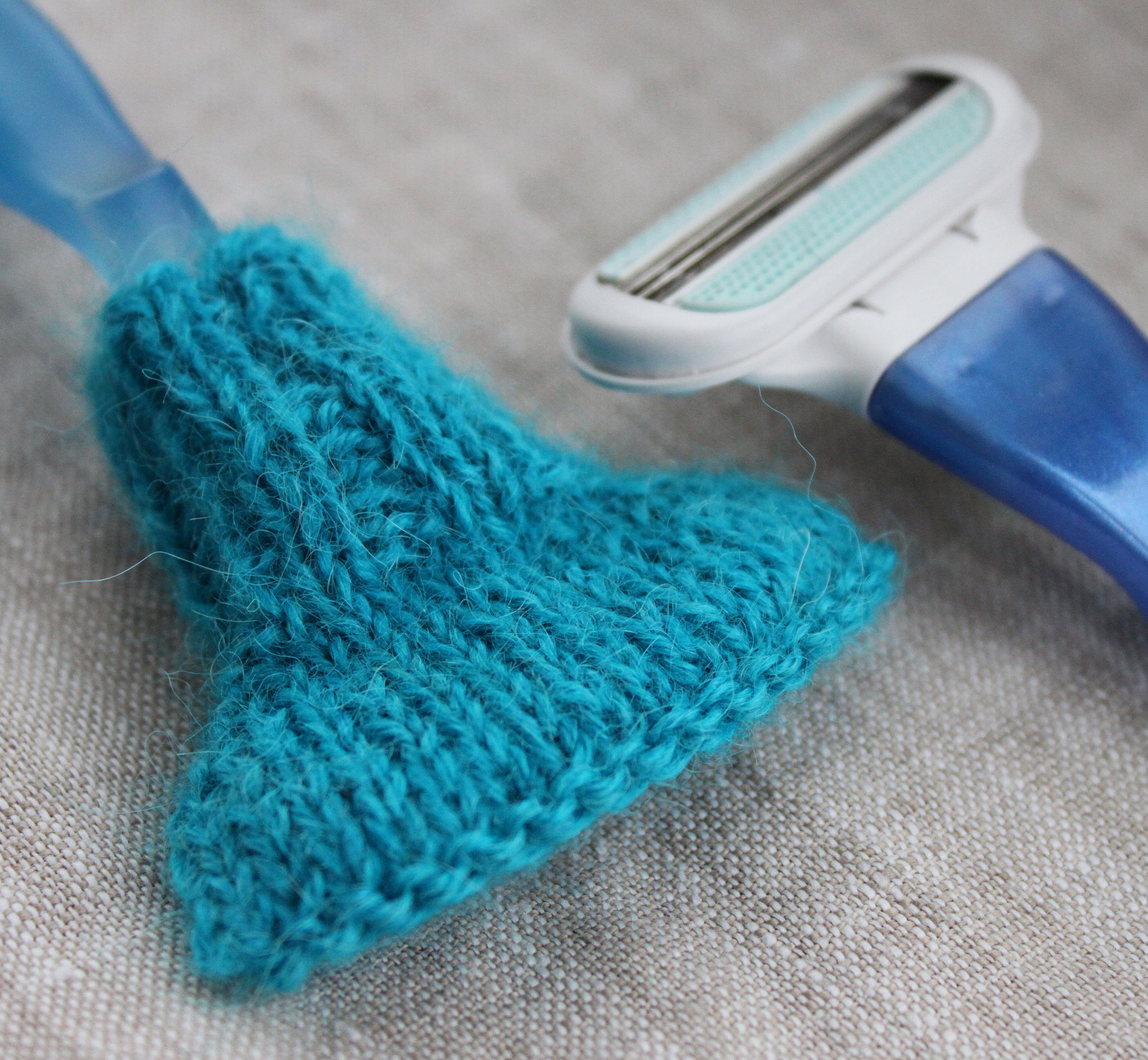 Razor Cover
This razor cover is designed to protect from razor cuts when your razor is packed in your luggage, gym bag, or purse. It easily slips on and off your razor head. And slipping it on when the razor is wet serves to block the cover to the razor shape. This knitting pattern is seamless and works up very quickly. Great for scrap yarn and last minute gifts.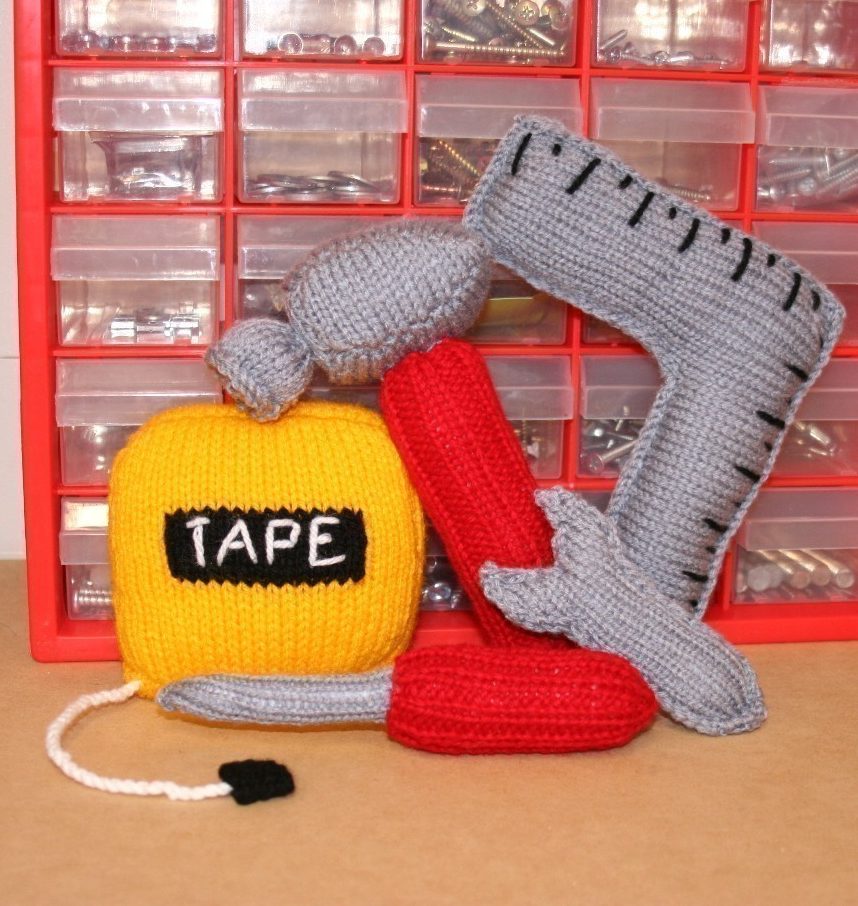 Tool Set
This pattern includes instructions for a hammer, tape measure, screwdriver, spanner and set square toy softies. The hammer measures 17cm (7″)high.Designed by Kookla Creations who allows the selling of finished items. Great use for scrap yarn!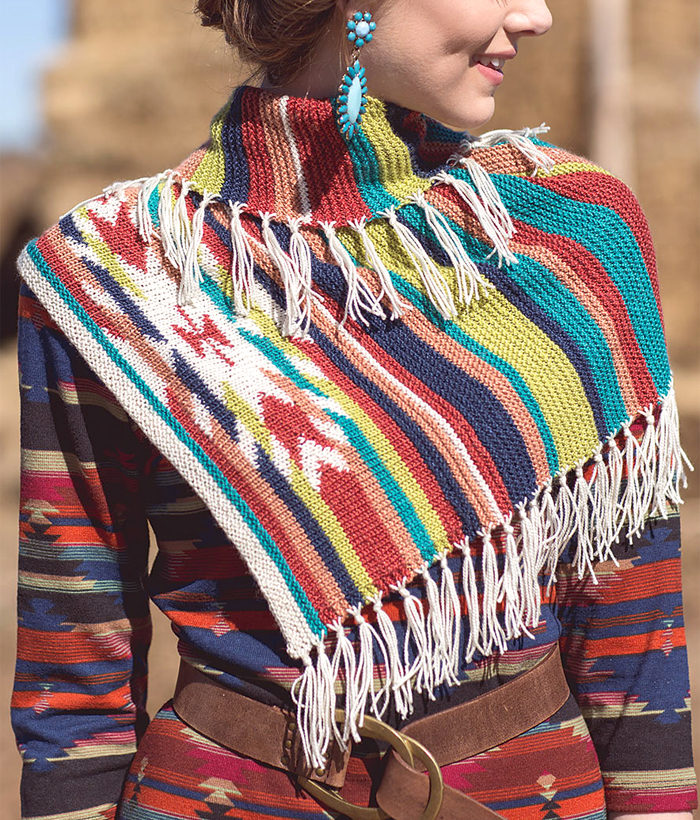 Serape Shawl
This Southwest-inspired is shawl worked side to side in varying stripes of garter stitch, while the intarsia motif is simple stockinette stitch. Great way to use up scraps of fingering weight yarn.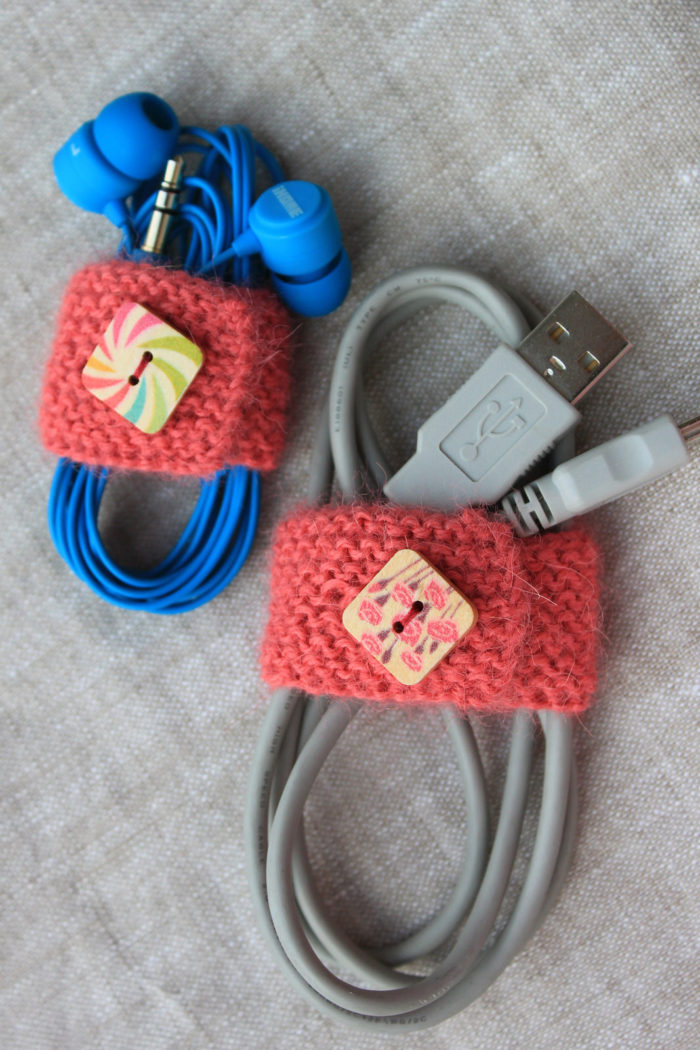 Cord Organizer
This nifty little knitting pattern turns the chaotic tangle of your headphones and other household cords into perfectly organized bundles of cuteness! 2 sizes. Uses only 30 – 35 yards (27 – 32 m) so it's great for scrap yarn. Great quick gift. Designed by Valya Boutenko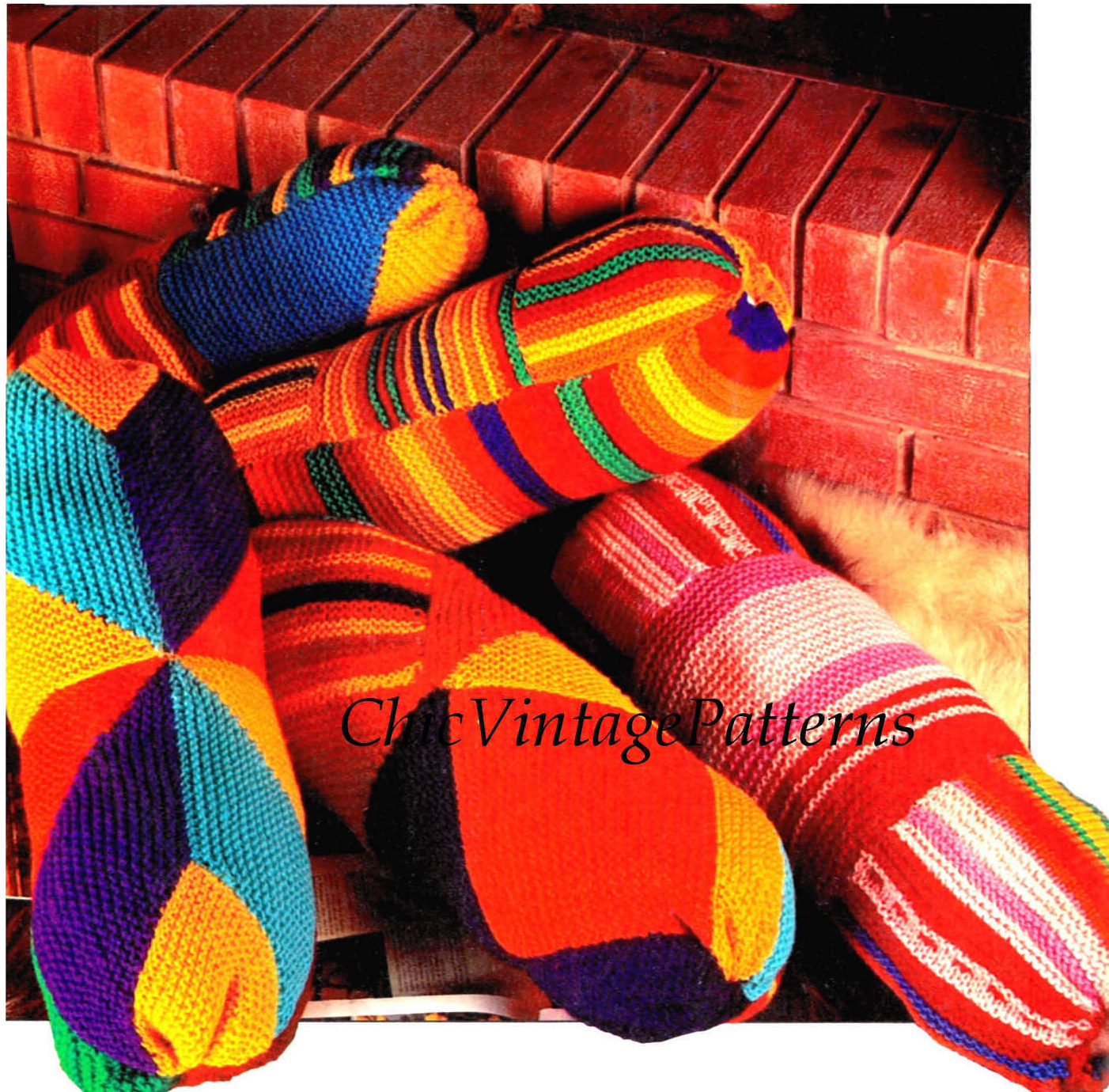 Patchwork Bolster Pillows
A pattern to make five different types of bolster cushions. Great use for scrap and stash yarn!