Scrap and Stash Afghan Knitting Patterns
To get the knitting patterns, scroll down the page to the individual pattern you want and click on the link to that pattern.
These patterns are not my designs but links to other designers who have generously shared their patterns. If you have questions about how to knit a specific pattern, please contact the designer directly.
All links on this site are for informational purposes, but please note that some links are to affiliate sellers that pay me a small commission on purchases.
 
Mosaic Tile Afghan
This afghan is a play on mosaic stitches presented in a random color format to suggest a mosaic tile wall. It is bordered by yet another mosaic pattern. 54 x 64″ (137 x 162.5 cm) Designed by Judith L. Swartz. One of 7 knitting patterns in Cozy Knitted Blanket Patterns ebook by Interweave Knits.
 
4 Row Repeat Pastille Baby Blanket
This colorful baby blanket is created with stripes of easy slipped stitch mosaic colorwork in in a 4 row repeat. Most Ravelrers rated this easy. Perfect use for stash yarn – you can make the stripes any size and colors you want. Great with multi-color yarn! 25″ x 29″ but you can customize to any size. Designed by Vickie Hartog. Pictured project by Tyek.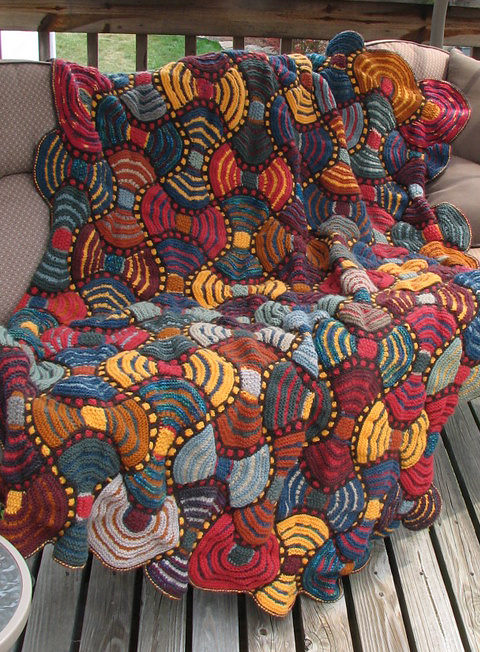 African Adventure Afghan
This colorful patchwork quilt is perfect use for scrap yarn. You can make smaller versions to use as table runners and more. Designed by Horst Schulz at South African workshops. Pictured project by hermanm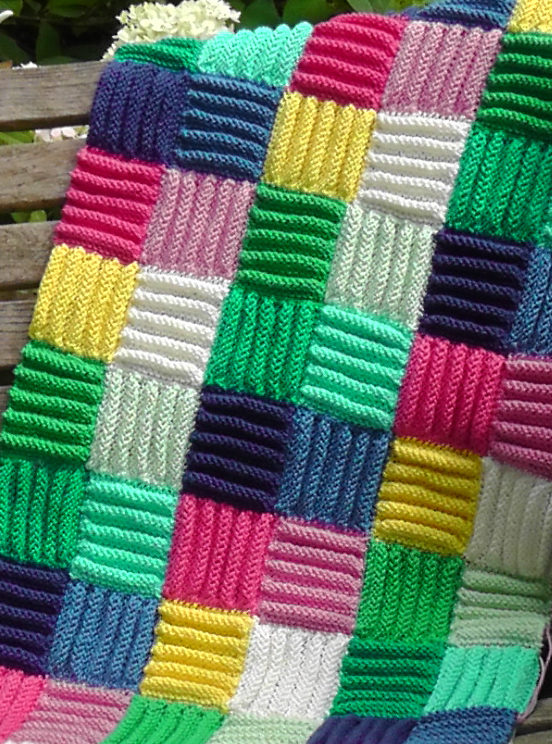 Corduroy Afghan
This easy throw is created from knitted squares with deep stocking stitch rolls to add coziness and texture. The designer Frankie Brown says it can also be used for a rug. Great use for scrap yarn. Pictured project by gicki .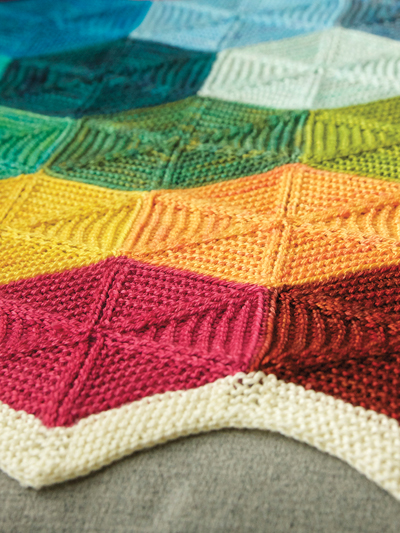 Polygon Blanket
This afghan is made of individual garter stitch hexagons that are knit individually and assembled. Great stash buster and portable project! Blanket as shown: 29 1/2″W x 37 1/2″L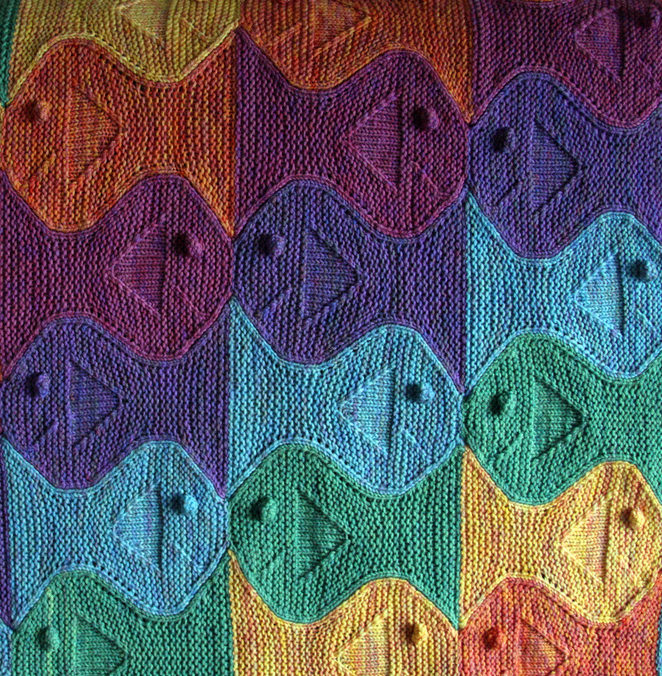 Festive Fish Baby Blanket
This modular afghan of tessalated fish is a great stash buster and portable project. Designed by Paula Levy.  Available in Babies and Toddlers: A Knitter's Dozen. Pictured project by devittles
Terry Matz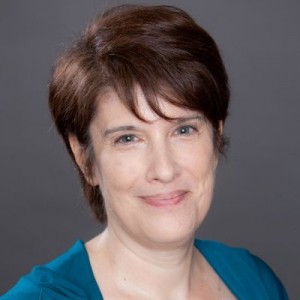 Terry is a knitting late-bloomer, learning to knit as an adult from Internet tutorials, because she wanted a craft that was useful, fun, and portable. Knitting hats for cancer patients inspired her to design her own patterns—available for free at her blog, intheloopknitting.com. Terry met her husband Ken at a science fiction convention and moved to the Kansas City area to be with him more than 30 years ago. Terry supports her yarn stash by creating websites and other digital media. Terry firmly believes in Knitting in Public—it's a great conversation starter!