Slouchy Hat Knitting Patterns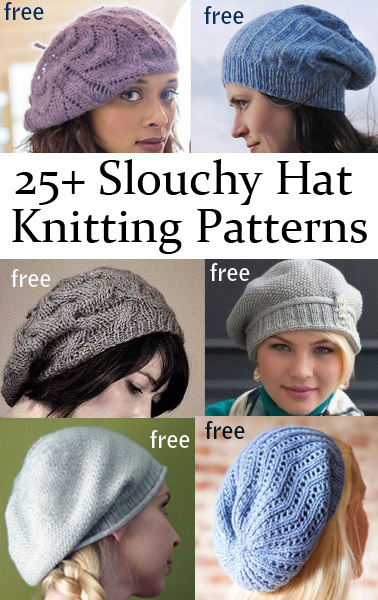 Scroll down to see the slouchy hat knitting patterns.
If you want more free knitting patterns for hats check out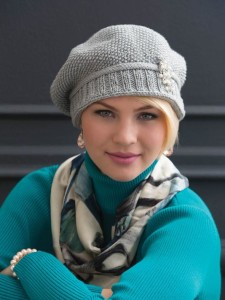 Ann McCauley's Seed-Stitch Slouchy Hat
Sixth & Spring Books generously gave permission to In Stitches blog to offer a free knitting pattern for this lovely the Seed-Stitch Slouch Hat from the book "60 Quick Luxury Knits
," a book Sixth & Spring compiled with Cascade Yarns. In Stitches still offers the pattern on their site.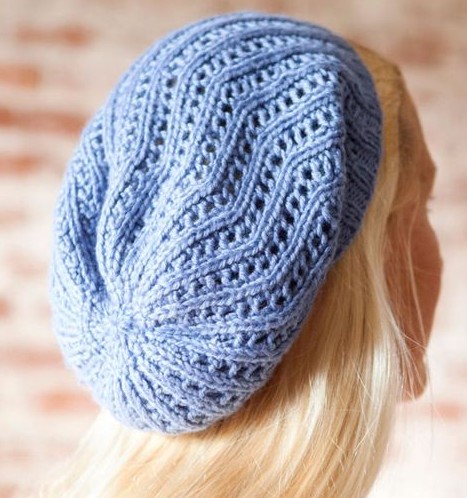 All Day Beret
This versatile lace hat was designed by Debbie Stoller.
[widget id="black-studio-tinymce-17″]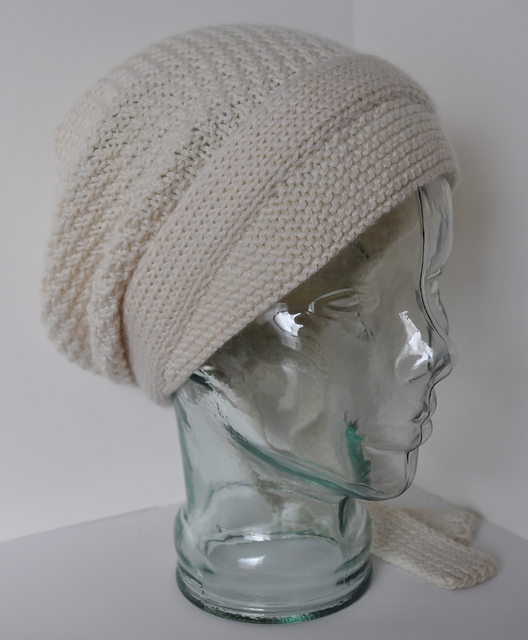 Do It Yourself Peasant Cap Slouchy Hat
Melody Narvaez was inspired by an expensive cashmere cap to create this fashionable slouchy hat with mock ties and ribbons.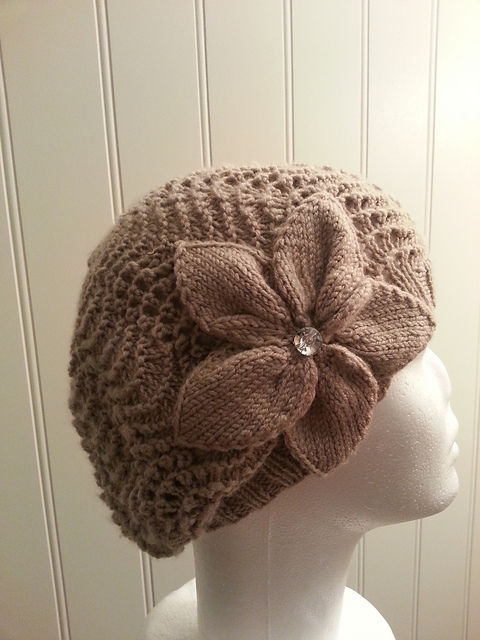 For Joanna Slouchy Hat
Agata Smektala designed this slightly slouchy lace hat with a knit flower ornament.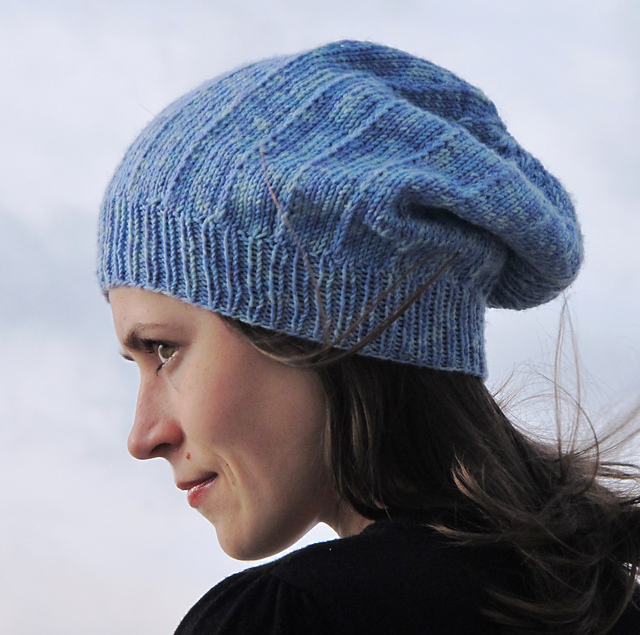 Michele Slouch Hat
Sarah Punderson offers 2 versions of the same hat, one slightly slouchy and one very slouchy. A  simple slip stitch pattern is used for the body of this hat worked in the round; easy to memorize and great for variegated yarns.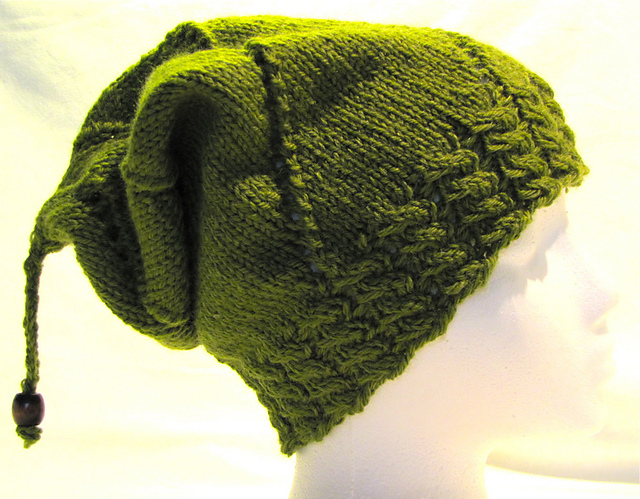 Slouchy's No Slouch
Lea Kobayashi's design features a cable brim, spiral detail of yarnovers, and an i-cord tassel.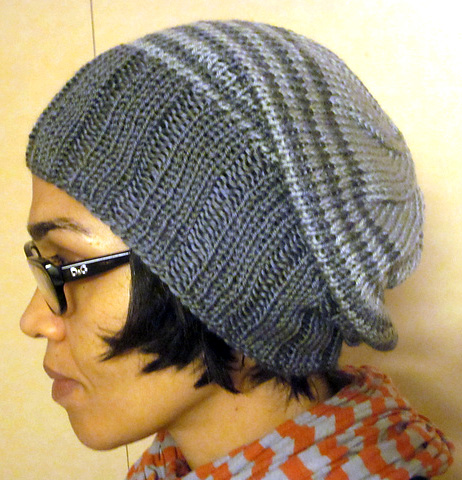 Striped Light Stashbuster Hat
Karen Wrai Karn's hat features a wide ribbed brim that can be folded up and is designed to use up stash and oddball yarn.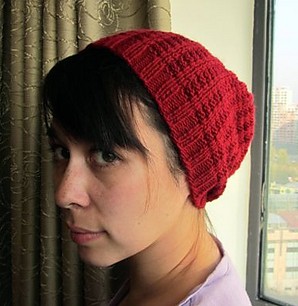 Broken Rib Hat
Mari Chiba's simple hat pattern is slightly slouchy and perfect for the whoel family.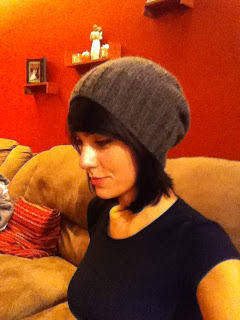 Classic Slouchy Tuque / Toque
This classic design by Bren at Cool Beans is designed with wide ribbed brim that can be left down for a slouchy hat or turned up to create a classic beanie look.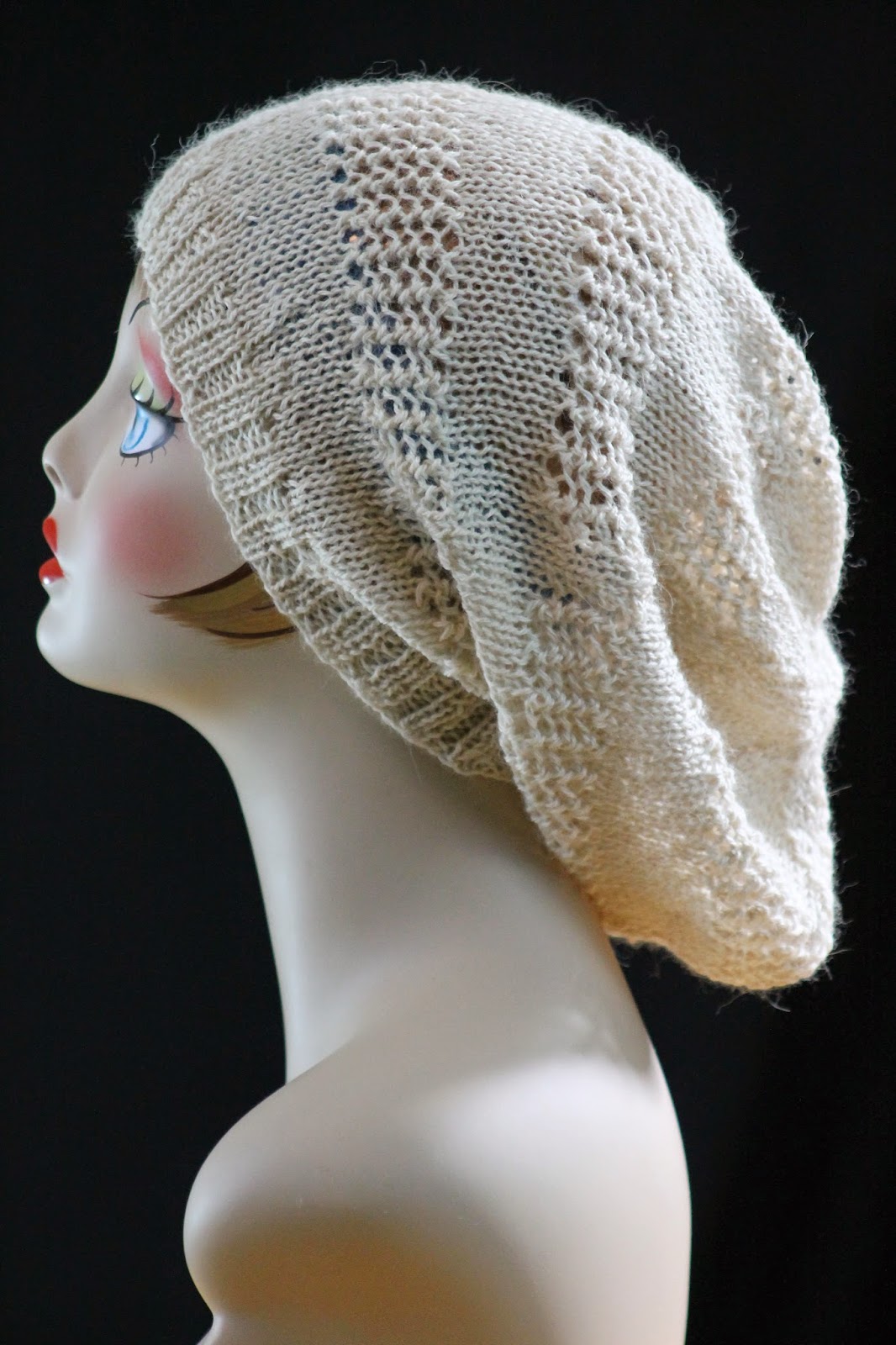 Super Slouch Hat
Knit flat on straight needles, this design by Gretchen at Balls to the Wall Knits has simple lace bands. You can make it less slouchy by omitting pattern repeats.
[widget id="black-studio-tinymce-13″]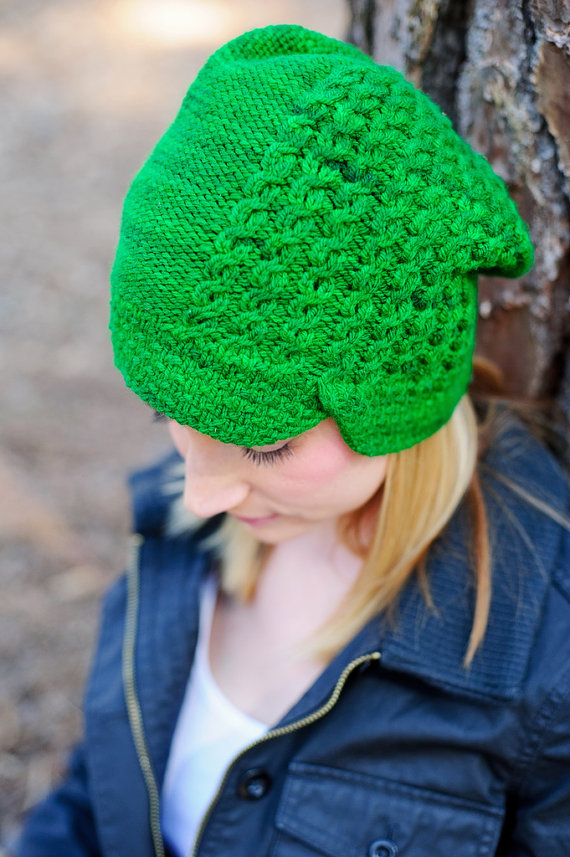 Flynn Slouchy Hat
Two versions – slouch (shown) or a beanie. This hat worked all in one piece with no seaming with an asymmetrical eyelet cable pattern. Three sizes.
[widget id="black-studio-tinymce-13″]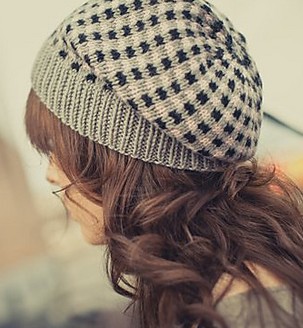 Check Slouchy Hat
This hat is much easier than it looks! The slipped stitch colorwork plaid pattern is worked with only one color in each round.
[widget id="black-studio-tinymce-8″]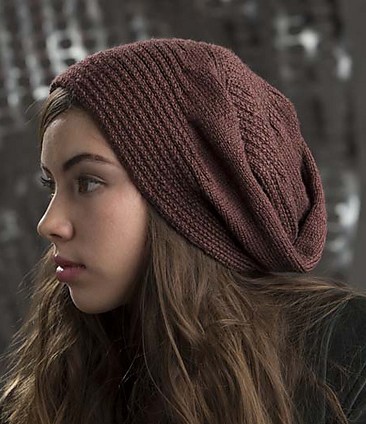 Envelope Hat
This ingenious hat is made from a scarf-like length of knitting. After binding off, the two ends are brought across one another and stitched to the center back of the crown.
[widget id="black-studio-tinymce-8″]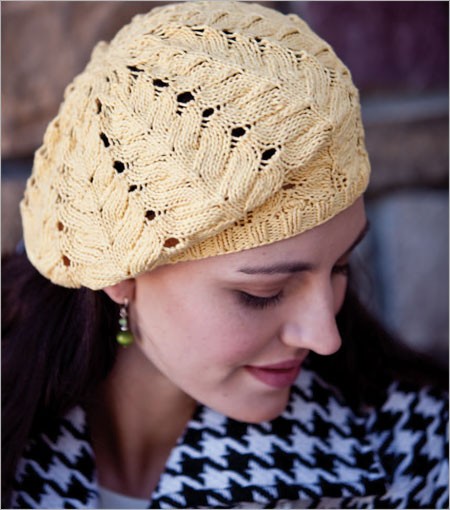 Rose Window Beret
A lace beret is worked in the round from the top down. A tapered lace pattern provides the shaping.
[widget id="black-studio-tinymce-8″]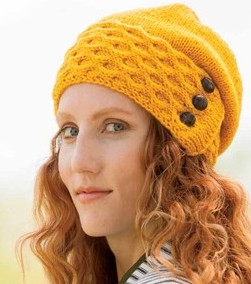 Beekeeper Slouch Hat
This cozy women's slouch features a honeycomb pattern brim that is worked flat and then joined in the round, using buttons and buttonholes, to complete the body.
[widget id="black-studio-tinymce-8″]
Nautilus Hat
A four-stitch cable moves almost every round, crossing over the end of the round to create a seamless, spiraling pattern in the Nautilus Hat.
[widget id="black-studio-tinymce-8″]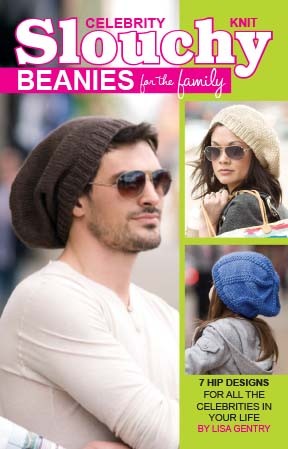 Celebrity Slouchy Beanies For the Family ebook
7 slouchy hat patterns designed by Lisa Gentry.
[widget id="black-studio-tinymce-30″]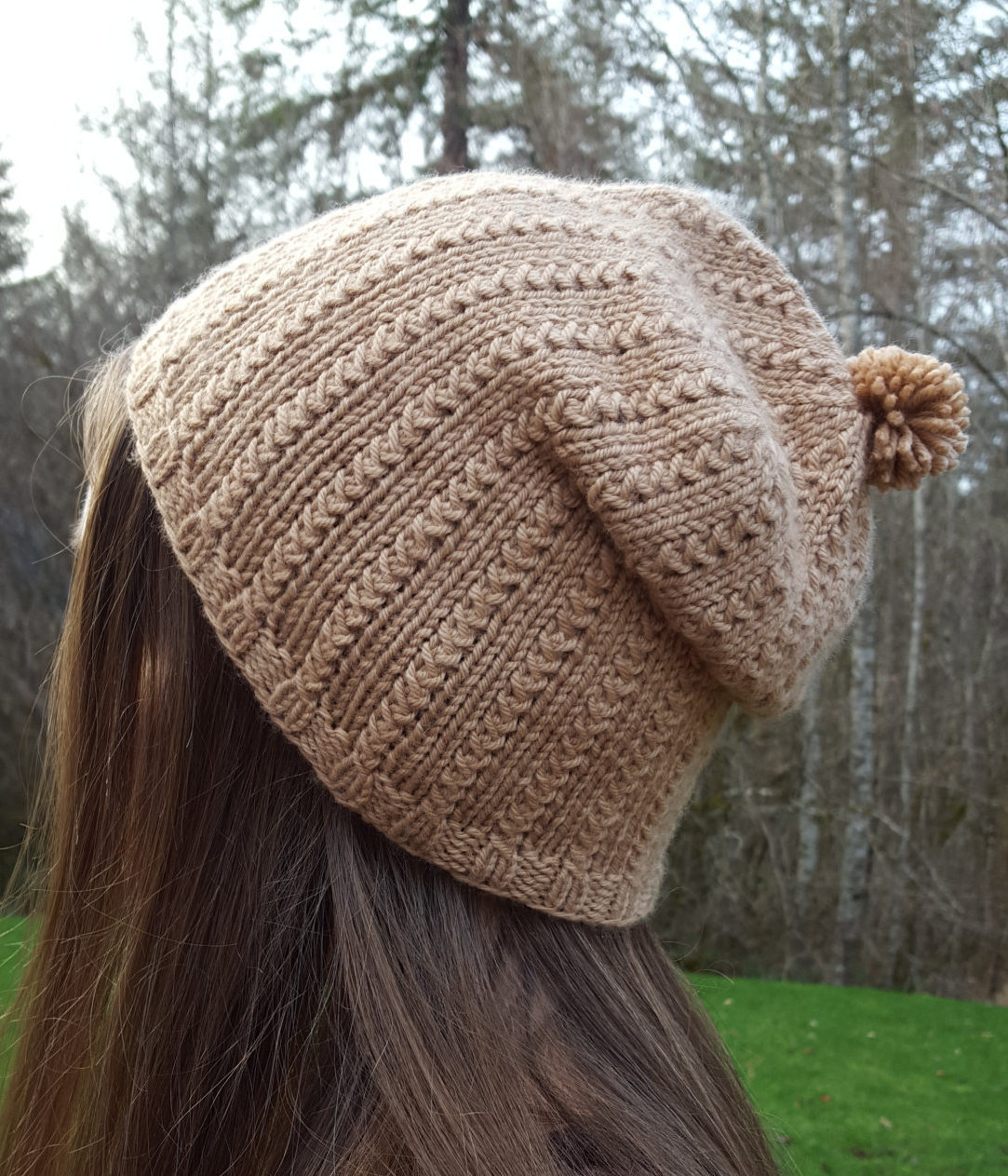 Grass Stitch Slouchy Hat or Beanie
Two styles of hat included with this pattern that uses a two row repeat.
Related Post