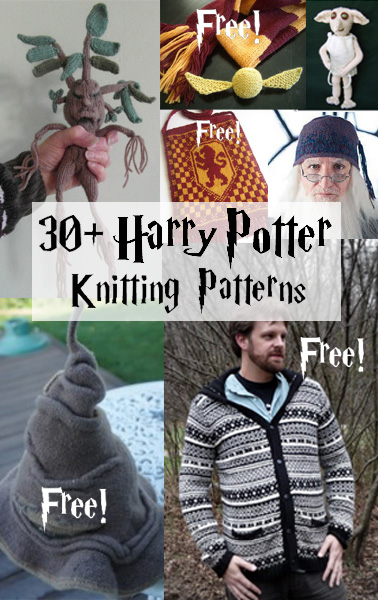 These patterns are not authorized, approved, licensed, or endorsed by J.K. Rowling, her publishers, or Warner Bros. Entertainment, Inc.
Free Knitting Patterns
Patterns to Purchase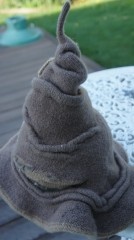 Sorting Hat
One of my most popular pins, designed by Diane Scott.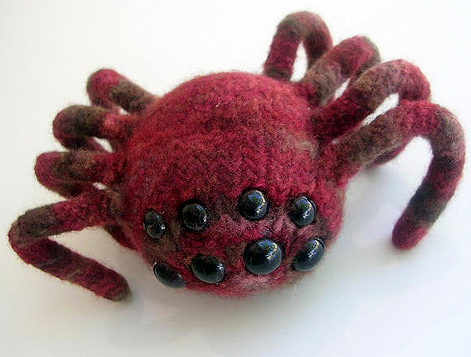 Aragog the Spider Monster
Toy spider softie inspired by the Acromantula that appeared in Harry Potter and the Chamber of Secrets. Designed by Wendy Gross. Pictured project by AliceKathryn who said she finished it in a few hours.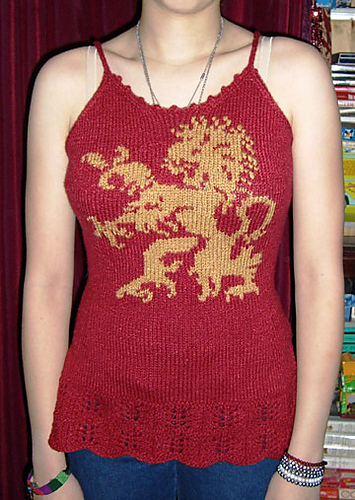 Gryffindor Cami
Arbel Dekel designed this tank camisole with the Gryffindor crest.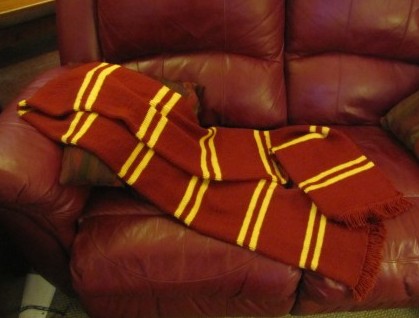 Harry Potter Prisoner of Azkaban Scarf
Gryffindor scarf designed by Rachel Alexandra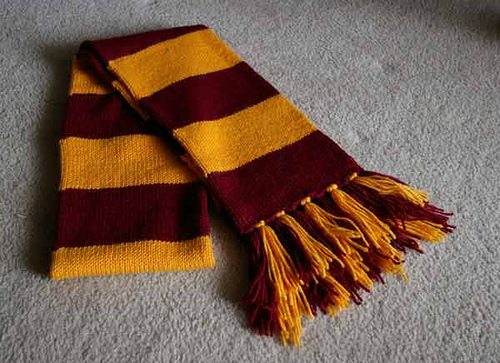 Hogwarts Scarf
Get the free knitting pattern designed by Lauren Kent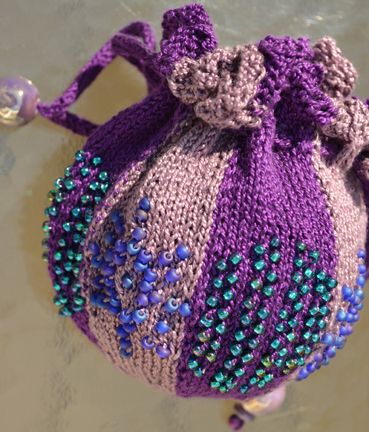 Little Bits Beaded Bag
Inspired by Hermione Granger's beaded bag, splashes of beads and a frilly finish make this bag fun for anything from a glamorous night out to stashing a ball of yarn on the run.
Get the free knitting pattern designed by Craftyartist
Get the yarn recommended by the designer for the pictured version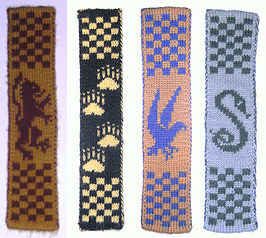 Hogwarts Bookscarves
Designed by Anna Kingstone, these double knit bookmarks are designed with the house sigils.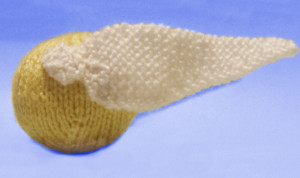 Golden Snitch
Designed by Raynor Gellatly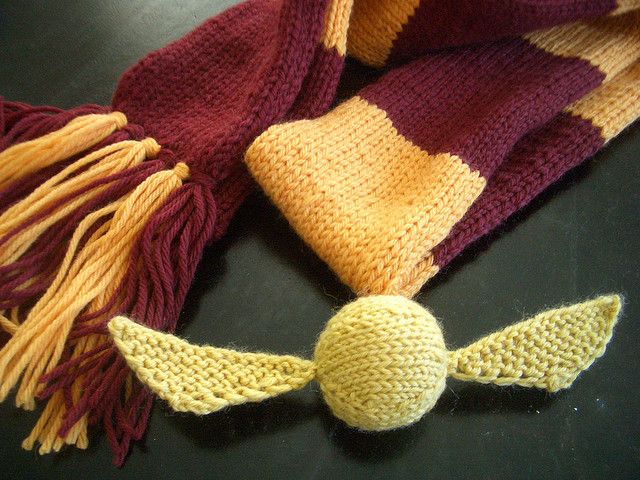 Another Golden Snitch
Get the free knitting pattern designed by Kathy Lewinski
Get the yarn recommended by the designer, Debbie Bliss Merino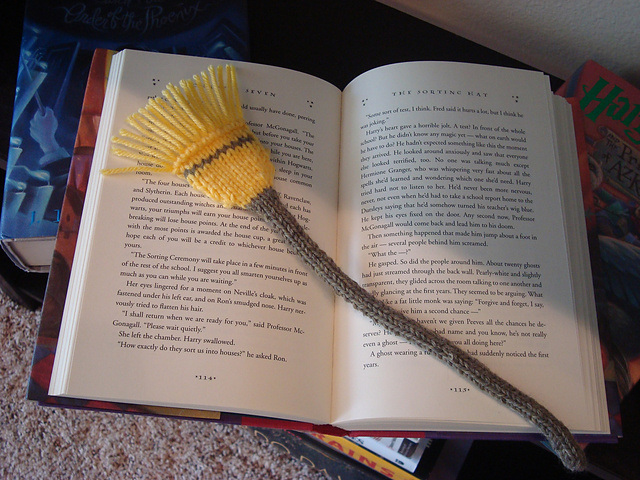 Broomstick Bookmark
Download this free pattern by Kristina Gill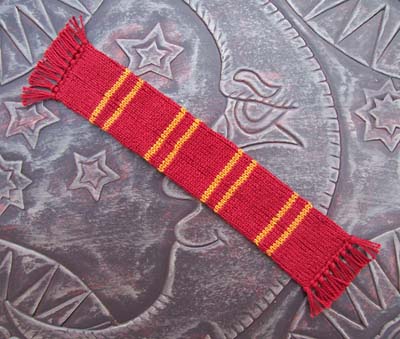 Harry Potter Bookscarf
Laura Miller designed this bookmark because she loved Harry Potter but didn't have much use for a full-sized scarf where she lived.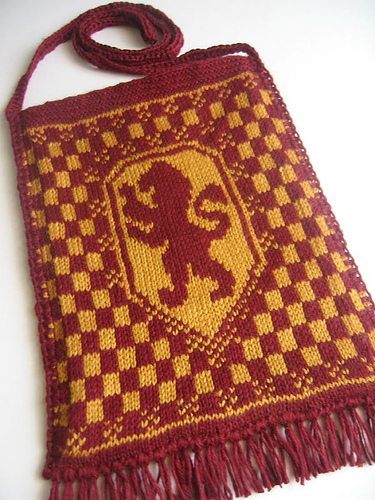 Harry Potter House Fair Isle Pouch Bags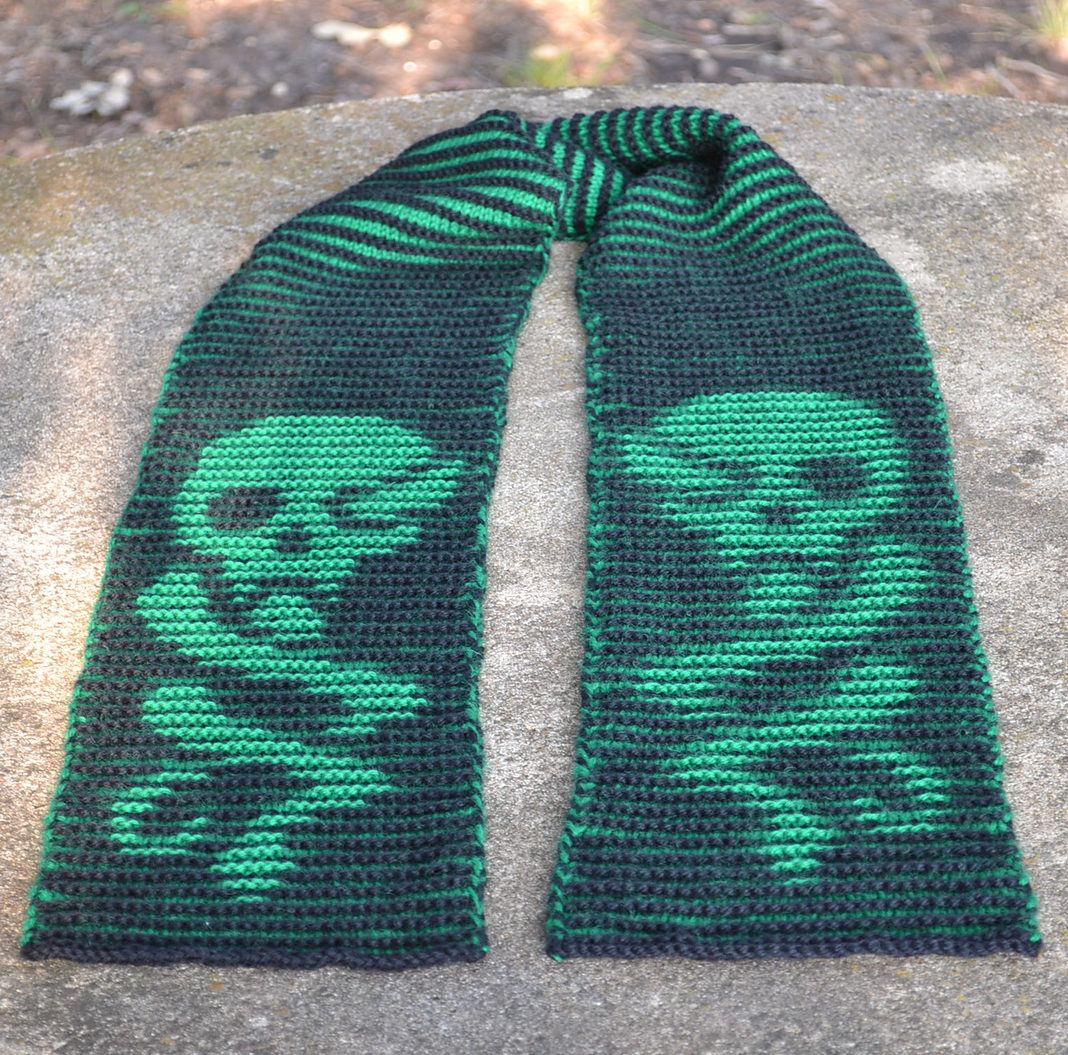 Harry Potter Dark Mark Illusion Scarf
Skull motif inspired by Harry Potter series and designed by Lindsay Henricks is only visible from certain angles. Pictured project by Golubka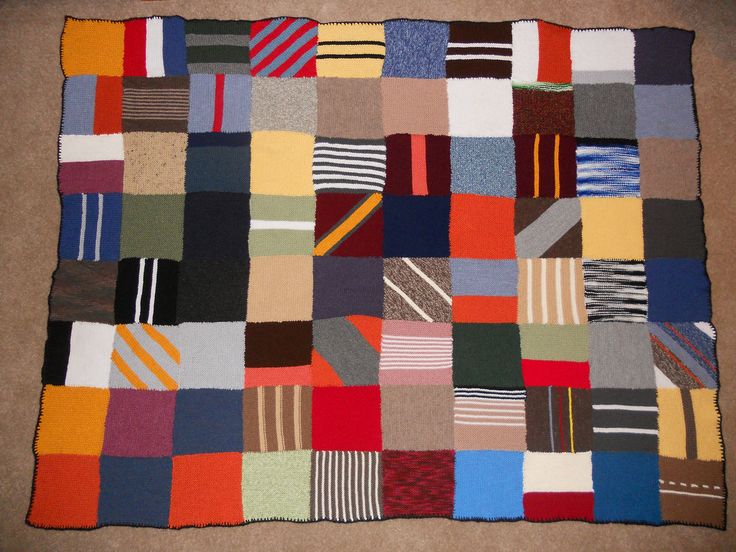 The Ron Weasley Blanket
Jackie Wierzbicki at the Penguineer was inspired to re-create Ron Weasley's Blanket as seen in the Harry Potter movies on his bed in the dormitory in Gryffindor tower. She carefully researched the blanket from all the images she could find. It probably is not a true sampler blanket because the squares are all garter stitch but I couldn't resist adding it here. A great stash buster!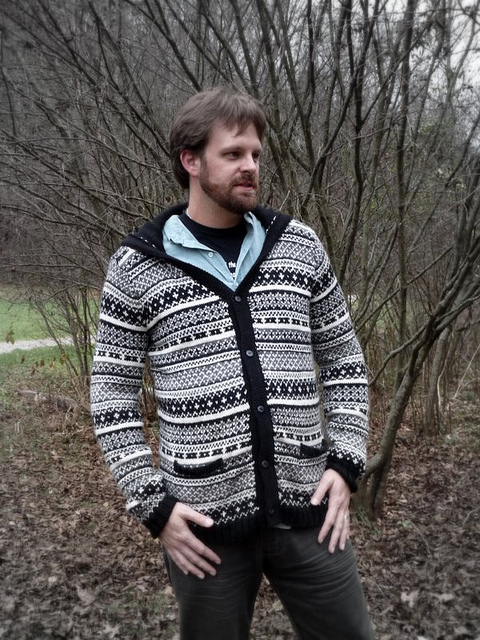 Neville Longbottom's Sweater
Designed by Joannie Newsome after the sweater Neville wears in Deathly Hallows pt 2.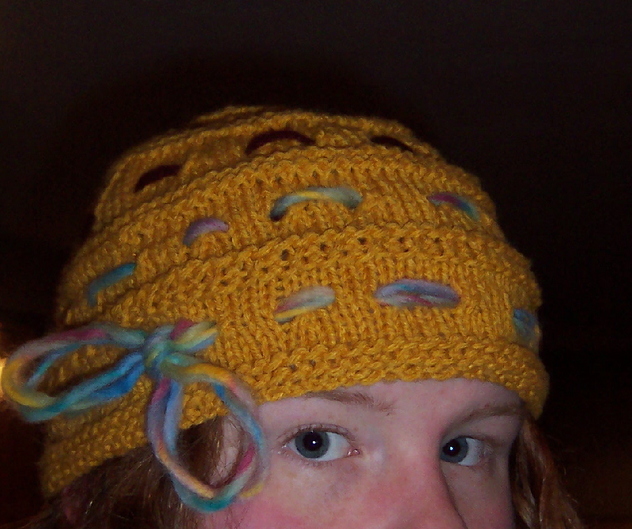 Ginny Weasley's Goblet of Fire Hat
Get the free knitting pattern designed by GoldfishGirl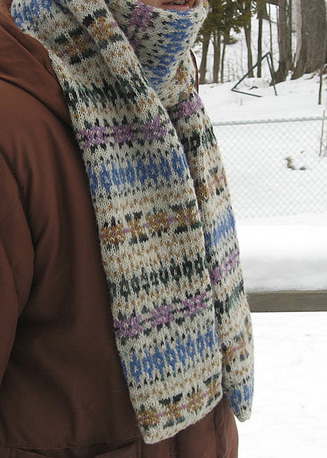 Hermione's Scarf from the Half Blood Prince
Download the free knitting pattern designed by FairIsle Fibers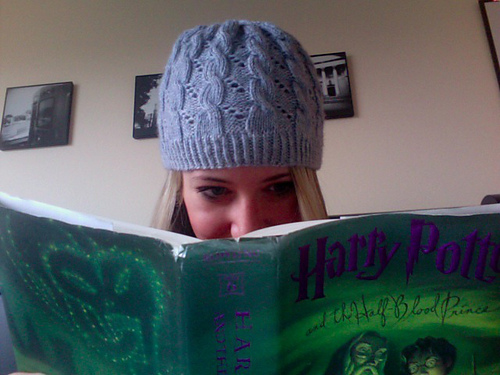 Hermione Hearts Ron Hat
Designed by Christy Aylesworth after the hat Hermione wears in the movie Harry Potter and the Half Blood Prince with the scarf above.
Godric Hollows Hat
Designed by Rebecca Beam after the hat Hermione Granger wears in Harry Potter and the Deathly Hallows Part 1 during the Godric's Hollow scene.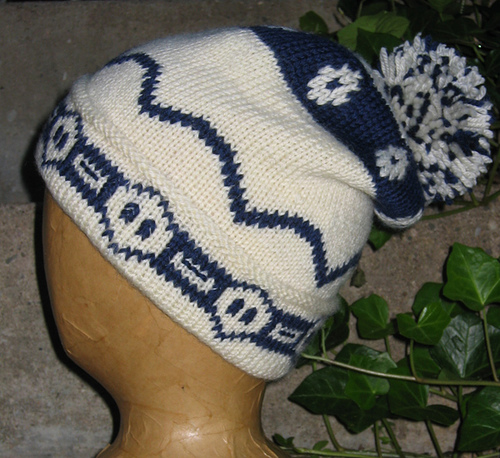 Weasley Twins' Ski Cap
Pattern designed by Dale Hwang with reference pics from movie.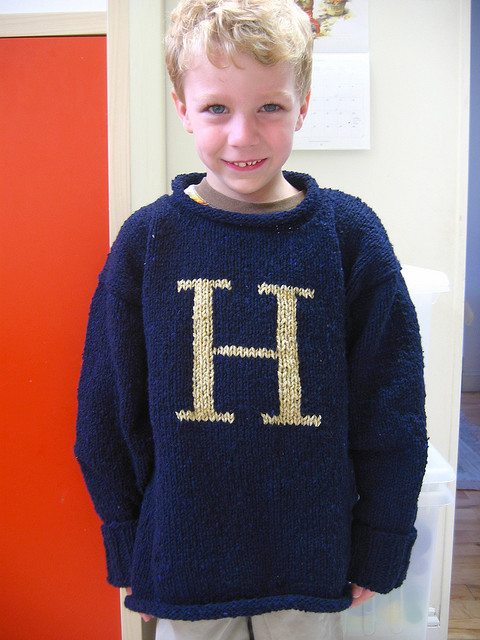 Weasley Sweaters
Allison Hansel designed this sweater aftere the sweaters Mrs. Weasley made for her kids and Harry for Christmas in the first movie.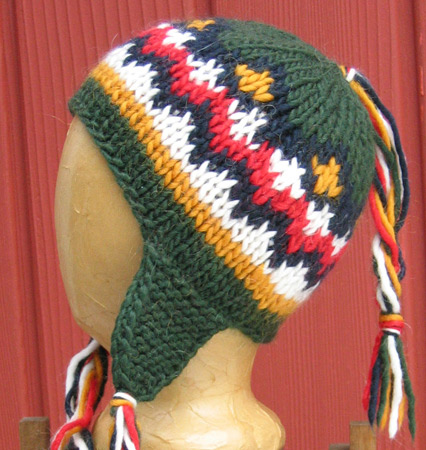 Ron's Animal Cracker Hat
Designed by Dale Hwang after the hat Ron wore in the Prisoner of Azkaban movie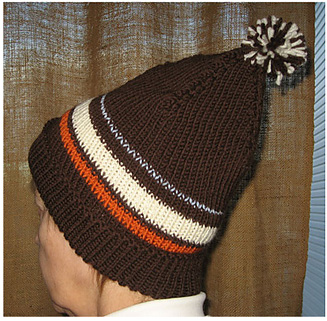 Ron's Toque
Designed by Fairisle Fibres inspired by the hat worn by Ron Weasley in Harry Potter and the Half Blood Prince movie.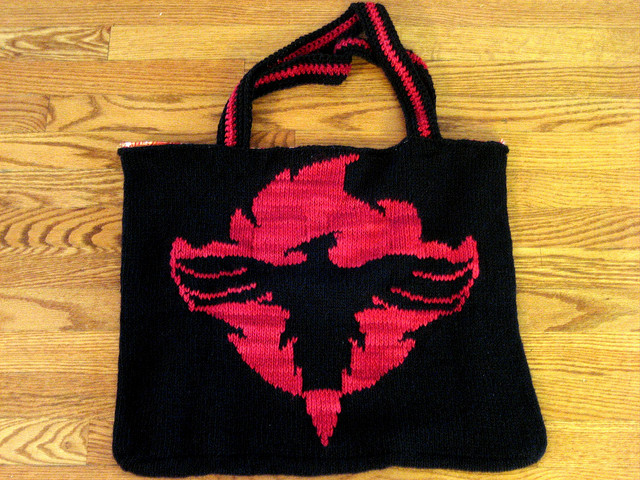 Order of the Phoenix Bag
Get the free knitting pattern designed by Jennifer Gillis

Care of Magical Creatures Charm Bracelet #3
Harry Potter inspired charm bracelet with charms that include Cheshire cat tail, HP sweater cocoon (with butterfly), cricket, gryffindor lion, house elf sock, hufflepuff badger, hummingbird, ladybug, lilypad, pegasus feather, ravenclaw eagle claw, slytherin snake, snitch, sorting hat, thestral treat (steak.).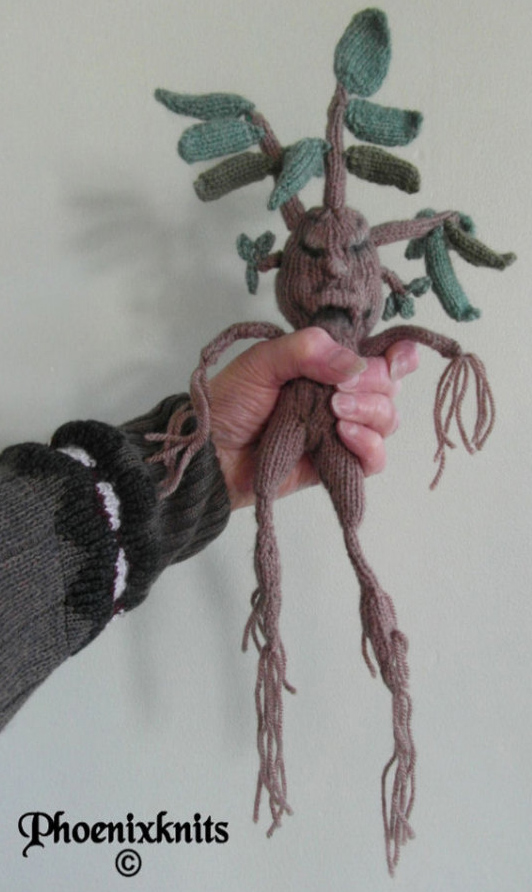 Mandrake Plant
This comical Mandrake plant, inspired by the Harry Potter films. is 14 inches high including roots.
Get the knitting pattern for $4.50
The Unofficial Harry Potter Knits
30+ projects inspired by the Harry Potter characters and world.
See more pics and get the book on Interweave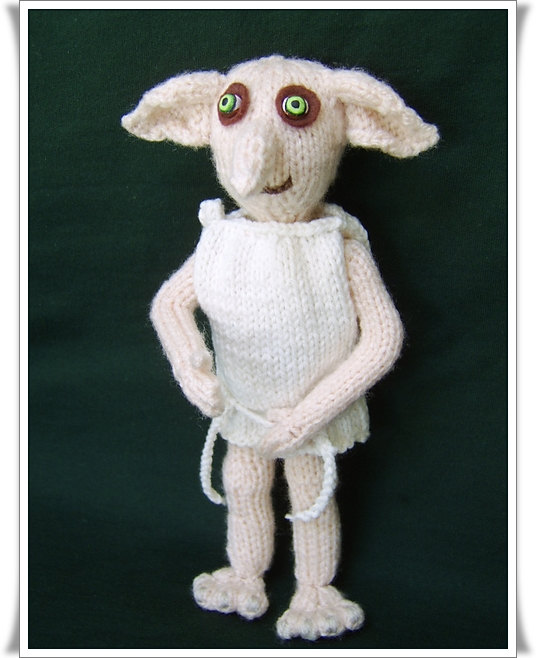 Dobby the House Elf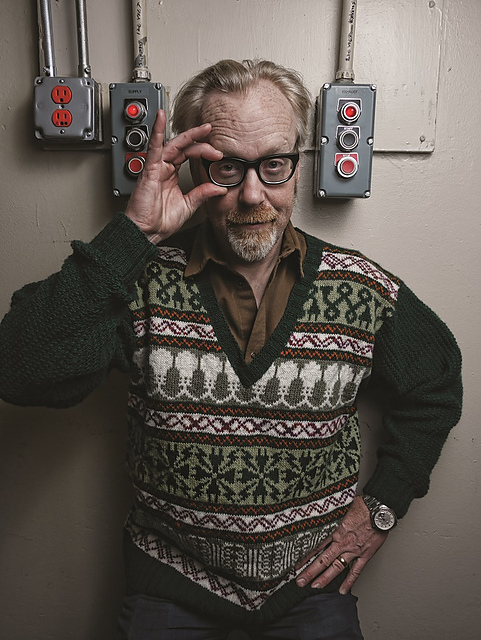 Muggle Artifact Sweater Vest
Claire Boissevain-Crooke was inspired by Harry Potter to create this sweater Mrs. Weasley might have knit for Arthur Weasley to show his love for Muggle artifacts like light bulbs, electrical cords, and more. It looks like a regular vest until you look closely. Sizes Small (Medium, Large) One of the patterns in her Geek Knits book.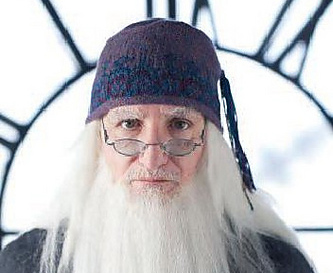 Dumbledore's Smoking Hat
Designed by Moira Engel.
Get Dumbledore's Hat pattern in the Unofficial Harry Potter Knits book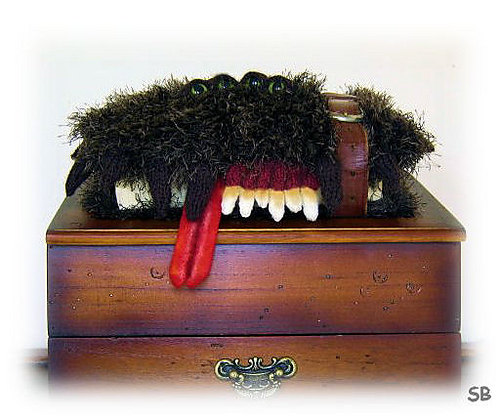 Monster Book of Monsters Book Cover
Designed for books 7 ¾ in high X 5 ½ in wide by 2 ¼ in deep.  Tongue doubles as a book mark.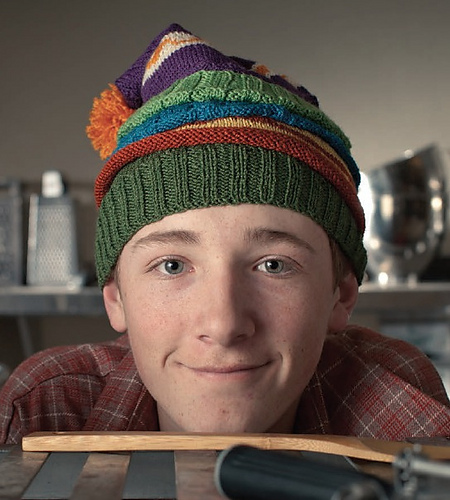 E.L.F. Hat
The E.L.F. (Elf Liberation Front) Cap was inspired by the scene in Harry Potter and the Order of the Phoenix where Dobby wore a stack of hats that Hermione knitted to free the house-elves.
This hat looks like five separate hats, but is really one continuous piece.
Get the E.L.F. Hat pattern in the Unofficial Harry Potter Knits book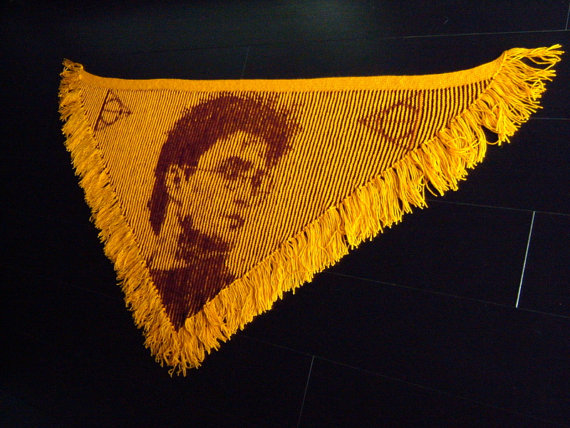 Harry Potter Illusion Knitting Scarf
Of Hallows and Horcruxes
Megan Murray was inspired by the sweater worn by Hermione Granger in "Harry Potter and the Deathly Hallows, Part 1" this fair isle cardigan knit seamlessly from the top down, with a charted fair isle yoke, raglan increases, cable border, and pockets. Sizes: 30 32, 34, 36, 38, 40, 42, 44, 46, 48, 50, 52, 54, 56, 58, 60 inch bust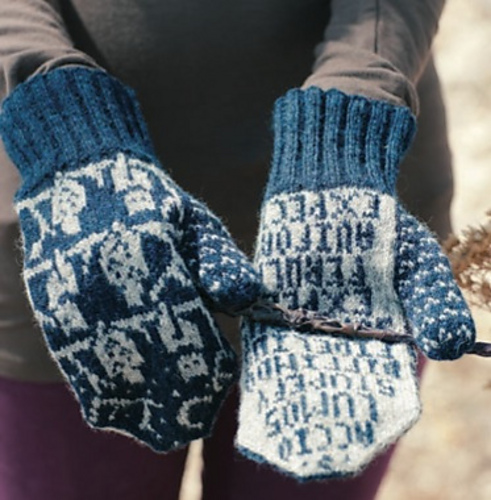 O.W.L. Mittens
Designed by Celeste Young, Owls on one side and a spell reference on the palm for Ordinary Wizarding Level exams.