Harry Potter Knitting Patterns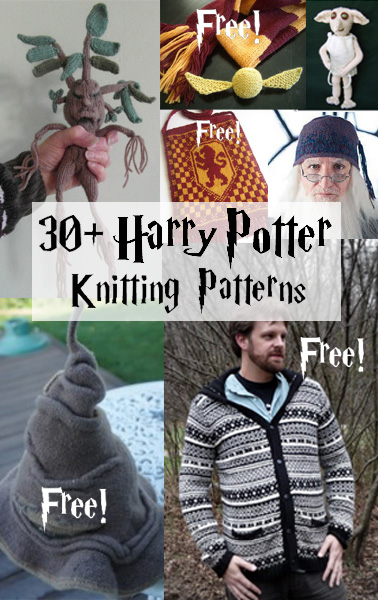 These patterns are not authorized, approved, licensed, or endorsed by J.K. Rowling, her publishers, or Warner Bros. Entertainment, Inc.
To get the knitting patterns, scroll down the page to the individual pattern you want and click on the link to that pattern.
These patterns are not my designs but links to other designers who have generously shared their patterns. If you have questions about how to knit a specific pattern, please contact the designer directly.
All links on this site are for informational purposes, but please note that some links are to affiliate sellers that pay me a small commission on purchases.

Hogwarts Socks
Stranded socks inspired by Harry Potter with a Hogwarts coat of arms emblem.  Designed by Pauliina Mathlin. Available in English and Finnish
 
Niffler
Toy softie inspired by the adorable troublemaker in Fantastic Beasts and Where to Find Them. Designed by Jessica Downes. Pictured project by AchtungKitten

Hogwarts Wand
A cabled and knit wand inspired by Harry Potter. Designed by Gail Hovanec. Pictured project by frenchaddict who used a knitting needle for the wand core!

Mad Eye's Mad Eye
Here's a quick idea for a costume or dress up or fun eye patch – a knit version of Alastor Moody's magical eye patch. Designed by Linnea Tracy. Pictured project by DragonflysArts who used duplicate stitch instead of intarsia for the eye.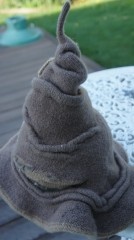 Sorting Hat
One of my most popular pins, designed by Diane Scott.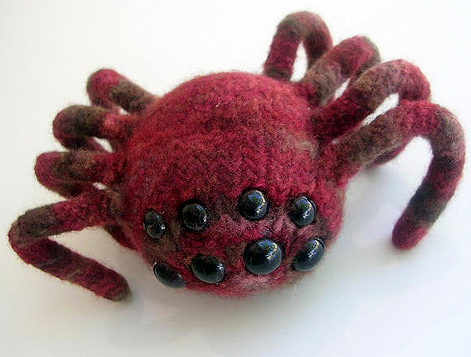 Aragog the Spider Monster
Toy spider softie inspired by the Acromantula that appeared in Harry Potter and the Chamber of Secrets. Designed by Wendy Gross. Pictured project by AliceKathryn who said she finished it in a few hours.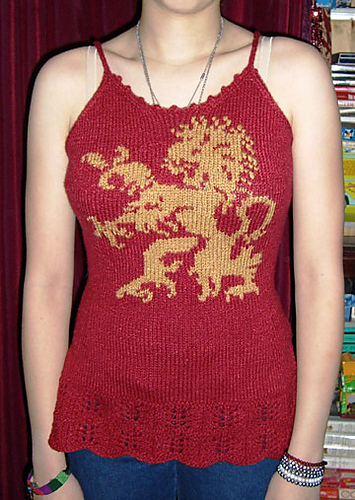 Gryffindor Cami
Arbel Dekel designed this tank camisole with the Gryffindor crest.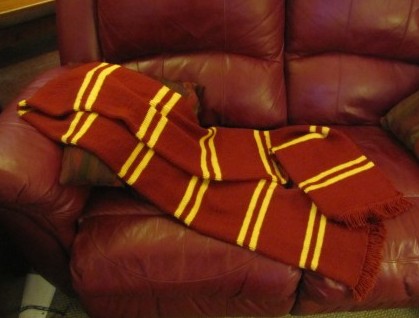 Harry Potter Prisoner of Azkaban Scarf
Gryffindor scarf designed by Rachel Alexandra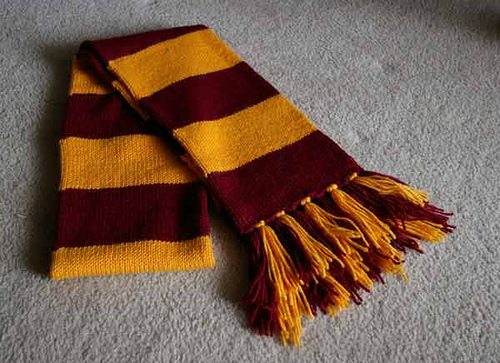 Hogwarts Scarf
Get the free knitting pattern designed by Lauren Kent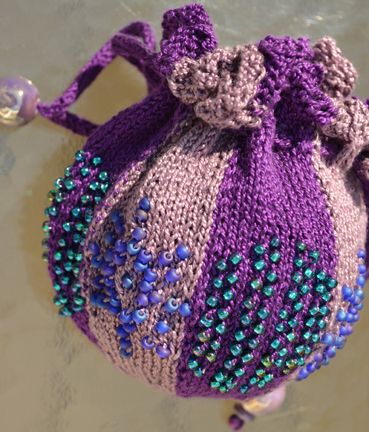 Little Bits Beaded Bag
Inspired by Hermione Granger's beaded bag, splashes of beads and a frilly finish make this bag fun for anything from a glamorous night out to stashing a ball of yarn on the run.
Get the free knitting pattern designed by Craftyartist
Get the yarn recommended by the designer for the pictured version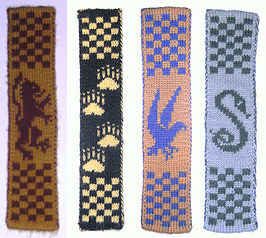 Hogwarts Bookscarves
Designed by Anna Kingstone, these double knit bookmarks are designed with the house sigils.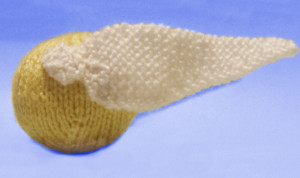 Golden Snitch
Designed by Raynor Gellatly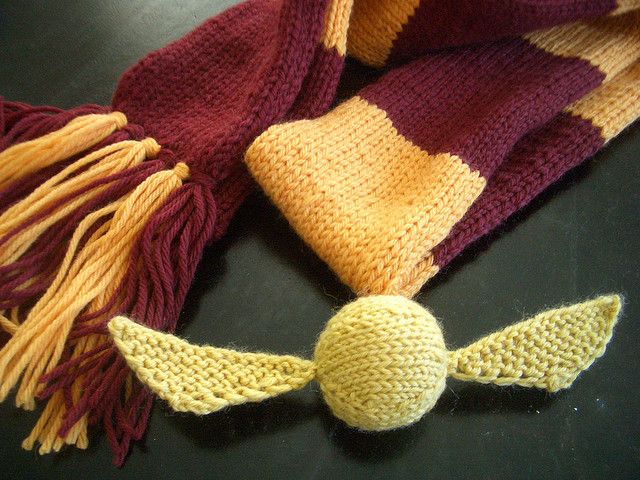 Another Golden Snitch
Get the free knitting pattern designed by Kathy Lewinski
Get the yarn recommended by the designer, Debbie Bliss Merino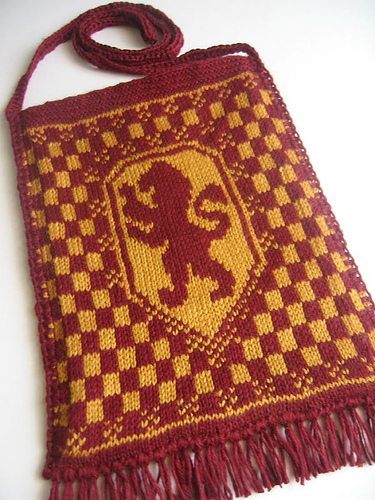 Harry Potter House Fair Isle Pouch Bags

20 Harry Potter Inspired Afghan Squares
Individual knitting charts inspired by the Harry Potter series. Purchased individually. Designed by Walter Family Homestead in my hometown KCMO!

Fantastic Beasts and How to Knit Them Ebook
This ebook includes 8  knitting patterns inspired by the movie and book. Includes The Niffler, Pickett the Bowtruckle, Dougal the Demiguise, Knarl, Newt Scamander's Scarf,  Porpentina's Cloche Hat, and Ilvermorny School of Witchcraft and Wizardry Bookmark scarf. Designed by The Knit Guru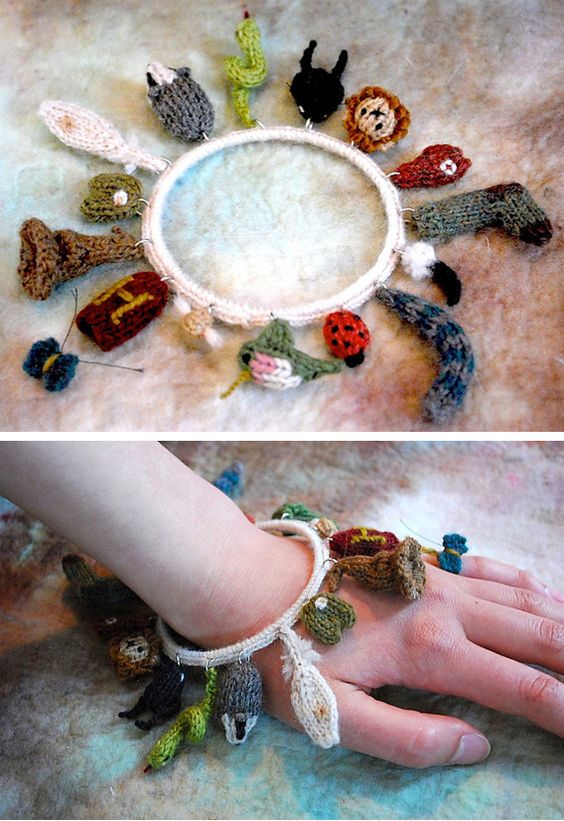 Care of Magical Creatures Charm Bracelet #3
Harry Potter inspired charm bracelet with charms that include Cheshire cat tail, HP sweater cocoon (with butterfly), cricket, gryffindor lion, house elf sock, hufflepuff badger, hummingbird, ladybug, lilypad, pegasus feather, ravenclaw eagle claw, slytherin snake, snitch, sorting hat, thestral treat (steak.).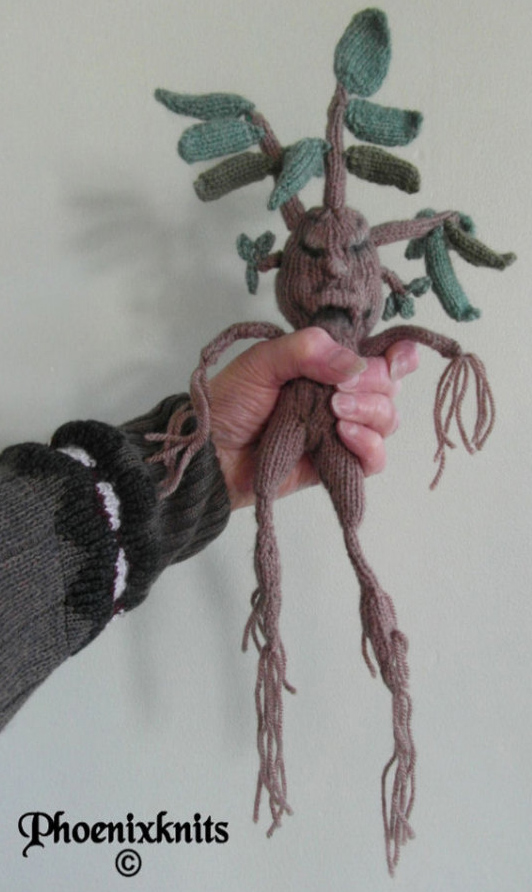 Mandrake Plant
This comical Mandrake plant, inspired by the Harry Potter films. is 14 inches high including roots.
Get the knitting pattern for $4.50
The Unofficial Harry Potter Knits
30+ projects inspired by the Harry Potter characters and world.
See more pics and get the book on Interweave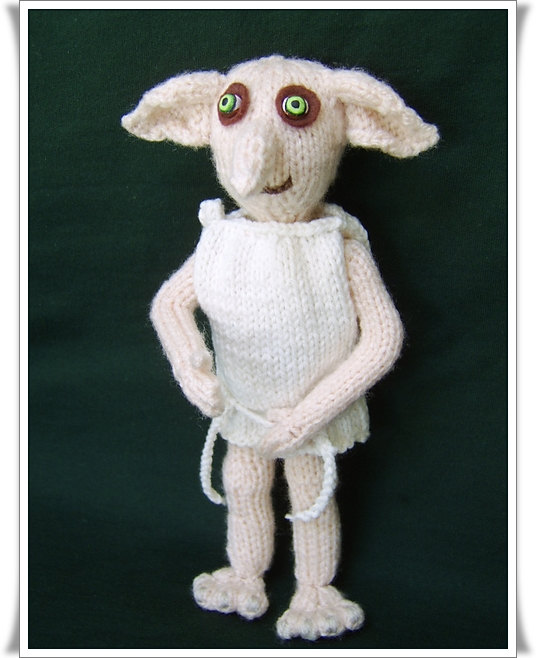 Dobby the House Elf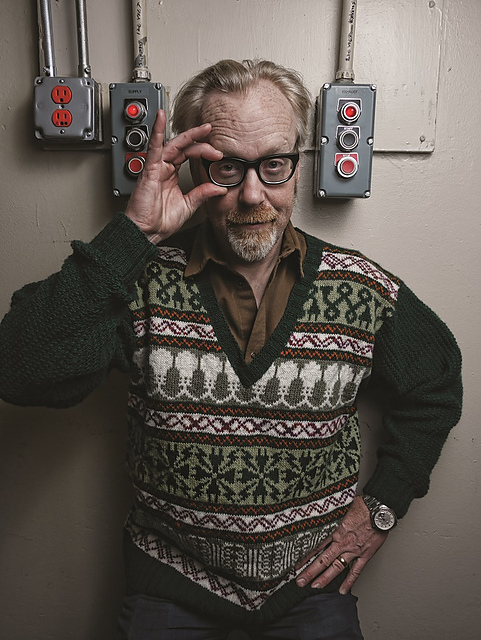 Muggle Artifact Sweater Vest
Claire Boissevain-Crooke was inspired by Harry Potter to create this sweater Mrs. Weasley might have knit for Arthur Weasley to show his love for Muggle artifacts like light bulbs, electrical cords, and more. It looks like a regular vest until you look closely. Sizes Small (Medium, Large) One of the patterns in her Geek Knits book.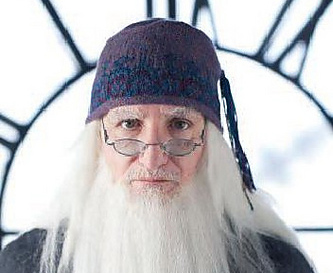 Dumbledore's Smoking Hat
Designed by Moira Engel.
Get Dumbledore's Hat pattern in the Unofficial Harry Potter Knits book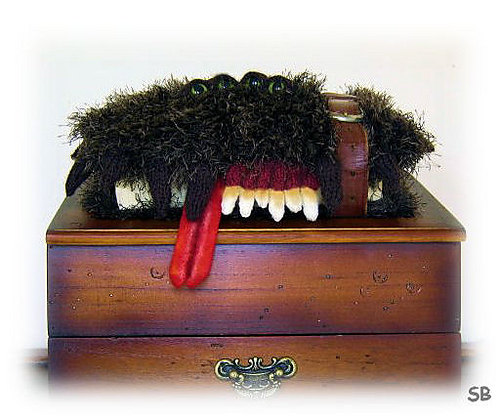 Monster Book of Monsters Book Cover
Designed for books 7 ¾ in high X 5 ½ in wide by 2 ¼ in deep.  Tongue doubles as a book mark.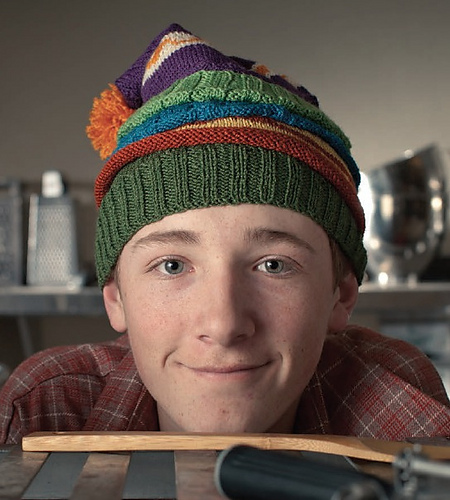 E.L.F. Hat
The E.L.F. (Elf Liberation Front) Cap was inspired by the scene in Harry Potter and the Order of the Phoenix where Dobby wore a stack of hats that Hermione knitted to free the house-elves.
This hat looks like five separate hats, but is really one continuous piece.
Get the E.L.F. Hat pattern in the Unofficial Harry Potter Knits book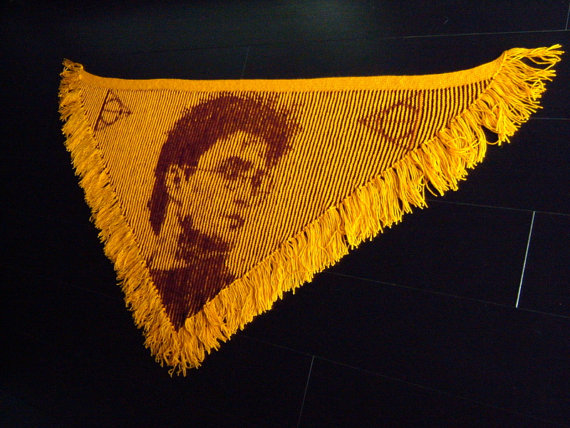 Harry Potter Illusion Knitting Scarf
Of Hallows and Horcruxes
Megan Murray was inspired by the sweater worn by Hermione Granger in "Harry Potter and the Deathly Hallows, Part 1" this fair isle cardigan knit seamlessly from the top down, with a charted fair isle yoke, raglan increases, cable border, and pockets. Sizes: 30 32, 34, 36, 38, 40, 42, 44, 46, 48, 50, 52, 54, 56, 58, 60 inch bust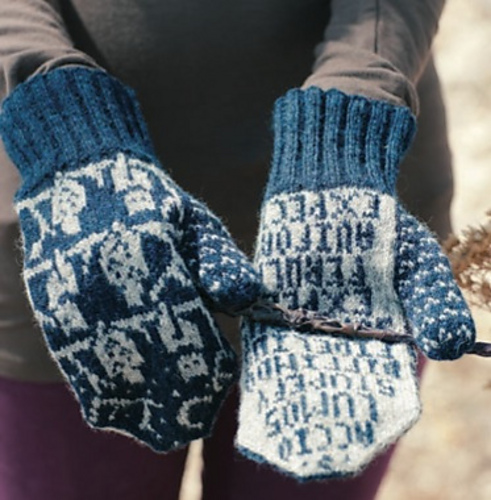 O.W.L. Mittens
Designed by Celeste Young, Owls on one side and a spell reference on the palm for Ordinary Wizarding Level exams.
Terry Matz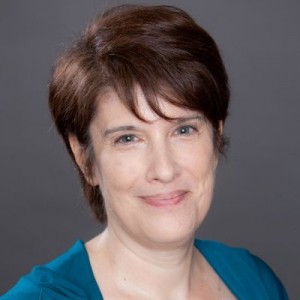 Terry is a knitting late-bloomer, learning to knit as an adult from Internet tutorials, because she wanted a craft that was useful, fun, and portable. Knitting hats for cancer patients inspired her to design her own patterns—available for free at her blog, intheloopknitting.com. Terry met her husband Ken at a science fiction convention and moved to the Kansas City area to be with him more than 30 years ago. Terry supports her yarn stash by creating websites and other digital media. Terry firmly believes in Knitting in Public—it's a great conversation starter!